Do you want to get low-stress family photos in Mexico that won't break the bank? Keep reading to find out how to arrange amazing Mexico family photos that won't break the bank!
I'll go over important tips for how to choose the best Mexico photographer for your needs and plan the perfect Mexico photoshoot – including everything from picking the location for your Mexico vacation photos, what to wear for photos in Mexico and more. So whether you're arranging Cancun family photos on the beach or an architectural family photo session in Mexico City, be sure to go through these tips to ensure a great experience.
Why you should take family photos in Mexico
Our kids grow up so fast and one of my biggest regrets is that we let a few years pass by – particularly when we were traveling full-time – without taking professional family photos. We started doing photo sessions again when we came upon Flytographer in 2019 and I'm so glad we did.
Mexico was an amazing place to add to our expanding set of family travel photos. A family trip to Mexico is so relaxing that everyone will be in a great mood and feeling playful! That's exactly the set up you want when you're going to ask your kids to comb their hair and put on nicer looking clothes (more on that later).
Of course, the other great thing about taking family vacation photos in Mexico is that they'll always remind you of your amazing trip. In so many situations, I end up behind the camera instead of in front of it; it's refreshing to have great photos showing all of us together in such a special place.
---
How to choose a photographer in Mexico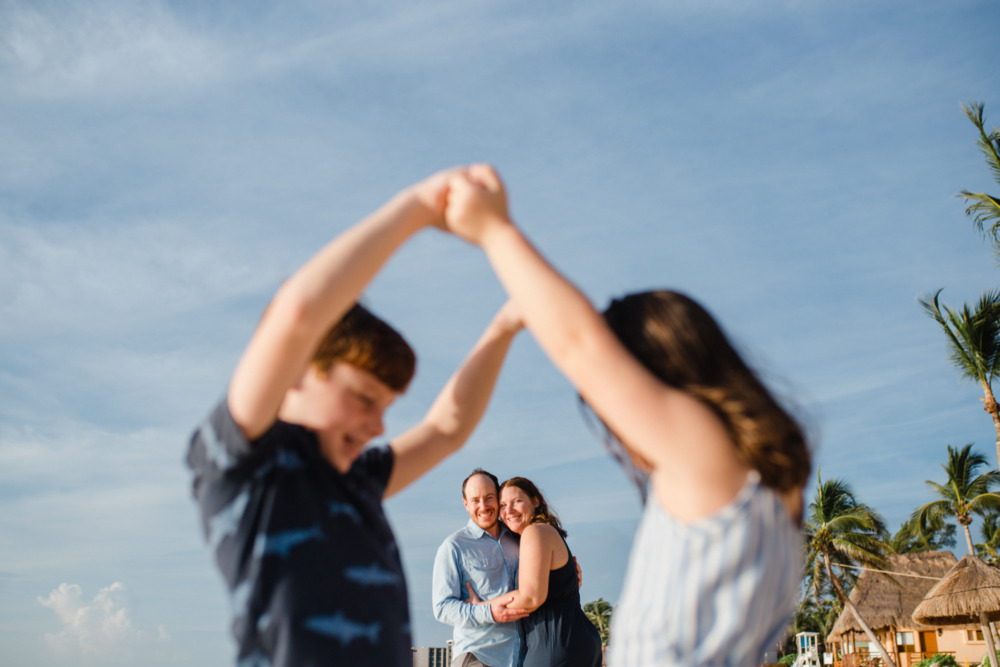 We looked around at a few photographers in Mexico, but ultimately stuck with Flytographer. The process is so easy and stress-free that it's hard to consider another route!
Quality and style
First and foremost, if you're paying for professional photos you want them to be beautiful. Flytographer accepts less than 10% of the photographers who apply to work with them – so you know you're only choosing among top-caliber artists to capture your family's special time.
Since every photographer has a unique style, spend some time perusing their portfolios to find a style that matches what you're looking for. Some are serious and moody, others are airy and playful.
Personality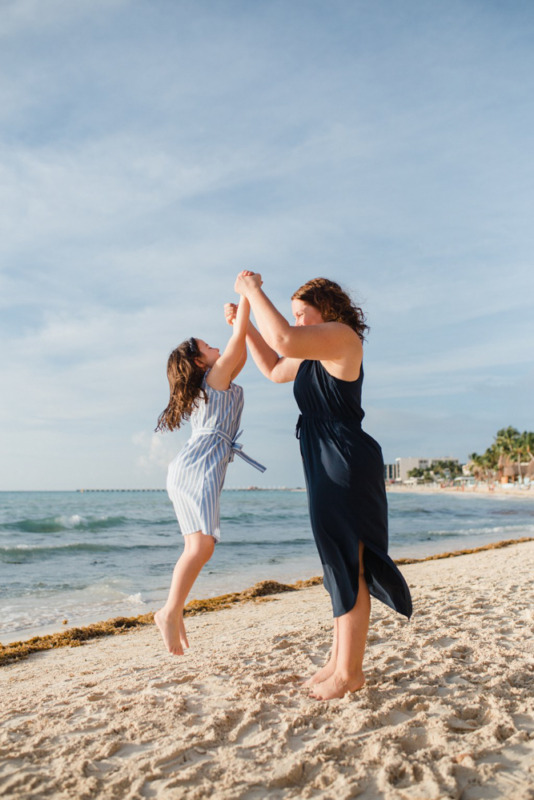 I love that each photographer has an opportunity to write a little about themselves and their photographic style, but also that past clients share feedback about each photographer. The combination helps you get a real sense for what to expect during your photo session and make sure the photographer is a match for your family's unique personality and needs.
Price
Flytographer pricing is transparent and reasonable. Don't forget that you can save $25 off your first session using code FAMILYVOYAGE.
The shortest session is $285 for 30 minutes and it includes digital copies of at least 15 beautiful, edited photos. Not all photographers are available for 30 minute shoots, which is understandable because of the set up, take down and transportation involved.
We typically choose the 60 minute session for $385, which includes at least 30 photos. However, we actually received almost 90 photos from our Playa del Carmen family photos through Flytographer. Note joke! And we received them the very next day – no need to wait for months on end as we've sometimes had to after photo sessions at home. Within our 60 minute Riviera Maya family photo session, there was plenty of time to take one-on-one photos in addition to photos of all four of us together.
For a single location shoot, like on the beach, we find that 60 minutes is enough. If you're booking a photographer in Mexico City, San Miguel de Allende or another urban location you may want to consider a 90 minute or even 2 hour session. That'll allow you time to take photos in multiple locations, plus you'll take home even more photos to remember your epic trip.
The only other fee to keep in mind is that some photographers charge a travel fee if you're asking them to go out of their typical area. For example, some Cancun-based photographers are willing to go to Tulum or even Cozumel but you may have to pay $25-50 extra to cover their time and transportation costs.
Ease of booking
I'm not going to say that I'm lazy, but as the primary vacation planner in our home sometimes the logistics can really pile up! I love that I can arrange our family photos through Flytographer with just a few clicks – no searching Google only to find great photographers that aren't taking bookings anymore or scouring Instagram hashtags and doing a bunch of outreach for portfolio links and pricing. Everything is right there for me to go through in one session when it's convenient for me. Booking a Flytographer session is one easy thing to check off my planning list and feel great about.
Want to get more helpful travel tips like this? Sign up for our email list!
---
Where to take family photos in Mexico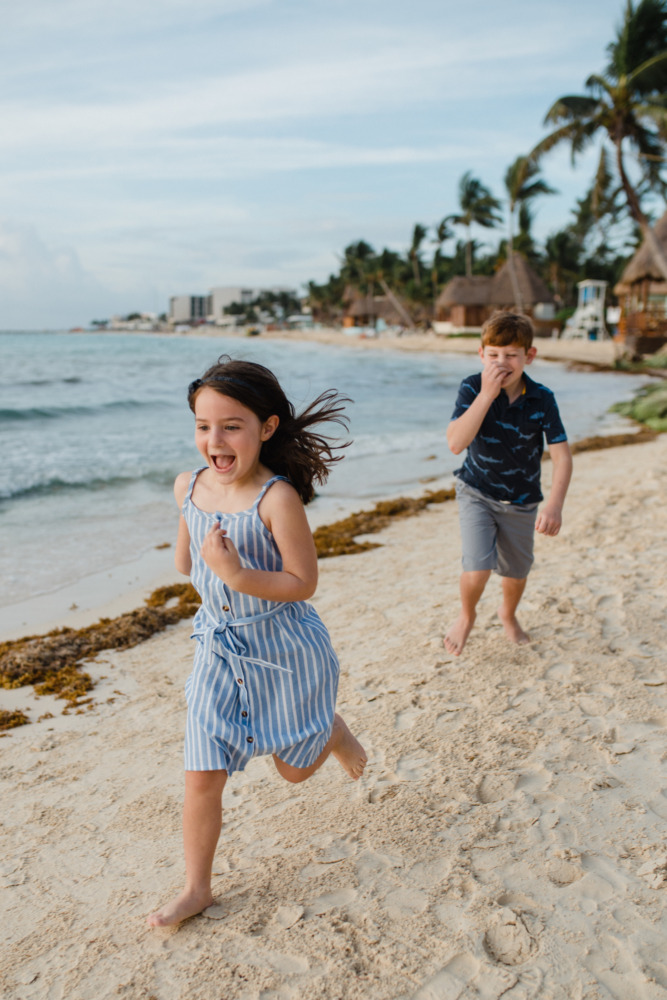 You'll find Flytographer in most tourist areas of Mexico:
Los Cabos
Puerto Vallarta
Sayulita
Guadalajara
Mexico City
San Miguel de Allende
Cancun (including Isla Mujeres and Holbox with travel fee)
Playa del Carmen (including Cozumel with travel fee)
Tulum
Obviously the specific location to choose depends on where you're staying, but your local photographer will have plenty of great suggestions. When you look at the location page on the Flytographer website, you can scroll down to see suggested routes – but you can always work with your photographer to come up with other options.
But there are two important things to keep in mind as you choose the best location for a Mexico photoshoot. First, figure out if you want to pick a location that's walking distance or one that involves traveling by rental car, taxi or public transportation. If you're going to take photos in a destination that's more than a few minutes from your accommodations, be sure to account for the time to get there – and if you're bringing kids with you, have a plan for their car seats in Mexico to transport them safely.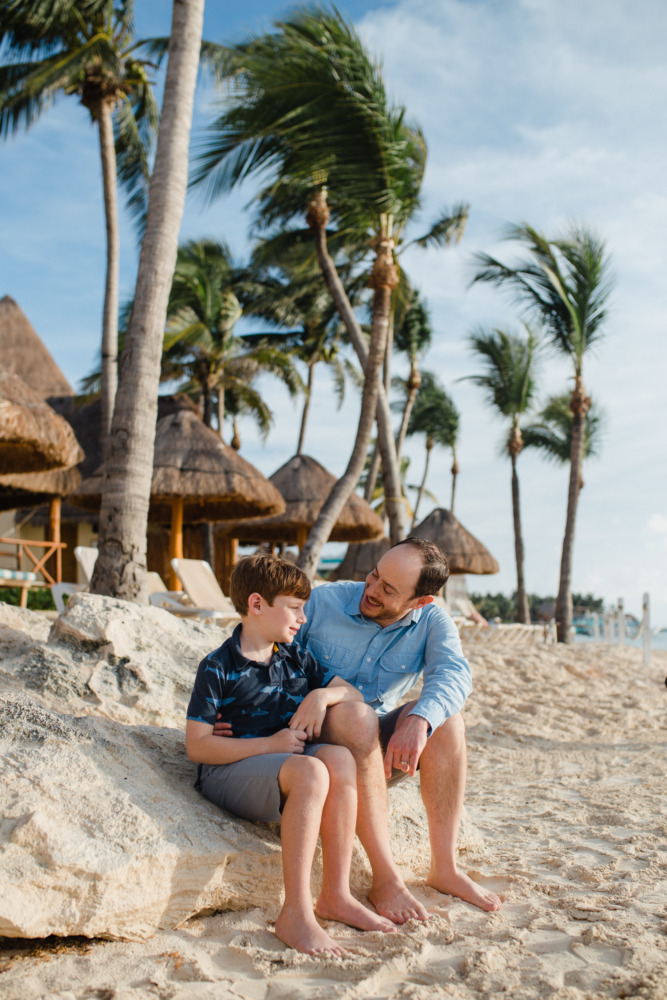 Second, if you prefer to stay close to your accommodations for photos, be sure to understand any photography restrictions. Many resorts in Mexico don't allow photographers unless you pay a hefty fee! We had hoped to take some of our photos on the gorgeous grounds of our resort in Playa del Carmen but sadly ran into this issue. Fortunately we were able to do our photos just a few feet away on the beach, and our photographer knew to have us ask the front desk in advance so that we'd have a game plan in place.
---
What to wear for Mexico family photos
It's always so hard deciding what to wear for family photos! Lots of families keep things simple with denim and blue, but sometimes that can look a little too matched. Here are some helpful tips to think about:
Coordinate while showing off everyone's individual style – you can choose variations on the same color or pattern or all pastels, for example
You should all feel comfortable in what you're wearing
Try incorporating texture to keep things interesting
Keep in mind the aesthetics of your background – beach photos might do better with blues, while urban photos in Mexico City may warrant bold colors and patterns
While they aren't a requirement, dresses are generally flattering in photos and easy to plan around when figuring out clothing for the rest of the family since you're cutting down on the total number of pieces
Keep jewelry fairly simple, both for aesthetics and to avoid constant adjustments
If you're doing photos on the beach, no need to wear shoes or sandals – thankfully it's one less thing to think about!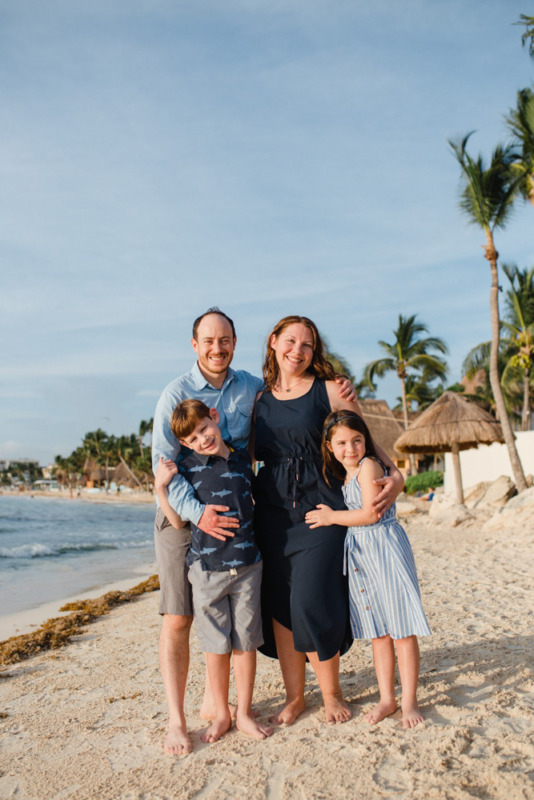 For our Riviera Maya family photos on the beach we chose navy blue and light blue – some of our family's most commonly worn colors – and mostly used items we already had in our closets. The only new purchases were our son's shorts and our daughter's dress, which were both needed additions and have gotten tons of use. While Ronnie and I were in solids, the kids were both in patterns and our son's shirt tied everything together. A set like this would also work perfectly for family pictures in Cancun.
Here are some more awesome examples of Mexico outfit ideas for photographs: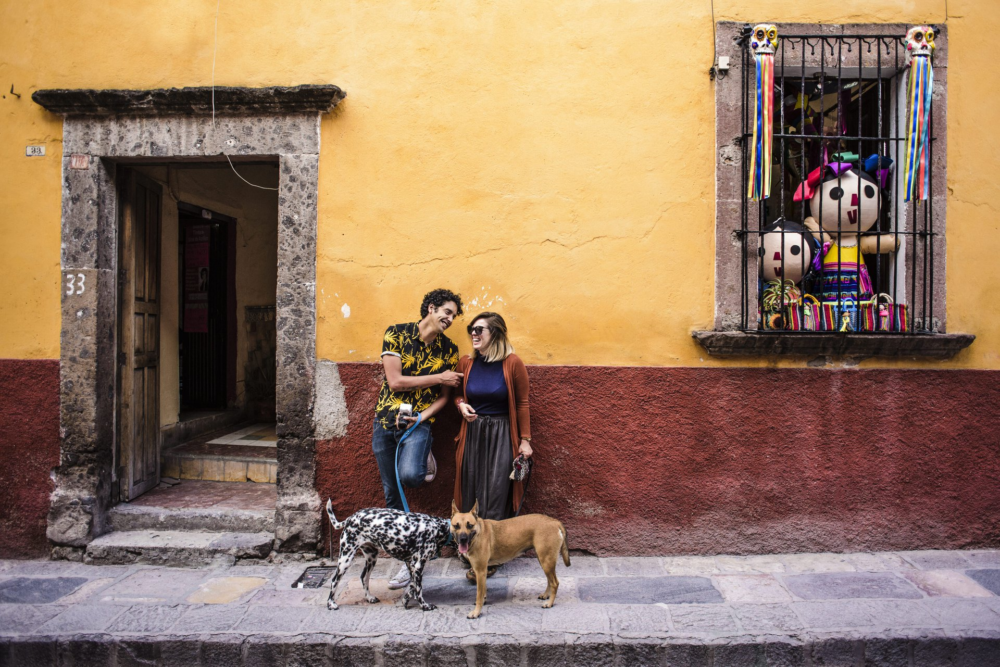 In this San Miguel de Allende photo outfit set, both are wearing tops with plenty of black but his has a yellow pattern and hers is topped with a rust cardigan to tie in with the background wall.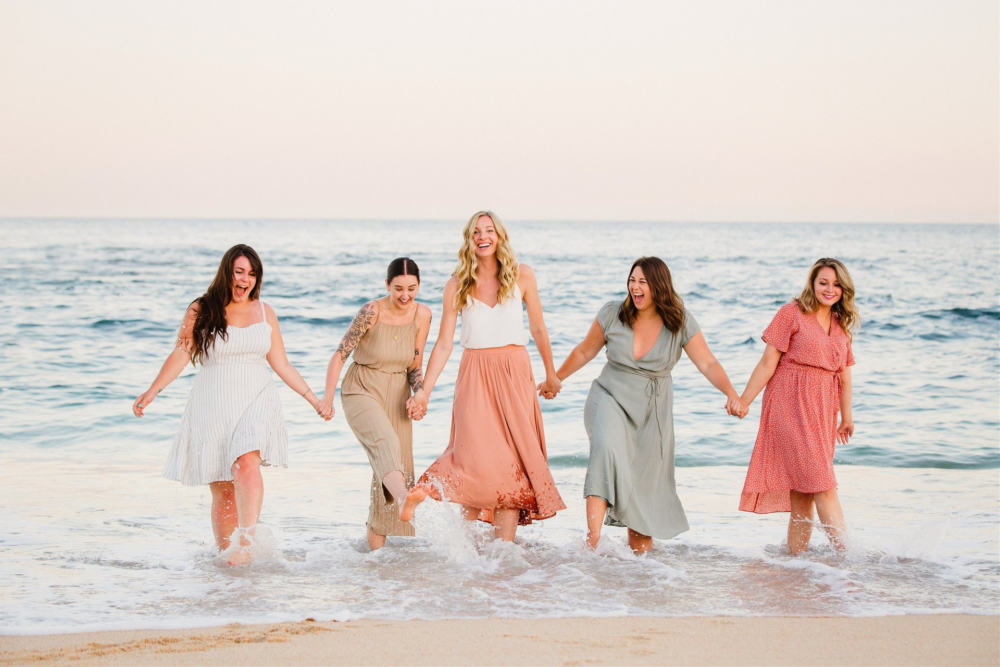 These ladies did an amazing job coordinating their Cabo San Lucas photo outfits! Between them, they've perfectly picked up the colors of the beach, the ocean and the gentle warm light of the sky.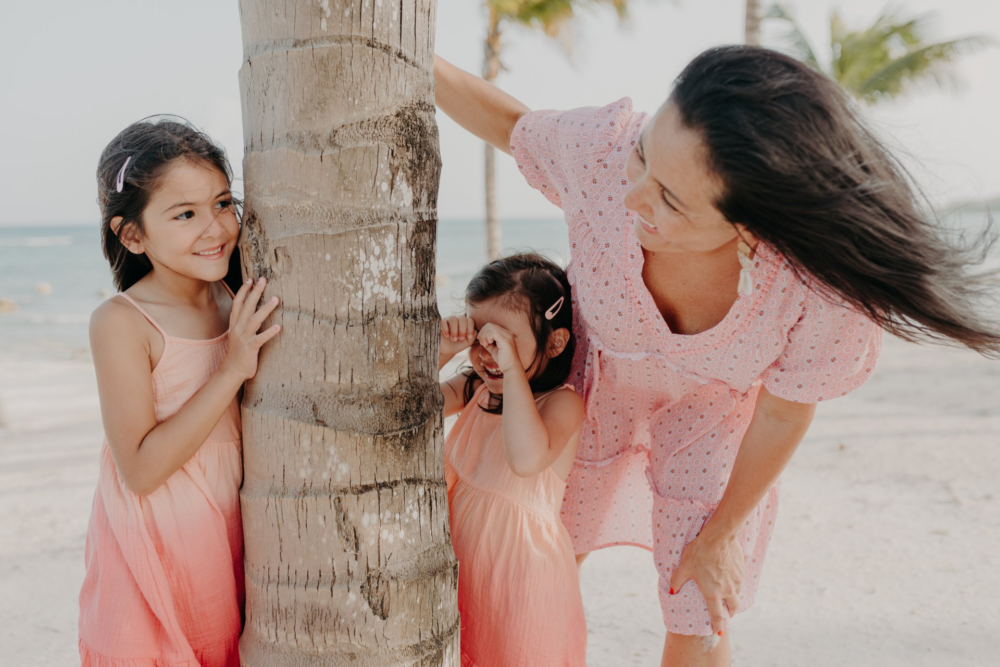 Sometimes the easiest way to handle kids' photo session outfits is to match them, especially if you have multiple girls who are happy to wear dresses! The ombré here is a great choice because it adds visual interest without the distraction of a pattern. That's left an opening for their mom to wear a pattern without competing.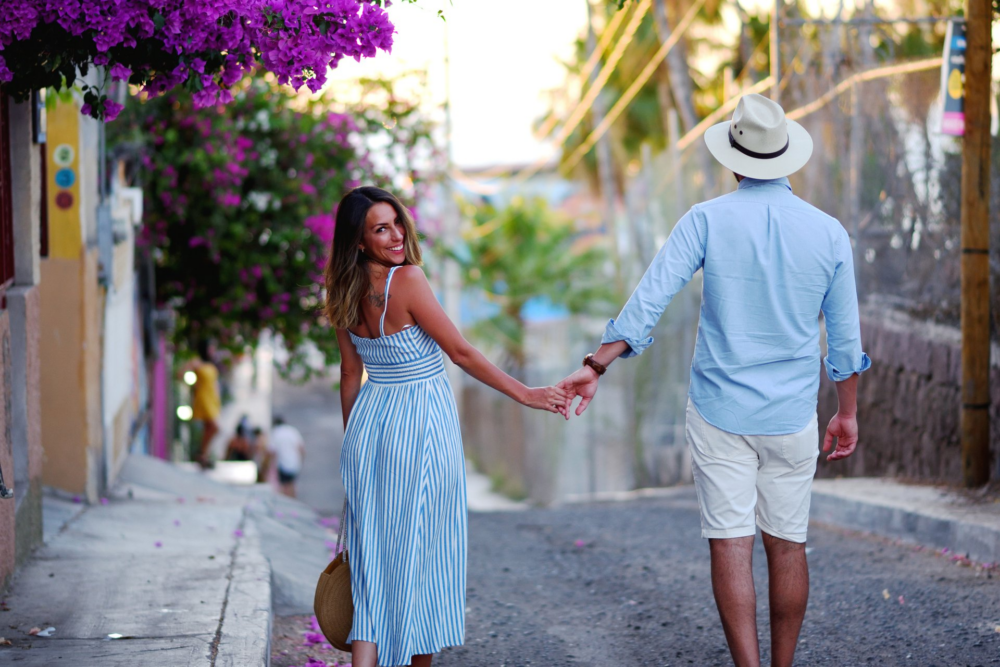 I love the simplicity of these coordinated Mexico outfits for a photo shoot, and they each have one accessory – his hat and her bag – that are neutral in color but add lots of visual interest. Their outfits work equally well for Mexico beach photos or photos in town.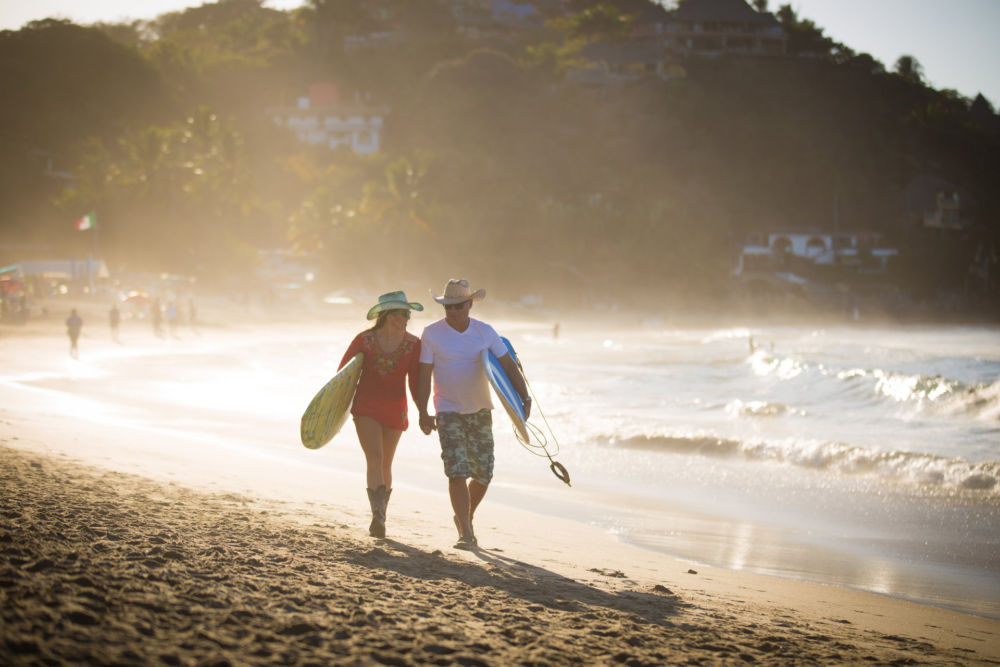 While this photo doesn't necessarily reflect very coordinated outfits, the symmetry of hats and surf boards add plenty of interest to this couple's photos while also highlighting their own interests and the unique experiences they shared on their Mexico vacation. I'm sure the photos are a treasured keepsake!
If you're ready to get started planning your own Mexico photo shoot, find the right photographer for your needs under the "Destinations" section in the menu. Don't forget that you can save $25 off your first session using code FAMILYVOYAGE.
---
Planning your trip to Mexico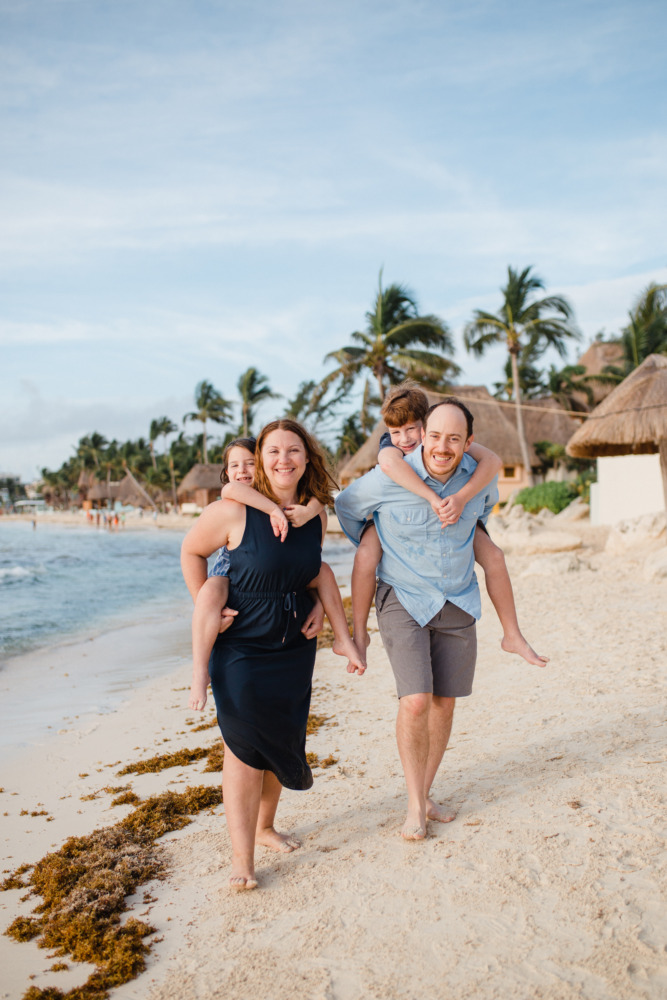 Want to get more helpful travel tips like this? Sign up for our email list!