Aside from enjoying the many gorgeous beaches it boasts and its thriving beach clubs, one of my favorite things about visiting the Yucatan Peninsula is getting the opportunity to dive deeper into the Mayan culture. What better way to do it than by checking out a few of the Mayan ruins in the region? My favorite Mexican travel blogger Dani Ramos has spent a lifetime exploring her beautiful home and sharing it with others! Today she's telling us all about the best Mayan ruins in the Yucatan Peninsula.
Mayan culture plays a big part in truly experiencing popular destinations like Tulum, Cancun, and Merida, and taking time out of your itinerary to visit a few archeological sites is key in order to understanding the place you're visiting a little better.
Even though they look nothing like they did in their heyday, wandering through the many ruins the peninsula has to offer will give you the unique chance to take a step back in time and imagine what life was like when Mayans ruled the region.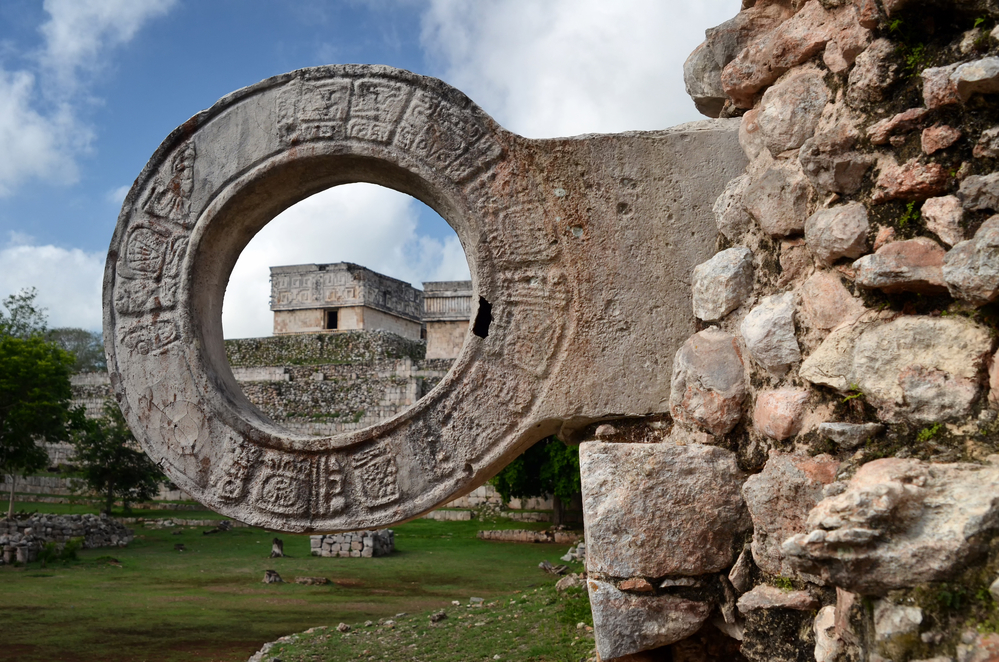 There are over 4400 ancient Mayan ruins in Central America, with plenty of them located in Mexico and mostly being concentrated in the Yucatan Peninsula. While it would be practically impossible to check them all out unless you virtually decided to dedicate years of your life to the challenge, there are definitely a few of them that stand high above the crowds.
From the popular Tulum ruins that overlook the Caribbean Sea to one of the 7 World Wonders and lesser-known sites, here are a few of the best Mayan ruins in the Yucatan Peninsula that you absolutely have to check out. Visiting Mayan ruins should definitely be in your plans!
As a note, this post is about Mayan ruins found in the Yucatan Peninsula in general, not just the state of Yucatan. This means you will find a list of Mayan ruins in Yucatan, Quintana Roo, and Campeche as well – including Mayan ruins near Cancun.
Where to stay to visit Mayan ruins in the Yucatán Peninsula
While Mayan ruins are scattered throughout the peninsula (there are even ruins in the Cancun hotel zone!) there are a few places that are conveniently located to see the most impressive ruins. Staying in one of these areas gives you more time to explore and avoids 8-12 hour tours to the largest Mayan ruins.
Valladolid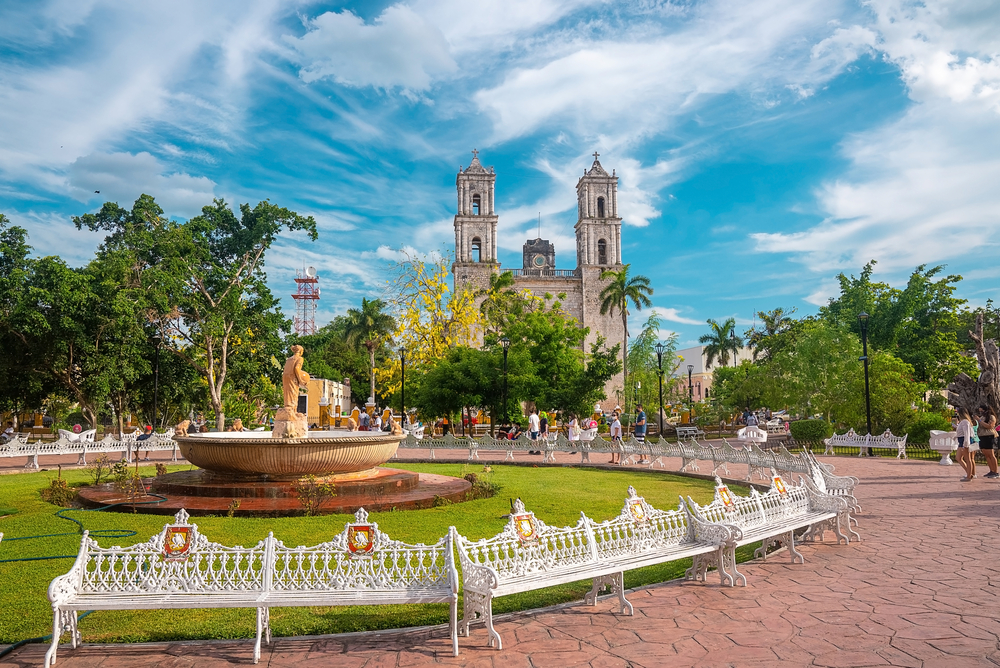 This special city is in the heart of the Yucatan Peninsula and offers a convenient location for visiting both Chichen Itza and Ek Balam. The city itself is charming, with a lovely central plaza surrounded by Spanish colonial architecture. You'll also find many cenotes nearby; I particularly recommend Hacienda Oxman, which has a fun cenote, a sparkling pool and a solid restaurant for lunch. Be sure to reserve an outdoor table for dinner at Yakuna Cocina Mexicana (and bring a light jacket). Staying in Valladolid for 2-3 nights will give you a good sense for the area.
Where to stay in Valladolid
Merida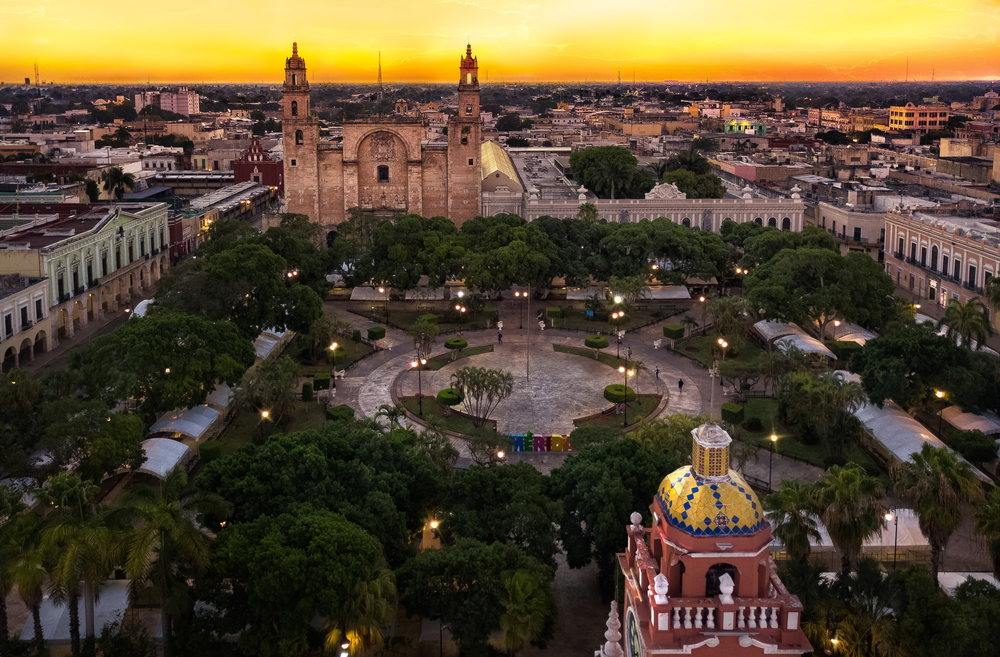 Merida is the capital of Yucatán state and is steeped in both Mayan and colonial history and culture. You could spend a lifetime here, but at least plan on a few days. You'll want to explore nearby ruins like Uxmal and Mayapan but also the many cultural attractions within the city – notably Mayan World Museum.
Where to stay in Merida
Tulum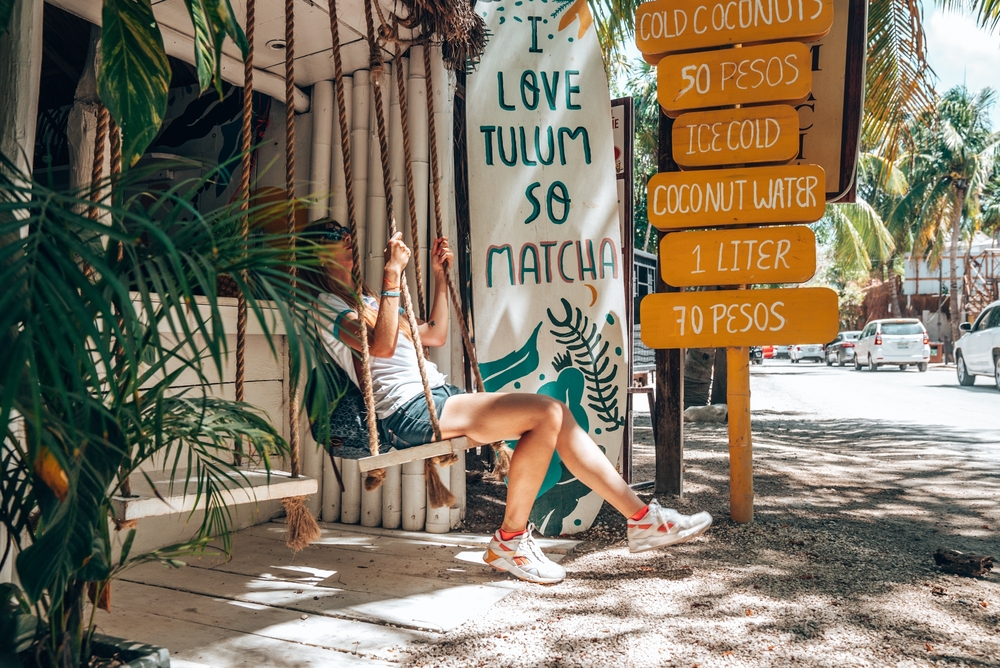 Tulum is unique in that you can actually walk, bike or take a quick taxi to its famous ruins. The town itself has gotten more popular in the last few years but still retains some of its distinctive hippie vibe. Many people base themselves in Tulum for a week-long Riviera Maya vacation. In addition to the local ruins, you can see a wider variety by visiting nearby Cobá or Muyil. Beyond visiting Mayan history sites and exploring town, Tulum offers incredible beaches, nearby cenotes and the opportunity to visit the Sian Ka'an bioreserve.
One thing to know about Tulum is that the town itself is affordable and generally laid-back, but it's not right on the beach. It's an easy bike ride or inexpensive taxi, but walking could take 45 minutes. On the flip side, hotels on the beach in Tulum are generally very expensive and don't have the same convenient access to the ruins.
Where to stay in Tulum
Best Mayan Ruins in the Yucatan Peninsula
How to you choose which Yucatan ruins to visit? There's a wide variety of sites to choose from, so you will want to balance transportation and distance from where you're staying with your depth of interest in Yucatan Mayan ruins and the unique needs of travelers in your group.
Chichén Itzá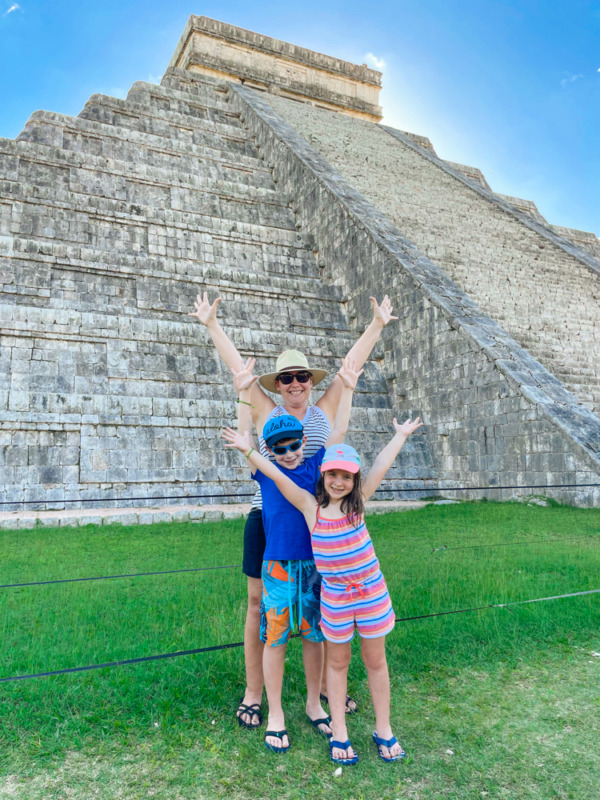 Some 200 kilometers away from Cancun and close to the city of Merida, you'll find some of the most incredible Mayan ruins in Yucatan and one of the most famous archeological sites in the entire world (so much it is ranked as one of the New Seven Wonders of the World!).
Chichén Itzá was once one of the most important cities in pre-Hispanic Americas, and today, you can wander inside its massive grounds in order to get glimpses of what life was like here back in time. There's a reason these are the most famous Mayan ruins, and many people also consider them the best Mayan ruins to visit thanks to the extensive nature of the site and how well-preserved most of the ruins are..
El Castillo temple is one of the most magnificent Mayan ruins on the site, but there's a lot more to see, including dozens of other Mayan ruins surrounding the main temple as well as a cenote where Mayans were believed to have performed sacrificial offerings and rituals. You will be hard pressed to find more impressive ruins in Mexico.
How to visit Chichén Itzá pyramid and ruins
Chichén Itzá can easily be visited as a day trip from locations like Tulum, Cancun, and Playa del Carmen. There are so many Chichen Itza tours to choose from, and you can opt for either a full-day tour that stops at a cenote or eco-park or a "Chichen Itza express" tour that just takes you to the best Mayan ruins and back in 8-9 hours rather than 12-13 hours. Either way, those tours are a long day!
Consider these best Chichén Itzá tours:
If you have the time to spare, I highly recommend combining the journey there with a night or two in the nearby cities of Merida or Valladolid, which are known for their gorgeous Colonial architecture and strong Mayan culture. Staying nearby gives you the option to visit these famous ruins in the Yucatan either first thing in the morning before the crowds arrive or in the evening to see the sunset and light show. You will want to rent a car to explore the area.
Read more: Renting a Car in Mexico: An Insider's Guide
Uxmal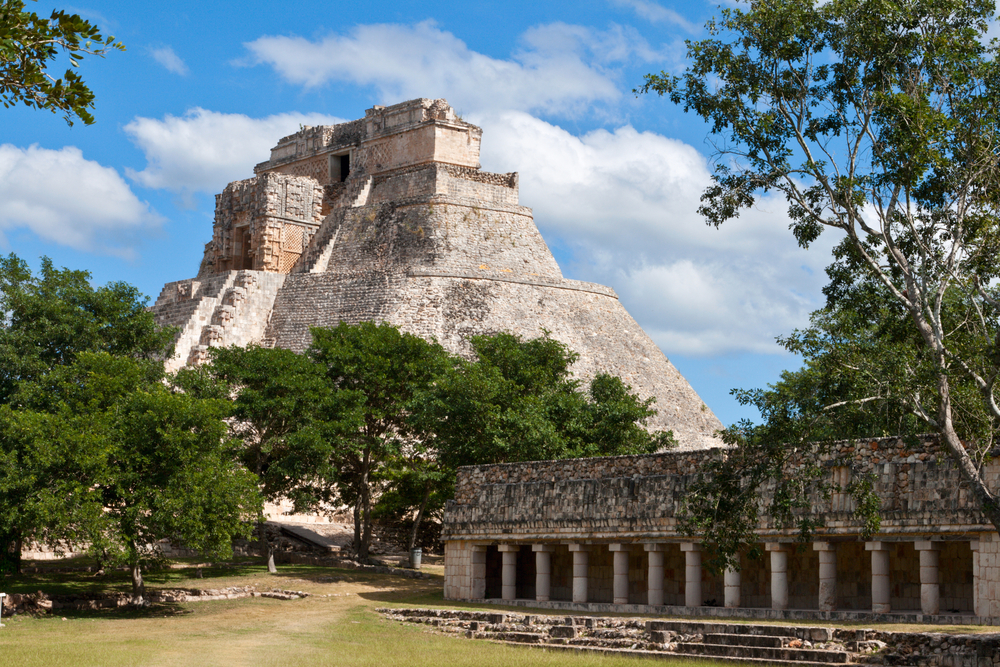 Featuring imposing Mayan pyramids and striking temples, Uxmal translates into "three times built" in order to allude to the fact that it was rebuilt several times over the course of history.
As a UNESCO world heritage site, what makes Uxmal different from other Mayan ruins in Yucatan is the fact that it features Puuc architecture, which is known for its big smooth surfaces, columns on facades, and intricate decoration and details that feature animals and geometrical figures.
The most imposing structure among the Uxmal Mayan ruins is La Casa de Adivino ("the pyramid of the magician"), a majestic pyramid that towers 150 feet over Uxmal. As an ancient legend goes, this pyramid was constructed by a dwarf in just one night, but in fact, it took the effort of thousands of people to construct this massive building. This pyramid was built in a way it would face the sun during the Summer solstice.
How to visit Uxmal Mayan ruins
The Uxmal Maya ruins are a popular day trip from Merida, at just a 1 hour drive. You can either rent a car to visit this impressive Mayan pyramid in Mexico or join a small group tour from Merida.
Aké
Located between the yellow town of Izamal and the city of Merida, Aké was used by the Mayans as a commercial trade site between the years 250 and 900 AD.
Right in the middle, you'll find a courtyard known as the "Grand Plaza" which is surrounded by plenty of buildings that were once used as the home of important governors.
How to visit Aké
Like Uxmal, you'll probably want to visit Aké on a day trip from Merida. It's also a good day trip from the beach towns of Sisal and Progreso.
Read more: 7 Best Beach Towns in Mexico That Aren't Cancun: A Local's Guide
Ek Balam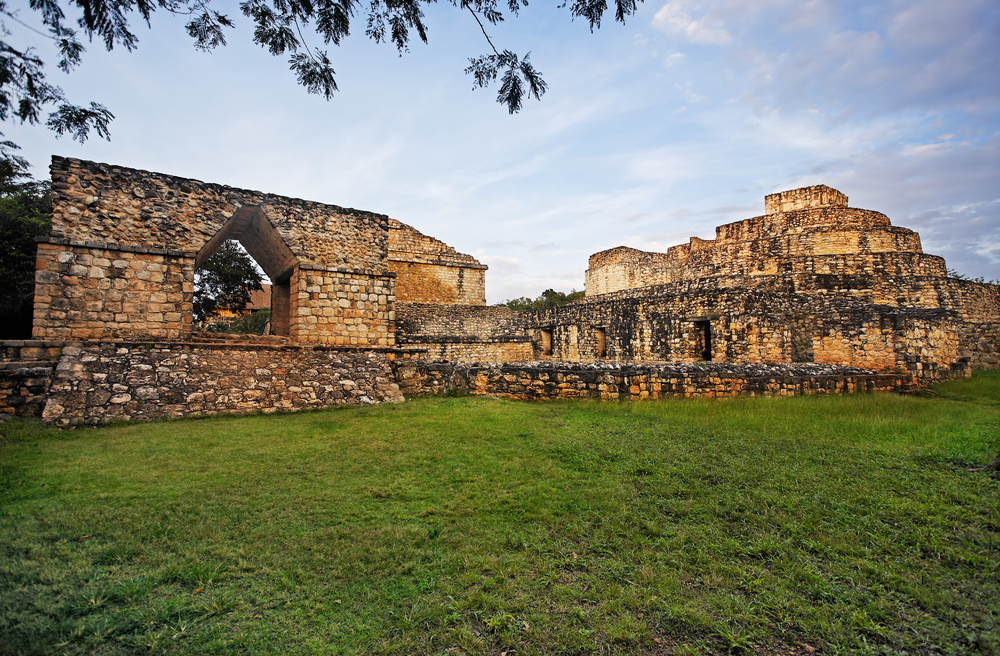 Ek Balam is a name in the Yucatec Mayan language that translates into "black jaguar" or "starry jaguar" (ek= black or star, balam = jaguar).
Even though only the central part of these Yucatan Mayan ruins have been excavated, over 45 temples and structures have been discovered already. The most impressive building on the site is El Torre, a tower that measures a whopping 100 feet in height!
What differentiates Ek Balam from other Mayan ruins in the Yucatan peninsula are the artistic details you'll find all over the place, especially as you climb to the top of El Torre, which provides beautiful panoramic views of the entire site at its top.
Ek Balam isn't one of the most popular ruins in the Yucatan, so it tends not to be as crowded. If you're coming from Cancun and debating Chichen Itza vs Ek Balam, know that Ek Balam is a bit closer.
How to visit Ek Balam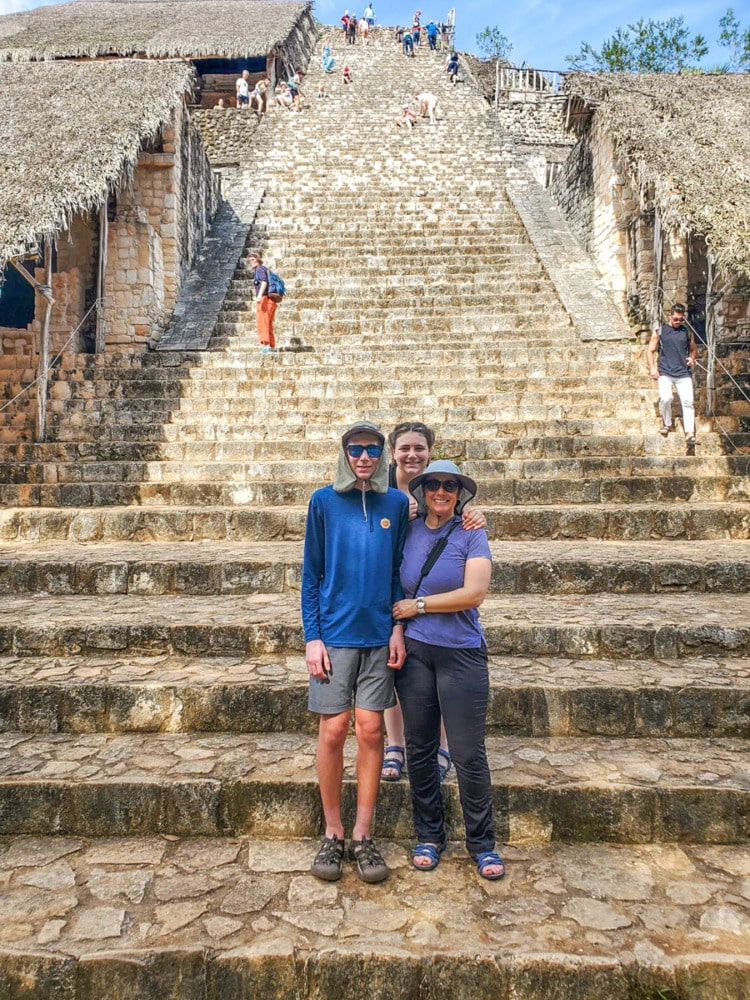 You can visit the Ek Balam ruins on a day trip from Cancun or Riviera Maya, or stay just 30 minutes away in Valladolid if you're renting a car in Mexico. While you're in the area, don't miss a wonderful stop to swim in the cenote at Haciena Oxmán!
Note from Melissa: Unfortunately we missed this tour when our flight to Mexico was canceled by Southwest, but other family members went on that tour and had great feedback.
If you're staying in Valladolid but want some more structured sightseeing, this tour will take you to Ek Balam and the protected flamingo habitat of Rio Lagartos!
Tulum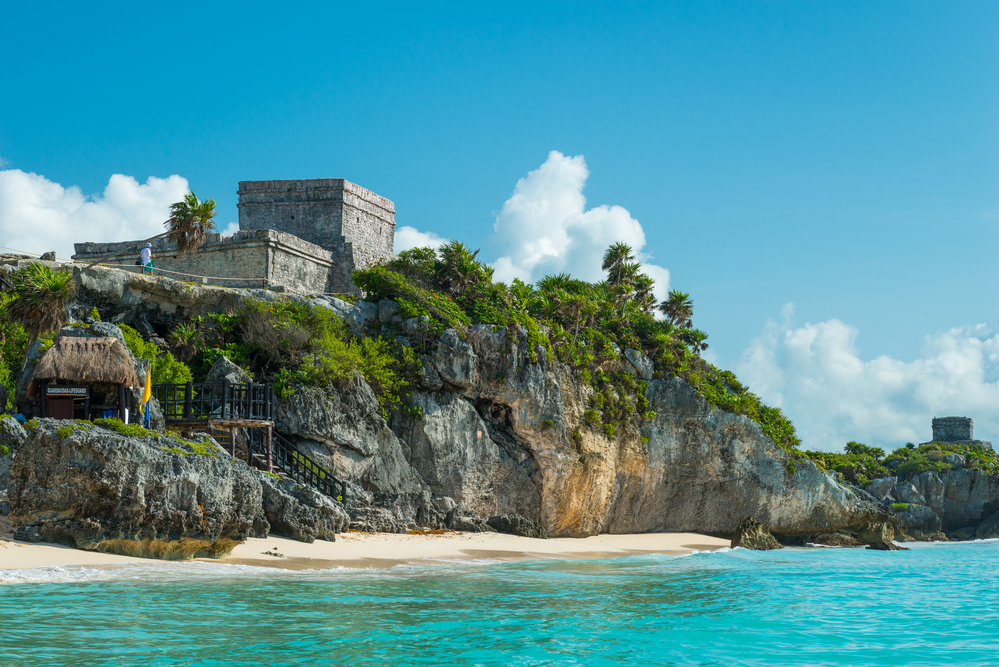 Out of all the Mayan ruins in Yucatan, Tulum's are some of the most unique ones you'll find around. For one, it's the only site that faces the ocean, which made it a key place when it came to protecting the peninsula from outside threats as well as the import and exportation of goods to other regions.
Within the archaeological site of the Tulum Mayan ruins, you'll find over 60 temples in the walled city. El Castillo is the most popular Mayan ruin and the most photographed place in the Riviera Maya due to its unique location over a cliff overlooking the turquoise Caribbean Sea.
How to visit Tulum
The Tulum Mayan ruins are about one hour south of Playa del Carmen and two hours south of the Cancun hotel zone, making it a great day trip if you're staying further north – either with your own rental car or on an organized tour. There are plenty of ways to get from Cancun to Tulum. You can even combine your visit to Tulum with a snorkeling expedition or a cenote visit! However, the most convenient way to visit the beautiful Mayan ruins of Tulum is to stay in the center of town and walk, bike or take a taxi there!
Cobá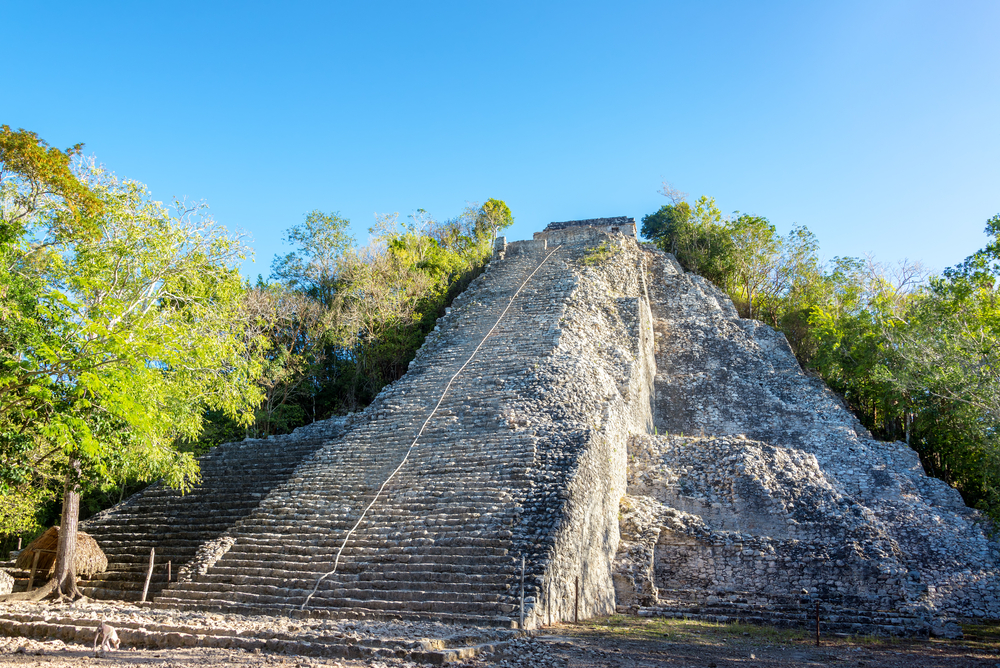 Located midway between Chichén Itzá and Tulum, Cobá was once a major commercial city that homed over 50,000 people. The word Cobá roughly translates into "abundant water" or "mossy water", which makes reference to the lagoons that surround the site.
Cobá is a huge complex of Mayan ruins and a huge part of it remains unexcavated, making this city one of the most intriguing places to visit in the region. Within the archaeological site, you'll find Nohoch Mul, an extremely imposing Mayan ruin that is twice the height of the main pyramid in Chichén Itzá as well as other smaller temples.
The site itself is very large, so many people hire pedi-cabs to take them around. The Cobá pyramid does allow visitors to climb (notice the rope in the photo above) but with so many visitors it does lead to gradual deterioration of the site. The steps can also be very slick, so keep that in mind.
How to visit Cobá
Coba is approximately 45 minutes inland from Tulum, so many people visit these two Mayan sites on a combined trip. For a truly unique experience, book this tour that visits Cobá and then heads to the Punta Laguna Nature Reserve for jungle exploration, zip lining, wild monkeys and more!
Dzibilchaltun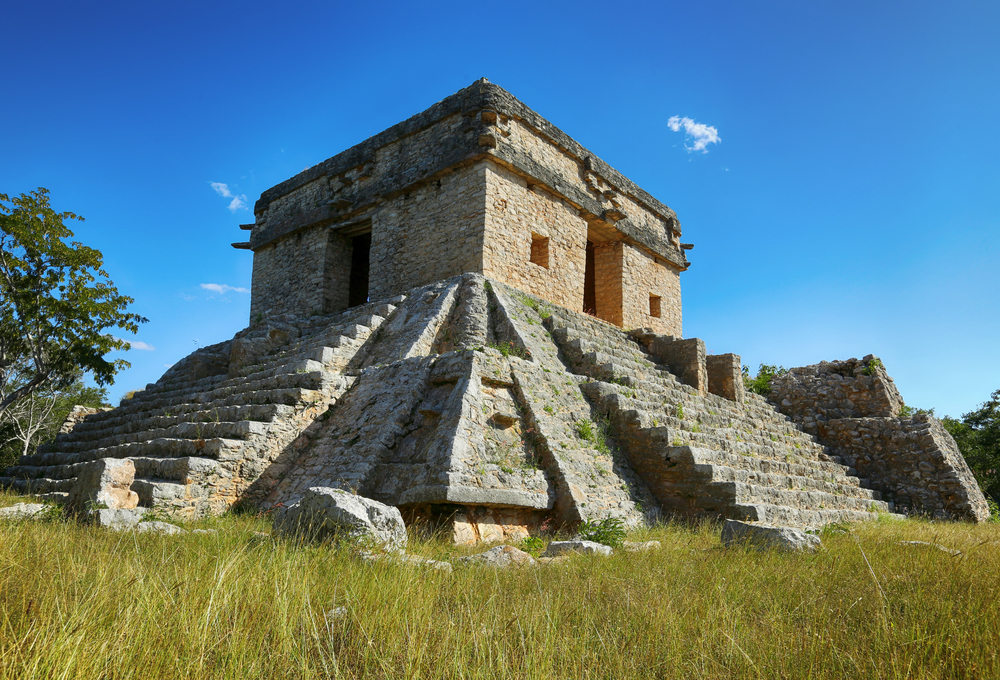 Dzibilchaltun is set close to Merida in the state of Yucatan and it's an excellent example of how knowledgeable the Mayans were regarding astronomy and outer space.
In Mayana, Dzibilchaltún translates into "the place where there are writings on the rocks" because the entire site features plenty of stones that depict the story of the place, which is believed to have been around since the year 500 BC.
Every March 21st and September 21st, the sun shines right through the doorway of the Seven Dolls Temple, the main temple of the site, creating a spectacular show of lights and shadows.
How to visit Dzibilchaltun
Dzibilchaltun is easy to visit if you rent a car in Mexico and it's also a popular cruise ship excursion from Progreso.
Xaman-Há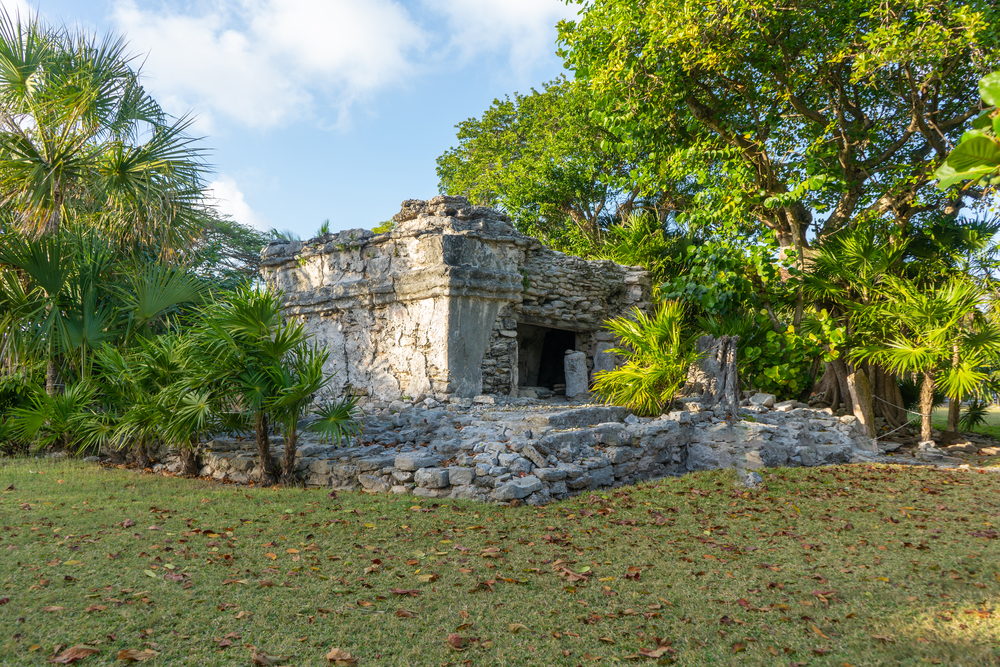 Xaman-Há, also called the Playacar Mayan ruins, was one of the first places the Spaniards stepped foot in Mexican lands. Due to its location next to the ocean, its inhabitants were mostly dedicated to fishing and other marine-related activities.
Although it's not confirmed, many legends state that Xaman-Há was the start-off point for a massive peregrination to the island of Cozumel where Mayans would go to worship Ixchel, the Mayan goddess of love.
The Mayan ruins of Xaman-Há are located in Playa del Carmen. Although small, we highly recommend visiting them if you want to explore a hidden gem in the region. These are great Mayan ruins to visit with kids because visitors to Playa del Carmen can walk to them without taking a taxi or going on a full-day tour.
Read more: Playa del Carmen with Kids: Best Activities that Parents Will Love Too!
How to visit Xaman-Há
Visiting these ruins in Riviera Maya is convenient – if you know where you're going. Xaman-Há is located in the gated community of Playacar, which is technically open only to residents and hotel guests staying within. However, many people coming to see the Playacar ruins arrive on foot via 5th Ave south of the ferry terminal and walk in without any issues. There are several sites within walking distance of each other once you enter Playacar.
Of course the easiest way to see these Mayan ruins is to stay at one of these lovely villas in Playacar! Many families love this area because it's close to all the activity of Playa del Carmen but quieter. Playacar Beach is also one of the best beaches near Playa del Carmen.
Kohunlich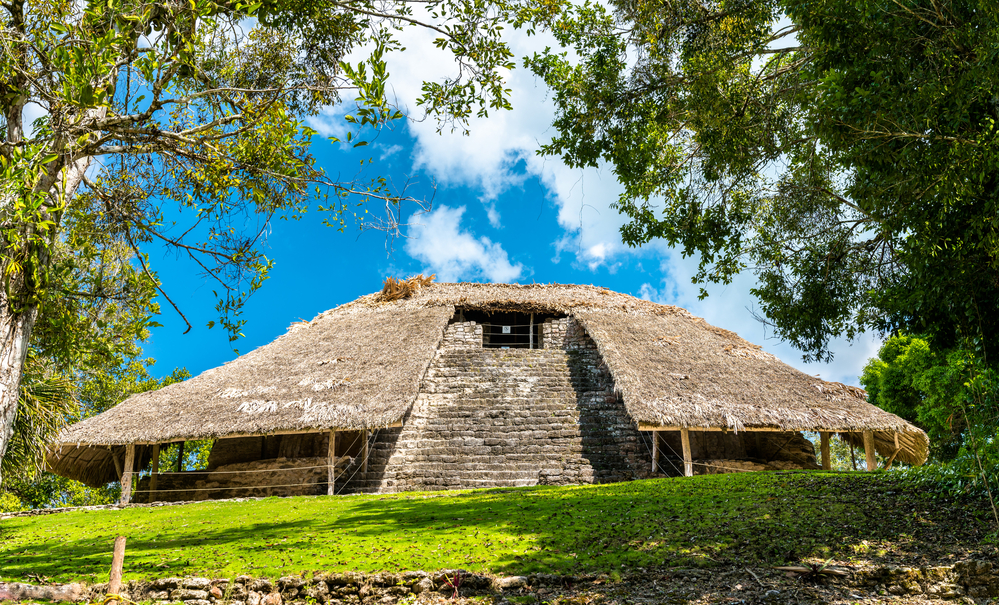 Covering over 8.5 hectares in the middle of the jungle, the Kohunlich Mayan ruins are still pretty undiscovered and archeologists continue to excavate the area to find new structures hidden in the area.
Here, you'll find one of the biggest gems of the Mayan civilization: the Temple of the Mask. This massive structure was built between 500 and 600 AD to honor the sun god. It features five perfectly preserved stucco masks that have become a symbol of Mayan culture.
How to visit Kohunlich Mayan ruins
Kohunlich is one of the hardest archaeological sites to access in Mexico's Yucatan peninsula. It's nearly 5 hours by car from the Cancun airport. However, it's located just 1 hour inland from the Chetumal International Airport and 3.5 hours from Belize City (which has more non-stop flights from the US).
Kohunlich is an ideal site to combine with a stay in up-and-coming Bacalar. Some people also visit on a lengthy cruise excursion from Costa Maya.
Mayapán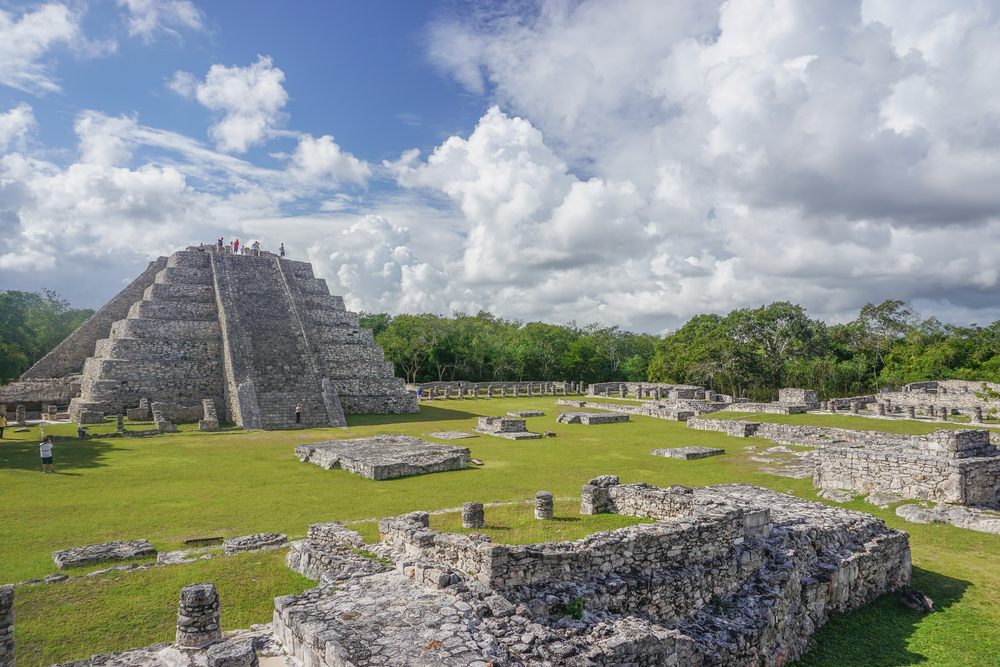 Mayapán was once a city that is said to have been one of the last official capitals of the Mayans before the civilization disappeared. The site contains plenty of striking pyramids, most of which you can actually climb!
As a tip, Mayapán is a great alternative to visiting the ruins of Chichén Itzá, especially if you enjoy off-the-beaten-track places that rarely see crowds. This site is pretty similar but you may actually get to be the only person here because it rarely appears in guidebooks!
How to visit Mayapán
The Mayapán Mayan ruins in Yucatan state are about 1 hour inland from Merida. You can either self-drive from there or take a small group tour that includes a guided tour of Mayapán along with several different cenotes in the area.
Muyil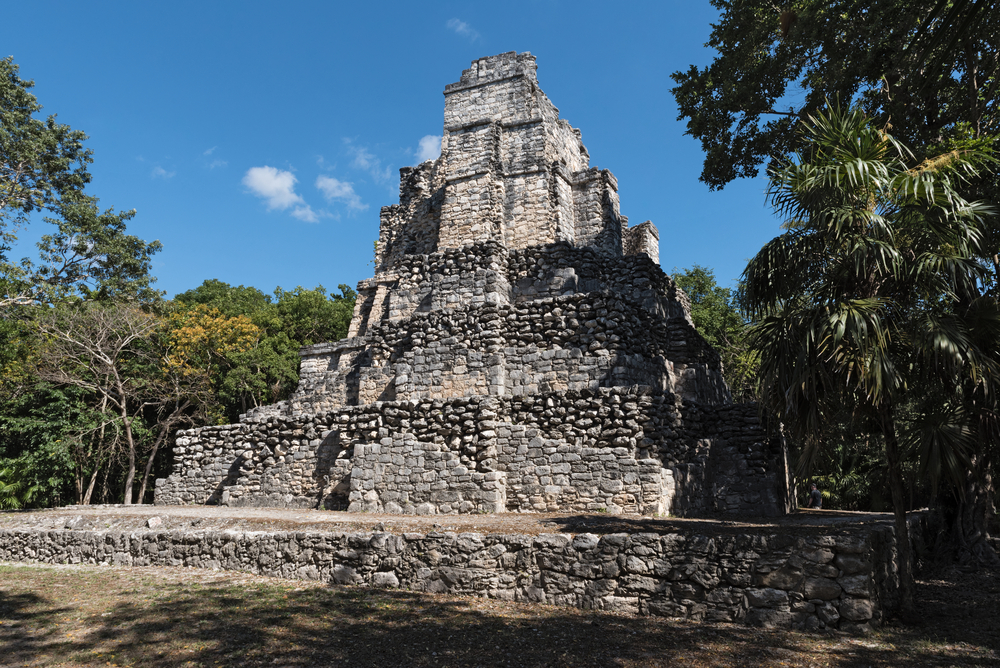 Even though the original name of this Mayan complex remains a mystery, this gorgeous set of Mayan ruins stands right next to the Sian Ka'an Biosphere Reserve, making it a perfect place to visit in order to explore history and nature in one go.
Muyil extends over 38 hectares across the jungle and features El Castillo, the tallest pyramid on the Riviera Maya coast. Aside from exploring the Mayan ruins across the site and getting a serious dose of history, this Mayan site also features a lookout at a beautiful lagoon of the same name. These are some of the most unique Mayan ruins near Playa del Carmen and Tulum.
How to visit Muyil
The Muyil ruins are just 20 minutes south of Tulum, making it an easy day trip. Many people visit on a combined tour with Sian Ka'an.
Mayan ruins in the Cancun hotel zone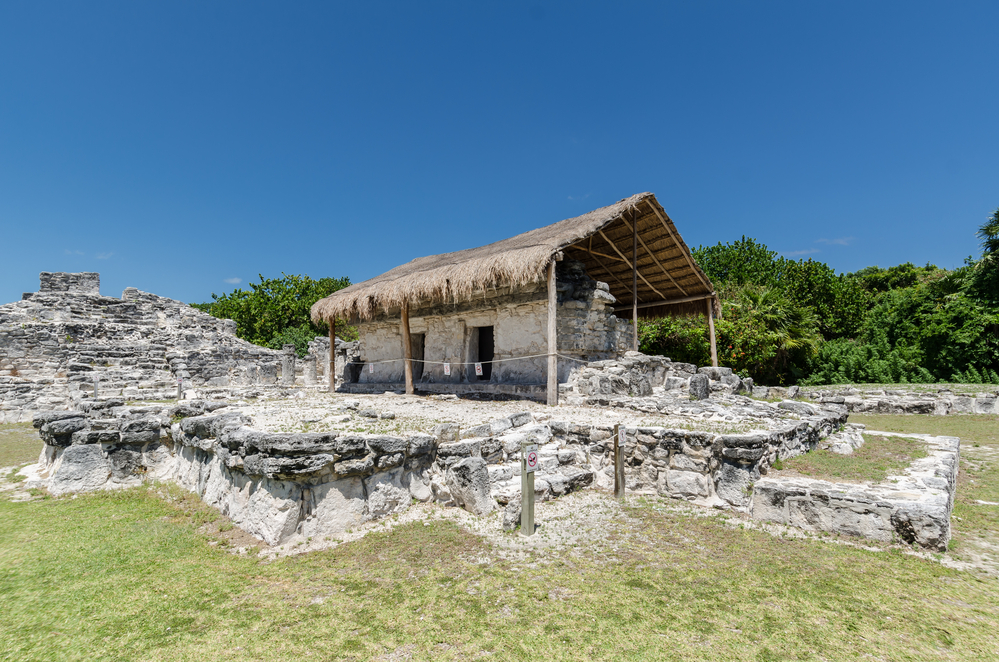 If you aren't able to get out and explore the Yucatan peninsula, there are actually several small Mayan ruins in the Cancun hotel zone and nearby. These aren't as impressive as the ones we've already discussed but they can provide a nice introduction, especially for families with young children who can't make a lengthy drive.
One option to consider is the San Miguelito archaeological site, which is part of the Museo Maya de Cancun (sometimes called the Cancun Mayan Museum). You can access these Mayan ruins through the museum but not on their own. There are several different structures in this ancient Mayan city but it's compact easy to walk around and explore. Be sure to apply mosquito repellant before you go! Note that the museum and ruins are closed on Mondays. It's also worth keeping in mind that the museum itself is several levels up, and if the elevator is broken you'll have to walk up the lengthy ramps.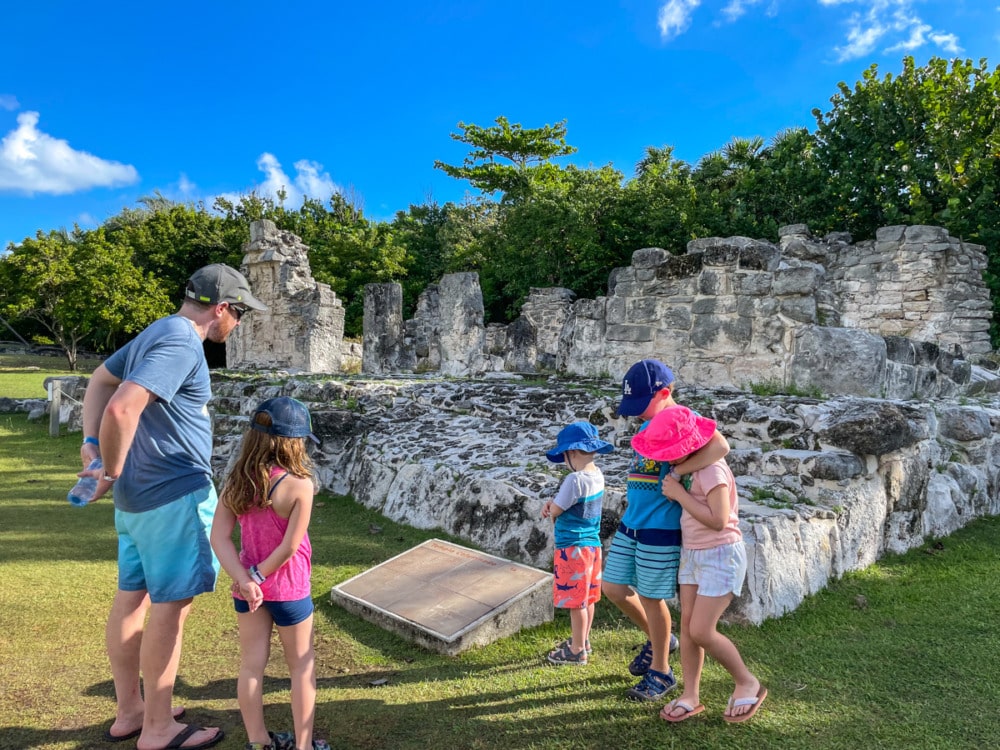 The ancient ruins at El Rey are just a mile from San Miguelito but not as extensive and with much less shade. However, you are unlikely to find any crowds (and many fewer mosquitos) at El Rey even though it's near Cancun hotels and resorts. It was founded more than 2000 years ago and rose to prominence around 1000 years ago and there are several different structures to see.
Note from Melissa: We visited this site for about 45 minutes and it was a great taste of Mayan ruins in Cancun for our mixed-age group. Admission to these Cancun ruins is just $10 per adult and you may be able to hire a guide on-site to tour you around the ancient city – a certified guide approached us around 10am but we were already on our way out.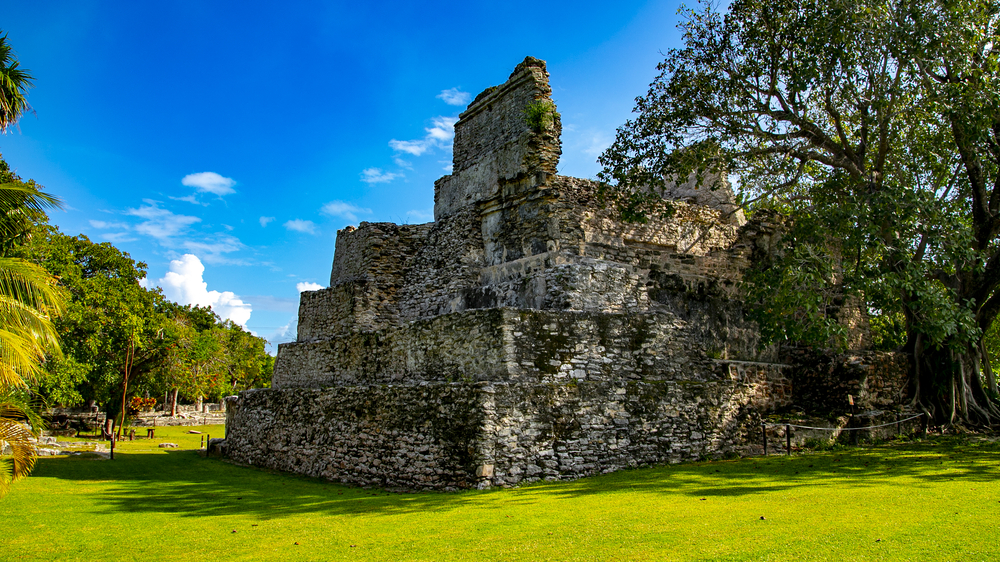 One more set of ruins near Cancun worth mentioning is El Meco in Costa Mujeres, also sometimes spelled "El Meko". The Castillo is the tallest Mayan pyramid in the area, but the site is rarely visited so you're unlikely to encounter crowds. It's a great stop before you hop on the ferry to Isla Mujeres – El Meco is just a 5 minute taxi ride from Punta Sam or 10 minutes from Puerto Juarez.
How to visit Cancun Mayan ruins
All of the ruins in the Cancun hotel zone are easy to visit by bus or taxi. You can even walk to the Museo Maya de Cancun or El Rey from some of the resorts like Iberostar Selection Cancun – which may be an easier choice if you're visiting Cancun with kids and don't want to worry about bringing their car seats for a taxi ride.
Xcaret Mayan ruins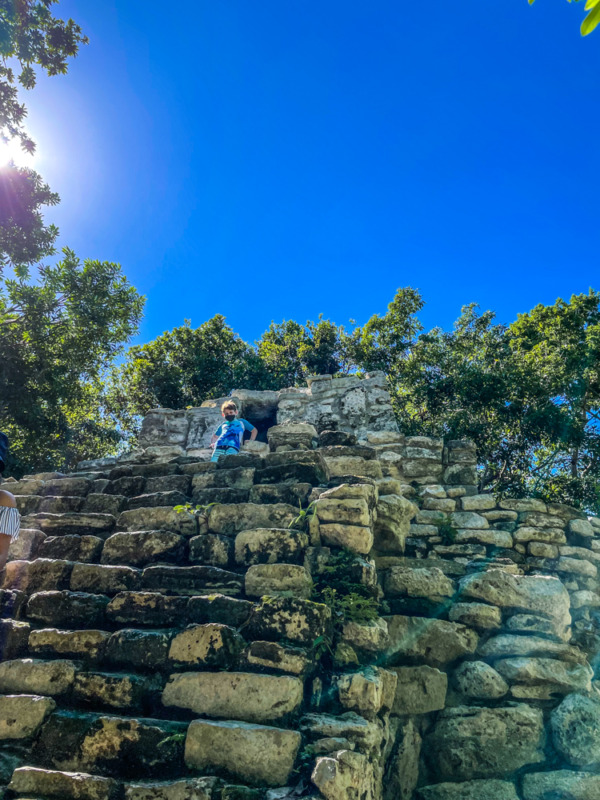 Another convenient option for families, even if they aren't the "best" Mayan ruins, is to visit the sites at Xcaret Park. The original settlement, Polé was one of the ancient Mayan cities focused on maritime trade. There are several archaeological sites through Xcaret Park, and you'll be able to see the Xcaret ruins if you follow the black line through the park ("Ruta del Río").
Read more: Xcaret Park Mexico: 20+ Tips & Tricks to Make the Most of Your Visit
How to visit the Xcaret Mayan ruins
The Xcaret ruins are located inside Xcaret Park, just south of Playa del Carmen, so you can only see them if you have purchased a ticket to visit for the day. It's a fun family outing for kids of all ages – including older children and teenagers – so be sure to add it to your schedule! Be sure to read these Xcaret Park tips before you go.
For extra fun and convenience, consider staying at Hotel Xcaret – you can read all about it in this detailed Hotel Xcaret review. It includes unlimited admission to all of Xcaret's parks and is a great Riviera Maya all-inclusive experience on its own.
---
Map of Mayan ruins in the Yucatan peninsula
Have you ever been to any of these Mayan Ruins in the Yucatan Peninsula? If so, I'd love to know which one was your favorite and why, so please feel free to tell us all about your experience in the comment section below.
---
FAQs for visiting Mayan ruins in the Yucatan peninsula
Here are some common questions about planning a visit to Mayan ruins in the Yucatan peninsula.
Are the Mayan ruins worth seeing?
Absolutely! Mayan history and culture are such an important aspect of the Yucatán peninsula that you should make time to see ruins at least once during your visit to the region, even if you are only able to go to a smaller archeological site.
Are there pyramids in Yucatan?
There are many Yucatan pyramids as you can see in the photos above. In addition to the famous Chichen Itza pyramid (El Castillo pyramid), there are impressive Mayan pyramids at sites like Cobá near Tulum, Uxmal near Merida and even the El Meko Mayan ruins near Cancun in Costa Mujeres.
What is the famous Mayan ruins on the Yucatan Peninsula?
The most famous Mayan ruins on the Yucatan Peninsula are at Chichen Itza, including El Castillo pyramid.
Are there any Mayan ruins in Cancun?
Yes, there are several small Mayan ruins near Cancun and even a few in the hotel zone. The sites include El Rey, San Miguelito and El Meco.
How far are the ruins from Cancun?
There are several Mayan ruins right in the hotel zone of Cancun, so you don't have to go far to experience this important piece of Mayan history!
Which ruins are closest to Cancun?
The closest ruins to Cancun are El Rey, San Miguelito and El Meco – all in or immediately surrounding Cancun. The next set of Mayan ruins closest to Cancun are in the Playacar community of Playa del Carmen, about 45 minutes south in Riviera Maya.
Are there any pyramids near Cancun?
Yes, the closest pyramid to Cancun is at El Meco just north of the city. It's just 20 minutes from the hotel zone.
Which is better Tulum ruins or Chichen Itza?
The ruins of Chichen Itza are quite possibly the best Mayan ruins in the Yucatan Peninsula – the site is vast and many of the structures are still in tact. It was also an important site in Mayan history during its heyday as an ancient Mayan city of nearly 50,000 people.

That said, Tulum has some of the most beautiful Mayan ruins thanks to its position just above the stunning turquoise water. It's also much closer to visit for travelers staying along Riviera Maya.
Are there ruins in Riviera Maya?
Yes, they include Tulum, Playacar (Xaman-Há) and Xcaret Park. With thousands of Mayan ruins in the region, there are certainly other sites as well – including some that may not have been explored yet in the modern era.
Does Playa del Carmen have Mayan ruins?
Yes, Playa del Carmen has a small archeological site called Xaman-Há in the Playacar gated community.
How far are the Mayan ruins from Playa del Carmen?
There are small ruins in Playa del Carmen at Playacar. If you would like to visit a larger archaeological site, Tulum is an easy day trip from Playa del Carmen.
---
Planning your trip to Mexico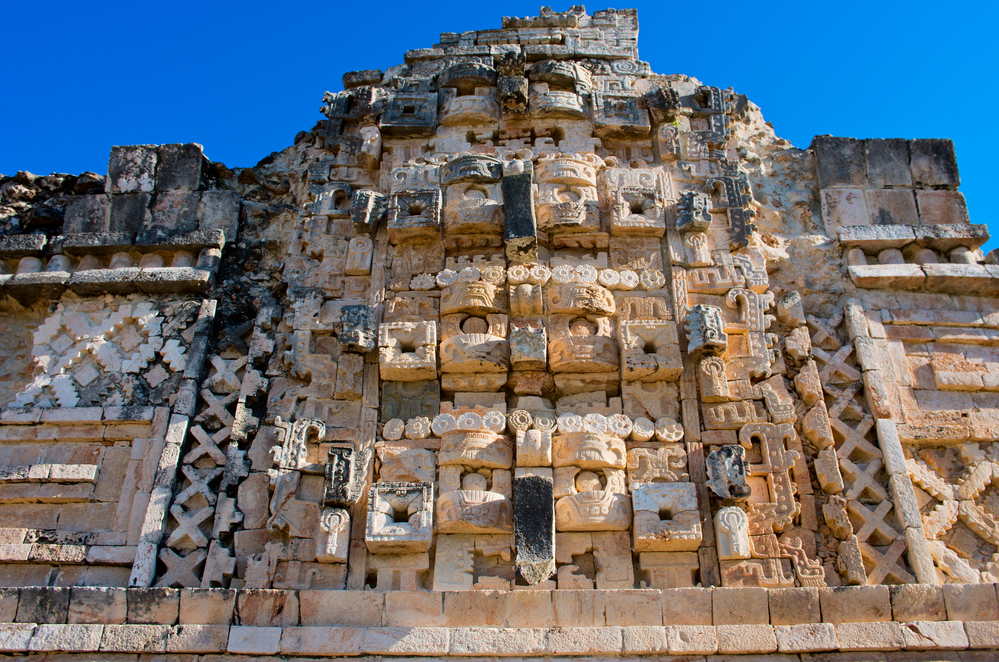 Still planning? Pin this for later!