If you're planning an epic trip to Mexico, you won't want to miss these tried-and-true items on your Mexico pack list. Unfortunately some other packing lists for Mexico are copy/paste versions of generic lists, but here you'll find the Mexico essentials that we actually took and used during our trip.
What's included in our things to pack for Mexico?
Vacation clothes for Mexico

The best shoes to bring to Mexico

Other Mexico travel essentials
Items specific to a packing list for a Mexico resort vacation
… and more! I promise, you won't want to miss this complete Mexico packing list.
Vacation clothes for Mexico
Trying to figure out what to wear in Mexico? Obviously there's no single right answer for how to dress in Mexico, as so much depends on your personal style and the activities you're planning. This guide should give you a great start and then you'll want to edit around the edges to suit your personal needs.
One important factor to consider as you decide what to bring to Mexico is whether or not you'll have laundry access. We didn't on our first family visit, but fortunately it was still very easy to pack for Mexico in a carry-on thanks to the warm weather. If you build in a round of laundry, you can pack even less!
2-3 Swimsuits
Obviously one of the Mexico trip essentials, swim suits don't take up much room and you'll use them a ton! You'll want a second in case your first is wet/sandy/washing, so it's worth the tiny bit of extra space when you're narrowing down what to bring to Mexico.
If I'm being completely honest, I think I brought four swimsuits for Mexico and I'm not ashamed of it. Our resort room in Playa del Carmen was fairly humid and short on hanging space, so it took some of my suits a long time to dry!
My preference is to have at least one "cute swimsuit" and one "active swimsuit". The cute swimsuit is perfect for casual pool and beach days, but I like to have one with a little more support for snorkeling and swimming in cenotes. I have a suit similar to this one that has been working great and the top can even take the place of a sports bra for hiking.
Fortunately for many of us, one-piece suits are very much en vogue right now! I own the two above and they're extremely comfortable and flattering – I receive tons of compliments on them. You can find them here and here. I'd just save the one piece suits for pool/beach days when you won't have to completely disrobe in a small bathroom stall or on a boat!
UV rash guard
I can't stress enough how important it is to include a UV rash guard on your Mexico pack list. It protects your skin from sun exposure when you're out snorkeling or lounging for hours and decreases your impact on Mexico's fragile reef ecosystem.
The good news is that manufacturers have gotten wise to the growing market for cute women's rash guards and there are so many great options now! These can take a while to dry, so it doesn't hurt to bring two if you plan to be in the water most days.
I own the one above and can attest to it being comfortable and cute. I wore it all day at Xcaret Park and it was perfect for transitions between time in the sun and time in the water. When I was feeling modest, I even untied the strings on the sides to turn it to a swim dress!
Dresses to wear in Mexico
I love bringing dresses when we travel! It's just one thing to put on the morning, no matching and minimal packing. You'll find that tons of local women wear dresses in Mexico since they're so cool and comfortable. There's a reason dresses are #1 on my list of clothes to pack for Mexico. If you're trying to figure out what to bring to Mexico for a week, you really don't need to overdo it – plan to wear each dress twice to save some space.
My very favorite travel dresses are ones with a built-in bra – comfortable and they further minimize packing need! I love this dress so much that I own it in two colors – I wore them all the time during our trip to Mexico. Obviously YMMV (your mileage may vary) depending on your body shape and *cough* support needs *cough*, but hopefully you can find one you love since a simple dress with flip flops tops my list of casual Mexico outfits ideas!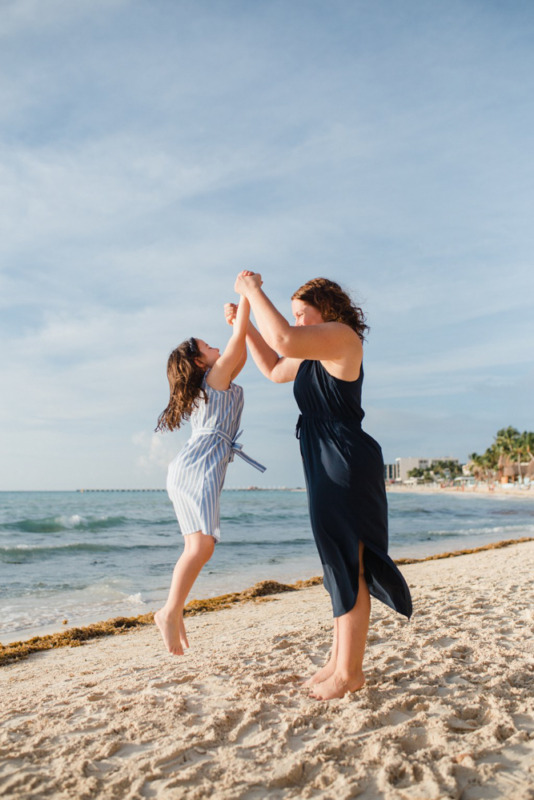 I'd also bring at least one dress without a built-in bra to double as a beach cover-up (sadly the one I have is no longer in stock but these are very similar similar). If you're planning on doing a Mexico photo shoot (and you should!) be sure to bring a dress that'll look nice enough for photos but also work for other occasions. My dress from this collection turned out great!
If you want to know how to pack for Mexico in just a carry-on, dresses are the answer. Check out these comfortable, cute dresses for a Mexico vacation:
1-2 pair of shorts
If you're bringing a few dresses and spending part of your time at the beach, one pair of lightweight shorts should suffice to round out your options for outfits to wear in Mexico. Denim shorts may look cute, but the most practical option is a synthetic pair that will dry fairly quickly. Then you can wear them for walking in the jungle, scaling Mayan ruins or even as a beach cover up, so they're good versatile clothes for a Mexico trip.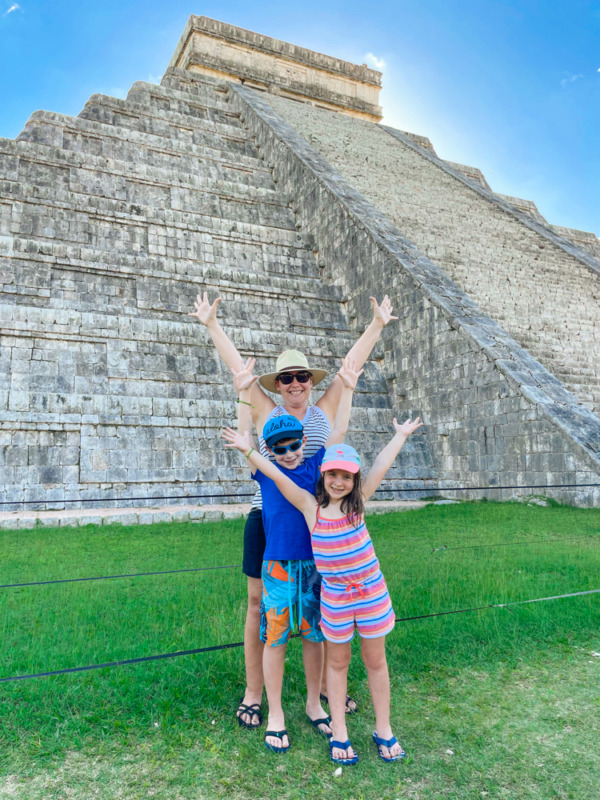 A great alternative (and one that I often prefer) are skorts. Far from the unfashionable options of the 1980s, today there are tons of lightweight athletic skorts that look like regular skirts but have shorts built in underneath. I love the skorts from Athleta (pictured above).
Should you bring pants to Mexico?
Good question! If you're heading to one of Mexico's mountainous regions, I'd definitely bring at least one pair of pants… some places in Mexico actually get snow! Even if your building a packing list for San Miguel de Allende in winter, you'll want to throw in some pants as the evenings can get cold. If you're visiting one of the fantastic Mexico beach destinations you can likely get away without them. I wore a pair of lightweight joggers for our flights so that I'd have them just in case, but I didn't end up needing them for the rest of our trip.
2-3 tank tops/tee shirts
You can easily get by with just two or three tank tops or tee shirts from your dresser when you're packing your Mexico vacation clothing. You'll wear these for active days or as cover ups when going to the beach. Even if they aren't so exciting, they're one of those "must haves" for Mexico. The two shown above are the ones I brought to Mexico and they worked great. If you really want to be efficient in you Mexico pack list, your rash guards can double as t-shirts!
Pajamas
Even nights can be fairly warm in Mexico, so no need to pack ultra-warm pajamas. But it's always nice to put on something soft, clean and comfortable after your post-activity evening shower. Doesn't hurt if it's cute too, right?
If you really want to treat yourself, check out my favorite pajamas – I brought two sets to Mexico and they were perfect!
(On a side note, the main reason I have pajamas on this Mexico packing list is because it's the one thing I always forget when I pack for a trip!)
Sunglasses
You can't visit Mexico without a good pair of shades! The sun is just too bright and can even cause long-term damage to your eyes. Make sure a pair that offers UV protection is on your list of things to take to Mexico.
Pro tip: choose polarized lenses to make all those bright colors look even more vivid!
Wide-brim hat
A hat will definitely come in handy in Mexico! It's one of the most important things to bring to Mexico to prevent sunburns. What style of hat to choose is a personal preference, just pick one that'll look great with all the cute outfits for Mexico that you've packed! For practicality of packing you can't beat a trucker hat, but of course a straw sunhat is oh-so-chic. Just try to find one that packs well so you don't have it loose and lose it in transit (ask me how I know). I wound up bringing this hat – it's a good straw hat for women with big heads… like me.
Light jacket or sweater
You don't need to go overboard with outwear in most parts of Mexico, but I'd recommend bring a light jacket or sweater for the evenings just in case. Evenings are generally balmy along Mexico's gorgeous coasts, but inland areas can get cooler. We were downright chilly during one outdoor dinner in Valladolid!
Purse
I'm not usually a big purse user because I hate carrying anything extra, but I found the perfect purse for Mexico and I can't help but share it with you. This bag is extremely lightweight and soft so it won't feel burdensome to carry – plus it packs down to nothing in your luggage. It has plenty of capacity but won't feel like overkill even if you just have a few small items in it. If you're traveling solo to Mexico it might even hold your necessities for the day!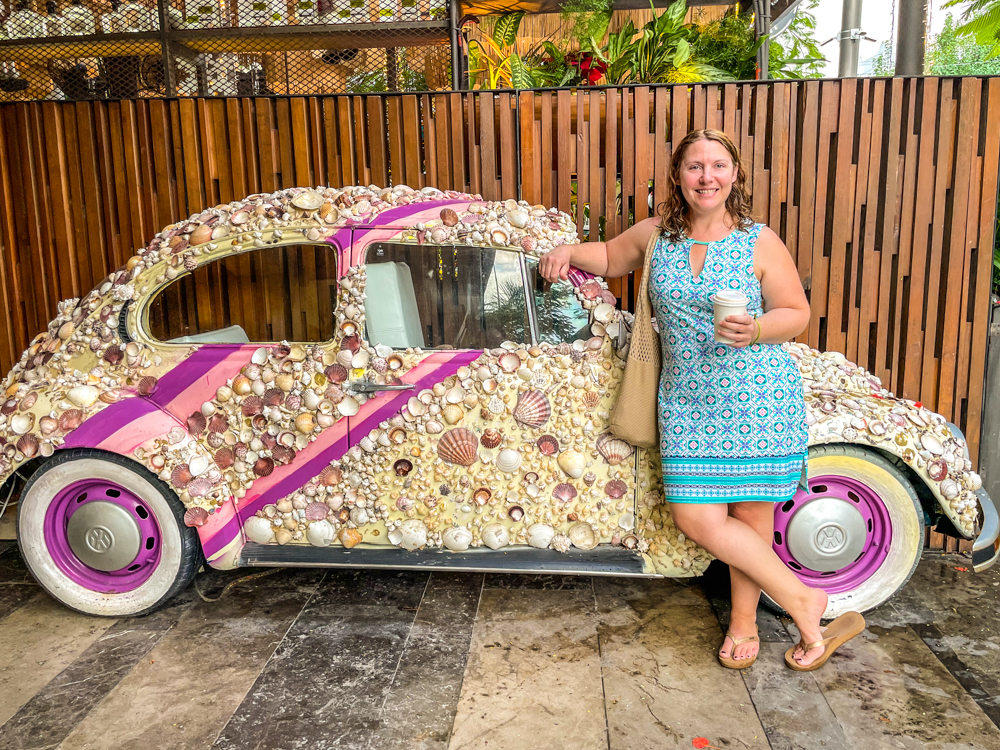 ---
Best shoes to pack for Mexico
The bread and butter of your Mexico vacation shoe wardrobe should be a comfortable pair of flip flops if you'll be spending time at the beach. I've been a devotee of this style of decades and it never fails me in terms of style or comfort. They also pack down so small that you could bring two colors and not stress about taking up space in your luggage.
When I need something a little dressier, like for dinner at a resort in Mexico, I love these Vionic sandals. They look great but they're also extremely comfortable even for full days of walking – they won't feel too dressy if you decide to wear them during the day, just don't plan on them for any water-based activities.
If there was one area where we overpacked, it was in bringing shoes for Mexico. We brought sneakers in addition to our flip flops just in case but we only ended up using them for our flights to and from the frigid Midwest. They were great to have for that purpose since it was below freezing when we landed, but we did not need sneakers in the Yucatan Peninsula.
For city-oriented trips to Mexico, athleisure shoes will work well. You could try the ever-popular Allbirds or Adidas All Stars if you have forgiving feet. For those of us whose feet need extra support and care, try these Easy Spirit sneakers one of the great options from my favorite brand.
You should bring sneakers or other securely fastened shoes if you're doing any of the following:
Visiting Mayan ruins that allow you to climb, like Coba or Ek Balam
Trekking in the jungle
Hiking
Zip lining (including Xplor at Xcaret Park)
The right choice for your non-sandal shoes will depend on the specific activities you're planning on. I've been using these shoes for hot weather or water-oriented hiking for years and they would work well. This newer option would be an even better choice!
If you're on a tight budget, consider these wallet-friendly alternatives. Those are lightweight enough that you can even wear them while visiting some of the shallower cenotes near Playa del Carmen and they're perfect for zip lining.
---
What to bring to Mexico: travel essentials beyond the clothes
There are a few Mexico vacation packing list essentials that you absolutely need to bring with you.
Reef-safe sunscreen
Just like in Hawaii, Mexico has a fragile ecosystem that deserves our respect. In addition to wearing a rash guard to minimize your use of sunscreen, consider choosing a reef-safe sunscreen that omits chemicals known to harm aquatic life.
Mosquito repellant wipes
If you'll be spending any time in the jungle, these mosquito repellant wipes are an amazing find. They saved us during our day at Xcaret Park!
I love these wipes so much more than spray, especially for travel. They're extremely easy to keep in your day pack just in case you need them since they don't take up any space. There's no noxious taste to inevitably get in your mouth. You won't use up any of your precious 3oz liquid travel allotments. And there's no risk that the other items in your luggage will come out smelling like bug spray.
Microfiber travel towels
Whether you're hitting up the beaches along the Sea of Cortez or swimming in Yucatan cenotes, it's handy to bring a microfiber travel towel (or two) on your trip. We brought one for each member of the family and used them so many times! They were much more convenient for day trips and excursions than traditional towels and we loved not having to stress about renting them.
Wet bags (or dry bags)
Wet bags are durable, reusable bags designed to keep wet (or dirty) stuff separated from dry stuff. They're extremely handy for damp swim suits, used microfiber towels, dirty shoes, toiletries and just about everything else. We have a huge collection and bring several compact ones every time we travel. This style is one of our favorites for lightweight travel because they weigh nothing pack up tiny but hold a lot.
One pro tip after a decade of use is not to put soaking wet items in if you can avoid it. Try to wring out as much water as possible so that items are damp. Then when you put them in the bag you're much less likely to have seepage out through the seams. If you want to store soaking wet items you need something heavier duty like this.
You'll need something to carry all your beach necessities, so why not get one that does double-duty? This adorable tote has a built-in waterproof compartment to keep any wet items – whether a sweaty waterbottle or a sandy swim suit – segregated from everything else! There's also a great organizer compartment for your shades, headphones and other small items. It's a great choice for what to take to Mexico as a beach bag that doubles as your carry-on for the plane. Check out the full selection of Logan + Lenora beach totes on their website.
Waterproof phone pouch or action camera
If you'll be doing any water-based activities, an inexpensive waterproof phone pouch is a great addition to your Mexico vacation essentials list. They're dirt-cheap and take up no space, but you'll feel silly if you don't have one when you need it! The downside is that it can be tricky to get your phone to focus when you're using it in a pouch underwater, but with practice I can generally make it work.
We also brought our inexpensive action camera (full review here) to Mexico but didn't find it as useful overall. That's especially true now that our swanky new phones offer built-in wide-angle shooting.
Folding drying rack
I can't say that "folding drying rack" quit captures what this is, but if you're spending a lot of time in the water you'll need plenty of space to dry your swimsuits (and rash guards). That's doubly true if you're visiting Mexico with kids!
Any time we've stayed in a hotel for a beach vacation, we've struggled to find enough space to let everything dry thoroughly without making the entire room feel like a laundromat. A "rack" like the one above will at least consolidate everything. We brought it with us to Moon Palace and it was extremely handy.
A lightweight but awesome camera
I can't stomach carrying around our huge SLR when we travel these days, but I hate sacrificing photo quality. Fortunately there are lots of awesome options these days that balance size, price and quality.
The first option is the one that's in your pocket. We recently upgraded to the newest iPhones that have three lenses and we used those for about 80% of our photography in Mexico. The biggest exception was wildlife photography on one of these tours, where having a real camera's powerful zoom was indispensable.
If you're fairly new to photography, the Panasonic Lumix FZ80 is a great choice. You can grow into the extensive features, but even auto mode will give you crystal-clear keepsake photos. The best part? No worry about having the right lens. Just grab the camera, memory card and an extra battery and you're all set!
More interested in developing a photography hobby? A lightweight mirrorless camera is a great choice. I use the Olympus "micro 4/3" series. Check out my travel kit below (shown with a newer body since mine is discontinued) – and if you feel like making my dreams come true, you can get me this or this.
Portable USB power strip
Packing for travel in the digital age has gotten infinitely easier now that nearly every device can charge off of USB. Simplify your life by leaving all the little "wall worts" at home and bringing a compact USB power strip instead! This extension cord offers three USB ports and three traditional power outlets, so it's a good choice if you have some devices that still need an external plug – plus you can choose the cord length that best suits your needs.
If you've gone fully into the modern era, this charging hub has three traditional USB ports and a USB-C port to support slow charging of laptops as well (so you can just bring a MacBook cable and leave the chunky part at home, for example, if you won't need to do a ton of work).
Mexico uses the same style of wall outlets as the rest of North America, so if you're reading this article you probably won't need to bring a plug adapter or power converter. Woohoo! But if you're looking for the most compact option, we currently travel with this high-quality global power adapter and use it at home since it has so many USB ports.
---
What should a family bring to Mexico?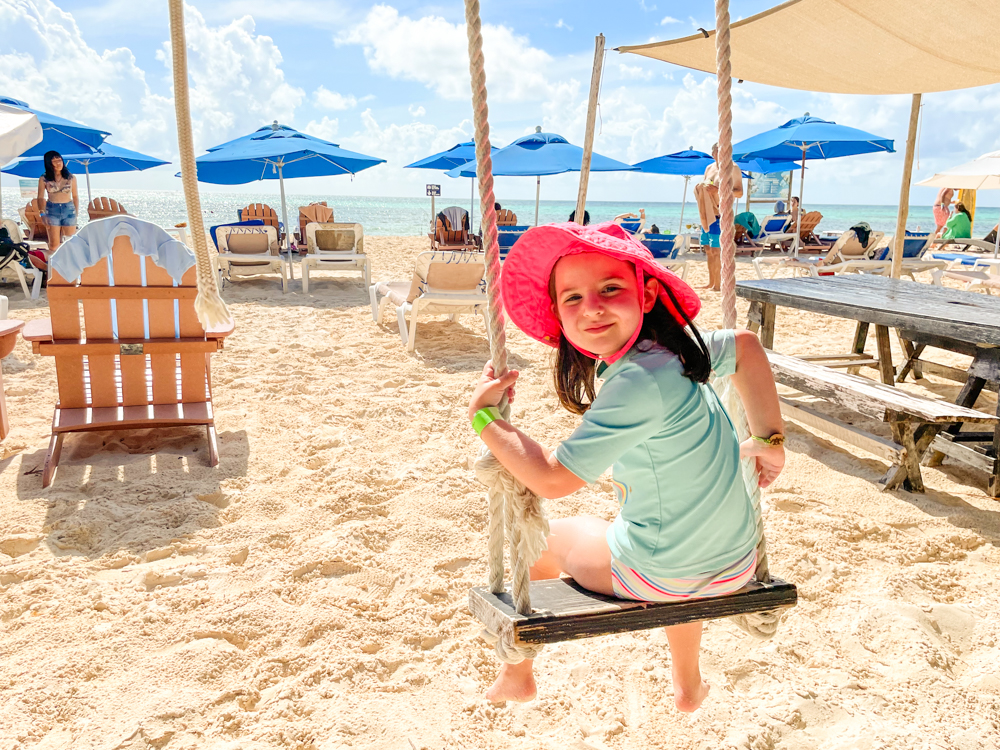 There are a few other items you might want to put on a Mexico family packing list.
Packable beach toys
If you're heading for a Mexico beach vacation with kids, bring your own set of collapsible silicone beach toys! You won't have to waste any precious time going to a shop to find the right set (and pay el precio gringo). It's also a great environmental choice because you can use them trip after trip or even at your local playground. You don't have to bring the entire set with you, just bring the bucket, shovels and a few smaller molds if you're short on space. They can also double as bath or shower toys!
Travel games
Every family has different preferences for the entertainment they bring, but we always like to throw in at least one family card game we can all play together. We used to bring character UNO cards with toddlers and now we often throw in a game like Sushi GO or Sleeping Queens.
A new favorite that's easy to carry and always fun is a jot board. They weigh virtually nothing and can be used for everything from drawing to tic-tac-toe while you wait for dinner.
Kid snorkel set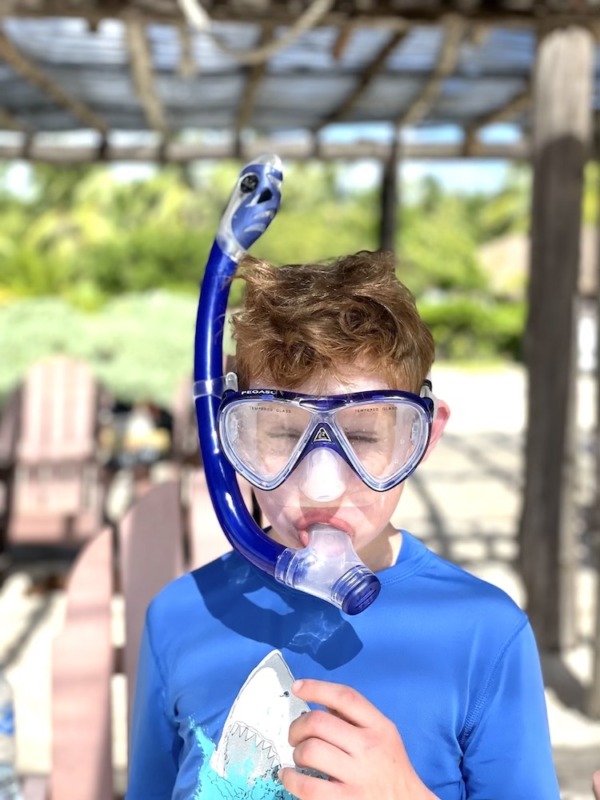 While it's possible to rent snorkel sets in Mexico and many tours provide them for free, they are generally sized for adults. That's especially true in this "new era" when cheap snorkel tubes are being given away as single-use items in lieu of nicer ones being sanitized and re-used. Every place we went that offered snorkel gear did not have child-sized tubes (which have a smaller mouth piece). If we hadn't brought our own snorkel gear or purchased low-quality sets there, our kids wouldn't have been able to join in on the fun.
We've used a lot of great kids snorkel sets over the years, and here are my recommendations by age:
Read more: Best kids snorkel gear + tips to get started
Car seat
The car seat situation in Mexico is tricky. Yes, you'll need a car seat in Mexico even if it's just to safely ride from the airport to your resort. No, you shouldn't rent a car seat in Mexico.
In this article I've detailed all the nuances of using a car seat in Mexico that you absolutely must read before you visit Mexico with kids under age 12.
---
Packing list for Mexico resort vacation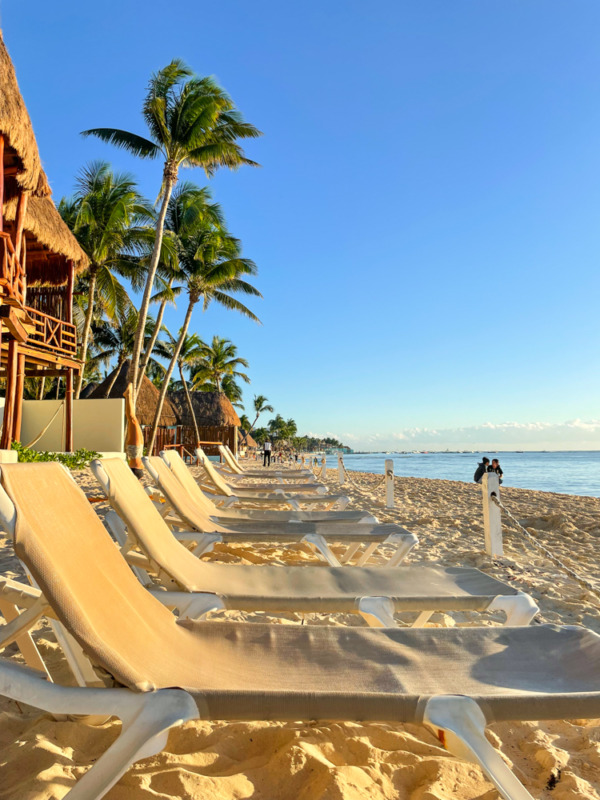 Deciding what to pack to a Mexico all-inclusive is pretty similar to any other type of Mexico vacation. Here are a few additional items you might want to put on your Mexico all-inclusive packing list:
Mexico Must Have: Filter water bottle
One of the most challenging aspects of travel in Mexico is finding drinking water that won't upset your stomach. Resorts make that easier by providing free bottled water, but the environmental impact of a million tiny plastic bottles is really shocking. While our wonderful resort did recycle the bottles, that's not the case everywhere and reducing your use is always better than recycling.
My solution was to bring two GRAYL filter water bottles. Let me tell you, they're fantastic! Unlike some filter bottles that just use charcoal to eliminate unpleasant tastes, GRAYL eliminates bacteria, heavy metals and even viruses with its three-stage filter (including an electrostatic mesh). I'll admit that I didn't use our GRAYL 100% of the time and some other members of the family preferred to drink bottled water… they wanted me to be the guinea pig, which I understand.
I'm happy to report that I didn't have a single issue after drinking water filtered by GRAYL every day for 10 days, despite having a digestive system that often balks unfamiliar destinations. Now that I've proven its effectiveness in real life, the rest of my family plans to use GRAYL more when we're in destinations that have non-potable water.
We brought both of our bottles (large and small) since we were traveling as a family of four, but if you have just one or two people in your group you could get away with a single large GRAYL bottle. You might consider bringing an additional non-filter bottle to refill from GRAYL as well to give you more volume during outings.
There are a few other filtration alternatives that I feel comfortable recommending, though we haven't used them ourselves.
SteriPen uses UV light to kill germs in your existing water bottle; the downside is that it doesn't filter debris or heavy metals. Debris is less of an issue in developed areas of Mexico but heavy metal are a challenge in many parts of the country.
LifeStraw and LifeStraw water bottles filter out bacteria, debris, chemicals and more but require plenty of "sucking force" that may not work well for young travelers.
Whatever solution you choose, I urge you to "think before you drink" and try to at least decrease your consumption of those tiny single-use bottles even if you can't completely eliminate it.
Why is GRAYL listed in the resort section? If you're staying in a vacation rental in Mexico it's more typical to be provided with a refillable 5+ gallon jug full of clean water and a pump mechanism to get it out. Once it's empty, you'd take that jug to a nearby refill station and pay a few pesos to top it off.
Dressier clothes for dinner
While daytime clothing in Mexico is casual and most local restaurants are too, if you're staying at a resort in Mexico I recommend bring clothing that's a little on the nicer side for dinner. You don't need to go over-the-top, but a dress or nice blouse and skirt felt right for me and my husband fit right in with a polo or button down shirt and nice looking shorts. Our kids dressed about the same as well. We didn't see anyone at dinner wearing their casual clothing from the beach or pool, and even for breakfast and lunch a coverup (at least) was required.
Book or Kindle reader
Spending time at a resort in Mexico is a great opportunity to disconnect, but you'll want some good reading material for beach and pool time. The latest Kindle Paperwhite adds a game-changing new feature for a resort vacation – it's waterproof!!! If a Kindle tops your list of things to bring to an island, check out a free trial of Amazon's Kindle Unlimited service to load up on great reading material without the weight of a whole library.
---
What not to bring to Mexico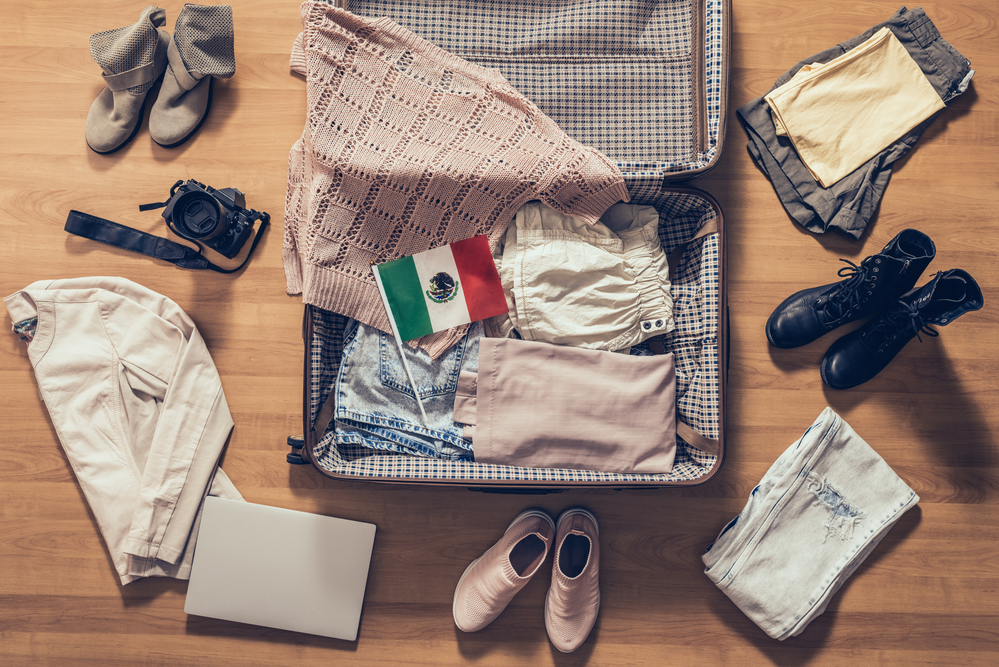 Now that we've covered what to bring to Mexico, it's also worth briefly discussing what not to bring to Mexico.
Fortunately there was very little we brought that didn't come in handy at some point during our trip. As I mentioned above in the clothing section, I only used my long pants and sneakers for our flights. YMMV on those, as inland/high altitude/hiking travelers will definitely use them.
Based on the suggestion from another family, we brought a few collapsible silicone containers to take extra breakfast buffet food for lunch or snacks later in the day. That might be a sensible option at a huge, impersonal resort but would have been very out of place where we stayed. I'll definitely leave those off of my next Mexico family vacation packing list. A better way to economize when you have a half-board plan is to go for breakfast at the tail end of the window and dinner at the beginning.
Overall I would recommend not overdoing it on luggage. Most rental cars are small, and if you're taking public transportation like buses you'll want to be able to manage (and ideally keep an eye on) all of your own belongings.
By and large, I recommend leaving valuables off of your Mexico packing list. We never had any issues with theft, but obviously that's a risk anywhere. Our family travels with a decent complement of electronics for work and play – laptop (in case something breaks catastrophically on one of my websites), tablets, camera, Nintendo – and we try to be diligent about using the hotel safe when available.
On that note, I also don't travel with expensive jewelry. If it's left behind in a hotel room it may walk away, while if it's on your person it makes you stand out as a target ripe for pick-pocketing. It's not a knock against Mexico specifically, but we make sure when traveling that we don't look like we're made of money wherever we go. An acquaintance who prefers to showcase his bling actually had his Rolex stolen off his wrist in one major city, which I chalk up to an important lesson in travel safety.
The final item to leave off your packing list for Mexico is what I'll call "illegal substances". Mexico is serious about curbing this type of law-breaking and unfortunately tourists who come to play stupid games win stupid prizes, whether that's a violent encounter or time in a Mexican jail. Don't bring anything illegal in, don't use anything illegal while you're there, and certainly don't try to bring anything illegal back.
---
Mexico packing list FAQs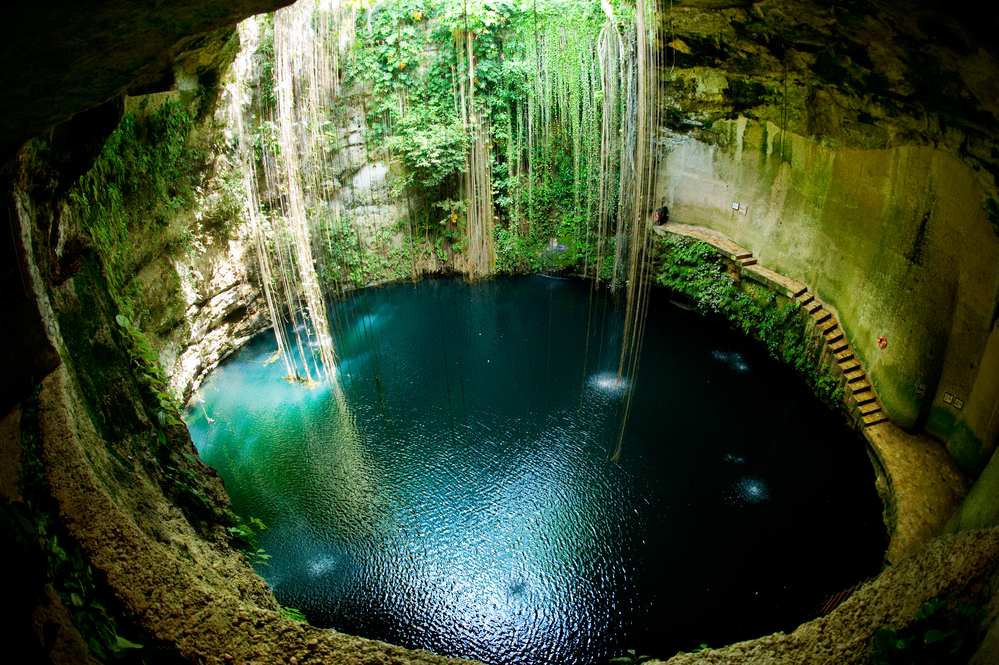 What should I pack for a 7 day trip to Mexico?
Read this comprehensive Mexico packing list to find out! The appropriate amount and type of clothing will depend on your activities and whether or not you anticipate having laundry access.
What do I need when traveling to Mexico?
In terms of documentation, you need a valid passport to enter Mexico. Americans do not need a visa nor any extra time before expiration.
Can I brush my teeth with water in Mexico?
If you want to walk on the wild side, you can probably get away with using tap water to brush your teeth – but be sure to spit! If you have a sensitive stomach or want to err on the side of caution, use bottled or filtered water.
Can I eat salad in Mexico? Can you eat fruit in Mexico?
Eating raw produce in Mexico is always a hot-button issue. If it's served at a resort or restaurant, produce is generally rinsed with purified water. When buying your own produce from a grocery store or street vendor, you may want to stick with thick-skinned options or rinse with your own purified water to be on the safe side.
---
Plan your trip to Mexico
Ready to keep planning your Mexico vacation? Read these articles next: