Followers of this website may recall that our family of four had an amazing stay at this resort in Riviera Maya last winter. When we decided to return to the region again for an extended family trip this winter, we decided on the Moon Palace Cancun all-inclusive resort. It's just a short hop from the Cancun airport (if there's no traffic) and offers great amenities for our family of 1 to 75 year olds!
The first thing you'll read in nearly all Moon Palace Cancun reviews is that this place is massive, and they aren't wrong. In this review of Moon Palace Cancun you'll find out how that size impacts your experience as a guest (good and bad), see plenty of real-world pictures of Moon Palace Cancun and find helpful comparisons with other nearby resorts (including plenty of information on Moon Palace vs The Grand). It's worth noting that we visited from December 29th to January 5th, so we caught the absolute busiest week of the year as well as a slightly slower week.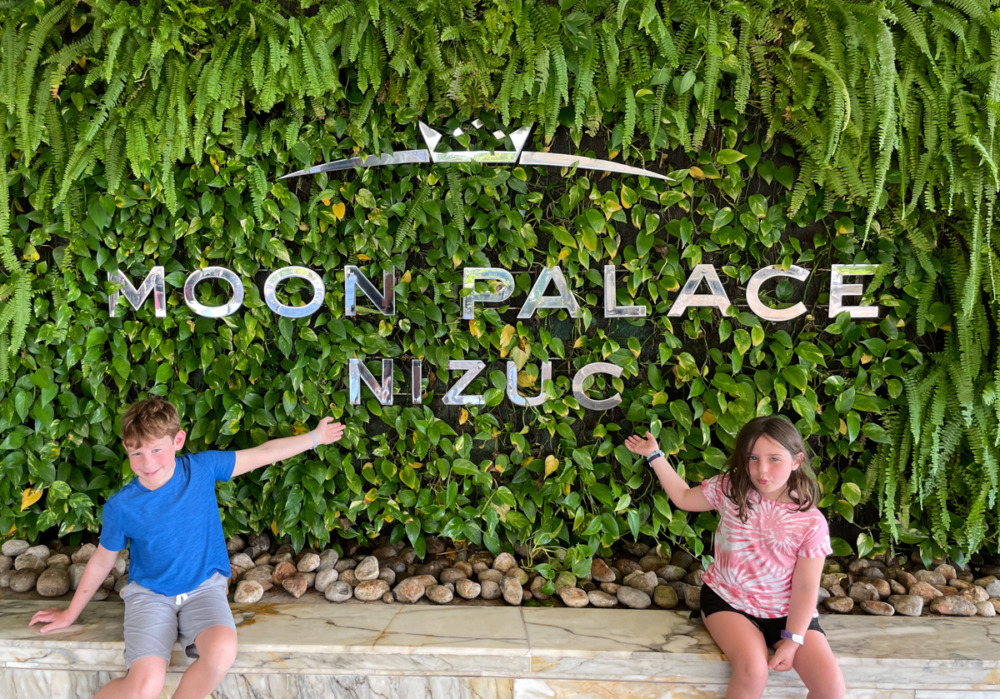 After reading this article you should have a good sense for whether or not the Cancun Moon Palace resort is the right fit for you. While this Moon Palace review is long, hopefully it'll help you make a great choice for your upcoming trip!
What is Moon Palace Cancun?
On the pristine beaches of the Caribbean south of the Hotel Zone, you'll find the massive 123 acre property of Moon Palace Cancun and its luxury resort sibling, Moon Palace The Grand. Together these Cancun all-inclusive resorts hold around 2400 rooms with a maximum occupancy of nearly 10,000 people. To the best of my knowledge, this is the largest resort in Mexico!
Because it's so large and spread out, there's an intricate network of golf carts to take guests around the property – lines with different colors and letters traversing different routes. Each stop has a map that resembles a city subway map to help you navigate, and depending on where you're going you may need to transfer. There are some golf carts that are reserved for members of Palace Resorts' vacation club – more on that later. Finally, there's a coach bus that runs a loop around the whole property in just one direction, making only a handful of major stops. There are walking paths as well, including very pleasant ones along the beach, but allow yourself ample time.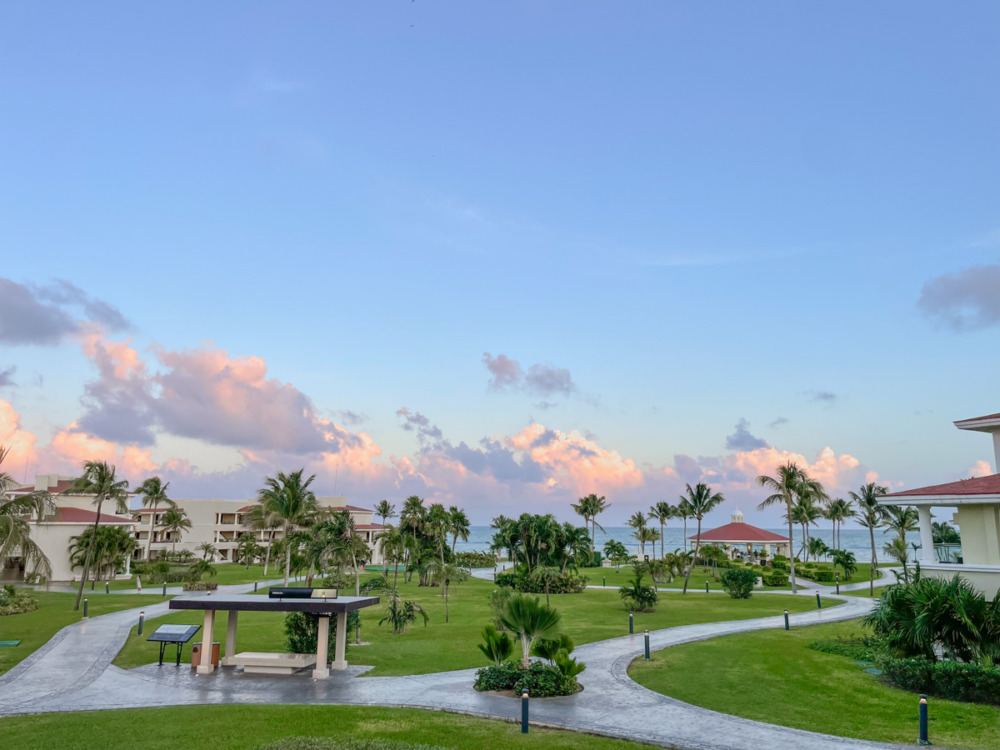 This location is actually divided into three (and a half) sections: Moon Palace Sunrise, Moon Palace Nizuc and Moon Palace The Grand. The "half" section is the Golf Course area, which is generally considered part of Sunrise and has a very small number of villas along with its own lobby housing the spa, two restaurants and a small pool.
Sunrise and Nizuc each have one very nice enormous pool area, with different interconnected sections; the one at Sunrise is bigger and features an entire kids' area, while the pool at Nizuc has a full-sized water slide. All Palace Resorts guests have access to Sunrise (including the golf course area) and Nizuc, while The Grand is only available to those who are staying there, purchase day passes or are gifted passes by sitting through a time share presentation.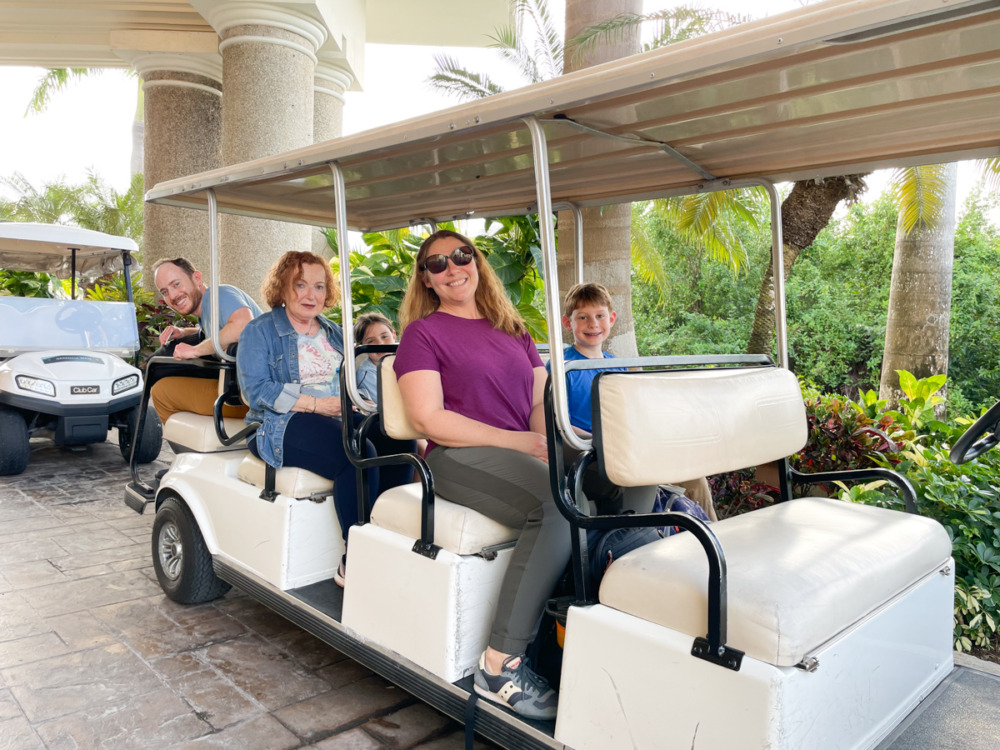 What's the difference between Moon Palace Sunrise and Moon Palace Nizuc? Sunrise is on one end of the property and Nizuc is between Sunrise and The Grand – while our room in Nizuc was just a 1 minute walk from the edge of The Grand, my sister-in-law was placed in Sunrise and had to ride coach bus to meet us at The Grand! The entire Sunrise complex is larger, with more rooms, a much bigger, busier lobby with many more restaurants and a larger pool.
I don't believe that Moon Palace will guarantee placement on one side or the other, but they both have pros and cons. The rooms at Nizuc seemed larger (though they aren't advertised as such) and the buildings are oriented diagonally so that many rooms have beach views, while the buildings at Sunrise run perpendicular to the beach and are four deep – often the only view is of other buildings. On the other hand, Sunrise has a much, much larger selection of restaurants and bars. It also has a bigger Playroom kids club and the Wired Lounge game room that my kids loved visiting at night. In general Sunrise has more going on, but at the expense of sometimes feeling frenetic.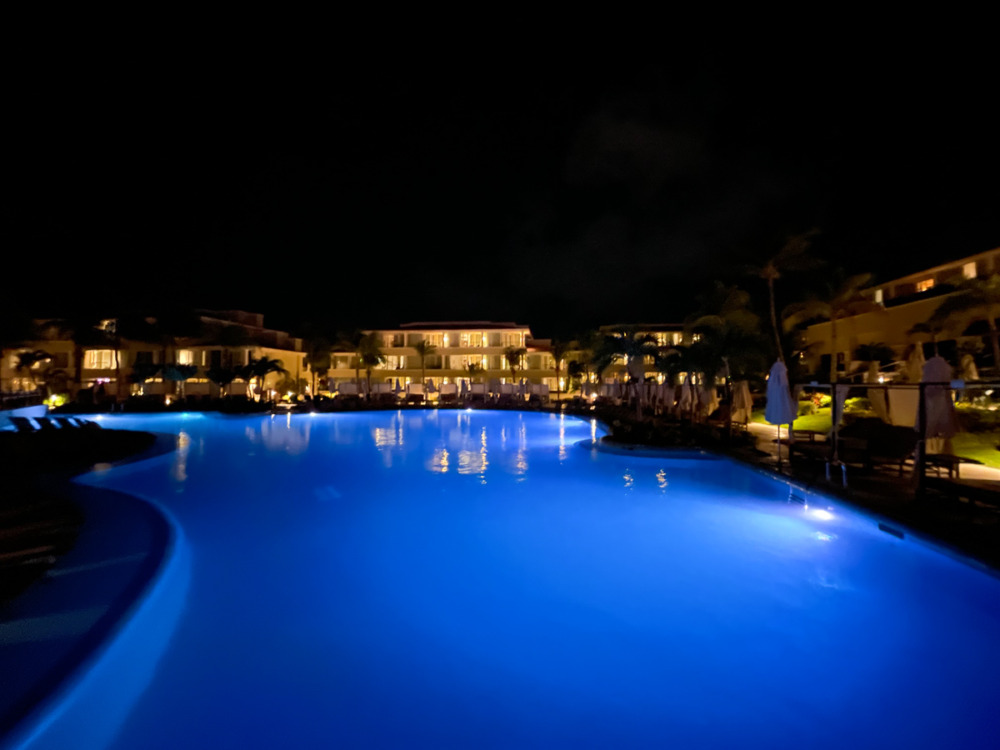 If I got to choose the best building at Moon Palace Cancun for my family, I would opt for Orquídea or Uvas. Both face the sea and are equidistant to Nizuc and Sunrise lobbies. That means you can use the pleasant seaside walkway to get around most of the time rather than waiting around for golf carts and you have (relatively) easy access to whatever you're in the mood for whether it's a million dining options, the big evening show or some tranquility.
There are several more Palace Resorts in Mexico and it's worth mentioning them here for two reasons. First, because Moon Palace Cancun guests benefit from reciprocity at the other locations (with the notable exception of The Grand). And second, if Moon Palace doesn't sound like quite the right fit you may want to consider the brand's other properties for your vacation.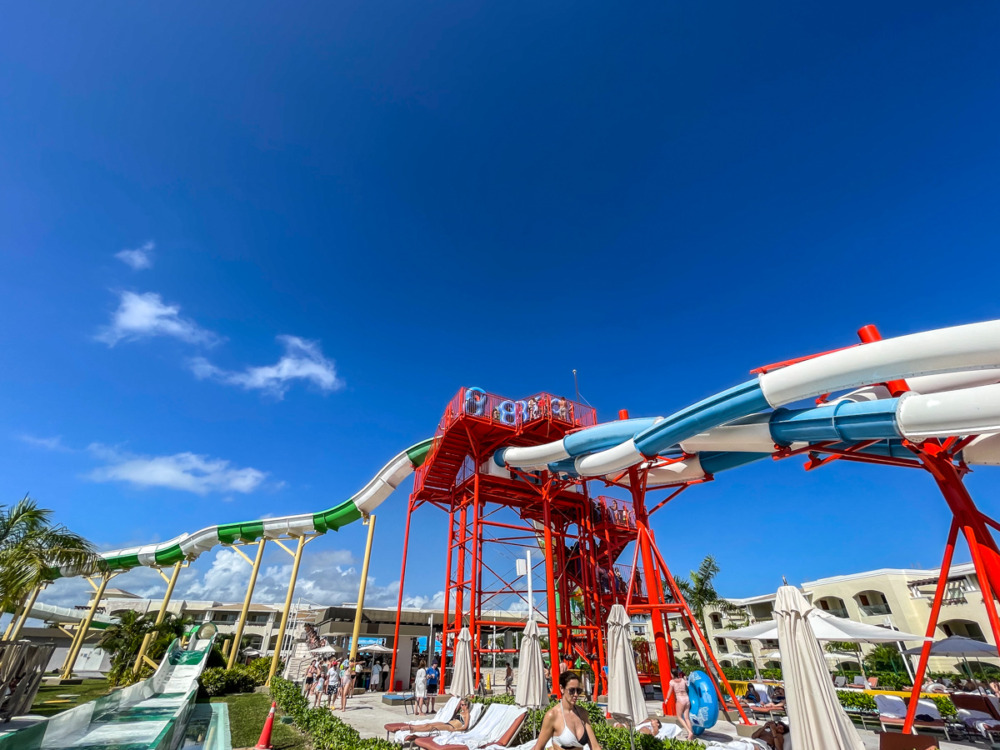 Moon Palace The Grand Cancún – This more luxurious section of the main Moon Palace campus features larger rooms, a water park and higher end playroom for kids, lots of different restaurants (most of which don't require reservations) and plenty of evening entertainment for the whole family.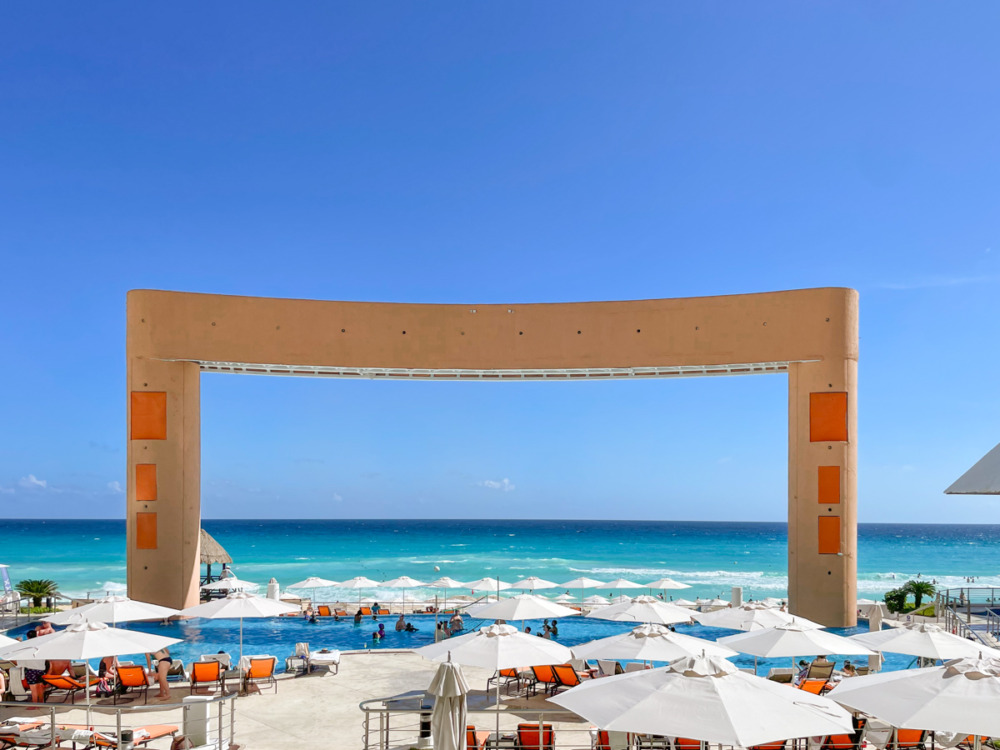 Beach Palace – This is a single building all-inclusive resort in the Cancun Hotel Zone, which just under 300 rooms. It has the classic turquoise waters for which Cancun is famous, along with several small pools (including a water slide) and hot tubs. There are several dinner restaurants at Beach Palace, but lunch is one main buffet or outdoors at Pool Bar, which actually ha a great menu of Mexican and American staples. There is some evening entertainment but it's much more limited than Moon Palace.
Playacar Palace – Nestled in the gated Playacar community on the south end of Playa del Carmen, Playacar Palace is a fraction the size of Moon Palace – it has just 200 rooms. There are fewer restaurants than Moon Palace and activities are more limited, but Playacar has a great beach with turquoise water. You're also right next to town, so it's easy to walk and explore beyond the resort – it's just 5 minutes to Parque Los Fundadores. You have easy access to Playa del Carmen's famous 5th Avenue, tons of restaurants and all of the fun things to do near Playa del Carmen.
Read more: Playa del Carmen vs Cancun, Tulum & Costa Mujeres: Pros and Cons of Each Spot for a Family Vacation
Cozumel Palace – Cozumel Palace is another small all-inclusive owned by Palace Resorts, this one on the island of Cozumel. It's just a 15 minute walk from the ferry landing and town. This all-suite resort would be a good base if you want to do some epic diving and take in the island's history and culture, though the resort itself doesn't have a real beach and only a few restaurants and entertainment options. While you may not opt to stay there if you want an all-inclusive where you'll stay busy, you can always pop by for lunch or to borrow some snorkel gear if you choose to take a day trip to Cozumel while staying at one of the other Palace Resorts.
There are even more Palace Resorts, but they fall beyond the scope of this review.
---
Moon Palace Cancun Rooms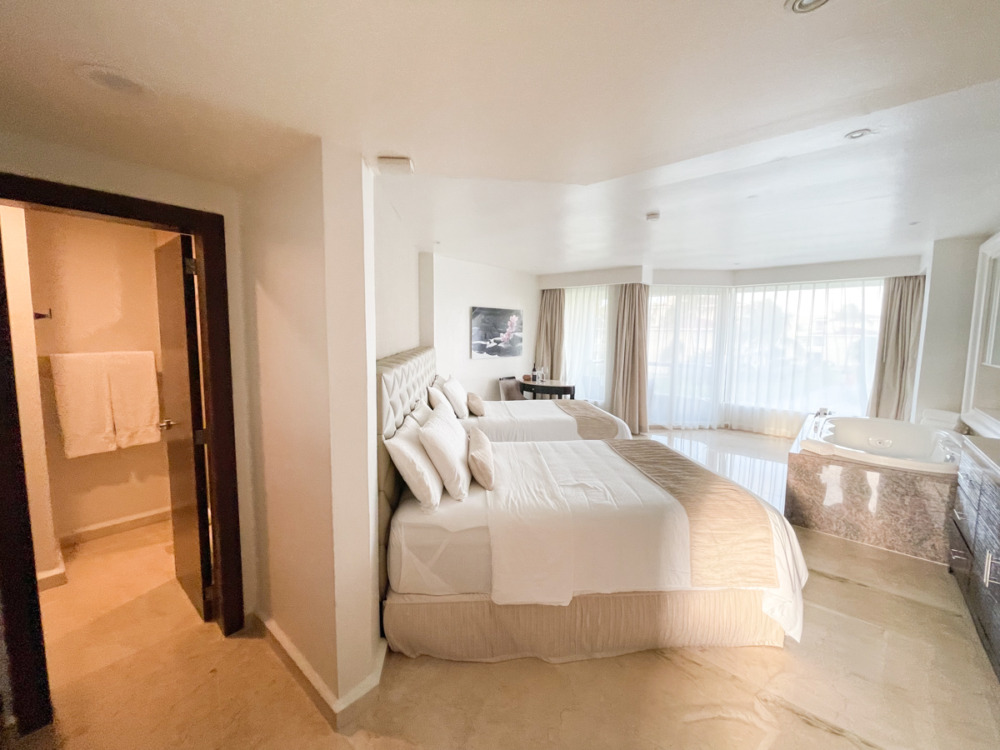 The standard rooms at Moon Palace Cancun are advertised as being just shy of 500 square feet, which is pretty generous. They come equipped with either one King bed or two double beds and a small side table and chairs. If needed, you can add a rollaway bed for free – handy for families traveling with older kids, as a double bed is a recipe for kids to kick each other and fight all night long. They also offer pack n play travel cribs for babies at no additional charge. The official capacity of rooms at Moon Palace is 4, though you can add a child under 2 for free.
There's a built-in closet for storing luggage and hanging clothes. Each room also has built-in drawers for clothing storage and a minifridge for drinks and snacks. There's even a pull-out liquor dispenser, though I never gave that a try.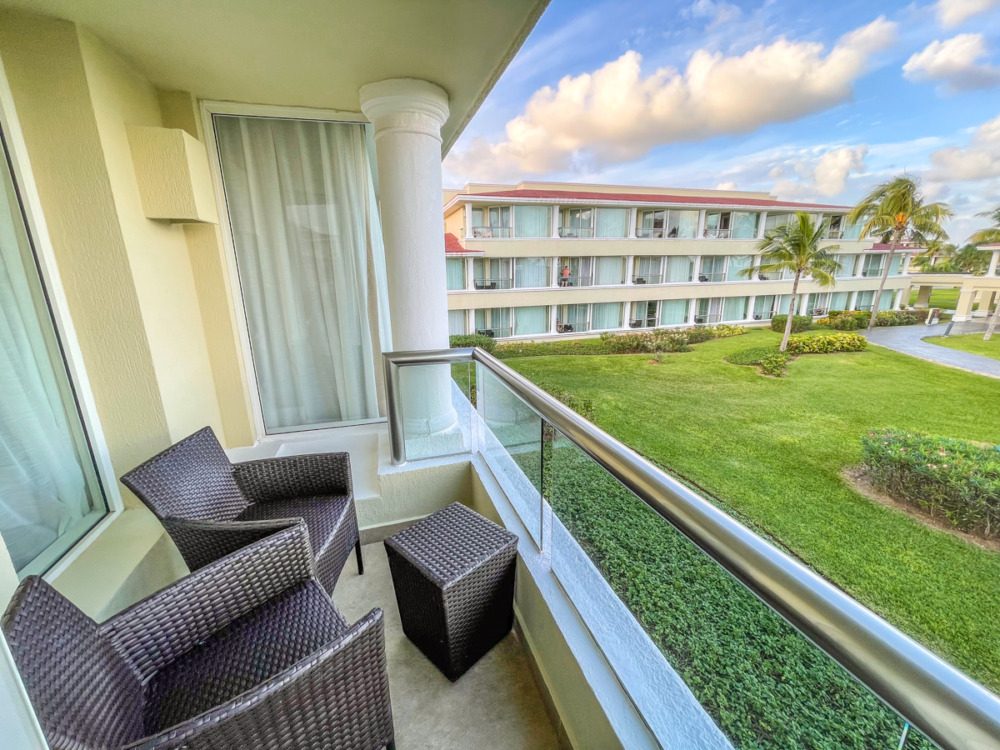 Every room at Moon Palace has a terrace or patio. The rooms at Nizuc have a small table and two chairs outside, while Sunrise terraces have hammocks. We loved enjoying the night time sea breezes while the kids settled down for bed!
One knock on the rooms is the inclusion of a jacuzzi tub in every one. While I'm sure it's there to give impression of luxury, out of the four rooms our family had I don't think anyone used the tub at all – it wound up being an extra space to hang wet swimsuits more than anything. We all would have preferred to forgo the tub and instead have enough space for two queen beds or a sleep sofa.
Unless my eyes deceived me, the room my sister-in-law had in Sunrise looked smaller than our room in Nizuc. With the addition of a rollaway bed there was very little floor space, and while our room had two sets of drawers for clothing the room in Sunrise just had one. You can compare the photo above of Sunrise (you can tell by the hammock outside) to my own photo at the beginning of this section or my additional photo below to get a sense of the difference. We had tons of open floor space in our Moon Palace Nizuc room!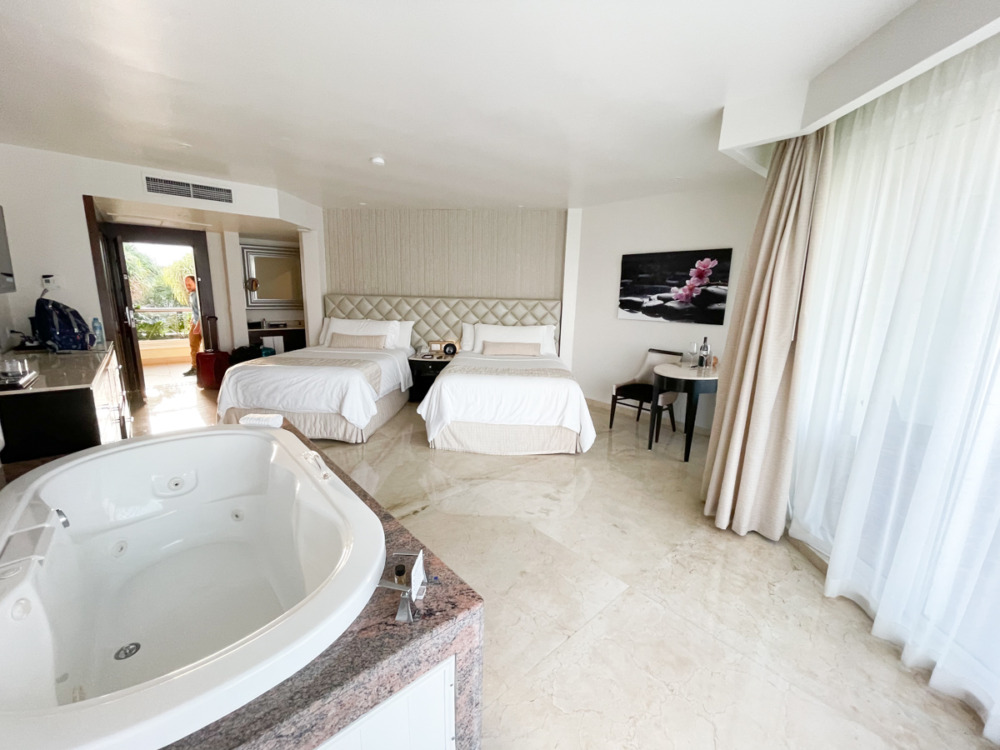 Plenty of Moon Palace reviews showcase rooms that are actually at The Grand, so just be aware of what you'll get if you book in Sunrise or Nizuc. Photos showing a sunken seating area next to the bedroom are generally at The Grand (with the exception of the Golf Course Junior Suites).
---
Moon Palace Cancun food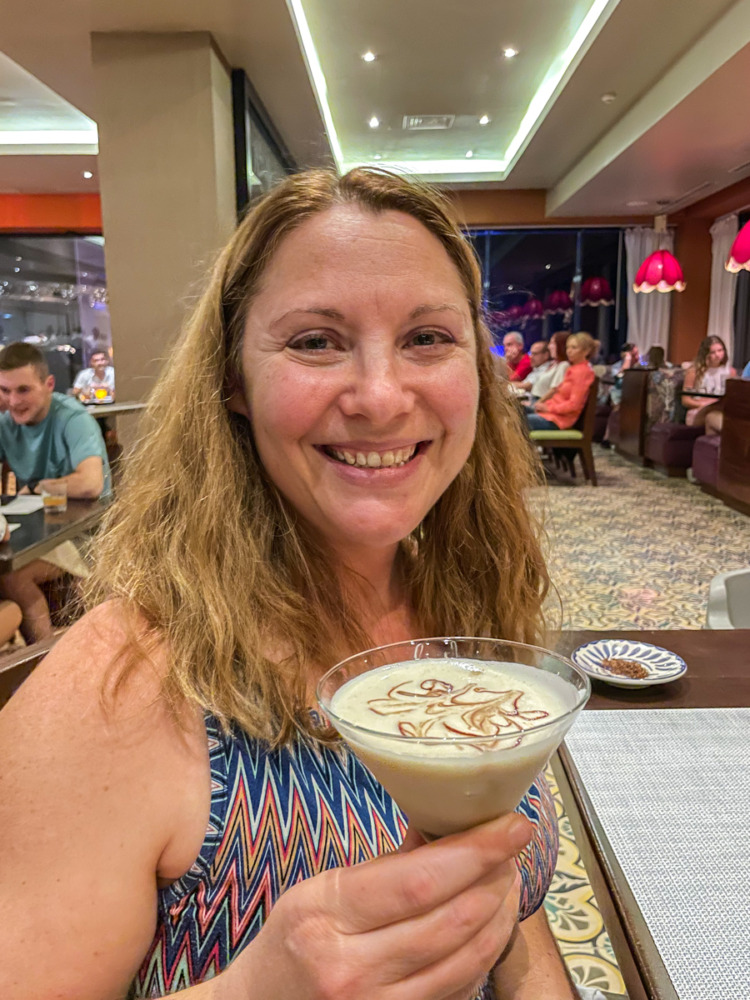 When you stay at the all-inclusive Moon Palace Cancun, your rate includes nearly all of your food and beverages. There are tons of restaurants at Moon Palace Cancun, ranging from poolside lunch stops to fancy a la carte dinner restaurants and covering a wide variety of cuisines.
We indulged in the breakfast buffets at Nizuc, Sunrise and The Grand and found them all to be mostly the same. You'll find a nice mix of pastries, American hot breakfast like omelette bar, and Mexican specialties like chilaquiles. The Grand Buffet had slightly more variety than the others, but wasn't all that different. The breakfast buffets at Nizuc (hosted at El Manglar) and Sunrise (hosted at Bugambilias) were similar with just a few additional options at the larger Bugambilias, so I'll keep the rest of this section focused on lunch and dinner options at Moon Palace.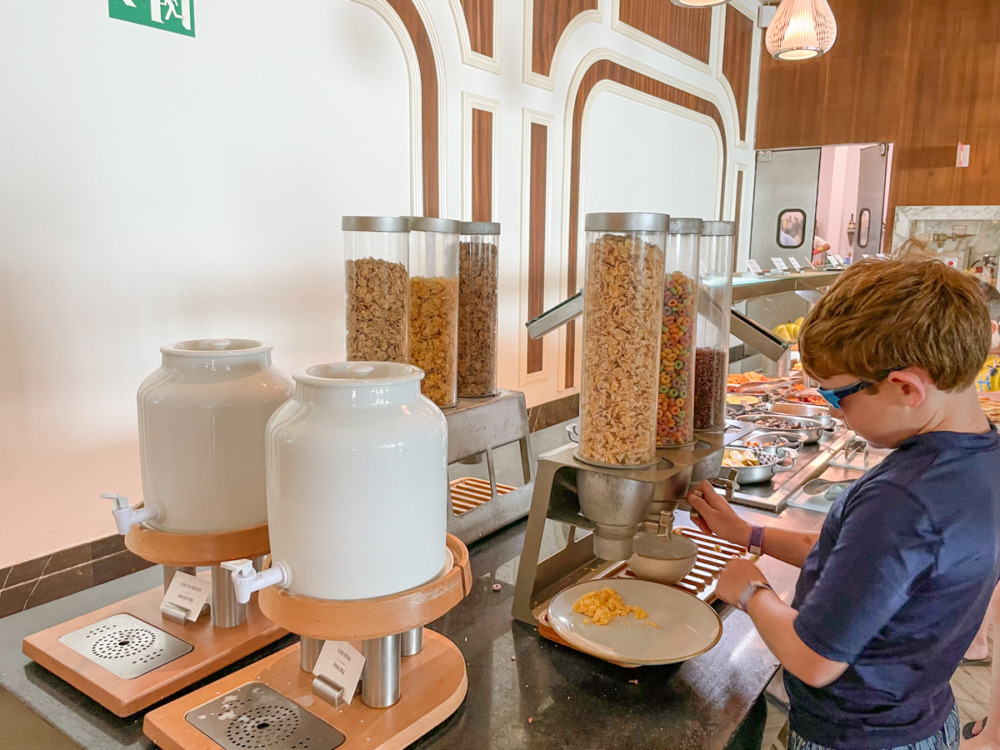 Once nice touch is that you'll sometimes find live musicians roaming in the restaurants at dinner, like mariachis. I mentioned above that nearly all food is included with your room rate: a la carte dinner restaurants at Moon Palace Cancun typically each have one or two special items that incur an extra charge like lobster or a high-end steak. You can certainly get away without ordering these items but don't be surprised to see them.
Of course I would be remiss if I didn't mention the sweet shop located in the lobby of each part of the hotel. You can grab ice cream, macarons or coffee basically round the clock. The location at Nizuc closes from 1am to 6am and doesn't have as many specialty items. At Sunrise you can even grab a freshly-made crepe at 3am if you feel like it!
Restaurants at Moon Palace Nizuc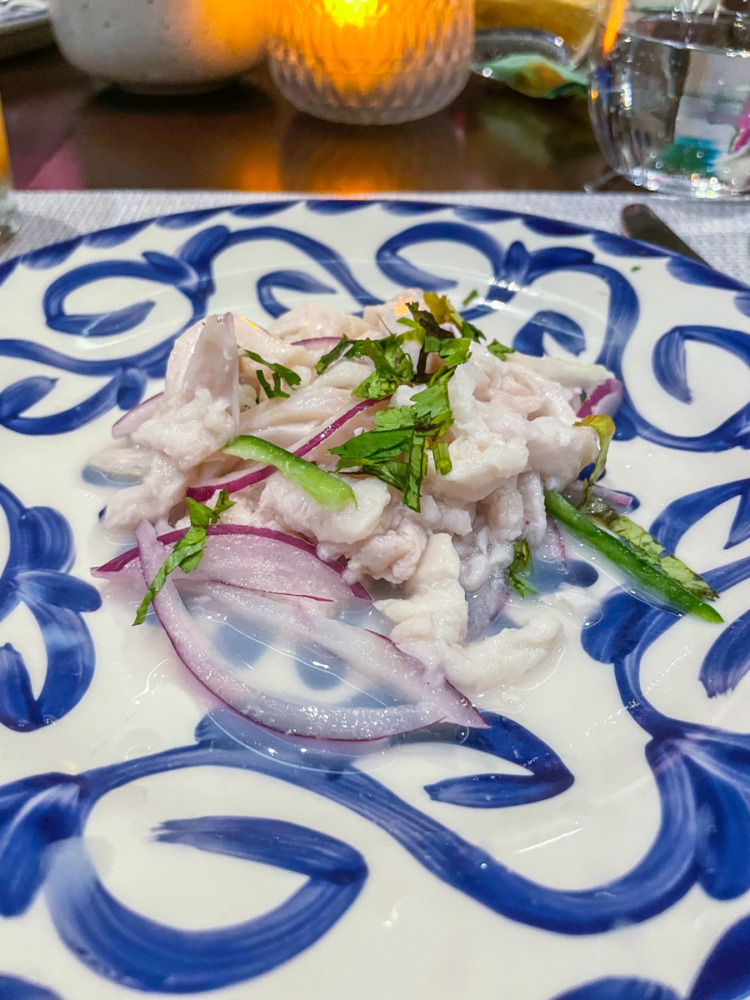 For sit-down meals, there are three restaurants at Moon Palace Nizuc and we ate at them all: Arrecifes (churrascaria), El Manglar (international buffet), and Los Caporales (Mexican a la carte). Only El Manglar is open at lunch, but we found it to be very good and not too crowded right at its 12:30 opening. Be sure to head straight for the taco line!
At dinner, none of the restaurants at Moon Palace Nizuc require a reservation – more about that later – but during the busy week we visited guests started lining up at Arrecifes and Los Caporales around 30 minutes before opening to get tables.
Those who didn't arrive in advance sometimes faced multi-hour waits for tables. When restaurants are open you can check wait times in the Palace Resorts app, which is helpful if you want the fastest option. Our family's strategy when we didn't have a reservation was to send one person to get in line for a table while everyone else cleaned themselves up and made their way over. Sometimes for our large party of 13, waiting in line initially just got us on the list and there was another (shorter) wait before a table was ready.
The dinner food at both Arrecifes and Los Caporales was generally good, though a few items were hit and miss. Arrecifes has a nice buffet and servers bring freshly cooked meat to each table. Most of the steaks were reportedly excellent (save for one dud) and the chicken was so good that we flagged our server to bring more!
Restaurants at Moon Palace Sunrise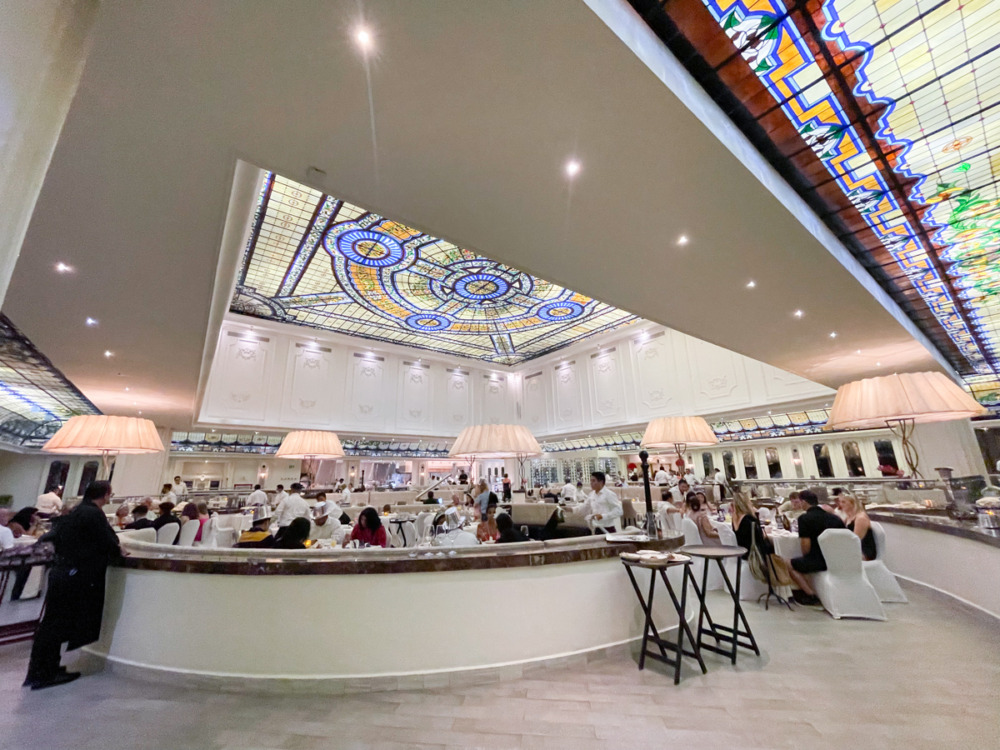 There are many more Moon Palace Sunrise restaurants, as it's a much larger piece of the property and includes the golf course section. The sit-down dinner restaurants at Moon Palace Sunrise include: Agra (Indian, reservations required); Bugambilias (international buffet); La Gondola (Italian); La Trattoria (Italian at the golf course, reservations required); Momo (Asian); Momo Teppanyaki (teppanyaki, reservations required); Palapa Asadero (grill); Pepe's Pizza; Pier 8 (seafood); Riviera Maya (Mexican at the golf course, reservations required).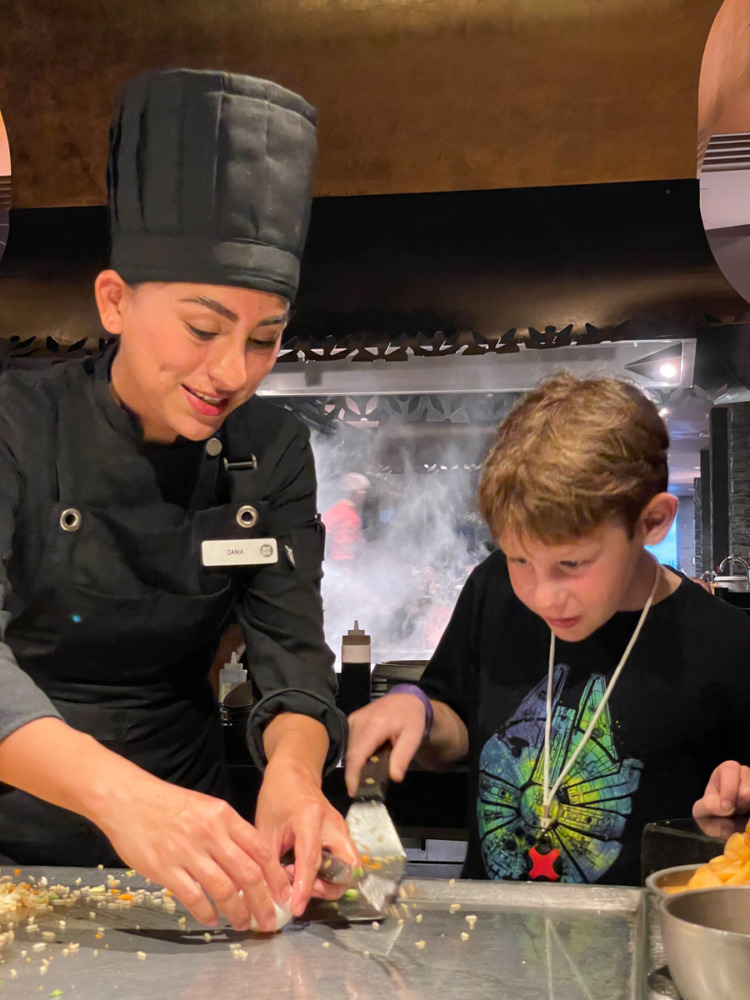 I know that's a ton of restaurants at Moon Palace Cancun, and I don't expect you to remember them all! Suffice it to say, you'll find a wide variety. Two of our most memorable meals at Moon Palace were La Trattoria and Momo Teppanyaki, both excellent.
We heard great feedback about Agra and Riviera Maya but couldn't get reservations for them (though my mother in law had lunch at Riviera Maya and said it was delicious). Other family members loved Momo (which has a massive line unless you go late at night), and I've heard good things about Palapa Asadero and Pier 8 – these are both located poolside close to the beach but weren't even on my radar because Sunrise is so massive!
Poolside dining at Moon Palace Cancun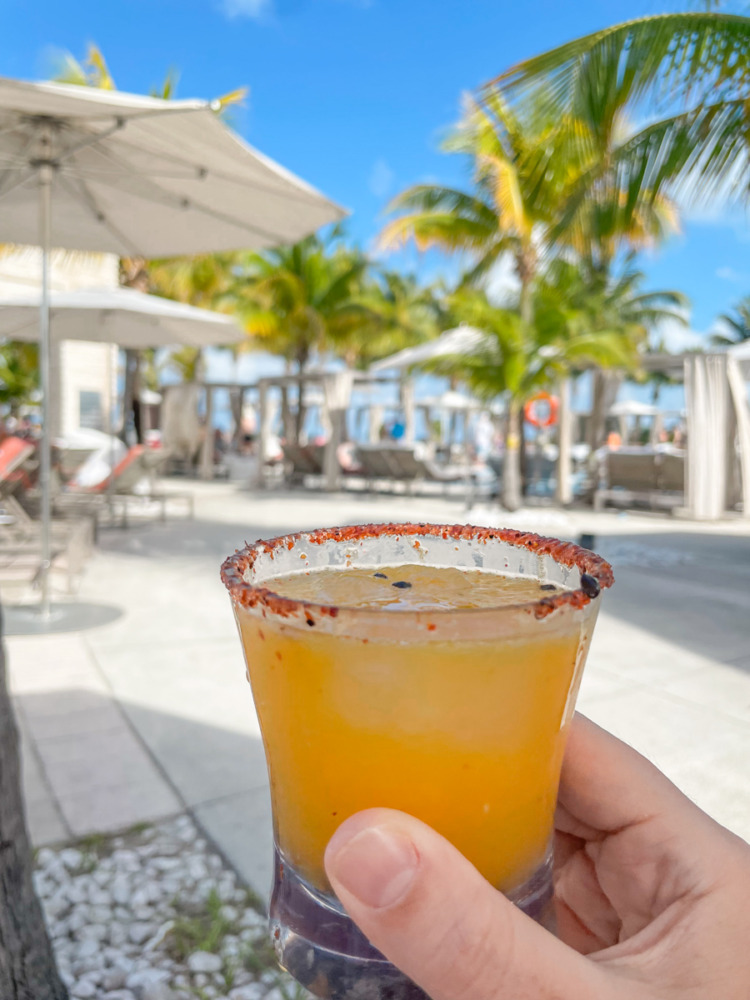 If you're taking a family vacation to Moon Palace Cancun, there's a very good chance you'll opt for lunch at the pool at least a few times. It's hard to beat the convenience! No worries about stopping the kids in the middle or their fun or drying them off.
At all three parts of Moon Palace, you can order simple lunch foods from servers as they walk by – tacos, guacamole, burgers and a few other items in addition to any drinks you want. The staff working the pool is very kind and works extremely hard. Tip them well!
That said, the wait times for poolside food were very high – rarely less than an hour, sometimes up to two hours. I wish I was joking. Drinks were delivered much faster, though it was hard to tell the difference between the kids' non-alcoholic versions and the adult drinks (as is common at large AI resorts).
A better option if your kids are willing to dry off a little bit (realistically they can keep their swimsuits on) is to eat at one of the poolside palapas. Though they're listed as "snacks", we learned last year at this awesome resort that what we think of as typically lunch foods are served there – tacos, ceviche, burgers, pizza and hot dogs. In addition, there are lunch buffets at Sunrise's Palapa Asadero and Pier 8 and full a la carte service at Smoked. All of these are available without leaving the pool area.
Restaurants at Moon Palace The Grand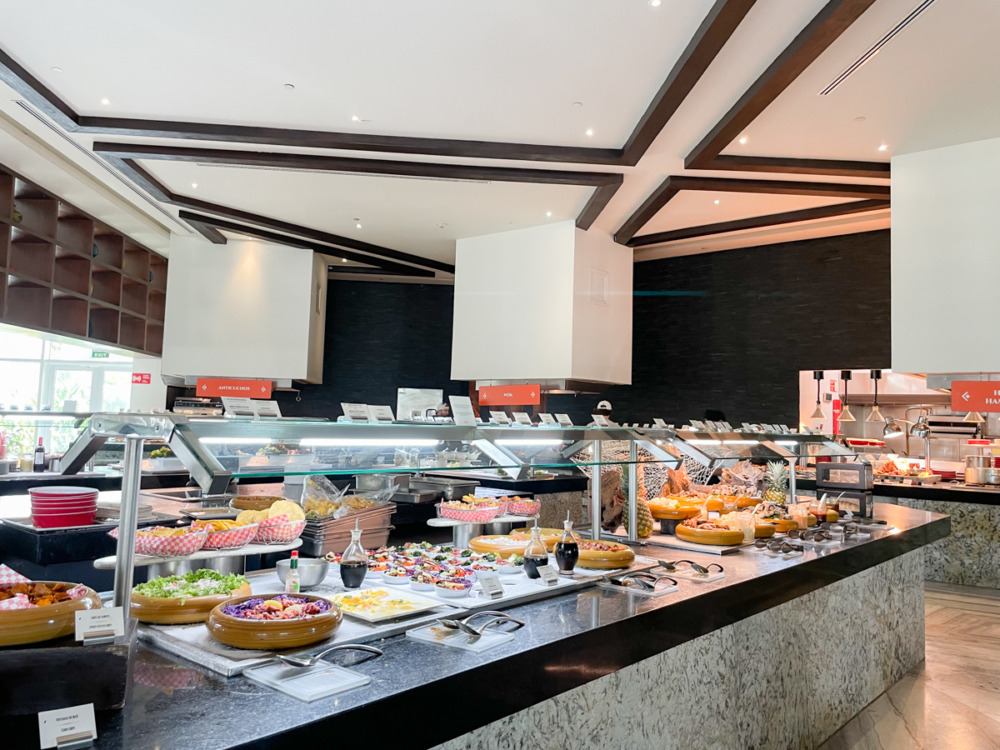 We only had a few dining experiences at Moon Palace The Grand, but it's worth mentioning the wide array of options and larger number of restaurants for a smaller number of guests. Presumably one of the benefits of staying at Moon Palace The Grand vs Moon Palace is shorter lines for restaurants!
In total there are 11 dinner options at Moon Palace The Grand for around 400 rooms (compared with 13 dinner options in the other sections for around 2000 rooms). Only four of those require reservations and nearly all are a la carte, with cuisines ranging from sophisticated Mexican to Lebanese to Japanese. Casa Mia, which requires reservations, is reportedly one of the best restaurants at Moon Palace The Grand so be sure to dine there if you have a chance!
We tried out one poolside lunch at The Grand and waited two hours for our food to arrive, despite that pool being very quiet. On a different day we walked in the Cusco buffet (above) for a late lunch and were seated right away with plenty of options to choose from. That restaurant is located between the waterpark at Moon Palace The Grand and the popular family activities pool. For a nice balance of fun and relaxation, you can enjoy lunch at Caribeño and swim in the pool out front – this was right next to our building at Nizuc and looked like a "just right" vibe.
One evening when we walked through the lobby of The Grand, we were impressed that so many unique restaurants were available for walk-in dining. Beyond the larger rooms and waterpark access, this is perhaps the biggest benefit of staying at Moon Palace The Grand vs Moon Palace Sunrise and Nizuc.
Dining reservations at Moon Palace Cancun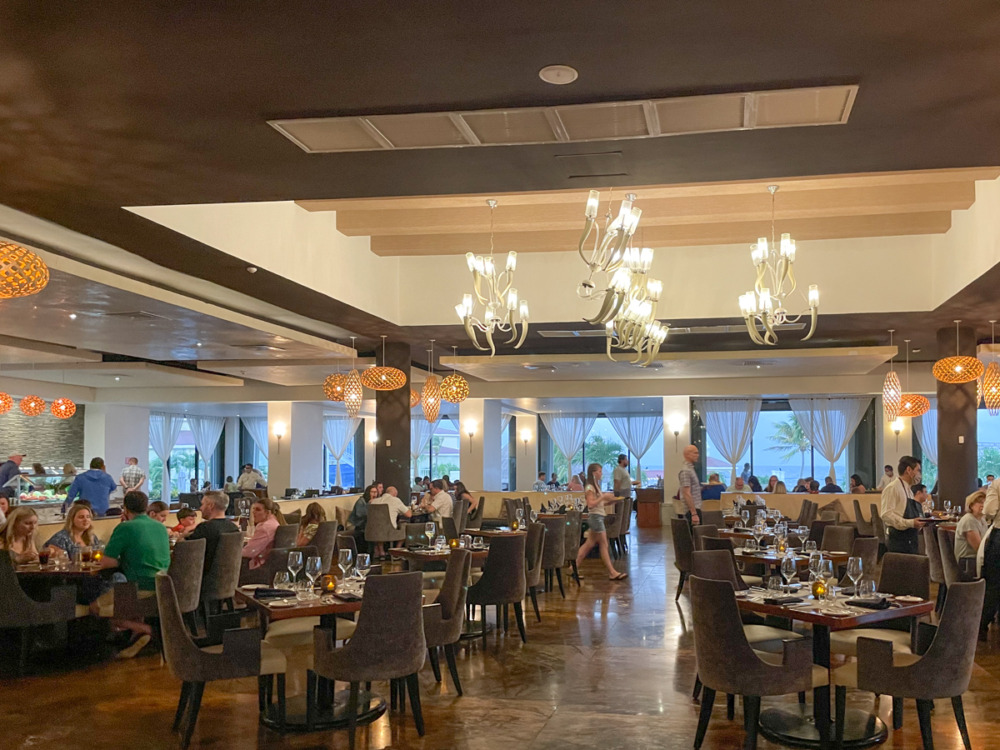 It's worth separately addressing dining reservations for restaurants at Moon Palace Cancun, as I think it's one of the biggest pain points. Right before our visit, a previous guest warned me to be sure I reserved all of my dinners at check in so that I wouldn't be stuck standing in line waiting or eating the same buffet food night after night. Great idea!
When we arrived, we were informed informed that the updated system only allows reservations two days in advance beginning at 10am. In theory you can use the Palace Resorts app to do this, but many staff warned that it didn't work very well and the best option was to call right at 10am. When I tried to use the app, I couldn't make any reservations because I was checked in to Nizuc while all of the restaurants needing reservations are located at Sunrise. My nephew staying at Sunrise attempted the app with a little more success but still found that calling was more effective.
The vast, vast majority of Moon Palace Cancun guests are American and Canadian. Some of us have cell phones that work overseas, while others don't (or in our case, service was inconsistent). You can use hotel phones, but they aren't always nearby when you're busy enjoying yourself. Some guests, like us, don't stay at the resort every day and may be off doing activities and enjoying our vacations at 10am. Yet other guests might be having an epic splash in the pool with their kids or out kayaking at 10am. However you slice it, no one wants to be beholden to a 9:59am alarm each day to make sure they have a dining reservation two evenings in the future.
Why do you have to call exactly at 10am? Because members of the Moon Palace vacation club have access to the dining reservation system 6 months in advance (at least according to the vacation club sales guy). That's great for club members, but it's not so great for all of the other resort guests who aren't told about this system in advance. Even once the clock struck 10am, there just weren't that many tables available for the rest of us during peak season. One day we called at 10:03 and were told that everything was booked already.
While I understand wanting to offer perks to club members, it shouldn't be so detrimental to the experience of other guests. That kind of treatment isn't going to convince first-time visitors to become loyal patrons.
Overall experience dining at Moon Palace Cancun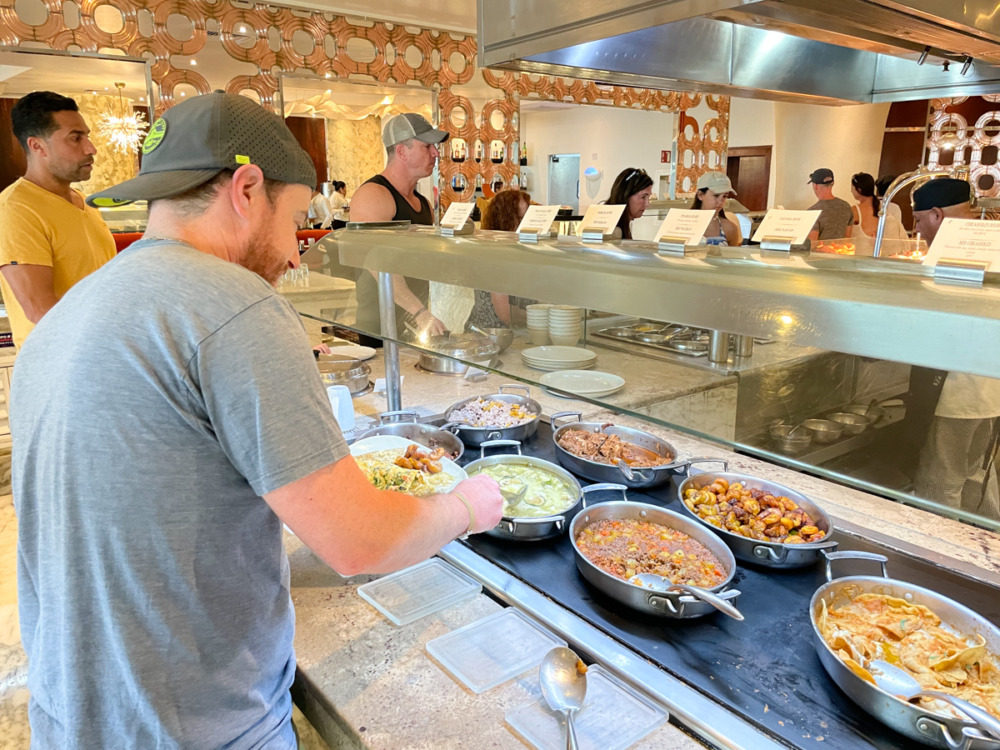 Overall I'd rate the food quality at Moon Palace Cancun as "good" to "very good" depending on the restaurant. However, during our visit the enterprise of feeding 10,000 people at a time seemed to struggle operationally.
The reservation system at Sunrise and Nizuc was incredibly frustrating, especially for those of us eager to explore all of the things to do in Cancun off of the property. At the same time, hours-long waits in front of restaurants aren't practical for families visiting with young children.
Similarly, we found wait times for poolside lunches and snacks to be mind-blowing. Even at The Grand, which has more restaurants for fewer people and a higher staffing ratio, we waited two full hours for some tacos and a hamburger.
At dinners we sometimes faced inflexibility from staff who insisted on seating our family at separate tables, even when we'd reserved one table for our party two full days in advance. One time we clearly saw an appropriately sized table set up when we arrived for our reservation but had to fight to get it. In another instance, the restaurant – aware that we were a large party when we requested seating – finally permitted us to put several tables together but refused to allow us to use the narrower chairs that some tables were using within the same restaurant.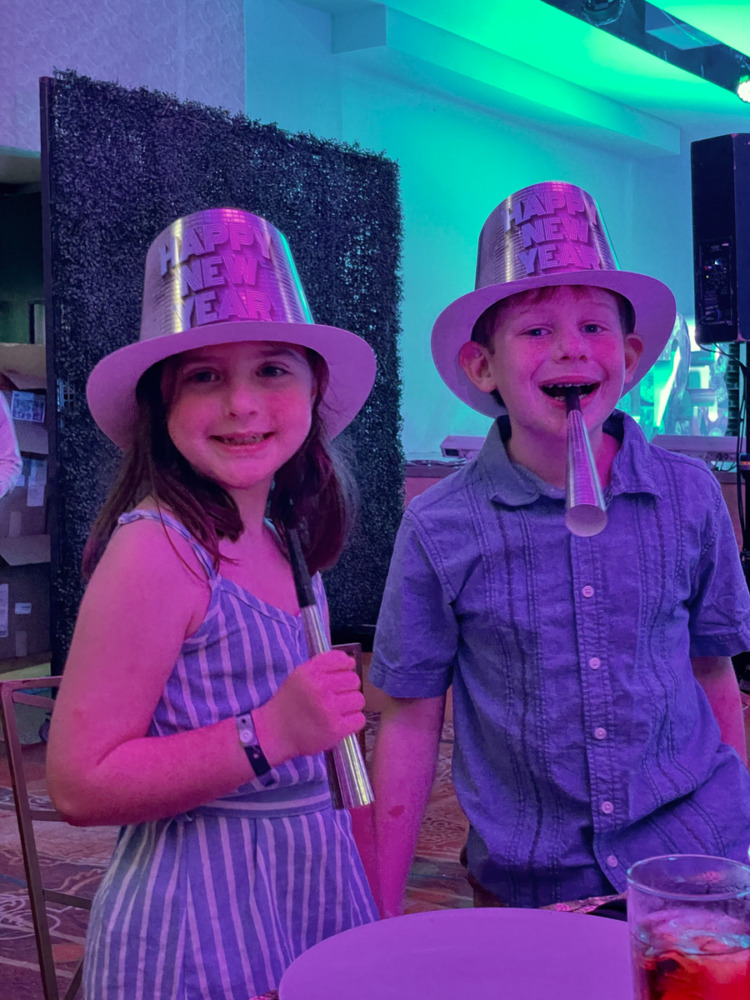 One notable oddity was our Moon Palace New Years Eve experience. Upon check-in, our family was told that everyone at the resort had to choose one of two fixed-menu seatings for dinner and that there were no additional dining options. We signed up for the earlier option, under the impression that we essentially had no choice. We arrived at the mostly empty ballroom at 6pm to find our party split into two tables of assigned seating and spent 15 minutes arguing with multiple staff members to seat us at one table. The multi-course meal was the worst we had at the resort and we didn't understand where all of the other guests were, as the room never passed 10% of capacity. When we finally, happily, left we found all of the other Moon Palace guests hopping to restaurants of their choosing or enjoying the delicious Indian buffet that was being served outside during a fun performance. We still don't know why we were given incorrect information, but it was very frustrating especially for parents who had to rush straight back after the "fancy" dinner to put young children to bed.
The frequency of these issues bordered somewhere between comical, predictable and frustrating. None of this is written as sour grapes, but it's important that you have realistic expectations of what it's like to stay at Moon Palace Cancun if you plan to visit during a busy period or with a large group. I can only hope that guests visiting during non-peak times of year have a smoother experience.
---
Things to do at Moon Palace Cancun
Book a photoshoot
We always love to book a photoshoot when we're traveling. As a mom, it's tough to get in the photos since I'm always behind the camera. We use Flytographer to capture our memories. You can get $25 off your shoot by booking with this link or using code FAMILYVOYAGE.
Moon Palace Cancun pools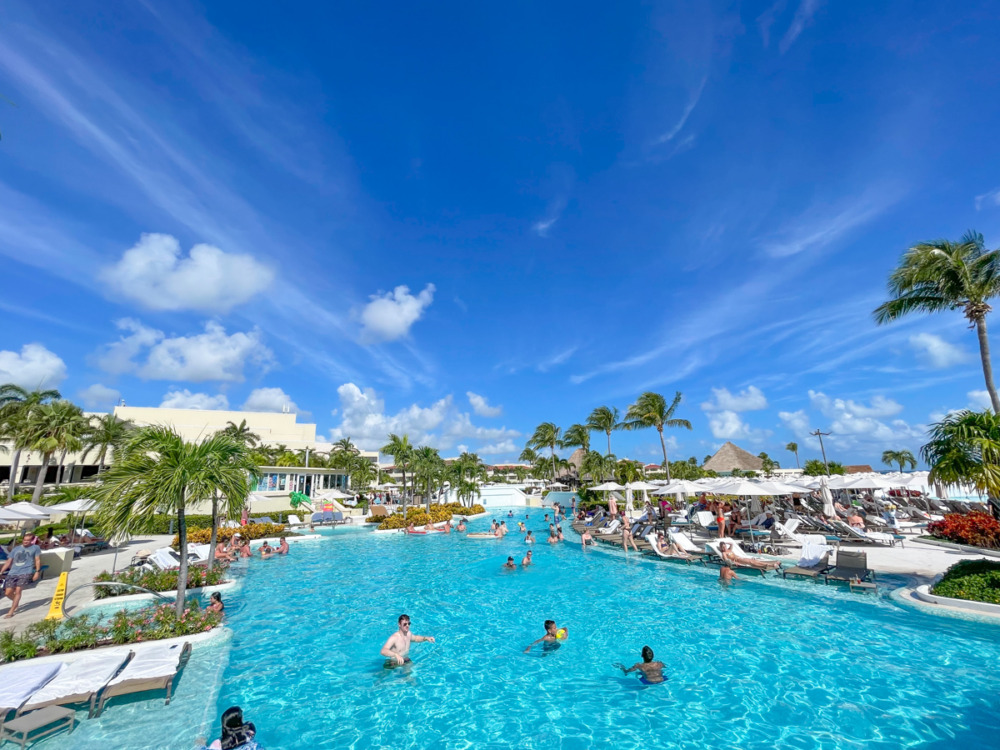 The biggest reason most families choose this resort is the Moon Palace Cancun pool situation. Both Sunrise and Nizuc have massive pool areas where kids can spend hours! The pool at Sunrise is bigger and even has a separate kids area with a small water play structure, while the Nizuc pool has a full-sized water slide. Both of these pools are truly sprawling and have a series of bridges to go over if you want to avoid walking all the way around.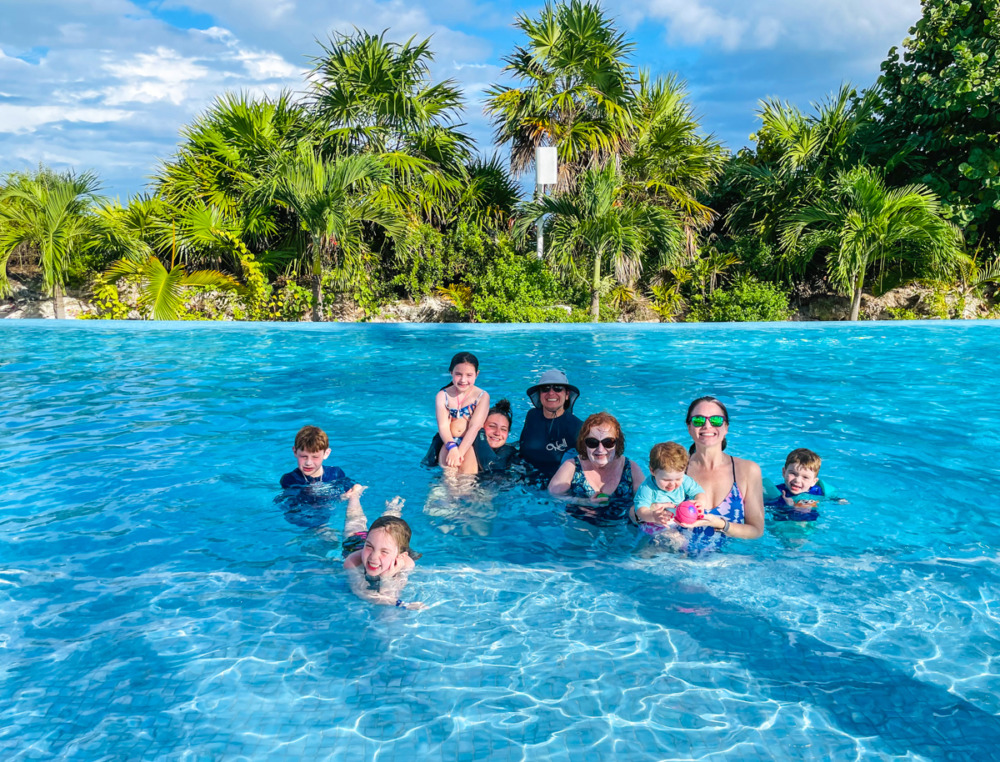 If you get a day pass to The Grand, you'll have access to (nominally) 19 pools. Those pool are smaller and spread throughout The Grand, some in clusters. A few are in the adults-only Unique section and several others are part of the water park, but there are plenty of regular pools to choose from. We particularly liked the Family Activities pool.
Beach at Moon Palace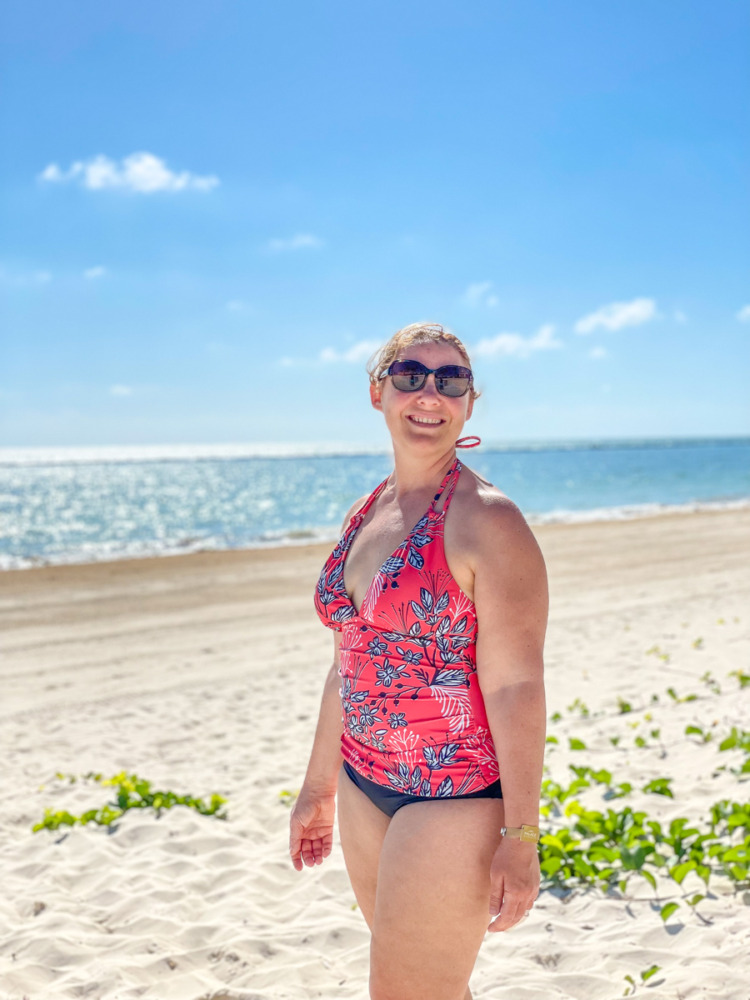 Many Moon Palace Cancun beach reviews are mixed. We found the actual beach at Moon Palace Cancun to be lovely – the sand is incredibly find and soft. While sargassum (seaweed) is a real problem throughout the region, we did not experience a lot of seaweed at Moon Palace in December; I saw grooming trucks several times per day working to keep it under control.
The young kids loved running around and digging for treasure, while one of our teen travelers had a great afternoon in a game of beach soccer organized by resort staff. There are lounge chairs and umbrellas set up on the beach, as well as designated palapas for higher level Moon Palace vacation club members – not even the lowest level members were permitted.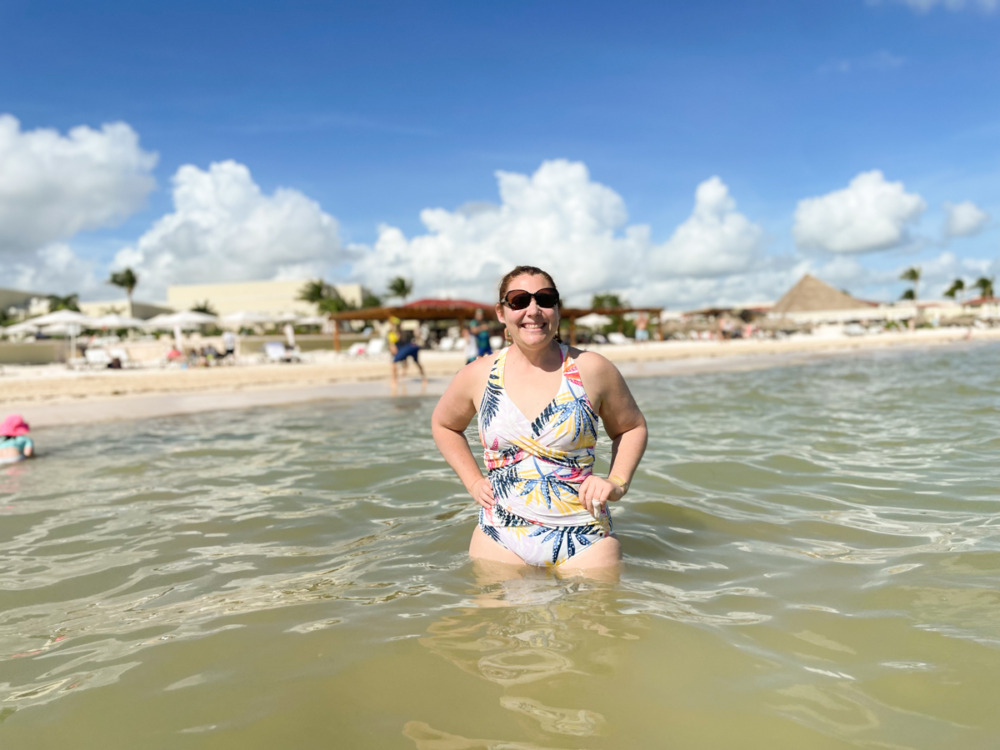 On the flip side, the water itself isn't that great. Don't come to Moon Palace expecting the stunning turquoise waters of the Cancun hotel zone or Costa Mujeres, it just isn't there. Fortunately you can spend a day at their sister property Beach Palace to experience that perfect water (more on that below).
Water sports
We didn't take advantage of it, but Moon Palace includes non-motorized water sports for all guests. You can check out a kayak, paddleboard or even a catamaran. If you're curious about surfing, check out the FlowRider wave simulator near the Sunrise pool (there's one at The Grand as well).
Kids activities at Moon Palace Cancun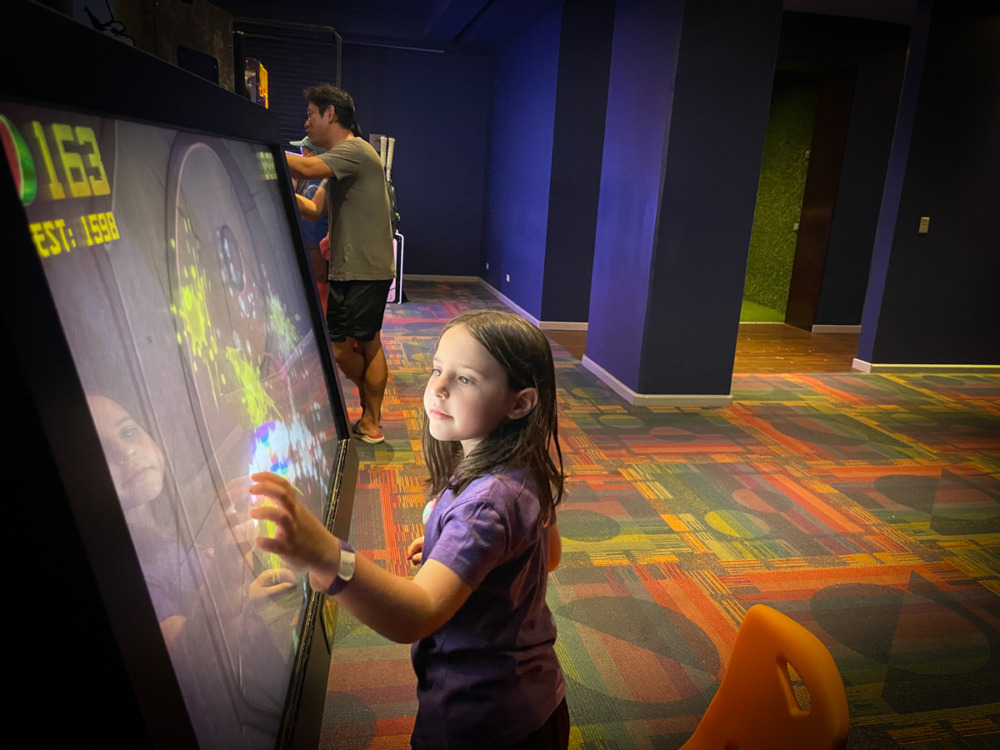 There are several kid-focused spaces at Moon Palace Cancun. Both Nizuc and Sunrise have The Playroom kids club for those at least 4 years old (younger kids can play with supervision). The smaller Nizuc Playroom is near the pool and geared to kids up to age 10, while the Sunrise Playroom allows kids up to age 12. Our kids never used the Playroom, but other family members checked out the one at Nizuc and said it was "fine" but not appealing enough to leave the kids there.
The Playroom at Moon Palace The Grand, which is available whether you're staying there or visiting on a day pass, is much more impressive. It's a large two-story building in the middle of the waterpark's lazy river and has climbing apparatus, bumper cars, mini golf and more. While we just popped our heads in, I think our kids would have stayed all day if we'd signed them in.
There's also an ice skating rink and a basketball court near the Sunrise Playroom, though I never saw anyone skating in our week there (probably because the resort was full of families trying to escape the cold). Mini golf is tucked between Nizuc and Sunrise as well.
For older kids and teens, the Wired Lounge is a huge draw! The location at Sunrise has plenty of video games and arcade games as well as well as a ping pong table that can be reserved when you arrive. It's on the loud side but my kids (and husband, and mother-in-law) couldn't get enough and enjoyed playing after dinner most nights. The Wired Lounge at The Grand swaps out ping pong for air hockey, which is also reservable in 20 minute blocks.
Moon Palace Spa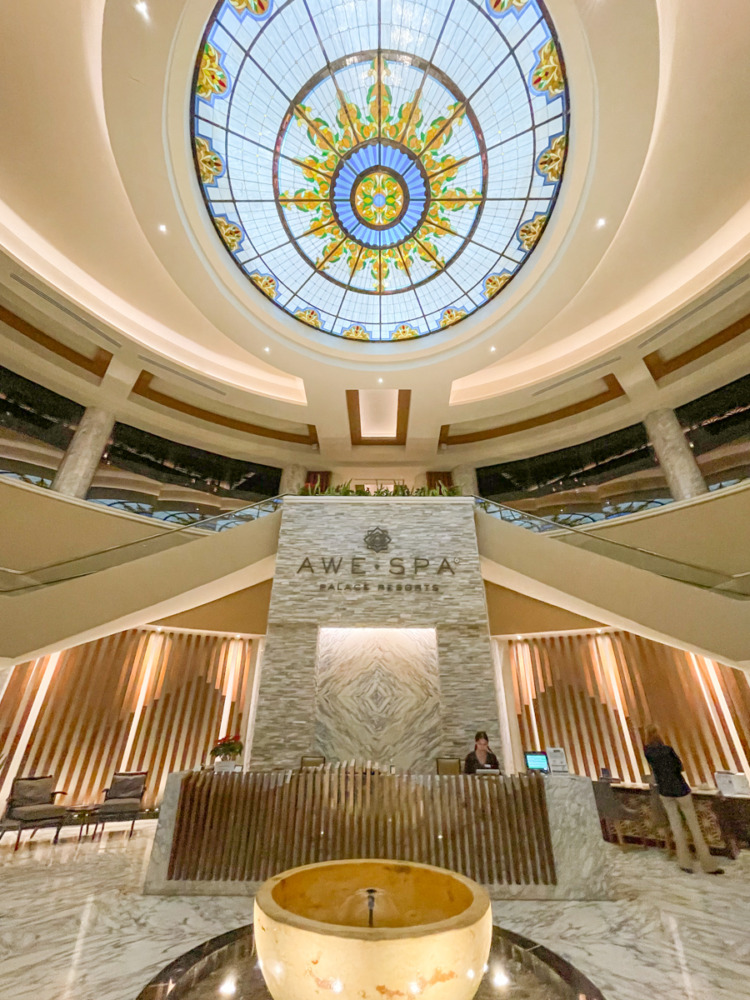 There are several locations for Moon Palace's Awe Spa, located in each lobby. They cover basically every spa service you can think of: hair, nails, facials, massages and more. We sent my mother-in-law for a massage and mani/pedi and she had nothing but positive feedback about the whole experience! Her treatments were booked at the golf course location, which has a very tranquil atmosphere since it's removed from the busier lobbies.
Evening entertainment at Moon Palace Cancun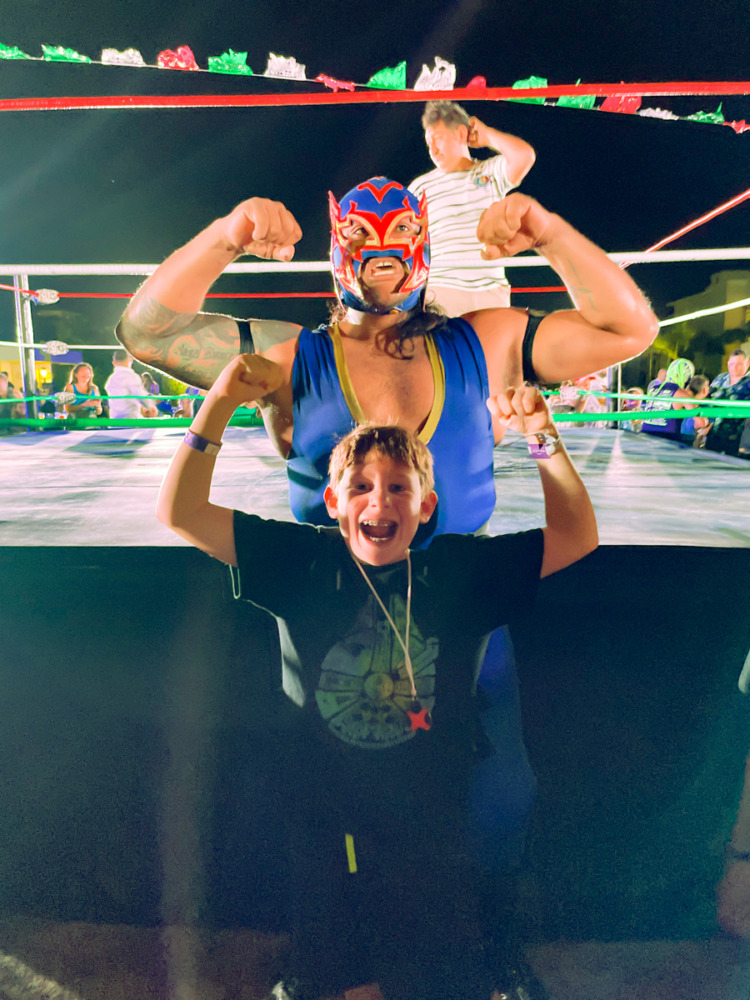 One of our favorite things to do at Moon Palace Cancun was attend the evening shows and activities. They have a wide variety each week to appeal to different guests, from magic shows and acrobats to PG-13 pop star performances.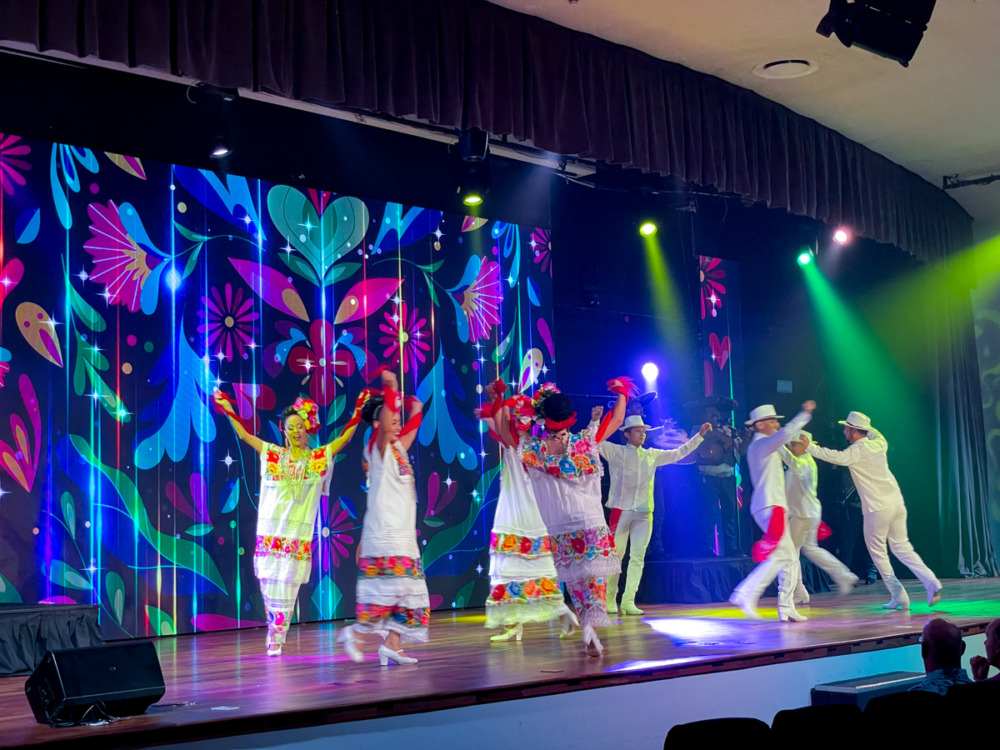 If you're looking for hints that you're at a resort in Mexico as opposed to anywhere else, this is where you're likely to find it. The late-night conga line and piñata for kids was a hit and gave kids a taste of Mexican kids' parties. There is periodically a nice Mexican cultural show that features music and dance from different states. At The Grand we stopped by for a Lucha Libre (Mexican wrestling) show – definitely a highlight for our tween! Overall we found it all to be high quality and fun.
Non-resort activities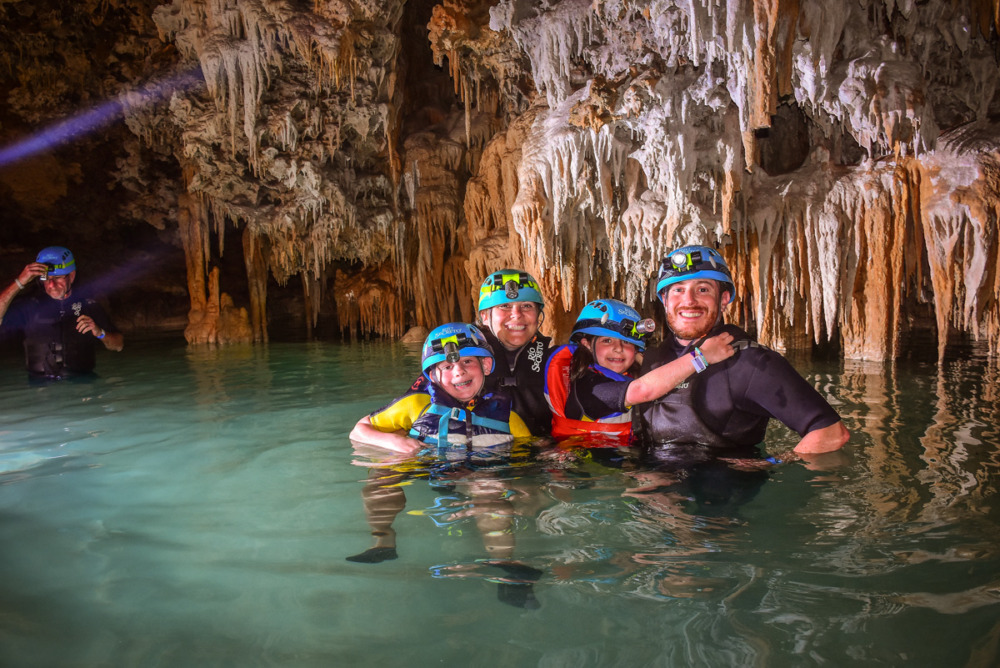 There are plenty of things to do in Cancun once you leave Moon Palace, and we found the vacation planner Carlos Torres (who we met at the Olympic pool at The Grand) to be extremely helpful! While we typically book activities ourselves – it's my job, after all – the one we wanted to do wasn't available at the time we wanted on less than 24 hours notice.
At no extra charge, Carlos made it happen. He also worked with the Awe Spa to schedule grandma's treatments at the same time since she wasn't coming with us. Carlos even emailed and texted with other resort staff to be sure someone would be on-hand to escort grandma from Nizuc to the golf course, to lunch at Riviera Maya and back to Nizuc when she finished.
That kind of help is absolutely priceless!
It's good to remember that Moon Palace Cancun is somewhat isolated from everything else in the area, as are many of the "mega resorts". You will need to allow time and budget for transportation if you want to explore the region, or plan to book tours that will pick you up.
Visit nearby Palace Resorts
As I mentioned in the first section in this review, one of the best things to do at Moon Palace Cancun is visit other resorts where you enjoy reciprocal benefits.
Day passes to The Grand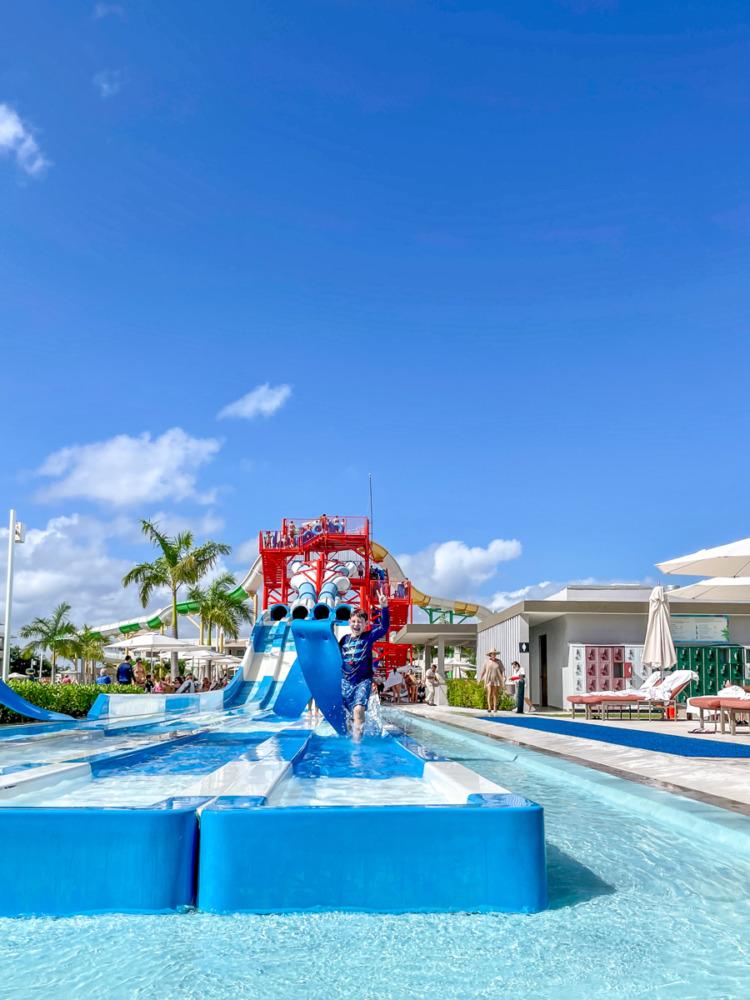 The most obvious "sister" property to visit is Moon Palace The Grand, which I've talked about quite a bit here because I'm sure that nearly every guest at Moon Palace Cancun hops over there at least twice. Why am I so sure? Because you can get free passes to Moon Palace The Grand by attending a vacation club sales pitch.
When you check in, you'll undoubtedly be offered the "opportunity" to go learn about The Grand. Moon Palace The Grand day pass prices as of this writing are $100 per adult and $50 per child. Our family (three adults and two kids) was offered either three days worth of passes or two days worth of passes and $500 of resort credit in exchange for spending ~90 minute minutes with the sales team.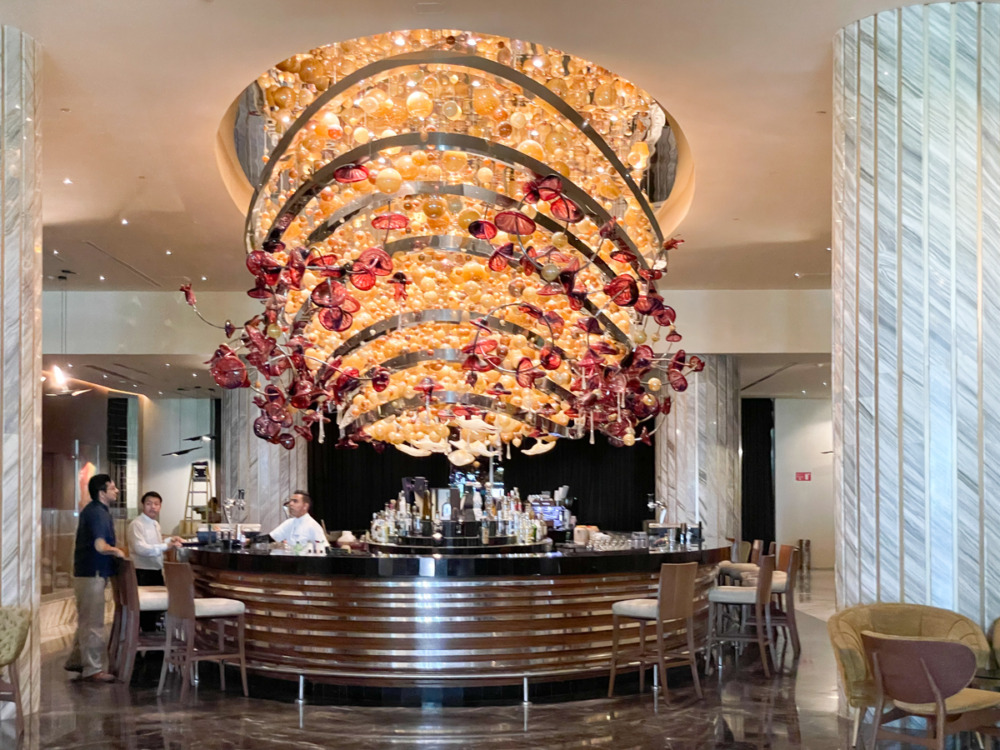 Our visited started with breakfast at one of the restaurants at The Grand. We then proceeded on a tour of the main building and The Grand Moon Palace Cancun rooms, which are really very nice. Finally, we headed to the Palace Elite sales center where the kids were herded into a crowded play area while we "talked turkey".
In summary, the experience was fine. The sales team is very slick and provide multiple "opportunities" to be part of the Palace Elite program or even to get a taste of it at a lower price point. We just sat silently or said "no" at every opportunity and it was fine. We felt that everyone was respectful and there wasn't too much high-pressure or emotional discussion, they really treated it as a numbers discussion.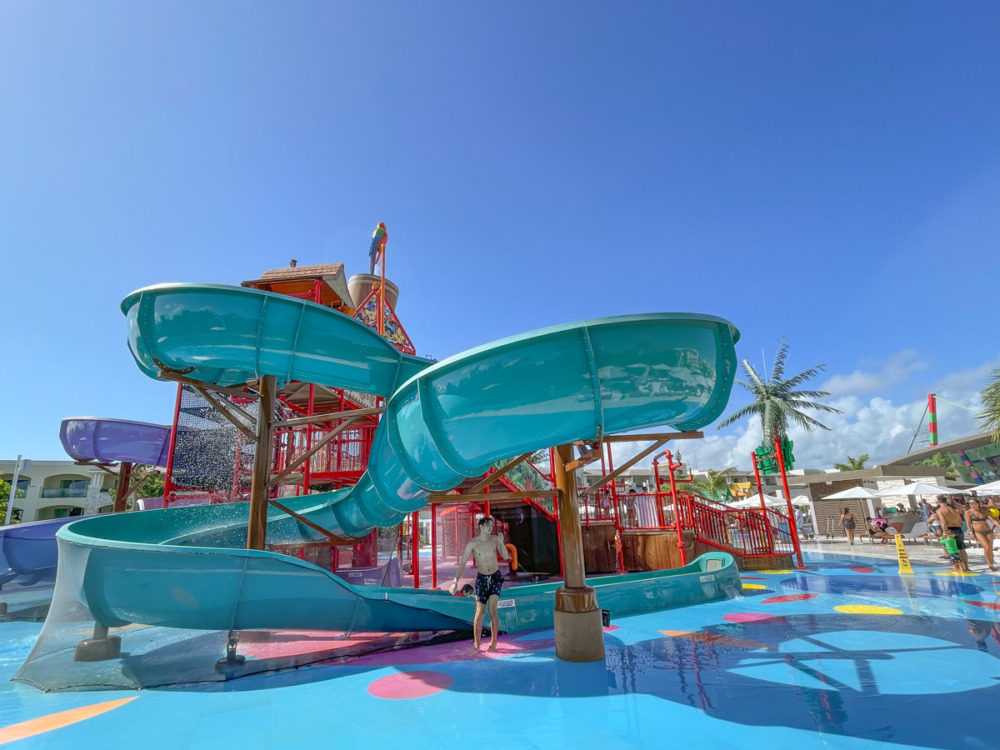 We opted for two day passes and $500 in resort credit and that worked out perfectly for us, though if we'd planned fewer excursions we might have instead opted for three day passes to The Grand to spend most of our time there. As you've read in this review already, there are tons of great things to do at Moon Palace The Grand and in particular the dining situation is much less frustrating than it is at Sunrise and Nizuc.
Kids will love the Moon Palace Cancun water park at The Grand! Once you're there you have the same privileges as those staying at The Grand, so live it up.
Day trip to Beach Palace or Sun Palace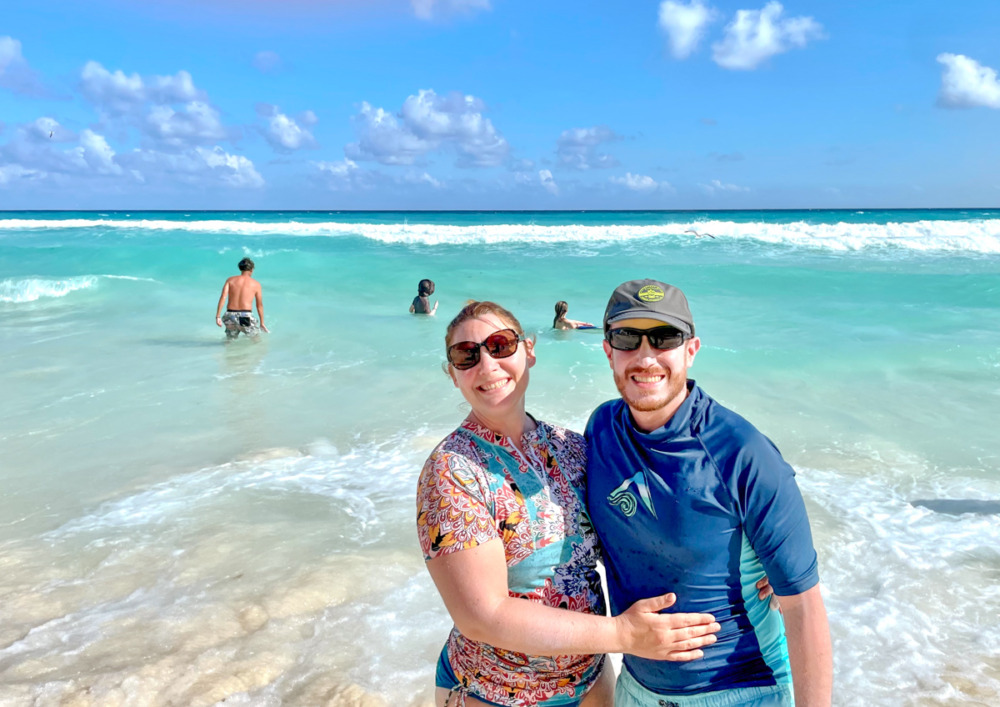 I recommend that you take a day trip to Beach Palace (families) or Sun Palace (adults only), both located in the hotel zone. They're much smaller properties, which can be a nice respite when you're staying at a city-sized resort for a week. They'll both give you a taste of the gorgeous turquoise water for which Cancun is famous!
We spent an afternoon at Beach Palace after going on this tour nearby and had an absolute ball. Your wristband (and a reservation, as of December 2022) gets you access to everything the resort offers. The staff there is extremely helpful and the pace is more relaxed than at the busier Moon Palace Cancun.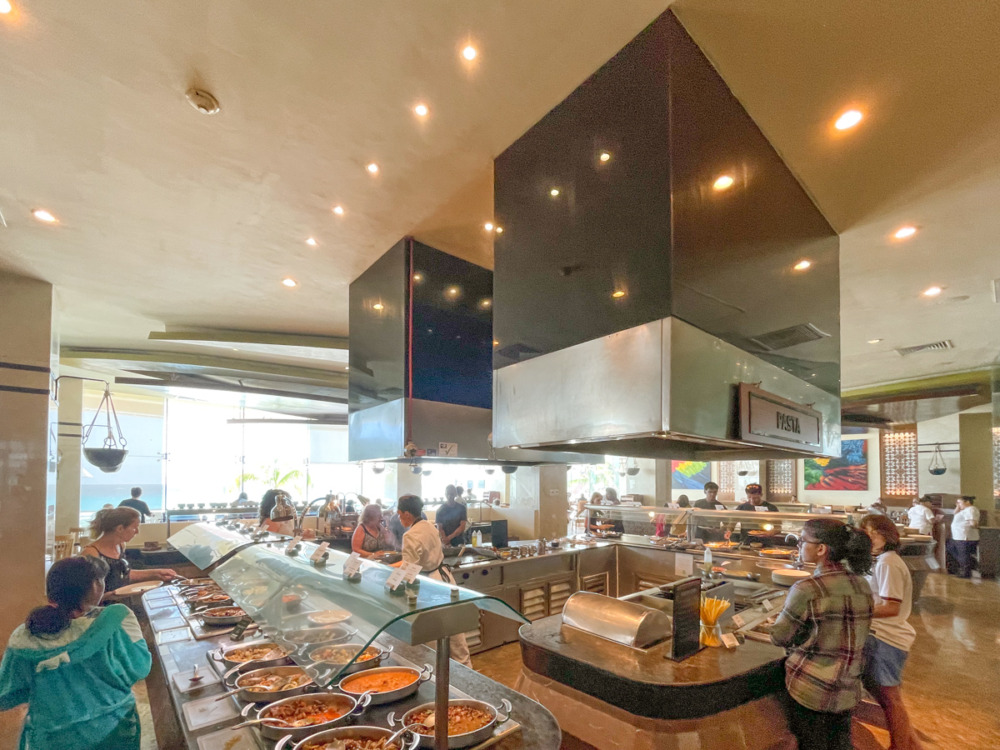 For example, I asked at the lunch buffet if they had ceviche and was told that it's only available at the snack bar outside; magically, 15 minutes later a staff member arrived at our table carrying a delicious bowl full! While Sunrise staff had chastised us for trying to take "real" plates from one of the outdoor restaurants to our chairs a few feet away, Beach Palace staff helped me carry our large order down to the pool for everyone to enjoy.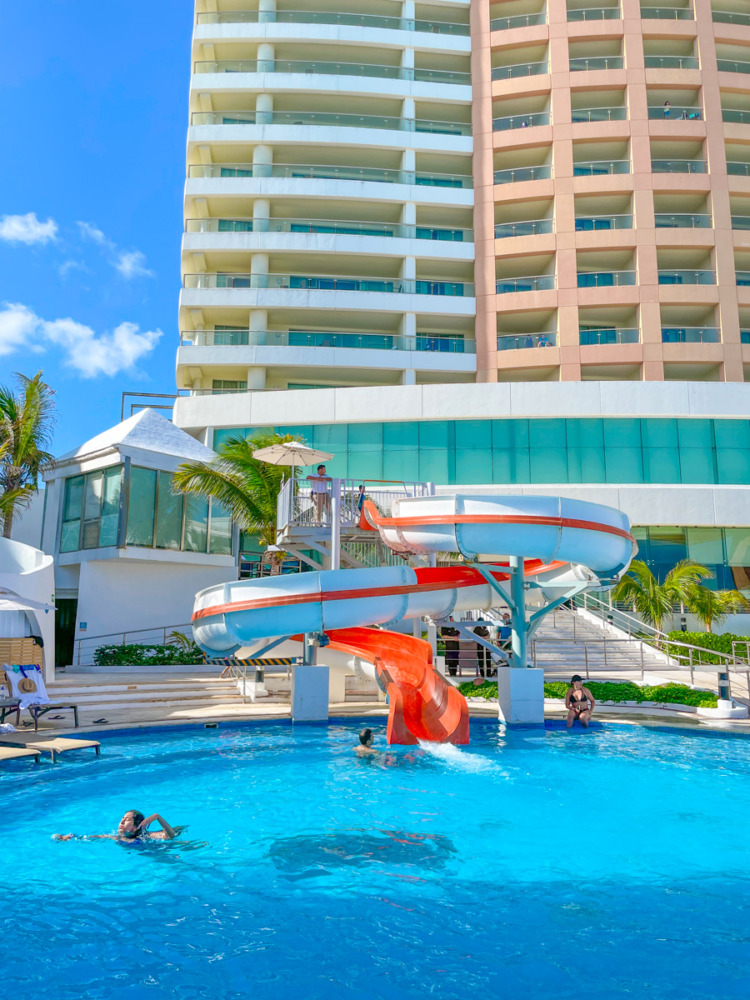 Beach Palace has a nice – though not huge – pool area overlooking the beach, with a great waterslide shooting you into one of the small pools. We noticed that the pools at Beach Palace were delightfully warm, and the kids loved the ice cream shop right next to the waterslide's stairs. The pool on the opposite side boasts a swim-up bar.
One fun thing to do at Beach Palace is head to the rooftop, where you'll find two more small pools, two hot tubs and tons of loungers to enjoy the endless sea views. You can grab drinks up there as well, though the bar closes down earlier than some of the others.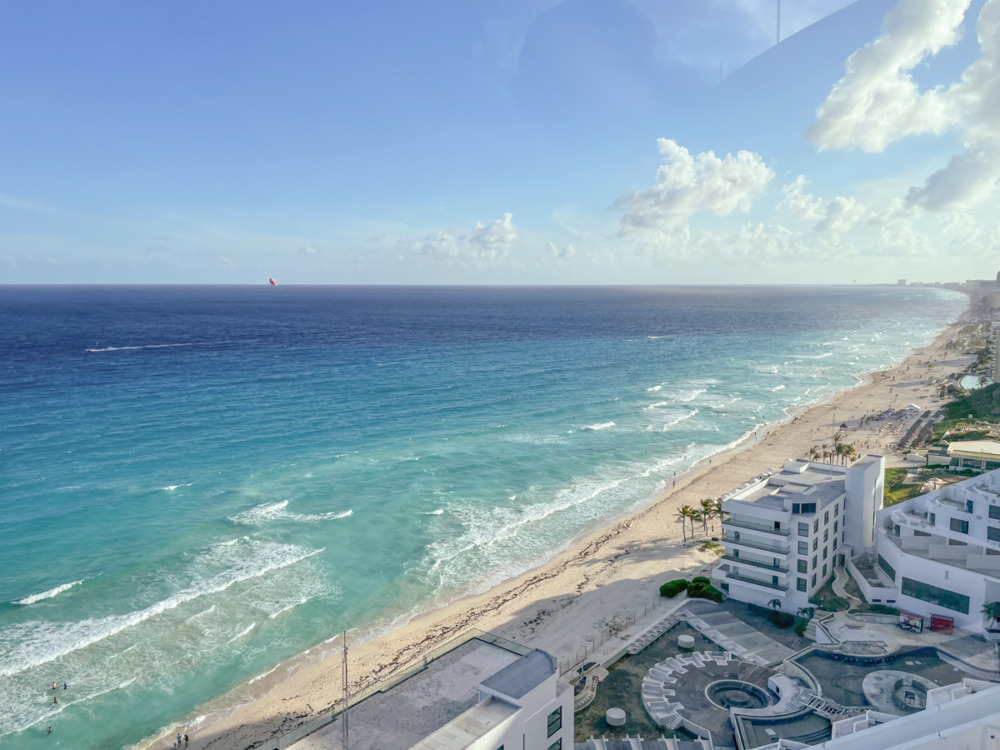 It's important to know that at this time you have to get your own transportation to Beach Palace or Sun Palace unless you're a member of the Palace Resorts vacation club (or visiting as someone's guest). A taxi will run around $20-25 each way, which is a pretty good value for a full day's excursion for a family.
---
Should you stay at Moon Palace Cancun? Impressions and alternatives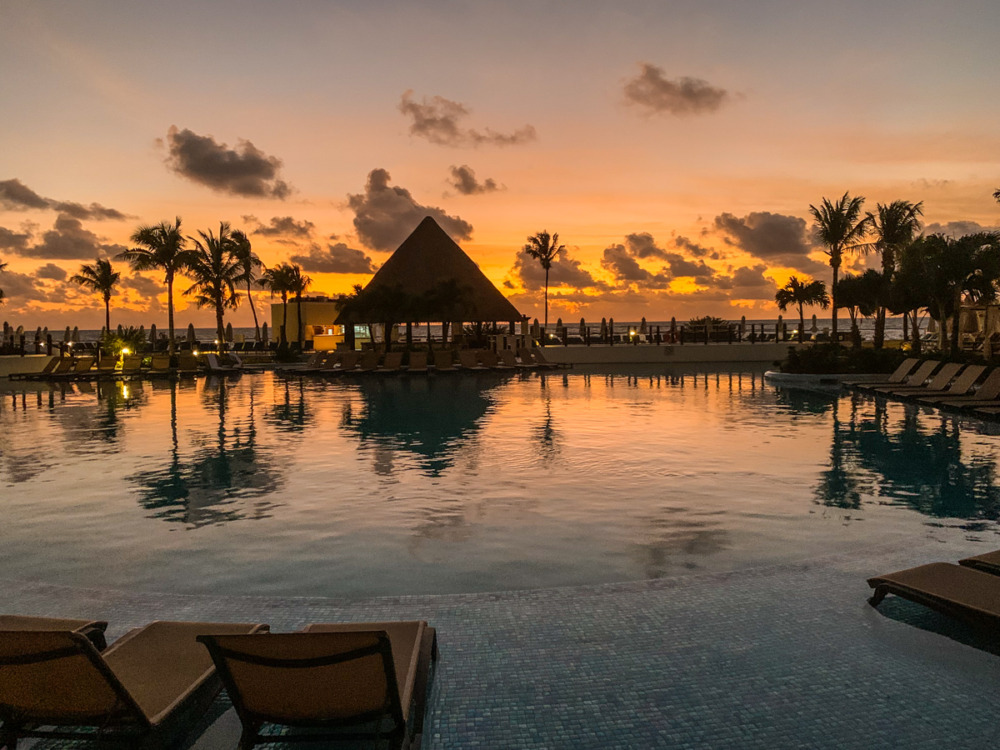 Should you stay at Moon Palace Cancun? I give it a solid "maybe".
I would not plan on a trip to Moon Palace Cancun during a peak period like winter break or spring break. While there are enough rooms to handle the number of guests, it doesn't feel like the rest of the infrastructure is in place for the resort to run well at 100% capacity.
If you're planning a trip to Cancun during a slightly less busy time of year, Moon Palace Cancun offers great value among highly-rated Cancun all-inclusive resorts – check out the competition here.
You have to like staying at a big place that offers tons of on-site amenities. Several people have likened Moon Palace Cancun to a cruise ship on land, and I think that's a fitting analogy. The intention is that you'll spend most of your time enjoying what the resort has to offer, and its offerings are many. Our kids absolutely loved Moon Palace Cancun.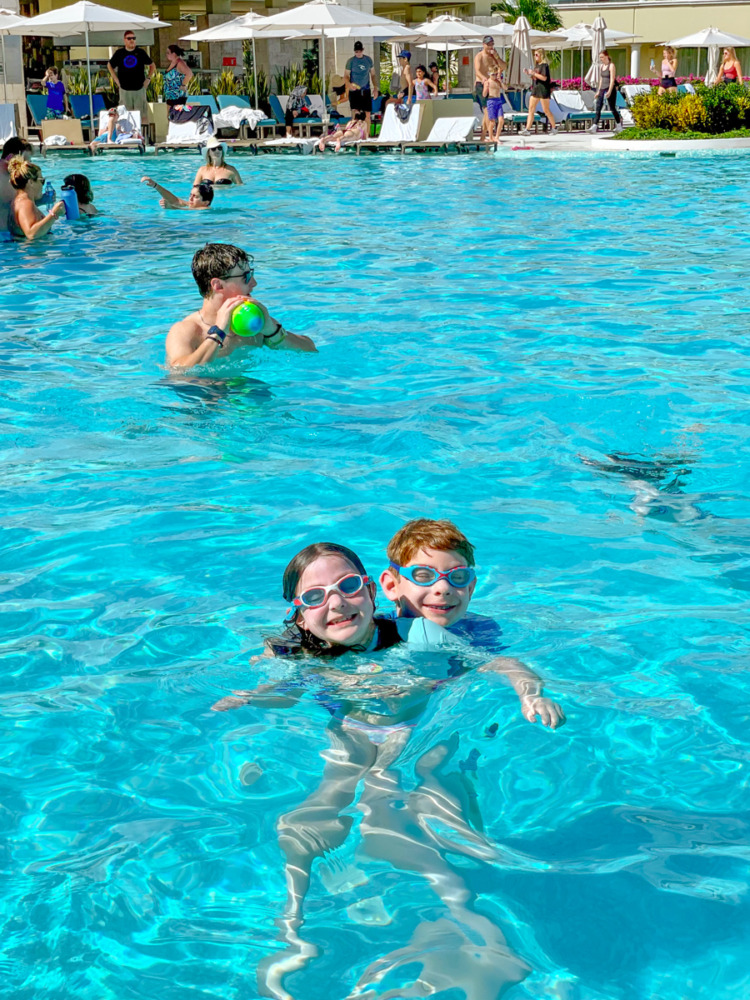 After reading this review, you may decide that Moon Palace Cancun isn't the right fit for you, and that's ok! There are thousands of Cancun resorts to choose from. Here are some alternatives worth considering:
Moon Palace vs The Grand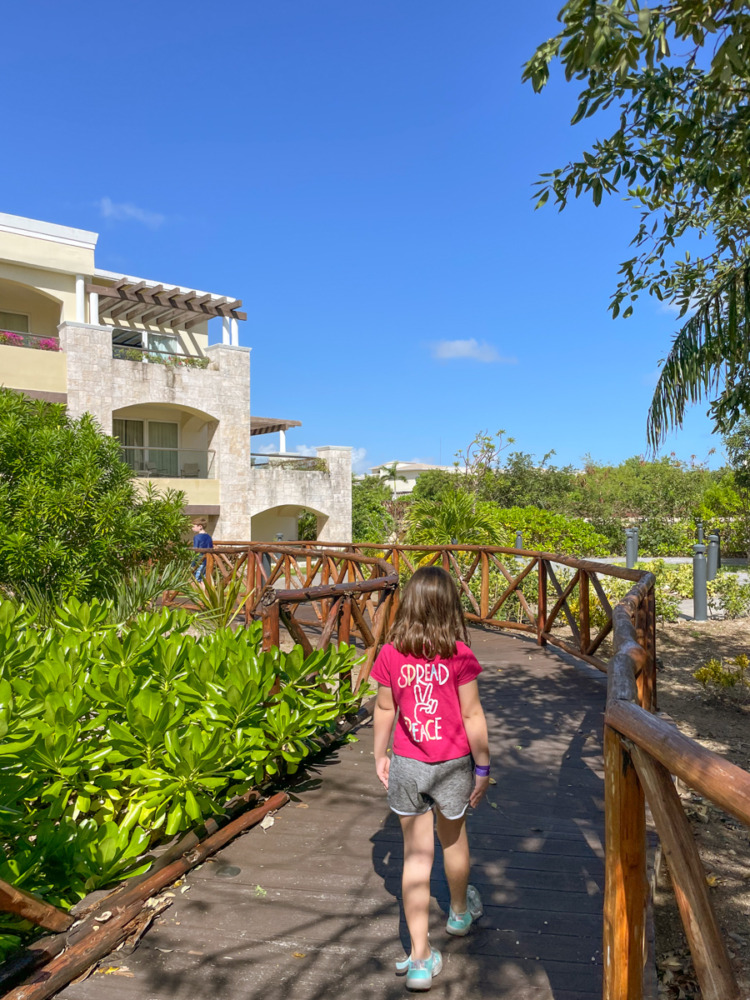 The Grand Moon Palace Cancun reviews sing its praises, and hopefully in this article you've gotten some helpful information comparing the two parts of this big property. If you love all the options that Moon Palace Cancun has to offer but want a slightly more intimate feel (and the water park!) then The Grand may be for you. It would be easy to stay there for a week and avoid Sunrise and Nizuc completely.
You'll also get larger rooms and better restaurant options with fewer lines. Below is a photo of a Moon Palace The Grand room that I took during our tour; it comes in a little over 800 square feet, giving families plenty of space to spread out.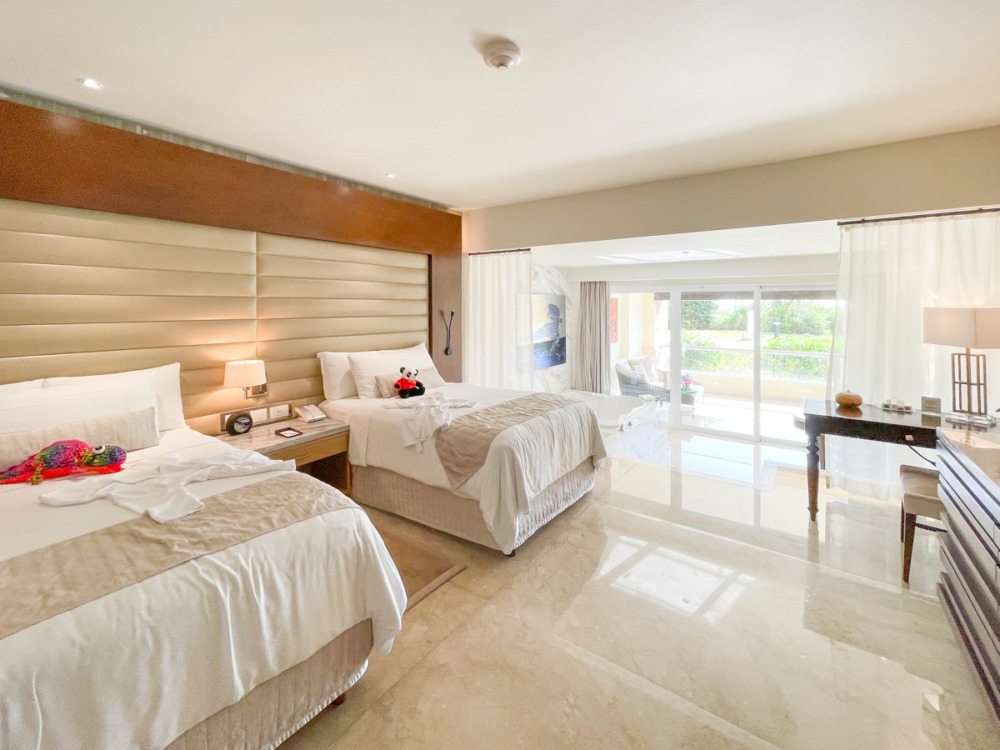 What most Grand Moon Palace reviews don't mention is that The Grand typically costs 40-50% more than Moon Palace Cancun – compare the price side-by-side here, as the premium does vary by date and number of people.
Like Moon Palace Cancun, the location is convenient for airport access but not great for accessing other activities in the region.
Hyatt Ziva Cancun
One of the most popular Cancun all-inclusive resorts is Hyatt Ziva Cancun, located in the Hotel Zone. It's extremely well-regarded and offers a great balance of beach and pool, along with evening entertainment and 17 restaurants. With around 550 rooms, this is a little larger than Moon Palace The Grand.
The real "trick" with Hyatt Ziva Cancun is that so many guests don't pay for it. The key is to grab a Chase Sapphire credit card and a Chase Ink Business preferred credit card and transfer the sign-up bonuses to Hyatt. Rooms range from 21,000-29,000 for two people, and if you're a family you can book two rooms, pay the occupancy supplement with points or call and pay the occupancy supplement with cash.
Read more: Looking for the Best Credit Cards for Family Travel? Check These Choices
Hotel Xcaret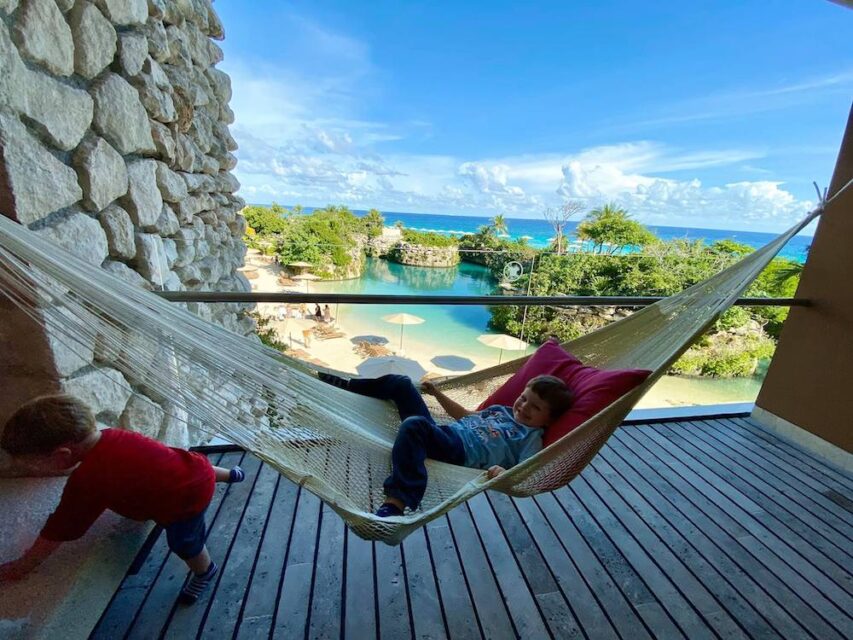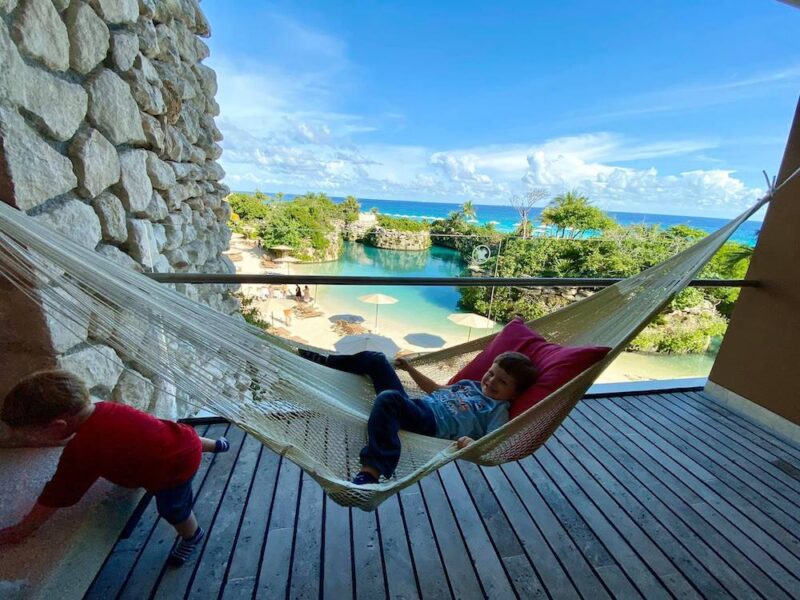 If you have a higher budget and want tons of opportunities to keep active kids busy, consider Hotel Xcaret. This high-end Cancun all-inclusive is attached to the popular Xcaret Park and hotel guests get unlimited access and transportation to all of Xcaret's theme parks with their "all fun inclusive" concept.
You can snorkel and experience huge water slides at Xel-Há, zipline and explore underground cave systems at Xplor, play tricks on your mind and body and Xenses and enjoy the Yucatan Peninsula's natural wonders at Xenotes! Each one offers a different experience, and many would be pricey paid tours if you stayed elsewhere. For example, a package deal including four of Xcaret's parks would cost a family of four $1400 including transportation from Cancun. Be sure to factor that in as you weigh the cost of Hotel Xcaret versus other options.
Check out this in-depth Hotel Xcaret review from our contributor Jordan.
Mahekal Beach Resort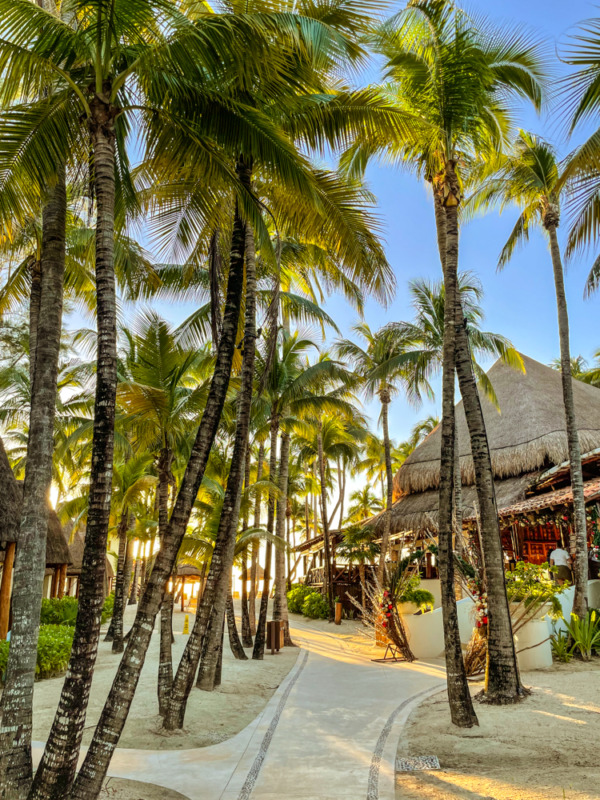 If the thought of being around so many people gives you the hives or you're a more DIY type of traveler tying to balance resort life with exploring, consider Mahekal Beach Resort in Playa del Carmen. It only has around 200 rooms and you won't find water parks, kids clubs or dozens of dining options – it's not the right choice for everyone.
But you will find a laid-back atmosphere, attentive service and a price tag that doesn't require a second mortgage. The photo above was taken about a 60 second walk from our room (in the least expensive category) and I had already arrived at the restaurant for my morning coffee before walking another 15 seconds to the beach. You can read my full Mahekal Beach Resort review for tons of information.
We visited Mahekal in December 2021 and had a fantastic experience. The location made it easy to explore all of the fun things to do in Playa del Carmen. We even rented a car while we were there – be sure to read these tips.
---
Moon Palace Cancun FAQs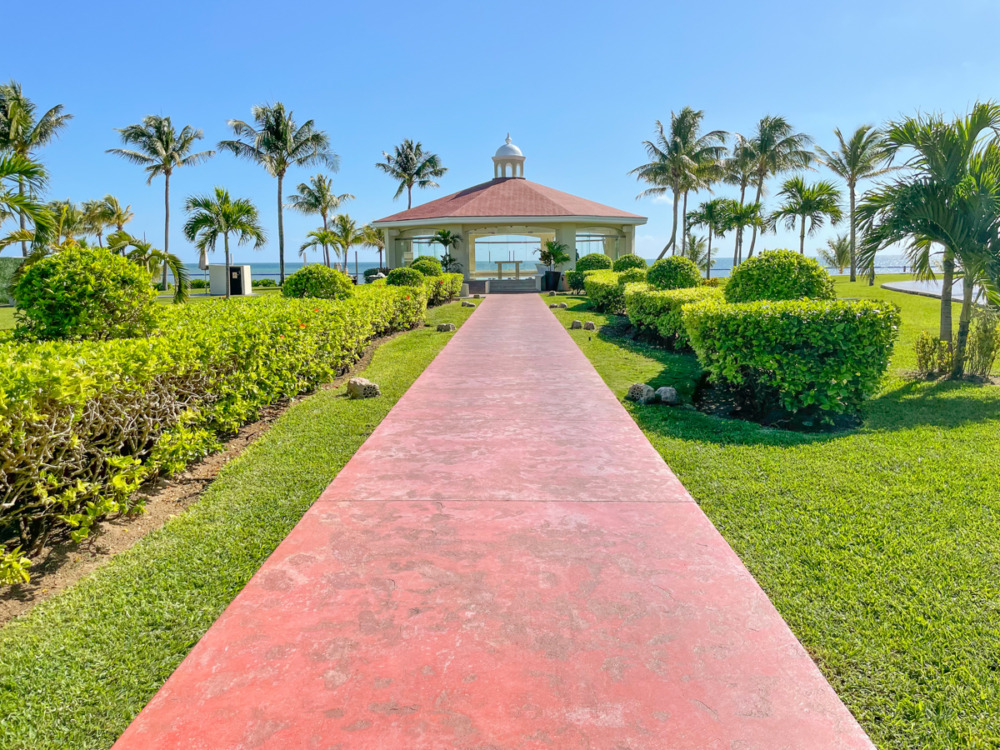 How many rooms does the Moon Palace Cancun have?
Moon Palace Cancun has about 2400 rooms: roughly 2000 of these are in the Sunrise and Nizuc sections and the remaining 400 are at The Grand.
How many people can stay at Moon Palace Cancun?
The total capacity of Moon Palace Cancun is around 10,000 people.
Is there an adults only section at Moon Palace Cancun?
There is no adults-only accommodation at Moon Palace Cancun, though the Unique Day Club at The Grand is for adults and there are several other bars/night clubs around the property that don't allow kids.

Nearby Sun Palace is an adults-only property.
What is the difference between Moon Palace and Moon Palace Nizuc?
Moon Palace Nizuc is one of three sections of Moon Palace.
What is the difference between Moon Palace Nizuc and Sunrise?
Moon Palace Nizuc is smaller than Moon Palace Sunrise and has fewer amenities and restaurants. It's a quieter area of the resort and many more of the rooms have views of the sea.
Planning your trip to Cancun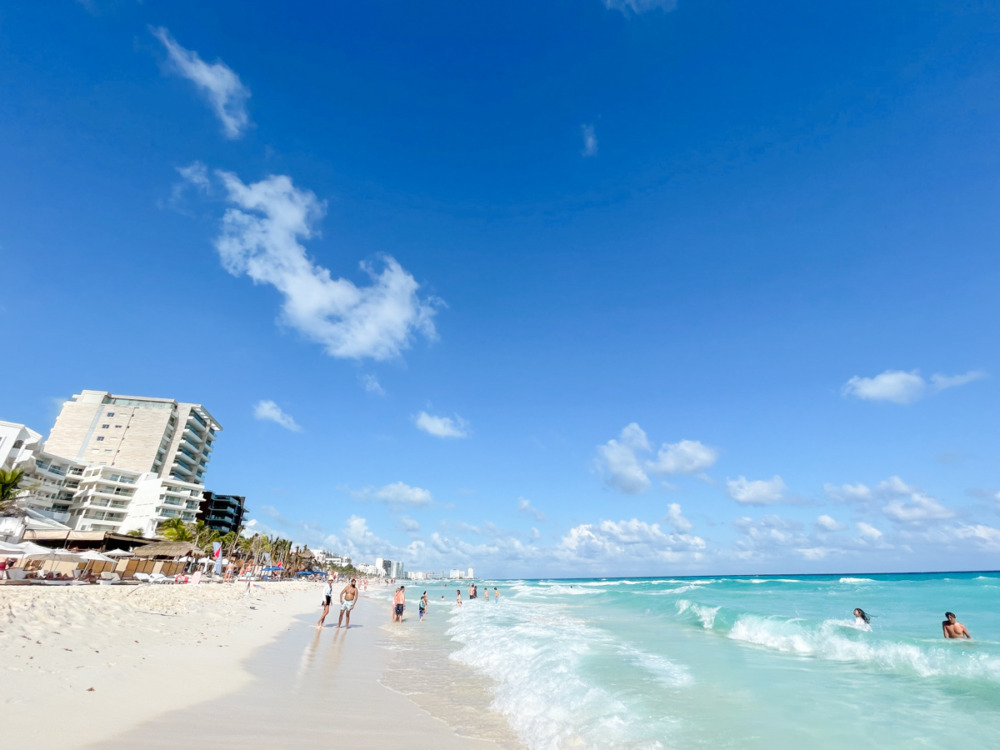 Be sure to read these articles as you Cancun resorts and plan the rest of your trip!