Bitter cold. Snow. Slush. Rain. Freeeeezing rain. Bone-chilling wind tunnels in midtown. New York in winter is basically every Californian's idea of Dante's Inferno (but frozen over). But there are are a lot of awesome reasons to visit New York in winter: a tranquil blanket of snow on Poet's Walk in the Park, ice skating in Rockefeller Center, no crowds and cheaper prices.
What's the best way to enjoy NYC in winter? Come prepared. Having the right items on your New York winter packing list can truly make or break your experience, because no one wants to spend all day hoofing it down 5th Avenue feeling like every appendage is going to fall off.
Confession: when we went to New York for a week in January I did some things right and quite a few things wrong. Here's your chance to learn from my mistakes as you decide what to pack for NYC.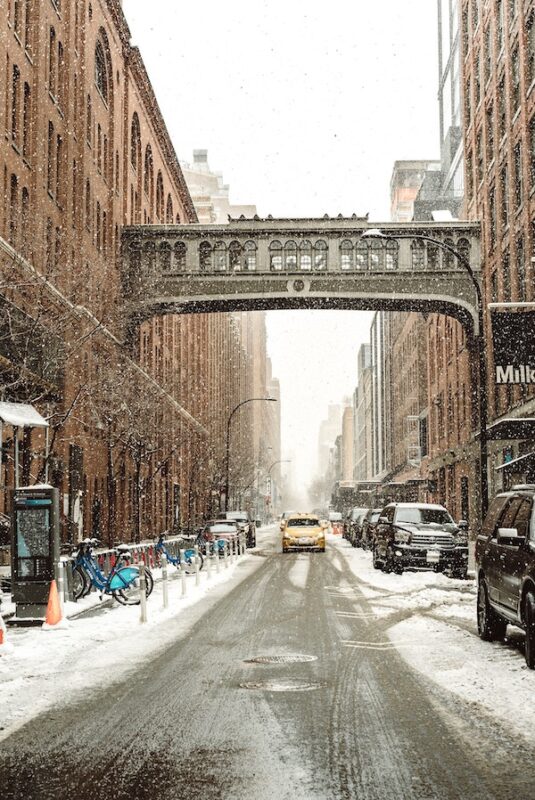 Use the interactive map to find vacation rentals and hotels in New York
---
What shoes to wear for New York winter
If you've read any of our other packing lists, you know that I like to start from the bottom. Why? Traveling is inherently different than living in a place. You'll want to spend tons of time walking around and taking in the sites, even when the weather is brutal. You don't spent 8-10 hours per day sitting in a heated office, possibly with a more fashionable change of shoes under your desk so that you can justify wearing running shoes for your commute on the subway.
So what shoes should you wear in New York in winter as a tourist? You'll need to take into account both weather and comfort in addition to how much luggage you plan to take. We traveled to NYC as a family of four with just a single (large) backpack so we each made do with a single pair of shoes. If you're going that route, make sure that your one pair of shoes is not only comfortable and weather-appropriate, but also versatile enough to go from sightseeing during the day to dinner and show at night. These short boots kept my feet warm and dry and worked well for all of my needs during a full week in the city – they've been great in rain, snow and wind and were comfortable enough even for days walking 15,000 steps. Since they're short, they don't look totally out of place if the conditions are dry and clear (but it's still cold).
What should you put under your boots? There's only one answer: wool socks. They keep your feet warm when it's cold, cool when it's hot, dry when it's swampy and can be worn a few times without getting disgusting. These socks from REI are the perfect height and weight.
Boots for New York winter
If you have more space and will bring two pairs of shoes with you to NYC, consider bring one pair of tall boots and one pair of regular shoes instead of just the short boots. If you want to know how to dress like a New Yorker in the winter, the answer is tall boots. Make sure they're warm and waterproof in case of the ubiquitous slush puddles. We saw TONS of these boots as we walked through NYC in winter! Just make sure to throw some tall wool socks underneath and you'll be set for even the worst weather that New York can dish out. They're on the pricey side, but you can wear them a few times thanks to wool's anti-stink properties.
But, of course, if the weather turns to 50F and clear those tall boots would look more than a little out of place! So pair your tall warm boots with a backup pair of regular shoes. What are the best walking shoes for NYC? I have two favorites to recommend depending on your style and needs.
If you like a look that's sleek but comfortable, check out TOMS Avalon slip-ons – they offer much more substantial support than the original TOMS and will blend in well in well amongst New Yorkers. These even made the cut for our year-long trip around the world and the earned their keep! They blend in well enough to work for dinner out when paired with black pants. Just make sure to spray them before you go with a protector like this. These socks are the perfect height to pair with Avalons.
If you prefer athleisure sneakers, check out my favorites – they come in so many fun colors and have a great retro look. I love that the insoles are removable. I usually swap them for these more supportive insoles to keep my feet comfortable all day long. These are the best no-show socks to pair with them.
New York winter outfits
Perhaps you noticed a theme in the footwear selections above? That's right, all black. While the stereotype of every New York woman being clad head-to-toe like she's heading to a super chic funeral isn't universally true, you'll probably find black at the core of most New York winter outfits. Fortunately for you, black is the easiest neutral color to work with when you're building a travel capsule wardrobe (get more details here). Just throw in a bunch of neutrals (read: black), one or two pops of color and call it a day.
Fortunately, with smart layering your packing list for New York winter doesn't have to be a mile long.
Wondering what to pack it all in? Check out our hands-on reviews of the best travel backpacks for women
The most important item on my New York winter packing list? Long underwear. I don't know if locals wear them and I don't really care – I'm a weak Californian and with wind chill (and sometimes without) it can be reliably below freezing in New York City in winter. I only wish I'd gotten a top and bottom. In a pinch you can get away with leggings under your regular pants, but my experience is that the leggings I generally buy are too substantial to be comfortable under another pair of pants.
DEAL ALERT! Get great sale prices on Smartwool socks and base layers
Another great option is to pick up merino wool base layers. They breathe well while keeping you warm, and the antimicrobial wool makes you less stinky when you go into heated buildings and experience an immediate 60 degree temperature increase. I love this one and have tried it only longingly several times – the blend material is wonderfully soft and not at all itchy. They also make matching merino pants as a base layer.
These awesome wool leggings are a new addition to my winter wardrobe and would be perfect to wear for your flight, for lounging or on their own for the rare mild day in NYC.
How to dress for New York winter
And what goes on top of your long underwear? Whether you're visiting for a long weekend or a full week, you can probably get away with two pairs of black pants or jeans (in case one gets wet or gross) and three sweaters. Ideally at least one of those sweaters should be pretty warm! Throw in a long sleeve t-shirt to layer between your long underwear and a sweater for the coldest of days. I appreciated my longer sweater to provide a little more coverage and warmth versus shorter sweaters. But you don't need to go overboard bringing tons of clothing if you layer well.
I always like to bring a long necklace (ok, maybe two) to accessorize, and my favorite by far is the Kendra Scott Rayne, which comes in tons of colors to match any outfit. I also bring one short necklace like this one to pair with lower necklines.
What to wear in New York in Winter: Accessories
Beyond the clothing, what do you need to bring for winter in NYC? "Weatherproof" is the name of the game. As luck would have it, we inadvertently brought a completely waterproof backpack with us! That came in handy when it was snowing and pouring rain during our week in New York in January. While it's nice to carry a purse or a tote bag, a stylish backpack wins for comfort and practicality when you're walking around the city all day and need to carry water, an extra layer and all the other daily necessities. Obviously keep it close when you're riding public transit – either on your lap if seated or on your front if standing. This one looks like a great option, especially thanks to the zipper being hidden against your back – based on reviews, I'd probably give it a coat of waterproofing spray to be on the safe side.
Best coat for New York winter
What's the best winter outerwear for New York City? As with everything else, long and warm are the name of the game! Basically every woman we saw (myself included) was wearing a hooded black puffer coat, mid-thigh or longer. I opted for a fairly inexpensive packable puffer since I haven't needed a warm coat that often in my life and didn't want to tote around the bulk, and that was a Big Mistake. If there's one suggestion I can make on what to wear in New York in January or February, it's a legitimately warm coat. I recommend trying out a few of these in advance to find one that suits your body, budget and sensitivity to cold.
Obviously, you'll want to bring a scarf when you're packing for a winter vacation in New York. Yet another mistake I made was to bring an infinity scarf (which was all I had available at the time since everything else was in storage). A regular old-fashioned scarf is better because you can wrap it around basically your entire face when the 40mph wind gusts come howling through Manhattan.

Another fail? Gloves that didn't actually keep my hands warm or dry! That's right, my gloves were good for a gentle breeze but sucked when it came to actual "weather". It was so bad at some point that I shoved 3/4 of my frigid hand in my toddler's Thinsulate glove when she wasn't looking. Obviously that's not sustainable, so next time I'll just buy myself some half-decent gloves before we go on a vacation in winter. These look like a great pick for you New York winter clothing guide, and yes – you can still text and check in on Instagram with them on. There's even a pocket on top for hand warmers!
Speaking of Insta… wanna be friends?

Finally, the last winter "must have" for your upcoming trip to New York: a hat. The age old questions is "to pom pom, or not to pom pom?" Personally, I pass on the pom pom for the simple reason that it's harder to put your hood up over the hat if you have a pom pom, and when it's bitterly cold you want as many layers as you can get. On the other hand, the pom pom is probably a winner for the style factor. Either way, I love Columbia my winter hat for its fleece lining – cozy and extremely warm when combined with the knit outer layer. Whichever side of the great pom pom debate you fall on, check out these options:
One final item that I can't stress enough is to bring an external power bank. You'll be relying on your phone to map your subway routes, call an Uber or Via, look up restaurants on Yelp and more. Don't get stranded with a dead battery part-way through the day like I did pretty much all the time. We've purchased two of these recently and I love that they plug directly into our phones without any cables!
What to pack for New York in winter summarized
Here's the tl;dr version of your New York packing list winter edition:
Weatherproof boots
Wool socks x 3
Long underwear top and bottom
Black pants/jeans x 2
Sweater x 3
Long sleeve t-shirt
Necklace x 2
Long, warm puffer coat
Scarf
Gloves
Hat
Waterproof backpack
That's a wrap! I hope my failures failures packing for New York will become your successes. For those cold weather experts out there, drop a comment and let me know if I forgot anything critical.
New York Winter Packing List FAQs
What should I pack for New York in winter?
Your packing trip for a New York winter should include boots, base layers, a warm coat, scarf, hat and gloves. Don't forget warm socks too!
How do people in New York dress in winter?
People in New York wear tall boots, warm coats and lots of the color black in winter. Staying warm and waterproof is key.
How do I prepare for winter in New York?
Plan to dress in layers for warmth and comfort for a winter trip to New York. Start with a base layer under your clothes. Waterproof boots and wool socks paired with a puffy coat will keep you dry and warm over those. Then add a scarf, hat and gloves.
More tips to start planning your visit to NYC
-Start planning early!
-Check out these top tips for visiting New York on a budget
-If you're visiting with kids, check out these top family-friendly attractions in NYC (including a few you probably haven't heard of!)
-Check Skyscanner for flights or use your Chase Sapphire Reserve or Chase Ink Business Preferred card to book award tickets if you're coming from far, check bus prices if you're on the east coast
-Buy travel insurance as soon as you make your first booking
-Get your booking.com reservation at a discount
-Try to take advantage of Broadway Week and Must-See Week if visiting in winter; otherwise, enter the Broadway ticket lotteries and look into the New York Explorer Pass
Want to get more helpful travel tips like this? Sign up for our email list!