Visiting Barcelona with kids can be a magical experience. There are 2000 years of history and culture, a strong arts scene, stunning architecture, and expansive beaches. The city is notorious for being a kid-friendly city with a variety of things to do that appeal to kids and kids at heart. But where is the best place to stay in Barcelona with kids?
From my experience, if you have a bigger family, it can take a bit of searching to find a hotel that will fit your crew – finding a hotel in Barcelona with rooms for four people can be tricky. But the great thing about Barcelona is that, if you know where to look, there are quality hotels and vacation rentals that are perfect for families. Below, you can read about my favorite Barcelona neighborhoods for families and my picks for where to stay in Barcelona with kids.
Quick Picks: Where to Stay in Barcelona with Kids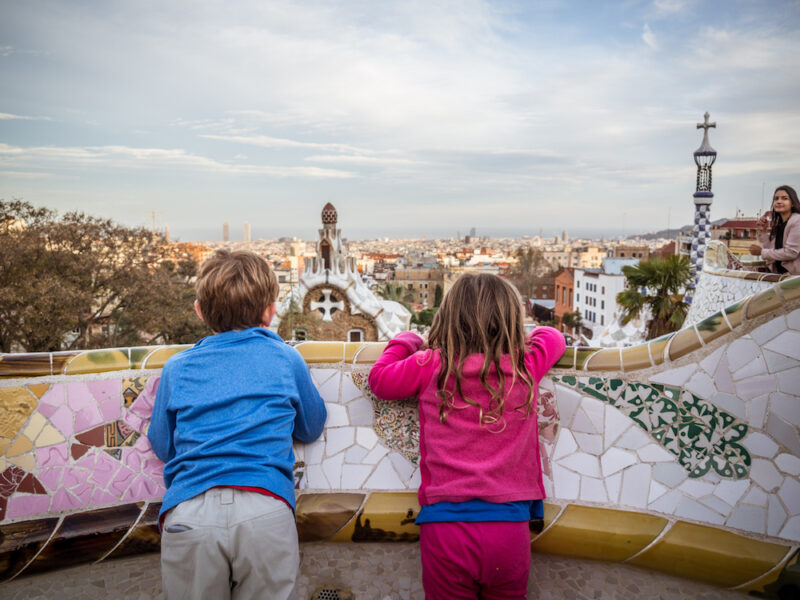 Don't have time to read this article about all of the best places to stay in Barcelona with kids? Here are a few choices that won't disappoint:
Mercer House – great location in El Born, with plenty of space in Lofts and Grand Suites
Dali Apartment – extremely spacious for up to 8 people and equally convenient to both historic sites and the beach
EnjoyBCN Colon Apartment – top-rated 3-bedroom apartment in centrally located Barri Gòtic with access to a beautiful rooftop pool and terrace
While you're at it, be sure to snag your tickets to Park Guell before they sell out! Check availability below:
Stay at the Best Family-Friendly Hotels in Barcelona
Barcelona is the capital of Spain's Catalonia region on the eastern coast of the Balearic Sea. It's a massive place with almost 2 million residents. Most people who visit stay in the Ciutat Vella (Catalan for "Old Town"), a district made up of the oldest neighborhoods in Barcelona. That area as well as a few of the surrounding larger districts are the best places to stay in Barcelona with kids – you'll be in the heart of the action.
My top pick for where to stay in Barcelona with family is El Born. It's a super central neighborhood with pedestrian-only streets and fun places to visit like the Museum of Chocolate. You're a 15-minute walk from the beach, though not directly on the water. Plus, you're right next to Ciutadella Park with grassy lawns, a zoo, and more. It's also home to some of the best best hotels in Barcelona for families and is a little quieter than the nearby Barri Gòtic.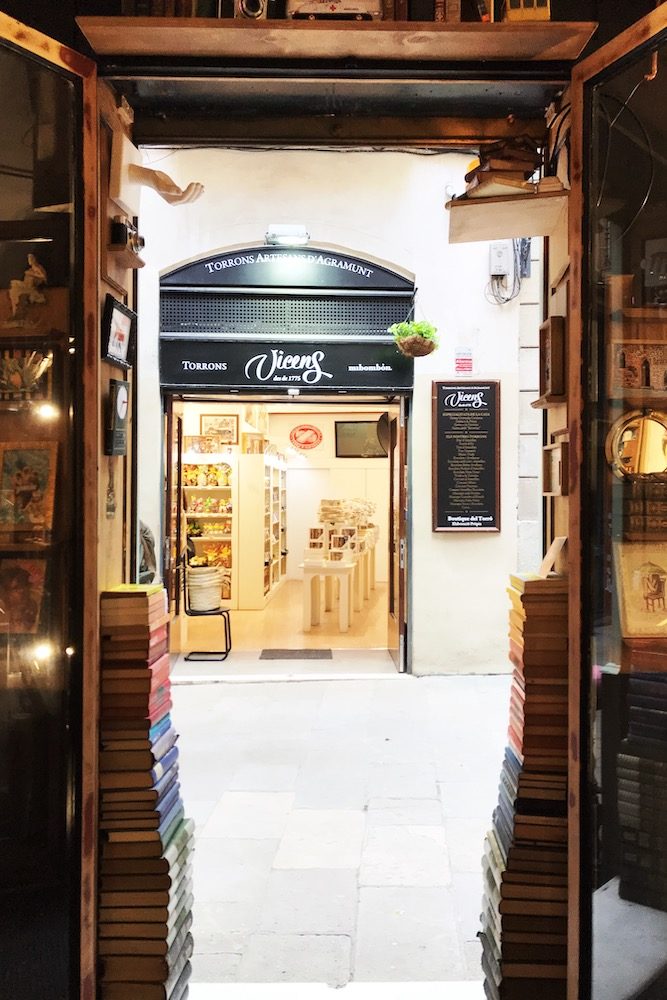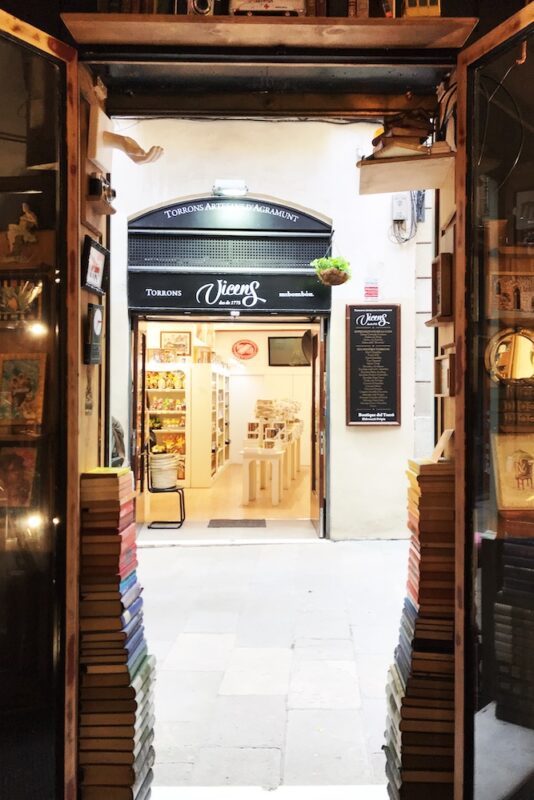 There's also the historic Gothic Quarter next door. It has a unique ancient feel with cobblestone streets lined with gorgeous stone buildings. There are stunning baroque churches and a dozen beautiful squares with fountains. It's the perfect place to wander the streets and take photos. And bordering the neighborhood you'll find Las Ramblas, a wide boulevard with beautiful fountains, extensive shopping and numerous historical sites.
Las Ramblas vs La Rambla? Either is fine. The official name as of this writing is La Rambla, but there are several stretches of the 3/4 mile route and they are collectively referred to as Las Ramblas in Spanish. In the local Catalan language, the area is called Les Ramblas.
For a bit more space and modern architecture, Eixample is another great district. I love the wide, paved streets and modern grid layout that makes the neighborhood easy to navigate, even with a stroller! Eixample is a trendy, wealthy area that caters to families and tourists. Take your pick with museums, art galleries, restaurants, retail shops, and supermarkets as well. You'll also be close to the Barcelona Sants train station, which is convenient if you plan on any day trips out of the city.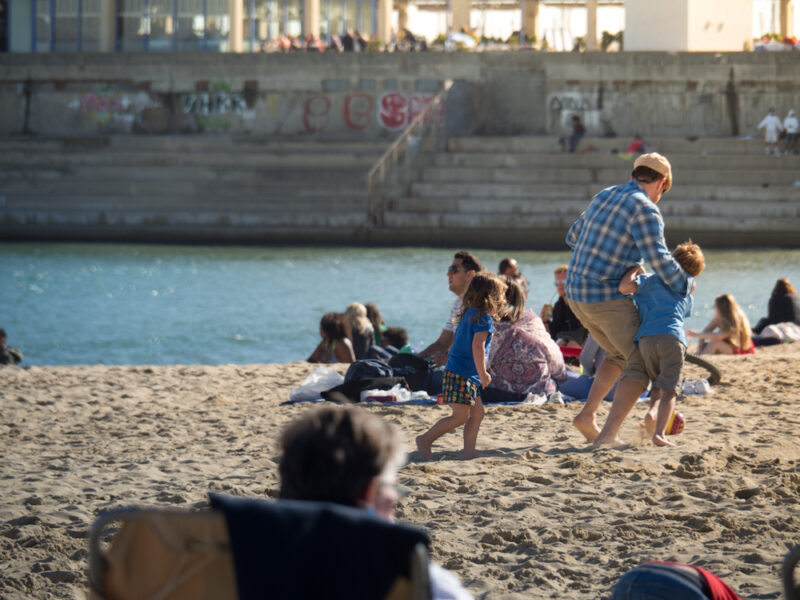 And then there's Poblenou. I included this residential area because it's got a top-notch location near the beaches, attractions, and local nightlife. However, it's still more affordable and spacious than beachside neighborhoods like La Barceloneta.
Read more: Must-Read Travel Tips for Spain
---
Where to Stay with Family in Barcelona
Read about the best hotels, aparthotels, and private vacation rentals available in each of my favorite Barcelona districts.
Kid-friendly Hotels in El Born Barcelona
Violeta Boutique
The Violeta Boutique Hotel is one of the best places to stay in Barcelona with kids with a prime location in a shopping district. This El Born hotel is a 5-minute walk to Plaça de Catalunya and 15 minutes from Ciutadella Park.
You'll appreciate the beautiful, casual spaces at this boutique hotel in Barcelona for families. For a family of 4 or 5, go with either a Family Room or 2 Bedroom Apartment. I appreciate that the family room has a large bed for parents and two separate beds for the kids – there will be much less fighting at bed time! The apartment has two larger beds and one single. And there's a short list of amenities at Violeta Boutique, including access to a spacious terrace with outdoor seating and scenic views.
Hotel Roger de Lluria
If you're looking for a traditional luxury hotel in Barcelona that's kid-friendly, check out Hotel Roger de Lluria. Enjoy a 5-star guest experience with traditional interior design, bellhops, turn-down service, and many more you'd expect in an elevated stay. Plus, you're on a quiet street in El Born lined with hotels.
Besides an onsite restaurant and daily buffet breakfast available, families can take advantage of kid-specific amenities like babysitting services, cribs, and highchairs. Book a triple or quadruple room with deep tubs and balconies with views of the courtyard. Or upgrade to a suite for more beds and a separate sitting room – the suite can comfortably accommodate 6 people thanks to a King bed and two doubles.
Ca' Picoco, 2 Bedroom Apartment
You can't beat the great location of this charming apartment in the heart of El Borne's historic center. You're on the second level, overlooking the Placeta de Montcada, and literally steps away from the Basilica of Santa Maria del Mar! And right around the corner is Passeig del Born where you'll find great bars and tapas restaurants, as well as El Born Centre de Cultura at the other end.
The apartment features large areas with vaulted ceilings, including 2 bedrooms that sleep 2 people each. There's a living area with a flat-screen tv and a pull-out sofa, as well. And parents will appreciate that the unit has its own dishwasher and washer and dryer – that'll help you cut down your Spain packing list!
Mercer House Bòria Bcn
Soak up all the history and beauty around you when you stay at Mercer House, easily one of the best family hotels in Barcelona. The gorgeous mid-range hotel is inside an intricately ornate 18th-century building less than 5 minutes away from some of the biggest attractions in Barcelona! Walk across the way, where you'll find the 13th-century Barcelona Cathedral, the Picasso Museum, and a dozen other museums, ruins, and historic buildings.
At the hotel, you can enjoy elegant roomy lodgings with contemporary design and high floor-to-ceiling windows. Mercer House offers several different specious places to stay in Barcelona for big families, including lofts, suites and grand suites – all with enough bedding to accommodate 5 people plus you can add a crib for free. There are additional family-friendly amenities available like a breakfast buffet and laundry service. You can book an in-room massage or catch some sun on the rooftop terrace when you need to decompress after sightseeing.
Dali Deluxe Apartment with 4 Bedrooms
Live the good life in this luxury apartment for 8 in El Born's old merchant district. Spend your days exploring the winding streets of Old Town and then come back to your bright, airy apartment to decompress. You're walking distance to Barceloneta beach, Park de la Ciutadella and much more.
This is one of the biggest family apartments you can rent for your trip to Barcelona with kids at almost 1000 square feet. While it's technically listed as 2 bedrooms, the interior spaces have been subdivided to offer four private sleeping spaces – perfect when you have some young travelers who need an early bed time! The largest bedroom features a Queen bed and its own bathroom, while three smaller rooms each have two twin beds (including one set of bunk beds) and share a full bathroom.
Besides stunning interiors, you can enjoy perks like a rooftop terrace that's perfect for dinner with a view of the city's cathedrals. The building has been modernized with elevators and air conditioning, which will make for a comfortable stay no matter the time of year.
---
Best Hotels in Barcelona for Kids in the Gothic Quarter
Barri Gòtic is one of the most classic places to stay in Barcelona with kids (or without them!) thanks to its concentration of historic sites, central location and delightful walkability.
Hesperia Barri Gòtic
Hesperia Barri Gòtic is a good example of a budget-friendly hotel for families in Barcelona. You're 5 minutes from the marina, the Barcelona Aquarium and the Barcelona cathedral in the old city. And the low-key hotel is on a quiet, winding street in an area full of great restaurants, bistros, and bars. It's a nice choice among family friendly hotels in Barri Gòtic Barcelona thanks to its easy access.
Rooms are bright and cheery with pops of color and modern designs. They're simple, with the largest accommodation for 5 being a spacious 1 bedroom. But you can enjoy quality amenities like waterfall showerheads, a gym, and car rental services available. Thankfully this is one of the modernized Barcelona family hotels where you'll find an elevator and air conditioning – very important if you're visiting in summer!
Rambla Bacardi Apartments
At the Las Rambla Pasaje Bacardi Apartments, you get your pick from large apartments with 1, 2, or 4 bedrooms. You can also enjoy perks like concierge services, a full gym, bicycle rentals, and a coffee shop. They offer wonderful kids' amenities like babysitting services, art supplies, and children's books.
The Rambla Bacardi Apartments offer a prime location along the famous thoroughfare, Las Ramblas, in a stunning 19th-century Gothic Quarter building over the Passeig de Bacardí. Check out this covered walkway with shops and amazing architecture that the district is known for. It'll take you next door to the Plaça Reial, another Barcelona landmark you won't want to miss. You'll also be close to Boqueria Market, one of my personal favorite things to do in Barcelona.
Apartment for 8 on Passeig de Colom
Stay near the marina in the Gothic Quarter at this cozy luxury apartment on the Passeig de Colom, not far from La Rambla. You can take a ferry to the Balearic Islands or spend the day at the beach in nearby Barceloneta.
When you stay at this lovely apartment, you have access to the rooftop pool and terrace with loungers, and outdoor seating to relax. Stylistically, the apartment blends old and modern to strike a comfortable balance. I love that there's plenty of bedding even for big families visiting Barcelona – you'll find one bedroom with a double bed, another with two single beds and a third bedroom with two more single beds and bunk beds! There are 2 bathrooms and a washer and dryer, so you can minimize your packing list.
---
Best Family Hotels in Eixample
Is your search for where to stay in Barcelona with kids pointing toward the Eixample district? It offers a wide range of family hotels in Barcelona along with apartment rentals.
NH Collection Barcelona Pódium
Check out one of the best hotels near Ciutat Della, the NH Collection's Barcelona Podium. This beautiful, modern hotel is located perfectly so you can enjoy the modern conveniences of Eixample while still being walking distance to the ruins, museums, and beaches of Old Town.
NH Collection offers royal treatment in Barcelona with luxurious amenities like a poolside bar, breakfast buffets, and childcare services. Book a Family room or Junior Suite where you can add on cribs or sofa beds.
Aparthotel Hispanos 7 Suiza
If La Sagrada Familia is high on your priority list for Barcelona, Aparthotel Hispanos 7 Suiza is a nice place to make your base while you take in beautiful Barcelona, though you'll likely need to plan on taxis and public transportation to get to many other sites. This would be a great choice if you're visiting Barcelona with teenagers since there's plenty of bedding and you won't have to stress about bringing car seats and booster seats if you decide to hop in a taxi.
The apartments can sleep 4, 5 or 6 people and feature plenty of creature comforts, like deep soaking tubs. But where this property shines is in its amenities. There's onsite parking, a nearby train station, and (paid) shuttles for ferries and the airport. You can also have groceries delivered from one of the top-notch markets all around you in central Eixample. And you're just a few minutes from major historical landmarks and the metro station as well.
Monument Hotel
Live out your ultimate Barcelona vacation at Monument Hotel, one of the best luxury Eixample hotels for families. Take your pick from 4 onsite restaurants or visit the spa with its Turkish baths, saunas, and massages. There's a rooftop pool with lovely city views, a modern lobby and more.
The Monument Hotel is in a stunning 19th-century building with a coveted location along Passeig de Gràcia – around the corner from Gaudi's Casa Milà and a stone's throw from Casa Batlló. There's a pedestrian walkway separate from the roadway, so you don't have to worry about the kids running off.
Thanks to the building's historic nature, every room is configured a little differently. This family friendly hotel has a variety of family rooms including suites of different sizes and even a swanky penthouse for 4!
Arago312 Apartments
For more of a mid-range option in the Eixample neighborhood, stay at Arago312 Apartments. This aparthotel is perfect for a stay in Barcelona with kids. Each apartment includes a full kitchen and these are some of the most spacious rooms you'll find in Barcelona, with a minimum size of almost 900 sq ft. Choose from 1 to 4 bedrooms that sleep up to 8 guests, and some of them have unbeatable views since it's so centrally located.
You'll also find the Girona metro station nearby to help you access the entire city. It's an awesome location for those who want large family rooms in easy walking distance to the main tourist sites.
At your hotel, you'll enjoy amenities you'd expect at a highly-rate aparthotel, including 24/7 concierge, babysitting, and airport shuttles. When you stay at Arago312, the historic Mercat de la Concepció is across the street! Take the kids to explore new flavors and cook up a Spanish meal for dinner.
---
Barcelona Hotels for Families in Poblenou
Lugaris Rambla
If you plan to stay near the water, consider an aparthotel like Lugaris Rambla in Poblenou. There's a very different feel than Old Town or Eixample because of the glass skyscrapers, sleek high rises, and even the shimmering Torre Glòries of Poblenou. Less than 5 minutes away are a children's playground, Bogatell Beach, and Mar Bella Beach. Or take the nearby metro 20 minutes to Old Town.
Apartments at Lugaris Rambla are super family friendly with amenities like travel cribs, highchairs, and coloring books with crayons. Choose from 1- or 2-bedroom apartments for up to 5 family members, all of which boast furnished private terraces.
Urban Districts Apartments – Rambla Suite & Pool
Book an apartment at the ultra-modern Urban Districts Apartments in Poblenou for a striking change of pace from central Barcelona. You'll find the chic, minimalist building across the street from Poblenou Park and Mar Bella Beach.
Enjoy a beachy, eclectic apartment with a sleek European vibe. Every unit comes with a washer and dryer, as well as floor-to-ceiling windows with great views. There's a posh rooftop pool with loungers for sunning. And all locks feature keyless security with apartments and the lobby controlled from your smartphone. Most families will want to opt for the Basic Apartment, which has two beds and two bathrooms.
Aparthotel República
Aparthotel República is a work of art, mixing exposed stone walls, brick and weathered woods with dramatic industrial features and shining modern accents. Vaulted apartments with floor-to-ceiling windows are spacious enough for a large family, with tons of storage and large kitchens.
Located in the 1992 Olympic Village sight, Aparthotel República is a short walk to Nova Icaria Beach. Guests receive free admission to the Egyptian Museum with their stay, or you can walk to Westfield Mall.
---
Where to Stay in Barcelona With Kids FAQs
Is Barcelona a good place to visit with kids?
Yes, Barcelona is a wonderful place to visit with kids! It offers a fantastic blend of history and culture while being more welcoming of children than many of its stuffier European counterparts further north.
Where is best to stay in Barcelona with kids?
El Born and Barri Gotic are the best neighborhoods to stay in Barcelona with kids thanks to their historic characters and central locations.
What is the best area of Barcelona to stay in?
First-time visitors to Barcelona will love staying in downtown Barcelona, which is the historic old town and close to most tourist sites.
Try One of the Best Family Hotels in Barcelona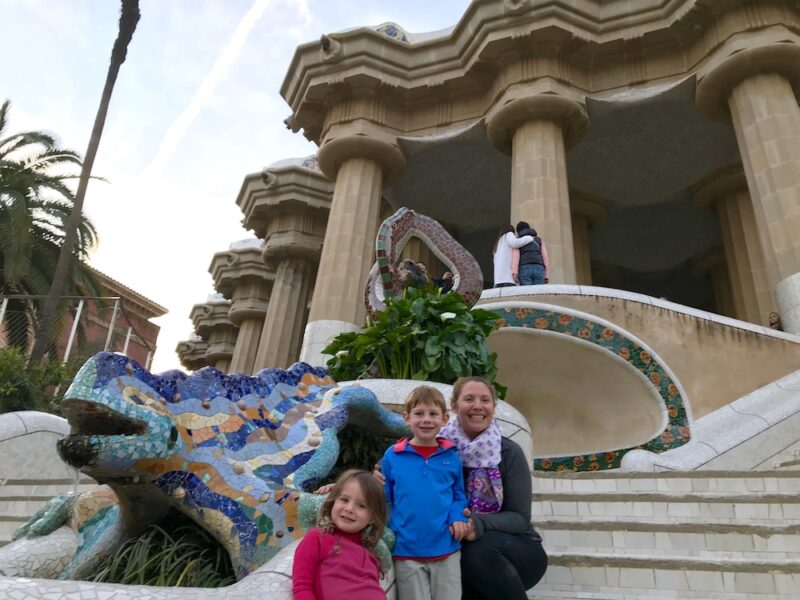 Barcelona is an exciting city with something for everyone in your family. You can spend one day exploring Roman ruins or unique architecture and another sampling unique Catalan foods! Then take another day and hit the water or play volleyball on the beach.
As for where to stay in Barcelona with kids, I say skip the rental car and instead stay in El Born or the nearby Gothic Quarter. As you've read, there are plenty of wonderful family friendly hotels in Barcelona central locations and it's easy to navigate the older parts of the city with kids on foot or using public transit. And if you really need the space or the comfort of more modern streets, you can move out from Old Town to Eixample or Plobenou and consider some of the best kid friendly hotels in those neighborhoods.
Barcelona is home to a long list of highly rated hotels and vacation rentals, including aparthotels, which offer the comforts of both worlds! You can definitely find the perfect place to stay in Barcelona with your family.
Be sure to read these additional articles as you plan your visit to Spain with children:
Pin this guide for later!