Are you looking for kid-friendly tours from Cancun to liven up your resort stay? Keep reading to checking out these cool Cancun family excursions, most of which we've done and loved!
These are some of the best things to do in Cancun with kids apart from lounging on the beach. Even if you're staying at a mega resort, you'll know you're actually in Mexico when you take part in one of these unique experiences.
While most of these are full-day tours from Cancun, I've also included a few Cancun half-day tours in case you're looking for a shorter Cancun excursion. There are also plenty of real world tips based on our own experiences having done these Cancun tours with kids!
XCARET Park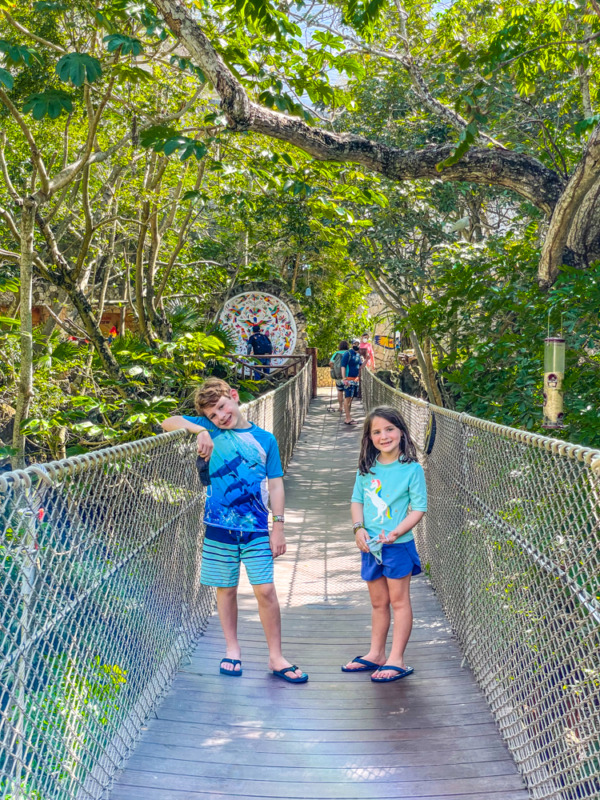 XCARET Park is a combination cultural experience and eco-park located just south of Playa del Carmen. You'll swim in an underground river, encounter animals native to the Yucatán Peninsula, explore Mayan ruins, enjoy cultural shows and visit a recreated village. It's an action-packed full-day Cancun excursion that's best for families with kids at least 4 years old, though guests of all ages are welcome. We have lots of XCARET Park tips to help you make the most of your day!
Your family can spend a full day exploring XCARET Park. It starts with driving yourself to the park, taking the ADO bus service or being picked up by the dedicated XCARET transportation service at your Cancun hotel first thing in the morning. Be warned that the XCARET bus is convenient because it can be purchased directly with your ticket, but you may wind up spending 2-2.5 hours on the bus depending on when your hotel's pickup occurs. You can choose if you prefer to return to Cancun in the late afternoon (before the evening show) or at night after the show has ended.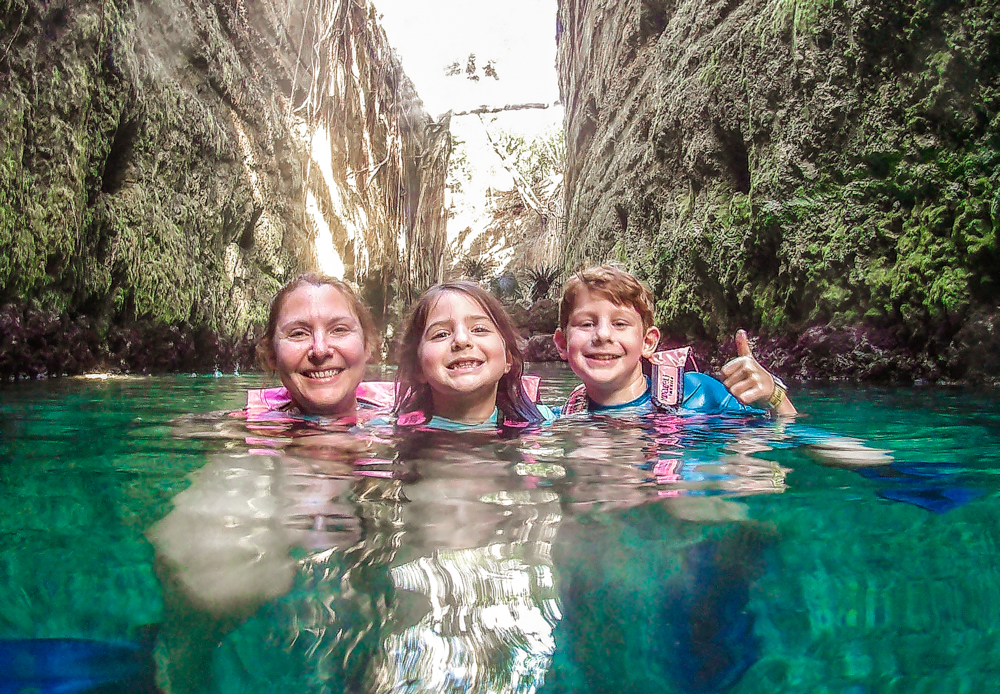 Groupo Xcaret operates several other parks in the area with different themes. I really hope to visit water-focused Xel-Há and multi-sensory Xenses in future trips! Adventurers will love Xplor Park. These are some of the best Cancun activities for families looking to have a fun day out while still appreciating some of the wonders of the Yucatan Peninsula.
Be sure to look out for deals and special discounts on XCARET Park tickets. Typically kids are half price but sometimes there are additional offers on this page. You definitely want to buy them online in advance if possible, as they're much less than purchasing at the gate.
---
Puerto Morelos snorkeling tour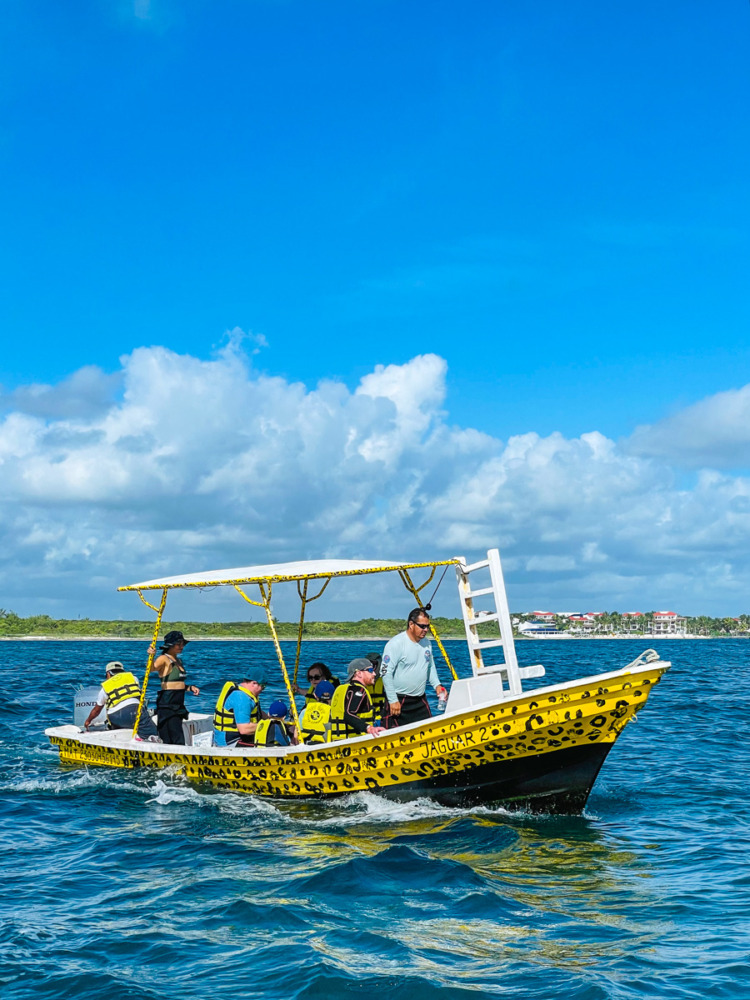 The best snorkeling near Cancun is on the Mesoamerican Reef, accessible from nearby Puerto Morelos. This cute little beach town would be a great budget-friendly place to stay away from the massive resorts of Cancun if you're looking for a more laid back experience and want to enjoy a variety of restaurants.
This family-friendly Cancun snorkeling tour is run by an extremely reputable dive shop in town. We took this tour at the end of December, and had a great experience from start to finish. The office staff was easy to coordinate with in advance and the captains and guides did a great job making everyone in our large group comfortable, while also showing us fantastic creatures like a hidden lobster!
Because this snorkeling tour near Cancun is in a protected bay, the waters are generally calm. There's abundant marine life to see and even preschoolers are welcome!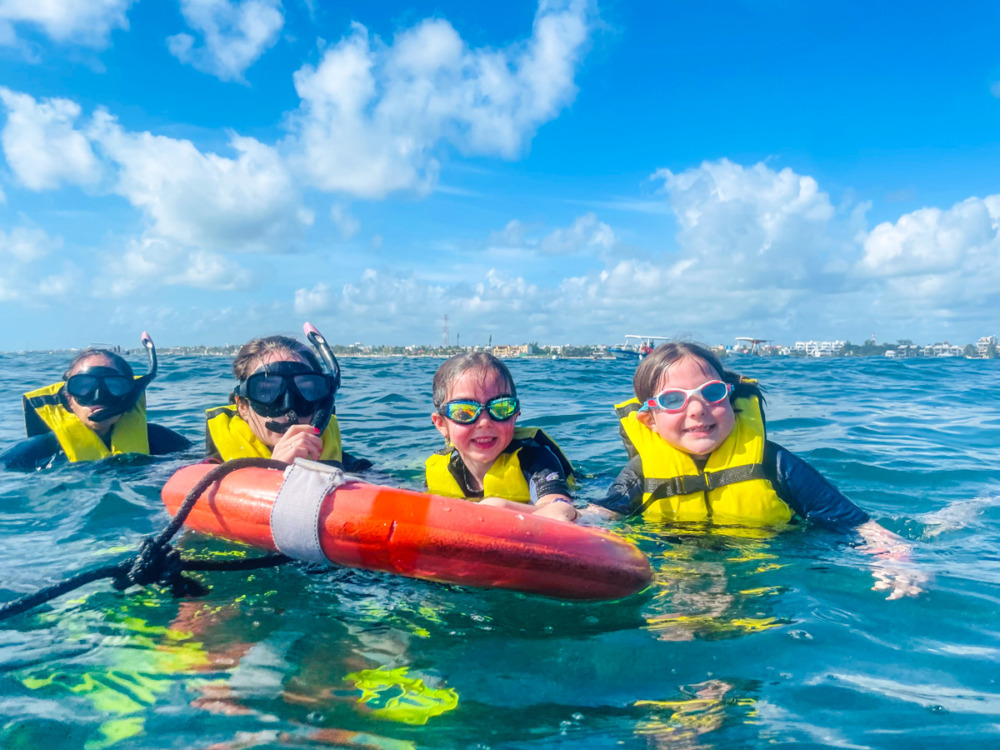 I love that this tour is so small, with a maximum of 10 passengers on the boat. We have been on a similar sized boat elsewhere in Mexico that loaded at least 15 of us on the same size boat and it was so unpleasant. With a fairly small group, there's plenty of space for everyone and kids who are new to snorkeling can get the attention they need to feel comfortable in the water.
Everything you need is included, down to the wet suits if you want them. Be sure to observe the stated arrival time, as it takes a few minutes to get everyone the right gear. As with many snorkeling tours in Mexico, guests are requested not to use sunscreen. You may want to wear a rash guard to prevent sunburn if you choose not to use a wet suit, but they had wetsuits even for my little 4 year old nephew.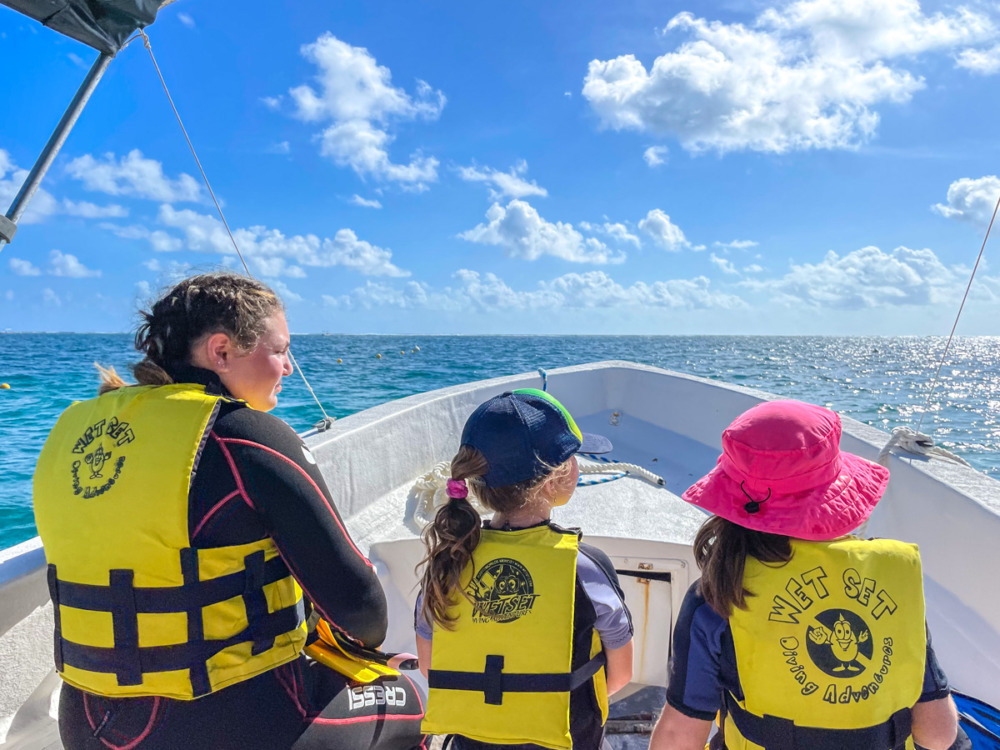 After you book your tour, be sure to let them know if you'll be bringing very young kids so that they can source child-sized snorkel set if need be. That said, we prefer to bring our own snorkel gear for kids to ensure that it fits them properly.
This tour does not include transportation, but it's also an extremely budget-friendly tour from Cancun. If you have a small family or group, you can take a taxi to Puerto Morelos – expect to pay about $1 per minute – or even better rent a car to explore the region on your own.
Read more: An insider's guide to renting a car in Mexico
---
Cancun snorkeling tour
If you don't want to mess with transportation and want to experience a wide variety of of snorkeling sites near Cancun, this 5-in-1 Cancun snorkeling tour is for you! It covers reef, the MUSA underwater sculpture garden, a shipwreck, a cenote and more. This company is also very experienced working with kids, though the minimum age is 6 years old.
Including transportation and orientation, this Cancun excursion is around 3.5 hours. Like the Puerto Morelos snorkeling tour above, it's limited to 10 people. That's great for ensuring a wonderful experience, especially if this is your first time taking the kids snorkeling.
This tour takes place around Costa Mujeres, north of Cancun. Since it's more of a channel rather than a bay, conditions may not be quite as calm as Puerto Morelos on some days. The dock is also very close to the Mayan ruins of El Meko, but you'll have to arrange your own transportation (or drive yourself) if you want to swing by and see them before or after your tour.
Still, for those who are open to a fast-paced snorkeling tour and want to experience a wide variety of sites this Cancun excursion for families is a great choice! While we didn't end up booking it for our large group (in part because of the age minimum) I seriously considered taking this tour on my own and I'll try to catch it next time.
---
Cancun submarine tour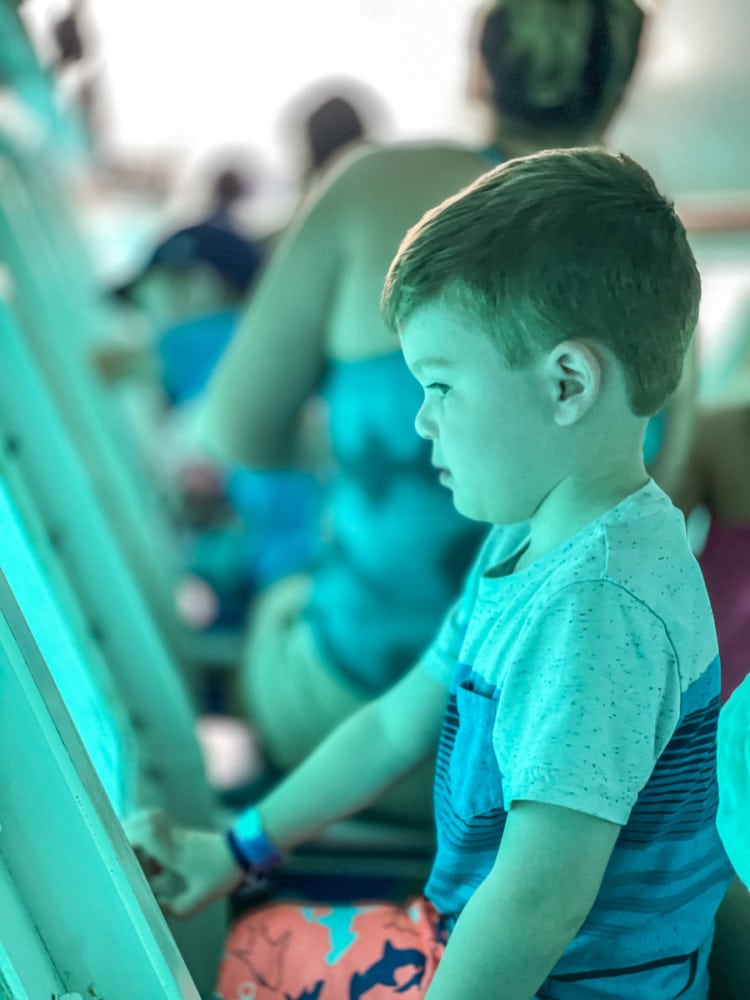 Do you want your kids to experience an amazing reef but you aren't convinced that snorkeling is a good fit? Don't miss the Cancun submarine tour! It's one of the best Cancun family activities for younger kids.
This fun, family-friendly tour in the Cancun hotel zone takes you out to the reef in a shuttle boat through the mangroves and then allows you to board a semi-submersible right at the reef! You'll see tons of sea life and also a part of the famous MUSA underwater sculpture garden that acts as an artificial seed for new coral reef to develop. We saw plenty of fish and sea turtles during our tour.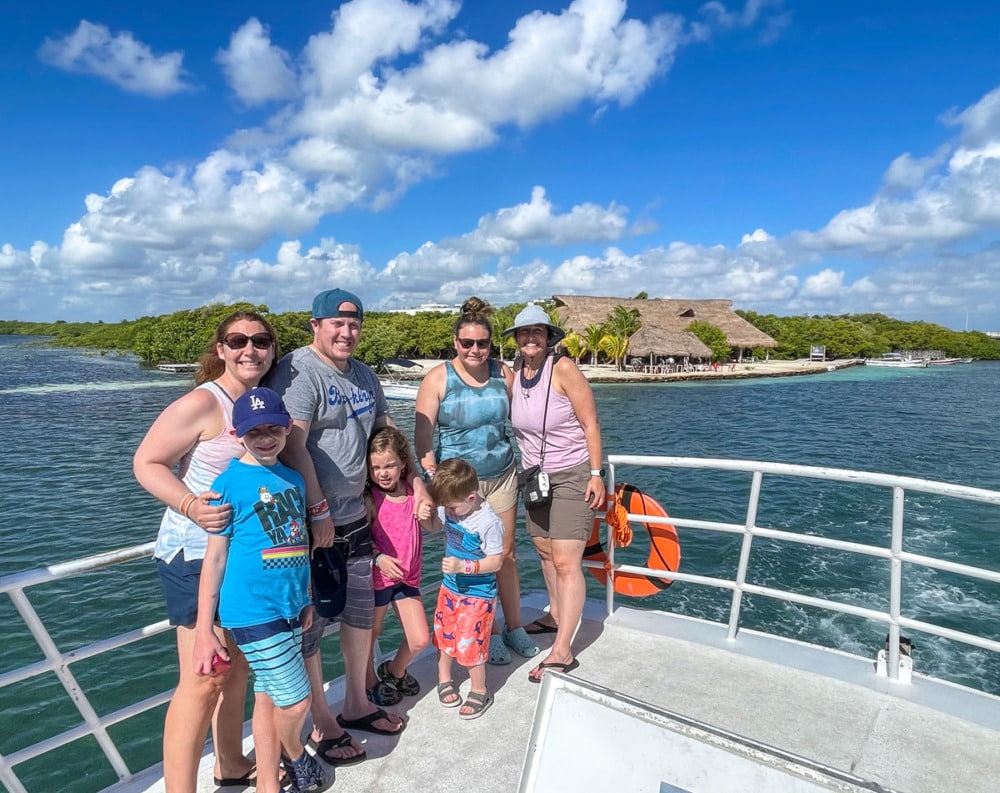 This is an excellent Cancun tour for toddlers, as it's fairly short, involves very little drive time, is relatively affordable and will keep their interests. For many of the kids in our group, the submarine was their favorite tour we did on our recent trip.
Even better? This is actually a free Cancun tour for kids under 4, while older children pay a reduced rate of $24 and adults pay $47.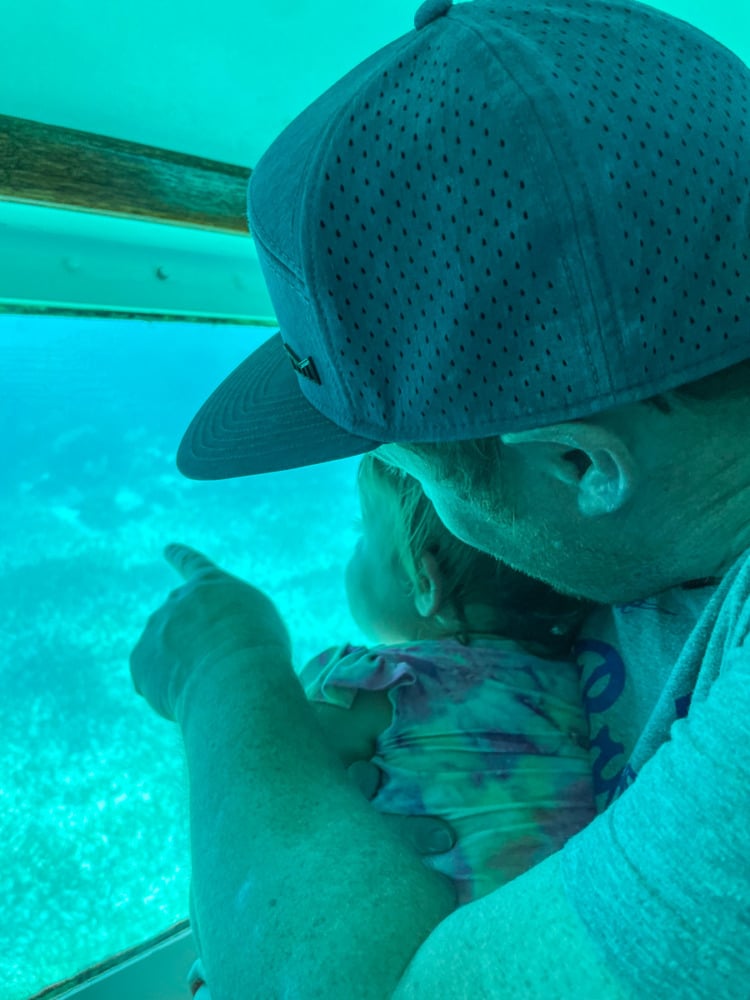 We did have two people who felt seasick during the Cancun submarine ride, which wasn't unexpected (one of them gets extreme motion sickness). Since this is a semi-submersible rather than a true submarine, they were able to go up to the deck for fresh air and a view of the horizon when they needed to while the rest of us stayed below. I recommend taking Bonine and/or wearing SeaBands if you're prone to sea sickness.
This family tour in the Cancun hotel zone does not include transportation. However, if you're staying at Marriott Cancun, Paradisus Cancun or Fiesta Americana Condesa you can actually walk there. Most other locations in the hotel zone are just a quick, affordable taxi ride away (budget about $1 per minute and be sure to read up on car seats in Mexico beforehand).
---
Visit cenotes near Cancun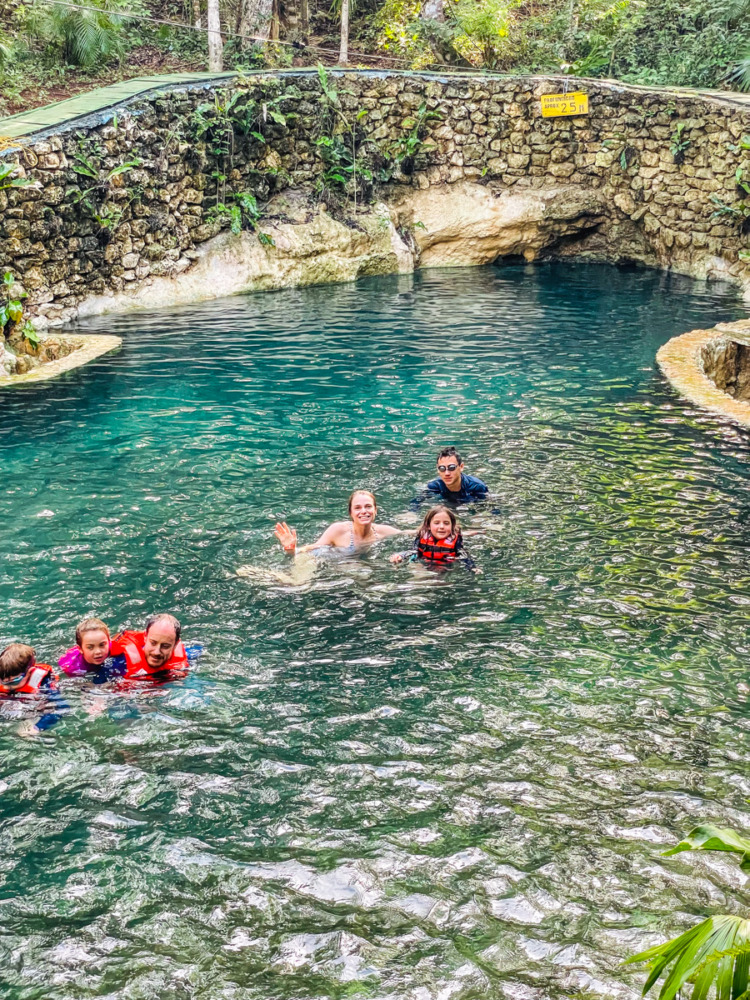 It's not a trip to the Yucatán Peninsula without swimming in a cenote! Cenotes are large sinkholes (or even caves) filled with fresh water and there are thousands in the region. They're all different in terms of what features they offer and how accessible they are for different ages and abilities.
Cancun cenote tours are often combined with visits to other sites in the region like Mayan ruins, but if you only want to swim in cenotes and your kids are at least 6 years old then don't miss this excellent tour. You'll experience four different cenotes through a combination of swimming, kayaking, ziplines, rappelling and more. I know several people who have taken it and everyone has great feedback. The group size is manageable and you don't have to worry about transportation!
If you have a car or prefer to manage your own transportation, the options are endless. On our most recent trip we visited Cenote Boca de Puma (pictured above) and our family had the whole place to ourselves late in the day. Even my 4 year old nephew had a great time jumping in from the swing (set up like a seated zip line) while his dad jumped in off the platform on the deeper side. The cost was around $10 per adult and $5 per child including life jackets and the location near Puerto Morelos was ideal for combining with the snorkeling tour we did.
With more time, head further south to the well-known family-friendly Cenote Azul. It's very open and shallow and there's plenty of space to explore, though it does get busy since it's so lovely.
---
Day trip to Isla Mujeres from Cancun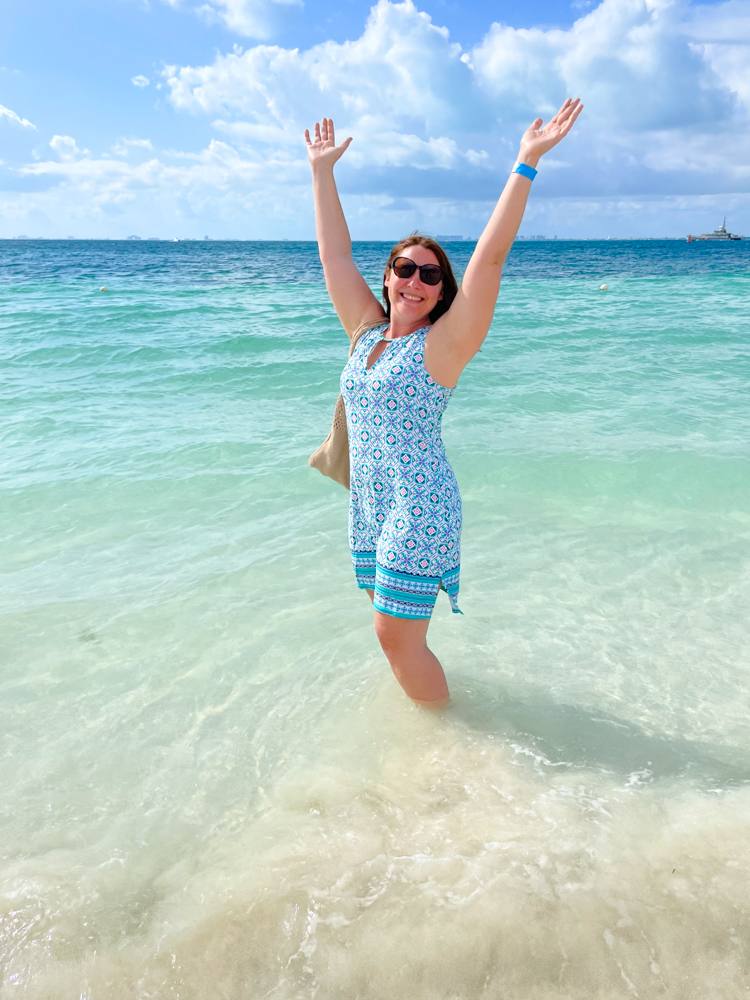 On our first trip to the Yucatán Peninsula we took the ferry to Isla Mujeres, but if you'd rather not move your stuff it's easy to book a kid-friendly tour from Cancun to Isla Mujeres – or book the 20 minute ferry and DIY it.
There are plenty of kid-friendly things to do on Isla Mujeres for the day. To begin with, even very close to the ferry terminal you'll find stunning beaches. Because the beach faces Costa Mujeres rather than open water, it's one of the best beaches near Cancun for avoiding seaweed (the dreaded sargasso) and the water is warm and placid. Head just a few minutes' walk north to Playa Norte for some nice easy snorkeling. You can also walk around town for some good food and an unlimited number of souvenir shops.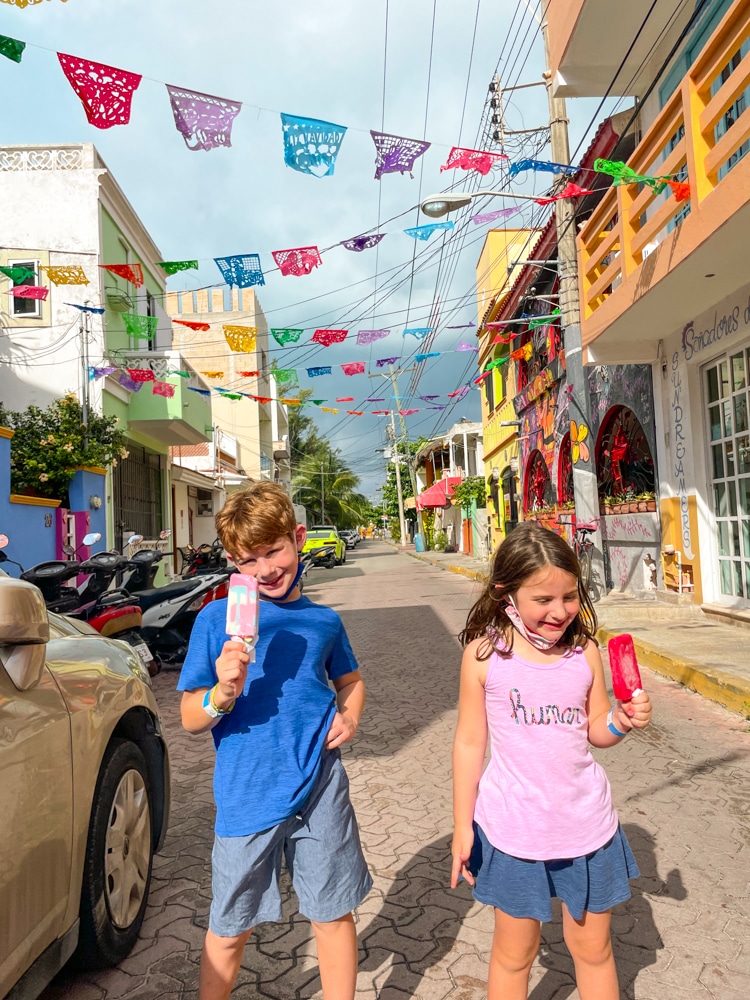 While I don't recommend the specific company we used for our last-minute booking, you can also take a snorkeling tour on Isla Mujeres. Just know that the water can be rougher at some of the snorkel spots than the Puerto Morelos snorkeling tour. My husband and kids are plenty experienced in the water but didn't enjoy snorkeling the rough waters around MUSA.
Even better if you're visiting Isla Mujeres with kids, you can enjoy a clear boat tour! Much like the Cancun submarine tour, this allows visitors of all ages to experience the magic of the reef without getting in the water.
If you prefer to keep your logistics simple, you can book a family-friendly Isla Mujeres tour that picks up at your Cancun hotel and takes you across to the island for snorkeling, shopping and more. Be sure to avoid the "party boats" that offer unlimited alcohol and not much else! You might even want to book this very reasonable private sailing for up to 8 people to customize your experience.
As a side note, many people (including us!) choose to stay a few nights on Isla Mujeres. It's a lovely option. Our hotel choices were limited by a late change in our itinerary, but we had initially booked Ixchel Beach Hotel based on strong recommendations from other families. We walked by and understand their love for both the property and its amazing location!
---
Museo Maya de Cancun (or El Rey)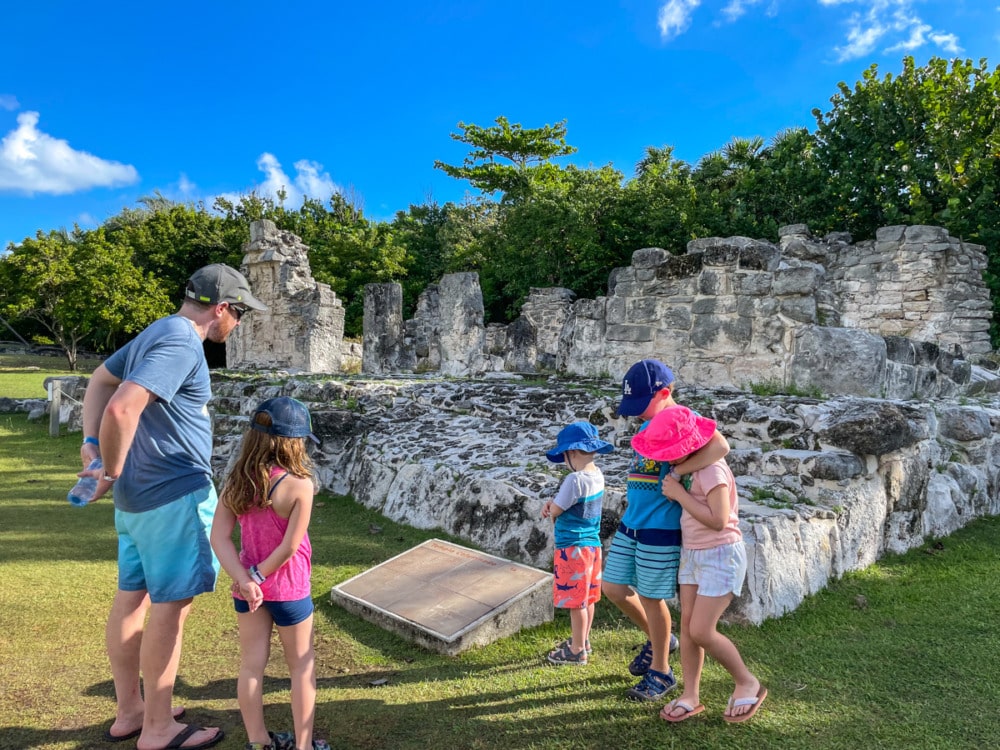 There are thousands of places to see Mayan ruins in the Yucatán Peninsula, but the most famous ones are far and may be too long of a day if you're visiting Cancun with kids.
If you're looking for a taste of Mayan ruins that's much more kid-friendly, head to Museo Maya de Cancun. This fairly new museum has a great collection of Mayan artifacts inside, but outside is the main attraction for many visitors.
When you walk out the Museum's back door, you'll find yourself transported to an ancient Mayan village. This is San Miguelito, and yes they are Mayan ruins in Cancun's hotel zone! The ruins aren't as impressive as larger sites deep in the Yucatán, but they're a good representation and a much easier place to see Mayan ruins with kids.
Admission here is just $9 and you can see the museum and ruins in about 90 minutes. It's just down the road from the Cancun subsee tour, so I suggest combining them. Be sure to bring some of these to use when exploring the ruins. As with the submarine above, you can actually walk to Museo Maya from Paradisus Cancun or Fiesta Americana Condesa.
The only downside is that the Mayan Museum of Cancun is closed on Mondays. In our case that foiled our plan to visit! We went instead to the ruins at neighboring El Rey, which are not quite as impressive but have fewer mosquitos and are open daily. San Miguelito and El Rey were once part of the same community and connected by a footpath, though you can't walk directly between them today.
For our family ranging from 16 months to 75 years, a 45 minute stop at El Rey was a great fit on our way to the submarine. There are several structures with signs in both English and Spanish, and it's enough to give first-time visitors a taste of ancient Mayan cities.
El Rey is open daily 8am to 4:30pm and admission is 65 pesos per adult. Based on my middling Spanish reading abilities, foreign kids pay that rate as well; however, the attendant taking our payment said we didn't need to pay for them. YMMV on that!
One thing to keep in mind is that the walkway here is all grass and it can be somewhat uneven and soggy. If you're bringing a baby, you'll have a better experience using a carrier than a compact stroller. Visitors who aren't sure-footed may benefit from a steady arm to hold.
---
Mayan ruins tour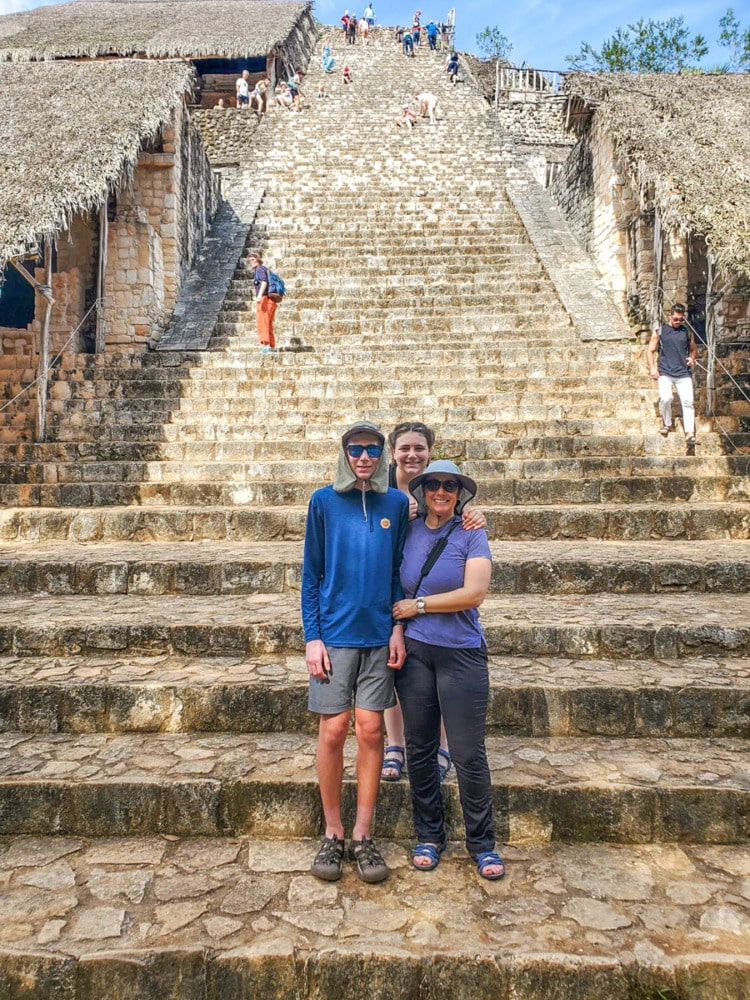 There are tons of options to see Mayan ruins in the Yucatan Peninsula. If you're planning to visit with kids on a day trip from Cancun (or Riviera Maya), the most important things to consider are drive times and the age minimum of any specific tour you're considering. Why? The drive from Cancun to Chichén Itza or Ek Balam is nearly three hours each way, and many tour include pickups at multiple hotels before they head to the interior of the Peninsula.
That said, if you're visiting Cancun with teens or older children you may not be put off by the distance! Due to the Southwest Airlines meltdown of 2022 we missed our Ek Balam tour, but fortunately other family members were able to go and had a great experience. It was a very long day – pick up was at 7:15am and they were dropped off at 6pm.
For my teenage niece and nephew, it was an unforgettable day. They had an excellent guide to show them around some of the most impressive Mayan ruins in the region, rappelled into a massive cenote and ate delicious traditional Mayan food.
The tour that we booked has a minimum age of 6, but the teens felt that it would be better for slightly older kids given the length of the day. It's a fairly small group capped at 15 people (in our absence the Ek Balam tour was under 10, though I suspect most Chichen Itza tours are full), but you still have to be confident that your kiddo will be able to participate in all of the activities without disrupting the experience for other guests.
Should you book a tour to Chichen Itza or a tour to Ek Balam? We initially chose Ek Balam because our family had visited Chichen Itza the previous year – Chichen Itza is surely the more iconic of the two. But Ek Balam also has the benefits of being slightly closer and not nearly as busy. Both tours visit the same cenote and Mayan cultural activities, but the tour at Ek Balam has the opportunity to climb the pyramid and see architectural details up close.
If your kids have the stamina for a long day, you'll have a great time with either one.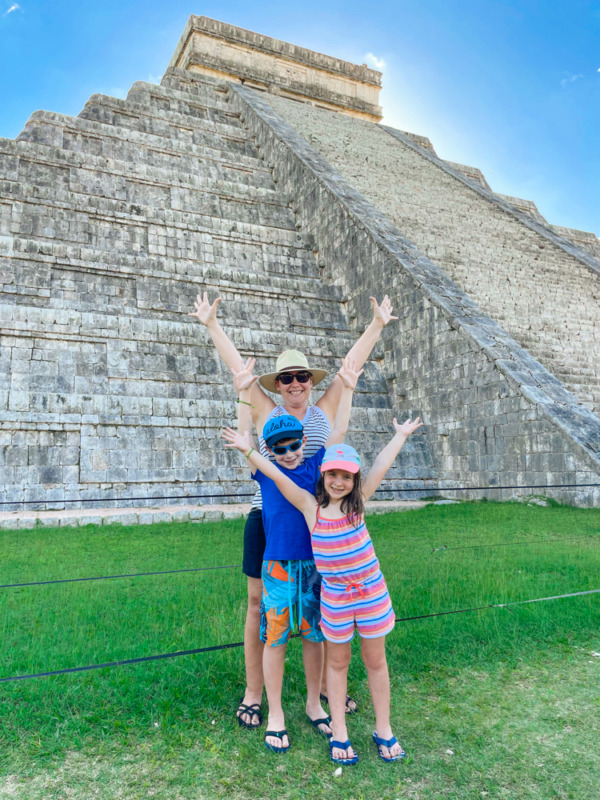 One option to consider if you think a group tour might not be the right fit for your family is a private tour to Chichen Itza. Though it's more expensive, there are some very good reasons to consider it.
First and foremost, your family is the only one that needs to be picked up so you won't have to deal with frustrating extra time picking up or dropping off at other hotels. You will experience much the same activities but in a 9 hour Cancun excursion with kids instead of a 12 hour day trip from Cancun.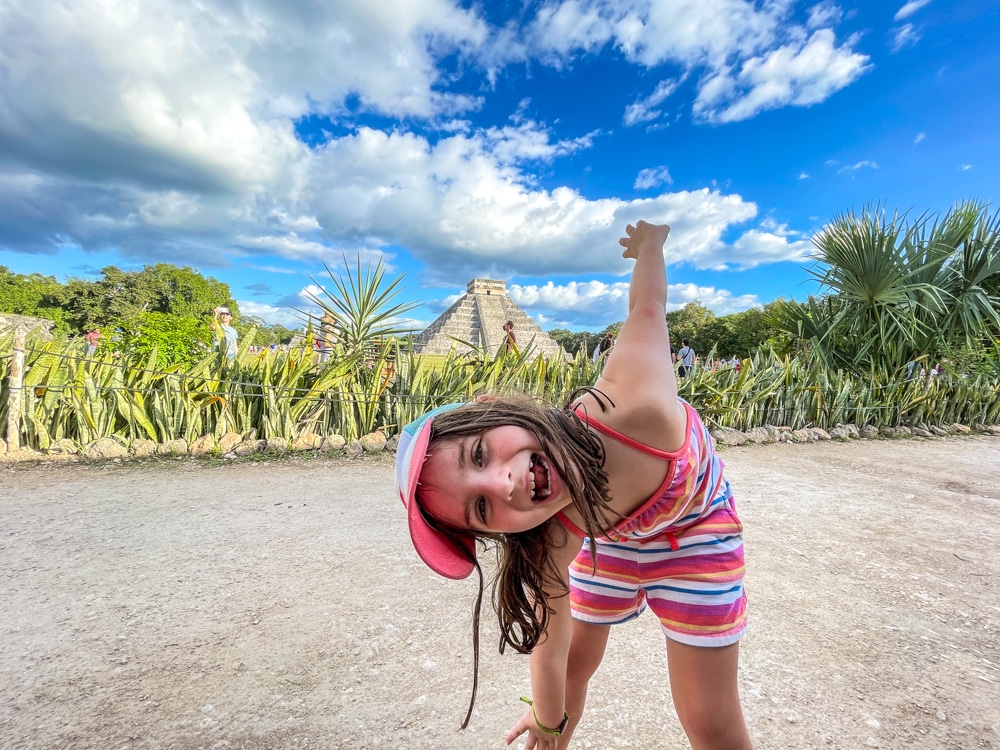 Second, because you're avoiding extra pick ups in the morning you'll arrive at both Chichen Itza and the cenote before the big crowds on 40 person buses roll in. You'll enjoy it more with a hundred of your closest friends instead of a thousand.
Finally, you don't have to stress about your kids melting down or bugging other travelers. Since it's a private tour, you can slow down when you need to or speed up when you need to. Having that flexibility is so important on a long day.
---
Rio Secreto tour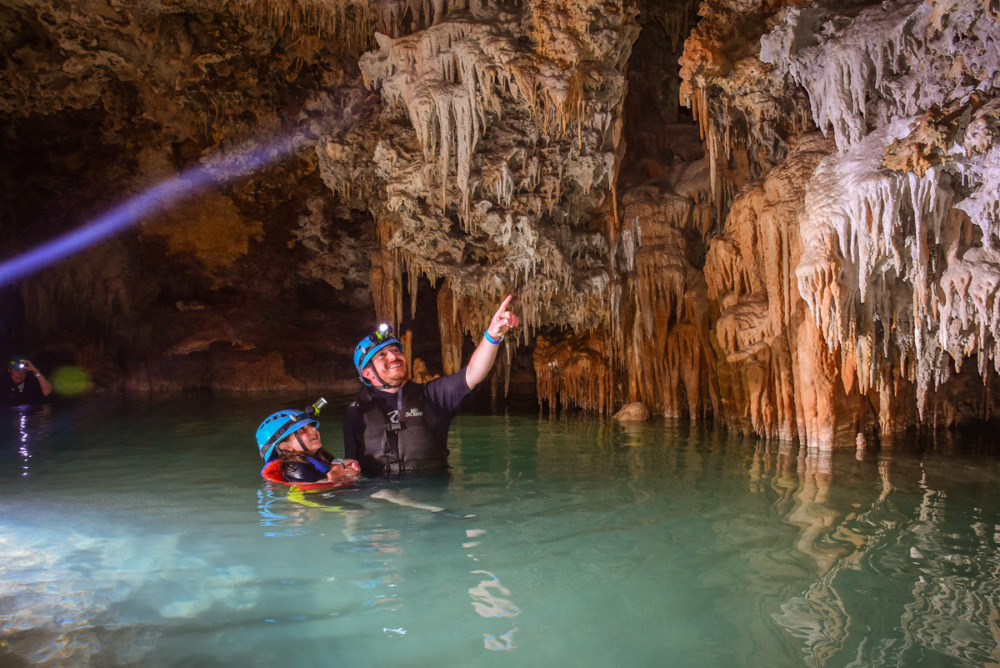 On the spur of the moment, the four of us booked a Rio Secreto tour that wound up being one of our favorite things to do in Riviera Maya! Rio Secreto is an underground cave system with a series of rivers running through it. The ceiling is fossilized coral from the period when the entire Peninsula was actually part of the sea, and you're surrounded by stalactites and stalagmites as you walk and swim your way around. This is a one-of-a-kind experience near Cancun for adventurous families, especially those visiting visiting Cancun with teens and tweens.
The price of the tour varies depending on whether you drive yourself, need pickup near Playa del Carmen or need pickup in Cancun. We requested pickup at our Cancun resort so we paid $119 per adult and $60 per child. Thankfully that price includes all gear – from headlamps to towels – plus a filling traditional lunch. We just needed our swimsuits to wear under the provided wetsuits and dry clothing to put on afterward – bring one of these to store your dry clothes in the locker during your tour and then consolidate your wet stuff afterward.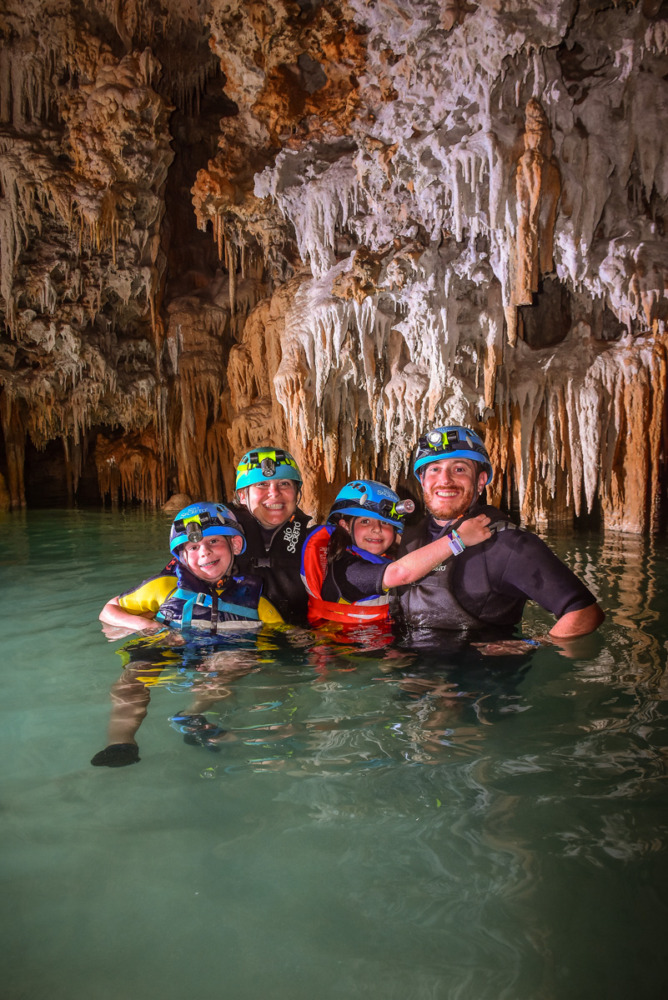 I recommend budgeting the extra $100 to purchase the photo package – you can't take pictures in the cave and I wouldn't have wanted to try given the technical nature of the activity and challenging lighting. But you'll definitely want the photos to remember your experience and share with friends! Note: Some photos were taken with an external flash and I brightened them up in my editing software, but in reality it's much darker than this in the cave.
Note that the minimum age for Rio Secreto is 4 years old, but I can't see that being practical. Our kids did fairly well at 8 and 11 but still needed some physical assistance at times and occasionally got a little spooked – the water feels chilly at first, the only light is from your headlamps and there are even bats flying around in some places if you're lucky enough to see them. Most 8 year olds should have a good time, and thrill-seekers as young as 6 will be ok as well. Having one parent for each kid at those ages was very helpful, and it would have been tricky if we'd had another young child with us.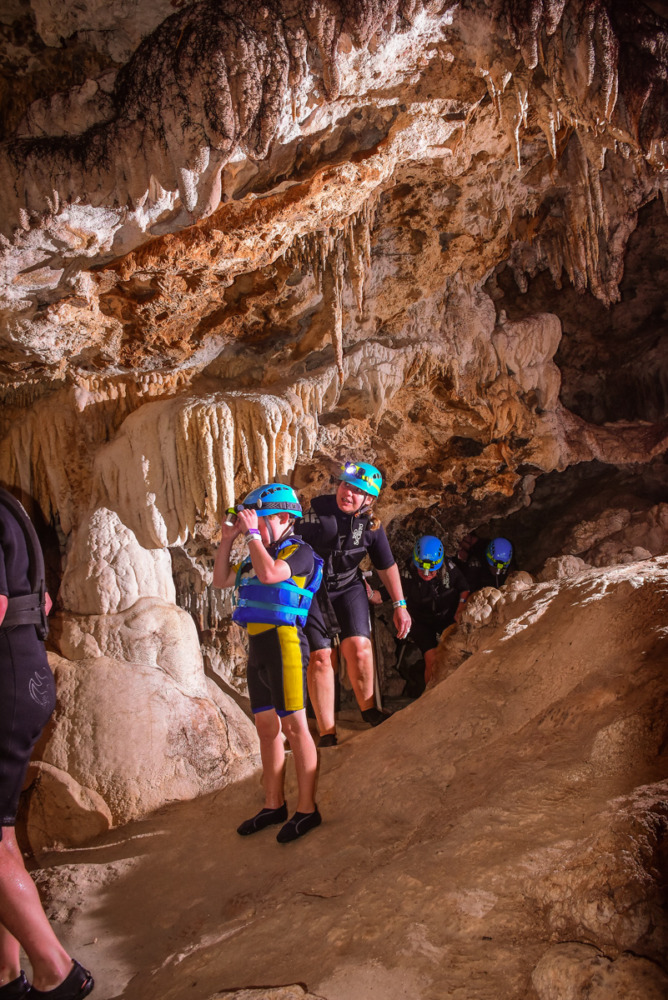 Visitors of all ages need to be sure-footed and comfortable with some technical challenges, though strength isn't important and you don't really need any swimming ability. There are times when you're walking down a small, rocky slope while simultaneously ducking and turning. For average visitors wearing the provided water shoes, it's very manageable. The tour participant with us who came with a broken toe had a very hard time!
On balance, after reflecting for a few days my kids declared that they loved this Cancun family excursion and would recommend it to friends.
---
Cancun family photos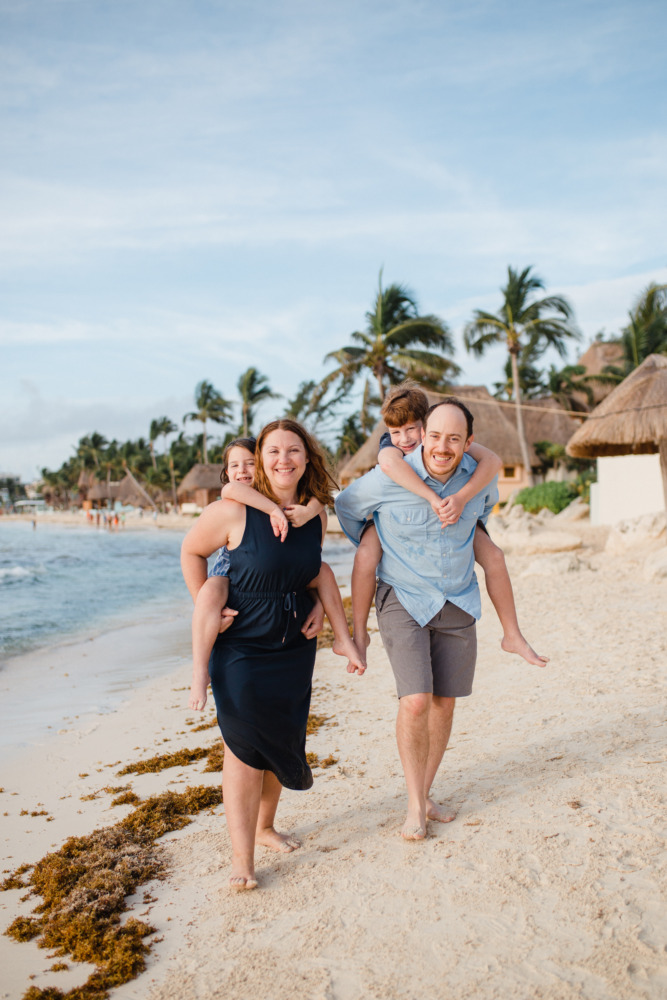 While this last option isn't an excursion, it's still one of the best things to do in Cancun with kids: arrange a professional photo session to create a beautiful keepsake for your family! We did this on our first trip to Mexico and the pictures turned out great. Our Cancun family photographer Ana was great with the kids and really captured our family's personality.
Read my best tips for your Mexico family photo shoot or save $25 on your session with coupon FAMILYVOYAGE.
---
Where to stay in Cancun with kids
There's so much to say about choosing a place to stay in Cancun with kids! For now, here are some top picks for Cancun resorts for families to consider – we know families who have stayed at and loved all of these properties:
Hyatt Ziva Cancun – Convenient hotel zone location, great quality for the price point
Finest Playa Mujeres – Luxurious family-friendly getaway along the tranquil beaches just north of Cancun
Moon Palace The Grand – Bustling resort just south of Cancun with an on-site waterpark and tons of other fantastic amenities
---
Planning your trip to Mexico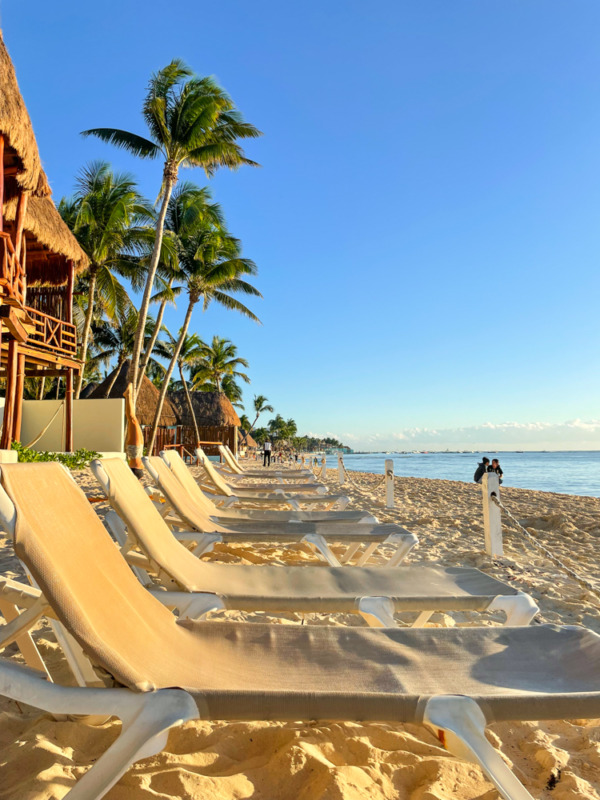 Be sure to read these articles as you go beyond researching family-friendly Cancun tours and plan the rest of your trip!
Still planning? Pin this for later!