In late 2019, White Sands National Monument got the major upgrade to White Sands National Park. It's such a unique place in the American landscape that it's absolutely deserved. In this guide you'll find all the details you need when you're planning to visit White Sands National Park, including tips for those of you planning a family trip to White Sands with kids.
Where Is White Sands National Park?
White Sands National Park is about an hour outside of Las Cruces, New Mexico, and mostly surrounded by Holloman Air Force Base and the White Sands Missile Testing Grounds. You can also visit on a day trip from El Paso, Texas (1.5 hours) or include it on a longer southwest road trip itinerary when you're heading to Albuquerque, Big Bend or Tucson.
If you're flying into the region, you'll need to rent a car to visit White Sands National Park as there's no public transportation to the park. Check rental car prices here.
What Makes White Sands National Park Unique?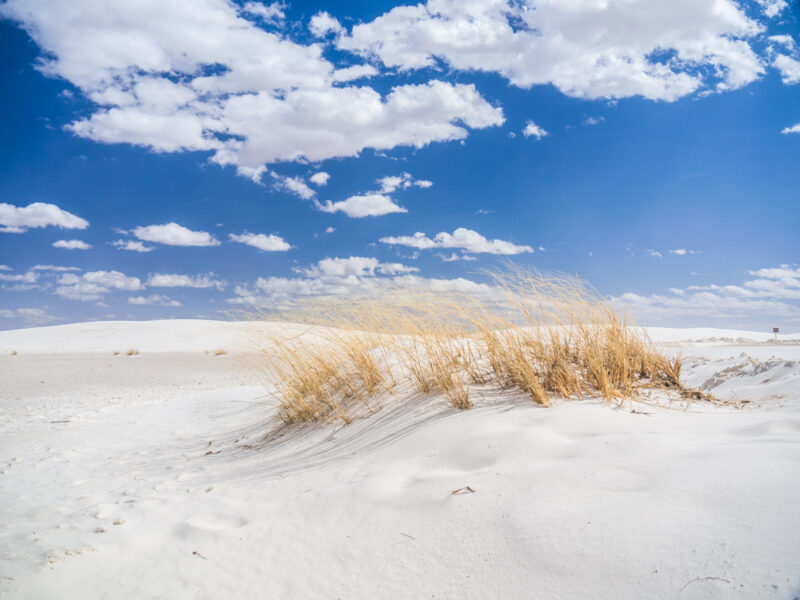 White Sands National Park is the world's largest gypsum dune field!
Even if you've visited other sand dunes before, I guarantee White Sands will be different. Unlike typical silica sand, gypsum feels cold and sticky no matter what the temperature is outside. It's also BRIGHT WHITE and from a distance can look more like snow – I can't stress that enough, though you can probably tell from the photos. Wear your sunglasses, folks!
Because it's sticker than silica sand, it does get packed hard in some places. You'll notice this on much of Dunes Drive and also at the bottom of the big dunes (especially if you take a tumble when sledding!).
Check out these awesome gifts for National Parks lovers!
Use the interactive map to find vacation rentals and hotels near White Sands National Park
---
How Much Does It Cost To Visit White Sands National Park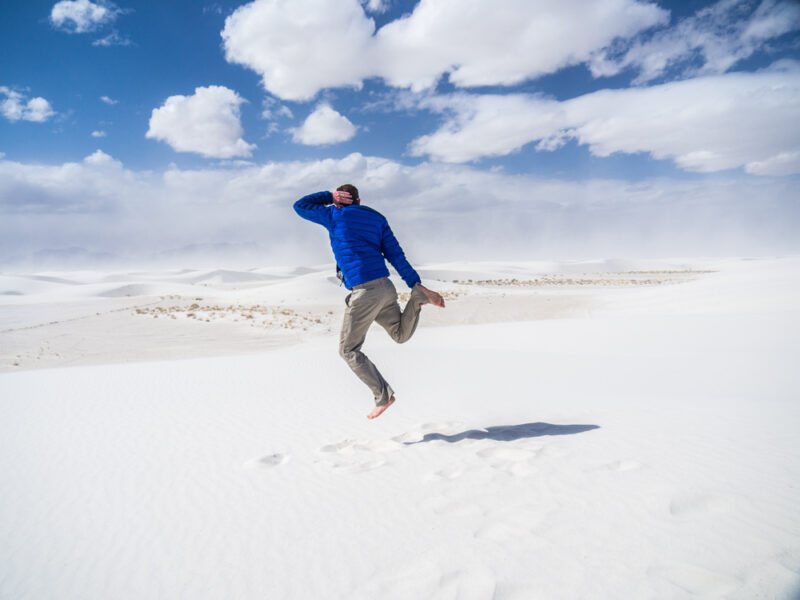 The fee to enter White Sands National Park is $25 per car. If you're visiting alone, that fee is discounted to $15.
Want to get in without paying? Pick up your America The Beautiful National Parks annual pass! It's a fantastic value if you love exploring this country's gems, and there are plenty of other amazing National Parks close to White Sands. We've had the pass several years in a row and it's always paid for itself after just 2-3 visits.
What To Bring To White Sands National Park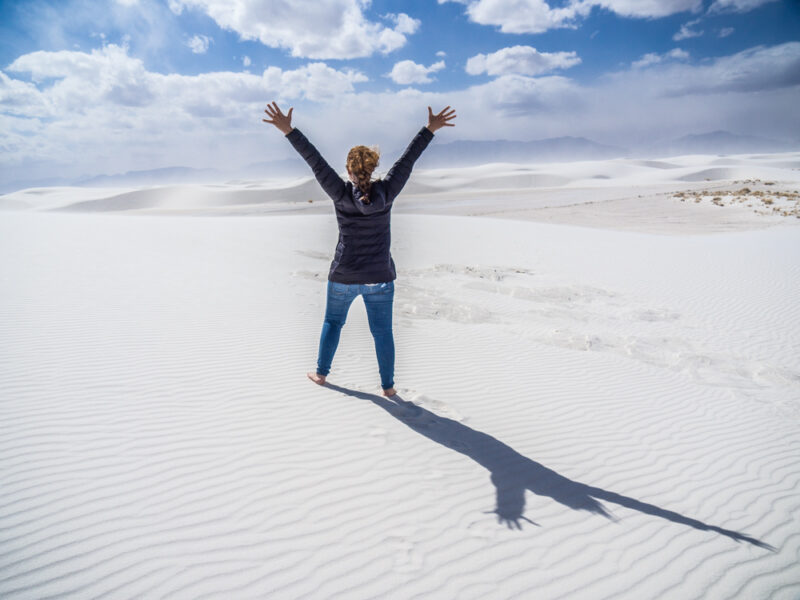 Since White Sands is a very small park and you're never far from the visitors center, unless you choose to do major hiking you won't need too much that's specialized! A few essentials to protect you from the gypsum – and the elements:
-Lots of water!
–Polarizing sunglasses
-Bandana or other neck protection (optional to cover nose and mouth)
-Snacks
–Car charger and cables
–Sunscreen
–SPF lip balm
In terms of camera equipment, it's so bright that nearly every camera will be able to capture great photos! If you're using your phone's camera, you'll want to try out burst mode to capture jump shots and sledding.
I used an older version of this camera (though this cousin is weather-sealed and would be an even better choice to withstand the blowing gypsum sand) and this lens with a shutter speed of 1/1000 for most shots. I also used a circular polarizer and UV filter. The UV filter is critical to protect your pricey lens from blowing gypsum!
If you want something in between a phone camera and a beefy multi-lens system, look into a bridge camera like this one.
Pro tip: Make the most of your time driving around New Mexico with the free RoadTrippers app. It helps you plan your route and shows you tons of unique stops along the way. Get $5 off RoadTrippers Plus with coupon BTR5QTP.
Things To Do At White Sands National Park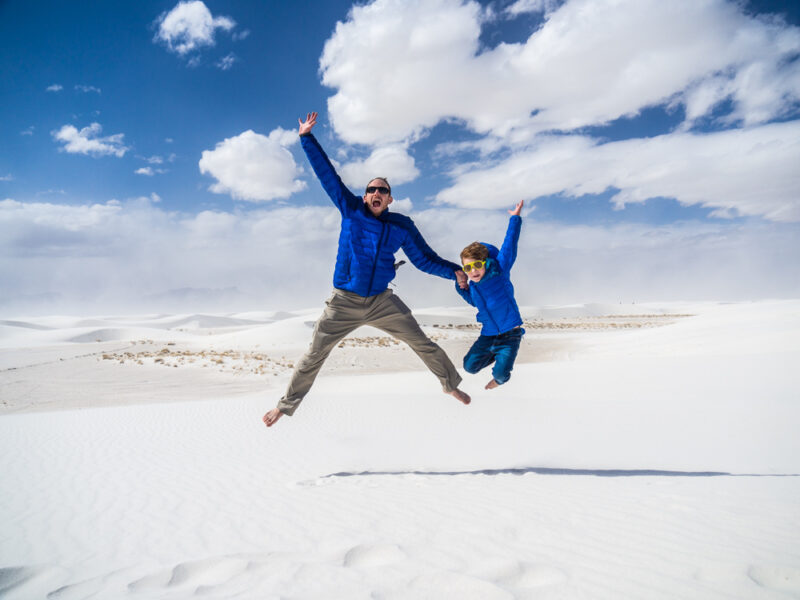 Before you head to White Sands National Park, make sure you check the updated schedule for closures due to missile testing at the adjacent range. At those times, the white sand dunes will be closed though the movie will be available. You'll usually have a few weeks' notice.
Apart from taking fun jumping photos (which never get old when you're there, by the way), there are four main things to do at White Sands National Park:
White Sands Sledding Along Dunes Drive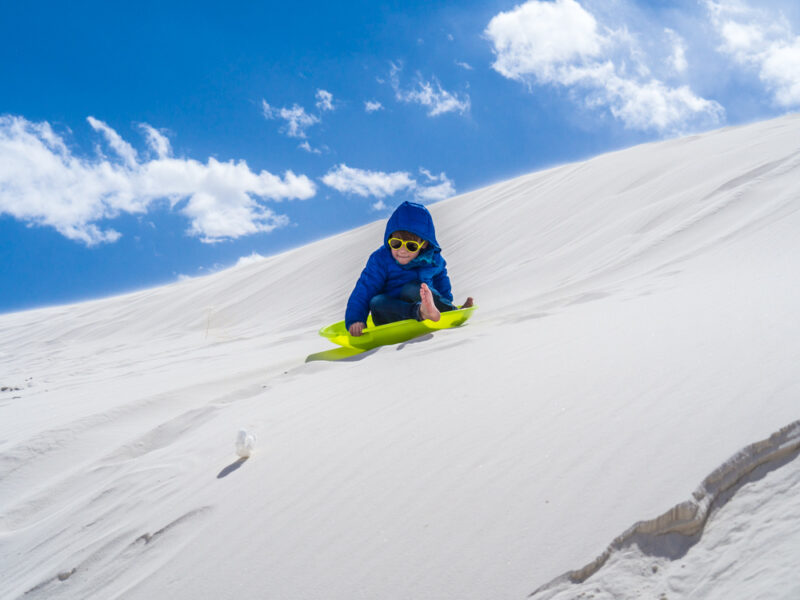 Dunes Drive is the 45 minute roundtrip drive through one of America's smallest National Parks. White Sands sledding is the big draw for most visitors and you won't want to miss it! You'll need two pieces of equipment: a sled and wax.
You can buy both items at the shop attached to the White Sands visitor center. However, that's the most expensive option. The cost to buy a new sled is around $20. When you're done, you can return it to the shop for a around $5 dollars. If available, you can buy a used sled for around $15 (and then return it for a pittance); however, those used sleds seem to be in very short supply!
There are two cheaper ways around this situation. First off, if you're already near White Sands National Park and don't have a sled you can try to buy one from a guest who's leaving. There's not reliable cell phone service, so bring a $10 bill to offer to anyone one their way out of the park or on their way to return a sled! When you're ready to leave, you can seek out a perspective buyer in the same way. Win-win!
Second, you can buy your own before you go. Just hit up the local Walmart in Las Cruces before visiting the park and you can probably buy one for about $5. If you're really enterprising, you can get at least that much when you sell it to another visitor at the park exit!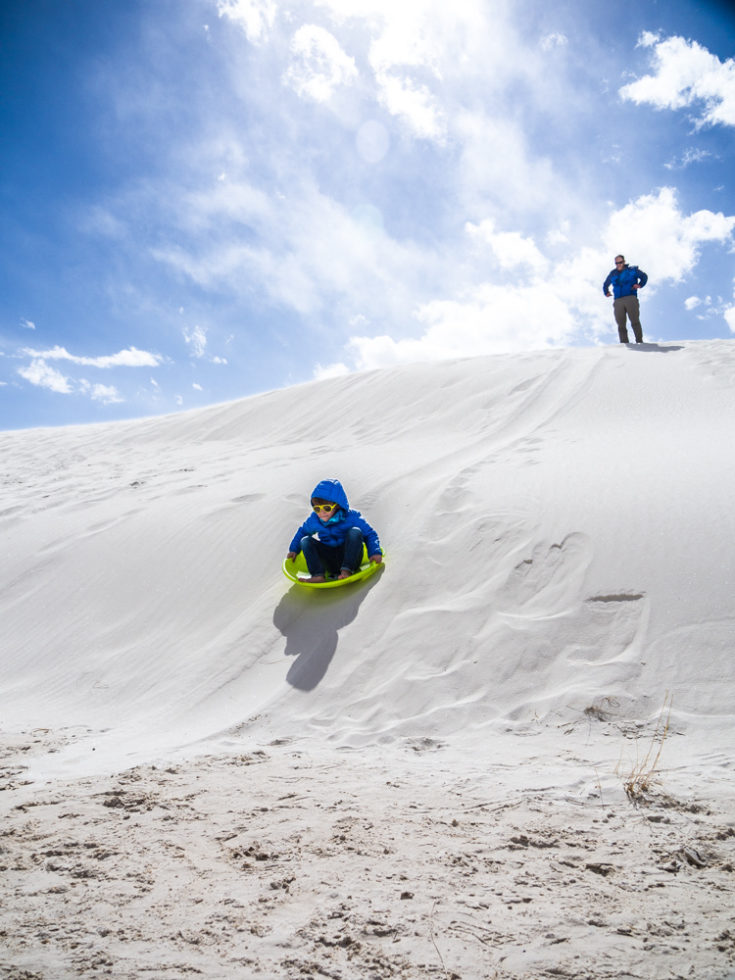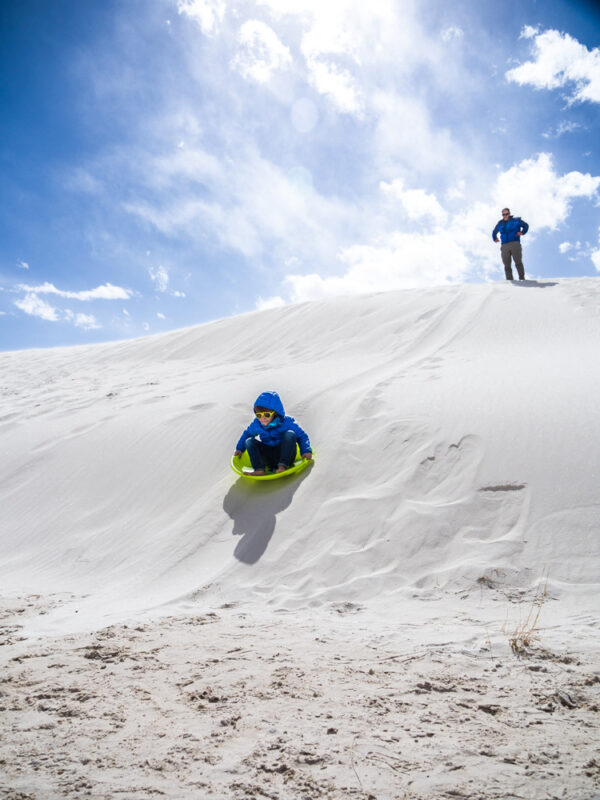 The wax only costs about $2, so you might as well buy it at the park shop. Use a lot of it when you go sledding. On our first few runs, we didn't have nearly enough and went much slower than we expected. Once we got the hang of waxing, we got some serious speed!
Where's the best place to go sledding in White Sands National Park? Not to be trite, but it depends on which way the wind is blowing. When we visited, the wind was blowing to the north so the dunes in the first part of the loop on Dunes Drive wasn't our best option. The wind was blowing in our faces and whipping us painfully!
We kept driving around to the other side of the loop (just a few minutes away) and found a great dune that was protected from the wind. It also happened to offer pretty epic views from the top. That area was near Heart of the Sands, which offers picnic tables and restrooms. Just keep driving around until you find a great spot!
Two notes of caution, though. Make sure that your sledding track doesn't dump you straight into the road or parking lot. And also try to find a spot that's not as steep at the bottom – it'll make for a softer landing if you wipe out.
You'll also notice in most of our photos that we're barefoot! It was a lot easier to climb up the dunes and we also didn't have to worry about getting gypsum in our shoes. But the dunes are really cold, so don't say I didn't warn you.
Watch The White Sands National Park Movie And Explore The Visitor Center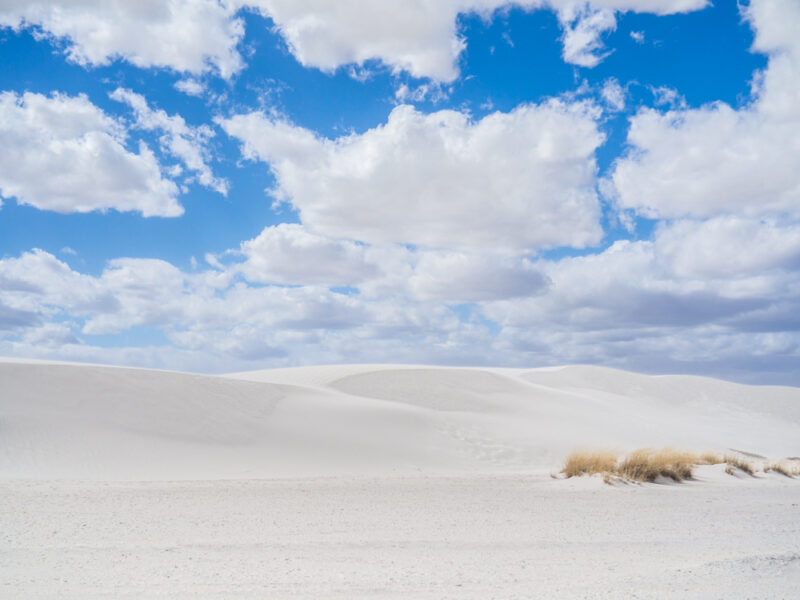 Inside the visitor center there's an excellent movie about the formation of White Sands National Park and the geologic processes that shape it every day. You can also chat with a ranger to learn about the hardness of different minerals and what makes White Sands so special.
Sunset Stroll In White Sands National Park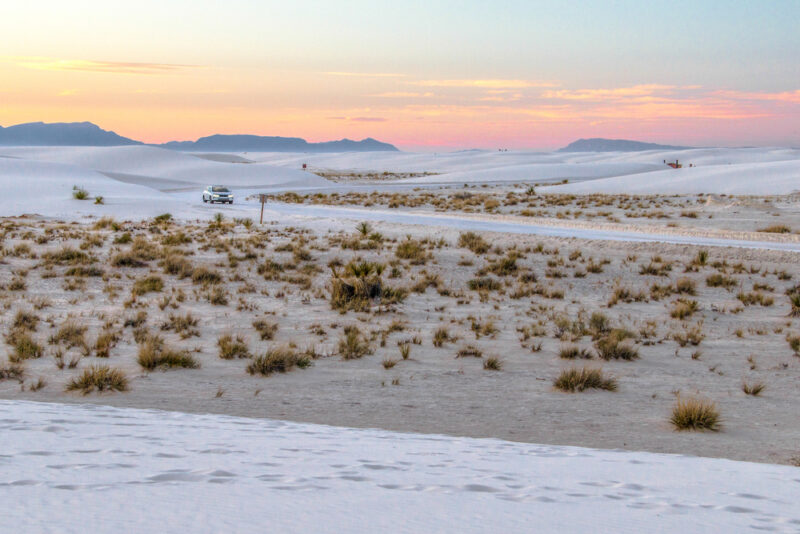 One things we didn't get to due because of timing (and kids) was stick around the park for a sunset stroll with a park ranger. We've seen and heard that sunset in White Sands National Park is amazing! The daily schedule is available here.
There are several other short hikes in White Sands, but I'll be honest and say that we used all our energy climbing up the huge dune approximately 73 times to go sledding. Whoops!
White Sands With Kids: Junior Ranger Program And Adventure Packs!
Whether you're visiting with kids or not, I always recommend picking up the Junior Ranger books at National Parks! They're full of great information and context that will make your visit even more interesting.
The Junior Ranger book at White Sands National Park is no exception. White Sands even offers a preschool book, which isn't all that common. Both books reinforce important issues like Leave No Trace, outdoor safety, geology and learning about local wildlife. The activities are fairly short since park staff know that families only stay at White Sands National Park with kids for a few hours.
We visited White Sands in February 2019 (waaaaay back when it was still White Sands National Monument). Since that time, they've begun offering Adventure Packs for kids as well. They provide kids with a backpack and nature exploration gear like binoculars and field guides to use while in the park – just be sure to return them before you leave!
Dangers at White Sands National Park
Many people heard of White Sands National Monument for the first time when a French family tragically got lost on a hike in the dunes, eventually resulting in the deaths of both parents. Another hiker died three years later in the same place, on the Alkali Flat Trail.
Friends, the heat out there is real. In the often-windy conditions and with the outrageous reflectivity of the gypsum fields, visibility can be minimal and the trail markers can be tough to follow. If you want to hike at White Sands National Park, go early, go when it's not summer, go when it's not windy, go with a buddy or two or three. No matter how you go, if you go, be very careful and heed park ranger warnings.
The other more benign danger is that it can be extremely windy. I strongly recommend wearing polarizing sunglass to protect your eyes from the glare as well as from flying gypsum particles. You may also want to use a bandana or neck gaiter like this lightweight one to protect your mouth and nose while sledding.
White Sands National Park (White Sands National Monument) Hotels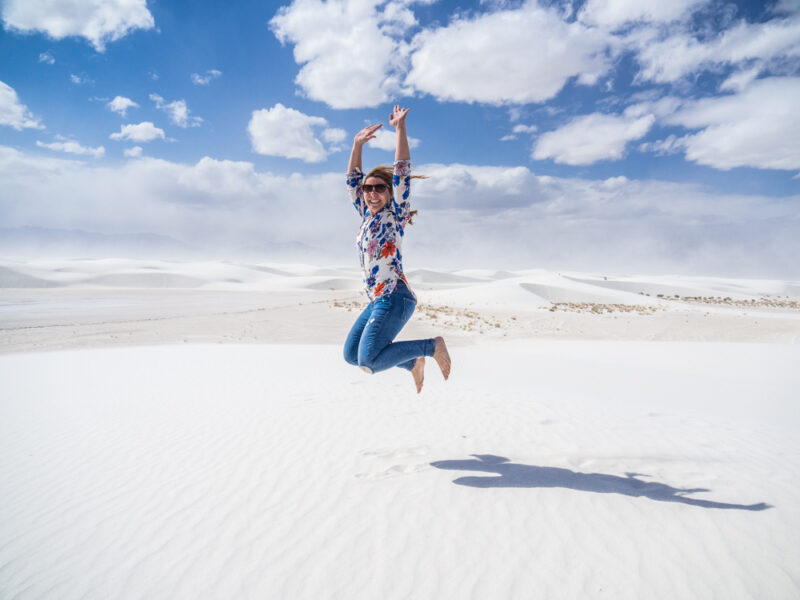 If you're on a longer southwest road trip along I-10, the best place to stay near White Sands National Park is the city of Las Cruces, New Mexico. We stayed at the Best Western Mission Inn, which did the trick and was budget-friendly. The staff were also extremely gracious about helping us understand the local weather conditions and whether or not we could safely proceed to Carlsbad Caverns (spoiler alert: we couldn't). You can also consider these other fantastic places to stay in Las Cruces, New Mexico.
Prefer to stay as close as possible to White Sands National Park so you can visit first thing in the morning? The nearby town of Alamogordo is 20 minutes from the entrance. Here are some good places to stay in Alamogordo.
If you're flying in to El Paso, Las Cruces will be about 30 minutes closer. It also has more restaurant options and is closer to I-10 (for continued driving) so it gets my vote!
Where To Eat Near White Sands National Park
We ate at a few places in Las Cruces, but our favorite was Si Señor. The service was wonderfully friendly and the food was so good that I couldn't get a photo of the untouched plate! But it would be criminal to come to this part of the southwest and eat anything other than New Mexican food. We did try to get into one of the more popular restaurants in town, but would have endured an hour wait; at Si Señor we were able to walk right in (at 7pm on a weekend) and were surrounded by local families.
---
If you're interested in extending your family trip to New Mexico into other Southwest destinations, consider these options:
New Mexico:
Texas:
Arizona:
Colorado:
Utah: