Other than the places I've lived, I've spent more time in Arizona than anywhere else. I've visited dozens of times over the last 25 years – sometimes for a long weekend and sometimes for multi-week stretches as we traipsed around the state exploring its nooks and crannies.
This Arizona packing list reflects my accumulated wisdom after spending so much time in the Grand Canyon State. Some of it may seem completely intuitive, but there are a few things I've even forgotten now and then – and sorely missed! My packing list for an Arizona vacation includes what to wear in Arizona along with things you need in Arizona that you might not have thought about.
Pssst… while you're planning, be sure to take a look at these Arizona articles to help you plan an amazing trip!
---
America the Beautiful National Parks Pass
There are so many incredible Arizona National Parks, monuments, historic sites and more! If you're planning to visit even a handful (or hop into a neighboring Southwest state on a longer road trip) you'll more than get your moneys worth.
How does the America the Beautiful National Parks Pass work? You can buy it here before your trip and activate it at the first site you visit (though at some small sites they don't punch the date, so you can just pop it in your windshield or hang it from your mirror and be glad for the extra time). It's good until the end of the 12th month after your activate it.
You'll get unlimited admission to every National Parks Service property in the United States! For a cost of just $80 you'll gain fee-free admission for your passenger vehicle to the following Arizona sites:
Grand Canyon National Park ($35)
Petrified Forest National Park ($25)
Saguaro National Park ($25)
Sedona Red Rocks ($5 daily/$15 weekly)
Montezuma Castle & Tuzigood National Monuments ($10 per adult; pass covers up to 4 adults)
Organ Pipe Cactus National Monument ($25)
Tonto National Monument ($10)
Sunset Crater & Wupatki National Monuments ($25)
Walnut Canyon National Monument ($25)
As you can see, the Pass is a fantastic value item to put on your Arizona road trip packing list! Yes, you can even use the America the Beautiful Pass to visit Sedona Red Rocks including popular trails like Cathedral Rock, Bell Rock and more.
Read more: Fun things to do in Flagstaff (and beyond) with kids
Heavy-duty filter water bottle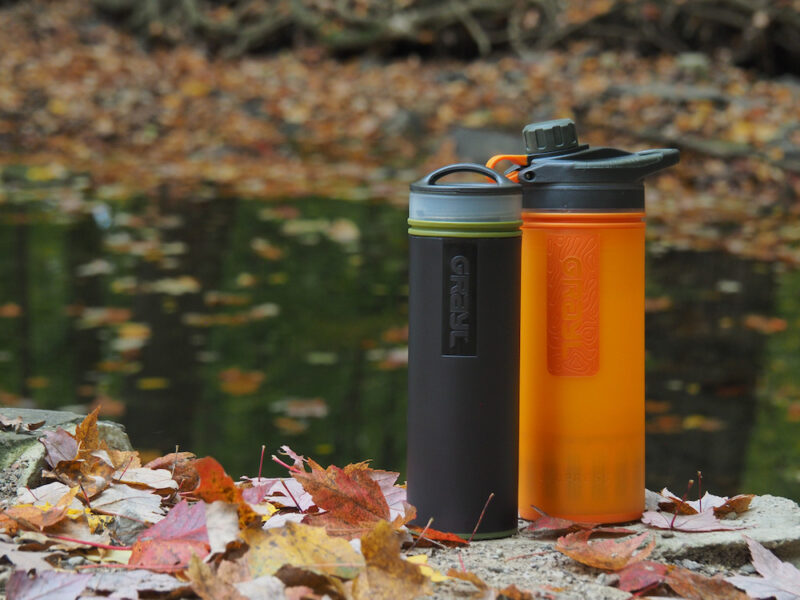 I love you, Arizona… but your water sucks. I'm not afraid to say it out loud and I know I'm not alone in feeling this way.
Water in Arizona (particularly the central and southern parts of the state) is truly a miracle and I have much respect for it. Unfortunately it's extremely hard – meaning the calcium and magnesium concentrations are uncommonly high. It's not inherently bad for you but it prevents soaps and detergents from sudsing and actually getting things and people clean.
The solution to this issue in many parts of the state is to install a water softening system. The net result of this situation is that lots of water in Arizona tastes terrible in my opinion. I also happen to be fairly sensitive to unfamiliar water so that part unpleasant for my body to boot.
My new solution worked great on our recent trip to Arizona: the GRAYL. It's the same heavy-duty purifying bottle I brought on our trip to Mexico and it worked great there too. It eliminates bacteria, heavy metals and even viruses with its three-stage filter (including an electrostatic mesh). so that wherever you are in Arizona, you'll always have clean, safe drinking water… and it'll taste ok too.
If you're traveling solo to Arizona, the GRAYL Geopress may be enough for you since it holds 24oz and filters in less than a minute. I do find that there's less spilling during the filter process if I fill to an ounce or two below the "max" line. If you're on a budget, sometimes you can catch the lower-priced Ultralight version – it doesn't have a top designed for drinking but we have no problem sipping from ours..
If you need more capacity or like super-cold water as I do, consider pairing the GRAYL with a high-capacity Camelbak (since the sleeve for the bladder is insulated) or insulated water bottles (those are my favorite because they're sized for normal hands and cup holders while still insulating wonderfully).
I like to filter a full load in the GRAYL, refrigerate it for an hour or two, transfer to my insulated bottles and then refill the GRAYL again. It sounds complicated but worked great!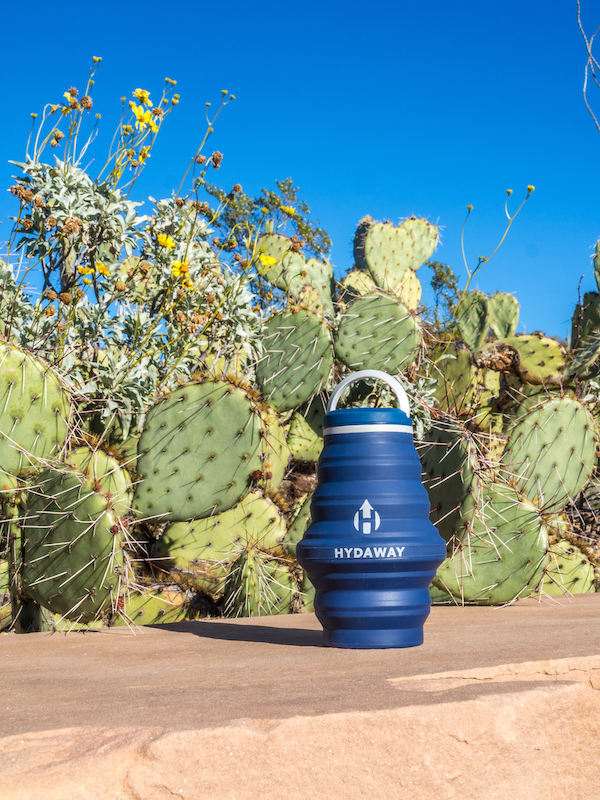 If GRAYL is out of your budget, another option to consider are Hydaway bottles with charcoal filters. We took these on a previous trip to Tucson and Saguaro National Park and they did a nice job of filtering out some of the taste, plus they pack down beautifully for travel.
While I hate single-use plastics, I am willing to make exceptions when it comes to safety in the desert. For a lengthy Arizona road trip away from civilization for hours at a time, consider throwing one or two gallon jugs from the grocery store in the trunk just in case. You won't need it if you're driving between Tucson, Phoenix, Sedona and Flagstaff but if you venture much further east or west it's a good idea.
Two pairs of shoes for Arizona
The right shoes for your Arizona packing list depend on your activities, but generally I'd recommend two pairs. The best options depend on what activities you have planned.
For an Arizona road trip with a mix of outdoor activities and city exploration, you'll want one pair of sturdy sneakers or hiking shoes and one pair of casual shoes – closed shoes in November through February and sandals or flip flops in March through October. Note that some activities like horseback riding require closed shoes, and they were also recommended for several tours we did on our latest trip to Arizona.
I managed all of our "light hiking" on our most recent trip in these sneakers with added inserts for support. They also worked great for casual time in Scottsdale. For moderate to serious hiking, I wear these trail runners to keep my feet cool and supported. Plan for any shoes you wear hiking to get very dusty, and up north it's red dirt that sticks around for a while – you might even need one of these to clean up your nicer kicks.
Speaking of serious hiking… if you're doing anything steep, including the Grand Canyon, be sure to put these on your AZ packing list
In the warmer months, it can be handy to have one pair of nice looking sandals to wear around town and a durable (but comfortable) pair of flip flops to wear poolside.
Sun protection – for your whole body
It should come as no surprise that the sun in Arizona is strong. We just got sunburns in March while wearing sunscreen (not my favorite one, for the record, but a cheap one I foolishly bought at the drug store when we arrived).
While I understand that you may not want to cover your entire body at all times, it's smart to have options that will allow you to protect all of your body parts when you feel that it's necessary on your list of what to bring to Arizona.
Sunscreen is an obvious layer of defense and works well. I love this mineral-based cream, which smells great and protects well (this isn't what we used during our recent run-in with UV).
Lip balm serves two functions: choosing an SPF lip balm protects you from painful burns, but it also keeps your lips from feeling dry in the arid climate.
I wish I had brought a lightweight long sleeved shirt with me (and I almost did)! From time to time I suffer from this bizarre condition and covering up a little more would have saved me from a lot of discomfort. It's also easier than constantly re-applying sunscreen on long hikes or other activities.
If you don't mind hats, they're a great way to protect your face and eyes from the suns harsh rays. Choosing a wide-brim hat can even protect your neck!
Sunglasses are indispensable for both comfort and eye health. Studies have shown that excessive sun exposure can cause long-term vision damage.
If you'll be spending time in an outdoor pool, as almost everyone does, a rash guard keeps your skin safe and also decreases your need for sunscreen (inconvenient and expensive). I love this one, and it can also double as a long sleeve shirt in a pinch.
Daypack for activities
No matter what kind of trip you're planning, be sure to have a good day pack on your Arizona packing list. At a very minimum, you'll need it to carry water with you. But it'll also come in handy for your camera, snacks, sunscreen and more.
My favorite versatile lightweight daypack for Arizona is the Tortuga Setout packable backpack (above left)… which is sadly discontinued now. I forgot it on my most recent trip and was so sad not to have it! This Eddie Bauer pack is nearly identical though. I love that they both pack down small but still have a little structure once expanded, unlike the cheap packable backpacks. The mesh back panel and straps keep things nice and cool and thankfully there are two water bottle sleeves. This is a great choice if you're doing a mix of light hiking and urban exploration.
For a more substantial daypack that can also tackle urban adventures, we use our WAYB Ready to Roam (above right). That backpack, with the attached Catchall, has served us extremely well! It's durable, high capacity, extremely organized and looks great. Sometimes I even sneak a Camelbak bladder into the laptop sleeve and it's a perfect fit.
If you're planning an outdoor-focused trip to Arizona, you'll probably want an actual hiking daypack. Check out these options to find the best fit for your needs and budget:
Planning a trip that revolves around city life in Phoenix or Tucson? Consider this awesome tote bag that'll still keep you organized and can serve as your airplane carry-on. It even does double-duty for the pool thanks to an integrated waterproof compartment.
Swim suits
Whether you're chilling out at a gorgeous resort pool in Scottsdale, soaking achy muscles in a hot tub after a long day of hiking in the desert, or frolicking in Arizona's natural waters be sure a swimsuit is on your list of Arizona essentials.
Personally, I like to bring two swim suits to Arizona. If you have a place to hang one outside (inside out to avoid fading) it should dry quickly, but just in case the timing doesn't work it's great to have a backup. Swimsuits take up very little space and some can do double-duty as well – trunks become shorts, while supportive swim tops for women work as sports bras.
Reusable snack containers
Do yoh aspire to be a more responsible traveler? Minimize your environmental impact by including reusable snack containers on your Arizona pack list.
If you're outside of the major cities, I always recommend having some food with you just in case. There are plenty of good eco-friendly options for doing that.
The simplest option, and also the lightest and cheapest, is a basic reusable snack bag. These come in tons of styles but the basic premise is a washable food-safe material that'll keep your treats – wet or dry – segregated from everything else.
If you plan on full-day hikes or long drives and want to bring lunch with you, we find these extremely helpful. They also collapse nicely and are easy to clean!
Light jacket
You may not think of a jacket as one of the things to bring to Arizona, but once the sun goes down the bone-dry air cools considerably (except for the most grueling months of summer). Northern Arizona trips can require serious layering in the cooler months, while even in Phoenix and Tucson you'll need a jacket for October through March.
Fleece is a very practical choice for most seasons, but any style will do. I love this classy-looking new fleece I got. If you're visiting Arizona in winter you'll want a real jacket, though we've gotten away with these packable puffer jackets.
For northern AZ in winter, throw one of these sets under your clothes, add a cozy mid-layer like the fleece above and then put a puffer on top. You'll stay nice and warm, but if you're hiking (as most people do in northern AZ) you'll keep the flexibility to remove layers as your body heats up.
I don't typically bring a rain jacket for Arizona, but if you're planning an outdoor-focused trip July through September you'll want to throw in a packable rain jacket. The monsoon season is real and usually impacts afternoons. If you do find yourself outside in a downpour, be sure to go inside if possible or find shelter on slightly high ground to avoid the twin risks of flash flooding and lightning.
Cell phone charging cable
You'll probably be using your phone for everything f as your travel through Arizona – navigation, music, photos and video and more. Be sure to bring a charging cable to plug it into your car so that you don't wind up stuck in a remote area (or even in a populated area with no navigation).
Be even more prepared by bringing this with you.
Map and/or Arizona guide book
From time to time we have found ourselves putting around the back roads of Arizona, whether because of an accident on the highway or opting for a scenic detour to do additional sightseeing. Most parts of the state have pretty solid cell phone service but not all – we've encountered quite a few pockets without connectivity. If you think you might wind up further afield, bring this nice state map with you. It's durable and compact, so it'll be much less irritating than the enormous AAA AZ map we used for years tooling around the southwest.
Even if you'll be sticking with the main roads but driving around Arizona, it's always fun to have a guidebook with you. We take a small one on many trips and have found plenty of unexpected gems along the way. They also provide history and context, so you can have one person narrate as you go to keep everyone in the car engaged.
Pro tip: Make the most of your time driving around Arizona with the free RoadTrippers app. It helps you plan your route and shows you tons of unique stops along the way. Get $5 off RoadTrippers Plus with coupon BTR5QTP.
---
Planning your trip to Arizona
Don't miss these helpful Arizona travel articles as you plan your upcoming trip!
If you're interested in extending your Arizona trip into other Southwest destinations, consider these options:
New Mexico:
Utah:
California:
Texas:
Colorado:
Still planning? Pin it for later!