If you've seen The Princess Bride or Harry Potter and the Half-Blood Prince, the dramatic views of the Cliffs of Moher should be familiar. From their peak, the cliffs drop 700ft (and over 300 million years!) to the ocean surface.
Read the rest of our Ireland with Kids trip report or get more Europe travel inspiration
Getting to the Cliffs of Moher
If your kids are decent in the car or you can time their naps well, trust us and take a day to visit the Cliffs of Moher in County Clare. We promise it's worth the schlep! If you're staying in Killarney, drive itself is around 2.5 hours each way. Limerick is a convenient stop in the middle if the family needs a little break or a meal. There's easy paid parking across from the Visitors Center. If you don't have a car available, you can get to the Cliffs of Moher by bus, bike or even foot!
Check out these great options to get from Dublin to the Cliffs of Moher on a day trip
Once inside, you can choose from a few different cafes and restaurants or even pick up some Murphy's ice cream! If you bring a picnic like we do, then take advantage of the picnic tables set up right out front. The Visitors Center has plentiful bathrooms and even baby changing facilities. Things to bring to the Cliffs of Moher: camera, jacket, water, and binoculars if you have them. You can see from our pictures that we were all bundled up – it was really chilly even though it was June.
Want to skip all the wondering and planning? Get the perfect 10 Ireland itinerary, ready for you go book from start to finish.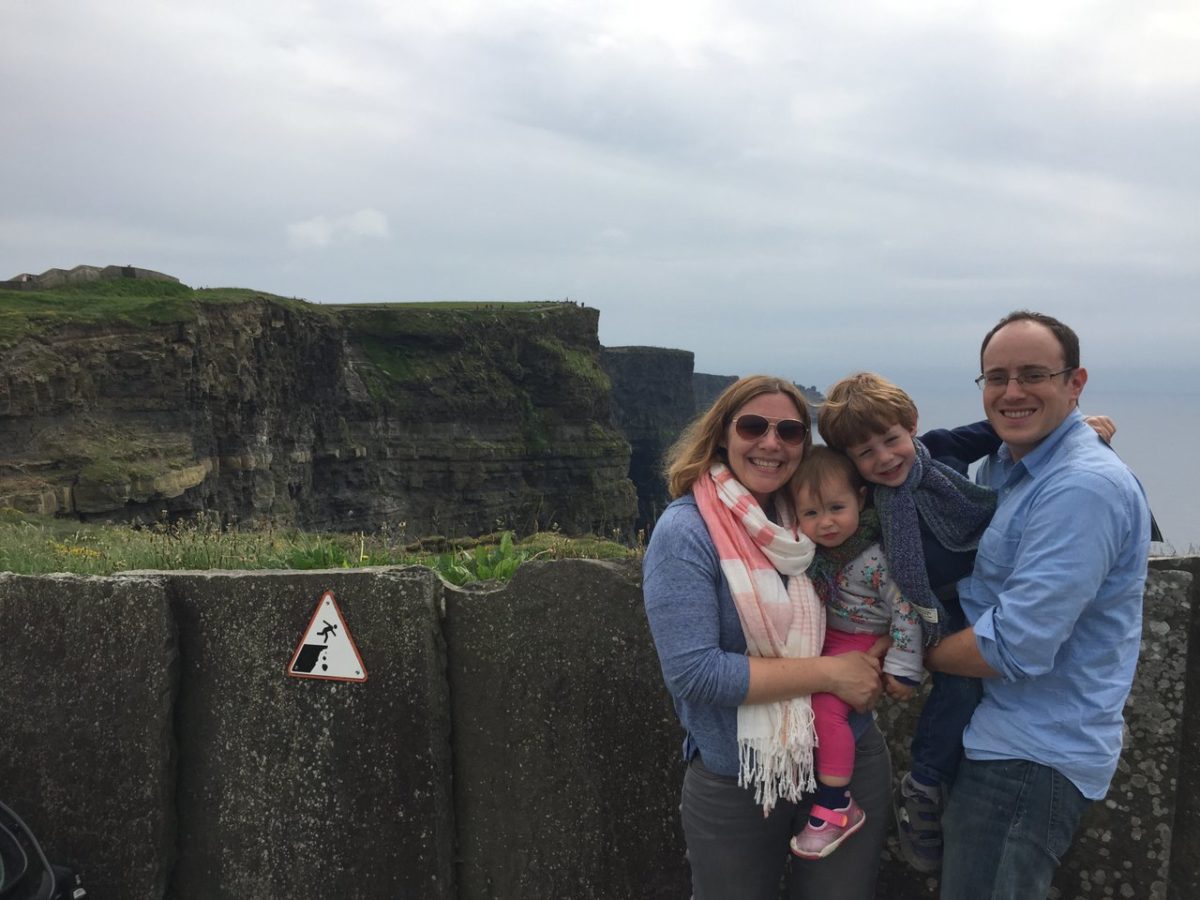 Use the interactive map to find vacation rentals and hotels near Cliffs of Moher
---
How to see the Cliffs of Moher
There are a few different areas from which to explore the Cliffs. One path is fully-paved and stroller friendly, leading up to O'Brien's Tower on one side and to the south platform on the other. That entire area has a high wall that will keep it all safe for little ones, as you can see in the picture above.
If you're feeling adventurous and promise that you'll keep an eye and a hand on your kids at all times, you can continue past the South platform to the Cliffs Coastal Trail. It's split into two paths separated by a wall, so in theory you can keep your little kids on the path further from the Cliffs edge; however, in practice, you'll need to switch to the cliff side of the trail to traverse some areas (check out the pictures below for a detailed view). The cliff side is wide and flat, so thankfully there's no technical challenge. Jacob and I had a nice walk on the cliff side, but I carried Shoshana as I didn't want her getting anywhere near the edge. If you love babywearing (as we do!) this visit is a great opportunity to strap on your little one, especially in a back carry for extra maneuverability.
Other Activities at the Cliffs of Moher with Kids
We were especially lucky that volunteers from Birdwatch Ireland were on-site during our visit to show off the sea birds residing next to the Cliffs. The area is home to an amazing colony of puffins and the naturalists had their telescopes trained in the right direction for visitors to get the best views. Since Jacob has a mild obsession with puffins, we knew we couldn't miss the Cliffs of Moher. One of the volunteers even gave him a poster of the sea birds of Ireland, which he loved so much that he insisted we keep it in the picture. If your kids would enjoy this kind of birdwatching, either bring binoculars for them or contact the Cliffs of Moher in advance to find out the naturalist's schedules.
We wrapped up our visit with a stop in the Visitors Center, which is full of interactive stations for the kids. There's even a cool video showing a simulated flyover and underwater dive at the Cliffs. The activities inside (apart from the movie) are best suited to 4yo and up; however, there are some fun stations that younger ones can do with their parents .
Want to see the rest of our Ireland with Kids trip report?
Links
Cliffs of Moher – official site