Are you considering renting a car in Alaska? You won't want to miss this article full of must-read Alaska rental car tips. I'm sharing everything we learned during our own adventure to help you plan better and have more fun!
Don't have time to read a bunch of reviews and blog posts? Here are our top picks for visiting Alaska:
Alaska Guide
Need a quick day-by-day, open-and-go itinerary for Alaska? Get my guide and let me do the work for you!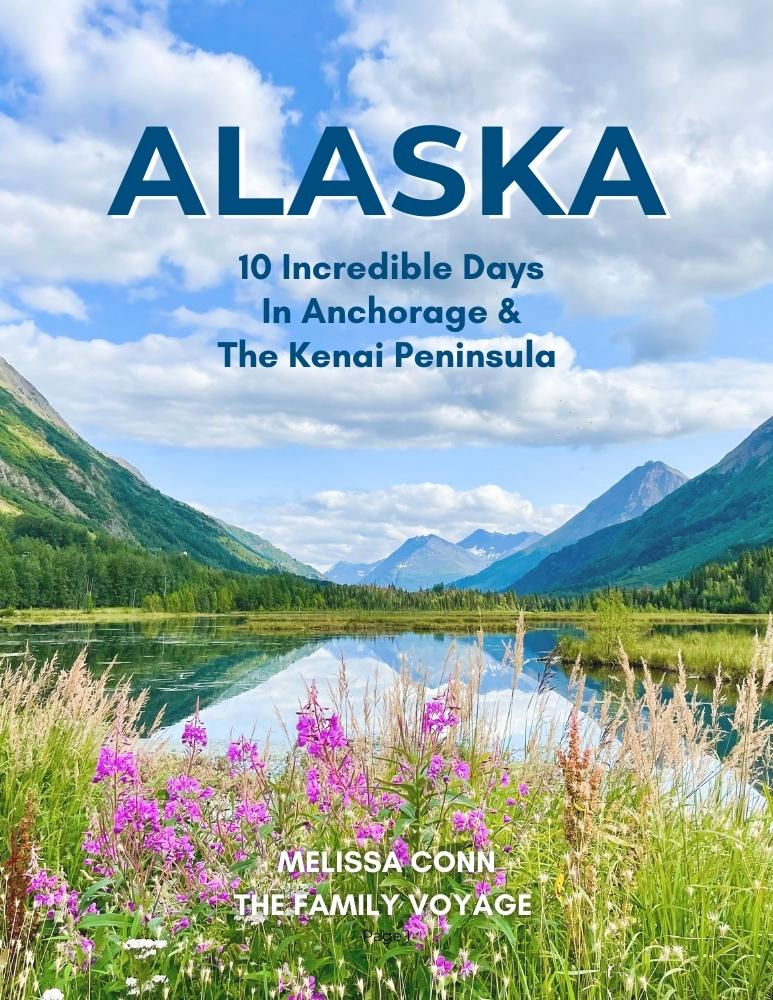 Our favorite hotels in Alaska
Getting around Alaska
Our favorite activities and tours in Alaska
Be sure to buy travel insurance to protect yourself and your vacation expenses! Compare the top companies here to find the right plan for you.
Renting a car in Alaska is the best way to explore much of the state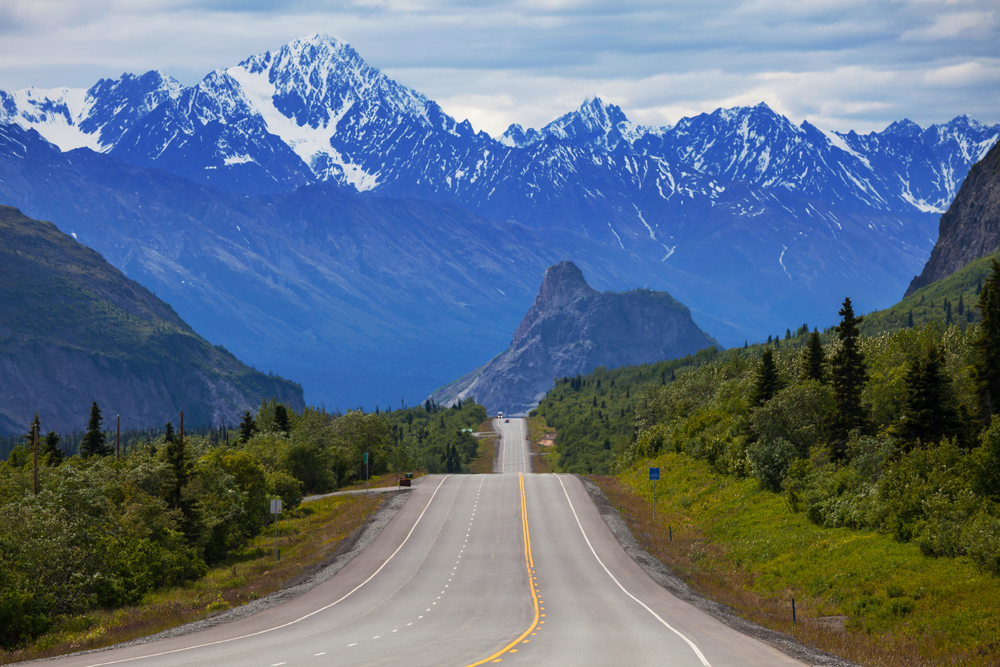 Not only is Alaska the biggest state in the US (coming in at almost three times the size of Texas, its nearest competitor) but it's extremely spread out. It's also a place where the best things to do are often not right on the main roads.
There are basically five ways to explore Alaska: car, bus, train, boat and plane. If you're planning a visit to southeast Alaska (like Juneau, Sitka, Skagway and the stunning Inside Passage), the far north or some very remote areas, you'll be best off with some combination of boats and planes.
But the vast majority of non-cruise visitors to Alaska will be exploring overland. You'll be visiting places like Anchorage, Denali National Park, the Kenai Peninsula, and even as far as Wrangell-St. Elias National Park.
Overland travelers in Alaska have three options: car (including RVs), bus or train. Train travel in Alaska actually has nice perks and can be lovely for some routes. Because it's relatively popular, some tourist attractions like Major Marine even build excursion schedules around train arrival and departure times.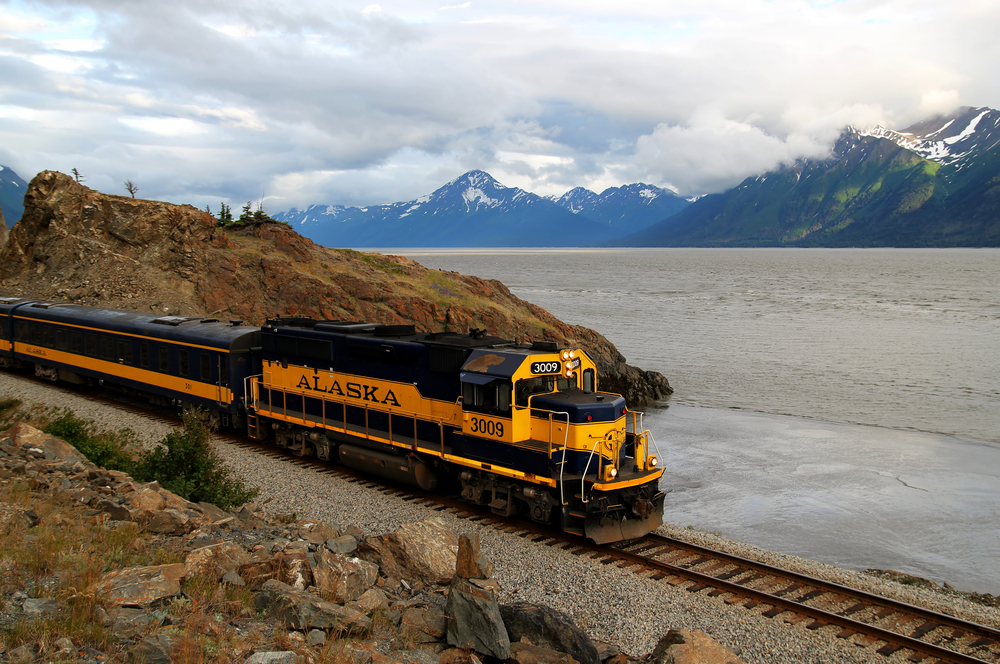 The biggest downside is that the train timetables are quite limited and you can't make it to some of the best off-the-beaten-path places in Alaska without subsequently renting a car. Still, if you're having a tough time tracking down a rental car in Anchorage, you may opt to do part of your trip by train (as far south as Seward, for example) and then rent a car for subsequent exploration.
There are a number of companies that offer fully-guided Alaska bus and van tours. They take care of your transportation, accommodations, meals, activities and more. Of course, they also do these things for 40 of your new closest friends. It's nice not to have to plan anything, but you really don't get a say in what you do and you might miss out on some awesome Alaska activities because they don't fit the broader needs of your group.
Some buses just provide transportation, and that can be a great option for a short trip. The Park-to-Park bus is a great option that connects Kenai Fjords to Denali, with stops in Anchorage and Talkeetna. It's perfect for Alaska cruise visitors who also want to see the interior, and you have the flexibility to split your journey into multiple days if 10 hours sounds too long for you or you want to spend a day in Talkeetna.
That leaves renting a car in Alaska and exploring The Last Frontier independently. Having now done it ourselves, I absolutely recommend it! Alaska's a great place to poke into nooks and crannies, make last minute stops and savor the views on a long hike. The flexibility of an Alaska rental car really can't be beat when you're exploring mainland Alaska.
Overall, you may want to get creative. We met one couple who managed the "the great Alaska rental car shortage of '21" by taking the train between Anchorage and Denali, flying to Soldotna and renting a car to explore the Kenai Peninsula, then slowly driving back to Anchorage.
---
Best way to rent a car in Alaska: In advance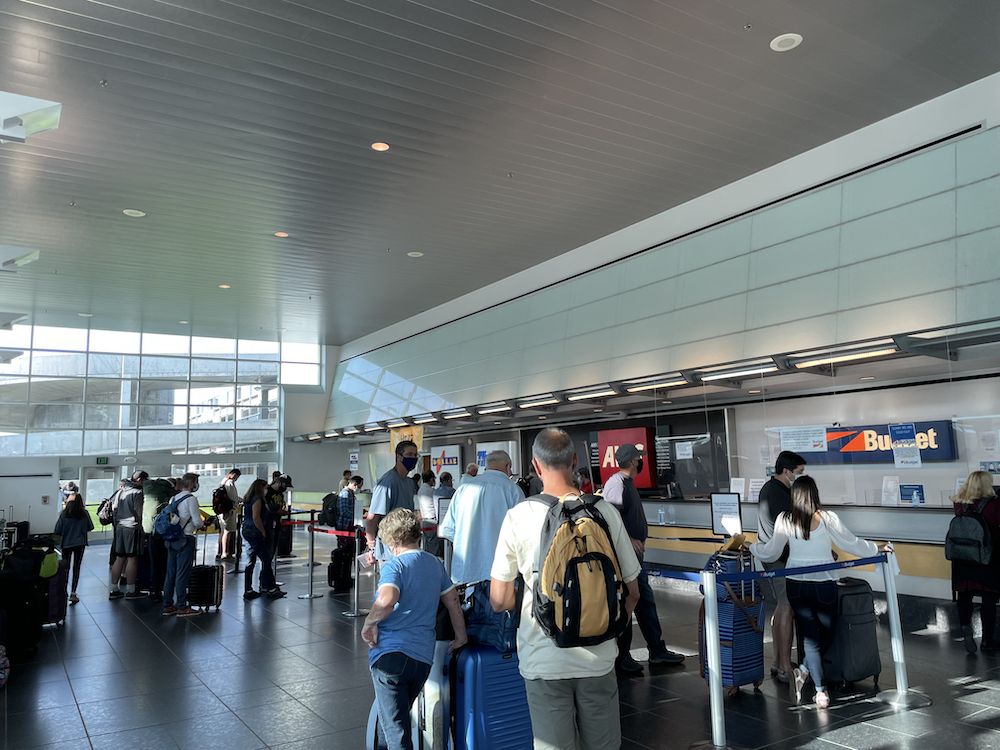 Alaska put my travel planning skills to the test, but the best thing I did in the whole process was reserve our rental car the day I booked our flights. No joke. The great thing with rental cars is that they don't require a commitment.
Sure, you can save a little money by pre-paying for your rental car. But you can almost always choose a refundable rate in case a better deal comes along. While we reserved our car for less than $70 per day, a friend who planned to visit the same summer and procrastinated on her car reservation balked at rates north of $200 per day and wound up cancelling her whole trip because of it.
In this era of worldwide car shortages, reserving your car in advance also allows you to get the vehicle class you prefer. You might want a compact car for an economical adventure or maybe your family does best in a big SUV with room for all the people and luggage. There have been some crazy stories of people driving around Alaska in gas-guzzling U-Haul trucks because they couldn't find anything else!
In the past plenty of people were able to show up at an Alaska rental car counter and grab a car at the last minute. These days you're more likely to be left out in the cold if you do that, which is a terrible way to start the trip of a lifetime.
While I anticipate that the rental car shortage in Alaska will ease up, there's no downside to staking your claim well in advance. We generally book through RentalCars.com, which books days in bulk and passes deep discounts on to customers. I love the easy-to-use interface and simple cancellation process.
I've also been seeing amazing deals on Priceline rental cars lately (and just snagged one myself). It's a great option to compare. You can still enter your rewards number and pay when you pick up the car.
I'll discuss more about the "why" later in this article, but another source to check is local outfitter GoNorth. They're Alaskans, so they're more flexible about their rules and they provide vehicles they know can handle the terrain. Save $10 on your booking with coupon GONTFY.
Another option to consider is joining AARP. The membership costs about as much as a Starbucks run but can save you up to 30% on rental car rates (in addition to discounts on some hotels)! Surprisingly, you don't have to be a senior or retired to join AARP.
---
How to Rent a Car in Alaska: Check your credit car for rental car coverage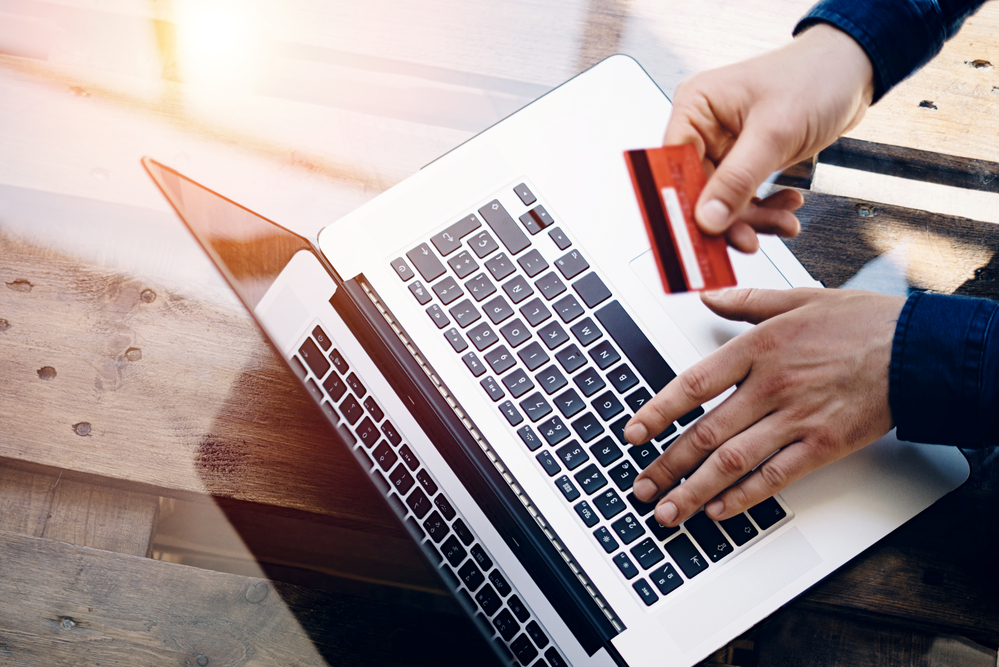 Most avid travelers these days have a credit card in their wallet that includes primary rental car coverage. This is a major upgrade over secondary rental car coverage. What is primary rental car coverage?
Simply, it means that if almost anything bad happens to your rental car the credit card will take care of the bill and it won't impact your car insurance rate back home. Thankfully we didn't have to use our policy in Alaska but we've used it on other trips and been grateful to have it.
The most important thing to know about using your credit card for rental car insurance in Alaska is that you must decline all coverage offered by the rental car agency. They'll even offer innocuous-sounding windshield glass coverage for those inevitable stones flying around on the roads, but you'll decline that too. Fear not, your credit card insurance will take care of it!
How much can you save by using your credit card rental car insurance? Depending on exactly which options you select, it could range from $10 to $50 per day. For a 10 day Alaska trip, that adds up to as much as the annual fee on even some of the best travel credit cards!
How old to rent a car in Alaska
Generally, the age to rent a car in Alaska is 21 years old. There may be a fee for ages 21-25 as a sub charge. This is another reason to check your credit card policy on insurance and fees. They may cover things that the rental car company wants to charge for. Gather all the necessary information before booking.
Read more: Alaska Travel Tips to Read Before You Go
---
All of the major airports have rental cars in them, no shuttles needed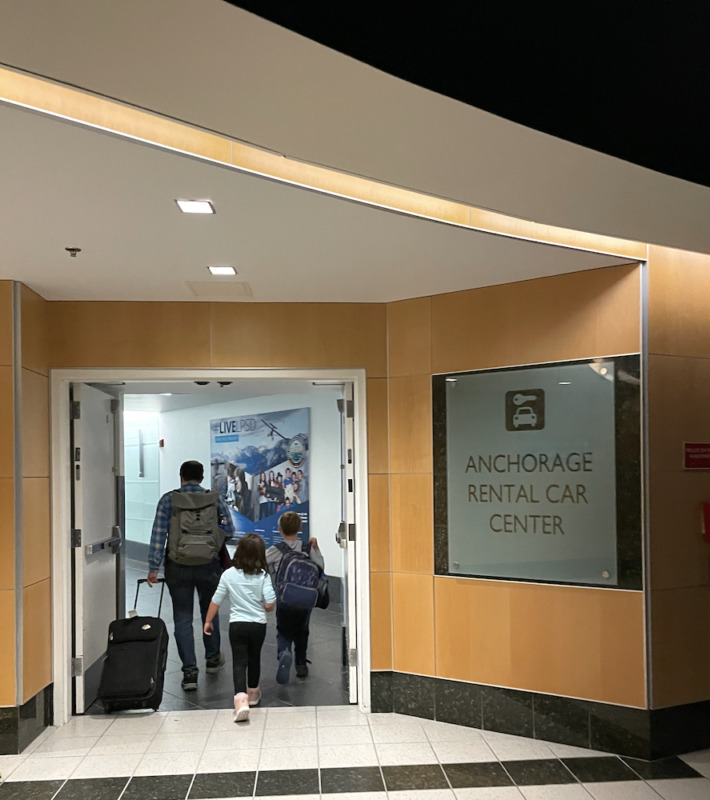 I don't know about you, but my least favorite thing to do at the end of an excruciating travel day is to haul my luggage outside and board a rental car shuttle. Especially since we nearly always travel with our kids and their car seats, rental car shuttles are just the pits.
The great news about flying to Alaska and renting a car is that all of the rental car depots are attached to the airports! This includes renting a car in Jeneau, Fairbanks and Anchorage. You walk to the counter inside the airport (admittedly it's a long walk in Anchorage) and then walk directly out to the garage. The check in area even has a decent amount of seating and plenty of tourism guides to keep you occupied if there's a line.
It's extremely convenient and easy to rent a car at Alaska airports.
Read more: Your complete Alaska packing list for summer
---
Gas is expensive and sometimes hard to come by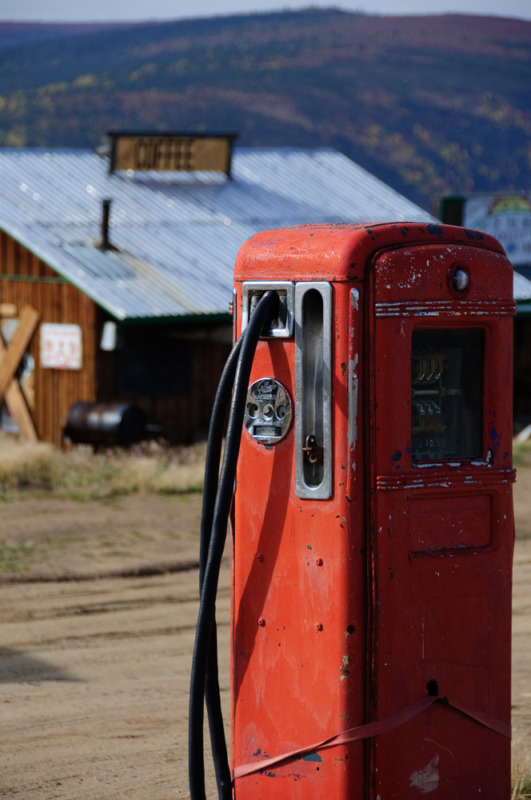 Two of the best Alaska travel tips we read before visiting were to make sure we always had at least a half-tank of gas and to fill up at (virtually) every opportunity. In some parts of Alaska you can drive for nearly 100 miles without encountering another gas station, so this is really not something to mess around with. Even in the more densely populated Kenai Peninsula, we encountered signs warning us of long distances before the next station.
As to the price of gas in Alaska, unless you spend most of your time in Anchorage and Fairbanks it'll be partly out of your control. If you're road tripping in Alaska you fill up when you need to fill up. Some towns like Soldotna and Kenai offer a few choices but otherwise you take what you can get and smile.
One bright spot of getting gas in Alaska is that the Costco warehouses on the mainland have stations. You can check the prices in advance for Anchorage and Fairbanks by expanding the "gas" tab. Costco gas in Alaska is less than in California but more than in Ohio, and about the same as Hawaii.
Even if you wind up filling your tank at more remote stations, you're unlikely to spend more than $15-20 per day on gas. That's a small price to pay for the adventure of a lifetime!
---
Many roads are prohibited by rental car companies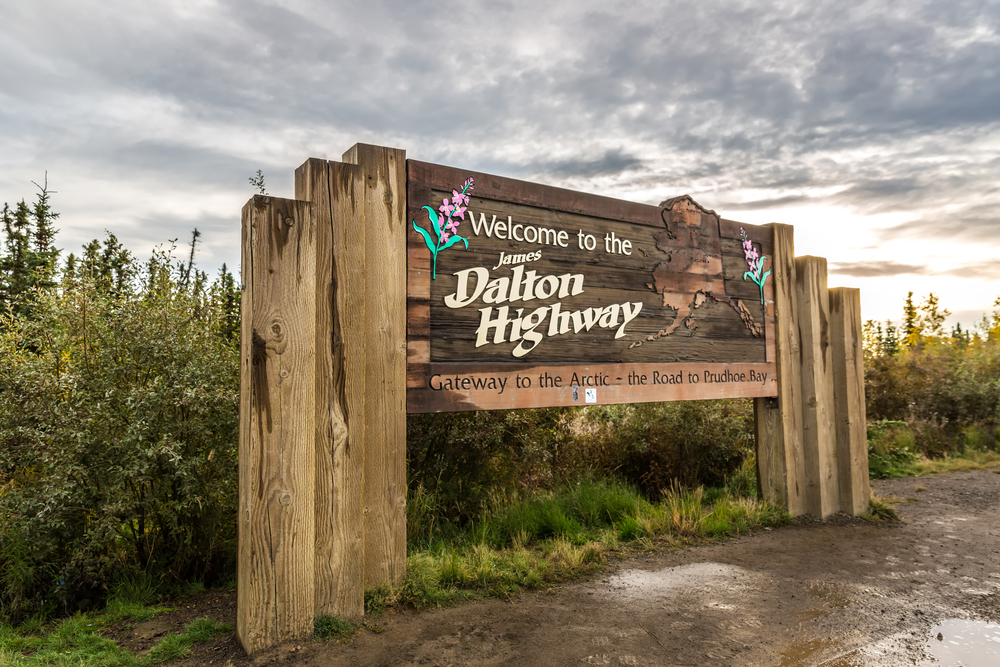 Road quality in Alaska is variable to say the least, and in many cases it can leave something to be desired. Alaska rental car companies are obviously aware of this and do what they can to protect themselves and their cars.
How do they do that? Generally by limiting what roads you're allowed to drive on. I have mixed feelings about that, as I'll explain in a minute. But for now, here's a typical list of Alaska roads that are restricted by car rental companies (this one is from Avis and Budget):
Dalton Highway
Demster Highway
Denali Highway
Elliot Highway

McCarthy Road

Steese Highway
Taylor Highway
Swanson River Road (Kenai)

Skilak Loop (Kenai)
Tustamena Lake Road (Kenai)
Marathon Road (Emergency Access Rd – Kenai)
Unimproved, non-paved roads including beach areas
Other companies aren't quite as restrictive. Enterprise explicitly wants you to avoid the following:
Arctic Circle
Canada
Central
Coldfoot
Deadhorse
Livengood
Manley Hot Springs
Prudhoe Bay
Wiseman
Dalton Highway
Denali Highway
Edgerton Hightway/McCarthy Rd
Elliot Highway
Klondike Highway
Steese Highway (after pavement break)
Taylor Highway
Now, some straight talk for a minute. Rental car companies have a few different reasons for restricting roads. They want to make sure their cars come back unscathed, and that if a problem arises they can get to you to help.
The challenges of those restricted roads vary. Some of them are in generally bad condition, which means your rental car is more likely to be damaged and it will be harder for a tow truck to get to you. Some are so remote that if you did have a problem, you wouldn't have any cell service to call for help.
That said, not all restricted roads are created equal. Less than half of the Dalton Highway is paved, and for much of the year it's icy gravel traversed by trucks with very few inhabitants along the way. On the flip side, we drove on Skilak Loop Road without realizing it was off-limits and it was completely fine when we went in mid-August – just a typical gravel road as you might find in parts of the lower 48. But I've heard that at some times of year it can be in truly terrible condition and really put passenger cars through the ringer.
Even some of Alaska's main highways undergo annual maintenance every summer that leaves them partially paved and pothole-ridden. It seems that there's a bit of an asymmetry in terms of what's restricted and what's allowed.
I won't tell you where you should and shouldn't drive, only that all driving in Alaska should follow good judgement and appropriate caution. It's not a place to take deliberate risks with someone else's vehicle.
Fortunately, there's another option for those intrepid adventures who want to explore Alaska without limit (after all, it is The Last Frontier). GoNorth is a locally-operated with a sterling reputation and they'll let you take your rental car or RV on gravel roads as far as your wanderlust will take you. GoNorth also allows one-way rentals between their locations (Anchorage, Fairbanks, Whitehorse and Seattle). Sound up your alley? Use coupon GONTFY to score a $10 discount on your booking!
---
Get to know Alaska car seat laws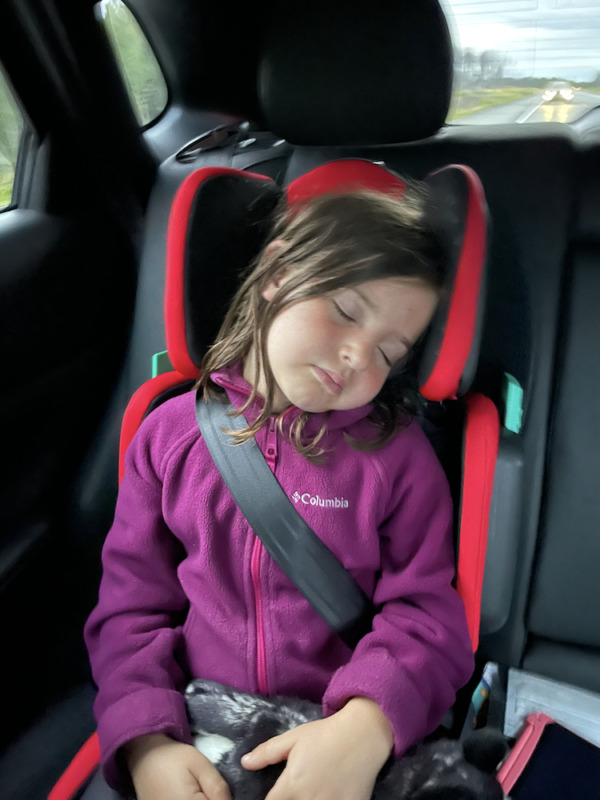 Alaska car seat laws aren't particularly strict, but it's extremely important that you meet (or exceed) them during your visit. Just as you wouldn't drive your child around unsecured in the lower 48, you shouldn't take unnecessary risks in Alaska.
Here you can see my daughter riding (and snoozing) comfortably in her hifold booster seat – great for ages 5+. Even though she doesn't normally sleep in the car these days, remember that getting to Alaska requires a long travel day and sometimes crossing numerous time zones. Couple those with action-packed days and you can expect kids to be more tired than usual. While our 10 year old used one of his normal travel booster seats, I did have to wake him a few times to get him seated safely.
An important note if you're venturing to Denali with kids: the park tour buses require car seats or booster seats just as passenger cars do. They will turn you away if you don't have them. Get more tips here, including how to manage car seats in Denali.
Read more: Alaska with kids: best things to do + travel tips
---
Driving in Alaska is easy (at least in good weather)
All that stuff about restricted roads aside, driving condition in the heavily-touristed areas of Alaska is pretty easy… if the weather is good. Directions are extremely easy to follow thanks to the limited number of roads.
Apart from a few things we encountered during our summer trip to Alaska (which I'll go in to below), we didn't find driving in Alaska to be challenging. If you're planning to visit Alaska in winter, however, that'll likely be a different story.
As you can imagine, driving in Alaska in winter is full of all of the typical winter driving hazards. There are snow drifts and black ice. Due to the mountainous terrain, sometimes right next to the highway, avalanches are a genuine risk. Fog can also pose risks. If you're at all unsure, pull over and grab a cup of coffee while you wait to see if things improve.
You should plan for winter road conditions any time between October and April in southern Alaska, while Denali also gets snow in May and September. We happened to receive an all-wheel drive car in Alaska, though I didn't specifically reserve one. Most cars in the Avis section were either AWD or 4WD though that's not likely if you're renting a compact car. If you're renting with GoNorth (be sure to save with coupon GONTFY) you'll have 4WD on an SUV and the option of 2WD or 4WD on a van.
Like so many aspects of Alaska travel planning, the correct answer to "Is it easy to drive in Alaska?" is "It depends."
---
Driving in Alaska can be slower than you expect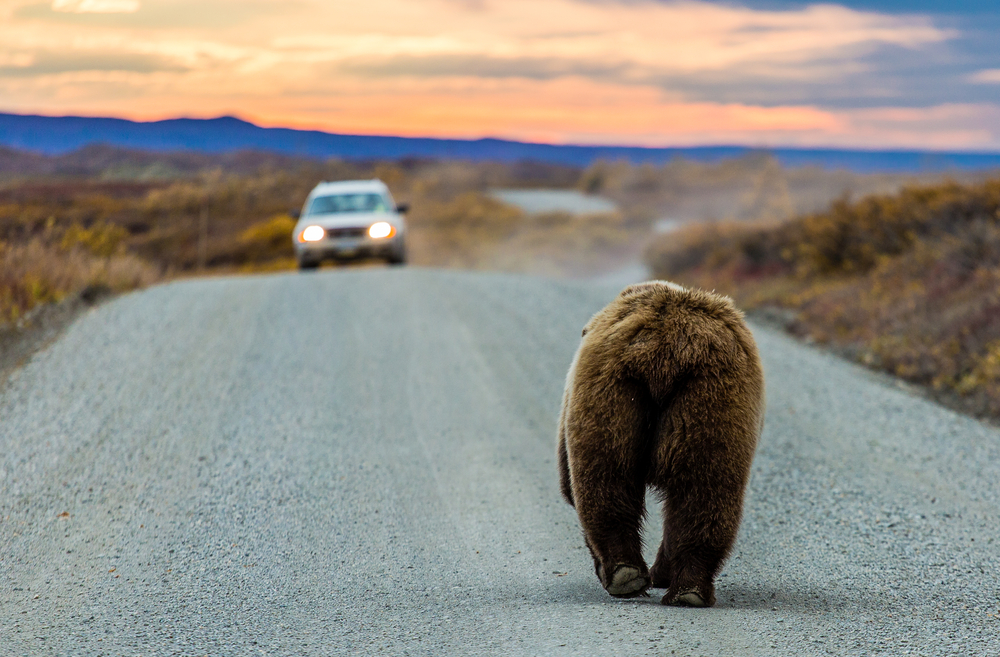 Alaska summer driving will likely include some slow-downs for road work. After all, there's a limited season to fix all of the winter damage! Be patient and obey the signs to keep public workers safe as they do they important jobs.
Wildlife sightings can also slow things down as people pull over to the side of the road when they see something cool (guilty as charged!). If this happens as you're driving and you want to keep going, please do so slowly in case someone is so enthralled with watching the moose or bear that they lose their sense of self-preservation. If you choose to get out of your car to join the party, pull off the road in a safe place and exercise extreme caution near the roadway. That goes double if you have kids with you.
Unfortunately, clear summer roads can also bring more accidents. During our day in the Mat-Su Valley north of Anchorage, there was a tragic fatal accident on the Parks Highway that left us (and several thousand other people) stranded between Willow and Talkeetna for six hours. Stunningly, the day before there had been another fatal accident in the same spot. Remember what I said about keeping at least a half tank of gas? Keep snacks on hand too, just in case. Many people unexpectedly spent the night up in Talkeetna, as the "alternate route" involved 11 hours of driving to return to Anchorage.
All of these things occur in the lower 48, of course, but in Alaska there's rarely an alternate route to take if one road gets backed up. If you're a traveler on a tight schedule, understand that sometimes these things happen and they're out of your control. We missed a few things we would have liked to do and had some stressful moments on our Alaska trip due to the road situation, but keeping a cool head (at least one of us) and a flexible attitude helped immeasurably.
---
Hopefully these tips have given you the confidence to take the next step in planning your perfect trip to Alaska.
Alaska rental car FAQs
Is it expensive to rent a car in Alaska?
Alaska car rental cost varies by what type of car you want, when you're going and where you'll be. Rentals in the shoulder season are cheaper than in the middle of summer. Sometimes you can snag deals for as low as $50 per day, but if you wait too long, need a big car or are renting during a popular time you may find rates of several hundred dollars per day. Check prices here for your dates.
Is there Uber in Alaska?
Yes! Anchorage has Uber, Lyft and also traditional taxi service (which you can request in advance by phone or app).
How much is taxi from Anchorage airport to downtown?
If you just need a ride from the Anchorage airport to your downtown hotel to start your trip, the price is around $20 for a taxi and a little more for Uber/Lyft.
Why is there a rental car shortage in Alaska?
In 2020 many rental car companies sold some (or all) of their fleets to cover cashflow needs as revenue dried up. There has subsequently been a shortage of fleet vehicles available for sale, while land-based Alaska travel has only increased in popularity due to the limitations on cruise ships and Canada land border crossings.
What kind of car do you need in Alaska?
Every Alaska traveler will have different needs. If you're planning on traversing uneven or gravel roads, it can be helpful to have a 4WD/AWD vehicle or at least one with higher clearance than normal. Visitors in the summer who plan to stay on major roads at all time will manage fine with a sedan.
What is the age to rent a car in Alaska?
The minimum age to rent a car in Alaska is generally 21. Renters 21-24 may have to pay a surcharge to rent a car.
Planning your unforgettable Alaska trip
Ready to dive deep into your Alaska travel planning? Don't miss these helpful articles: