Is your family ready for a bucket list adventure? Now's the time to start planning a trip to Alaska with kids! You'll experience epic scenery, unique wildlife and adventures for every age.
In this article you'll find all the inspiration you need to start planning a family trip to Alaska, including the best things to do in Alaska with kids, Alaska family vacation tips, what to bring to Alaska with kids and more.
Don't have time to read a bunch of reviews and blog posts? Here are our top picks for visiting Alaska:
Alaska Guide
Need a quick day-by-day, open-and-go itinerary for Alaska? Get my guide and let me do the work for you!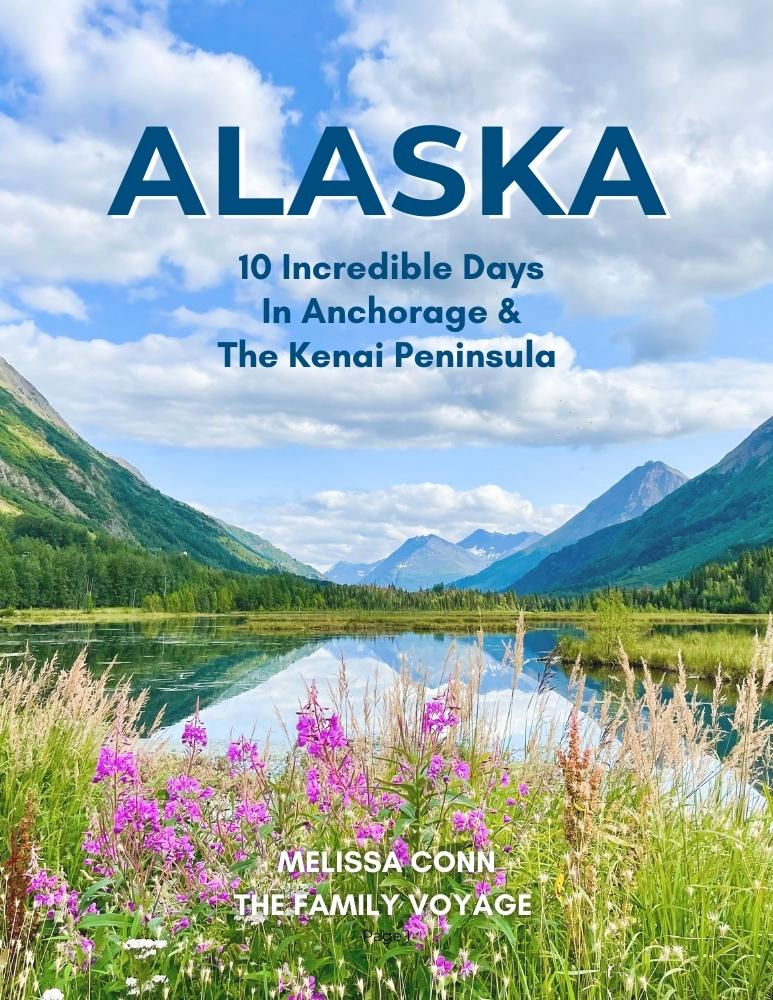 Our favorite hotels in Alaska
Getting around Alaska
Our favorite activities and tours in Alaska
Be sure to buy travel insurance to protect yourself and your vacation expenses! Compare the top companies here to find the right plan for you.
Before Your Alaska Family Vacation: Ideas to Prepare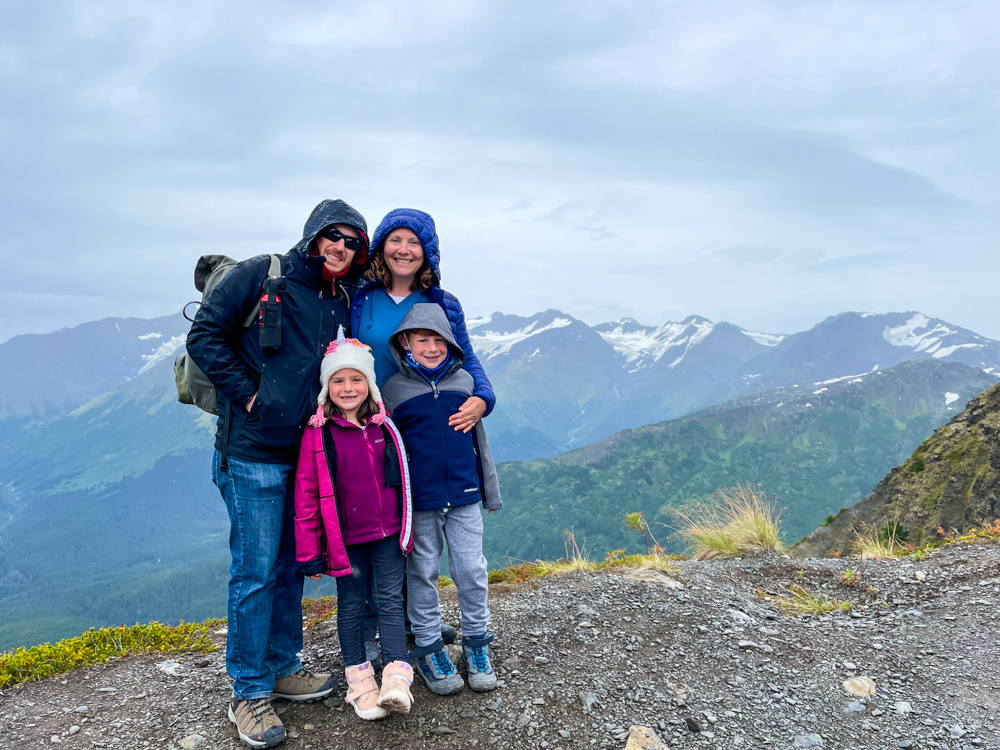 There are so many great ways to get your family excited for a trip to Alaska! Here are some fun kids books about Alaska and all-ages TV shows to get you geared up:
Alaska books for toddlers and preschoolers:
Alaska books for kids and tweens:
Alaska TV shows for kids:
A fictional comedy from Disney that gives little kids a friendly introduction to Alaskan wildlife
Animated movie based on the real-life heroism of Balto and his fellow sled dogs
Molly of Denali
I'm embarrassed to say that we hadn't heard about Molly of Denali until getting ready for our own trip to Alaska, but the kids binge-watched all of it and it gave them great context for Alaska Native culture, ecology and daily life
Wild Kratt's Alaska: Hero's Journey
Our kids have watched this a million times but we watched it as a family while we were in Alaska and found it incredibly informative!
Alaska Animal Rescue
We just started watching this recently but it features two different locations recommended below!
Want to keep the whole family engaged while you're in Alaska? Check out my Awesome Alaska Activities for Kids printable book!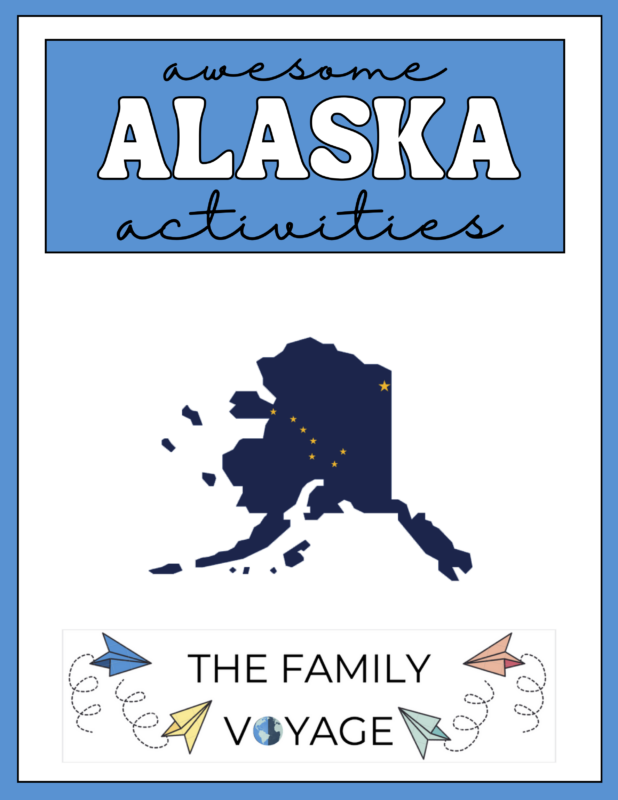 ---
Alaska travel tips for families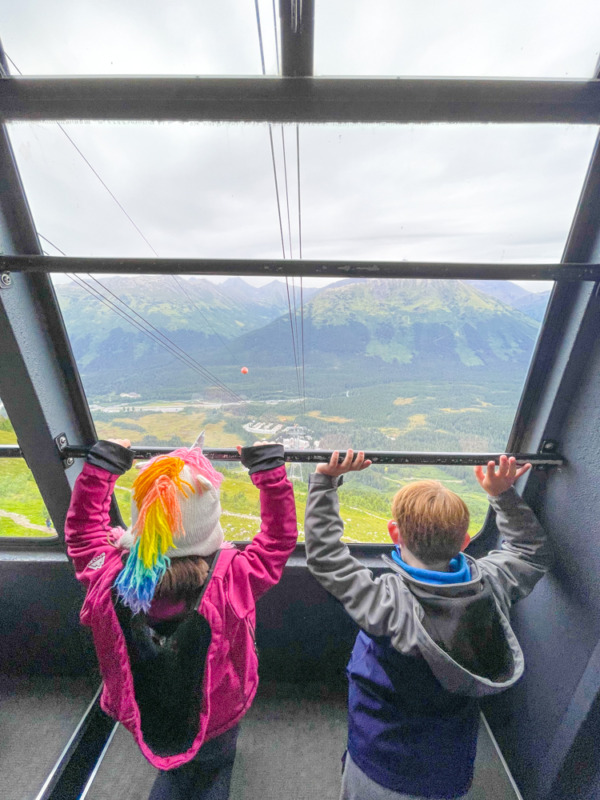 Here are a few Alaska travel tips to keep in mind as you plan your Alaska family vacation:
Get everyone involved in the planning! Alaska is an epic trip, but it's a place that many kids have heard at least a little bit about. Go through this article with them and see what makes their eyes light up.
If you're coming from the continental US, don't be afraid of an early morning your first day in Alaska. From the east coast we picked up four time zones so doing this incredible activity first thing in the morning was very manageable.
While many families are tempted to rent an RV in Alaska, keep in mind that there's really no safe way to take kids in a motorized RV. Sorry to be a spoil sport! A towable RV is ok, with kids riding in the passenger vehicle. Be sure to read up on Alaska car seat laws before you go as well.
To avoid disappointment, you'll want to rent a car well in advance and book some of the most popular activities: dog sledding, bear viewing, fishing, kayaking and Kenai Fjords cruises all fill up during the busy season.
Food stops can be pretty remote and you won't want to stop for a sit-down lunch on busy days. These made me feel like a family travel genius and we used them virtually every day in Alaska.
If you're most interested in exploring southeast Alaska, the easiest way to do that is on one of these cruises.
Read more: Must read tips for renting a car in Alaska
---
What to pack for Alaska with kids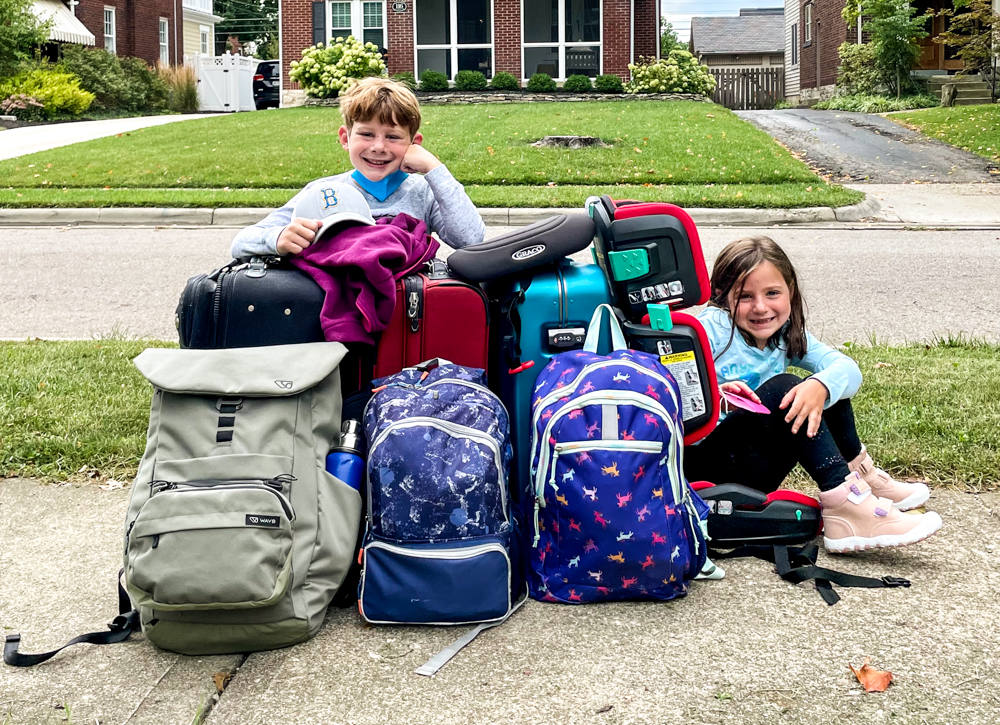 For detailed packing guidance, head on over to our in-depth Alaska packing list. The good news is that you can actually pack for Alaska with carry-on only luggage, as you can see above (for our family of four).
Below is a quick list of some of our favorite things to bring to Alaska with kids – you'll notice a theme within the clothing, which is that dry kids = happy kids. Plan accordingly!
Be sure to bring travel car seats with you to get around safely – driving in Alaska is very safe, but crashes can happen anywhere.
Read more: What to pack for Alaska
---
Best Things to do in Alaska With Kids
There are so many things to do with kids in Alaska that you'll never accomplish them all in one trip! Here's a sampling of fun Alaska vacation activities to do with kids.
Run with Iditarod sled dogs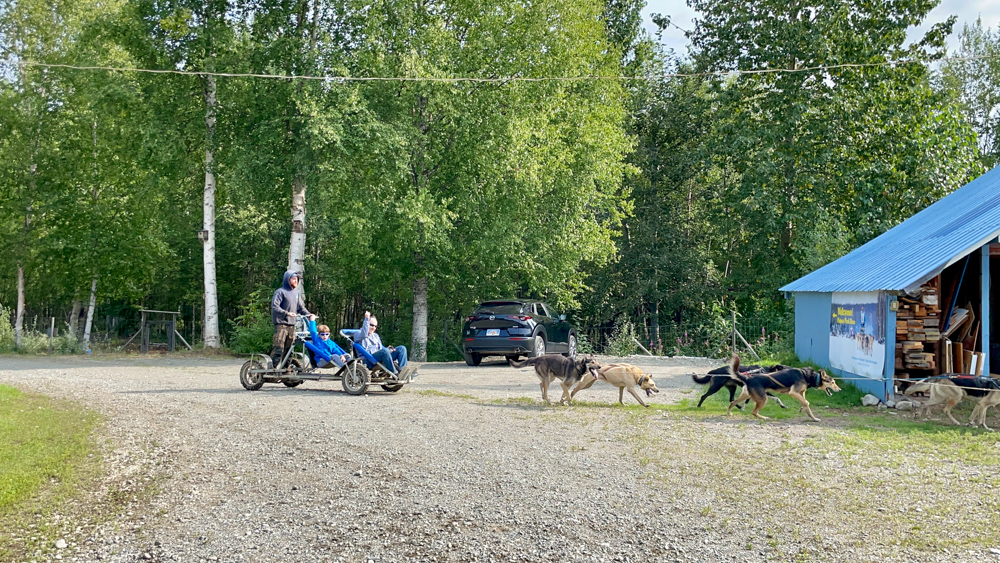 #1 on my kids' Alaska bucket list was meeting, playing with and running with huskies. Mission accomplished! Dog sledding in Alaska was an amazing experience and it's great for all ages.
We opted to spend a morning with AK Husky Adventures, which started offering tours last year and gives you a much more intimate visit than some of the other kennels in the area. We had a private meet-and-greet with the pups, took an exhilarating ride out on the trails on specially-designed carts and got a behind-the-scenes look at real Iditarod equipment. Our time wrapped up with plenty of snuggles with the newest littler of future Iditarod racers!
I can't recommend this Alaska dog sledding with kids tour enough.
Where to stay: This is an easy day trip from Anchorage, where you can stay in a hotel or apartment
Visit Alaska National Parks with kids
Alaska contains eight National Parks and countless other National Historic Parks, National Wildlife Refuges and other protected lands that collectively represent over half of America's national parks land! Family trips to Alaska need to include at least one of these incredible places.
Cruise Kenai Fjords National Park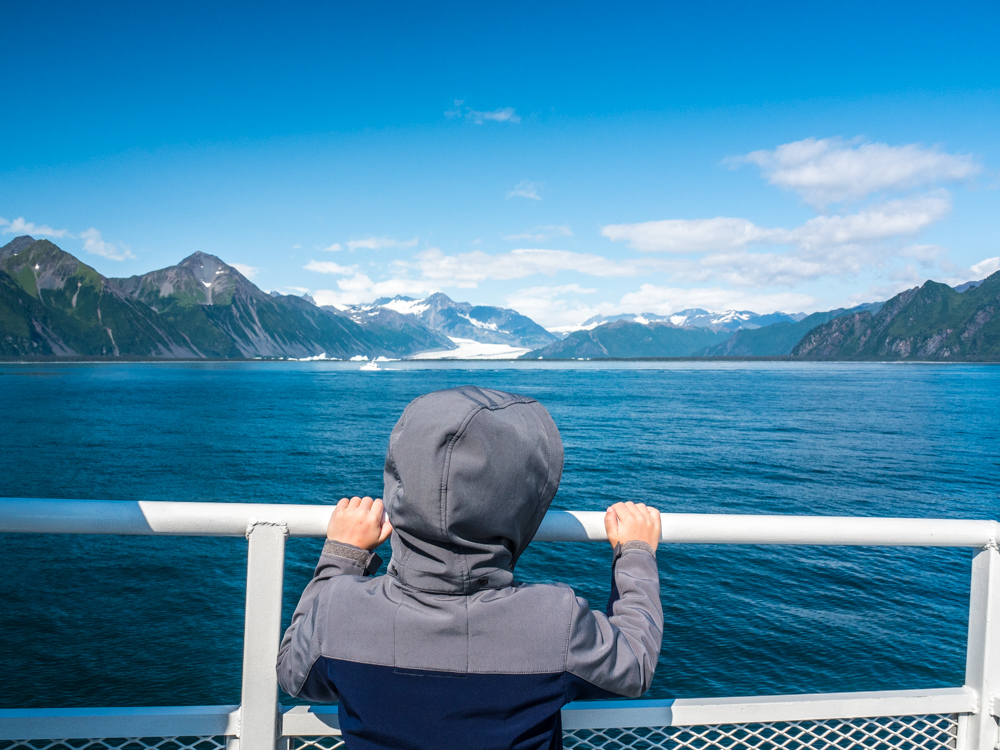 Looking to do an Alaska cruise with kids? One of our favorite things to do in Alaska with kids was cruise through Kenai Fjords National Park. Most of the park is covered in ice and plenty more is water, so a cruise is really your best option to explore! Kenai Fjords is the easiest Alaska National Park to access on a land-based trip, so there's no excuse for skipping it.
You can read all about our Kenai Fjords cruise experience here. The two biggest highlights are getting up close with an active glacier and spotting allllll the wildlife – this is one of the best places in Alaska for wildlife viewing. During our cruise we saw puffins, sea lions, seals, mountain goat, a bear, whales and more. It is a fantastic Alaskan cruise to do with kids!
Where to stay: Enjoy being in the heart of Seward at a hotel, B&B or house
Take a bear viewing tour in Lake Clark National Park or Katmai National Park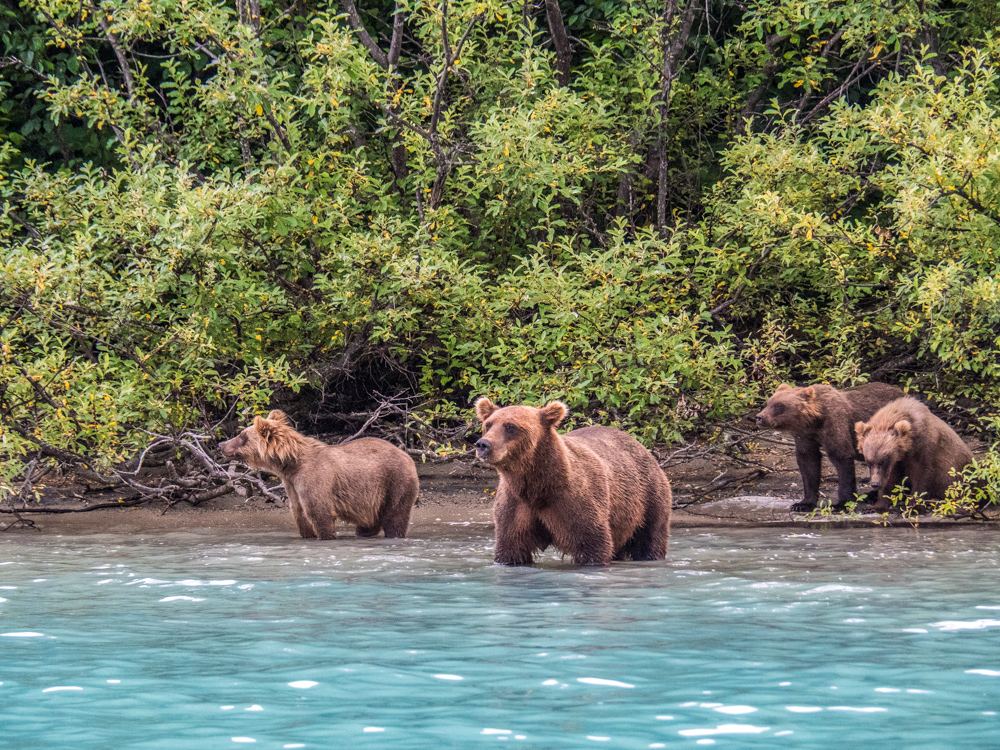 Several of Alaska's National Parks are only accessible by plane or boat, and of those the two most accessible are Lake Clark National Park and Katmai National Park. But there's a good reason to spend the money and take the time to visit one of them: bears!
You may see bears in many places through Alaska, but going to one of these two Parks is a virtual guarantee. I took the photo above during our combined bear viewing-fishing trip to Lake Clark and it was truly a "bucket list"-worthy day. We spent hours motoring and floating around Crescent Lake (yes, the water was really this blue) watching bears just do their bear thing from a safe, respectful distance. I used my trusty sidekick to get up close and personal the right way, while the rest of the family used these.
The most famous spot for bear viewing in Alaska is Brooks Falls in Katmai National Park. You've seen it in photos, because it's the famous spot where bears stand in a waterfall catching salmon as they try to jump upstream to freedom. It's so popular that day trip visits are timed and generally restricted to standing on the viewing platform with others. An overnight stay at Brooks Lodge gives you a more intimate experience but doesn't come cheap for a family.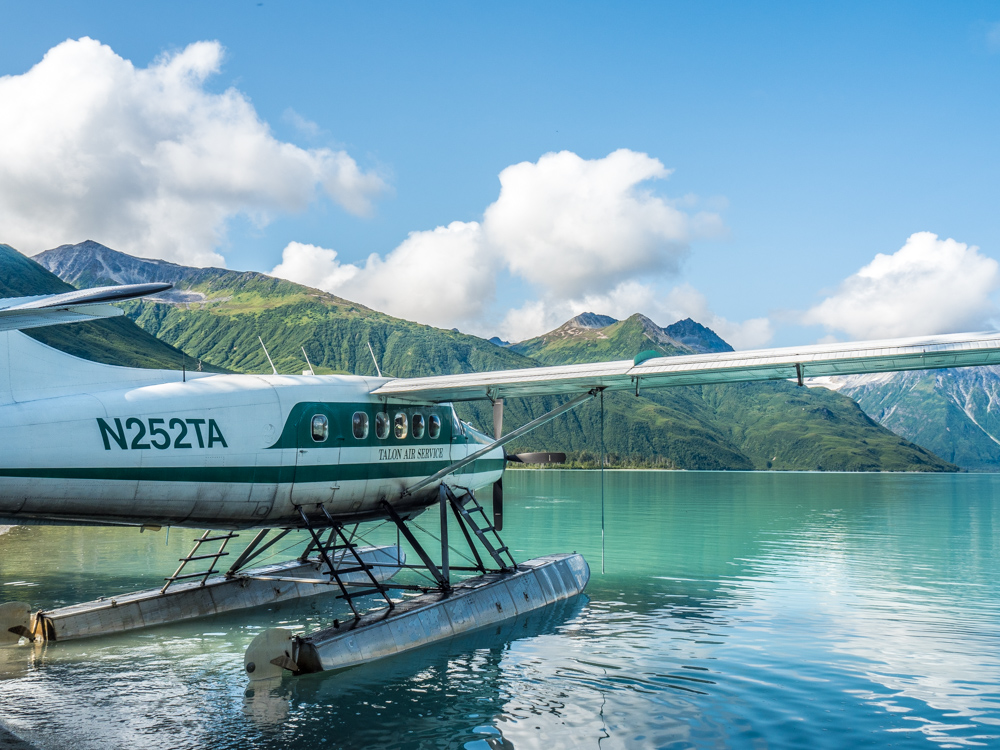 Most trips to these two National Parks travel by air, which we thoroughly enjoyed for the stunning views. We were very happy with the safety of our Talon Air pilot and the Lake Clark guide we had, Morgan. If you or your kids don't feel comfortable with travel by float plane (which I admit was a little nerve-wracking and simultaneously super cool) look into Catch A Lot Charters, as they'll take you to Lake Clark's Chinitna Bay by boat.
Where to stay: These trips generally leave from the southern end of the Kenai Peninsula – Homer, Anchor Point or Soldotna. Consider this cabin in Soldotna or a Homer hotel or apartment.
Read more: The ultimate 10 day Alaska itinerary bundle
Things to do with Kids in Alaska: Witness the tallest peak in Denali National Park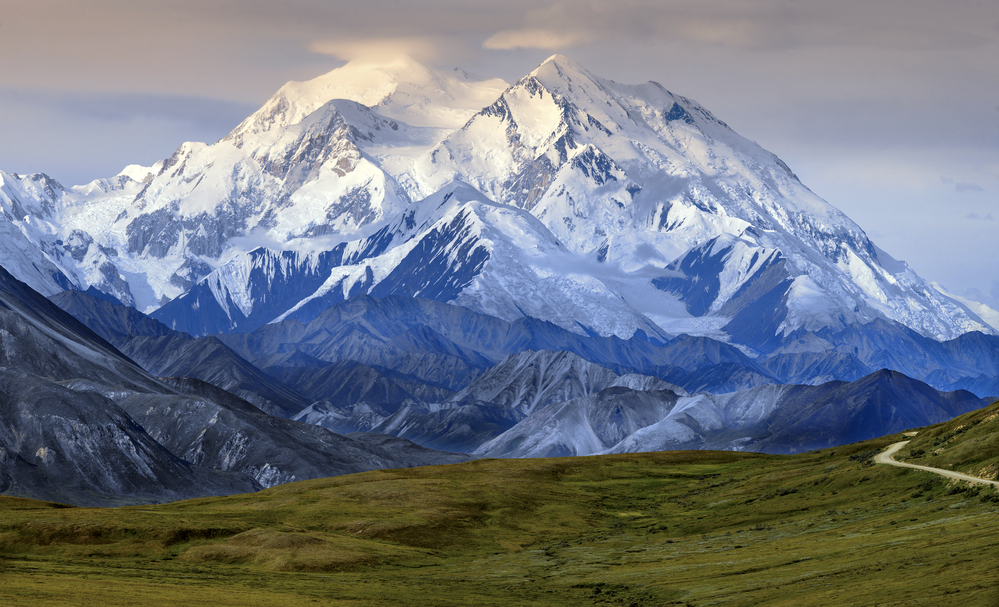 Denali is many things… stunning, imposing, and elusive. It is also, like most Alaska National Parks, far. If you're planning for a two week Alaska itinerary, I recommend that you follow our 10 day Alaska itinerary and then tack on a few days at the beginning or end to head up to Denali from Anchorage.
In addition to the incredible mountain scenery, Denali National Park & Preserve offers incredible wildlife viewing and plenty of on- and off-trail hiking. Denali only shows its peak about 1/3 of the time, so if you want to be sure you see it consider booking a Denali flightseeing tour.
It'll take 5 hours to get to Denali from Anchorage. Once you're at the park, you can take the public road near the entrance but you'll need to choose one of these bus tours to experience most of the park. Keep in mind that Alaska car seat laws still apply on the buses, so if you have small children you'll need to plan how you're going to bring their car seats around with you.
If you want to experience Denali during your Alaska trip with kids but you're short on time, consider this rad Denali flightseeing tour from Talkeetna. You can drive up from Anchorage in the morning, fly around Denali and even land on a glacier, and then be back in Anchorage in time for dinner.
Where to stay: A charming hotel with Denali shuttle service, fully stocked cabin, or homey b&b (this one is a little further from the park)
Explore Native culture in Sitka National Historical Park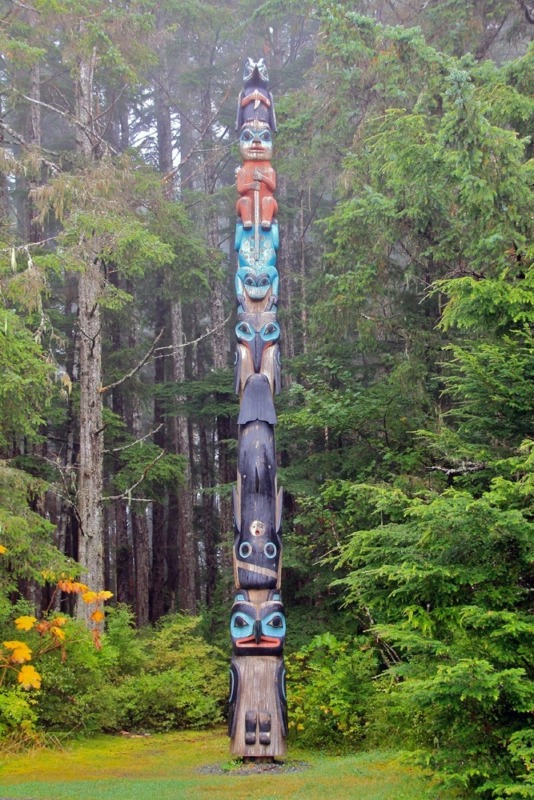 If you're visiting southeastern Alaska, particularly on an Alaska family cruise, you'll want to spend some time exploring the incredible totem pole collection at Sitka National Historical Park. Each totem has a unique story, serving different cultural purposes for the Indigenous communities that created them. Be sure to stop at the Visitors Center for context before you walk through the easy, lush trails.
Where to stay: Most families will visit Sitka at the end of an Alaska cruise with kids, so this centrally-located suite hotel with laundry facilities will be a welcome change.
See the epic glaciers of Glacier Bay and Wrangell-St. Elias
If you've got glaciers on your mind, the best way to see them is on a southeast Alaska family cruise, definitely one of the best Alaska cruises with kids.
The famous Hubbard Glacier is located within Wrangell-St. Elias National Park, east of Seward and north of Sitka. You'll be able to cruise by on itineraries that begin or end in Seward, so keep that in mind as you plan.
Glacier Bay offers cruise ships a limited number of permits, so if that's a high priority for you be sure to check itineraries closely before you book – you'll want to stick to Princess, Holland America and Norwegian among the large cruise lines.
Even if you choose an itinerary that doesn't include either of these National Parks, any ship that goes through the Inside Passage will still offer incredible views, nearly all of which is part of other federally-protected land units.
Alaska Travel with Kids: Take a hike!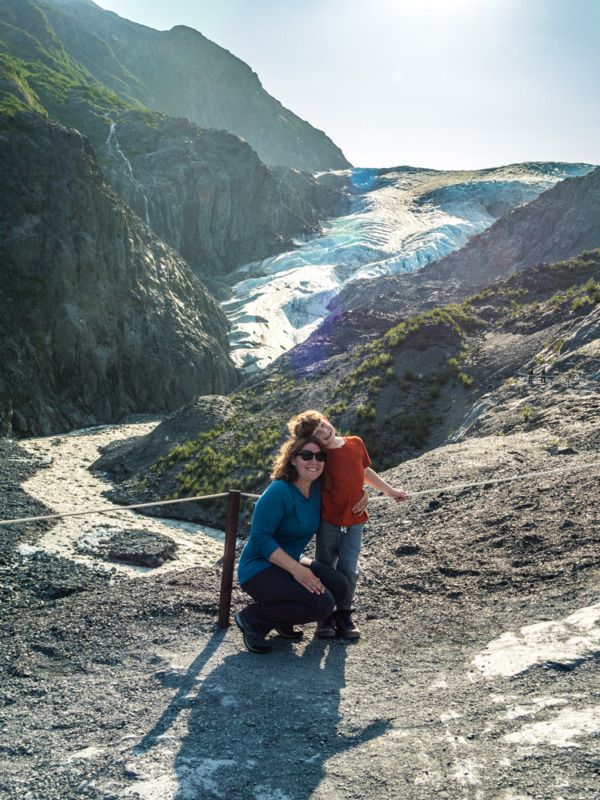 There are enough kid-friendly hikes in Alaska to keep you busy for your whole trip if that's how you want to spend all your time, and I wouldn't blame you one bit. Here are a few of the best easy hikes in Alaska:
BYRON GLACIER – Portage Valley – 1.5 miles each way
Probably the easiest hike Alaska and with a massive payout in the end: walking right up to Byron glacier itself
RUSSIAN RIVER FALLS – Cooper Landing – 2 miles each way
Easy enough that one family had a jogging stroller! Watch for salmon swimming up stream in summer… and you may even spot bears waiting for a snack.
WINNER CREEK TRAIL – Girdwood – about 3 miles each way from Alyeska Resort to the creek
Easy but gets muddy since it's in a rainforest! The famous hand tram is gone so no need to go all the way to the end in my opinion, but be sure to bring a reusable container to pick wild blueberries.
EXIT GLACIER OVERLOOK TRAIL – Seward – 2.5 mile loop
A moderate trail if you go all the way to the overlook. Plenty of cool spots to stop along the way and see the glacier's recession over time. For an easier walk, stop at "Exit Glacier View" and loop back.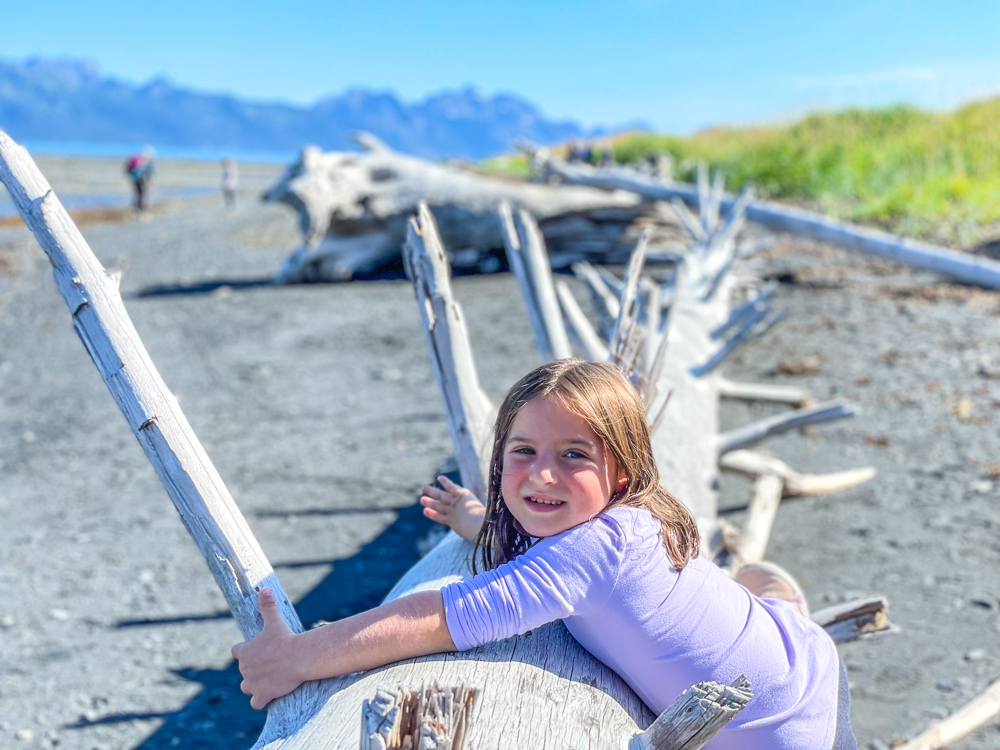 TONSINA CREEK – Seward – 2.2 miles each way
This trail goes out and back but drops 300+ft down to the stunning creek and beach along Resurrection Bay… meaning you have to go back up the steep switchbacks at the end on the return leg! Our daughter only made it back up because we met an awesome family who let her walk the dog.
There are obviously many great Alaska hikes with kids, but these are our favorites to get you started.
Learn about local animals in Alaska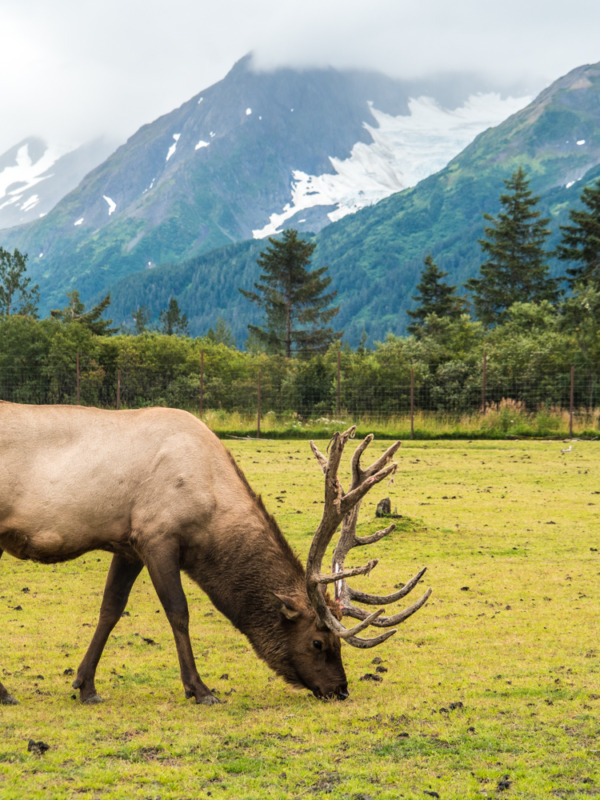 The Last Frontier is brimming with incredible wildlife to "meet" and learn about during your Alaska family vacation. There are plenty of places to see animals in their habitats, and we certainly did, but to ensure that you see native species and learn about them, there are two great places you should visit – they're both so great that they were featured on a NatGeo show!
Alaska Wildlife Conservation Center
Located between Girdwood and Portage Valley, the Alaska Wildlife Conservation Center gives you an up-close experience with nearly every type of creature that lives in Alaska. Be sure to spend some time speaking with the conservationists working on-site – they'll tall you about the Center's amazing rescue, rehabilitation and integration efforts.
Animals include both black and grizzly bears, elk, caribou, reindeer, lynx, foxes, coyotes, porcupines, wolves, muskox and even wood bison, which are North America's largest land mammals and were previously thought to be extinct.
We found it best to park in the main lot and then walk the loop connecting all of the animal habitats, but keep in mind that the path can be rather muddy. You'll find bathrooms next to the parking lot and about half-way around the loop. There's also food available near the gift shop at the entrance.
Where to stay: If budget allows, stay at the famous Alyeska Resort (behind which you'll find the Alyeska tramway at Winner Creek trail). For more space, book this wonderful apartment where we stayed (perfectly located for excellent dining options).
Alaska SeaLife Center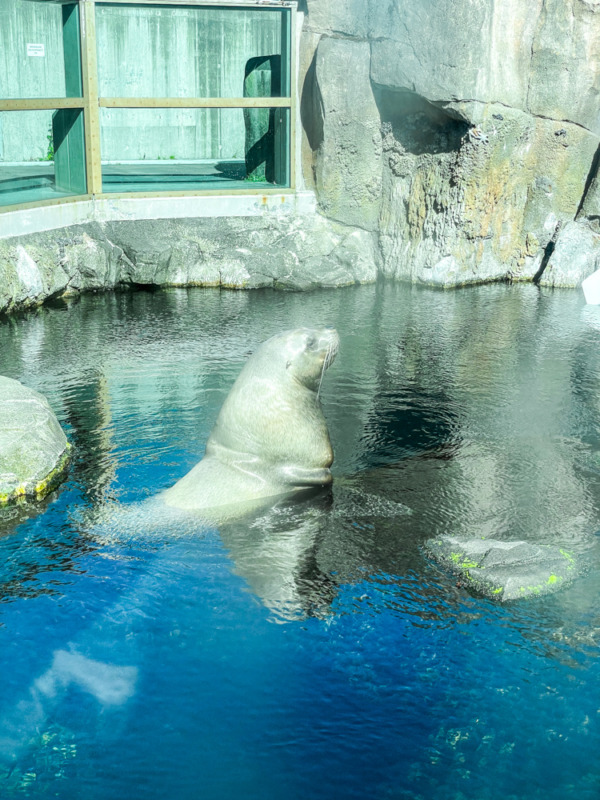 Located in the heart of Seward on the waterfront, the Alaska Sea Life Center is a great place to learn about marine mammals, sea birds and fish of the region as well as the ecological challenges they face.
We were very impressed with how many staff members were stationed throughout the Center and the depth of knowledge they shared with us. We even had the opportunity to watch the work of the researchers in the lab down below. If you have time, I recommend visiting the SeaLife Center before your Kenai Fjords cruise so that the whole family will have a greater appreciation for the wildlife you see!
Pro tip: If you're a member of your local AZA-accredited zoo or aquarium, be sure to bring your membership card to save 50% on admission.
Where to stay: Enjoy being in the heart of Seward at a hotel, B&B or house
As a bonus, I'll share one more that we weren't able to experience on our own trip due to "worldwide events": the Center for Alaskan Coastal Studies in Homer. From their yurt (yes, yurt) on the famous Homer Spit, they offer daily summer tours to introduce families to the diverse invertebrate creatures that live around and under the Homer docks. You'll spend an hour with a naturalist, and with just 8 people per group it's sure to engage kids of all ages!
Visiting Alaska with Kids: Go fishing!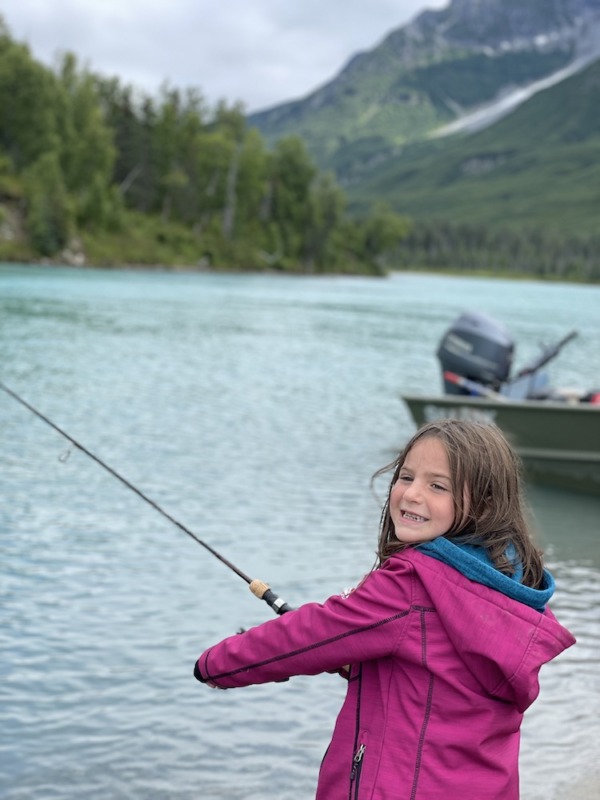 What's a trip to Alaska without fishing? The state provides 60% of America's commercial fishing, and you too can test the waters. There are plenty of places to go fishing in Alaska, but many of the best are in the Kenai Peninsula. The type of fishing experience you have will depend on what time of year you're visiting and what species you're hoping to catch.
If you're interested in halibut, you'll mostly likely want to book a half-day or full-day deep sea fishing charter from Homer. For salmon, many people go fishing in the Kenai River in Cooper Landing. We opted to combine fishing with our bear viewing excursion in Lake Clark National Park, which was a great experience!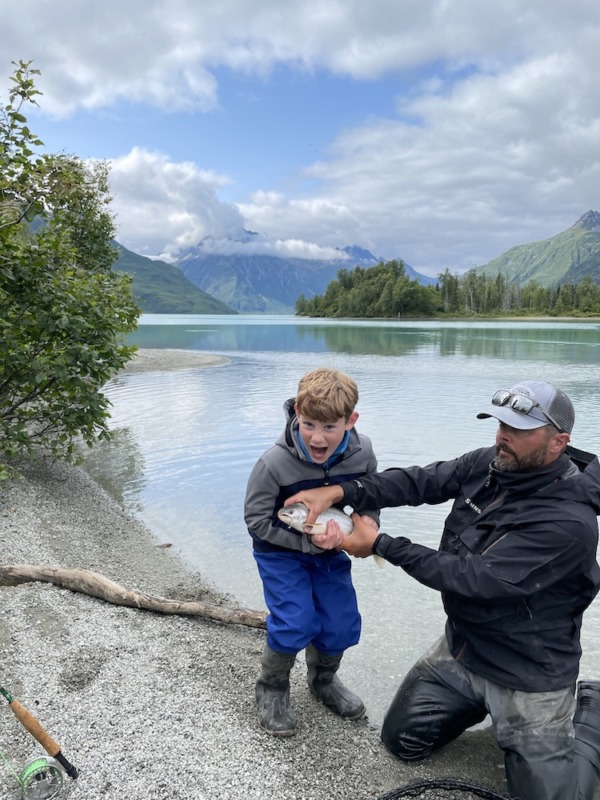 Before your family trip to Alaska, you'll want to check out two important resources from the Alaska Department of Fish and Game: Sport Fish Run Timing (aka fishing schedule) and fishing licenses. You can buy your license the day you intend to go fishing if you'll have internet service where you go. Non-Alaskan kids under 16 don't need a license, while non-resident adults will need a basic sport fishing license ($15 for one day or $30 for three days).
One important thing to note if you plan to go fishing in Alaska with kids is that not all tour operators have boots or waders in very small sizes. Be sure to contact your fishing guide in advance, and prepare to bring at least the kids' rain boots if need be. I can't tell you how many stores on the Kenai Peninsula I called trying to find waders in kids' sizes so that we could do some river fishing, but there were none available. We found that the combination of rain boots, these amazing rain pants and waterproof socks basically did the trick for fishing from shore but that wouldn't have sufficed for anything deeper.
Try an adrenaline-pumping adventure
If you're visiting Alaska with teens, there's plenty of opportunity to get outside of your comfort zone and try something new! Check out these fun Alaska experiences for tweens and teens:
Glacier Walking on Matanuska Glacier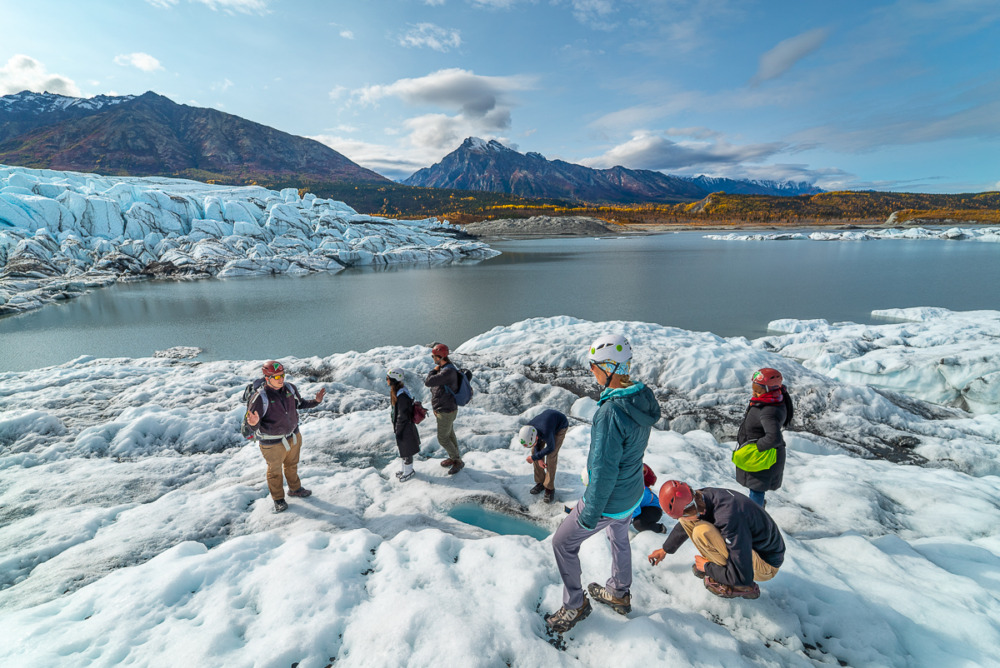 Thanks to Mel from TravelingMel.com
One of the highlights of a trip to Alaska can easily be done as a day trip from Anchorage. Glacier walking is a family-friendly activity and Matanuska Glacier is the largest road-accessible glacier in the state.
Currently the only way to get on to the glacier is with a guide or special permission, so we booked with Salmon Berry Travel and Tours. Our guides picked us up at our Anchorage hotel and shuttled us a couple of hours to the gorgeous Mat-Su Valley.In September the Mat-Su Valley is alight with autumn colors – orange, yellow, umber, ochre, and persimmon, and it contrasts with white, snow-capped mountains and deep green conifers.
Walking on a glacier is technically easy. Trained guides gave us a safety talk and micro spikes to wear under our boots and improve our grip on the ice. The hardest part was paying attention to where we were going as the otherworldly glacier and surrounding landscape kept grabbing our attention.
We wandered through frozen "waves," around turquoise ice ponds, over small fissures, and past fracturing ice walls. All the while, we kept commenting on how beautiful and strange it was.
Our tour was capped off with lunch at a nearby lodge overlooking Matanuska Glacier, the autumn forest, and snowy mountains.
Where to stay: This is an easy day trip from Anchorage, where you can stay in a hotel or apartment
Try kayaking in Alaska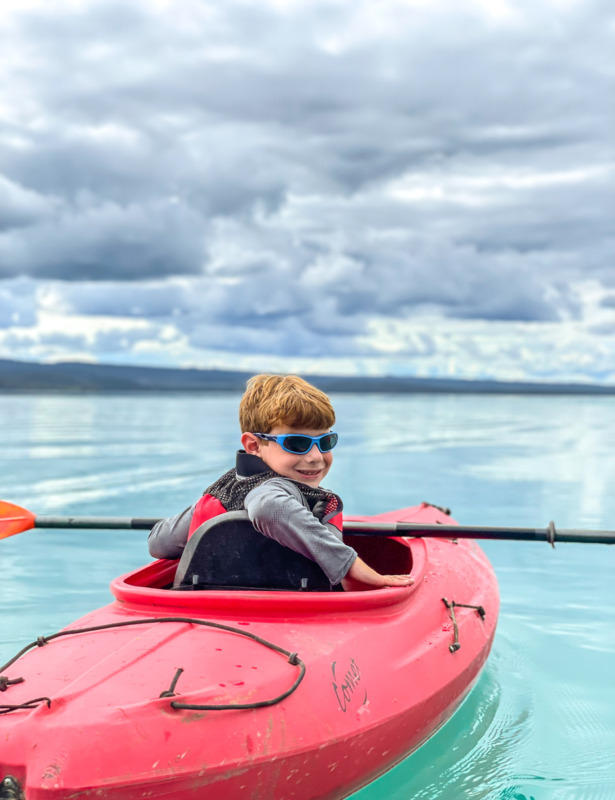 If you've never tried kayaking with your teens or tweens, Alaska is a great time to start! You and they will see the world from a whole new perspective, and you can choose a kayaking trip that's as easy or challenging as you want.
Skilak Lake near Cooper Landing – This is an extraordinarily beautiful place and the placid waters make it an ideal experience for novice kayakers. Fortunately it's not a place where other guides operate, so if you choose to spend an afternoon with Dave you'll basically have the whole place to yourself. Just tell him I sent you!
St. Augustine's in Homer – St. Augustine's is a family-friendly company that offers a variety of half- and full-day tours. This is a great opportunity to experience Kachemak Bay's wildlife and scenery.
Sunny Cove Sea Kayaking in Seward – Sunny Cove is a great option if everyone in your family is 8+. They offer a 4 hour paddle in majestic Resurrection Bay that's a nice option for tweens and teens new to kayaking, while those with more experience and stamina can opt for a 7 hour tour that includes more paddling and some guided hiking near lovely Tonsina Creek. For a real challenge when you're looking for things to do in Alaska with teens, check out this 10 hour paddle + hike experience that truly shows off the best of the coast.
Mush your own sled dogs over a glacier
For an unforgettable Alaska adventure, you can take a 90 minute helicopter flight from Talkeetna to Troublesome Glacier. You'll be greeted by your very own team of Alaskan huskies that you get to mush across the glacier!
While young kids are welcome on these tours, only those 15+ and in good shape can drive the sleds (others get to be passengers, which is still exciting). Mushing is very physically demanding, requiring balance, strength and stamina. If you're up to the challenge, it'll be an unforgettable experience! Get more details here.
---
Planning your unforgettable Alaska family trip
Ready to dive deep into your Alaska travel planning? Don't miss these helpful articles:
Still planning? Pin it now!