Gotta catch 'em all!
Whether your visiting Japan with kids or you're a kid at heart (or a very mature adult who happens to be a fan of Pokémon), it's hard to resist the pull of experiencing Pokémon in Japan! These cute little pocket monsters come in all colors, shapes and sizes with plenty of personalities to suit every human.
Since we were visiting Japan with two young Pokémon lovers, we made sure to include plenty of cool Pokémon stuff in our itinerary. Thankfully it wasn't hard, as there are plenty of Pokémon things to do in Japan no matter where your travels take you. Here are some ideas to inspire you:
Stay at a Pokémon Hotel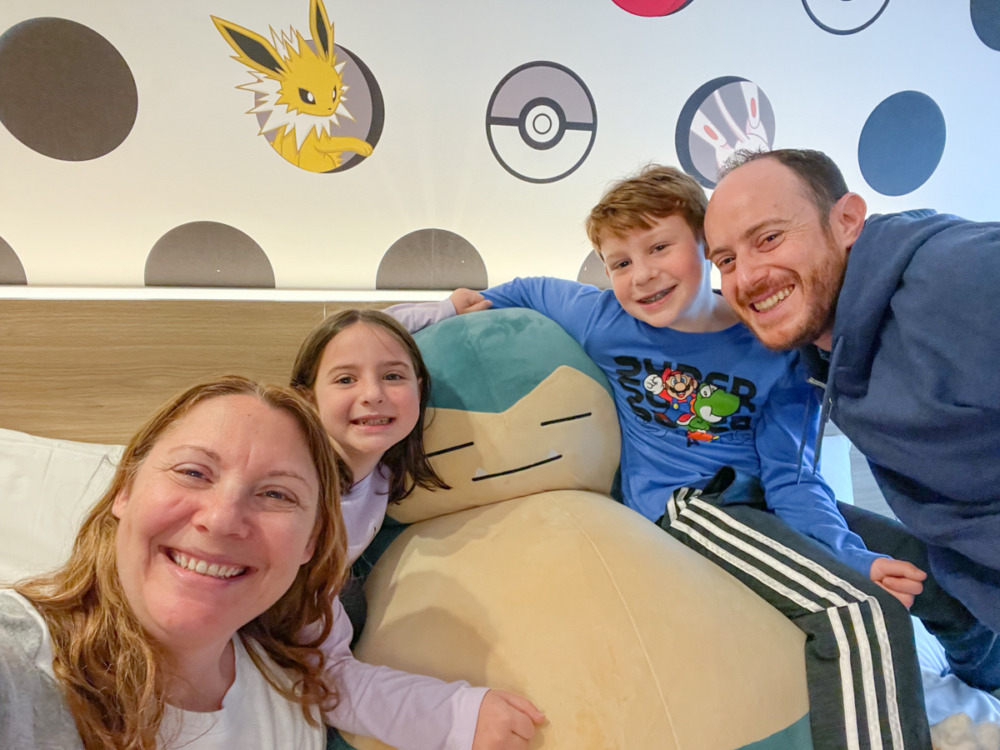 One of the highlights for our kids was staying at "the Pokémon hotel". In reality, these are specially decorated Pokémon themed hotel rooms within the family-friendly Mimaru chain rather than dedicated themed hotels. Mimaru "aparthotels" are located throughout Japan and provide a great experience even apart from the decoration, but not all of their hotels have Pokémon rooms and they can be hard to get since they're so popular. As with everything in Japan, book early book early book early. I can't stress that enough.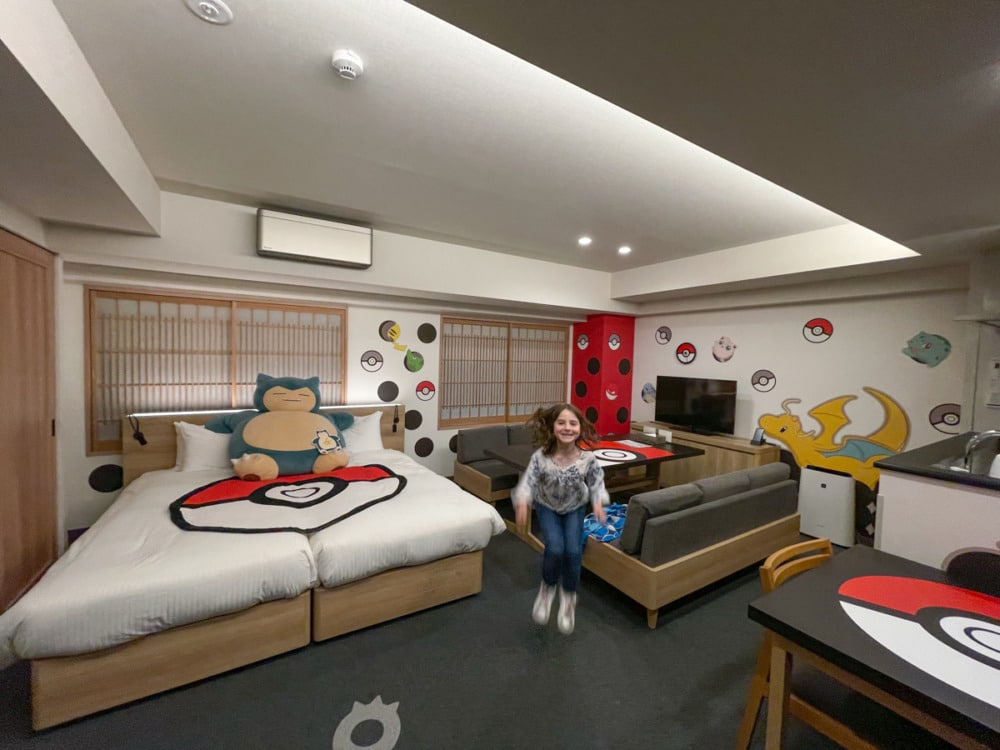 What can you expect when you stay at a Pokémon hotel? Your favorite little pocket monsters are everywhere! The walls are adorned with poke balls and lots of favorite characters. In addition, the dishes and dining table are designed to look like poke balls. You'll find cute details like Pikachu looking at you from the mirror and Snorlax footprints leading you to the enormous stuffed Snorlax that lives in the room! He may have been the highlight of the whole country for our kids. There's even a little surprise souvenir to take home.
Pokémon rooms come configured for 4 people and rooms for 6 people; we had the larger one and it was so nice to stretch out a bit. Our room had four twin pushed together into two king beds plus a set of bunk beds. The bunks and one of the king set ups were in a separate area of our mini apartment and had the option to close that part off into a separate bedroom for the kids. In theory the room is supposed to accommodate two children in addition to what I mentioned above, but I believe they would be sleeping on the dining room benches.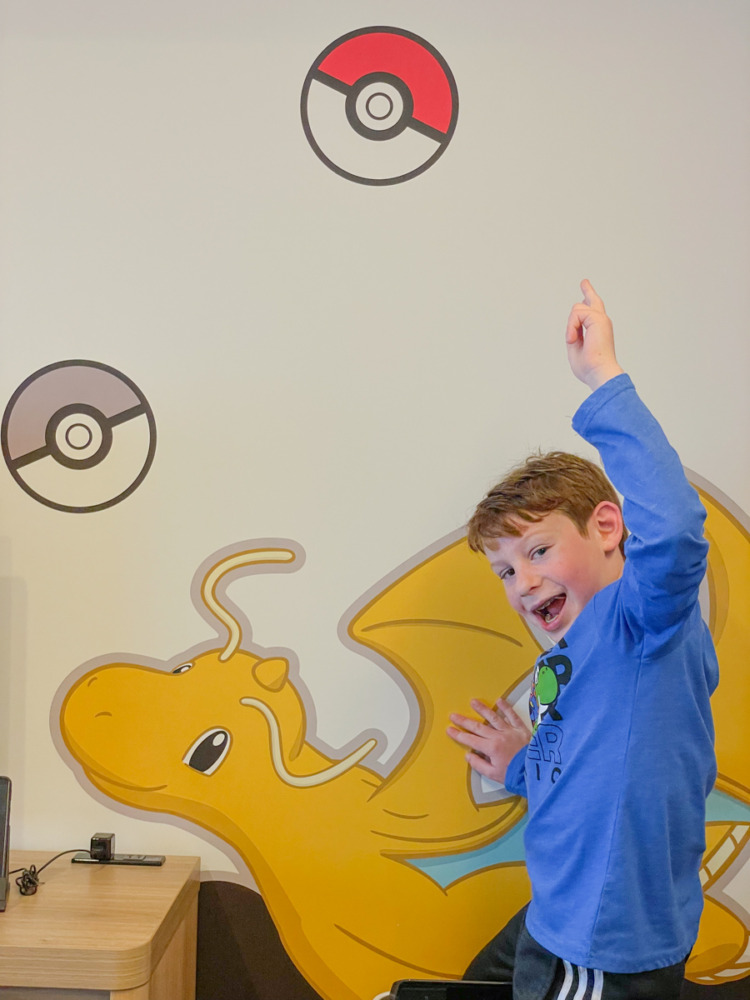 Beyond the Pokémon hotel aspect, the Mimaru hotels are really great places to stay in Japan with kids. They have everything you'd need from laundry facilities to board games you can borrow to kid-sized slippers and more. The staff was so incredibly helpful and kind both in dealing with our reservation and in meeting our on-site needs.
These Mimaru hotels offer Pokémon hotel rooms in Japan:
You'll definitely want to flip through the specific room photos for each of the locations you're considering to make sure you like the confirguration for your family.
---
Where to buy Pokémon cards in Japan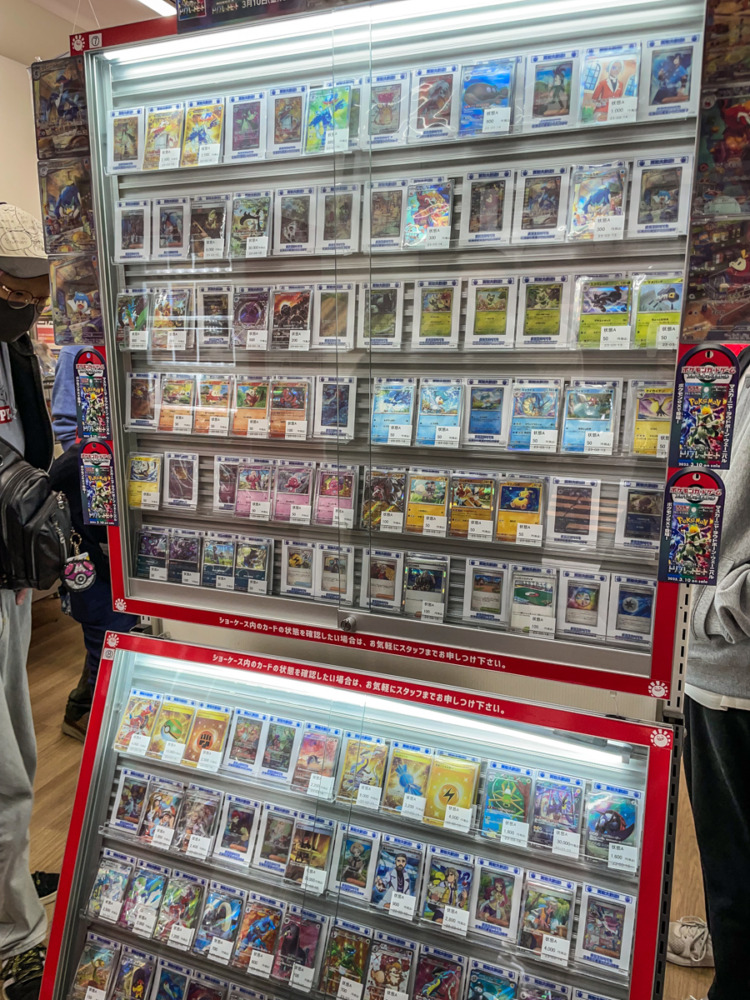 Our kids were deeply committed to buying some unique Pokémon cards in Japan. It was harder than we thought!
We were honestly floored at how many places we couldn't get them. We assumed there would be Pokémon cards for sale all over the country in convenience stores, game shops and everywhere else. Unfortunately they were tough to find. The Pokémon centers are generally sold out.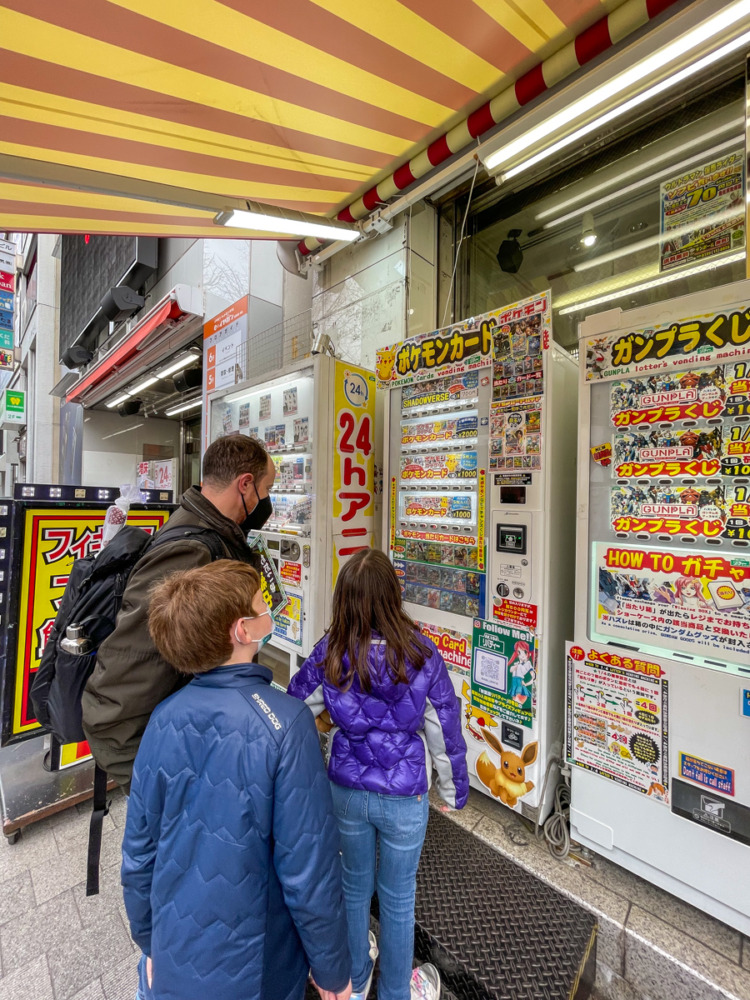 The vending machines you'll see in some places are extremely hard to decipher and you can't be sure if they're legitimate or counterfeit (though if you're looking a kid souvenir rather than a collectors item it may not matter). One store even had a glass display case out front showing amazing cards… that weren't for sale.
So what's a mom to do? Fortunately I found the best place to buy Pokemon cards in Tokyo – hands down. Rather than wander aimlessly around Akihabara, head straight for Hareruya 2. It's just a block from the Akihabara station on a small side street, so you'll want to use your favorite app to navigate there. When we visited on a weekday at 3pm it wasn't too crowded, but it's so popular that weekends and evenings can see lines out the door. Some of the online reviews of the shop aren't great, but those are mostly related to the process of selling rather than buying.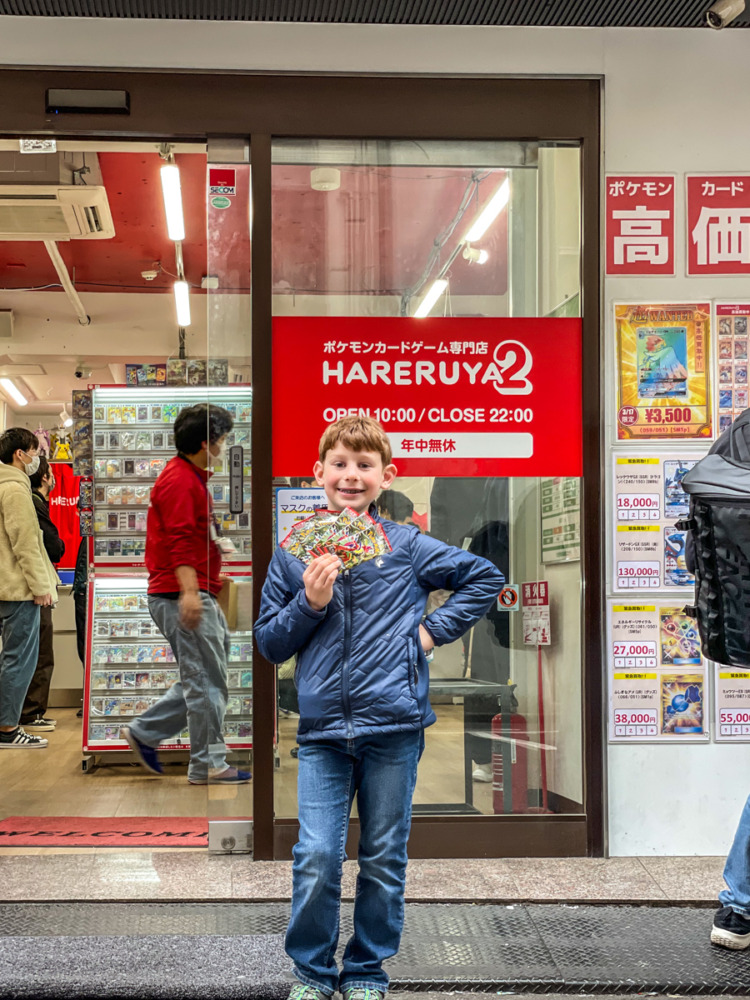 We gave each kid a budget (in yen) and let them go wild! Our kids mostly chose individual cards and a few packs, either for their rarity/value or for their cuteness, but they also sell boxed Pokémon game sets, storage accessories and mystery "lucky bags". The upper floors of the shop have tons of non-Pokémon cards if you want to expand your family's collecting horizons.
Shop at a Pokémon Center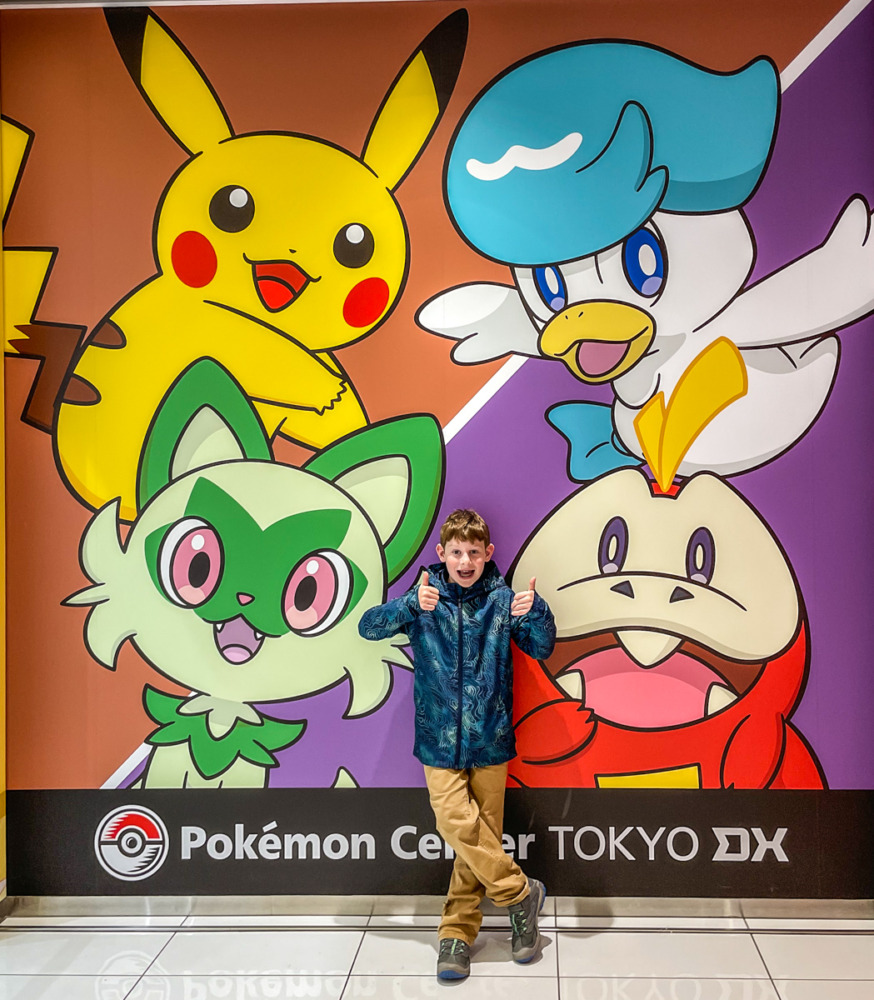 Japan boasts several huge Pokémon Centers, which are essentially stores dedicated to everyone's favorite pocket monsters. There aren't a ton of interactive activities, but there are awesome murals at the entrances and massive character statues for photo ops with Pokémon in Japan. Be sure to allow plenty of time to explore the awesome art!
The Pokémon merchandise the centers carry runs the gamut from stuffed characters of all sizes and price points to school supplies, clothes, kitchenware and more. They really do sell all things Pokémon. The expression "like kids in a candy store" definitely applies here! You'll have to choose in advance how wild you want to let your kids (or yourself) run, as they're sure to find tons of alluring items.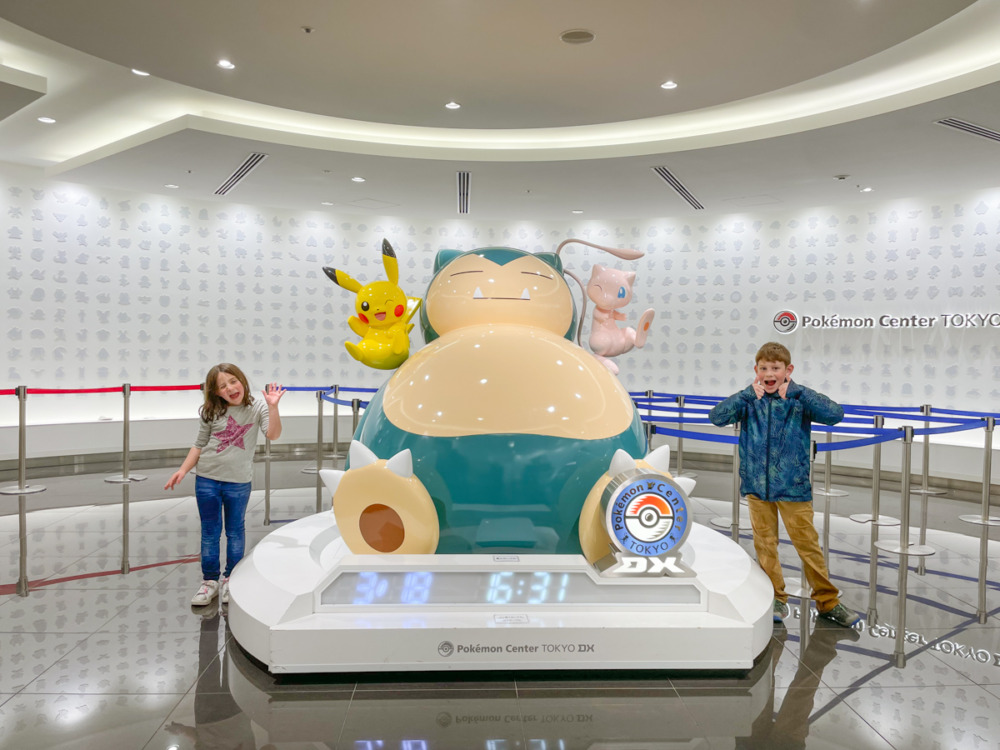 There are 22 Pokémon Center locations around Japan as of this writing. Each one has a signature character statue or two at the entrance and some exclusive items to match! On the location page you'll see a photo of the entrance, so you can choose the location based on the character if that's important to your family. There's even a small Pokémon Center in Narita Airport where you can buy exclusive pilot Pikachu items.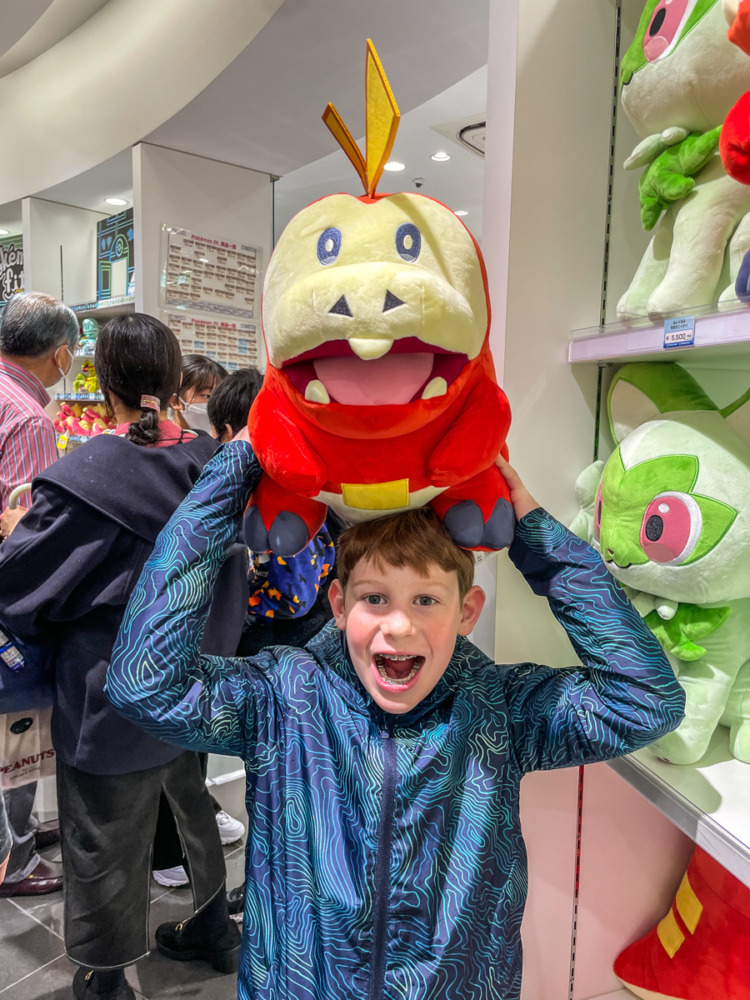 We chose to visit the Tokyo Pokémon Center DX in Nihonbashi, which is attached to the Pokémon Cafe – more on that below. Not only was that the most convenient location for our other plans but we also crossed our fingers for a walk-in spot at the Cafe (no luck). Still, Pokémon Center DX is a great choice and widely regarded as the best Pokémon Center in Tokyo as it is among the largest.
Read more: Best things to do in Tokyo with kids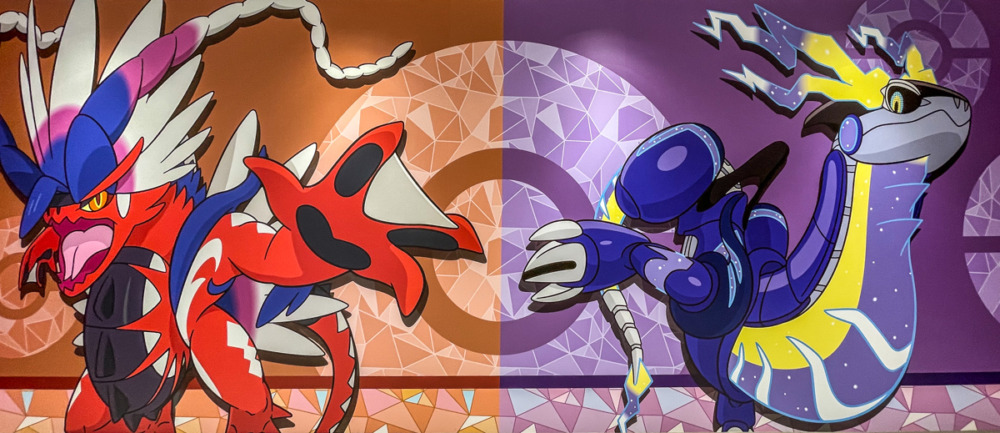 The most convenient Japan Pokémon store in Tokyo is Pokemon Store Tokyo Station – yes, it's in Tokyo Station. That means you can easily pop in for a unique train conductor Pikachu plushie while you're en route to your next destination. We didn't have time to do both, but this is just a 15 minute walk from Pokémon Center DX so in theory you can check them both out on the same day.
Eat at the Pokémon Cafe or Pikachu Sweets Cafe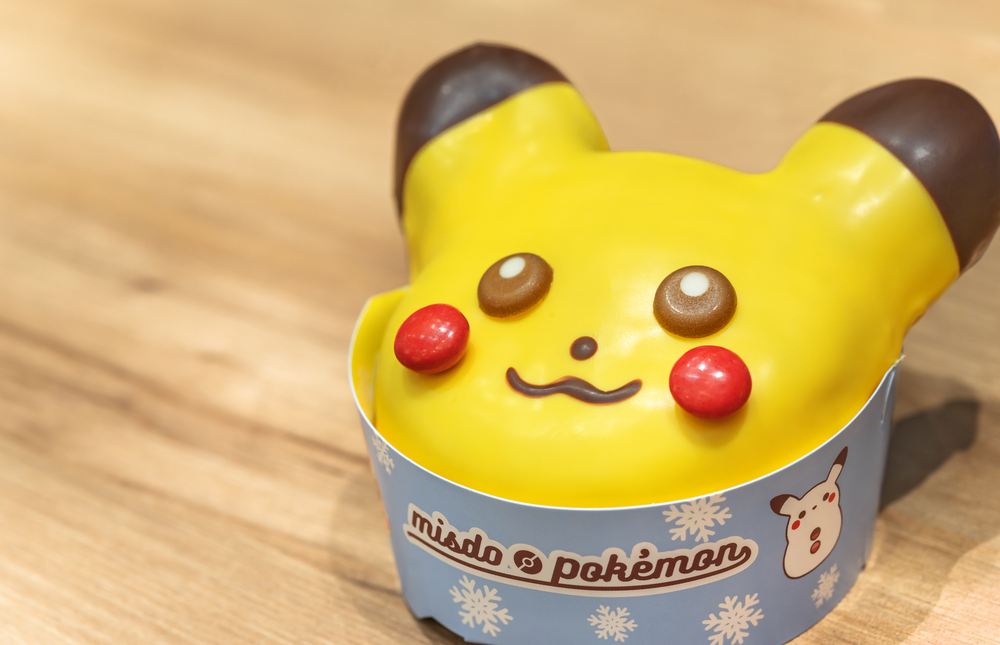 How about a Pokemon-themed meal or snack? There are a few places you can experience adorable Pokemon themed food in Tokyo and beyond!
The best known option is the Pokémon Cafe, which has outposts in both Tokyo and Osaka. You'll find tons of adorable food options like Snorlax's Tummy Filling Nap Lunch Plate or a Poké Ball filled with mystery dessert. There's also plenty of cafe-only Chef Pikachu items that you can buy on-site, plus some that must be reserved in advance when you book your table. Not gonna lie: this stuff is adorable! Chef Pikachu also comes out regularly to do a little dance and greet patrons.
Unfortunately we found it impossible to get a reservation at the Tokyo location in Nihonbashi. Slots open 31 days in advance at 6pm JST and fill up basically immediately. If you want it, set your clock! Just for fun I checked the calendar while writing this article and actually saw one spot available for a party of four; upon checking again a few minutes later, it's already gone. Every now and then they do have walk-in spots, which are reflected
In Ikebukuro you'll find Pikachu Sweets, where you can get little sweets and treats with some character likenesses on them. We didn't go here, as the menu items don't look great (if I'm being honest). But the offerings are unique and this is one of the few places to buy Chef Pikachu items. It also doesn't require a reservation, so if your kids have their hearts seat on eating Pikachu's face and you can't land a table at the actual Pokémon Cafe then this is your next best option. It's also in the same mall as Pokémon Center MEGA TOKYO and the Pokémon GO Lab, so if you have time in your Tokyo itinerary you can make a whole day out of your visit.
Ikebukuro is a great choice for what to do in Tokyo with kids when it's raining, as the Sunshine City Complex has tons of great activities for children. Check out Sunshine Aquarium, the Sega arcade and the Konica Minolta planetarium.
During the last few Christmas seasons Mister Donut, a popular chain you'll find all over Japan, has Pokémon donuts too! The photo at the beginning of this section is from their late 2022 collaboration. Characters in the MisDo Pokémon collection have included Pikachu, Eevee and Jigglypuff plus Poké balls. There are also adorable hard goods for sale along with the donuts, so if you're visiting Japan in winter be sure to check these out – the donuts are much cheaper than the options available at the official Pokémon dining locations, don't require reservations and are really tasty.
Search for Pokémon Manhole Covers
One cool free activity related to Pokémon in Japan is making a "Poké lid" quest! Just for fun, Japan has covered select manholes around the country with Pokefuta, which are adorable Pokémon manhole covers.
Unfortunately we didn't find out about them until we returned. If you spot one, send me a photo to include here!
Click on this map to see which ones you can catch in each neighborhood. In Tokyo you'll find two in Ueno Park (which we must have walked right by sadly). There are several near the main tourists sites in Kyoto – note that on the map you'll see its region noted as Kinki which is the traditional name for the area most Westerners know as Kansai.
Planning Your Epic Trip To Japan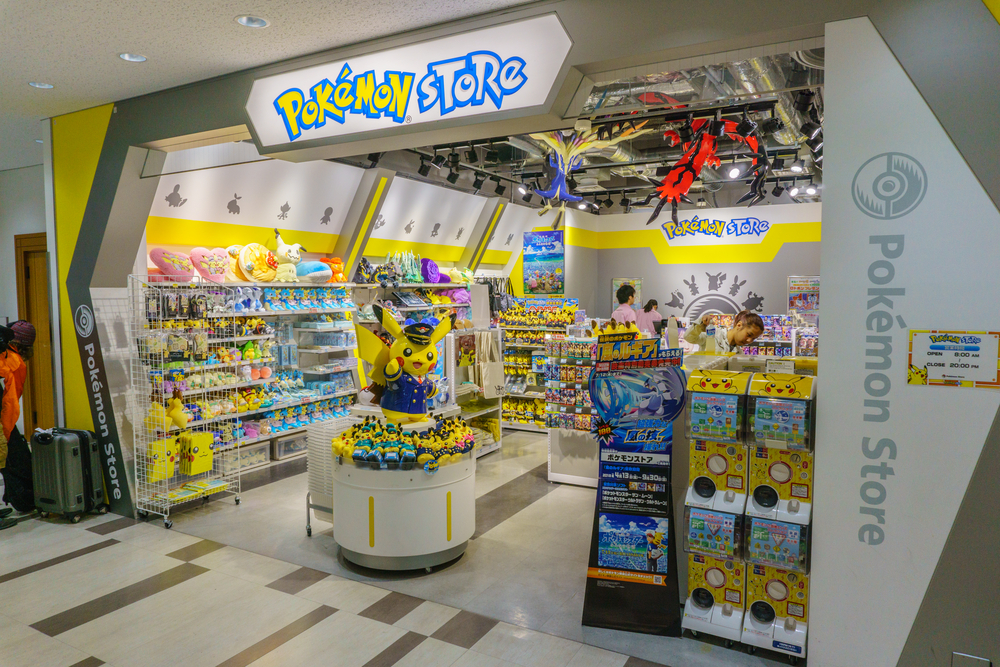 No matter which Pokemon attractions in Japan you choose to visit, you're sure to have an incredible time! Be sure to read these additional resources as you plan your trip to Japan: