Are you ready to explore one of the world's greatest cities? Tokyo is a true feast for the senses, and despite its massive size it's surprisingly kid-friendly! In this family-friendly Tokyo itinerary for 4 days, you'll capture the best that the city has to offer without going overboard or having to drag bored kids around. You'll sample amazing food, explore fascinating history, enjoy modern Japanese culture and more.
I've organized these best things to do in Tokyo with kids to visit (roughly) one area of the city each day. That will help you make the most of your time while keeping your transportation as efficient as possible. One important thing to keep in mind is that many of the best Tokyo activities for families book up early, so it's important to make reservations in advance.
Tokyo with kids 4 day itinerary summary
If you're short on time but don't want to miss the big picture, here's a quick summary of what to do in Tokyo with kids in 4 days.
Where to stay
Things to do in Tokyo with kids
In particular, these best things to do with kids in Tokyo need to be booked in advance to make sure you can get a spot:
Transportation
Where to Stay in Tokyo with Kids
There's plenty of debate over the best place to stay in Tokyo with kids! There are thousands of hotels in Tokyo, but not all of them can accommodate more than two or three guests per room. This isn't an exhaustive list of the best Tokyo hotels for families, but a starting point that offers options for everyone.
Hyatt Regency Tokyo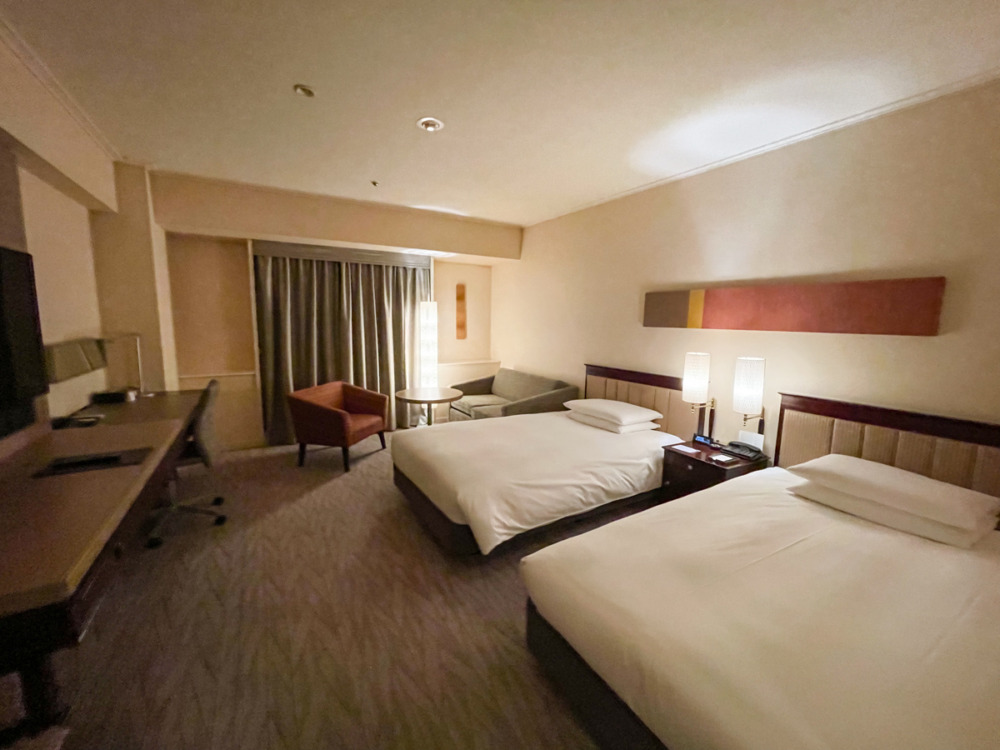 I'll start with the Hyatt Regency Tokyo in Shinjuku, which is where we stayed. The hotel is very conveniently located above a relatively quiet Tokyo metro station, but it's also only a 10 minute walk to the world's busiest train station! From Shinjuku Station you can get anywhere, and there are tons of great restaurants surrounding (and inside) the station.
Thankfully the area right around the Hyatt Regency is very quiet. It's next to the Municipal Government Building, which offers a free observation deck.
The Hyatt itself has a striking lobby and comfortable, if simple, rooms. We booked the twin room and it offered two beds plus an ample seating area for our family (the couch even converts to a sleeper). It was the perfect spot to sample and trade our 7-11 hauls – there's one right under the hotel, which is convenient if you need anything! Like many Japanese hotels, our room came with slippers and yukatas to wear while we relaxed.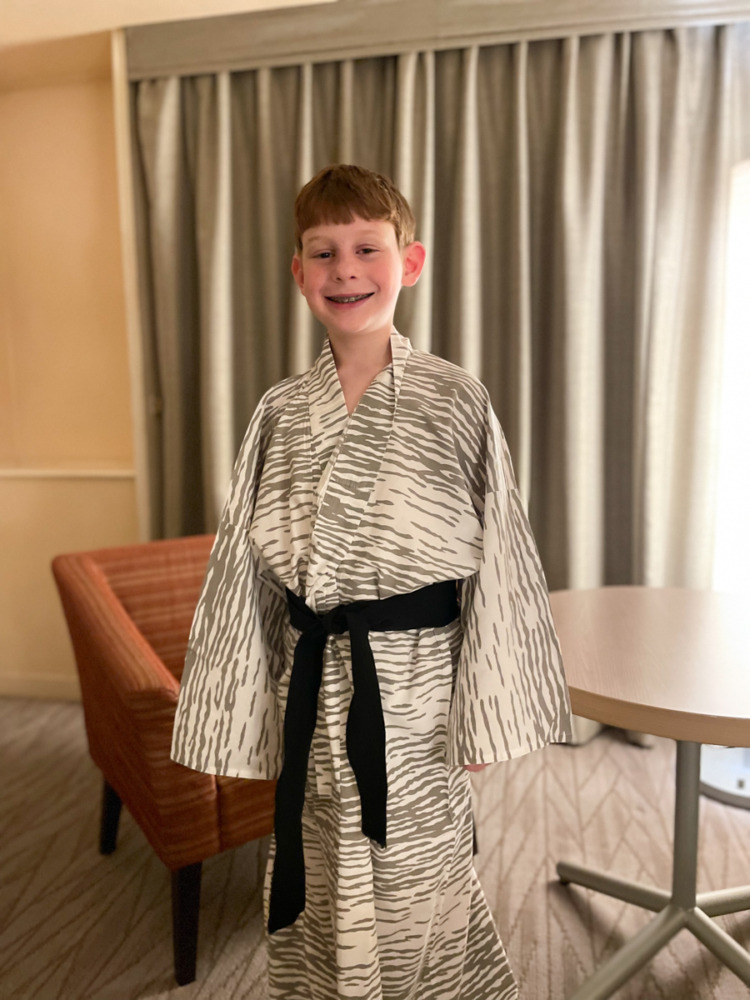 The concierge and front desk were very helpful in meeting all our needs, from forgotten charging cables to arranging for our luggage to be shipped to our hotel in Kyoto.
The price for booking several months in advance was very reasonable, but I also could have transferred points from our Chase Sapphire Preferred card to book this Tokyo hotel for free. It ranges from 12,000 to 18,000 points per night, which is a real bargain!
After you book your room, be sure to drop the hotel a note requesting a view of Mt. Fuji! That was a welcome surprise on a clear morning.
Mimaru Tokyo Ueno East
We didn't stay at this location but did have an excellent experience at their sister property in Kyoto with kids. Why should you stay at Mimaru Tokyo Ueno East? Because this is a Tokyo Pokemon hotel! There are plenty of Pokemon things to do in Japan, but this was a favorite for our family as you can see.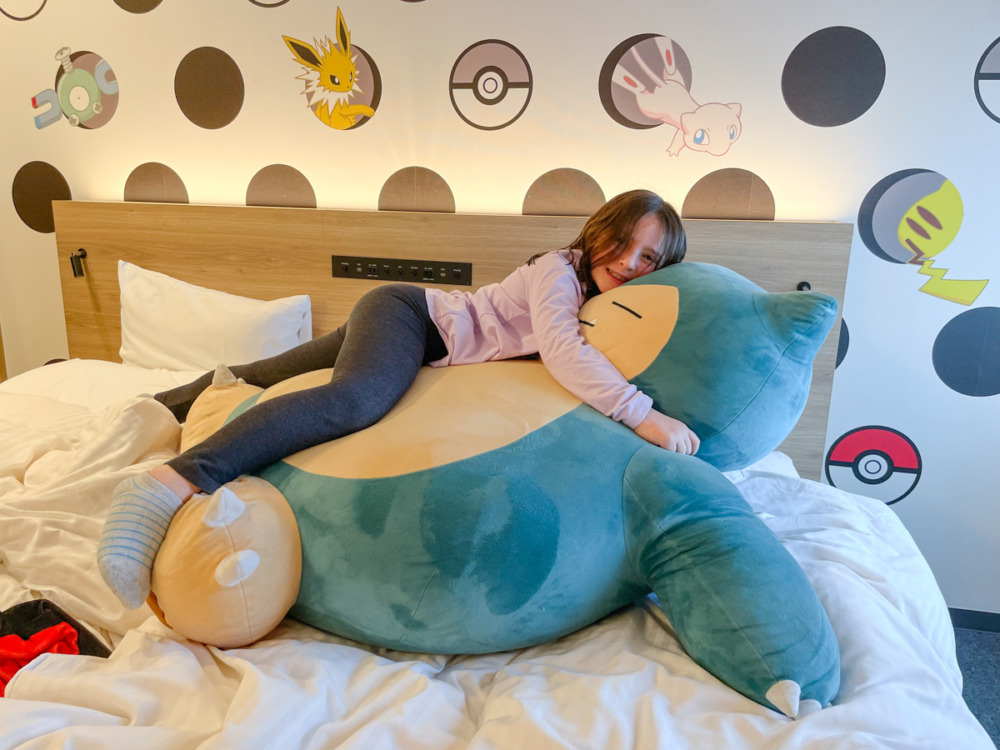 If you book early enough, you can snag a Pokemon themed room in this "aparthotel". You'll have ample sleeping space for four people plus the option to add a crib for free. There's also a compact but fully-functional kitchen in case you want to have breakfasts or snacks in the room.
The entire Mimaru chain is extremely family-friendly, even if you don't choose a Pokemon room. My daughter loved the child-sized slippers, kid toothpaste and board game loans! This is also the best place to stay in Tokyo with a baby because you can reserve a baby-friendly room that includes gear like a baby bath tub, toddler potty seat, baby toys, high chair, feeding set and more.
The Ueno East location is great for visiting Tokyo with a family because you can walk to the lovely namesake park, which is home to the zoo. The Ueno Station provides excellent connections to the rest of the city since it is served by multiple subway companies (more on that later in the article) and offers a quick connection to Tokyo Station.
Hotel Gajeon
If you're looking for a peaceful refuge from the overload of Tokyo, consider Hotel Gajoen in Meguro. The hotel was suggested by a member of our Facebook group who loved her stay there! We visited the Meguro neighborhood twice during our family trip to Tokyo because it was such a lovely area.
The rooms at Hotel Gajeon are enormous – they start at 750 square feet! There are plenty of choices that will accommodate a family of four. There's plenty of opportunity to find tranquility thanks to the "living lobby" as well as the beautiful outdoor garden.
While Meguro isn't as central as the other locations above, that doesn't mean it's inconvenient: the hotel is just a three minute walk from the robust Meguro Station, which gives you access to all of Tokyo's major subway lines. It's also really close to Shinagawa Station, which is the transfer point for a day trip to Hakone or the long-distance train to cities further south like Osaka, Kyoto and Hiroshima.
---
Best Things to do in Tokyo with Kids Itinerary
MONEY SAVING OPPORTUNITY: Depending on exactly which activities you choose to do, your family may save plenty of money with the Greater Tokyo Klook Pass. It includes TeamLab Planets, all of the observation towers mentioned below and many more attractions plus you have the option to add on a discounted premium ticket like your 7 day JR Pass, DisneySea or even just a Tokyo subway pass. I wish we had known about it before our trip!
Tokyo with kids: Day 1
Welcome to Japan! If you're reading this article, you've probably flown from North America. Hopefully you got some rest on the flight, because the best way to tackle crossing so many time zones is to lean into it.
Today will focus a lot on outdoor activities to help your body "reset". Be sure to drink lots of water and exercise plenty of compassion for your exhausted family members. Hopefully the excitement adrenaline will keep you going all the way until evening.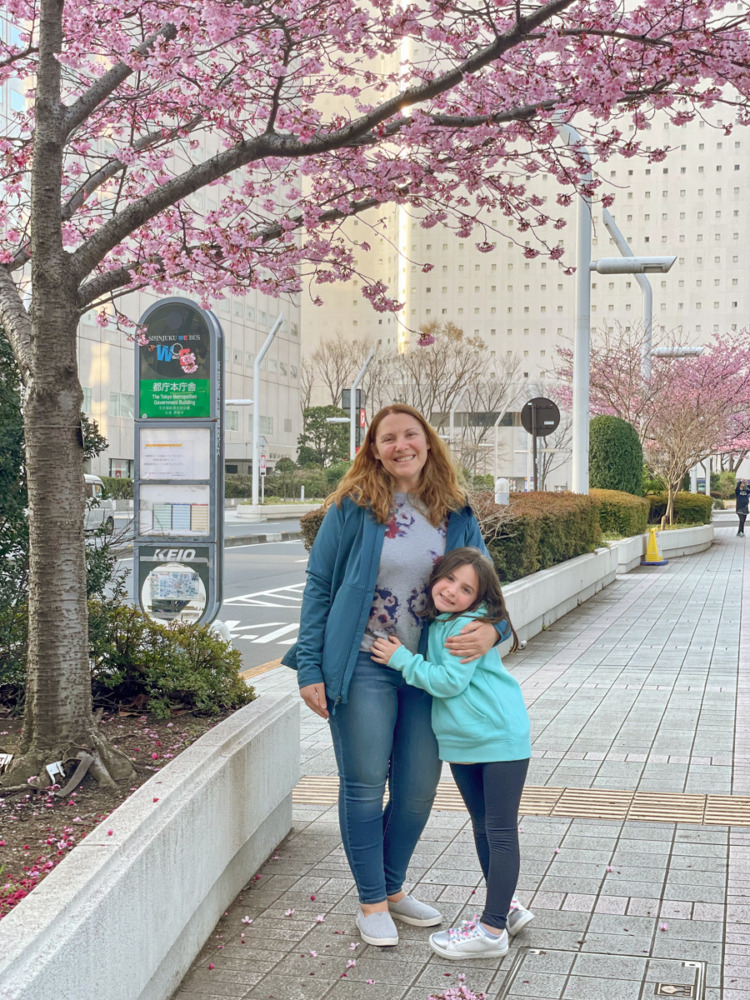 Start the day with a visit to one of Tokyo's lovely gardens. These are some of the highlights of the city and they'll help you fight the jet lag. We opted to visit Ueno Park on the northern side of Tokyo.
Ueno Park offers lovely cherry trees and pagodas, and don't miss the Tokyo National Museum in the afternoon. It has an incredible collection of art and artifacts tracing through thousands of years of Japanese history. It was a hit with our 11 year old, especially the samurai swords and armor! Be sure to check out the tea houses in the back, which are a great way to see traditional Japanese architecture up close.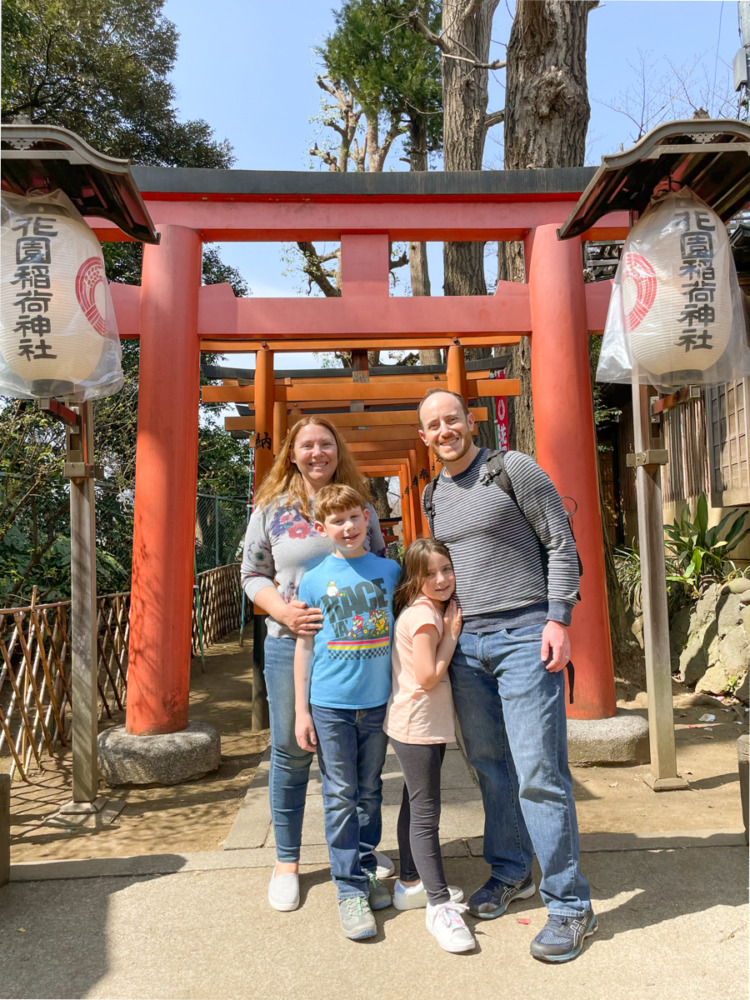 For families visiting Tokyo with toddlers, an alternative afternoon option is the Ueno Zoo – it's the country's oldest zoo and a bargain at just 600 JPY per adult. Kids are free!
If you opt to stay in Shinjuku for the day, you may want to start at the Tokyo Municipal Building to enjoy the free observation deck. The line can be long here depending on when you visit, but will be shortest if you arrive before opening or near closing. You'll enjoy amazing views all across the city, and potentially even catch a glimpse of Mount Fuji on a clear day.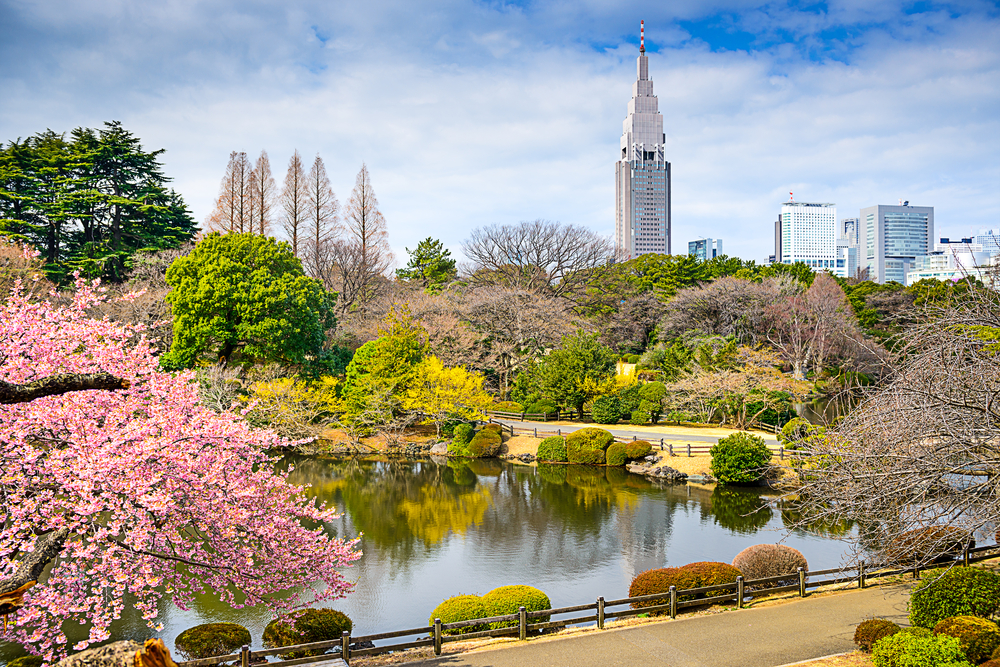 Get some fresh air at the Shinjuku Gyoen National Botanical Garden in the Shinjuku neighborhood. Though we didn't make it there, it's reported to be one of the most beautiful gardens in Japan.
In the late afternoon, it's time for the day's first structured activity: a Tokyo food tour. I recommend a private tour if you can arrange one, as you can ensure that it's family-friendly and should be able to schedule an earlier start time than usual.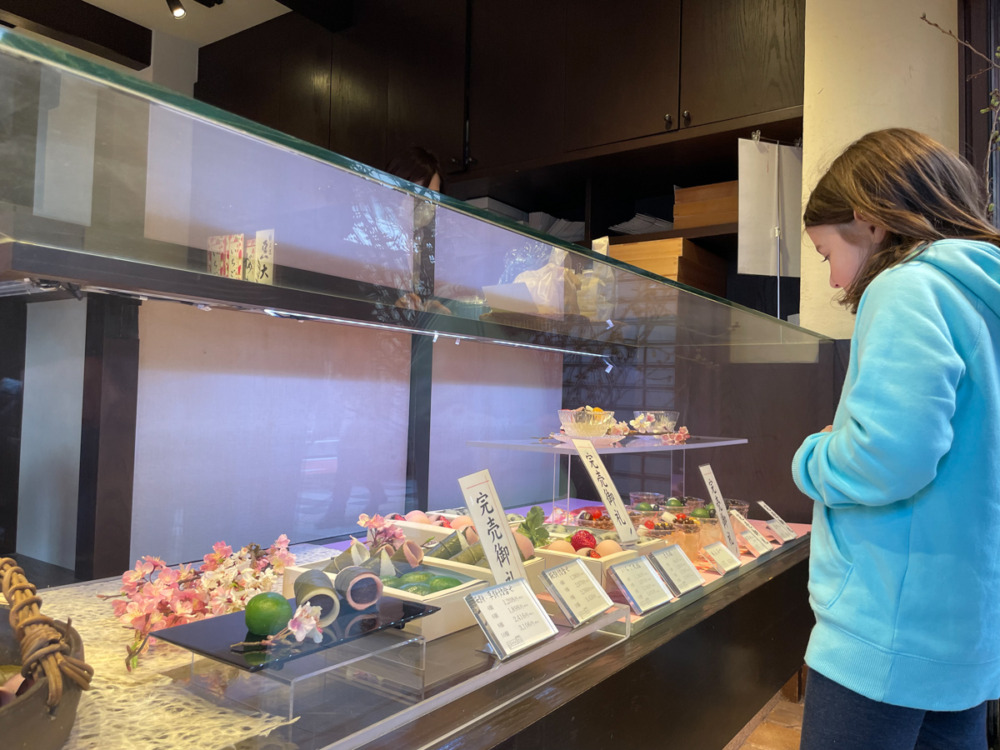 It may sounds crazy to take your jet-lagged family on a food tour the first night, but it was actually a perfect introduction to the Tokyo food scene. Your guide will expose you to a variety of different foods and types of eateries and show you the ropes when it comes to eating in a Japanese restaurant! Since we were all tired, it was nice not to have to fumble around figuring out what we were doing. We learned so much during our time together and ate some delicious food!
Tokyo with kids: Day 2
Now it's time to get into the heart of exploring Tokyo, which is truly one of the world's greatest cities.
Days 2, 3 and 4 of this Tokyo itinerary for families can really be done in any order and will depend on when you're able to book certain activities like TeamLab and a cooking class. In this outline of the best things to do in Tokyo with kids I'll assume that you schedule the cooking class on Day 2 and TeamLab on Day 3.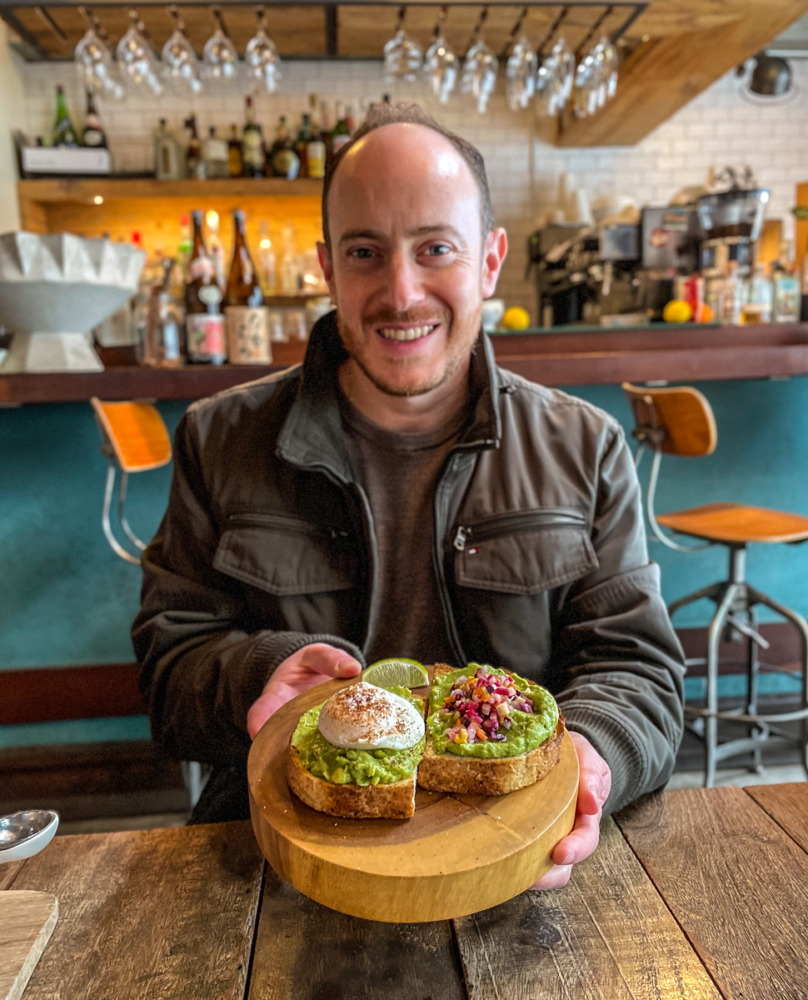 Get everyone's bellies full to start the day at Suke6 Diner near the Sumida riverwalk. There's no part of it that's Japanese, but the food is absolutely delicious and includes wonderful house-baked pastries, eggs, avocado toast and more. We're all about encouraging travelers of all ages to try local food, but when everyone is still so jet lagged you may want to offer an opportunity for a familiar hearty breakfast. Don't worry, there will be plenty of new food to try all day long! It opens at 8am, which is great if your bodies have woken you up early.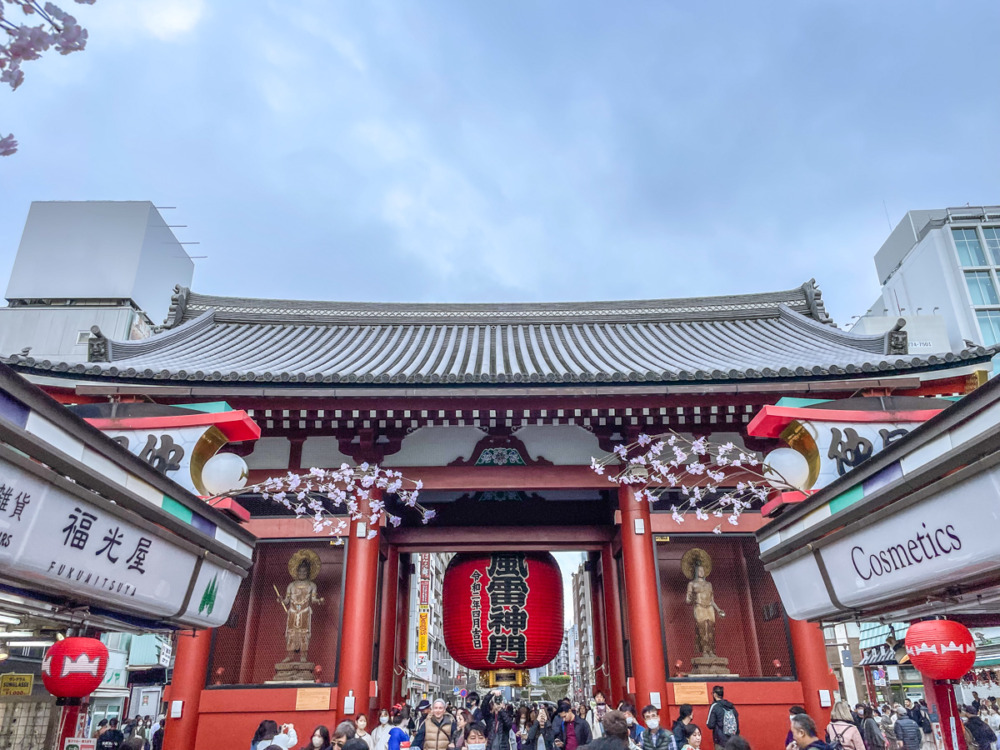 After breakfast you'll be doing some heavy sightseeing in the Asakusa neighborhood. Enter through the impressive Kaminarimon Gate and stroll through the gauntlet of Nakamise-dori Street as you make your way to the ancient and iconic Sensō-ji Buddhist temple complex. You don't need to rush through Nakamise-dori, just take it for what it is: a busy street for buying souvenirs and trying Japanese sweets and treats.
If you're concerned about your kids asking to buy every item they see (they will, I promise) this is a good place to give each of them ¥1,000 or ¥2,000 and let them choose what they want to use it on. Our kids made some thoughtful choices here, like a stuffed shiba inu and some beautiful but affordable furoshiki wrapping cloths as gifts.
Eventually you'll make your way to the inner gate of Sensō-ji and the neighboring five-story pagoda. The original temple on this site was Tokyo's oldest, dating from 645, but it was destroyed during the most devastating air raid of World War II – to read more about the impact that night had on Tokyo's history and transition to modernity, I recommend reading this work of historical fiction.
Plan to spend at least an a half hour in the temple complex. You can enter the main building (shoes off!), admire the pagoda from the outside and stroll through the various gardens and small shrines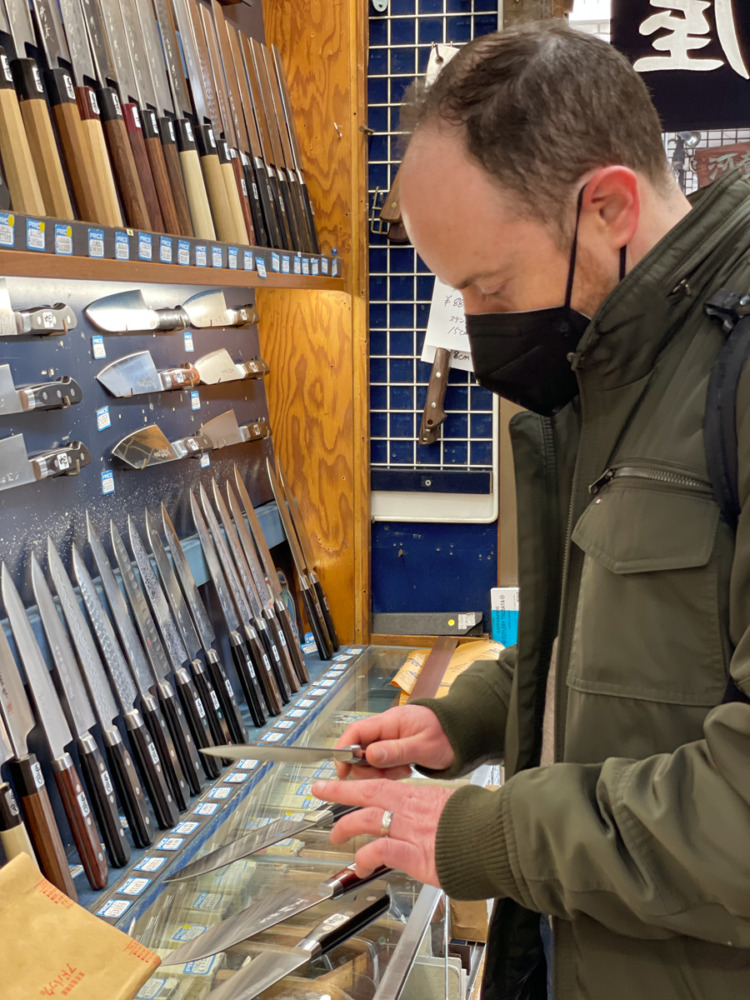 When you leave the complex, you'll want to exit behind the pagoda rather than going back through Kaminarimon Gate. This will give you an opportunity to explore the shops and restaurants of Hoppy Street and Denboin Street. If you're a cooking aficionado like my better half, you can snag amazing quality knives on nearby Kappabashi-dori at the Tsubaya shop – just keep in mind that you'll have to check a bag to bring them back to the US!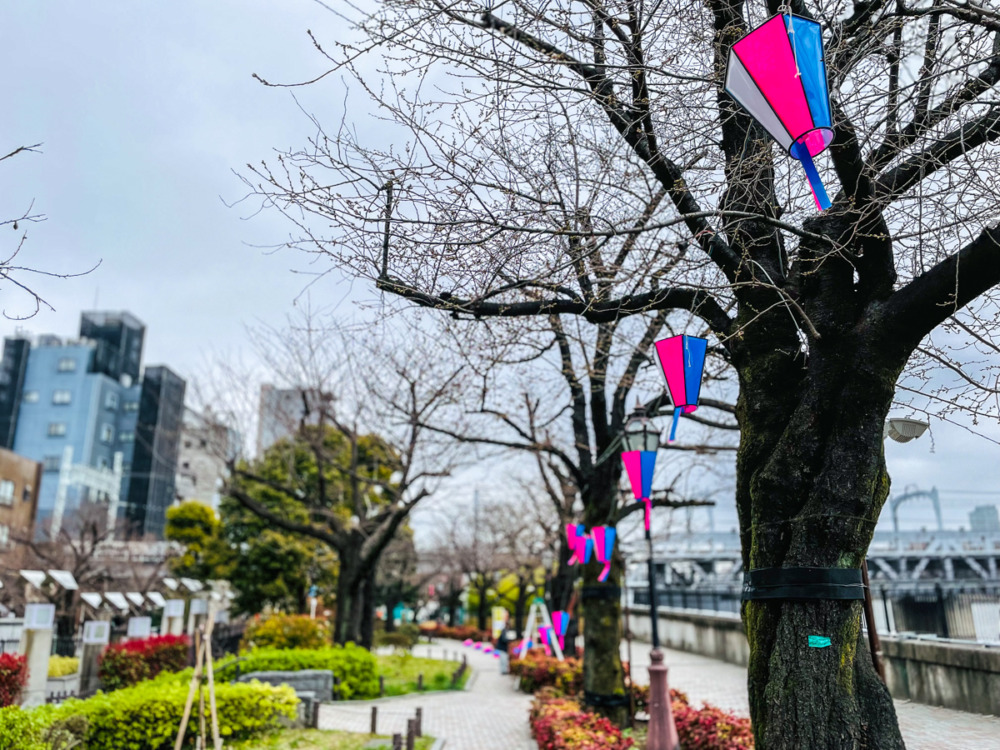 If the afternoon is nice and you have a few hours before your Japanese cooking class, return to the banks of the Sumida River to enjoy walking in the park. Sumida Park is one of the best places to see cherry blossoms in Tokyo if you're visiting in Spring! Quick note: If you don't intend to go to Skytree, visit Sumida Park right after breakfast.
With enough time, you can also walk across the river on the pedestrian bridge to take in the sweeping views from Tokyo Skytree. It's the tallest structure in the city and you can even see Mount Fuji on a clear day! We opted not to visit Skytree, as our day in Taito City was very cloudy.
Important note for Pokemon lovers: there is a Pokemon Center in Sky Tree Town. It's not the biggest or most beloved, but it's right near the Skytree metro station so you'll probably walk right by it. Check out more Pokemon things to do in Japan for lots of fun ideas!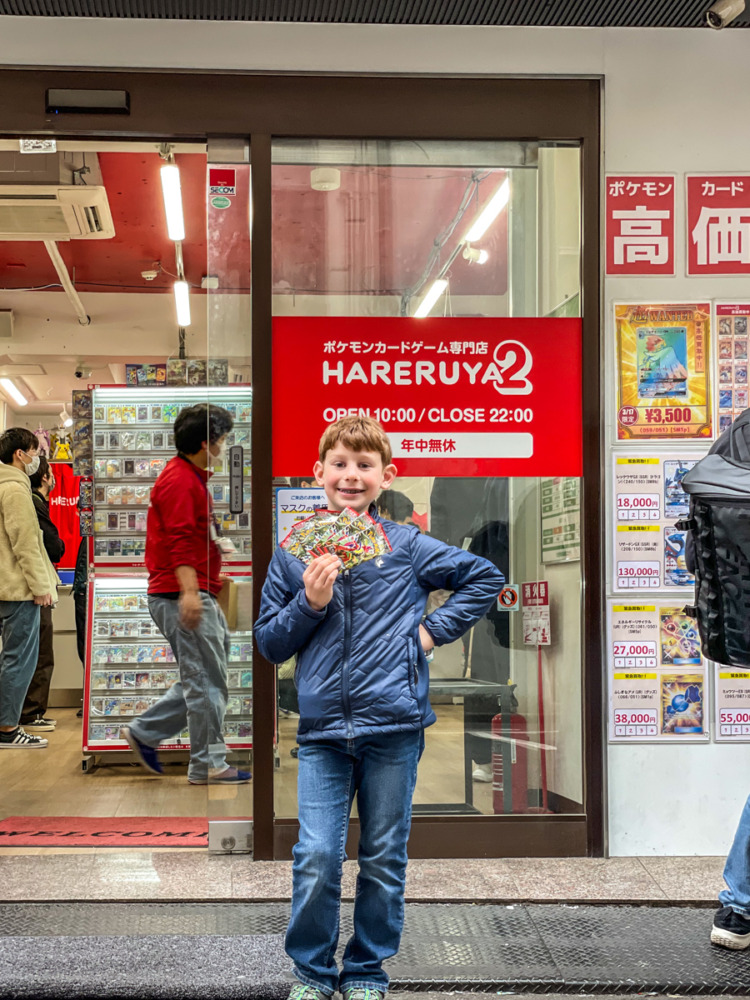 A fun alternative to Skytree is paying a visit to the electrifying Akihabara neighborhood. It's a total feast for the eyes and a must-visit for manga and anime lovers. If you kids are into Pokemon – or even if they aren't but want a fun, adorable, inexpensive souvenir – you'll want to swing by Hareruya 2, which is the best place to buy Pokemon cards in Tokyo.
Wrap up your day with a fun, personal, low-key cooking class at Buddha Bellies Cooking School. Owners Ayuko and Shugo make a great team as they welcome you into their home for several hours of learning about traditional Japanese foods and cooking styles. This is a great Japan cooking class for kids and the dishes can be tailored to your family's interests and dietary needs (particularly if you are the first party to book for that day's session).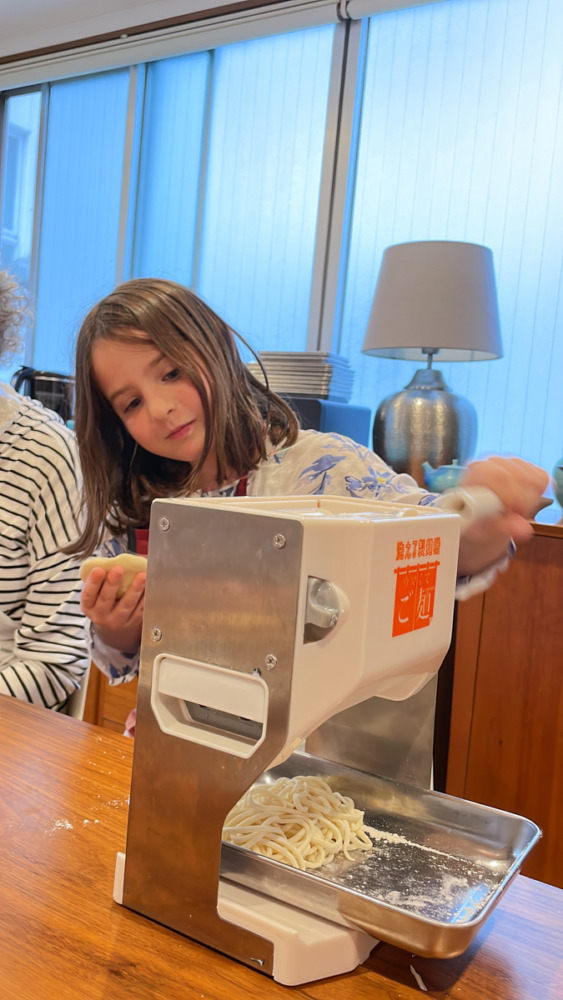 Ignore the title of the class you see when you go to book – as you scroll down you'll see lots of different menu options, and they were happy to let us tailor the class to our preferences. We let each kid choose a dish, which was a great way to invest them in the experience! Our daughter chose for us to learn to make udon noodles – which was more fun than any of us could have imagined – while our son surprised us by choosing okonomiyaki "pancakes".
We walked away delighted with the experience and with very full bellies. This is definitely one of the best things to do in Japan with kids, so I encourage you to schedule a session for yourself!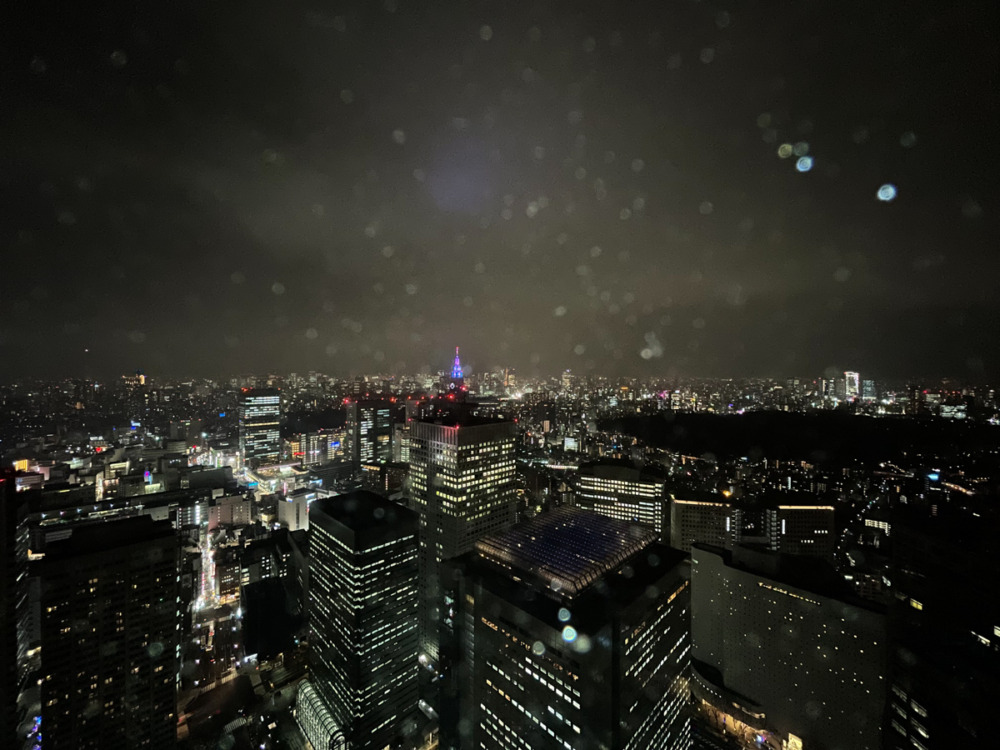 If you're staying in Shinjuku and your family has some gas left in the tank, you can consider an evening visit to the observation deck of the Tokyo Municipal Government Building. It's completely free and when we visited at night there was no wait at all. The best part? It's right next door to the Hyatt Regency Tokyo where we stayed!
Tokyo with kids: Day 3
Today is a day for early birds… maybe. You'll start off at the Toyosu market in Tokyo Bay if you're intrigued by the fish business. This is the newer fish market in Tokyo and is the primary wholesale market in the city now. While the famous tuna auction wraps up by 6:30am, visitors can still see both fish and produce wholesale markets from upper level observation windows for several hours after that. Most of the action is done by 9am, but you can still eat in the various on-site restaurants or check out the rooftop deck through mid-day.
Moment of truth: We opted to skip Toyosu. We weren't excited enough about fish transactions to get up extra early to schlep all the way out there (taxi is by far most efficient, but it's expensive and requires you to think about folding car seats). I'm not sorry.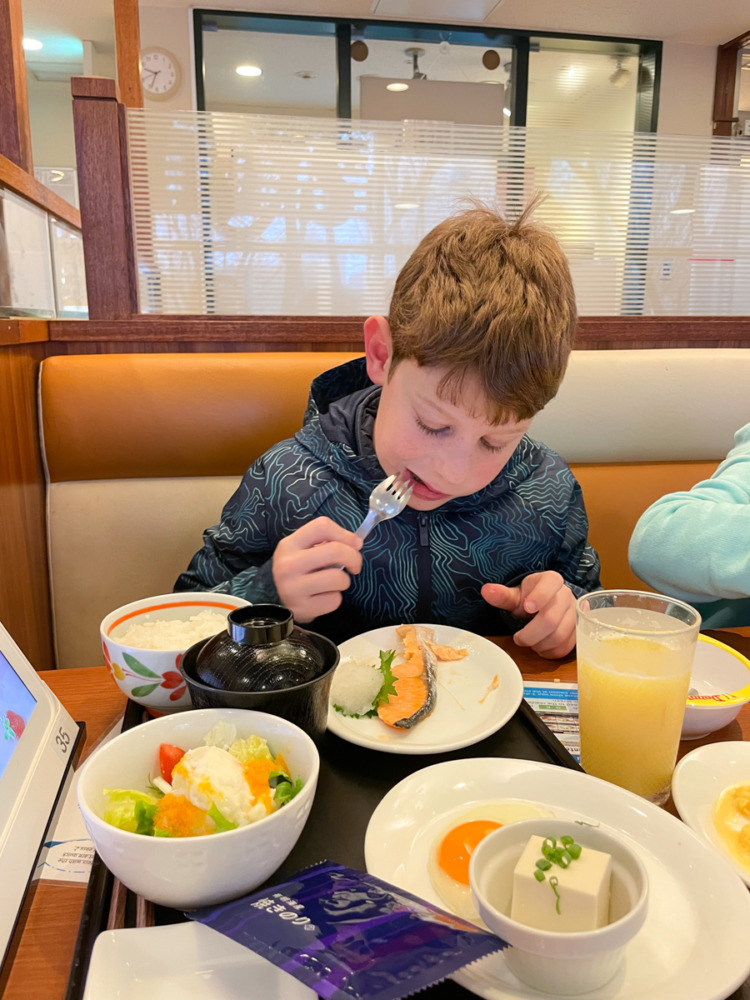 Instead we had a hearty breakfast at Denny's – yes, Denny's! I initially balked at the idea but the family insisted we try since it's right across the street from the Hyatt Regency Tokyo and Japan's frequent spring rains were out in full force. Not gonna lie, I walked away a very happy camper with a belly full of hearty rice porridge with chicken and eggs and the kids' choices ranged from a really nice piece of grilled salmon served with rice and miso to American-style pancakes and scrambled eggs. We always encourage our kids to try local foods when available, but I never want them to get hangry – especially when everyone is still adjusting to the massive time change from North America.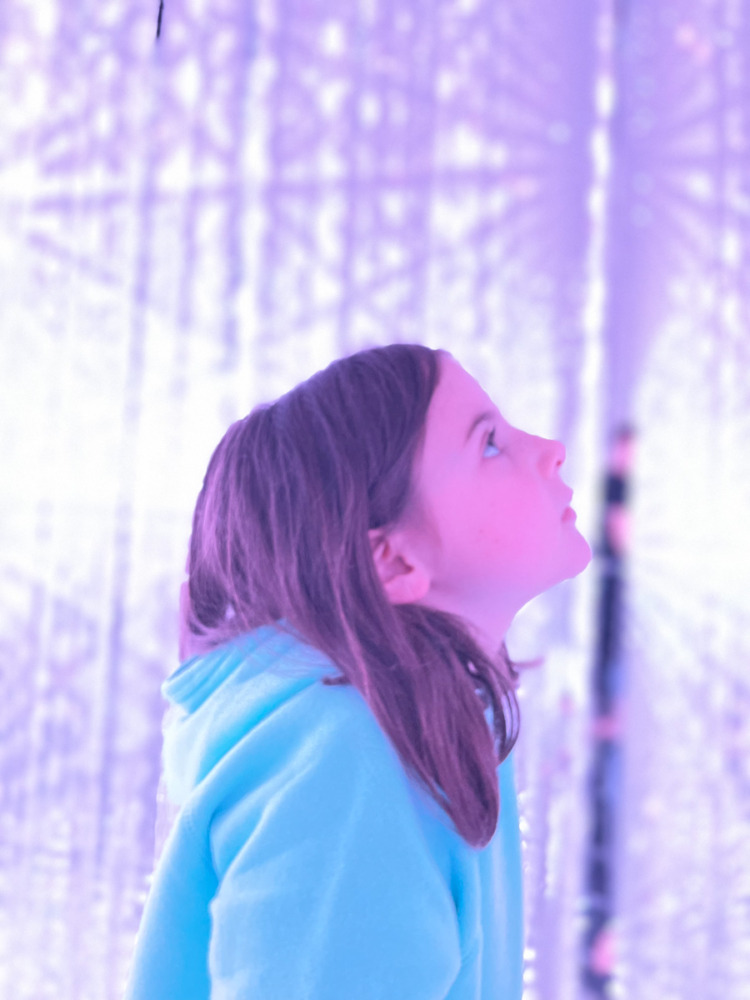 But enough about Denny's. If you've opted to skip Toyosu market, head directly to TeamLab Planets. If you started your day at Toyosu market, it's just a 10 minute walk! I recommend getting tickets around 9 or 10am to make the most of the rest of your day.
It's hard to describe TeamLab… it's sort of an immersive, interactive art experience. TeamLab is very sensory in all the ways. There are mirrors everywhere, there's water, there are sounds and pleasant smells. Sometimes it's dark, sometimes it's bright. Thankfully most of the sensory inputs are calming rather than overwhelming, but keep your kids' needs in mind as you plan your visit which will last around 90 minutes.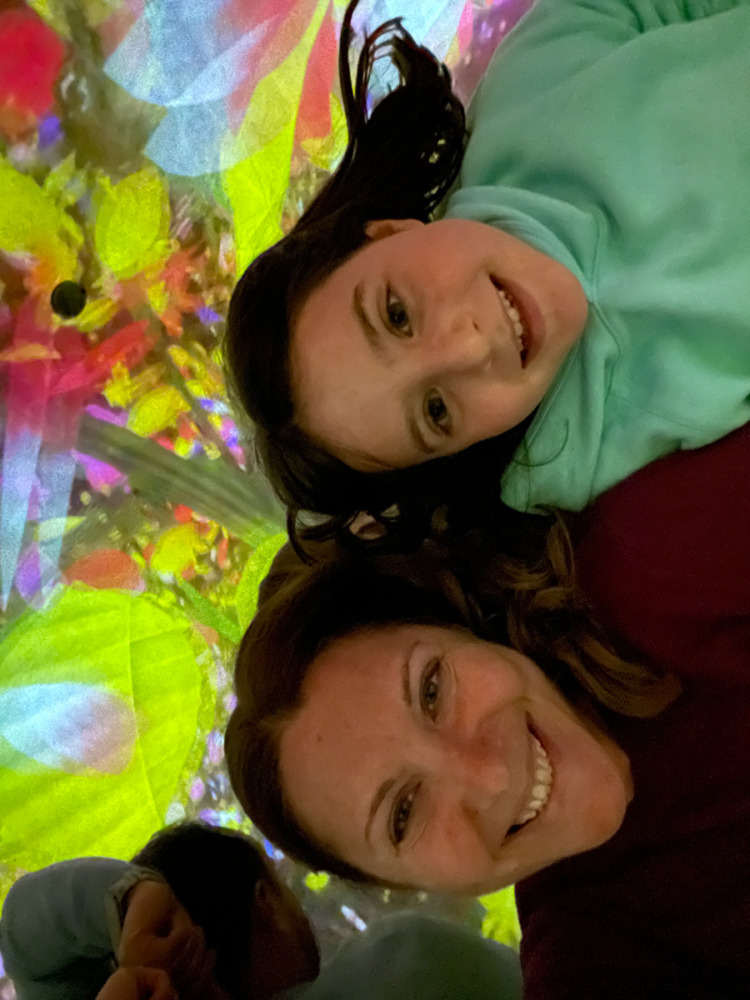 Without spoiling too much, I'll give you a few logistical tips to plan your visit to TeamLab Planets. First, don't expect to get in early even if you're there! However, it's ok if you're a little late. Second, you'll be wet up to nearly adult knee height so either wear your own shorts or borrow the free ones that are available. But the free shorts don't have pockets, so you'll be carrying your phone if you want to take photos. Finally, everything except your phone goes in a locker – including your socks and shoes.
If you're visiting Tokyo with a baby or toddler, you are permitted to use a carrier like this one but not a stroller. You would need to take the accessible path around the first room rather than going through it. The rest of the experience is carrier-friendly!
All I can say is take your time and enjoy the experience! TeamLab Planets is fun and immersive for all ages. You must must must reserve tickets in advance.
After TeamLab it's time to explore Tokyo's original fish market, Tsukiji market. While you'll no longer see fish wholesaling (which took place at the Tsukiji Inner Market) you can still buy fish or watch some restauranteurs buy fish inside the building.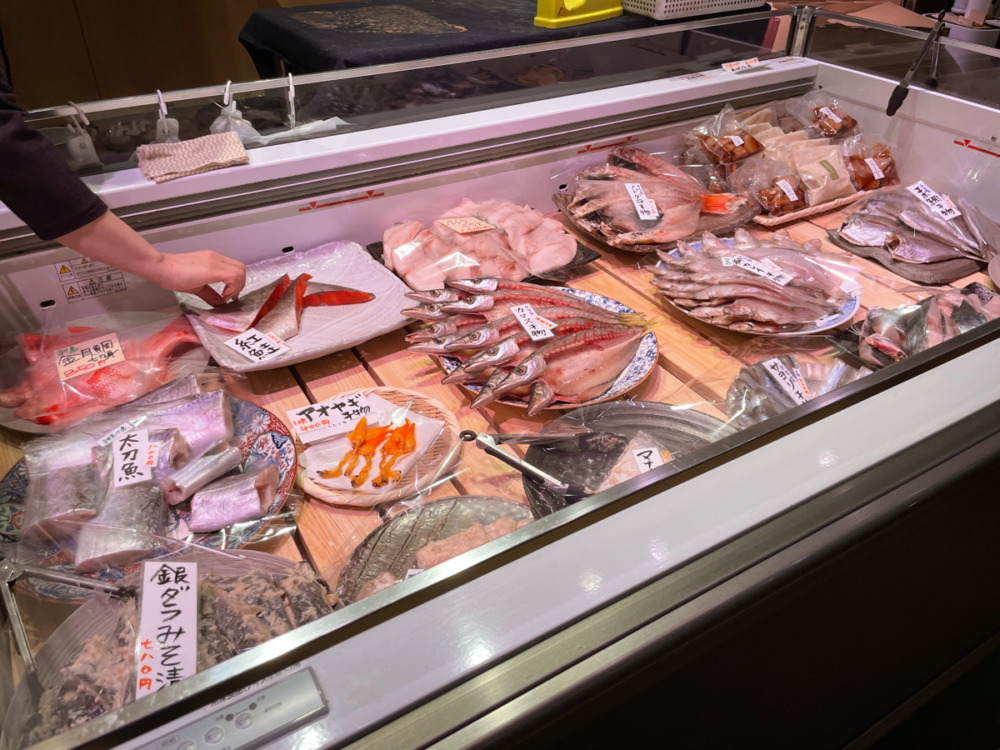 The real reason to visit the area is the Tsukiji Outer Market, which is the collection of vendors surrounding the original Tsukiji fish market. Many of these restaurants and stalls have been there for years! This is one of our favorite places to eat in Tokyo, and you'll find plenty of options.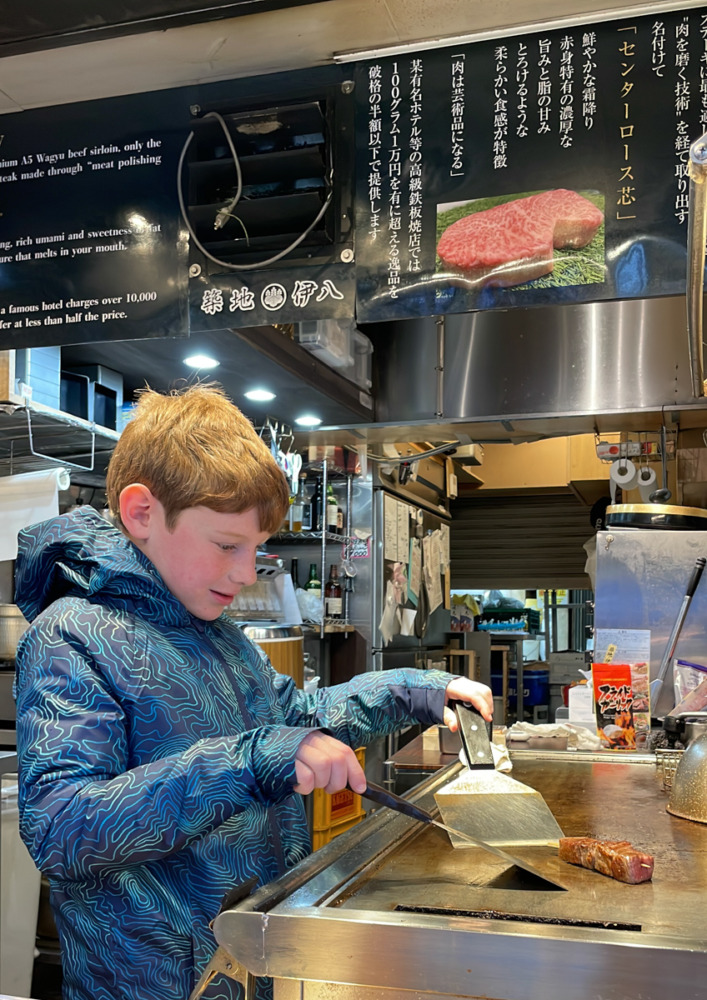 There are many excellent sushi restaurants at varying price points in the area, often with some of the freshest fish you can eat in Tokyo. There are also stalls selling everything from mouth-melting wagyu beef skewers to perfectly red strawberries and sweet red bean filled cookies. Stroll around and try it all!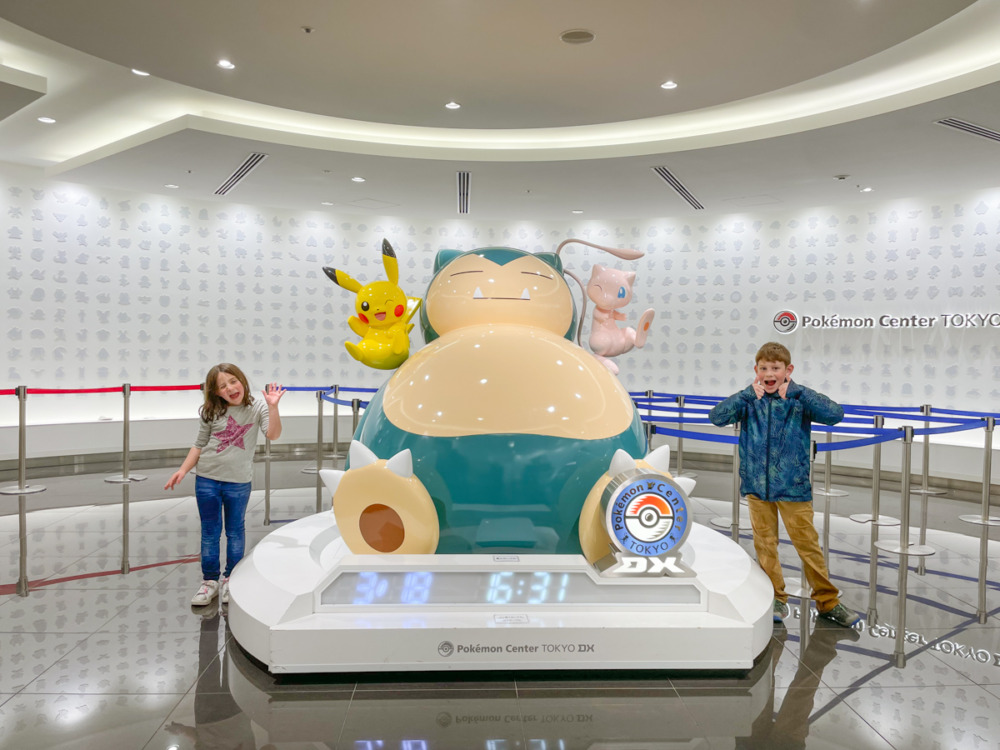 The next stop is one for the kids: Tokyo's legendary Pokemon Center DX, located in Nihonbashi. This is one of the largest Pokemon stores in Tokyo and it's also connected to the Pokemon Cafe. I recommend trying to snag a reservation (31 days in advance, remembering to account for the day difference) even if you just go for dessert and the exclusive merchandise. Chef Pikachu even comes out to do a little dance and greet diners, and it's much cheaper than character dining at a theme park.
There are plenty of great options for how to spend the rest of your afternoon and evening in Tokyo, which will depend on your interests, the season and the weather:
Catch a baseball game at the Tokyo Dome – Our son rated this as one of his favorite things to do in Japan for families. Pre-season begins in late February and championships wrap up in early November, so most visitors will have a chance to catch a game! Check the schedule here. If you want to experience the famous Tokyo Dome you'll be watching the Yomiuri Giants, but if they aren't in town you could also root for the Tokyo Yakult Swallows over at Shinjuku's open-air Meji Jingu Stadium.
Enjoy the beautiful Japanese garden of the Hotel New Otani Tokyo – There may be no prettier garden in all of Tokyo. This is one of the best free things to do in Tokyo with kids, who will love the waterfall, bridges, koi and more. We didn't make it there but won't miss it on our next trip!
Take in the views from Roppongi Hills Sky Deck – Grab your tickets in advance for one of the best views of Tokyo! You can enjoy the view either from inside the huge glass observation desk or from the roof. Roppongi also offers a modern art museum and rotating activities for the whole family to enjoy.
Tokyo with kids: Day 4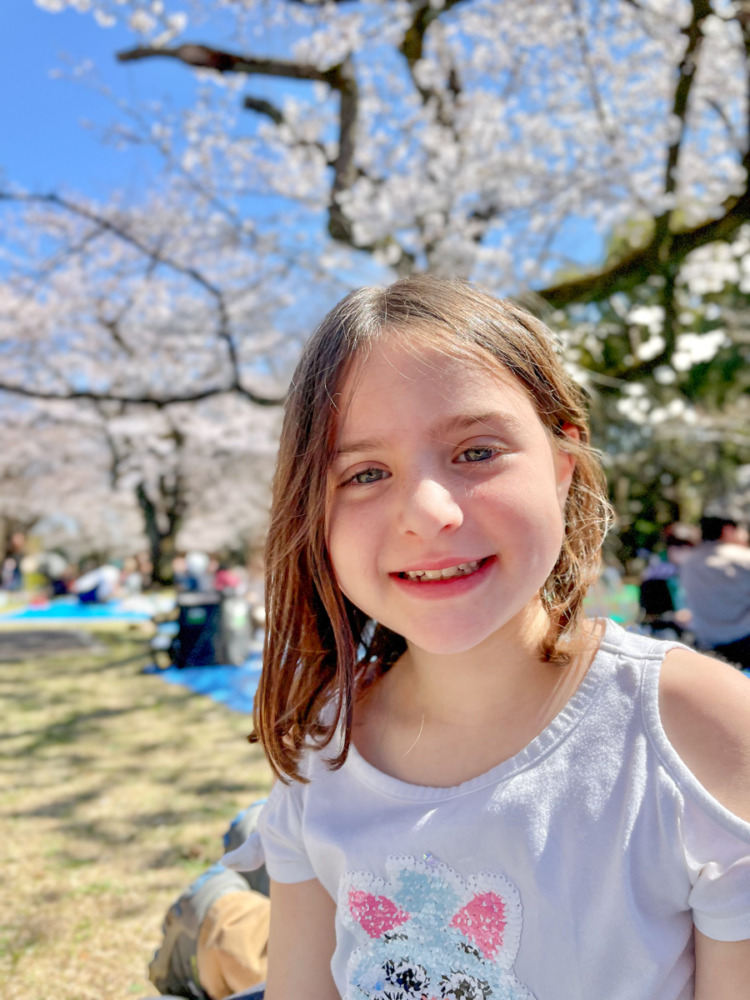 Your final day in Tokyo with kids will take you to the Shibuya neighborhood, southwest of the city center. Shibuya is an interesting mix, as you'll find everything from sprawling green spaces amid residential neighborhoods to the always-packed commercial areas of Harajuku and "Shibuya scramble square". Lace up your comfy shoes because you'll be racking up a lot of steps.
After breakfast, make your way to lovely Yoyogi Park. It's a popular spot for Japanese families and young people alike. In this spring this is an incredible place to see cherry blossoms in Tokyo! You can even pick up bento boxes or simple foods at a 7-11 to bring with you for an impromptu hanami (cherry blossom viewing) picnic. It's a peaceful way to kick off what will otherwise be a frenetic day.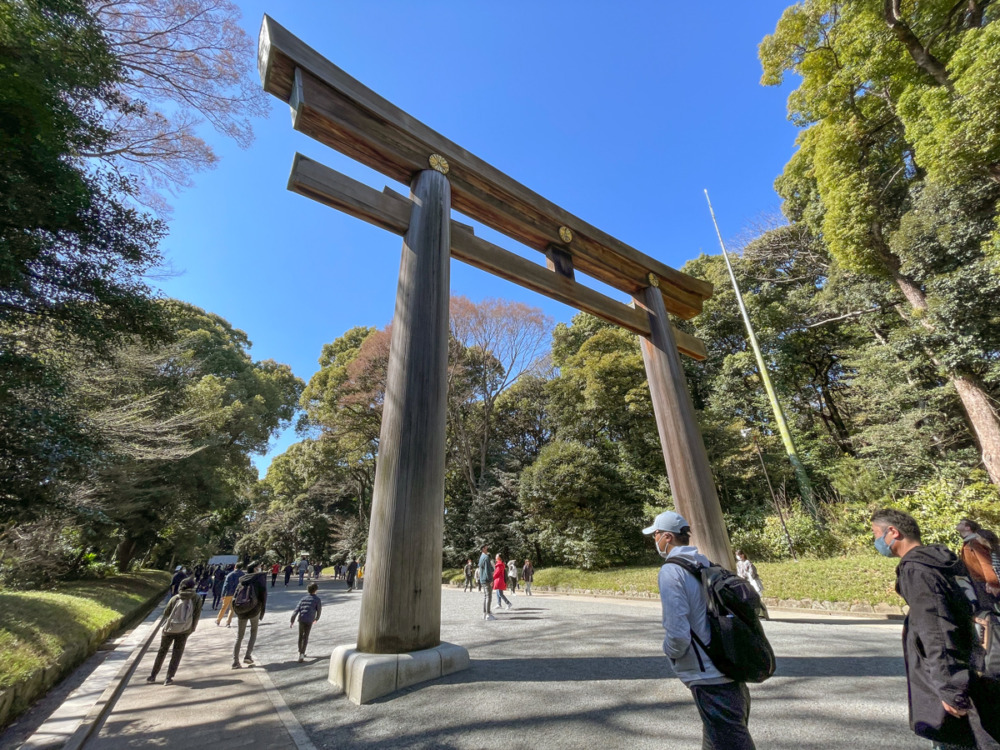 Eventually you'll make your way outside of the park and around to the Meji Jingu Shinto shrine. It's situated in a beautiful forest past a massive wooden torii gate. The shrine is dedicated to the early 20th century Emperor Meji and his wife Shōken, though as with much of Tokyo the original was destroyed during World War II air raids.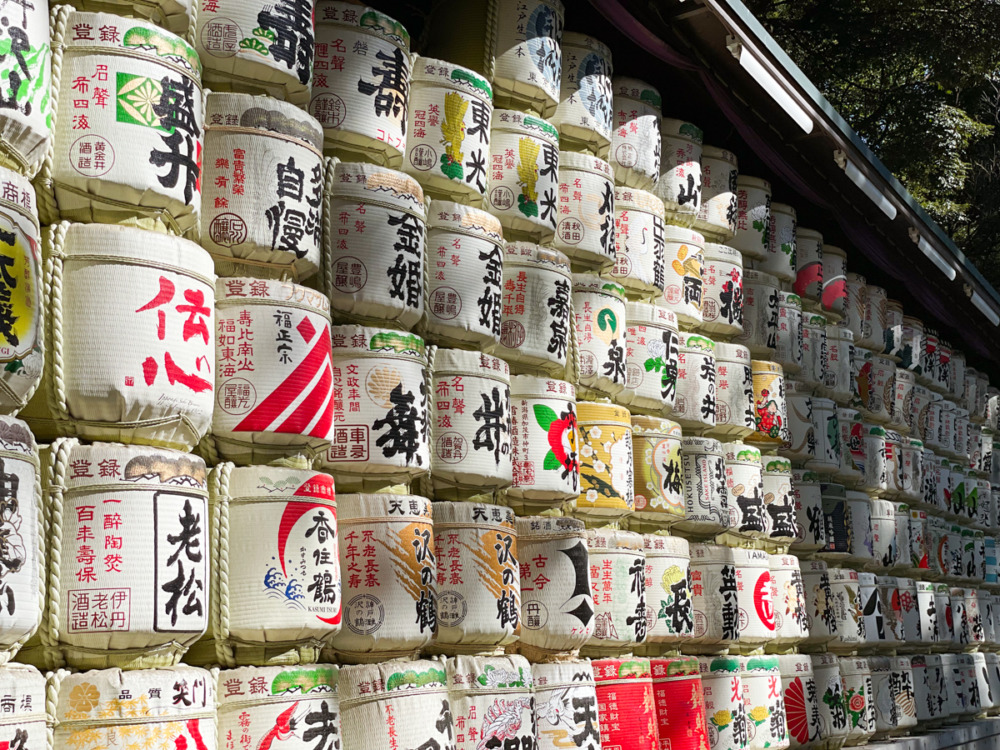 Be sure to take a moment to appreciate the ornate sake barrels that have been donated for ritual offerings. We visited the Meji Jingu Inner Garden as well, but I don't recommend it unless you'll be there in May or June. Unfortunately there wasn't much to see in March!
You'll exit Meji Jingu along the same path you followed in, winding up next to the Harajuku train station. Pro tip: If you need to reserve additional tickets with your Japan Rail Pass for later in your trip, it may be easier to do here than at the huge, busy Shinjuku station.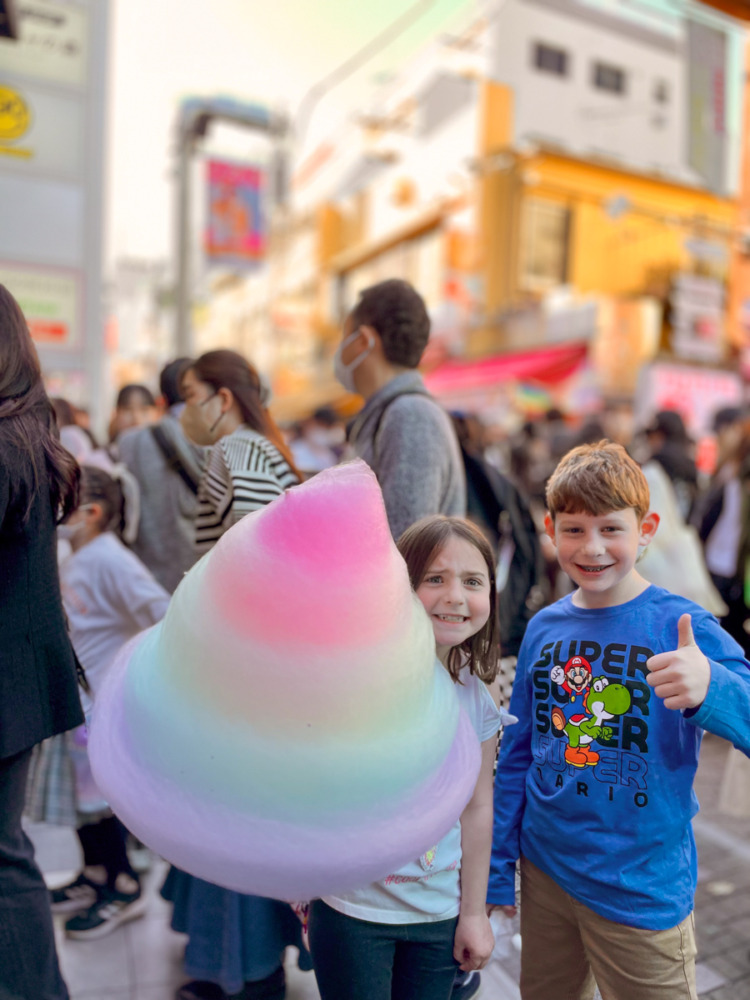 Set your sights on one of the most kid-friendly things to do in Tokyo: the fun, quirky Harajuku district. It's full of all things kawaii ("cute") and themed, from Hello Kitty shops to dog cafes and more.
If your kids like cotton candy, don't miss a stop at the Totti Candy Factory! It can be tricky to spot as it's upstairs.
Just a word of warning: Harajuku is packed with both tourists and young Japanese people. If you're visiting Tokyo with toddlers or babies, this is a great time to use a carrier. Everyone will stay together and safe, plus your kids will have a better view than if they're walking on their own!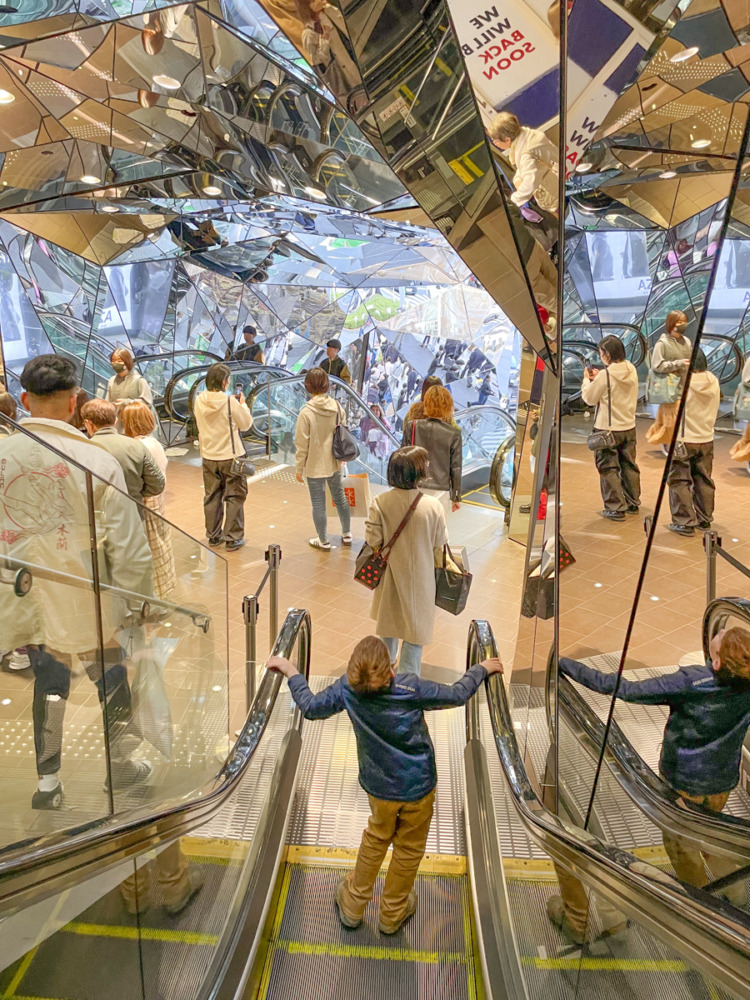 You'll eventually make your way to Jingūmae, one of the biggest streets in the area, to walk through the heart of Shibuya. There are plenty of interesting places to stop along the way! One of our favorites is Tokyu Plaza, which has an incredible mirrored escalator at the bottom and a Starbucks with incredible views and a beautiful terrace at the top. It's also home to Oh My Cafe, which offers rotating Disney theme dining in Tokyo!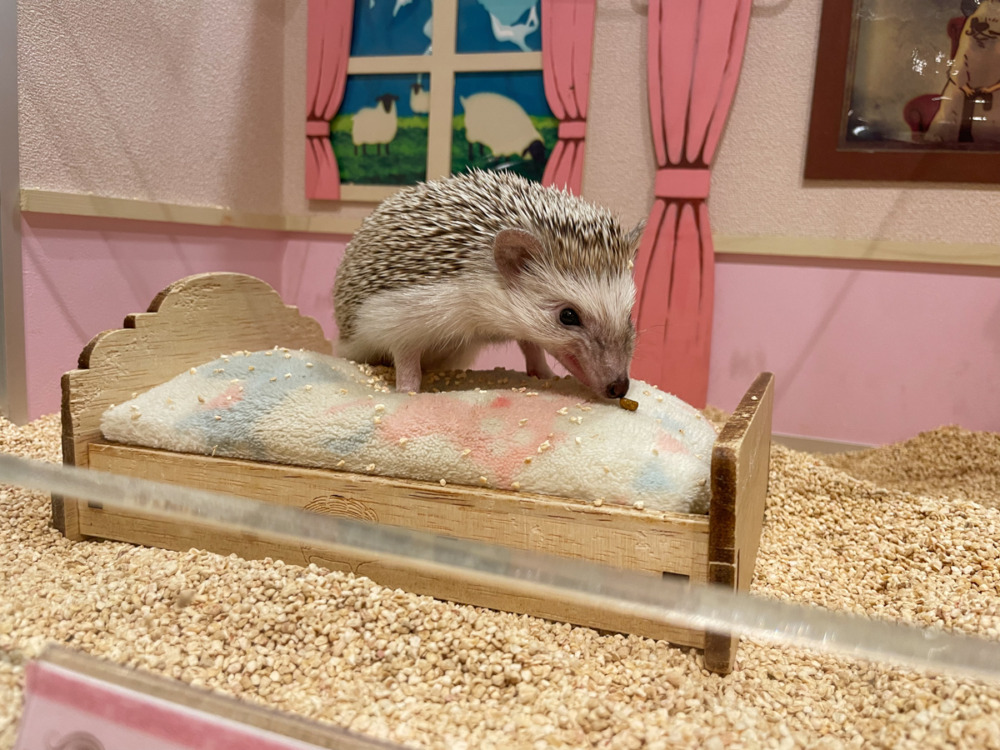 Deep in the heart of Shibuya City you'll find my daughter's pick for her favorite thing to do with kids in Tokyo: ChikuChiku hedgehog cafe. It's definitely more hedgehog and less cafe, so don't expect to get a coffee here. But that's ok! ChikuChiku offers a delightful introduction to these little creatures along with panda mice and a few other small creatures. Be sure to reserve in advance to ensure a spot and avoid a long wait, and I recommend choosing the 60 minute option so that you can meet several hedgehogs. This activity is great for calm kids but may not be ideal for some toddlers (though they are allowed).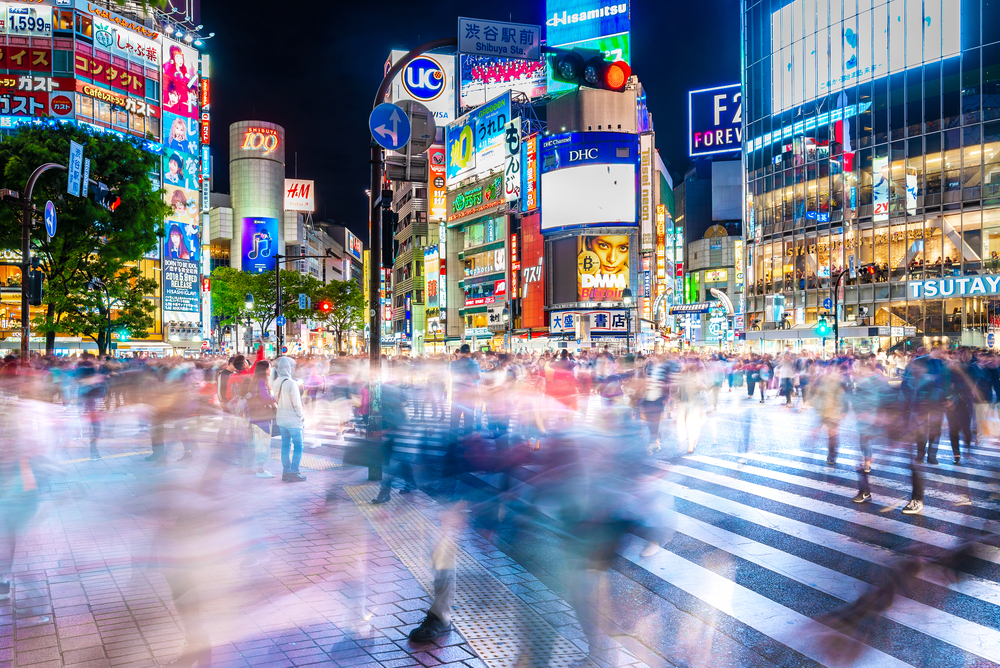 Be sure to stop by Shibuya Scramble crossing, which you've seen in every movie about Tokyo! There are just as many people as you can imagine, so hold hands and stay close – but also know that there's plenty of time to cross and get photos or videos. We probably crossed five or six times just for fun, and we made sure that each parent kept track of one kid (which was good since we got separated a few times).
While it's fun to be part of the action, for the best perspective of the Scramble head up to the adjacent Shibuya SKY observation deck. Yes, another one! Don't feel compelled to go up if you've already visited one of the other options, but SKY offers amazing views especially leading into sunset.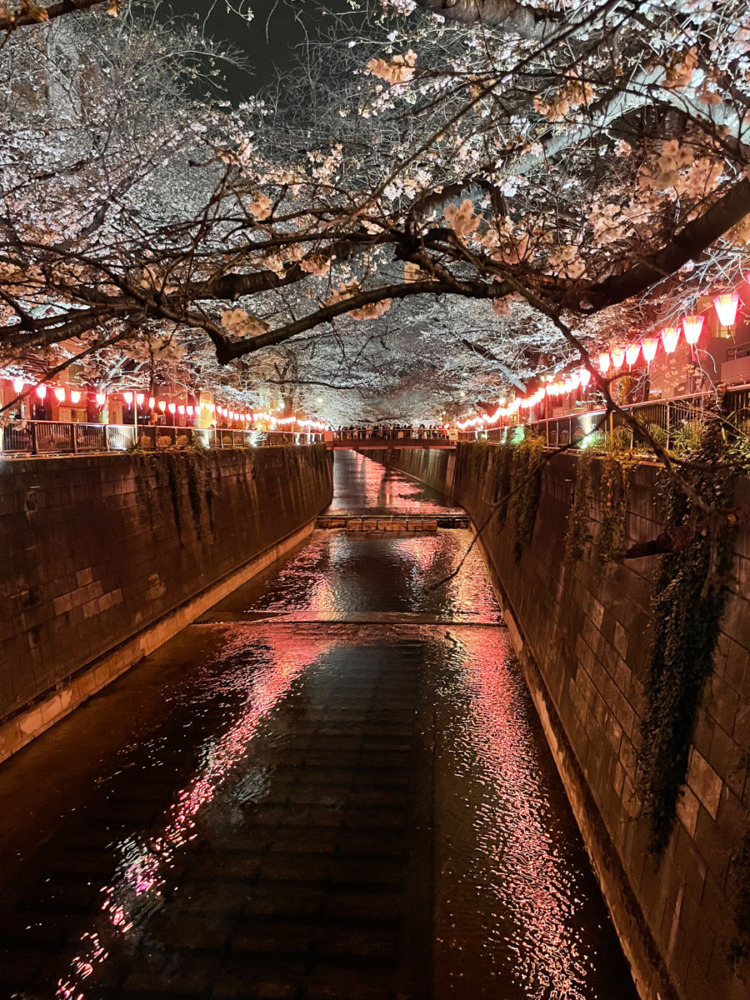 Cap off your incredible 4 day Tokyo itinerary with kids in the charming neighborhood of Meguro. The area is largely residential but offers an absolutely stunning place to see cherry blossoms along the Meguro River walk, particularly in the evening – the blossoms are illuminated until 8pm. There are also wonderful restaurant options – as with most places in Tokyo, prepare to put your name on the list and then go for a pleasant stroll at peak times. We had an amazing and budget-friendly yakitori meal at local favorite Kushiwakamura. The Meguro neighborhood is so lovely that we went there two evenings in a row during our family trip to Tokyo!
---
Getting Around Tokyo With Kids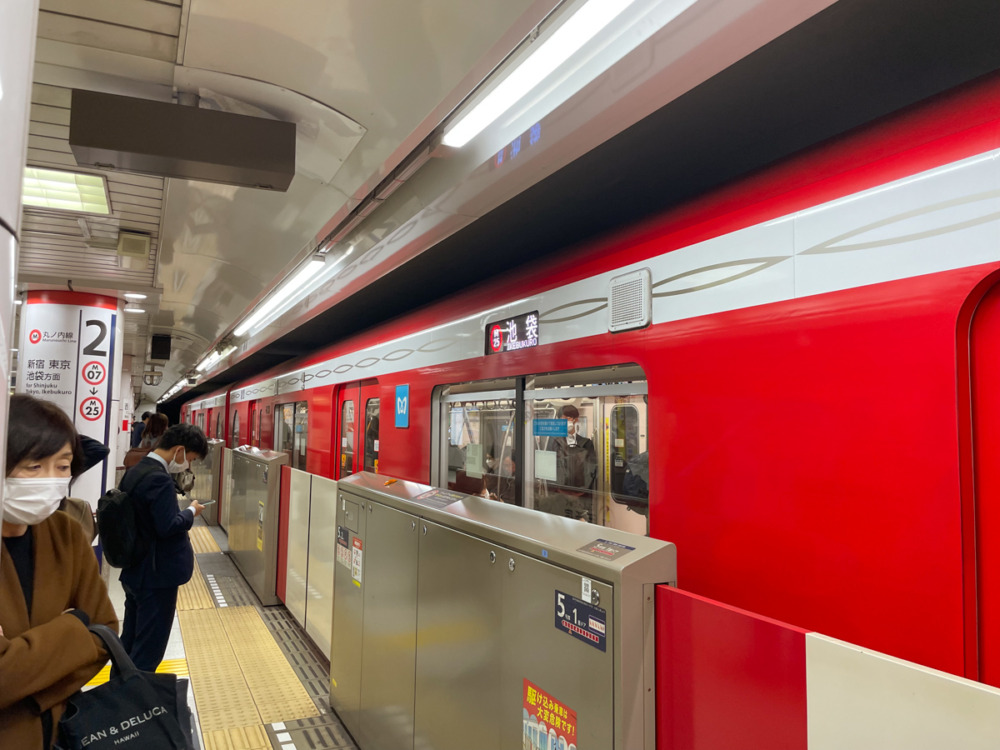 Getting around Tokyo with kids requires some thought and advance planning! Here are some important tips to keep in mind:
Be sure you have Google Maps installed and consider downloading the Tokyo map to use offline. Supplement it with the excellent JapanTravel app. Google Maps does a good job overall of providing both walking and transit directions, as well as comparing travel time versus taking a taxi/Uber. But JapanTravel has a key advantage: you can select which train passes you have activated on a given day to find out which routes are covered, partially covered or not covered.
The subway system is efficient but can take a few tries to understand. For historical reasons, Tokyo has several subway companies with overlapping maps. Some stations are shared, while others are not. We found the 72 hour subway pass to be a great value and very easy to use, but know that it doesn't include the popular JR Yamanote line. We purchased single-ride tickets when we needed to use that. DO NOT waste your pricey Japan Rail Pass on Tokyo – you'll need it for the rest of your Japan itinerary, when you're taking long-distance train rides.
The huge stations like Shinjuku and Tokyo station have many connections but are harder to navigate. We often preferred using the smaller stations even if the Google Maps directions said the route could take a few extra minutes. It's much easier to find the correct part of the station and platform at a "local" stop!
Sometimes a taxi or Uber is much more efficient than public transportation. Japanese trains are great overall, but on some routes you'll find that a car is much faster. Be sure to bring a folding car seat with you in case you need to take a ride.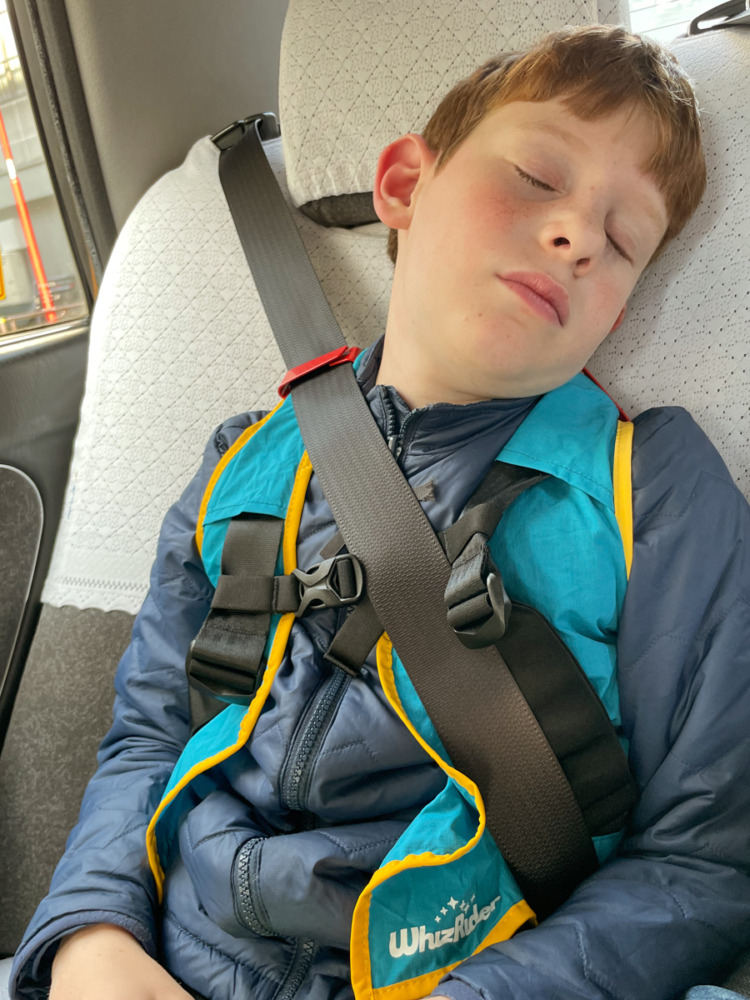 One quick note: At some point early in your trip, you'll need to visit a Japan Rail office to exchange your JR Pass voucher for the physical passes. You can and should do this before the first day you'll be using the pass, as it's best to reserve seats on some of the busier trains at few days in advance – once you have the pass you can reserve at a kiosk.
The airport arrival areas have offices and those will be the easiest options if they're open when you arrive. If they're not, you can exchange at the JR building next to the main Shinjuku station – it's outside and around the back, not inside the station. Lines may be long, so if you have to go to Shinjuku to do this I recommend going as early as possible and bring entertainment for your kids!
Prepare your family for lots and lots and lots of walking in Tokyo. Despite using plenty of trains and taxis (with vests for the kids) we clocked 8-10 miles on foot every day! We made sure to bring plenty of water with us, allow ample convenience store snack stops – an experience unto itself – and even took family stretch breaks.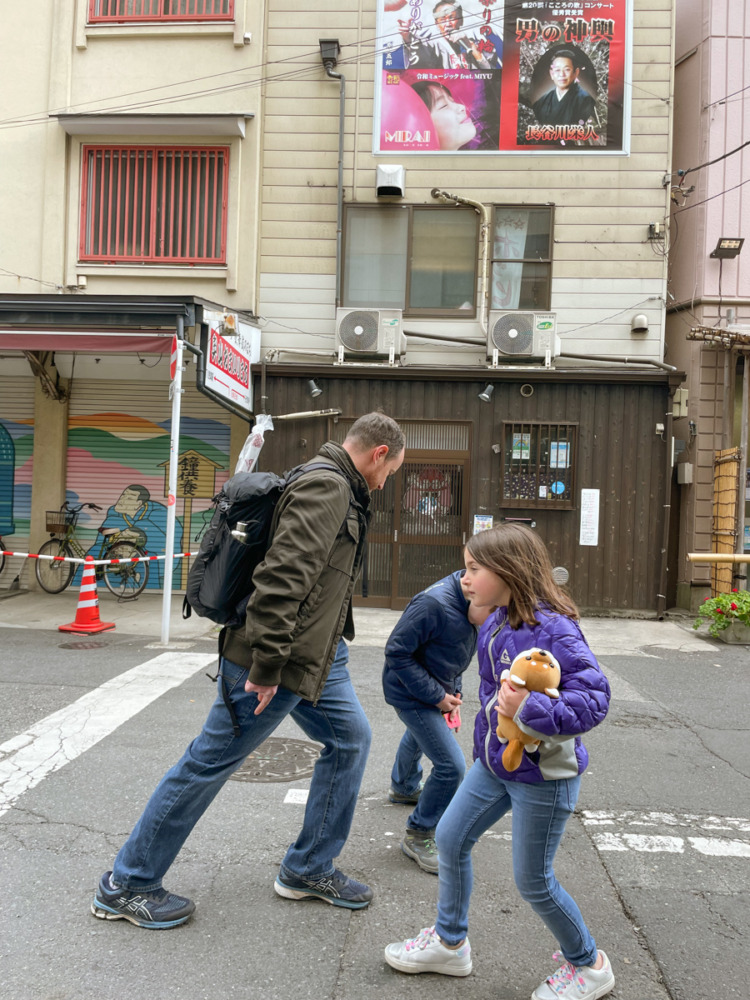 Many families wonder if they should bring a stroller to Tokyo for babies or toddlers. While our kids were too old for that question, the consensus in our Facebook group is a resounding no to strollers in Tokyo. Most traveling families vote that it's much more convenient to bring a carrier like this one. Restaurants and trains are often cramped and elevators may be tricky to find.
If you absolutely feel like you need a stroller, consider an ultracompact folding stroller. It fits in the overhead bin on your flight, and if you can't use it in a particular location you'll be able to fold it and sling it over your shoulder!
---
Mapping the Best Things to do With Kids in Tokyo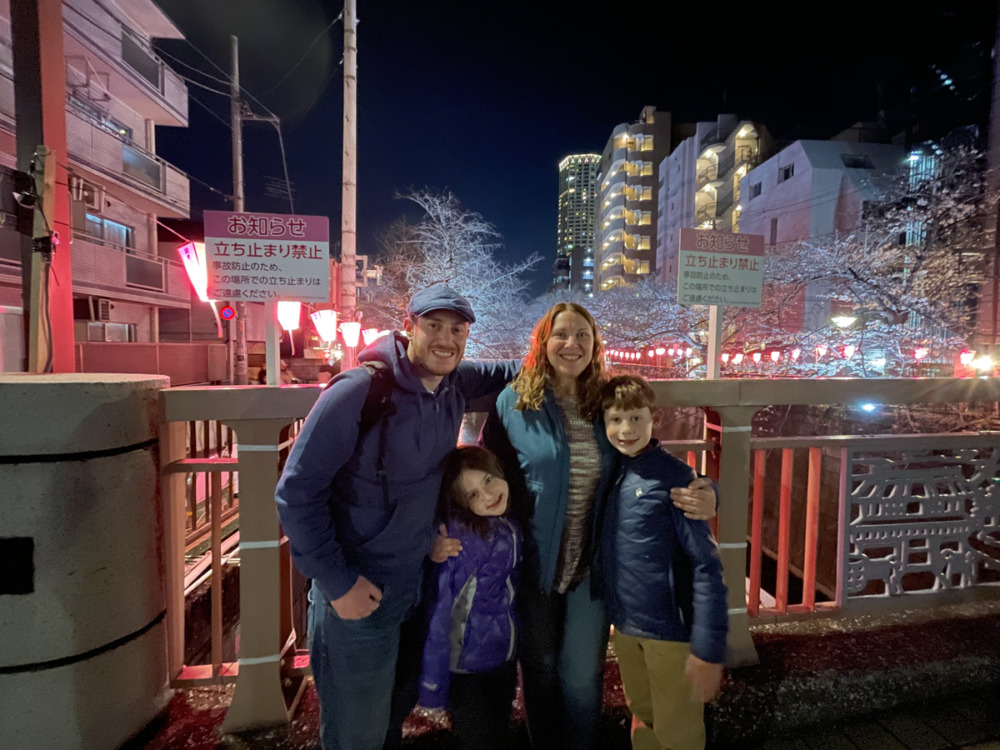 Putting together your Tokyo itinerary can be so overwhelming! Use this day-by-day color-coded map of the best things to do with kids in Tokyo to help you organize your time. You can even download it to your Google Maps app to use offline while you're there – that's exactly what we did.
---
Planning Your Family Trip to Tokyo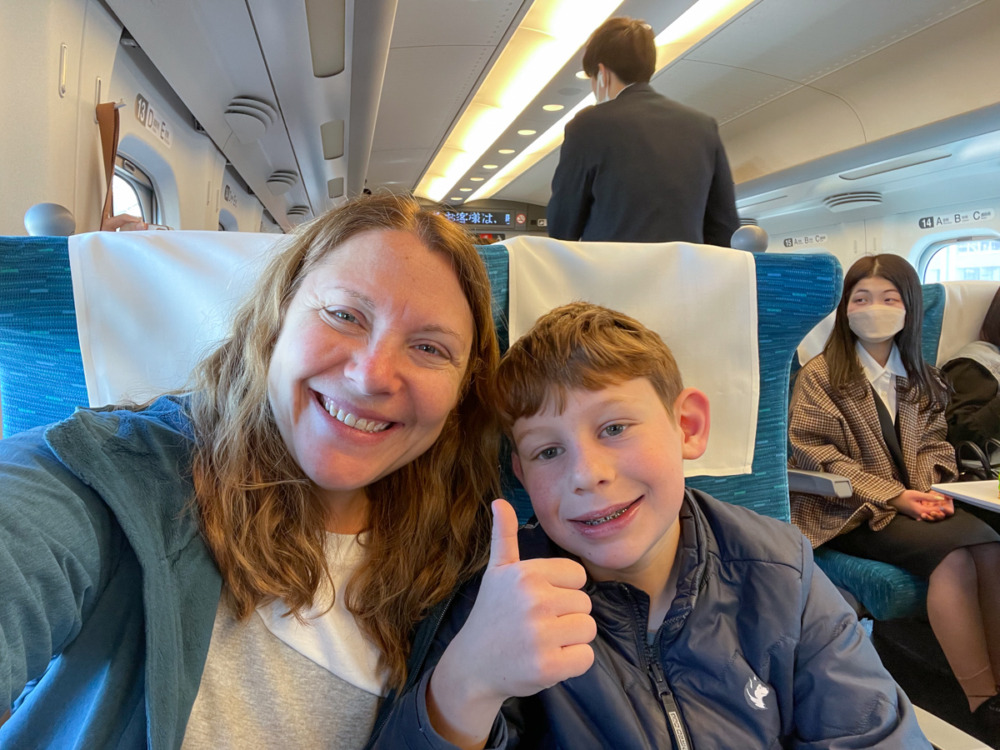 I hope this Tokyo itinerary and travel guide has given you all of the information you need to plan an incredible visit to Tokyo with kids! Let me know in the comments if you have any more questions as you plan your own family trip.
Don't miss these resources to plan your family trip to Japan:
Still planning? Pin this for later!