There are tons of awesome kid-friendly hotels in Kyoto to choose from! But where should you stay in Kyoto with kids?
Thankfully there are lots of great options to consider as a base, no matter which things to do with kids in Kyoto you're planning to explore. This list has plenty of different choice, including themed hotels, a ryokan, Kyoto Airbnbs, boutique hotels and more.
It's good to keep in mind that the city is fairly compact compared to Tokyo – if you had a car, you could drive clear across the city in about 25 minutes when there's minimal traffic. That said, unless you plan to take pricey taxis everywhere you'll want to be sure you choose one of the best family hotels in Kyoto that's convenient for public transportation. There are plenty of opinions about the best area to stay in Kyoto, but all of these accommodations are pretty centrally located.
I hope you love these suggestions for where to stay in Kyoto with kids, and if you have others I can't wait to hear about them in the comments! You can also check out the interactive map of Kyoto family hotels at the bottom of this article to help you find the perfect place to stay in Kyoto.
Where to stay in Kyoto with kids
Mimaru Kyoto Nishinotoin Takatsuji or Mimaru Kyoto Station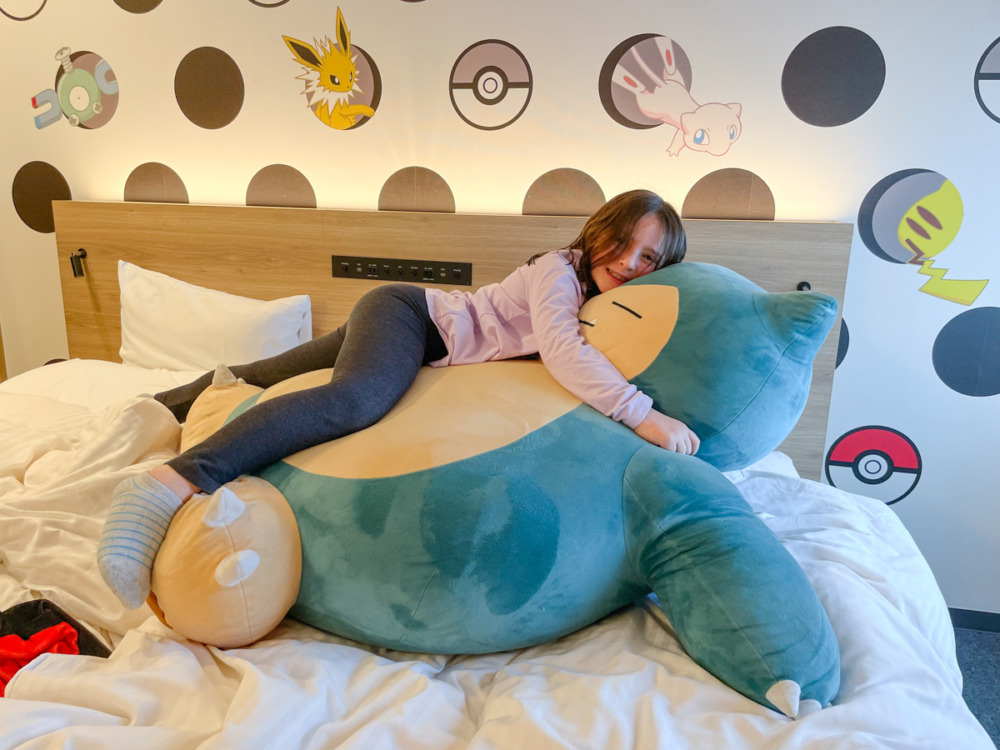 When we visited Kyoto we opted to stay in an "aparthotel" at Mimaru Kyoto Nishinotoin Takatsuji, which is a real mouthful but distinguishes it from the several other Mimaru locations in Kyoto. It's located in downtown Kyoto, about 10 minutes from the main station by bus or subway. It's also easy walking distance to central Kyoto City sites like the Kyoto Imperial Palace and gardens, Nijo Castle and Nishiki market. Similar rooms are available at Mimaru Kyoto Station.
But why did we really stay there? This Mimaru offers Pokémon themed rooms that will absolutely make your family vacation! The looks on our kids' faces when they walked in were priceless – if you're able to snag one of these coveted rooms, I recommend keeping it a surprise as we did. This is definitely one of the most memorable Pokemon things to do in Japan.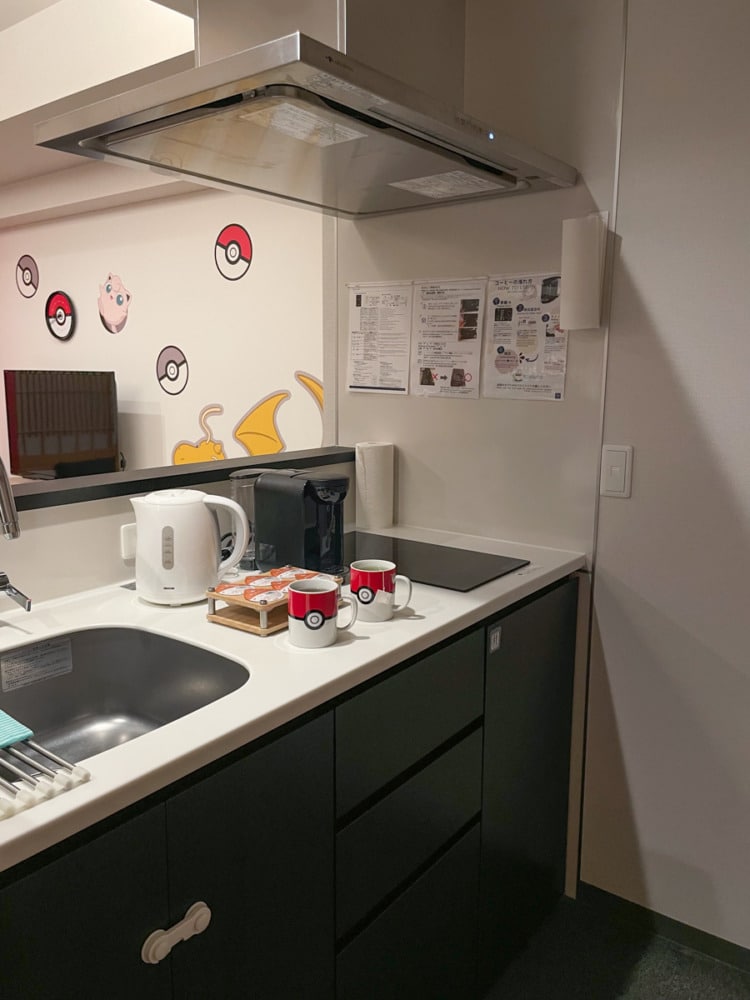 They offer rooms for 4 people and rooms for 6 people; we had the larger one and it was so nice to stretch out a bit. Our room had four twin pushed together into two king beds plus a set of bunk beds. The bunks and one of the king set ups were in a separate area of our mini apartment and had the option to close that part off into a separate bedroom for the kids.
It is marketed as a Kyoto hotel room for 8 people but I think that assumes you'll use the dining benches for sleep. You can add a crib here, so I'd say that you can comfortably sleep 6 plus a baby.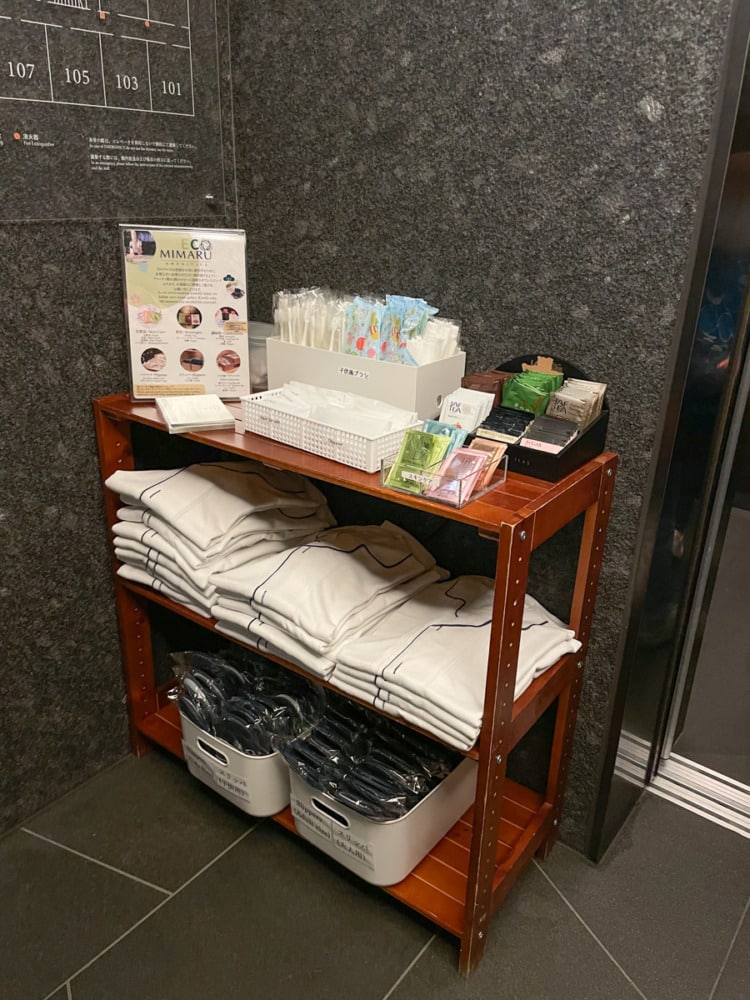 Beyond the Pokémon hotel aspect, the Mimaru Kyoto Nishinotoin Takatsuji is just a really great place to stay in Kyoto with kids. They have everything you'd need from laundry facilities to board games you can check out to kid-sized slippers and more. The staff was so incredibly helpful and kind both in dealing with our reservation and in meeting our on-site needs.
You can also book a Pokémon hotel room at the Mimaru Kyoto Station, but it's a little more compact in the layout and even harder to book – they're both among the most family-friendly hotels in Kyoto Japan. If the Kyoto options don't work for you, try for Mimaru Tokyo Ueno East or Mimaru Tokyo Hatchobori when you visit Tokyo with kids. Gotta catch 'em all!
Hyatt Place Kyoto
If you want the ultimate budget-friendly hotel in Kyoto with kids, how about booking the Hyatt Place Kyoto for free? Yep, you can get a free hotel in Kyoto for your family of three or four!
First off, families will like staying at this Hyatt Place thanks to its convenient location near the Imperial Palace and Nijō Castle. It's right next to the Karasuma Line, which is a straight shot to Kyoto Station.
Second, your free room includes a serious breakfast spread that offers both Japanese and Western breakfast items. No stressing about whether or not your kids will find foods that they like to fuel up for the day!
Ok so how can you stay in Kyoto for free? When you open this awesome credit card, which has an annual fee of just $95, you'll receive enough points to book 4-7 nights by transferring the points to your World of Hyatt account. Simple as that! Unlike many other brands, Hyatt usually has great award night availability – I redeem points for free stays around the world several times per year.
Cross Hotel Kyoto
If you want an amazing balance of convenience with space to spread out, the Cross Hotel Kyoto is one of the best Kyoto hotels for families of 5, 6 or even 7 depending on the room. It's conveniently located next to Kawaramachi – just a few minutes' walk to Sanjo Station, where you can pick up the Keihan Line, and the Tozai Line. You'll also be able to do some sightseeing on foot since it's close to Nishiki Market, the Kyoto International Manga Museum and more.
Breakfast isn't included, but it's a robust buffet. Even better, young children eat free! This could be a great value if you're visiting Kyoto with toddlers and want to minimize your hassle in the morning.
Hyatt Regency Kyoto
For convenience to some of the top Kyoto tourist attractions, check out the Hyatt Regency Kyoto in the Higashiyama district in southern Kyoto's east side. Other family members stayed there recently and had a fantastic experience. We stopped by for the hotel's free maiko performance as well and agree that it's a beautiful hotel.
It's a relatively quiet area and there's a beautiful garden in the back of the hotel – some rooms even have a view of the garden! Rooms are reasonably sized by Japanese standards, especially if you opt for a Corner Deluxe that includes a sitting area.
There's a bus stop (which we used) right in front of the hotel that takes you to the Kyoto train station in about 10 minutes. You can easily kick off your tour of Kyoto's religious sites with a 20 minute walk to the Kiyomizu-Dera temple. You're also a short walk to the Kyoto National Museum, which is just across the street.
There aren't a ton of restaurants right around the Hyatt Regency Kyoto, so you'll probably end up eating elsewhere – near the station, in Kawaramachi or in Downtown Kyoto.
If you play the points and miles game, you can generally snag three nights for free at the Hyatt Regency Kyoto with the sign up bonus for the Chase Sapphire Preferred, Chase Sapphire Reserve or Chase Ink Business Preferred credit card!
Matsui Honkan
If you want a traditional Japanese hotel ("ryokan") experience in the heart of the city, check out Matsui Honkan. I had originally booked this family accommodation in Kyoto but it wasn't available when I needed to adjust our dates. It also offers an excellent location right near Nishiki market but with beautiful interior landscaping to help you escape the hustle and bustle of the city.
Book a Japanese-style room here to experience tatami mat floors and sleep on comfortable futons, which are set up each night and put away each morning by hotel staff. Unwind with an evening soak in the public bath ("onsen") on-site. You have the option to book a rate that includes breakfast or one that does not and there's also the option to add on dinner; just keep in mind that the food offered may not work for dietary restrictions.
We stayed at a ryokan elsewhere in Japan and it was an amazing experience, but I wouldn't recommend it for most families for more than two or three nights. It gets very pricey and some of the novelty may wear off for longer stays.
Glanz Kei Kyoto Station
If you'd rather stay in a Kyoto vacation rental or Kyoto Airbnb, check out the lovely aparthotels at Glanz Kei Kyoto Station. As the name implies, they're right near Kyoto Station! It may not be the most atmospheric neighborhood of Kyoto but it's the perfect location if you plan to take a lot of day trips from Kyoto. There are also tons of great family-friendly restaurants nearby, including the whole mall under the train station.
The Kyoto apartments at Glanz Kei all have two bedroom and one bathroom, with maximum capacity of ten people. They're an ideal option for families visiting Kyoto with lots of kids! You'll also get a fully stocked kitchen, TVs in both the dining area and den and a washing machine.
If you're planning an extended stay in Kyoto with family, Glanz Kei is an excellent choice.
Ace Hotel Kyoto
If you're looking for the most stylish Kyoto family hotels, it's hard to beat the Ace Hotel Kyoto. It's in the heart of the modern city with great transit connections and walking distance to kid-friendly spots like A Happy Pancake (highly recommend) and Pokemon Center Kyoto.
Most of the rooms at the Ace only accommodate two guests, but the awesome Tatami Suite in the new building is perfect for a family of four. It's spacious and has a great blend of Japanese and Western styles. It features fun bonuses like an old-school turntable and a deep soaker tub.
Be sure to stop by the cool rooftop bar/restaurant, Mr. Maurice's. It's open to all ages and beautiful!
Mapping Kyoto Family Hotels
Planning Your Family Trip to Kyoto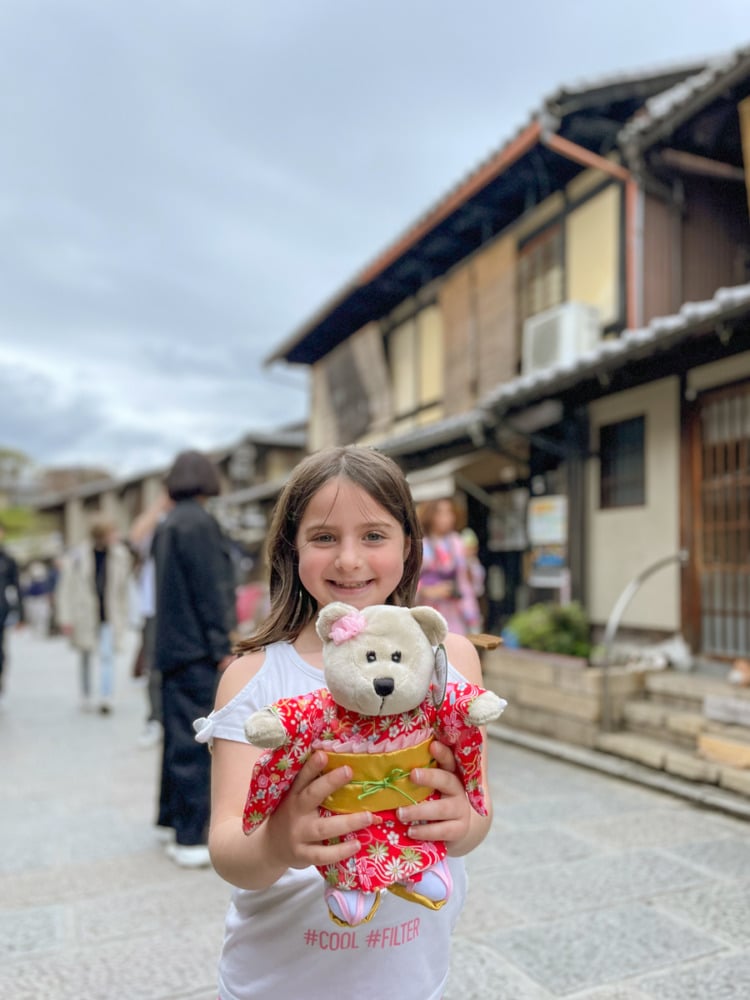 I hope this guide to where to stay in Kyoto with a family has given you all of the information you need to plan an incredible visit to Kyoto with kids! Let me know in the comments if you have any more questions as you plan your own family trip.
Don't miss these resources to plan your family trip to Japan: