Perhaps one of Japan's most important cultural cities, Kyoto is a must-visit on any Japan trip! The great news is that there are tons of great things to do in Kyoto with kids – you could stay for a week without getting bored, especially given its proximity to other parts of the Kansai region.
In this in-depth guide to visiting Kyoto with kids, we'll show you how to make the most of your time and share real-world tips for how to handle some of the city's logistical challenges. I'll also share some of our favorite places to eat in Kyoto with kids and specific things to include on your packing list for a smooth trip.
---
Where To Stay in Kyoto With Kids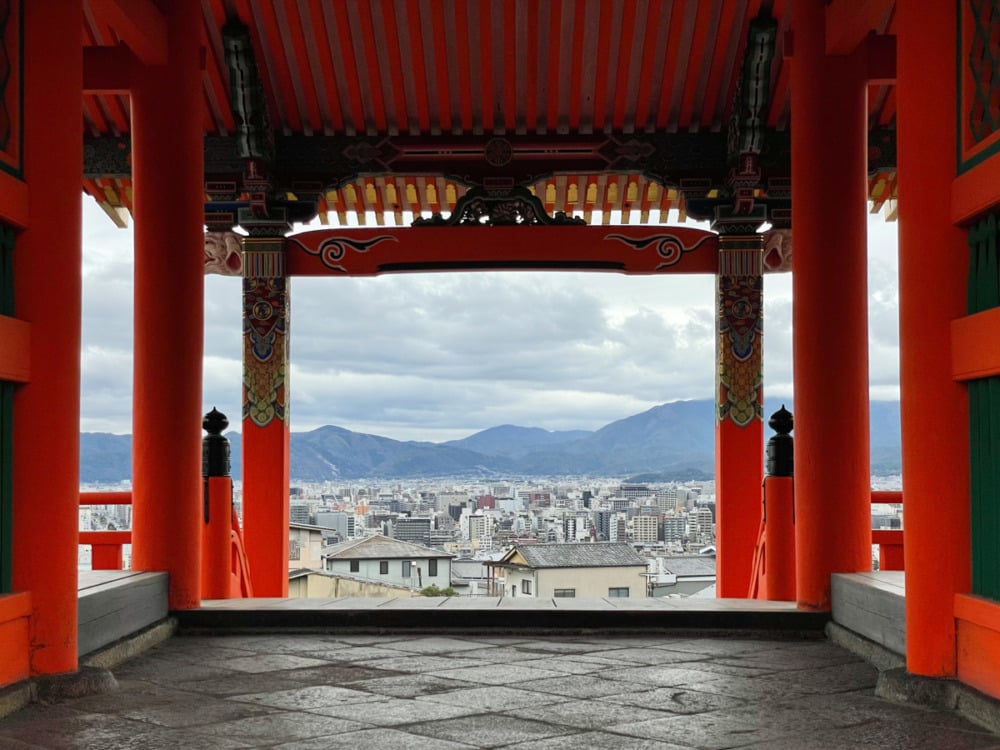 There are tons of awesome kid-friendly hotels in Kyoto to choose from! But where should you stay in Kyoto with kids?
Thankfully there are a few great options to consider as a base, no matter which things to do with kids in Kyoto you're planning to explore. It's good to keep in mind that the city is fairly compact compared to Tokyo – if you had a car, you could drive clear across the city in about 25 minutes when there's minimal traffic. That said, unless you plan to take pricey taxis everywhere you'll want to be sure you choose a Kyoto family hotel that's convenient for public transportation.
Hyatt Regency Kyoto
For convenience to some of the top Kyoto tourist attractions, check out the Hyatt Regency Kyoto in the Higashiyama district in southern Kyoto's east side. Other family members stayed there recently and had a fantastic experience. We stopped by for the hotel's free maiko performance as well and agree that it's a beautiful hotel. It's a relatively quiet area and there's a beautiful garden in the back of the hotel, and some rooms have a view of it. Rooms are reasonably sized by Japanese standards, especially if you opt for a Corner Deluxe that includes a sitting area.
There's a bus stop (which we used) right in front of the hotel that takes you to the Kyoto train station in about 10 minutes. You can easily kick off your tour of Kyoto's religious sites with a 20 minute walk to the Kiyomizu-Dera temple. You're also a short walk to the Kyoto National Museum, which is just across the street.
There aren't a ton of restaurants right around the Hyatt Regency Kyoto, so you'll probably end up eating elsewhere – near the station, in Kawaramachi or in Downtown Kyoto.
If you play the points and miles game, you can generally snag three nights for free at the Hyatt Regency Kyoto with the sign up bonus for the Chase Sapphire Preferred, Chase Sapphire Reserve or Chase Ink Business Preferred credit card!
Mimaru Kyoto Nishinotoin Takatsuji (or Mimaru Kyoto Station)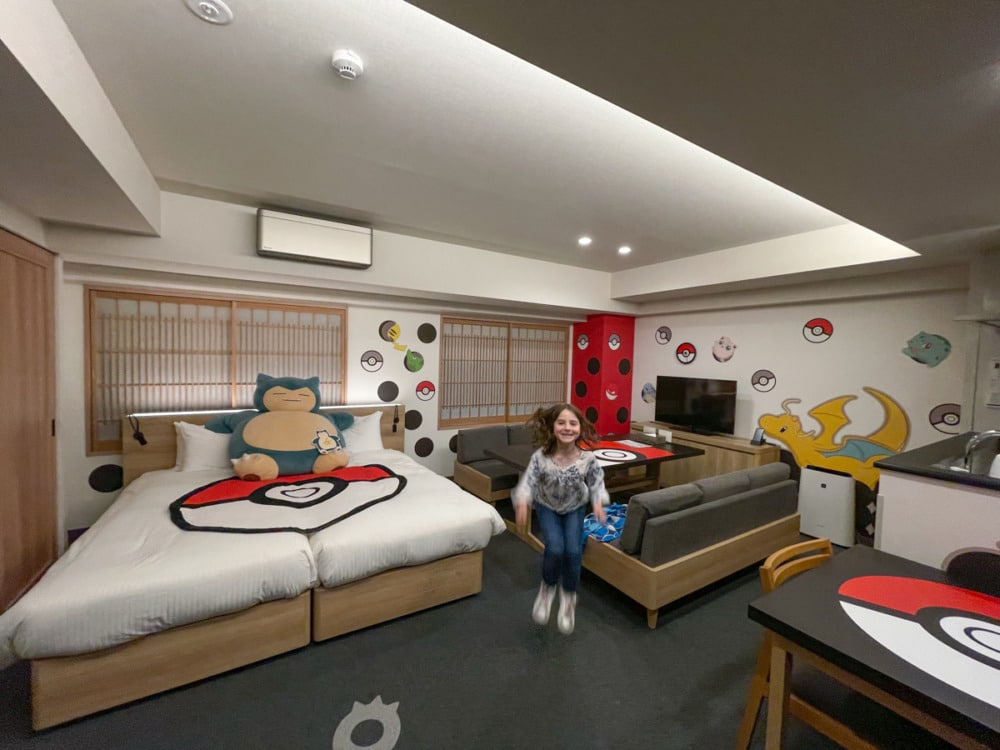 When we visited Kyoto we opted to stay in an "aparthotel" at Mimaru Kyoto Nishinotoin Takatsuji, which is a real mouthful but distinguishes it from the several other Mimaru locations in Kyoto. It's located in downtown Kyoto, about 10 minutes from the main station by bus or subway. It's also easy walking distance to central Kyoto City sites like the Kyoto Imperial Palace and gardens, Nijo Castle and Nishiki market.
But why did we really stay there? This Mimaru offers Pokémon themed rooms that will absolutely make your family vacation! The looks on our kids' faces when they walked in were priceless – if you're able to snag one of these coveted rooms, I recommend keeping it a surprise as we did. This is definitely one of the most memorable Pokemon things to do in Japan.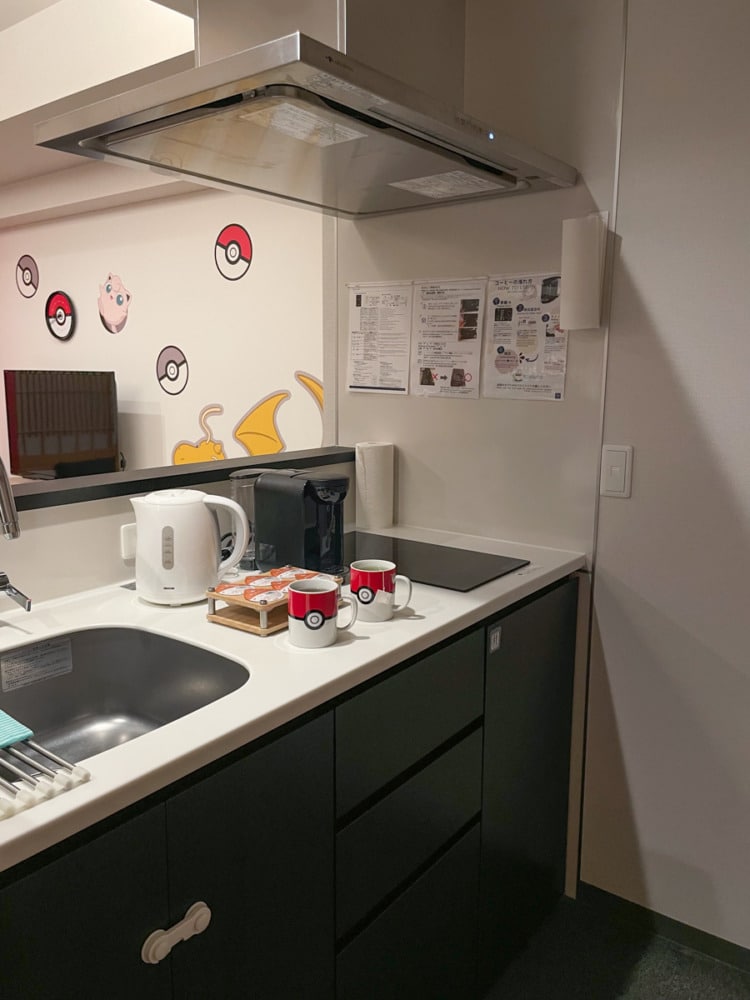 They offer rooms for 4 people and rooms for 6 people; we had the larger one and it was so nice to stretch out a bit. Our room had four twin pushed together into two king beds plus a set of bunk beds. The bunks and one of the king set ups were in a separate area of our mini apartment and had the option to close that part off into a separate bedroom for the kids.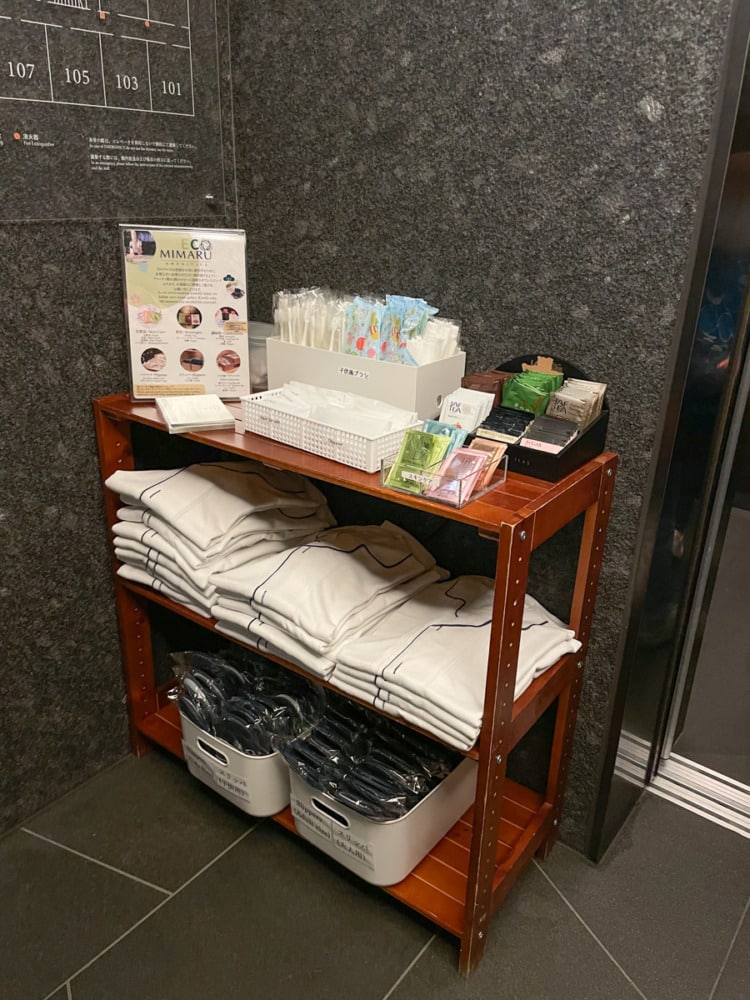 Beyond the Pokémon hotel aspect, the Mimaru Kyoto Nishinotoin Takatsuji is just a really great place to stay in Kyoto with kids. They have everything you'd need from laundry facilities to board games you can check out to kid-sized slippers and more. The staff was so incredibly helpful and kind both in dealing with our reservation and in meeting our on-site needs.
You can also book a Pokémon hotel room at the Mimaru Kyoto Station, but it's a little more compact in the layout and even harder to book. If the Kyoto options don't work for you, try for Mimaru Tokyo Ueno East or Mimaru Tokyo Hatchobori. Gotta catch 'em all!
Matsui Honkan
If you want a traditional Japanese hotel ("ryokan") experience in the heart of the city, check out Matsui Honkan. I had originally booked this hotel but it wasn't available when I needed to adjust our dates. It offers an excellent location right near Nishiki market but with beautiful interior landscaping to help you escape the hustle and bustle of the city.
Book a Japanese-style room here to experience tatami mat floors and sleep on comfortable futons, which are set up each night and put away each morning by hotel staff. Unwind with an evening soak in the public bath ("onsen") on-site. You have the option to book a rate that includes breakfast or one that does not and there's also the option to add on dinner; just keep in mind that the food offered may not work for dietary restrictions.
We stayed at a ryokan elsewhere in Japan and it was an amazing experience, but I wouldn't recommend it for most families for more than two or three nights. It gets very pricey and some of the novelty may wear off for longer stays.
Need more options? Check out the best family hotels in Kyoto
---
Practical Tips For Traveling With Kids in Kyoto
Getting around Kyoto with kids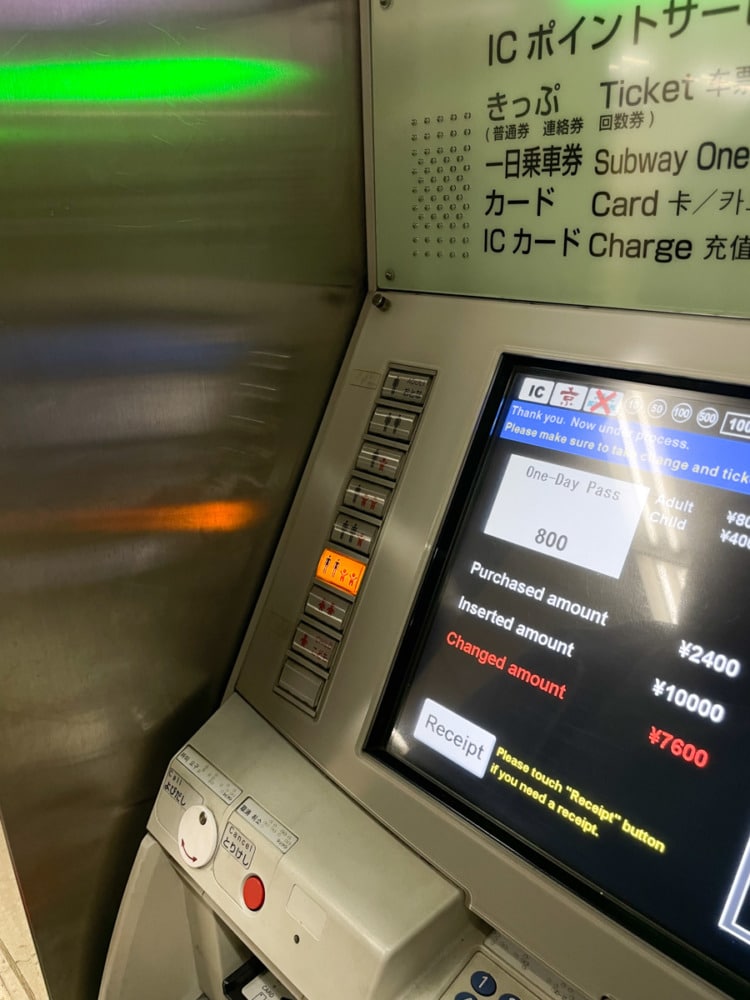 After marveling at the efficiency of Tokyo's public transportation, I'd rate Kyoto's local transportation to be "ok" but not great. It's a good idea to spend some time with Google Maps and the Japan Travel app dissecting your transit options. Japan Travel is great because you can specify which transit passes you have (more on those below) and it tells you which routes are covered.
Many visitors (including us) rely on a combination of trains, buses and taxis to get around Kyoto. Unfortunately the public transportation is run by a plethora of private companies just like in Tokyo. Thankfully visitors can simplify their tickets by purchasing the Kansai Thru Pass for 2 or 3 days (and kids at half price); it covers nearly all non-JR rail lines plus bus lines and can be used on non-consecutive days. If you have an active Japan Rail pass you can use that for select rides in the city as well, but JR lines aren't as ubiquitous as elsewhere.
Whether or not a pass makes sense for you will depend on how much you plan to use public transportation versus taxis and Ubers. That said, there's also the convenience factor of nearly every trip being covered without having to stop at a ticket machine every time you want to board. You could also consider separate passes for Keihan, Hankyu and buses.
Nearly all Japanese residents and some tourists use reloadable IC cards to quickly swipe onto all forms of transit. There's even a Welcome SUICA card specifically for tourists. However, children need to go in person with their parents to a JR service center and show their passports to get an IC card for children. If you go this route, you'll have to reload cards for your whole family periodically as you travel around. We didn't feel that it was worth the hassle and used a combination of subway pass in Tokyo and single-ride tickets elsewhere instead.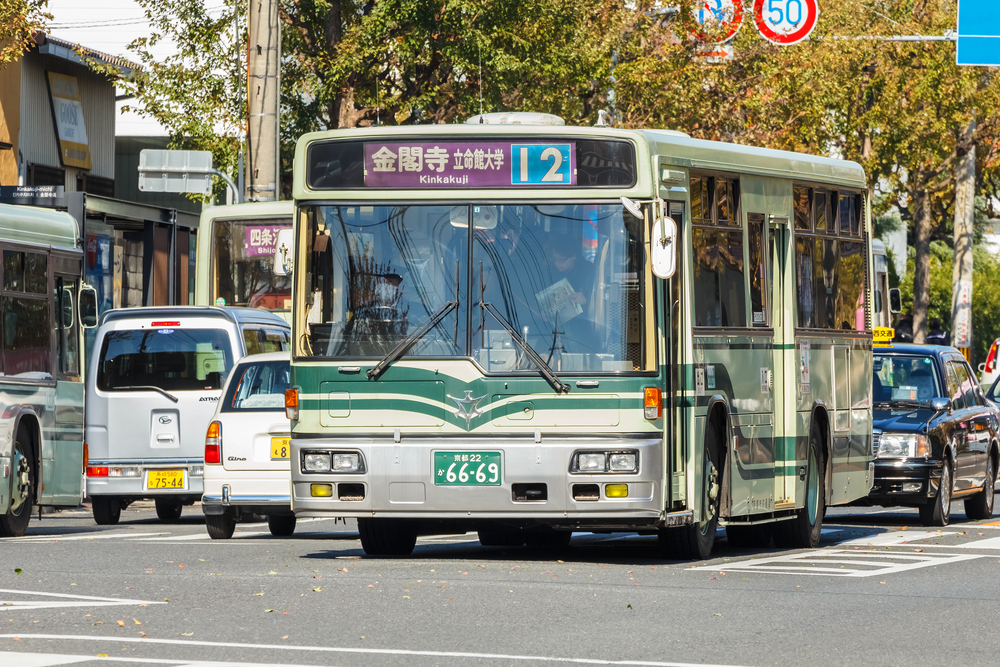 While trains run frequently and on schedule, the coverage isn't always extensive enough to get you where you need to go. Many Kyoto visitors opt to use buses, which have a solid coverage network and are inexpensive. However, some bus lines only run every 30 minutes and don't necessarily keep to the posted schedule. We saw one pull away from our intended stop 6 minutes early as we waited to cross the street, leaving us with the option to either wait up to 36 minutes more or take a pricey taxi. If you're concerned with touring efficiency, pay close attention to the frequency of the bus you plan to take and whether alternative bus routes will work for you as well.
We wound up using taxis in Kyoto more than we expected. I strongly recommend bringing a Ride Safer Travel Vest with you if your child is 3-10 years old (or a Bubblebum if 5-10), as it's easy to throw in your day pack and will ensure a safe ride when you need it. For younger children, consider one of these travel infant car seats or the WAYB Pico. We experienced some crazy taxi drivers in Kyoto with kids.
Of course you'll want to walk when possible too! Even with taxis and local transportation we logged about 9 miles on foot every day.
Packing essentials for a family trip to Kyoto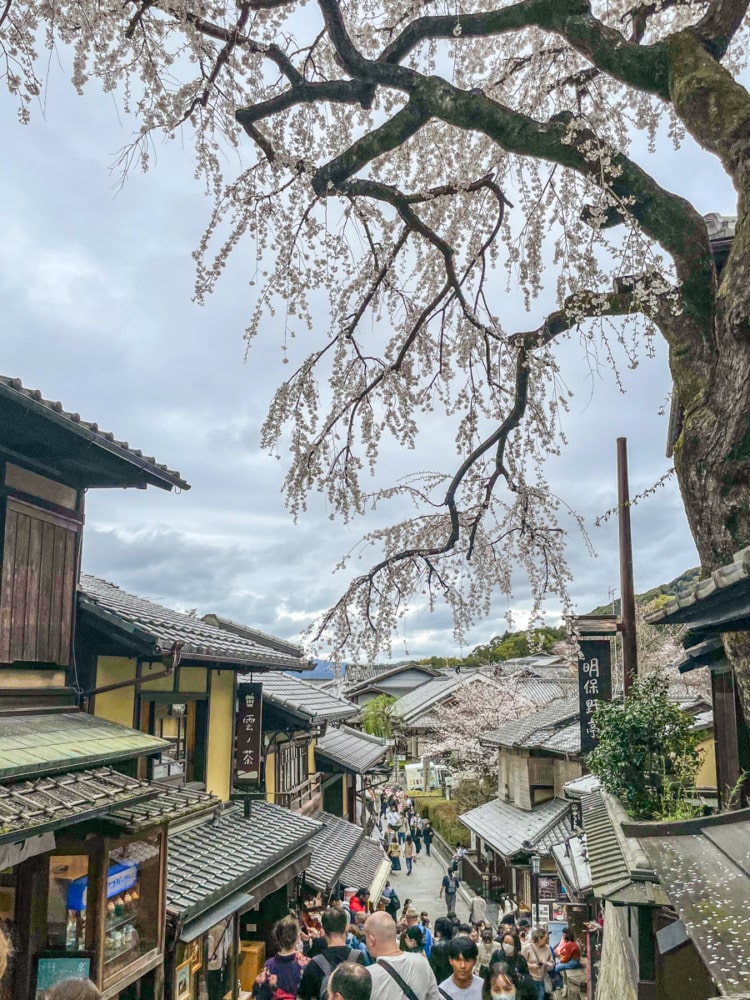 What to pack for Kyoto with kids isn't so different than anywhere else. There shouldn't be any really specialized gear that you need. Here are a few things on our Japan packing list that we found helpful (or would have wanted when our kids were younger)
Portable charger – You'll be using your phone all day long to take pictures, translate menus and look up directions. We love this one because it plugs directly into our iPhones and still fits in our pockets. There's an Android-friendly version as well.
Compact umbrella – We bought them at 7-11 in Japan, but if you have a travel umbrella it's worth bringing to Kyoto all year long. November and December are the driest months, but the rest of the year you should plan for at least some rain.
Foldable car seat – If you're riding in taxis, your kids need to be safe. Here are great options by age.
Baby carrier – While a compact travel stroller is generally great in Tokyo, most of Kyoto's blockbuster sites are in the hills surrounding the city and will be much, much easier to access with young children strapped into a carrier. It's also easier to manage subways and huge crowds at attractions than pushing a stroller.
---
Best Things To Do In Kyoto With Kids in 2 Days
The most famous sites that you'll explore during a two day Kyoto itinerary are in the hills on the east and west sides of the city. You'll definitely want to group your sightseeing geographically to get around the city efficiently! If you're building out a 3 day Kyoto itinerary (or longer), I've included additional options to add on to your trip.
I've crafted this itinerary specifically for those visiting Kyoto with kids, though adults can follow it too. But there are only so many temples and religious sites that young people can visit before they all blend together, so we tried to be sensitive to that.
Day 1 in Kyoto with kids
Fushimi Inari Taisha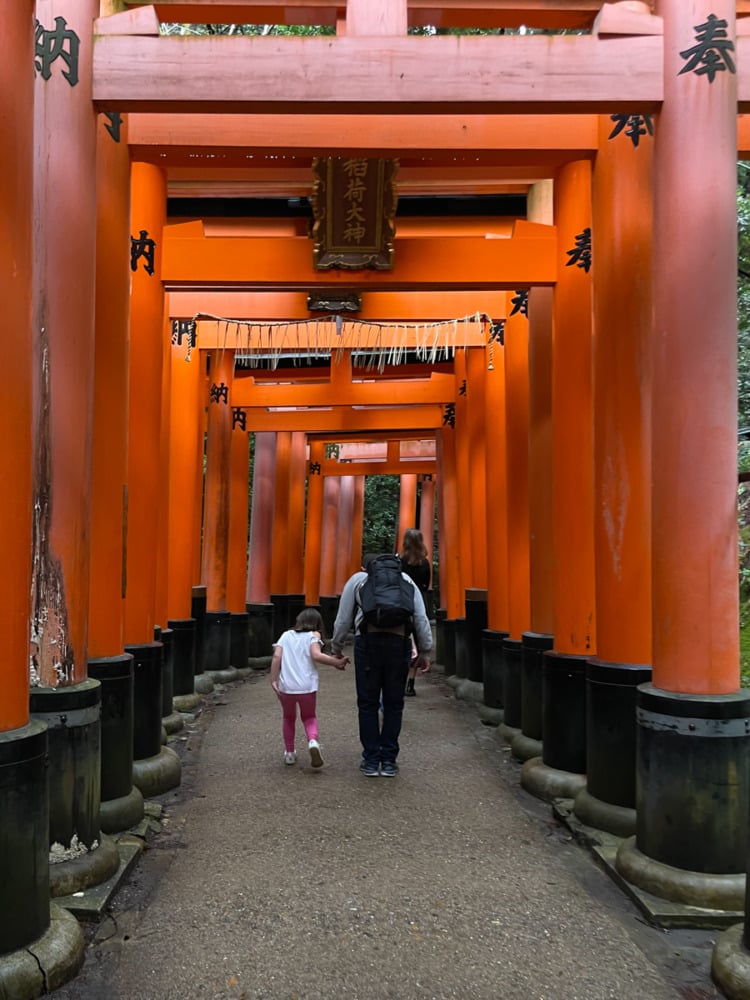 Start off your first day in Kyoto with kids at Fushimi Inari Taisha, the famous vermillion (aka orange) torii gates that you've seen in every single book or article about Kyoto. You can't visit Kyoto without coming here. This shrine is dedicated to the Shinto god of rice, personified by a fox. Ask your kids to count how many fox statues they can find!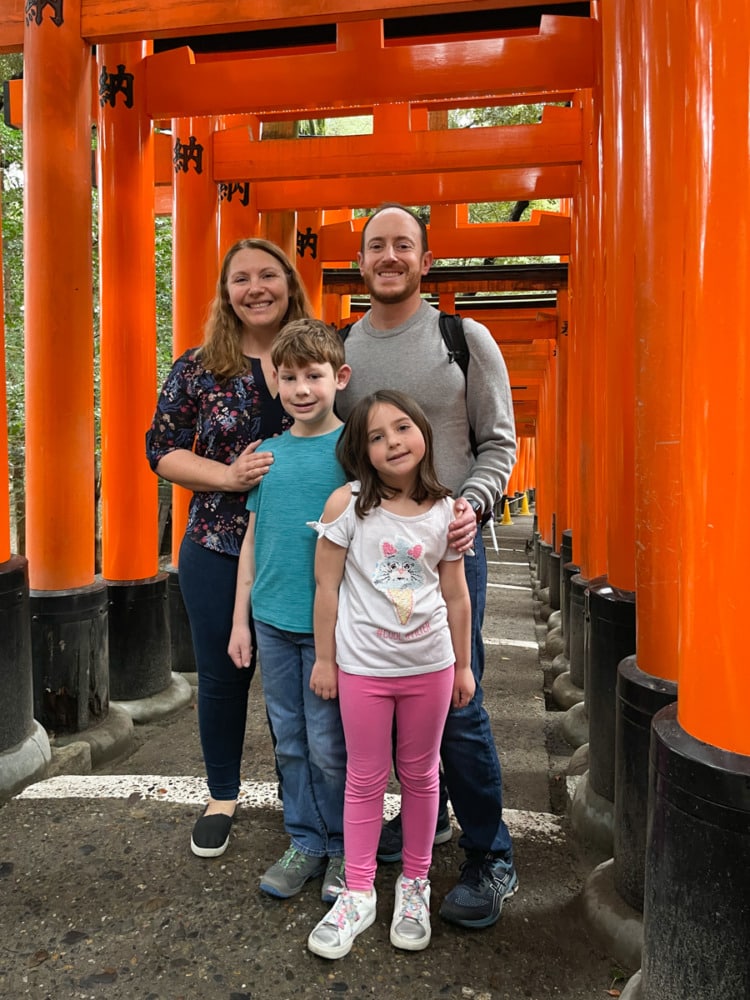 The earlier you get here (which is easy to do by train ride on JR or Keihan), the better. It's justifiably one of the city's most popular religious sites to visit and it attracts huge crowds! The torii gates continue as you walk part-way up the mountain, and I recommend going past the restrooms to enjoy thinner crowds. If you're visiting Kyoto with toddlers or a baby, be sure to opt for a carrier instead of a stroller here.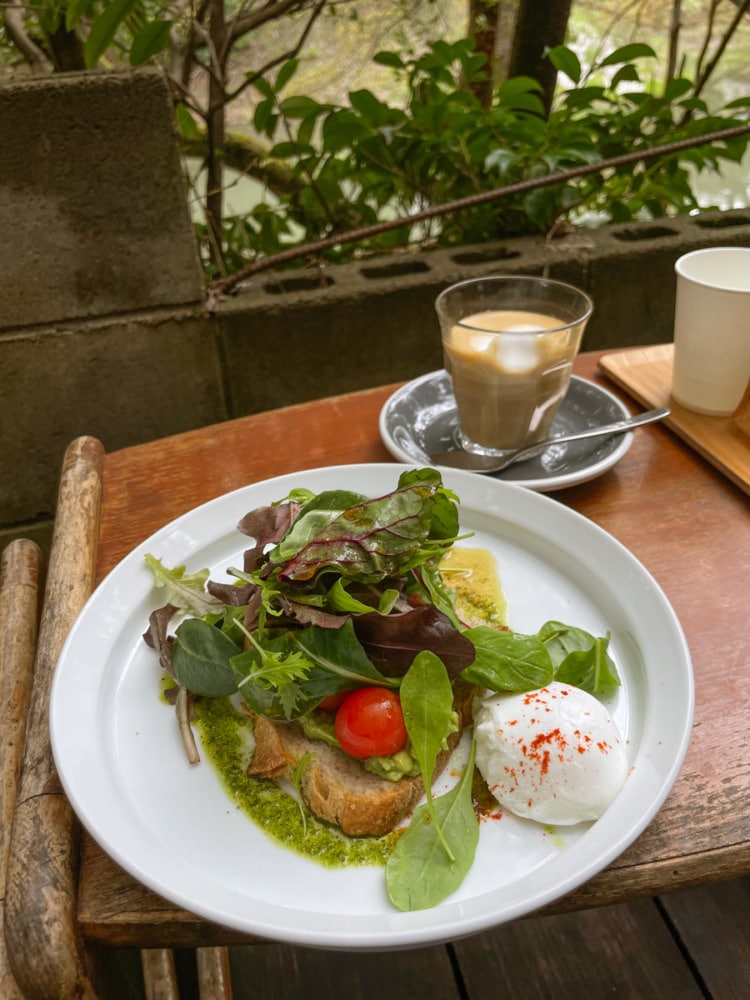 Once you head back down and get to the end of the trail, head right at the pond to leave the shrine along a more secluded path. On the far side of the path you'll find the excellent Vermillion Cafe, which is a lovely place to stop for a snack or brunch.
Kiyomizu-dera Temple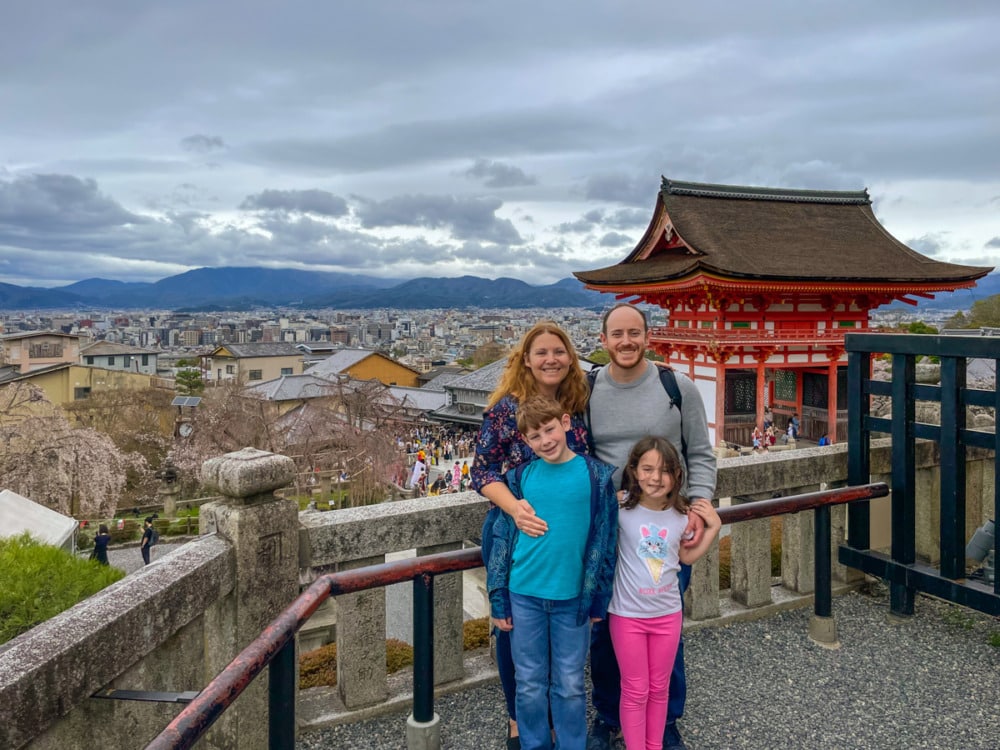 Head back down the hill to the Fushimi-Inari Station – it's run by Keihan so you can either use the Kansai Thru Pass or buy an individual ticket for it. Your next destination is the famous Kiyomizu-dera Temple. You'll access it by getting of the train at Kiyomizu-Gojō Station and then following the crowd up hill. It's very steep, so bring your walking shoes! Where the path forks, I'd recommend taking the right side option – it leads to the same place but with thinner crowds.
This is a popular area for kimono rentals, but keep in mind that the sandals that come with a kimono area generally uncomfortable. Plenty of Japanese women were wearing them as they slowly climbed the mountain, but that's not a choice I'd personally make. And I would never expect a child to hoof it up that hill in anything but their most comfortable sneakers!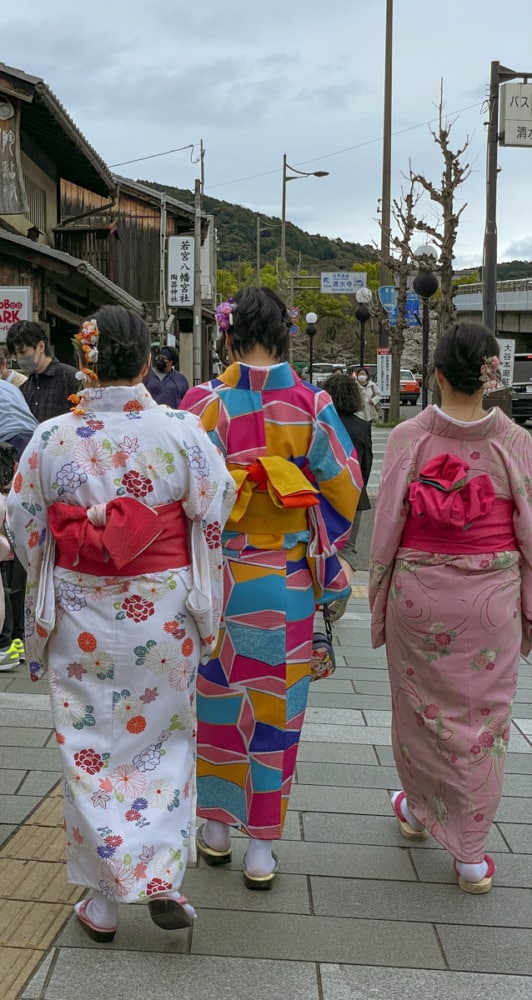 The Kiyomizu-dera Temple is beautiful on its own, but it's also perched on a hillside and offers incredible views of the entire city below it. It's well worth the few hundred yen entrance fee to see the view as well as the incredible main hall and surrounding buildings, most of which are nearly 400 years old. If you're visiting during cherry blossom season, be sure to check out the lovely trees on the north side of the temple grounds (where there isn't a cliff).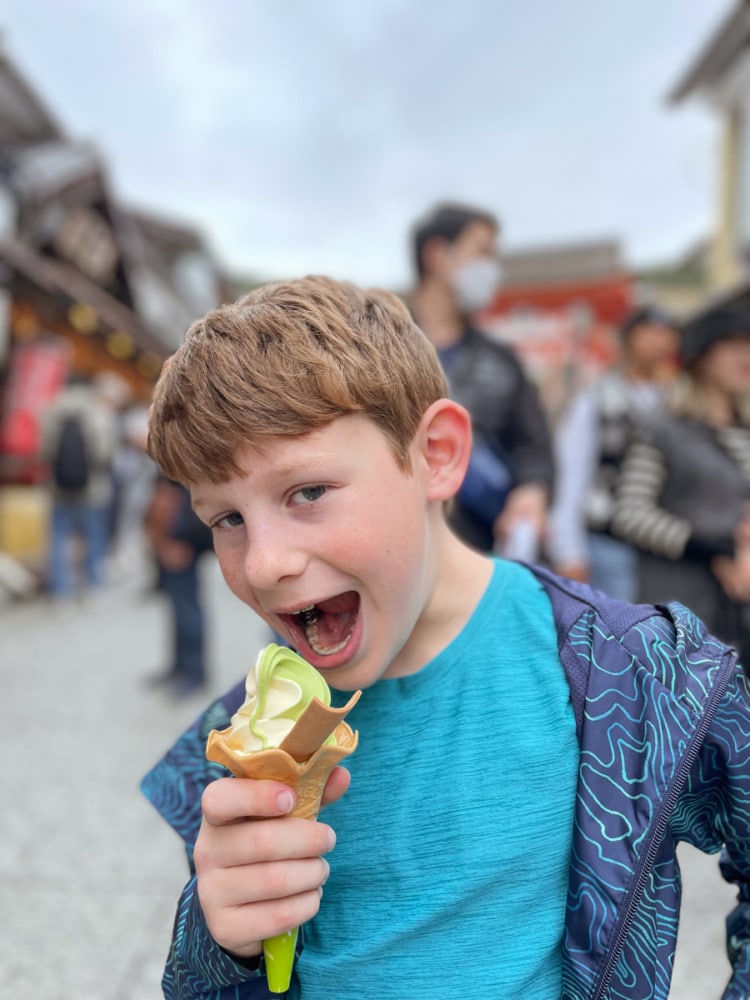 When you walk down, you might as well go through the throngs of fellow visitors to experience the numerous snack stands and souvenir shops. If you haven't already, try some green tea soft serve! Hang a right when you see the stairs going down and you'll be on the beautifully traditional looking Sanneizaka shopping street. This is where you'll find the insta-famous Kyoto Starbucks (good luck getting a table) along with plenty of other shops. Even if you don't stop anywhere, it's a great place to see Kyoto's distinctive architecture.
Maruyama Park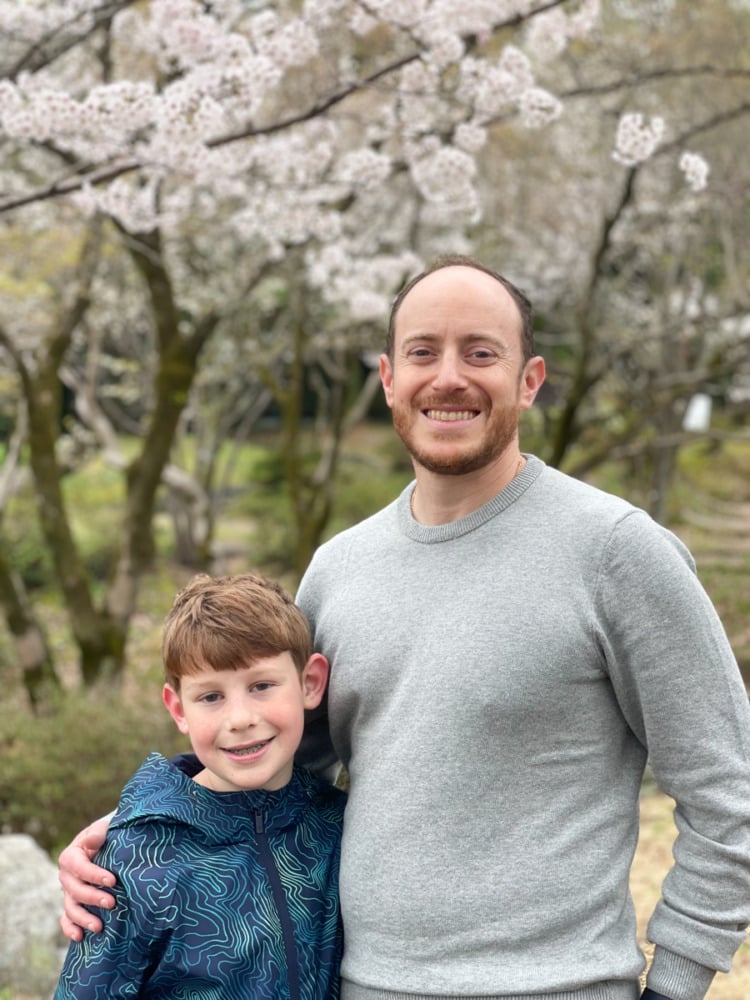 This area can be thought of as "temple row" – you'll feel like you're seeing a Buddhist temple on every corner, including the popular Kodaiji temple, towering Hokanji and the ancient Yasaka shrine. I'll leave it to you whether or not to stop along the way, but your next destination is gorgeous Maruyama Park. It's one of the best places in Kyoto to see cherry blossom season in full force, while in the autumn you'll love the colorful foliage.
Give yourselves and your kids time to stroll around the beautiful paths here and even grab a snack from one of vendors stationed at the entrance on popular days.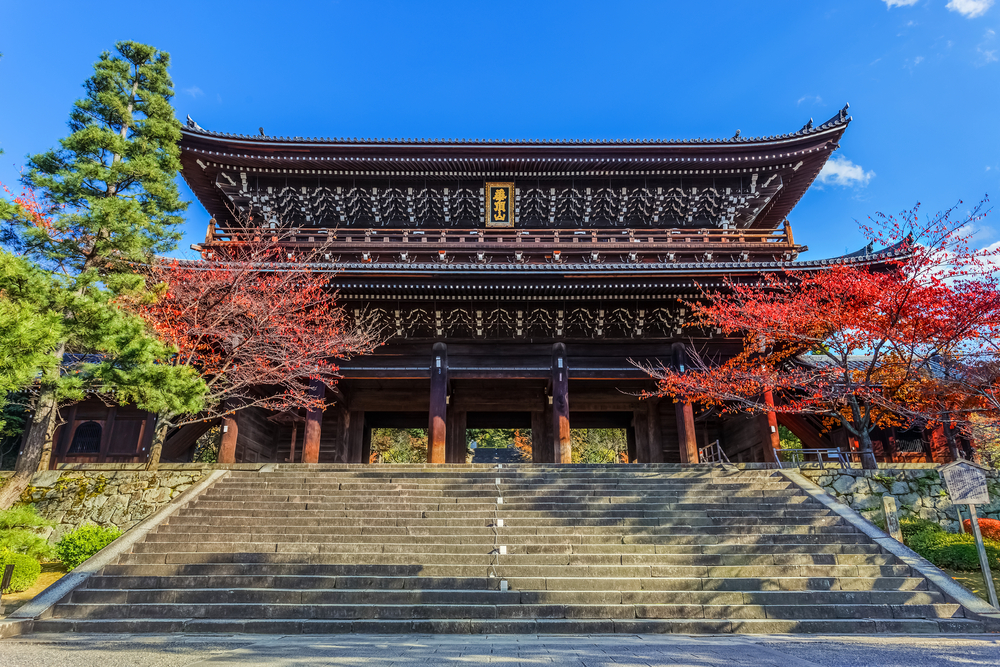 If you haven't had enough temple visits yet, Chion-In is right nearby. It's up to you whether you want to hike up the lengthy stairs to see the impressive main hall, but at the very least you should linger a few minutes to take in views of the massive entrance gate. (My own photos with an ominous sky don't do it justice, but in the photo above you can see that it's just as impressive in the autumn foliage as well!)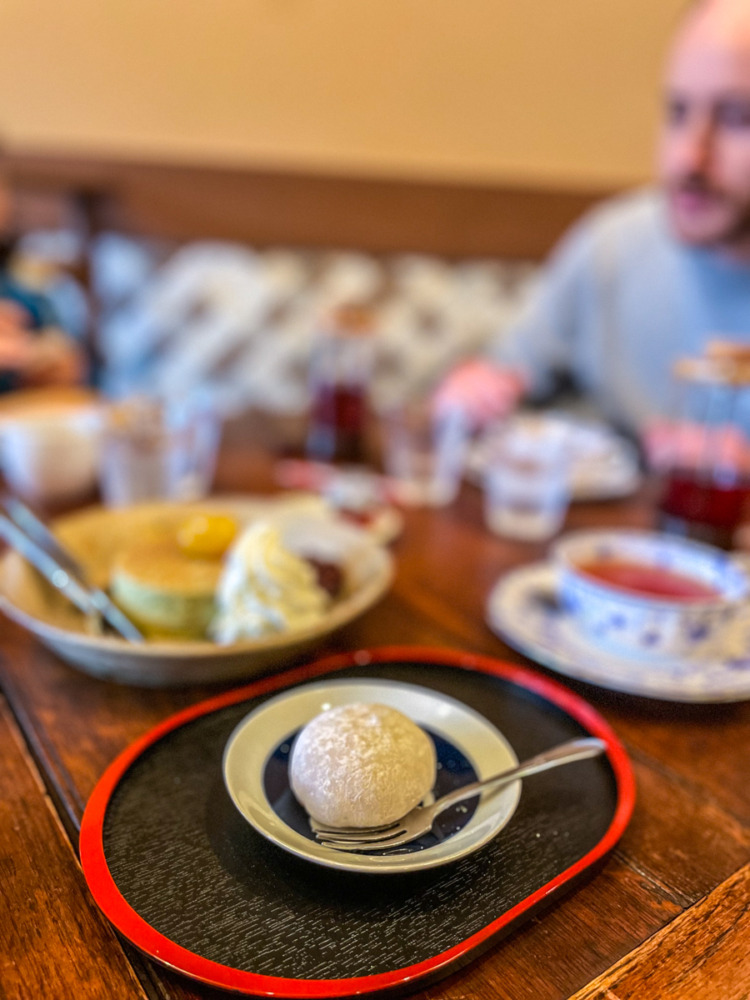 Need a snack break? Nearby tea house Yamanaka Cafe is the perfect stop!
Philosopher's Path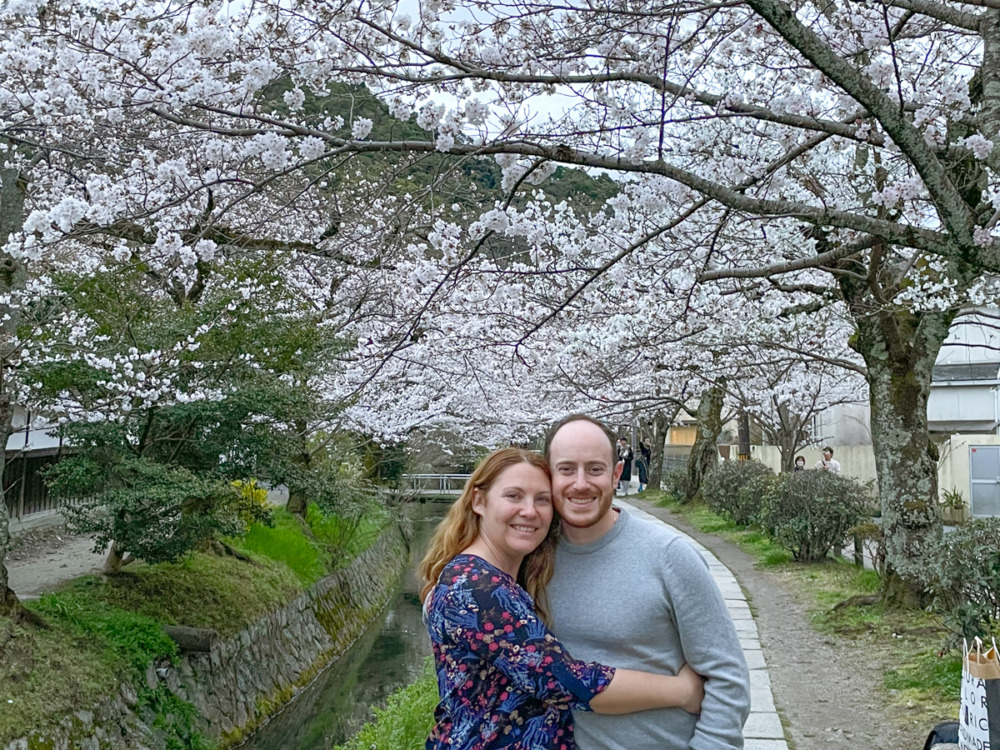 Your final sightseeing stop of the day is an opportunity to escape from the huge crowds and walk along the peaceful Philospher's Path. This pedestrian walkway is lined with 500 cherry trees! Photos don't capture just how lovely it is.
The entrance to the Philosopher's Path eluded us initially – it's sort of behind the Eikando Temple. If you put "Aoi Philosophers Path Villa" in your preferred navigation app, it should take you there. We walked the whole way there, but quite frankly I don't recommend that. There are several bus options that will take 25-30 minutes, or if you have an appropriate car seat/vest with you it's a quick 10 minute taxi ride. Save your family's feet for the beautiful walk, which is around 1 mile.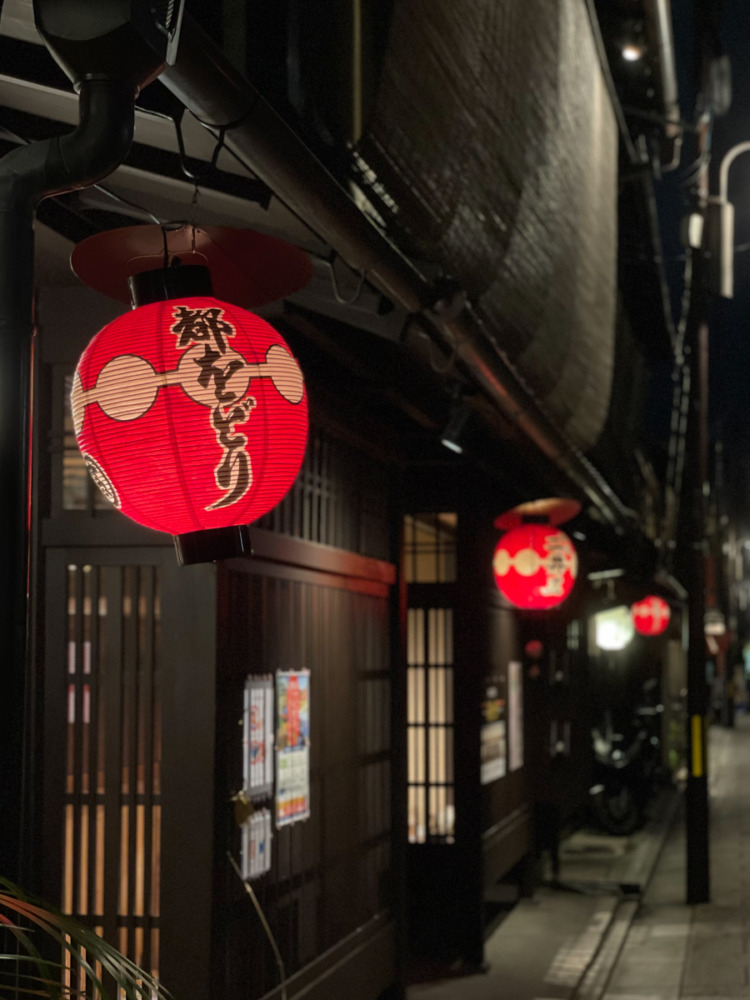 If you're done in time, check out the free maiko (apprentice geisha) show from 6:15 to 6:30pm at the Hyatt Regency – call in advance to confirm the schedule, which varies by season. Spend the evening strolling around the canal in the Gion district, enjoying the liveliness of Kawaramachi or grabbing dinner at one of the many eateries under the Kyoto train station – there's even a decent conveyer belt sushi place down there. Don't miss seeing Kyoto tower lit up at night!
Day 2 in Kyoto with kids
Arashiyama bamboo forest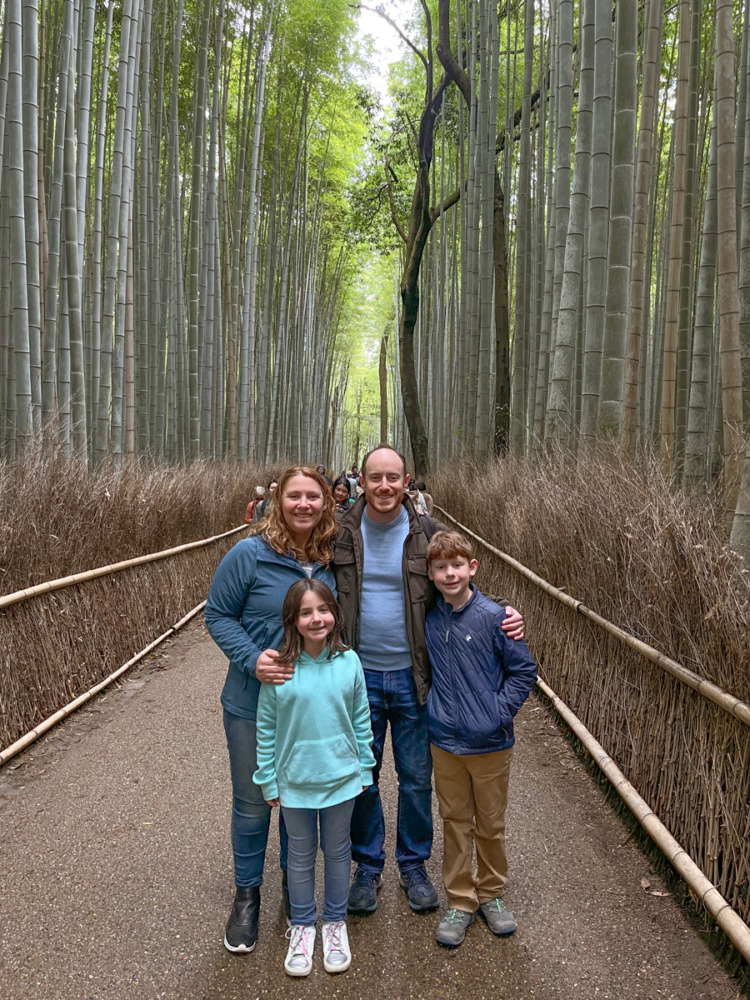 Today you'll be exploring Kyoto's west side, with the option to begin at the free Arashiyama bamboo forest. I'll be honest and say that we didn't love the experience there, but YMMV. Getting there is a little tougher than most sites in Kyoto, as the only train with a stop nearby is the JR San-In line – unless you're staying along that line (for instance, at this hotel) or willing to take a taxi (still 30 minutes and expensive), plan for an hour to get there. You won't get insta-worthy photos of the empty path through the bamboo forest unless you arrive very early (which is tough when transportation can take an hour).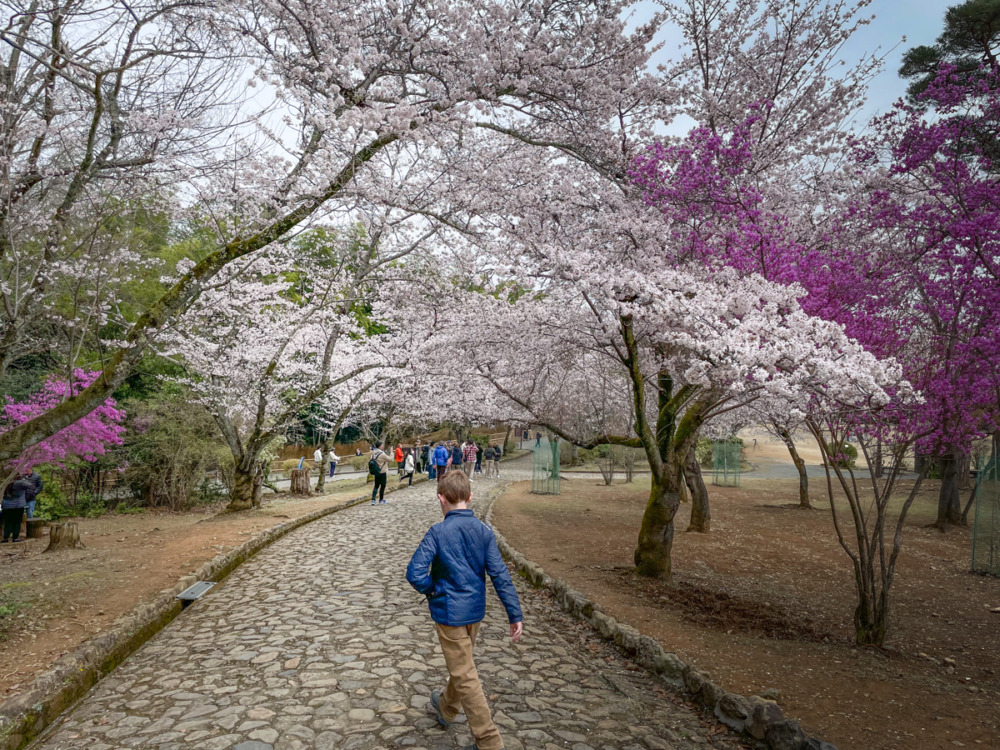 But the walk itself is lovely and it ends in a beautiful park, Kameyama Chiku. You can spend some time exploring the park or walk over to the private gardens of Okochi Sanso.
For great views without walk, check out the Sagano scenic train ride (also called the Sagano Romantic Train). It's particularly stunning in spring and autumn in Kyoto. The station is just outside of the bamboo forest and tickets can be purchased at the Torokko Saga Station if the train isn't sold out. We didn't do it on this visit but I hope to next time we take a family trip to Kyoto. This is a great option if you're visiting Kyoto with kids or toddlers who love trains!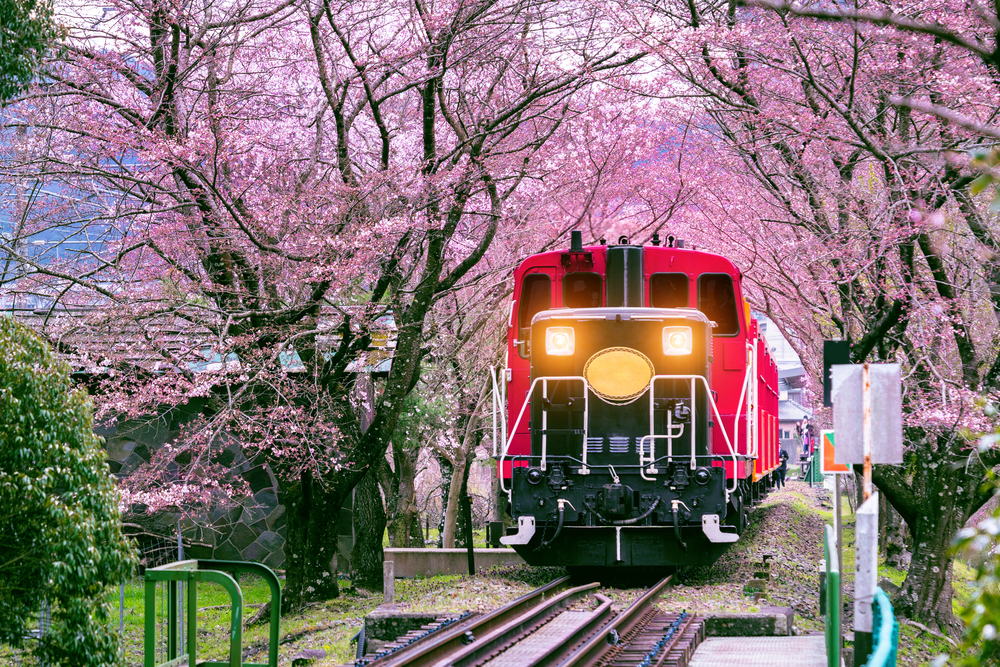 Another popular attraction within walking distance is the Iwatayama Monkey Park, which houses 120 Japanese macaques. The general consensus seems to be that Monkey Park Iwatayama is an ethical way to see the wild monkeys of Japan, as they're free to roam around rather than caged.
If you have plenty of time to spend in Kyoto with kids, you could while away an entire day just in Arashiyama! In that case, feel free to split off the next few stops into their own day as you visit Kyoto more slowly.
Ryoan-Ji

It wouldn't be a day in Kyoto without visiting at least on temple right? Ryoan-Ji is unique in that this zen temple is primarily famous for its rock garden (though the buildings and gardens are lovely as well). This is a lovely place to stop and reflect but might not be ideal if you're visiting Kyoto with kids who aren't able to stay calm and quiet. Our family appreciated the rock garden as it was so different from the many other temples we'd visited!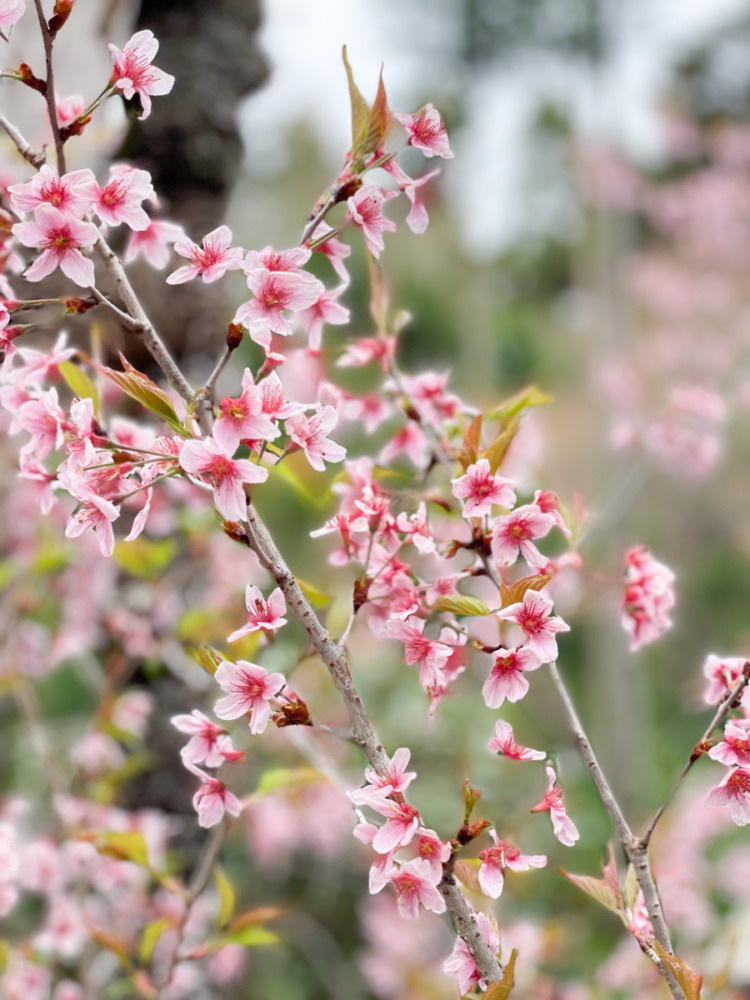 Give yourself some time to explore the rest of the property as well. The pavilion that houses the rock garden has rotating displays of local art displayed on the shoji screens and allow time to visit the lovely not-too-crowded garden that'll be to your right when you exit the pavilion.
Lunch at Gontaro of Kyoto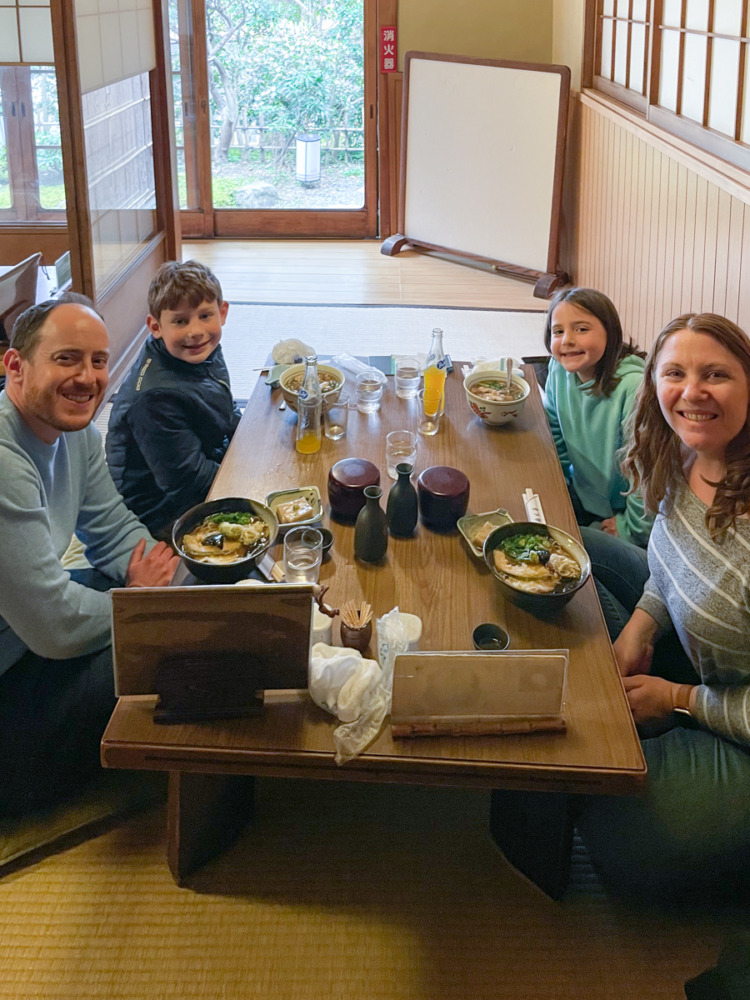 There's nothing like a traditional Japanese meal to immerse you in the local culture! Our favorite meal in Kyoto with kids was lunch at Gontaro, which is easy walking distance from Ryoan-Ji and almost at the next stop on your Kyoto itinerary.
The menu offers hot and cold options for udon and soba, including both vegetarian and meat choices. You can choose a full "set menu" or a la carte. The food is delicious, the building is beautifully zen and your kids will get a kick out of sitting on the floor.
Kinkaku-Ji golden pavilion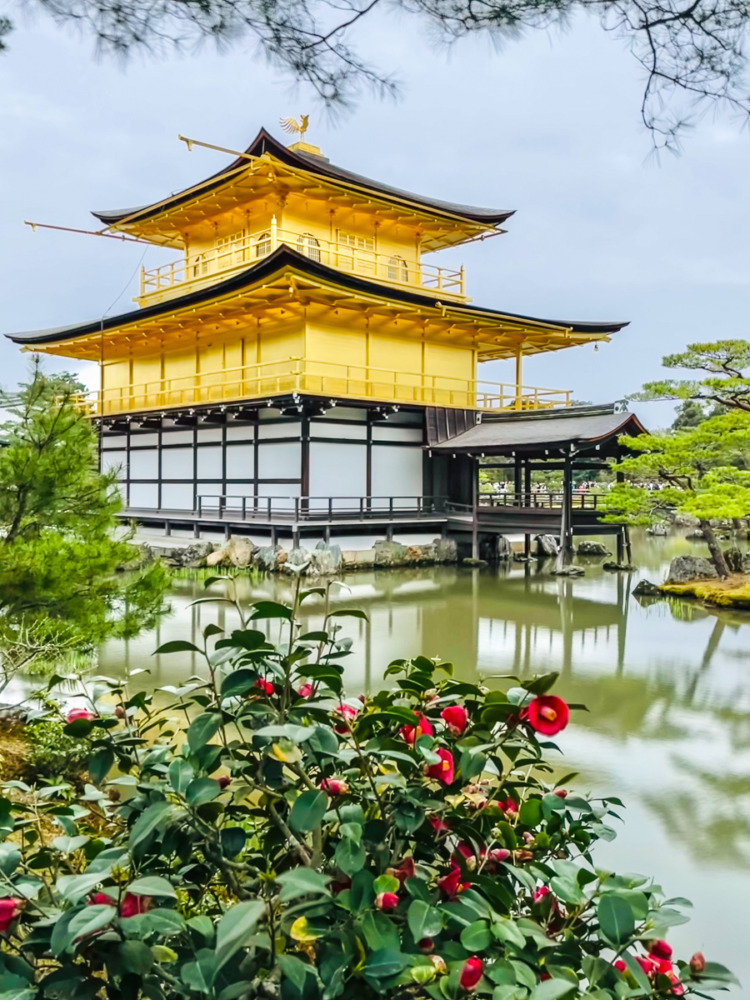 The last big sightseeing stop of the day is Kinkaku-Ji, Kyoto's famous golden pavilion. Though you can't go inside, it's pretty amazing to see from the outside! This zen temple was originally built over 600 years ago but burned down several times – most recently in 1950. The current golden pavilion was built in 1955 as a replica of the previous one, and it's sure to impress visitors of all ages with its second and third levels entirely covered in gold leaf.
You'll head back to the heart of Kyoto for the evening, checking out whichever area you missed the previous evening.
---
Additional Kyoto Attractions for Day 3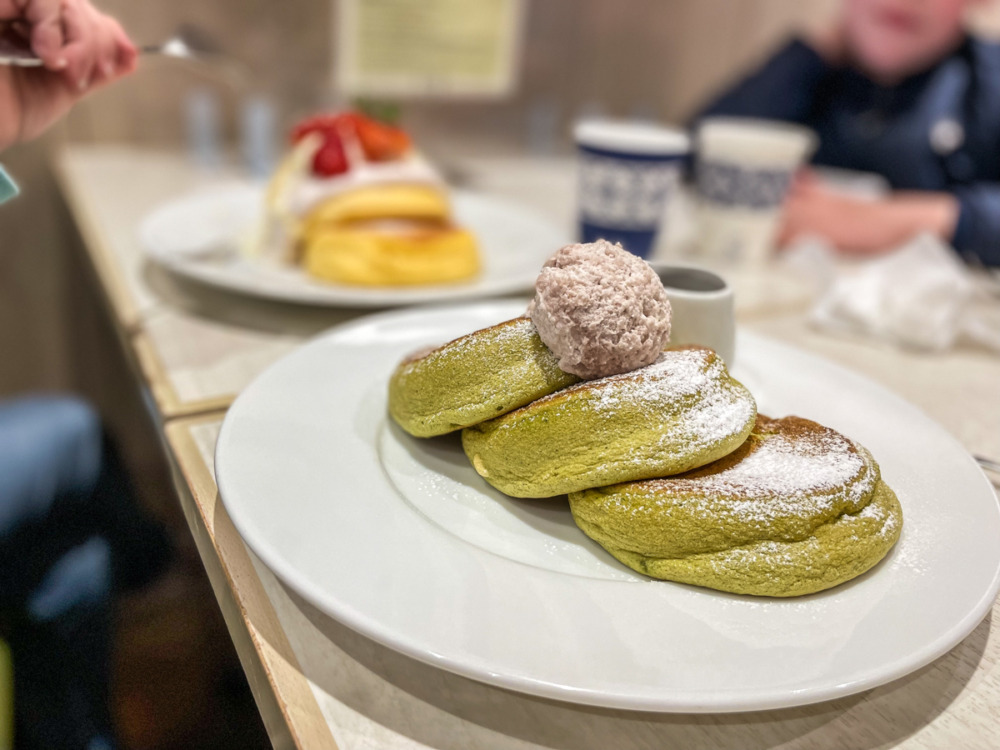 If you have even more time to spend in Kyoto with kids, there are plenty of cool things to see, do and eat in central Kyoto! Thankfully it's all accessible on foot or with quick jaunts on public transportation. Here are a few ideas for how to expand your Kyoto itinerary:
Kyoto Railway Museum
Kyoto International Manga Museum – A great option for visiting Kyoto with teens!
Snack at A Happy Pancake – Allow about an hour to get a table and wait for your fluffy, delicious pancakes to come out (pictured above and worth the wait)
---
Day Trip Options From Kyoto With Kids
With 2 days in Kyoto with kids (or possibly 3 if you prefer to go slowly) you can see much of what the city has to offer. If you want to use this charming city as a base for even longer, there are plenty of excellent day trips from Kyoto for families to consider. We didn't have time to get to some of these but have them on our radar for our next Japan trip!
Pro tip: Once you've decided on your Kyoto hotel, use the Japan Travel app to look up directions specifically from that location using whichever transit pass options you're considering. I've given approximate travel times from Kyoto Station, but from some hotels the route may be more efficient or require fewer transfers on regional railways like Hankyu or Keihan that leave from stations closer to your accommodations. The Kansai Thru Pass will probably offer a big savings if you plan to take several day trips from Kyoto.
Things to do in Osaka with kids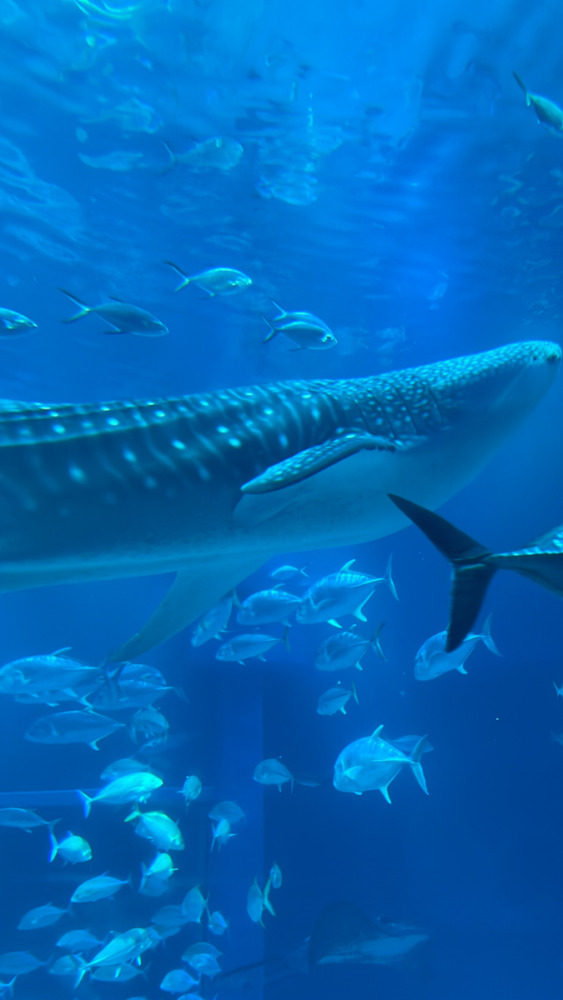 Travel time from Kyoto Station: 1 hour using Japan Rail Pass + Kansai Thru Pass
We spent most of a day exploring Osaka with kids on our way from Miyajima Island to Kyoto City. You could definitely spend longer if your schedule allows! At a minimum, visit the Osaka Aquarium Kaiyukan – it's the world's largest aquarium and a very immersive experience. It's a great day trip for visitors of all ages.
Pro tip: You can pre-purchase your timed admission ticket directly from the Kaiyukan website after you register for an account. If you don't know what time you'll arrive, create your account in advance. When you arrive at the Aquarium, if there's a long line to get in your can log in and buy your tickets. We visited during Spring Break and in-person ticket sales were on a 3 hour delay, while I was able to buy tickets online just 15 minutes out.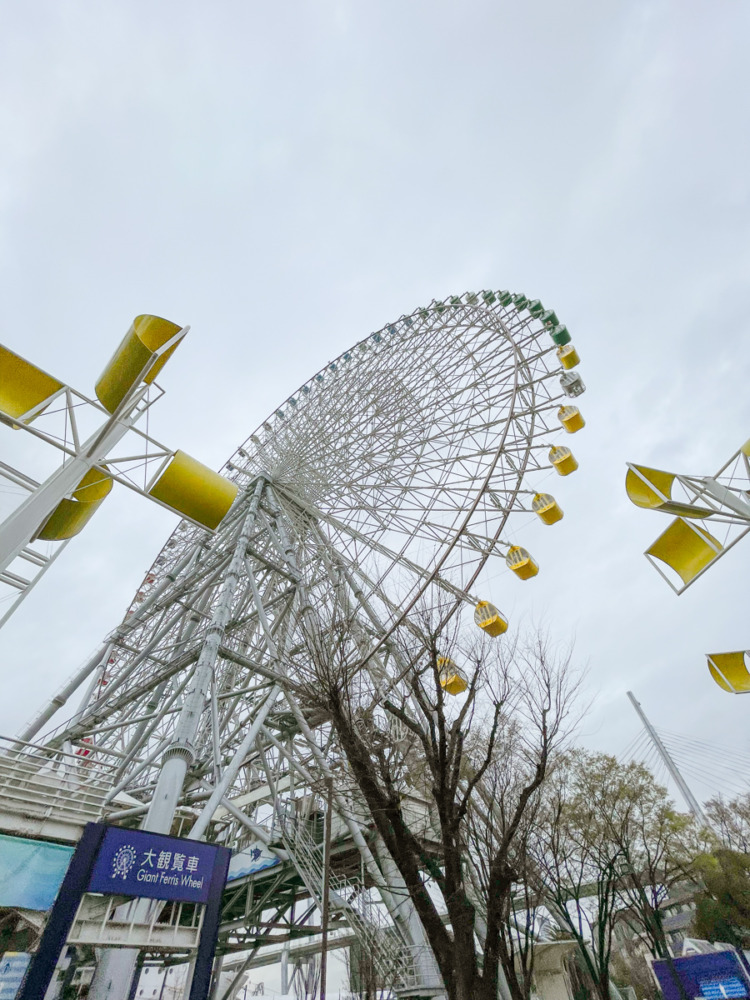 After a few hours at the Aquarium, you can stroll next door for a ride on Japan's largest ferris wheel.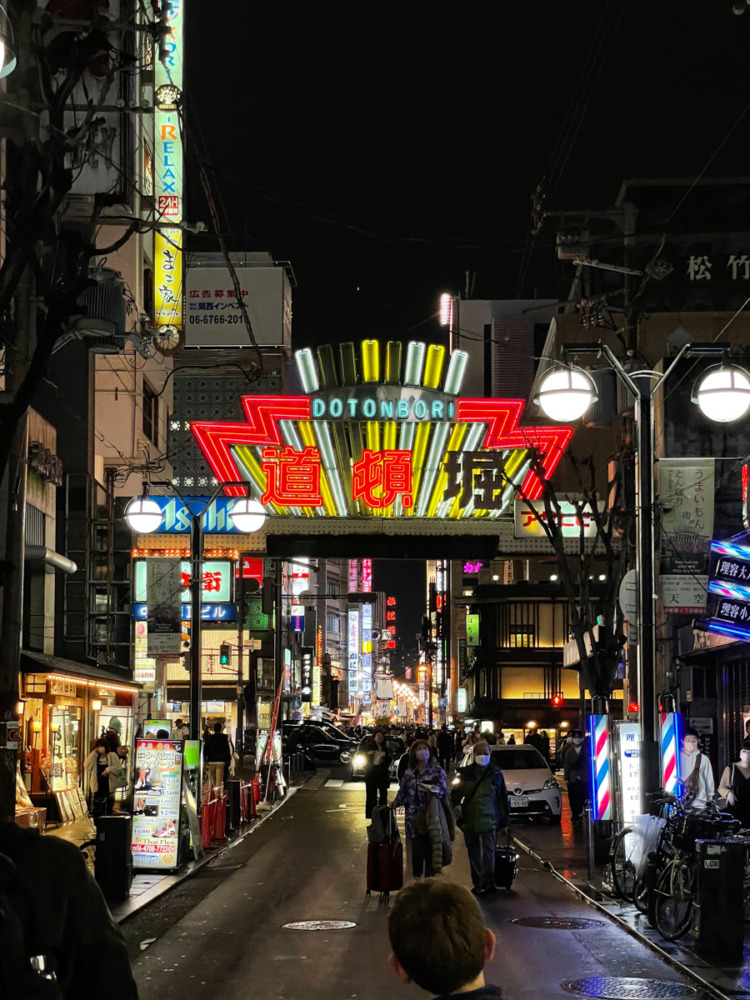 Hop on the subway to spend the evening checking out the neon lights of Dotonbori. This is also a great time to hit the Pokemon Cafe Osaka if you weren't able to get in to the one in Tokyo – be sure to check here 31 days in advance for a table, as they book up basically immediately. If you're visiting during a busy time of year, keep in mind that lines for popular restaurants can be looooong at dinner time. Walk a few blocks off the main street to find dinner before your kids have a meltdown!
Universal Studios Japan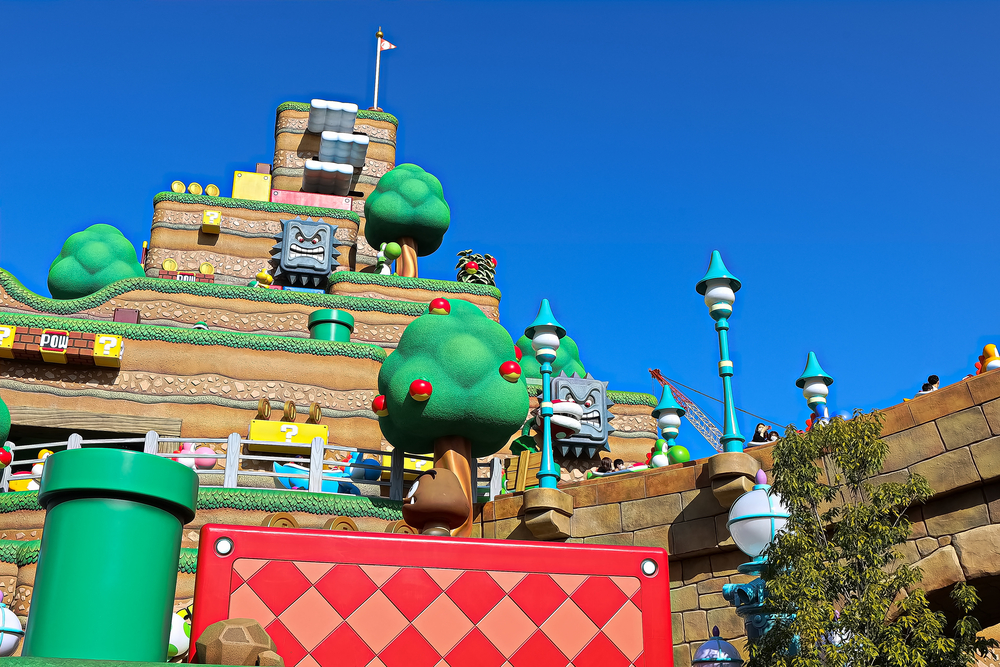 Travel time from Kyoto Station: 1 hour using Japan Rail Pass
Though it's conveniently located in Osaka, Universal Studios Japan gets its own entry here. If you choose to check out this epic theme park when you're visiting Kyoto with kids, Universal will deserve a dedicated day. Like its US counterparts, you'll get to experience the wonder of the Wizarding World of Harry Potter and the fun of Super Nintendo World. Opening hours vary a lot by day of the week and time of year, so be sure to check before you firm up your Kyoto itinerary.
Nara Park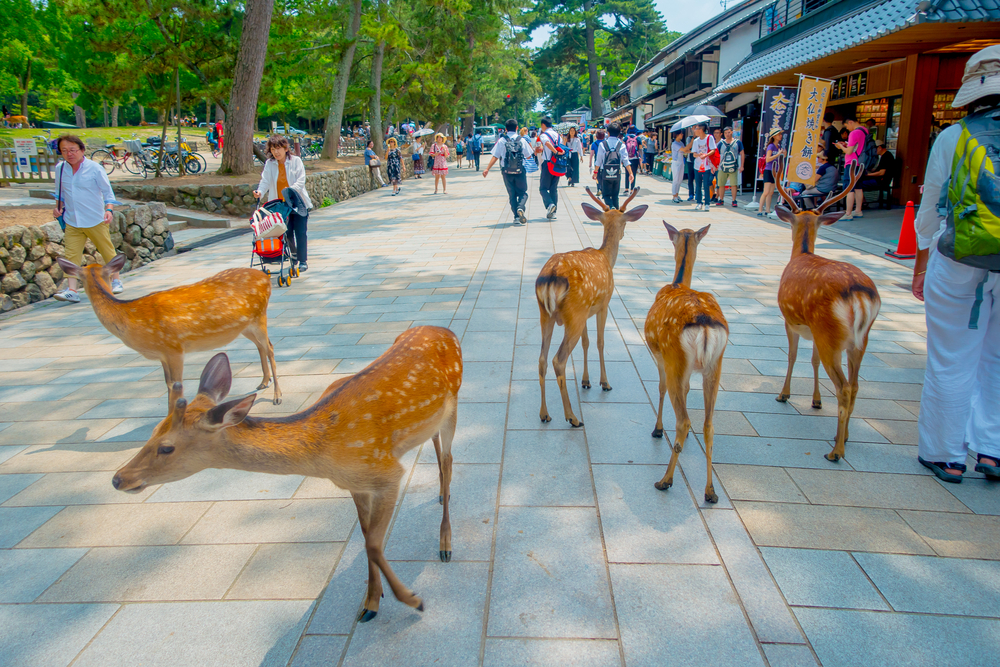 Travel time from Kyoto Station: 1 hour using either Japan Rail Pass or Kansai Thru Pass
The most popular day trip from Kyoto for family vacation is nearby Nara. Nara Park is a beautiful place to see cherry blossoms, and kids love the famous deer roaming the park. You'll also want to stop by Todaiji Temple to see the famous "big Buddha" and the beautiful Kasuga Taisha Shrine.
Himeji Castle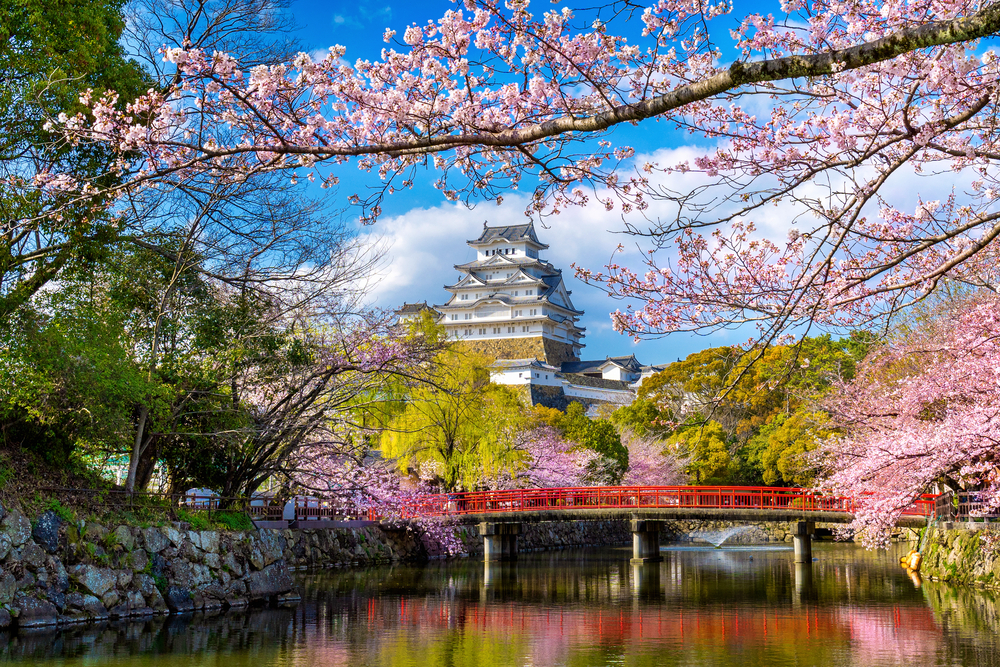 Travel time from Kyoto Station: 1 hour using Japan Rail Pass
Japan's most impressive castle, Himeji, is just one hour from Kyoto by train. It's the country's largest and most visited thanks to the excellent preservation of this centuries old structure (the original was built in 1333 but what you see today dates from the 16th and 17th centuries). Himeji Castle has even been designated as a UNESCO World Heritage Site! Allow several hours to explore the buildings and tour the castle grounds.
---
Mapping Your Kyoto Itinerary For Families
Use the map below to get a sense for how you can make the most of your time as you explore Kyoto with kids:
---
Planning Your Family Trip to Kyoto
I hope this Kyoto itinerary and travel guide has given you all of the information you need to plan an incredible visit to Kyoto with kids! Let me know in the comments if you have any more questions as you plan your own family trip.
Don't miss these resources to plan your family trip to Japan: