Planning a trip to LA can be overwhelming, with more than a thousand hotels and probably an equal number of activities to choose from! After 20 years living in LA including some of those raising my own kids, I have plenty of suggestions for the best things to do in Los Angeles with kids.
This article isn't short, but after reading it you'll be able to decide where to stay in LA, how you plan to get around and which things to do with kids in LA you want to prioritize.
(Please excuse some of the photography – I'm a real mom writing about places I've been, and I've been exploring LA with kids a lot longer than I've been a blogger!)
Where to stay in Los Angeles with kids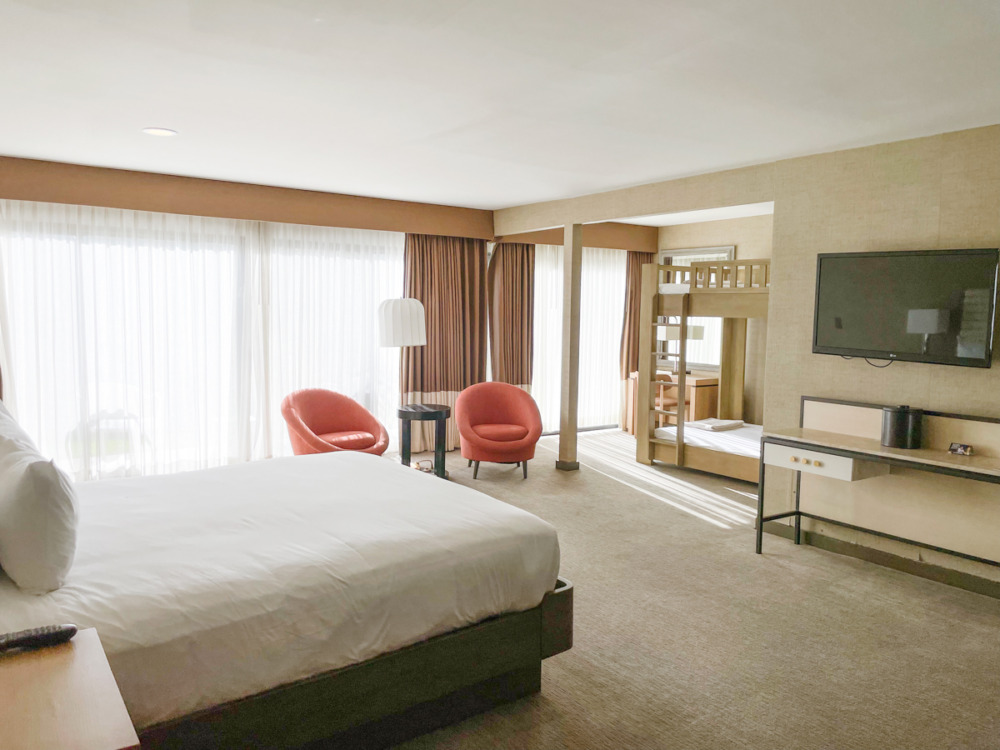 Where you stay can have a huge impact on the vibe of your family trip to Los Angeles, so I've put together a detailed guide to the best hotels in Los Angeles for families. Just looking for the quick picks?
(The photo above was taken in our gloriously large family room at the Luxe – read my full review)
---
Tips for your family trip to Los Angeles
Getting around Los Angeles with kids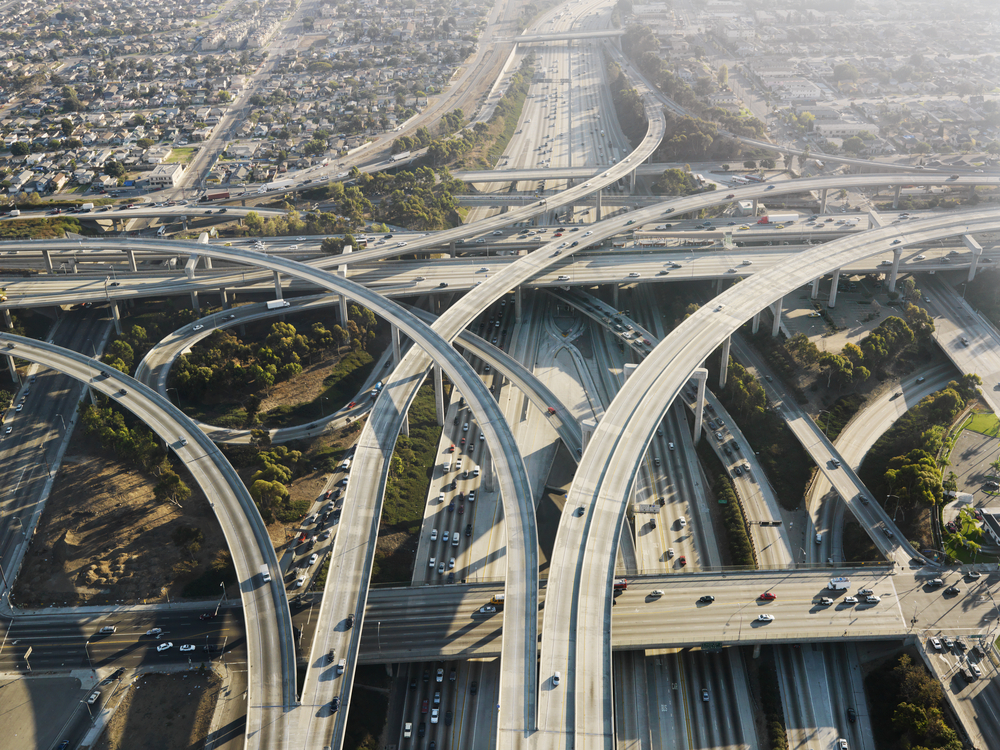 Los Angeles is definitely a car-focused city, and unless you have an aversion to driving it's the most efficient way to explore this spread out metropolis. Just pack some patience in your suitcase and understand that you're likely to experience some of the city's iconic traffic along with its iconic sites. Also know that we only put "the" in front of a numbered freeway.
Before you arrive, be sure to download and feel comfortable using a navigation app that includes traffic and will dynamically update your route to avoid it. Thankfully Waze, Apple Maps and Google Maps now include that capability! I recommend bringing a spare USB cable to leave in your rental car to keep your phone sufficiently charged and display your direction on the rental car screen.
I recommend that you check RentalCars.com for your rental car first – they buy bulk days from suppliers and pass the savings on to customers. Most reservations can be cancelled (handy if you find a cheaper rate later), and they show customer review scores for each supplier so that you know who to avoid! I've also been finding great rental car deals lately on Expedia, so be sure to check prices there too.
Be sure to read all of my best tips for renting a car in LA to ensure a smooth experience!
If the prospect of driving in LA gives you hives, which I can understand after living there for 20 years, you're in luck: the public transportation system is truly growing by leaps and bounds! It's not the most efficient option, but may be lower stress. There are some "last mile" limitations unlike places like NYC or DC, but overall it's getting a lot better. You may have to be deliberate in how you arrange your time, taking train and bus routes into consideration.
You'll probably want to take an Uber or taxi to your hotel, but once you're there you're in great shape if you strategize. Budget $25 per person for an unlimited 7-day pass, which you need to buy on a reloadable TAP card; fortunately you can use that card for all of the local agencies. Kids under 6 ride free!
Where can you go in LA without a car? Plenty of places! Be sure to have Apple Maps or Google Maps handy to use the public transportation directions – we've done it in many places and it works well. In addition to several metro rail lines, Los Angeles has several different bus systems that you will be able to identify by their color: orange for LA local buses, red for LA express buses (a small extra fee applies), blue for Santa Monica buses and green for Culver City buses. You don't have to remember those because they'll come up on your app, but just keep in mind that there are a few systems and they work together! Notably, the blue and green buses do extend into the city of Los Angeles – they're very handy for getting around the Westside.
While staying at this hotel you can easily walk to the beach and all the sites in Santa Monica and use a combination the Expo ("E") line and buses to get to Exposition Park (40 minutes) and Museum Row (about 1 hour).
If you're more focused on visiting entertainment-related sites via public transportation, this hotel is a solid choice. You can walk to Universal Studios Hollywood and easily hop on the Red ("B") line to get downtown. The Burbank pink route will even take you directly to Warner Brothers!
Should you rent a car in Los Angeles for your family trip? I'd lean towards "probably". But as you can see, it's possible to make it work even with public transportation.
Los Angeles money saving tips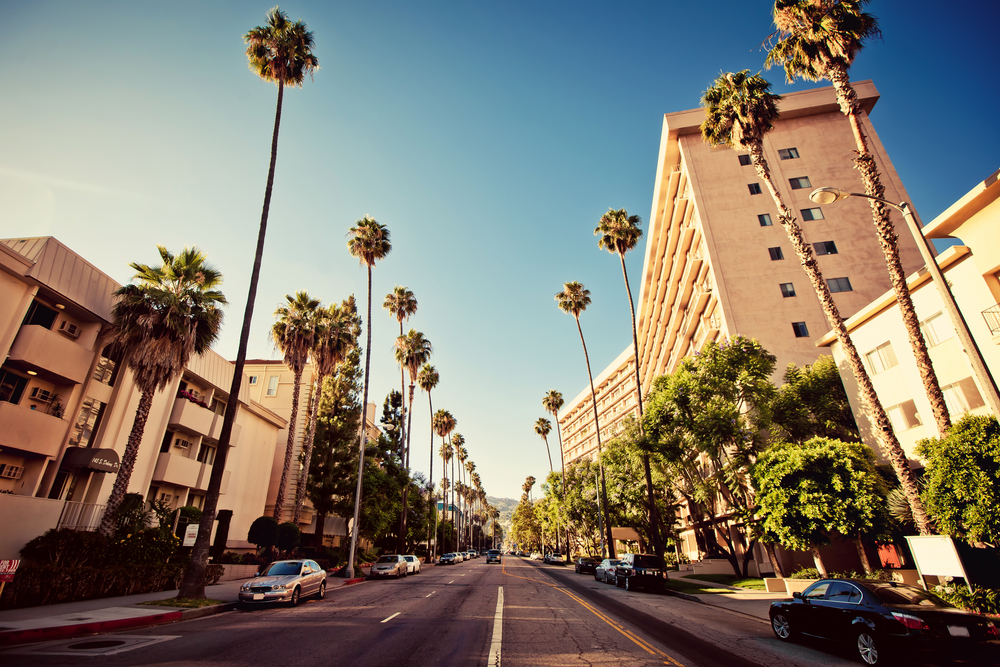 If you want to come to LA and do all the things, the prices definitely add up! Here are a few of my favorite money-saving tips for your family trip to Los Angeles.
Bring your membership cards – If you're a member of your local museum or zoo, bring the card with you! An ASTC science museum card gets you free membership to the Natural History Museum and Page Museum (California Science Center is free anyway). An AZA zoo or aquarium card gets 50% off at the LA Zoo. And a reciprocal membership from an ACM children's museum gets you half off at three different options in LA!
Go City Los Angeles – For a family trip to Los Angeles that includes lots of different activities, it's worth checking out the Go City Los Angeles attractions pass to evaluate if it'll save you money. We've use this in several other places and found it a great value. One option is the All-Inclusive Pass, which is purchased by the number of days and includes Universal Studios if you purchase 3+ days. The other choice is the Explorer Pass, which is purchased by activity and can be used at your leisure over the course of two months. There are some slight differences in the mix of activities included with each option, so compare them here.
Undercover Tourist – While Undercover Tourist made their name in Orlando, they're quickly expanding throughout Southern California! They offer discounted tickets to Disneyland, Universal Studios, Warner Brothers, Aquarium of the Pacific and more – check out the full list of discounted Los Angeles attractions. Plus when you spend at least $100 on tickets, you get access to their massive rental car discount. We've found it to be a great value for our family!
Check Groupon – Every now and then you'll find great deals on local activities via Groupon Los Angeles! I know it feels very 2008, but it's worth checking.
Want to get more helpful travel tips like this? Sign up for our email list!
---
Best things to do in Los Angeles with kids
There are so many amazing things to do with kids in Los Angeles that you can't do anywhere else! Here are a sampling of our favorite Los Angeles family activities.
Relax on the best beaches in Los Angeles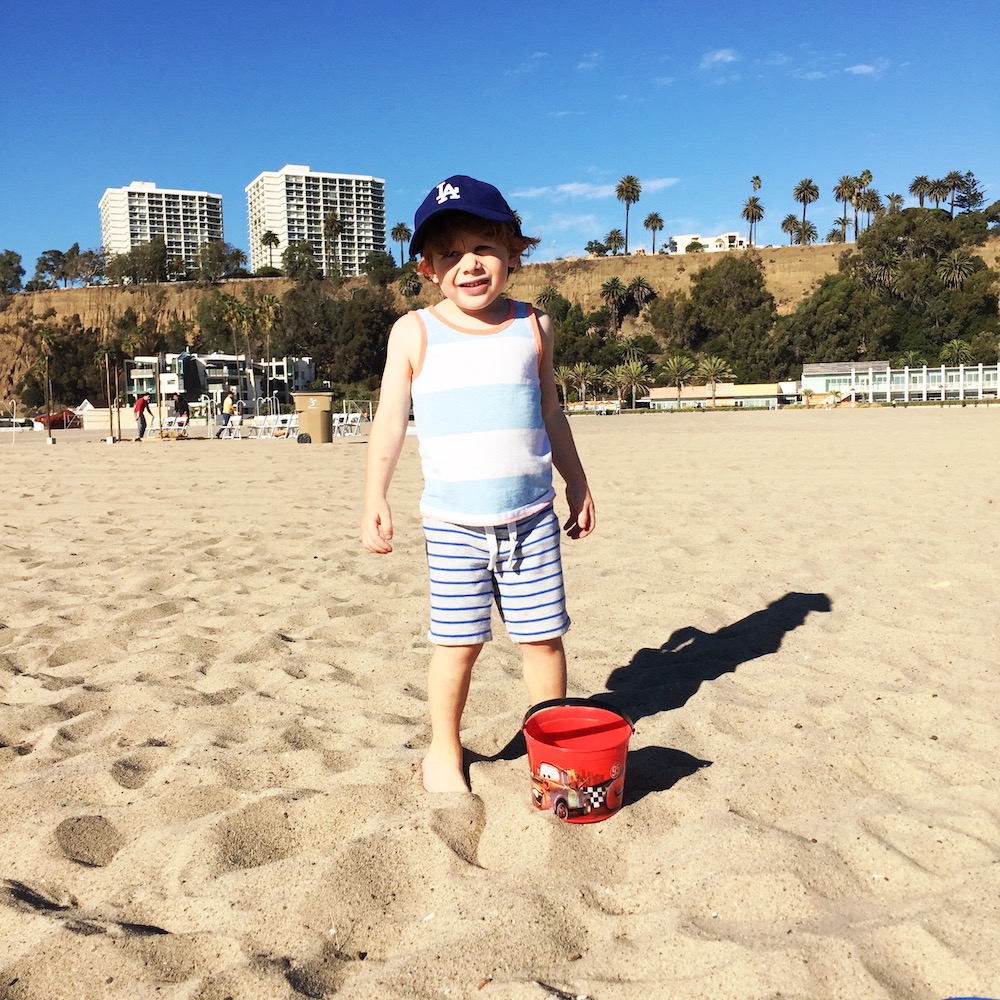 Los Angeles has 25 miles of sandy beaches, so it's easy to find a spot! It wouldn't be a trip to Southern California without dipping your toes in the Pacific Ocean, but what's the best Los Angeles beach for families? It depends on what you're looking for!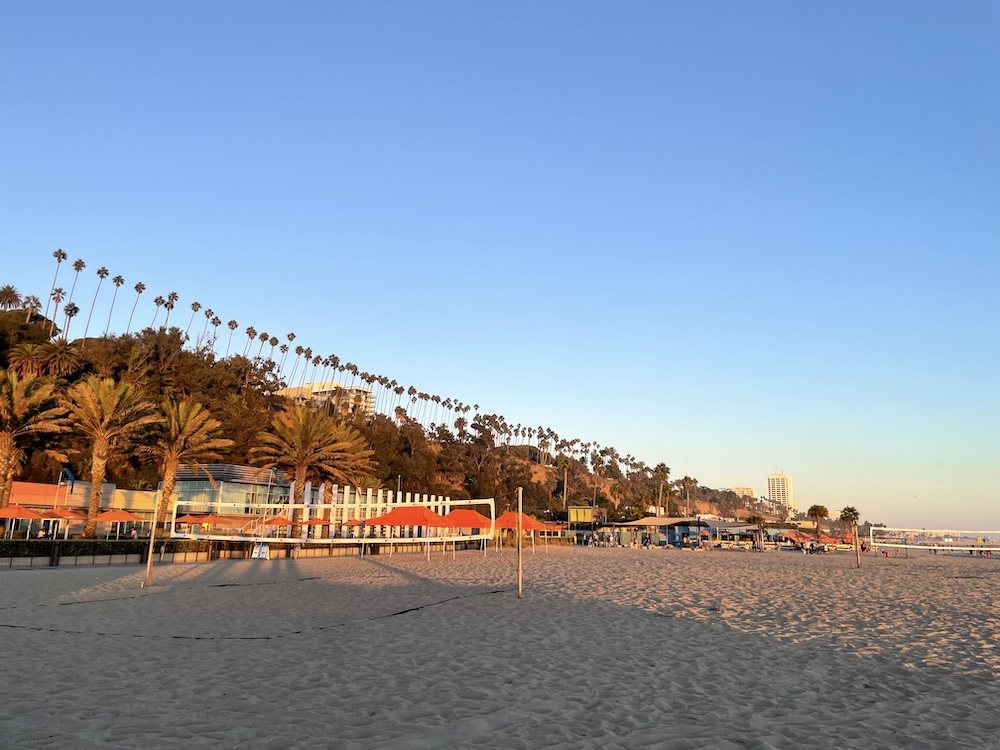 Santa Monica can get crowded but it's incredibly convenient to access and is close to awesome hotels, dining and shopping. Our favorite section is just a little north of the pier on PCH at the Annenberg Community Beach House (pictured above), which offers great facilities, a fun restaurant and even a splash pad in the summer. This is where our family usually opts to take the kids to the beach in Los Angeles. Alternatively, we head just a few more streets north to Will Rodgers State Beach, which is much less crowded and no less beautiful!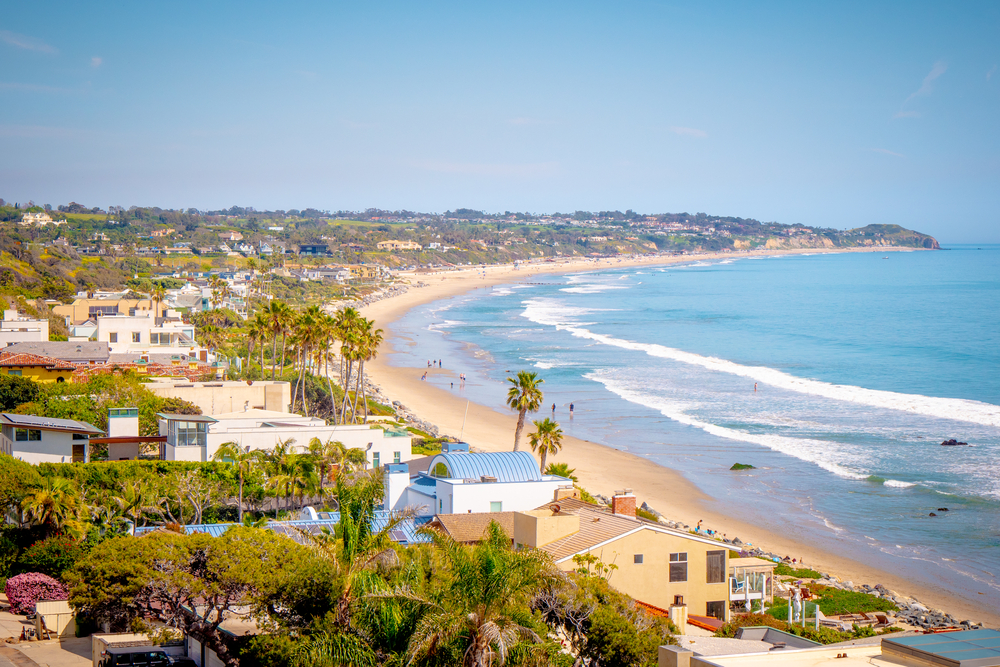 Malibu's beaches have a different vibe since it's a more remote area. In addition to being a great beach spot, they offer lovely Spring hiking nearby and you can sometimes spot dolphins from shore. We always enjoy the stretch of Zuma, Point Dume and Westward Beaches and the water tends to be a little warmer than Santa Monica. If you have young kids, keep watch since the surf can be intense at times. On the other hand, this is a fun place for older kids to try boogie boarding; you can buy or rent boards from local shops like Surf Shack and Zuma Jay's.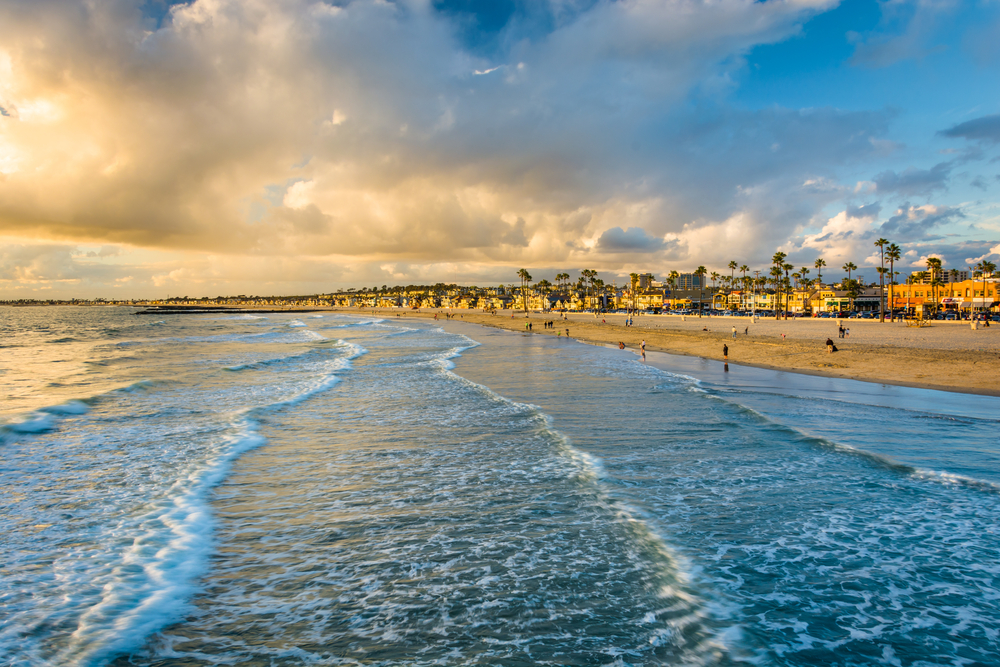 For warm water – and don't expect bath water here – your best bet is to head to Newport Beach in Orange County. It's about an hour south of Los Angeles but makes a great family-friendly day trip from Los Angeles. While you're down there you can enjoy a chocolate covered frozen banana and stroll on lovely Balboa Island. If you want somewhat warm water, you can head to Long Beach – it's much closer and pairs well with a visit to the Aquarium (more on that later).
Keep in mind that that water temperatures in Los Angeles are warmest in August and September, but it's never balmy – La Jolla in San Diego is much warmer. But these kid-friendly beaches in Los Angeles are great for playing in the sand, splashing in the shallow surf and taking in the endless views.
You're not going to find a beach toy lending library anywhere, so consider bringing this set along to get the most out of one of the best things to do with kids in Los Angeles.
If you plan to stay at the beach for sunset (and you should) be sure to bring jackets and sweatshirts for everyone. It really does get chilly and breezy in the evenings!
Find Ice Age relics at the La Brea Tar Pits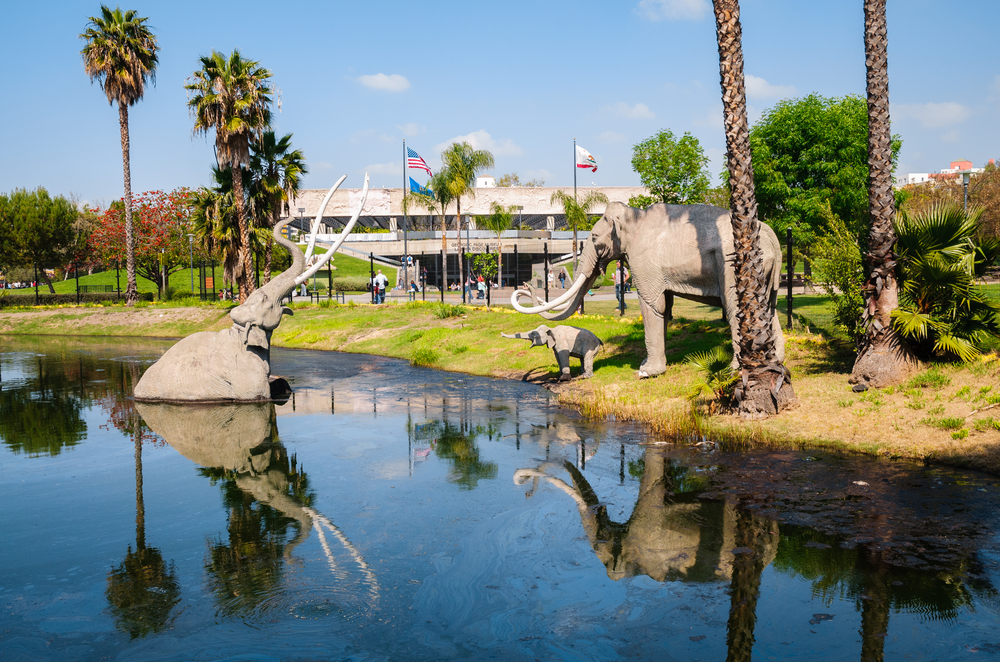 Did you know that there's an active paleontological research site right in the middle of Los Angeles? At the La Brea Tar Pits, you can see the work as it's going on and also explore what's been found over the last century. Some recent finds include a saber tooth, dire wolves, a giant ground sloth and much more.
You have two options to explore the La Brea Tar Pits. If you're visiting Los Angeles with a toddler or a young kid with a short attention span, you may just want to walk around the tar pits themselves and see the huge replica animals. The accompanying placards to a great job of explaining the scenes, the science and the history and there's no charge to walk around outside.
Families visiting Los Angeles with school age kids will benefit from a trip inside the accompanying Page Museum for more depth. You'll see plenty of fossils and take in the Ice Age Encounters live show (some very young kids might be scared by this). There's also an optional 3D movie now showing, Titans of the Ice Age, that connects the history and science with the excavation process.
Without a doubt, visiting the La Brea Tar Pits is one of the most unique things to do in Los Angeles with kids – there's no other place like it!
Admission is $15 per adult and $7 per child. If you're a member of your local ASTC-affiliated science museum, bring your membership card for free admission!
Enjoy the natural beauty with an easy hike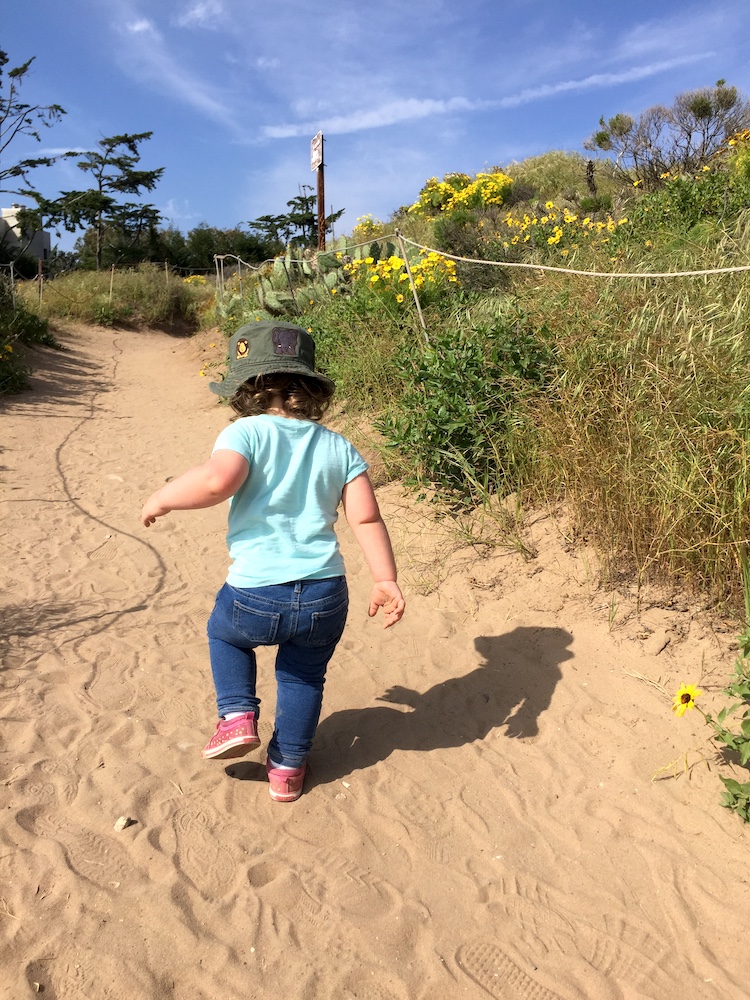 One of our favorite family activities in Los Angeles is to take advantage of the agreeable year-round weather with an easy hike or nature walk. Spring is the best season for hiking in Los Angeles, but don't be afraid to get out on the trail on all but the hottest days – just bring plenty of water and keep a close eye on young kids!
Some great family-friendly hikes in Los Angeles include: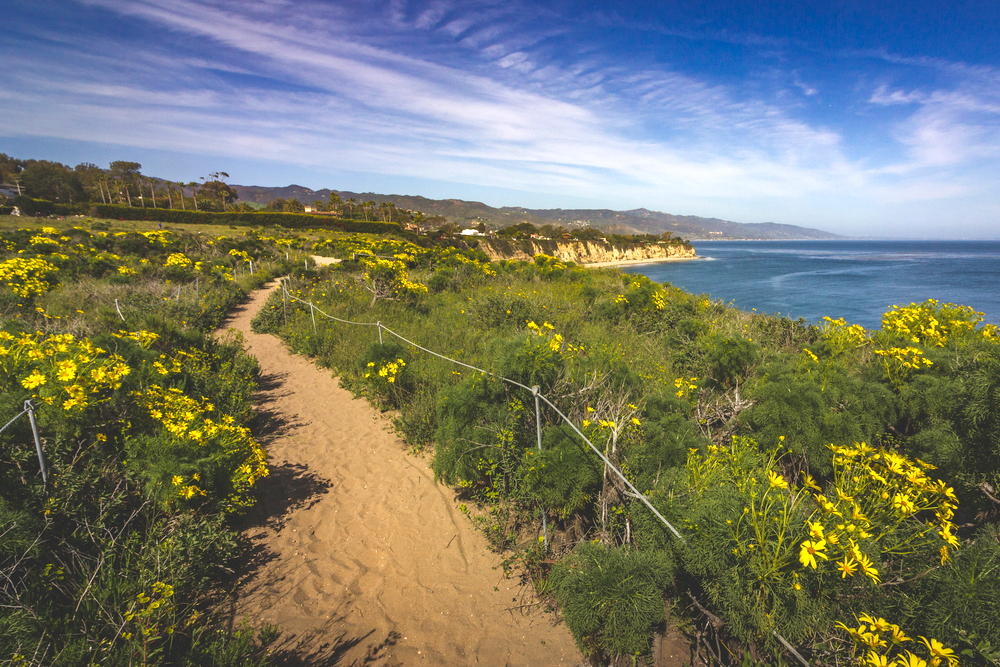 Point Dume in Malibu (pictured above) is about 1.5 miles and many families can do it in under an hour. It starts and ends at the beach, but as you head to the top of the bluff you'll enjoy spectacular views including possible sea lion sightings in the coves below. Bring compact binoculars for birding!
Chesebro Canyon (sometimes spelled Cheeseboro Canyon) is a flat 2 mile loop in Agoura Hills that comes alive with stunning wildflowers in April and is great for even the youngest hikers.
Eaton Canyon in Pasadena clocks in at around 4 miles round trip and has a little bit of elevation to it, but older kids will be rewarded for their effort with a refreshing waterfall under which they can wade. Wrap up your visit with a stop at the nature center and then head to Old Town Pasadena (my college stomping grounds) for some lively strolling and a meal.
Want to get more helpful travel tips like this? Sign up for our email list!
Explore the activities in Griffith Park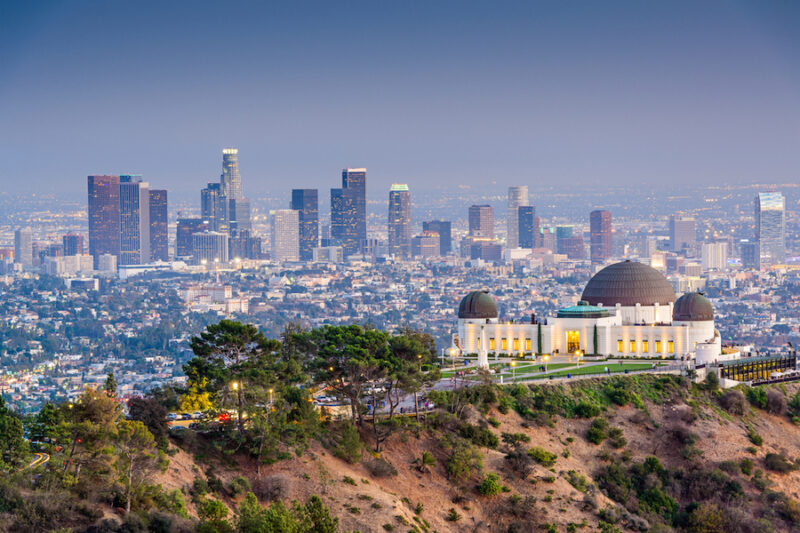 Griffith Park – and the Hollywood sign that adorns its hillside – is one of LA's most iconic features. After all, it's a mountain in the middle of one of America's biggest cities! Families can easily make a day out of exploring everything Griffith Park has to offer:
Shane's Inspiration playground has equipment for all children regardless of ability; there's also a merry-go-round here!
Griffith Park & Southern Railroad has a fun train ride for would-be conductors
Los Angeles Zoo is home to more than 2,000 creatures, including many endangered and exotic species
Griffith Observatory offers stunning city views and engaging planetarium shows
Plenty of families like to bring a picnic into the park a well, and there are plenty of shady spots to set yourself up. Spending the day exploring all that Griffith Park has to offer is possibly one of the very best things to do in Los Angeles with toddlers, as there are plenty of options to keep them busy.
Keep in mind that the park is massive, extremely hilly and has different entrances. In some cases, getting from one part of the park to another most efficiently will involve exiting the park and hopping on the freeway!
Get up close with the Space Shuttle at California Science Center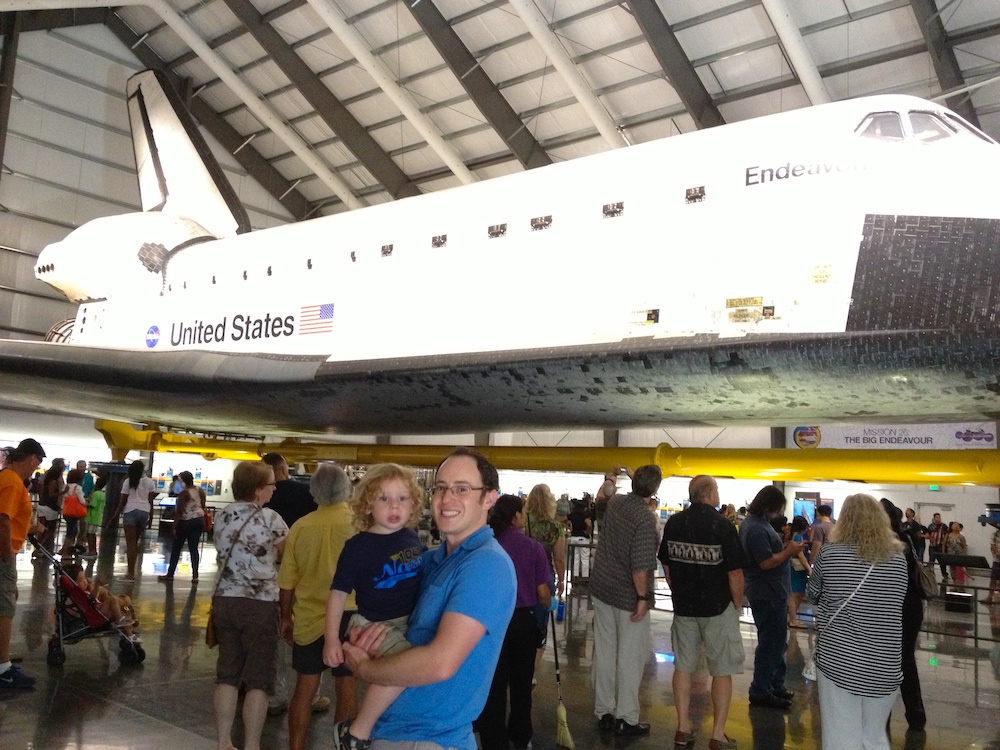 The California Science Center, just south of downtown LA in Exposition Park, is home the now-retired Space Shuttle Endeavour. It's one of just four places in the US where you can see a Space Shuttle, along with Kennedy Space Center near Orlando, the Udvar-Hazy Center near DC and the Intrepid in NYC.
In addition to the Space Shuttle, the California Science Center has a wide range of other exhibits including a major focus on different ecosystems. There's also an IMAX movie theater with several different options at a time.
The best part? Other than IMAX movies, some VR/simulators and occasional special exhibits, the California Science Center is free to the public! Since it's LA, you can plan to spend $15 for parking unless you opt to ride metro rail (which is conveniently located just across the rose garden along Exposition Boulevard). You can also stop at the Natural History Museum while you're there…
Connect with nature at the Natural History Museum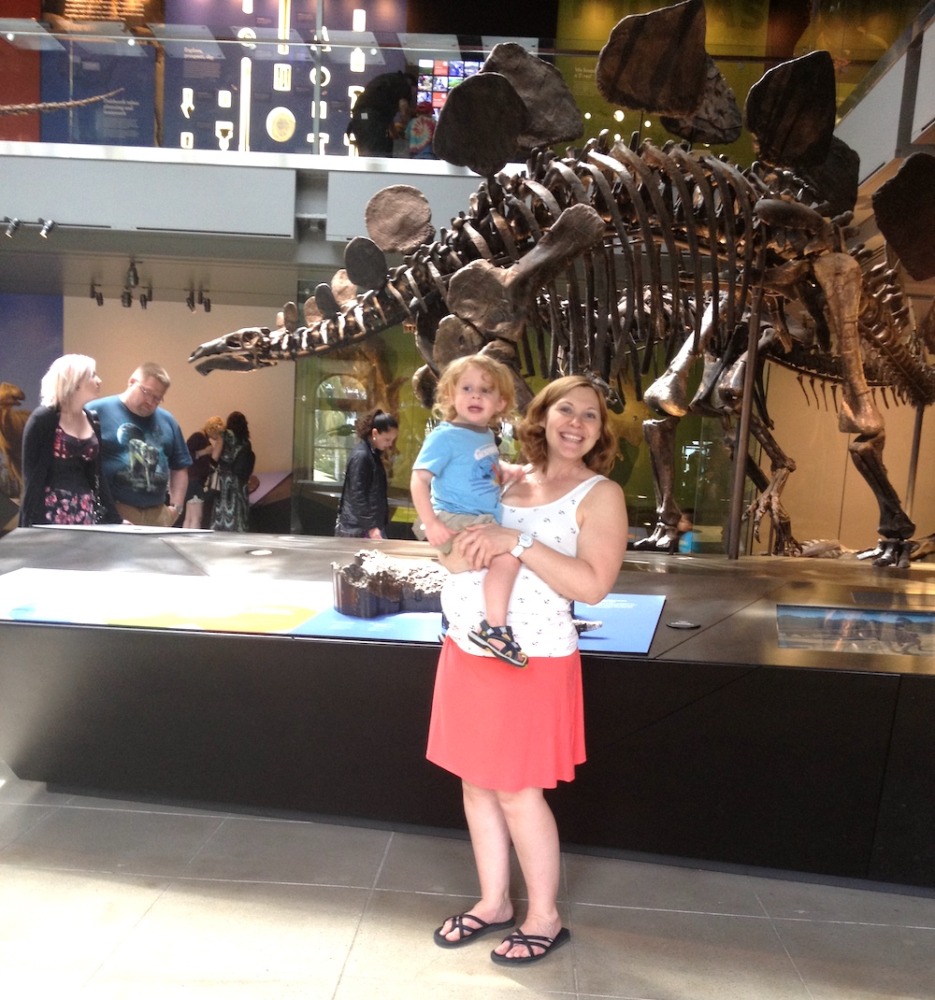 The Los Angeles County Museum of Natural History is a major Los Angeles attraction for preschoolers and kids who love dinosaurs! It's one of the largest dinosaur exhibits in the world and includes triceratops heads, a stegosaurus skeleton and even T-Rexes through the developmental stages.
In the spring, the butterfly pavilion is an absolute must-do! I really enjoy the Nature Lab on the bottom level (next to the NHM Grill) now that our kids are a little older, as it provides plenty of insight into LA's unique ecology in an age-appropriate way.
Admission is $15 per adult and $7 per child. If you're a member of your local ASTC-affiliated science museum, bring your membership card for free admission!
Do some kid-friendly shopping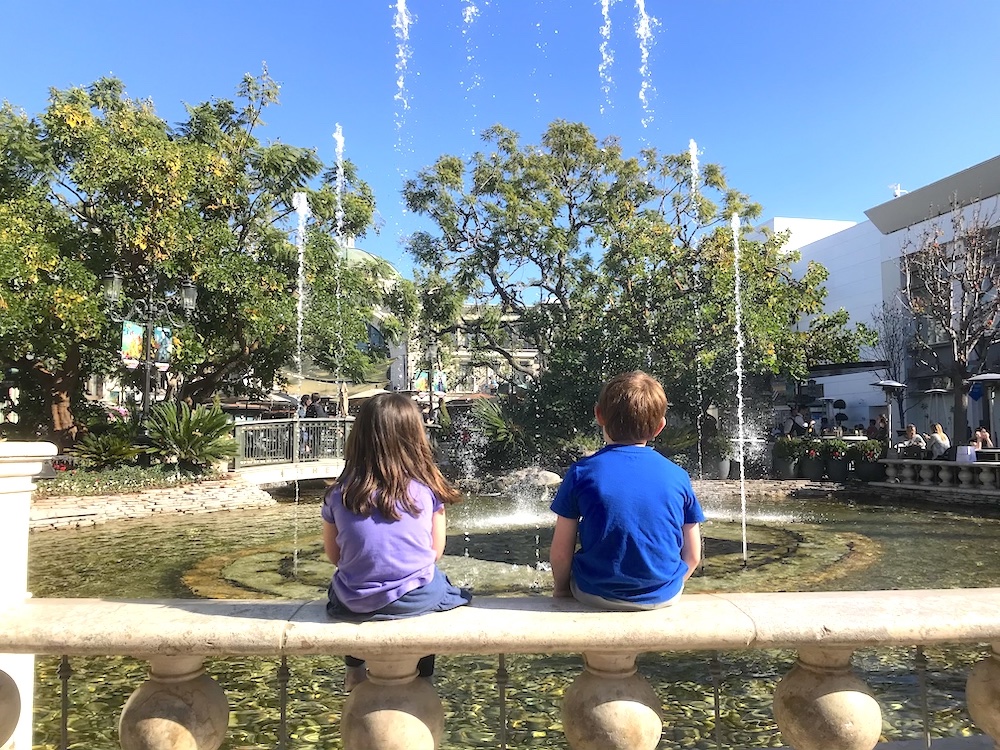 Stepping away from the kid-friendly Los Angeles museum scene for a minute, The Grove in mid-city offers plenty of light-hearted fun for the whole family. It's easy to spend the an afternoon and evening here, and we did many times.
Families looking for things to do in LA with toddlers should definitely plan some time for their kids to be mesmerized by music-synchronized fountains right as you enter The Grove – the show kicks off at the top of every hour. My kids could spend hours there! Fortunately there's some green space right nearby where lots of parents let their kiddos burn off some energy while they enjoy a coffee or smoothie. Don't miss the free trolley rides around the property beginning at 1pm! You can board near Gap.
The Grove is adjacent to The Original Farmer's Market, which has been dishing up a variety of foods to Angelenos for nearly a century. My kids' favorite, naturally, is the much newer Dylan's Candy Bar outpost right where The Grove and The Farmer's Market blend together. Don't miss old-school delights like Kip's Toyland and Sticker Planet!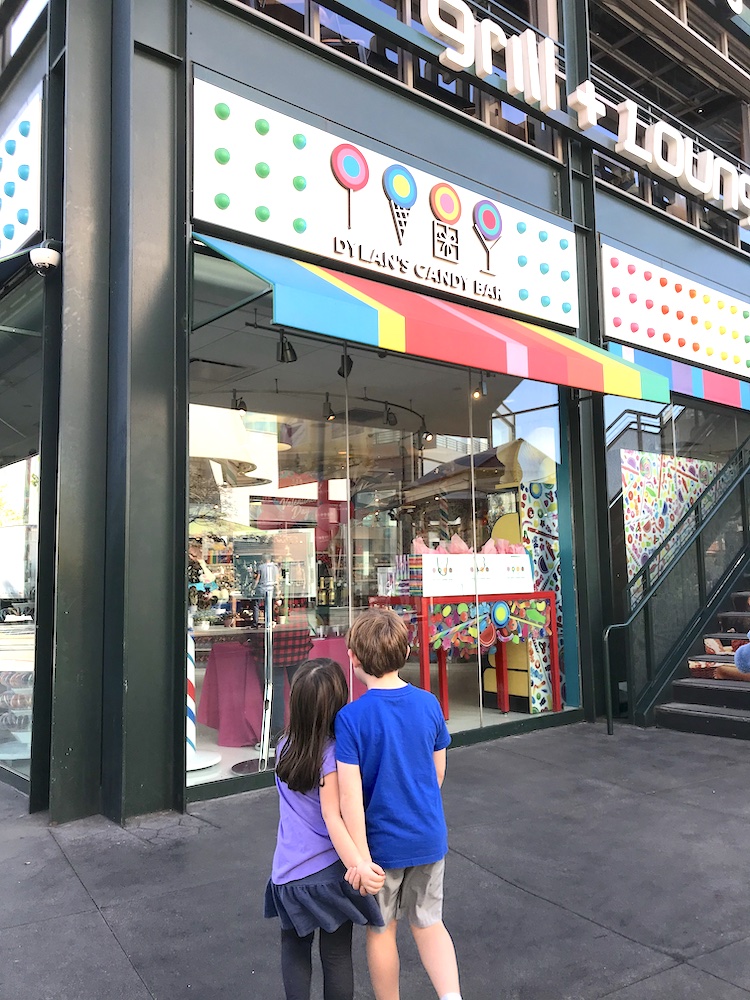 When the kids are inevitably hungry, there are tons of great options to choose from. Most of The Farmer's Market is arranged like a food court, so it's ok if you all want different options. While I wouldn't plan on a whole day at The Grove and The Original Farmer's Market, it's a five minute drive from the La Brea Tar Pits, LACMA and the Peterson Automotive Museum.
One of LA's latest developments is also a haven for families these days: Westfield Century City. After a $1 billion (yes, that's a "b") it's now the place to be. You'll find the only American Girl store in Los Angeles along with the first west coast outpost of NY favorite Camp – in addition to toys and games, kids can sign up for counselor-led classes and experiences.
There are two family lounges, plus faux-green spaces for kids to burn off energy. Century City also offers plenty of dining options, whether you have adventurous eaters and those who prefer familiar comforts. Eataly is a great pick for the entire family and has many Italian options, while my kids are huge fans of the high-end soup dumplings of Taiwanese restaurant Din Tai Fung.
Stop by an innovative best playground in Los Angeles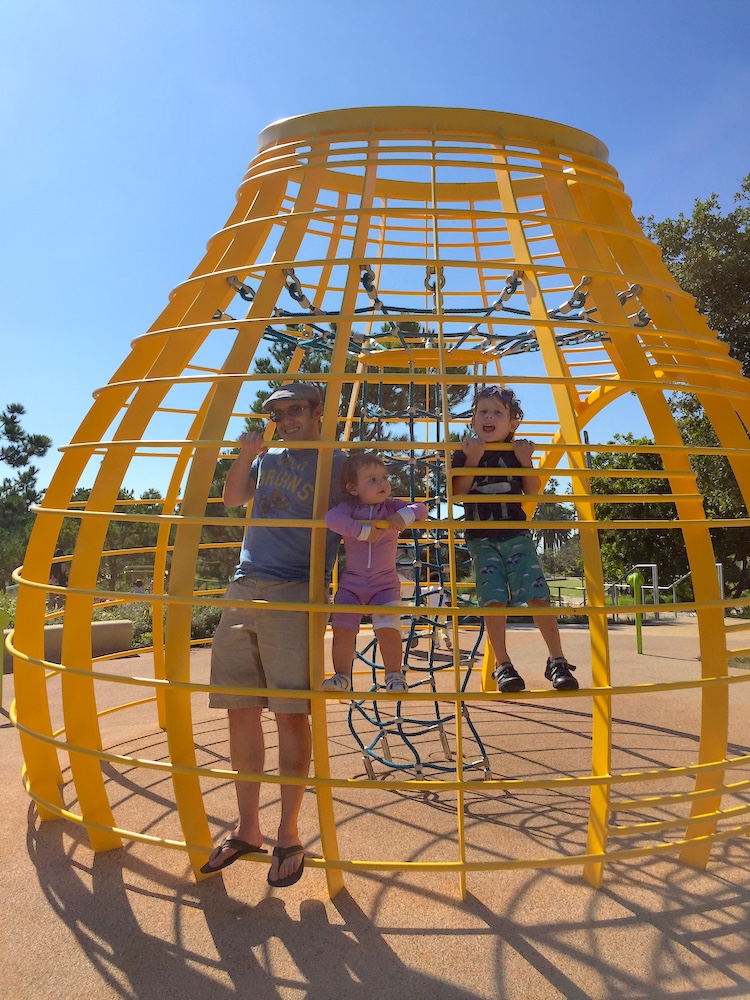 Los Angeles has some amazing playgrounds to try out when your kids need a break from sightseeing.
To start with, it's hard to beat Shane's Inspiration at Griffith Park. This all-abilities inclusive playground was built over 20 years ago and recently gotten some upgrades to both equipment and shade. If you're looking for a similar experience on the Westside, the same organization, Inclusion Matters, built Aidan's Place in Westwood (our home park!).
They also built Renee's Place at Pan Pacific Park in Mid-City, which is another family favorite and has a fun train theme. Pan Pacific also recently received some new well-shaded, modern equipment and is great even for older kids!
Tongva Park in Santa Monica (pictured above) may win as the most unique playground in Los Angeles. Most of its features are built into the landscape and everything looks like it's straight out of a modernist movie. Don't forget the swim suits and travel towels, as there's a wonderful (and fairly well-contained) splash pad during warm weather. There are also plenty of areas for adults and kids to stroll around and enjoy water features, flowers and those stunning ocean views.
Douglas Park in Santa Monica (but about 2 miles inland from the beach) has something for everyone. There's a lovely duck pond with plenty of paths both around and in it, a sandy playground with several structures and a concrete rink that does double-duty for water play in the summer and skating/scooting/biking the rest of the year.
We also love Roxbury Park in the residential section of Beverly Hills. It has tons of green space to spread out, plenty of sand box space to share and a wide variety of equipment to satisfy kids of all ages. It's not one I'd go out of the way for, but if you're nearby and need to blow off some steam it's a great choice!
Meet the residents of the Long Beach Aquarium of the Pacific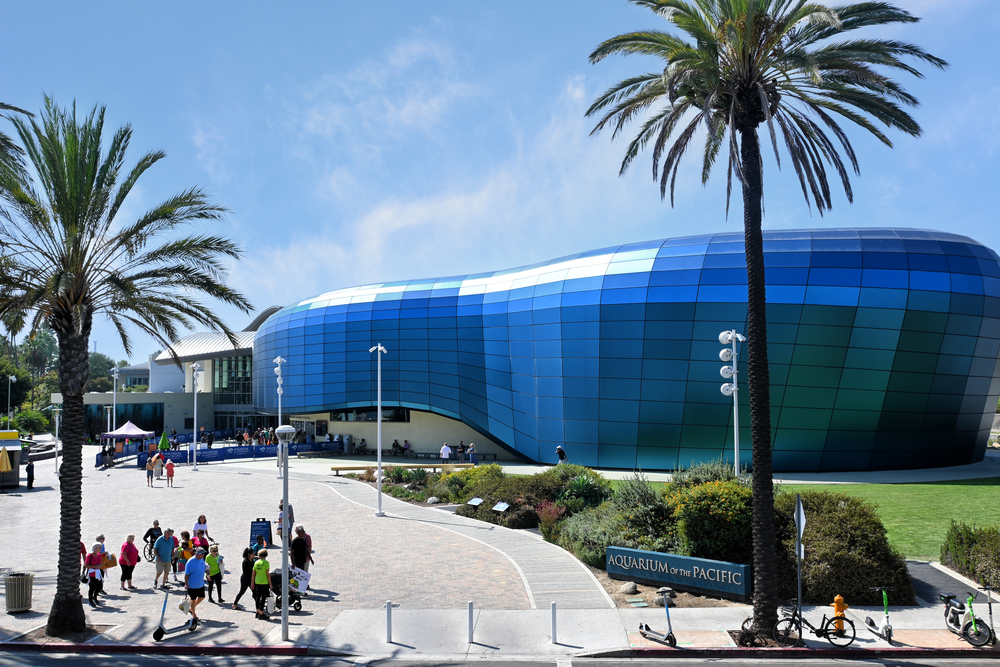 The Aquarium of the Pacific in Long Beach is so great that our family maintained membership there for years. While it may not be as large as its northern neighbor the Monterey Bay Aquarium, they share a focus on coastal California ecosystems. The Aquarium of the Pacific stretches its exhibit areas to encompass other regions of the Pacific Ocean, with much of the aquarium split up geographically.
The vast outdoor space features a well-shaded exhibit of sharks and rays, a free-fly lorikeet aviary, a Magellanic penguin habitat in addition to a play space (which sprays water when it's hot). The new Pacific Visions wing has high-tech, interactive exhibits that will bring the Aquarium of the Pacific into the 21st century and also appeal to those looking for what to do in Los Angeles with tweens.
While you're in Long Beach, consider getting out on the water for a whale watching tour! Amazingly, there are basically whales in the area all year long. Depending on when you visit, you'll see different species when you go whale watching in Los Angeles: typically gray whales and humpbacks in winter and early spring versus blue whales, sperm whales and orcas in summer and fall. This tour departs just outside of the aquarium so there's no extra driving or parking involved.
Get your Long Beach Aquarium of the Pacific discounted tickets here.
Seek out culture at the Getty Center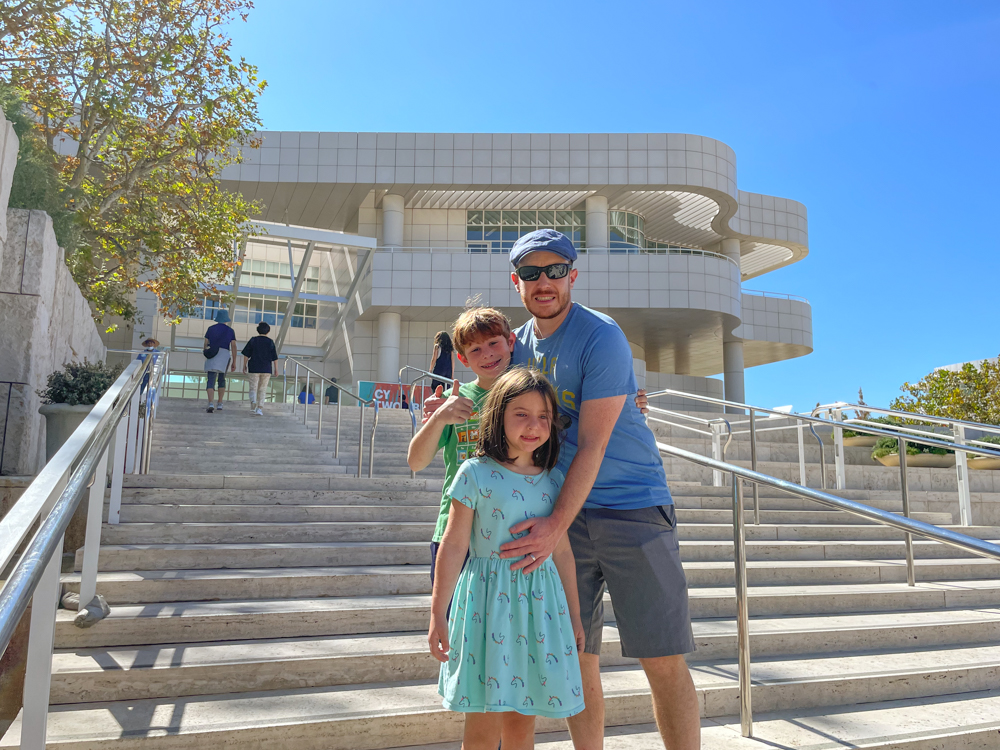 Most parents don't think of taking their kids to an art museum, but my own children insisted that I include the Getty Center in Brentwood and I don't blame them. When we visited yet again on a recent trip, I immediately felt a sense of peace wash over me.
What's so special about the Getty? It's part art museum, part architectural masterpiece and part botanical wonderland. From its hilltop perch, you can see from the Pacific Ocean all the way to downtown LA plus everything in between.
There are so many things to do at the Getty Center with kids! For starters, every kid loves riding the tram up the hill from the parking garage to the museum. Once inside, enjoy roaming the central courtyard and checking out the different fountains. In the back and down a set of stairs is the incredible garden with plenty of grass for playing and picnicking but also an amazing diversity of plant life.
Oh, was there something about this being an art museum? Right. My personal favorite is the West Pavilion's 2nd floor, which houses the museum's dynamite impressionist collection. You'll find iconic paintings like Van Gogh's Irises and Monet's Wheatstacks that will engage even kids who are visiting an art museum for the first time. The sculpture garden just above the garden has modern, mobile pieces that will also defy many kids' conceptions of art and give them a more expansive view of their own creativity. There are even "art detective" cards for kids that you can pick up and take around the museum as sort of a scavenger hunt!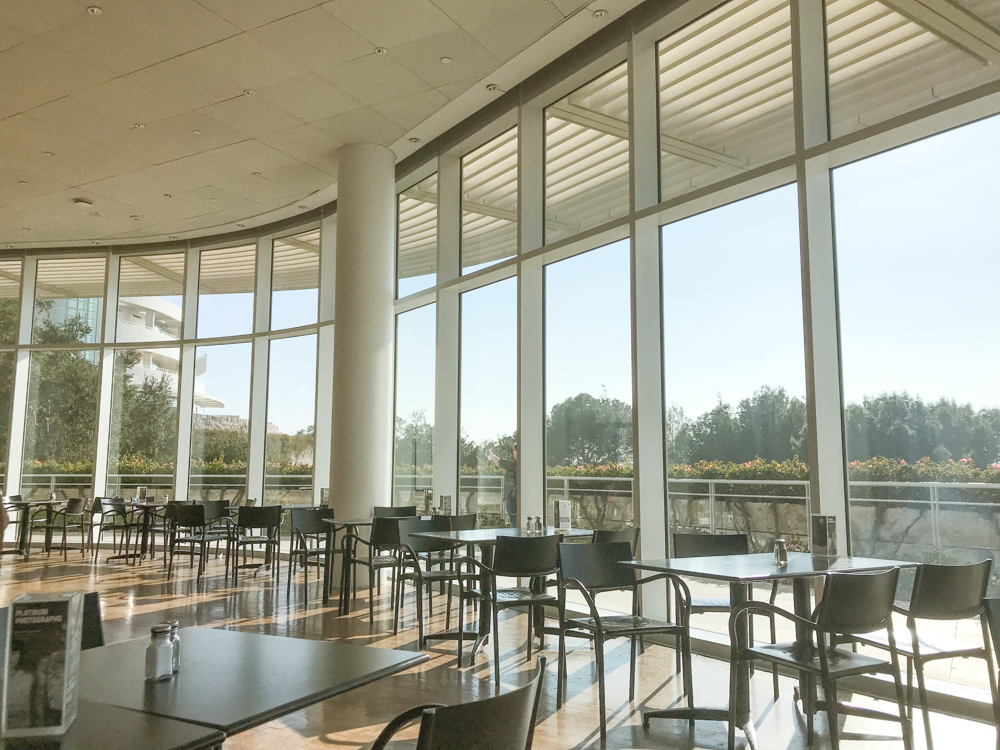 It's also worth mentioning that the Getty Center has a very good cafe for lunch, which is also a gorgeous space defined by its multi-story curving glass wall that connects to the surrounding scenery. If the cafe is closed, you can also grab pastries, box lunches and drinks from the various coffee carts or the Garden Terrace Cafe. If you're feeling fancy, book ahead for a sunset dinner at the Restaurant or afternoon tea on the Restaurant's terrace.
The only cost to visit the Getty Center is $20 for parking, but you'll need to reserve an admission time slot for each person.
Get in gear at the Petersen Automotive Museum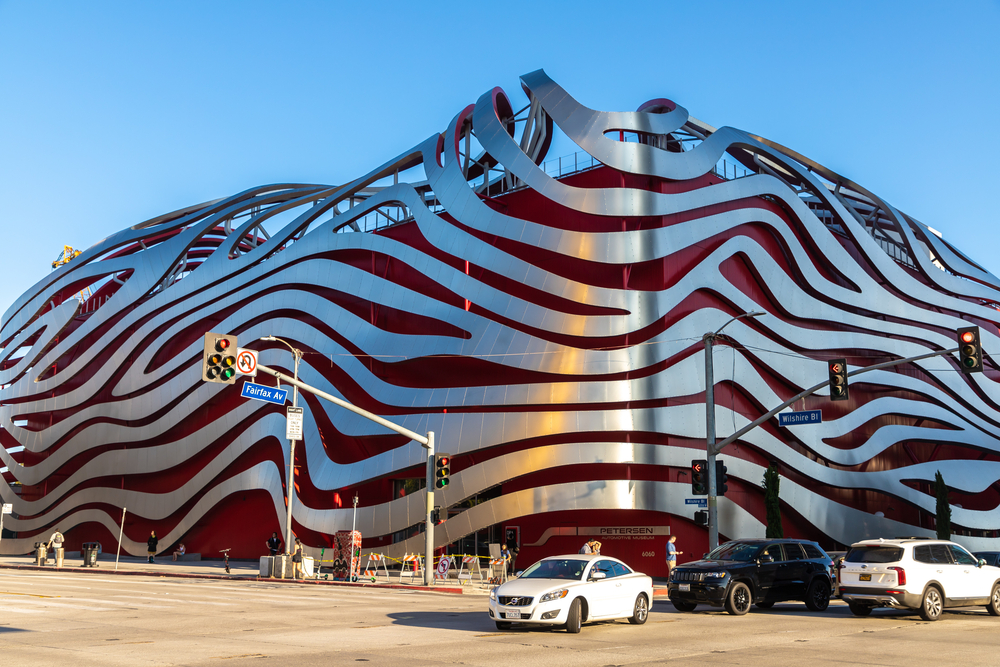 In many ways, cars made Los Angeles what it is today. So it should come as no surprise that I'm including the Petersen Automotive Museum on this list of the best family-friendly things to do in Los Angeles. Car lovers of all ages flock here to one of the world's largest car museums.
You'll find plenty of great exhibits to check out, including exotic, historic and "celebrity" cars – including the Delorean used for all three Back to the Future films! If you're so inclined, you can learn a lot about car design and engineering as well. There are even some great interactive simulators to feel like you're speeding around the track in a sports car.
For younger kids, there's both a vehicle-themed play space as well as a more involved Pixar/Cars design studio that aims to teach kids principles of how to build a car. While we visited with toddlers and preschoolers, I'd say that this is a great thing to do in Los Angeles with teenagers, tweens and school-age kids.
Side note: As I'm writing this, my 11 year old is looking over my shoulder and asking when we can go to the Petersen because it looks so cool. That's a great vote of confidence!
Go behind the scenes on the Warner Brothers Studio tour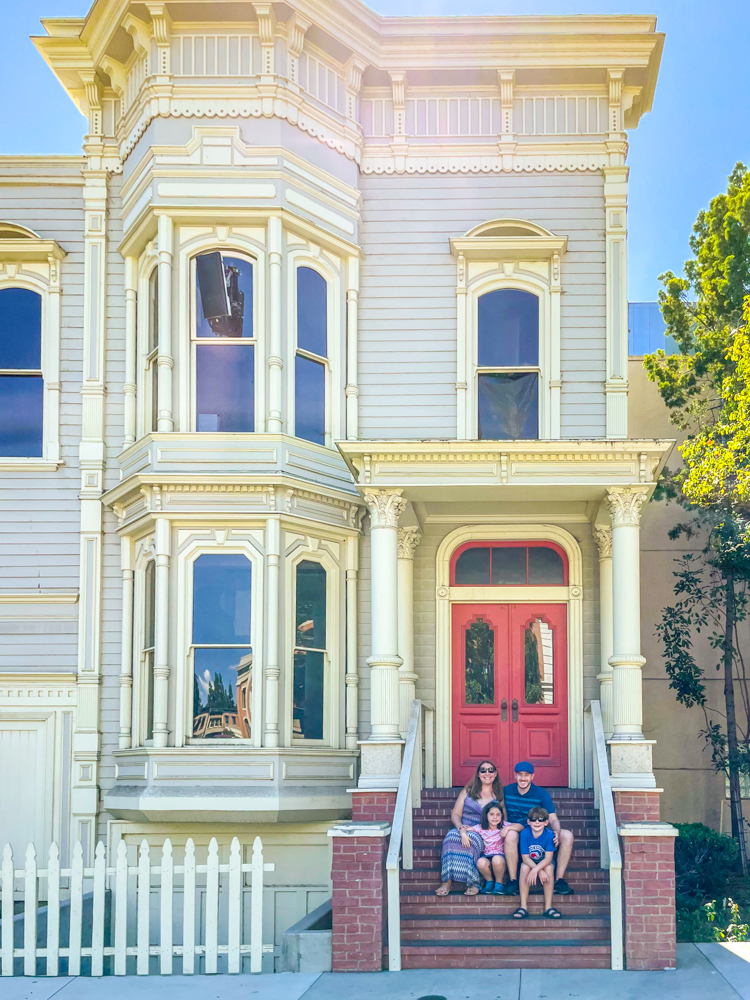 Looking for a great family-friendly activity in Los Angeles with teenagers or tweens? Take them on one of the in-depth, behind-the-scenes tours at Warner Brothers Studios in Burbank. I do recommend waiting until kids are at least in late elementary school or middle school for this one; they'll get more out of it if they've started to enjoy live action movies, as a lot of the "WOW!" moments are tied to how the Studio makes such believable TV shows and movies. Read my full Warner Brother Studio tour review + tips.
I took this tour almost 20 years ago and again in 2022, and I can tell you that they've added so much to it! In addition to riding in a cart around the back lot and checking out sound stages, there are many more interactive elements than there used to be.
There's a large section produced by the Wizarding World of Harry Potter, which was a real highlight for my young Potterheads (and me). Other fun experiences for kids include the interactive sound stage, a DC super heroes area and the chance to hold a real Oscar!
I honestly wasn't sure if my kids would enjoy this tour at 8 and 10, but they had a great time. We stayed at WB Studios for nearly 3 hours when all was said and done!
One tip I learned (though it didn't work out for us) is to try to take the tour on weekdays. The studio is bustling with working actors and crew, so you'll really feel the buzz (and maybe even spot your favorite actors!).
The other tip – which I learned two days too late – is that I could have gotten our WB Studio tour tickets much cheaper. Note that the arrival time on your ticket is somewhat flexible. Tours depart continuously, so we had no problem getting in 30 minutes before our allotted time.
Rock out at the Grammy Museum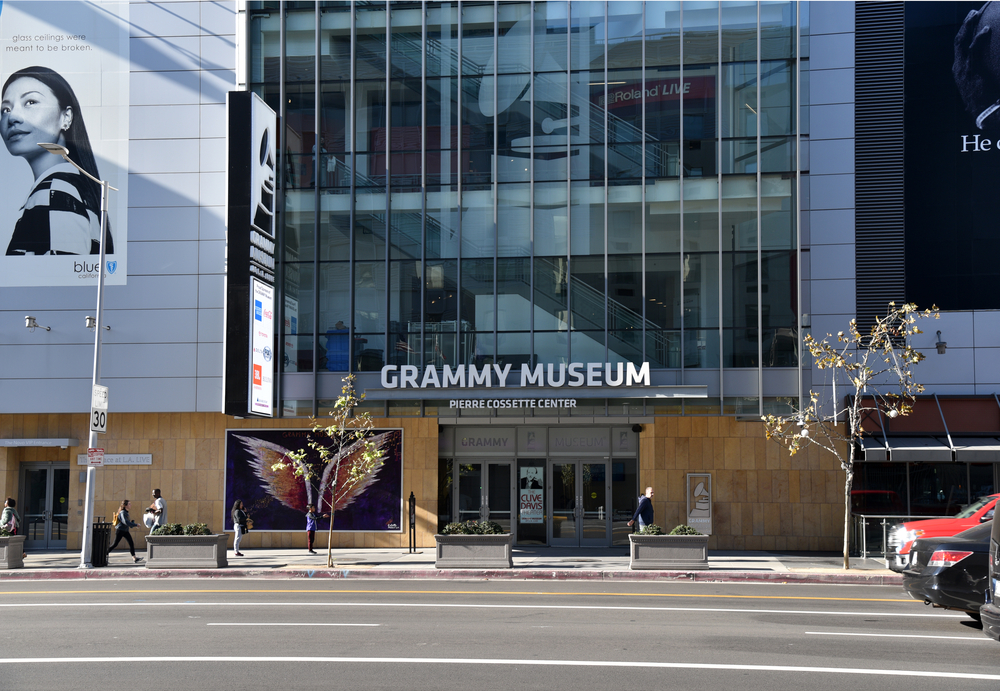 The Grammy Museum at LA Live in downtown is another place we look forward to visiting again now that our kids are older! It's a wonderful interactive museum that celebrates not only the Grammy Awards, but the artists who win them and perform at the ceremonies. The museum has four floors with a huge variety of experiences.
There are tons of listening stations for kids of all ages to try out and even a studio where you can experience your favorite songs as you would hear them on different types of recordings.
For toddlers and very young kids there are plenty of buttons to press and screens to touch, but on average I'd suggest the Grammy Museum for ages 8+. It's even better if you're visiting Los Angeles with teens or tweens who are starting to dive into the music scene of their own accord!
Head to an LA sporting event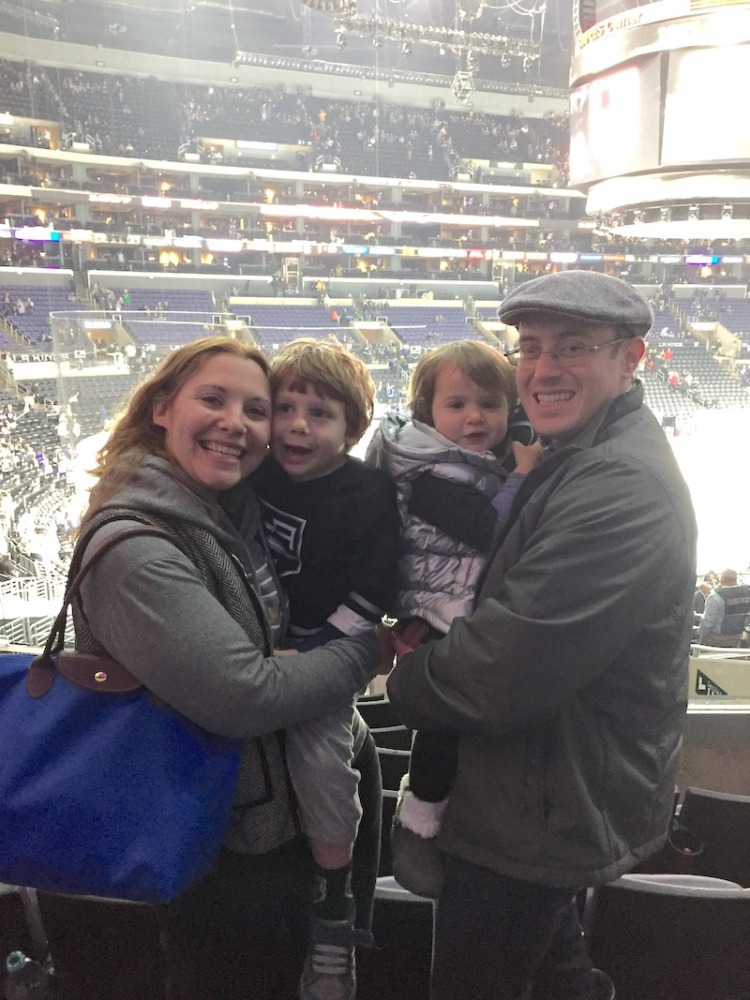 Angelenos live and die by their sports teams. The region has two professional teams each for baseball, basketball, football, hockey and soccer. Plus there are heavyweight contenders at USC and UCLA in many sports. Wherever you look, there's always something going on.
Fortunately, you can often get tickets without spending a fortune if you're flexible (though not always). We like to check StubHub the day before a game or even the day of if we want the experience of attending a game but aren't necessarily married to having the best seats.
In our experience, the most family-friendly sporting events in LA are
baseball – Dodgers if you're up in LA, but Angels is a little more family-friendly if you're already going to be down in Anaheim
hockey – LA Kings play in downtown so you can take metro
soccer – LA Galaxy plays in Carson, between west LA and Long Beach
If you do choose to go to a Kings game, grab these for the kids in advance.
Visit children's museums in Los Angeles
Hopefully my fellow LA moms won't fillet me for this, but I wouldn't put any of the area's children's museums at the top of your priority list. There are so many more unique things to do in Los Angeles for families!
But I know that sometimes kiddos just need a space to take over on their own, especially if you're looking for things to do in Los Angeles with toddlers. Fortunately you're never far from a children's museum no matter where you are in greater Los Angeles.
Noah's Ark at Skirball Cultural Center
This is a "museum within a museum" in West LA, and I spent many an afternoon here with my kids! The excellent Noah's Ark exhibit lets kids play through the lens of the Noah story and incorporates lots of different experiences. They can make the sounds and the wind of the storm, help get animals into the ark before the flood, play "house" within the ark's several levels, and experience story time and art projects with the high-quality staff.
There's also an art studio below that's open on weekends and the summer features high-quality family concerts in the amphitheater at no additional charge. If you want to go on a weekend, be sure you reserve a time slot in advance. This is definitely the most unique children's museum in Los Angeles, and if you're visiting with another adult you can also take turns visiting the excellent Vision & Values permanent exhibit on Jewish culture as well as the high-quality temporary exhibits that come through.
Cayton Children's Museum
I haven't visited this museum since it moved to its current location (with its new name), but it's now huge, fresh and modern. You can check out the spaces here. While it's not the largest children's museum in Los Angeles, it might be the most convenient: it's located on the top floor of Santa Monica Place. Since it's within two blocks of great family-friendly hotels, the Pier, the beach and Tongva Park it's easy to incorporate into your day – or even take one kiddo while the other enjoys a snooze back at the hotel.
Discovery Cube
There are two Discovery Cube locations, a small one on the outskirts of LA (about 20 minutes north of Hollywood, Burbank and Pasadena) and a larger one in Orange County (not far from Disneyland). Both Discovery Cube locations have a little more of a STEM focus than other options and will be more appealing to older elementary students, though they still have plenty for toddlers as well.
Kidspace Childrens Museum
Kidspace Childrens Museum in Pasadena has been around since 1979 and was one of the original Los Angeles children's museums. It's a great spot to visit on a nice day, as several of the marquee experiences are outdoors. This is a lovely spot to help kids connect with nature and the world around them in an educational way.
Want to get more helpful travel tips like this? Sign up for our email list!
Manage mischief at Universal Studios Hollywood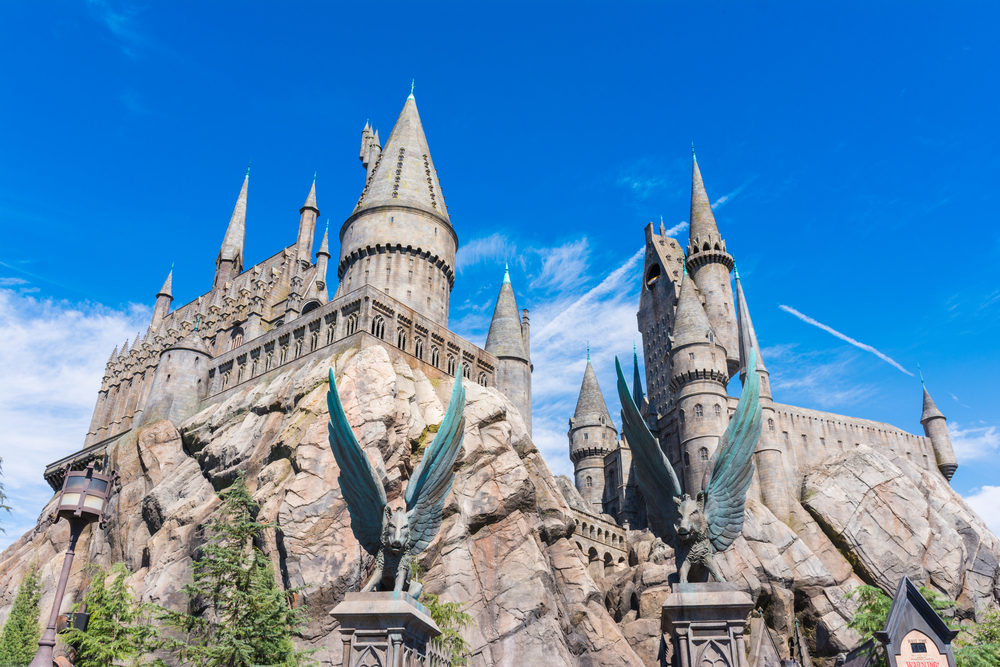 Universal Studios Hollywood really needs no introduction. It started operating as a studio backlot more than a century ago and has had a theme park component for almost 60 years. Today, after numerous fires and reconstructions over time, Universal operates mostly as a theme park in the heart of Los Angeles – it's just 10 miles from downtown LA and 20 miles from the beaches.
If you're interested in the movies themselves, be sure to take the Studio Tour. While it it's more staged and less "serious business" than the Warner Brothers Studio tour, it'll still take you on a narrated tram ride around parts of the backlot and front lot, by some of the theme park's attractions and more. I still remember it from my own visit to Universal Studios Hollywood 25 years ago!
The biggest draw today is the Wizarding World of Harry Potter, which represents the village of Hogsmeade (unlike in Orlando, where there is also a Diagon Alley area and they're connected by the Hogwarts Express). No, you won't be able to ride the Hogwarts Express at Universal Studios Hollywood! While there are two rides here (Forbidden Journey with a 48″ minimum and Flight of the Hippogriff with a 39″ limit) you might just spend most of your time wandering around and casting spells.
If you're visiting Universal Studios Hollywood with toddlers and young kids, plan to spend plenty of time in the Upper Lot. You'll get to enjoy The Secret Life of Pets (34″ minimum, but dark), Despicable Me Minions Mayhem (40″ minimum and our favorite rid in Orlando), DreamWorks Theater and the oh-so-cute Animal Actors Show.
The Lower Lot is really better suited to older kids. It has Transformers (40″ minimum and dark), Jurassic World (42″ minimum water ride) and Revenge of the Mummy (48″ minimum roller coaster with serious speed and movement).
But what am I really excited about? In early 2023 Universal Studios Hollywood is growing to include a new Super Nintendo World! Hopefully we'll be able to sneak in a visit on our next trip to Los Angeles so I can give you all the insider tips.
Grab discounted tickets here, which will save a lot when packaged with your rental car.
Feel the magic at Disneyland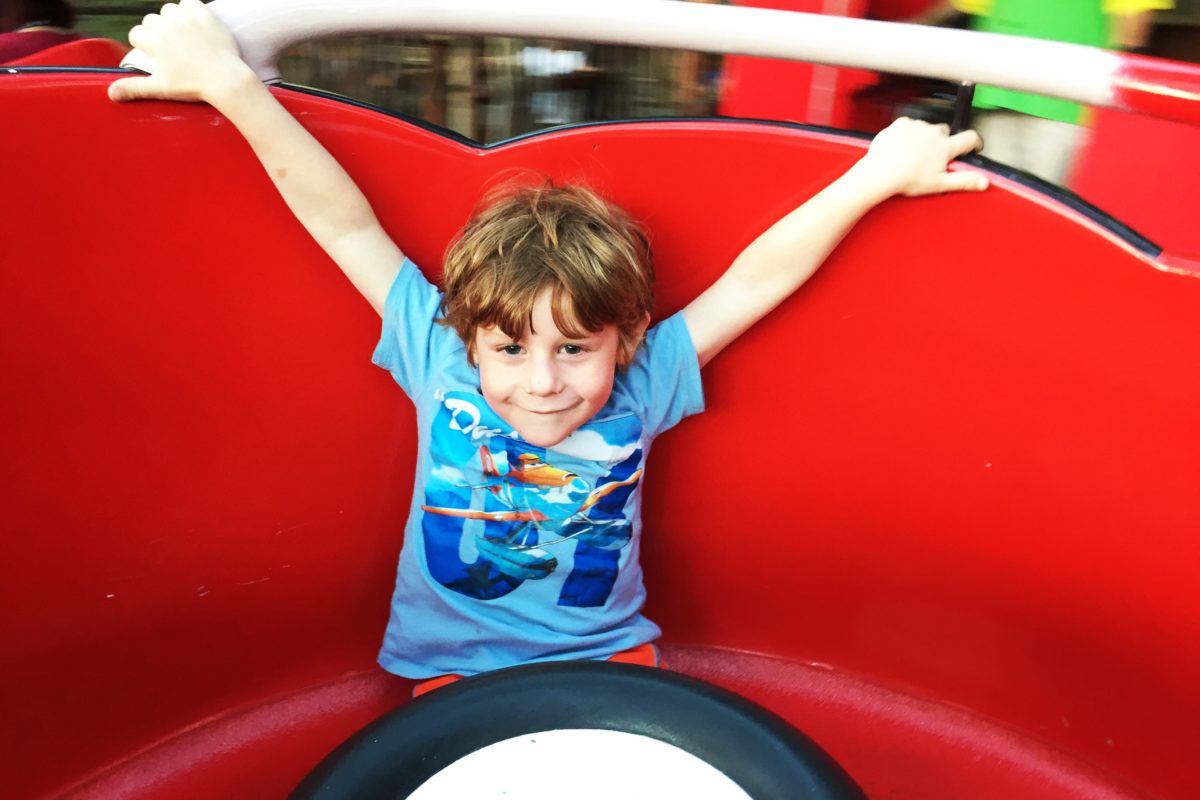 If you're only going to make one family trip to Southern California, you'll definitely want to include Disneyland! This is the original Disney theme park and it's fun for everyone. Most families can get their fill of the two Anaheim theme parks – Disneyland and California Adventure – with a 2 day ticket, visiting one park per day. You can get your discounted tickets here, which will also save you a ton of money on your rental car!
If you're used to visiting Walt Disney World in Orlando, know that Disney's property in California is much much smaller. You can walk everywhere! That said, Disneyland packs in rides and attractions more densely than Disney World so you won't be missing out. Disneyland is also usually open very late (often midnight) for the night owls among us.
My top recommendation if you plan to include Disneyland in your visit to Los Angeles with kids is to stay in Anaheim for a night or two. As locals, we've usually gotten away with driving down from LA early in the morning to start in one park and then staying a single night before hitting the other park.
---
Planning your trip to Los Angeles with kids
Whew, I know that was a ton of info on all the best family activities in Los Angeles, but there are so many to choose from! As you put together your plans, take a look at the map below to help you get a sense for how to pair activities geographically. Because one thing's for sure: you want to avoid that traffic as much as you can!
As you plan the rest of your visit, be sure to check out these articles:
Still planning? Pin this for later!