San Francisco may not be the first place American families think of for their vacations, but it's a fantastic place to visit with kids. It's a compact city with tons of things to do, restaurants for every palate and day trips galore! But is it possible to visit San Francisco on a budget?
Yes!
We stayed in San Francisco for 12 days on a shoestring without eating ramen for every meal and limiting our activities to playgrounds. Keep reading to find the best free things to do in San Francisco with kids, and some cheap ones too. We'll even let you in on our favorite budget-friendly, family-friendly restaurants in San Francisco, how to get around the city with kids and how to stay for (almost) free. Ready? Let's explore!
Free things to do in San Francisco with kids
Chrissy Field for bridge view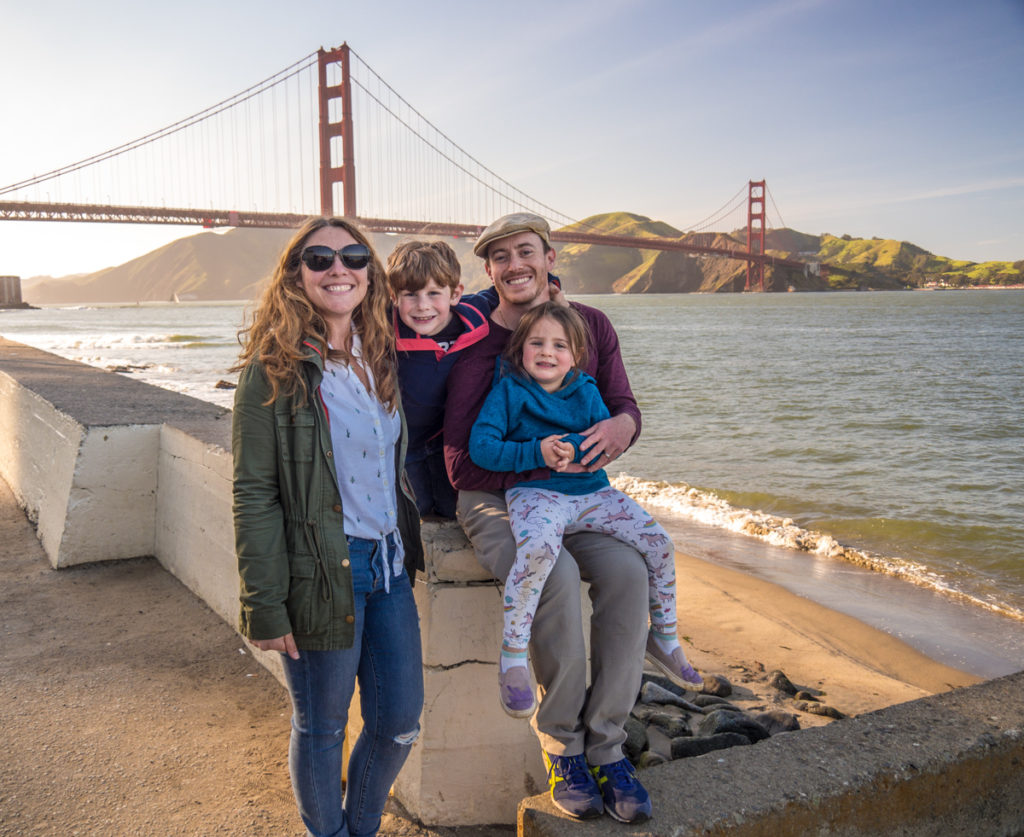 Here's an easy one to start with: you and your kids will definitely want to see that classic view of the Golden Gate Bridge as it crosses the bay. One of the best places for viewing is from Chrissy Field in the Presidio. Chrissy Field is a huge grassy area, so feel free to bring a ball and let the kids run around with all the local kids. There's also a packed dirt path running along the water where kids can ride their scooters. Make sure to read this book together beforehand to get the inside scoop on the bridge!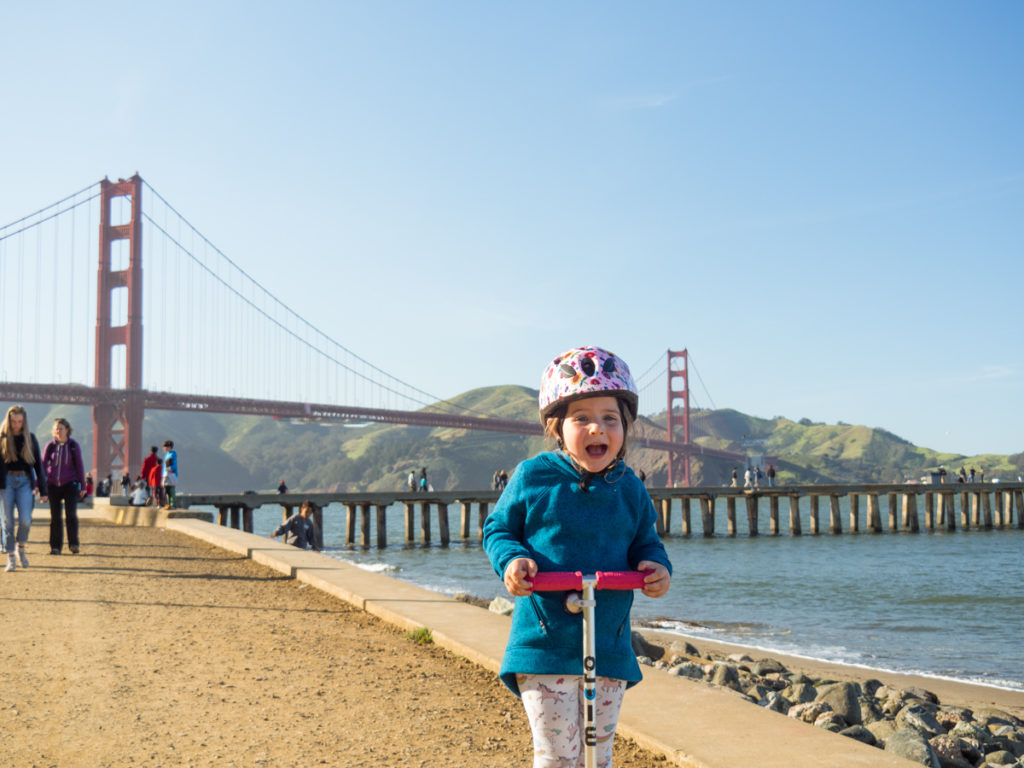 The Presidio is actually part of Golden Gate National Recreation Area. What does that mean for you? It has a Junior Ranger program! We didn't manage to do this one, but you can check out the book here to see if it's a good fit for your family. We always find Junior Ranger programs to be great educational resources for the whole family!
Ferry Market Building farmers market + walk fisherman's wharf
The Ferry Building Marketplace at Pier 1 is mainly a high-end food hall these days, with a wonderful view of the harbor put the back. Three times per week, on Saturday, Tuesday and Thursday, there's an enormous farmers market and craft fair (more of a Saturday thing) set up in the surrounding area. Our kids loved exploring the handmade art, jewelry and knock-knacks and then sampling fresh local fruits, delicious cakes and even African iced tea. The farmer's market finishes at 2pm each day.
It's great to time your visit around lunch time as there's a wide range of food trucks behind the building. Alternatively, you can always go inside and visit one of our favorites, Frog Hollow Farms. It's not the cheapest lunch around but the produce and baked goods are extremely fresh and flavorful – hard to resist! Don't skip the fruit desserts, which use fruit grown on their own farm in the area.
After you finish at the Ferry Market Building, spend the rest of the afternoon strolling along the wharf. Yes, it can be crowded with tourists. But it's still worth doing on a nice day! If you make it all the way to Pier 39, you can even hang with the famous sunbathing sea lions.
Check out more can't-miss activities for your first time in San Francisco
Wells Fargo Museum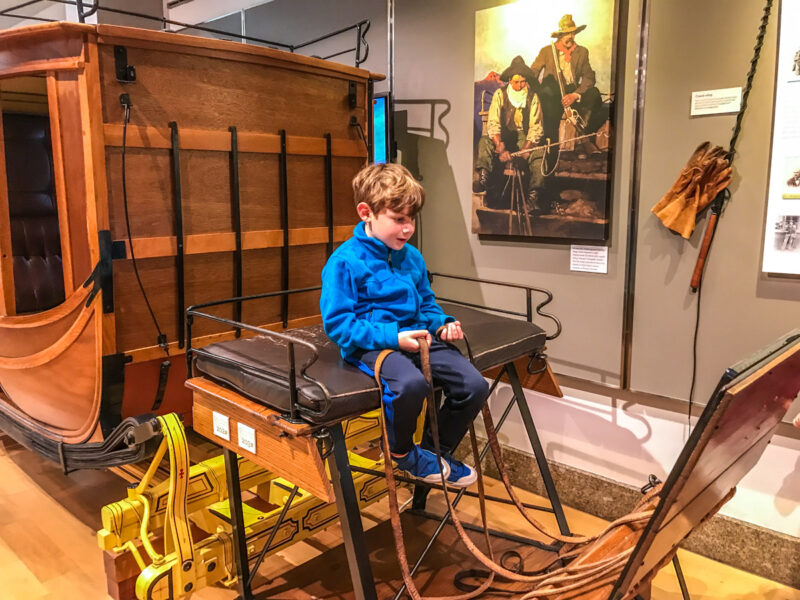 Why would you take children to a bank on vacay? Right?
No really. The Wells Fargo Museum, which almost no one seems to have heard of, was one of the most fun and interactive places we visited in SF with kids! The museum tells the story of the banks history but uses it as a lens to explore 19th century American history, westward expansion, the gold rush and technological innovation.
Kids learn about different types of currency used in the US at the time of the gold rush, and then get to print their own with their faces on it. They learn why the stagecoach was so important, and then take a ride in one. Test your communication skills upstairs with a working telegraph machine and an early telephone.
There's so much to do at the Wells Fargo Museum and our family could have stayed for hours! We actually had to drag the kids out kicking and screaming. It's an especially great choice if you're looking for things to do in San Francisco in the rain.
Read more: 10 Amazing Things To Do In California With Kids
Cable Car Museum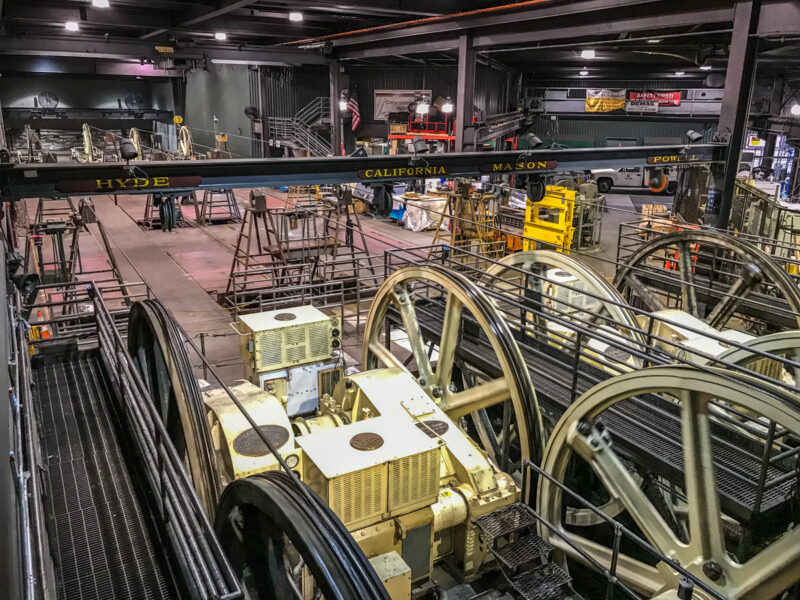 What's a better icon of San Francisco than the cable car? The system dates back over a century and has a fascinating, if somewhat fragmented, history.

This museum will appeal to two types of families: those who are very interested in the city's history and those who love things that move. You'll get an up-close view from both above and below of the mechanism that keeps the city's three cable car lines running. The Cable Car Museum is not for those who dislike loud noises – at least one member of our crew didn't care for it because the sound of the machinery can be deafening.

Randall Museum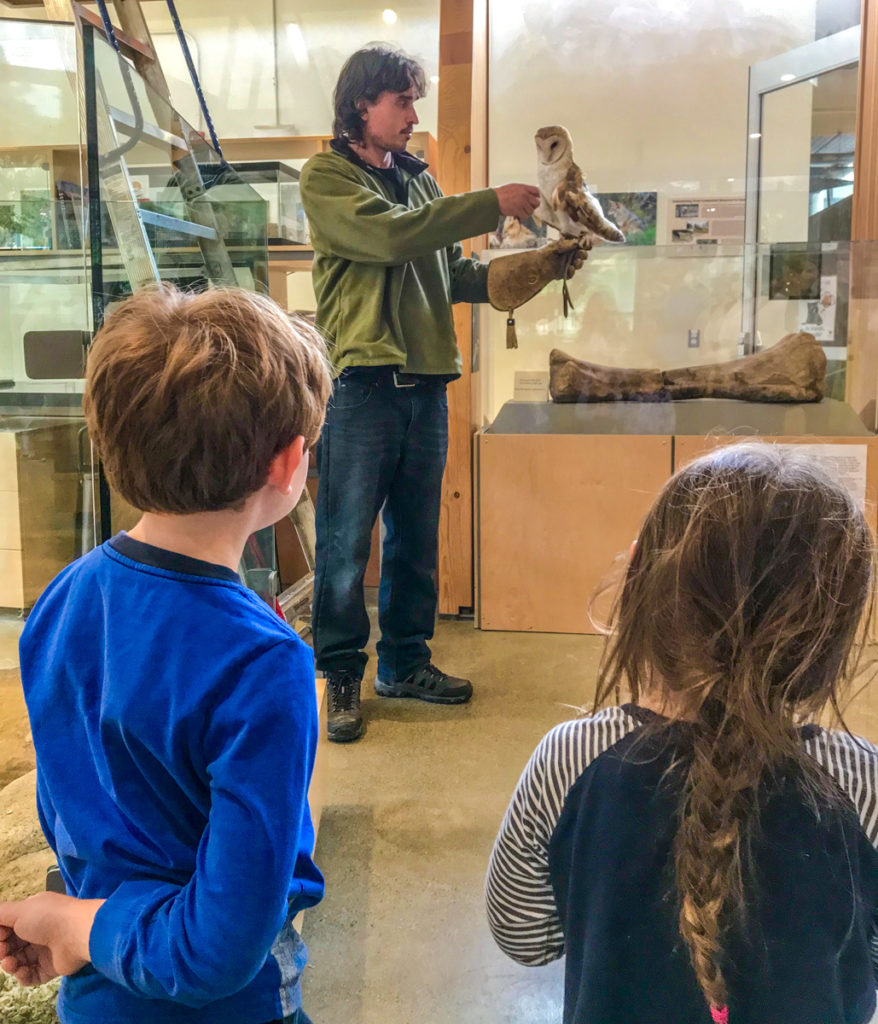 Another place that most people never visit (but should) is the lovely little Randall Museum right in the middle of the city!

The upper level focuses on regional wildlife, while the lower level has a mix of interactive activities ranging from a guessing game about minerals to a shake table with blocks to simulate an earthquake. There's also a model train room and a wooden train layout (BYO Brio or Thomas, as it's pricey to rent them at the desk).

Our favorite activity at the Randall Museum was learning about the predatory birds, who are invited down from their perches beginning 30 minutes before closing time. They're offered food and the handler does a "keeper talk" to educate visitors about the birds, their unique characteristics and the threats they face in San Francisco. Note that all of the animals at the Randall Museum are rescues – even the raccoon.

For those visiting with the youngest kids, there's a separate play room for babies and toddlers just behind the welcome desk. Don't miss the incredible city view from the back terrace!

DeYoung Museum Observation Tower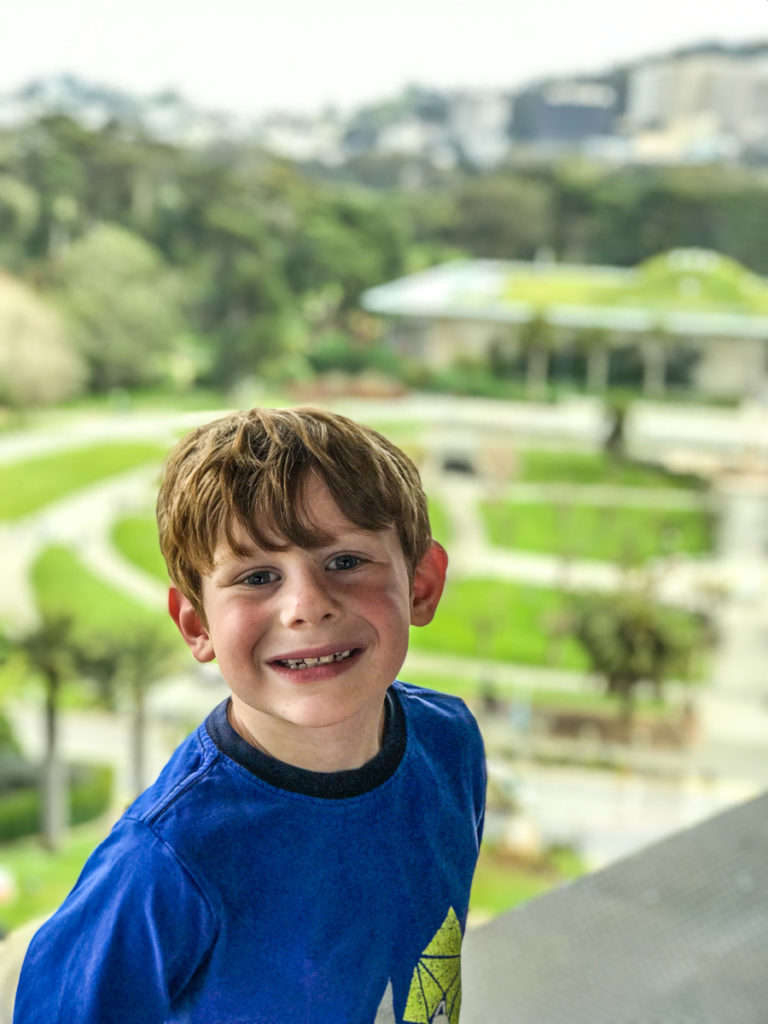 When you find yourself in Golden Gate Park – as you almost certainly will – don't be afraid to pop into the DeYoung Museum for a quick trip up to the observation tower. It's completely free (unlike the main museum) and offers incredible views of the whole city. There's also a small, free interactive space for kids on the ground floor.

Playgrounds + scooter paths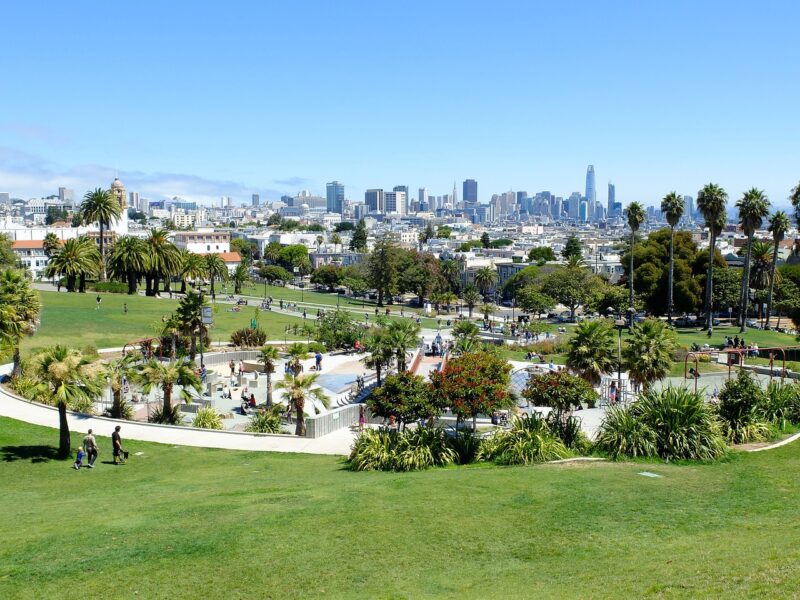 It would be a shame to take your kids to San Francisco and not hit up at least one of the wonderful playgrounds. One of the most popular is Dolores Park, which has amazing slides but is often packed on weekends if the weather is nice. There's also a lovely playground (and lots of room to scoot!) at Alamo Square, and it's hard to beat the views.

Jelly Belly factory tour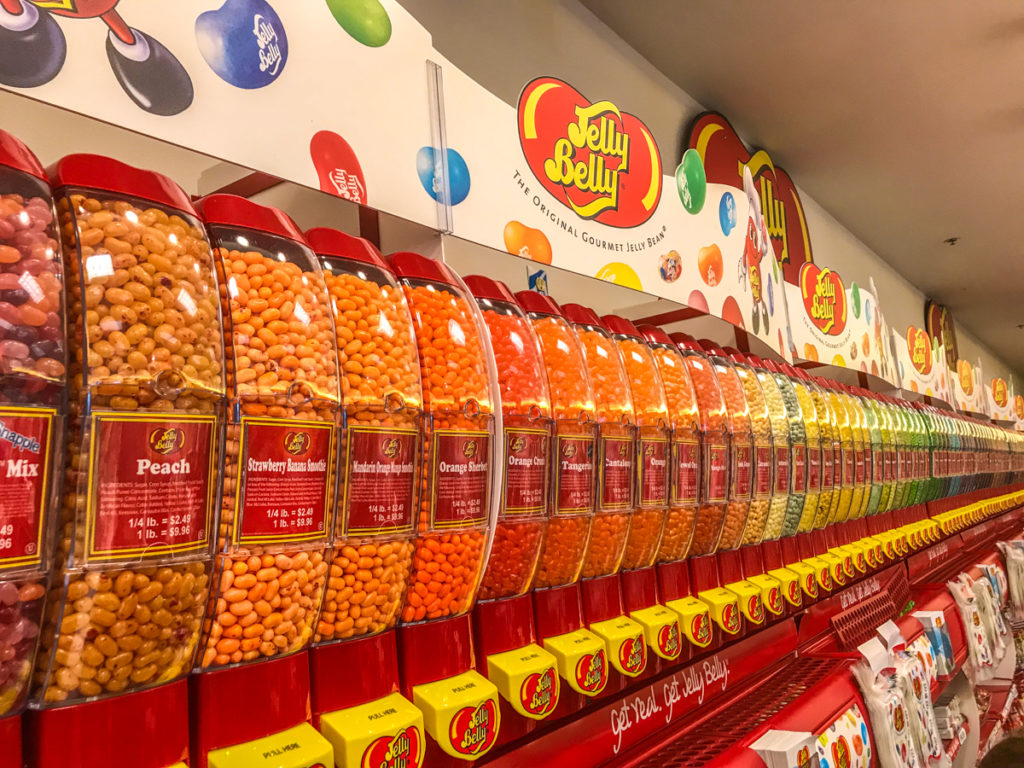 If you have a car and want a fun day trip out of the city, make your way to the Jelly Belly Factory in Vallejo for a free tour – samples included! It provides a great behind-the-scenes look at the process behind making one of America's favorite candies. If you or your kids have never visited a modern working factory, be prepared to be mesmerized and awed!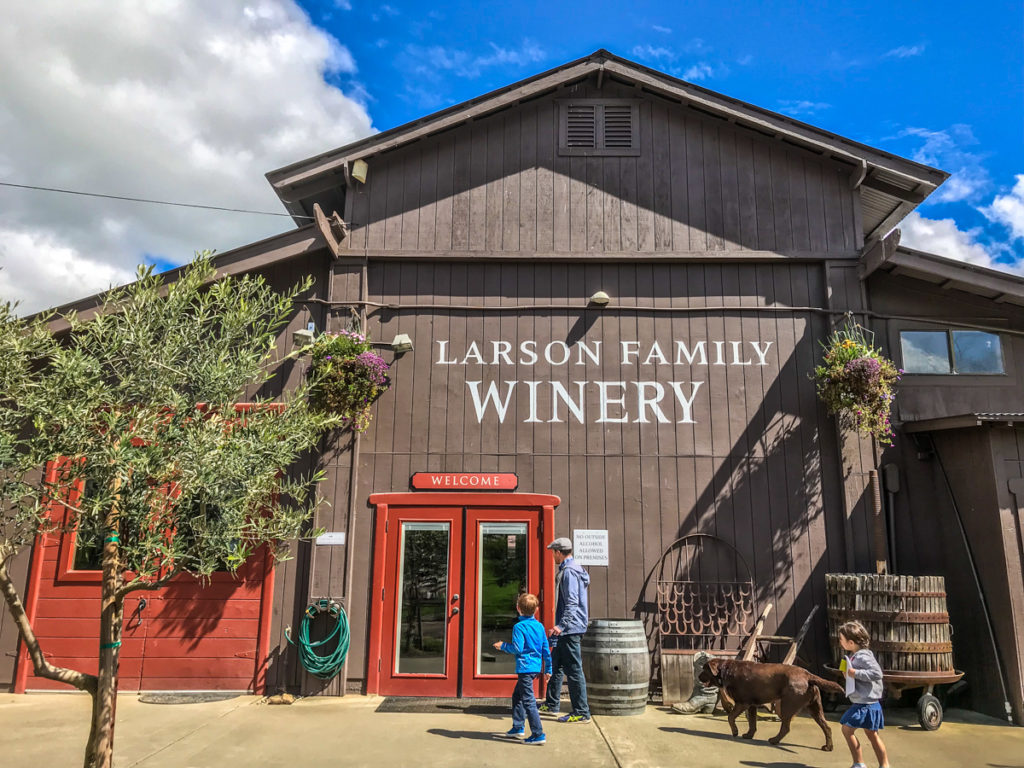 If you want to balance the sugar rush with a more adult treat, pair your factory visit in the morning with an afternoon of wine tasting in the Sonoma Valley. It lacks some of the cache of Napa but is a much friendlier atmosphere. Pick up lunch at Angelo's Deli and then have a picnic out back at Lawsln whole your kids play lawn games like corn hole and bocce ball. It can get very busy with San Francisco families on the weekend, so schedule this for a weekday if possible.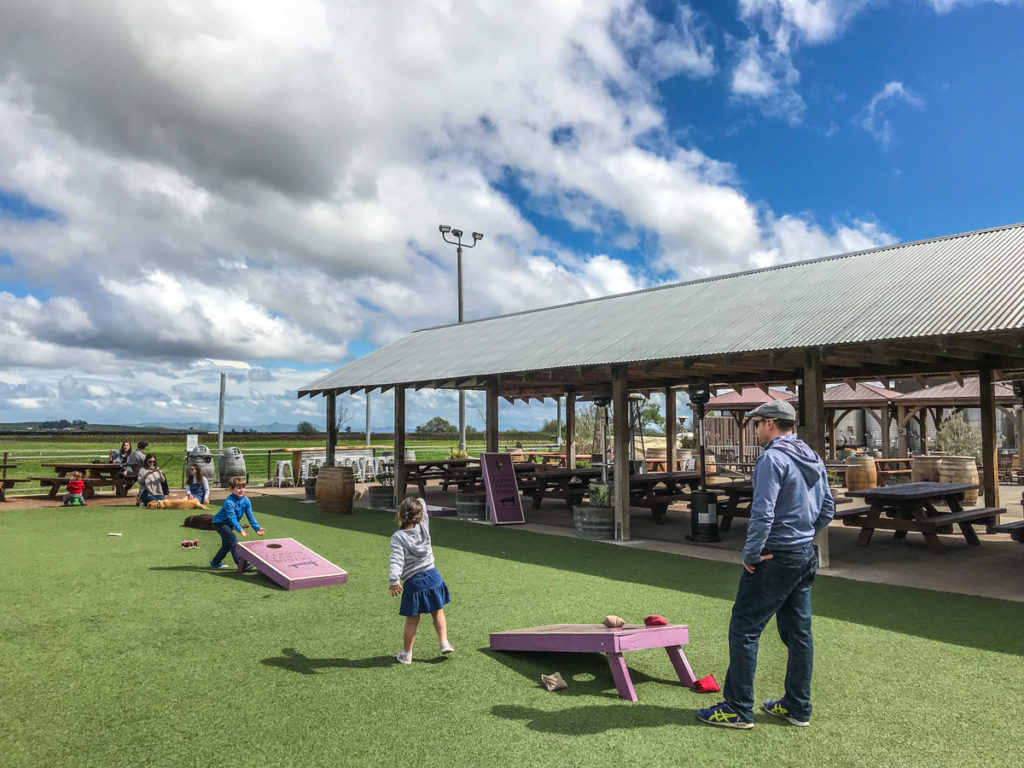 After Lawson and one more winery (perhaps Cline, another kid-friendly pick) stop by the Sonoma town square. Grab an ice cream at Sweet Scoops and let the kids burn off some steam at the playground before you hear back to the city.

Of course, if you do want to head to Napa there are some kid-friendly experiences there too! Kids of all ages will love the aerial tram at Sterling Vineyards, plus there are plenty of things to do in Napa besides drink.
Kids activities in San Francisco that are sometimes free
As if those aren't enough great things to do with kids in San Francisco that are free, there are a few more to consider that are sometimes (or sort of) free:

Japanese Tea Garden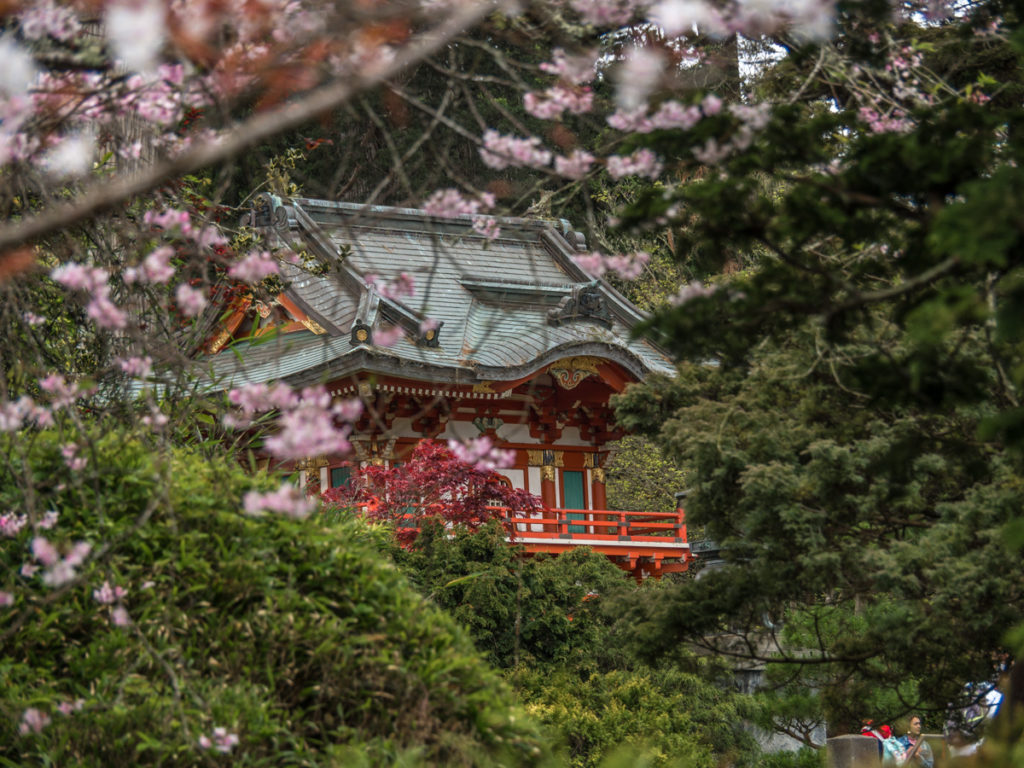 The serene Japanese Tea Garden in Golden Gate Park is a wonderful place to visit, especially during sakura (cherry blossom) season. If you arrive Monday, Wednesday or Friday before 10am your admission is free! You can stay as long as you like. You may want to budget a few dollars for a cup of green tea and some little cookies to enjoy in the pavilion.

Chabot Space & Science Center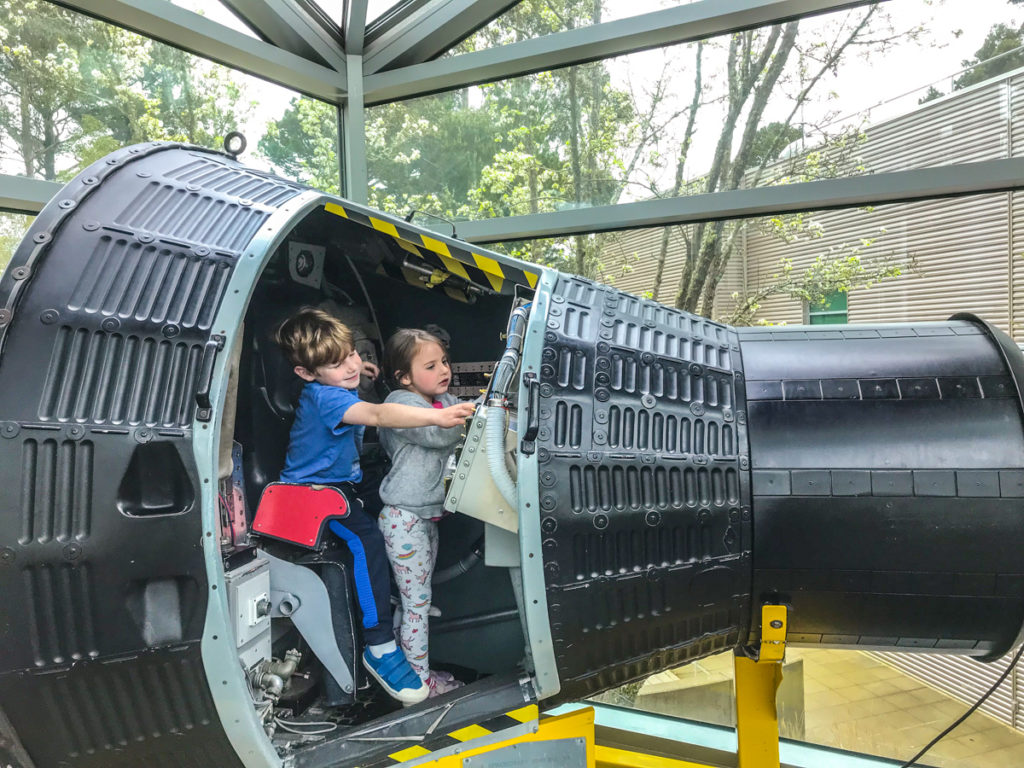 Across the Bay Bridge (cash only, paid entering the city) in Oakland is one of the coolest museums we've ever visited! The Chabot Space & Science Center is a phenomal place to take elementary schoolers on up, with hands-on exhibits demonstrating features of the sun, mission control for Mars rovers, a STEAM-oriented maker space and more. There are exhibits that will appeal to younger visitors but they aren't the target market.

The best part? If you're a member of an ASTC-affiliated science museum back home you'll get in without paying a cent… except maybe for a pack of astronaut ice cream from the well-stocked and enticing gift shop.

If you have more time available, the hill where Chabot is located offers many wonderful hiking trails.

Muir Woods National Monument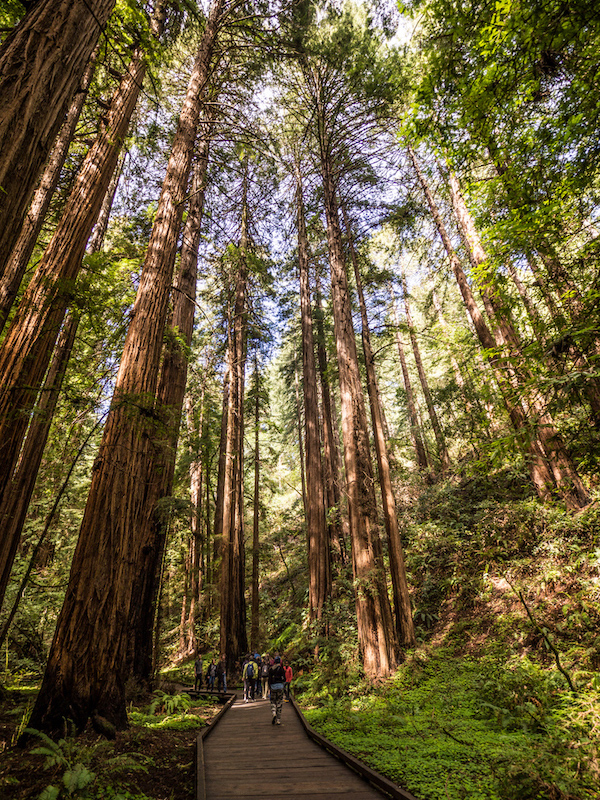 From the redwood forests to the Gulf Stream waters…
It turns out you can see those iconic California redwoods just a hop, skip and a jump (and a windy drive through the woods) from San Francisco! Muir Woods National Monument is a beautiful way to spend an afternoon on a day trip from San Francisco. There are several paths available for different visit durations, but even the longest of the standard loops is mostly flat and takes just a few hours with kids.

Ok, so visiting Muir Woods is never entirely free these days. First off, you have to pay at some point to access the land. Families who have an America the Beautiful National parks pass get free admission to Muir Woods and hundreds of other sites. Ours paid for itself after visiting just 3 sites – parks, monuments, historic sites and more! If you don't have an America the Beautiful pass admission is $15 per adult and kids are free. The pass only costs $80 per year, so it's easy to break even quickly! Learn more here.
Psssst… the America the Beautiful pass makes a great gift for National Park lovers! Check out even more options.
Due to high demand from both locals and tourists, the National Park Service has instituted some crowd-control measures that require small fees. You can either pay $8 to park your own car on-site (which you must reserve in advance online and screenshot, as there's no internet service at the park) or in peak season you can park in a free lot near the end of the bridge and pay $2 per person to take the shuttle. Get all the details here.
Bonus: you'll get to experience driving across the Golden Gate Bridge. Just sign up here to authorize your automatic toll payment. It's an electronic pay system and if you don't have an EZ Pass you're responsible for logging on within a few days to pay.
While you're up there, make sure to allow time to drive to Point Reyes, another place where you can use your America the Beautiful pass
Awesome expensive things to do in SF with kids – and how to get a discount
There are a few phenomenal family-friendly activities in San Francisco that are worth paying for – but that doesn't mean you have a pay full price! One of the easiest ways to get discount admission to these activities is through the Go San Francisco pass.

The Go San Francisco pass lets you choose which activities you want and then gives you a percentage off the regular admission price – the more activities you bundle, the greater your discount! If you want to visit all three of the awesome sites below you'll save a solid 20% on adult and kids prices. There are plenty more options on the card as well. There are also frequent sales available to save even more! If you don't want to visit Alcatraz, this pass is a better value.

California Academy of Sciences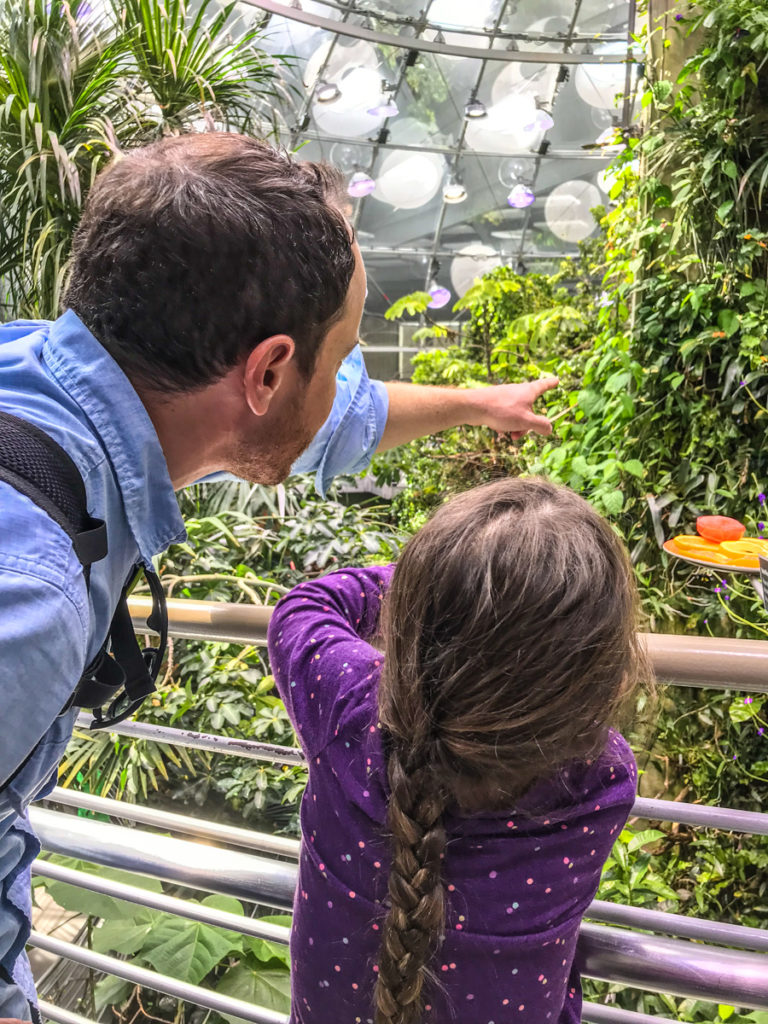 The Cal Academy in Golden Gate Park is a phenomenal place for kids of all ages. The centerpiece is a walkway that spiral upward through the various levels of the rainforest, complete with butterflies flitting around, and the descends via elevator to an aquarium in the building's basement. When you're done, head across the plaza to the free observation tower at the deYoung museum!

Exploratorium
The Exploratorium is one of the coolest science museums around. Everything there is hands-on! There are areas to explore movement, light, art and much more. We visited when our son was a toddler and that was probably a little too early, but the Exploratorium is ideal for kids 4 and up. Find it along the wharf at Piers 15 and 17.

Alcatraz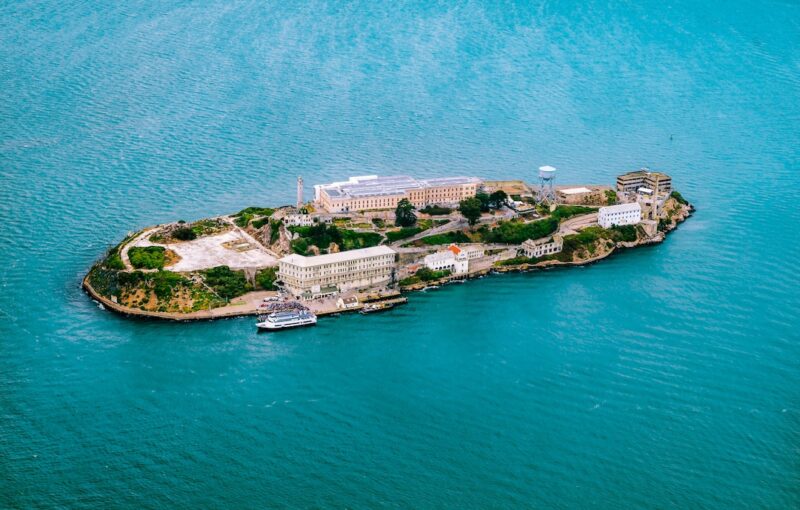 If you have older kids, they'll be fascinating by a trip out into San Francisco Bay to visit Alcatraz. The boat ride is windy but wonderful – you'll get unbeatable views of the city! Make sure you read about it with your kids in advance to give them context for their visit. The audio guide tour provides a lot of details including narratives from former prisoners about the conditions and experiences on Alcatraz, so if your kids are sensitive it's worth researching in advance to decide if a visit is right for them. The Alcatraz ferry departs from Pier 33. It can be tough to snag tickets for Alcatraz, but check out this awesome tour that takes you sailing around the Bay and then on a ferry to the island.

Still need more ideas? Check out these awesome San Francisco hidden gems!
Kid-friendly restaurants in San Francisco
The good news about eating in San Francisco is that there are options for every budget and cuisine. In addition to the options listed below, every neighborhood has awesome, affordable foods from around the world – we've enjoyed Chinese, Burmese, Greek and Syrian around the city!

Golden Boy Pizza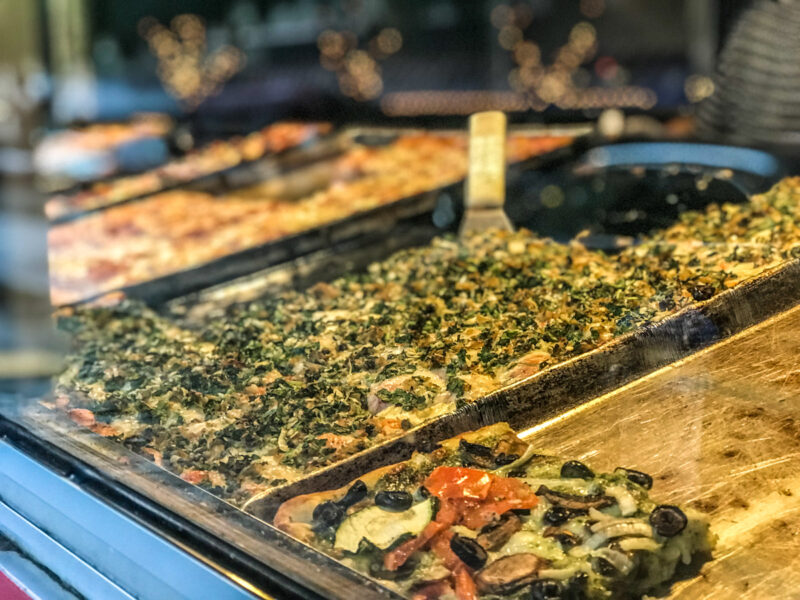 As in any city, your cheapest option for dining out will likely be pizza by the slice. Want to make sure it's a good one? Head to Golden Boy Pizza in Little Italy! It's counter-height standing room only, but you can grab your delicious squares to go and eat in ___ near by.

Little Star Pizza – happy hour!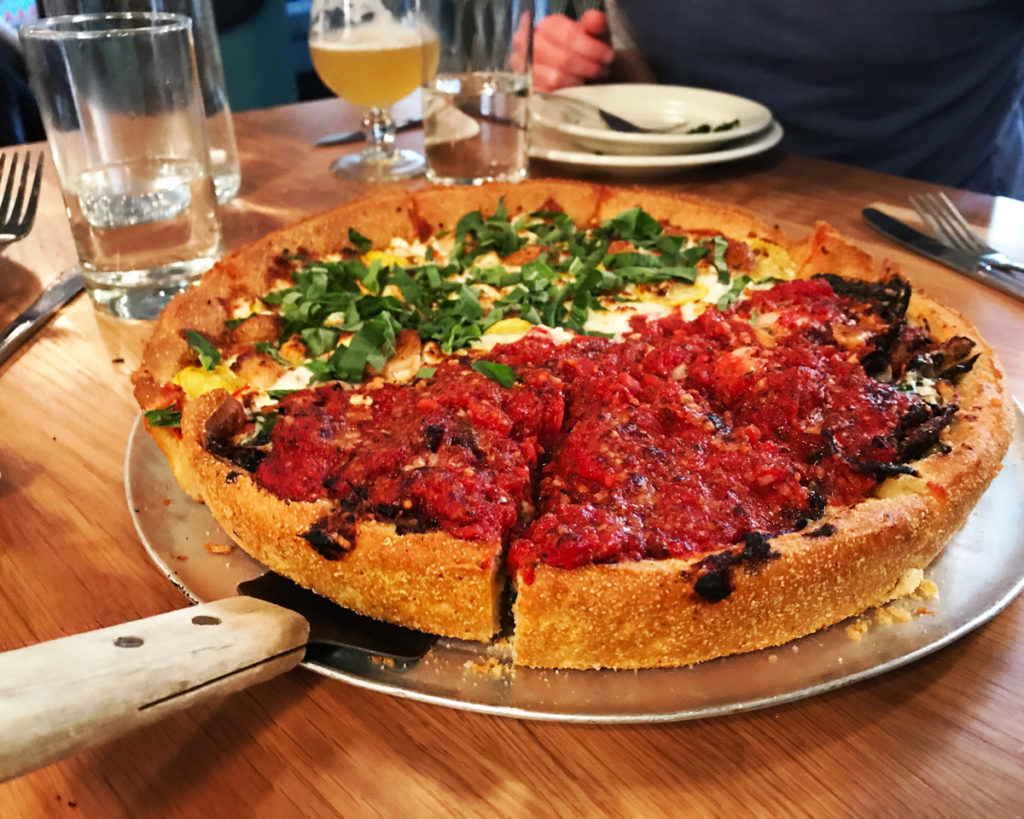 If you're craving pizza but prefer a sit-down experience after a long day of hoofing it, there's no better kid-friendly option than Little Star Pizza on Divisadero. It's the most amazing happy hour menu ever! It runs all evening Monday/Tuesday and until 6:30pm Wednesday though Friday. Apps, beer and wine are all discounted and your kids get a free pizza with the purchase of your adult pizza! And those adult pizzas are so so good.

Frog Hollow Farms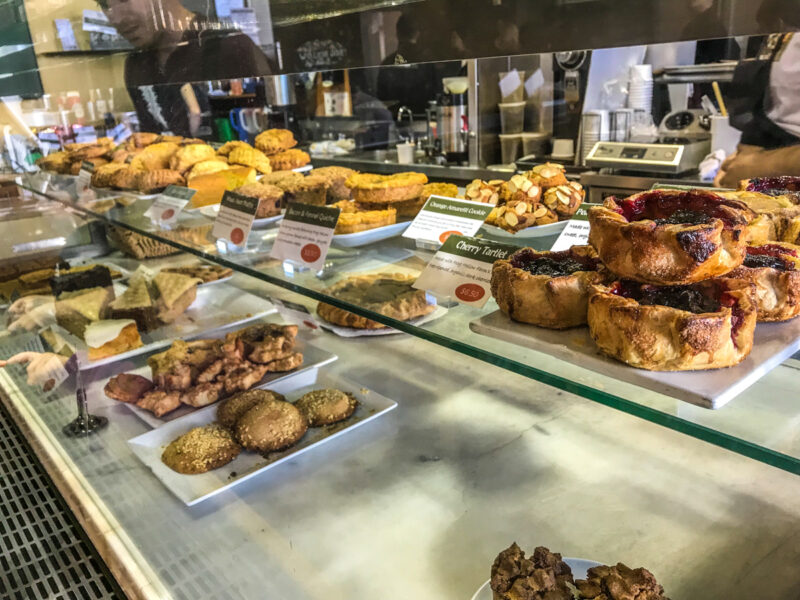 If you're looking for a quick lunch or snack at the Ferry Market Building, our favorite is Frog Hollow Farms. It's not especially cheap for a meal, but many of the offerings are filling enough to share between an adult and a kid. Pasteries run a few dollars and are made with fruits grown on their own farm in the region.

Cow Girl Creamery
What kid doesn't swoon for a good old-fashioned grilled cheese sandwich? Get back to your childhood at Cow Girl Creamery, also in the Ferry Market building, where you'll find house made cheese oozing off of traditional San Francisco sourdough bread. Take your pick between classics or more sophisticated options.

Tartine
Speaking of sourdough… it's not a trip to San Francisco without some of the classic bread. What makes San Francisco sourdough special? It's in the starter, the water and even the air. Arguably the best sourdough in the city comes from Tartine – it's a pricey loaf, but enormous. It looks like it ate two regular loaves of bread for breakfast and another for dessert. It's especially good with some Frog Hollow Farms jam!
Heads up: this isn't the nicest part of town. It isn't unsafe, just a little… rough around the edges.
Loving Cup Thursday happy hour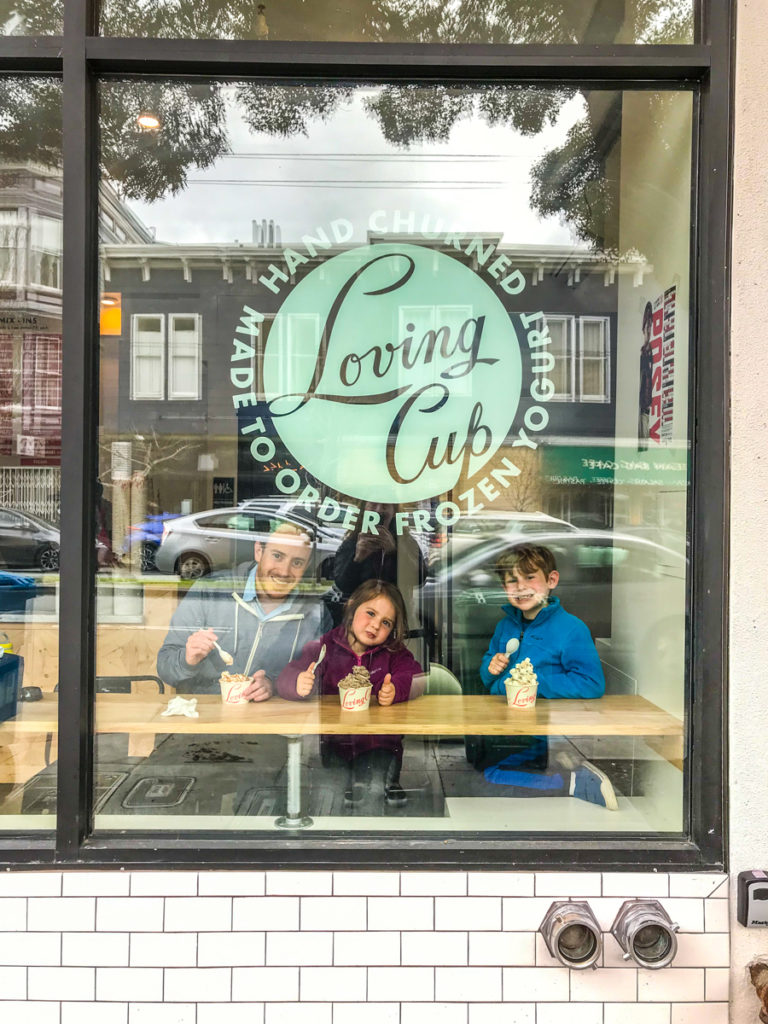 Want something sweet to top off your day? Local froyo purveyor Loving Cup offers simple yogurt flavors but then blends in toppings of your choice. The best part? On Thursdays you can order a small but get a free upsize to medium!

Bi Rite ice cream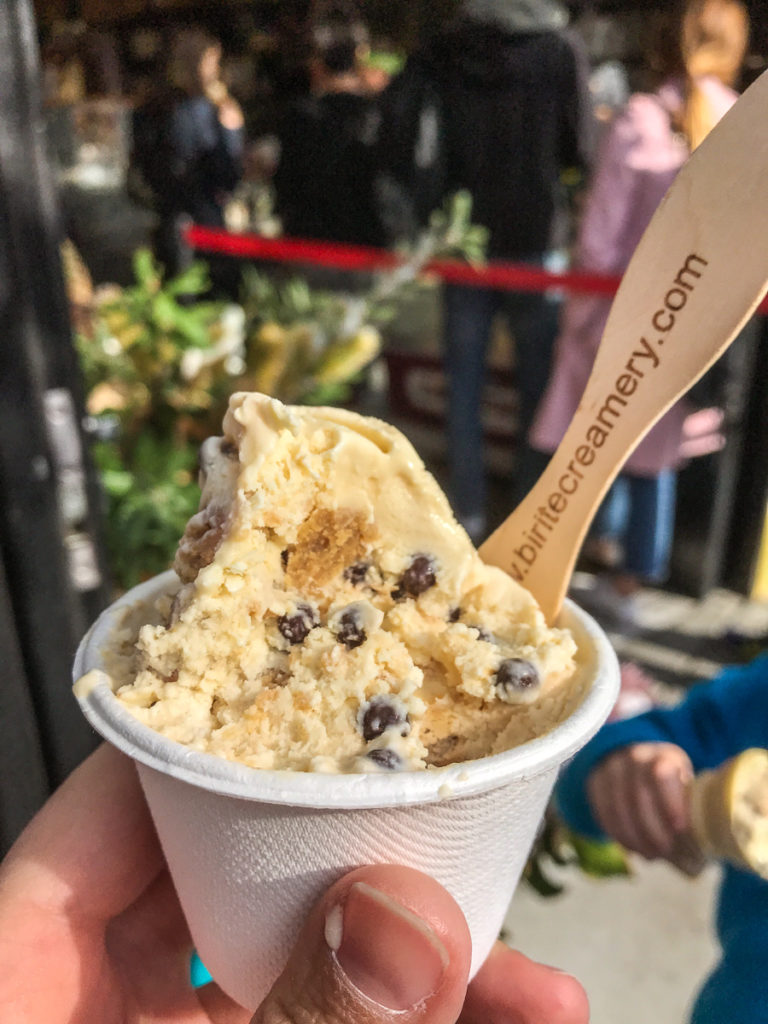 If you're feeling really indulgent, grocery store Bi Rite has incredible gourmet ice cream at a dedicated hand-scoop counter. Prices aren't exactly in the bargain category, but they offer a punch card to get your 10th ice cream free. If you're staying near one of their locations and you have as many ice cream lovers as we do, it could be worth your while.

Getting around San Francisco with kids
San Francisco is a pretty compact city and easy enough to navigate but for the city's famous hills. Depending on where you plan to stay and what you want to do, we'd advise a multi-pronged approach for getting around San Francisco with kids.

For short distances: walk and scoot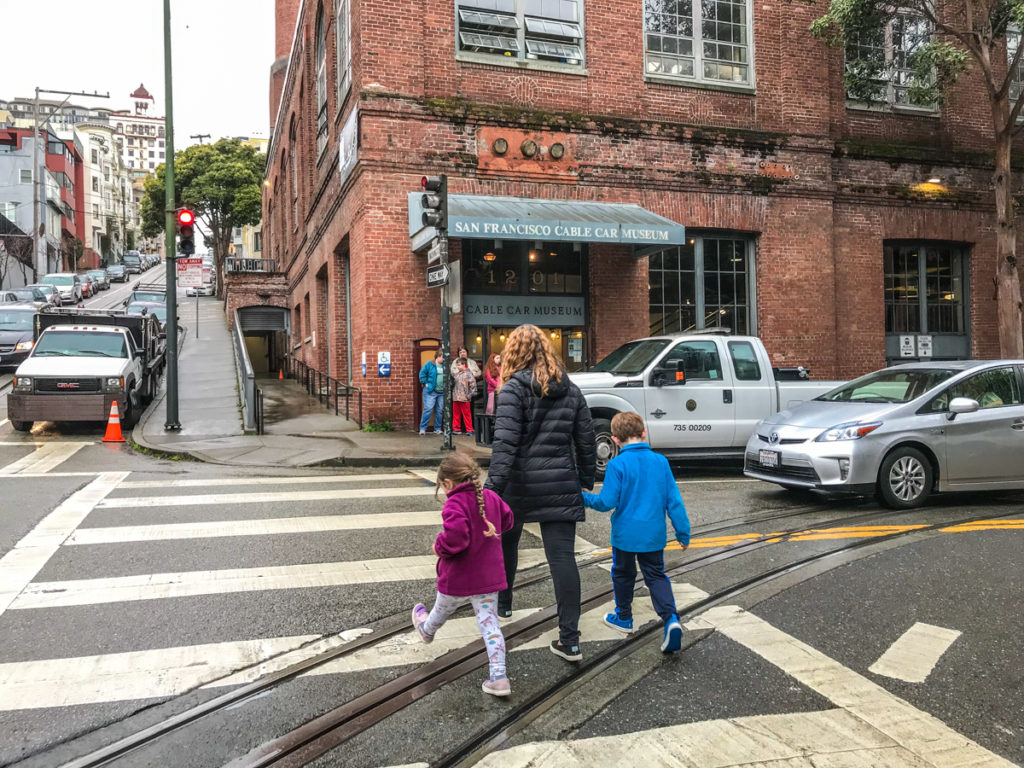 Apart from the absolute hilliest areas, San Francisco's neighborhoods are great for walking! We stayed in an amazing Home Exchange near Alamo Square and had a great time exploring on foot.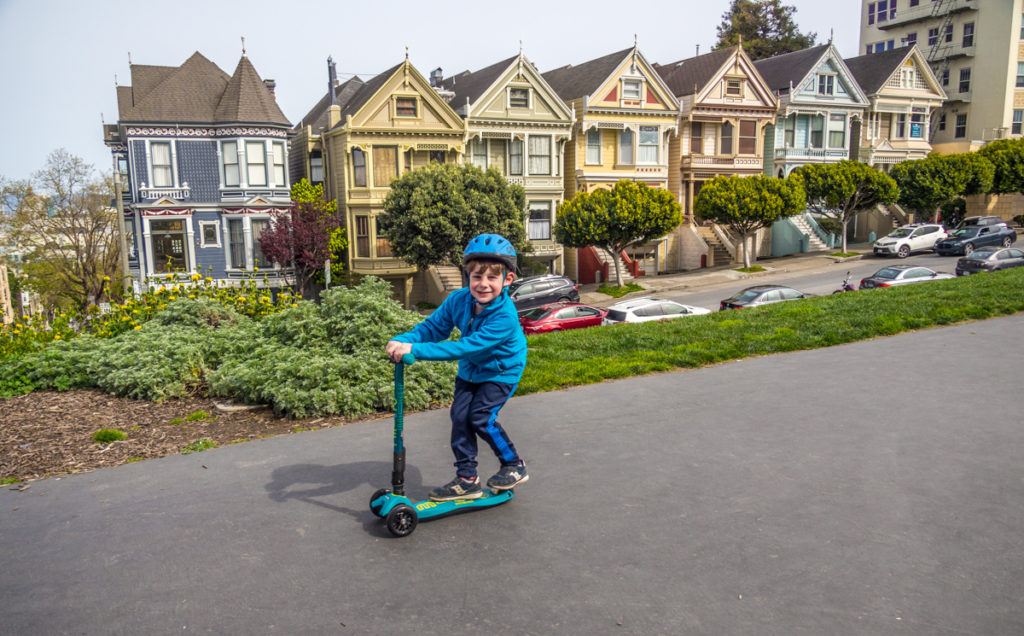 To amp up the fun and cut down the transit time, our kids also used their prized Micro Kickboard scooters to get around. While the sidewalks are relatively crowded, they're nothing like New York City and our kids always managed to safely maneuver without distrusting pedestrians too much. We made a point to remind them daily of the "rules of the road" and they did a great job! Whenever we brought our scooters, there were no complaints about going a mile or two… even with some hills.
The best part? These scooters even fold down in a few seconds to be less intrusive when you go to a restaurant or museum! For younger riders, you can check out this one – it doesn't fold, but it's easy to remove the handle bar from the board and stow under a stroller.
For medium distances: buses, trains and Uber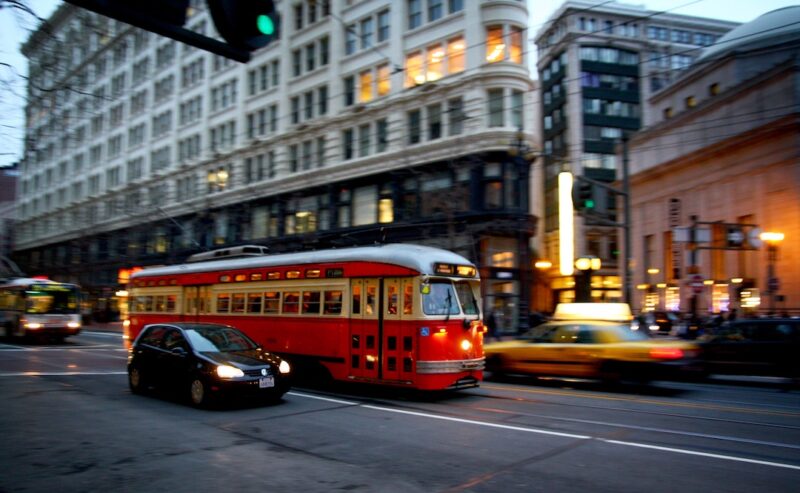 The SF Muni system is awesome! It'll take you basically anywhere you want to go and is very quick. Your fare includes free transfers within two hours. You can take buses or trains all around the city – cable cars are not part of the Muni and are quite pricey.

We strongly recommend that you download the MuniMobile app before you arrive for two reasons. First, the price for a single ride is $2.75 with cash versus $2.50 in the app (half price for kids). Second, the cash machines on the buses don't give any change! If you're paying for three people and you put in a $10 bill, you've just gifted an extra $1.75 for that ride – and with multiple rides per day, that can add up fast.

If you are planning to ride at least twice in a single day you might as well buy a $5 day pass for any adults in your party, which covers you for all buses and trains. Don't buy a day pass for kids unless you anticipate a lot of rides, as their regular fare is half price.

The Muni can get crowded at rush hour. And for full disclosure we did have one uncomfortable encounter on the train with someone who seemed to be in need of public health services. San Francisco faces many of the same issues as other major cities and you may see some of them up close on public transit. It just comes with the territory, but don't let that dissuade you from taking public transit in the city.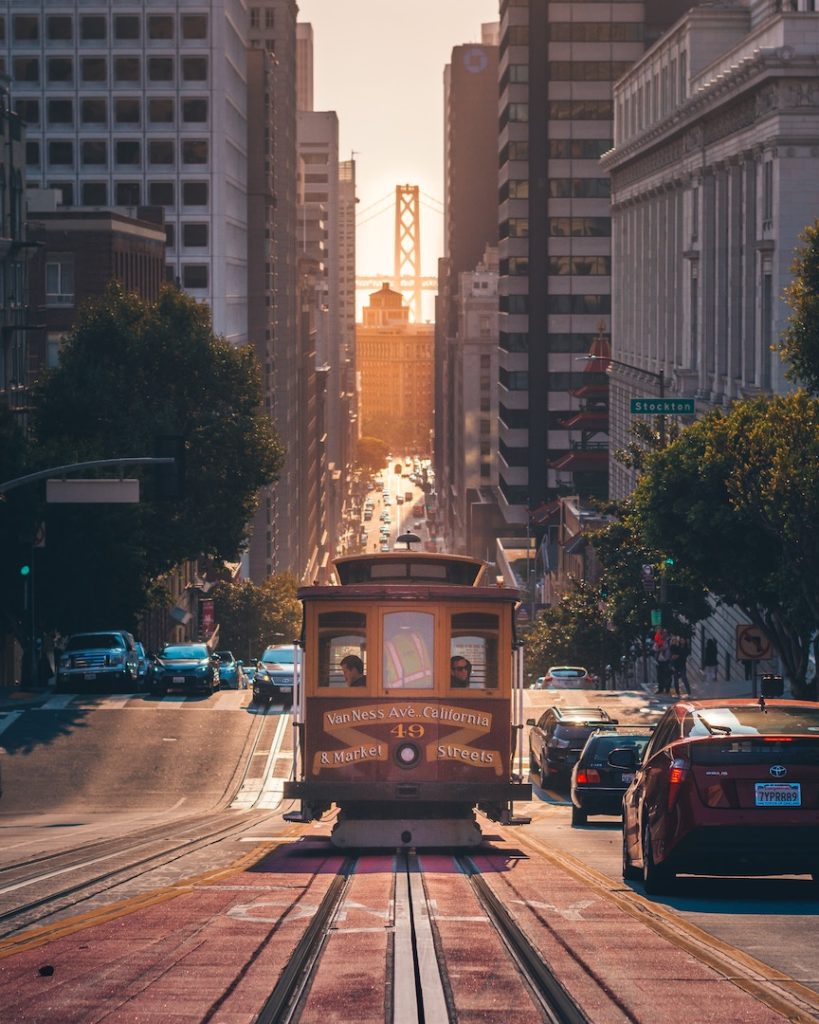 Yes, you can also ride the cable car. It's mostly a tourist attraction these days, at a whopping $7 per ride. But it's still a fun thing to do if it's on your San Francisco bucket list!
Not finding a convenient public transportation option? Play like a local and call an Uber! Plenty of San Franciscans don't even own car these days, preferring instead to grab an Uber (or Lyft) when they need it. Ad hoc services like that also avoid the exorbitant parking charges at hotels in the city.

The laws of physics still apply in ride shares and taxis – you need to have your kids in car seats or booster seats. Our favorite option for kids 3-5 is the Ride Safer Delight travel vest (click here for full review) and for kids 5+ we give the nod to the Bubblebum inflatable booster seat (click here for full review). For the best options for younger kids, check out our complete guide to travel with car seats or find the best convertible car seat for travel.
For longer distances: car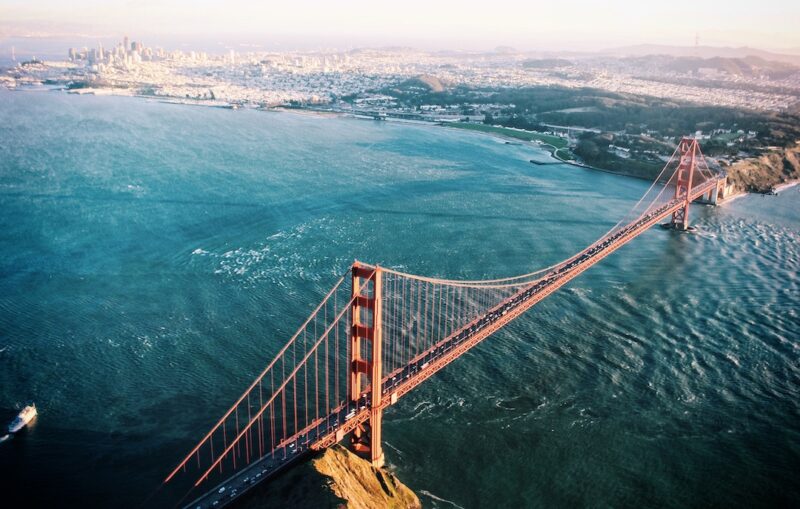 In theory, you can take BART for longer distances. But with young kids and unpredictable schedules, it might be worth grouping any daytrips out of the city into consecutive days and renting a car. Check out our favorite affordable car rental site here.

Driving in San Francisco is pretty straightforward, as much of the city is on a grid. Since the public transportation system is robust and the neighborhoods are walkable, many locals don't take to the roads as they do in places like LA. We were pleasantly surprised to encounter very little traffic in the city!

Parking, on the other hand, can be pricey if you're staying in a big hotel in the financial district or near Union Square – on one trip we stayed in a hotel near Union Square and dropped almost $50 per night for parking! Fortunately this time around our Home Exchange came equipped with a garage parking space. Win! If your accommodation doesn't offer free parking, check out ParkingPanda for discount garages near you – we've used the service in several cities with great savings.

You'll probably want to drive if you plan to head to Marin County (for Muir Woods, Bay Area Discovery Center, Point Reyes and more), the East Bay (Chabot Space & Science Center and Lawrence Hall of Science) or for a wine/jelly bean tasting getaway. That said, some destinations are accessible by BART – including the airports.

If you're heading north toward Marin, you'll be crossing the Golden Gate Bridge! That's a fantastic experience for kids and adults alike, even beyond the activities you have planned on the other side. The Golden Gate Bridge toll is cashless, so prepare accordingly. Some rental cars come equipped with FasTrak to pay tolls. If yours doesn't, you need to pay online with your license plate. You can make a one-time payment online within 48 hours of your city-bound crossing or you can set up automatic payment for a specific date range (as we did) – both options are available here. The fee as of 2019 is $8 for a regular passenger car.

If your day tripping takes you to the Easy Bay, you'll be crossing the Bay Bridge. There's no fee to leave the city, but on the way back you need to pay the toll in cash if it's 5-10am or 3-7pm. The fee as of 2019 is $7 for a regular passenger car.
Renting a car also gives you the opportunity to extend your California visit with a coastal road trip. Check out this great itinerary that takes you along the best stops from LA to San Francisco.
Where to stay in San Francisco on a budget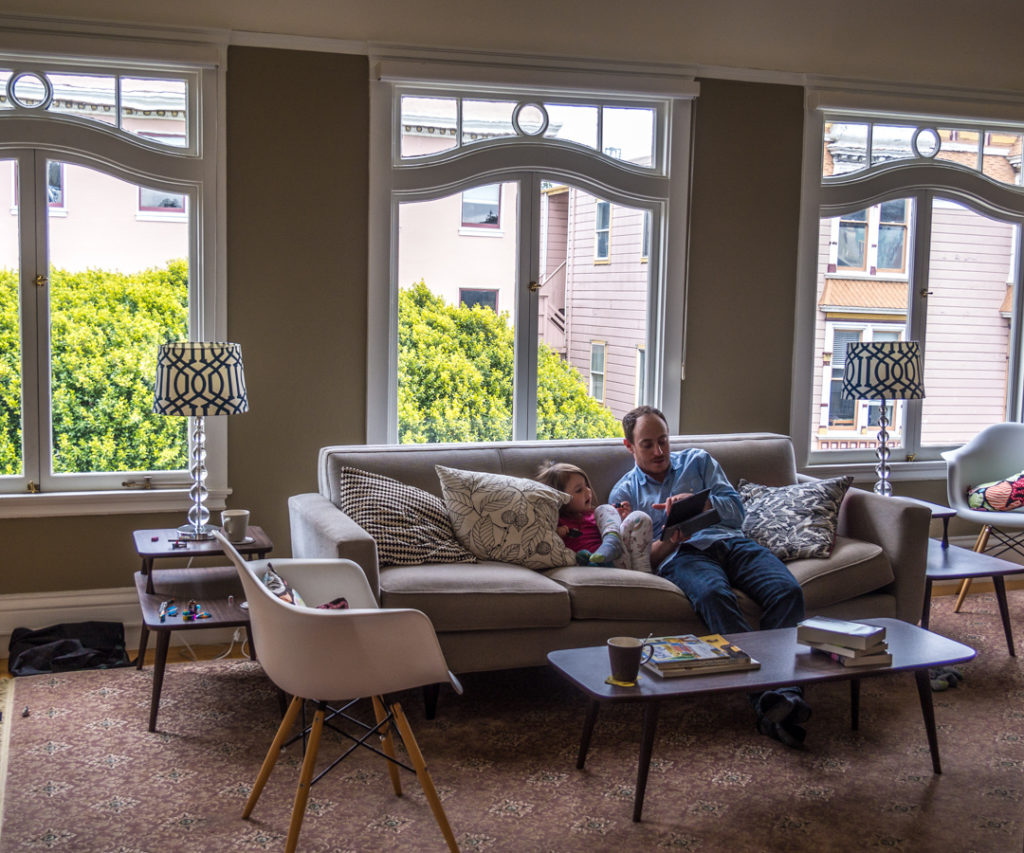 Staying in a home rather than a hotel can save you all sorts of money in a place like San Francisco, from lower cost per night to kitchen access for breakfast and lunch to free parking. We lucked out and found an amazing Home Exchange near Alamo Square, which allowed us to avoid much of the expense of staying in San Francisco. Learn more about Home Exchange here or sign up today!
Hotels in the heart of San Francisco can range from moderately expensive to gouge your eyes out and take a second mortgage expensive. What's a family on a budget to do?

One option is to take advantage of credit card and hotel points to avoid spending your hard-earned cash. Compare the point redemptions versus the cash prices to make sure you're getting reasonable bang for your points.

If you're not picky about the specific hotel, check out the mystery "Hot Rate" deals on Hotwire. We've gotten some excellent ones! We usually specify a four- or five-star property and only select neighborhoods where we'd be happy staying. The Financial District and Union Square East are usually solid choices. Make sure you sign up for ebates as well to get extra cash back on your hotel booking!

Looking for something specific? Check out these awesome family-friendly hotels that are vetted and recommended by our Tiny Globetrotters over on Facebook:
Use the interactive map to find vacation rentals and hotels in San Francisco
---
Before you book another hotel, make sure to read these 5 simple hacks for saving more on every reservation!
Still not sure what neighborhood to stay in? Check out this in-depth local's guide to where to stay in San Francisco.
Want to get more helpful travel tips like this? Sign up for our email list!
Where to go next
Planning a longer trip to California with kids? Read these articles for all the insider details you need:
Did you find this article helpful? Pin it or share it on facebook!