San Diego is one of the top vacation destinations for families all year long thanks to its amazing weather and endless list of things to do with kids. Thankfully there are kid-friendly hotels in San Diego near all the biggest attractions. Get the inside scoop below on some great, centrally located places to stay with kids in San Diego.
Quick Picks: Best Family Hotels in San Diego
If you're short on time in researching your trip, here are a few of the best family hotels in San Diego to take a look at and what kind of trip they're ideal for:
How to Choose the Best Kid-Friendly Hotels in San Diego
We lived in Los Angeles for a long time and took a lot of weekend trips to San Diego with our kids. We've stayed in quite a few places in San Diego County, but it's important to remember that it's very spread out. You'll almost certainly want to a rental car when visiting San Diego, especially if you plan on staying Downtown but want to visit the San Diego Zoo Safari Park or LEGOLAND.
For kid-friendly neighborhoods in San Diego, I would either stick close to downtown San Diego and the Gaslamp Quarter for city-focused activities or look around Carlsbad in North San Diego County to visit Safari Park and LEGOLAND. If you're looking for San Diego beach hotels for families, Mission Bay has a range of price points and La Jolla is home to luxury resort and spas.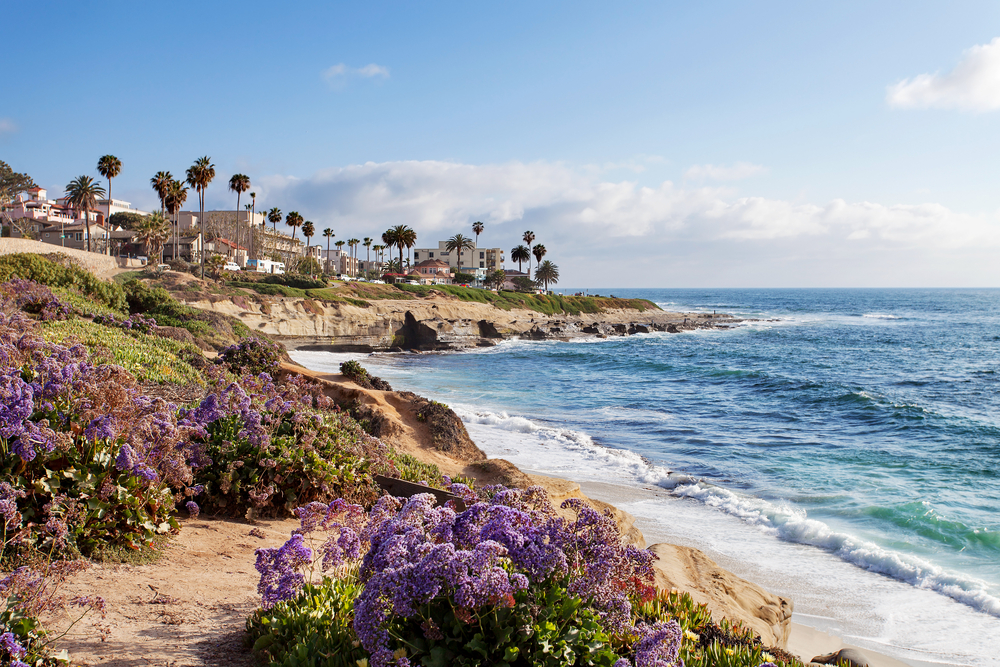 And a big plus when staying in San Diego with kids is that most hotels and resorts allow to stay for free in your room! It's a great way to work with a budget. Also, if you're planning to be in "America's Finest City" for more than a few days, think about booking one of the affordable vacation rentals to be found in San Diego.
I've included tons of details below, like if a hotel provides cribs or if a vacation rental has a driveway so you don't have to search for free parking in the city. Keep reading for some of the best San Diego hotels for kids.
Read more: San Diego with Kids: How to Plan Your Perfect Getaway
Where to Stay in San Diego with Family
It's important to consider where to stay in San Diego with kids by neighborhood as you look for an awesome kid-friendly hotel.
Best Hotels in San Diego for Families at Mission Bay
One of the things San Diego is best known for is Mission Bay. It's the place to be for outdoor fun by land or sea. You'll find stunning beaches on the far side at Mission Beach and plenty of water sports to watch or participate in from the Bay side. Eat at top-notch restaurants between bike rides and relaxing strolls. Take your pick from resorts, hotels, and beachfront rental properties so you're steps away from everything to do!
Hyatt Regency Mission Bay
Where are we going to stay on our next family trip to San Diego? Definitely at the Hyatt Regency Mission Bay! It has an amazing location right near south Mission Beach and plenty of rooms and suites to accommodate families of all sizes.
You'll want to dedicate at least a half-day to hanging out at the hotel because it has three heated swimming pools and water slides. You can also borrow paddleboards, bikes and more to explore Mission Bay by land or water. Like so many other Hyatt Regency properties that we love, it's basically a compact resort in the middle of the city – the best of both worlds.
Kid-Friendly Condo Rental Steps Away from Mission Beach
If you don't want to stay in a San Diego hotel, you can find a variety of vacation rentals on the strip between Mission Beach and Bonita Cove. But it's a pleasure to find such a family-geared property like this one just a block from so many iconic San Diego attractions! You're a block from Mission Beach Park with the historic Belmont Park and tons of rides, or you can peruse the restaurants along Ventura Place.
Enjoy a dedicated "kids' room" with books and board games, and check out the paddle boards, surfboards, scooters, and more in the garage. Not only do you have the entire condo with multiple parking options onsite, but there's AC, a terrace with ocean views, and a private patio.
---
Kid-Friendly Hotels in San Diego near Downtown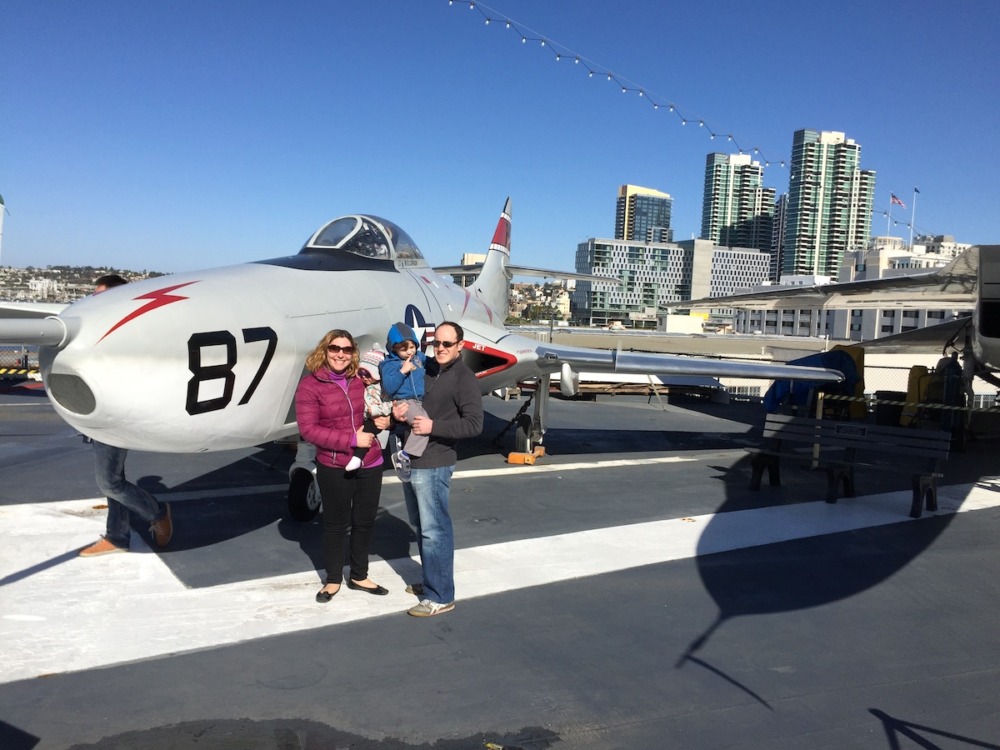 Truly in the heart of San Diego, there's something for everyone here! Downtown San Diego offers a nice mix of affordable and luxury hotels, as well as condos and stand-alone residences for rent.
You'll find the city's biggest music and theater venues, as well as amazing restaurants and shops in Little Italy. There's the historic Gaslamp Quarter and beautiful Victorian homes near Balboa Park! Stay within walking distance of Petco Park or enjoy all the amazing attractions along the water at The Marina.
Residence Inn by Marriott San Diego Downtown/Bayfront
With an amazing location and tons of amenities for a mid-range price, Residence Inn San Diego Downtown/Bayfront is one of the best family-friendly hotels in San Diego. You're definitely paying for access to the area, with Waterfront Park, the maritime museum, and more nearby. Take a stroll down to the water or enjoy the complimentary bicycles for guests!
The suites are what make this perfect for larger families, and they have full kitchens where you can cook. There's complimentary breakfast each day, or you can dine on the rooftop terrace. And for little ones you can request free cribs, as well. Don't miss the amazing view of the San Diego skyline from the rooftop pool.
Embassy Suites by Hilton San Diego Bay Downtown
An even more affordable option is the Embassy Suites San Diego Bay Downtown with rooms or larger suites. You can even request connecting rooms if you need the space. The hotel has a beautiful indoor pool and offers free breakfast for guests! And if you need a pet-friendly hotel in San Diego, this is a great choice.
You'll love the prime location at the Embassy Suites, literally across the street from the shops and restaurants of Seaport Village. You're close to the light rail station and everything at The Marina and the Gaslamp Quarter, too.
San Diego Marriott Gaslamp Quarter
The San Diego Marriott Gaslamp Quarter is one of the best hotels near Petco Park. The stadium is catty-corner from your hotel, as well as dozens of Gaslamp Quarter's most popular restaurants and attractions for both kids and adults. Inside the hotel, you can also dine at the onsite restaurant, and there's a breakfast buffet for a small fee.
Rooms and suites accommodate up to 4 people but also you have the option of requesting adjoining rooms. Also, they have decent prices for parking so you don't have to worry about finding a spot when something is going on at the park.
Inn At The Park
For family-friendly Balboa Park hotels in San Diego, I recommend the historic Inn At The Park. This all-suite hotel in Bankers Hill is steps away from the sprawling, 1,200-acre park. Minutes from where you sleep, there's the San Diego Zoo, over a dozen museums, gardens, and walking paths. Plus, you're directly across the street from the Balboa Park Playground, as well.
From the lobby to the rooms and beyond to the rooftop terrace, you can enjoy classic San Diego art deco interiors. And every suite comes with a full kitchen and dining area, including a stovetop.
Hotel del coronado
While it doesn't fit neatly as part of any San Diego neighborhood, it'd be a shame not to include the legendary Hotel del Coronado. Look no further if you're researching San Diego family resorts on the beach! Coronado island is separated from downtown San Diego by the Coronado bridge, but it feels a world away.
Its iconic red-roofed main building is a National Historic Landmark and gives you access to Coronado Central Beach and Silver Strand State Beach, walkable coffee shops and restaurants and more in addition to the on-site dining options, pools and fire pits. The Hotel del Coronado truly has it all if you're looking for the best family resort in San Diego and don't mind the price tag.
---
San Diego Hotels for Kids in La Jolla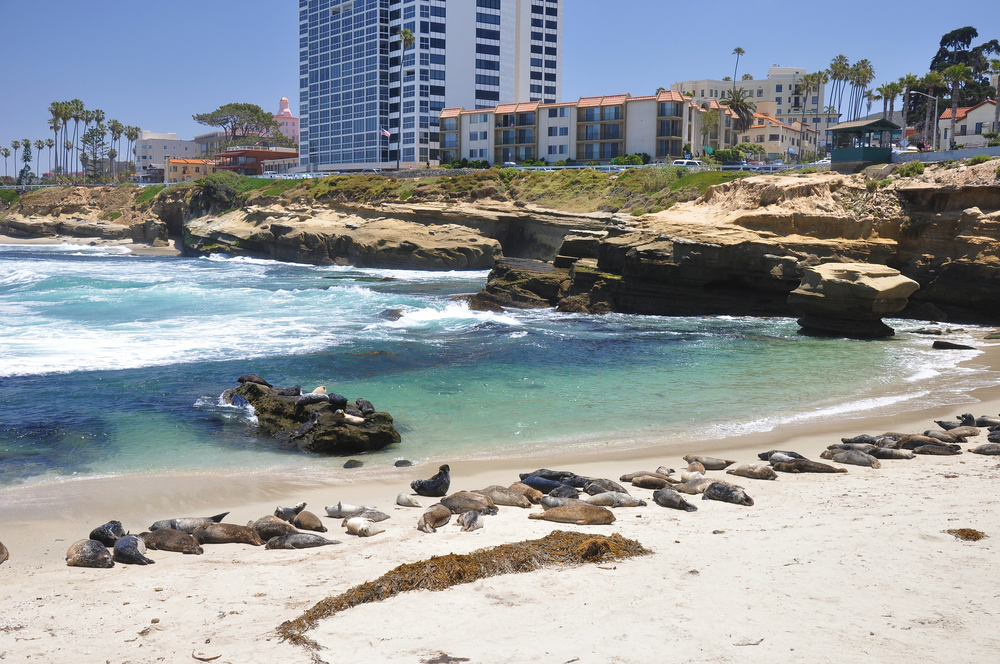 La Jolla is located about 20 minutes north of downtown San Diego is the perfect combination of manicured parks, rocky coastlines, and glitzy high rises. You can spend time hiking Torrey Pines, snorkeling or watching the sea lions at La Jolla cove, or shopping at the high-end shops of the Village of La Jolla. The beach condos here are to die for, and you'll find hotels at every price point in the most ideal locations.
Inn By the Sea La Jolla
Stay at a low-key hotel in the perfect location for exploring La Jolla and the rest of San Diego. The Inn By the Sea in the Village of La Jolla is a great base for all your adventures! It's located right between La Jolla Cove and the tide pools, a 10 minute walk in either direction. If I'm being honest, the outside is as "unfancy" as they come. But the location is unbeatable and once you get inside, you'll be pleased with the amenities.
There's affordable self-parking (or street parking), an outdoor pool, and suites for larger families (even most of the standard rooms can sleep 5 people). Take a stroll outside and you'll immediately find high-end and boutique shopping, a wide range of restaurants, museums, and outdoor spaces.
Dream La Jolla Home Rental with Room for 10
While you're looking for family-friendly hotels in San Diego and you have a larger family, you might find it worth it to book a single-family home instead! Stay at this  1-level, 4-bedroom, 3-bath home in a quiet neighborhood just a 6-minute walk to Windansea Beach.
There's plenty of space to enjoy with family, including tons of parking for multiple vehicles out front. In the back, the living area and dining room open to a shady back patio with a lawn, outdoor seating, and grills. You also have a dishwasher and washer and dryer on site.
Dreamy Oceanfront Cottage Rental
Spend a bit more for your ultimate La Jolla getaway! When you're planning where to stay in San Diego with family, this is a lovely option for a family with kids who are a little older. All 3 bedrooms open up onto a gorgeous back patio with a lattice-covered hot tub and fire pit.
This is also a great option if you need a dog-friendly vacation rental in La Jolla . Sit on the patio with your pooch and watch the sunset, swim at Cuvier Park, or explore the nearby La Jolla Tide Pools.
Pantai Inn
For real luxury, check out the boutique oceanfront Pantai Inn that sits on the bluffs over Shell Beach in La Jolla. Fully embrace your San Diego family vacation and book a stay in one of their roomy suites with private entrances and organic touches. And don't miss out on booking a massage at the onsite spa! Just keep in mind that they don't offer cribs at this hotel.
On the property, there are stunning designer courtyards, lounges, terraces, and gardens. Your rooms might have partial views of the ocean or the courtyard, and both will satisfy you! You're close to Ellen Browning Scripps Park, a great place to see seals. La Jolla Cove nearby is a great place to take the kids with its calm waters, too.
Holiday Inn Express & Suites La Jolla at Windansea Beach
The Holiday Inn Express and Suites is an easy walk to the famous Windansea Beach where you can watch surfers taking on the waves. Located in the heart of La Jolla on La Jolla Boulevard, it's one of the best hotels in San Diego for families on a budget especially since free breakfast is included.
A household name among hotels, this Holiday Inn works seamlessly in La Jolla with a beachy, light, natural aesthetic. If you're a family of 4, you can get a King Suite with a separate kitchenette. Some rooms and suites fit up to 6, but you sacrifice a kitchenette for the space.
Residence Inn La Jolla
I think this is one of the best family hotels in San Diego if you're visiting a student at UC San Diego or prioritize having space to spread out – it's just a few minutes inland, right near the Birch Aquarium. The Residence Inn La Jolla is a quality midrange option close to the outlet malls and lots of great grocers, which is helpful since your room here has a full kitchen. And it's literally across the street from the University of California San Diego!
The family suite sleeps up to 7 people and has a lovely sitting area with a fireplace (pictured above). Enjoy the outdoor pool or head to the rooftop terrace and grill with the family. The hotel offers a convenient extensive, free breakfast every morning. Residence Inn is a dog-friendly hotel so feel free to bring you fluffy friend along!
---
Best San Diego Hotels for Families around Carlsbad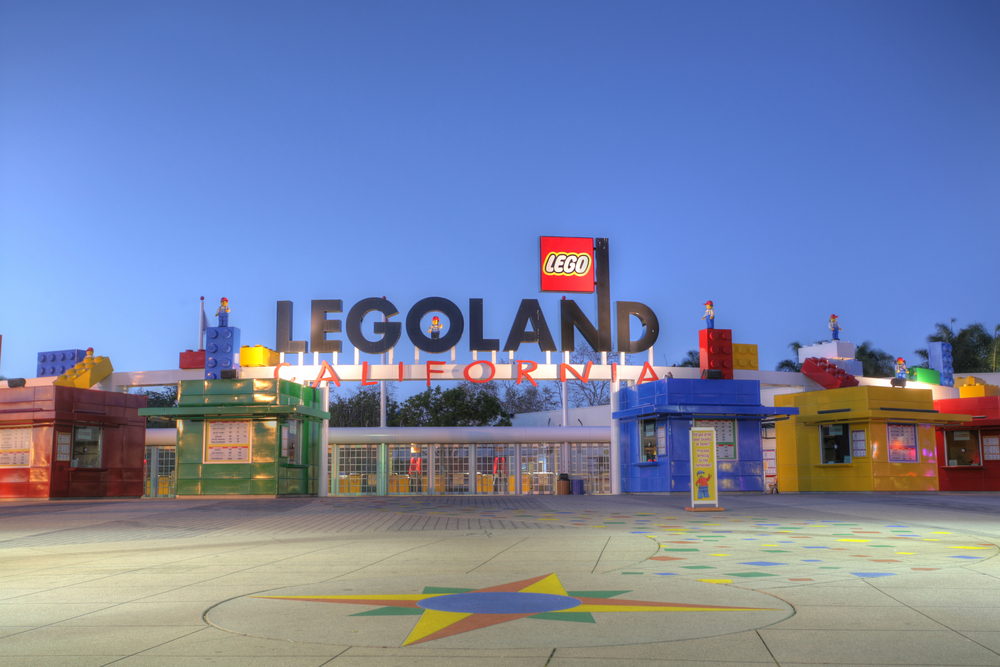 This cozy beachside community north of Downtown San Diego feels like a luxurious retreat with high-end rentals, amazing shopping, and quality eateries. It's also packed with family-friendly attractions like Carlsbad State Beach, and the infamous Flower Fields. It's also where you can find LEGOLAND San Diego, quality surfing, and so much more.
Park Hyatt Aviara Resort
One of the best San Diego family resorts is the Park Hyatt Aviara Resort. It's close to all of the best attractions in the area but has plenty of space to spread out an enjoy a true luxury experience. It has pools with waterslides (and a poolside bar for parents), golf, tennis and incredible sunset views to boot. Don't miss breakfast with an ocean view.
If you can bring yourself to leave the property, you can borrow beach chairs, umbrellas, towels and even sand toys for an easy day at nearby Moonlight Beach!
LEGOLAND Hotel and LEGOLAND CAStle hotel
Is LEGOLAND California your main reason for visiting San Diego? Be sure to consider a stay at the incredible LEGOLAND Hotel or LEGOLAND Castle Hotel! This pair of LEGO hotels is right at the theme park entrance and both offer great theming for miniature builders. The LEGOLAND Hotel offers Ninjago, Friends and Pirates while the Castle Hotel offers knights, dragons, wizards and more.
Beyond the themes, the rooms at both LEGOLAND hotel options are perfectly set up for families with separated sleeping areas including bunk beds for the kids. There are extensive play areas, pools and on-site building opportunities to keep kids occupied once the theme parks close.
Grand Pacific Palisades Resort
Lean into your family vacation and book a San Diego family resort with tons of amenities for both adults and kids! The Grand Pacific Palisades Resort is in the ideal location for tons of outings, nestled between the Carlsbad Premium Outlets and LEGOLAND California. But that's just the beginning! Nearby are the aquarium, golf courses, great beaches along the Pacific Ocean, museums, and more.
The Grand Pacific Palisades Resort offers a variety of spacious rooms and suites that are perfect for families, all with great views. Book a suite with a full kitchen, living area, and terrace. You can visit the spa for a massage or eat at the resort restaurant, which is an outpost of the Karl Strauss Brewery. And the kids will love the mini water park while you sun by the pool. And that's just the beginning of all the great perks of staying here!
Airy Carlsbad Beach Condo Rental
Enjoy the beachfront family vacation of your dreams in an airy 3-bedroom condo right off Tamarack Surf Beach. You'll stay in the adorable Carlsbad Village with old-timey ice cream shops, gift shops, surf and turf restaurants, and farmers markets. Head to the beach to see dolphins or watch surfers catch the waves.
This sea glass-colored condo has 3 bedrooms and lots of perks, like a beach wagon for the kids! You'll love the light-filled kitchen and dining room with ocean views. And make sure to enjoy a few meals on the terrace that looks out onto the beach, as well.
---
Where to Stay in San Diego With Kids FAQs
What is the best area to stay in San Diego with kids?
I recommend staying in Downtown/Gaslamp or Mission Bay if you plan to hit a lot of the main things to do in San Diego with kids. The area is very central, and San Diego's Downtown isn't nearly as daunting as many other city centers.
Is San Diego a good place to vacation with kids?
Absolutely! There are so many wonderful things to do with kids in San Diego regardless of their ages, from animal encounters and theme parks to cultural sites and outdoor adventures.
Is it better to stay in La Jolla or Coronado?
If you want an amazing beach stay, Coronado is a great choice. However, if you'd like a cute walkable area with more variety of activities and beautiful outdoor scenery I recommend La Jolla.
Do you need a car in San Diego with kids?
You might be able to get by in San Diego using public transit, but renting a car is definitely the more efficient way to use your time.
Planning Your Trip to San Diego With Kids
I hope this guide has helped you narrow down where to stay in San Diego with kids – the choices are seemingly endless! You can find the best San Diego family hotels in prime locations near the biggest family attractions, from Downtown and Mission Bay all the way up to Carlsbad and La Jolla. America's Finest City is extremely family friendly no matter which of San Diego's awesome hotels you choose!
Planning a longer trip to California with kids? Read these articles for all the insider details you need:
Still planning? Pin this for later!