If you're like most visitors to Australia, your early travel planning mostly consists of seeing the Sydney Opera House and the Great Barrier Reef. Solid goals! If the reef is in your plans, give yourself a few days to explore all that far north Queensland has to offer – it's where the rainforest meets the reef, and home to many indigenous communities and unusual creatures that make the region so special. There's something new and exciting to do every day!
The town of Port Douglas makes an ideal base since it's halfway between Cairns and Cape Tribulation – the best of both worlds. It's also a quieter and calmer place to stay than Cairns. Check out our itinerary for the best things to do in Port Douglas, Australia and let us know in the comments which one sounds best to you.
Just starting to plan your Australia trip? Check out our recommended itineraries here.
Day 1: Go Wild, Aussie-style, at Hartley's Crocodile Adventures
The name is a little misleading, because Hartley's offers a great up-close introduction to all Australian animals, not just the crocs for which the area is infamous. Of course you'll spend a lot of time with freshwater and saltwater crocodiles, and you'll also meet koalas, kangaroos, cassowaries and more. The excellent interpretive panels in the Gondwana Gateway also explain how Australia's fauna evolved over the millennia and were impacted by changing climate, geology and even the other animals and humans around. Click here to read about it.
Due to the year-round heat in this tropical area, it's best to get an early start to the day. Your visit to Hartley's can easily stretch to four hours, so I recommend arriving right at 9am and then going for a late lunch. Take the afternoon off to relax at the pool! Make sure to tuck in early so you'll be rested for tomorrow's big adventure.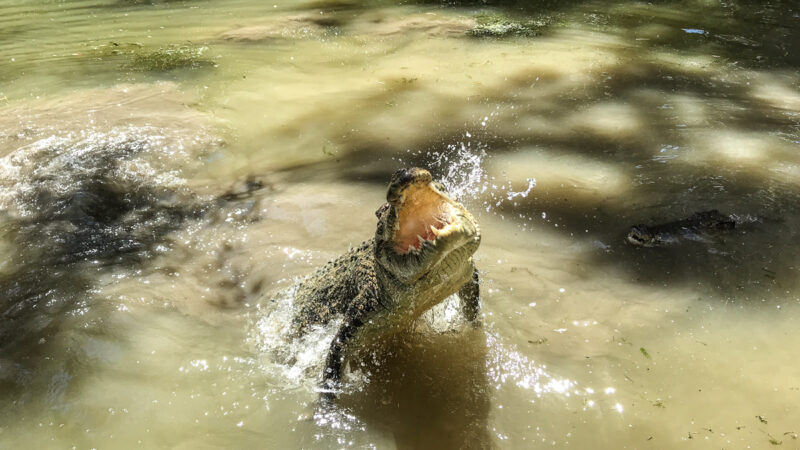 Day 2: Explore the Great Barrier Reef with Quicksilver Cruises
Most tourists come to far North Queensland specifically to visit the Great Barrier Reef while this precious ecosystem is still around. If you're visiting Port Douglas with kids, the best way to see the reef is in Quicksilver Cruises' massive pontoon stationed at Agincourt Reef. This is the best option for families because Quicksilver offers plenty of ways to get up close with sea life without ever dipping a toe in. You can choose to ride the semi-submersible boat as often as you'd like or you can spend hours (as our son did) just hanging out in the underwater observatory. Even the youngest children are encouraged to try snorkeling thanks to the well-stocked selection of child-sized gear (including stinger suits and life jackets to fit 2 year olds). Read our full review of Quicksilver Cruises for even more details and pretty pictures from our underwater camera!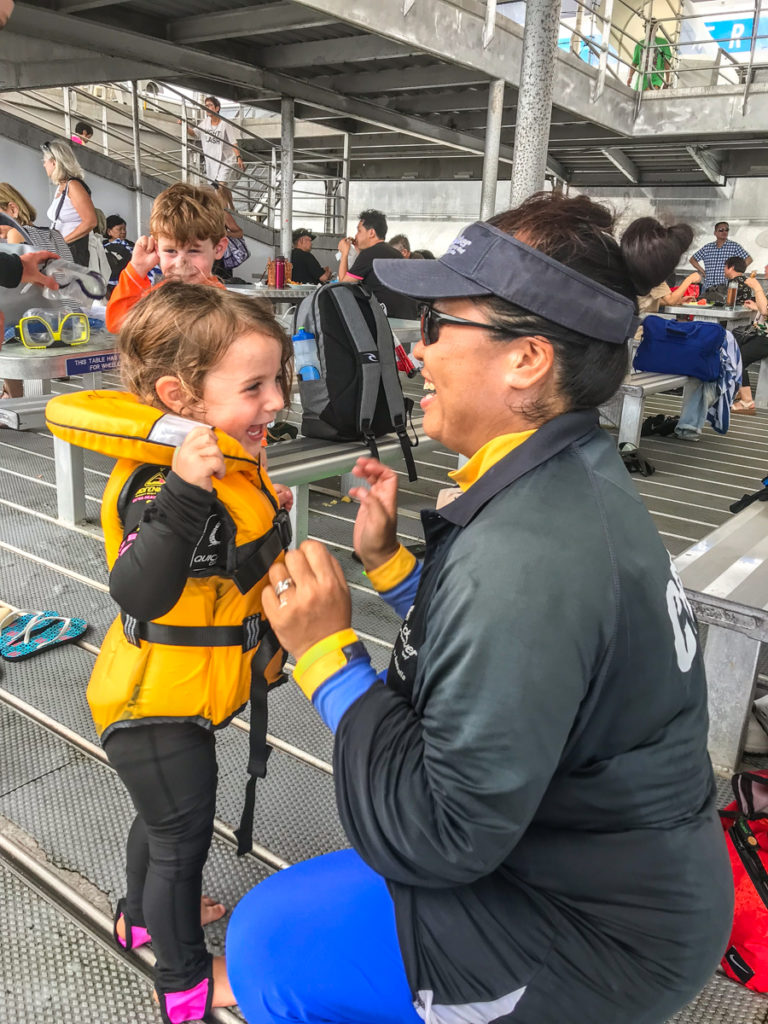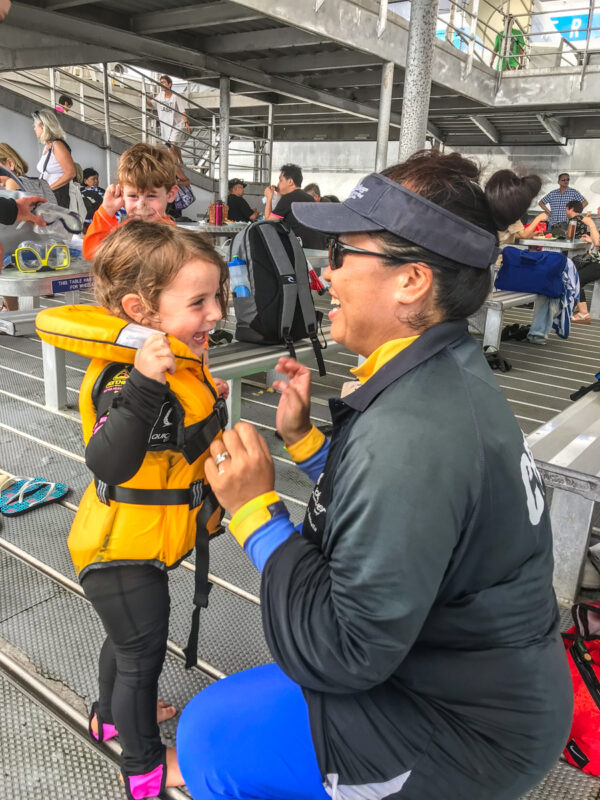 If your adventure will be taking you further south in Queensland, check out this awesome local's guide to things to do in Brisbane with toddlers
Day 3: Get a first-hand look at Queensland Aboriginal culture with Dreamtime Walks at Mossman Gorge
The Daintree rainforest is approximately 180 million years old, and for the last 60,000 years it has supported the local Aboriginal community. The understory has provided shelter, food, tools and medicine. Though some of the old ways are no longer common today, many traditions have been passed on to new generations. We had an enlightening tour with Santos, our guide at Mossman Gorge. Our visit began with a traditional smoke ceremony to welcome us to the land of his ancestors (and to help ward off the mosquitos). He then led us on his grandparents hunting track and showed us many of the rainforest's secrets. Our mid-week tour in late summer, after school holidays, was an intimate affair with just one other couple – plenty of opportunity to ask questions while also experiencing the peace of the rainforest. The fee for Dreamtime Walks also includes admission to Mossman Gorge itself and the shuttle bus (which the Aboriginal community requests that visitors use), so we enjoyed a nice nature walk on the paved path afterward as well. Pro tip: bring your high-powered bug spray and use it often!
You'll probably spend three to four hours at Mossman Gorge, so enjoy another afternoon dip in the pool to relax before tomorrow's busy day.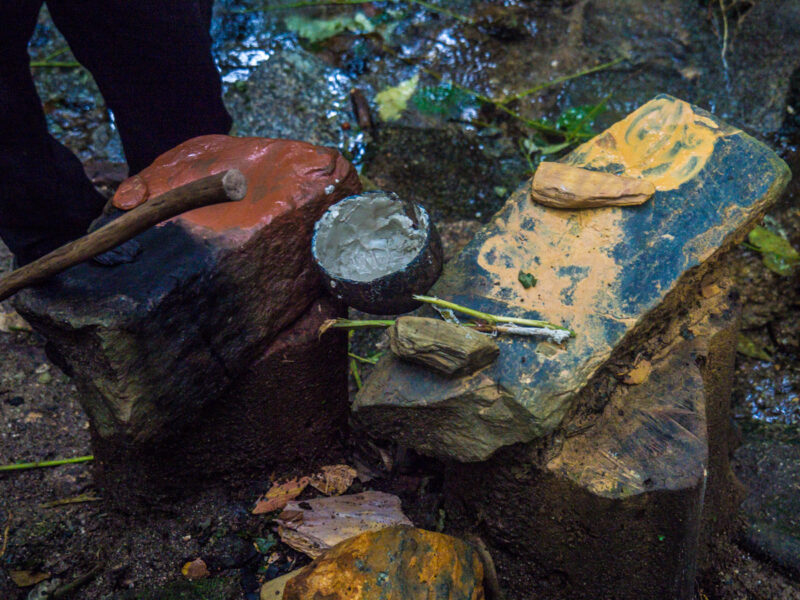 Day 4: Glide over the rainforest canopy on the Kuranda Skyrail
This may go down as one of the coolest things our family did in Australia! You've already seen the rainforest understory at Mossman Gorge, so how about seeing the canopy from above? The Kuranda Skyrail is truly an amazing – it's like so many aerial tramways, but with a fantastic view below. The upgrade to Diamond View is well worth it to truly feel like a bird skimming the treetops.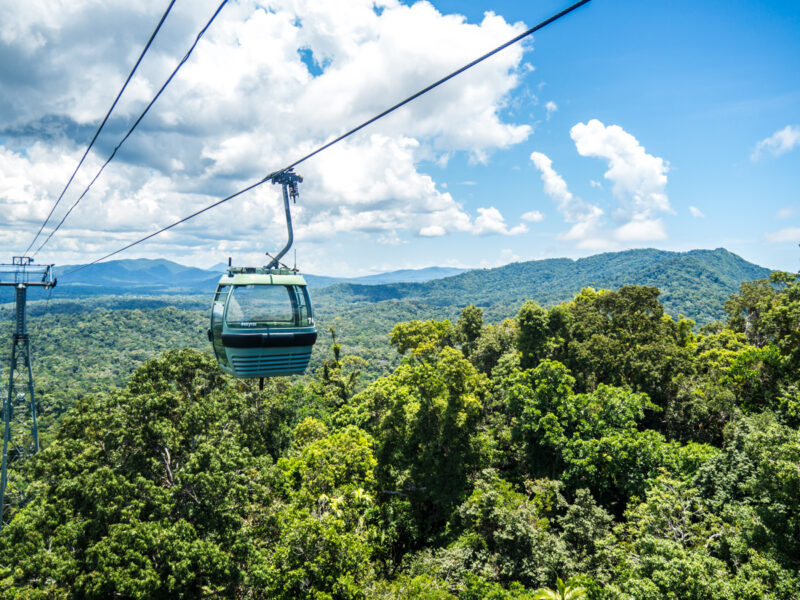 Your destination is the rainforest village of Kuranda in the Atherton Tablelands, a mining town turned hippie Mecca turning tourist destination. Kuranda is home to several excellent wildlife experiences, so choose your interest: butterflies, koalas or rainforest birds… or all three!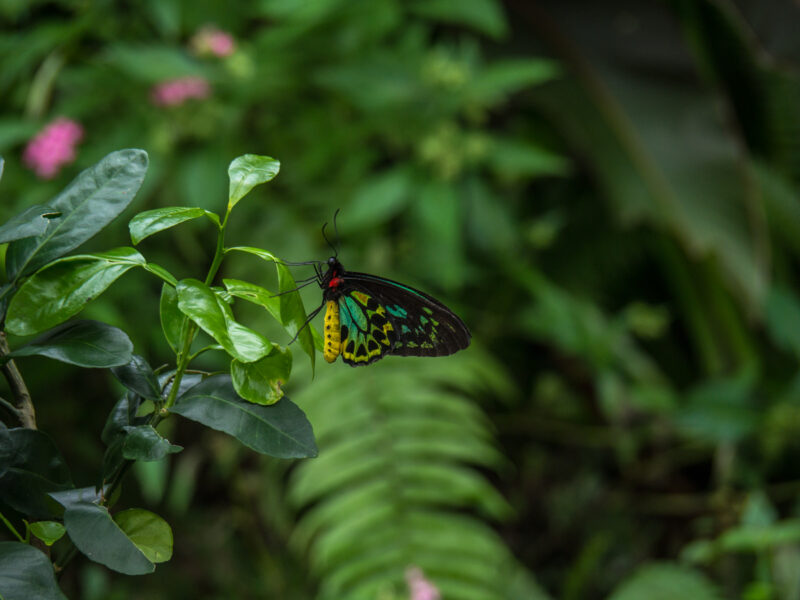 Most visitors choose to return to the Cairns area in the afternoon using the Kuranda Scenic Railway, and old gold mining route turned tourist attraction. The train route includes historic narration, and you can even download an app in advance to follow along on the journey.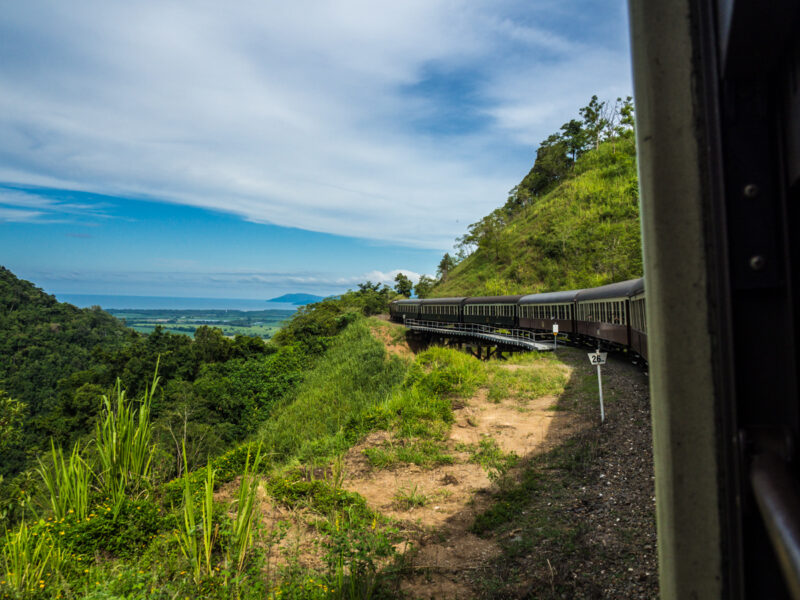 Day 5: Deepen your understanding at the Daintree Discovery Centre
The Daintree Discovery Centre, about one hour north of Port Douglas is one of the most educational tourism experiences we've ever had, and one of the best things to do in Cape Tribulation. It's a must-do for worldschoolers – check out what we've been doing for school during our family gap year. You'll spend hours wandering the various well-marked trails, some aerial walkways through the middle level of the rainforest, listening to the excellent audioguides included in admission.
Why did we love the Daintree Discovery Center so much? First off, the physical setup of the walkways and the 23m tower to the canopy is just cool. Second, they have separate audioguides for kids and adults! The children's audio guide was engaging enough that Jacob listened to every single track and kept looking for more. It covers rainforest ecology, Cassowary facts, Aboriginal rainforest food and medicine, extinct megafauna and more!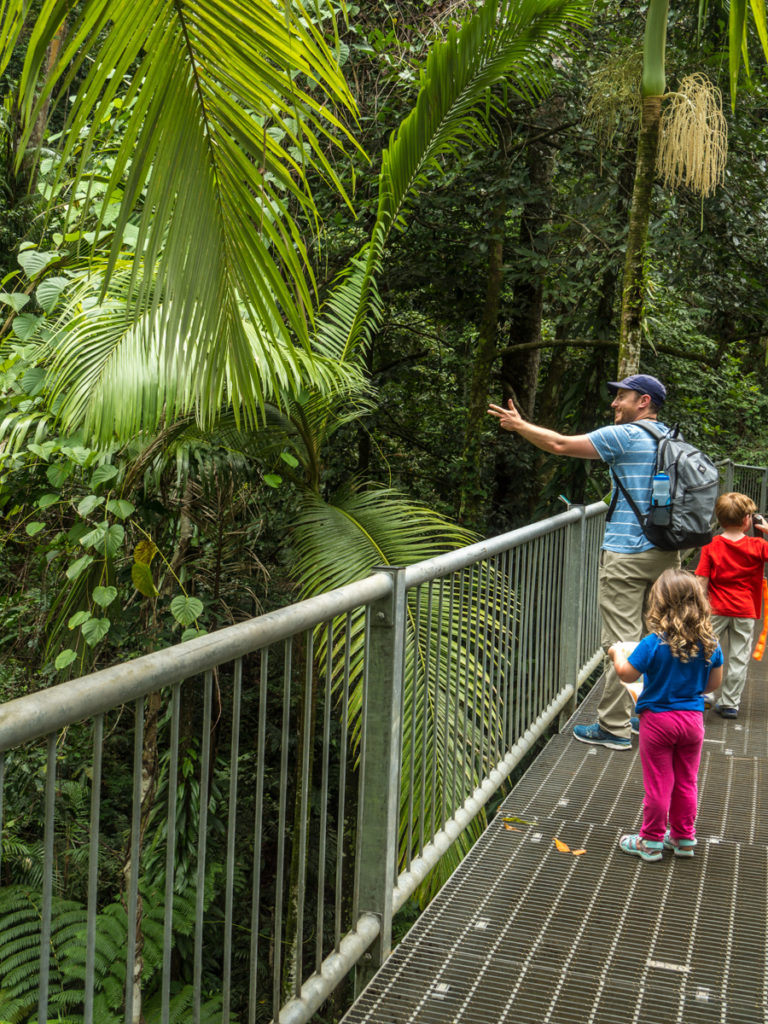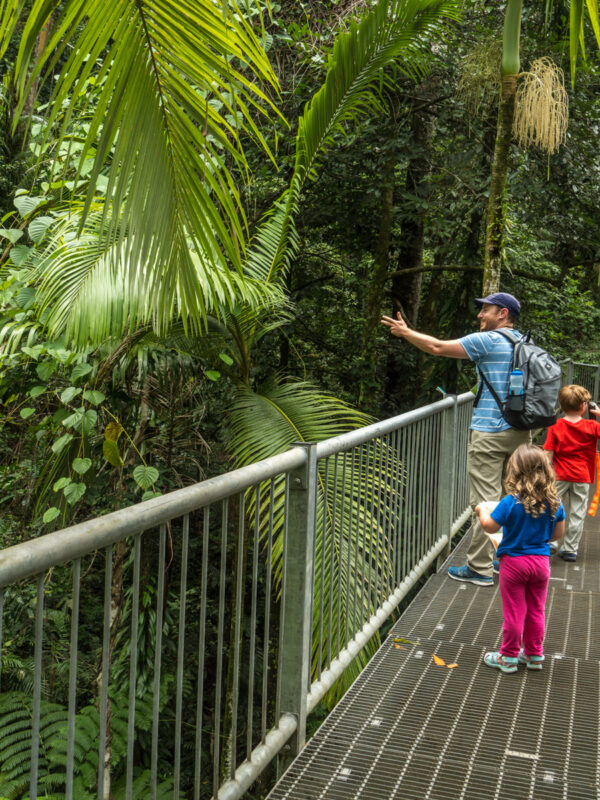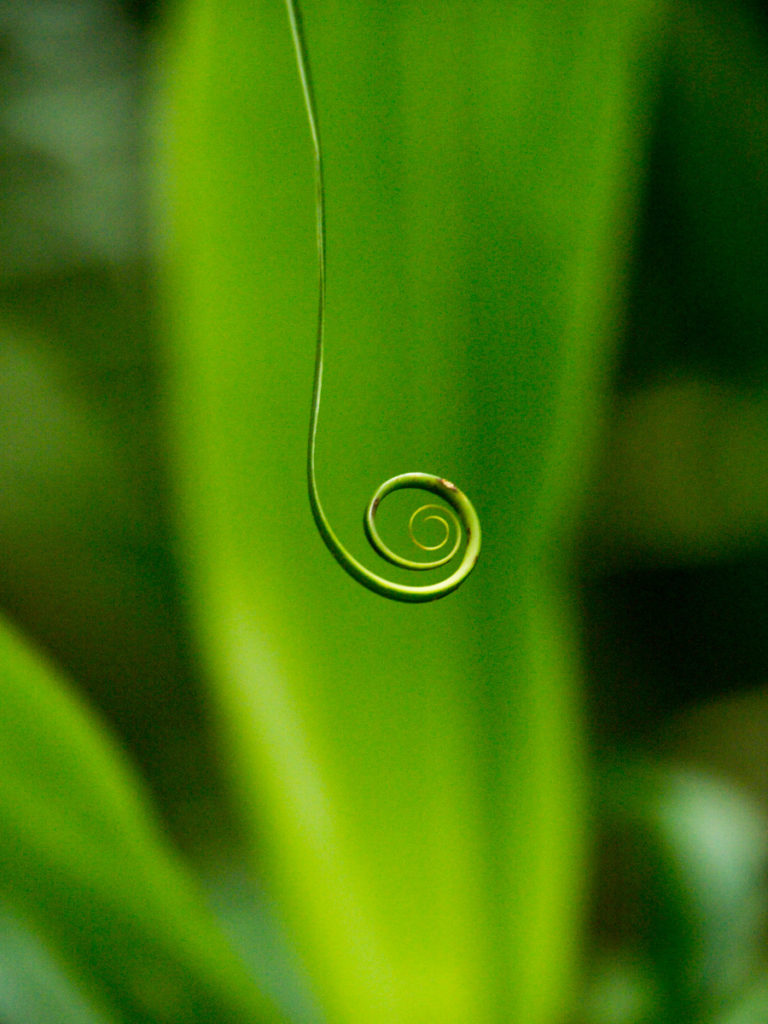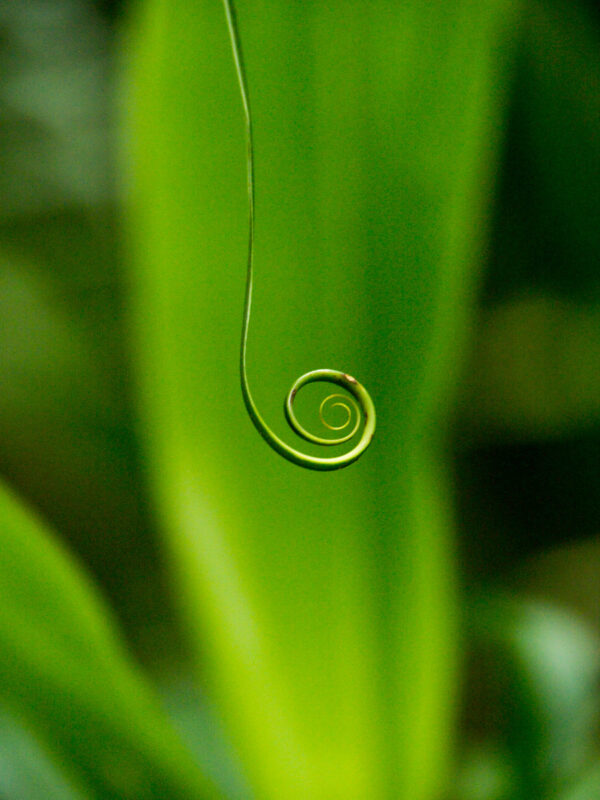 The only things we didn't love? The kids found the animatronic dinosaurs and Deamon Duck of Doom (not making that up!) to be "confronting". The guidebook warns of that, so we ushered them by as quickly as possible; fortunately it's easy to bypass most of that section. I also got eaten alive by mosquitos despite frequent use of heavy-duty mosquito repellant (oddly, I was bitten through my leggings). The rest of the family wore lose pants and had no issue!
After you've had your fill of learning, head ten minutes up the road to the Daintree Ice Cream Company. It's something of a local institution and a must-do when visiting Port Douglas or Cape Tribulation. Every day the staff prepares four flavors from the exotic produce grown on-site, and they're served as a pre-scooped sampler – one is enough to share between two people, unless you're really hungry.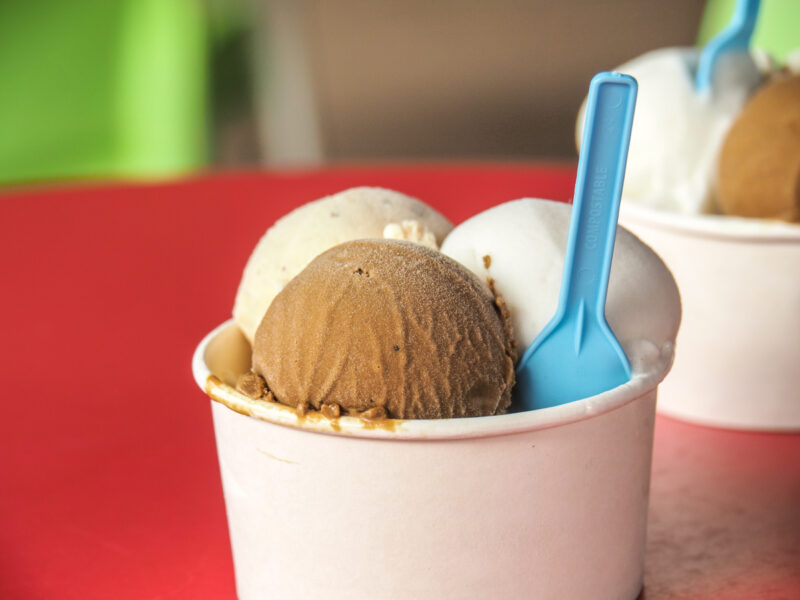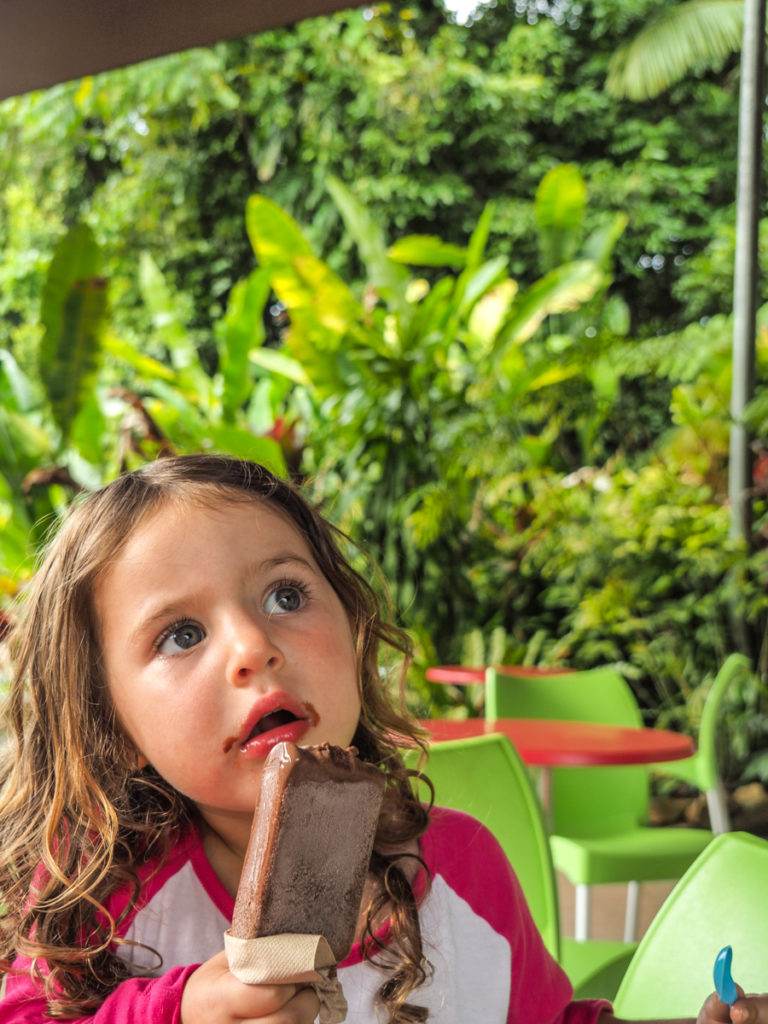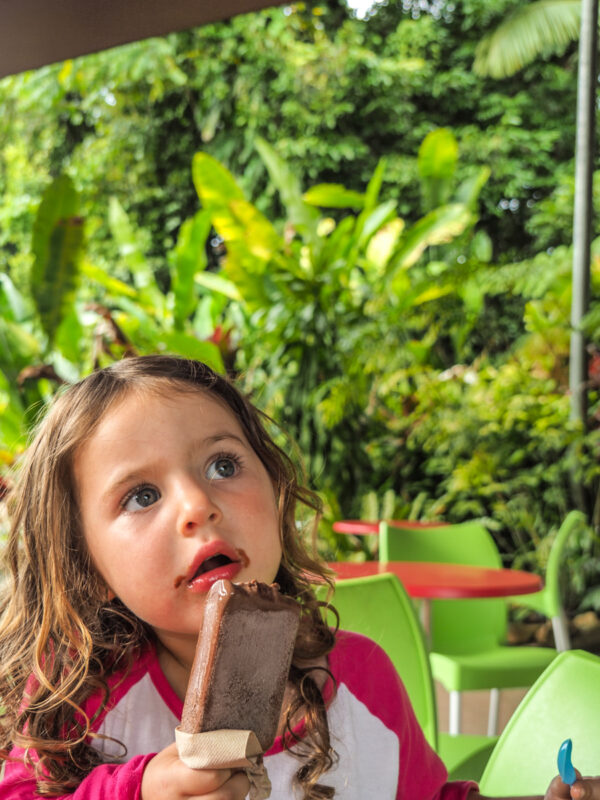 When you're all done in tropical north Queensland, why not hop a quick flight to nearby Bali? You'll find everything you need to know about visiting Bali with kids right here.
Where to stay in Port Douglas
When we were looking at where to stay in Port Douglas, we had a few requirements:

-a pool for those muggy Queensland afternoons

-a kitchen to cope with the exorbitant cost of dining in the area

-separate bedrooms for adults and kids
-washing machine (and maybe even a dryer!)

-reasonably priced

We stumbled upon the Lychee Tree apartments in Port Douglas and all the boxes were checked! For less than $100 USD per night, we had a great place to stay for the week. The manager was very nice and helpful and even gave us a discount voucher for the Cape Tribulation car ferry (necessary for visiting the Daintree Discovery Centre) and he had a few other discounts available as well. The pool area was just as gorgeous and lush as shown on the website – the kids loved the shallow "lazy river" area and there's even a bin of pool toys! The apartment layout was perfect for our family, with a kids' room with two twin beds and a larger room with one queen bed for us adults. The kitchen worked well for preparing breakfast and PB&J lunch every day as well as several dinners. Check it out for yourself and see pricing for your dates.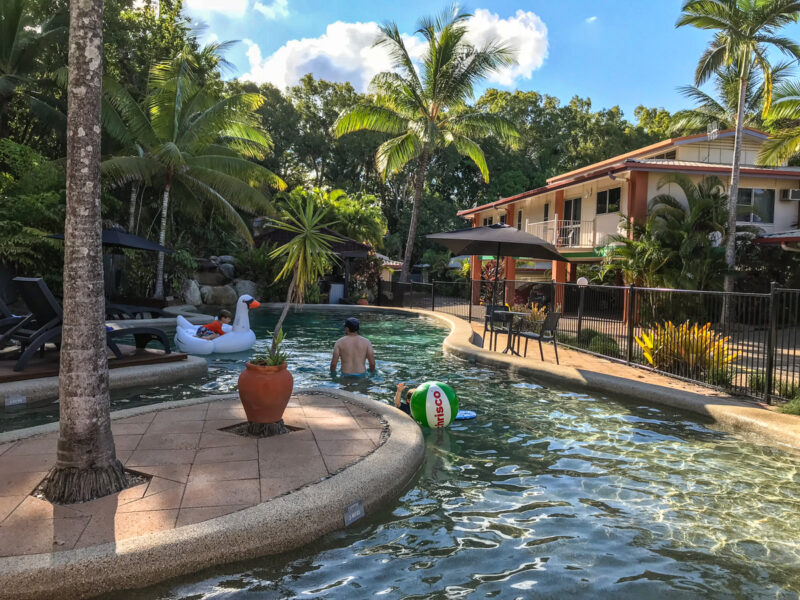 Use the interactive map to find vacation rentals and hotels in Port Douglas, Australia
---
How to get to Port Douglas

The nearest major airport is Cairns, about one hour south of Port Douglas. Affordable flights can be found from all across Australia – we flew from Sydney to Cairns, and then continued on non-stop from Cairns to Perth. Cairns also offers many international connections to Asia if you plan to continue traveling north. Check flight prices here.
It's an easy, pretty drive along the coast and we were happy to do it at sunset for added visual drama.
 For better or worse, far North Queensland is best traveled in a car. Sure, you can arrange full-day tours or pay extra for transfers. But having a car allowed us to stop to enjoy the scenery and get to a few less common areas. And for a family of four, it's more economical than paying for all those tours and transfers. Find the best rental car prices here.

Since you'll be flying in and out of Cairns…

The best things to do in Cairns city (with a few spare hours)
If you have a few extra hours in Cairns, as many people do on the way to or from the airport, you won't be disappointed with your activity choices. The good news is that the airport is very close to the city and not nearly as busy as Sydney.
Muddy's playground

This seaside playground is one of the most impressive we've ever seen! It has everything from a huge splash pad to a giant fish sculpture for climbing, and been a dedicated, fenced space for young toddlers. We spent an hour there but could have stayed longer. There's also an adjacent cafe with heaps of snacks and reasonably priced (for Australia) meals.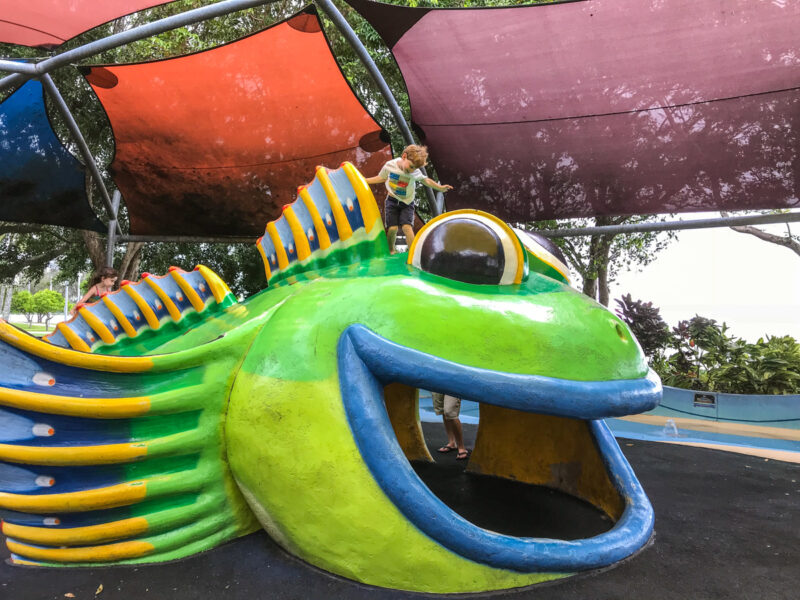 Botanic gardens

We've heard the botanic gardens are amazing, and they sure look that way! Sadly it started to pour as we arrived. But even from the car we could tell it's a lovely place to spend an afternoon when you're arriving or departing from Cairns to Port Douglas.

Plan your trip to far North tropical Queensland

Many thanks to Hartley's Crocodile Adventures, Kuranda Skyrail and Kuranda Scenic Railway and Daintree Discovery Centre for hosting our visits; we received a discount on our cruise with Quicksilver Reef Cruises.