Most tourists coming to Australia never make it out to Western Australia, and it's their loss! We spent nearly two months exploring the best places to visit in Australia and we're so glad to have capped it off with the tranquility and beauty of the Margaret River region. Tucked away just a few hours south of WA's capital in Perth, Margaret River is known as a place to disconnect and reconnect – and we understand why! We landed a beautiful, spacious HomeExchange house just around the corner from the town's Main Street, so we had convenient access to tons of restaurants and approximately 83 surf shops (handy since my guys both needed new flip flops/thongs/jandals by that point in our trip). Our family had a wonderful week in the region and found so many Margaret River attractions for all types of travelers. Here are our top (in no particular order) things to do in Margaret River with kids – or without!
Just starting to plan your Australia trip? Check out our recommended itineraries here.

Things to do in Margaret River with kids – or without!
Meet the neighbors in Hamelin Bay
Australia is known as a place for crazy (and sometimes dangerous) wildlife, and WA is no different than the rest of the country in that regard. One of the Margaret River region's claims to fame is the lovely Hamelin Bay, where you can get up close and personal with the resident colony of giant rays! In all honesty, almost everything about the experience surprised me. The rays come within a few feet of the shore and just swim back and forth – often swimming right up to visitors! We saw three or four rays and they seemed eager for attention.
It took me a while to work up the nerve to touch one, but then when it basically swam an inch from my leg it was tough to resist. The smooth, slimy cartilage has such a unique feel!Follow the signs to Hamelin Bay, and if it's not busy we recommend parking near the boat ramp – it puts you much closer to the main area of the bay where the rays seem to congregate. Otherwise you may have to walk 10-15 minutes on the path from the car park to the beach and then along the beach (a nuisance when at least one member or your party insists on being carried). Come dressed to get wet – unlike us; leave your shoes in the car, as you just won't need them.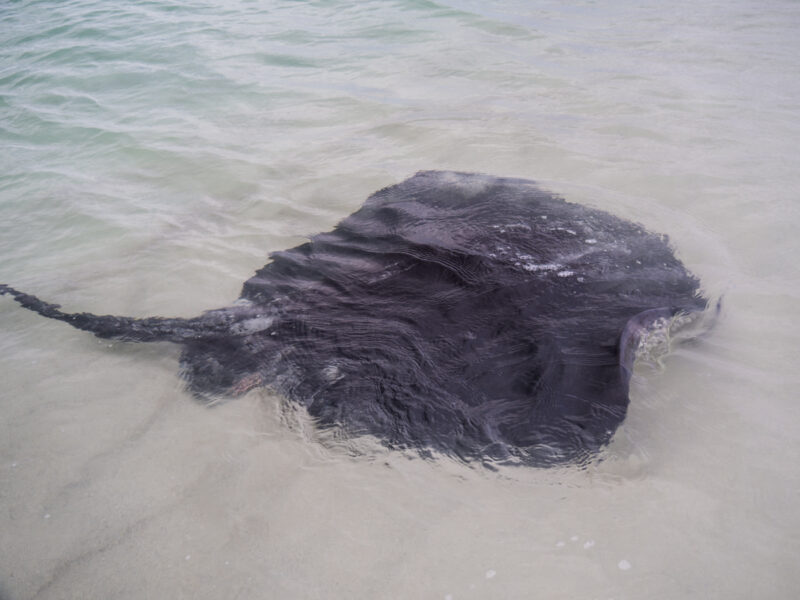 Explore Mammoth Cave
Margaret River caves are some of the region's most unique places to visit in Western Australia and a must-see if you're in the area. We had a great time during our 1.5 hour visit to Mammoth Cave. Just 15 minutes from town, it offers visitors and amazing array of stalagmites and stalactites, plus prehistoric megafauna fossils to boot! The audioguide is helpful and detailed, or you can refer to the installed interpretive panels if you prefer.
If you're visiting with a baby or young toddler, you should consider bringing a comfortable baby carrier – though entry is essentially at the same level as the admission desk, there are many steps within and at the exit, and return to the car park is about 0.2km on a quality bush track. We found lighting inside the cave to ample, but the kids were somewhat frightened so you may want to bring a compact flashlight for your visit.
Photographers, make sure to bring a bright lens – I wish I'd had this one for our visit! You'll find some great travel camera recommendations here. There are several different options and admission can be purchased to one or several. On the advice of the representative we spoke with, we chose to only visit Mammoth Cave as it is the best cave in Margaret River for accessibility to families with young children. The Mammoth Cave price is $58 AUD for a family.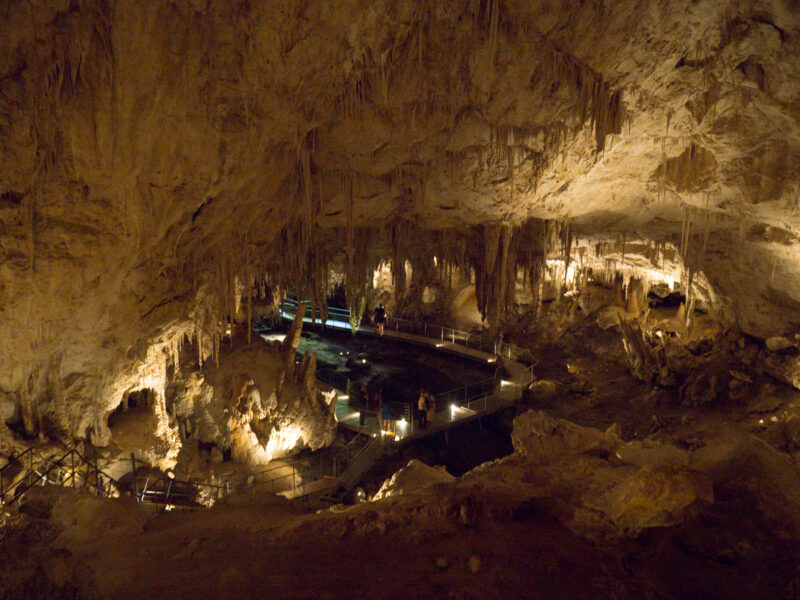 Climb Cape Leeuwin Lighthouse
Margaret River's Cape Leeuwin Lighthouse is the tallest lighthouse on Australia's mainland, and nearly everything in it is original – over a century old. The point where it's situated is itself important for several reasons. First, it was the location of Matthew Flinders' landfall before he became the first European to circumnavigate Australia in 1622. Second, it's also the place where the Indian and South Oceans meet and its fun to watch the waves crashing into each other. Visiting the lighthouse with kids was a fun experience. From what I've heard, the audioguide is excellent and detailed – but I didn't get to sample it much because Jacob had it glued to his ear the entire time! Entry into the lighthouse is only available on a timed, guided tour and participants must be at least 4yo (shhhhhhhh) to ascend the 176 steps to the top of the lighthouse. It's worth the walk for the incredible views! The Cape Leeuwin Lighthouse price is $59 AUD for a family.
Hit the trails on foot or in the saddle
Margaret River has hundreds of kilometers of hiking and biking paths. It's a shame not to explore some of them! We were so busy that we only had time for one (and we admittedly had a bit of trouble following the trail, so I'm not sure it's the best pick) but there are a few great family-friendly options. Don't forget to bring a few water bottles or a CamelBak, as the climate in Western Australia is extremely dry! Here are some great hiking trails in the area.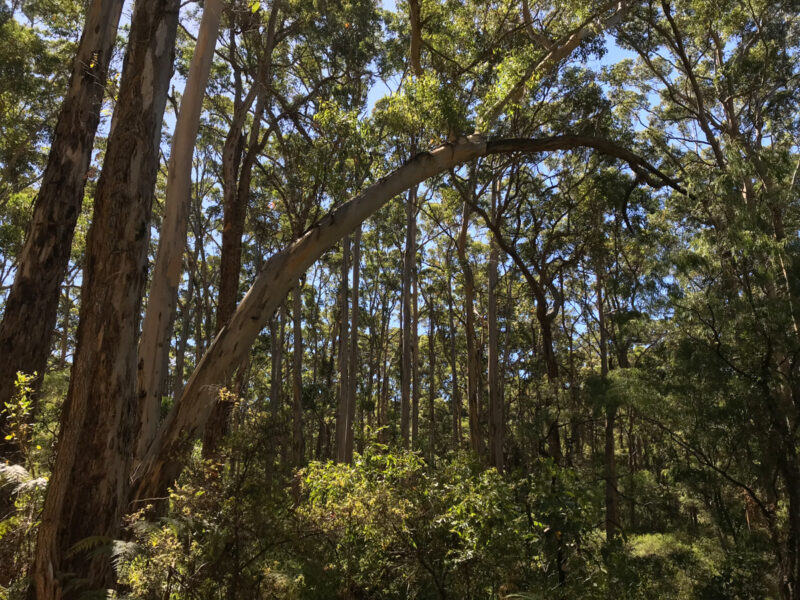 Get lost (and found) at Amaze'n, the giant Margaret River maze
For all the cool location-specific attractions we visited in Margaret River, the kids probably had the most fun at Amaze'n Margaret River. And yes, we loved it too! There was even a vacationing couple there with no kids so it's clearly meant for all-comers. So what is Amaze'n? Simply put, it's a place to play. The centerpiece is the awesome hedge maze in Margaret River with 1.5 km of paths, and there are also half a dozen other mazes if different types surrounding it (one of them is really hard). Another section has 18 extremely challenging holes of mini golf. There's a playground. There's a huge open field with balls, frisbees and lawn games. There's a ginormous Jenga set. There are tabletop board games from my childhood, plus lots of classics too. I'm sure it's swamped during school holidays and weekends, but we visited on a Friday afternoon and mostly had the place to ourselves. The cafe offers delicious sounding, albeit expensive, food and oh-so-tempting ice cream but we're traveling on a budget so we brought a picnic. The cost varies based on your chosen activities, and discounts are offered for multiple activities and family groups (kids under 3 visit for free).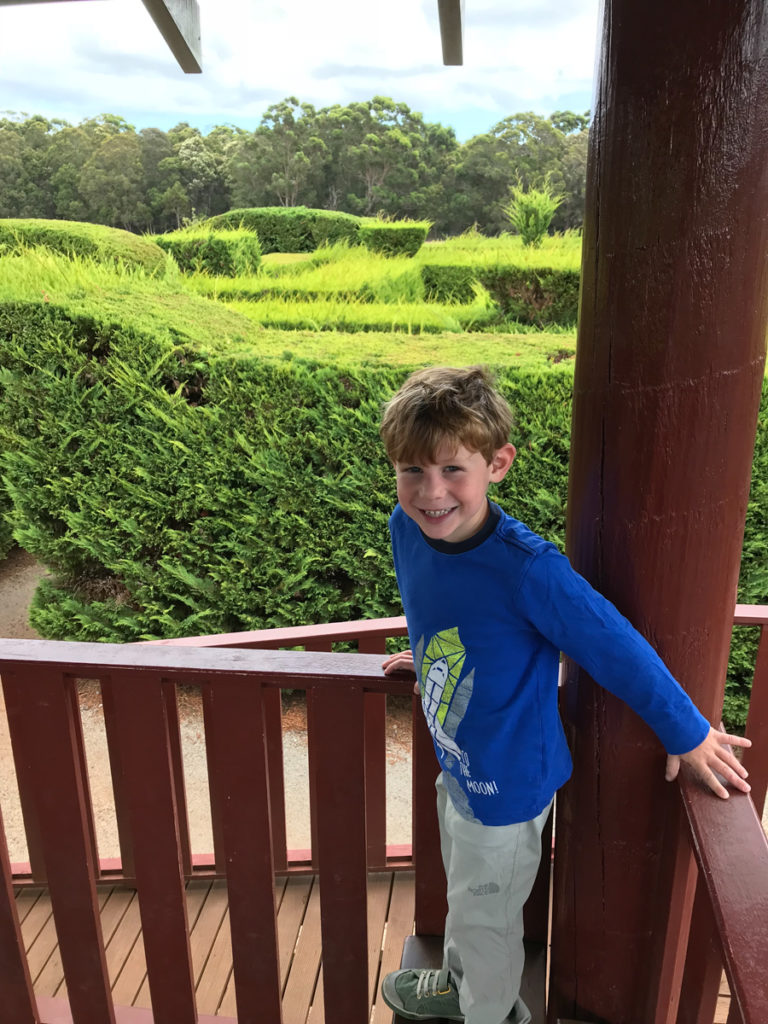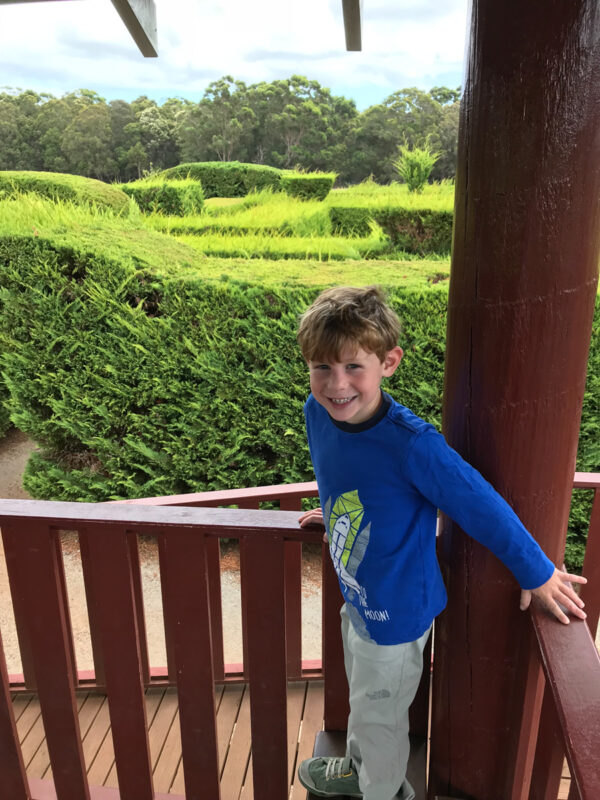 Soak up the sun and sand
There are many great beaches in Margaret River, so make sure you visit at least one or two! Our favorite was the ever-popular Yallingup Beach. It's one of the best beaches for families in the Margaret River region. The water in the Southern part is calm and extremely shallow – you can walk out for ten minutes and still be at chest height, and in some places it's practically impossible to swim because it's almost too shallow. But once you walk out a bit, there's some lovely easy snorkeling – perfect for introducing the little ones. There's a nice little sandy beach area to warm up and dry off after your swim too, though no shade to speak of. Make sure to wear a rash guard and bring high quality sunscreen (there's a reason the most famous book about Australia is called "In a Sunburned Country").And what if you're not interested in feeling the soft sand between your toes? On the bluffs above the beach you'll find a fantastic playground, from which we spent hours trying to pry our children. There's plenty of grass for a picnic or a surreptitious glass of wine, and the sunsets are so epic that there are multiple tiers of viewing platforms for the nightly show. If you visit Yallingup (and you should) make sure to pop into the Yallingup bakery for some snacks. I met a local youngster from the area on our flight into town and he was right that we had to go. The family has two locations Yallingup Woodfired Bakery for breads and Yallingup Gugelhupf for sweets. Either way, you can't go wrong.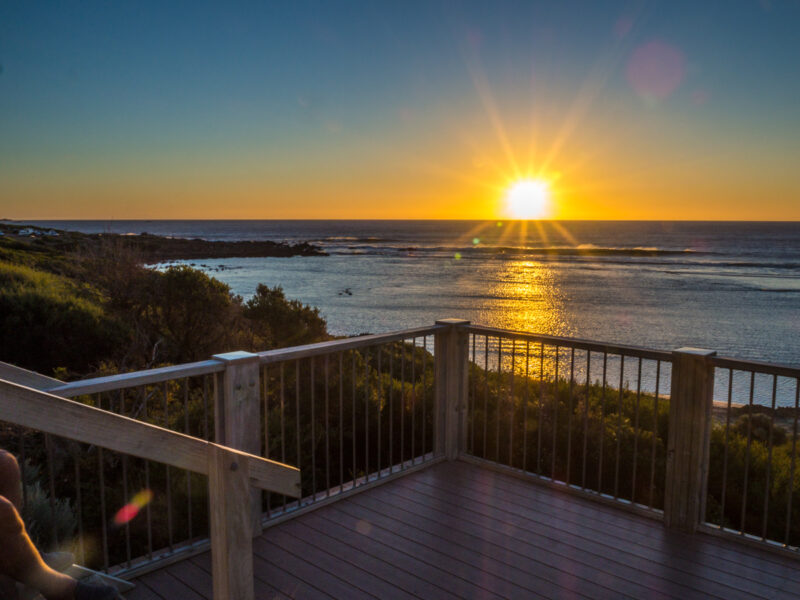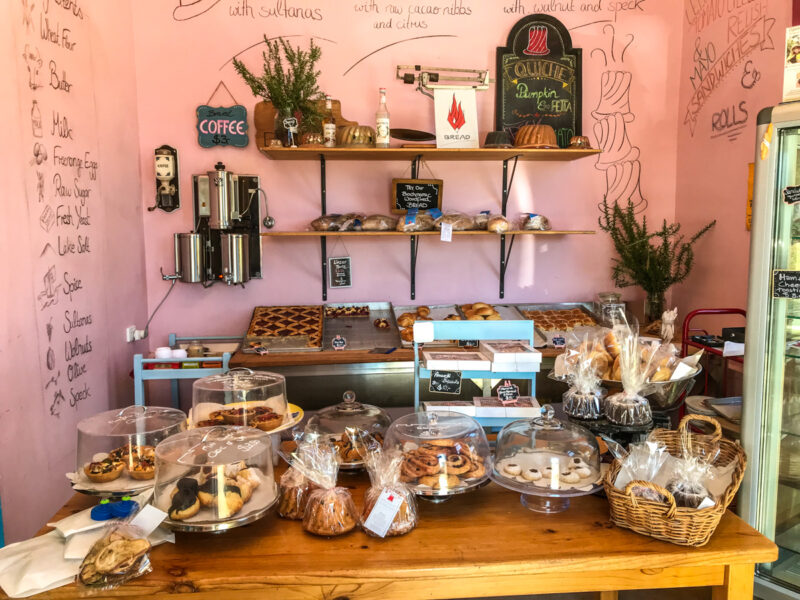 Eat, drink and be merry
Most people come to Margaret River with food and drink on their minds, and we were among them. There's no way to list them all, but here are our favorites:
Burger Baby
If you're staying in the town of Margaret River and want a fun, easy evening look no further than Burger Baby. They offer a range of burgers for both beef-lovers and pesco-pollo folks like me. Even better, the ambiance is just fun! Our family picked a few couches in the front area of the restaurant and then grabbed Guess Who? from the selection of board games. We also enjoyed our time playing pool and fooseball. And the food? So good that one member of the family insisted on a second burger!
Colonial Brewing Company
If you're visiting Margaret River with kids, Colonial Brewing Company is the place to be on Friday and Saturday nights. Order your gourmet pizzas and locally-crafted beer and cider at the counter, then take the littlest ones outside and let them run free while you enjoy some adult time. There's a huge playground, a miniature version of tetherball that's played with racquets and even cornhole!
Find more family-friendly Margaret River breweries here.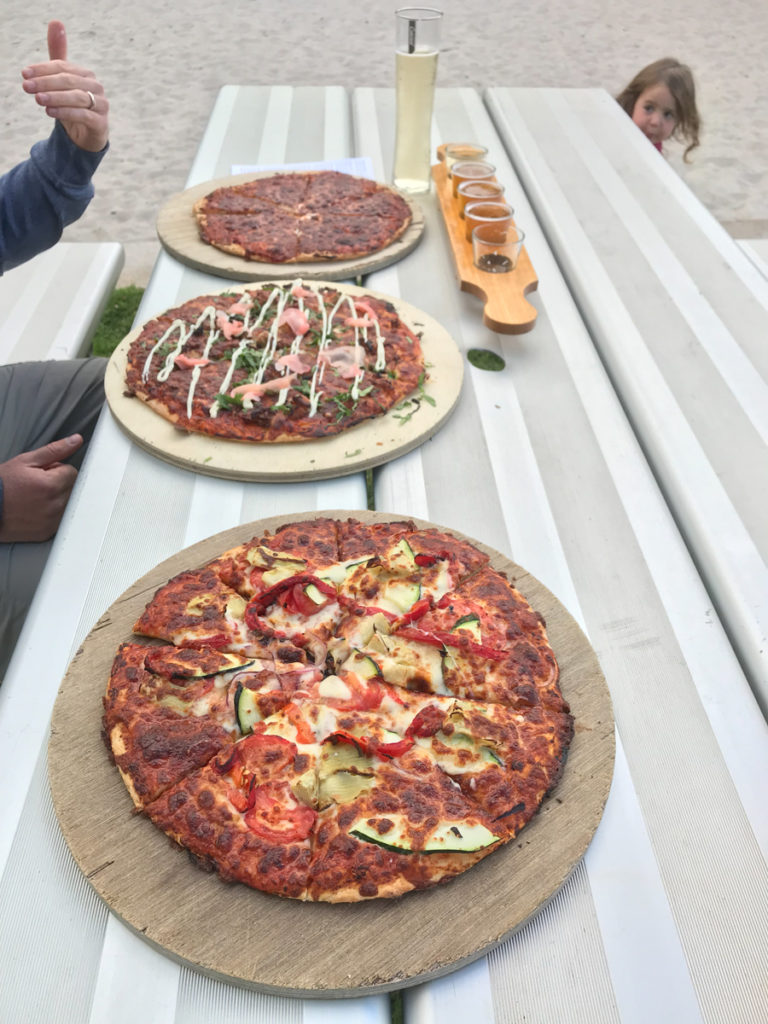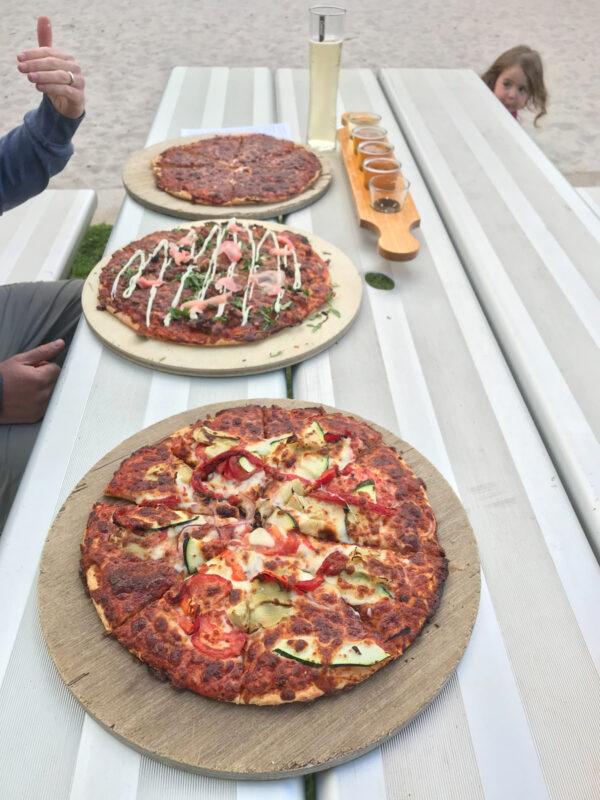 Wine and dine over lunch
We knew we couldn't leave Margaret River without tasting wine, and lunch at Rustico at Hay Shed Hill seemed like the perfect family-friendly option. We definitely recommend trying the duck taco and the sweetcorn and cheese croquettes for your meal, and once you've placed your order you can head to the attached tasting room to find the perfect option to match your palate and food choices. For those visiting with kids, there are several kids meal options and a nice lawn outside (complete with toy monster trucks and a tree for climbing). Note that there are two locations (Rustico at Hay Shed Hill and Rustico Tapas & Wine Bar in Rockingham), so make sure to reserve the correct one (unlike us).
Wineries
You may notice an uncharacteristic lack of wineries in our list, which surprised us too! After tasting our way through two islands of New Zealand and a few other regions of Australia, we stuck to sampling wines and ciders at local restaurants – including our wine tasting lunch mentioned above. Want to visit more wineries in Margaret River? Check out these great options.
How to get to Margaret River
Margaret River is conveniently located just three hours south of Perth's airport, which offers both domestic and international flights. Since the region is somewhat rural and undeveloped (a big part of its charm!) it is best explored in your own car. Fortunately there are many reasonably priced car hire services at the airport – we always find the lowest prices on rentalcars.com.
Plan your trip to Margaret River
Are you feeling inspired to visit Margaret River? Book this beautiful HomeExchange Margaret River family accommodation for free and then start planning!
Use the interactive map to find vacation rentals and hotels near Margaret River, Australia
---