From the moment you walk into the soaring lobby of the Hyatt Regency Grand Cypress resort, sip your complementary glass of champagne and wave to Merlot the hotel parrot, you'll know you're in vacation mode.
This Hyatt near Disney World is like a playground for the whole family, with a great balance of on-site activities and amenities alongside easy access to Disney World and all of Orlando's other theme parks and activities.
Whether you're paying cash for your stay or booking it with award points, you'll find out in this Hyatt Regency Grand Cypress review why you'll want to return the minute you leave.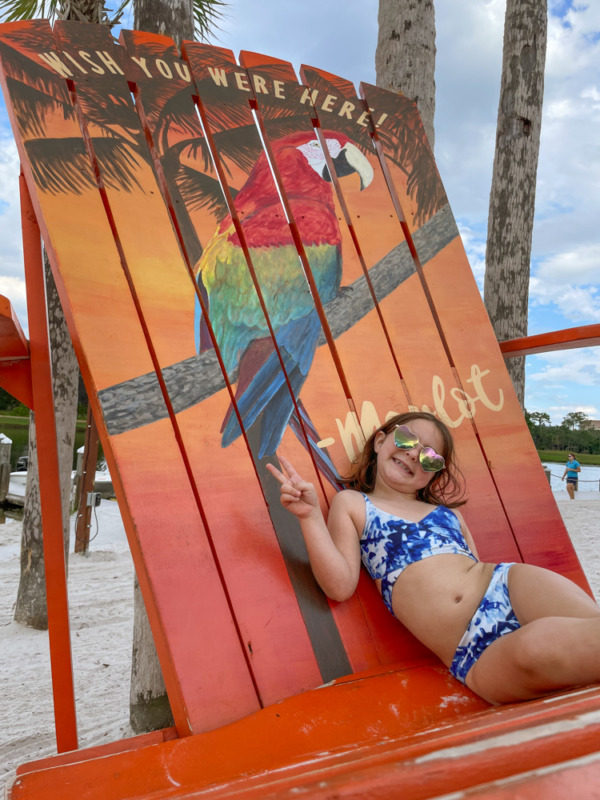 Where is the Hyatt Regency Grand Cypress Orlando?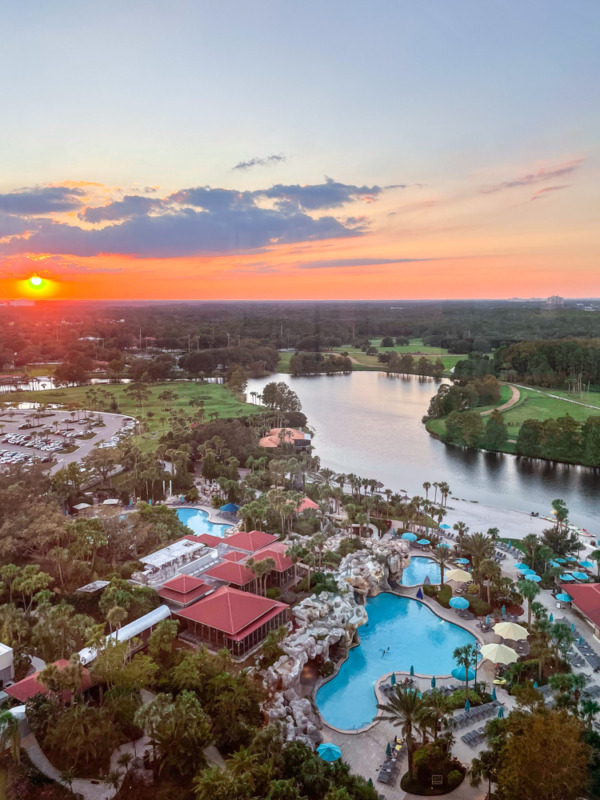 The Hyatt Regency Grand Cypress resort is located off of the quiet, scenic Grand Cypress boulevard. It's just minutes from I-4 and a stone's throw from Disney Springs, but once you're on the lush 1500 acre property you'll feel worlds away. It's truly beautiful and feels much more like a resort in paradise than a generic hotel.
The location is very convenient if you have your own set of wheels: the Walt Disney World Transportation and Ticketing Center (TTC) is just a quick 15 minute drive, while Disney Springs is basically around the corner.
I did wonder before our visit if you can walk from Hyatt Regency Grand Cypress to Disney Springs and the answer is realistically that you can but you probably shouldn't bother. The walk is 35-50 minutes depending on where you want to go and there's no shortcut through the dense foliage separating Grand Cypress Boulevard from the Hilton Orlando Buena Vista Palace at Disney Springs. Your walking route would basically be the same as the driving route, which isn't particularly scenic and just passes rows of huge hotels.
Want to get more helpful travel tips like this? Sign up for our email list!
---
Rooms at Hyatt Regency Grand Cypress, Orlando
Even though we didn't score a room upgrade, I was extremely pleased with our room at the Hyatt Grand Cypress hotel. We had the most basic room – advertised as two doubles, but it was actually a double and queen – and we felt the space was used extremely efficiently. The beds were comfortable enough that my daughter and I fell asleep with the lights fully on while the boys stayed up to watch TV.
Beyond the beds, there's a small chaise in the corner and a lengthy countertop with plenty of built-in storage for clothing and other assorted supplies. I really appreciated the shoe shelf on the bottom of the closet – it's a small touch, but it meant that we weren't constantly tripping over spares on our way out the door! The bathroom has several hooks for towels and swimsuits.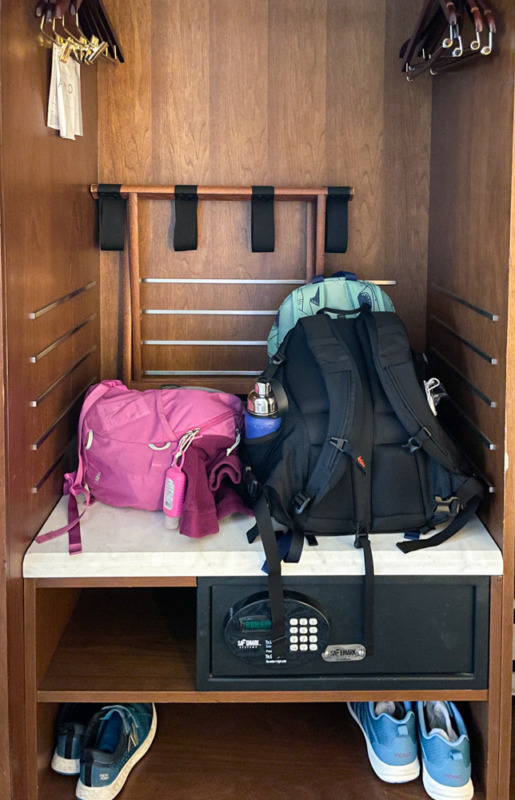 If you have a Hyatt room upgrade certificate or are just feeling a little fancy, there are plenty of lovely rooms to choose from. The Junior Suite and Executive Suite both offer a king bed and sleep sofa in addition to plenty of extra space to spread out; they're essentially two adjoining regular rooms with one configured as a flexible sitting/sleep room. Keep in mind that those suites still technically accommodate 4 guests despite their much larger size. If you have a larger family, you'll need to bump up to the apartment-style VIP suite that accommodates 6 guests.
Try to snag a pool view room (regardless of room class) on a higher floor to see the Disney fireworks at night!
---
Hyatt Regency Grand Cypress Activities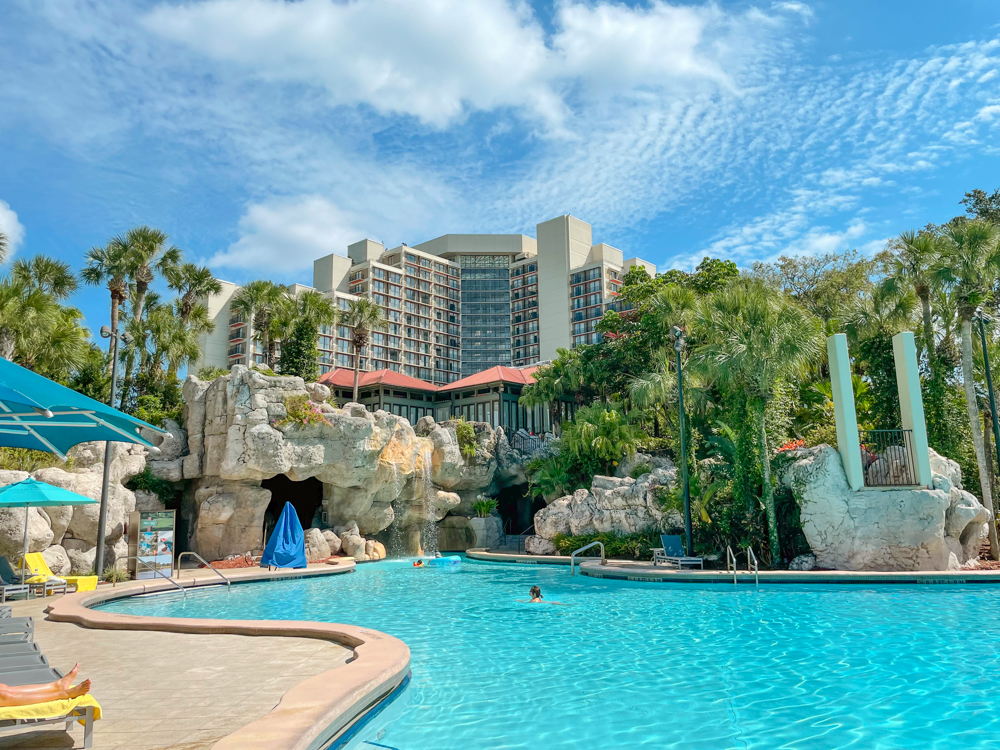 If there's one reason to book the Hyatt at Walt Disney World instead of staying on-property, it's the activities! This is where the Hyatt Regency really shines. It's hard to pin down the best things to do at Hyatt Regency Grand Cypress Orlando because there are so many to choose from.
The centerpiece of the property is obviously it's incredible pool area. There are three pools connected by a series of grottoes with waterfalls cascading down and through them. My kids loved playing hide and seek under, through and around the rocks. We all had a great time on the water slide and my younger one enjoyed the splash pad as well. You'll find one hot tub (with an adults-only sign) across from the splash pad, while a kids-welcome hot tub is tucked away in the grottoes near the fitness center. My one knock on the pool area at Hyatt Regency Grand Cypress is that the prime deck chairs are reserved for Resortpass guests, even when the pool isn't busy.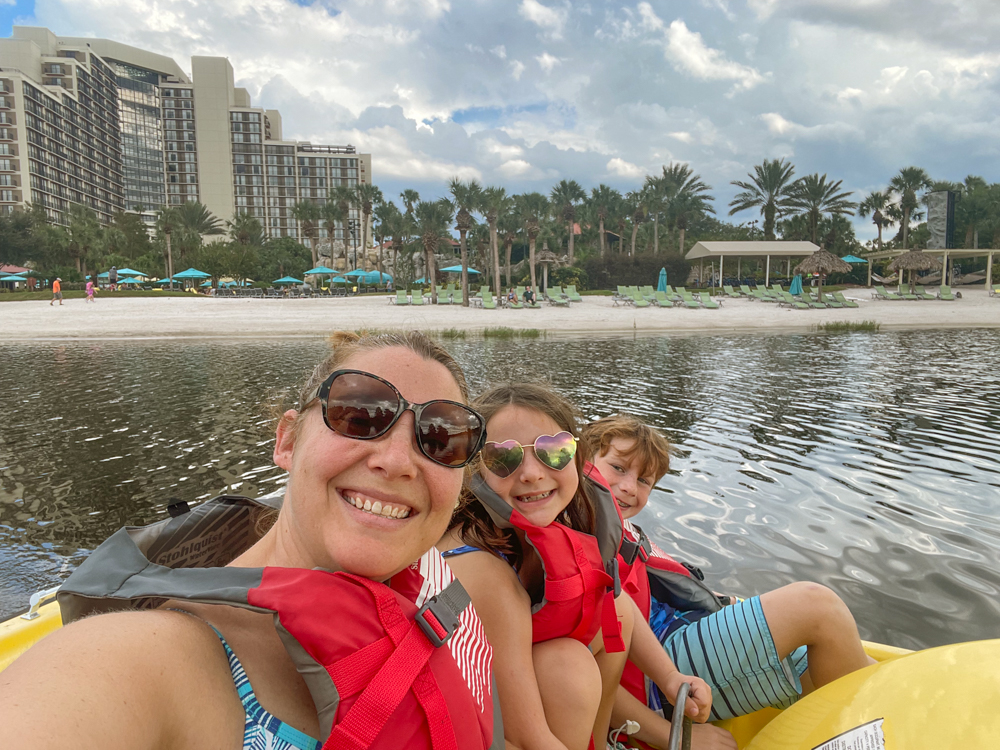 There are also plenty of lake activities to keep your family busy, from pedal boats to kayaks and canoes to paddleboards. Just don't swim in the lake – there are signs nearby (rightly) warning of potential alligators. Note that teens can take watercraft on their own, but tweens and younger kids need to be with a parent. You can also enjoy the sand at the small beach (without going in the water) – there are volleyball nets, lounge chairs and hammocks, plus plenty of sand for castle building.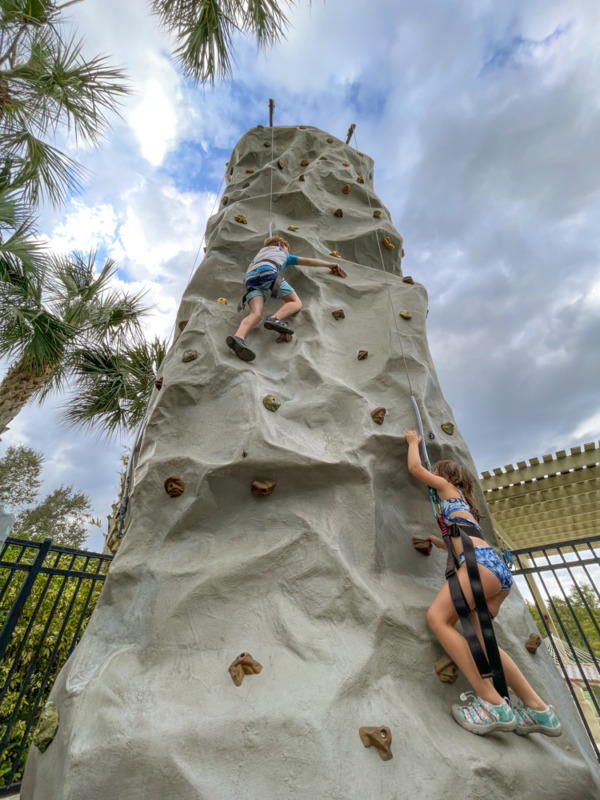 Even if you aren't into water, there's plenty to keep you busy! The hotel maintains a large fleet of bikes (and helmets!) of all sizes to take on the path around the lake for some leisurely family exercise. Next to the bike checkout there's a staffed climbing wall with a self-belay system. The staff member will help you (or your kiddo) harness in properly and then you can choose between the easy, medium and hard sides of the structure. My kids spent almost an hour enjoying the climbing wall at Hyatt Regency Grand Cypress!
My kids wouldn't let me forget about the mini golf offering as well. It's a small 5-hole course sandwiched between the pool deck and guest self parking lot, and clubs can be borrowed in front of the climbing wall. The mini golf course is definitely mini, but for my personal preference it's just the right size. Your family should be able to complete it in about 15 minutes and then move on.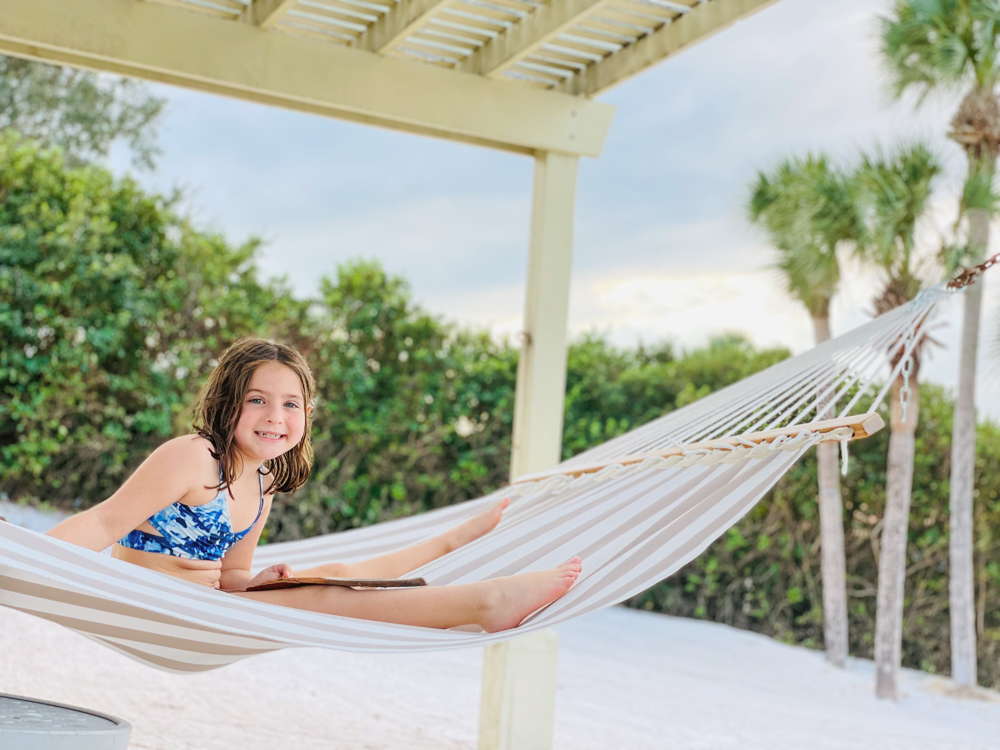 Visitors who want to keep up their workout routine can check out fitness center nestled in the grottoes or hop on the labeled running path around the lake (as my husband did) and a longer one that goes around the property. There are also tennis courts, though we didn't get a chance to use them during our visit.
I mentioned above that all of these fun amenities are included things to do at the Hyatt Regency Grand Cypress in Orlando. That's sort of true. Guests have a pay a $40 per room resort fee for each night of their stay. However, that nightly resort fee is waived for Hyatt Globalist members as well as all World of Hyatt members on an award stay. We were also provided with bottled water daily, though as an environmentally-conscious traveler I preferred to just fill up my reusable water bottle or Camelbak from the fruit-infused water dispenser in the lobby.
If you choose to stay at the Hyatt Regency Grand Cypress, I strongly recommend that you allow yourself some "resort time" to enjoy all of the wonderful activities! We devoted a few hours each on our arrival and departure days to swimming playing, and that really made our busy Orlando trip feel like a vacation.
Want to get more helpful travel tips like this? Sign up for our email list!
---
Dining options at Hyatt Regency Cypress (Orlando Area)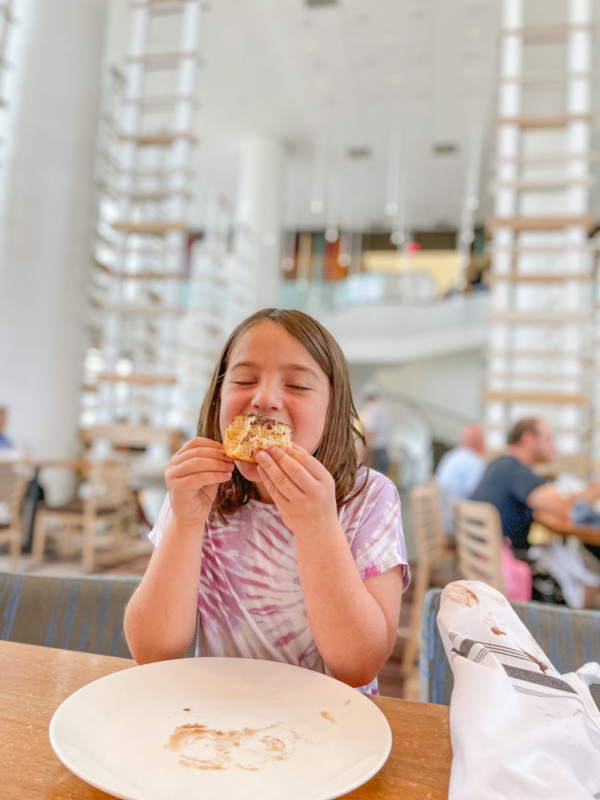 There are several food options at Hyatt Regency Grand Cypress in case you don't feel like venturing out of the hotel. Between everyone in our family we hit all but one of the dining options on the property, so here's a quick run-down.
The flagship restaurant is Four Flamingos by celebrity chef Richard Blais. It looks phenomenal, with fresh creative dishes for all preferences – you can opt for a starter of oxtail and foie gras empanadas, for example. It's also very expensive, and I'm sure my kids would have begged to share the $130 rib eye. Thankfully there's also a kids menu with $10-12 dishes like burgers and chicken tenders.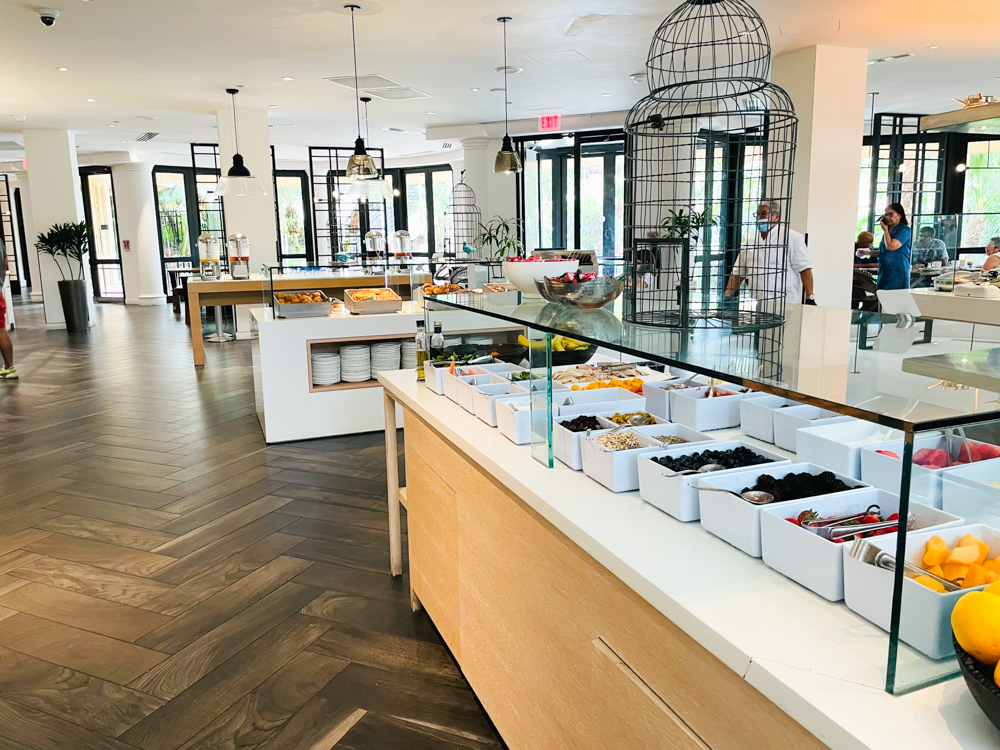 The main restaurant at the hotel, just below the lobby, is the lovely Lakehouse (so named for the two-story windows facing Lake Windsong). It's open from 7am to 2pm and 6pm to 10pm daily. We had a wonderful breakfast at Lakehouse on our last morning, with the kids opting for the extensive (and reasonably priced at $14 for kids 6-12 and $8 for younger ones) buffet and us adults choosing from the a la carte options. Everything was fresh and delicious, and the staff was kind and engaging. I definitely recommend coming here for breakfast or brunch on a day when you aren't visiting a theme park.
If you're looking for a fun option for lunch or snacks, check out the poolside bar at On The Rocks. The kids and I grabbed lunch there immediately after checking in to the Hyatt Grand Cypress and it was the perfect option for a relaxing afternoon enjoying the pool and other activities at the hotel. The adult drinks are around $15 each, but thankfully it's balanced out by the kids menu priced at $10 or less. I was in the mood for something a little lighter than typical poolside fare and was pleased with the ahi tuna rice bowl.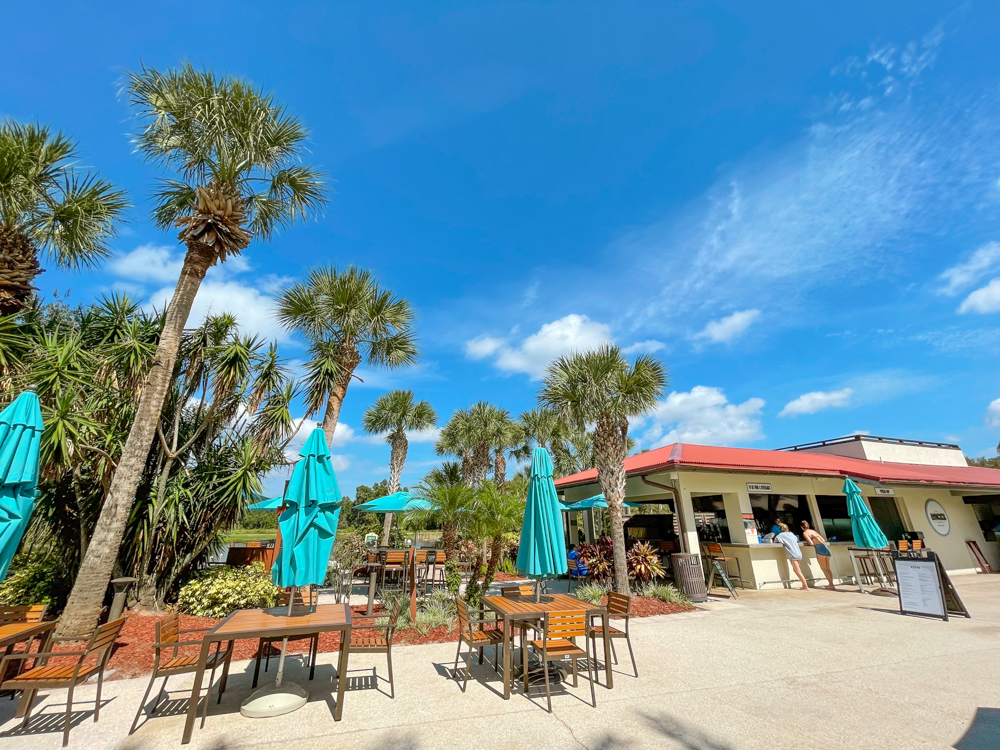 The final dining option on site is the lobby bar, which is often buzzing in the evening when there's a conference or convention meeting at the hotel. My better half was able to squeeze into the bar for a beer while he watched "the game" (whichever one it was) on the bar's TV.
Last but not least, there is a convenience store style market in the lobby. If you aren't in a rush to "rope drop" your favorite theme park, this can be a good place to grab a coffee and muffin to go in the morning. There are also plenty of snacks on hand and a bank of toasters and microwaves to heat up food. To avoid the line when we were trying to rush to Disney World, we actually grabbed food the night before and brought it up to our room. There are handy light breakfasts and snacks like cereal, hummus, mashed avocado, cuties, bottled Frappuccinos and more. Note that there is a Starbucks close by once you leave Grand Cypress Boulevard, but the line was astronomical and it wasn't accepting mobile orders at the time of our visit.
---
Transportation to and from Hyatt Regency Grand Cypress Resort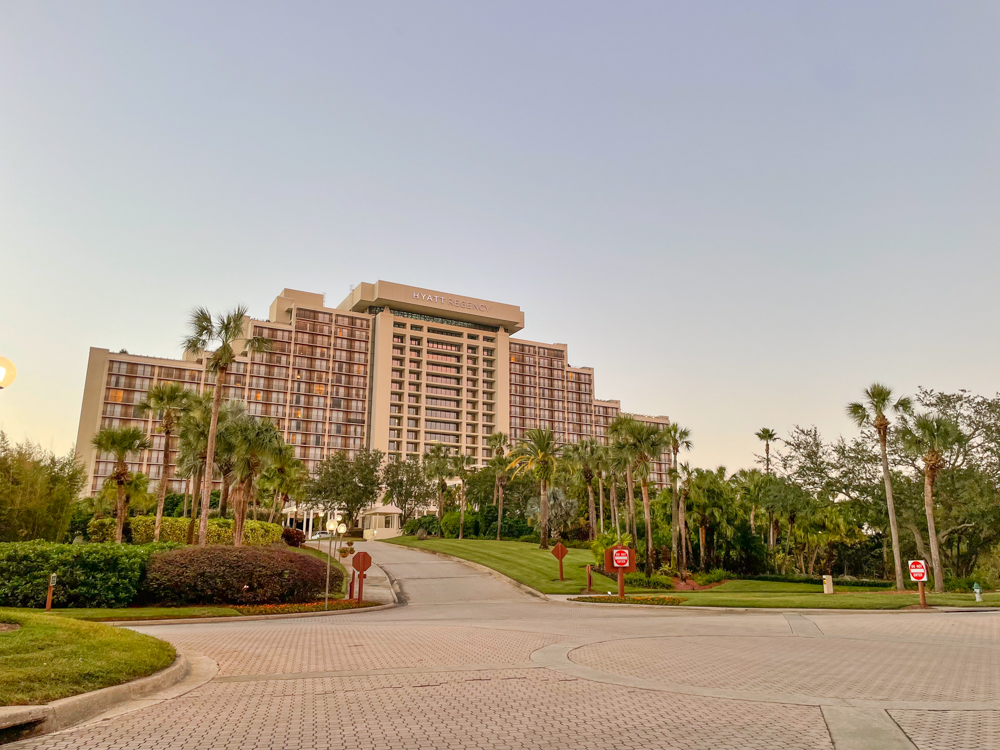 In most cases, I would recommend that you rent a car if you're planning to stay at the Hyatt Regency Grand Cypress. That's the easiest way to get from the Orlando airport to Walt Disney World vicinity (about 30 minutes) and will also be straightforward once you're at the hotel.
If you have an EZ-Pass at home, bring it with you zip through tolls at a discounted rate rather than paying your rental car company's "daily convenience fee" to use the rental car's Sunshine Pass – that's on top of the toll rates.
Once at the hotel, you'll pay $27 per night for self parking or $40 for valet. The self parking is on the far end of the pool area, so we found it most convenient to have one adult (who isn't me) retrieve the car and pull around to the lobby in the morning and then drop us off at the lobby at night.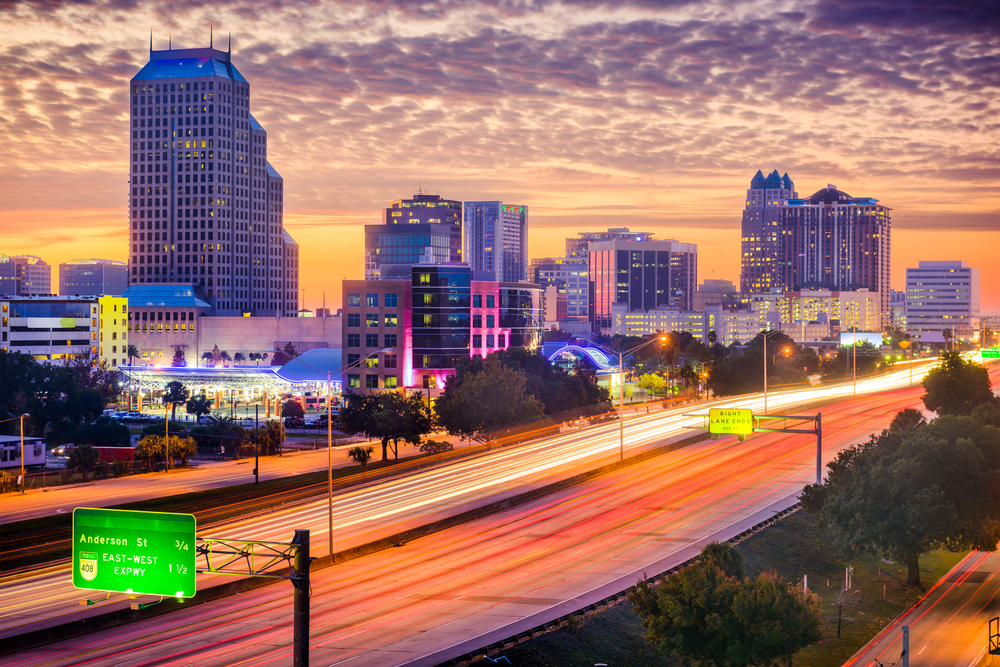 Don't want to rent a car? There's a Hyatt Regency Grand Cypress shuttle to Disney World's TTC. Unfortunately the schedule (posted at the front desk) is fairly limited at four daily round-trips and only goes to the TTC, from which you need to transfer to Disney's own transportation to get your your theme park for the day.
The earliest you could get to a park would be 9am and the latest you could leave a park would be around 10:15pm. It's not great if you want to "rope drop" or if you want to squeeze the last possible moment out of Magic Kingdom's late nights. Your specific shuttle times must be reserved the previous day.
Still, you can make it work with the Walt Disney World shuttle if that's your preference, especially if you're going to the parks that have shorter hours than Magic Kingdom. There's also a shuttle to Disney Springs. As with the Disney theme parks shuttle above, the timing is rather limited with just three round-trips per day but its more usable. If you already plan to have a car in Orlando, Disney Springs has ample free parking in its garages so the shuttle isn't necessary and won't save you any time or money.
Read more: 25 Tips for Disney World That Won't Make You Crazy
Universal Studios, however, is a tough situation. There are just two round-trips per day and the first one doesn't even depart from the hotel until after Universal Studios is open for the day. When you factor in a ~30 minute drive if there's traffic plus time to get through security, you'll be arriving at Universal just in time for the lines to be epically long. The return times aren't as bad but won't allow a leisurely dinner at Universal City Walk, for example.
Read more: 25 Essential Tips for Universal Studios Orlando
When weighing whether or not it makes sense to rent a car in Orlando, I'd compare the best rates you can find (check here and here) plus the cost of parking with how much you'd be spending on the airport to hotel transfer (around $50 each way for Uber or $16 per adult/$13.50 per child each way for a shared shuttle). Personally I'd bake in another $50-100 for Ubers around Orlando if the shuttle doesn't work out for a particular ride, and then you'll have to navigate taking Uber with a car seat and potentially using a locker at the theme park to store your seat.
Pros and cons of staying at Hyatt Regency Grand Cypress Orlando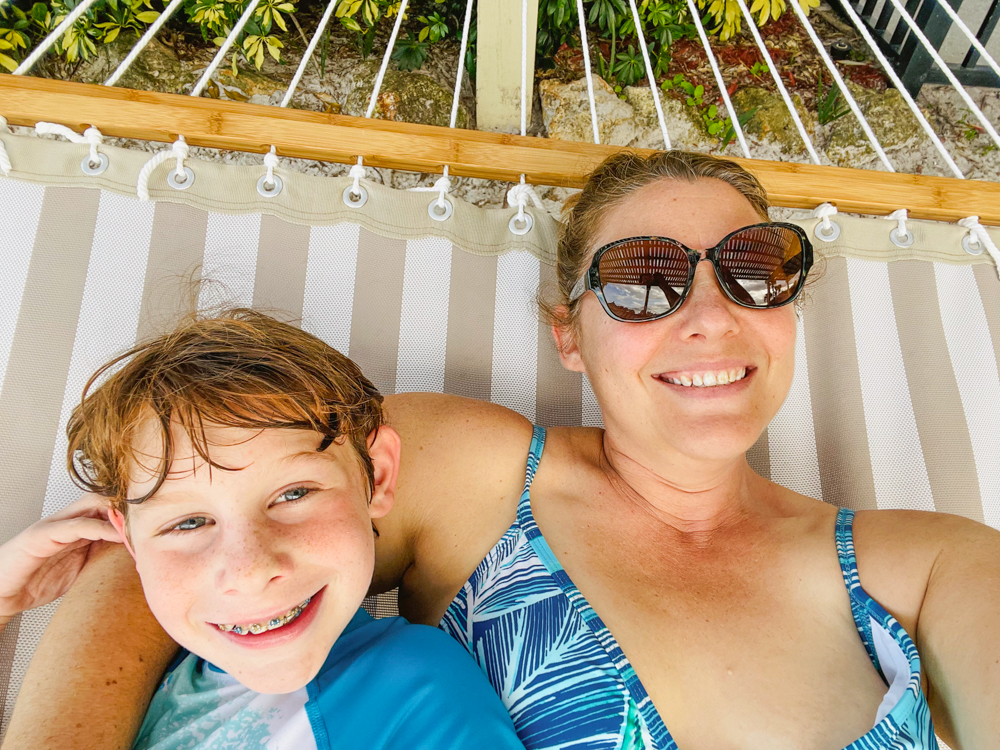 Overall, we had a phenomenal stay at the Hyatt Regency Grand Cypress. Since we were planning on a variety of things to do in Orlando besides visiting Walt Disney World it made sense for us to pick an Orlando hotel that wasn't affiliated with one park. We also wanted to build in some fun-filled downtime since hotel stays are such a joy for our kids!
Advantages of staying at Hyatt Regency Grand Cypress Orlando area
Fantastic on-site activities
Very close to Disney Springs, EPCOT Center and Hollywood Studios
Comfortable rooms
Variety of dining options
Easy Hyatt award redemption when you transfer Chase Ultimate Rewards points
Read more: Fantastic Things to do in Orlando With Tweens
Disadvantages of staying at the Hyatt near Disney World
No theme park benefits like early entry or express passes
Limited theme park shuttle service
Is the Hyatt Regency Grand Cypress hotel right for you? Click below to see the room options and prices for your dates!
---
Other Orlando hotels to consider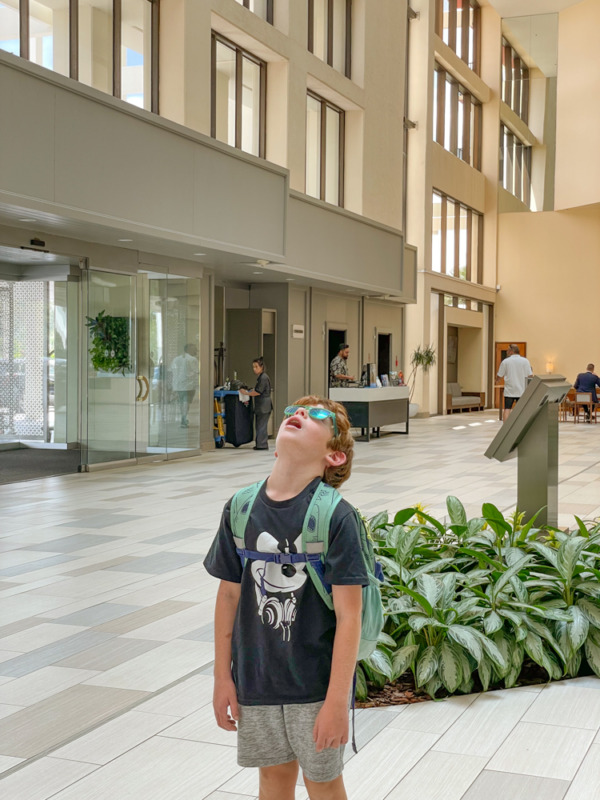 If the Hyatt Regency Grand Cypress doesn't sound quite right for your family, there are a million other hotels near Disney World and throughout greater Orlando for you to consider. Here are a few others:
If you'll spend most of your time at Disney theme parks: Consider Disney's Pop Century Resort or neighboring Art of Animation to enjoy early theme park entry and car-free transportation to the parks with the new Skyliner.
If you'll spend most of your time at Universal theme parks: Universal's Cabana Bay Beach Resort is a good option at a reasonable price point. You'll get into the parks early and can take the free shuttle bus or walk 20 minutes to the entrance. On-site activities include a great pool with water slide and lazy river plus a bowling alley!
If you don't want to rent a car but prefer off-property hotels: Signia by Hilton Bonnett Creek has a very robust Disney shuttle schedule, plus lots of on-site fun like a waterslide and lazy river, SCUBA lessons, lawn games and more.
Want to get more helpful travel tips like this? Sign up for our email list!
Hyatt Regency Grand Cypress FAQs
Can you see Disney fireworks from Hyatt Grand Cypress, Florida?
Yes, high floors with a pool view can see Disney fireworks. We even spotted them from the pool deck one night!
Are there alligators at Hyatt Regency Grand Cypress?
Yes, there might be alligators in Lake Windsong – after all, this is Florida. There are signs all along the shore at Hyatt Regency Grand Cypress warning guests not to go in the water unless they're in a boat or on a paddleboard.
Does Hyatt Grand Cypress have a Regency Club lounge?
Yes, Hyatt Grand Cypress has a Regency Club. However, as of our visit in October 2022 it didn't appear to be open.
How far is the Hyatt to Disney World?
The drive from this Hyatt near Disney World varies depending on which park you plan to visit. Here are approximate drive times:
-Hyatt Regency to Magic Kingdom TTC – 15 minutes
-Hyatt Regency to EPCOT/Hollywood Studios – 10 minutes
-Hyatt Regency to Animal Kingdom – 20 minutes
Does Hyatt Regency Grand Cypress have a shuttle to Disney World?
Yes, there is a limited shuttle that runs from the Hyatt Cypress Orlando to Disney World.
Does Hyatt Grand Cypress have a shuttle to Disney Springs?
Yes, there is a shuttle from Hyatt Grand Cypress to Disney Springs.
Does Hyatt Grand Cypress have a shuttle to Universal Studios?
Yes, there is an extremely limited shuttle from Hyatt Grand Cypress to Universal Studios.
Planning the rest of your trip to Orlando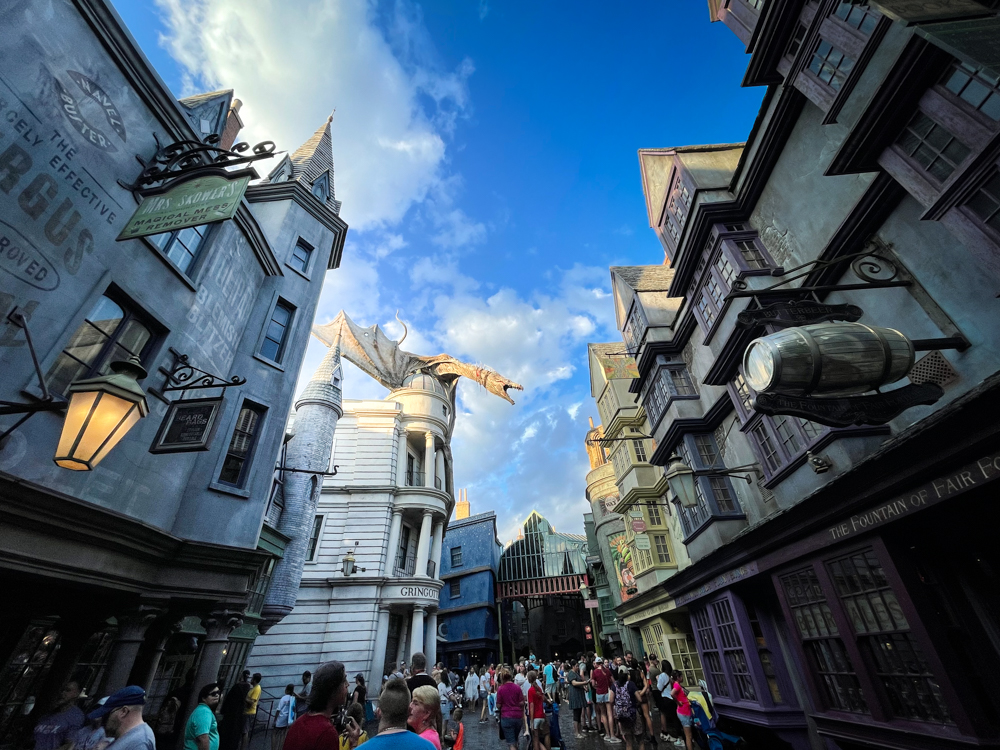 Want to keep planning your trip to Orlando? Check out these helpful articles:
Still planning? Pin this for later!