"Are there really that many things to do in Miami with kids?"
As I sat on the tarmac waiting for our delayed flight to take off, that was the question a fellow family travel blogger posed to me. This was our third try at a family trip to Miami, and her skepticism had me a little nervous.
It Miami kid-friendly? As it turns out, the Magic City has something for everyone and it's truly what you make of it. There are plenty of things to do in Miami for kids. We had a jam-packed weekend in Miami itinerary and there are still plenty more unique things to do that are drawing us to return (I've already booked for next year).
After reading this article you'll have tons of great idea for thing to do with kids in Miami, where to stay in Miami with kids (answer: it depends!) and some important logistical considerations.
---
Where to stay in Miami with kids
I'll admit that I second-guessed the best area to stay in Miami with kids basically until we got there! We were very pleased with our choice in the end, but there are a few important factors for you to weigh.
First off, the best place to stay in Miami with kids will depend on how you want to spend your time and how you want to get around. We opted to rent a car, which worked out perfectly since we were flying into Palm Beach and then explored a variety of Miami neighborhoods.
Plenty of families choose to rely on a combination of public transportation (Bright Line trains, Metromover, trollies and more) and Uber to get around. Just remember that you'll be lugging a day's worth of necessities – from snacks to booster seats – if you do that.
If you're trying to plan your family trip to Miami on a budget, you'll definitely want to consider grabbing a Chase Sapphire Preferred credit card and transferring the points to Hyatt. That card gives you a 60,000 point sign up bonus, while the awesome hotels I've included below start at just 9,000 points per night! Why pay for hotels when you can get them (basically) for free? Hyatt even covers your resort fee when you book with points.
Read more: Looking for the Best Credit Cards for Family Travel? Check These Choices
Hyatt Regency Coral Gables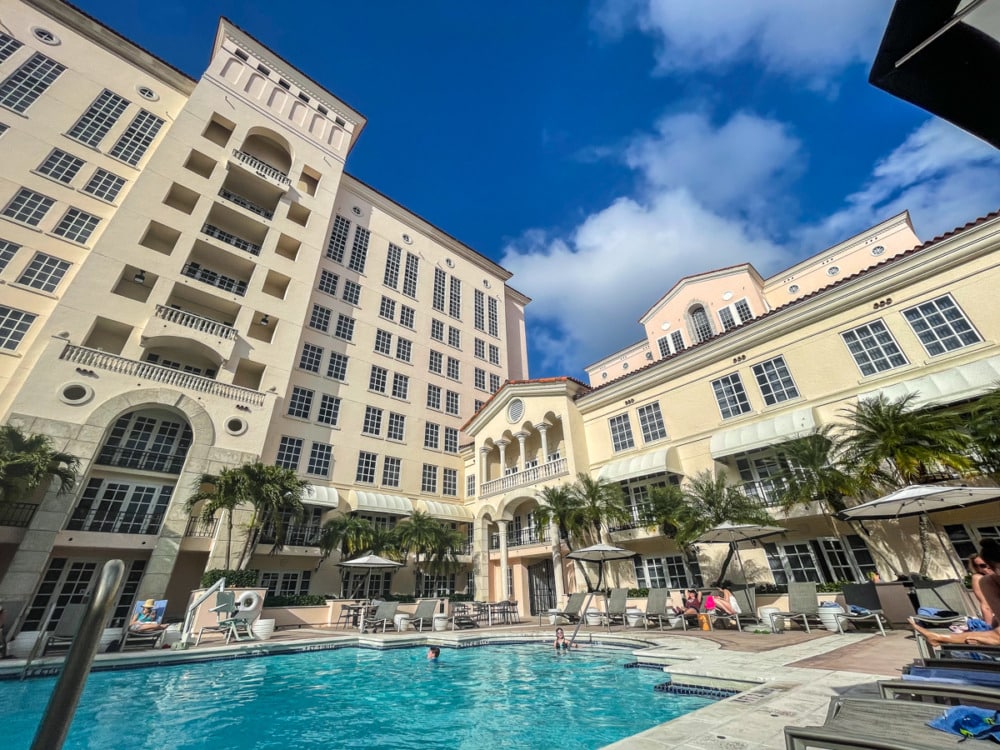 If you're renting a car, I give a strong vote to where we stayed: Hyatt Regency Coral Gables. It's convenient enough to drive to all the main family-friendly activities Miami, plus you can enjoy leisurely evening meals and strolls around Coral Gables itself (particularly along Giralda Avenue).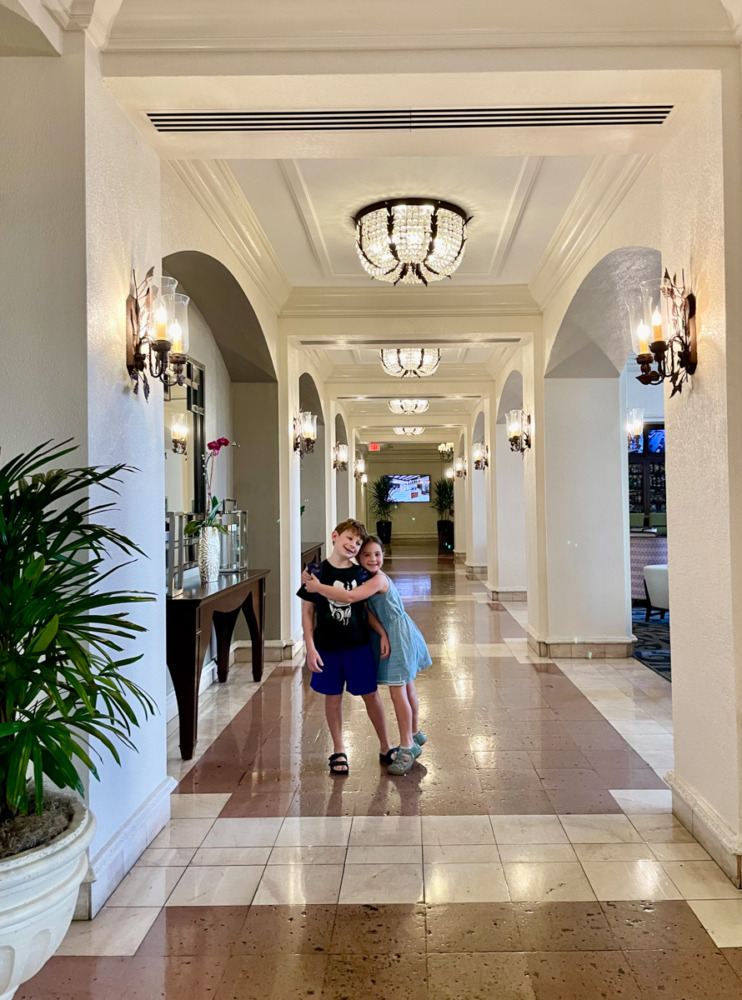 The hotel is beautiful, including a lovely outdoor pool that's as warm as a bath tub if you go for. a night swim! The pool was a huge hit for my kids, and unlike many downtown hotels there's no "scene".
The Confidante Miami Beach
Want to visit Miami Beach with kids? Book a room at The Confidante Miami Beach, which is located a little away from the ruckus in Mid Beach. It's right on the beach and offers chairs and umbrellas so you don't have to lug anything with you – so helpful if you're visiting Miami with a baby or toddler who needs extra sun protection! Unlike some other hotels, those amenities are included with your resort fee. There are also two pools and
The Confidante is just a quick 20 minute ride in your rental car or Uber from the Miami airport, science museum, Wynwood and more. We can't wait to stay there for our upcoming return trip to Miami with kids!
Hyatt Regency Miami
Don't plan on renting a car in Miami? You'll want to stay along the Metromover downtown at a location like the Hyatt Regency Miami – the closest station is just a 3 minute walk. You can easily get to most of the top Miami attractions for families using public transportation or hop in an Uber if you want to hit Miami Beach. It's located just across the river from the popular Brickell neighborhood and within walking distance (if it's not too hot) of places like Calle Ocho, Bayfront Park and more.
This hotel wouldn't necessarily be my top pick, but if you're able to book it for free with your credit card and avoid renting a car thanks to its central location then it's a winning pick for a trip to Miami on a budget.
---
Things to do in Miami with kids
Tour Wynwood + murals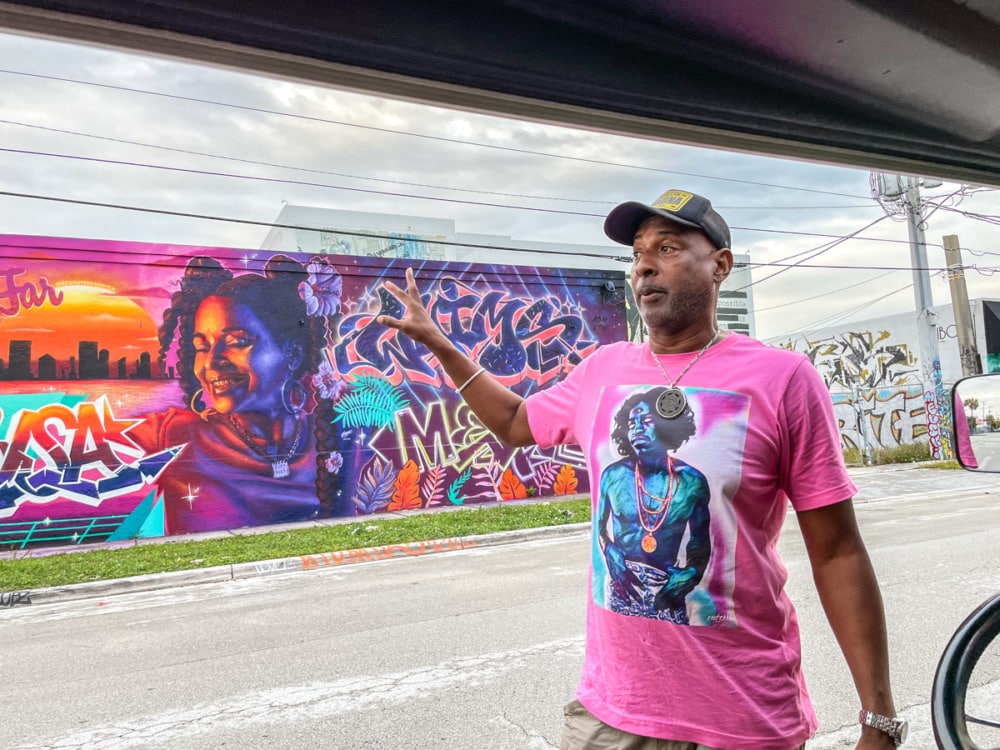 One of the most unique places in Miami is the Wynwood neighborhood, which was built as a warehouse district a century ago. After a challenging few decades, Wynwood today enjoys global recognition as one of the best places in the world to see street art – ranging from business-sponsored walls to municipally-funded murals to unofficial tags (sometimes in places that are free for the painting, and unfortunately sometimes in ways that defaces other art).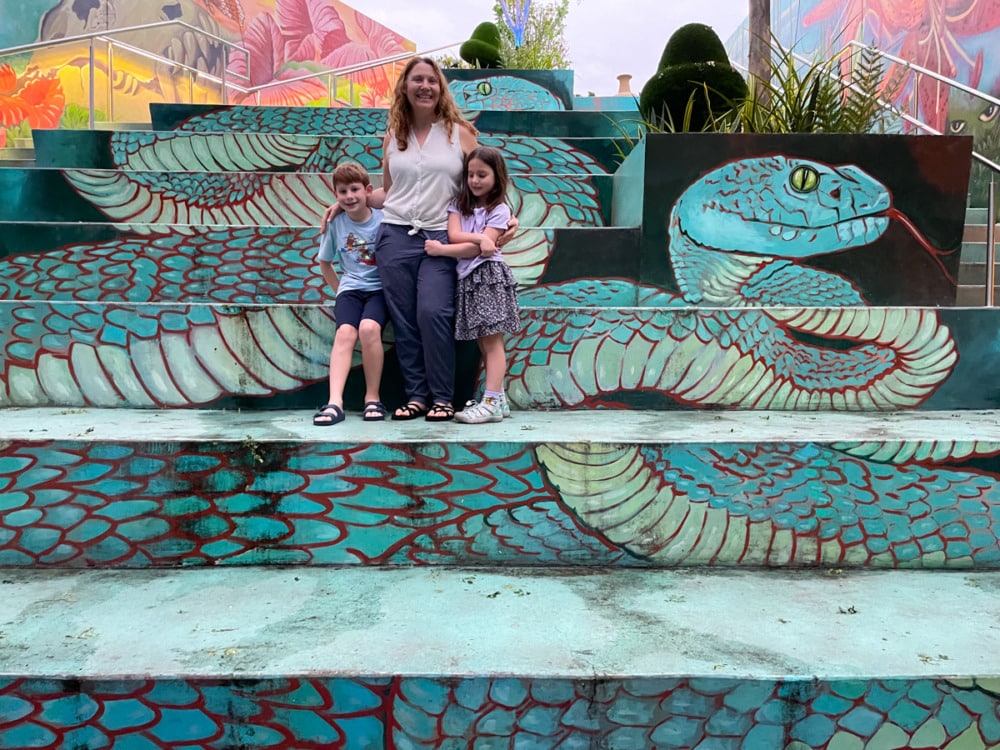 No matter how old your kids are, be sure to take them on a tour of Wynwood street art. We opted for this golf cart tour of Wynwood murals, which was a great way to see a huge range of art. Your tour guide is a local muralist as well, so you'll learn a lot about the artists in the community, techniques that are used and how the neighborhood is coping with tensions as it rises in popularity. There are so many hidden gems that a visitor could never find on their own that it's definitely worth going with a guide. This tour was truly a highlight for us all!
If your children are too young to ride without a car seat or booster seat, you can also opt for a Wynwood street art walking tour with the same organization!
It's good to know that in 2021 the Wynwood Walls outdoor gallery started charging for admission. They have an awesome, curated collection of street art from around the world in addition to an indoor gallery with smaller pieces and sculptures. Get your ticket here if you'd like to check it out!
Explore the Frost Science Museum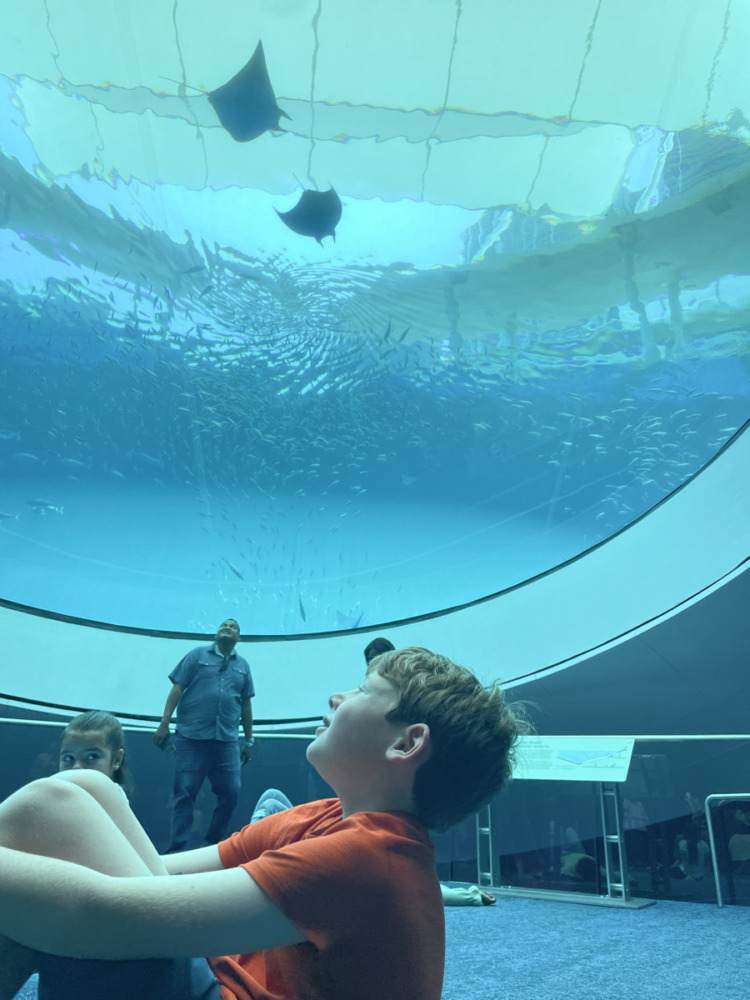 One of the best things to do in Miami with kids is spend an afternoon at the Frost Science Museum in downtown. The Frost has everything – a museum, an aquarium and a planetarium in one massive building.
Perhaps the most unique feature is that you'll spiral through three levels of aquatic habitat designed to mimic south Florida's surroundings. Your journey ends at the roof level, which even includes mangroves and a beachy area for shore birds! The views out to Miami's port are amazing to boot.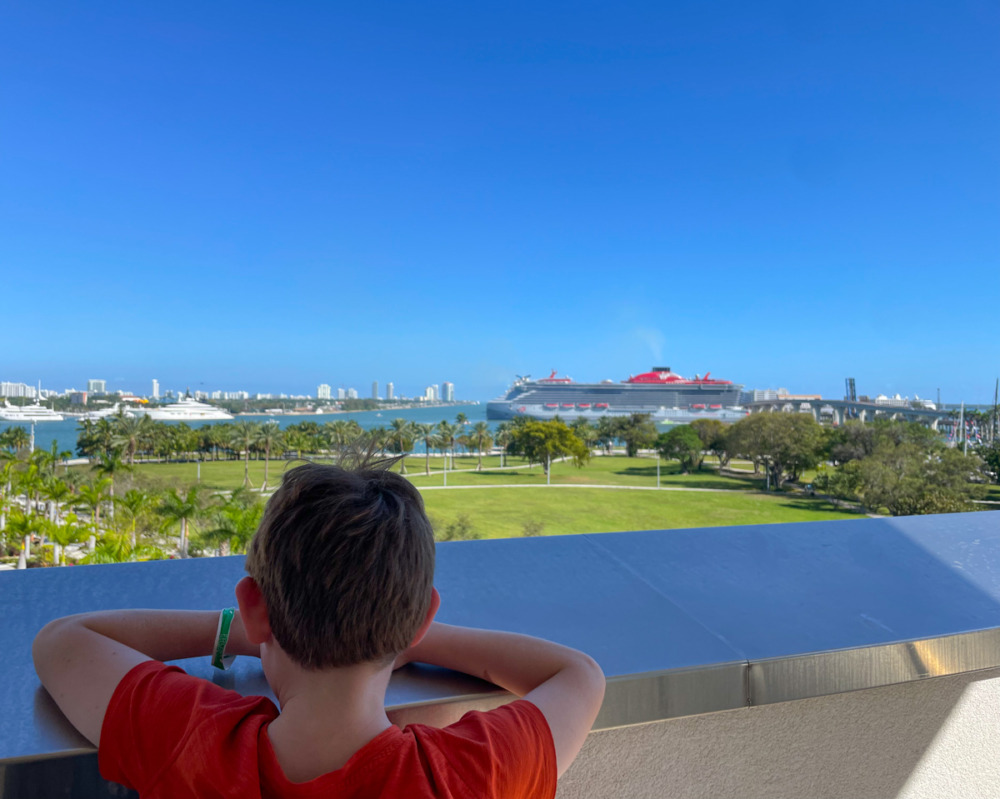 The Frost really offers something for everyone, from dinosaurs lovers to budding biologists, and with tons of interactivity! Even better, if you're a member of your local science museum you can get free entrance thanks to the ASTC passport program. If you don't have a science museum membership, grab your tickets here to guarantee admission – it can get very busy if you're visiting over a weekend in Miami with kids.
Embrace Miami's distinctive culture
Perhaps more than any other city in the US (and rivaling Quebec within North America), Miami's culture represents the melding between what we often think of as "American" and groups that have brought enormous influence to the region. Miami is Cuban, it's Black, it's Miccosukee, it's Jewish, it's Venezuelan, it's more than the sum of its parts.
There are so many ways to honor and experience Miami's cultures and diversity! One of the top Miami things to do with kids (or without!) is take a small-group guided tour of Little Havana. It's one of the most unique neighborhoods of Miami and offers a real sensory experience – brightly colored murals and rooster statues, the sounds of clinking dominos in the park, the smell of hand-rolled cuban cigars and of course cold sweet ice cream flavor with nods to Cuba. We were bummed that our own tour was cancelled due to a parade, but look forward to exploring more on our next visit!
At the very least, be sure to drop by the always-popular Versailles restaurant for dinner. Prepare for a wait unless you go at an off time, but I promise it'll be worth it! My kids are still talking about the amazing chicken and black beans they had, and a classic mojito was the perfect way for this grown up to relax after a day of running around.
Take a boat tour in Miami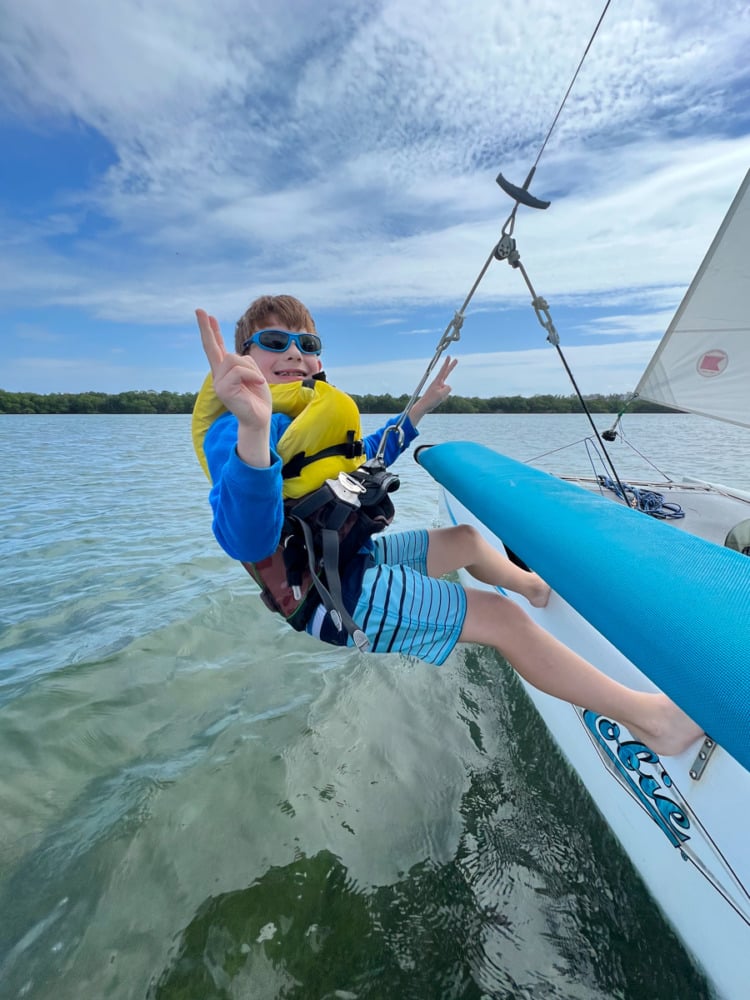 You can't go to Miami and not get out on the water, and the good news is that there are tons of ways to do it! We spent an amazing morning sailing in Biscayne Bay – I love this experience because it's a leisurely pace and takes a maximum of 5 guests, so it never felt crowded.
Unlike so many options, this one is actually a family-friendly boat tour in Miami. Others I looked at were basically "booze cruises" or seemed like they'd have the wrong vibe. In this case, we got a wonderful, intimate experience with our captain Juan Pablo. He's a dad of two young kids, so he was able to provide appropriate life jackets for all of us and loved having the kids aboard!
We stopped by a tiny uninhabited island, visited serene mangroves, played on a sand bar and enjoyed feeling the breeze on our faces. Just a word of warning: when JP suggests that you put everything in the dry bag he provides, do it!
If you'll have a bigger group, this private boat rental is a great option! The captain has fantastic reviews, and it's an amazing bargain for the two hours cruise since the boat holds up to 8 guests.
No matter how you choose to do it, one thing's fore sure: spending a few hours out on the water is absolutely one of the best things to do with kids in Miami!
Wander the Fairchild Tropical Botanical Garden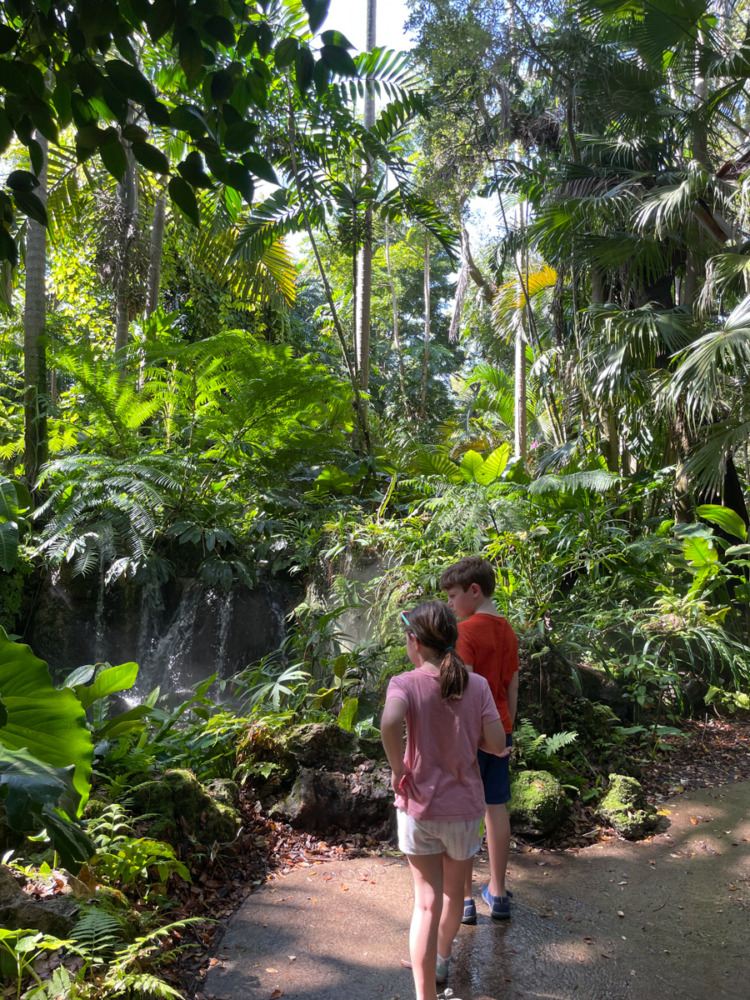 Escape the crowds at the Fairchild Tropical Botanical Garden at the edge of Coral Gables, one of the world's most impressive tropical gardens! This is a wonderful place for kids to run around and explore nature. You'll see incredible flowers (including an impressive orchid collection), crawling vines, flowing waterfalls and unique trees. There's also a large butterfly house and – my kids' favorite – plenty of lizards crawling around for a contact-free scavenger hunt.
Explore Miami's art scene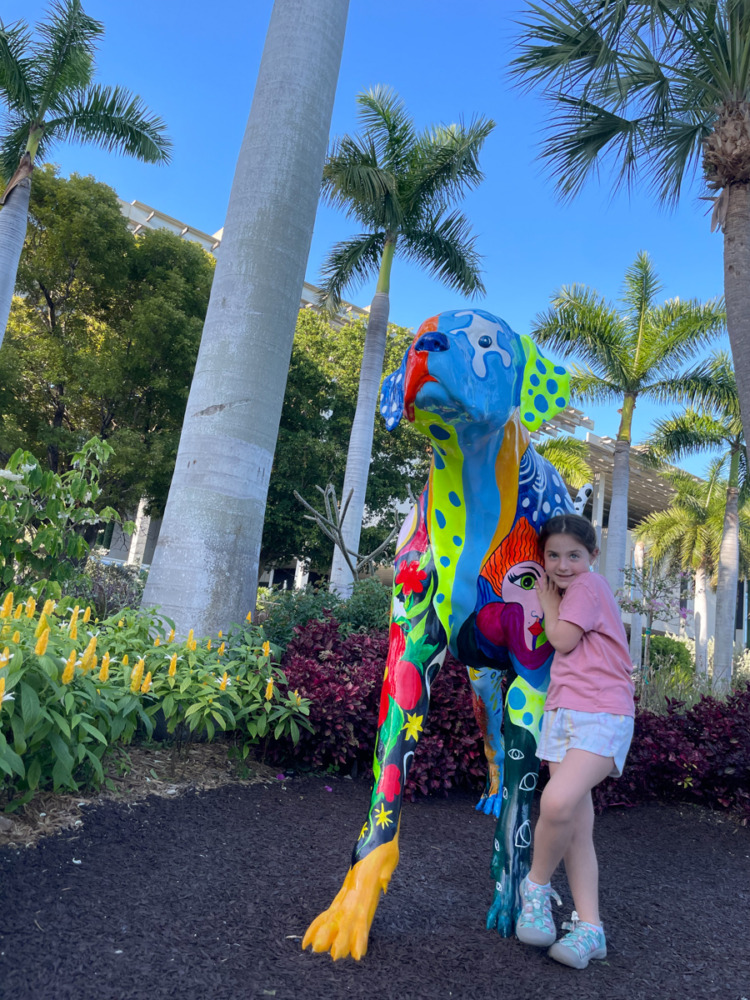 While kids and art don't always go hand in hand, there are so many places in Miami that make art accessible to all ages!
One of the best free things to do in Miami with kids is take a stroll along "Dogs and Cats Walkway" right next to the Frost. There are 52 giant aluminum statues of – you guessed it – dogs and cats, all painted by different artists and with different themes. While the installation itself caused some political drama, the product does a great job of making art exciting for all ages.
If you have more serious budding artists, take them next door to the Pérez Art Museum – it shares a campus with the Frost Science Museum so you can get away with paying for parking just once (if you have the stamina for two museums in one day). The Pérez is focused on modern and contemporary art, which many kids will find interesting an engaging. There are activities in the galleries and fascinating rotating exhibits too!
---
Where to eat in Miami with kids
Now that we've talked about what to do in Miami with kids, I would be remiss if I didn't give you a few ideas for family-friendly restaurants in Miami! We ate so well during our last visit and there are few cities in the US that will give you such an explosion of flavor at every stop.
Versailles
I mentioned it before, but I'll mention it again: Versailles is a can't-miss restaurant in Miami for kids and adults alike. My daughter is still talking about it six months later! Whether you get excited about moist, flavorful chicken, perfectly cooked beef or wonderfully seasoned rice and beans you'll find something for everyone. Go at an off time and bring activities to keep the kids busy while you wait for your turn!
La Sandwicherie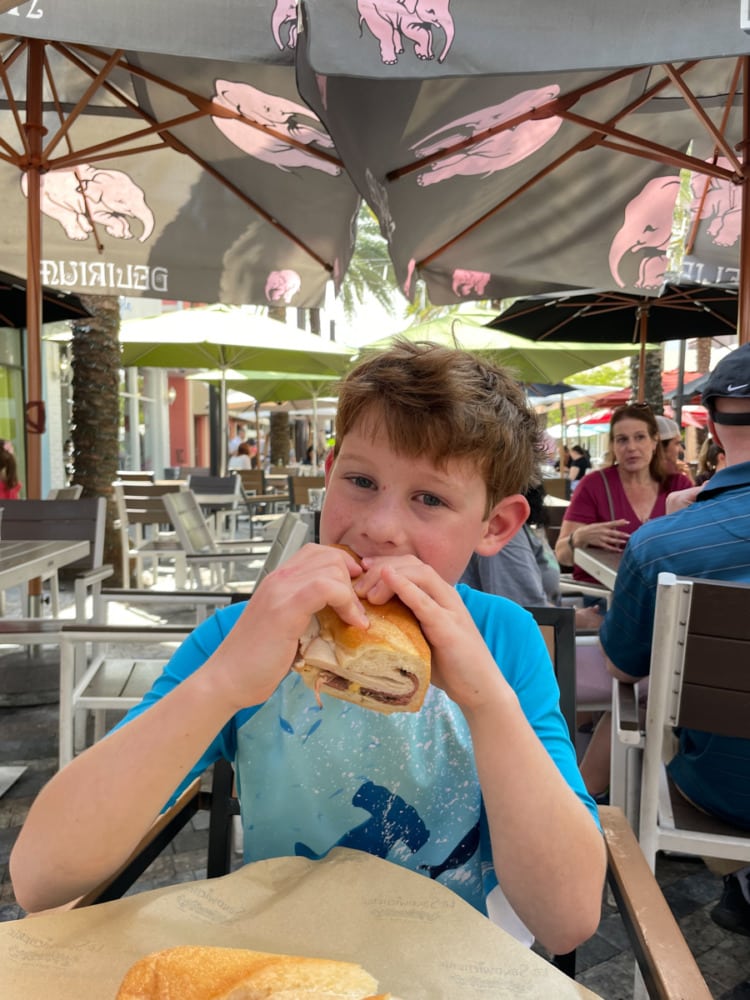 If you have a kid who's serious about sandwiches, yourself to one of La Sandwicherie's locations in greater Miami. Get a baguette loaded with your favorite meat and toppings, or if you're in the mood for lighter fare you can order one of their very filling smoothies or fresh juices. It's an easy way to satisfy the whole family! We visited the Coral Gables location, but their more notable locations are in South Beach and North Beach.
Bachour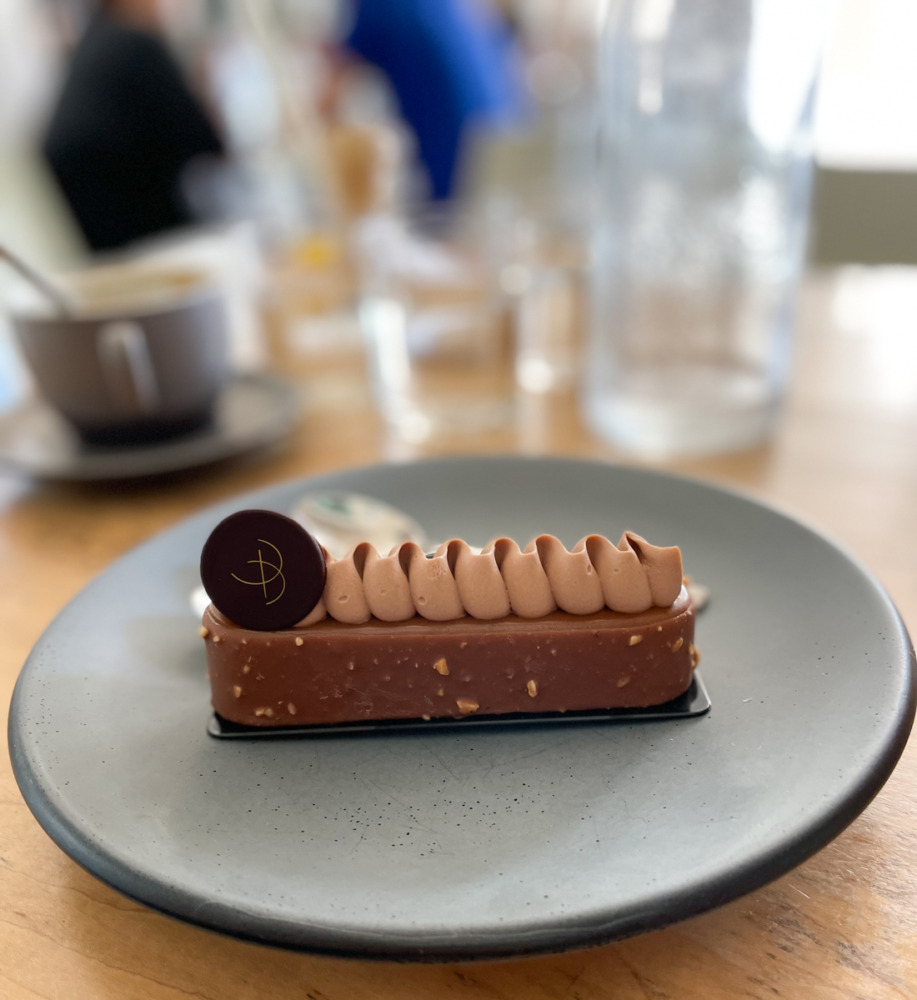 Whether you visit for a decadent brunch or just swing by for desserts that look straight from Parisian pâtisseries, put Bachour in Coral Gables on your "must eat in Miami" list. It's a whole new level and every bite tastes as good as it looks.
If you want some nourishment before your sweets, our family can vouch for the chilaquiles and the brisket and eggs.
CRAFT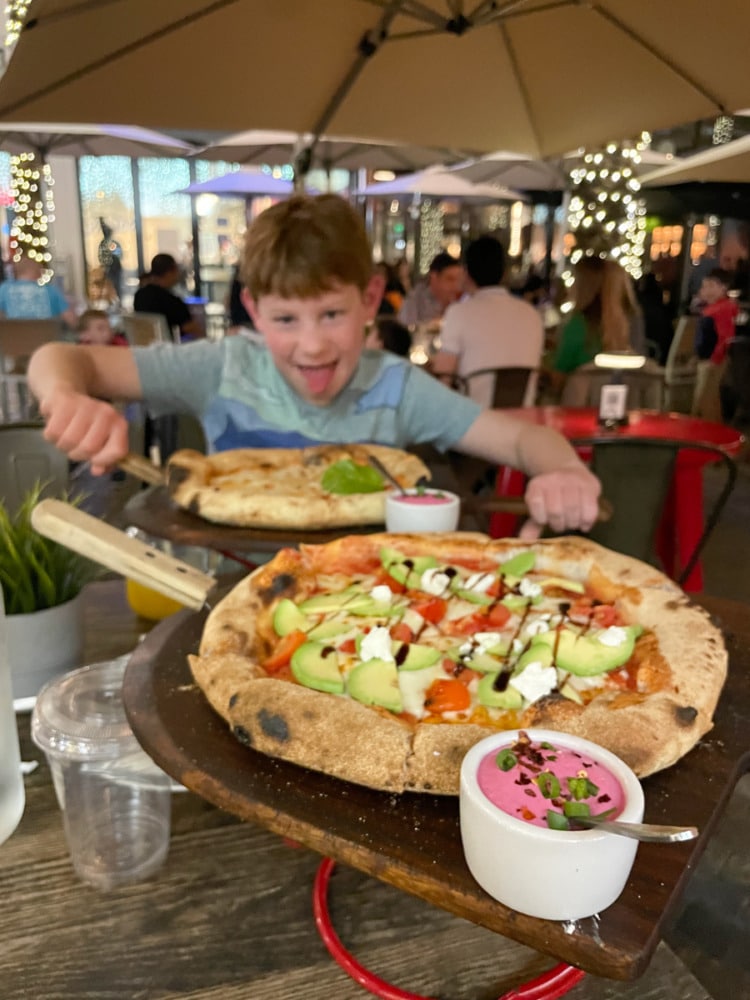 While Craft may be less unique than some other Miami restaurants, the quality of their pizza is amazing and the vibe is fun and welcoming for kids. You can't go wrong with any of their pies, and the tender crust dips perfectly in the included beet sauce – trust me, it works. CRAFT is extremely popular with both visitors and locals, so be sure to reserve a table at whichever of their locations is most convenient for you: Coral Gables, South Beach or Brickell
Threefold Cafe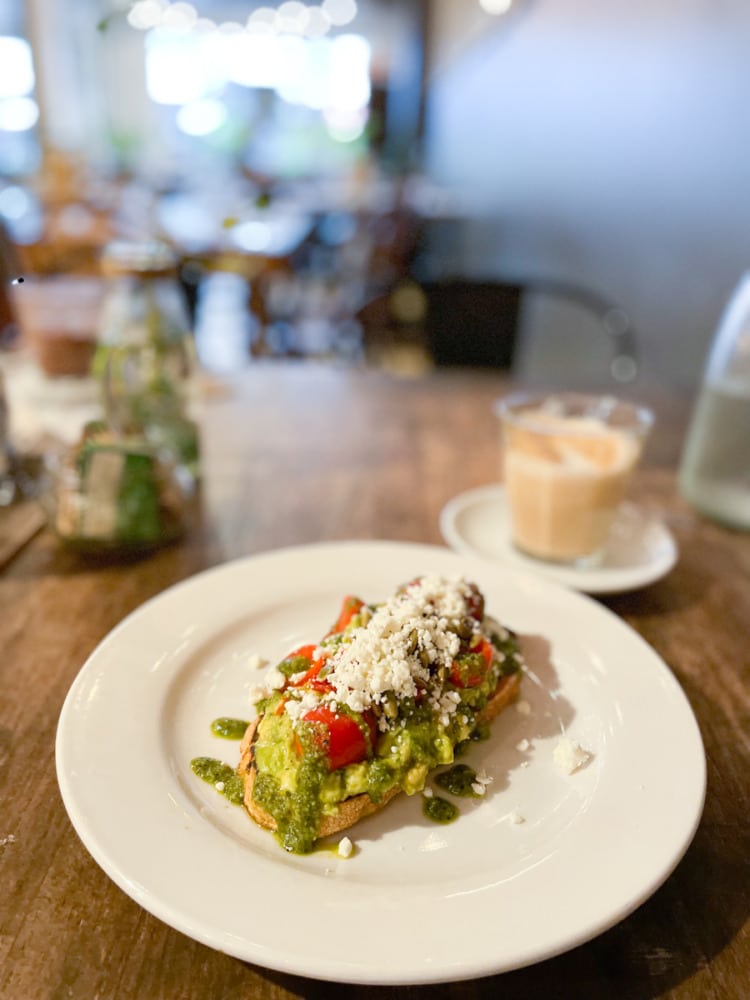 Looking for the best brunch in Miami? Look no further than the Aussie-inspired options at Threefold Cafe. Miami-based friends recommended it to me and I was thrilled to find it located within my pre-coffee stumble from the Hyatt Regency Coral Gables. There's a huge range of avocado toasts available (along with many other savory and sweet options), plus flat whites to get your day started right and make you feel like you're back in Australia.
Morelia Gourmet Paletas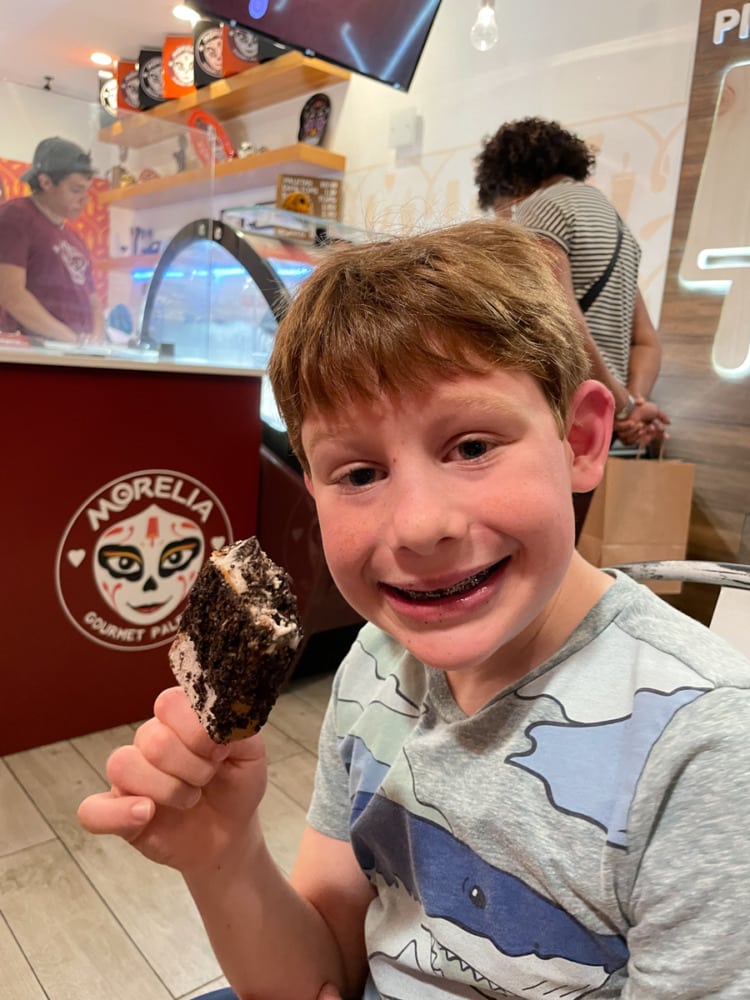 Yes, our family will travel for sweets. Morelia Gourmet Paletas isn't an inexpensive option, but it's the darling of the Wynwood dessert scene these days! You can choose your base popsicle from a variety of traditional and contemporary Mexican options, and then opt to add serious sauces and toppings to it. Morelia is a one-of-a-kind experience!
Coyo Taco
Speaking of Wynwood, we had an awesome taco dinner at famous Coyo Taco. There are tons of options to choose from and a fun vibe if you dine on their patio on bustling 2nd Avenue.
That said, I'm a little "taco curious" after seeing a huge line of locals stretching from The Taco Stand nearby. It's in a quieter area (where we parked for our awesome Wynwood street art tour) but incredibly busy – in the right way – and you can smell the tortillas from a mile away. We'll try this one next time and report back!
---
Planning your family trip to Florida
Want to extend your family trip to Florida? Don't miss these helpful resources: