There are so many resort options at Walt Disney World, and some are more budget-friendly than others. The All-Star Music Resort is one of the less expensive options for staying at Walt Disney World, but it still is a great resort.
All-Star Music offers many of the same resort benefits, like FREE transportation around the Walt Disney World property and early access to purchase Lightning Lane entry for two different attractions daily.
Even though All-Star Music Resort is one of the less expensive resorts, it still has all of the Disney touches you come to expect including immersive theming and excellent customer service.
Thanks to Lauren from Where the Wild Kids Wander for sharing her experience at the All-Star Music Resort, as well as what to expect at this Disney hotel!
Cheapest Ways to Book Disney All-Star Music Resort
We all know that a trip to Walt Disney World in Orlando gets extremely expensive, and there's no shame in trying to save money on your trip! I recommend that you book through whichever one of these authorized Disney agents is offering the best deal for your needs.
Undercover Tourist – This is usually the cheapest option if you plan to rent a car in Orlando, as you'll get a small discount on your hotel and tickets but a BIG discount on your rental car! It can save you several hundred dollars.
Get Away Today – They regularly run great discounts on Disney vacation and include concierge services when you book with them.
If you purchase your Disney World tickets separately (or receive them through a conference/program you're attending, for example) you can also book Disney's All-Star Music Resort on its own.
Quick Facts About Disney's All-Star Music Resort
All-Star Music is one of Walt Disney World's value resorts and sits between its sister resorts, All-Star Sports and All-Star Movies, and they're all about the same price.
You'll get early theme park entry and be able to purchase Individual Lightning Lanes at 7am since you're staying on property.
The closest of the Disney parks to All-Star Music is Disney's Animal Kingdom.
Transportation options include Disney's buses (FREE) or Minnie Vans (for a fee).
The resort hosts 1706 rooms, including 192 family suites, in five separately themed areas.
All-Star Music Resort is located at 1801 W Buena Vista Dr, Orlando, FL 32830
The resort has two pools, the Intermission food court, and the Singing Spirits pool bar.
Laundry facilities are located next to each pool.
What's the difference between a Disney value resort and the moderate and deluxe resorts? While there's some variation within the categories, moderate and deluxe resorts offer higher end dining options, water slides, more impressive theming and sometimes more convenient transportation options like monorail or Skyliner.
Read more: 25 Tips for Disney World That Won't Make You Crazy
Disney's All Star Music Resort Location
Disney's All-Star Music Resort is in the Animal Kingdom Resort Area of Walt Disney World theme parks. It's closest to Disney's Animal Kingdom and Blizzard Beach Water Park, as well as the other All-Stars.
There is bus transportation to and from the parks and Disney Springs. During less crowded times the buses will also stop at All-Star Movies and All-Star Sports while during peak times each of these Disney property hotels gets its own bus.
Disney's All-Star Music Resort Layout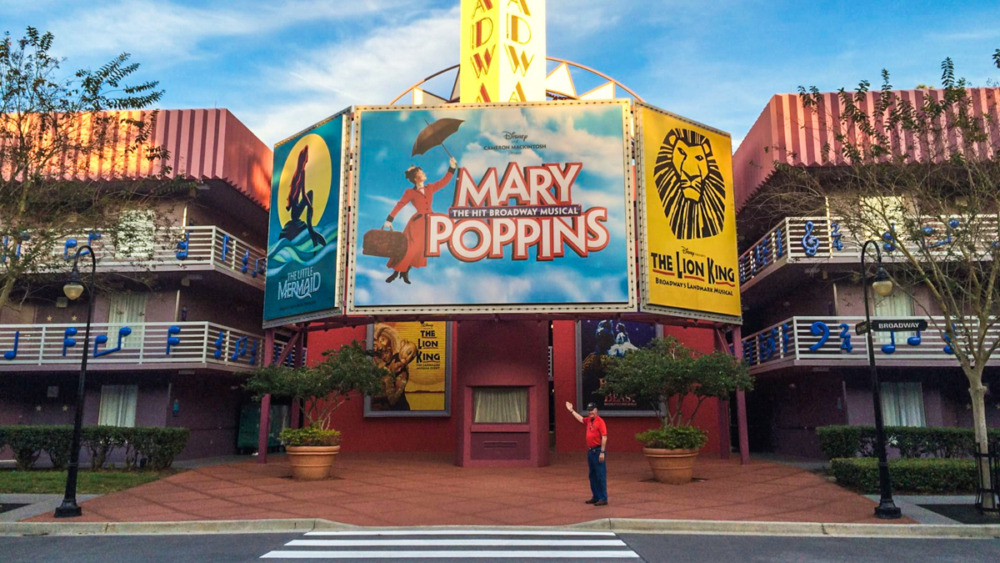 All-Star Music is a large resort divided into five musically-themed sections of guest rooms: Calypso, Jazz, Rock, Country, and Broadway.
The Calypso buildings are closest to the lobby, food court, bus stop, and main Calypso pool. They are also where you will find the family suites. The Calypso rooms are considered "preferred rooms" and cost more than the other rooms at the resort.
Jazz, Rock, Country, and Broadway all surround the quiet piano pool. The Jazz Buildings are closer to the lobby than the other three sections.
The Jazz and Broadway sections were our two favorites at the resort. The Jazz section feels like you're walking around a New Orleans garden. And we loved walking down the "street" in the Broadway section!
All-Star Music Pools
Every Disney Resort has heated pools on the property. Typically, there is one large main pool and at least one small, "quiet" pool.
At All-Star Music Resort, the larger pool is guitar-shaped. It's the closest pool to the entrance and sits in the Calypso section of the resort. The main Calypso pool is where many resort activities occur, so it can be loud during the day. If you like to return to your room mid-day for a nap, you'll want a room facing away from the pool or in another resort section. This is also where you'll find Disney characters: the Three Caballeros!
Pro tip: Pack a pool bag for your arrival day. You can change in the restrooms by the pool if your room isn't ready yet.
The other pool at All-Star Music Resort is the piano pool. It's closer to the other sections of the resort and has a much quieter vibe. I love the black and white keys painted on the deck!
Disney also provides swimming vests at each pool. So if you forgot to pack your own, no worries! They've got you covered.
The pools are heated and fun to swim in, even on a cool night! We enjoyed both pools and never experienced any crowding. The only downside is the lack of waterslides, which is typical for a value resort. But our kids didn't seem to mind!
There are laundry facilities and bathrooms are located next to each pool, so it's convenient to run a load while the family swims.
Pro tip: When you stay at an All-Star Resort, you can use the pools at the other All-Star Resorts, giving you six pools to swim in and enjoy!
Activities at All-Star Music
Like the other Disney resorts, many activities occur during the day. Games and other fun happen next to the main pool during the day. They also have a campfire with s'more roasting in the evening.
On select nights, you can gather by the main pool to watch a movie under the stars. Around the resort, you'll find an arcade, playground, and jogging trail.
Read more: Fantastic Things to do in Orlando With Tweens
Rooms at All-Star Music
At 260 square feet, the standard room at All-Star Music are about the same size as other value resorts on the property. Both the standard and preferred rooms have recently been refurbished (2021) and look similar to the updated rooms at Pop Century Resort.
They all have two queen beds. One of those beds is a Murphy bed, giving you a small table and chairs to use when the bed is folded up. While some families might not bother folding the Murphy beds up during the day, it's nice to have the option if you want to eat a quick breakfast or lunch in your room.
Each room also has a coffee maker and mini-fridge – two of my favorite room amenities!
The All-Star Music Family Suites
If you'd like more room to spread out on your Disney World vacation, you might want to book a family suite. All-Star Music is the only All-Star Resort to offer these two-room suites. Each one offers a main bedroom with a queen bed, a kitchenette with sink, microwave, and full-size refrigerator, two full bathrooms, and a living area with two queen pull down beds. The family suites can accommodate up to six adults, so they're the least expensive way for large families to stay on the Disney property (and get all the perks that come with it).
The additional space to spread out makes relaxing after a long park day easy. Using the kitchenette to prepare breakfast or lunch in the room can help you save money at Disney. The two full bathrooms make getting ready for the parks and bed much faster with a family.
We have stayed at All-Star Music on two separate occasions, getting to experience both the standard rooms and the family suites. While the standard rooms were fine for sleeping, we recommend budgeting for the family suite if you plan to spend more time on the resort property and in your room. It's worth it for the extra bathroom, kitchenette, and more space!
Dining at All-Star Music Resort
The downside of staying at one of Disney's value resorts is the lack of restaurant options.
At All-Star Music Resort, Intermission Food Court is the main restaurant. While they call it a "food court," it offers more than burgers and chicken fingers. Guests have options like seared salmon and braised beef and more typical fare like pizza. Disney considers this a quick service restaurant.
Even though the food is "cafeteria style," we still found the offerings very tasty! We even ordered pizza and salad one night, which was enough to feed our whole family (the kids were small at the time). There is plenty of seating available as well. Even on busy mornings, we were able to find a table. You can also eat outside, which is nice!
Next to the pool, Singing Spirits pool bar offers guests light fare and drinks. Mocktails, cocktails, and wine and beer are available for purchase throughout the day.
Read more: How to earn the Southwest Companion Pass to get free flights
Transportation Options at All-Star Music
The bus is the only free transportation option at All-Star Music. Buses typically start running 45 minutes before park opening and up to one hour after closing.
During peak times, there is usually a dedicated bus to All-Star Music. However, during less busy times of the day or less popular times during the year, All-Star Music may share a bus with its sister All Star hotels, All-Star Movies, and All-Star Sports.
We had mixed experiences with the buses. Some mornings, we waited 15-20 minutes for the bus to Magic Kingdom. At other times, we walked right on. Digital signs near the bus stop show the estimated arrival time of the next bus, so you have an idea of how long you'll be waiting.
Other Things to Keep in Mind
The All-Star resorts typically host teams and school groups for competitions and class trips. You may encounter these large groups at the pool, food court, and on the buses during your visit.
There was a cheerleading competition going on during our most recent visit. The buses and food court were more crowded in the mornings, but otherwise, it didn't impact our stay.
Disney's All-Star Music Review Summary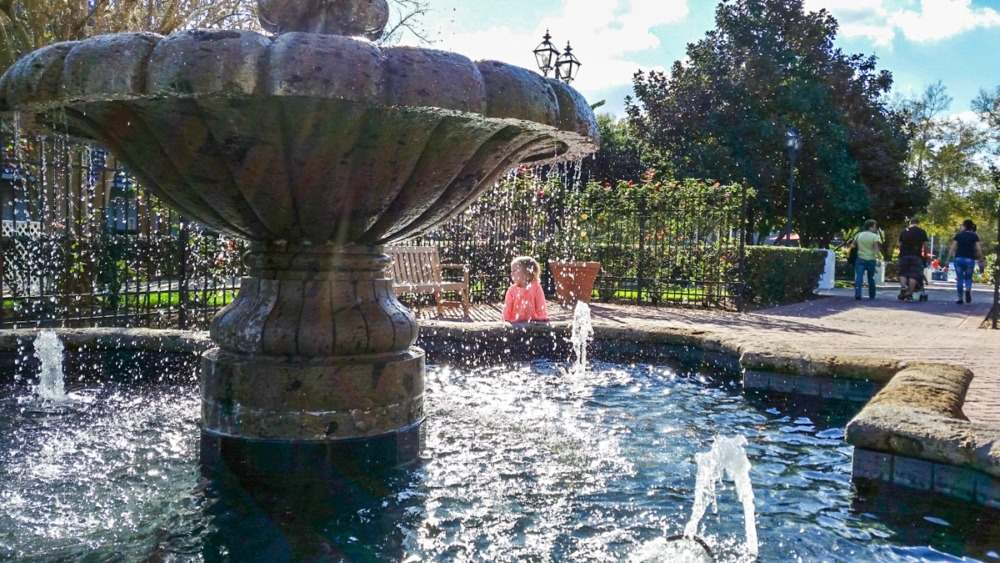 Overall, even after staying at various Walt Disney World Resorts levels, we would not hesitate to stay at All-Star Music Resort again.
The resort has a great atmosphere and a very relaxing ambiance, and being a Disney Resort has all the magic a family could need for a Walt Disney World Vacation.
Since it's one of the most affordable resorts in Walt Disney World, it's a perfect place for a family staying on a budget. And if you can swing for the family suite, go for it! The extra room to spread out and the kitchenette for easy meals makes the stay even better.
---
Alternative Budget-Friendly Places to Stay Near Walt Disney World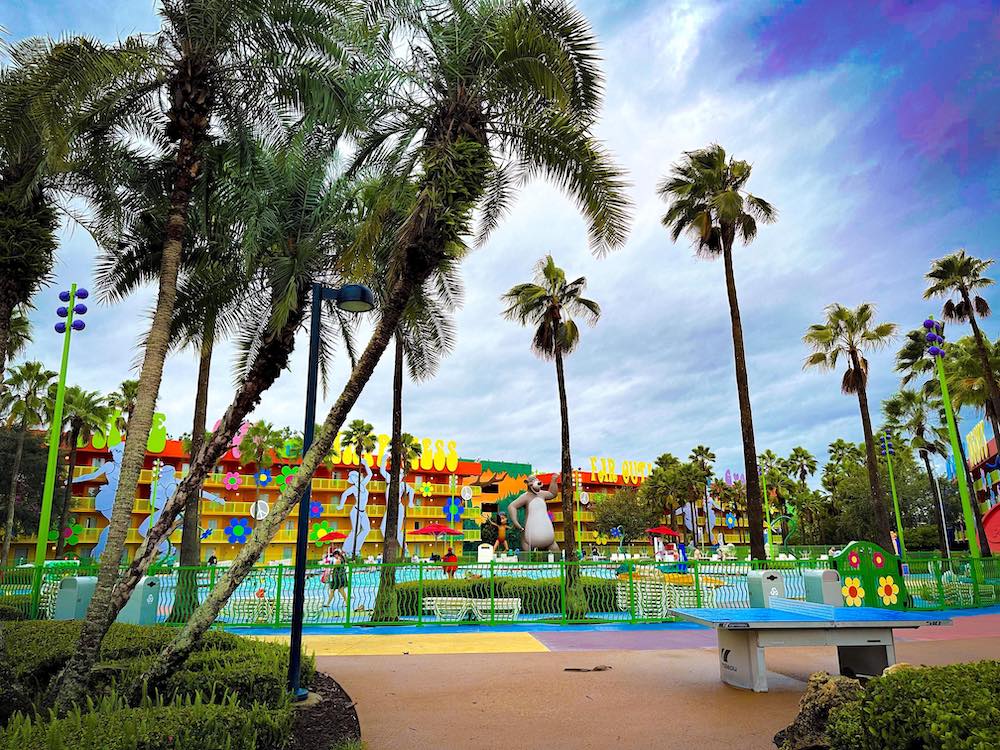 If the All-Star Music Resort (or one of the other All-Stars) doesn't seem like the right fit, there are a few other great options to consider.
Disney's Art of Animation and Pop Century (pictured above) are both value resorts as well, but they're located much closer to the Disney theme parks. You can take the Skyliner to get directly to EPCOT or Hollywood Studios! Art of Animation also offers heavy theming, which is great for Disney lovers or those with young kids – you can even book a Lion King, Cars or Little Mermaid family suite.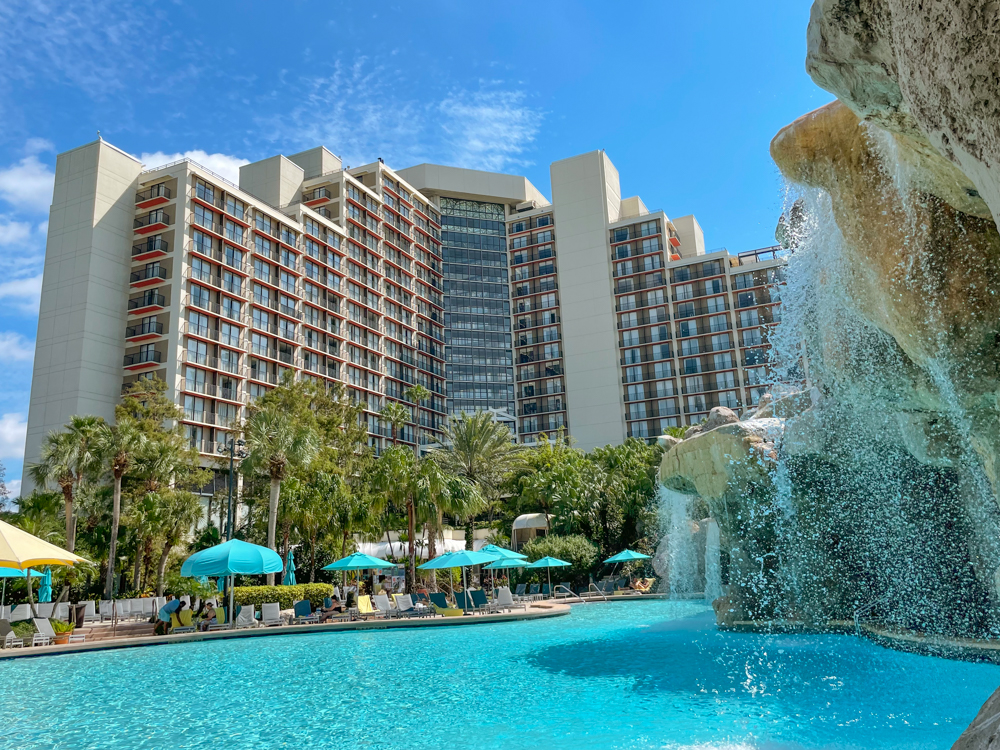 If you want to stay for free, you can snag a $95 Chase Sapphire Preferred credit card and transfer the sign up bonus to Hyatt to book the Hyatt Regency Grand Cypress Resort. There's so much to do on-site that you can fill an entire day, including a water slide, arcade, climbing wall, mini golf and loaner bikes. You can also book it with cash if you aren't interested in earning free travel with credit cards. The downside of Grand Cypress is that you don't get Disney resort perks like early entry or the ability to book Individual Lightning Lanes first thing in the morning.
Read more: Best Credit Cards for Family Travel
Before you go…
Planning a trip to Walt Disney World is enough to make anyone crazy! Be sure to read these easy-to-follow Disney World tips and tricks to have a smooth visit without going overboard.