There are many skills that we possess as travelers and as traveling parents. But I can say with great confidence that, despite plenty of effort, we never perfected the art of the travel baby bath. The months before our babies could sit confidently on their own brought us plenty of challenges, not the least of which was figuring out how to keep them clean on the go. We fought and cried our ways through so many evenings but now, with more knowledge and product choices under our belts, we want to help you figure out how to give baby a bath while travelling!
In this article we'll give you a few ideas for the best way for your family to handle baths on the go. How do you bathe a baby when traveling? Decide what works for you, but be flexible and recognize that different trips call for different options. We'll also show you some awesome new portable baby bathtub options that will help you avoid the trauma we went through!
Quick picks: travel baby bath tub options
We'll talk more about these different baby travel bath options below, and how you can even get by without one, but if you want to start poking around here are a few quick picks:
Option 1 – Take a bath or shower with your baby
When our older child was a baby, we had the luxury of taking a bath with him most evenings. One parent would go in the bath (Luxury, capital L) while the other would wait outside the tub with a towel. No rush to get dinner on the table, no screaming older kid. For us it was a wonderful solution at home.
We went with the same simple route for our first trip with a baby and it mostly worked great. The challenge arose when he needed a bath but neither of us felt like getting in the tub or our schedule didn't allow it, like when we had a babysitter en route and he was filthy from the day. We also couldn't have managed it when we had a toddler and a new baby, as toddler needs are ceaseless and merciless!
Getting our baby clean with one of us worked best on his first few trips because we made sure to stay in places with a bath tub. Neither of our kids was happy with a shower until well into toddlerhood. Sometimes even as preschoolers taking a shower would induce the kind of blood-curdling screams we had thought were reserved only for forced bedtimes and unwanted bowls of oatmeal. Who knew?
Moral of the story: If you plan to get clean with your little bundle, try to book a hotel or Airbnb that has a bathtub. Bring a pack of these with you to avoid the "ick factor" if it bothers you!
Everything you need to know about traveling with a car seat
Option 2 – Do your infant travel bath with a washcloth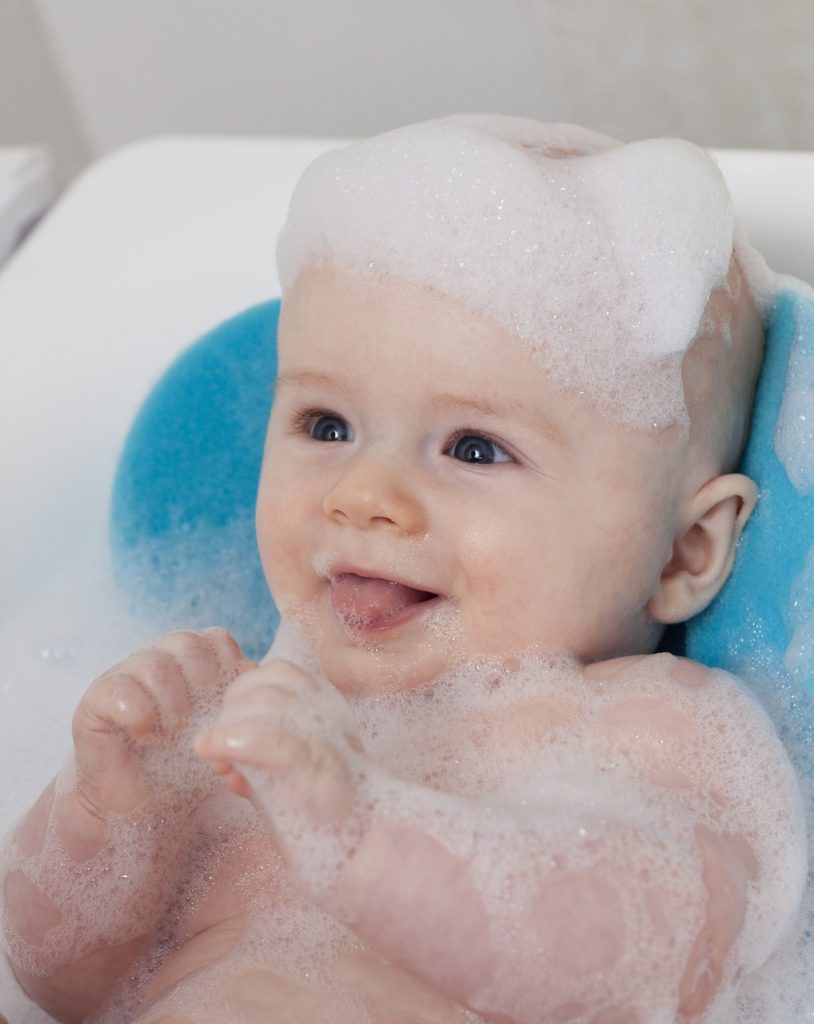 Everyone's mother and grandmother talks about bathing babies in the sink. Maybe the bathroom sink in our apartment was just too shallow or our newborn linebacker was just too big, but our early attempts at sink baths can be described in only one word: failure. Complete and utter failure, every time.
The better options we figured out when our second baby came along is actually a great solution for travel too! We used one of these sponges on the floor of the bathtub or shower and use a few washcloths to do a little sponge bath. If the sink in your hotel room is big enough, you could put it there too for your travel bath for baby. We used one warm washcloth on her belly to keep her warm and then cleaned one part at a time. If you're trying to figure out how to bathe baby when traveling if you're in a hurry, this is probably your best option.
This is the best infant travel bath option if you're on a budget, as it's a cheap, simple solution and it doesn't require mom and dad to hop in. You can also use one of these in the shower if there's a detachable shower head. When you're done just squeeze out the excess water and stand it up somewhere to air dry.
When it's time to travel, the baby bath sponge will squish down under everything else in your luggage. If it's still wet, wring it out as much as possible and put it in a wet bag to protect the rest of your belongings from water. That's probably the best way to transport it even if you think it's dry… after all, it's a 4″ thick sponge!
Option 3 – Buy a travel baby bath tub
The option that will take the most space but possibly save you the most sanity is to buy a travel baby bath tub to take with you. We're huge proponents of packing light with kids, but this is one situation where having the right piece of gear can truly decrease your stress level on vacation… and isn't that the point?
If you're traveling with a newborn or a young infant who can't sit up yet, the best travel baby bath tub is the Puj Flyte. It only weighs about a pound and folds in half to fit easily in your luggage, but when it's opened up it fits perfectly in most sinks and offers a soft, convenient place to bathe your newborn. This infant travel bath tub is loaded with thoughtful features like a hole to hang it up and drains on all sides to make sure the water level doesn't go too high – exactly as you'd expect from Puj. This is the best travel bathtub for baby who can't independently yet.
This is the perfect item to put on your baby registry – check out Amazon's baby registry program, which we used and loved. You get a longer return window than usual, completion discount and you can even add items from other websites while keeping it all in the same place.
If you're traveling with an infant who can sit up, this inflatable travel baby tub is a must-have. Like the Puj Flyte, it only weighs one pound and it packs down to a minimal size once the travel infant bathtub is deflated. This portable baby bathtub is geared toward little ones 6mo to 2yo. Parents and tots alike love this baby travel bath tub both at home and away, because it gives little ones just the right amount of support and confinement but enough wiggle room to play. See, bathing baby while traveling can be fun too!
If you're heading on a road trip with your baby, you have a little more wiggle room when it comes to the size of a travel baby bath tub. In the case, you could pick up the Stokke Flexi Bath to use both at home and away. This folding baby bath tub collapses to just 5″ wide, but the reason we wouldn't bring it for flights is that at 25″ long it's too long to fit in a carry-on and would even be pushing the limits of some checked suitcases. But for a road trip it's the perfect option to slide into the trunk.
You can use it until age 3 so it's a great travel bathtub for toddler explorers, and if you purchase the bundle that comes with the newborn sling it will work as soon as you bring your baby home from the hospital. If your baby is already starting to sit up, you can save a little money by purchasing the tub on its own.
Read more: MUST-HAVE travel baby gear to make your life easier
Option 4 – Buy or rent a baby bath tub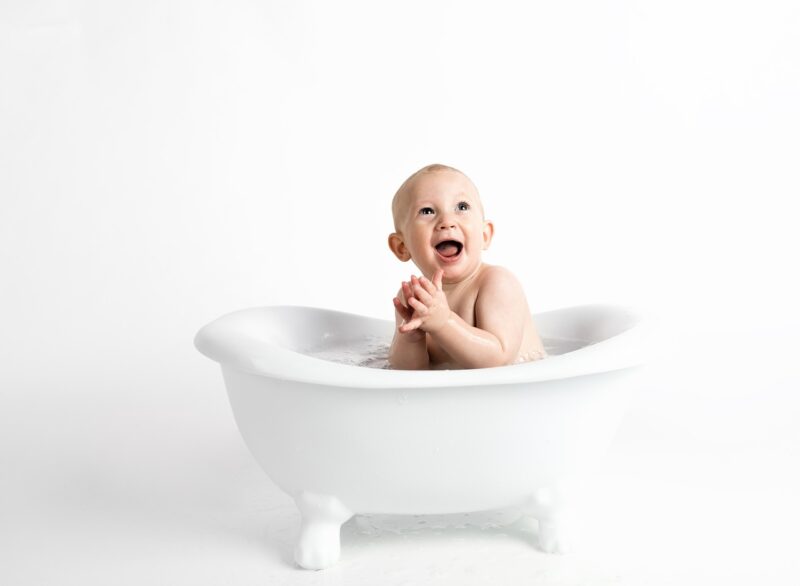 A final option to consider… if you strongly prefer a traditional baby bath tub or you know that you'll be staying in an Airbnb where none of the options above will work, you can always rent a baby bath tub or have one delivered to you!
BabyQuip is a well-respected company that works with parents all around the US to rent out high-quality baby gear, including baby bath tubs, cribs, strollers, toys, play mats and more. The company sets high standards for the quality and care of items that are rented out. The local provider even delivers the items straight to you. See if BabyQuip is available at your next destination.
The last option is one I would only consider if staying in the same place for a week, or if you plan to go back again in the future (like Grandma's house). They aren't terribly expensive and if you're traveling domestically you can always order one a day or two before your arrival. If you're traveling abroad you can usually buy one locally. Depending on your baby's age and size, you might even be able to purchase a big bucket to use, but YMMV on that one.
When we've purchased baby items along the way that we can't bring home with us, we leave them behind for our apartment host or the hotel – it's good karma to share for future traveling families, and if you're at an Airbnb the host will be so grateful that they can entice future guests with more baby-friendly amenities!
Don't forget travel bath toys!
What's a baby bath without some toys? Since we like to travel like, we recommend that you pick toys that'll keep your baby occupied both in the tub and out.
Stacking cups are still a favorite for baths in our home even years later, and you don't need anything fancy. This set is great because the cups have fun animal faces and different shapes on the bottom. Even better, they work for nesting or stacking into a tower! Your kids can use them in the tub, on the beach or even on the plane to stay entertained for hours.
One of the best bath toys that's perfect for travel is anything made of natural rubber and without holes. Sophie is cute and all, but if you take her in the tub there's a good chance she'll get disgusting on the inside. Instead opt for these lovely bath toys from CaaOcho.
We've been enjoying ours for years and they still look like new! Kids can chew on them, you can clean them, everyone is happy. There are plenty of choices including different animals or colored and textured sensory balls. These are great for flights with babies as well thanks to the easy-clean surface! Check out these fun picks that won't take up your whole carry-on:
Want to get more helpful travel tips like this? Sign up for our email list!
I hope this article has give you some helpful ideas for how to manage a travel bath for baby.
Baby bath travel FAQs
At what age can baby take bath in tub?
You'll generally want some sort of travel baby bath seat until at least 9 months, but many babies benefit from the additional support for a little longer. The slippery tub really challenges their independent sitting skills!
How do you bathe a baby in a hotel?
You can either take a bath with your baby in the hotel or try one of the travel tub for baby options discussed in this article.
Before you go…
Are you thinking about traveling internationally with a baby? Be sure to read expert tips for a smooth experience!
Still planning your next trip with baby? Pin this article to find it later!