Tel Aviv is one of our favorite cities in the world. It has a relaxed, beachy vibe combined with more cultural experiences than you can count – our recent trip was my fifth visit to the city and I'm still uncovering new favorites. After spending a month in Tel Aviv on our most recent trip, we've curated our best things to do in Tel Aviv with kids all over the city: read on to find our top activities, best kid-friendly restaurants in Tel Aviv and even our favorite playgrounds (for those times you just want to kick back with an iced Aroma gadol while your little travelers burn of their craziness).
Because the city is somewhat spread out, I've organized this guide to your family holiday in Tel Aviv geographically. That'll make it even easier to plan your time wisely!
Where to stay in Tel Aviv with kids
We love to stay near the beach in Tel Aviv. The area itself is wonderful for kids and it's central to restaurants, playgrounds and great areas for strolling. We had a wonderful experience staying at this apartment in Tel Aviv – the location is perfect, the apartments are beautiful and there's plenty of space for the family to stretch out.
If you'd rather stay in a Tel Aviv hotel, these nearby options can all accommodate at least four people and include breakfast in the rate (which is important because Israeli breakfast is the best way to start your day):
Keep in mind that a huge number of hotels in the area only have rooms for 2-3 guests, so be sure to provide an accurate headcount when you're booking. Being forced to change hotels or pay for a second room would be the worst way to start a Tel aviv Family holiday!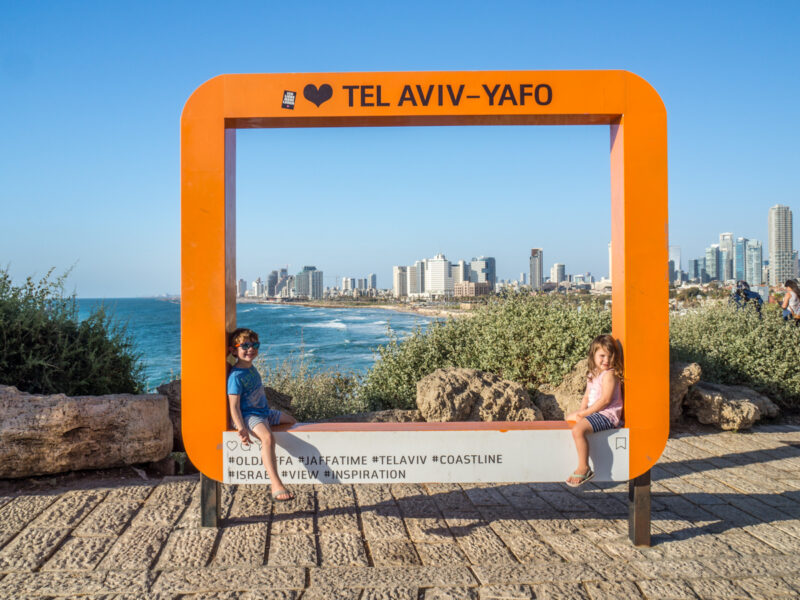 Use the interactive map to find vacation rentals and hotels in Tel Aviv
---
Northern Tel Aviv with children
Northern Tel Aviv, extending across the Yarkon River into Ramat Aviv, can seem a world apart from the hustle and bustle in "the center of the center" (as Ronnie's Israeli uncle likes to describe it). There's more open space and you'll see more families. It's an excellent place to go for a stroll and you'll find plenty of family-friendly things to do in Tel Aviv's northern reaches.
Top things to do in Tel Aviv with kids: Northern Tel Aviv
Visit the Tel Aviv port (Namal)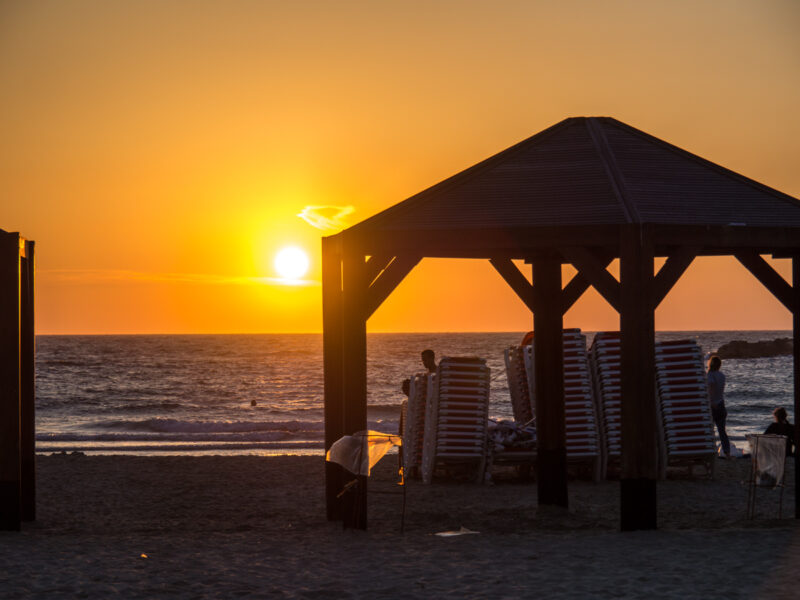 The Tel Aviv port (Namal) is no longer a port, but now it's become a hot destination for a night out with the family in Tel Aviv. It has lots of room to run around while watching the waves (but appropriate guardrails for safety), tons of family-friendly restaurants and shops, an excellent playground and ample parking. We always love walking up the beachside promenade in the late afternoon to catch the sunset, having dinner at family-favorite Agadir Burger and then hitting the playground for a few minutes.
Yarkon Park
The Yarkon River marks the northern edge of Tel Aviv, separating it from neighboring Ramat Aviv. It's the perfect spot for strolling or scooter riding under the shady trees or packing an evening picnic. If you're looking for a more active pursuit, you can rent a peddle boat or a human-powered quad car for the afternoon to see more of the park – just some of the many fun things to do in Tel Aviv's largest park. There's a lovely, shaded playground on the far west end of the park (just a few minutes' walk from the Namal), and the east end of the park offers a hot air balloon ride to take in te city skyline views!
Beit Hatfutsot
*best for ages 5 and up
We didn't take the kids to Beit Hatfutsot on the Tel Aviv University campus on this trip, as this Tel Aviv museum was renovating its excellent permanent collection during our most recent visit. However, we've both visited as adults and look forward to taking the kids to see the wonderful collection of synagogue models from around the world through history. Think of them like synagogue dollhouses! The exhibit is wonderful and a great opportunity for parents to serve as tour guides.
The museum also has a great new exhibit for kids, Heroes, which showcases heroes from all walks of life – scientists, leaders, athletes and more; it's a great interactive way for kids to recognize the best traits in humanity and to be inspired to aim for their own greatness.
Yitzhak Rabin Center
*best for ages 8 and up
It's a personal choice as to how much of Israel's history to cover with kids, but if you're visiting Tel Aviv with older kids who you feel are interested and mature, The Yitzhak Rabin Center is an excellent choice. The main exhibit spirals through the parallel histories of Israel and its former leader using videos and photos, bringing the dry textbooks to life.
Favorite playground in northern Tel Aviv
In our opinion, the best playground in northern Tel Aviv for kids is the one at the Namal. It's fairly new, very clean, and offers lots of options. The kids love blowing off some steam there while one of us gets a restaurant table and orders dinner. It's geared more toward older kids who are able to climb, so if you're visiting Tel Aviv with a toddler you'll be better off at the nearby playground in Park HaYarkon.
Where to eat in northern Tel Aviv
Agadir Burger
It's not the cheapest option around, but the carnivores in our family love Agadir Burger so much that we have to go several times on each visit. Obviously taste is subjective, but Agadir claims to serve one of the ten best burgers in the world! They also have chicken and vegetarian options if beef isn't your thing. Kids can choose from either sliders or chicken schnitzel served with fries and juice for NIS 47. The outdoor seating area is very pleasant, with the sounds of the waves breaking nearby in a quiet part of the otherwise busy namal, while the interior is cozy and has a few TVs as well.
Abulafia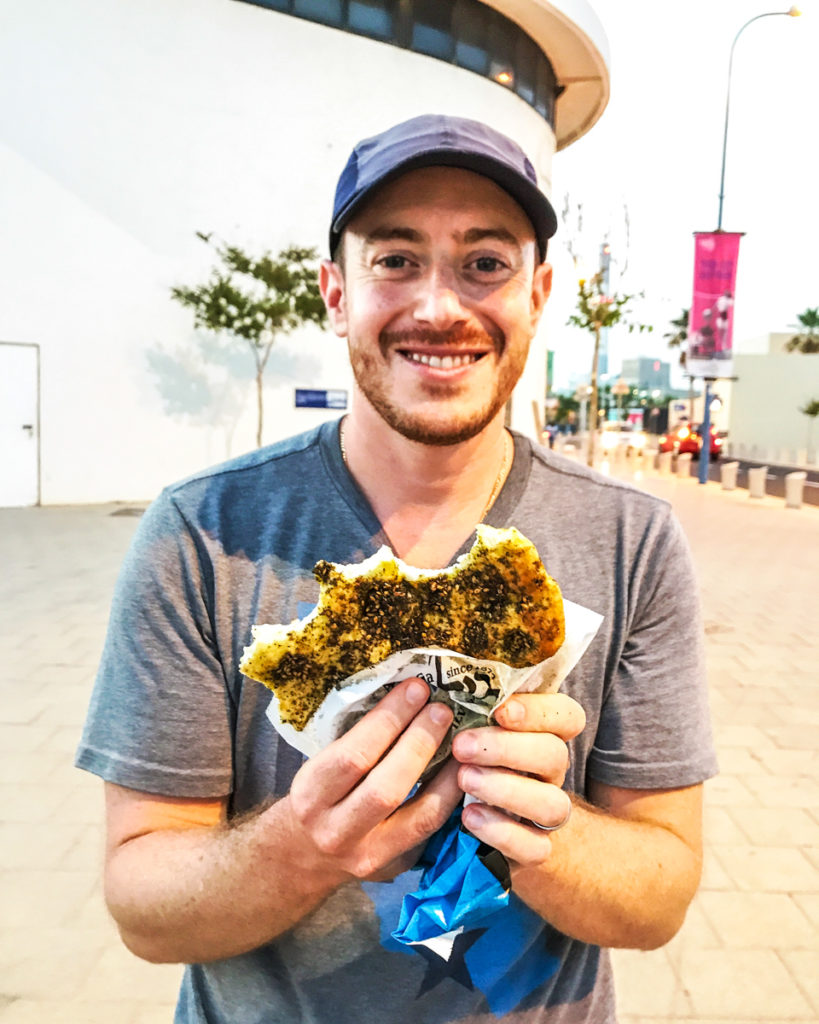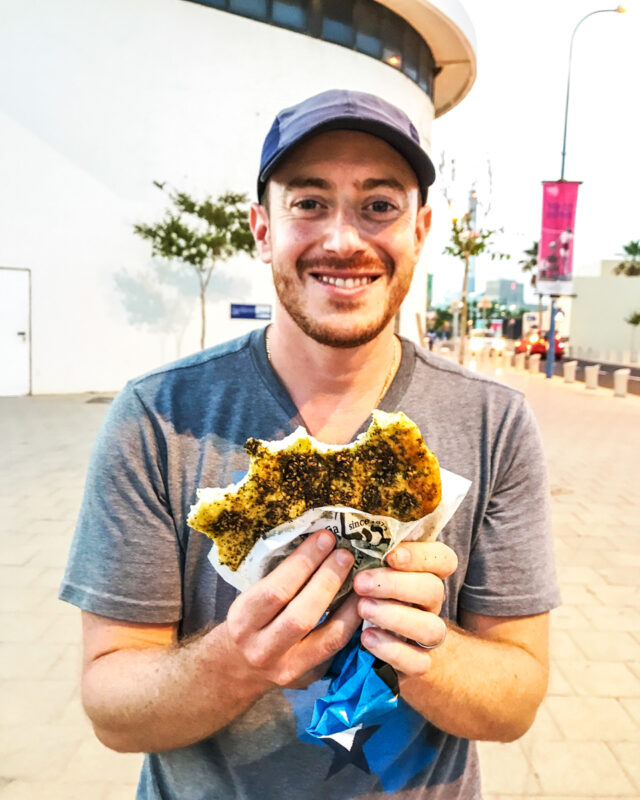 Israel's official favorite seasoning has to be za'atar, a fragrant mix of hyssop, sesame seeds, salt, sumac and other spices. Abulafia serves up fluffy, freshly-baked laffa topped with olive oil and as much za'atar as will stick. While our kids were initially skeptical, after one bite the couldn't get enough. Lesson learned: order two. Other lesson learned: it comes out hot and also extremely oily and green; choose kids' clothing wisely, and then stain treat promptly! The best news for visitors and locals alike is the Abulafia is a chain, so you'll find a few locations throughout Tel Aviv.
Read more: Plan your visit to Jerusalem with kids
Central Tel Aviv
The heart of Tel Aviv is constantly buzzing with energy. It's an area known for nightlife and young hipsters, but it's also a part of Tel Aviv that's great for visiting with kids thanks to the wealth of fun activities and walkability.
Best Things to do With Kids In Tel Aviv: Central Tel Aviv
Lounge on the incredible beaches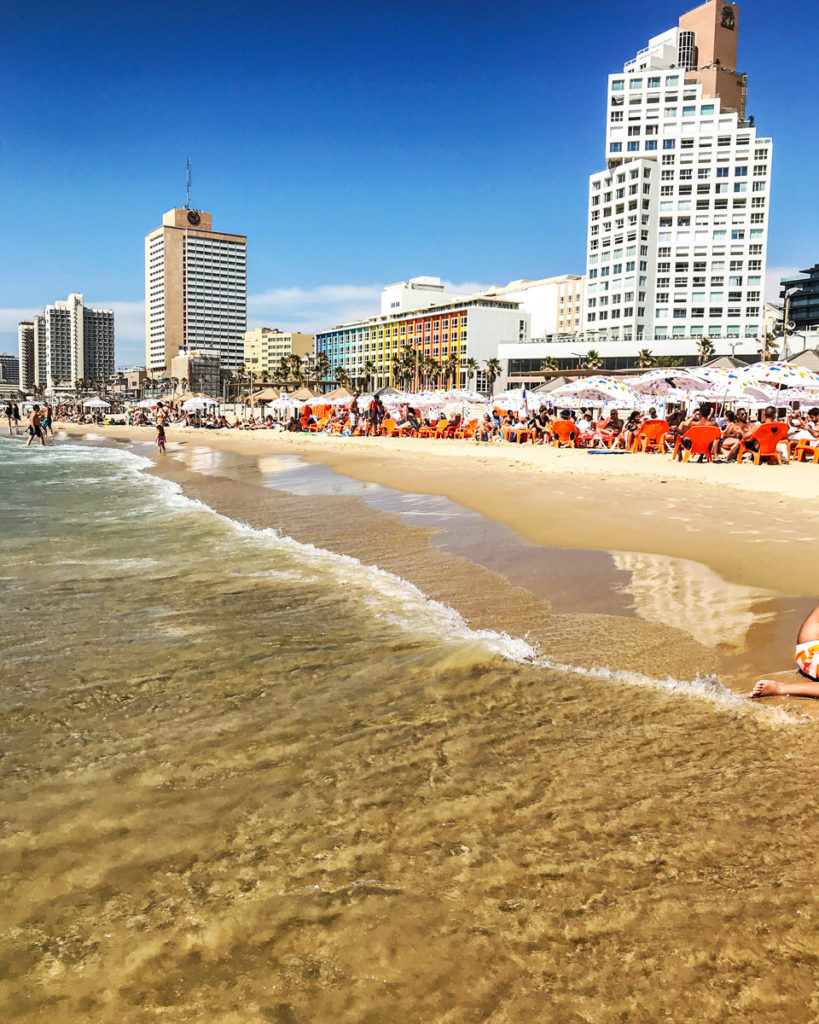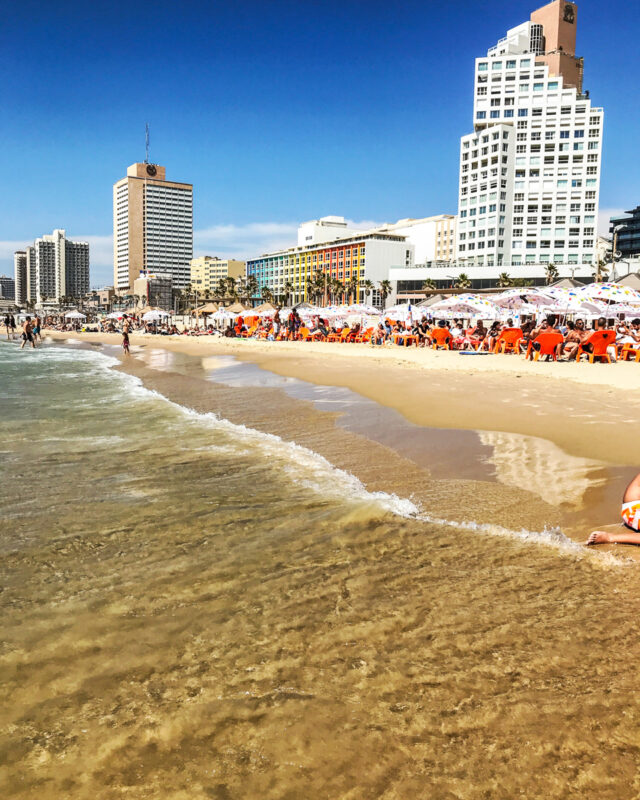 We have spent more days on the beach in Israel than I can possibly count, feeling the amazingly soft sand between our toes and then diving into the warm, clear water. It's just too tempting! The Tel Aviv municipality has done an amazing job of making its 9 miles of coastline an inviting place for locals and tourists alike. Just go on any Friday and you'll see thousands and thousands of people from all walks of life – it's one of the top things to do in Tel Aviv for a reason!
Nearly all of the municipal beaches have affordable umbrellas (NIS 6/$1.67 per day) and chairs (NIS 12/$3.34 per day) to rent, while tables are free – and these prices are all set by the municipality, so no worry about gouging. To us, the best beach in Tel Aviv is Hof Bograshov. It's very centrally located in the city and has fairly calm water. For families, there's a nice playground right on the beach and even a communal sand toy box where you can borrow what you need, or give away what you've bought when your vacation is over.
Most Tel Aviv beaches feature cafe with regulated prices on basics like pita with hummus and salad, and of course there are other items on the menu too. Some have large sets of exercise equipment, some have mobile library carts. Overall, you can't visit Tel Aviv during the season (May – October) without taking advantage of its beaches.
Pro tip: Israel does unfortunately have a jellyfish season, which peaks when the water is warmest. If you're visiting between July and September, be sure to check this website before going for a dip. It's all in Hebrew, but the map still gets the point across.
Stroll the grand boulevards of Tel Aviv
Tel Aviv was initially built as an alternative to Yafo – many Jews had been born in the more open European capital cities and wanted an escape from the narrow alleys of Yafo. Narrow streets no more! A stroll down tony Rothschild Boulevard feels like a far cry from the sand dunes that filled the area just over a century ago. It's a beautiful place to walk during the day, with a wide grassy playground-dotted median for pedestrians and cyclists and more bars, cafes and restaurants than you could ever imagine to make it a hot spot in the evenings. If you make it all the way to HaBima Square on the northern end, you'll find one of the best scooter spots in Tel Aviv – next time we go to Israel, we'll probably bring these family-favorites since our kids have outgrown the stroller!
Independence Hall
*best for ages 6 and up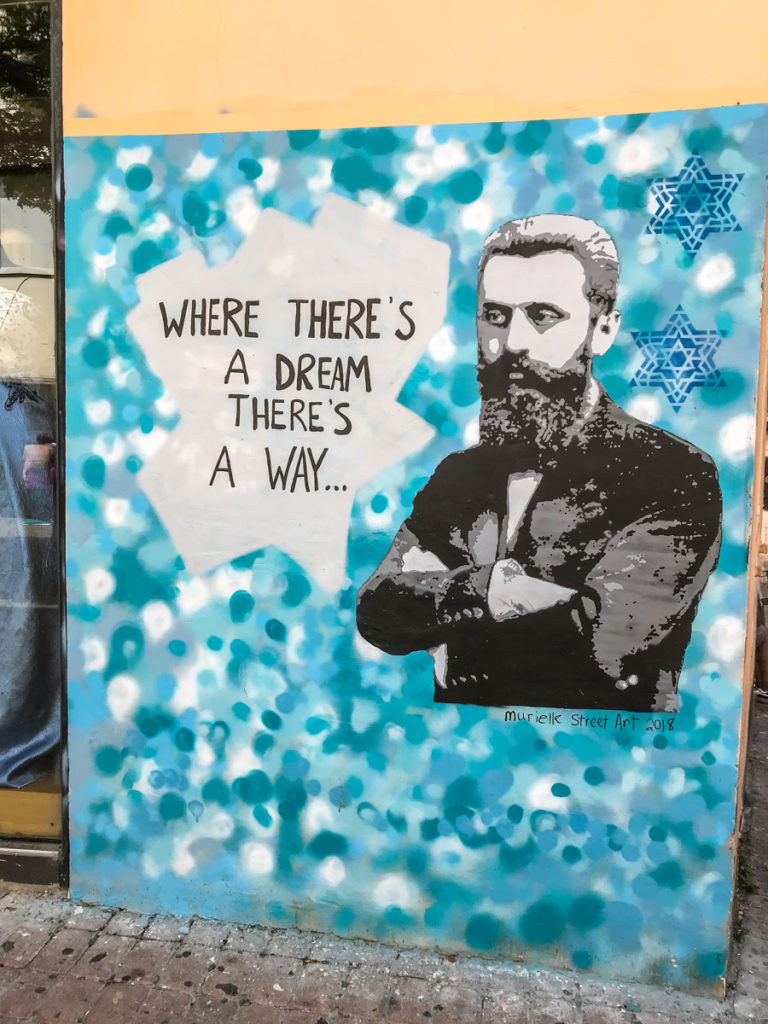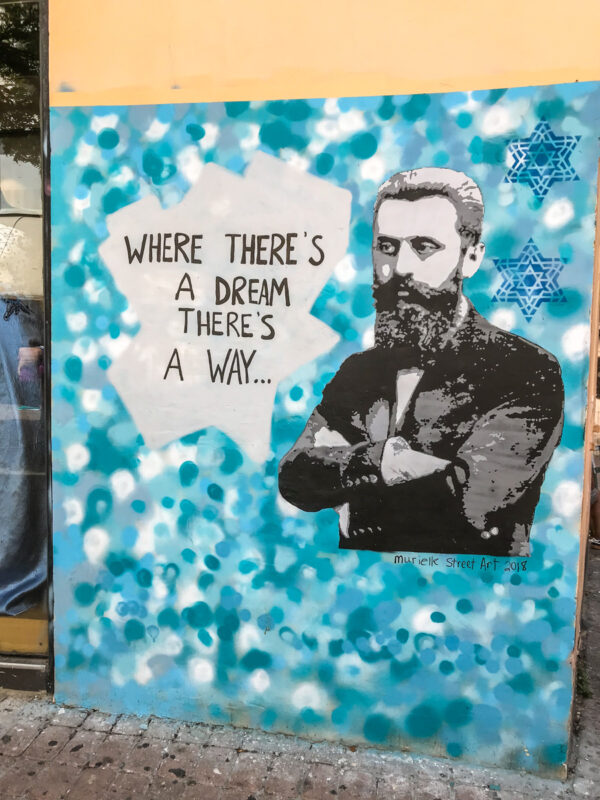 At the end of 2019, Independence Hall stopped offering regularly scheduled tours. They've finally announced that tours will begin again in 2024. I'll leave this information here in case you're planning ahead!
Located in the heart of Rothschild at number 16, Israel's Independence Hall is worth a visit for anyone interested in the state's founding. You'll start off with a movie that reviews key aspects of the history of Tel Aviv and Israel leading up to independence. Visits are guided and include compelling storytelling while you sit "in the room where it happened".
There's no minimum age requirement and we visited with both kids – ages 4 and 6.5 – but it's better for kids on the older end who can remain engaged with the somewhat complicated story of the State's foundation (including brief mention of the Holocaust and discussion of the War of Independence). We talked with our kids about much of this history before our visit to Independence Hall and they were able to follow the discussion without issue and it was a great opportunity for follow-up discussion as well.
Nahlat Binyamin art fair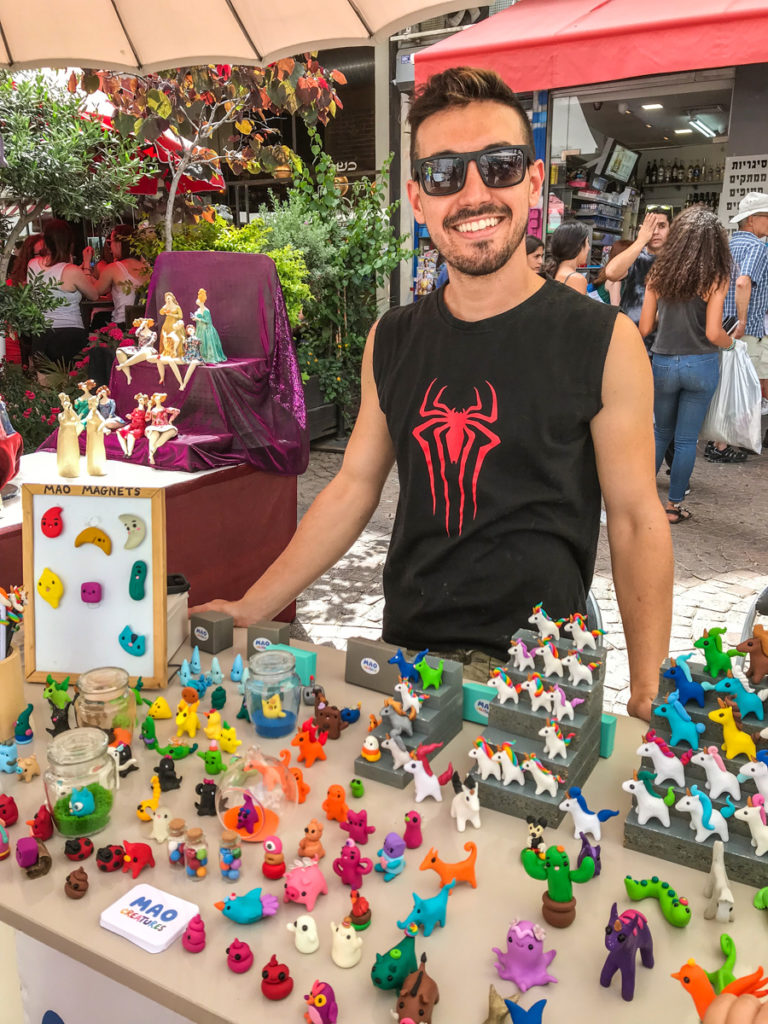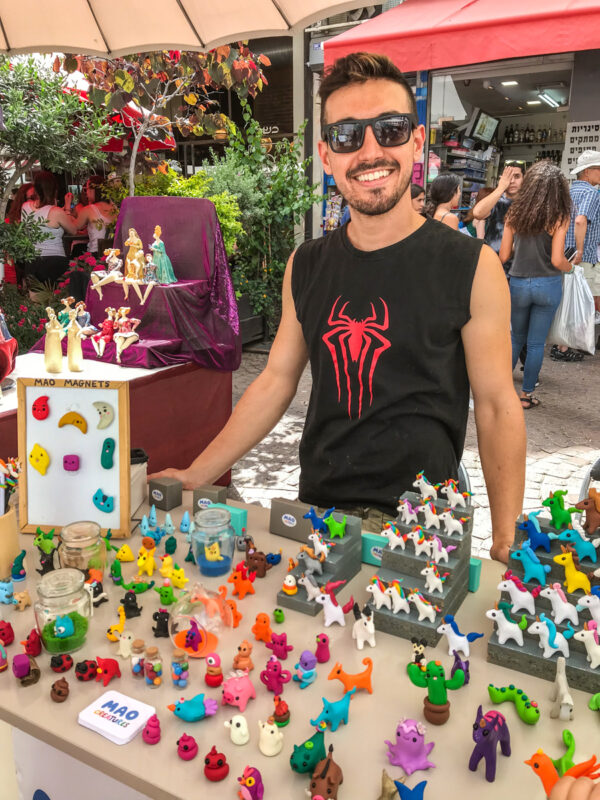 Every Tuesday and Friday, the pedestrian zone of Nahlat is transformed into a bustling craft fair, with vendors of all types showing off their wares. This is one of my personal favorite things to do in Tel Aviv and I'm glad the kids love it too (because I'd still drag them along even if they didn't).
You'll find jewelry, puppets, home decor, and even toys – everything handmade and sold by the artist, whose work has to meet quality standards before they are accepted. It's serious business, but as a customer – whether local or tourist – you can feel confident that anything you buy at the Nahlat Binyamin craft market will be worth it. Get there on the early side for the best selection, though Tel Aviv is a city that rarely sleeps (especially on a Thursday night) so even arriving by early afternoon should still be a great experience.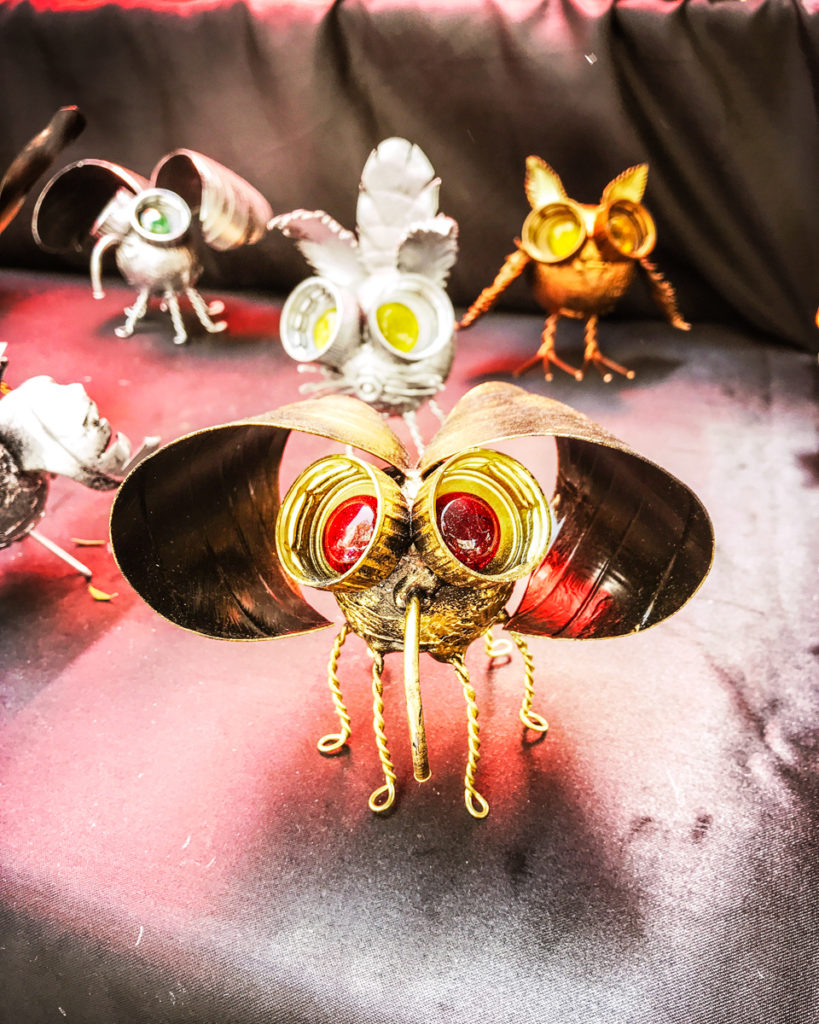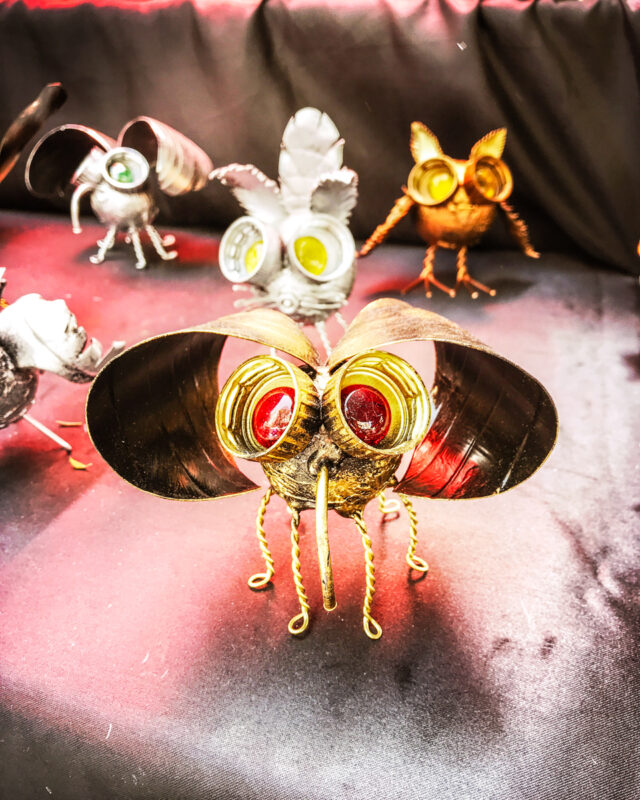 Shop like a local at Shuk HaCarmel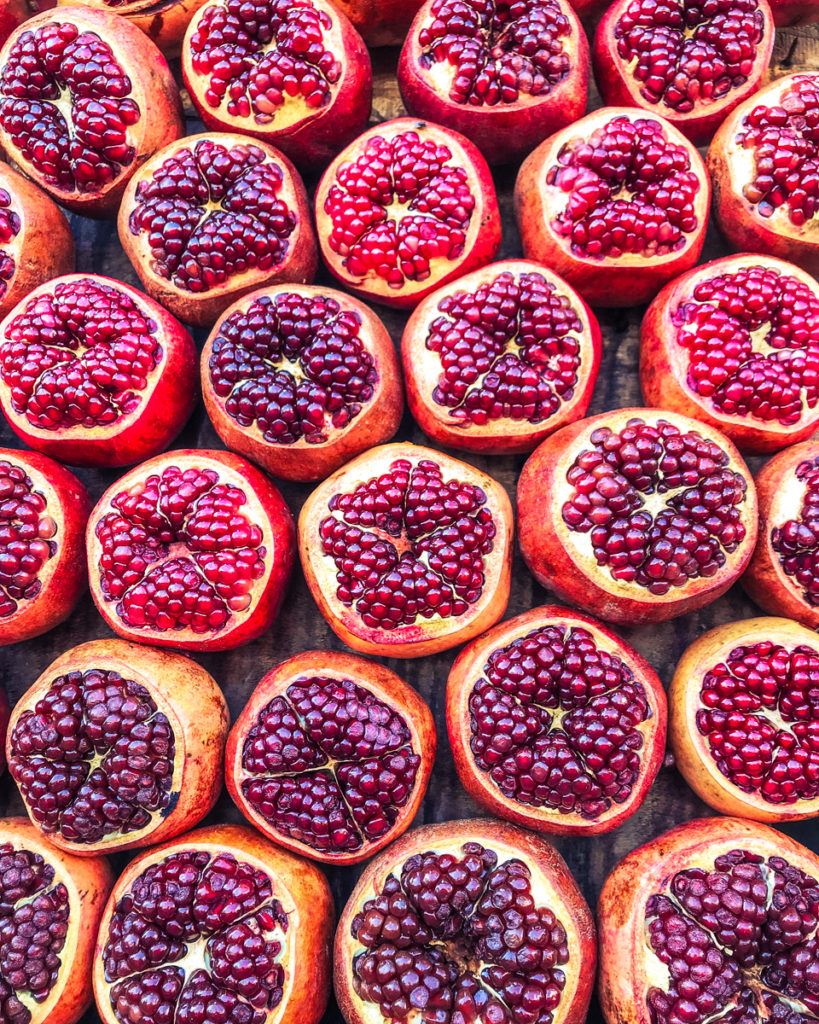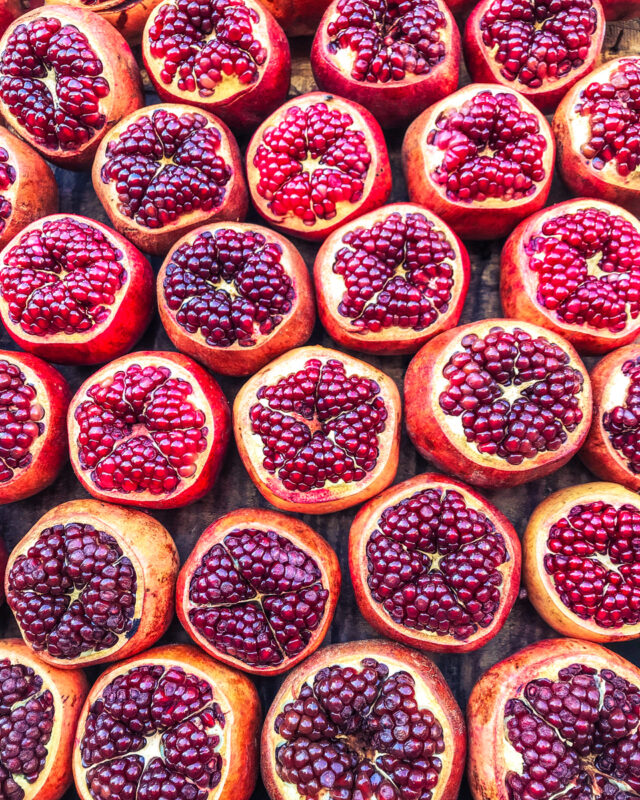 Shuk HaCarmel (also referred to as the Carmel Market) is the largest produce market in Tel Aviv and definitely worth visiting! It can be a little crowded on Friday afternoons as Israelis do their shopping in preparation for Shabbat dinner, but that just makes the experience more authentic… right? You'll find fruits, vegetables, nuts, spices, fish and more at the Carmel Market. Come with cash and reusable bags (these are my favorites!), go home with more than you thought you needed.
Eat your way through Sarona Market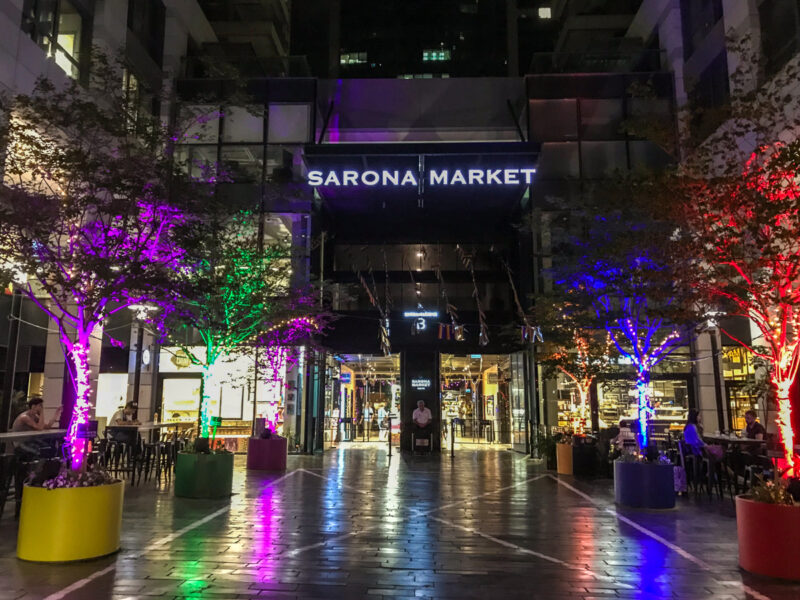 If you're a foodie looking for cool things to do in Tel Aviv, you'll find it a mile and a half inland at Sarona Market just across the street from the Hashalom train station. You can sample foods ranging from incredible ramen to hundreds of whiskies to the best cookies (from Soft Cookies) I've ever had; if you're so inclined, you can even shop for innovative kitchenware or quality meat to step up your own game (I'd now officially love to have a kitchen filled with these gorgeous space-savers!). If you've filled your stomach so much that you can't make it home on foot, Sarona is easy to access by bus for just a few shekels.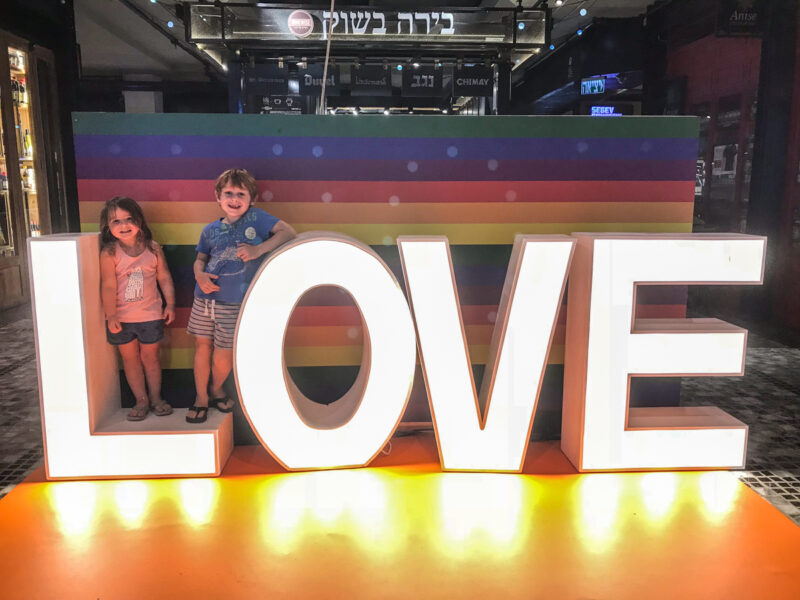 Favorite playground in central Tel Aviv
The playground at Bograshov Beach has a range of equipment to entertain toddlers through teens for hours. We love letting the kids play there in the evening while we sit on the steps watching them and the sunset. If you're really in the mood to relax, you can grab a table at La Mer and point your chairs toward the kids to keep watch while you enjoy an adult beverage.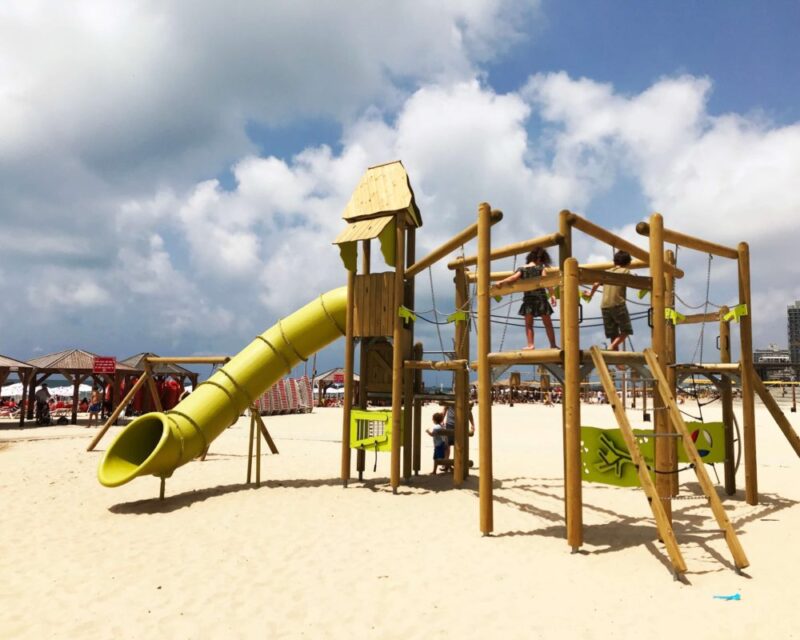 Where to eat in central Tel Aviv
Adraba
Tel Avivians love a good brunch spot – Israeli breakfast is a thing, after all. Adraba shows Israeli breakfast at its best – all dairy and pareve (pronounced "PAR-ve", meaning neither meat nor dairy), with plenty of vegetables, cheese, fish and more to satisfy everyone. It's not cheap (none of the good breakfast places are) but the portions are very generous so we recommend sharing. In fact, the second time we went Ronnie and I ordered the Israeli breakfast and shared it, then for Shoshana we just asked for an extra portion of one or two favorites. Be prepared to wait if you go on a Friday morning, but the rest of the week should be fine.
Falafel Gabay
Looking for a classic falafel stop? Look no further than Falafel Gabay! Fast, fresh, delicious, and reasonably priced. It was our favorite falafel shop we visited in Israel and we aren't surprised that it's so popular – many people think it's the best falafel in Tel Aviv. You can choose the traditional sandwich, or for those who want everything separate there's a more expensive plate option (the portion is large enough for two kids or one kid and one adult to share). There are also meat options on the menu, though they aren't why you should eat at Falafel Gabay.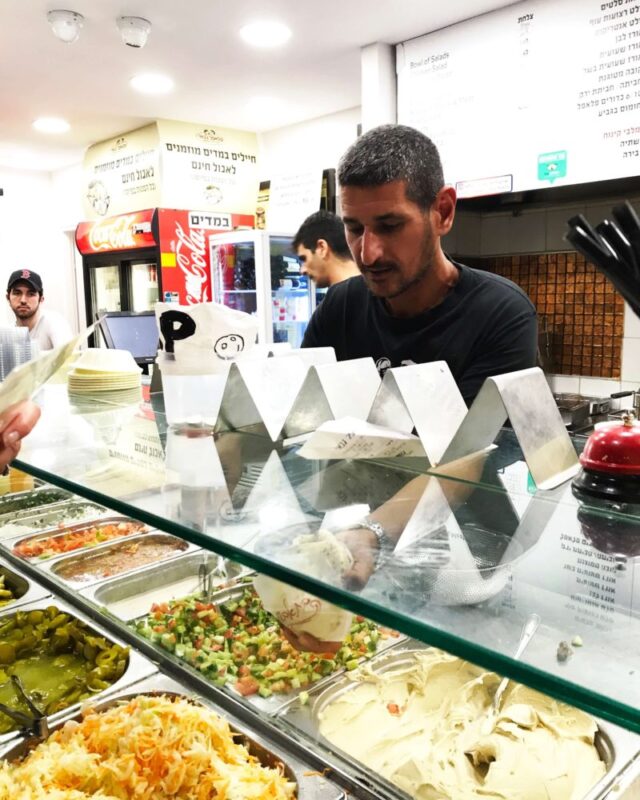 Abulafia
In case you missed the amazing savory baked goods of Abulafia in the namal, you can catch them in central Tel Aviv as well! It makes a perfect snack on your way to the Nahlat Binyamin craft fair or Shuk HaCarmel.
Tony House
I didn't expect to be recommending Chinese food in Tel Aviv – and on one of the most touristy streets, no less – but here we are. If you're in the mood for something other than Israeli or Middle Eastern food and want to save some money, Tony House is a great choice! The menu covers noodle dishes, dumplings and more and the quality is soild. We were pleasantly surprised that dumplings were on a 2-for-1 special during all of our visits and the kids' preferred dishes were all under $10.
Southern Tel Aviv and Jaffa with kids
What to do With Kids in Tel Aviv

:

Southern Tel Aviv and Yafo with Kids

When you head toward the southern end of Tel Aviv, let's say near Neve Tzedek and into Yafo, the vibe definitely changes. The hipsters looks a little different, there's a more diverse cultural scene and it feels a little quieter in some ways. But it's actually one of the coolest neighborhoods in Tel Aviv and well worth a visit for travelers of any age.
Old train station
If your kids have ever read the Engineer Ari books, you'll be familiar with the old Jaffa railway station, also known as HaTachana. It hasn't been used as a train station in Israel since statehood in 1948 but over the last decade it has been restored and transformed into a destination for boutique shops, trendy restaurants and events of all types ranging from wine festivals to family days.
More importantly for those visiting Tel Aviv with kids, it's a safe place where train-obsessed littles can run around and take pictures on actual train tracks! It's not as developed as the old railway station Jerusalem, but still worth stopping by for a visit. Check their calendar for Shabbat activities for families.
Walk the tayelet to take in gorgeous coastal views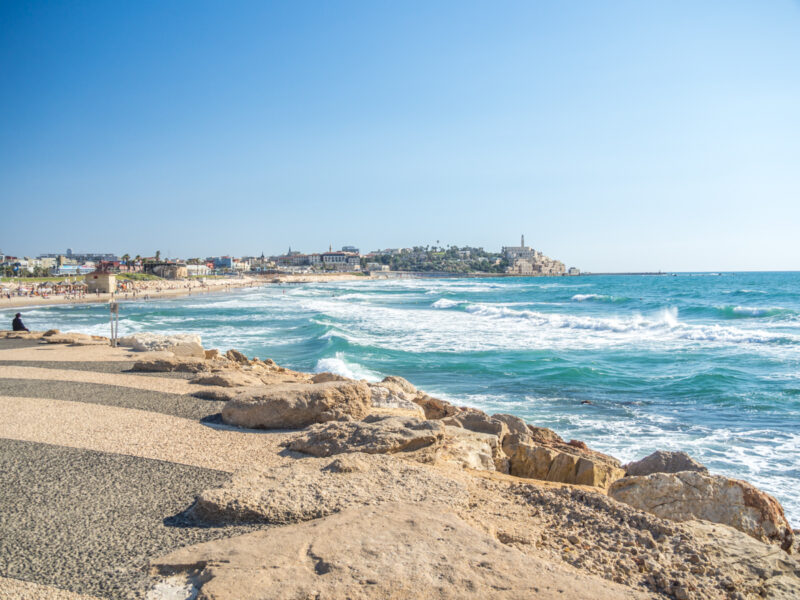 The beach promenade in Tel Aviv extends for miles – almost 10 of them. But the most picturesque stretch encompasses southern Tel Aviv stretching into Yafo. Thanks to the gentle curve of the path, on one side you have a view of all of the high rises now lining Tel Aviv's beaches, while the other direction offers postcard-worthy views of Yafo. It's one of our favorite free things to do in Tel Aviv and it's great at any time of day or night, especially the expansive section designated as Charles Clore Park.
Check out the amazing free views from Gan HaPisga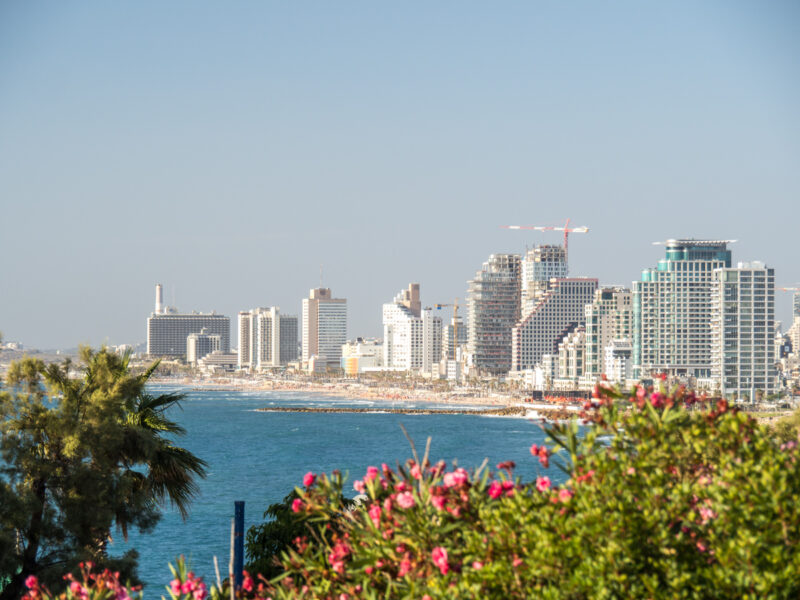 Want to enjoy one of the best views of Tel Aviv and beautiful public art while the kids run free? Head up to Gan HaPisga in Yafo. There are also archeological finds dating back, oh, just a few millenia… because Israel.
Explore the Jaffa art galleries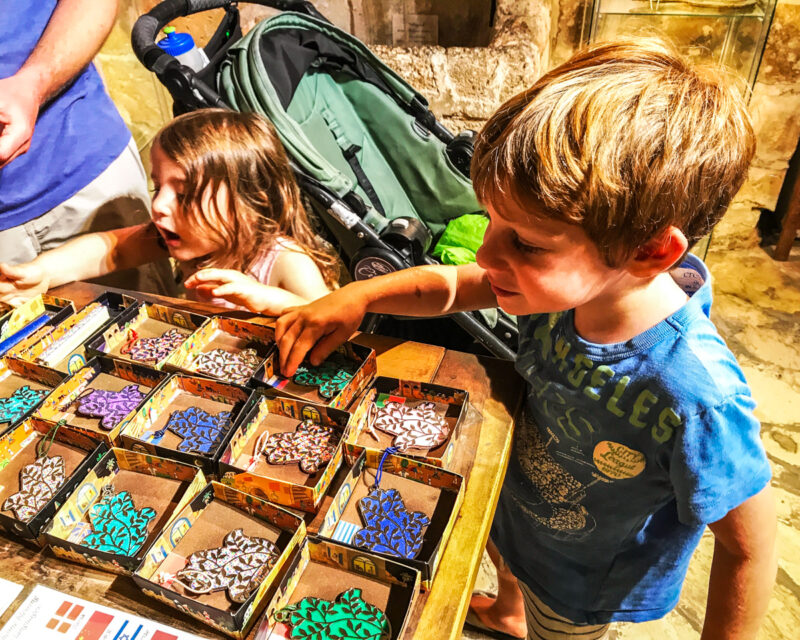 While you're in Jaffa (or Yafo, or however you want to spell it), make sure to stop in at least one art gallery even if you're in Tel Aviv with kids. And there are so many Jaffa art galleries to choose from! Some of the originals, where you'll still see artisans at work, are located in the steep, winding streets. Check out our family favorite, Adina Plastelina, for fun souvenirs that the kids can't break and that won't break the bank. If you want even more options, head down the stairs and go to the old port complex-turned-artist-haven.
Stroll the quiet streets of Neve Tzedek
Speaking of artist colonies, the granddaddy of them all in Israel is Neve Tzedek. The Neve Tzedek artist colony was established in 1887, twenty years before the city itself. Today the neighborhood is a quiet spot to stroll around and pop in and out of shops. What makes it kid friendly? Gelato and books. Spend an afternoon in Neve Tzedek when you want to take it easy the way many Israelis do.
Grab a scoop or three at Anita (La Mamma del Gelato) and then, after everyone is cleaned up, stroll down the street to our favorite Tel Aviv bookstore, Sipur Pashut. There are tons of books in both Hebrew and English – including kids – and there's even a swing out back!
If you have more time in the area, take the kids to the whimsical Nachum Gutman Museum. There's even an exhibit just for kids! To sweeten the deal, kids get in free.
Favorite playground in southern Tel Aviv
I wish I could give you a proper name for this awesome playground, but it won't be hard to find this favorite. If you take Shabazi Street through Neve Tzedek until it dead-ends right after the Suzanne Dellal Center (near the old train station), you'll find yourself right in the middle of it! There's a great play structure (even though it's not huge) and shade. Shade, shade, shade. And benches. And coffee close by in Neve Tzedek or at the old train station. You can even catch most of the beautiful sunset over the Mediterranean from the playground or dash across the street to Charles Clore Park, if you're ambitious like me.
Where to eat in southern Tel Aviv and Yafo
Suzana
If you can finally tear the kids away from the playground in Neve Tzedek, head to nearby Suzana for lunch or dinner on their lovely terrace surrounded by local families. They offer choices to suit every need, especially for meat-lovers.
Onza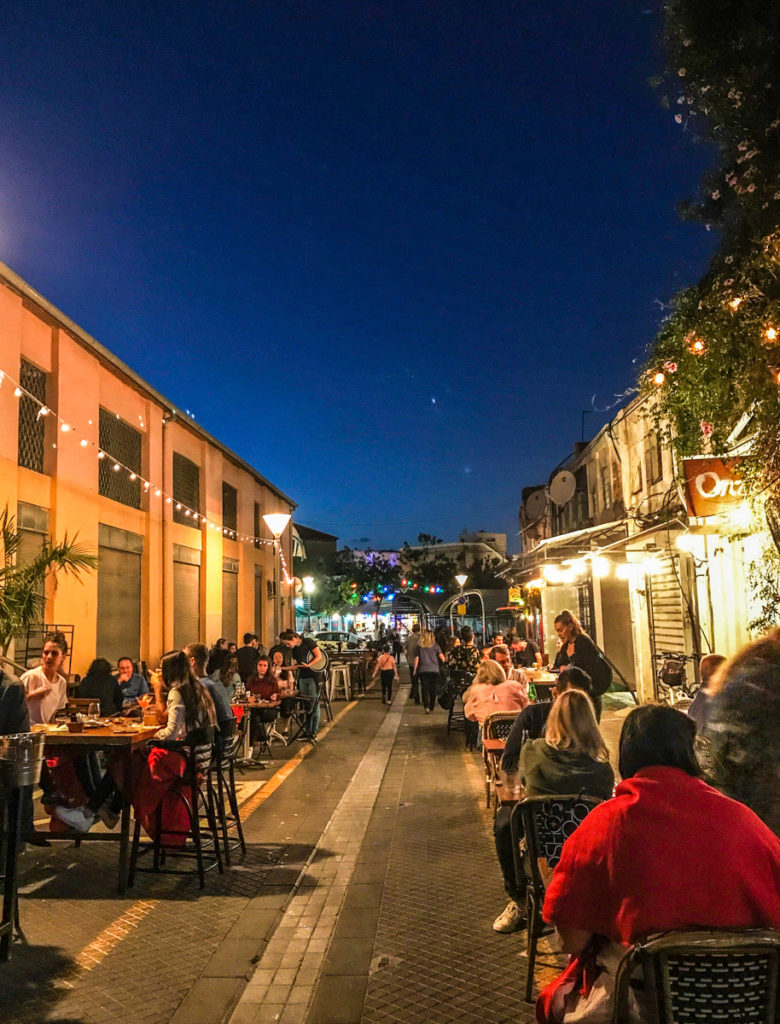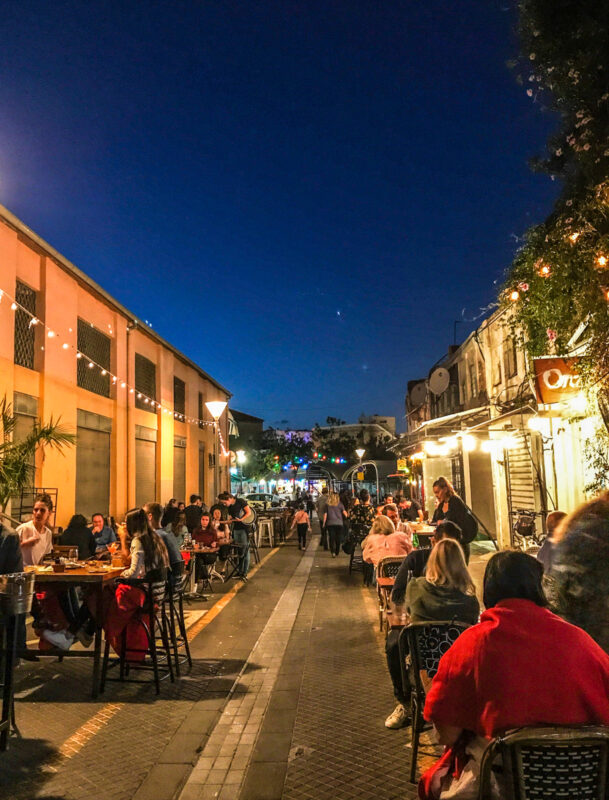 In our opinion, Onza is one of the best places to eat in Tel Aviv – it's a can't-miss if you're a foodie, even if you have (well-behaved) kids in tow. The Turkish-fusion cuisine is served up in a hot-spot pedestrian mall in the famed Jaffa flea market, and every dish we sampled was better than the last. The menu has loads of options for vegetarians and fish eaters in addition to numerous meat options. Jacob loved the food and the atmosphere, but I recommend that you arrive at the very beginning of dinner service if you're going with young kids – it is one of Tel Aviv's dining hot spots as well. The wait staff was friendly, gracious and even brought Jacob a dessert treat at the end of our meal! If you're looking for the best food in Tel Aviv, look no further.
Anita
If you're looking for the best ice cream in Tel Aviv (ok technically gelato, but the kids won't know the difference) look no further than Anita in Neve Tzedek. Anita offers ice cream, sorbet, frozen yogurt, dairy-free options and more in a wide range of flavors to suit every young palate.
Tips for visiting Tel Aviv with kids
Read more: Your complete 10-day Israel itinerary for first-time visitors.
-Need a lift to or from the airport complete with car seats? Book your car service with Welcome Pickups today!
–Getting around Tel Aviv on foot is easy, but distances can be long. If your kid is on the young side, bring a comfortable travel stroller with a big sun shade. The Baby Jogger City Mini is a great, economical choice and it's one of the most popular strollers in Israel. Ours was perfect when we went to Israel with little kids! Check out these must-read tips for flying with a baby if you have a little one.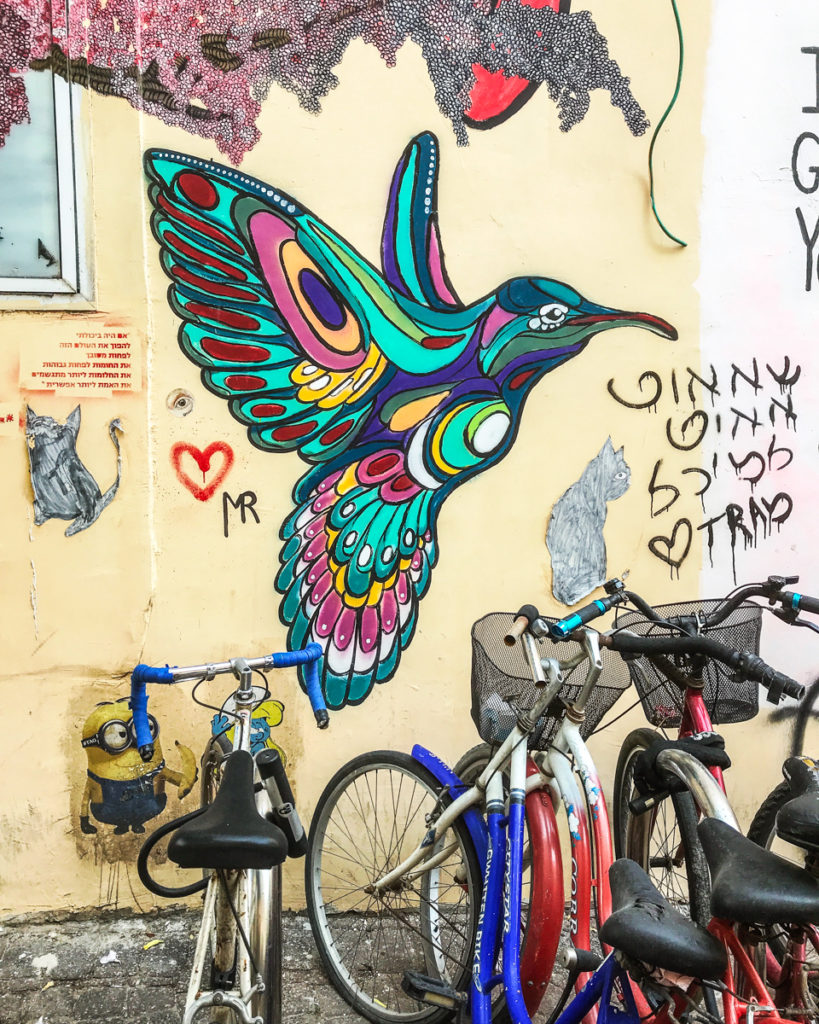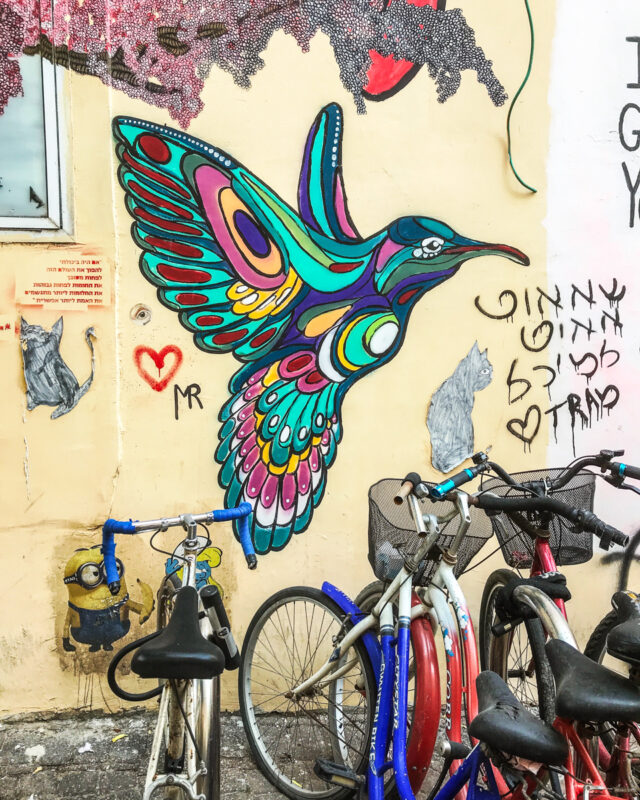 –Basically everywhere in Tel Aviv is welcoming of kids, so don't feel sheepish. But in smaller restaurants, do be prepared to fold that stroller up and put it in the corner.
-You'll find plenty of fountains water bottle filling stations around the city, especially along the promenade by the beach. Bring a travel water bottle to support the city's environmental efforts! If you do use any disposable plastic bottles, look for the huge recycling cages on every major street to dispose of them properly.
–Want an easy pick-me-up for the whole family? When you stop for an iced Aroma coffee, it'll probably come with a little wrapped chocolate. Feel free to ask for extras if you have a few kids!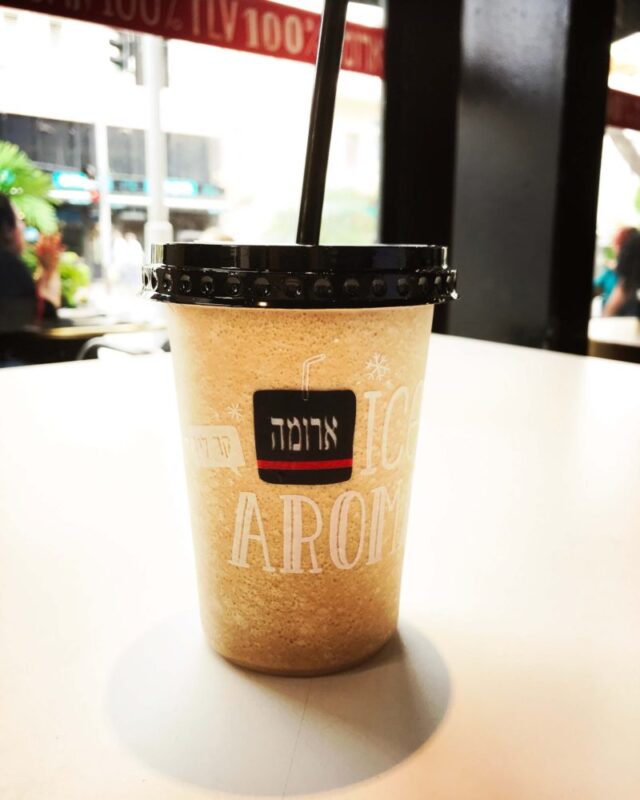 –If your little ones are picky eaters, try them on schnitzel and chips (fries). You'll also find pizza, pasta, burgers and other familiar favorites almost everywhere. There's also an am:pm on every single corner and that's the easiest place to find groceries for breakfast and snacks (even if it's not the cheapest). They have everything from product to dairy to breakfast cereal.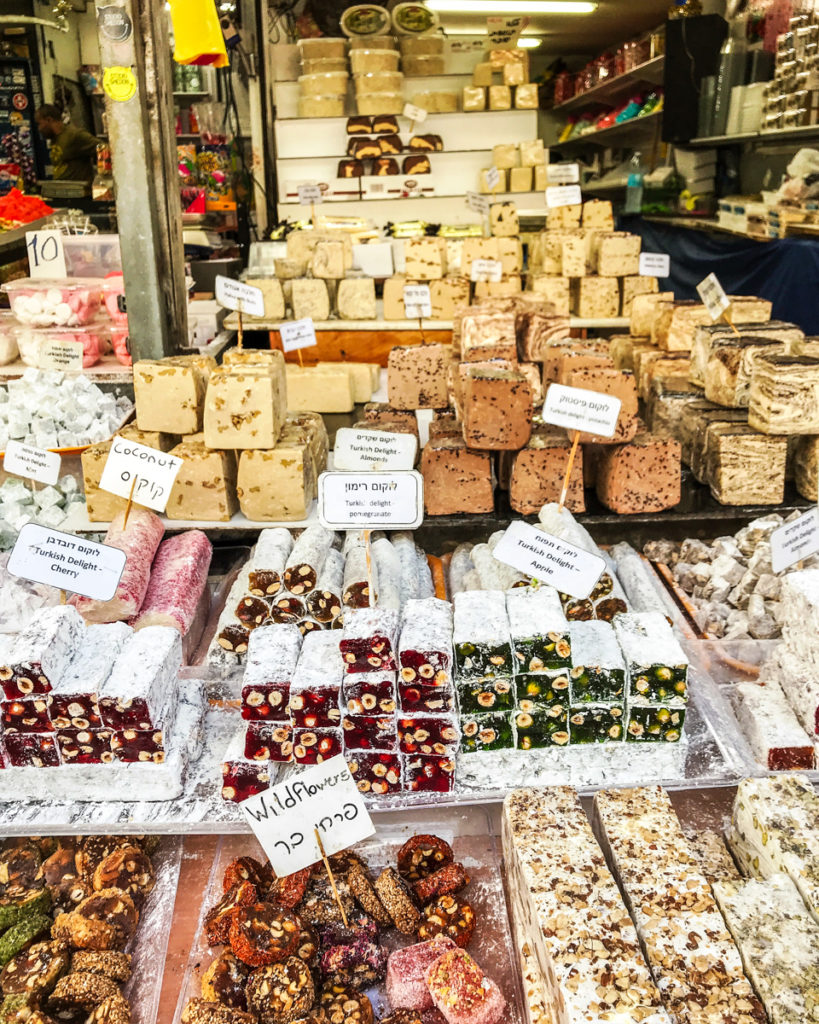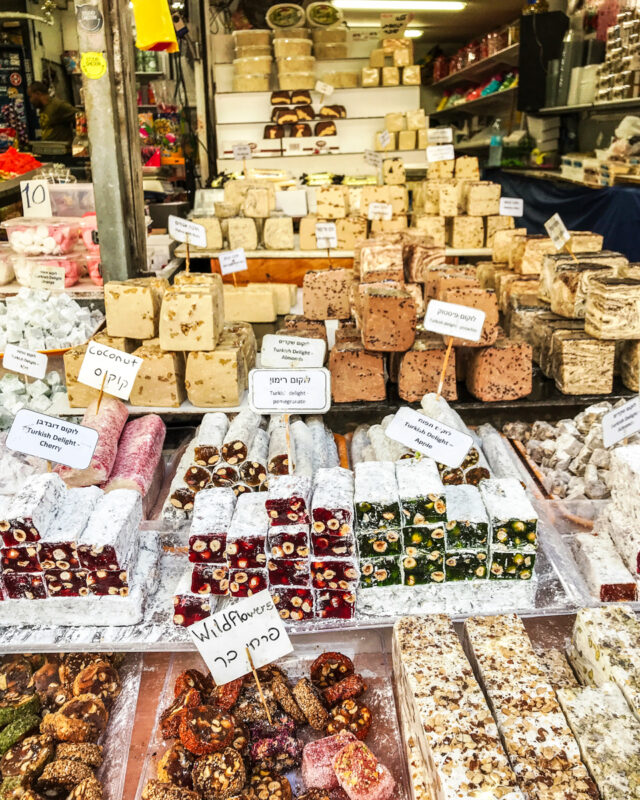 –You don't need a car for getting around in Tel Aviv, but when you're ready to get out of the city we recommend a car if you're traveling with kids. Rentals cars in Israel aren't terribly expensive and you'll appreciate the flexibility when traveling the country with kids.
Read more: Get the low-down in renting a car in Israel
-The best area to stay in Tel Aviv is near the central beaches. It's convenient to many tourist attractions, playgrounds and some of the best beaches in Tel Aviv. We've used every type of place to stay in Tel Aviv, from hotels to Tel Aviv vacation rentals and more. They've all worked out great!
Tel Aviv highlights map
Plan your trip to Tel Aviv with kids
I hope this article has given you a sense for how wonder a Tel Aviv family vacation can be! There are endless things to do with kids in Tel Aviv that your whole family will love.
Don't miss these additional articles as you plan out what to do in Tel Aviv with kids and the rest of your Israel trip.
Money-saving travel resources:
–Find the cheapest flights on Skyscanner
–Book your discounted rental car on RentalCars.com
–Compare travel insurance options
–4 simple hacks to save more money on booking.com

Check out these helpful articles to plan your upcoming trip to Israel:
–The perfect 10 day Israel itinerary
–3 days in Jerusalem itinerary
–2 days in Tel Aviv itinerary
–Where to stay in Israel
–50 things to know before you visit Israel
–What to pack for Israel in each season
–When is the best time of year to go to Israel?
–10+ must-read tips for renting a car in Israel
–20 foods you have to try in Israel
–25+ best books about Israel
–Where to stay in Jerusalem
–What to do in Jerusalem on Shabbat
–Israel with kids: the complete guide
–Visiting Jerusalem with kids
–Visiting Tel Aviv with kids
–Best day trips from Tel Aviv
–Best day trips from Jerusalem
–Your Israel itinerary for (more or less) 10 days
Still planning? Pin it for later!