I feel like I always spend a lot of time considering what to pack for a trip. Sometimes it works out well, sometimes I realize I've forgotten a key piece or woefully underestimated my need for a certain type of clothing. For our trip to Croatia, I did a little of both!
Fortunately I still managed to clothe myself, but if I was packing all over again I would have made a few tweaks to my list. Our trip was a fairly active one (check out these great ways to explore Croatia outdoors!), with four days of adventurous activities interspersed with low-key days of strolling. We spent six days in Dalmatia and four days further inland in Plitvice and Zagreb, where in theory it's cooler (though that didn't materialize in our case).
What to wear in Croatia really depends on your agenda – museums, hiking, or island hopping (perhaps all three). Read on for my suggestions on what to pack for Croatia in summer so you avoid my mistakes.
My challenges for packing for Croatia in summer:
Activities included beaching, biking, hiking and sailing… but also wine tasting and city exploration
Appropriate for carrying kids potentially covered in dirt and/or peanut butter
(Almost) everything in one medium-sized packing cube since we like to pack light
Enough variety not to be bored after two weeks
Try to look somewhat put-together
Related: Why you should pack light and how to do it
How to pack for a summer trip to Croatia
Read more Croatia articles or get Europe travel inspiration
My strategy was to create a travel capsule wardrobe for the trip from items that I already owned. If you haven't heard of a capsule wardrobe, the basic concept is to come up with a limited set of clothes, shoes and accessories that all mix and match to create a wide variety of outfits (check out the full travel capsule wardrobe how-to). Sounds simple enough!
I selected black as my neutral with some blue accents, then added a few strips and florals to mix things up. Some of my staple pieces are pulled from my Ireland travel capsule wardrobe, and I didn't buy anything new specifically for this trip.
The packing list I show here is pretty close to what I brought. That said, I underestimated how many activity-friendly options I needed and under-packed a bit there. It was a little hotter than I expected so the dresses got lots of mileage while an extra pair of jeans sat on the sidelines (a bummer since they're heavy and bulky to pack).
Based on my mistakes, here's my suggested Croatia packing list for June: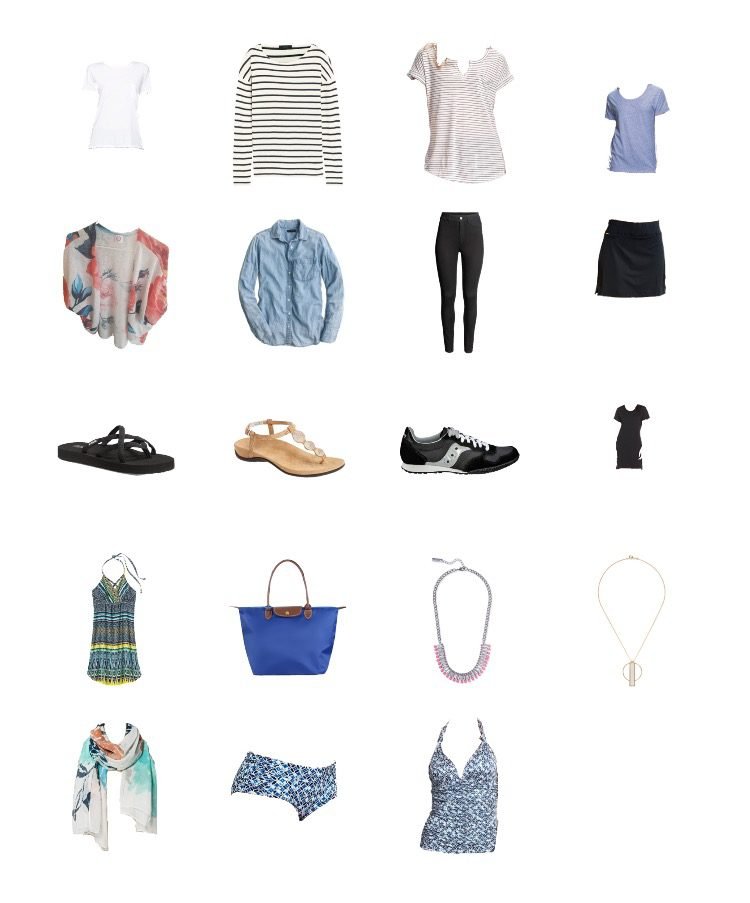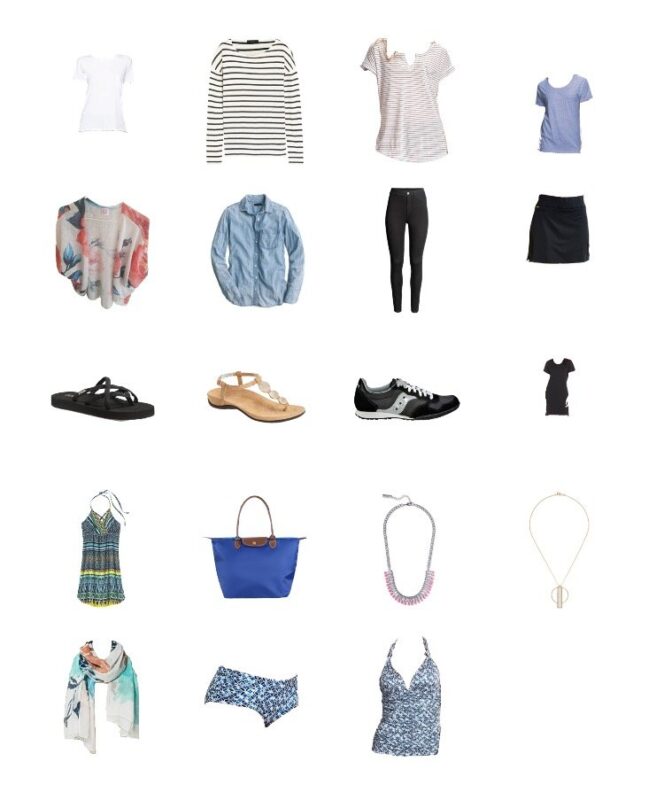 ---
What to pack for Croatia in summer – minimalist packing list
Read more: Our best travel packing tips
-5 tops (short sleeve white tee, short sleeve blue tee, short sleeve stripe tee, long sleeve breton stripe tee, chambray)
The chambray is lightweight and can be worn on its own, as a swim coverup or open over a t-shirt or dress as a lightweight layer for evenings. Sadly, I didn't pack it! It got lots of use in Ireland and I'll bring it on our next trip, I promise. I missed it several times!
-light-weight floral kimono
Perfect for layering over my black dress or a solid color tee, adds both texture and pattern. It would even work for the beach or sailing.
-black skinny jeans
These are dressier than blue jeans for a dinner out but I also wore them for hiking in Plitvice when it was cool and shady.
-black skort
Great for warm-weather hiking and biking.
-2 dresses (black tee shirt dress, Athleta sundress in packable fabric)
I love this Athleta dress! The fabric wicks moisture and dries in a flash, and it has built-in support. I'll definitely consider getting another similar dress from them. If you're a new customer, you can get 20% off your first order here. There's even a whole section of travel-worthy clothes.
-3 shoes (black Saucony Bullets, cork/gold Vionic Lizbeth sandals, black Teva Olowahu flip flops)
Confession: I also brought my black TOMS Avalon slip-ons. I know I could have left them at home, but they're comfortable and cute. The Vionic sandals were a different level of comfort! I wore them touring all day and had zero pain. They're designed by an orthopedist and you can tell when you're wearing them.
-blue tote bag (If you prefer a backpack-style travel daypack for women, don't miss these great options!)
-2 necklaces (short hot pink/crystal statement necklace, short gold/white necklace)
-1 scarf (blue/pink floral)
-3 bras
-5 underwear
-2 pairs of socks (Smartwool Super Sleuth)
-swimsuit (Athleta aqualuxe)
I actually brought a one-piece instead of my Athleta tankini, and as soon as I put it on I remembered why I stick with two-piece suits.
-hat (sadly forgotten at security at LAX) and sunnies
Everything fits on my body or inside a medium packing cube. The trip was a great test-run for my new Thule Versant 60L, which can handle four medium packing cubes with room to spare. If you wanted more variety or didn't want to do laundry as frequently, you could consider adding another skort or perhaps some shorts (though I rarely see European women wearing them and don't love them for myself); if I wanted more, I would probably add another Athleta dress to the list.
Related: How to Choose the Best Women's Travel Backpack
I used the Stylebook app to help me put outfits together and keep track of everything. Here are some sample outfits I wore during the trip:
Check out these great ideas for road tripping through Croatia
What are your best packing strategies? Do you travel light or bring the whole closet?