Confession time: when we were looking for a European destination in summer, Croatia hadn't initially been on our radar. But a little investigation showed us that it would be amazing place to visit with our young kids as well as our awesome – and extremely active – friends from Australia. We knew we'd be able to find activities to appeal to the whole crew, from history to beach visits to wine tasting. But of course no visit to this popular Balkan destination would be complete without a dose of adventure! Read on to find awesome ways to explore Croatia outdoors and find one that fits your travel style – Croatia adventure holidays offer something for every type of traveler.
Wonder what to pack for a summer trip to Croatia? See what I brought – and what I would have done differently!
Read more Croatia articles or get Europe travel inspiration
Hiking in Croatia
In addition to its fascinating history, Croatia is a place of stunning natural beauty. If you're a sucker for waterfalls like we are, you'll be in heaven! Croatia adventure holidays just aren't complete without a waterfall hike. In the more mountainous central and northern regions you'll find lush rolling terrain and more temperate weather.
We had two awesome Croatia hiking days: Krka Falls outside of Split, and Plitvice Lakes National Park located in the country's northern interior. Both sites are gorgeous and offer a range of experiences for hikers ranging from casual to serious (and they can each be enjoyed by non-hikers as well!). For those who prefer to stick to the coastal route or who really want to swim in a waterfall, Krka is the clear choice; however, Plitvice offers a much more unique experience overall and is a great place to spend two nights en route between Split and Zagreb hiking in Croatia.
Krka National Park hike with kids
Looking for the To reach Krka, it's an easy one hour drive from Split to the small town of Skradin, where you catch a lovely boat to the park (we were lucky enough to see a family of swans along the way!). The park itself has very complete services, including bathrooms, a sit-down restaurant (outdoors in the forest), ice cream stand and even a sundry shop. Once you finally get to the trail head, you'll immediately stop (along with everyone else) to take a few hundred photos of the striking falls and the pool below them.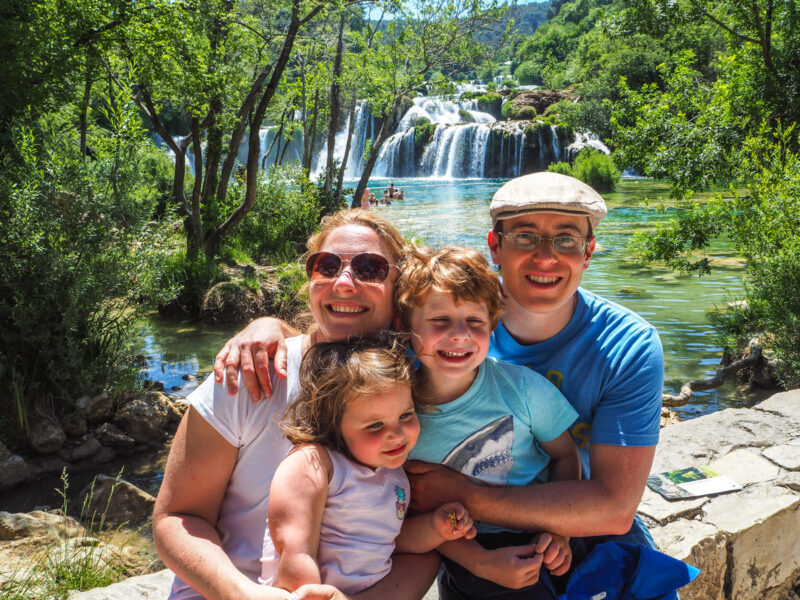 After you've managed to tear yourself away from the view, the real fun begins! The main path at Krka is only around 2km and it goes up to the back of the waterfall, across the top (on a boardwalk) and then down a few hundred steps on the other side. On the top you'll find tons of wildlife, including some extremely loud frogs if you're there during mating season! The path is well-marked and easy to walk; Jacob was 5.5yo and has no trouble doing the whole thing, and even Shoshana (not yet 3yo) was able to do most of it.
We were extremely lucky to share our Croatia trip with our dear friends Jen and Rich (who we also got to see at the end of our drive from Melbourne to Sydney!), but our pace as a traveling family didn't quite match their triathlete abilities. They got a very early start and first hiked the upper path at Krka, which is a much longer and steeper trail that takes you to see additional falls.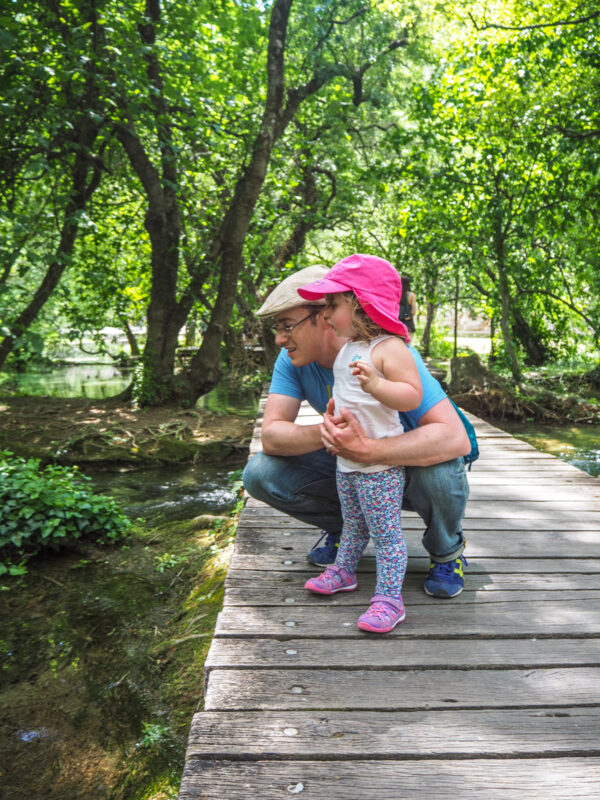 If the weather is nice after your hike (which sadly wasn't the case for us), enjoy a dip in the cool mountain water and an ice cream before jumping back on the boat. Be advised that the queue for the return boat can be lengthy in the late afternoon (especially with rain coming in, as it was when we were done hiking). If you're hungry, the restaurant services surprisingly nice lunches, including many wonderful fresh fish options. Croatian food is awesome for kids! The food is simply prepared, and lovely plain white fish and fries can be found almost everywhere.
Use the interactive map to find vacation rentals and hotels in Krka National Park
---
Plitvice Lakes hike with kids
Plitvice Lakes National Park can be thought of as Krka's big sibling – you could spend one very full day or perhaps even two more relaxed days hiking around the many stunning Plitvice waterfalls. Though we spent only one day in the park, we were staying in a (beautiful) vacation home inside the park boundary for two nights. That gave us the ability to get a good start in the morning by just walking over, rather than driving in from elsewhere.
Plitvice is formed on a series of 16 terraces, with a total elevation difference of 900 m. The park is split into three sections, to which you can connect either on foot or via the frequent shuttle buses and ferries running around the park. You can find a detailed listing of the many hiking paths and connections on the official website.
While our friends Jenny and Rich conquered the whole park, our family opted for the middle and lower sections and that was a great choice for us. If you just have a brief time or are visiting with young children and aren't used to hiking long distances with them, I recommend visiting the middle section: it offers the easiest walking and the most impressive scenery.
You'll start with a quick boat ride from the P3 parking area (where you'll also purchase your park entry tickets, find restrooms and buy ice cream at the end of your day) to the middle of the park (P2). You'll then spend the next hour walking around an area that looks straight out of a fairytale, with everything from babbling brooks to tall, raging waterfalls. Most of the track is boardwalk or packed dirt, but be advised that there are no guardrails – watch your little ones closely! I'm pretty sure we saw some unfortunate family with a stroller in that area, but you'll be much better off with a great baby carrier (check out our favorite carrier, which comes in both baby and toddler sizes).
See how to fit Plitvice Lakes into your own Croatia itinerary here.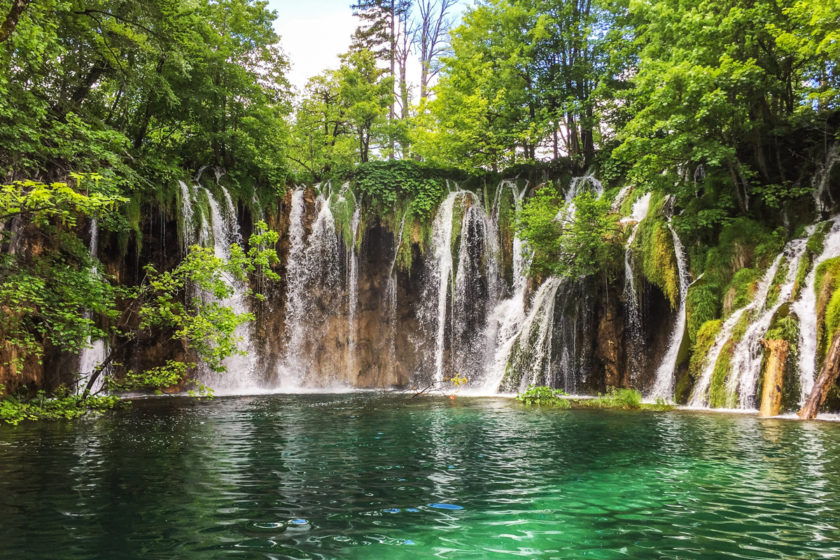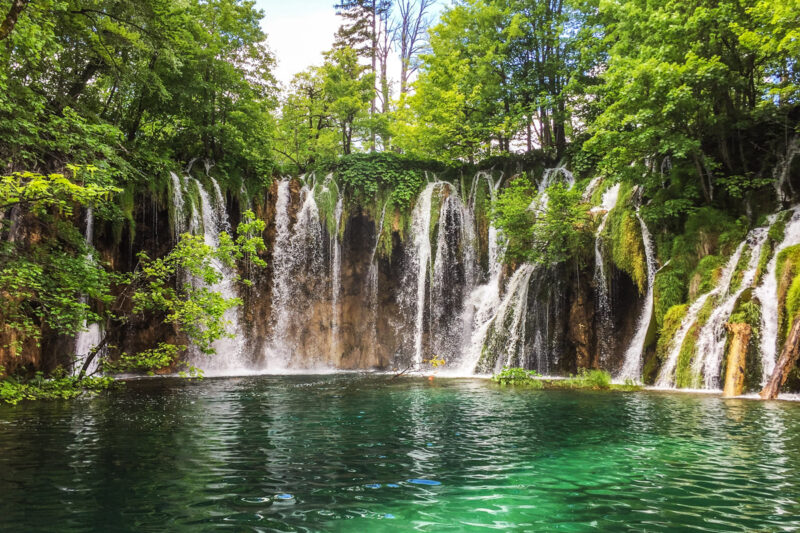 After completing the loop trail, you can continue on the next boat that takes you to the beginning of the lower section(P1). There's a restaurant on-site, with toilets and picnic tables available too. Once you get to the lower section, you'll have to make some choices depending on the timing and how much hiking you want to do – you can walk everywhere or hop on the free shuttle, as we did.
Be advised that the layout can be a little confusing; while I won't say we got "lost" (since we were still on the path with about 1000 of our closest friends), we did end up following a much longer route than we had planned. Even so, it's the route I'd recommend since it's pretty spectacular! Just be prepared, especially if you have a fairly new hiker with you, as Jacob was at the time. From the restaurant building, follow the steep uphill path/steps to access the shuttle bus at ST2. You'll take it all the way to ST1 near the end of the park. From there, you can enjoy the view above the falls and walk across back to P3. But where's the fun in that?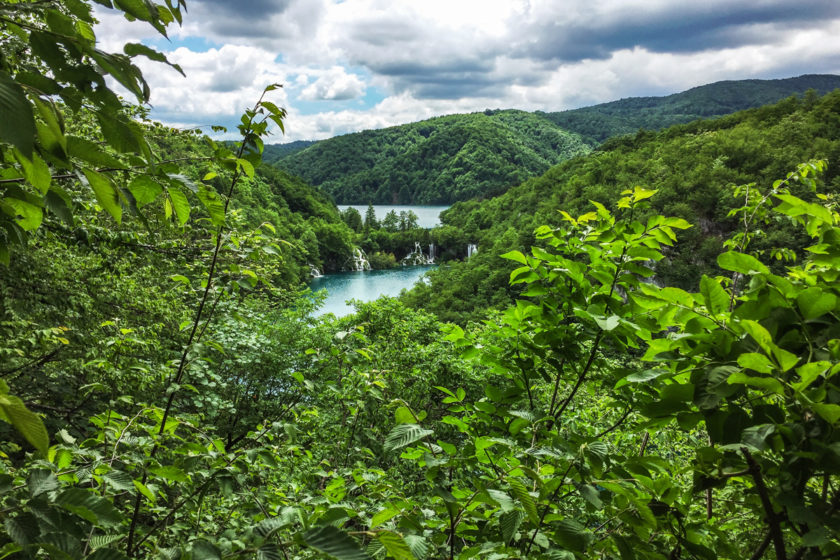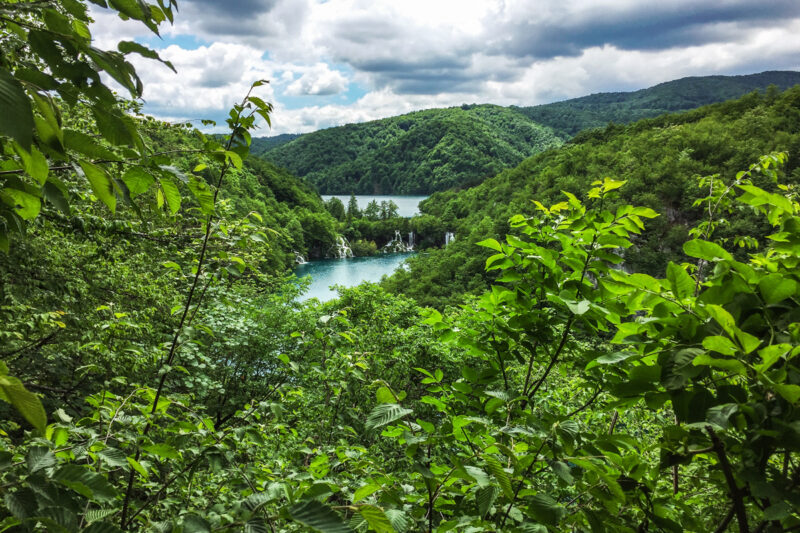 You might as well come down and see "the big slap" (slap being the Croatian word for "waterfall") and have the full Plitvice experience. If you continue in the same direction as the shuttle went, eventually you'll be able to turn left and head down a steep ramp. The views from the ramp are stellar! Once you get to the level of the lakes, stop to admire the view of the big slap, but it's probably not worth standing in the queue to get up close. Instead, fork left and head along the boardwalks that skim the lakes' surfaces and graze successively higher elevation waterfalls.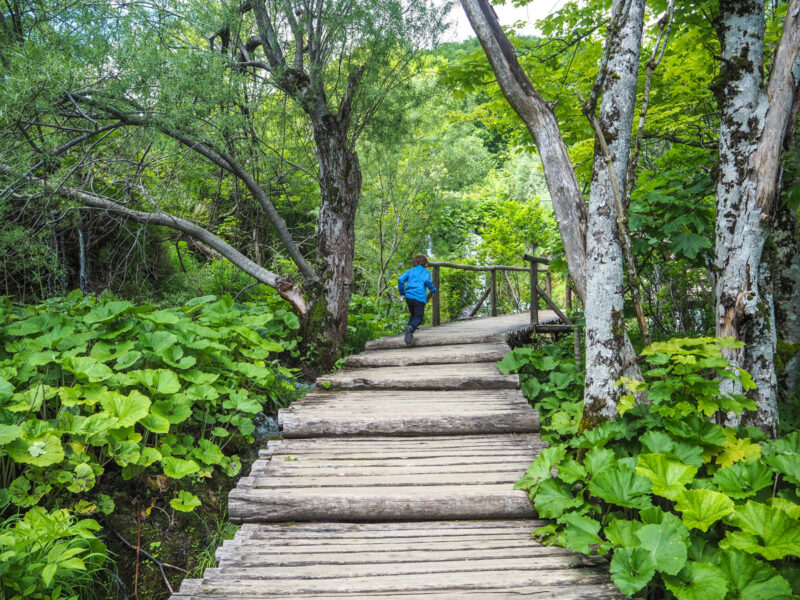 Eventually, after what felt like a lifetime to all of us – exhausted 5yo Jacob, Ronnie carrying 3yo Shoshana on his back, and me carrying my travel backpack (still going strong a year later) loaded with the entire family's worth of gear for our eight-hour hiking day, we arrived at the final bridge crossing back to the side where P3 is located. Hallelujah! Just another fifteen minutes and we'd arrived back at the bustling hub of the park, with just enough energy to load ourselves with ice cream bars and water. Plitvice is an amazing day hike in Croatia for active travelers!
Use the interactive map to find vacation rentals and hotels in Plitvice Lakes National Park here
What to bring for hiking in Croatia:
–Water bottle
–Non-nano zinc sunscreen
–Bug spray
-Good day pack (check out these great small daypacks for women)
-Hat
–Camera
-Trail snacks (a bottle of apple juice totally saved the day for Jacob!)
-Comfortable sneakers, but serious hiking shoes aren't necessary (I've had great luck with these cute sneakers, and they look pretty snazzy!)
-If you're going to Krka, don't forget your swimsuit and a microfiber travel towel
Bike the beautiful Croatian countryside
We always love exploring new places by bike, as the slower pace lets us really take in the scenery while keeping those endorphins pumping (plus we need to burn off all the extra ice creams by staying active when we travel). We quickly honed in on Croatia's central coast region as a nice spot for cycling thanks to its mostly flat terrain – after all, between us we'd have to be pulling two growing kids. Jenny and Rich planned to cycle as well, but with different ability levels (and no trailer to slow them down), they were looking for a more advanced ride.
We connected with Ivan of Karika Vodice and he was an awesome bike guide! By coincidence, our friends booked him as well (through a different company) and had a completely different but equally awesome bike adventure in Croatia. For our ride, which lasted approximately three hours, we got well out of town and rode past land that had previously been in Ivan's family.
We then took a somewhat off-road ride through history as we went across a gravel track to explore a Roman cistern (which was positively teeming with tadpoles!) and then hiked up a steep hill to an excavation site of ancient Liburnian ruins. Next we headed back through the countryside and stopped at a church that had been destroyed and rebuilt time after time whenever war came to the area.
Not only did Ivan show us all the area's cool secret spots, but he was also a great help to us along the way! He hadn't taken families out on a tour before so he didn't have appropriate gear, but he found a friend to provide a trailer and helmets for us. And when Ronnie flagged on the uphill stretches during fierce winds, Ivan managed to ride with his hand on Ronnie's back to give him an extra boost. He was also amazing with the kids – he even carried Shoshana all the way down the mountain when her legs wouldn't move any more. If you're looking for a great bike tour in Croatia, look no further than Karika Vodice.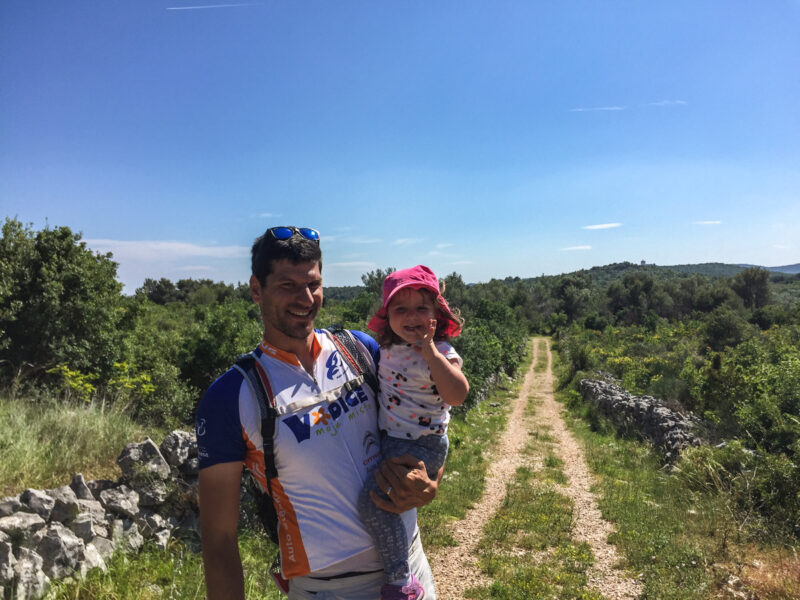 What to bring for biking in Croatia
-High quality non-toxic sunscreen
–SPF lip balm (a huge need for us!)
–water bottles or a Camelbak (we use this one when we're back in the US) or a bladder to put in your regular daypack (check out these great choices)
-For longer tours, I recommend a nice pair of cycling gloves
-A lightweight merino wool pullover makes a great choice for sun and wind protection without getting sweaty
If you're more interested in purchasing your own bike to use at home, check out these top cruiser bikes – they even come now as hybrids with gears!
Sail the Dalmatian Coast
Croatia has 2600 miles of coastline, including its more than 1200 islands and islets. It would border on travel heresy to visit without getting out on the pristine Adriatic waters! Whether you choose a day trip or spending several days on an island (do your research, as they all have different personalities) it's sure to be a relaxing and picturesque experience. Sailing and other boating excursions are among the top Split, Croatia activities. You can even book a multi-day trip to sail the Croatian coast.
Our family loves every type of boating excursion – sailing, kayaking, big whale watching boats – and our fun day charter to hop to Solta was no exception. You can read all about it here (and let the photos convince you), or go book your own if you're already convinced.
Did you know that private sailing charters are often extremely reasonably priced if you're traveling with another couple or family? We've done it several times now (like this fun one in Puerto Rico) and found it cheaper than paying the stated rates for each member of our party on a pre-scheduled larger group boat.
If you're game for a longer day and a little more adventure on the water, book a tour to see the spectacular Blue Cave. Click here to check prices for the best Blue Cave tour.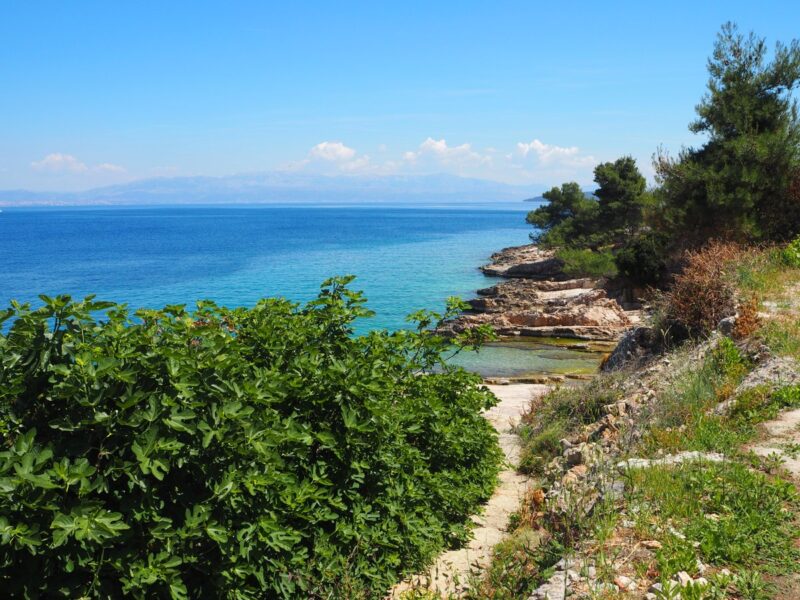 Great walks in Croatia
Walking may not seem like much of an "adventure", but a walk in Croatia is a journey through the country's rich and varied history. For most people, the best thing to do in Dubrovnik is to climb the hundreds of steps to the top of the city walls and walk all the way around. That was one of our first Croatia activities and it was just as amazing as it looks!
The history is even more apparent than you think – the obvious layer is that you're walking on ancient stones that protected the people during the era of European city-states, but in the much more modern context you can look to the differing rooftop colors to see which buildings had their roofs blown off during the Balkan War of the 1990s.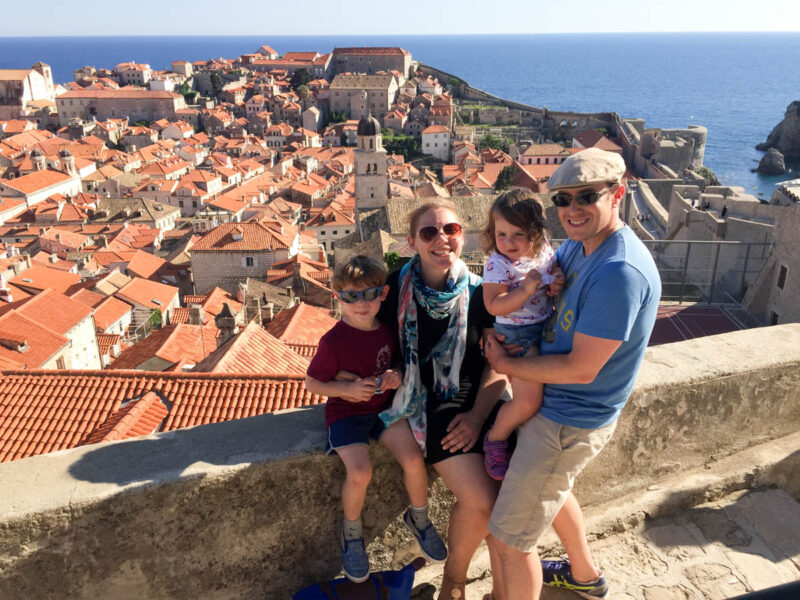 If you're more into scenery than history, the entire walk looks like it belongs on a postcard. You'll see craggy cliffs, harsh waves lapping against the ancient walls and, yes, the quintessential view of the city's distinctive red rooftops. Pro tip: if you go in spring or summer, bring plenty of water, but also don't forget to stop for a delicious fruit smoothie once you're halfway around.
Make sure you head up the Mt Srd, Dubrovnik tramway in the late afternoon! You'll want a reservation at Panorama Restaurant & Bar to catch the spectacular Croatia sunset over the Dalmatian Coast islands.
Looking for more Dubrovnik activities? Don't miss a day of wine tasting, good eating and beach-hopping in the Peljesac Peninsula.
Once you head north to Split, you'll walk through Diocletian's palace, a vestige of Roman rule in the area. So many cities treat an ancient castle as purely a historical site to be built around, but Split has taken an entirely different approach! Nearly the entire castle has been turned into a fully functional city. Old hallways are now sidewalks, and rooms are now shops and cafes. I'll admit that the whole thing felt a bit like a tourist trap when we were there (even though it wasn't yet peak season) but there are some quiet areas where you can have a look around in peace to appreciate the immense history surrounding you.

If you ask the kids about their favorite "adventure walk" in Croatia, it would probably be Zagreb – and it's not hard to see why. Zagreb was built on two levels, in English referred to as Upper Town and Lower Town. Access between the two is possible on foot, though the hill is steep; the better choice for kids of all ages is to take the world's shortest funicular! It's a cheap thrill, though make sure not to blink or you'll miss it. Once you are in Zagreb Upper Town, you'll feel like you're in a completely different city, with much older buildings and a quieter pace.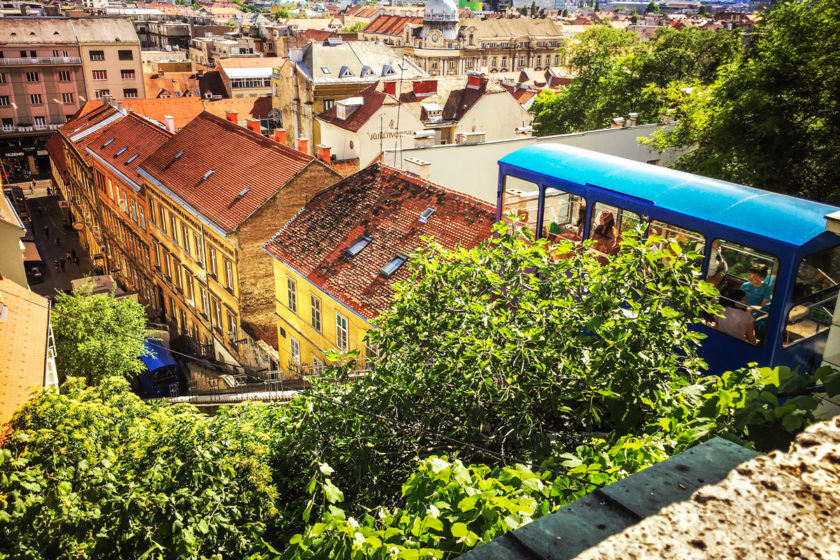 What to bring:
-Collabsible water bottle (see why we love this one)
–Sunscreen
-Hat
-Camera
-Cute-but-comfortable walking sandals (these are so amazing that I'm bringing them all around the world – see what else I packed!)
Where to stay in Croatia
We stayed in some amazing holiday homes in Croatia and found the hospitality to be unlike anything we've experienced at other rentals, and each one was nicer than the last! All of our places to stay in Croatia were booked on Airbnb – if you're new to the site, click here to score a discount on your first booking.
Best place to stay in Dubrovnik
This lovely apartment is just outside Dubrovnik in a lovely location and represents an amazing value, plus it gets you away from the hustle and bustle of the throngs of peak-season tourists and cruise ship visitors – we think this quiet area is the best place to stay in Dubrovnik. We loved sitting out in peace on the terrace for breakfast and benefited from easy bus access to town. Being outside of the crowded tourist area also gave us an easier exit to take our day trip to the nearby Peljesac Peninsula, a wonderful spot for wine tasting, great food and secluded beaches. Check prices and availability here.
Check out these other great places to stay in Dubrovnik
Where to stay in Sibenik
Most tourists haven't heard of Sibenik, a mid-sized city on the coast just north of Split. Admittedly it lacks some of the (touristy) charms of Split, but it makes up for it with thinner crowds, lower prices and easier access to some other sites like Krka. The hospitality of owner Kresimir was amazing – he actually popped over from his home in Serbia just to greet us and get us settled in! The apartment is fantastic for a family or a group of friends thanks to the three bedrooms and three bathrooms. Kresimir even provided a toddler bed for Shoshana.
But the best part? He sweetly stocked the entire fridge and panty to make sure we had ample breakfast and snacks for our stay! We arrived to find milk, yogurt, juice, fruit, fresh bread from the local bakery, several types of cereal and all our favorite toppings for toast, form jam to Nutella and back again. It was a spread to rival most hotels and b&b's we've visited, and well beyond anything I'd ever expect from a holiday apartment. Don't miss this gem in Sibenik – it's a great place to stay on the Dalmatian Coast. Book now to lock it in for your trip, as it's a very popular apartment (for good reason).
Where to stay in Plitvice Lakes National Park
Staying in the national park was a great way to disconnect from the busier coastal areas and re-connect with nature. We rented this amazing house and had so many great times relaxing, cooking and playing there. The best part? We walked straight to the hiking trails! Check prices here.
Where to stay in Zagreb
If you love all things modern, you'll love our Zagreb apartment! It's technically two apartments, a studio and a two-bedroom that can be connected and rented together – perfect for us as a family with children and a couple. The kids could have spent the whole day in their respective bunk bed nooks and we all loved the extremely central location. Reserve the best place to stay in Zagreb here.
If you plan to continue traveling, check out this comprehensive guide to backpacking Europe
Wrapping up
We hope you've found inspiration to go adventure in Croatia (try these photos if you're looking for some less-adventurous inspo). Drop us a comment to let us know which one sounds like your speed! Looking for more Croatia top attractions?
Still planning you trip? Pin it for later!