We always love exploring coastal regions by boat, and the beautiful blue waters of the Adriatic Sea off of Croatia provide an ideal adventure for our family trip! While there are many options for sailing and kayaking in Croatia, we hooked up with Opcija Tours, based in Split, for our private charter.
"Wait, did you say private charter?"
Yes, private charter. It's not the first time we've chartered a boat either! There are always group boating expeditions available, but we've found two advantages to going privately. First, when kids are involved it's so nice to set the schedule and activities ourselves. We may decide to prioritize visiting an island with a beautiful swimmable beach rather than sailing to a remote area and then hopping in a speedboat to explore a dark cave (it was really tempting, but we felt that The Blue Cave wasn't right for our kids for a few reasons). As for the price, we have generally chartered a boat when traveling with friends – once you have a group of six people or more, often there's a minimal cost difference for just doing it on your own.
Looking for even more ideas for Croatia adventure holidays?
Back to our expedition: we spent the day on the Posevnik, guided by captain Glorian and first mate Jasna. One word to describe Glorian and Jasna: awesome. Cliche, but true. They were extremely welcoming and great company for the day. The reality on a small-group sail is that you'll spend just as much time hanging out with the captain and crew as with your fellow travelers, and it's just another great opportunity to forge connections and understand local culture and history.
While Glorian and Jasna are relatively new to running guided sailing tours, like everyone in the area they grew up on boats and have a deep understanding of the local seas. Glorian even gave us an in-depth tutorial on the various wind patterns they experience in Split. Jasna is equally experienced as a sailor, but she immediately charmed Jacob and Shoshana so they weren't willing to share her attention with us grown ups for much of the voyage.
Read more Croatia articles or get Europe travel inspiration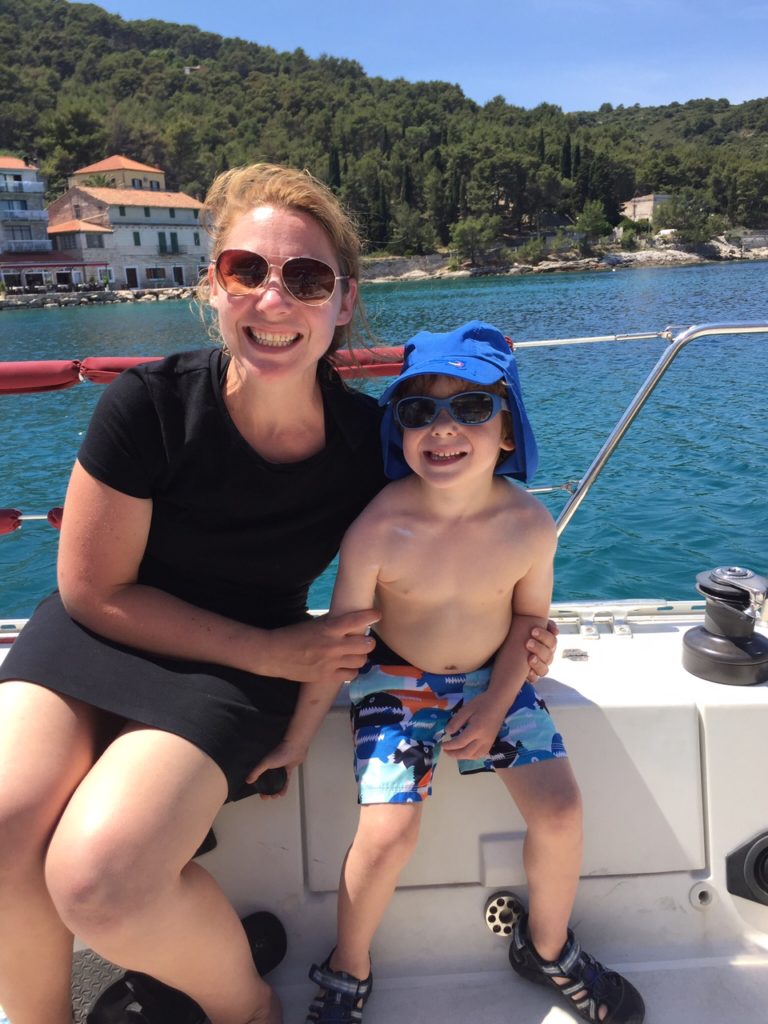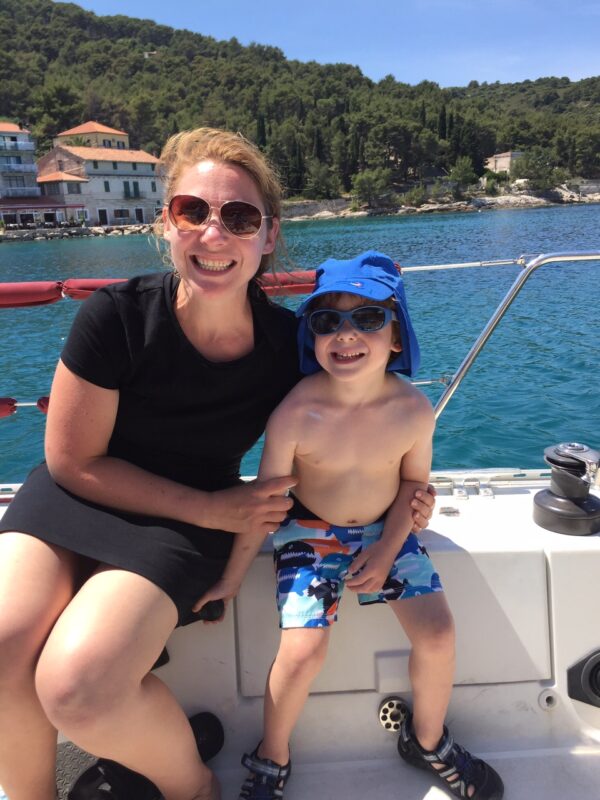 Use the interactive map to find vacation rentals and hotels in Split, Croatia
---
Itinerary for Families Sailing in Croatia
We left port in Split around 10am and, in contrast to the intense winds of the previous day, the air was pretty still. That made for smooth waters, but to get out closer to the island of Solta we had to use the motor for the first hour. Once the wind picked up in the open water, we opened the sails to get us the rest of the way to the island.
Find out what to do on land in Split in one day
There's something glorious about sailing through the open water on a beautiful spring day! The bow was set up with cushions, so it was a great place to lay down and enjoy the sunshine and a delicious homemade snack of dried fruits and miniature quiches.
The best surprise? Dolphins! Apparently there are many bottlenose dolphins living in the waters off of Croatia's coast, but we hadn't expected to see them and were all delighted to see them (and possibly shouting and pointing like excited kids when they popped up).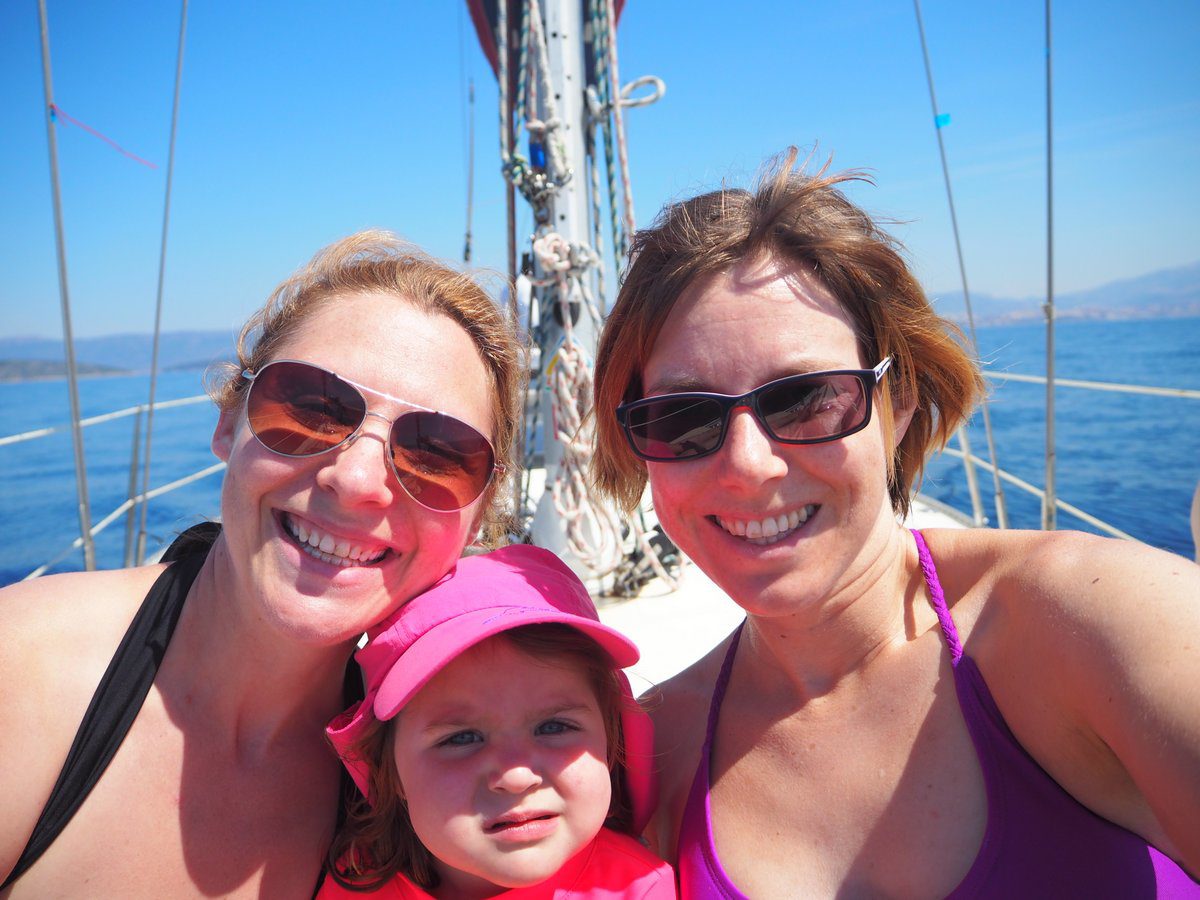 Once we docked on Solta, our group had about 45 minutes to explore on our own. We took a walk to a postcard-worthy secluded cove and then headed back a little closer to the harbor for a little wade into the water.
Pro trip: Bring your water shoes, or plan to wear your flip flops into the water. Really. I swear the beach rocks on Solta are actually miniature razor blades and there are approximately ten million of them underfoot with every step. Consider yourself warned.
Related: Wondering what else to pack for your trip to Croatia?
We knew we'd have time for a proper razor-free swim later in the day, so we hopped out and dried in the sun during the brief walk back to the local cafe where we had docked. One of my favorite aspects of private charters is that the schedule is mostly our own; it was no big deal that several of us grown ups wanted to sit for a cup of coffee (the kids didn't complain either).
Want more time on the Croatian shore? Check out these fantastic things to do on Cavtat.
Once we were back on board, the real fun began! We sailed over to a small, empty bay off of Solta and dropped anchor. Jasna invited us down into the cabin, where she had laid out a beautiful gourmet lunch for us! Fresh produce, hearty grains, a variety of local cheeses, homemade mushroom and chicken patés and a delicious summery wine. It was perfect to fill us up without causing anyone to feel seasick. Jacob finished eating (his version of it, at least) before the rest of us so he and Jasna stole as much extra bread as we would allow and they sat on the bow tossing crumbs to the fish and watching them swarm around the boat. I've never seen him so happy!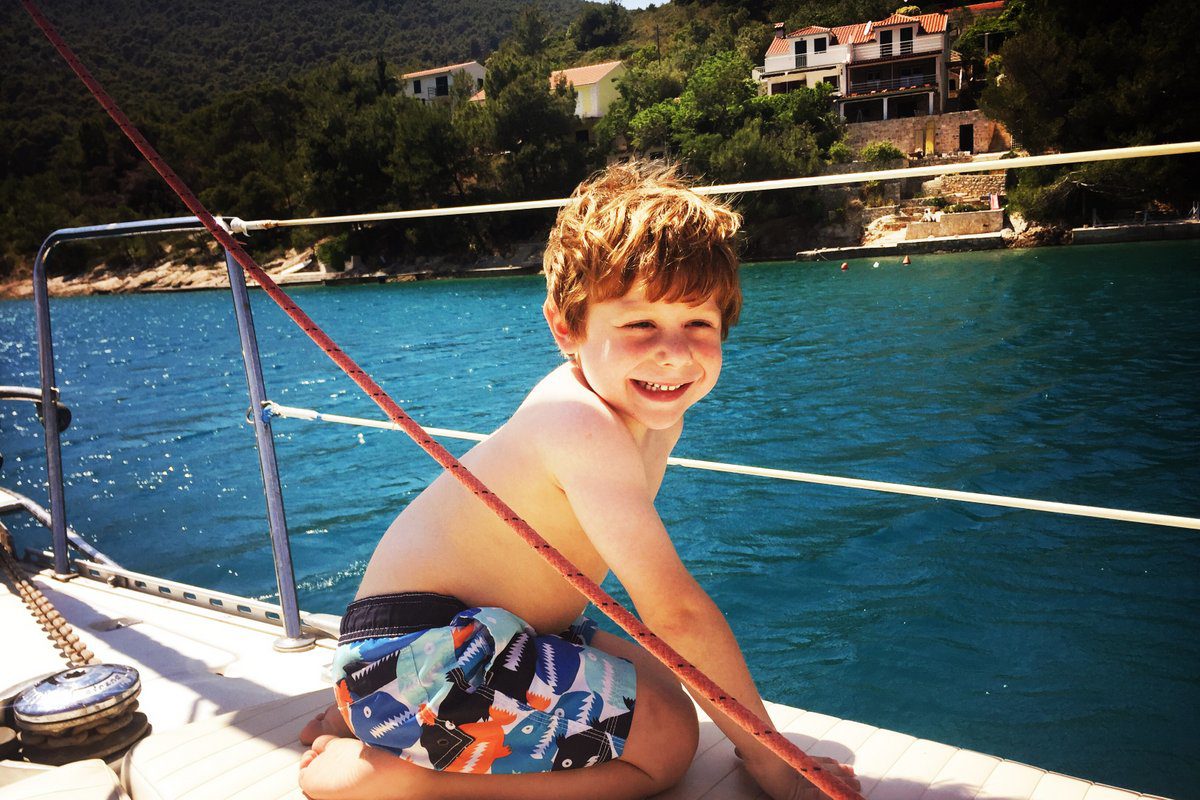 After a little time to digest, it was time for a swim. Moment of truth: that was was cold. Not freezing, but definitely not the bathwater temperatures you can expect if you go swimming in the Adriatic later in the summer. That said, it was pleasant enough for a swim; Jen and Rich did a "real" swim to keep them in shape for their triathlons back in Australia, so they thought the temperature was lovely. We hadn't brought towels, but the sun was strong enough to (mostly) dry us off once we got back on board.
Still not summery enough? Check out these great spots for summer in Europe!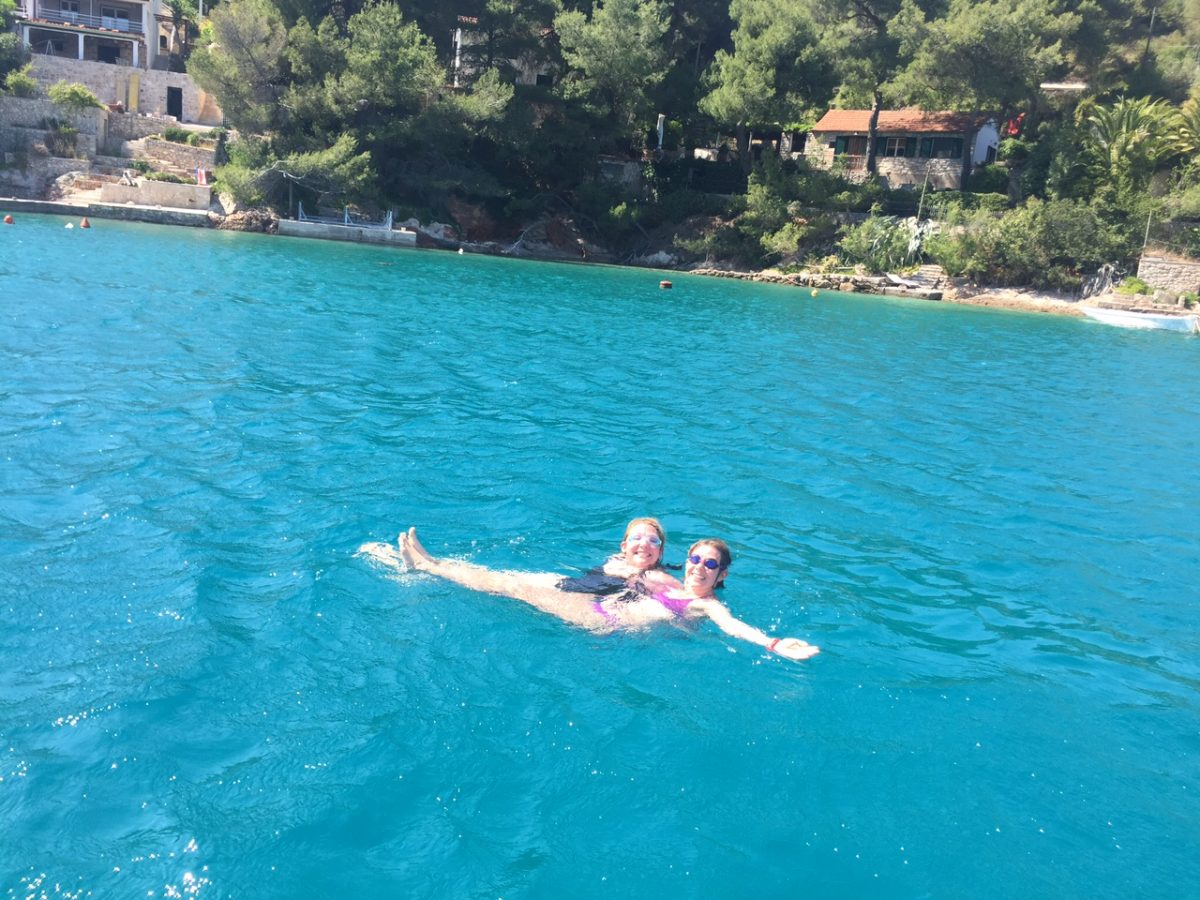 By the time we all got situated, the afternoon was wearing on and the kids were getting tired. Fortunately there's plenty of space down below for naps. We set each kid up on a banquette and used the boat's extra sheets to tuck them in. Jacob had a great rest and Shoshana slept like a log, with only one brief waking when the waves picked up but then she went right back to sleep. We motored much of the way back to Split due to the crosswind and returned safe and sound around 5pm, just the right time to grab a drink at F de mar.
Find out why sailing is a great way to travel sustainably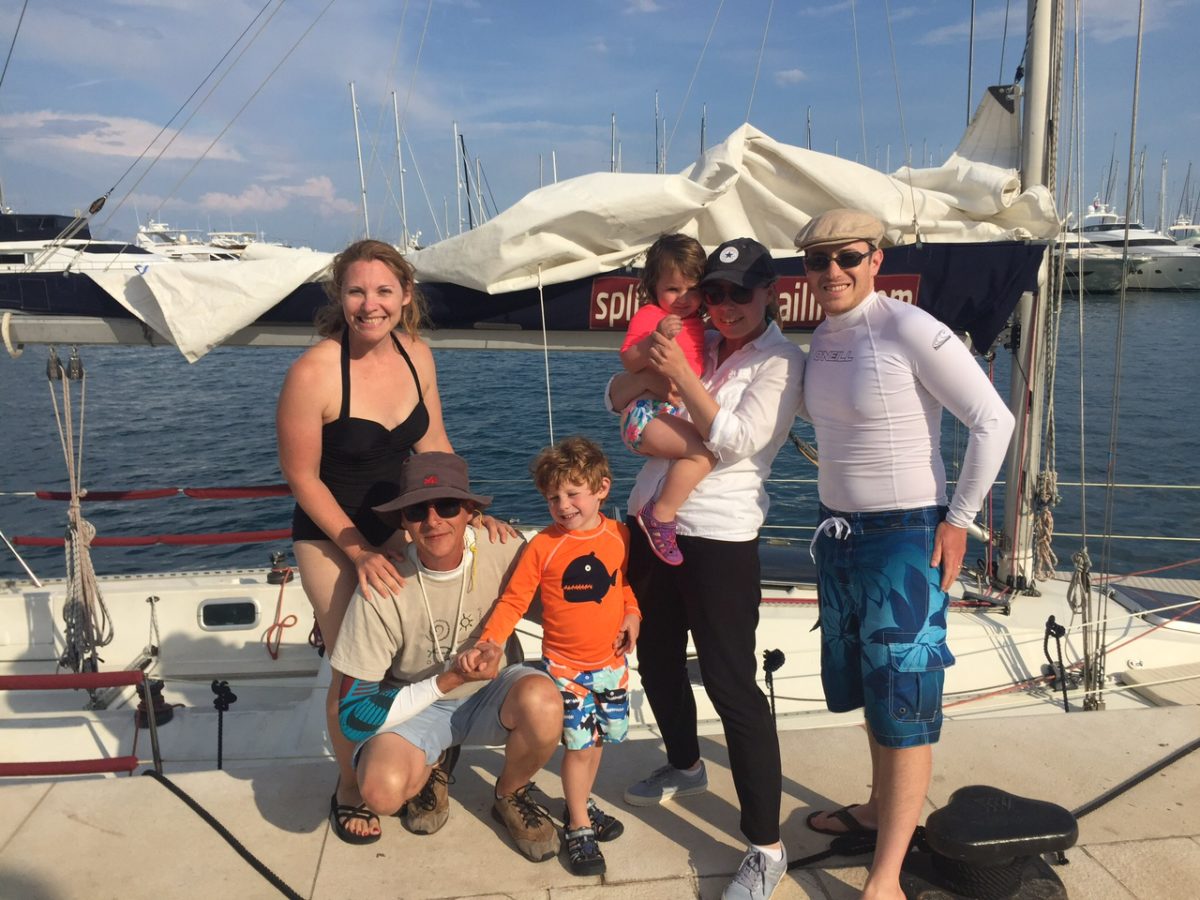 Planning a trip to Croatia? Check out the best of the Dalmatian Coast and don't miss a visit to the UNESCO World Heritage Site at Diocletian's Palace.
What to pack for a family sailing trip in Croatia
Where to park for Opcija Tours in Split
The boat is docked in front of F de mar restaurant. We parked behind Diocletian's Palace because we knew where that parking lot was, but please don't make our mistake. There's plenty of parking closer to the dock, including one adjacent to Hotel Matejuska.
Opcija Tours provided a discount on our tour in exchange for a review, but all opinions are my own.