We all see those beautiful pictures on Instagram of model-like influencers wearing low-cut spaghetti strap dresses or tube tops with flowing pants while reclining on bejeweled pillows in the middle of the Sahara. Right? After visiting numerous areas of Morocco, I can tell you that this is not how people dress, and it's certain to bring you all sorts of the wrong kinds of attention – whether outright harassment or heightened courage to try separating you from your money. I'm not here to debate whether or not women should be free to dress as they please, but when you're deciding what to wear in Morocco there are plenty of reasons to keep local customs in mind.
The weather in Morocco in spring is extremely pleasant, but if you came only with skimpy clothing you'd probably find yourself running out for an impromptu shopping trip! While we envision deserts as hot all year round, the weather in Morocco in spring peaks in the 70s. Coastal Essaouira barely grazes 70 until May and can be fiercely windy. While the country never receives tons of rain, March and April are among the rainier months. So what's a girl to pack? Keep reading to find out!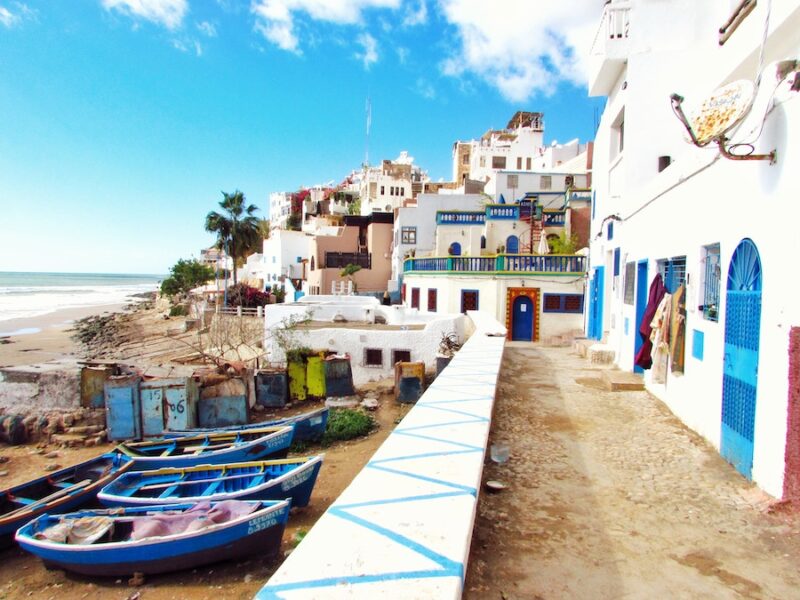 Local customs on what to wear in Morocco
In general, Moroccan society is fairly conservative. While tourists often dress less modestly, staying in our HomeExchanges in local neighborhoods gave us a clear sense of their societal norms. We found that it wasn't only women covering up their bodies, but often men too.
We never saw a Moroccan man wearing shorts and Ronnie got some funny looks from locals when he did. We did see Moroccan men wearing short sleeve shirts, but not with nearly the frequency as in the US (probably in part because it wasn't yet truly hot weather). In Essaouira we saw more men wearing traditional djellabas than Western clothing!
As for women, you won't really see Moroccan women showing off anything when they walk through the streets and you should consider the same for your visit – not only will you avoid unwanted attention, but you'll also show respect for the host culture. At a minimum, you'll want to cover knees, shoulders and cleavage. In all honesty, the one time I wore an otherwise-modest short sleeve shirt I got plenty of sideways looks. Even our daughter – just 3 at the time, and strong-willed about her clothing choices some days – earned us stares and glares when she insisted on wearing a short skort. You probably won't be judged as harshly if you stay within the touristy confines of the medinas, but if you go out into neighborhoods or even small towns it's important to be mindful of your clothing choices. Most Moroccan women we met wore either a djellaba or a long tunic with pants.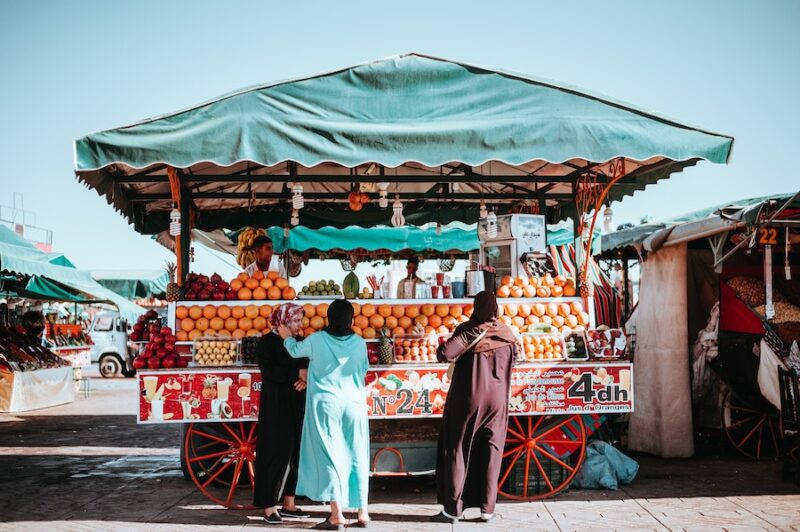 What to pack for Morocco in spring
I usually like to start packing lists with shoes, but for Morocco I think a "top down" approach makes more sense due to the weather considerations and standards for modesty. My favorite solution for the variable weather of Morocco in spring was a long, lightweight tunic layered over a camisole and paired with my black jeans. Light weight tunics are great because they generally pack down small and layer well.
-4-5 long sleeve tops like these long, lightweight tunics (also available in fun prints!)
Psssst… this is one of my favorite necklaces and it pairs perfectly with the necklines on so many tunics!
-2-3 camisoles (I have two of these amazing organic cotton ones and I absolutely love them!)
-2 long pants or leggings – I find it easier to stick with black bottoms and then add prints or accessories on top
-1 long skirt (or an extra pair of pants)
-1 sweater or medium jacket to wear at night (consider a packable rain jacket)
-comfortable walking shoes like TOMS Avalons or Sketchers (we rarely saw locals wearing sandals, at least in April)
Here's me in Essaouira wearing my go-to Morocco outfit… pretty much the same thing every day.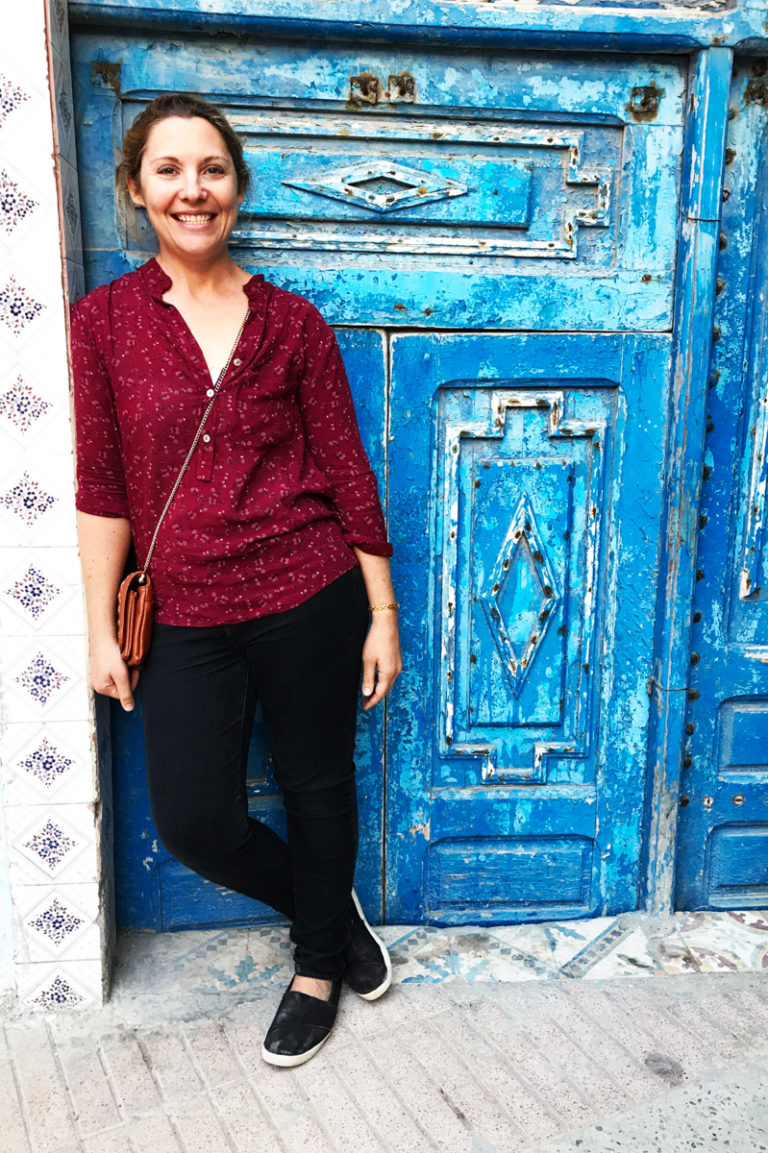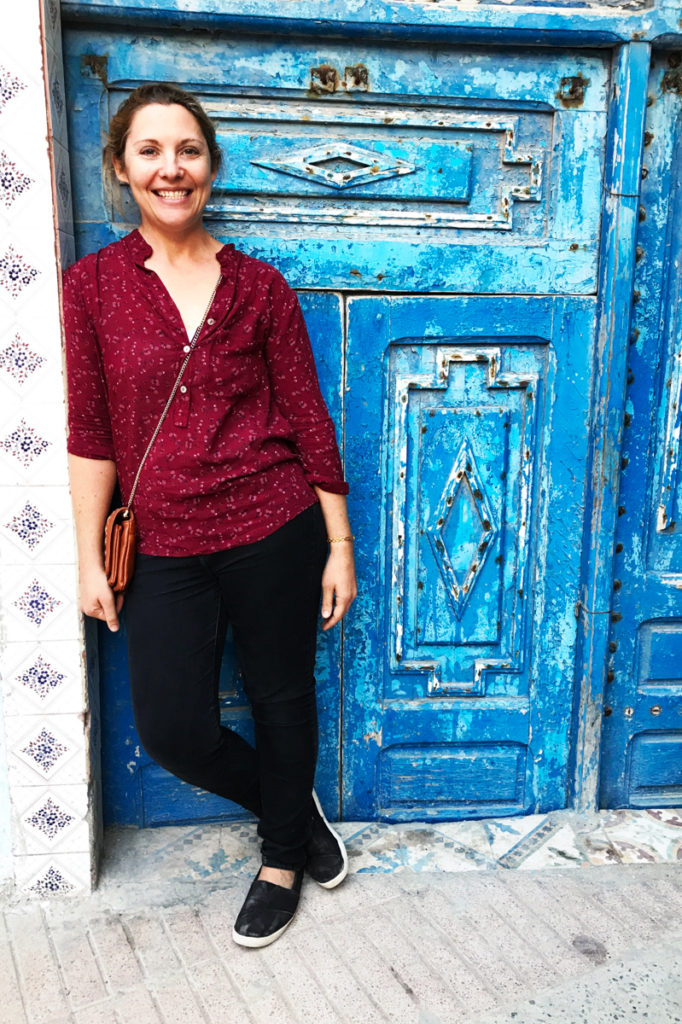 Travel accessories for your Morocco packing list
What should you pack for Morocco beyond the clothing? Here are a few accessories that will make your trip even better!
Serious sunglasses
Want a tried-and-true method of keeping harassers at bay? Bring your sunglasses and wear them, pretty much all the time. If they can't make eye contact, they're more likely to buzz off. Oh, and they're good for your eyes too.
The right water bottle
First and foremost, Morocco is an extremely dry country. Make sure to always carry water with you to avoid dehydration. The local water has plenty of "unfamiliar" constituents that may make you feel ill if you haven't lived in the area. Single-use plastic bottles are terrible for the environment, so there are a few solutions you can try to minimize your impact.
The GRAYL water filtration system can purify 16oz of water in just 15 minutes! The price tag is a little steep but it's a great choice if you frequently travel in places with questionable water sources. Another great choice is the Lifestraw bottle with an integrated filter. It's a little less expensive, but the tradeoff is that drinking is slower since filtration happens in "real time". We didn't have either of these solutions with us since our trip to Morocco was planned about three days in advance. As a compromise, we bought huge jugs of water at the local shops and poured them into our Hydaway bottles to take out for the day.
A phone case – with top secret storage
I'll go out on a limb and say that pickpocketing is less of an issue in Morocco than in-your-face scams and money grabs. Charming, eh? But a great way to protect yourself is to stash a spare credit card and a little cash in a place most people will never look: your phone. We've been using these awesome cases ever since we left for our gap year and they're amazing – no one will realize you've got anything in there unless you show them. I don't generally carry a purse in cities now; instead I just put my phone with my ID and credit card securely in my front pants pocket and go merrily on my way.

A compact camera to capture all the memories
You'll want a great, compact camera to document the rich colors, intricate tile work and gleaming tea pots you'll find throughout your trip. There are thousands of choices – and what you pick depends on your interest in photography and your willingness to haul gear around. A bridge camera is a great choice to balance sophisticated feature, great quality, light weight and a reasonable price.

A small purse or daypack
You'll no doubt want some sort of large purse or other daypack to carry your necessities. We typically opt for a backpack, but a cross-body bag that you can keep close in the crowded medinas is a better choice. To avoid a sore shoulder, choose one that you can't overload too much. I prefer a zipper (or even a zipper with a flap over top), as it's more secure than a flap closure over an open compartment.

Morocco plug adapter & charging solution
Morocco uses standard European plugs, so if you're coming from elsewhere you'll need a Morocco plug adapter. You can definitely pick up a cheap Morocco travel plug, but we got tired of keeping track of different ones for every continent we visited and having to use a separate USB adapter for each one. The solution is to buy a high-quality international travel adapter – charge a device from any country in any country! This one is going on my personal wish list since it combines an international power adapter with a USB hub. Charge everything at the same time!

Some medicine… just in case
We try to avoid the "traveling pharmacy" route. There are just too many potential needs and not enough space, and pharmacies almost everywhere carry the basics to cover traveler needs. But I'll make one exception if I ever return to Morocco: I'll come stocked with my own Immodium! We witnessed some questionable food preparation hygiene standards (including the pervasive lack of hot water and soap at sinks everywhere) and, indeed, I fell victim. I was extremely fortunate that I could send Ronnie out to pick up some Immodium for me, but from now on I'll bring it with me just in case.

Plan your trip to Morocco
We have plenty of resources here on The Family Voyage to help you start planning your trip to Morocco! Read these next:
–Traveling in Morocco: the good, the bad and the ugly
–Why you should visit Morocco in spring
–Visiting Essaouira – our favorite place in Morocco!
–Morocco with kids bucket list
Need more help planning? Pick up one of these great guide books:
Still planning your outfits for Morocco? Pin this article for later!