We've always wanted to visit Morocco, and when we wound up in Europe with all of April free during our gap year we figured it was a great opportunity to visit. After all, flights to Morocco are very affordable (and we booked them for free using our Chase Ultimate Rewards points!) and there are lots of wonderful HomeExchange homes to choose from. April also offers ideal weather as you'll see in many of our pictures below! But as with any country, there are highlights and disappointments (and downright aggravations) when it comes to visiting Morocco. So before you board the plane, make sure to read the good, the bad and the ugly of travel in Morocco.
Please don't misinterpret that we disliked our time in Morocco. We had a lot of fun and interesting experiences, but we're still processing our thoughts on the country overall as a tourist destination. Before visiting we had heard almost exclusively raves from bloggers, but since returning and talking to others we find that many people share our mixed sentiments. Because our whole purpose in writing this blog is to share genuine on-the-ground experiences, it's only fair to be candid about what we (and apparently, many people) experienced as tourists in Morocco.
Some of the issues we encountered, like not being able to find good transportation to some places or dealing with irritating Airbnb hosts, are non-issues if you take a group tour like this one that my brother did. They're more expensive than the DIY options we usually go for, but Morocco tours are surprisingly affordable and probably more pleasant than what we dealt with! If you're considering that route, be sure to read up on Intrepid vs G Adventures.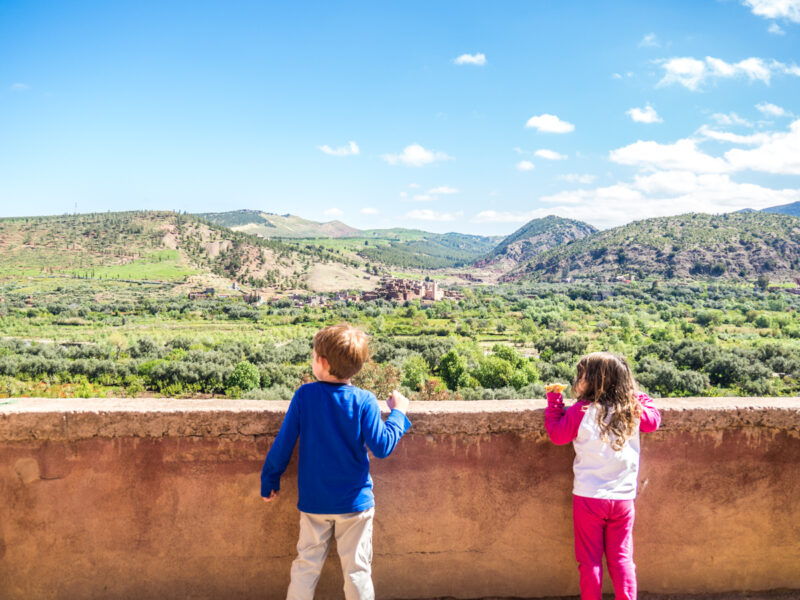 Use the interactive map to find vacation rentals and hotels in Morocco
---
Food in Morocco
The good
We love Moroccan food! Tagine, sweet chicken and almond pastille, fluffy couscous with root vegetables, salty turkey shawarma, cheap and filling soups… we love them all. Even for families visiting Morocco with kids as picky as ours, there's almost always something for everyone. Thanks to the heavy French influence, you can often find a plain omelette or even a flaky croissant. The oranges are the best we've ever had, and extremely cheap from local street vendors. We also found restaurateurs to be some of the nicest people we met (perhaps since they already know they've got your money – more on that later). Don't miss Restaurant la Tolerance in Essaouira or Baarada in Fez. Baarada is an especially unique experience – your "menu" is a visit to the kitchen to sample the day's options before deciding!
Want a really unique experience? Spend the day in a traditional Moroccan home preparing lunch and talking about your lives and your dreams! Read more about it here.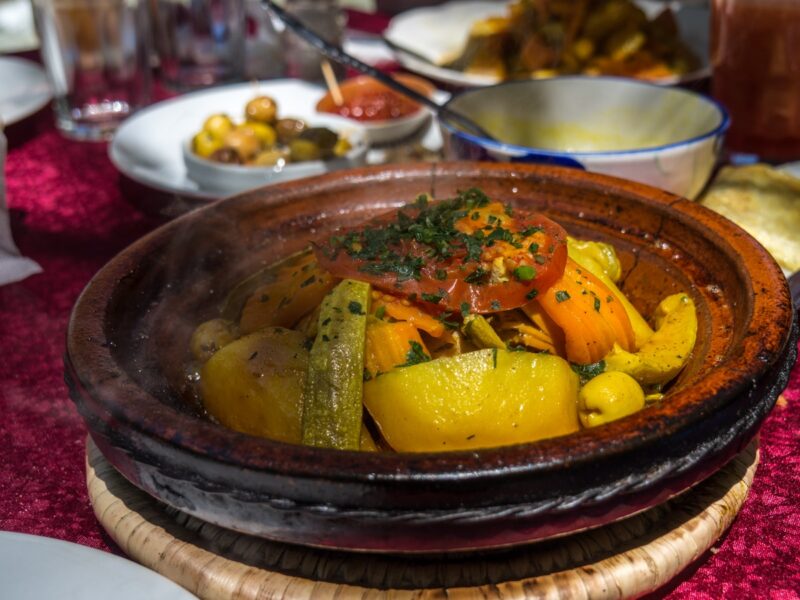 The bad
As in many developing countries, the tap water is not considered safe to drink for visitors (though many locals drink it without issue). We also found that restaurant meals were a little more expensive compared to other developing countries, though certainly less expensive than in the US or Australia for the same level of feasting.
In our experience the less-touristy areas of Essaouira and Fez don't have many good restaurants to choose from, probably because Moroccans don't seem to eat out for dinner as much as people who live in other major cities. Instead, especially in Fez, we mostly came across open-air cafés where men sit (perhaps while waiting for their wives to cook dinner and tend house, based on what we were told by some locals) and smoke, drink coffee and openly stare at passers by. It's sort of like the Parisian tradition of people-watching at cafés, but much less inviting. If you're doing solo female travel to Morocco, take note: sitting alone at one of these cafés may invite the wrong kind of attention, as only a "certain" kind of woman would do that.
The ugly
I spent our first full day in Marrakech alternating between the bed and the bathroom while Ronnie and the kids enjoyed a wonderful guided tour through the medina. We still don't know the culprit, as we all ate the same foods and I was the only one impacted.
I've heard from other visitors to Morocco that they experienced the same thing – though of course it definitely happens in other countries too, especially those where the local water isn't potable. Unfortunately some of the hygiene is questionable in Morocco – we rarely encountered hot water in sinks, which makes me wonder how dishes (or hands!) can be adequately cleaned between uses.
Make sure you're covered by a reputable travel insurance policy in case you're seriously impacted and need medical attention – this policy is great all over the world. At a minimum, throw some Immodium in your backpack in case you get hit with a food-borne illness and aren't able to get to a local pharmacy.
See how these issues in Morocco compare to safety in Egypt.
Places to see in Morocco
The good
Morocco is a beautiful country, offering all types of tourism options! You can explore the rich history of the country going back thousands of years, appreciate the beautiful architectural details like carved wood and tile work, cool off in the beautiful snow-capped Atlas Mountains, get lost in a medina or (of course) ride a camel over seemingly-untouched dunes in the Sahara. The whole country is a feast for the eyes!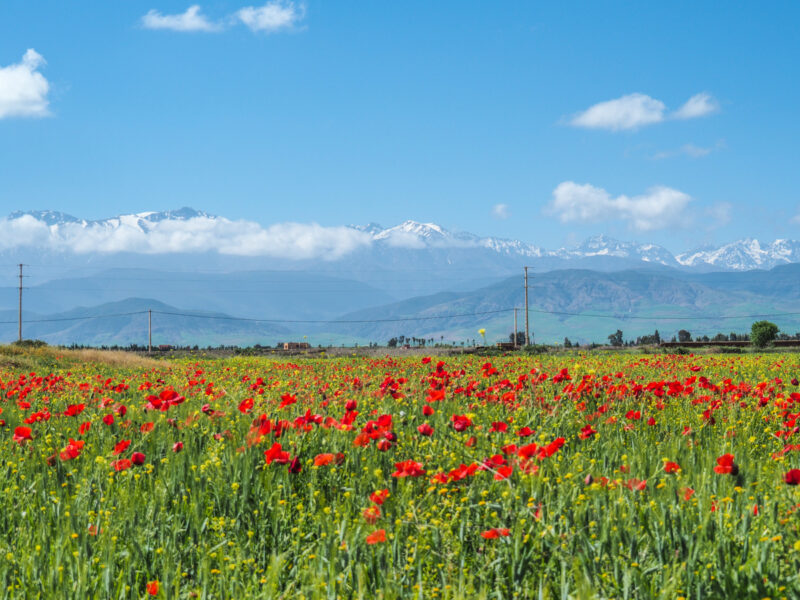 The bad
Getting to some of the coolest areas requires a bit of advance planning, as they're not exactly next door – though their remoteness has surely kept them more amazing! It's also helpful to have (paid) local contacts in many cases.
For instance, our day trip to the Atlas Mountains would have been doable but much harder without our driver/guide Sharif. He not only took us to Sitti Fatima, but made sure we ate at a reasonably priced restaurant with good hygiene standards, escorted us to a Berber family's home for tea and bread (the highlight for the kids!) and connected us with an excellent hiking guide. While you theoretically could do those things on your own, it would be much harder.
One of the best things to do in Morocco is pay a visit to the well-preserved Roman ruins at Volubilis, but that involved taking a train from Fez to Meknes, then a shared ride van to Moulay Idriss and finally a taxi (or private car, in our case) to the ruins – or you can take a paid group tour or hire a guide for the day.
The ugly
As with everything else in Morocco, there's no free lunch (though some lunches are negotiable, it turns out!). We considered taking one of the popular multi-day excursions out to the Atlas Mountains and the Sahara desert, complete with a camel ride and a night in a traditional tent (complete with traditional flush toilets, courtesy of power and water piped in from the nearby hotel). Unfortunately those excursions are expensive. We were quoted $1400-1600 USD for four days/three nights for our family, and we were advised that anything shorter is just too fast-paced to do with young children.
Of course we are pretty sure that there are other costs to be added – meals not covered, tips for every person you meet along the way, and more. We opted to skip on the experience, though it would have been cool and we might do it if we ever return to Morocco; for now we felt that it just wasn't something we wanted to do badly enough to justify the extremely high cost per day, especially since we got to ride camels across sand dunes in Essaouira (beware the wind!), visit a Berber family in the Atlas and take in views of the mountains in Morocco all on affordable daytrips.
Taxis in Morocco
The good
Taxis are a staple of travel in Morocco – you will see them everywhere and surely take a few. If you can fit in a petite taxi (colors vary by city), prices are extremely cheap – often the equivalent of a dollar or two for short rides. Petite taxis technically accommodate three passengers, though we were sometimes able to get one even as a family of four since Shoshana is so young. Just make sure to tell the driver to turn on the meter – there's NO NEED to agree to a fixed price for a petite taxi within the city.
The bad
The petite taxis nearly all have their seatbelts inaccessible. There's no good reason for this, as they HAVE seatbelts but they have been deliberately covered up. It's not as if driving in Morocco's cities is safer than driving everywhere else! Likewise, there's no good reason for the three person limits – it's not like they're worried about having too few seatbelts, and our family of four can fit in one car just fine. Grand taxis can fit more people, but with negotiated prices they're generally much more expensive.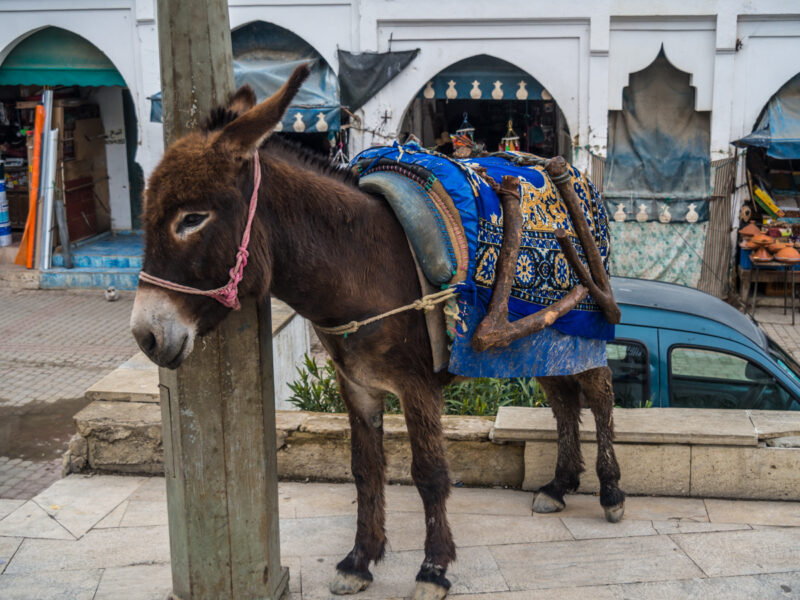 The ugly
Just like SO MANY people we met in Morocco, taxi drivers are constantly looking for ways to take advantage of visitors. Lots of drivers insisted that they couldn't take us since we were a party of four… unless we agreed to an inflated price. Then it was ok.
And like so many other vendors, they can be aggressive and relentless when pursuing passengers in the major tourist areas like medinas and gardens; we were once followed for a solid ten minutes even though we were walking with a local who was giving us a ride. For most rides you shouldn't pay more than 20-30 dirham, so if a driver tries to demand more just say no. Allowing them to rip you off just empowers them to continue the ridiculously asymmetrical treatment of tourists.
Traveling by train and bus in Morocco
The good
There are some very convenient long-distance transportation options in Morocco and they're generally affordable. We took the Supratours bus from Essaouira to Marrakech and it was certainly comfortable enough for the three hour ride.
Likewise, the train from Marrakech to Fez was extremely long at 8 hours, but the first class compartment had only six seats and was quite comfortable. On certain days of the week, that route is also covered by a short, cheap non-stop flight (unfortunately those dates didn't work for us). Pro tip: Not sure what time you want to take the train? Book second class, which can be used at any time on the booked day.
The bad
While the transit itself is fine, do plan to bring your own food. Our bus from Essaouira to Fez stopped at a rest area/café/restaurant that has food and fresh juices available. We ordered what we thought would be our best choices, but the food was utterly inedible – including two orders of french fries with visible dirt all over them.
On the 8 hour train ride from Marrakech to Fez, there was no dining car as you'd find on long-distance trains in Europe or the US, but instead a small trolley selling a few junk food snacks and some questionable looking sandwiches. Let's just say it was a hungry ride. Fortunately the train stations on either end have some ok options, namely McDonald's and KFC in Marrakech and a really friendly and tasty Venezia Ice in Fez (not pricey either!).
Also note that there are no luggage racks at the ends of the cars, so all of your belongings need to come into your compartment. Better to avoid theft, but hopefully your cabin-mates don't have big backpacks too! If you're still backpack shopping, check out my hands-on reviews of women's travel backpacks here.
Of course given the reasonable prices, if you're already buying tickets for a family of four you could probably tell them you have two extra children to get a compartment all to yourself. Overall, traveling by train in Morocco is a decent way to get around if you're prepared.
The ugly
One of the best places to visit in Morocco is Chefchaouen, the famed "blue city" in the Rif Mountains. I was so excited to visit and see the city's striking color and learn more about its long and fascinating history. We were warned to buy our bus tickets in advance, as we were visiting during Morocco's school holidays in mid-April.
As a non-Moroccan, you can only buy bus tickets in person, while locals can buy them online in advance. On our first day in Fez, we dutifully headed over to the bus station to purchase our tickets for an overnight trip to Chefchaouen later in the week. We were crushed to find out that the next return bus with four seats wasn't for another week! We could get to Chefchaouen any day, but wouldn't have been able to return to Fez in time for our flight out of the country.
The only alternative would have been to hire a private driver to take us four hours each way, at more than five times the cost of the bus. It's possible that we could have gone to the bus station in Marrakech or Essaouira and purchased our tickets, but there are a few different bus companies and some of them use different stations so the logistics can be complicated.
It would be nice if foreigners had access to online ticketing (as Moroccans do) or if the bus company could respond to additional seasonal demand with increased service. Judging by the number of private drivers hanging out at the station offering overpriced rides to Chefchaouen, we weren't the only ones left out in the cold!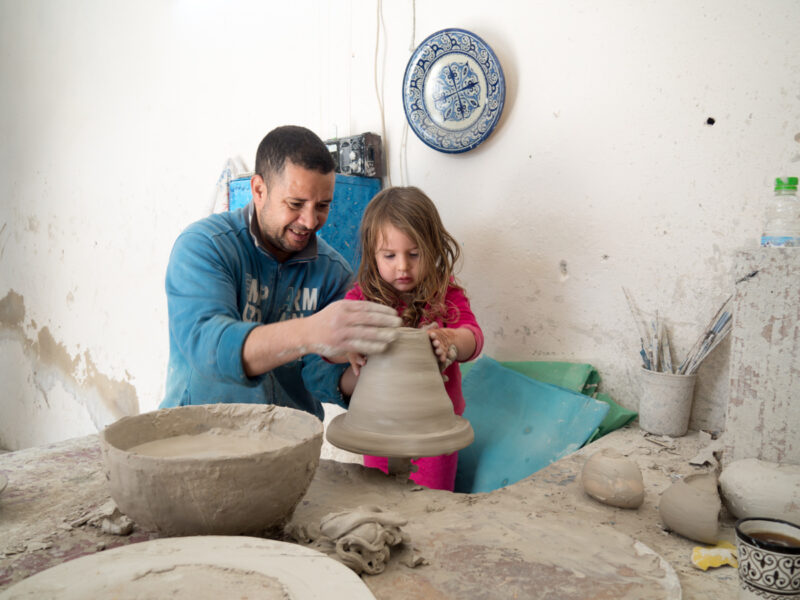 Places to stay in Morocco
The good
Morocco offers a wide range of places to stay suitable for any budget. You can spend several hundred per night for a room in a luxury riad, or you can find a decent room for $50 per night that will at least be clean and safe. Booking.com has a wide range of options – we've even got a few simple hacks to save you money on every reservation. We were lucky to score some great HomeExchange apartments to save money on our stays.
The bad
Even for special places to stay in Morocco, some elements may not be up to what you'd expect to find at European and American hotels. A traveling pair we met at a fancy riad complained that the traditional central courtyard layout made for very loud nights, with sound echoing off of the enormous tiled walls for hours on end. Most tourist accommodations are in or right near the medina, so they may be loud or challenging to find late at night (more an issue in a place like Fez than in sleepy Essaouira).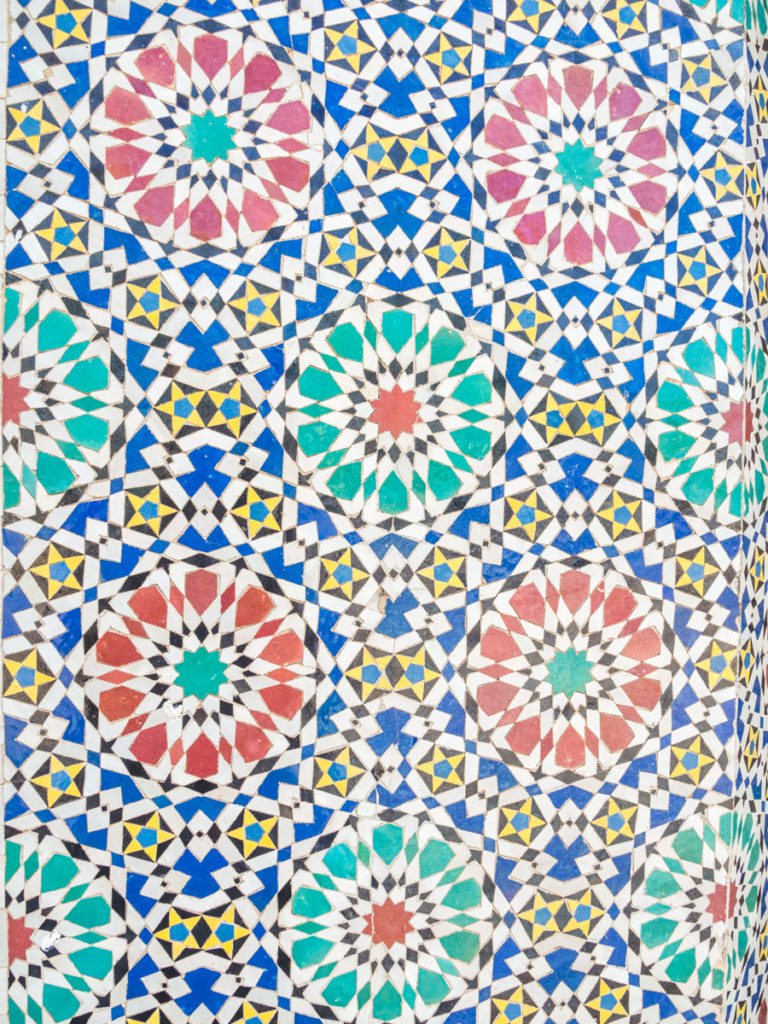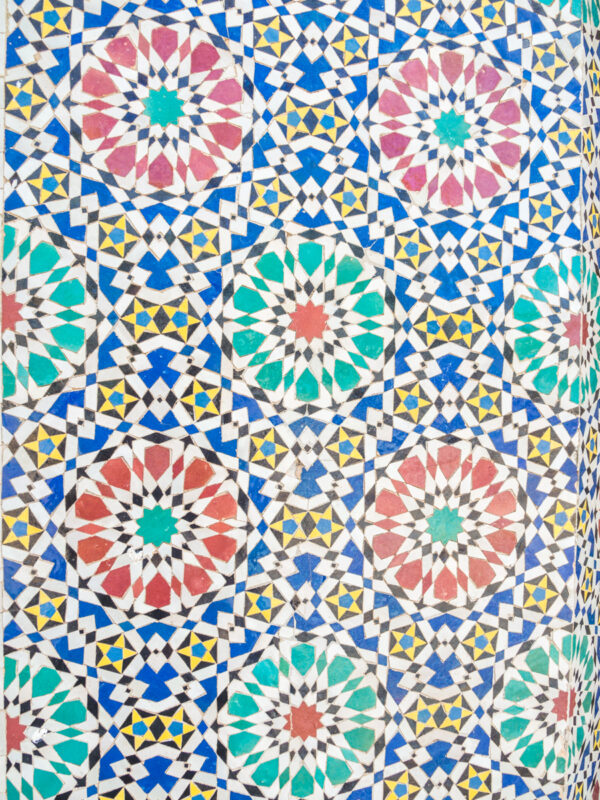 The ugly
As with other aspects of travel in Morocco, stand up for your wallet so you aren't taken advantage of. We heard from one mom that a hotel tried to force them into an upgraded room and charge an extra per-person rate for their three year old who would be sharing their bed anyway.
We also encountered someone trying to take advantage of us – he advertised his rental house as three rooms and accommodating six people; when we arrived, we found one bedroom and a living room and kitchen. Yep, he counted the kitchen as a "room". That was all after we had paid for a car transfer out to his place and he was an hour and a half late. We ended up leaving and booking a last-minute Airbnb, which had its own issues. Of course there are always "bad eggs" but sadly we didn't find the situation terribly surprising by that point in our trip.
People in Morocco
The good
We met some truly lovely people during our visit to Morocco. They were warm and honest. Some special folks we met were our Sidi Fatima hiking guide Mohammad, many awesome people in Essaouira (shout outs to my buddy Aziza at Gipsy Surfer Surf Shop and the staff at Restaurant la Tolerance) and Mr. Zayr whose farm we stayed at near Moulay Idriss.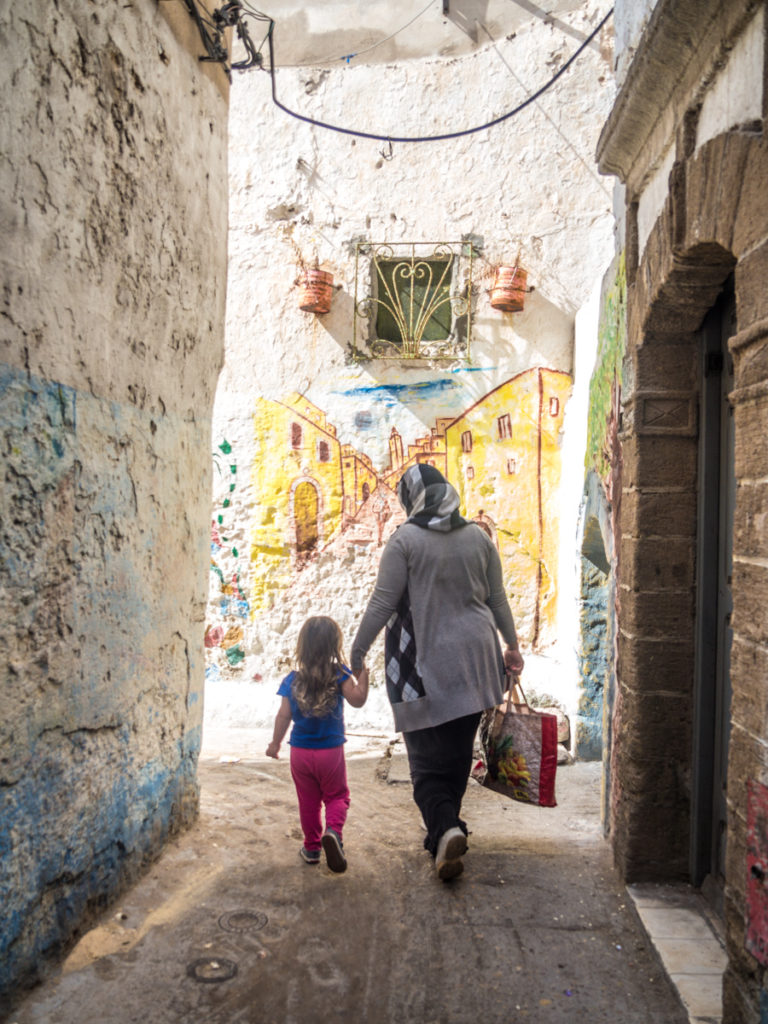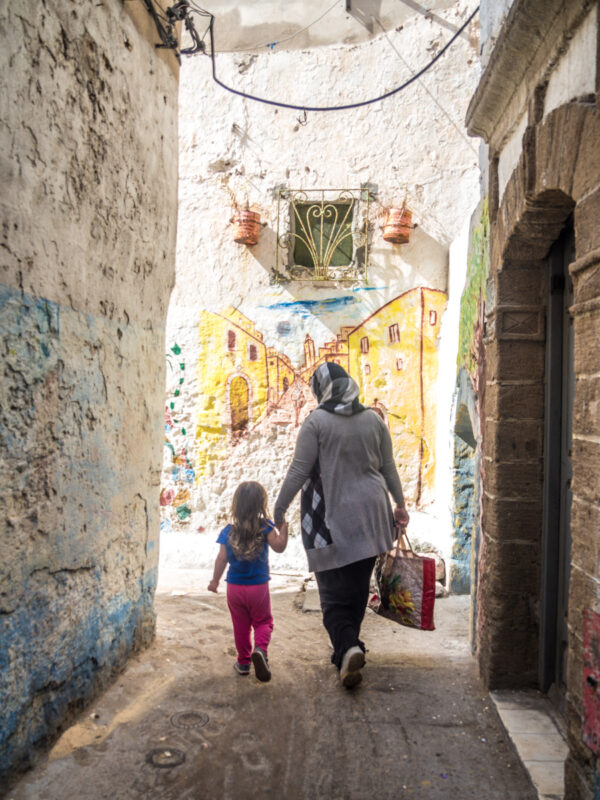 The bad
Overall we did not find most people we met to be particularly warm. It's possible that we bring a distinctly American brand of friendliness and overtness was with us, but we're used to striking up conversations with locals nearly everywhere we go. People in Morocco just didn't seem engaging in that way, whether we tried to converse in English or French.
We did get stared at a lot despite my being in modest dress at all times, and there were rarely smiles accompanying the looks. It may simply be a cultural difference, but it didn't make us feel especially welcome as visitors to Morocco.
Visitors also frequently report being hassled (or even grabbed) to go into shops in the medinas and buy buy buy! but we were "lucky" not to experience that too much (except at places we were taken by our paid "guides", which I absolutely resented).
The ugly
Ugh. Every single day, we felt that people in Morocco looked at us as walking ATMs. People tried to take advantage of us every moment that we were outside of our apartment, whether in big ways or small ways. The accumulation of these experiences left a horrible taste in our mouths. Here are just a few things that pissed us off:
-On our first day, a kind older man who offered translation help between French and Arabic led us to the old synagogue since he said he was going that way. He left without asking for money and we thought "hey, people were wrong about Morocco!" Wishful thinking. The next evening he spotted us walking elsewhere in the medina and approached to ask for "a gift".
-The taxi drivers try to get you to negotiate a price, with their starting offer at 60 dirhams – which we'd consider cheap coming from the US. The local metered price is more likely a third of that price, or less.
-On our visit to the tanneries in Fez, Ronnie admired a messenger bag. The nice man who had been showing us around the tannery told him that the regular price was 1500 dirham, but that he'd offer a special price of 1250. A steal for camel belly leather! We politely declined.
Our "guide" had conveniently left for a while, supposedly to go pray (but I wonder now if it was just to give his associates in the shop enough time to work on us – he basically left us in every workshop and restaurant to go pray). As we waited for the guide's return, another man who was supposedly the shop owner approached Ronnie and asked what his price was, asking if the other man had offered him 1150. Ha! Ronnie offered 400 dirham. No, that's not possible but 1000 would work. 400. You're too good of a negotiator – 800? 400. Please, we have to earn something – how about 600? 400.
Eventually, Ronnie walked out with his bag for 430 dirham, about one third of the initial offer. We'd been told to start negotiations at 50% of the offering price, but I think 20-25% is probably more reasonable – and then don't budge until you're within spitting distance. If they're willing to sell that supposedly artisanal, hand-crafted item for 430 dirham, they must still be making a decent profit on it or they would just say no and let customers leave.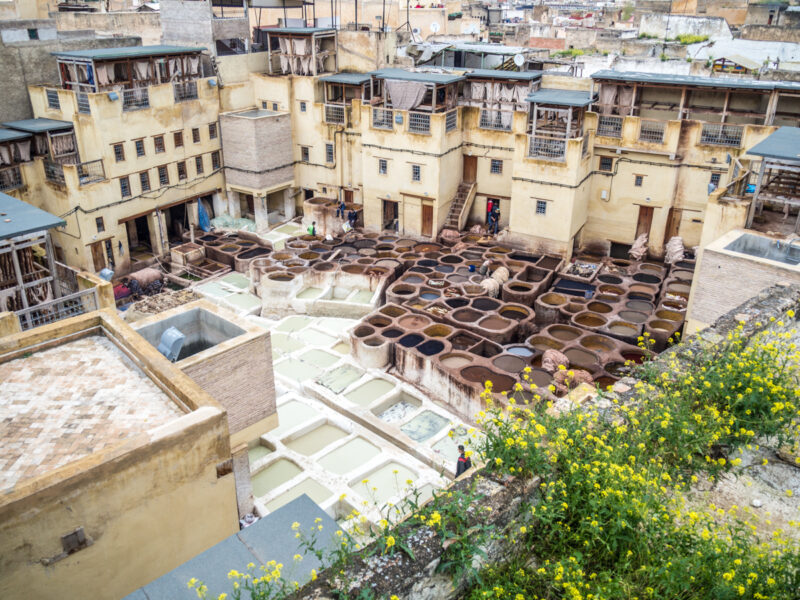 -On our final night in Morocco, we headed to Riad Rcif for a fancy meal overlooking the medina – nothing bad to say about that experience! But on the way there we paused for a moment in front of an alley under construction to regain our bearings.
Naturally, a young resident – not impoverished, probably just looking for some pizza/candy/cigarette money – wanted to point us in the right direction. He led us for a few feet and we started to see signs for the riad, and said thank you and goodbye… but he insisted on continuing to walk with us even though we clearly expressed that it wasn't necessary.
In totality, he walked with us for less than five minutes and then stuck out his hand. Ronnie gave him a 5 dirham coin and then this 10 year old kid complained that it was too little! We heard other tourists complain that young boys demanded "paper" – meaning bank notes, beginning at 20 dirham. For a sense of purchasing power, we ate at plenty of restaurant main courses that cost 40-50 dirham.
This is just a small sampling of our frustrating interactions during three weeks. While the absolute amounts are not huge to a tourist, it is grating to spend weeks being hustled constantly.
We absolutely believe in supporting local economies and during our weeks in Thailand I don't think we negotiated for anything since an extra dollar means much more to the many kind people we met and the tourist pricing didn't feel as downright nasty. But in Morocco, where the intent to fleece European and American tourists is just so blatant, ingrained and accepted, I wasn't inspired to offer the same courtesy.
Our recommendations for a first visit to Morocco
Our overall impression walking away from Morocco is that it's a beautiful and fascinating country, but with some unique challenges for tourists. We've heard from a number of seasoned travelers that they're glad they visited Morocco, and that they don't feel the need to return particularly soon. We mostly share that sentiment. You may be able to avoid some of the issues we encountered on a group tour like this one.
We generally found the major cities of Fes and Marrakech to be more frustrating than calmer areas. For those planning a first visit to Morocco and wanting to travel independently, we strongly recommend starting your travels in lovely, laid-back Essaouira – you can get a fairly complete Morocco experience but you'll be somewhat insulated from the pitfalls described above – check out all our Essaouira favorites. You can wander the small and friendly medina, stay at a quiet riad, enjoy delicious food and friendly people, explore the complex layered history of multiple civilizations and religions, stroll along the crashing waves of the Atlantic… and yes, you can even ride a camel over a sand dune.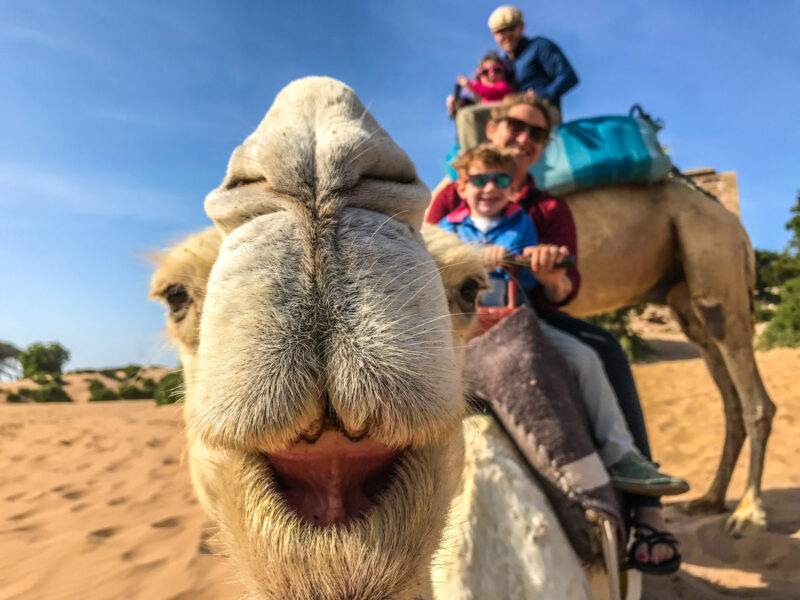 Plan your trip to Morocco
We have plenty of resources here on The Family Voyage to help you start planning your trip to Morocco! Read these next:
–Complete Essaouira travel guide
–Why you should visit Morocco in spring
–Morocco with kids bucket list
Need more help planning? Pick up one of these great guide books:
Want to get more helpful travel tips like this? Sign up for our email list!
Still planning your trip? Pin it for later!