Many people visit Chiang Rai on a day tour – after all, from Chiang Rai to Chiang Mai it's only three hours on a comfortable bus ride. But if you prefer to escape the big city and get closer to nature, consider spending two full days to see the best Chiang Rai attractions – especially since it's easy to take the bus from Chiang Mai to Chiang Rai and then fly cheaply from Chiang Rai to Bangkok. It's easy to take Uber or a taxi in Chiang Rai, or if you feel more adventurous you can rent your own motorbike for sightseeing! But one thing is for sure: there are plenty of things to do in Chiang Rai for two days (or even longer if you like to take things slow).
Your ultimate itinerary: things to do in Chiang Rai in two days
Day 1: Temples in Chiang Rai and Singha Park
See our full comparison of visiting the White Temple and the Blue Temple in Chiang Rai, Thailand
After breakfast, hop a quick Uber to the White Temple and spend an hour enjoying the interesting buildings and taking pictures in front of the dragon-guarded bridge. Stroll across the street to the cafeteria to grab a quick lunch, hopefully before the hoards of Chiang Rai day tour buses descend! The food is serviceable and affordable, just make sure to get a card at the front kiosk for 50-100 THB (this seems to be a common system in Thailand). If you prefer something a little fancier, hold off until your next stop…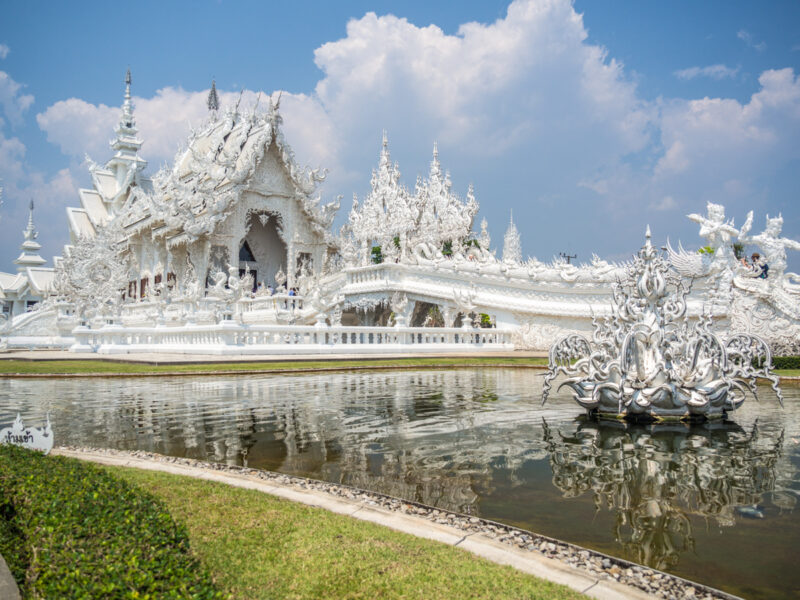 Take another Uber to nearby Singha park, where you can grab a cold drink or even a full lunch at one of the lovely cafes. Snap a pic with the huge golden lion on the lawn, or the much livelier "active cow" statues – definitely a crowd pleaser for our family! If you're interested in seeing a tea farm in Thailand, this is an excellent place to do it without driving too far from the cities. They also offer a zoo, zipline and more (keep reading for details below).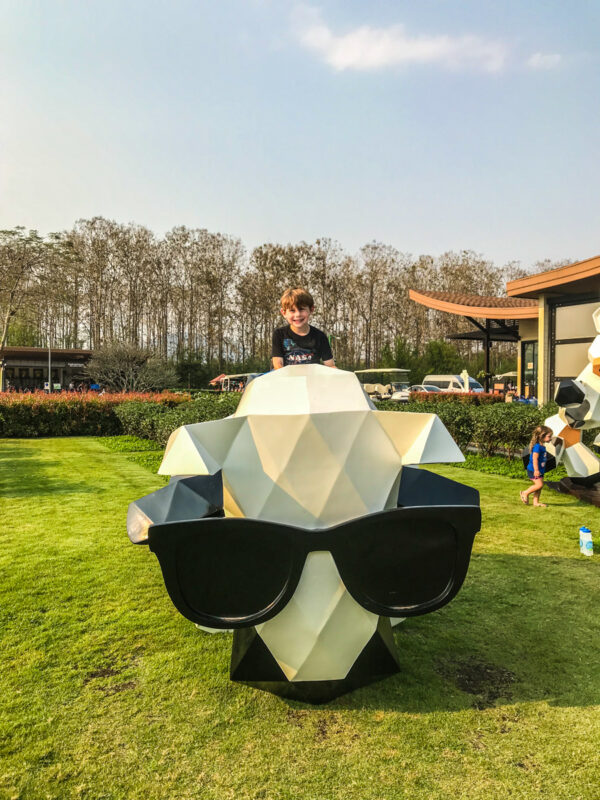 Call another Uber to take you across town to the Blue Temple – the drive should be less than a half hour and cost just a few dollars. Thanks to it being much less crowded, you won't feel at all rushed by the attendants at the Blue Temple. Settle in, take some photos and then enjoy the quiet, reflective space.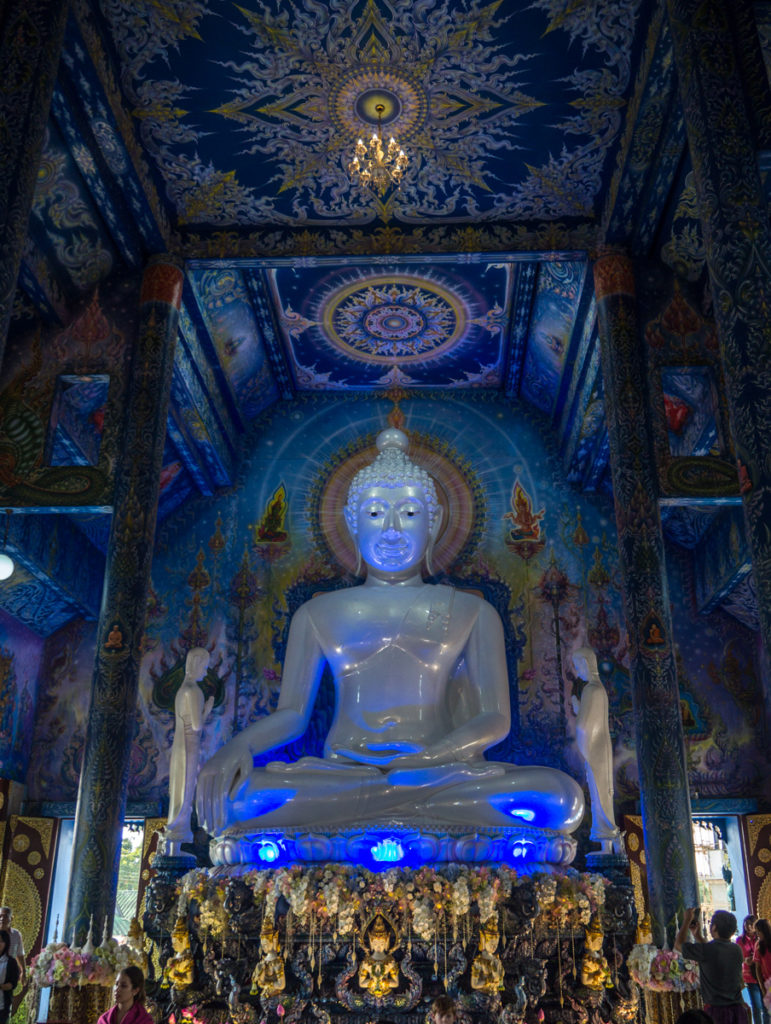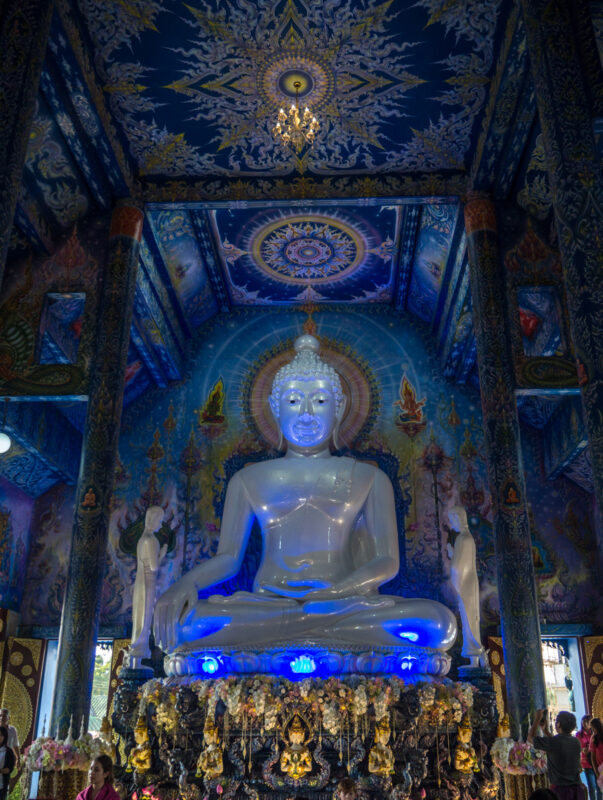 Head back to the city to clean up and relax before dinner. Head over to the clock tower in time for its 7pm "show" and then enjoy dinner at one of the restaurants we've highlighted. Once you've got a full belly, head to the night bazaar for a little stroll and some banana and nutella rotee for dessert. This town goes to bed by 10pm, so you'll have plenty of time to rest up for tomorrow!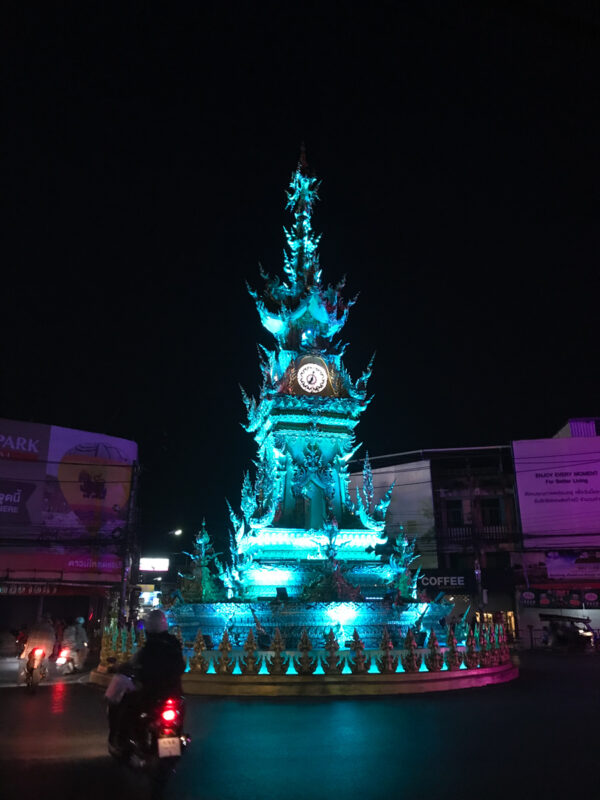 Day 2: Seeing Chiang Rai city and then "choose your own Thailand adventure"
If you're staying in Chiang Rai for another day, enjoy the morning walking around this peaceful city. First head north on foot to the lovely Wat Phra Kaew – the original home of the Emerald Buddha statue (which now resides in Wat Phra Kaew in Bangkok), and now home to a 30 year old Canadian-made replica jade Buddha statue. Once you've observed and meditated to your heart's content, stroll just around the corner to the adjacent alley for lunch at Barrab. You can check out our full review below, but it's definitely a place you'll want to linger for the good food, cold drinks and tranquil shade among the flowers and fish pond. You'll also be near the market where locals do their shopping – stop to pick up some unique fruits or just watch the hustle and bustle, but either way it's entirely different than the Night Bazaar!
Continuing your vacation in Thailand? Check out the perfect 2 day Bangkok itinerary.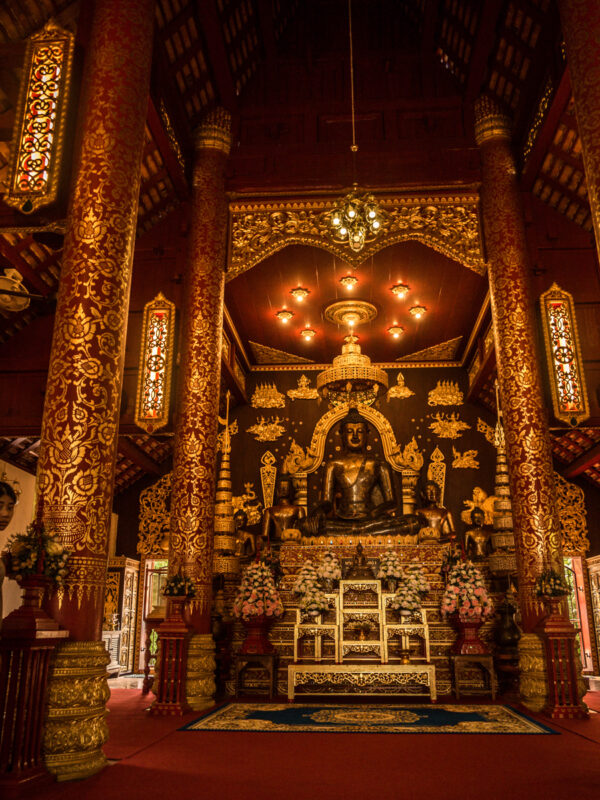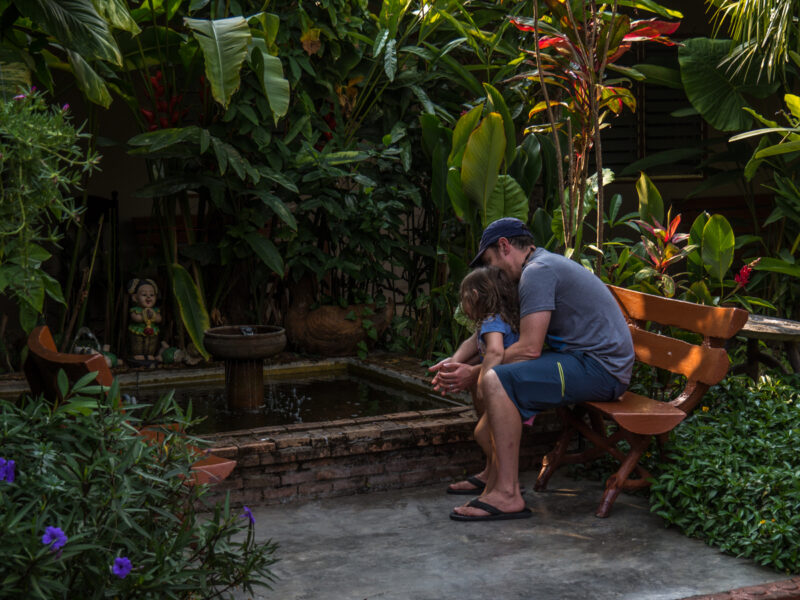 Since it's likely that Chiang Rai isn't the only stop on your Thailand itinerary, there are many choices for your second afternoon depending on what else you've done and where your interests lie. There are so many things to do in Chiang Rai! A few options include a visit to the unique Elephant Valley Sanctuary (which even offers an "elephant express" option), a Thai cooking class, coffee with cats at Cat n a Cup or a Thai massage (check out these amazing benefits of massage if you aren't convinced).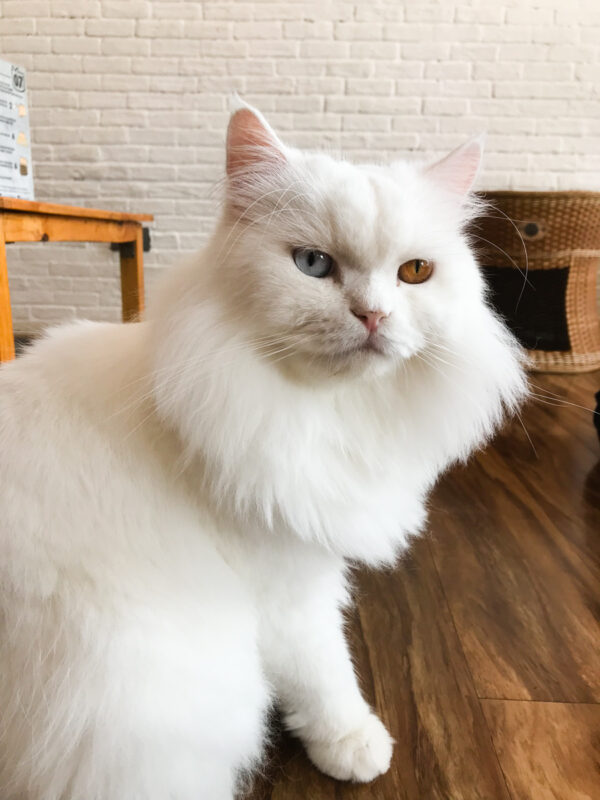 Unless you really love the clock tower and want to return, I'd recommend heading to dinner a little earlier. After your meal, head back to the night bazaar to walk off some of your delicious food before you park yourself at the Night Bazaar Restaurant for a cold drink (either adult or kid-friendly, your pick) and some entertainment. Relax, you've earned a rest!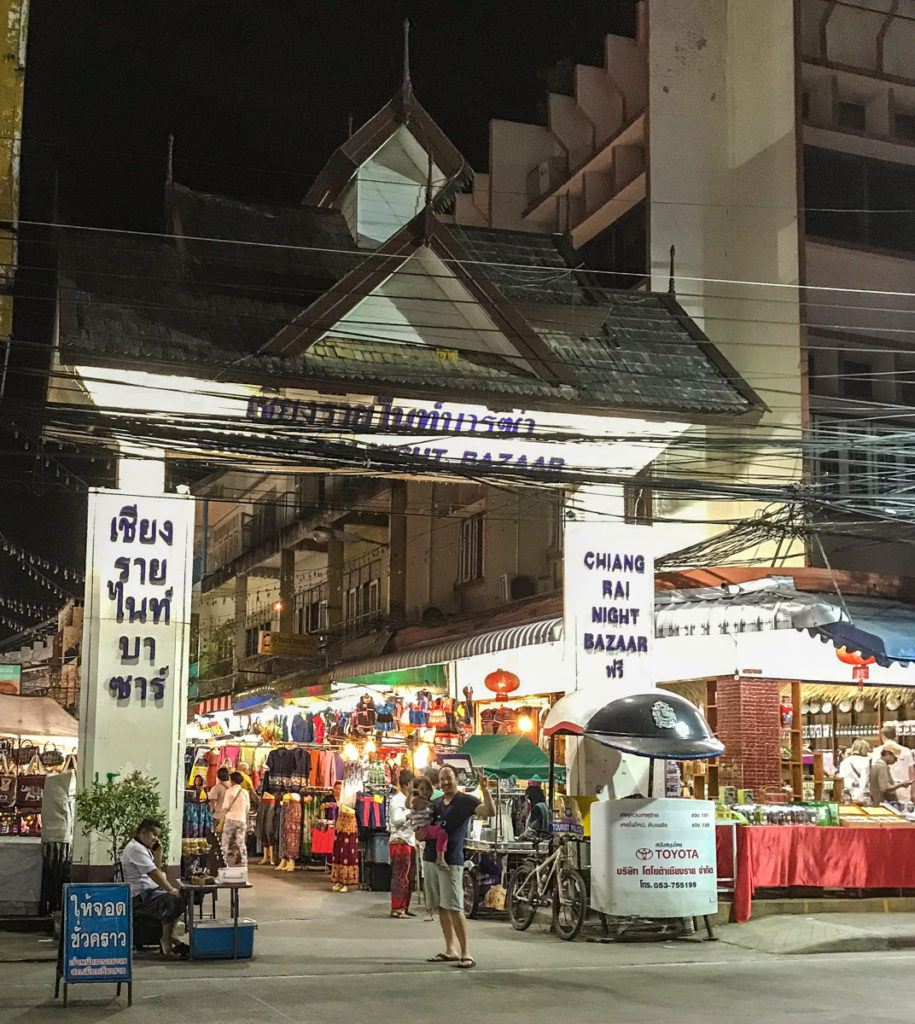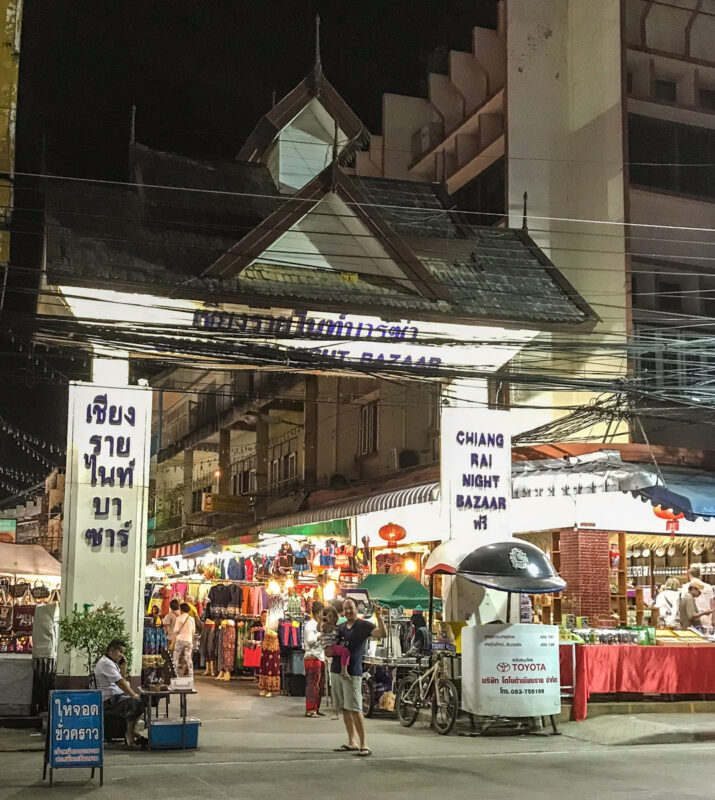 The details: Chiang Rai things to do
Wat Phra Kaew, Chiang Rai, Thailand
Wat Phra Kaew in Chiang Rai, Thailand is located in the much quieter north end of the city, about a 15-20 minute walk from the clock tower. The temple building at the entrance is a whopping 800 years old, making it the second oldest temple in Thailand (and the oldest in Lanna, the former northern kingdom). If you've already explored the White, Blue and Black temples, consider this site to cover the red and green entries on your tour of temples in Chiang Mai. The opulent temple feature red walls with gold decoration overlaid, with an impressive statue of the Buddha as its centerpiece. The newer green-lit pavilion in the back houses the Canadian-made jade Buddha statue. If you're visiting Thailand with kids, make sure to stop just before the entrance to the green pavilion to watch the huge squad of turtles puttering around in the pond. We were happy to meet an English-speaking staff member who was able to answer our questions about the site. This is the biggest temple in Chiang Rai (in addition to being the oldest) with around 125-150 monks, who could be seen walking around and keeping the property in beautiful condition. There's also a small museum on-site, which has some nice artifacts (though we were more engaged by the beautiful exterior of the building).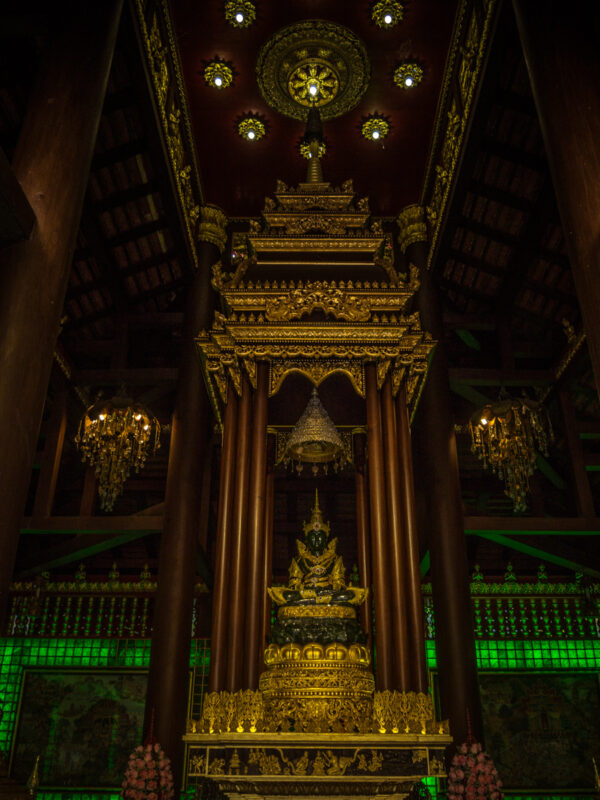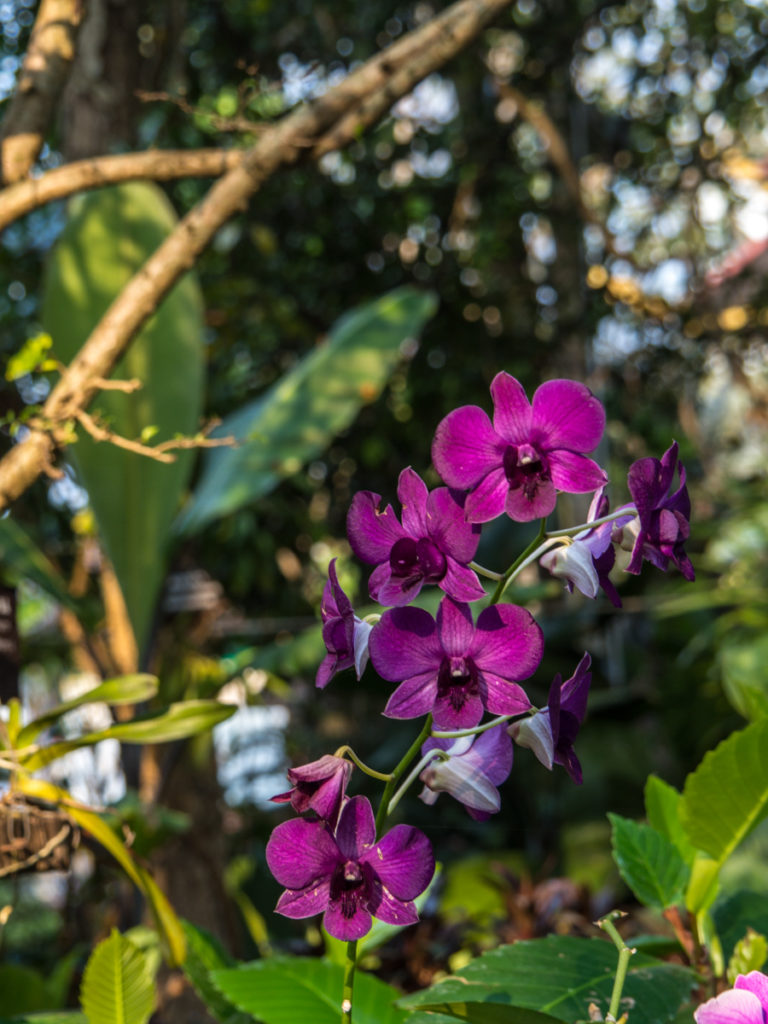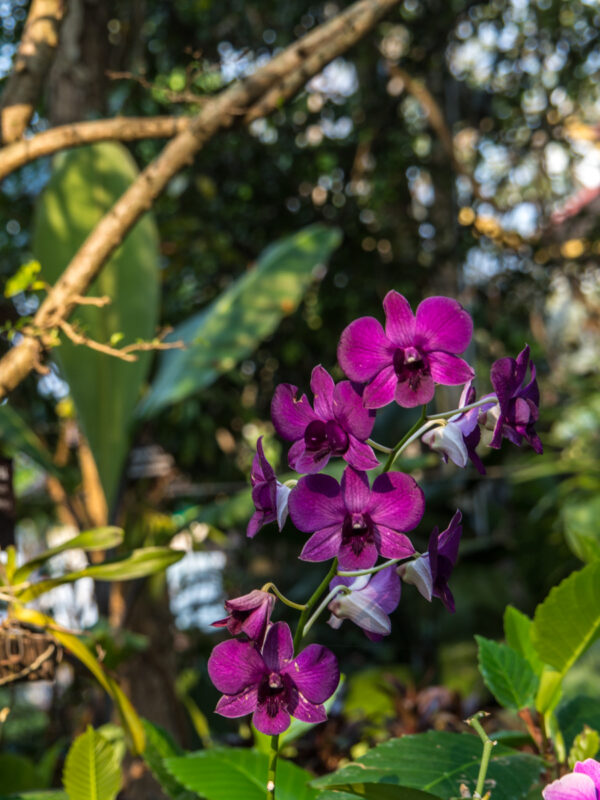 The Black Temple, Chiang Rai, Thailand (Baan Dam)
Quite close to the famous White Temple, you'll find the Black Temple in Chiang Rai (officially known as the Black House). You can probably squeeze in a visit between seeing the White Temple and Blue Temple, but to be candid we deliberately skipped it. Along the same vain as the two aforementioned temples in Chiang Rai, the design and decor skew contemporary and fantastical; however, here they take a much darker approach. Based on the description we felt that it would be disturbing for our kids without furthering their understanding of local history, culture and religion so we opted to skip it (we've heard the same from other traveling families who have come through the area). If you do choose to visit, be advised that not all buildings are open to the public. You can find more info on visiting the Black House in Chiang Rai here.
Chiang Rai clock tower
Continuing the theme of designs combining the modern and fantastical design with the traditional, Chiang Rai's clock tower is wrapped in gold mirror tiles and beautifully lit at night. It's quite literally a gold beacon in the city. Even better? At 7pm, 8pm and 9pm there's a 10 minute musical interlude with changing light colors. It's well worth a brief stop on your way to or from dinner.
Night Bazaar, Chiang Rai, Thailand
Chiang Rai's night bazaar is nothing like the huge one near which we stayed in Chiang Mai – there's just no comparison! The one in Chiang Rai seems catered almost entirely to tourists and is rather small. It has two plazas (one with food and the other with shops) and then one row of shops that set up and take down every night. Even so, we always love taking a peek at the wares and the kids can't get enough of the visual stimulation (and sometimes desserts). Nearly everything is shut down by 10pm, so plan your evening accordingly.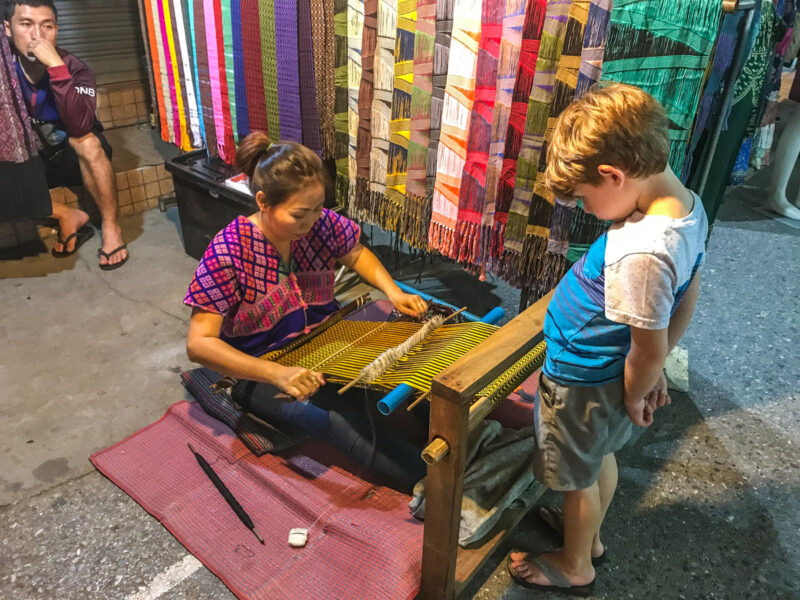 Cat 'n' a Cup cat cafe
Ok, I get it… those on a "search for authenticity" would probably not be interested in visiting a cat cafe in Thailand. Or would they? We met a couple who found Chiang Mai to be too touristy and "inauthentic", but were visiting this cat cafe for the third day in a row! Our family had never visited a cat cafe before and had a great hour-long break from the heat enjoying their delicious drinks, indulgent chocolate cake and some soft kitty snuggles. Bring a few spare baht to buy "cat snacks" from the cafe if you really want to feel the love! It's one of the best things to do in Chiang Rai with kids if you're on a long-term trip, because sometimes the little ones need the simple joys of childhood – our kids still talk about it!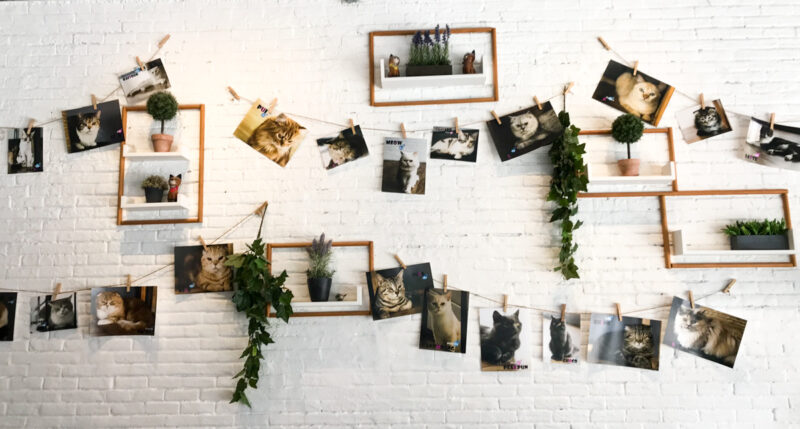 Singha Park
Singha Park is an enormous park located a quick 20 minute Uber ride from Chiang Rai city and offers a plethora of activities for visitors of all ages. Unfortunately we didn't have an opportunity to fully dive into them, but you could allow a half-day there especially if visiting Chiang Rai with kids. There are acres upon acres of flowers and farmland (including a working tea farm!), exotic animals in a zoo setting, a zipline and bike rentals. Be advised that the bike rentals are probably great for adults, but not ideal for most families – they offer adult bikes and toddler balance bikes, but nothing in between (and no child bike seats or child bike trailers).
Elephant Valley Sanctuary, Chiang Rai, Thailand
We didn't get a chance to visit Elephant Valley Sanctuary in Chiang Rai but have heard that it's an amazing ethical elephant encounter in Thailand. The inhabitants have all been rescued from illegal logging camps or other less ethical tourist camps and enjoy a peaceful life roaming around at Elephant Valley. We have heard that there is limited (or no) physical contact with the elephants and that you can feed them and then observe them from a distance – so caveat emptor. Elephant Valley Chiang Rai offers tours ranging from a quick 90 minute stop over to multi-day voluntourism – and it's less than a half hour drive from the city, unlike the Chiang Mai elephant encounters that are all more than an hour away.
Khunkorn waterfall for trekking in Chiang Rai
If you want to go trekking in Chiang Rai, there are many options! We visited Khunkorn and it was a lovely 1.4km hike through the jungle and towering bamboo forest. Most of the trail is nicely shaded, though the humidity still took its toll. The trail is short, but it can be steep at times – in both directions. If you're tackling it with young children, I'd highly recommend a good quality baby carrier or toddler carrier (we've been using and loving these for the last four years).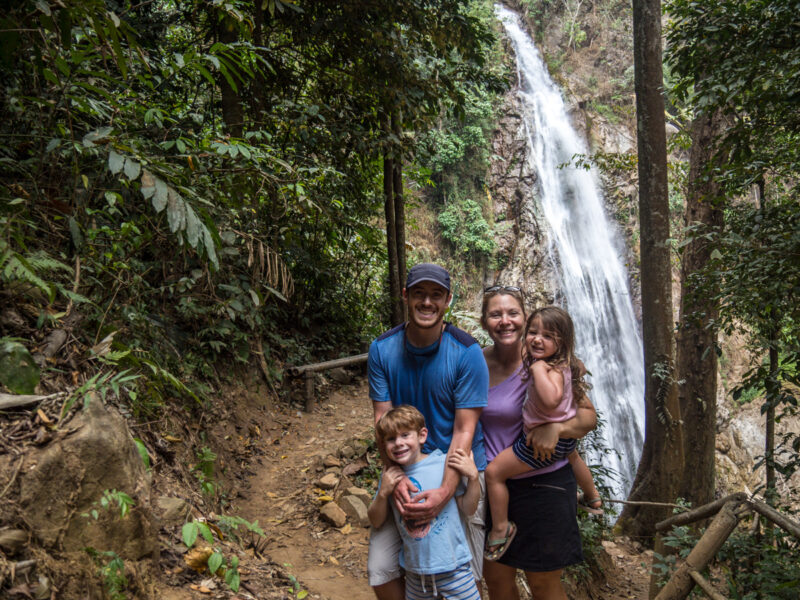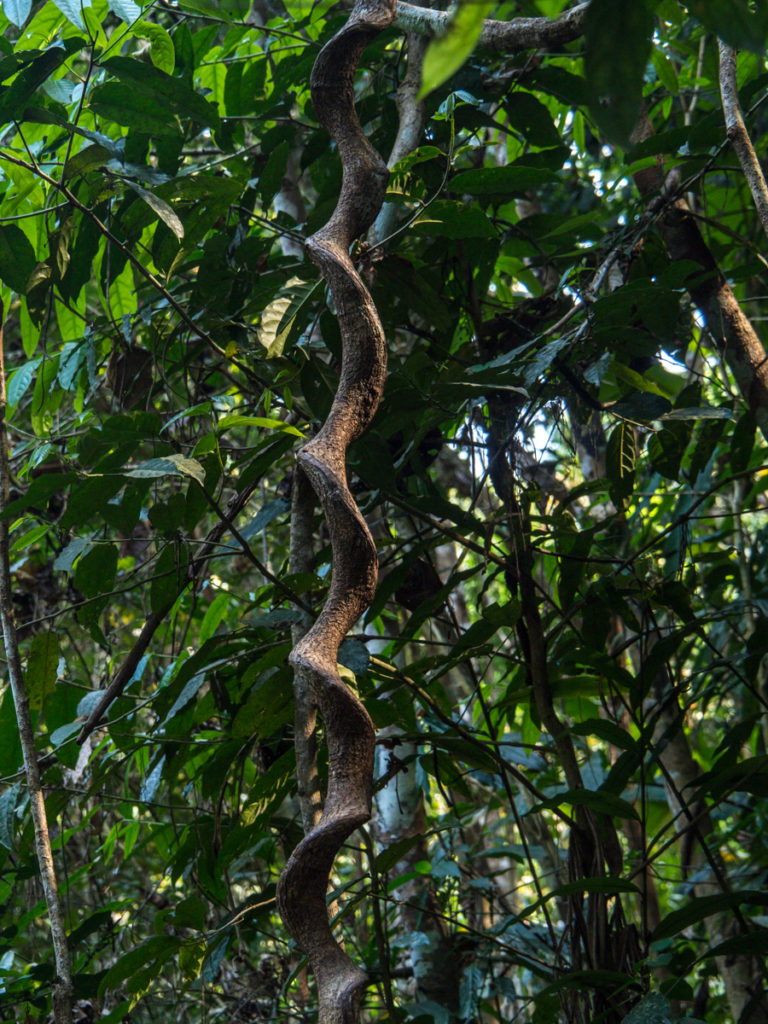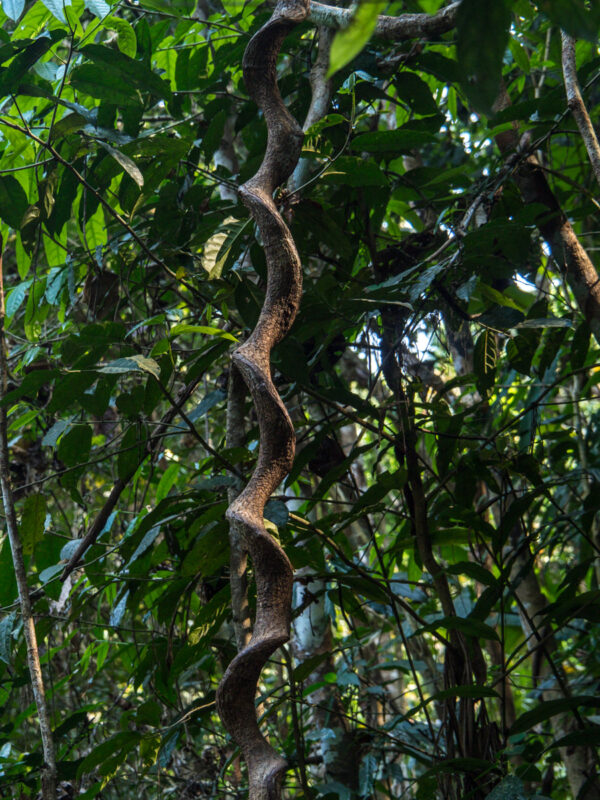 *Choui Fong tea plantation
The Choui Fong tea plantation often comes up on lists of "Chiang Rai attractions", and it sounded like an interesting stop on one of our days with a private taxi in Chiang Rai. Sadly, I'm mentioning it in the post as a place I don't recommend spending limited time as a tourist. The tea plantation doesn't disappoint for beauty and it offers two cafes and a restaurant, but that's about it. The video playing in the cafe provides cursory information on tea production, but we had hoped for much more from our visit especially since it's nearly an hour drive from Chiang Rai. A better choice to see tea fields in Chiang Rai is to head to nearby Singha Park, which also offers a range of other activities as noted above.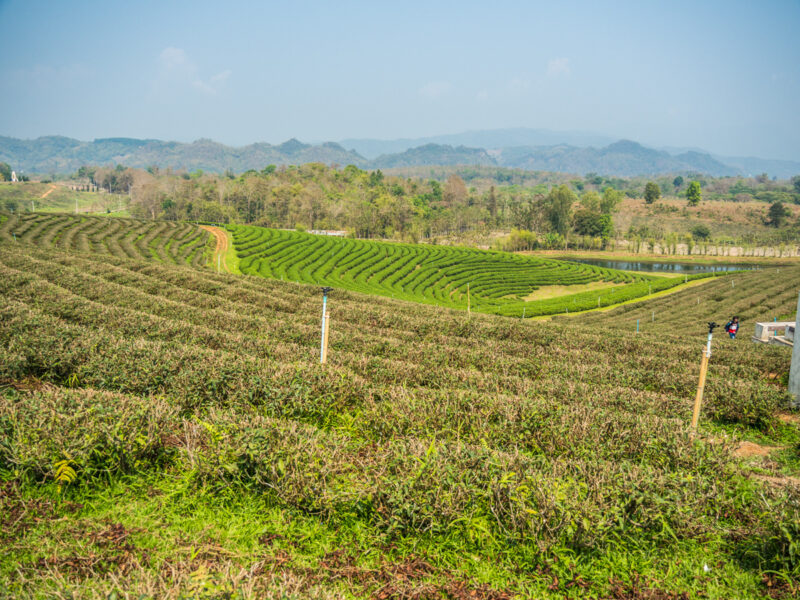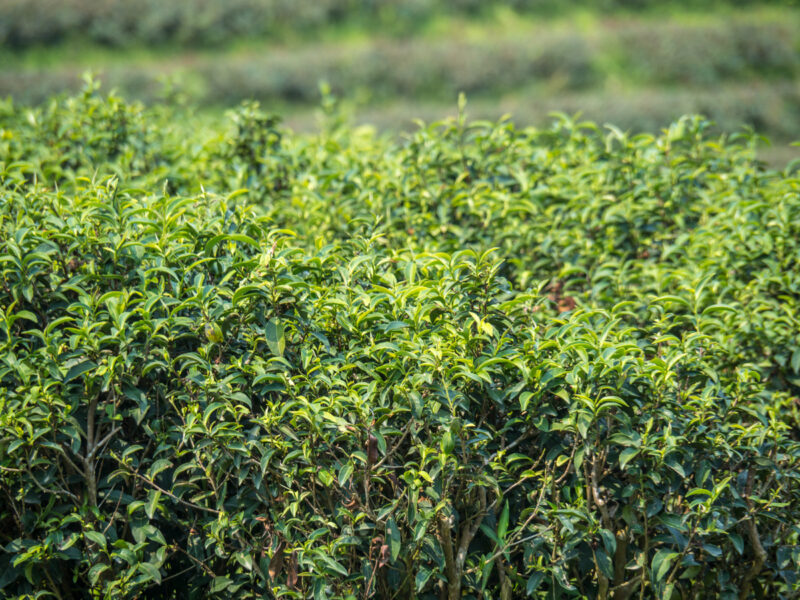 Where to eat in Chiang Rai
Confession: after five days in Chiang Mai, a bustling metropolis by comparison, we were pretty underwhelmed by the food in Chiang Rai. Due to our inability to speak Thai, it was much more challenging to communicate our dietary restrictions while still getting a tasty meal. That said, there were a few standouts in town that are worth a visit:
Smiling Moon Cafe
Bottom line up front: this is some of the best pad Thai in Thailand. No joke! The centrally located cafe offers a sizable range of breakfast, Thai and Western dishes at very reasonable prices (mostly around 80 THB). We got a range of dishes for the four of us and the universal favorite (which never ever ever ever happens) was the pad Thai with chicken, which had a lovely sweetness that still wasn't overpowering. Seriously, just order it. We also enjoyed the yellow curry and chicken fried rice. The only downside to Smiling Moon Cafe is that it's positively tiny – a restaurant that size in the US would have a capacity of perhaps ten, while we got cozy with nearly twenty of our closest acquaintances. All in all, a great choice among the restaurants in Chiang Rai, Thailand.
Night Bazaar Restaurant
The Night Bazaar Restaurant in Chiang Rai wins the award for best ambiance! In one of two large open squares of the night bazaar, you can't miss the enormous amplified stage and the giant wooden pogoda with dozens of inviting wooden picnic benches. While we didn't eat a meal there, we stopped for delicious after-dinner drinks (dragonfruit smoothie, anyone?) under the beautiful lights while we listened to the best of American pop and classic rock as sung by a talented young Thai guitarist. Though it lacks the cultural authenticity of the street food scene in the next square, it sure is a pleasant way to spend an hour in Chiang Rai after a day of temple-hopping.
Heaven Burger
The kids said they wanted burgers, so we headed to this fairly new but well reviewed establishment. Ronnie declared the burger to be extremely good, while Jacob refused to touch it because he's 6 and the onions weren't diced finely enough for him – so if that matters to you, perhaps it's not the best choice. Shoshana and I chowed down on pizzas and they were surprisingly good! The prices are reasonable, around 120 THB for a burger and 100 THB for a pizza. Three dishes would be enough for a family of four (or two in our case, since these days the kids eat like birds unless it's Thai food).
Barrab
Talk about an oasis in the city! Barrab is one of the top restaurants in Chiang Rai according to Tripadvisor and a visit there makes it clear why. Of course the food is delicious. Pad Thai with chicken and koh soi with chicken were winners for us, along with the mango smoothie that uses three different local varieties of the fruit. The owner, Mae, grows many of her own herbs to ensure that they are free of chemicals and many dishes are vegetarian-friendly and/or gluten-free. This is also probably the only peanut-free restaurant in town! Mae and her partner (the chef) had spent years living in Canada and Australia and returned to Chiang Rai in the last few years to be closer to family, and they've brought with them deep experience in cooking and hospitality. Barrab also operates a guest house on-site, and the two sections are separated only by the small, lovely garden. Mae welcomes guests from both on- and off-property to order a cup of coffee and lounge in the garden's peace for hours. This is definitely a must-visit after you've worked up an appetite exploring Wat Phra Kaew next door.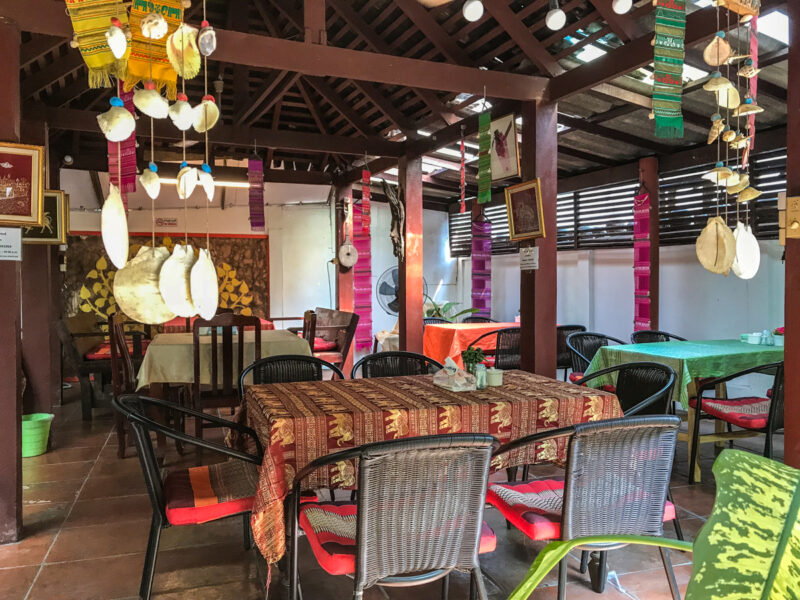 Jatujak Gallery and Restaurant
Are you looking for a nice place to eat in Chiang Rai, perhaps even a bit of a splurge? Look no further than Jatujak Gallery and Restaurant, about a three minute walk from the night bazaar. The restaurant offers an aesthetic that would look equally at home in any hipster city in the US – rustic-looking wood, candy-colored leather couches for dining and even a charming antique bicycle. Of course, there's also a modern, all-white bar with blue up-lighting. Feeling at home yet? All joking aside, the food was some of the best we had in Thailand. The top dish for us was the green curry chicken served with rotee – it had a little spice, but was well-balanced with sweetness. The kids were thrilled to find their favorite dish, tom kha gai, and the chicken was abundant without even making our usual request for extra chicken. My cashew chicken was light and flavorful, without the extra salt I've found at so many restaurants in Thailand. And the kicker? The iced coconuts were the best we've had anywhere, and I promise that Jacob "the coconut king" went through dozens during our week in northern Thailand.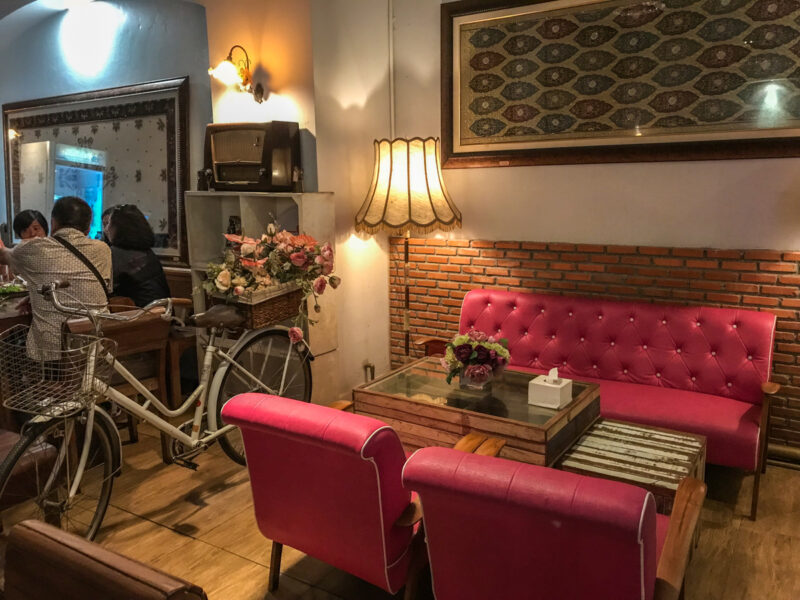 Chiang Rai Night Market food stands
Looking for cheap eats in Chiang Rai? The back corner of the night bazaar offers dozens of options, plenty of tables in the courtyard, and even a stage for frequent performances.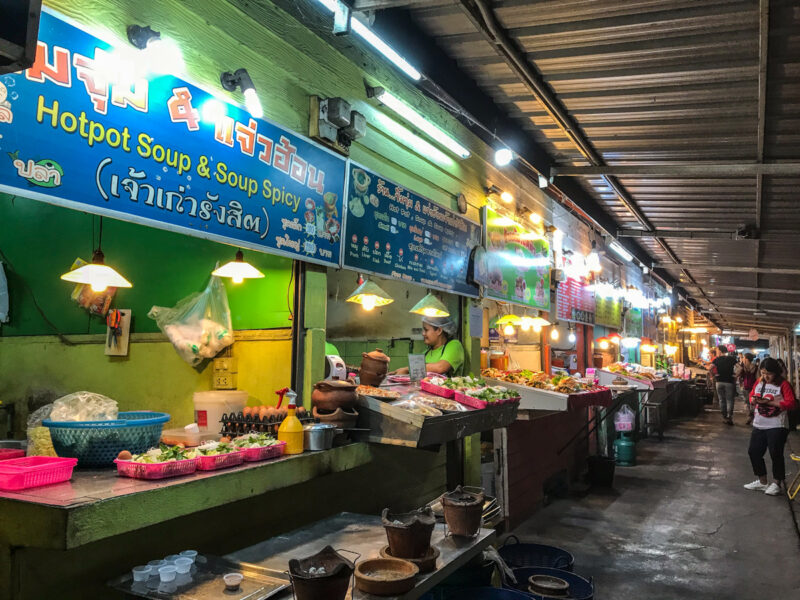 Where to stay in Chiang Rai
There are many great, affordable places to stay in Chiang Rai, but since we're not local and don't speak the language we place a huge priority on staying at an establishment with an amazing host to help us navigate the tourism options and potential pitfalls. Toddy at Baan Jaru didn't disappoint! In addition to gorgeous rooms and amazing breakfast options that include both Thai and Western options (basically whatever the kids wanted every morning), Toddy gave us some solid recommendations on where to do. Oh, and he drove Ronnie and Shoshana to the hospital at 2am when she had bronchitis, then drove us all back for follow-up the following day. We definitely recommend staying at Baan Jaru, so check the very reasonable prices here.
Here are some good tips for how to handle a sick kid when traveling
If you're heading to other parts of the country with kids, check out these amazing family hotels in Thailand!
Use the interactive map to find vacation rentals and hotels in Chiang Rai, Thailand
---
Chiang Rai travel options
Now that you've figured out what to do in Chiang Rai, it's time to figure out your transportation. There are many Chiang Rai travel options! You can arrive by bus, plane or even boat.
Chiang Mai to Chiang Rai bus
We took the bus from Chiang Mai to Chiang Rai and it's quite easy! The ride is 3 hours with no stops between the two cities. We opted for the Green Line VIP bus at 258 THB per ticket (around $8 USD), and we definitely rode in luxury. The large seats recline comfortably and have a nice leg rest that pops up, and we were provided with water bottles and snacks along the way. While the bus did not offer WiFi, we had solid (and free) phone service the whole ride thanks to our T-Mobile plan from the US.
Flights from Chiang Rai to Bangkok
The easiest way to get from Chiang Rai to Bangkok is to hop one one of the very affordable non-stop flights. We paid a stellar $35 USD per ticket by booking a month or two in advance. Check availability and prices for your dates.
Taxi in Chiang Rai
Uber or a taxi in Chiang Rai is very affordable – our Uber ride to Baan Jaru was around 70 THB, though the taxi and tuk tuk drivers who approached us at the Chiang Rai bus station (terminal 2) asked for double that amount. If you're new to Uber, save $5 on each of your first two rides!
We paid 1500 THB for a private taxi in Chiang Rai for the day, which was probably slightly more expensive than Uber but allowed us the convenience of leaving our daypack and the kids' travel car seats behind while we went off exploring. We also visited some destinations, like the waterfall and tea plantation, that would have been tougher to manage with an Uber.
Bike or motorbike in Chiang Rai
If you prefer to get around on your own, it's very easy to take a bicycle or even a motor bike in Chiang Rai. It's a small city, and the traffic is much much lighter than in neighboring Chiang Mai. Bicycles are very inexpensive – even provided for free at our Chiang Rai hotel, Baan Jaru. Many local shops and hotels rent out motor bikes for several hundred baht per day ($10-15 USD, depending on the model) so that can be a very economical way to get around. Most are even designed to seat 2-3 people!
Plan your visit to Chiang Rai, Thailand