Whether you're on your first trip to Asia or have a passport full of local stamps, it's hard to beat the remarkable, beautiful, ornate, inspiring temples in Chiang Rai, Thailand. Was that enough adjectives to convince you? These top Chiang Rai attractions span the gamut from old and traditional to contemporary and Gaudi-esque. But if you're limited on time, should you visit the enormous and well known White Temple in Chiang Rai, or the newer Blue Temple in Chiang Rai? The huge range of temples are the best things to do in Chiang Rai, so if possible give yourself plenty of time several – you won't regret it.
The White Temple, Chiang Rai, Thailand (Wat Rong Khun)
Most people come to this area specifically to visit the nearby White Temple – one of the top places to visit in Chiang Rai, without a doubt. The minute we pulled up beside the temple we were absolutely in awe! The white tiles of the main temple glimmer in the mid-day sun, and dragons (and a moat!) protect the sacred space. The equally ornate gilded building just past the temple? The bathrooms. Thai Buddhists surely know how to decorate a space! After enjoying both the exterior and interiors of the temple, we headed around to the side and wrote a family wish on our own silver leaf and hung it on the "tree" with the others. We were all extremely impressed with the fantastical design of the temple's exterior, and the murals inside are… interesting and diverse. This temple certainly blends some traditional elements of design with modern art influences.
The temple is privately owned and we saw limited presence of monks, unlike the "working" temples we visited in Chiang Mai. It is owned, designed, built and funded by the wealthy local modern artist Chalermchai Kositpipat. Though the initial phase opened to the public over two decades ago, construction is ongoing to further the project (check back in 2070 for the final product).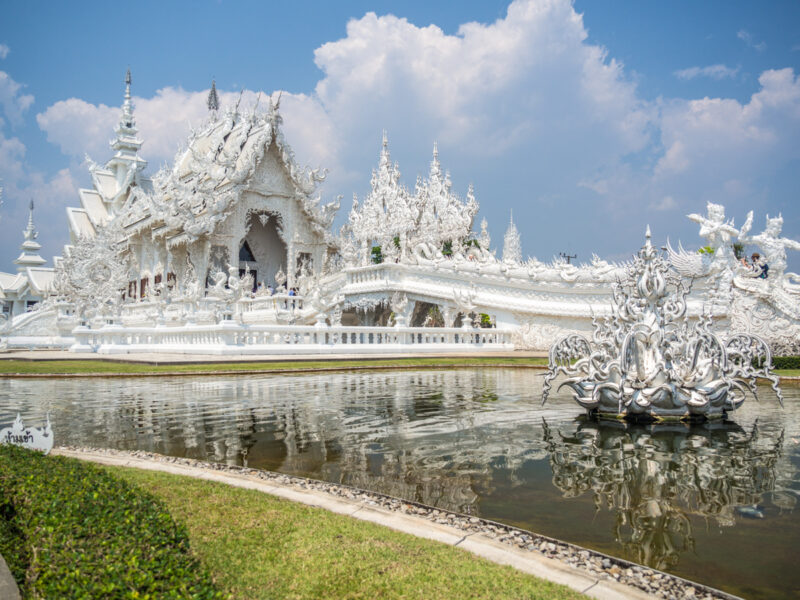 Visiting the White Temple in Chiang Rai
The White Temple is about a 15 minute drive from Chiang Rai. You could easily take an inexpensive Uber from Chiang Rai to the White Temple. It's one of the top places to visit in Chiang Rai, and you can see that from the throngs of tourists (many coming off of tour buses – some from as far away as Chiang Mai) milling around. While it's not as crowded as some tourist sites we've visited in other places, it definitely didn't offer much peace or quiet in the main building during our visit. The White Temple entrance fee is a very reasonable 50 THB. The White Temple hours are 6:30am to 6pm daily. The usual modest dress requirements are enforced at Wat Rong Khun – see below for guidance on what to wear to a Buddhist temple. If you need additional coverage (as I did) there's a stand adjacent to the temple (not the one across the driveway) selling a wide range of lovely scarves and pants. Without hesitation, I picked out a lovely design with purple elephants for a cool 180 THB (about $6 US).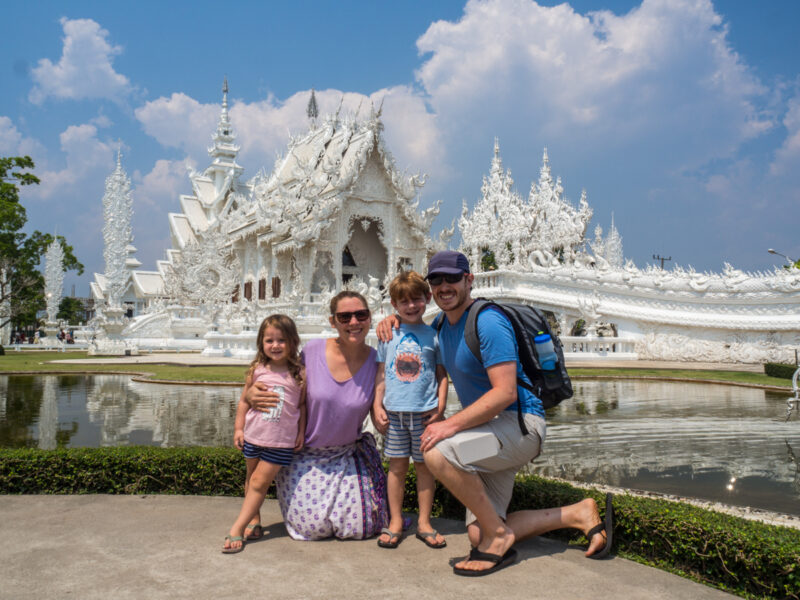 Use the interactive map to find vacation rentals and hotels near The White Temple, Chiang Rai
---
The Blue Temple, Chiang Rai, Thailand (Wat Rong Suea Ten)
Wat Rong Suea Ten, the Blue Temple in Chiang Rai, only opened in 2016! Much like the White Temple before it, the building melds traditional architectural and design nods with fantastical and contemporary elements as well. As with the White Temple, it was built on the site of a crumbling older temple in Chiang Rai using private funds.
To say our family was blown away by the Blue Temple is an understatement. We had to pry the kids away after more than an hour! They were entranced by the calming blue color adorned with awe-inspiring gold. And of course, everything is guarded by a huge legion of beautifully painted (only partially blue) dragons. Seriously, what's not to love? Inside is an enormous white Buddha statue who stands apart strikingly from the blue and gold walls. The temple was designed by a student of Chalermchai Kositpipat, owner of the White Temple in Chiang Rai.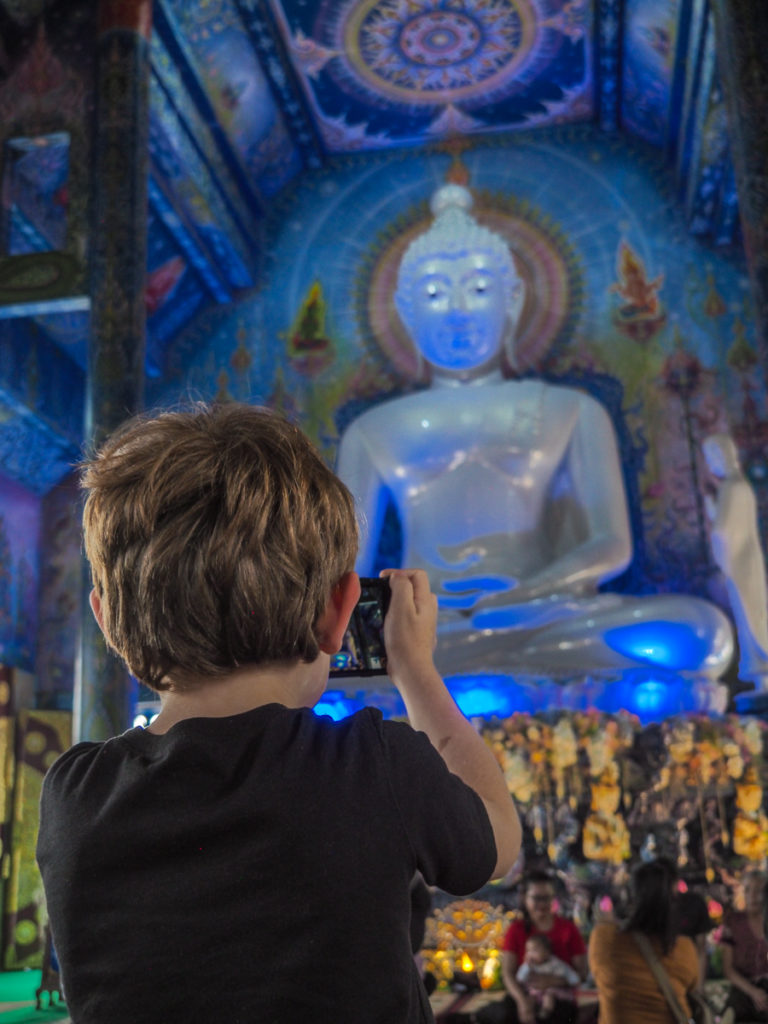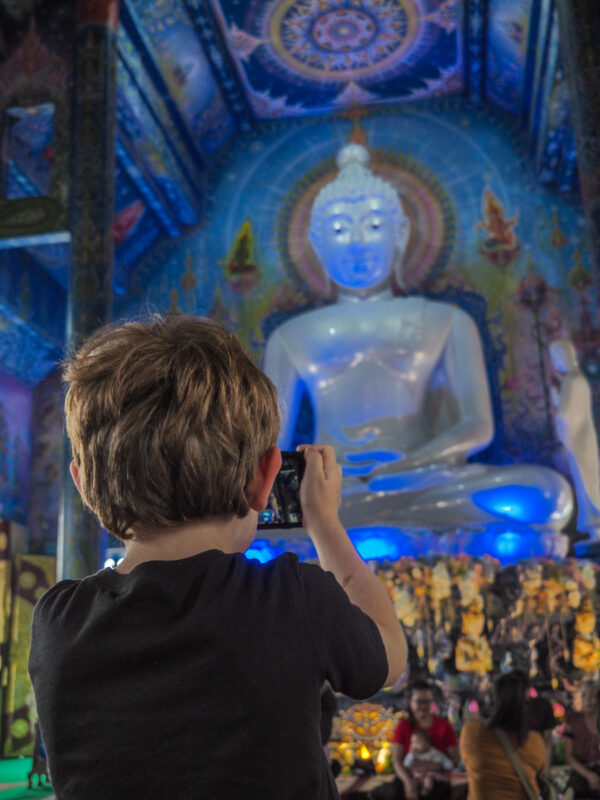 Visiting the Blue Temple in Chiang Rai
We were pleasantly surprised that there were very few tourists despite the large space inside. It never felt crowded and we didn't feel rushed, unlike the White Temple. The Blue Temple has no entrance fee, though there's a donation "tree" to which we contributed 20 THB for our family. Getting to the Blue Temple is easy with Uber (cheaper) or a tuk tuk (perhaps more of a thrill, at least the first time) – it's just a ten minute drive. Modest dress is required, and wraps are available for rent at the entrance if necessary. There are also folks selling candles and other religious symbols whose descriptions we couldn't read (this place really only caters to Thais, which is just fine with us).
Use the interactive map to find vacation rentals and hotels near The Blue Temple, Chiang Rai here
Continuing your vacation in Thailand? Check out the perfect 2 day Bangkok itinerary.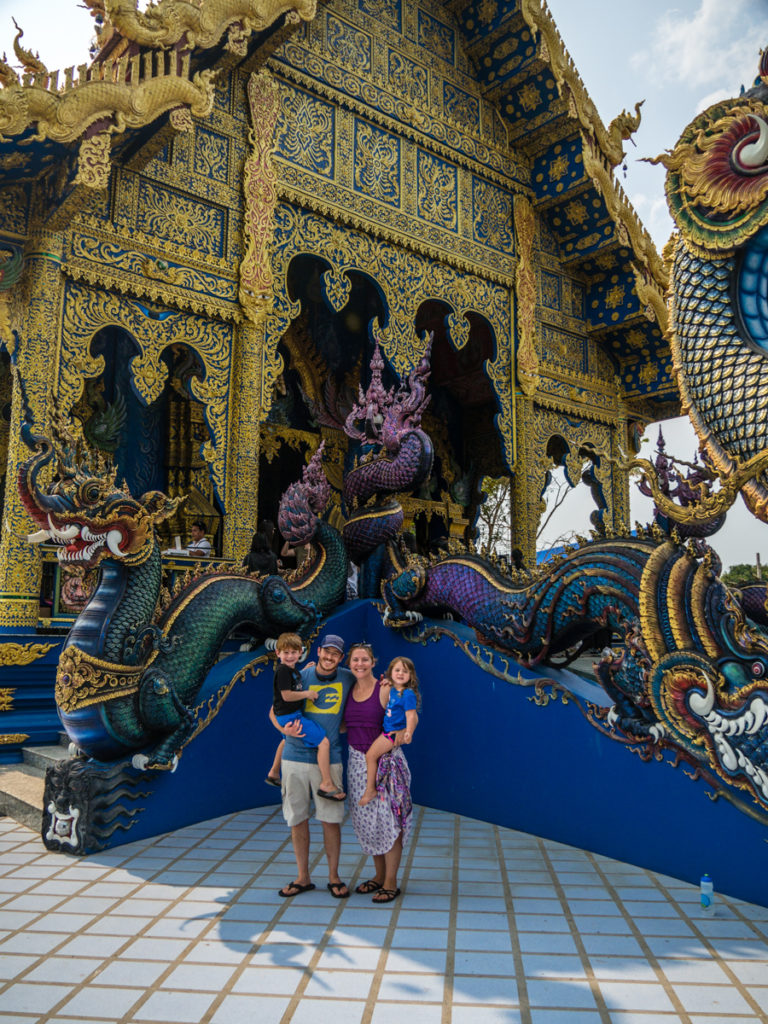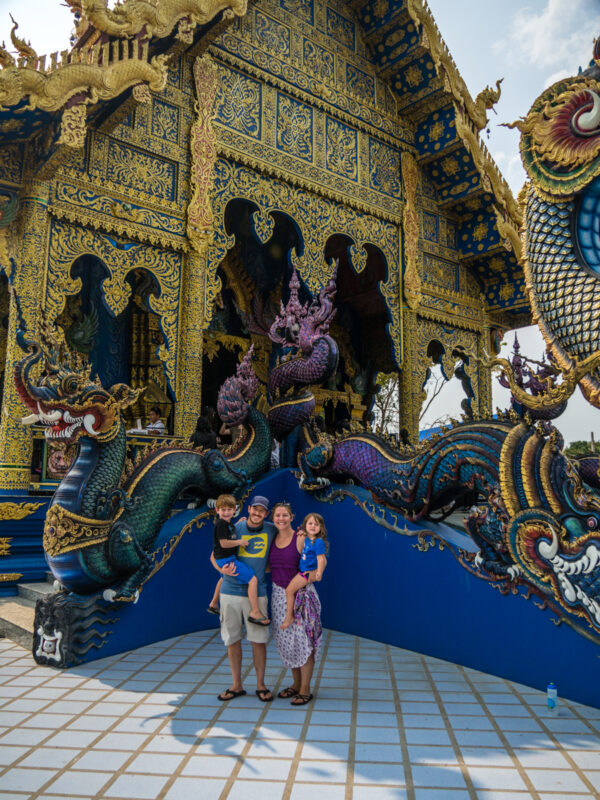 Should you visit the White Temple or the Blue Temple in Chiang Rai?
Obviously the choice of which temple to visit is a personal one. The White Temple is the area's main tourist attraction, but the Blue Temple offers (in my opinion) a better tourism experience. Both are very unique and, given their proximity, you could easily see both in just a few hours. But if you're blazing through the area on a Chiang Rai with extremely limited time or visiting Thailand with kids who might not have enough attention for both, my vote goes to visiting the Blue Temple in Chiang Rai. Our family found it extremely captivating and we were struck by its colorful but peaceful presence.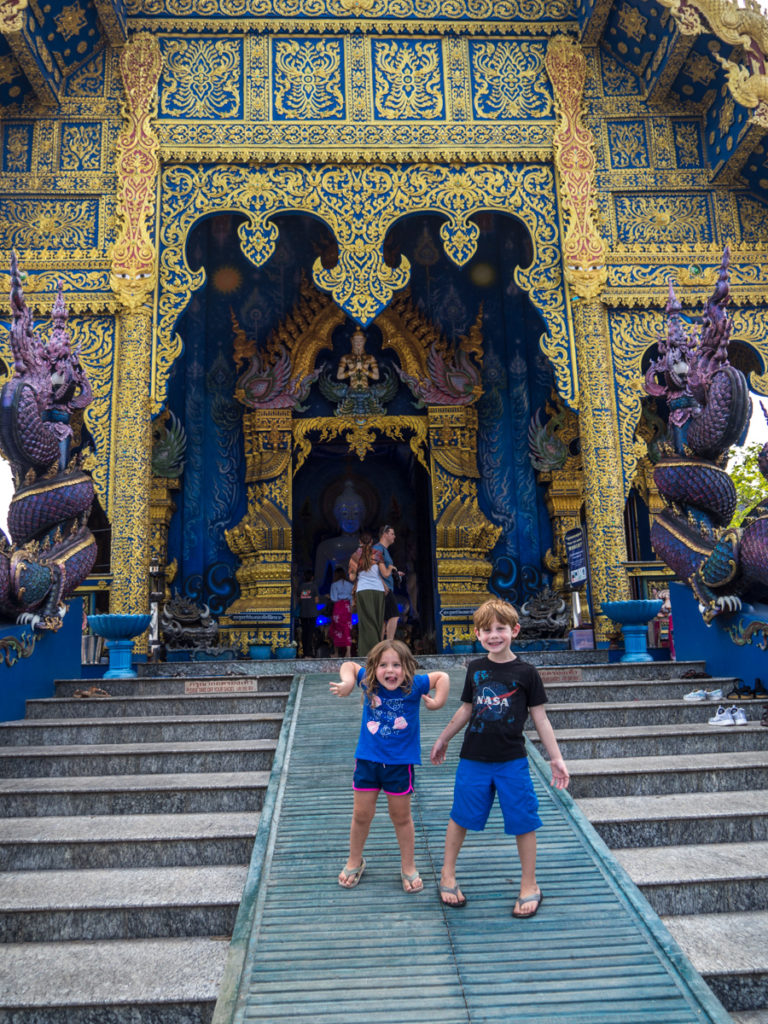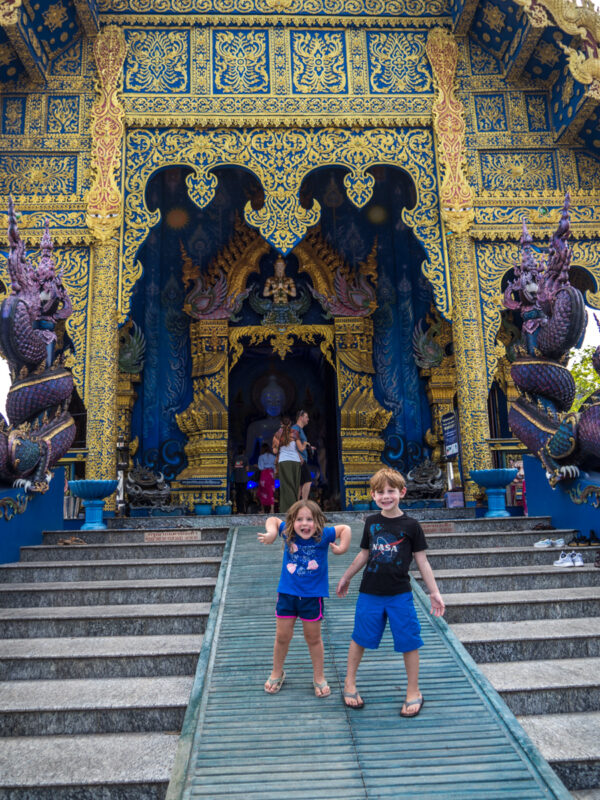 What to wear to a Buddhist temple in Chiang Rai
Buddhist temples request that visitors dress modestly and remove their shoes. For better or worse, the standards of modesty differ for men and women. Both men and women should cover their shoulders, while women additionally need to cover their knees (whether with pants, a longer skirt or even a scarf wrapped around the lower body). If you forget appropriate clothing, there are scarves or covers for rent (and often for sale) outside of nearly every temple in Thailand! For footwear, choose shoes that are easy to slip on and off quickly – flip flops are the footwear of choice for Thais, so don't feel guilty wearing them full-time; just make sure you choose a comfortable pair (like these) for walking around. We did not encounter any dress codes for kids at Buddhist temples in Thailand.
Planning for two weeks in Thailand? Check out this great itinerary!
Visiting a Buddhist temple in Thailand with kids
We visited many temples in Thailand with kids and overall it was a great experience! The temples are wonderfully ornate and can easily keep kids' attention. Here are a few tips for a smooth visit:
-Try to go on at least one guided temple tour so that your kids understand Buddhism and its stories.
-There's no fixed dress code for children.
-While they are certainly tourist sites, the temples are more importantly religion sites and kids should behave accordingly. Kids should sit up and not run around or lay down – common sense to us, but on a hot Thailand afternoon my kids would have been happy to take a snooze in the cool refuge of a temple.
-Since there are many common elements of temples in Thailand, you can do an impromptu scavenger hunt. Have your kids look for images of particular Buddhist stories, animal carvings or the local pho tree.
Plan your visit to Chiang Rai
We had a wonderful stay at Baan Jaru in Chiang Rai! Rooms were clean, spacious and comfortable. Our hosts went out of their way to accommodate our needs – everything from providing our favorite foods at breakfast to rushing our kid to the hospital at 2am – all without batting an eye. I can't recommend it enough, and prices are extremely reasonable. Check dates and availability here.
You'll find much more information about things to do in Chiang Rai and a great itinerary here. Need more info? Check out one of these guide books to help you plan: