As a parent, we're told not to play favorites with our kids. But when it comes to travel destinations, all bets are off. While Ronnie has become a total mountain man during our travels (in terms of both his favorite places to visit and his now fully mature travel beard), I'll admit that I'm totally smitten with Chiang Mai, Thailand – and the kids are too! This was the first time any of us had been to Asia, and Chiang Mai was an ideal first destination – the blending of local and Western cultures makes for a very soft landing. We stayed for five days, but if we'd known how much we were going to enjoy it (and that we would end up cancelling our trip to Vietnam at the last minute) we would have planned to stay much longer – to explore the tourism offerings and just to dig into the pleasant life around seemingly every corner. Read on to find out why I've fallen for this little city in northern Thailand and the best things to do in Chiang Mai with kids.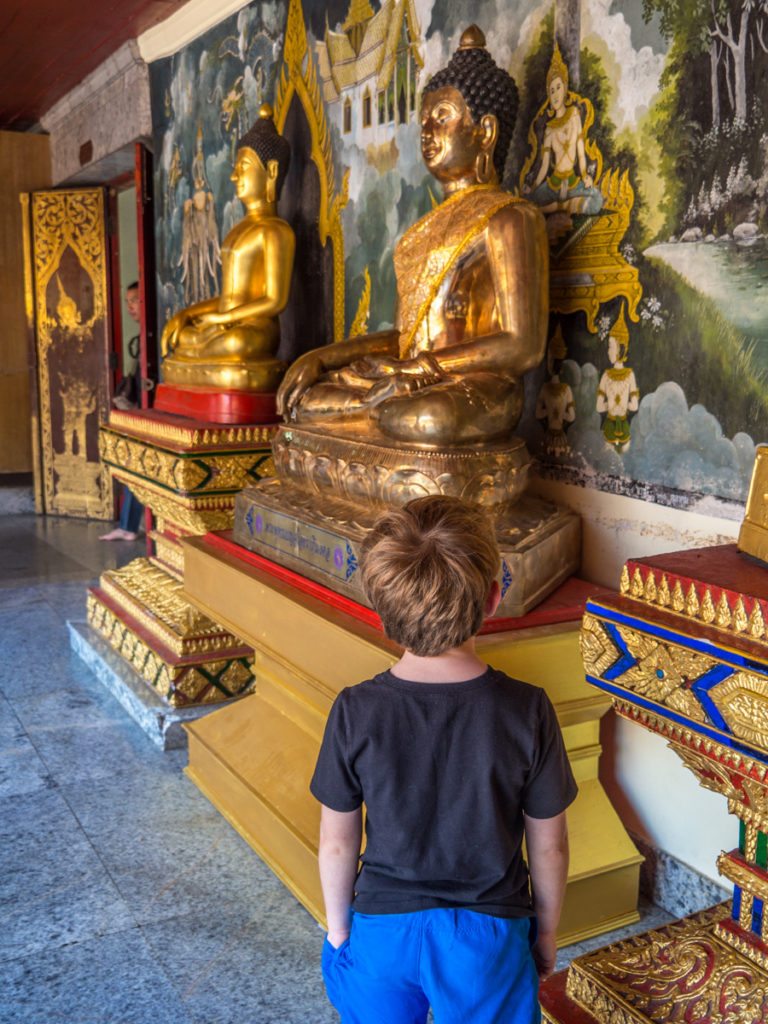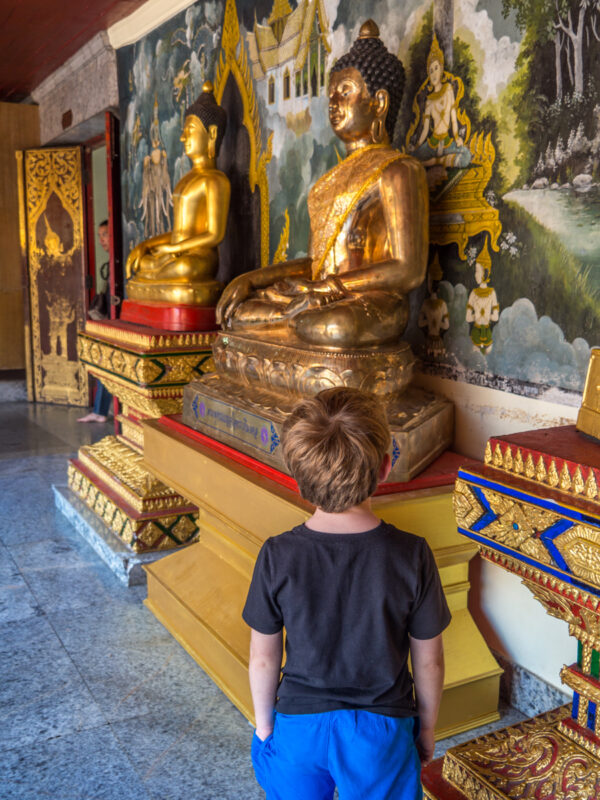 Things to love about Chiang Mai
Chiang Mai certainly isn't perfect, especially the air quality when we visited during the burning season in early March, but it sure has a lot going for it! Here are just a few reasons why we think it's the best place to go in Southeast Asia with kids on your first trip:
-A seemingly endless list of family-friendly fun things to do in Chiang Mai, from temple-hopping to visiting ultra-modern malls
-Extremely friendly and welcoming people
-Culture and food that are new and interesting but not totally unfamiliar
-Not much litter in the streets as far as we saw
-Feels safer walking at night than even our tony neighborhood back in west Los Angeles
-Getting around is fairly easy – you can conquer each neighborhood on foot (at less risk to your life than crossing the street in Bangkok) and take dirt cheap Uber/Grab or songthaew rides to further parts of the city – or spend a few dollars extra for the experience of riding in a tuk tuk at least once Pro tip: If visiting with a young child, make sure to check out our article on traveling with car seats or read our review of this travel-friendly car seat alternative
-You can feed a family of four at a delicious restaurant for $15 US (or less!)
-Transit options are plentiful: the city offers numerous connections by plane, train and bus
Some visitors in search of "authentic" Thailand may complain that the influx of tourists and expats has made Chiang Mai too Western. After all, you can now find Hard Rock Café, McDonald's and Starbucks (we didn't patronize any of them). For our family, Chiang Mai was a great introduction to Asia and we loved befriending people of many different nationalities. You wouldn't necessarily think of a semi-remote city in Asia as diverse, but we found it to be. All in all, Chiang Mai is an awesome place to visit as a family. See why Chiang Mai is also a great place to visit on a grown-ups only trip!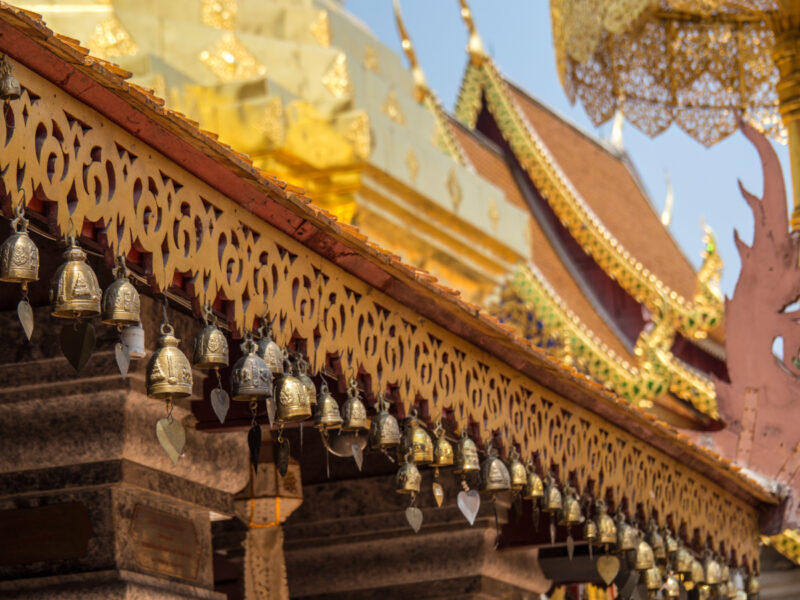 The best things to do in Chiang Mai – with kids or without!
Explore the many Chiang Mai temples with an expert
We are complete neophytes when it comes to Buddhism, so we're extremely glad that our amazing host, Deng, at Bee Friend Hostel set us up to go on a private guided tour with Honey. We went by van up the mountain just outside of the city to visit Wat Doi Sutep and the lovely gardens of Bubing Palace, and then continued back to town for a delicious lunch at Cafe de Thaan Aoan and a visit to Wat Chedi Luang.
If you're going without kids (or with older ones) you can visit one or two more temples in the city during your tour, but one of the nice features of a private tour was the ability to cater to our family's needs. Not only was our guide friendly and fluent in English, but she made the stories of Buddhism and its temples come alive for us and the kids. The tour laid the foundation for many successful temple visits on our own in Chiang Rai and Bangkok! While you're up in the mountains, consider a visit to nearby Sticky Falls.
Pro tip: Dress codes for important sites in Thailand can be strict, and they vary depending on the site. Buddhist temples have no dress code for men, but women must have their shoulders and knees covered. At royal sites – including Bubing Palace – all adult guests must have their knees covered, and you can buy clothing across the street for just a few dollars if need be. Elephant pants for everyone!!!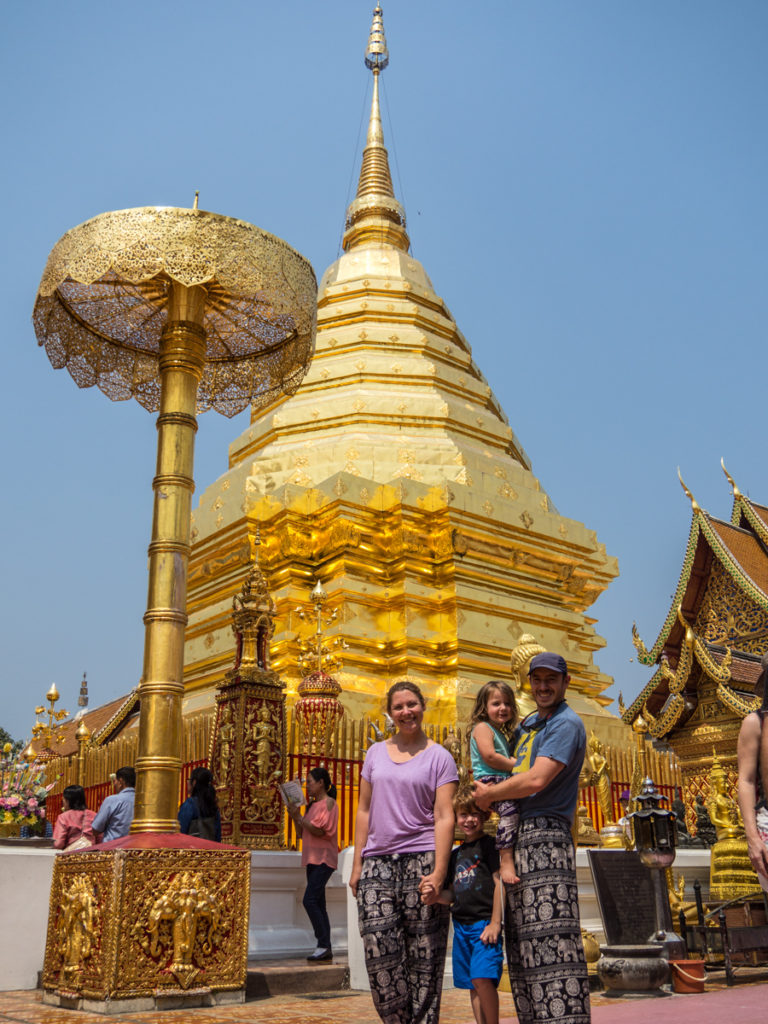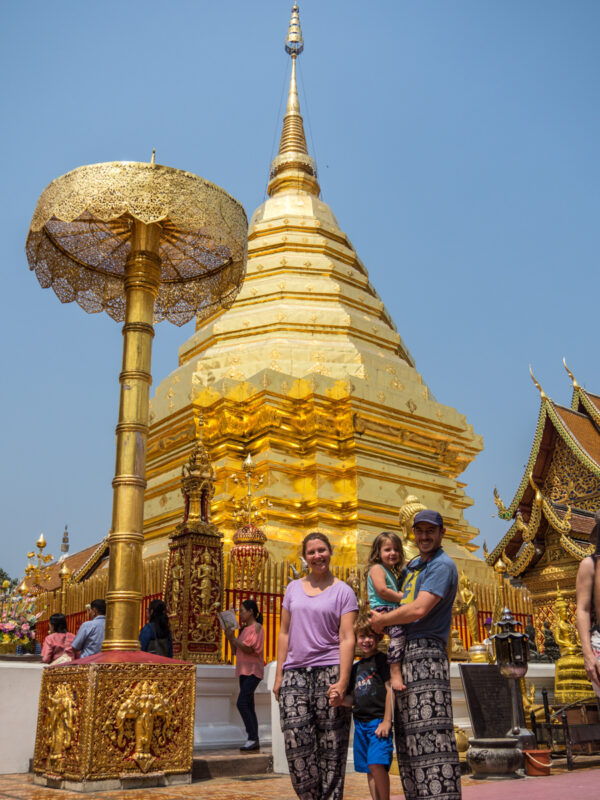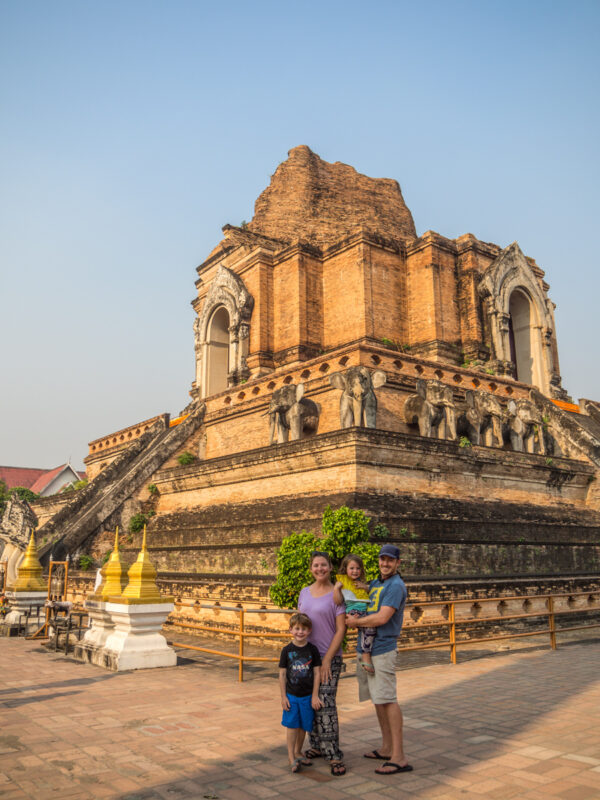 Take a hands-on Thai cooking class in Chiang Mai
I don't usually travel just to eat, but food was a huge draw to Thailand. Our who family loves Thai food, so we knew it would be a rare opportunity to avoid daily lectures with our usually-picky kids. Learning how to cook Thai food took it to another level for all of us! We spent an awesome evening with Yummy Tasty, including an extremely informative visit to the local market and then cooking four courses from scratch back in Noodle's Chiang Mai cooking class.
We've done many cooking classes and this one had a wonderful structure. Each person could choose which of four dishes to prepare for each course, with options for vegetarian (or shellfish-avoiding) preparation. Unlike so many classes where each person works on just one dish, we all got to cook and each everything one course at a time. We'd all cook our stir fries, and then while we sat and ate them (definitely some plate trading going on…), Noodle and her husband tidied up the well-equipped prep and cooking areas and readied the ingredients for the next course.
We each had a kid working with us and they had a blast! They loved trying all of the different dishes since they felt a sense of ownership after being involved in the cooking process. We learned so much about Thai cooking techniques and how the flavors are balanced in each dish.
The cost was an extremely reasonable 800 THB (approximately $25 USD) per person and included all transportation. Bonus: the kids were free of charge, compared with another cooking school that insisted on a super-expensive private class if we wanted to have the kids with us. Honestly I could show you a thousand pictures from this Thai cooking class because it was just.that.good… but then the site would be so slow that you'd stop reading. So you'll have to live with just these few. We're still talking about our experience months later, so we think this is one of the most unique things to do in Chiang Mai.
Book your class today!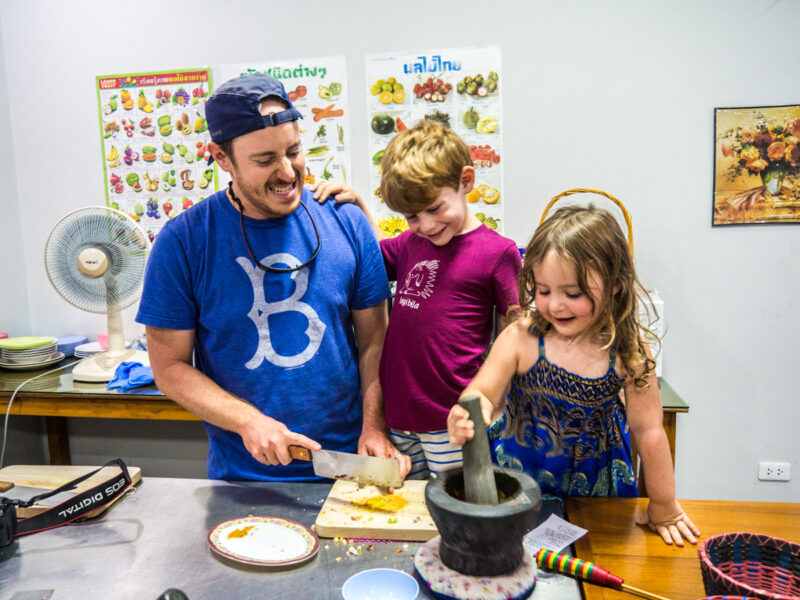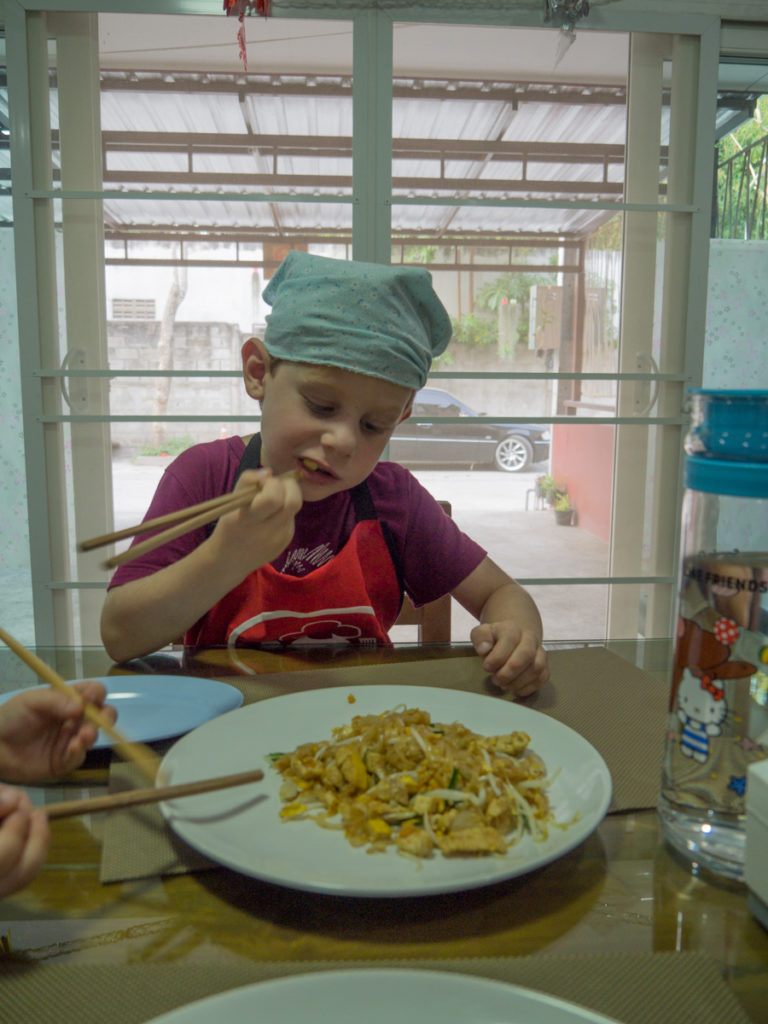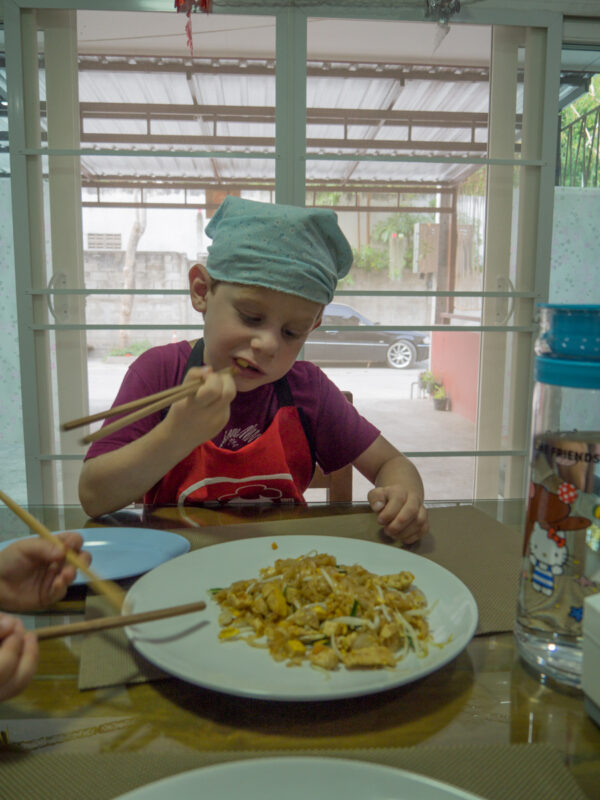 Get a Thai massage in Chiang Mai
There are about 10,001 places to get a Thai massage in Chiang Mai, with differences in quality, ambiance and location mostly determining the price. The going rate seems to be 250-300 THB (around $8 US) for an hour – a shockingly low price for those visiting from Western countries. Specialty massages including my favorite, the hot herbal ball massage, run around 650-800 THB for 90 minutes.
While you can find a decent massage place on every block in Chiang Mai, for a special experience arrange a visit to The Home Massage located at a newly-opened hotel. Their reasonable prices even include door-to-door car service! The gorgeous poolside location was perfect for our family, as the friendly manager let us bring the kids so that we could trade off massages and swimming with the kids! If you visit in the evening (as I did once, sans kids!) the scene definitely makes you feel like you're in a luxury oasis. The massages were great and followed up with tea and cookies.
Continuing your vacation in Thailand? Check out the perfect 2 day Bangkok itinerary.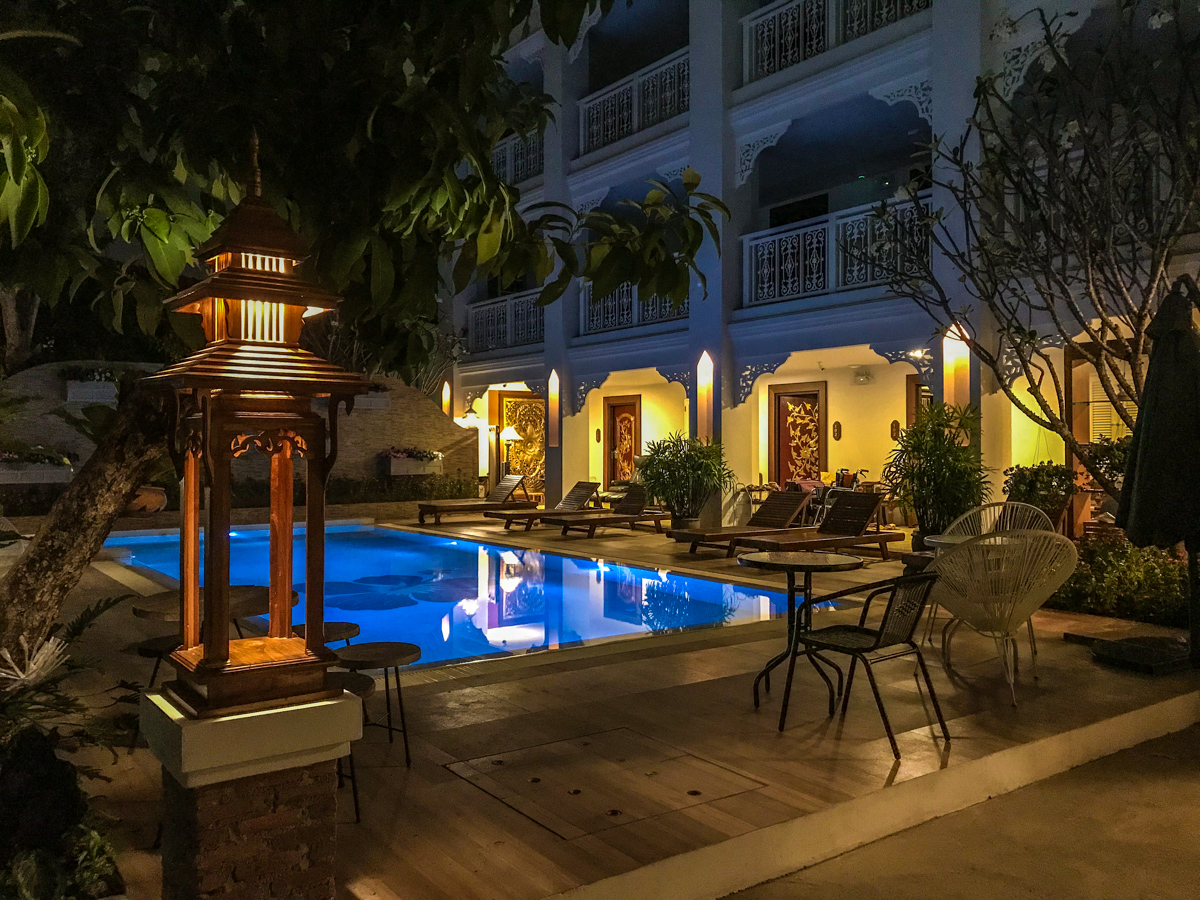 Visit the Chiang Mai night markets
Visiting a night market is definitely one of the best things to do in Chiang Mai at night. There are a few night markets in Chiang Mai and we happened to be staying right around the corner from the main Night Bazaar. Yes, there are lots of tourists. That doesn't make the experience any less fun!
You can walk without pushing and shoving, so it's safe for kids to explore. You'll mostly find the same wares available at every stand (as well as the stands outside the night market). There are plenty of scarves, elephant pants and knockoff and trinkets for every traveler. There are a few little restaurants and many dessert carts.
My favorite was probably the foot-nibbling fish! For just a few dollars, I got a solid session of ticklish exfoliation (in truth, my calloused, travel-worn feet could have used a full hour).
There are several adjacent sections, with the main entrance on Chang Khan Rd – check out the main Night Bazaar, Kalare Market and Anusarn Market. Check out these souvenirs to buy in Thailand.
Pro tip: while our days (and backpacks) were mostly too full for shopping, if you want a more local, authentic (and cheaper) shopping experience we've heard that you should head to Warorot Market just a few minutes north. There are several excellent "local" Chiang Mai market options that are well worth exploring.
One of our favorite family-friendly finds? There are many brands of knock-off LEGO sets available at rock-bottom prices, and some of the sets are more creative and interesting than the real-deal options. We didn't load up for lack of space and our initial hesitation about quality, but picked up a small set for just over $1 USD – really. So far the pieces have held up at least as well as the name-brand pieces, which seem to have seriously declined in quality since we were kids.
Travel Mom rant: LEGO is one of the most expensive toys out there, but we justify the price by saying that they inspire great creativity and engineering skills and that the toys will last for generations. The LEGO brand has seriously lost my loyalty after this trip because so many pieces have broken. Not even delicate specially pieces with parts that are precariously attached, but I'm talking about tons of regular bricks that have nearly split in half. Even the beloved Lloyd minifig has a split up the side of his body so that the legs don't stay firmly attached, and his ninja hood doesn't stay on firmly. Uncool, LEGO.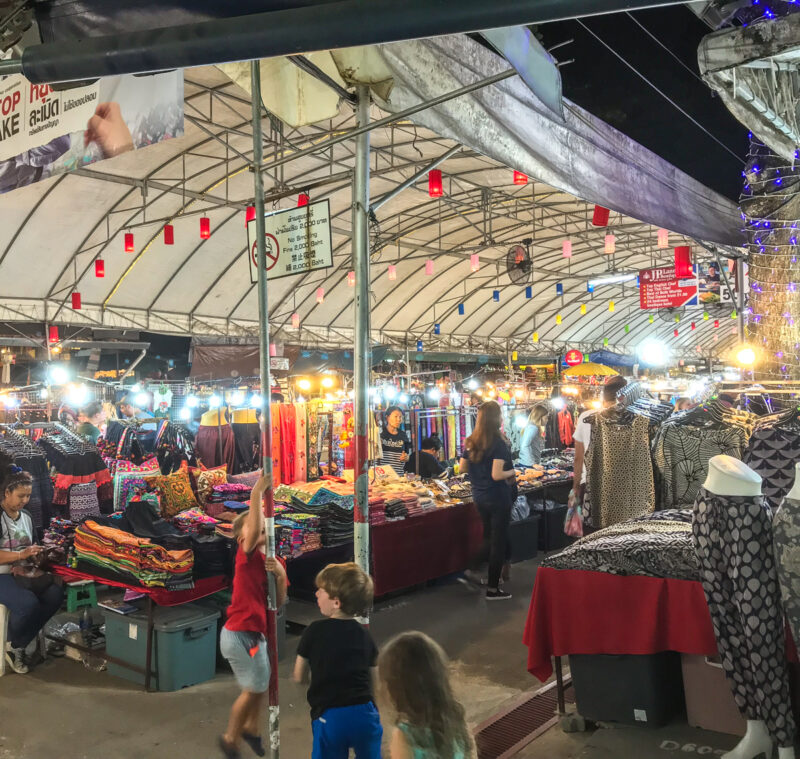 Stroll the city – day or night
Chiang Mai is a visual feast at any hour. There's always something to stop and see, so give yourselves time to soak it up while you cool off with a refreshing iced coconut. There are ruined city walls, a flower-lined moat, brightly colored lanterns, temples of all ages, market stalls, fruit vendors and painters practicing their craft. If you can resist buying any of the beautiful souvenirs, it's one of the best free things to do in Chiang Mai.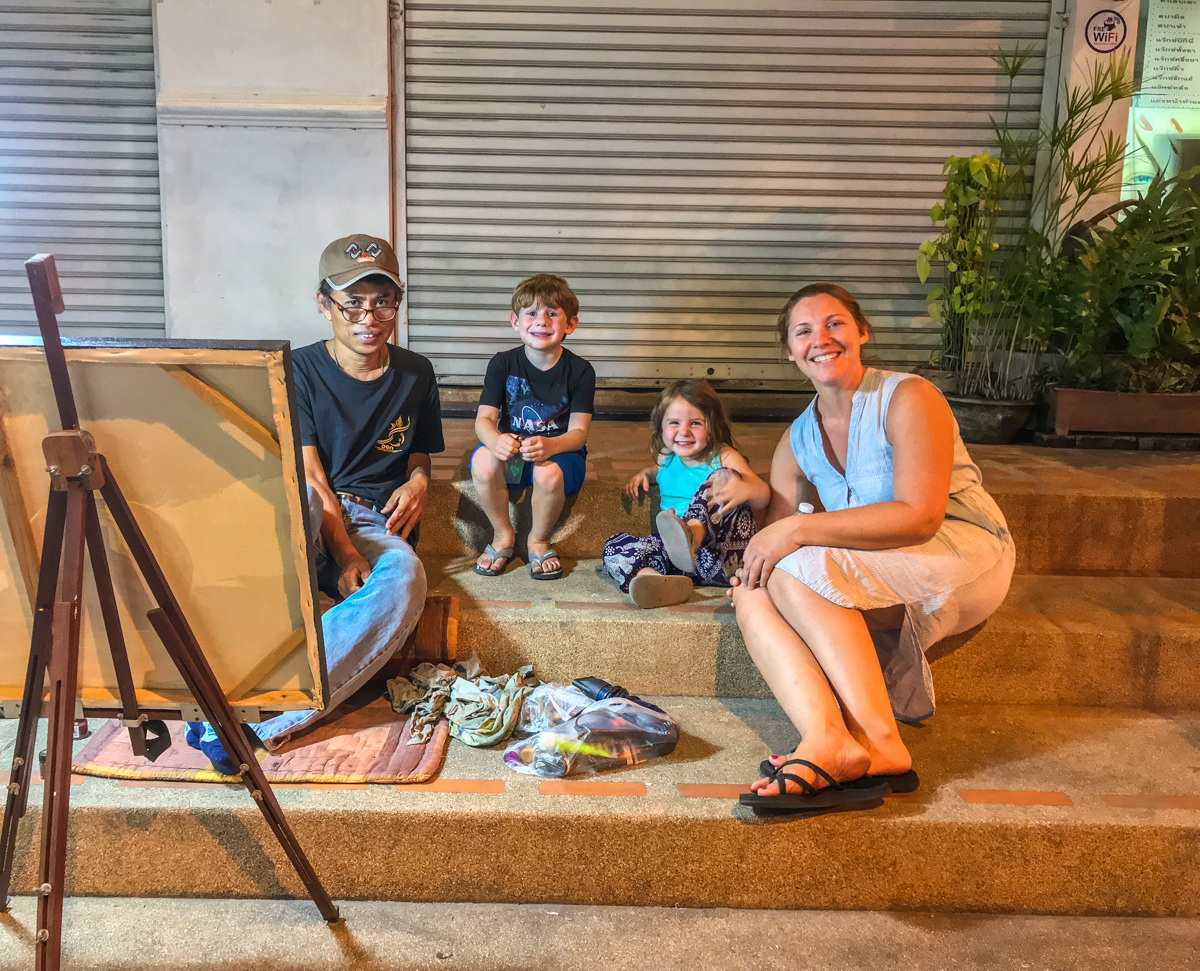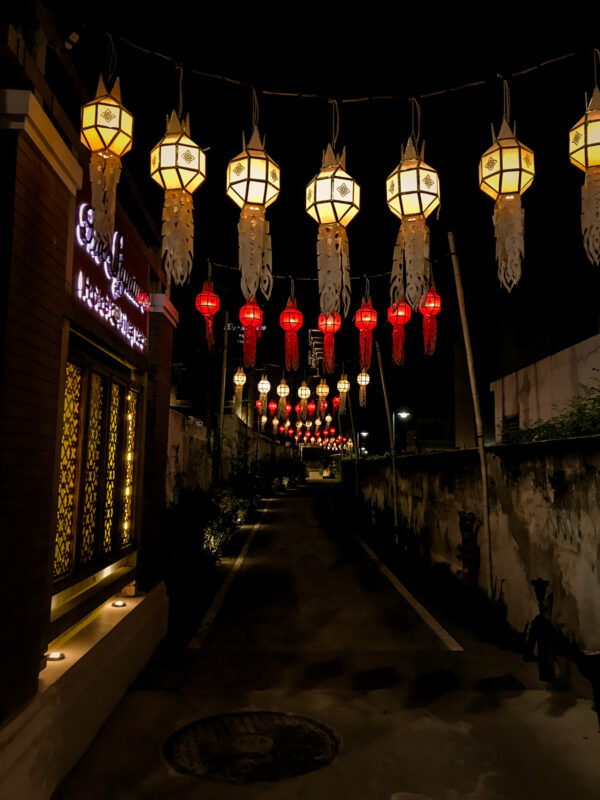 Visit a "western" shopping mall in Chiang Mai
Going to a huge air-conditioned, indoor shopping mall is not an authentically Thai experience according to travel guide books – though we encountered enough Thai people there that it's clearly a part of contemporary Thai culture. But if you're suffering in the heat or need to buy something that you can be confident isn't a knock-off product (like my new royal blue extra-large hard drive, affectionately named Blue Elephant and priced exactly the same as American retailers) Chiang Mai offers malls to rival any in America, complete with movie theaters and food courts. Thinking of staying longer as a digital nomad? Make sure to sign up for a VPN to keep your data safe and allow you to access the internet as if you were back home.
We had a great experience visiting Central Plaza Chiang Mai Airport, accessible by a cheap Uber from the city center. The whole upper floor is electronics and cell phones, making it easy to find what you need. In the food court, we enjoyed pretty good freshly cooked food for under $10 (make sure to go to the centralized desk when you enter to pick up a pre-paid card) and then the kids went crazy in the play area and nearby arcade.
While we didn't see a movie in Chiang Mai, we did find a mix of Thai and English movies available during our lazy/sick week in Bangkok – another good option if you need to escape the heat. We've heard that the basement houses a food court and a grocery store with Western favorites.
Pro tip: If you plan to buy any high-value items, have your passport number handy for the VAT refund form to get 7% back at the airport.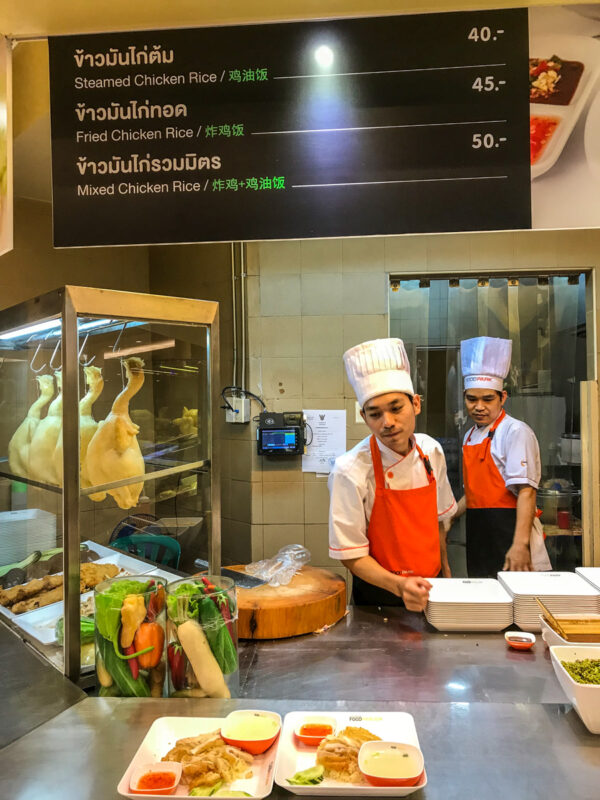 Have an elephant encounter in Chiang Mai –
maybe
This activity is definitely the hardest for me to recommend – I'm still on the fence about publishing what I've written about our very mixed experience visiting a "recommended" elephant "sanctuary". I remain stuck with some very conflicted feelings about the entire industry related to elephant tourism in Thailand.
In reality, even the most ethical of options – Elephant Nature Park – is in some ways the beneficiary of the morally questionable practices that occur upstream. I am not accusing ENP of any wrongdoing.
However, the animals that they rescue and shelter have almost all been victims of a deeply-ingrained system that "trains" them in ways I find disturbing, but that make them more manageable for the human contact that tourists want. From everything I can gather, treatment of elephants only goes downhill from there (with Thailand being far ahead of other countries in the region in how it treats these gentle giants).
They are wild animals and we saw first-hand during our experience that some of them retain a wild streak (which obviously isn't a fault as much as a fact) – unfortunately our kids are not eager to go back.
So whether or not you ultimately choose to visit a Chiang Mai elephant sanctuary, please give it due consideration in advance. If you do choose to go to one, Elephant Nature Park is the least ethically problematic option in the area, but be advised that they book up quite early (we tried to book a month before but they were already full for our whole time in Chiang Mai).
If you're an animal lover, definitely consider this wildlife volunteering project in Borneo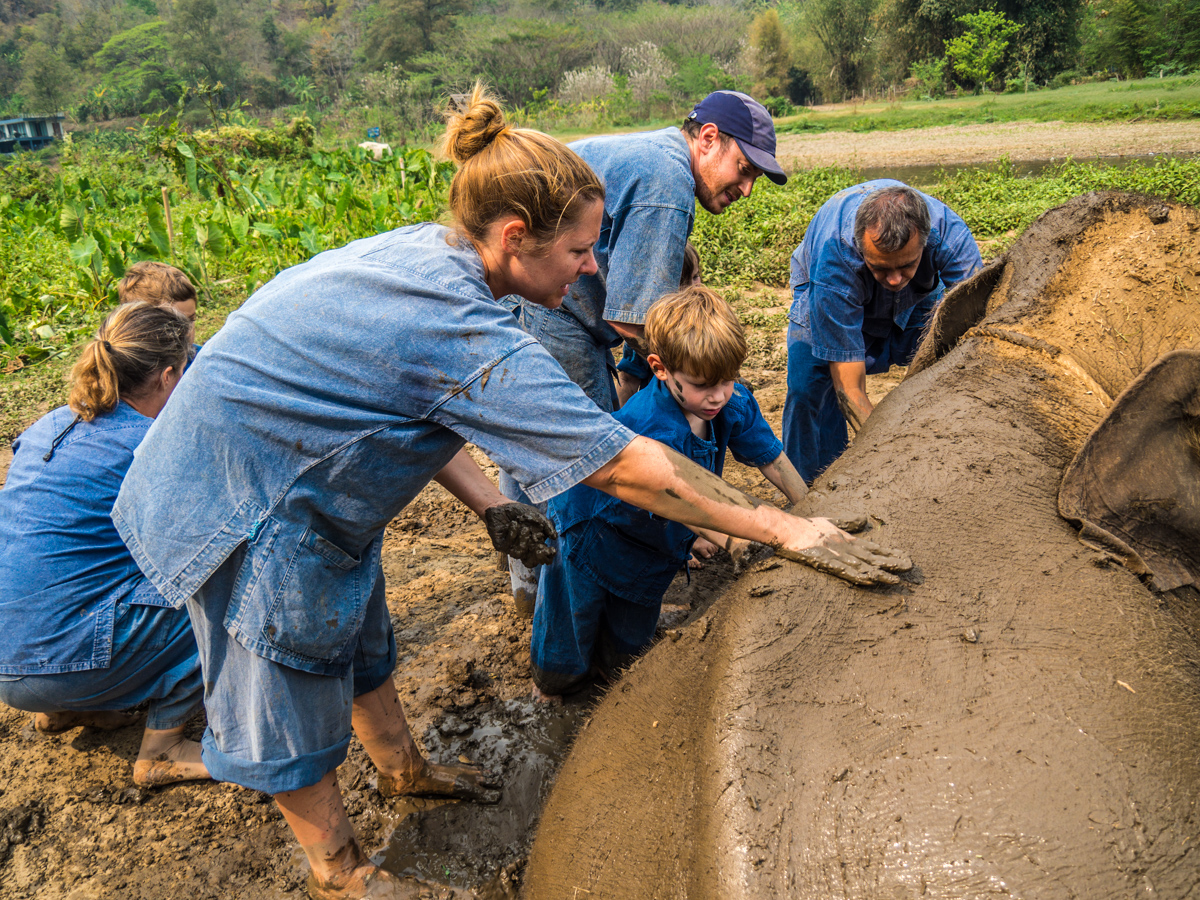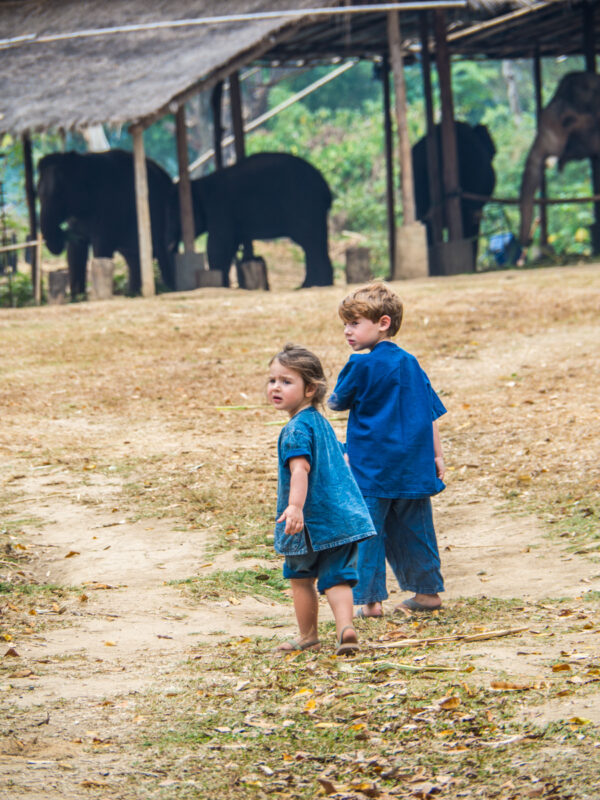 Still looking for more things to do in northern Thailand? Take a day trip to Chiang Dao!
Where to eat in Chiang Mai with kids
We're big fans of self-catering when we travel (especially during our gap year) to save money and to avoid "restaurant fatigue", but visiting northern Thailand is just… different. The local water is not drinkable, and even vacation rentals that have a kitchen may have a "Thai kitchen" (as opposed to a Western kitchen) that lacks some common appliances like an oven.
Those logistical challenges coupled with the extremely reasonable prices at local restaurants make eating out a compelling option, even when you're paying for four people. Note that if you (or your kids) prefer Western food like burgers or chicken tenders, you may have to pay close to Western prices. But sometimes the splurge is worth it for the sake of variety.
There are more Thai restaurants (or perhaps they could just be called "restaurants"?) than you can shake a stick at and many of them are either very good or excellent despite extremely reasonable prices. Our pick for everyday eating is Lemongrass on Loi Kroh Rd, where we enjoyed full-on feasts for around $15 – complete with refreshing whole coconuts, crispy spring rolls, tangy tom kha gai, not-too-oily noodles and all our other family faves.
Once your travel mates roll you out the door, head about 10m to the right where you'll find the best rotee in Chiang Mai. No really, that's what the sign says! And they're not lying, because we tried a bunch of others that couldn't compare. What is rotee? It's sort of like a crepe, but the batter has a banana base – and then the whole thing is full of Nutella! You can't really taste the banana, as anti-frutarian Jacob will attest. The kids begged for it every night, and they won pretty much all the time.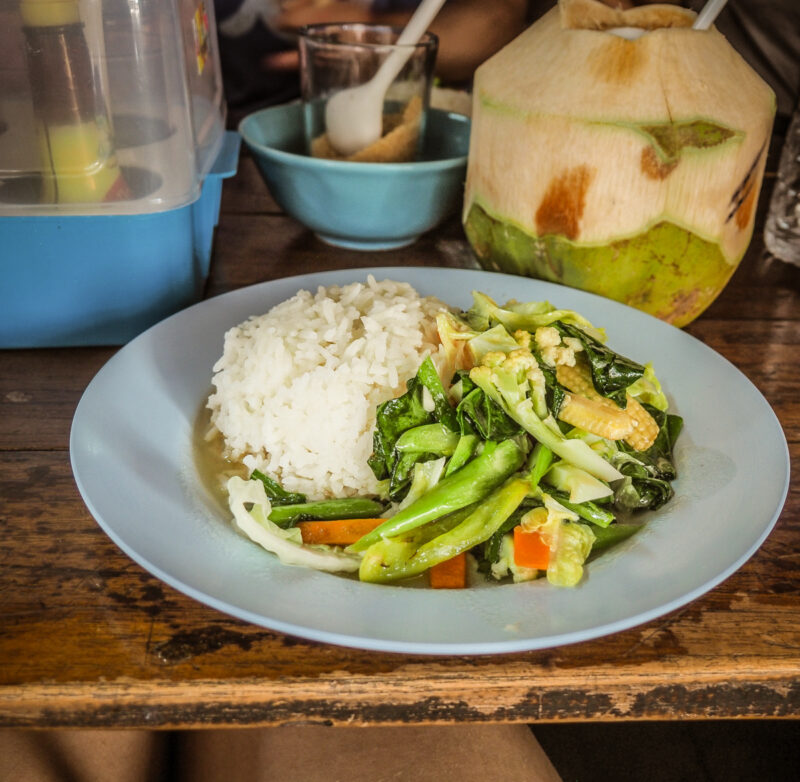 If you're looking for something a little fancier that still serves excellent local food, check out Cafe de Thaan Aoan near the must-see Wat Chedi Luang. We went there on our temple tour and found the food to be excellent. While the prices are a few dollars higher for the family overall, our lunch was still under $15. In exchange, we dined in a very classy air-conditioned space that resembled any nice lunch spot in the US – complete with a basket of colored pencils for the kids and clean IKEA high chairs for younger ones.
A nice dinner spot with ambiance is Ginger and Kafe, right near the ancient city walls. If you bring your high-powered mosquito spray, you can sit out on the beautifully-lit patio for dinner that includes traditional Thai dishes, western fare and a pretty killer cocktail list. It's a bit of a nicer restaurant, but was a great way to spend our last night with our travel friends.
In the mood for some meat? Our buddy Will over at The Broke Backpacker told us that Beast Burger in the expat-heavy Nimman area is the best burger in Chiang Mai. Our family's (young) resident burger critic deemed it "the best burger in the world!" and requested another. It's more than a typical Thai lunch would cost, but still reasonably priced. Just be mindful of the hours, as the kitchen closed at 2pm the day we visited.
Prefer vegan food? The good news is that it's easy to come by in Chiang Mai! Check out these awesome options.
Want to keep traveling through Southeast Asia with kids? Find out why Cambodia is a great next stop.
Where to stay in Chiang Mai
Like so much of life and travel in Thailand, there are many affordable places to stay in Chiang Mai. Since it was our first visit to the region and we wanted to maximize our experience without struggling with logistics, we chose to stay at the relatively new Bee Friend Hostel. Hostel with kids? Yes, you can stay at a hostel with kids. Generally kids are only permitted in private rooms and Bee Friend only offers private rooms, though some have a shared bathroom. We were lucky to score the family room option, which occupies the entire second floor of the building – it's essentially a two bedroom suite with a private ensuite bathroom including both a shower and a tub! The bargain prices even included daily breakfast, which offered a selection of cereals, muffins and sometimes local specialties like mango sticky rice.
The real attraction of Bee Friend is the the amazing owner and host, Deng. Without batting an eye, he arranged everything we asked for and made great recommendations. When Deng found out that the kids love croissants, he got them for the next morning. He even picked us up at the airport and helped us book and print our bus tickets to Chiang Rai (and then drove us to the bus station too). We were visiting Chiang Mai with friends who had booked an Airbnb, and Deng made arrangements for their activities too! One morning at breakfast we met another family that was roaming around Thailand and they were on their third stay at Bee Friend in as many months – if that's not a vote of confidence, I don't know what is. It's certainly not a party hostel; we met a wide range of travelers of all ages, and everyone was quiet and respectful. When we get back to Chiang Mai, we'll look forward to another stay at Bee Friend Hostel. Check prices and availability – book early if you want the coveted family room.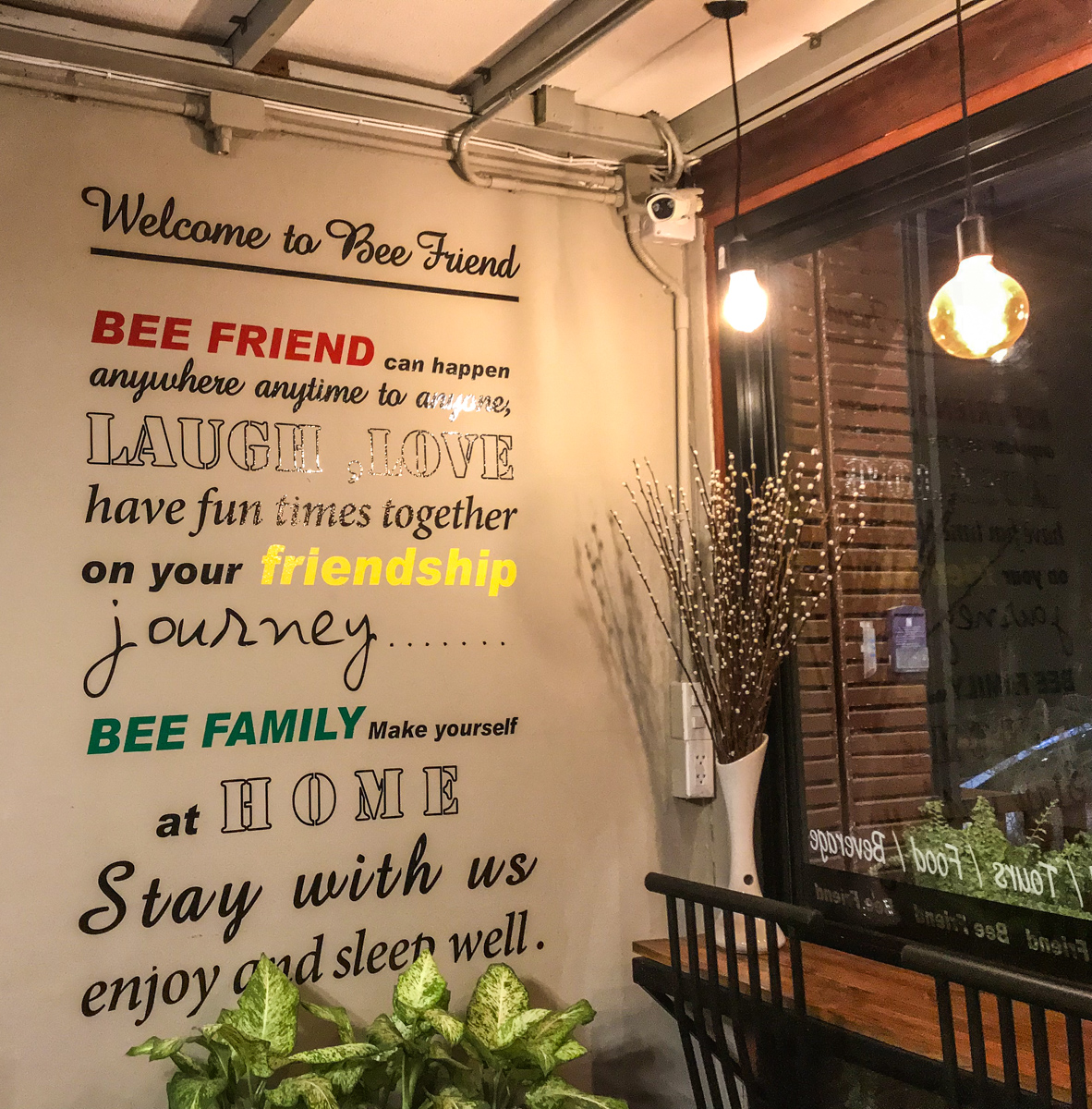 Use the interactive map to find vacation rentals and hotels in Chiang Mai, Thailand
---
Getting to Chiang Mai
There are three primary ways to get to Chiang Mai: plane, train and bus. Which choice you make depends on your overall itinerary, budget and preferences
Fly to Chiang Mai
The easiest way to get to Chiang Mai from international destinations is to fly. We got our tickets for free by transferring our Ultimate Rewards points to United and redeeming for a flight from Perth, Western Australia. That particular route could normally be a little pricey since neither is a huge airport, but because United prices its award tickets based only on region, we didn't have to pay anything extra to go to the city of our choice.
If you'll already be in the area, it's usually very cheap to fly from Bangkok to Chiang Mai – check Skyscanner for the best prices, which can cost as little as $30 one way. Fortunately the route is extremely competitive with lots of low-cost carriers and you can buy a series of one-way tickets to hop around the country. While you're jetting around, check out these other great places to visit in Thailand.
Train from Bangkok to Chiang Mai
Slow traveling and want to save a few baht while trying out a different experience? We've heard that the overnight train from Bangkok to Chiang Mai is a fine experience for some , though we didn't do it ourselves. It clocks in around 8 hours, so you'll be most comfortable purchasing a sleeper car. Our friends arrived by train from Bangkok to meet us in Chiang Mai and reported that it wasn't a great night of sleep and they arrived extremely early in the morning – overtired toddler in tow. Check train schedules here to see if it works for your itinerary. Looking for ideas on what to do in Bangkok? Check out this thorough 3-day Bangkok itinerary.
Check out these interesting facts about Thailand
Bus to Chiang Mai
If you plan to travel around northern Thailand, buses are a great way to get around! We took the Greenbus VIP Chiang Mai to Chiang Rai bus for only 258 THB ($8 USD) per person, and it was three hours of comfort and easy travel. If you're looking to save a few extra dollars, there are several cheaper classes of service as well. The Chiang Mai bus station is a bit busy, but offers connections throughout the region.
Heading to Chiang Rai next? Check out our 2 day Chiang Rai itinerary!
Plan your trip to Chiang Mai
Are you convinced yet? Hopefully you'll have your own awesome Chiang Mai adventure! Check out these great books and get traveling. Don't miss this excellent guide to the cost of visiting Thailand.