We've been pretty candid about some of the challenges of traveling in Morocco, but that doesn't mean it isn't worth visiting! When we look back at the things we did while we were there, some of the experiences were pretty darn amazing – there are a lot of unique experiences in Morocco. Fortunately visiting Morocco with kids doesn't really limit your site-seeing prospects. We polled some of our fellow family travelers for the top things to do in Morocco with kids. Read on to be inspired for your own journey!
Exploring the ancient Roman ruins at Volubilis
One of our family's most memorable experiences in Morocco was romping through the well-preserved Roman ruins of Volubilis on a gorgeous spring day. Volubilis was established in the 3rd century BCE by the Berbers and inhabited for over 1300 years, going through Berber, proto-Carthaginian, Roman and Islamic rule before it was abandoned. It shows near-pristine examples of different Roman column styles, tile mosaics and everything else you'd hope to see at a well-preserved Roman site. While our family gap year included visiting ruins belonging to many ancient civilizations around the Mediterranean (Minoan, Greek, Israelite and Roman), Volubilis stands out for its relative emptiness and stunning location in the midst of lush rolling hills. At times we felt that we had the whole place to ourselves!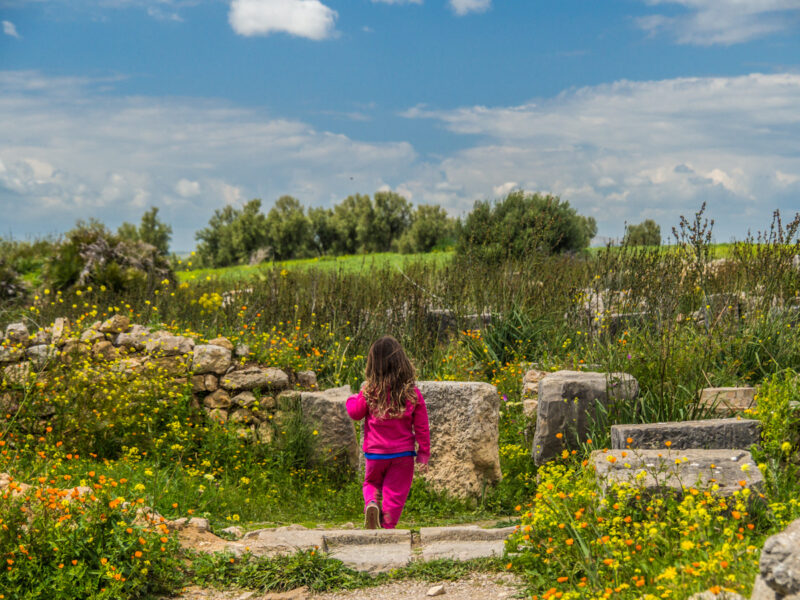 Many tourists don't realize that Volubilis should be on their list of the top places to see in Morocco. Getting there is no small feat! We traveled by an easy, inexpensive train from Fez to Mèknes (worth visiting in its own rite). From Mèknes you can catch a ride-share van to the small town Moulay Idriss. Once at Moulay Idriss, a taxi can take you the remiaining 5km to Volubilis in short order. Our family stayed overnight at the restored Walila farm and guest house of Mr. Zayrs and he helped with several legs of transportation (the farm is walking distance to the site). If visiting independently, be sure to take the left fork once you get up the hill to see the site in the intended order – unlike us. Alternatively, you can join a great group tour to Volubilis to avoid the transportation hassles and learn from an expert.
Read reviews of these awesome family-friendly places to stay in Meknes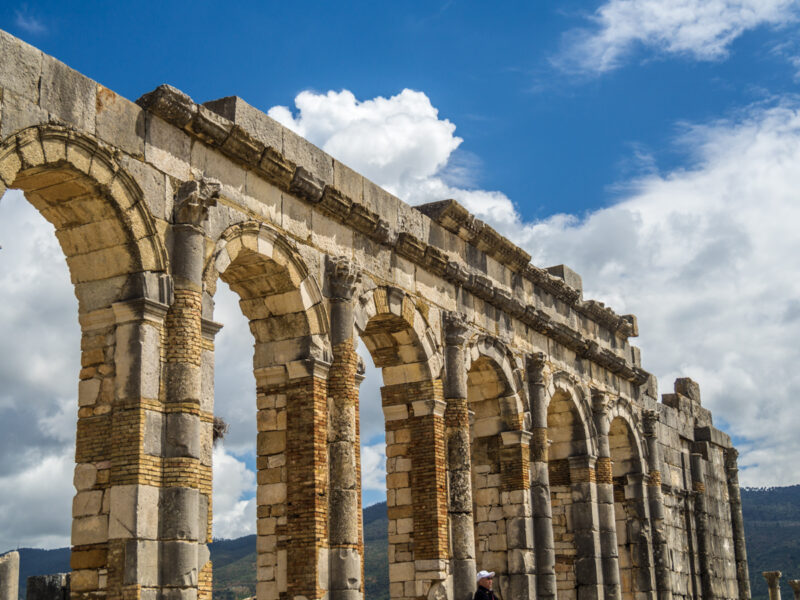 Wondering how to put it all together? Check out these awesome Morocco itinerary suggestions.
Use the interactive map to find vacation rentals and hotels in Volubilis, Morocco
---
Indulging in Moroccan Street Food in Marrakech by Jane of Wicked Walkabout
Trying different foods when travelling is one thing I have always encouraged our daughters to do and they generally always give anything a go (scorpions in Thailand they flatly refused though, fair enough I guess).
Marrakech is a city we all loved and just 'being' was an experience in itself. There was always someone ready to sell us something from henna tattoos, fake Samsung phones or a monkey on a shoulder for a small donation. What we enjoyed most, along with simply watching the day to day life of the city and its people, was to try the street food.
Each morning we went out early for fresh squeezed orange juice from the stalls in the Jamaa el Fna, the old city. At night the food stalls were set up and this is where the fun would really begin. The famous snail soup could readily be found and the girls almost balked at the sight of the snails… but they had a try and were quite surprised to actually enjoy the taste and texture. We all passed on sheep heads but relished the fried bread and pastries filled with chicken. Chebakia, a sweet sesame biscuit was another favourite and one of the last things we had was from a man selling what was like a sticky, sweet candy that he pulled bits of from one long length. Before you eat in Morocco, be sure to read these important safety tips that cover food and plenty of other topics!
All these experiences are often talked about and laughed over in our family and will be wonderful memories for the girls as they grow up and, hopefully, take their own families to experience some day. Want to go even more in-depth? Take a Marrakech food tour!
Read reviews of these awesome family-friendly places to stay in Marrakech

---
Marrakech souk tour with kids from Dana at The Talking Suitcase
Marrakech is a beautiful city that can quickly overwhelm your senses. But as you become accustomed to the chaos, sights and smells, you realize what an incredible (and safe) experience you're sharing as a family. To help us become acclimated to the city, we took a half-day Medina Tour organized through our riad (similar to this one). Our guide took us to purchase spices, visit the Marrakech Museum, see the Jemaa El Fnaa Square and wander the twisting streets of the Souks.
We were able to learn and see more about life in Marrakech than we could have ever found on our own. We visited a communal bakery where locals still bring their bread daily to be baked. We saw how the hammam was heated and watched as the man sat barefoot in a pile of wood chips, scooping them into a huge furnace. The kids were dressed in traditional berber scarves for a photo opp, and we even saw the local knife sharpener at work.
It was also the perfect time to take photographs. Moroccans don't like having their photos taken without permission or money exchanging hands, so having a guide allowed us to snap away as he handled all the tipping. Though don't expect your guide to help in the bargaining process if you want to make a purchase!
While we safely explored the Souks later on our own, it was wonderful to have gained more knowledge and an understanding of the city. We highly suggest booking a tour to see behind the scenes of life within the Medina.
Read reviews of these awesome family-friendly places to stay in Marrakesh

Use the interactive map to find vacation rentals and hotels in Marrakech here
---
Enjoying the best free things to do in Marrakech by Emma at Money Can't Buy Me Happiness
We visited Marrakesh with an energetic two-year-old for a laid-back five-day break. As with most travel with toddlers, our schedule was dictated by naptime, but we found fun and free things to do in Marrakech each day. Perhaps the highlight of our day was spending each evening eating from a different food stall in the Jemaa El-Fna square in Marrakesh's old quarter. It was a great place to introduce our son to new styles of food which he thoroughly enjoyed.
The square provides loads of other entertainment in the form of live shows from street performers, snake charmers (!!) and plain old people-watching. It's also a great place to organise a horse and carriage tour around the sites of the city – a simpler and much more exciting option than taxis, especially with children.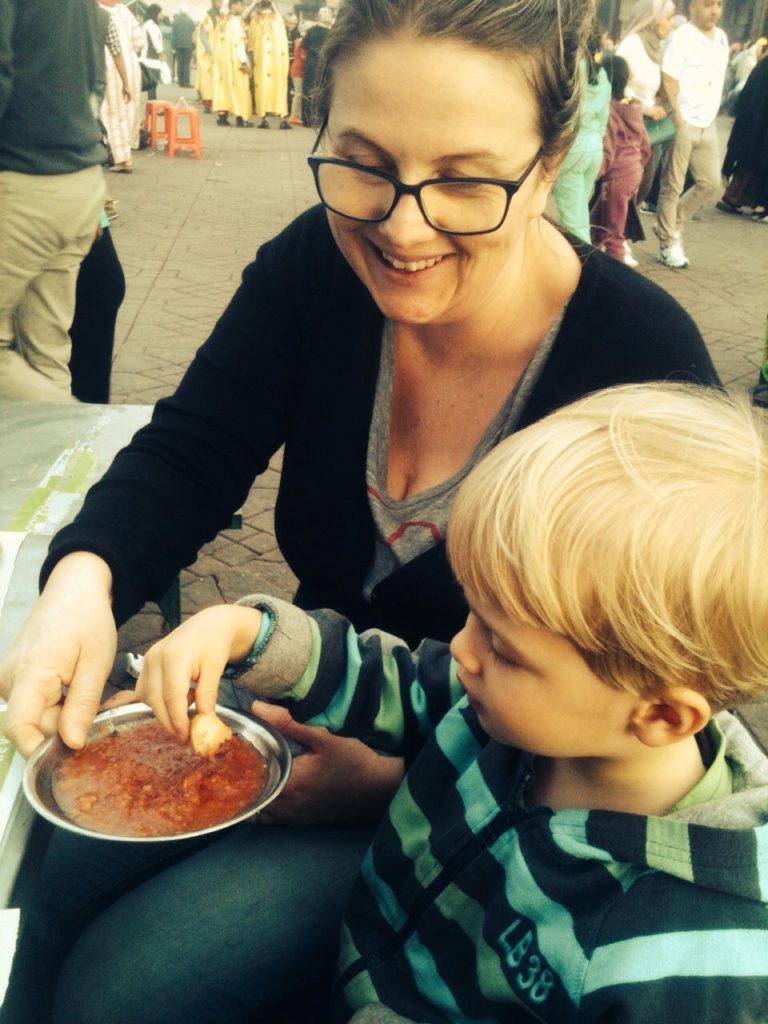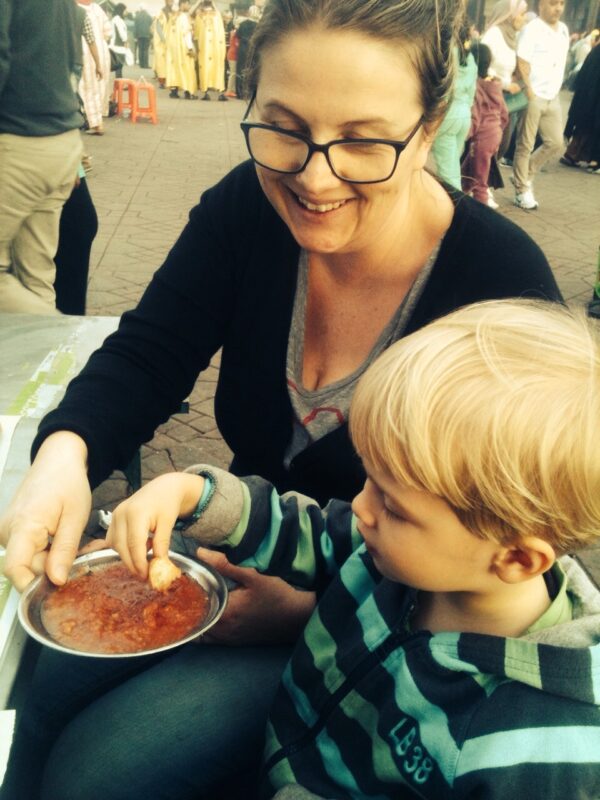 ---
Take in Marrakech's diverse offerings for families by Amanda at MarocMama
Morocco can be a difficult place to navigate but we think that when you come with your kids it makes things much better! People are much more open to families traveling in Morocco and you're likely to experience a lot of things you wouldn't be invited to if you were without your children.
In Marrakech there are several things that are great to do with kids. In the city visit the artisan workshops where chances are your kids will be welcome to get hands on. Take a cooking class as a great way to get even the pickiest eaters to give something new a try. When the weather is hot, try one of the waterparks or pools in the city. Then if you get tired of the city, head to Terres d'Amnar outside the city for a ziplining adventure!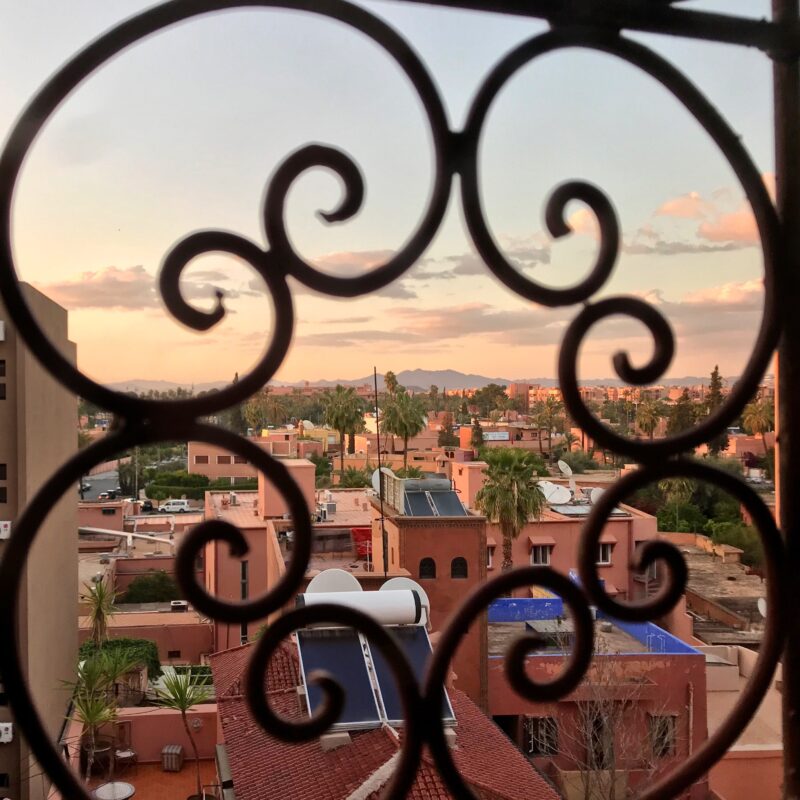 ---
Daytrip to the Atlas mountains by Lori at Fitz5 on the Go
Our favorite day in Marrakesh was our tour in to the Atlas Mountains. Our guide picked us up from our riad in the medina of Marrakesh (with car seat) and we were off. Our guide spoke at least 5 languages fluently and we were able to ask a lot of questions. We started by driving by the palace walls, through one of the gates and into some of the newer areas of the city. We made several stops along the way to take in the views as the landscape turned from flat desert to mountains. We really enjoyed that our guide was able to give us a lot of history and information about each area.
We drove through desert and smaller cities then started climbing up to smaller mountain villages. Our first stop – camel riding. The kids had been looking forward to camel riding the entire trip and they loved it. Our walk was along a pretty valley in between a couple of schools. My oldest spent the entire walk petting the camel behind her. Our next stop was a argan cooperative. The ladies that work at these cooperatives are generally divorced or widowed women who are having difficulty finding income. Making the argan is a very labor intensive process. The ladies let my kids have a try and I purchased some face cream.
The normal route that the tour takes was closed due to snow (we went in January) so we took an alternative route. It was a beautiful drive – but a little scary too – one of those one way up a snowy mountain with cliffs to the sides kind of deals. Our driver did wonderfully. He stated that it was the most snow he'd ever seen on this particular road and we made it just fine. At the top we stopped for a traditional Berber meal. This was the highlight of our trip. The views were outstanding and the food was delicious. The kids (and us) had a blast.
We then made our way down the mountain for more views and were returned safely to our riad. This trip was very family friendly and I highly recommend it. I did feel that a lot of the stops were set up for tourist photo opportunities and sales but that was OK with us. If you are more interested in really getting embedded in the culture this may not be the right tour for you. If you're looking for an affordable way to safely get outside of town and explore without worry then this trip is a great option. It was definitely a favorite of my family – and those views … just wow.
Book your day trip from Marrakech to the Atlas Mountains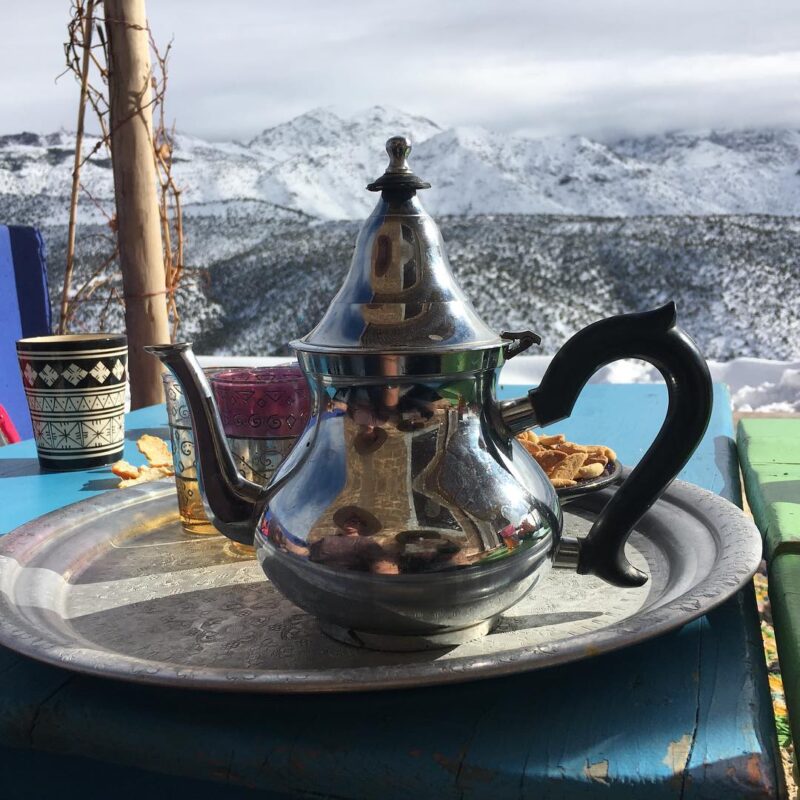 ---
Private Sahara desert excursion by Yashy at Baby and Life
While it may not be easy to travel through Morocco with kids, I loved spending a month in the country with my 3 and 5 year old. While my husband didn't love it AS much as I did, he too looks back fondly on our travels from the north into the desert. Many may opt to drive into the desert and back over a weekend, but I think you should take your time.
We spent an entire day driving into the town of Ouarzazate in the Atlas Mountains and enjoyed our drive through the Tizi N'tichka where even the kids marveled at the Moroccan geology and bought some geoids. We visited Kasbahs, movie studios, markets and even stopped in to gawk at dinosaur bones where the kids learned about fossils. We discovered a gorgeous HomeExchange home in Ourazazate and took a couple days to unwind so that we were rested before our night in the desert.
Of course all our kids remember from our Morocco trip are the cats of Morocco and their camel ride into the desert! For our family, Morocco was oozing in old world charm and we got to experience a country that is like no other we've been to before.
I highly recommend hiring a private driver for your trek into the Sahara Desert (but you can use public transportation to get around between the main cities) and ask the locals to share their stories, recipes and local hangouts because they really do love kids there!
Book a private desert excursion here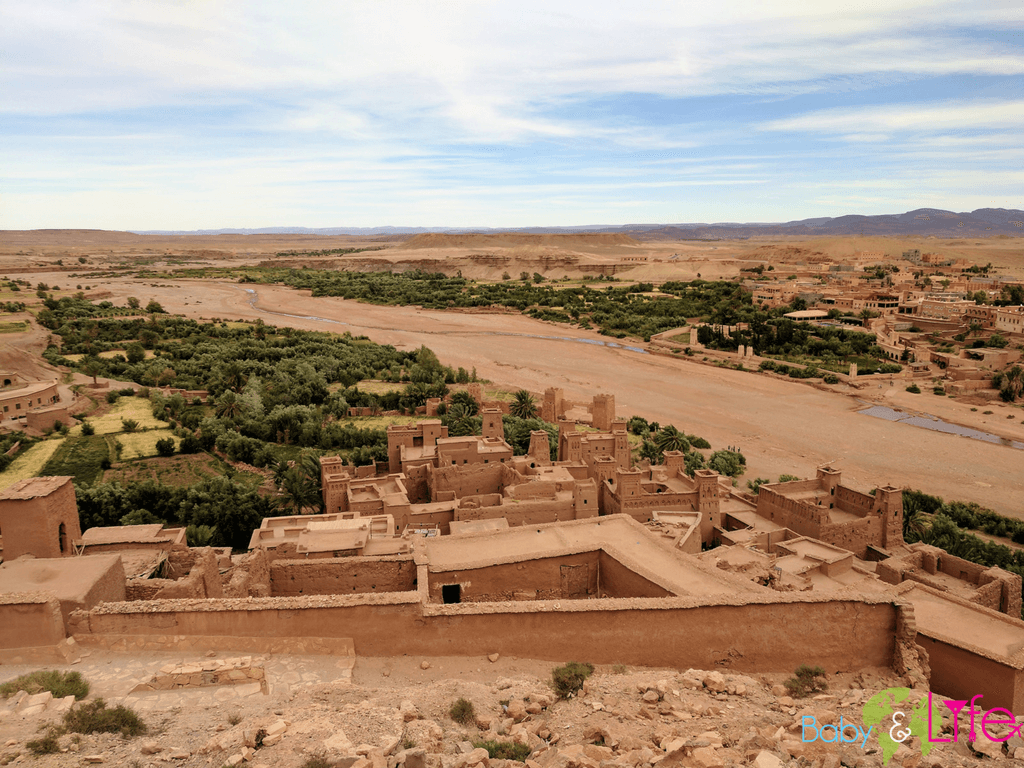 Check out an alternative route through the Sahara
---
Relaxing in Essaouira by Jenny of TraveLynn Family
Essaouira was one of our favorites too! Check out our top things to do in Essaouira with kids.
Essouaira is the perfect Moroccan town to just spend your days wandering. As cars are banned from the medina, the vibe is much more relaxed compared to Marrakesh, so you don't have to hold on so tightly to your little ones. We loved simple activities like collecting amazing street food each night for a feast on our rooftop during the call to prayer. Once you've finished exploring the vibrant souqs, head to the beach for a camel ride or meet the fisherman down at the port busy selling their catch and fixing their nets.
Use the interactive map to find vacation rentals and hotels in Essaouira here
Check out these wonderful places to stay in Essaouira!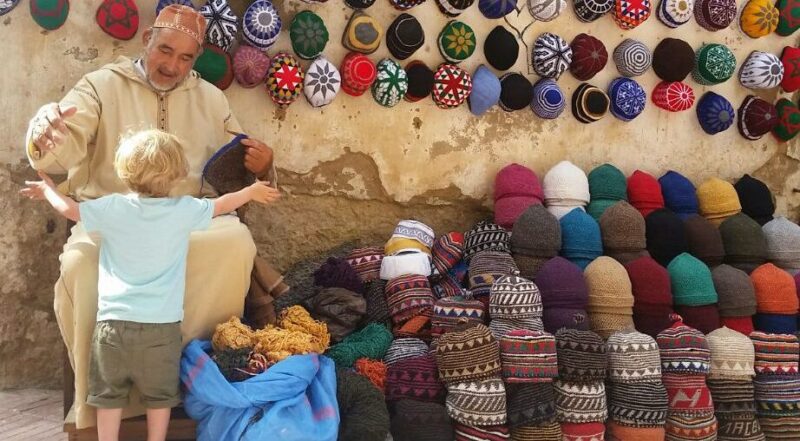 Plan your trip to Morocco
We have plenty of resources here on The Family Voyage to help you start planning your trip to Morocco! Read these next:
–Traveling in Morocco: the good, the bad and the ugly
–Why you should visit Morocco in spring
–Visiting Essaouira – our favorite place in Morocco!
–How to save more on every booking
Need more help planning? Pick up one of these great guide books:
Want to get more helpful travel tips like this? Sign up for our email list!
Still working out your travel details? Pin it for later!