We arrived in New Zealand, fresh off of two weeks hiking in Patagonia, expecting to strap on our hiking gear and explore mountains in the crisp air. And then we arrived for the hottest summer New Zealand had seen in years! Fortunately for us, New Zealand offers an amazing array of beaches where we enjoyed whiling away the afternoons while taking in the stunning coastline views. Of course there are many other things to see in North Island New Zealand, but I'd be lying if I said we did as many of them as we'd planned!
Best beaches near Auckland
Most international visitors to New Zealand begin in Auckland, the City of Sails, near the northern part of the North Island. There are tons of Auckland beaches – here's a sampling to fuel your sun-soaked wanderlust. (Psssst… here are some Auckland city favorites from a local expert.)
Piha Beach, New Zealand
Piha Beach is epic. This place is absolutely breathtaking – the tide pools and rock formations make it look magical in the evening. Just be extremely careful of the rip currents if you go jumping in the waves. We paired our beach trip with the lovely, fairly easy hike to Kitekite Falls just a few minutes away, and we also had an awesome sunset dinner at Piha Beach Cafe. It was one of my favorite days in New Zealand and is one of the best North Island attractions!
Piha is equally popular with tourists and locals alike, so take a listen for some Kiwi slang while you're there to get you on your way to speaking like a local.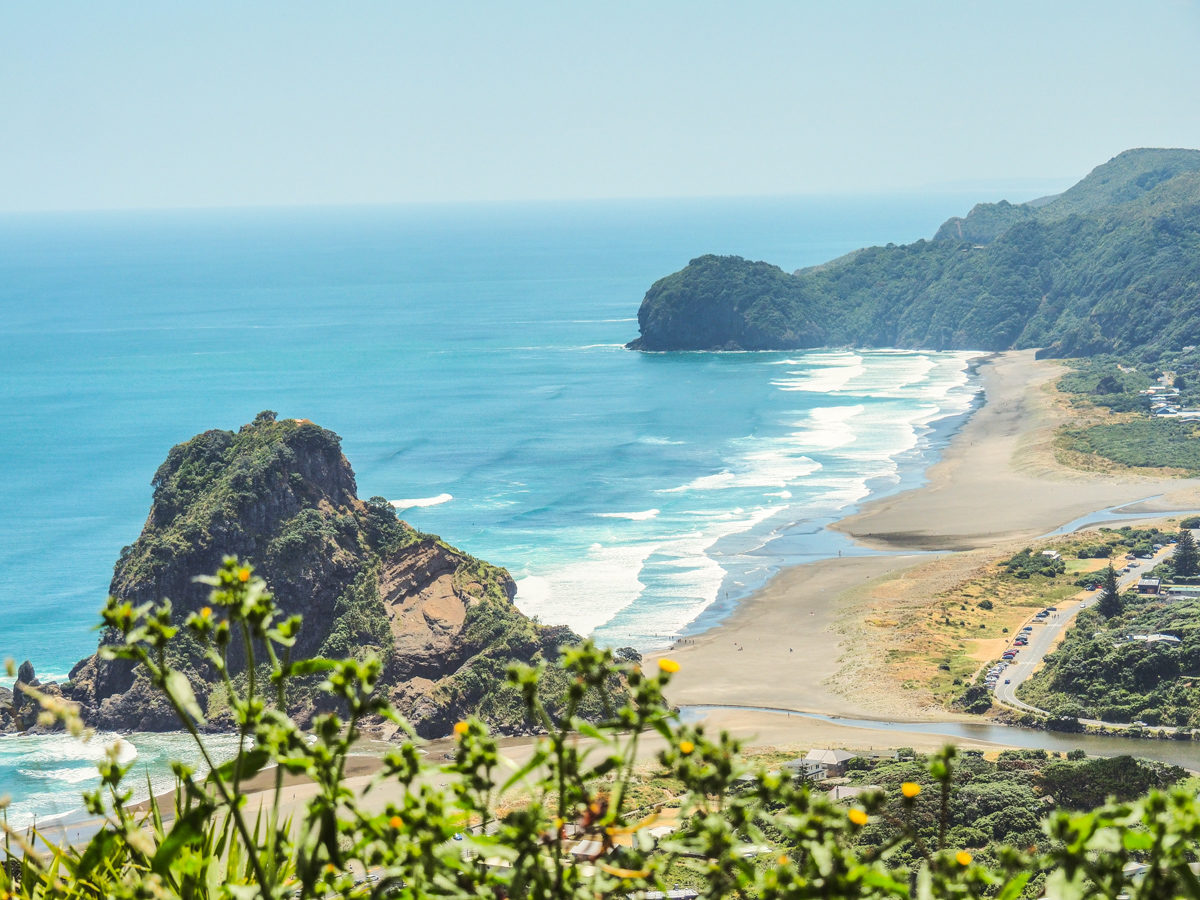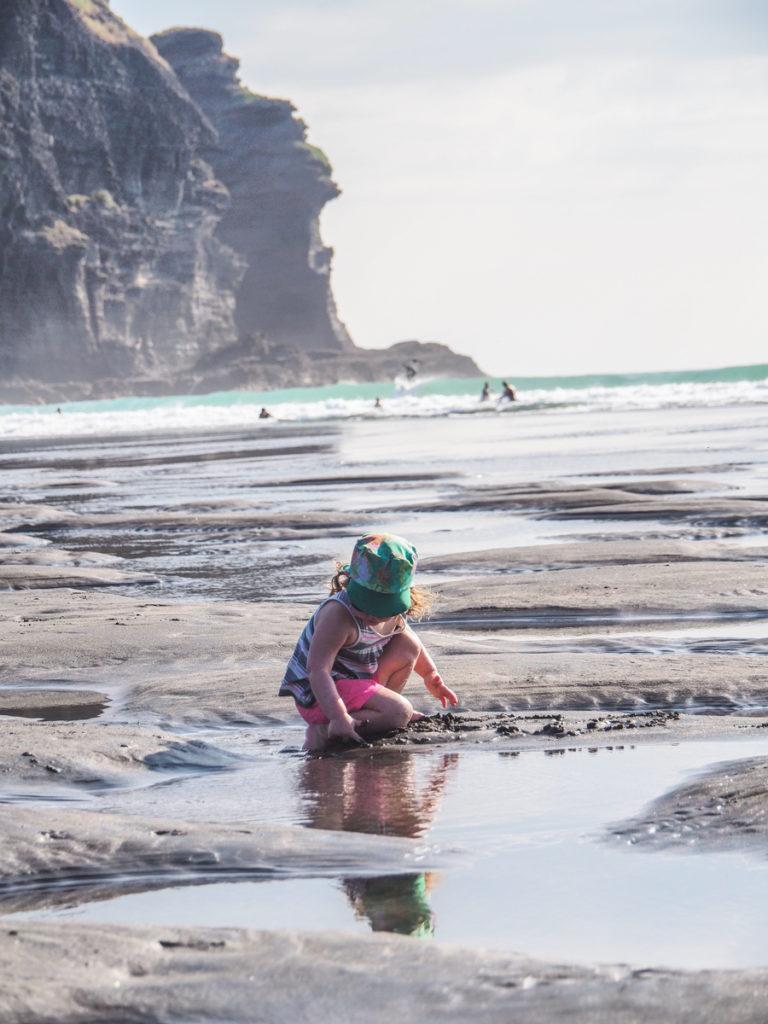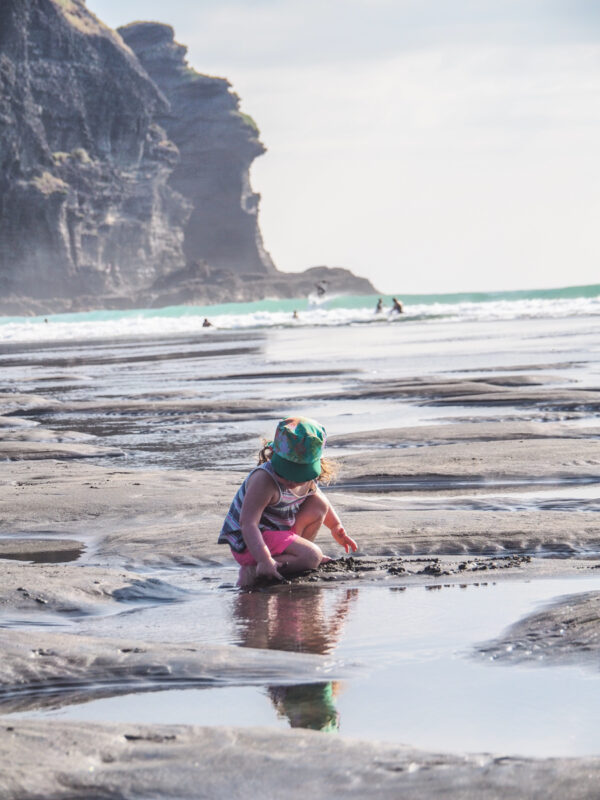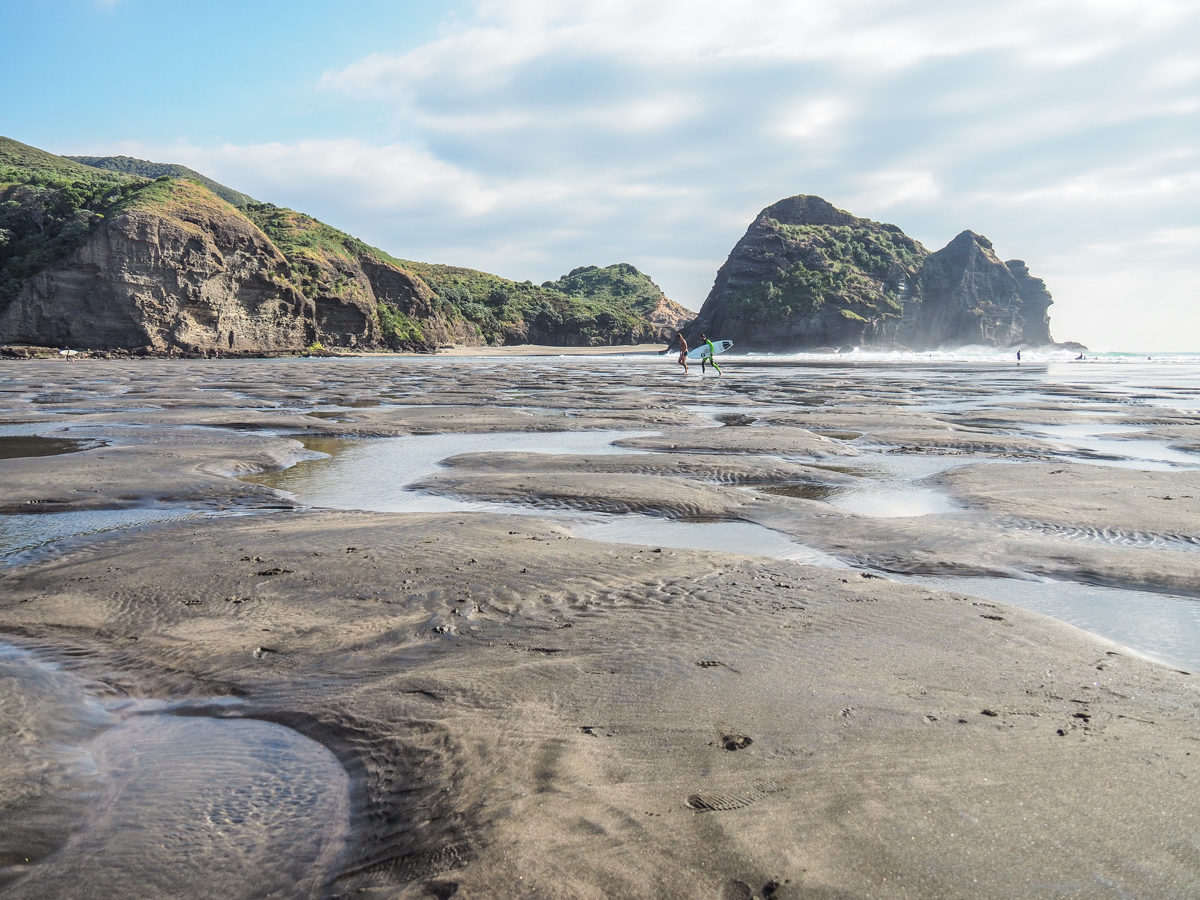 Keep heading north and you'll find even more stunning places and awesome things to do in Northland!
Use the interactive map to find vacation rentals and hotels near Piha Beach, New Zealand
---
Brown's Bay
We we're lucky to stay at a HomeExchange home (get more info here) in nearby Murray's Bay, so we spent our first day in NZ working off the jet lag in beautiful, warm, protected waters of Brown's Bay. The fresh air did wonders for us all as we made it through the whole day feeling amazing! This sheltered cove is a great beach if you're visiting New Zealand with toddlers.
While you're in Auckland, make sure to head over to Waiheke Island for more beaches AND wine tours!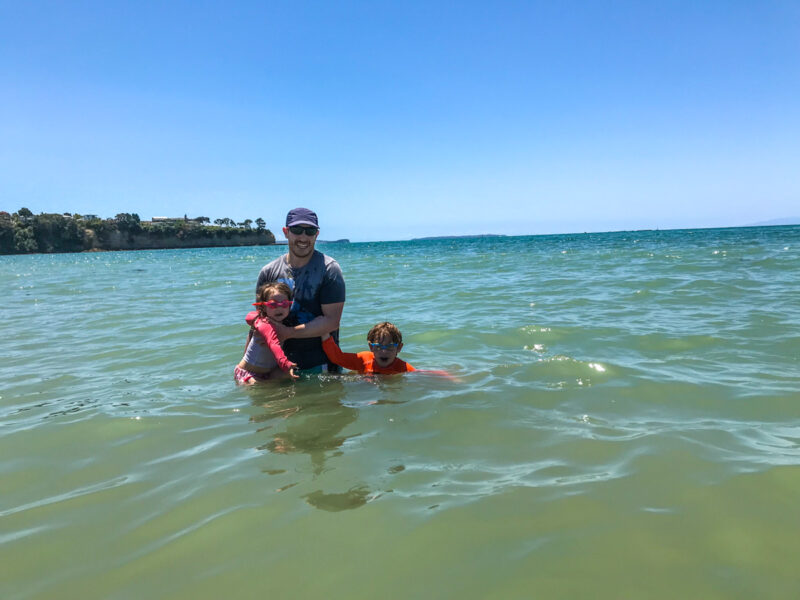 Psssst… click here to find out why Air New Zealand is the most family-friendly way to fly!
Use the interactive map to find vacation rentals and hotels near Brown's Bay here
Coromandel beach options
There are SO MANY beaches to visit on the Coromandel Peninsula! The area is full of cute, sleepy towns and each has its unique piece of the coastline. We used Whangamata as our base, where we stayed in a lovely cottage we found through HomeExchange – for free (want more details?).
Check out more great tips for visiting New Zealand on a budget
Whitianga beach
After our boat tour of Mercury Bay and Cathedral Cove with Glass Bottom Boat Whitianga, we took the opportunity to relax and picnic on the lovely little beach there. It was crazy watching all the Kiwi kids dive off the pier over and over into the chilly waters! As the tide went out, we witnessed the most dazzling collection of sea shells we've ever seen! Their musical clinking as the waters brought in more shells was like nature's own version of wind chimes.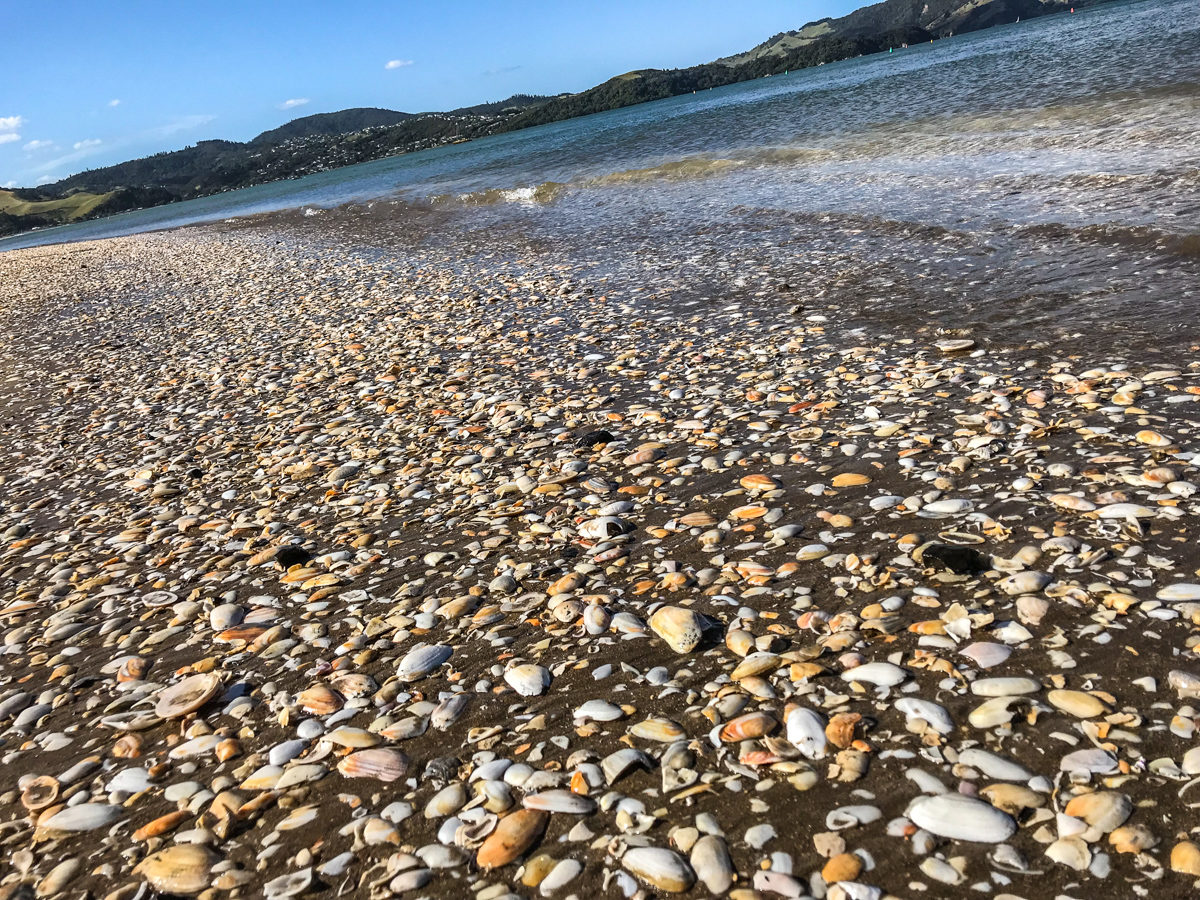 Use the interactive map to find vacation rentals and hotels near Whitianga Beach here
Cooks Beach, New Zealand
Ronnie desperately wanted to visit the Coromandel Peninsula's only real winery for "research" for his post on New Zealand wineries. Fortunately, Mercury Bay Estate is basically across the street from Cook's Beach! We had seen it from our boat ride, and up close it's just as secluded and beautiful as we had suspected – we think this makes it one of the best beaches of Coromandel. For a little historical tidbit, the stretch is so named because it's where Captain James Cook first made landfall on behalf of the British crown.
This broad sandy stretch usually isn't too busy, so it's a great place to try out these great beach games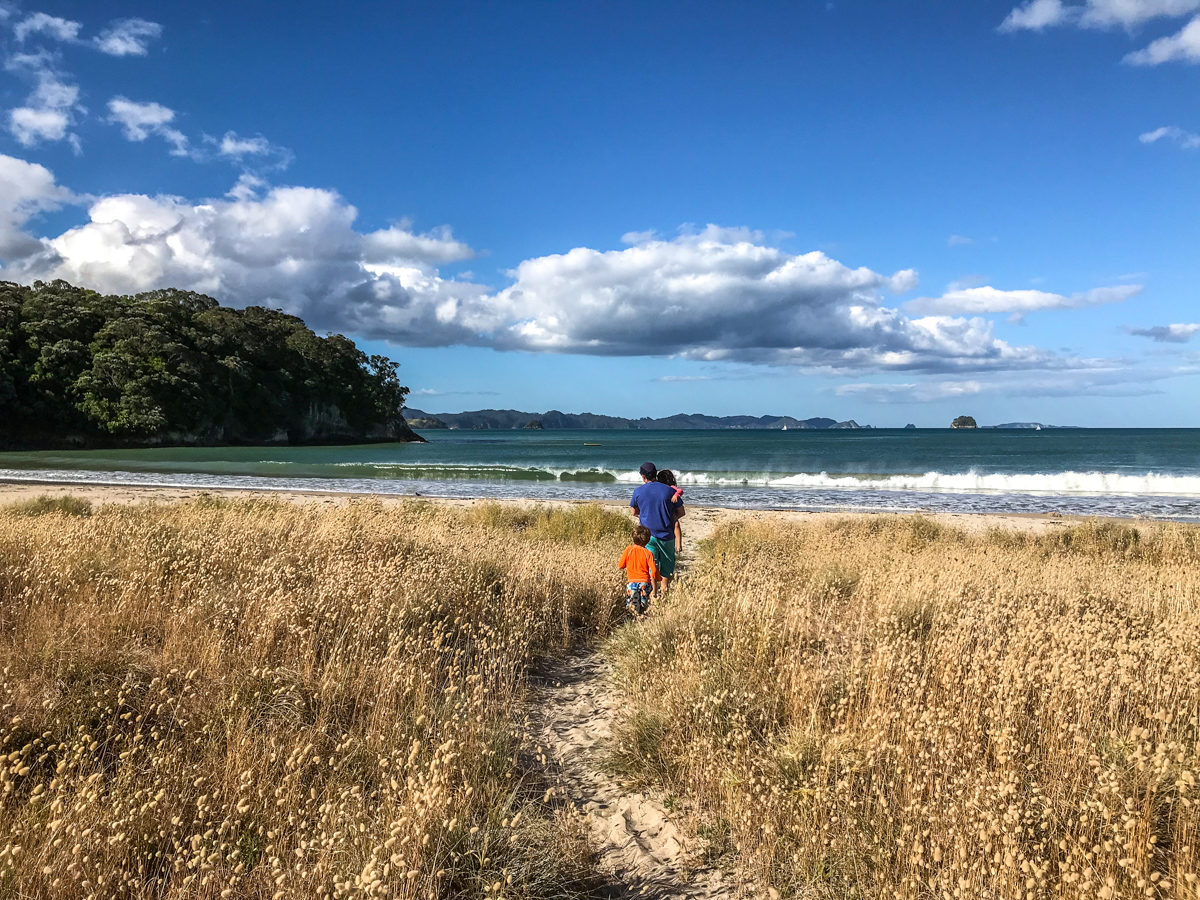 Use the interactive map to find vacation rentals and hotels near Cooks Beach, New Zealand here
Whangamata beach
Whangamata is mostly a surfer town, and a visit to Whangamata beach quickly shows you why. The waves are awesome! You can rent boogie boards and surfboards for reasonable prices right on the beach, with no advance reservations necessary. You can even do a walk-up surf lesson if there's an instructor available! For $10 NZD we grabbed a boogie board and had a great time – it was Jacob's first time and he just went for it!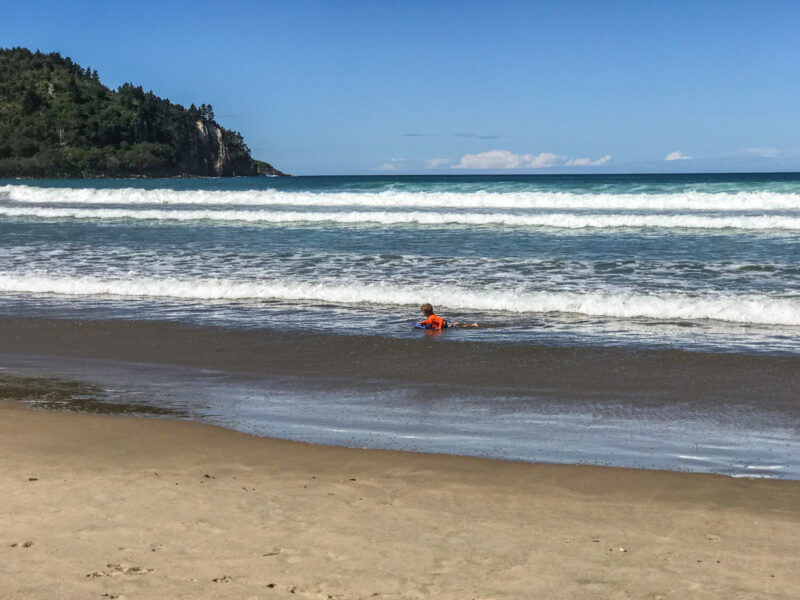 Use the interactive map to find vacation rentals and hotels near Whangamata beach here
Hot Water Beach
What about Hot Water beach, the famous spot where you can find geothermally-heated waters right near the shore to fill your own personal "hot tub"? We didn't go! The low tide schedule didn't work for us when we were in the area, and many of the people we spoke to didn't manage to find the hot water (the ones who did cautioned us that it was scalding hot, so we'd need to be careful with the kids). Booooo. But if you go, the best tip I've heard is to look for abandoned pools that people have already dug out to save yourself the work. If you feel the need to dig your own pit, rental shovels are easy to come by.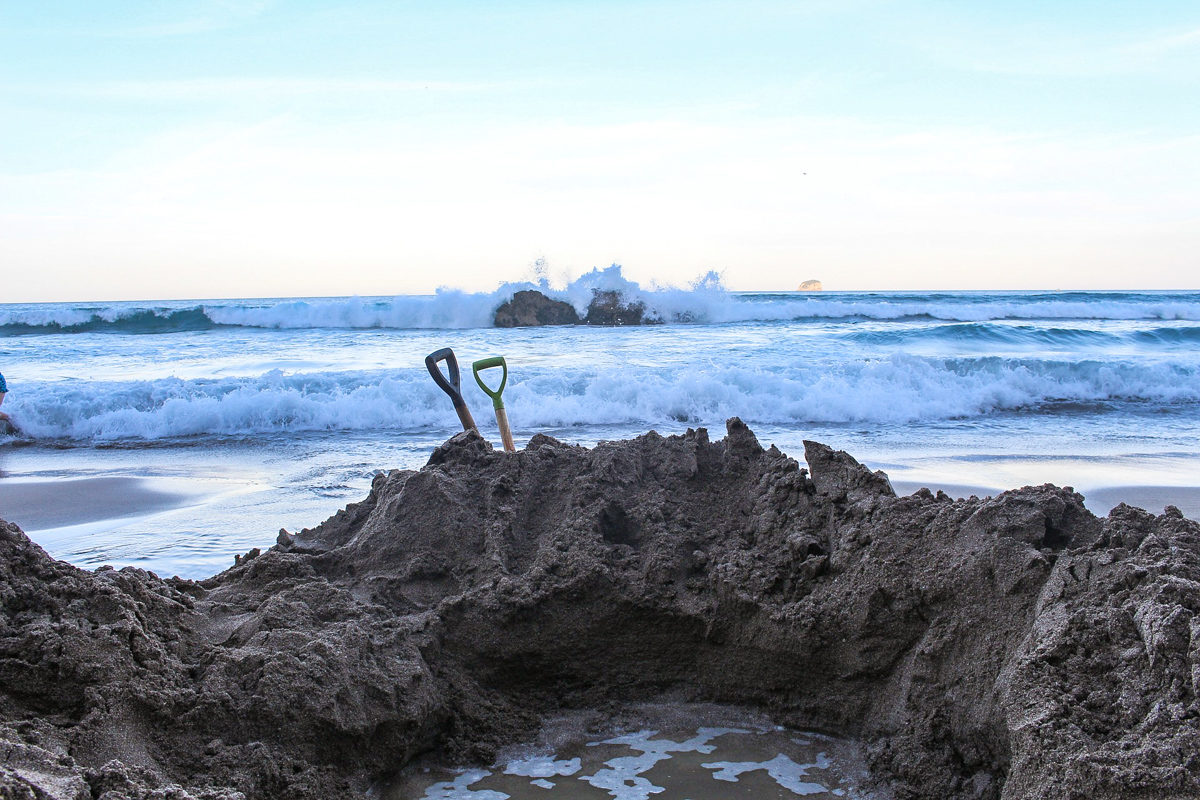 Use the interactive map to find vacation rentals and hotels near Hot Water Beach here
Cathedral Cove
The other famous North Island beach we missed is Cathedral Cove. Well, we sort of missed it… we saw it from our amazing glass bottom boat tour of Mercury Bay. Access to the Cathedral Cove beach is by foot only, and requires approximately a one hour walk down (and eventually back up) from the cliffs above. There are two pristine beaches attached by an amazing archway, and when the tide is low enough you (and potentially thousands of other visitors, if you're visiting in peak season as we were) can walk between them.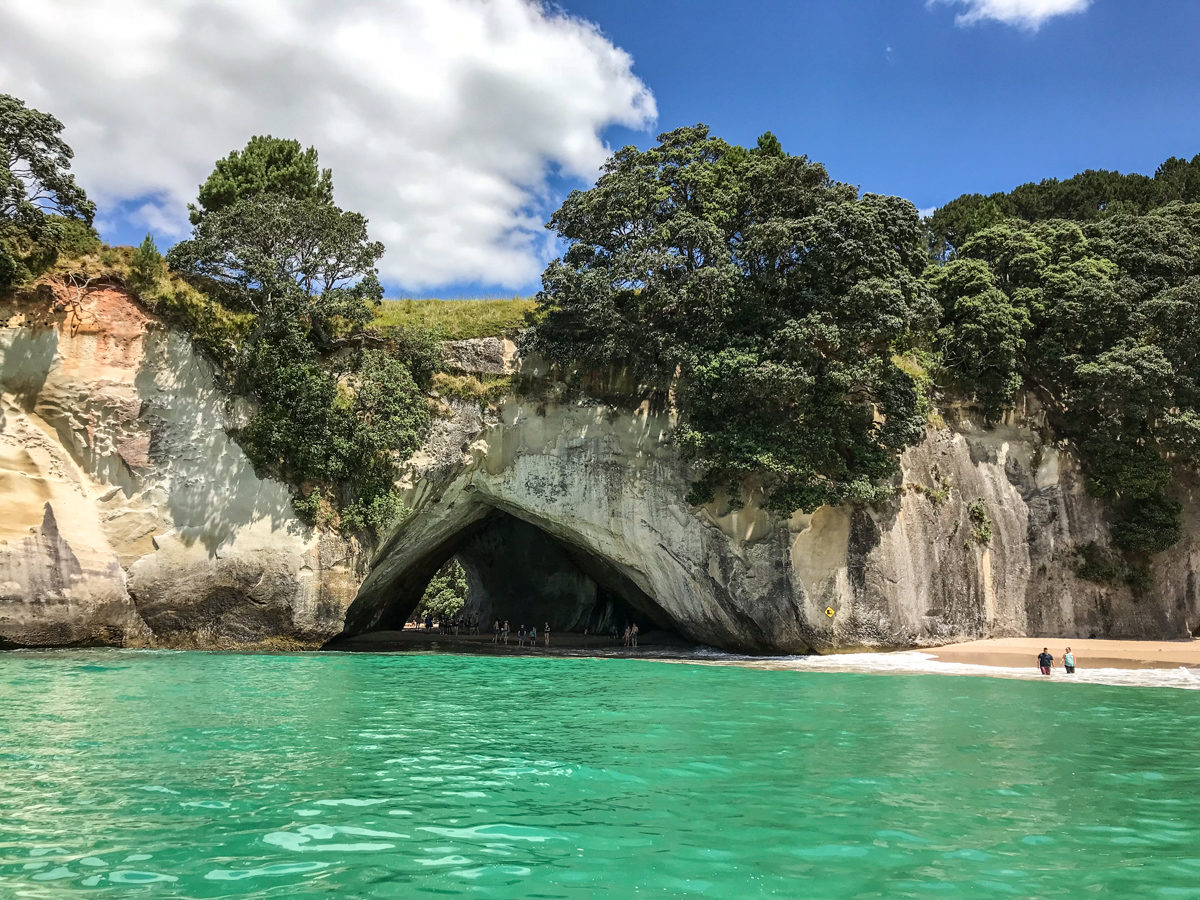 If you're a beach-lover and debating whether to visit New Zealand's North or South Island, go North! Hopefully you can find some inspiration among these spots for your own New Zealand journey. Here's a great North Island road trip itinerary.
If you head further south to Wellington, make sure you hit these must-see attractions.
Don't forget a great cooler for your beach excursions – we bought one when we first arrived in New Zealand and saved tons of money on food by packing picnics every day!
Use the interactive map to find vacation rentals and hotels near Cathedral Cove here
Planning your trip to New Zealand
Are you getting ready for an epic trip to New Zealand? Don't miss these articles to help you plan:
Do you have a favorite that we missed? Let us know in the comments!