San Carlos de Bariloche sits at the northern edge of Argentine Patagonia in the Lake District, but its appearance and vibe are different than any other area of Patagonia we visited. As a haven for vacationers from Buenos Aires and backpackers finishing up the hard-core trekking circuit of the south (see how we did the less hard-core version and still loved it), the area has been built up to a surprising degree – including a full-fledged airport. Our springtime visit was a welcome opportunity to slow down the pace, take a load off and enjoy to beautiful blooms after a few weeks of intense traveling.
Five relaxing things to do in Bariloche, Argentina
Go trekking in Bariloche and breathe in the fresh mountain air
Remember, you're still in Patagonia! The smell of conifers in the warm sun as you walk along the shaded paths is sure to send endorphins rushing through your body. There are many lovely, easy walks – largely flat – in Bosque Municipal. We chose Lago Escondido, which took a few hours and afforded the chance to picnic on a beautiful secluded dock stretched out onto the lake. There are many more trails in the area depending on your interests and hiking abilities, and a helpful ranger station to point you in the right direction – check out these awesome day hikes in Bariloche!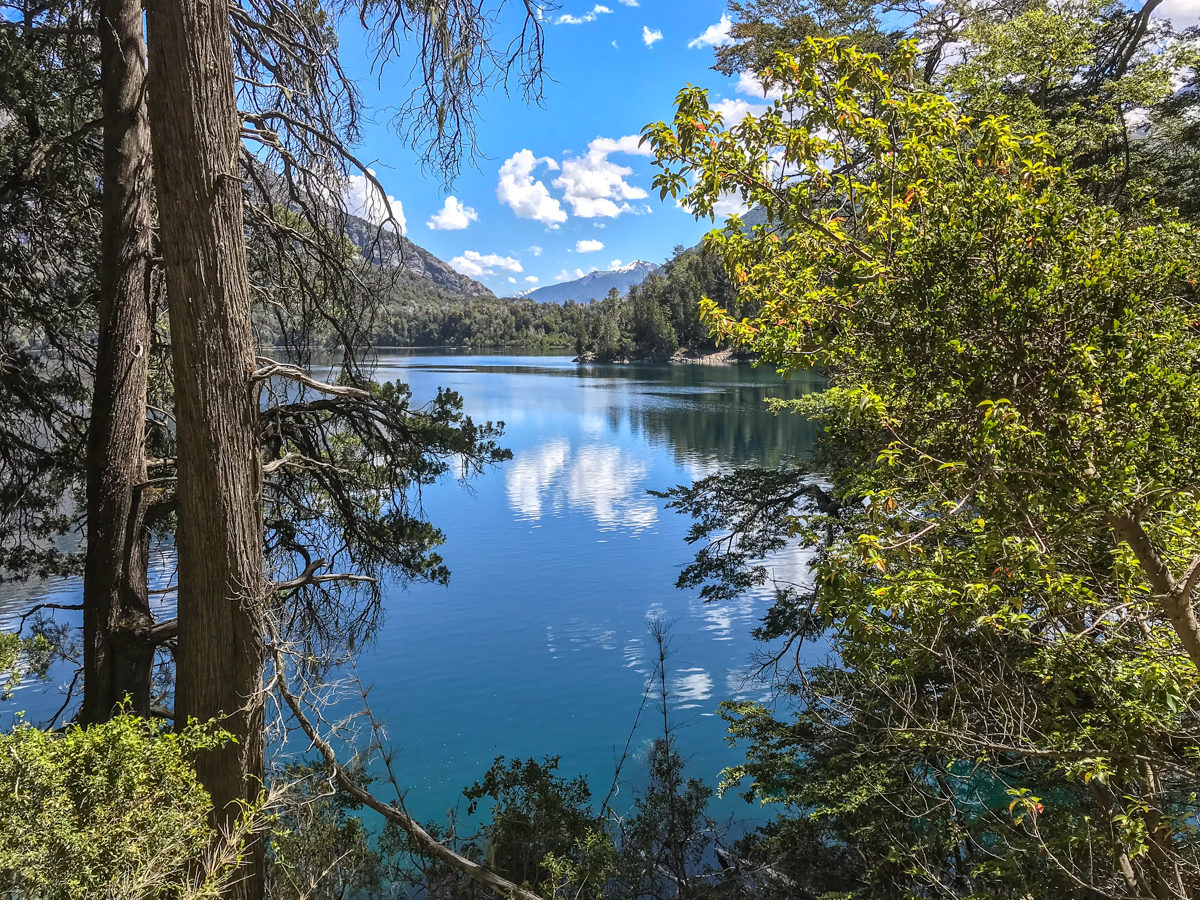 See the lakes really up close
Leaving from the dock in front of the fancy and famous Hotel Llao Llao, we all had a great time on this cruise across three lakes and two different islands. Isla Victoria, part of Parque Nacional Nahuel Huapi, was relatively quiet and we headed down to a beautiful, secluded beach with a few others. If you're game a little hill climb, there are even 700 year old cliff-side drawings to see. We were sad not to have longer at this lovely stop!
The boat's second stop was Bosque de Arrayanes Bariloche, where everyone disembarked to walk along a peaceful, easy wooded nature trail around the island. The trees were absolutely spectacular! Did you know that eucalyptus trees grow in South America and and they photosynthesize through their bark rather than their leaves? Me neither! This stop was lovely but crowded, especially once we caught up with a huge (loud) group of school kids – no longer quite so peaceful.
The boat itself is very comfortable and has a convivial atmosphere, including free Rapanui chocolate and a raffle for prizes. We spent most of our time on the upper deck with some new honeymooning friends, but be advised that even on a hot day it gets quite chilly up there. My biggest complaint, which some people may not mind, is that the boat's crew actively encouraged feeding the local birds. While it was initially cool to see them up close, at some point it seemed like perhaps an unhealthy amount of crackers for the birds and it was a distracting nuisance for the rest of us on board to have them constantly circling above. Overall, if you're wondering what to do in Bariloche, this would be my top recommendation.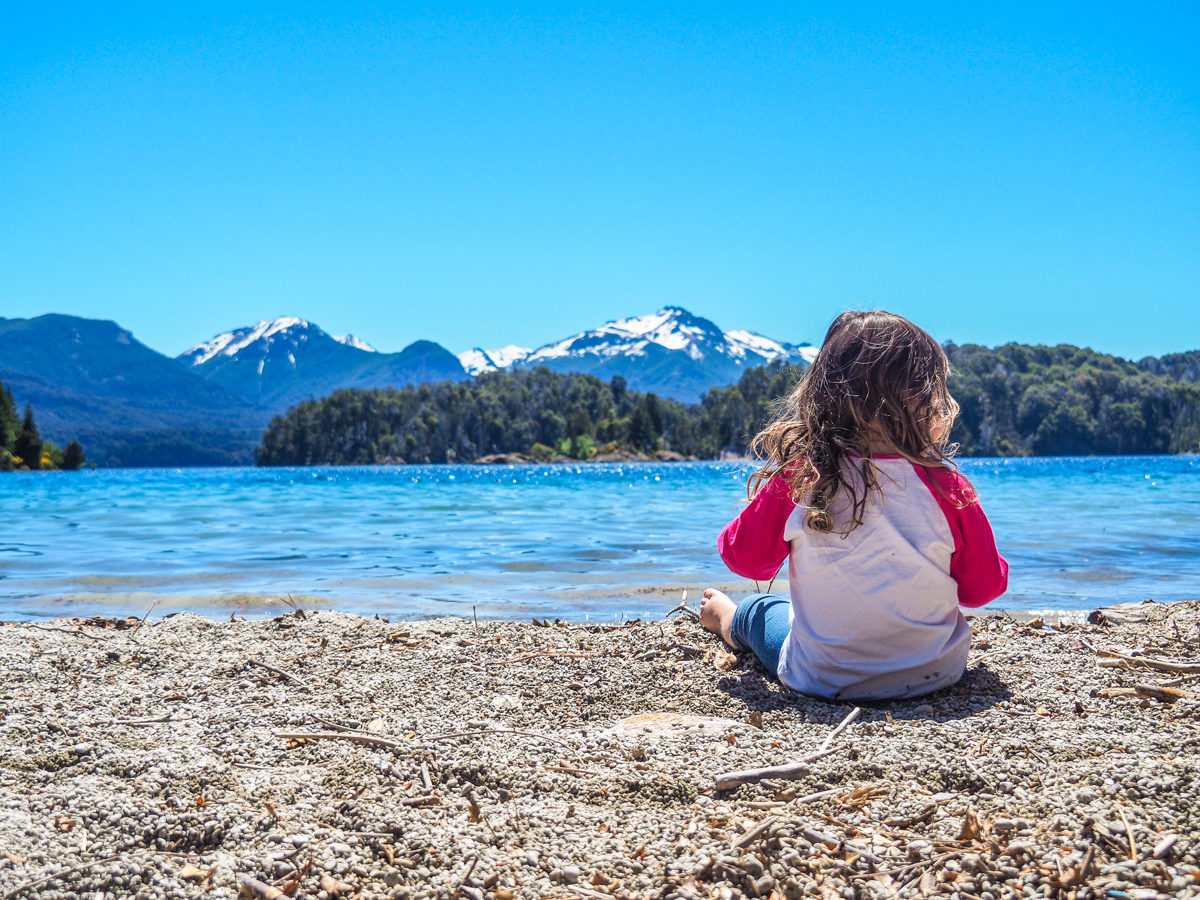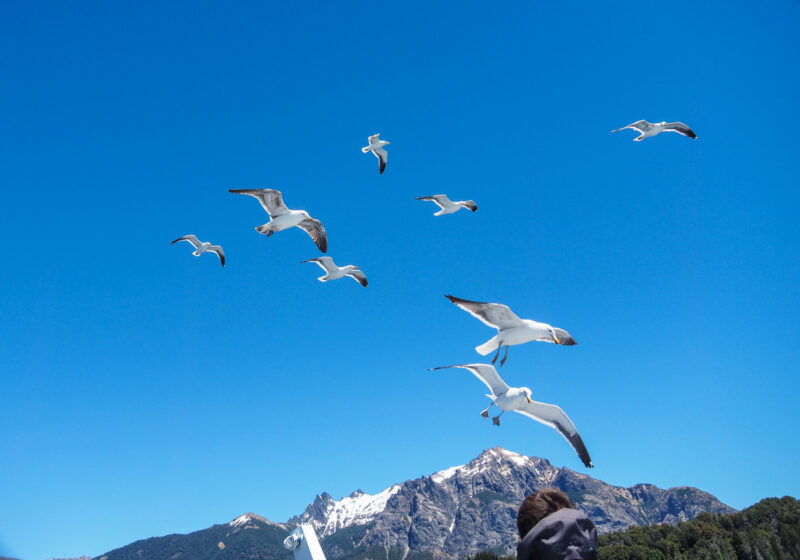 Take a moment (or a full day!) to just enjoy the wonderful scenery of Argentina's Lake District
I'll admit that we were all exhausted from hard-charging our way through the rest of Patagonia, so we weren't as ambitious in Bariloche as we could have been. But thankfully the scenery itself is so postcard-ready that we didn't have to be too active to feel that we were getting the region's best. We loved strolling along the lake in town (and even dipping our toes in), being overwhelmed by sunshine-yellow broom flowers everywhere and taking in the brilliant pink sunset views from our spectacular hillside chalet that we borrowed for free via HomeExchange (click here to get more info).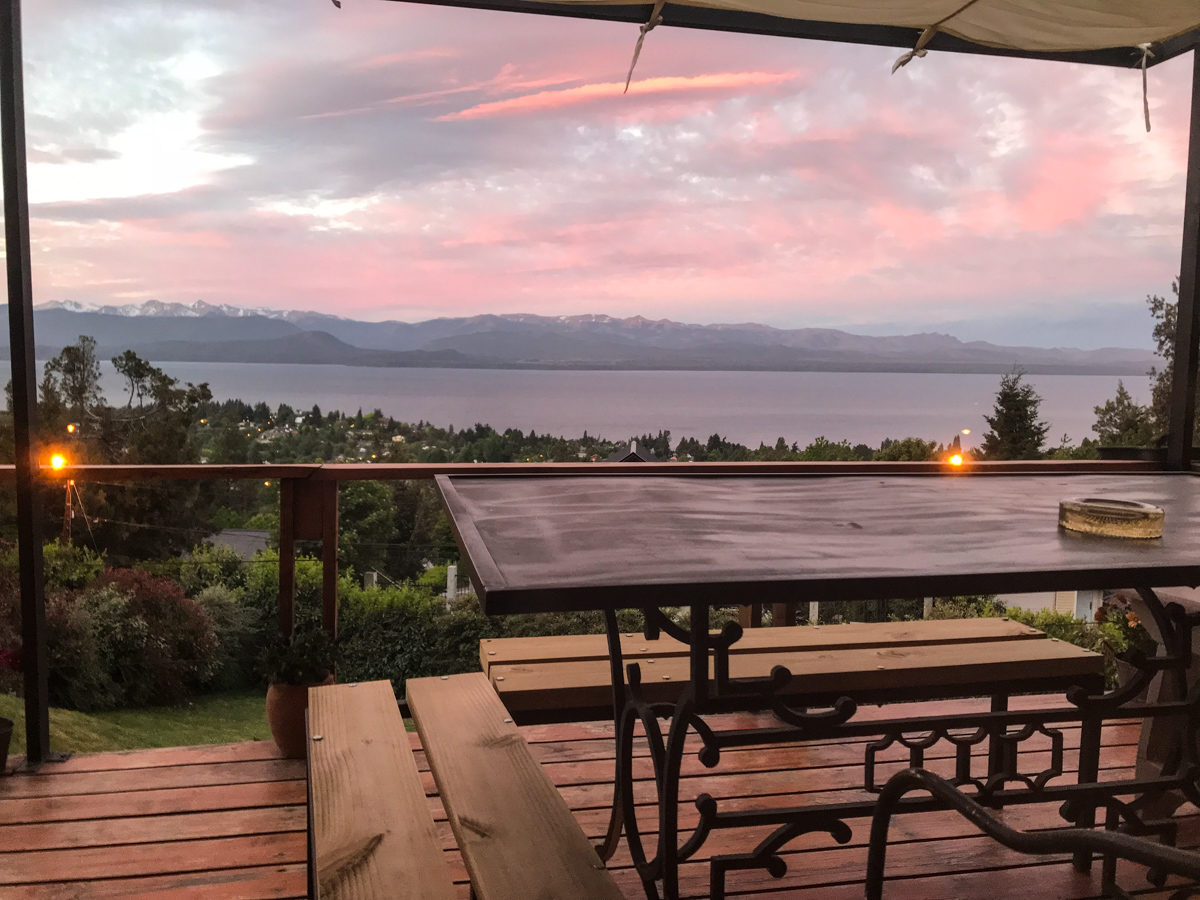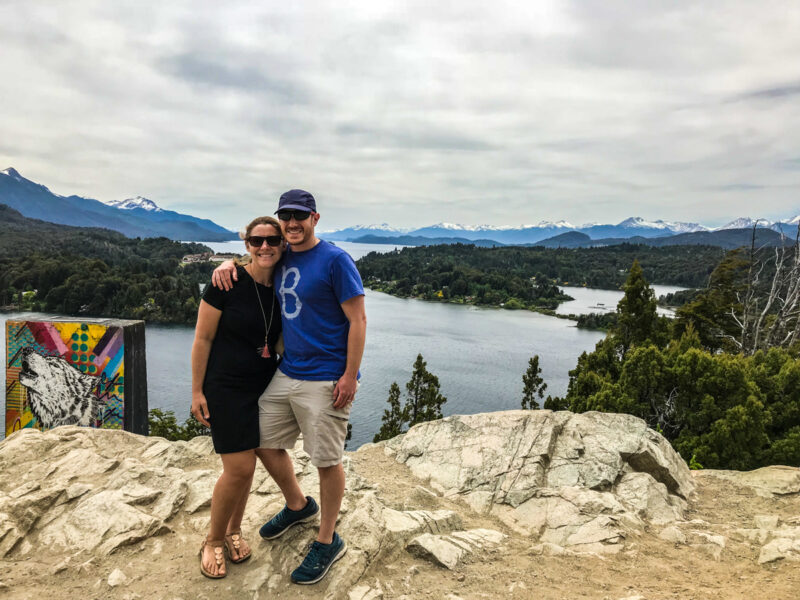 Sample the area's fine craft brews
Admittedly, this was more Ronnie's speed than mine (after all, he is "The Family Foodie") but Bariloche and its environs are loaded with breweries and brewpubs of all scales, harkening to the city's many German immigrants. Indeed, Bariloche city looks like Bavaria and it tastes that way too. There are several great options between Bariloche and Llao Llao and we had the opportunity to sample them several times on the return drive from our daily activities.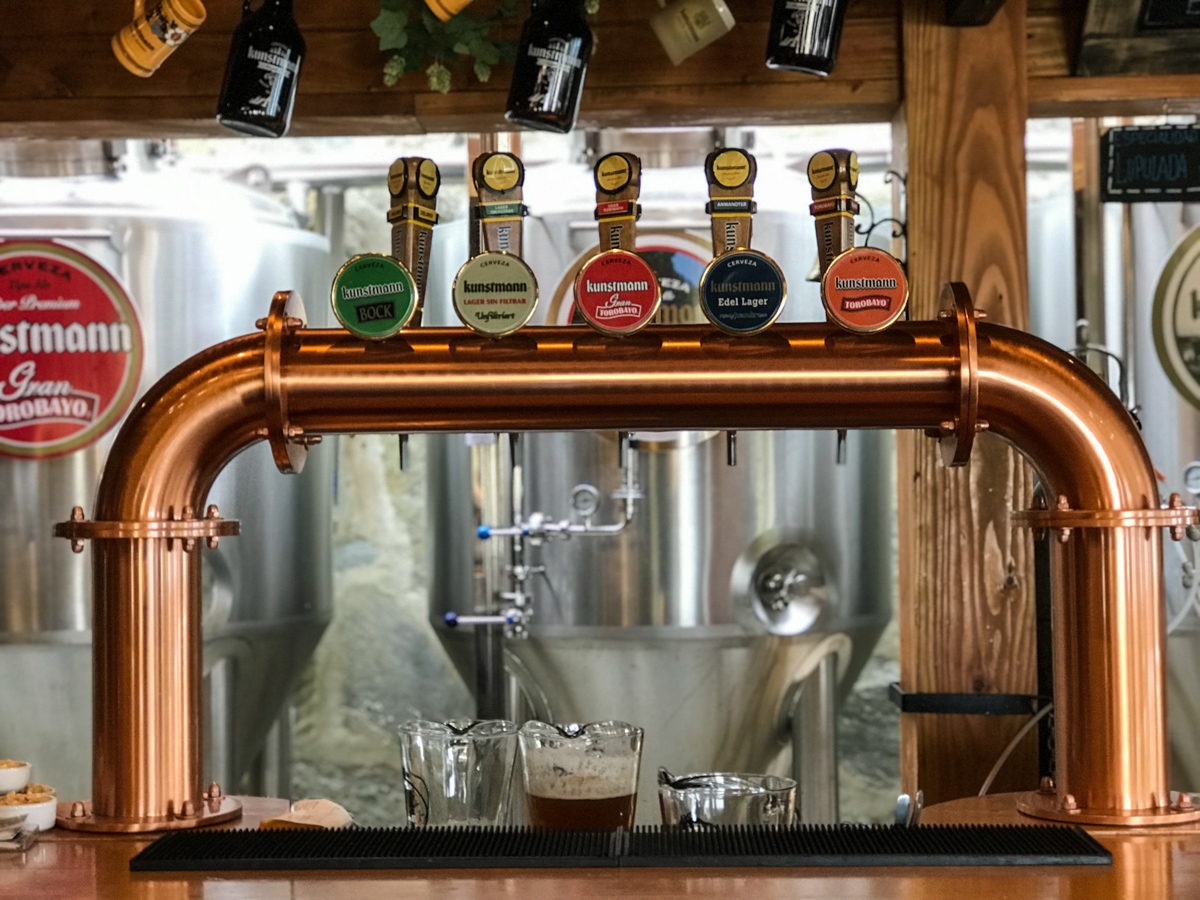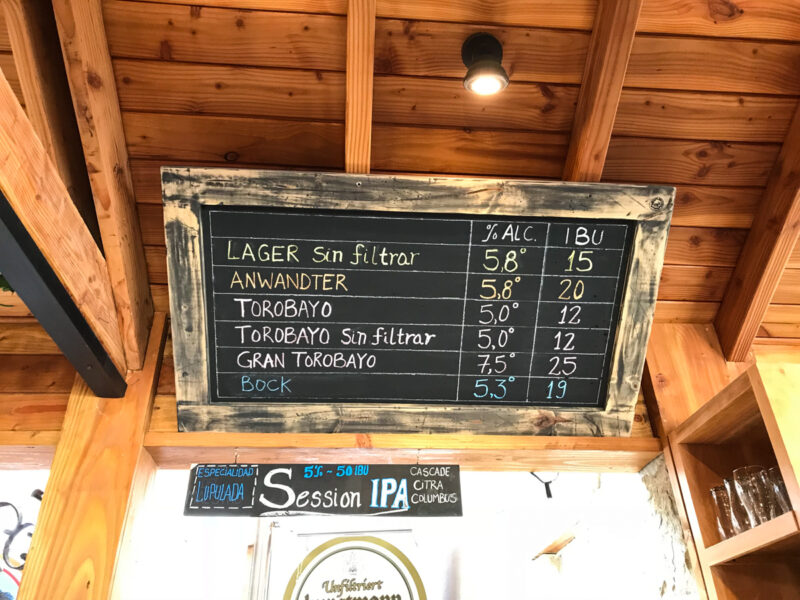 Indulge your sweet tooth at famous Bariloche chocolate shops
The Europeans who moved to Bariloche didn't only bring their beer brewing tradition, but also their love for chocolate. While we didn't love strolling through the tourist-jammed town center overall, there are excellent chocolate shops (and ice cream parlors, too!) on every single corner. For sweet lovers like me, it hardly gets any better. So of course we did what any traveling family in our position would do, and we bought a ton of chocolates from several shops and set up a full-fledged competitive tasting back at our house.
The clear winner: Rapanui! A visit to their shop involves much more than picking up a couple of bob bons, though, and we actually stayed for several hours. They of course have an enormous chocolate case, but they also have an ice cream counter, a waffle bar, a lovely dining room serving amazing desserts and hot drinks with comfortable chairs and couches and a kids' play area (complete with Disney movies in Spanish)… and an indoor ice skating rink. So go spend your morning out on the hiking trail burning a few calories, and then plan on a full afternoon indulging at Rapanui – especially if you're looking for things to do in Bariloche with kids! If you visit during spring or summer, you'll still manage to get out in time to enjoy one of Bariloche's spectacular sunsets. (There is also the Museo del Chocolate in Bariloche, but we heard it wasn't that great compared to the top-notch chocolate shops.)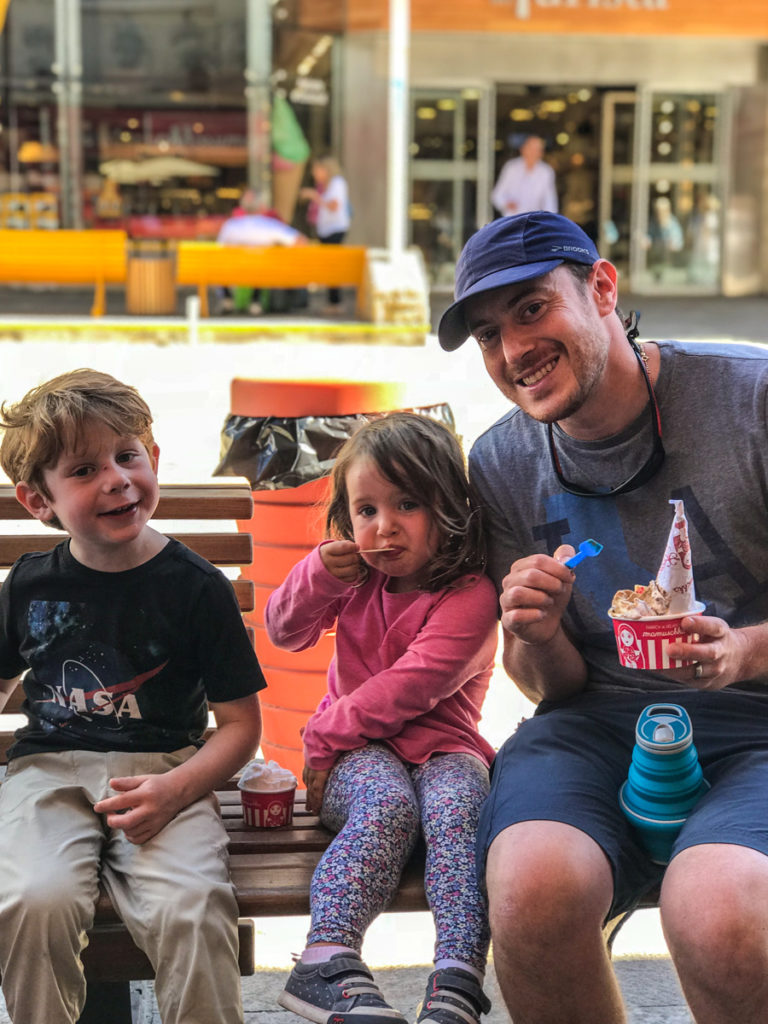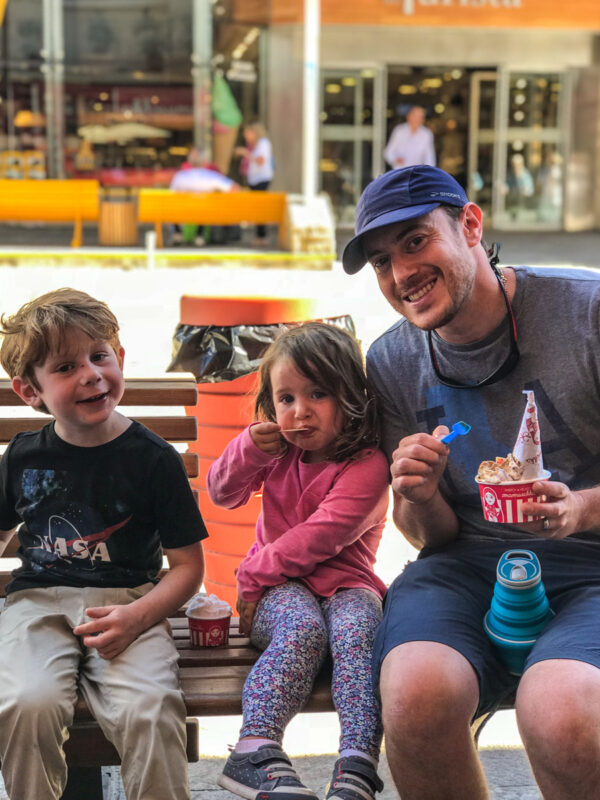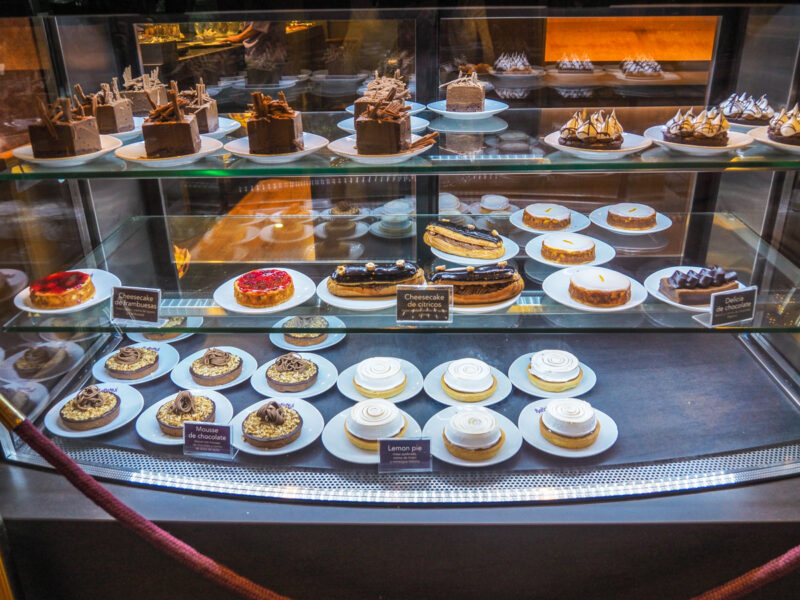 Looking for more inspiration? Check out these amazing destinations in Argentina!
Where to stay in Bariloche
As we were planning our Patagonia itinerary, Bariloche came up repeatedly as a good place to relax in Argentina. If we had any hesitation, find an amazing hillside chalet where we could stay for free with Guest to Guest sealed the deal! For five days, we luxuriated in the space and didn't feel like we needed to do much to appreciate the beautiful surroundings. Ronnie and Shoshana cooked up a storm in the fully-stocked kitchen, I used the laundry facilities with abandon (after all, I am the parent of two young and very messy children), and Jacob could spread out LEGOs to his heart's content.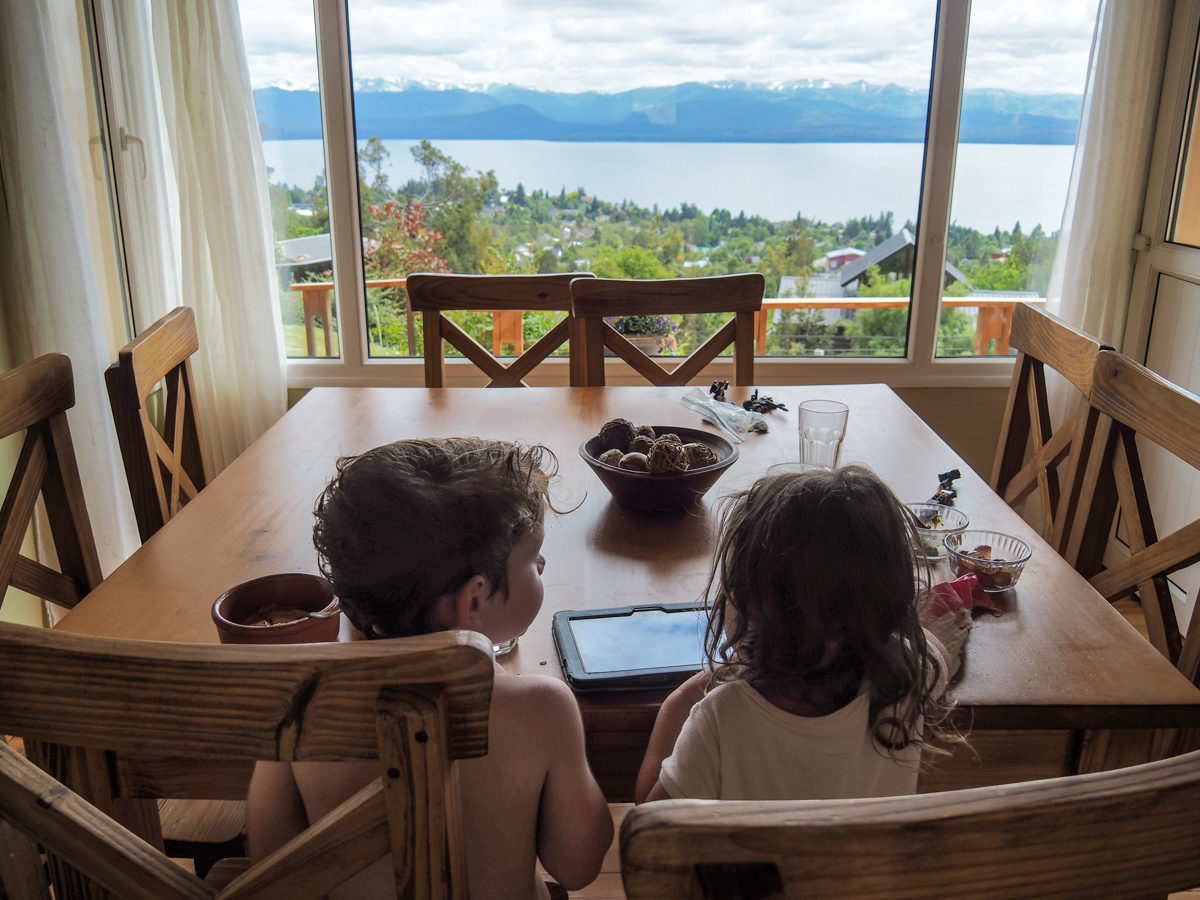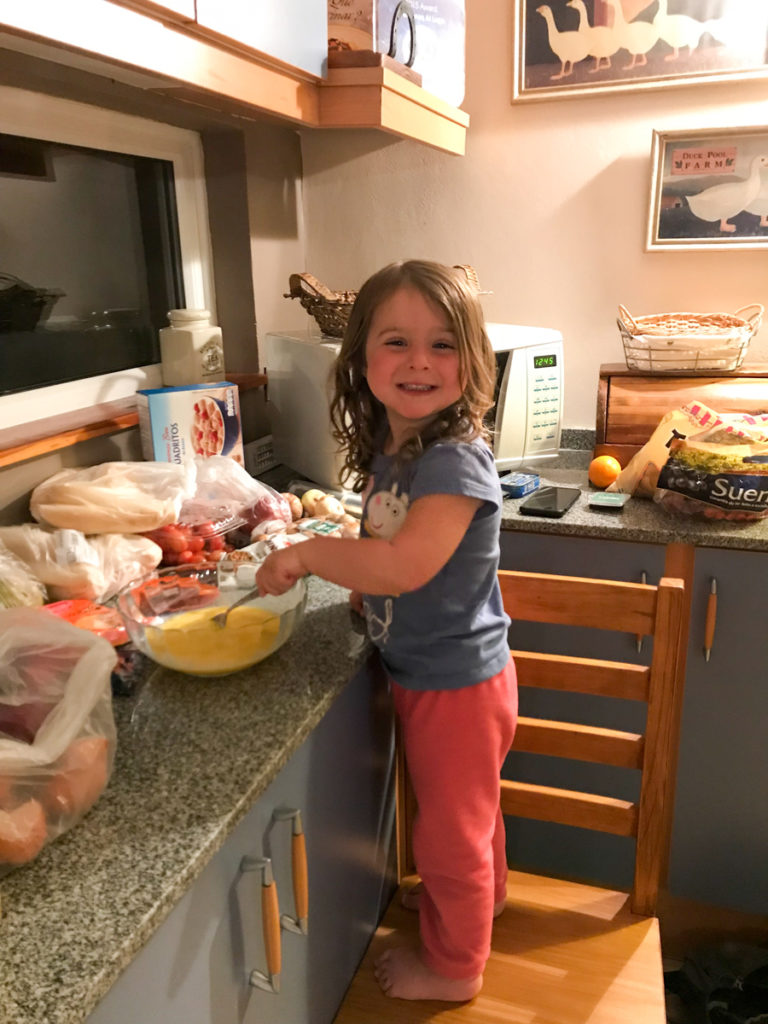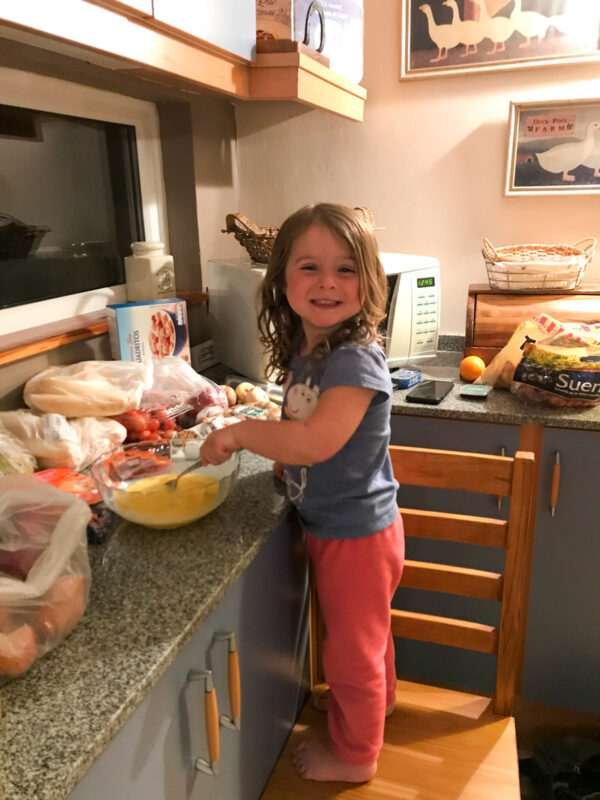 Oh, and the views weren't bad either! Every evening we were treated to amazing sunsets over the lake, looking into the cordillera. Not only was the house beautiful, but our host Rafa was exactly what you'd hope for every holiday home experience. The house was actually originally his primary residence, until he build a new house next door. Anytime we had a question or needed something, he'd immediately reply via WhatsApp and sometimes even pop by with supplies (or to let us know that the house cleaner was coming – no joke). He had raised his boys in the house, so the basement was still equipped with their ping pong table, which Ronnie and I might have used after the kids went to sleep… but I'm not telling and there's no photographic evidence either way.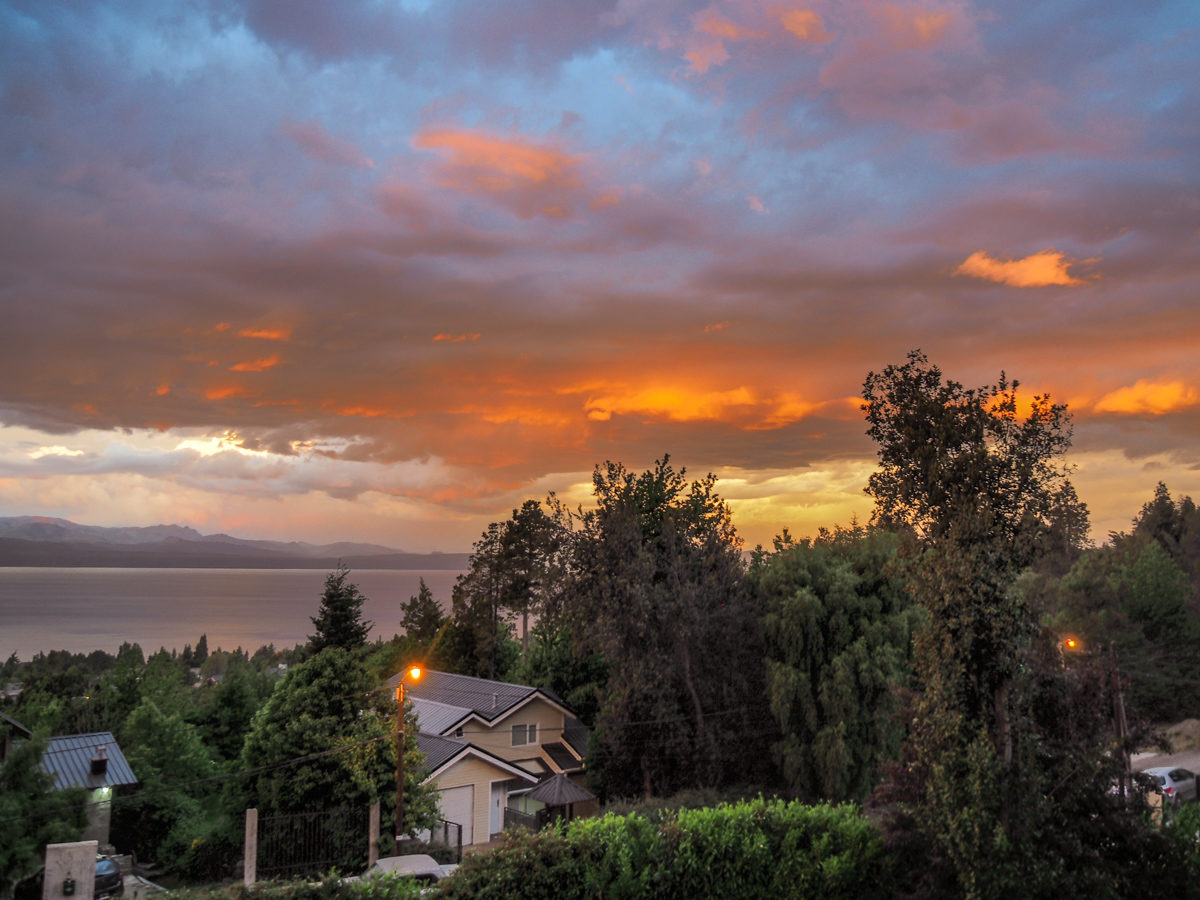 While Bariloche doesn't have the same rugged scenery as Southern Patagonia or the cultural attractions of Buenos Aires, it's a wonderful destination in its own right and well worth a stop during your journey. There's something for everyone!
Use the interactive map to find vacation rentals and hotels in Bariloche, Argentina
---
Inspired to visit? Pin it for later!