New Zealand has so much to offer tourists, from scenic hikes ("tramps") to beautiful beaches to world-class vineyards. But one element that sets Aotearoa ("the land of the long white cloud") apart from all the other countries of the world is the presence and integration of the indigenous Maori culture. From the moment we landed in New Zealand and were greeted with the customary ki ora, we were excited to learn more. Perhaps the best place to get a fun taste of traditional Maori life, if just for a brief evening, is at Tamaki Maori Village near Rotorua. Yes, it's certainly a bit touristy; however, we still think it's one of best things to do on the North Island and rate it a "must to" for your trip to New Zealand. Read more to find out why!
Looking for more New Zealand travel inspiration? Check out these posts!
Use the interactive map to find vacation rentals and hotels in Tamaki Maori Village
---
About Tamaki Maori Village in Rotorua, New Zealand
The Tamaki brothers, Mike and Doug, had a vision of sharing Maori history, culture and values with New Zealand's millions of annual visitors. In the 27 years since their journey began, they have touched so many both within and outside of the Maori community with their thorough and respectful presentations for both foreign and domestic visitors. The all-Maori staff refer to each other as cousins, and the moniker is believable.
To be clear, life for Maori in New Zealand hasn't always been great since the arrival of Europeans in the 19th century. The community still faces many socio-economic and related challenges today, just like nearly all indigenous communities of the world. You can read more about situation of Maori people in New Zealand here.
The concept is an immersive one: guests should feel as if they are members of the 700-year old community. There is a huge emphasis placed on cultural sensitivity over exploitation, which was very meaningful for us. Guests are expected to behave in accordance with Maori tradition – no laughter during the haka is extremely important – and are taught some basic Maori vocabulary to use during their visit. Our guide brought a great energy and really engaged everyone in the waka, which isn't what you'd normally expect for this kind of group tour. A+, really!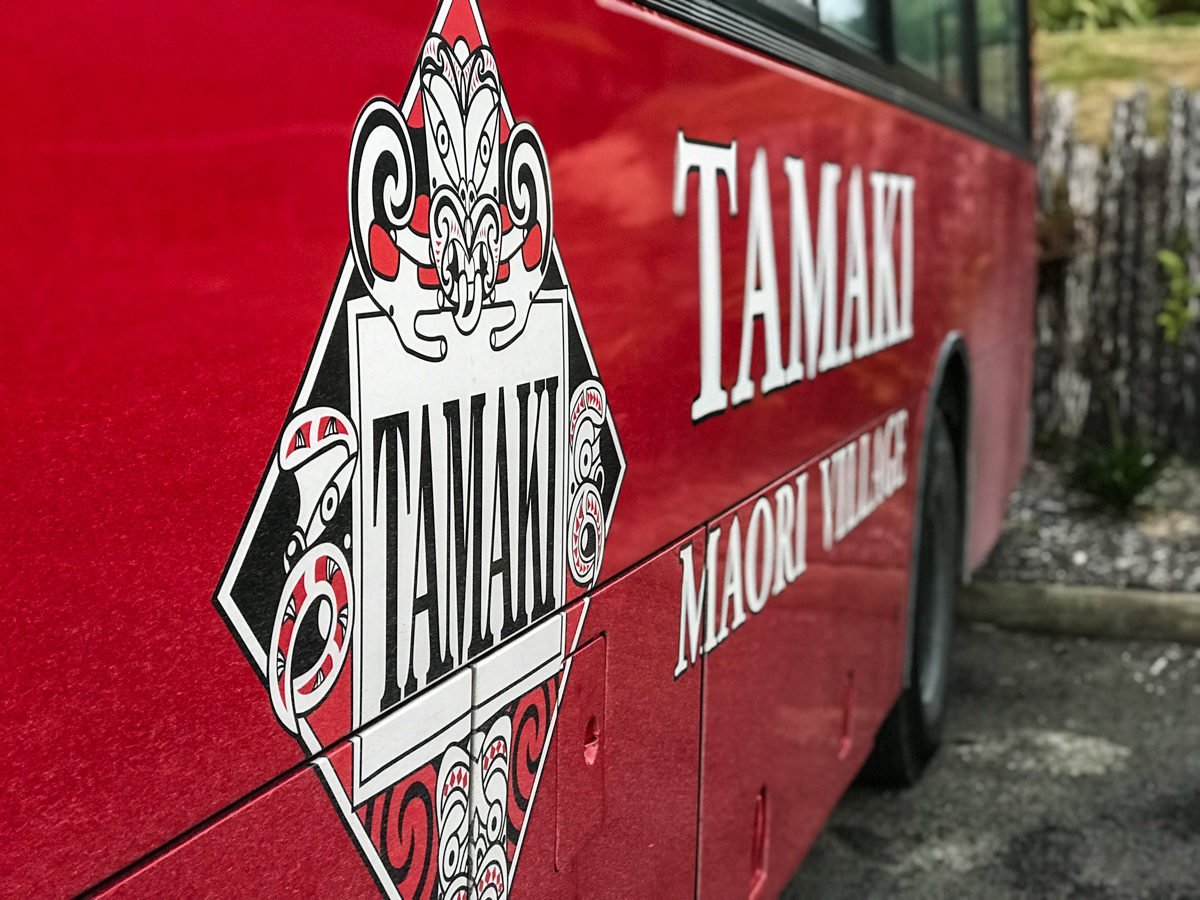 An evening of Maori life
Upon check-in at the visitors center in Rotorua, each party is assigned to an iwi (tribe) with whom they will go through the evenings full experience: riding the waka (vessel, in this case the bus), greeting by the hosting iwi at the village, learning about different aspects of Maori life and culture, and finally partaking of the traditional hangi meal (by the way, we've heard it's the best hangi in Rotorua).
Our iwi, Kea, was a diverse group representing at least a dozen countries. We spent the half-hour bus ride learning the basics of Maori culture and language, as well as getting prepped for our upcoming incursion into the village of another iwi. After all, we'd hate to break protocol! Our iwi also selected a chief, who had to be a tall, handsome adult male who could sing and dance – sorry Ronnie, you would have been a great chief!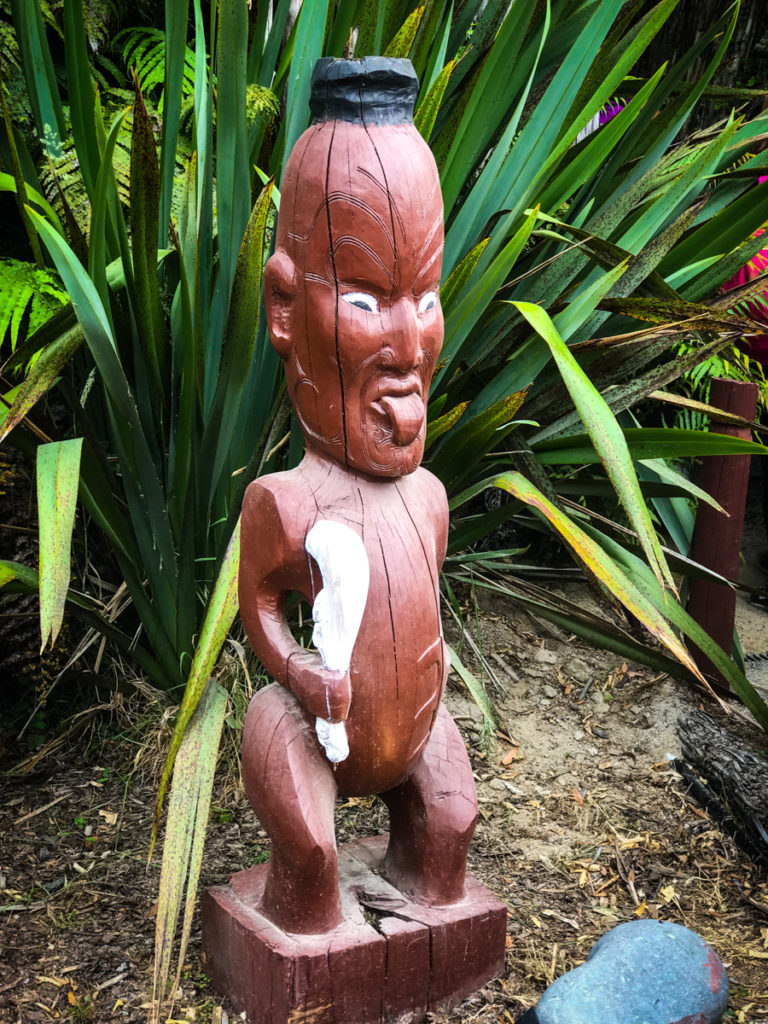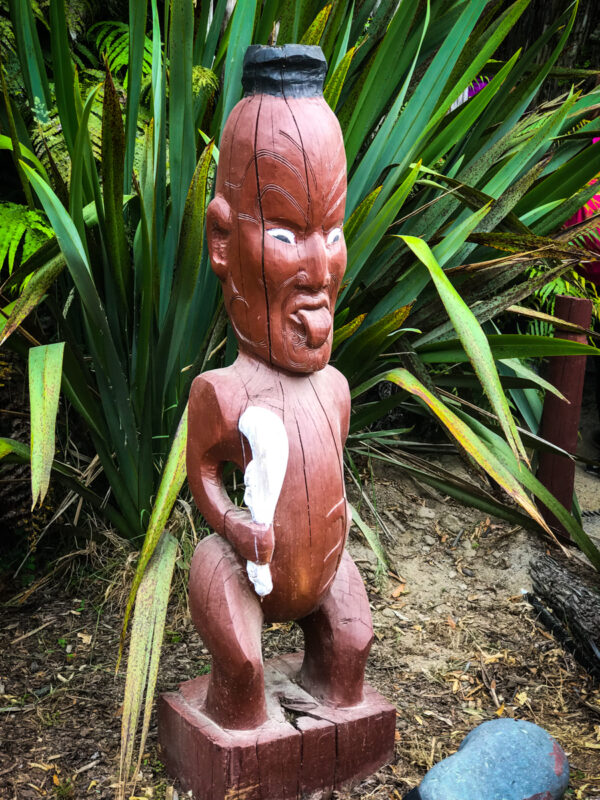 Upon arrival, the various iwi that have come for the night (there were three there during our visit) send their chiefs as representatives to participate in the Maori greeting ritual – both the fern leaf and the haka are involved, so it doesn't get more New Zealand than that. The greeting ritual really set the mood that we were in a place apart. The chief from each visiting iwi participates in the encounter with the hosting chief and Village "residents" to ensure that the visitors (that's us) come for peaceful purposes. While we all looked on in wonder, the three visiting chiefs were at the receiving end of a full-fledged, extremely intimidating haka. (Apparently the original intent of haka was to intimidate would-be opponents enough that they would flee in fear, thus averting physical conflict. It rarely worked.)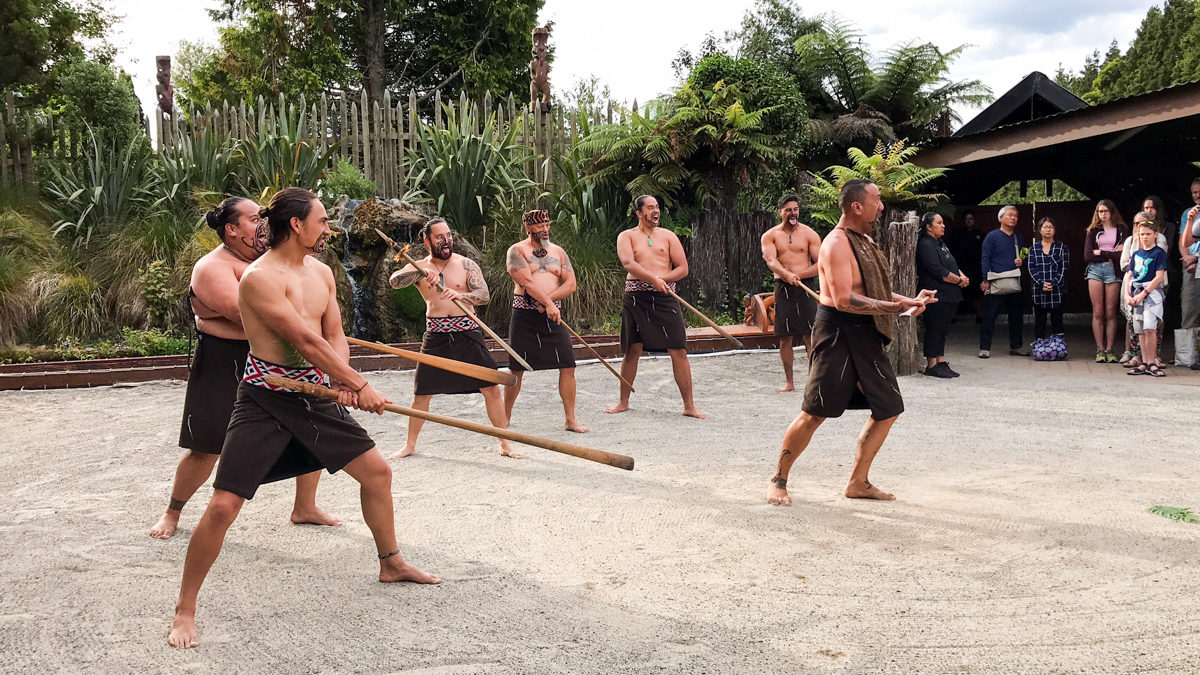 The iwi then split out to rotate through a series of huts, each aimed at teaching visitors about a different aspect of Maori history and culture. I loved that the staff also explained how the traditions are integrated into contemporary Maori life in New Zealand. For instance, poi (an activity involving flinging a rock or ball at the end of a rope back and forth) was originally strength training for young Maori warriors, but it's now an aid for women telling traditional Maori stories as they chant in rhythm.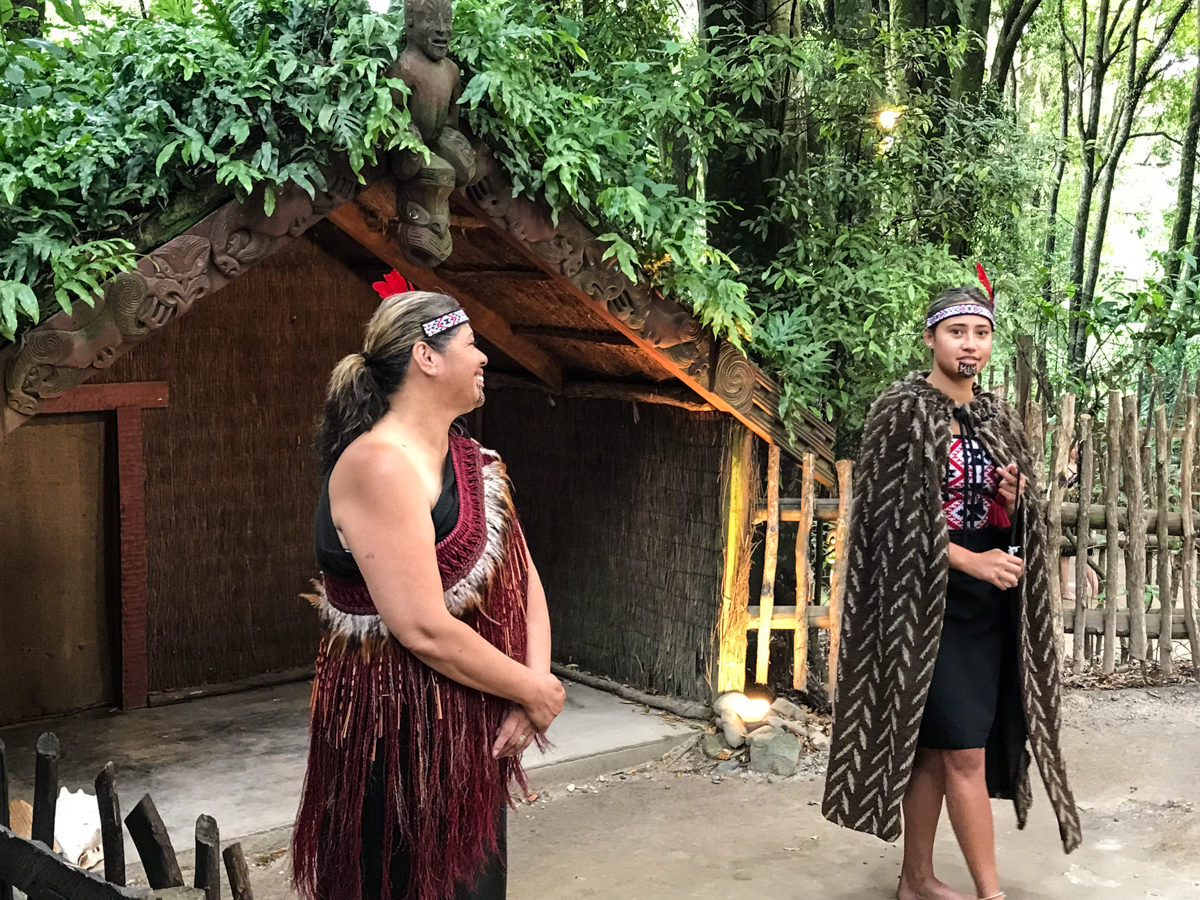 Likewise, we also gained a clearer understanding of the famous Maori body art (originally carved into the skin, but now generally tattoos). Each tattoo or carving is loaded with meaning: one side of the body represents the matrilineal history, while the other represents the patrilineal history. Likewise, face markings above the brow signify elevated status within the iwi. While we saw a few staff with traditional permanent face tattoos (notably one of the young women at the reception center in Rotorua, who is not involved with performance), they also candidly explained that face markings can dampen employment prospects in contemporary New Zealand and have thus fallen out of favor. Many Maori today begin getting body markings in their late teens, though its acceptability varies by family.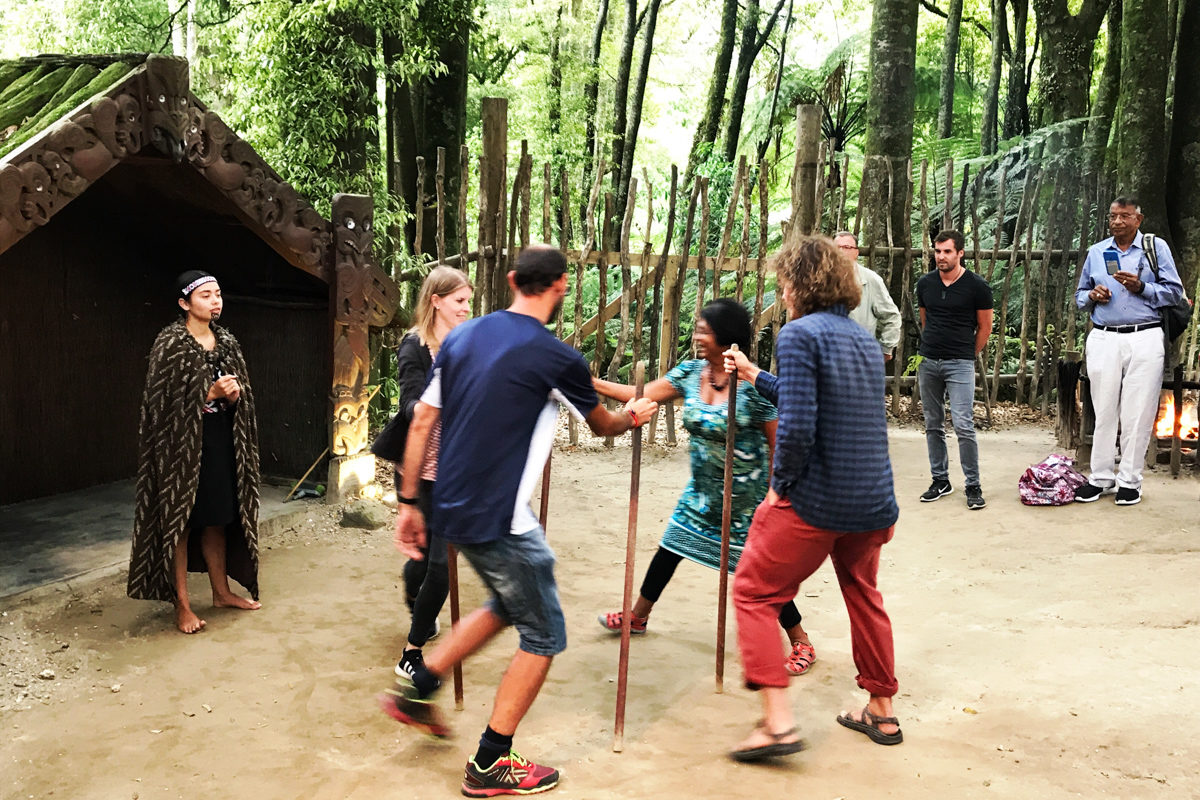 A highlight was certainly watching the men of our iwi learn the haka ritual. While some haka involve women and even children, the one taught at Tamaki Maori Village is traditionally only for adult males. It would have been nice for this lesson to be more inclusive of all guests to the extent that it is within cultural norms. Ronnie gave it his all and, as you can tell from his picture, got really into it!
Find more can't-miss things to do in New Zealand!
After rotating through the five huts and getting a great overview of Maori culture and history, it was time for the "big reveal": the unearthing of the hangi oven, where the evening's meats and vegetables were steamed underground with hot coals and nothing but their own juices for hours. The food looked amazing, though it's clear that the labor involved is massive.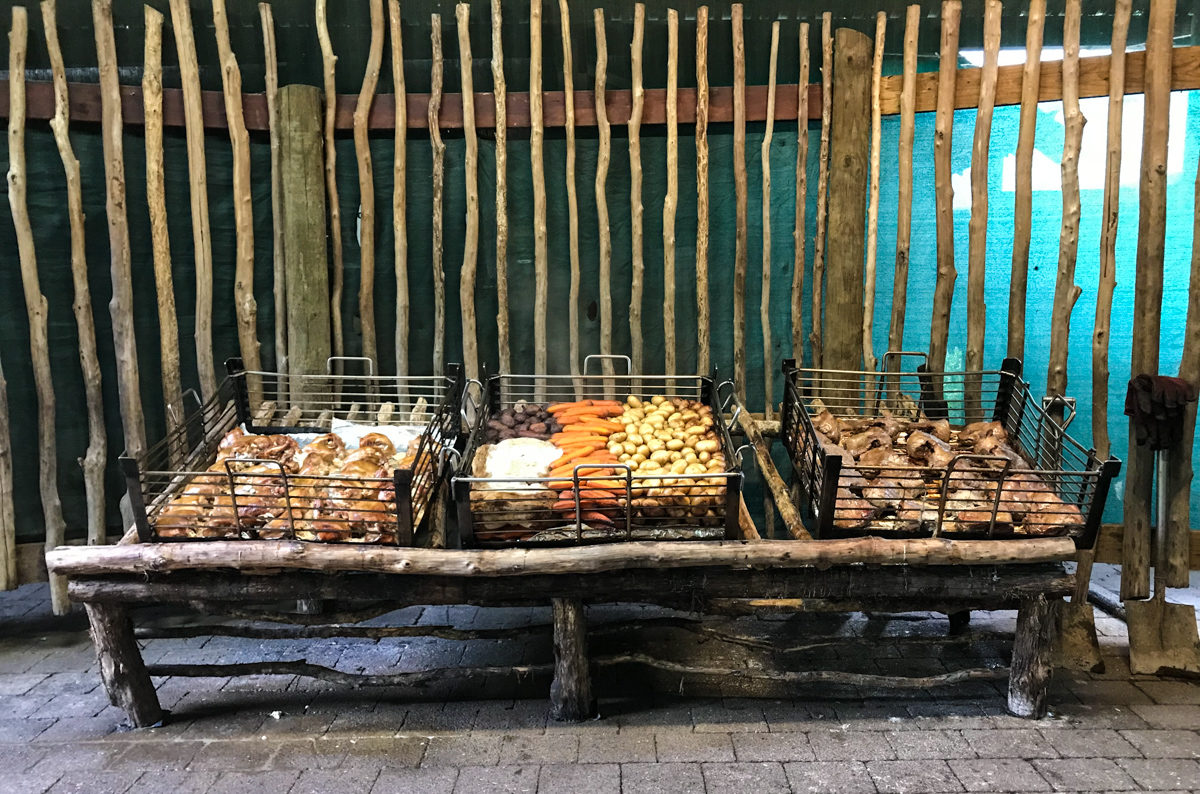 While some of the staff carved the meat from the hangi and prepared dinner, the "cast" of performers who had educated us in the huts shifted gears entirely and put on a fantastic demonstration of Maori performing arts: storytelling with poi, stick throwing games to develop dexterity, singing and, of course, the haka! The performance was one of my favorite aspects of the evening. The individuals are seriously talented in many areas and exude joy and pride as they show off some of the best of Maori culture. We were pleasantly surprised to find reserved seating in the second row for families with young children, so our kids had a wonderfully intimate experience despite the crowd of over a hundred visitors. Shoshana even joined some of her new Maori friends on the side of the stage to watch the action up close! The performance was very thorough and just the right length, and it even included frequent reminders of Maori values like peace, love and brotherhood – certainly not the image that is portrayed in pop culture or that is suggested by the haka, which is the extent of most common knowledge of the Maori.
Finally, dinner time! By the time we ate it was around 7:30 or 8pm (for the evening's early time slot!), so take note and have a snack. The food itself was wonderful. The hangi preparation lends itself well to serving hoards of people as everything is cooked perfectly and evenly. Perhaps that's why the Maori started doing it? The main items on the buffet were chicken, lamb, carrots and kumara from the hangi, as well as bread, salads, shellfish and a delicious fish stew with coconut cream. There was something for everyone! Service was organized, with two buffet lines serving the guests and each iwi taking turns to get food. Shoshana and I often prefer vegetarian food, and we were offered a separate entree when we checked in at the visitors center (free of charge, but request in advance to ensure availability if you truly need it). The resulting pumpkin lasagna was delicious and filling, though we were still welcome to help ourselves to any of the buffet offerings – the best of both worlds! Dinner service is rounded out with a small dessert spread and hot drinks. To close out the evening, the hosting chief bid us farewell with the exhortation to carry forward the Maori spirit of peace, love and brotherhood. It was a fitting end to a spectacular and eye-opening evening.
Is Tamaki Maori Village good for kids?
Tamaki Maori Village offers an experience that is so immersive and multi-faceted that every guest who comes with an open mind, regardless of age, will find a point of connection. The performance and costumes of the welcome haka may be intimidating to some younger visitors, but we prepped our (often timid) kids in advance and they were fine – though they preferred to stay attached to our legs throughout.
Our daughter, at only 3.5, seemed to find the length of the "station rotation" a bit long but then she perked up and was very engaged by then performance before dinner. Our 6yo son liked the houses where we learned about poi, games and the haka but would have liked to be able to participate (generally the first two activities were looking for older participants, while the haka is explicitly for adult men). We'd love to see an optional house for school-age children to experience Maori child life in a more hands-on way instead of participating in the main rotation, at least during peak periods when there is sufficient demand. Not only would that keep kids entertained an engaged, but would further the relatability for them. After seeing what Tamaki Maori Village has put together for adults, we're sure they could work in an equally amazing option for younger visitors!
All that said, we'd definitely rate this a family-friendly activity in New Zealand. The staff were so kind and warm with our kids and even gave them one-on-one attention as often as possible. The meal is served on the later side, so a decent snack will help the family get through, but once the meal is served everyone will find great choices – even our picky one was able to eat a complete meal of meat and vegetables from the hangi.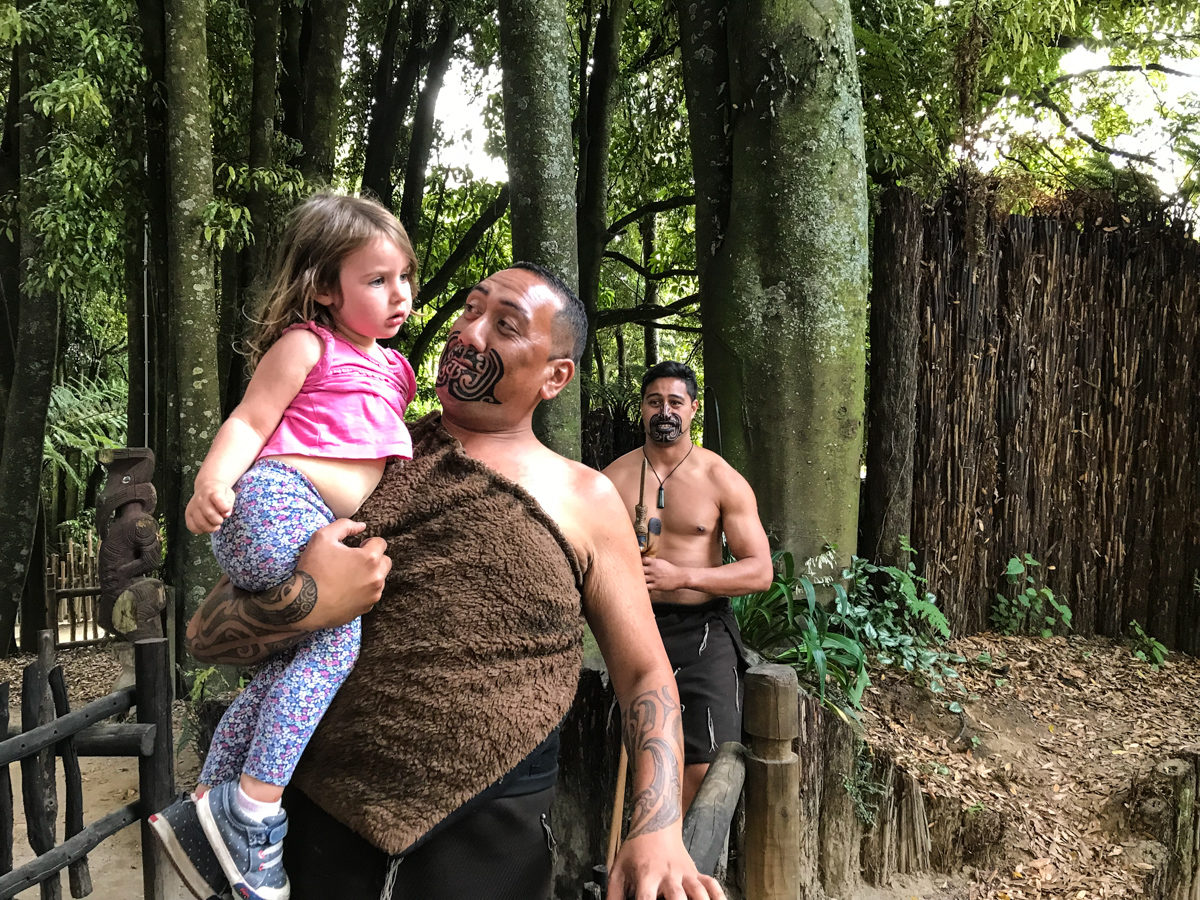 Is Tamaki Maori Village worth the price?
A visit to Tamaki Maori Village costs $130 NZD for adults, $70 NZD for ages 10-15, $35 NZD for ages 5-9 and free for children ages 4 and younger; there's also a family option for two adults and two children priced at $340 NZD . It's not a cheap evening for a family of four. But in our opinion, the experience is so thorough that you won't find anything like it elsewhere. If you're debating what to do in New Zealand on the North Island, we think this is definitely worth the splurge. Accordingly, we met travelers of all stripes, from those traveling on high-end guided bus tours to a backpacker who was hitchhiking and couchsurfing his was through the country. When you're planning your New Zealand North Island itinerary, make sure to allow time and budget for a visit to Tamaki Maori Village – you won't want to miss it!
We received a discount on our visit to Tamaki Village; all opinions are our own.
Planning your trip to New Zealand
Are you getting ready for an epic trip to New Zealand? Don't miss these articles to help you plan: