New Zealand is epic, it's beautiful, it's exciting… and it's a heck of a trip to plan on your own. You're probably coming from the other side of the world and heading to a country that most people you know have never visited. That was certainly our experience.
We spent hours and hours researching everything we needed to know for our six week New Zealand trip (part of our family gap year) and mostly things went off without a hitch. But we certainly learned a lot along the way so I've put together these important New Zealand travel tips for you to read before you go to the Land of the Long White Cloud (Aotearoa in Maori).
We'll cover important topics like how to visit New Zealand on a budget, nuances of renting a car in New Zealand and driving in New Zealand, how to find the best places to stay in New Zealand and more. Ready to start planning?
First: some basic facts about New Zealand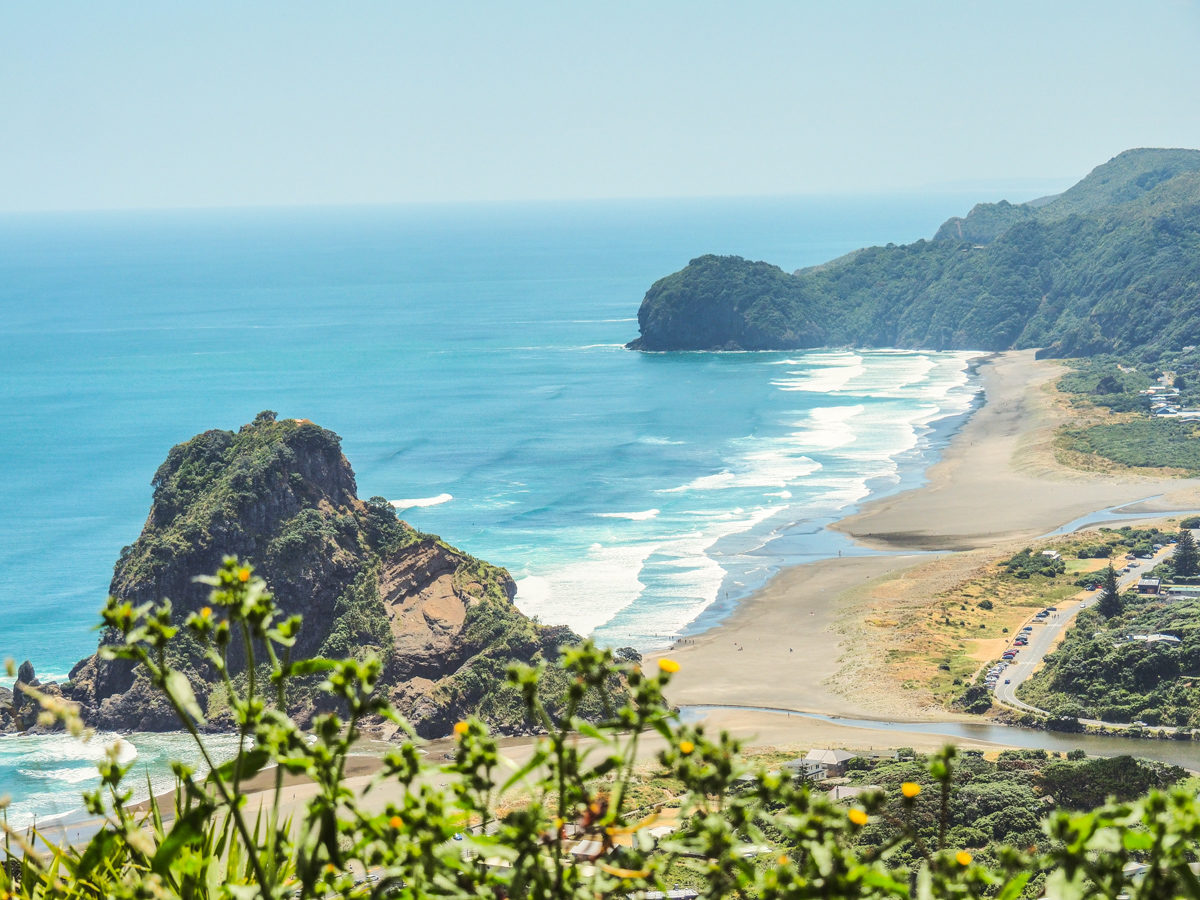 New Zealand is an island nation surrounded by the Pacific Ocean and the Tasman Sea, which separates it from Australia.
It's roughly the size of Colorado but with 15% fewer people.
The local currency is the New Zealand Dollar, abbreviated NZD – check the current exchange rate.
New Zealand uses the same three-prong outlet as Australia and China. For typical digital electronics, this dedicated New Zealand power adapter will work or you can buy a universal international power adapter. Leave the hair dryers at home though! They require a voltage step down so you might just want to borrow or buy one locally.
Driving is on the left side of the road. The traffic in Auckland is horrendous and you'll be jet lagged when you arrive, so take it slow!
The Maori people have lived in New Zealand for about 700 years, while Captain James Cook arrived 250 years ago.
Though the ratio isn't as out-of-balance as it used to be, there are still roughly 6 sheep for every human resident of New Zealand.
---
No matter how much time you visit, it won't be enough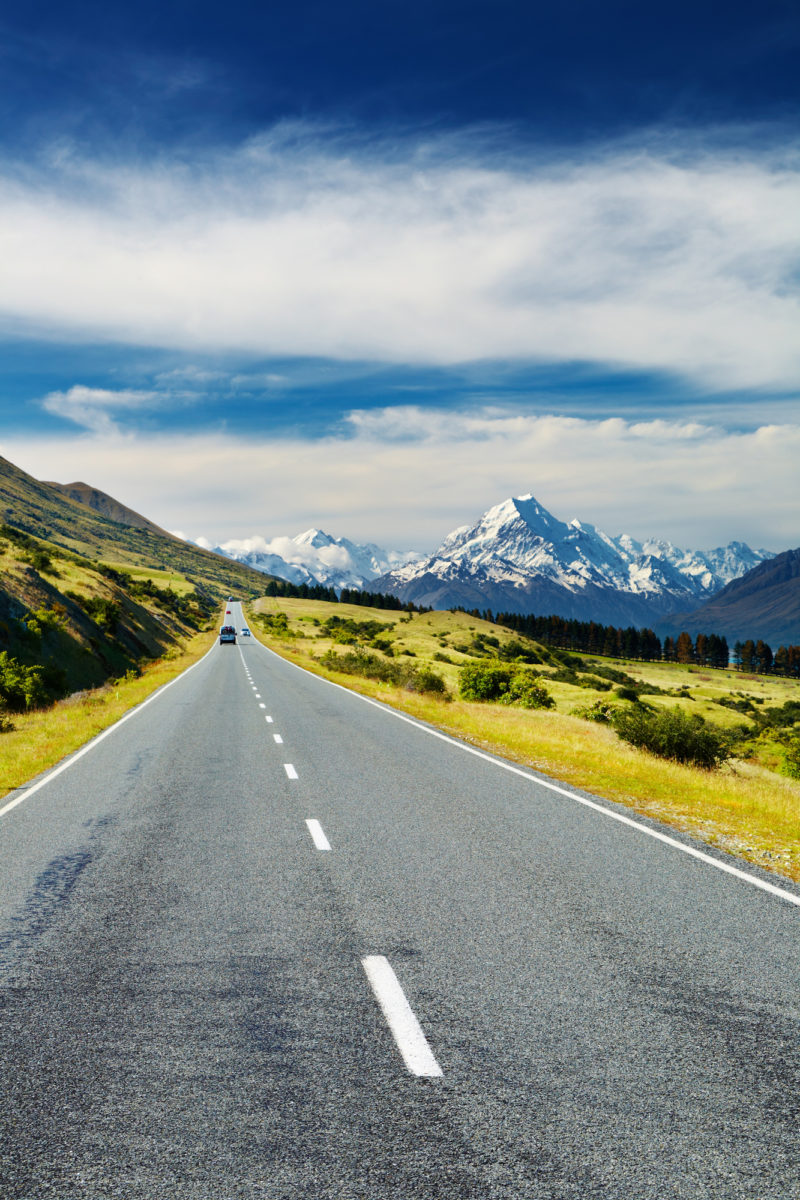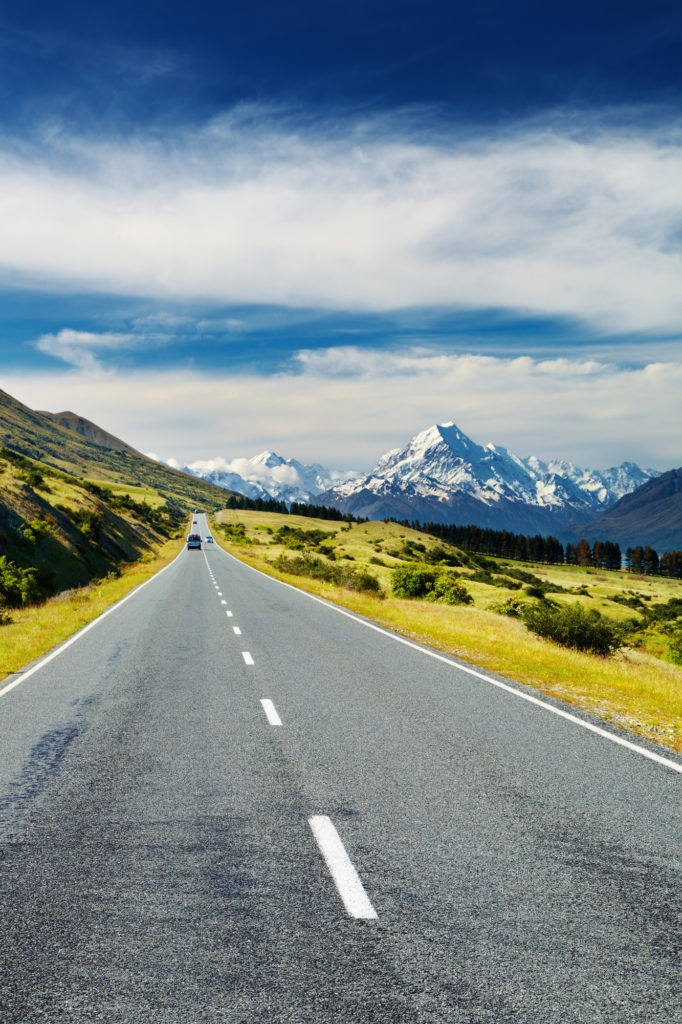 We spent six weeks traveling around the North and South Islands of New Zealand and still feel like we missed so many amazing places!
One of the best things about visiting New Zealand is that there's a huge range of activities to pursue – hiking to glaciers, relaxing on beaches, snorkeling with the world's tiniest dolphins, visiting Hobbiton and so much more. But the reality is that unless you move to New Zealand or visit for many months, there's no way you'll be able to see it all… or even close.
How long should you stay in New Zealand? I'd say that two weeks is enough to explore one of the two main islands if you're planning a New Zealand road trip. For visitors who are short on time, the one place I'd recommend shorting is Auckland – it's a sprawling metropolis but not nearly as unique as basically everything else in New Zealand. It's a good place to recover from your jet lag and spend one or two days.
Since the drive time from Auckland to Wellington is around 9 hours (in ideal conditions), you could probably get by with spending 10 days on the North Island if you blazed through… but where's the fun in that? The South Island takes an absolute minimum of 12-13 hours to drive and has so many nooks and crannies that you won't want to miss, which add to that drive time.
Check out some of these books to help you prioritize the best things to do in New Zealand:
---
Everything is farther apart than you think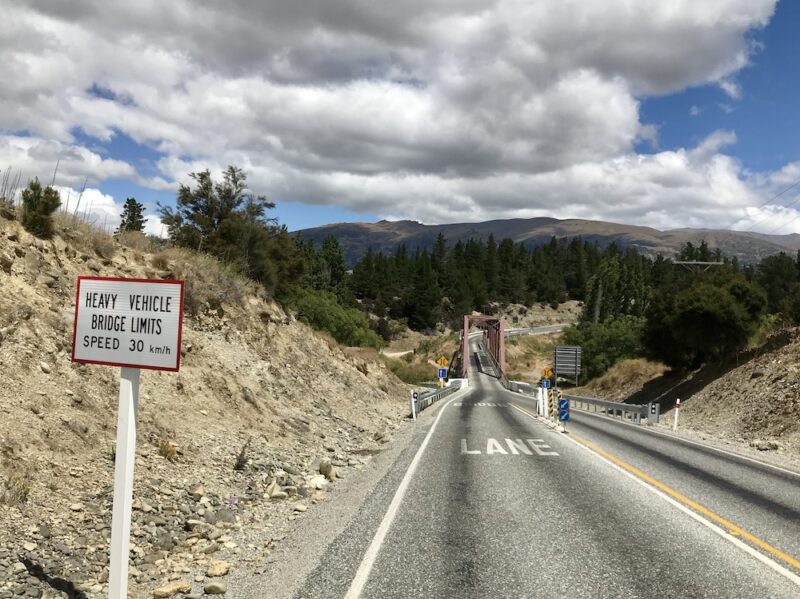 Ok, so those drive times above? Those are the estimates from Google Maps. They assume that you aren't traveling in New Zealand winter (northern hemisphere summer break), that you don't need to stop for a herd of sheep, that no one is car sick going over the hill between Tasman and Nelson and that you don't want to stop for the seventy third photo break.
Yes, there are even your garden variety slow traffic pockets if you're visiting during peak season.
More importantly, once you get off the main highways there are plenty of spots where the roads are just slow. In some places they're not as modern and kept up as you might hope. In other places, they're narrow and windy and you're just hoping not to drive off the side of a mountain.
Watch for one lane bridges, especially on the South Island! A sign with a blue outline means you have the right of way, a sign with a red outline means that oncoming cars have the right of way. No matter which sign you see, STOP and observe before you try to cross!
You may want to bring this durable map with you to help with navigation in case you end up in an area with spotty cell service – and there are many.
---
New Zealand and Australia are not that close to each other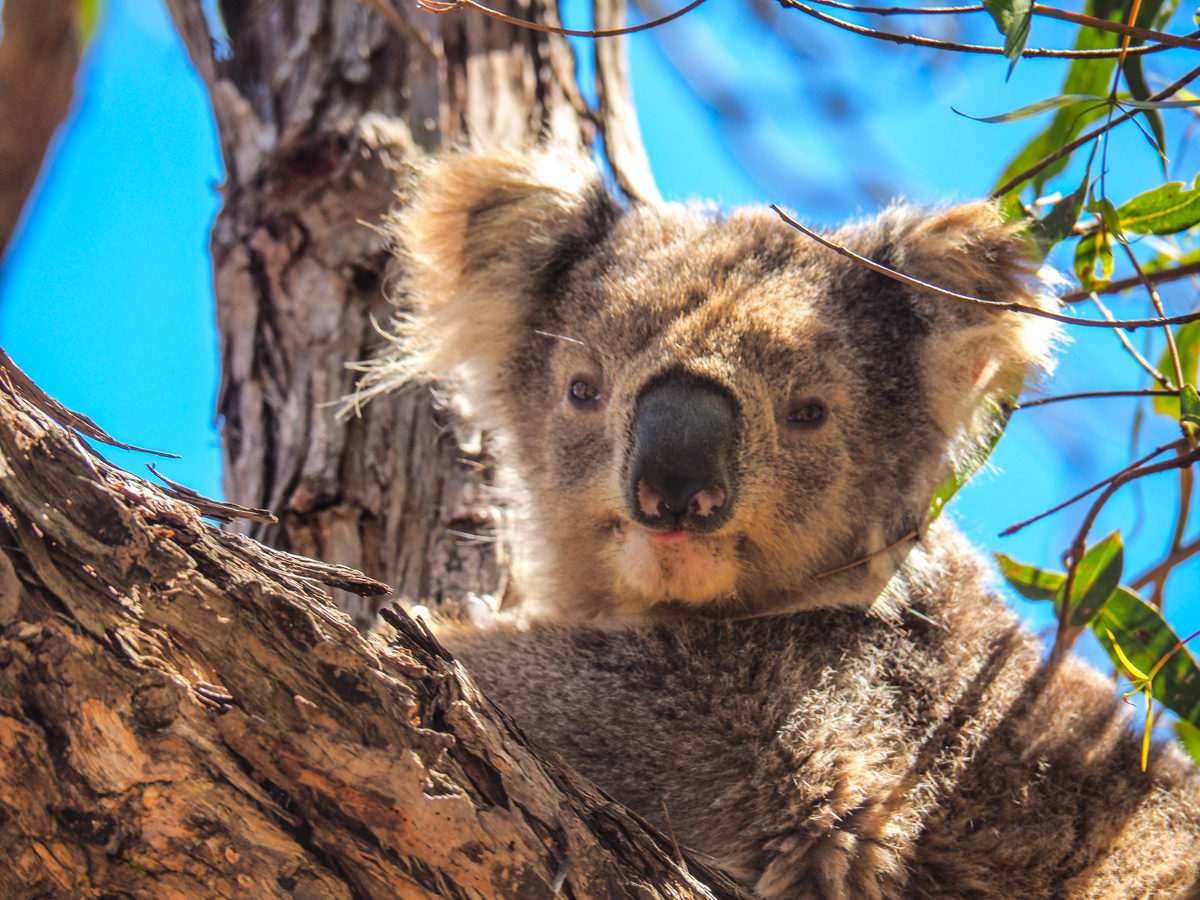 How long is the flight from New Zealand to Australia? It's about 4 hours from Auckland to Sydney. Compared to the 13 hour haul from the west coast of the US, that's not too bad.
But when you account for arriving to the airport several hours early since it's an international flight, dealing with traffic in Auckland or high winds in Queenstown and then the lengthy arrivals process in Sydney… it's easy to see how you can lose an entire day of your trip.
And even more so than New Zealand, it's extremely hard to do Australia justice in an abbreviated visit. We were there for almost two months and still had more to explore! If you think you'll never make it back to the region and want to combine the two countries, start planning your Australia itinerary here.
We hear people say all the time that they're planning a 10 day visit split between the two countries and all we can say is to please reconsider.
---
You need proof of onward travel
Huh?
This was a new one for us. New Zealand requires proof of onward travel. That means you can't enter the country as a tourist without demonstrating that you plan to leave within 90 days. If you're a typical traveler on a round-trip ticket, you probably only need to complete an Electronic Travel Authority, which is done online and can be ready in a few minutes or a few days. (This only started in August 2019 so we haven't done it ourselves.)
If you plan to leave New Zealand by way of another country, make sure you purchase that outbound ticket before you try to board your flight to New Zealand. Yay, we did that right!
Except that we kind of didn't. If you're going to Australia next, read this. Australia requires many visitors to apply for their Electronic Travel Authority before they arrive – including Americans. I know, we're spoiled and don't usually have to worry about this stuff! Your onward ticket to Australia doesn't count unless you have already applied for your ETA.
Lucky the ETA is fast – our approvals only took about 5 minutes. They cost $20 per person as of this writing. But wow was it a stressful experience to deal with at the Internet cafe in the Buenos Aires airport when we arrived for our flight to Auckland. We didn't plan to visit Australia until six weeks later so we hadn't thought to get our ETA so early, but it is required.
If you're going elsewhere on a one-way ticket after New Zealand, be sure to check that country's visa requirements before you go to the airport heading for New Zealand.
---
They're really serious about not bringing in certain foods
When you arrive at airports in New Zealand, there are numerous signs on the way to customs alerting you to which foods you can't bring in with you. Agriculture is such an important part of the local economy that there's genuine concern about pests or diseases from other countries sneaking in.
You can't bring any produce, meat, fish or honey. It was the last one that nearly got us in major trouble. We'd had an amazing visit to the bee farm in Boquete, Panama and picked up some lovely (expensive) creamed honey while there. What we didn't realize was that there was still one more neatly wrapped jar hanging out in the bottom of one of our huge travel backpacks underneath a bunch of other stuff.
Not remembering that we had it, we had not declared the honey on our entry card. As we went through one set of signs after another, we discarded anything we thought might be problematic. But at the last station before exiting the airport, the backpack was scanned and a serious agent asked what was in the jar. What jar???
Sadly, our delicious honey ended up in the bin. Fortunately, she took pity on us and didn't fine us! But many visitors are fined every year for bringing illicit foods into New Zealand! The fines can be hundreds of dollars and that's a really shitty way to start your vacation. Consider yourself warned.
---
It's really expensive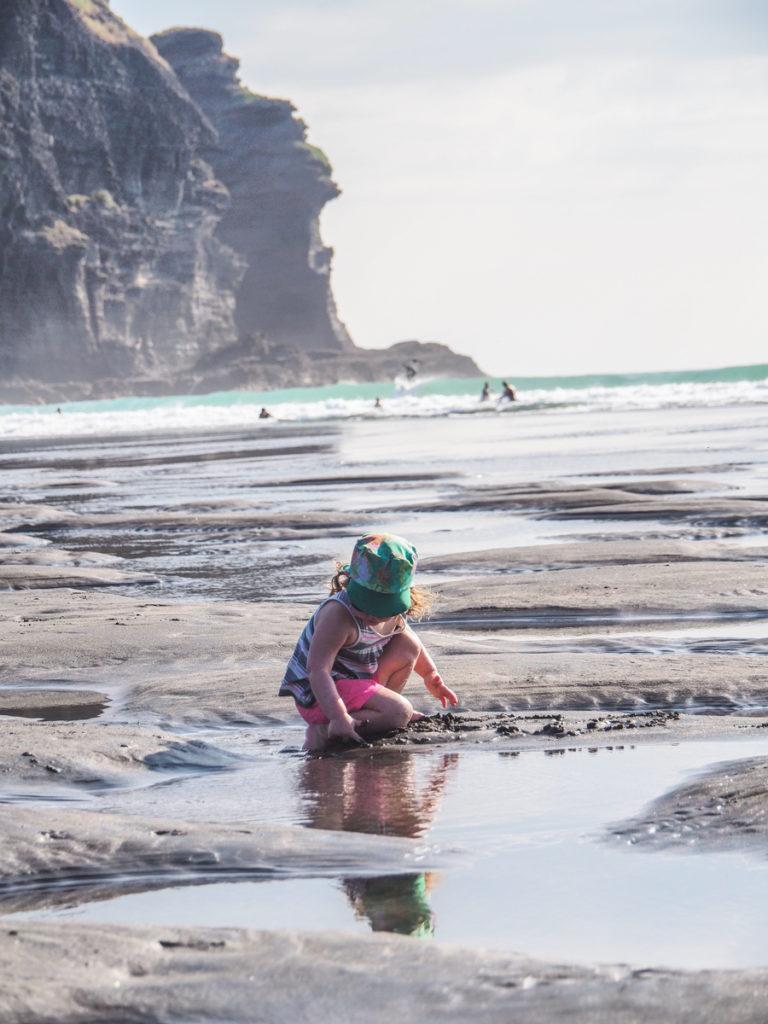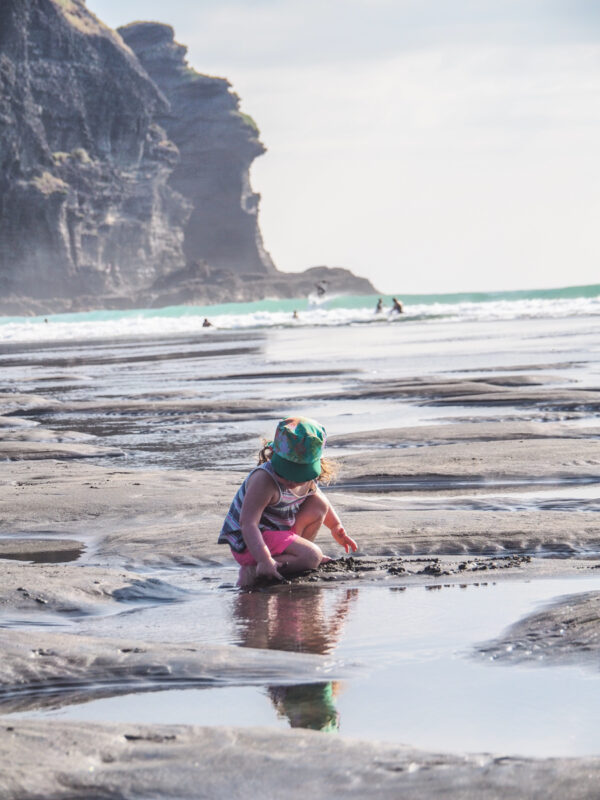 New Zealand was the first place we ever felt "expensive fatigue", and that's saying a lot from people who lived in LA for decades. Food is expensive, gas is expensive, Airbnbs are expensive.
The ways we managed to save money during our time in New Zealand probably deserve an entire article of their own. For now, here are a few helpful ways to visit New Zealand on a budget:
Buy your groceries at PAKn'SAVE. It's more basic than some of the other options, but much cheaper. The produce in New Zealand is gorgeous, even at the least expensive grocery stores. The best thing we bought during our time in New Zealand was a hard-sided cooler and a set of ice packs. When you're packing up and moving every 3-4 days, you don't want to be throwing away those super expensive groceries you just bought!
For non-grocery items, you can find reasonable prices at K-Mart and The Warehouse. Neither will be as cheap as buying things in the US, as Kiwis earn a higher minimum wage than Americans.
Definitely take advantage of the best free things to do in New Zealand: beaches, hikes, scenic drives. Honestly these were many of our favorite experiences and they didn't cost a penny. We always made sure to pack the cooler with a picnic lunch, snacks and plenty of extra water so that we didn't have to eat out unexpectedly.
Book your rental car early, and then check back to see if the price has gone down as your trip gets closer. I think I must have checked nearly every month! I did end up re-booking once when the price dropped. I love booking with RentalCars.com since they make it so easy to compare rental car companies – and to cancel when you find a better rate. Make sure to check if there's a one-way fee on your car rental. It's also worth checking Apex if you're on a really tight budget, but know that the cars may be very old and have high mileage – we didn't feel comfortable with those conditions for as much driving as we planned to do out in the countryside and over big mountains.
If you plan to do a New Zealand road trip on both islands and then fly the return leg domestically, consider flipping the order and starting in Queenstown. You may find the rental car to be cheaper and staying flexible might give you better availability for accommodations in the busiest season.
---
You may have to get a new rental car when you switch islands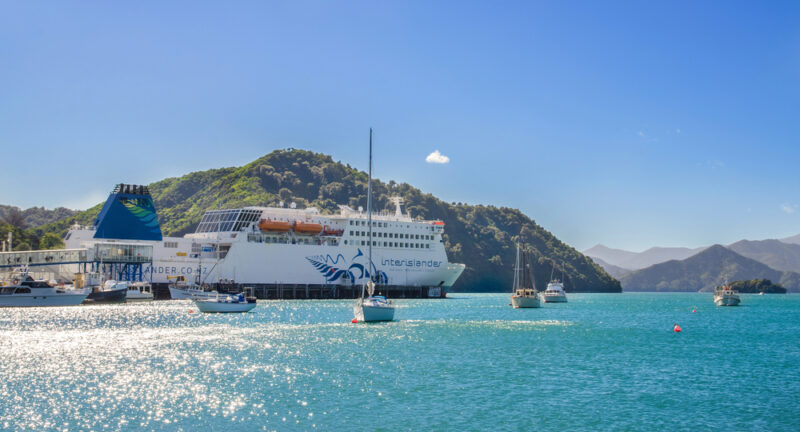 This one was a surprise to me! We got a great deal on our rental car with Avis through RentalCars.com and booked it for our full six week journey through both the North and South Islands. We planned to pick it up at the Auckland airport and drop it off at the Queenstown airport, taking the ferry in between.
When we picked up our car, weary and bleary-eyed after an overnight flight from Argentina (which skirted the edge of Antarctica!!!!) we were told that we could only take our car as far as the ferry terminal in Wellington. The good news is that it's not a big deal as long as you know what to expect.
The ferry terminal is structured sort of like a tiny airport. There are rental car buildings adjacent to return your car. If you have a lot of luggage (or a heavy cooler full of food), you may want to drop if off directly at the ferry building with the rest of your party. It's not a long walk, but can be annoying if you have lots to carry – like, let's say, an entire family's worth of stuff for a year plus a newly purchased cooler.
Once you get inside the ferry terminal you'll check your luggage just like on a flight! This was a little surprising but worked well. The staff even taped our cooler shut to keep our pricey groceries safe. We each just brought a carry-on backpack with us to keep our valuables safe and handle our on-board needs.
The Interislander ferry ride itself is a fantastic experience and probably deserves its own article! Suffice it to say that the ride is pleasant, pretty and generally uneventful (though seas can be rough, so bring these if you get seasick). You'll arrive in Picton about 3.5 hours later.
As with Wellington, the Picton ferry terminal resembles a small airport terminal. But it's small and lots of people like you had to drop off their rental cars in Wellington! And that can mean only one thing: LONG LINES.
Take my advice: send the driver from your group to the rental car desk immediately to get in line for car pick up. Getting the new car wasn't difficult but it took close to an hour in total. Everyone else can stay inside at baggage claim to collect your luggage and hang out. Why inside? Because Picton has a huge sand fly population! In two minutes flat my feet were absolutely covered in extremely itchy bites. They won't kill you, but they'll sure make you miserable.
The long and short is that swapping cars when you move islands is very common and not a terrible inconvenience. It just takes time, so plan accordingly. Be sure to check your car rental company's policy on moving cars between the islands.
Some of the smaller local car rental companies like Apex do permit you to take your rental car across the Cook Strait. What's the catch? Depending on the length of your car rental, you may need to food the bill for your car's ticket on the ferry. That can add more than $200 to your costs in peak season, so be prepared and factor that into your price comparison. If you're taking a very long car rental, your company may cover the cost of the ferry.
---
Book your accommodations early if you plan to visit during typical vacation periods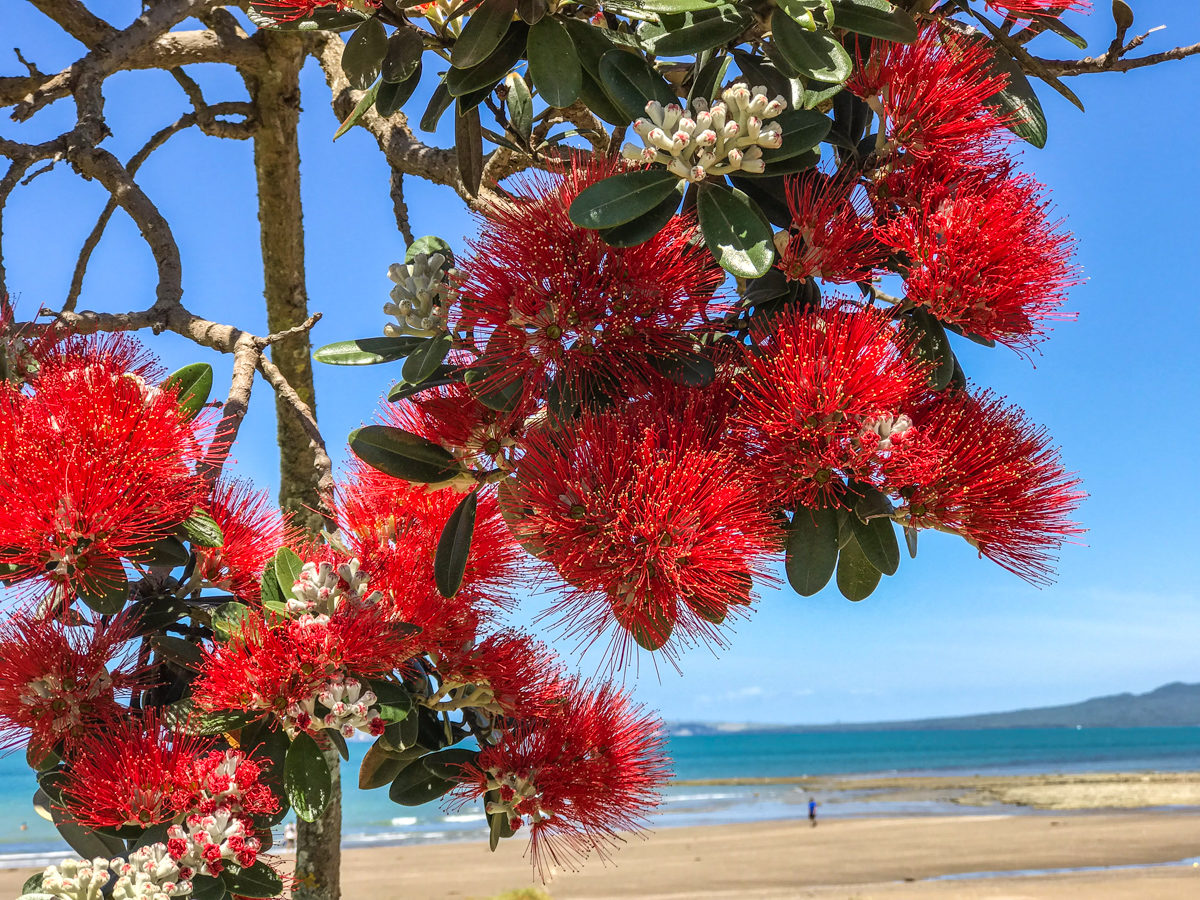 Guys, this is one that I can't stress enough. New Zealand does not have an adequate supply of places to stay in the most popular areas during busy season. We visited for December and most of January – it's the best time of year in terms of weather, but also school holidays in New Zealand and Australia.
We booked most of our accommodations in New Zealand in June and July, and we still struggled in some places! We've never booked anything that far in advance, but I'm glad I relented and let Ronnie lock things in well in advance. We traveled much of the country with another family we met on our first day in Auckland, but at a certain point they couldn't visit areas they wanted to see for lack of hotel rooms or apartments at any sort of reasonable price.
What are the best places to book your stays in New Zealand? We stayed in twelve different places in New Zealand and I swear we booked them all on different websites! Here are the best options we found:
BookABach – This is now part of the HomeAway family, but distinctively Kiwi. You'll find everything from luxury condos to really simple cottages. Since many owners expect primarily domestic tourists, confirm that they'll offer sheets and towels… because plenty of them expect you to bring your own.
Booking – Just like anywhere else, Booking offers a great interface for scouting hotels, apartments, hostels and more. We love booking thanks to the generous cancellation policies, easy filtering and easy access to so many real-world reviews. We absolutely love this lodge but it books up extremely early. The rooms are simple but cozy and the common room is the perfect place to meet other travelers while you cook dinner and then enjoy some stargazing on a clear night!
Use the interactive map to find vacation rentals and hotels in New Zealand
---
---
You can experience everything from rainforests to alpine zones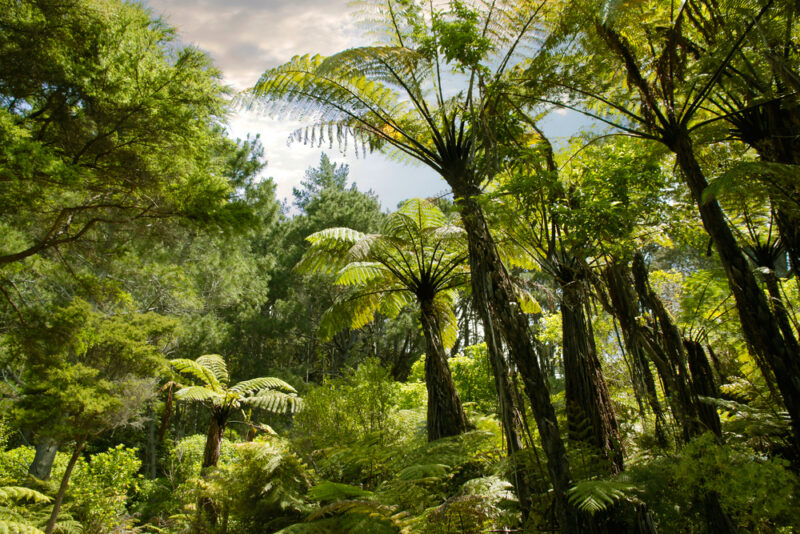 Many visitors choose New Zealand specifically for its stunning views. Of course the most iconic scenery is of the mountains on the west side of the South Island – Mount Cook, Fox Glacier, the shear cliffs along Milford Sound. But when you head to the country's opposite corner you'll find a lush subtropical rainforest!
It was a little surprising to wear both winter clothes and swimsuits on the same trip, but that's what you get in New Zealand! Pack appropriately.
But also come prepared mentally. New Zealand is so much more than what you expect! Look beyond the mountain-filled post cards and recognize that each part of the country is special in different ways, even if they aren't all as dramatic as what you expect.
---
New Zealand is getting much more diverse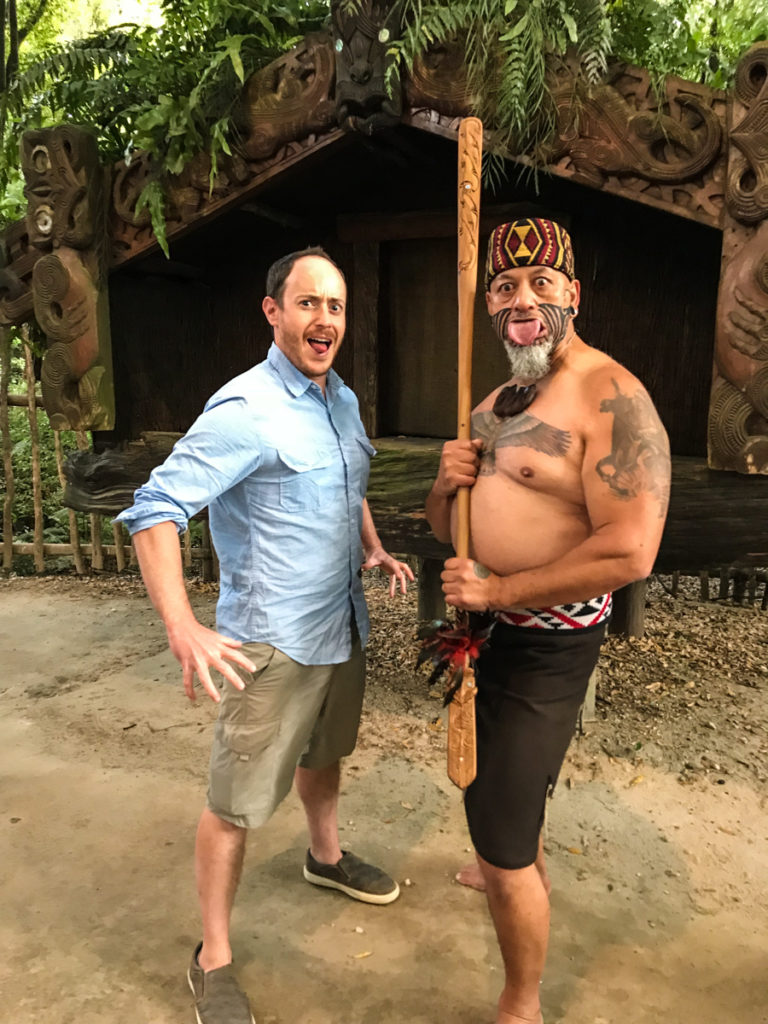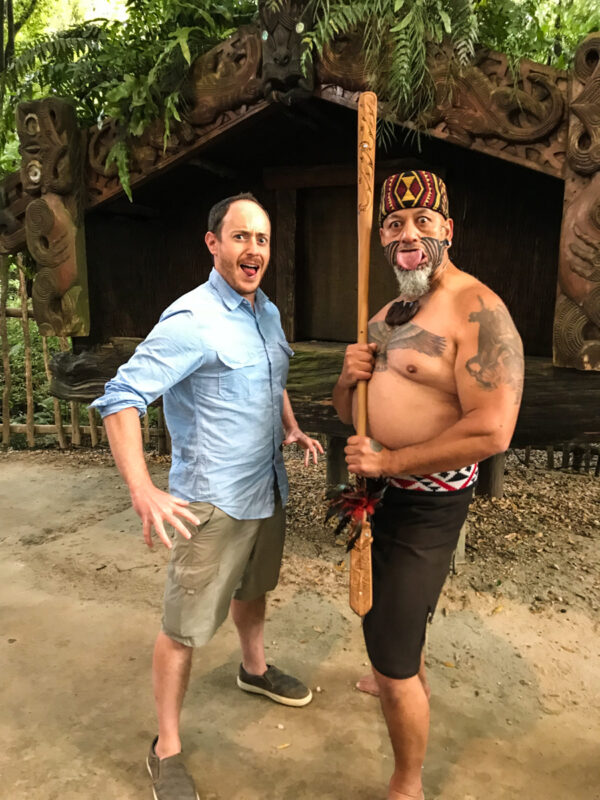 In the 2001 census, 80% of New Zealand's population was ethnically European; by 2018, that had dropped to just 70%. That's a staggering change in less than two decades. Most of that transition has been due to an influx of Asian immigrants.
But you might only notice that diversity in the greater Auckland area and, to a lesser degree, elsewhere on the North Island. The country's 16% Maori population is almost entirely on the North Island (86%). The country's Asian population is around 15% now, but almost entirely focused in greater Auckland.
What does the Auckland region look like? These days, it's less than half European in origin. You'll find fantastic food in Auckland as a result. Wellington, New Zealand's capital city, is less ethnically diverse than Auckland but still about 1/4 of residents identify as non-European.
On the South Island… well, many areas are over 90% European. It's not just an aesthetic difference, but you may notice resulting cultural differences too.
---
New Zealand has a lot more than two islands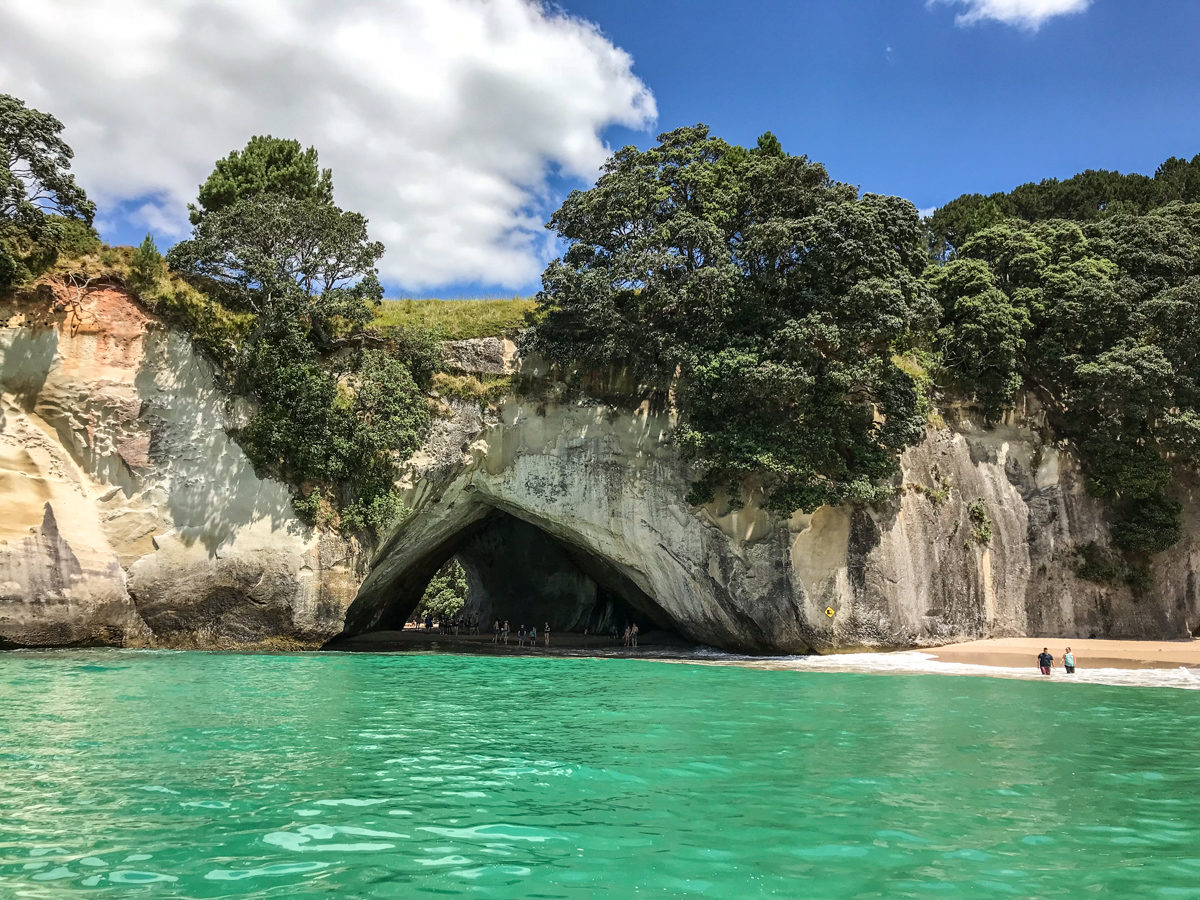 There are more than 600 islands that make up New Zealand. However, the vast majority of these are unpopulated. The North Island is home to over 75% of the country's population.
There are numerous islands in the Hauraki Gulf including well-known Waiheke Island (population almost 10,000). Waiheke makes a wonderful day trip from Auckland and is known for its beautiful scenery and delicious wine.
New Zealand's third largest island is Stewart Island off the southern tip of the South Island. 85% of Stewart Island is protected as a National Park, and exploring the bush is one of the main things to do on Stewart Island – after all, there are only 400 people living there!
---
Hopefully this guide has left you more excited and more prepared for your journey to New Zealand! Writing this has certainly made me hunger for a return visit to explore more of the amazing experiences New Zealand has to offer.
Still planning? Pin this article for later!
Planning your trip to New Zealand
Are you getting ready for an epic trip to New Zealand? Don't miss these articles to help you plan: