Situated in an expansive green cloud forest, with a temperate climate, Boquete is an outdoor lover's paradise. It is easy to understand why so many American expats in Panama come here to vacation or retire. The air is clean, the people are warm, the food is fresh, and the scenery is breathtakingly beautiful. It is also only a one hour drive away from the major airport of David in the province of Chiriqui, Panama, making it accessible to anyone flying into Panama City.
Looking for more ideas for visiting Panama? Check out our complete guide!
What makes Boquete a great destination for traveling families is that everything is accessible and easy. It is safe, the major tour companies speak English, the roads (for the most part) are good, and all the major attractions are within an hour's drive from the center of town. There are wonderful ways to explore the area for kids of all ages. For younger kids (3 to 7 years old) you can go to a biodynamic bee farm and taste honey, a nature hike, or horse riding on a beautiful ranch near the mountains. For older kids and teenagers there are adventurous options like water rafting or zip lining. If you do decide to make Boquete your next destination be sure to rent a car (preferably an SUV) and allow at least four days to get the most out of your time there. Check out our Boquete, Panama travel guide for families to see why we truly think it's one of the best places to stay in Panama.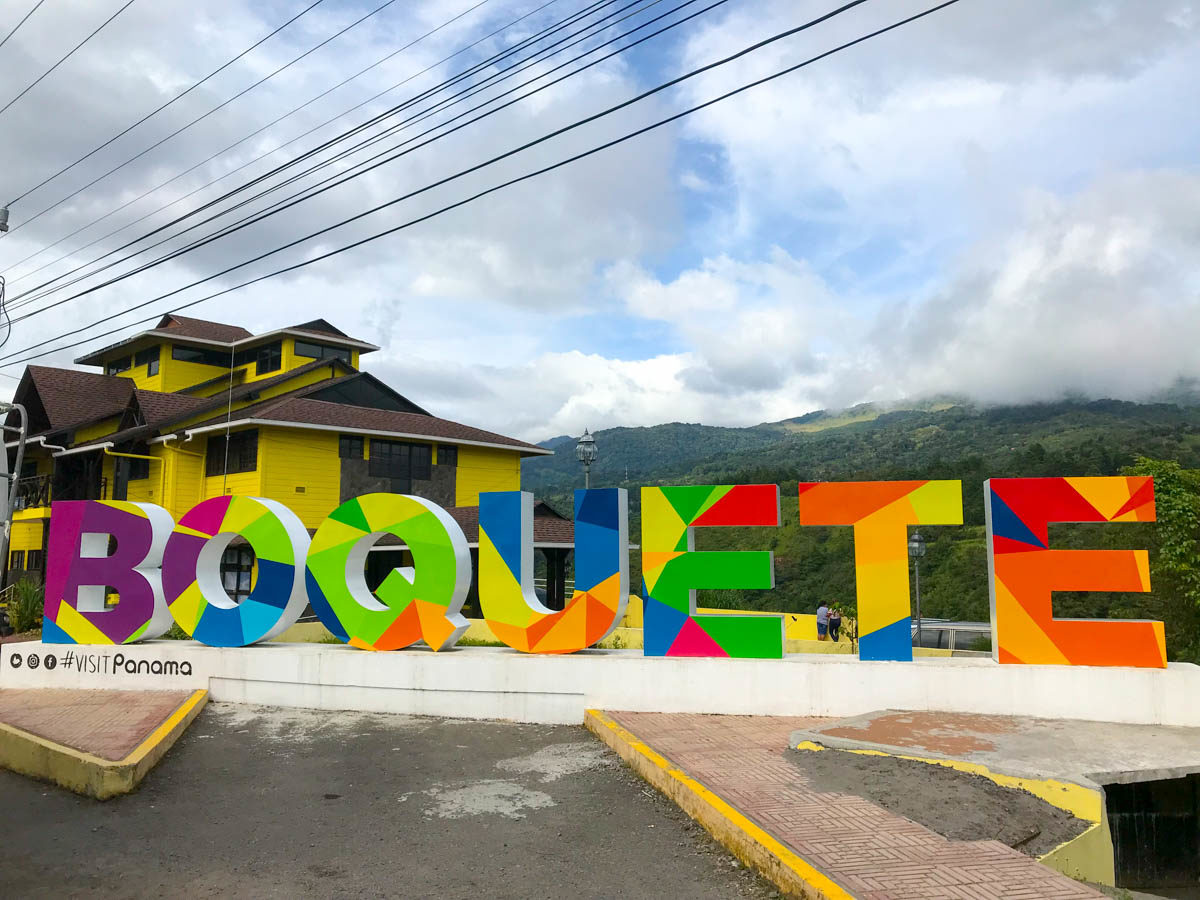 Things to do in Boquete, Panama with kids
Boquete Bees and Boquete Butterflies
If your family loves nature and learning about how it works be sure to schedule an appointment at Boquete Bees, a one of a kind biodynamic farm that grows coffee, fruits and vegetables. The farm thrives thanks to the multiple species of bees that live there: these pollinators ensure plant health while making delicious honey. While the farm is a profitable enterprise, it's also a passion project for owner Emily. She takes her work in agriculture and her work in tourism seriously: we visited on Jacob's sixth birthday since he's a huge butterfly lover, and Emily made him feel extra-special by gifting him a jar of one of their best honeys (to share with his sister, naturally).
On our tour, we learned about the different types of bees that inhabit the area; indeed, there are bees in Panama that do not sting. Similar to wine, the altitude and type of tree used by the bees to make honey impact its flavor. Throughout the tour you will be introduced to a variety of indigenous plants and flowers. Boquete Bees' property is expansive and well maintained. We had considered visiting a coffee farm, which is a popular activity in Boquete, but didn't feel like we needed to after strolling through acres and acres of verdant coffee plans and hearning thei secrets from our wonderful guide, Johnny. Depending on the walking capabilities of your little one you might want to consider bringing a baby or toddler carrier. The path is not stroller friendly but our kids (6yo and 3yo) managed walking just fine. There are numerous stops on the tour so the pace is perfect for little travelers.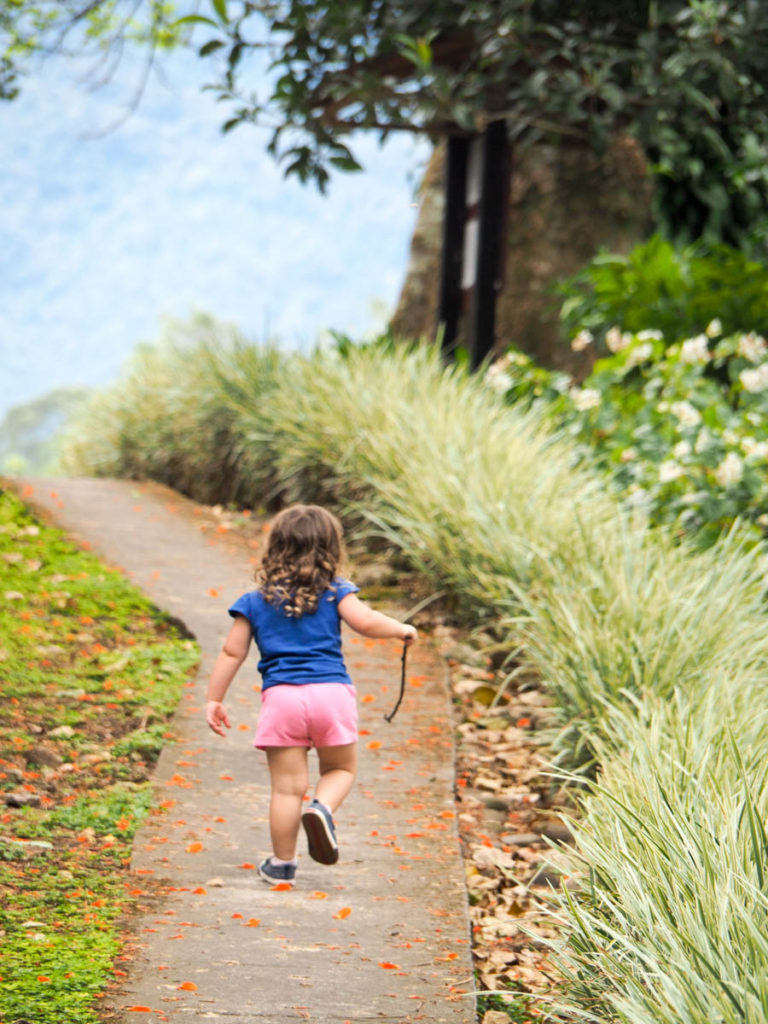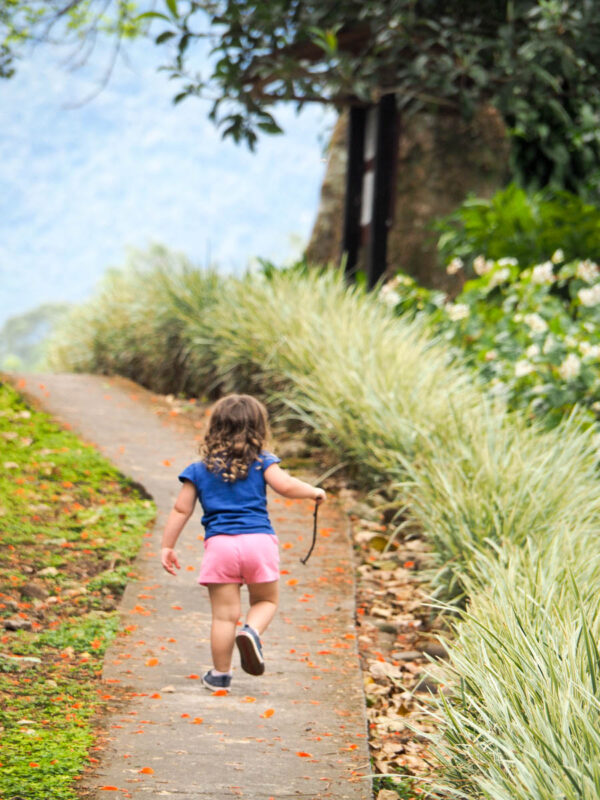 In addition to learning about different species of bees and plants, Boquete Bees is also home to a butterfly house. This enclosed wonderland has over 30 different species of butterflies native to the area. Part of your tour will go through the Butterfly house and you will get to learn a lot about these beautiful pollinators. Our favorite were the glasswinged and the stunning Blue Mophos. Having a strong foundation of knowledge of local species of butterflies makes spotting them on your nature hikes much more accessible. We spent over an hour watching them flit around and asking both Johnny and Emily all of our questions.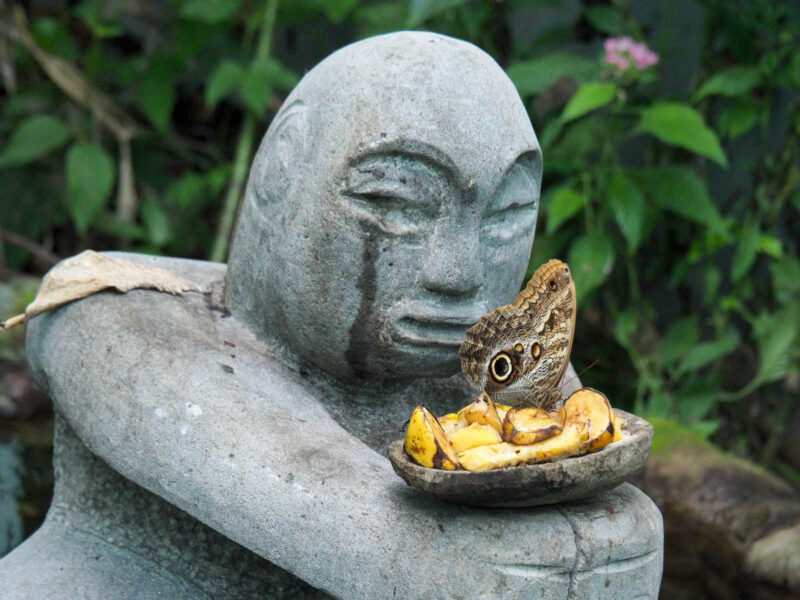 After touring the property and learning about bees, plants and butterflies, you end your tour with a honey tasting. With over 18 different types of honey, Boquete Bees will indulge your sweet tooth. Our kids loved the creamed honey that comes from one tree in the area. We had never tried anything like it before. It reminded us of a white creamy (better) version of Nutella. Other popular types of honey we tried were lavender, chocolate and one from a high altitude area. For the adults, we enjoyed a unique honey liquor which was outstanding. For coffee lovers, you can roast and taste the coffee grown on the farm. All of their products are for sale in their shop and make a nice souvenir or gift. Emily ups the ante by selling several wonderfully illustrated children's books that she's written about bees and butterflies. If we had space, our kids would have loved to buy them all! Boquete Bees is a must visit if you are visiting Boquete, Panama with kids. Visits are by appointment only and all of the information can be found on their website. They do accept major credit cards. The farm is approximately 25 minutes from town.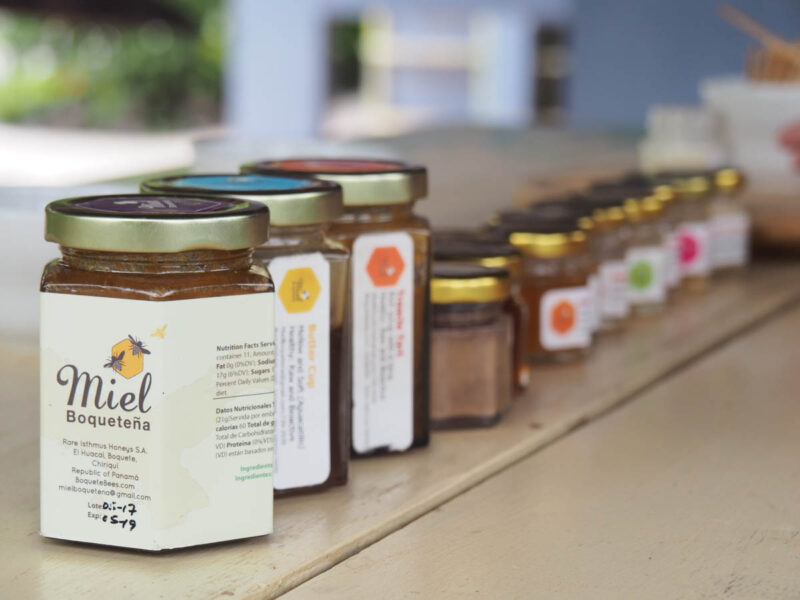 Hike the Pipeline Trail
There are a variety of hiking options in the area of Boquete. The primary hike that is accessible to little adventurers is the Pipeline Trail. Weather permitting, this is a great hike for children 5yo and older; we used a carrier for our 3yo. It is an out and back trail that takes you through a beautiful forest, multiple streams, and to a waterfall at the end. The trail took us about four hours with a stop for a picnic lunch. The trail gets its name from the water pipeline that was installed to provide fresh water to the area of Boquete.
When you use Waze or Google Maps it will take you to an intersection with a bus stop and what looks like a driveway. Park your car next to the bus stop (be sure to take your valuables) and then walk up the driveway. When you get to the top of the driveway you will be greeted by the local residents' dogs, Mono (Spanish for "monkey"); as you can see below, he's pretty fierce! You will need to pay the entrance fee so make sure to have cash (approximately $4 per person).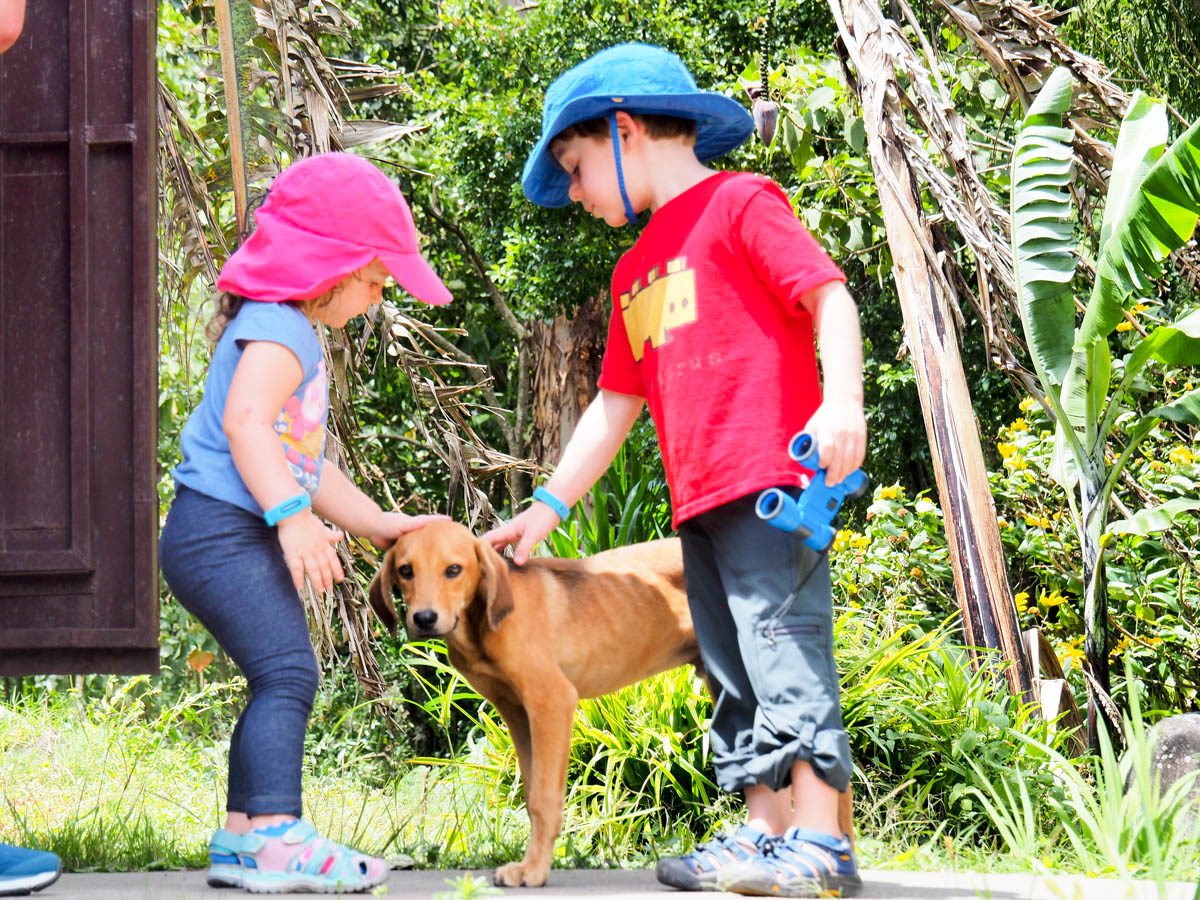 The path itself is easy to navigate and mostly flat, but the hike does offer some technical challenges. There are four streams you will cross during the hike. Each has its own bridge, but one of the bridges was broken and in its place was a large metal pipe. Just take your time crossing the pipe and use the adjacent tree to keep your balance. Towards the end of the hike as you get to the waterfall there is a small rock scramble. We found those two areas to be most challenging, but they were Jacob's favorite parts. Conquering the trail gave him great confidence and reinforced his love of hiking. Along the hike you will see native butterflies, birds, insects, and flowers. Bring a pair of binoculars for your hike and keep the kids excited by trying to spot the different birds that inhabit the area. At certain times of the year you can even spot the beautiful Quatzal bird that is indigenous to Boquete! Prior to our return from the waterfall we decided to take a break and eat our picnic lunch – great views for us parents, and an opportunity for Jacob to rest and refuel for the quick trek back to the entrance. In the same areas as the Pipeline Trail there are other more challenging hikes that can be done with teenagers.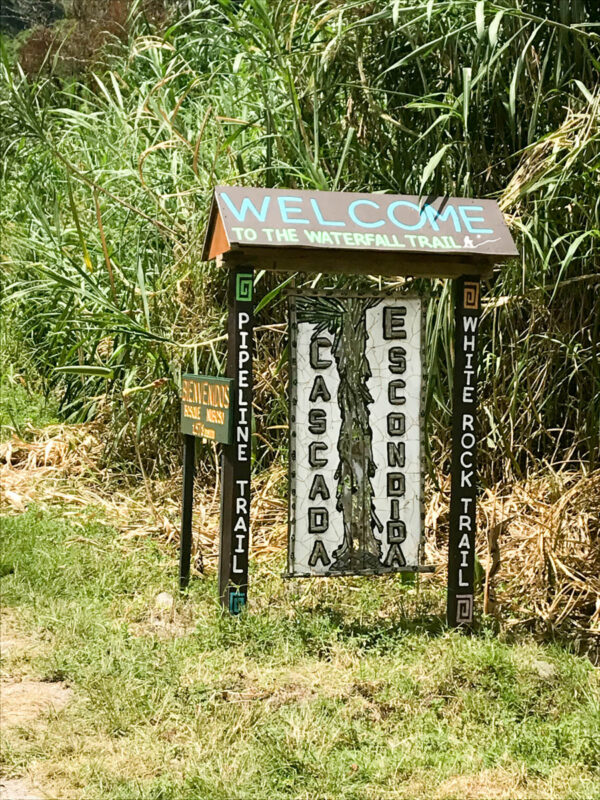 Horseback Riding with Rolando of Boquete Outdoor Adventures
Whether you are an advanced rider or beginner like us, horseback riding in Boquete is a fun and easy way to get a feel for the landscape. We were fortunate enough to connect with Boquete Outdoor Adventures through our hotel, The Inn at Palo Alto. Boquete Outdoor Adventures partners with Caldera Ranch (about 1 hour from the center of town). We were met at our hotel by Rolando and followed his car to the ranch, but if you don't have a car he'll drive you. We thought the cost was extremely reasonable at $40 per person (the kids were free, as they did not ride their own horses).
Caldera Ranch is an enormous and beautiful property situated in between a series of rolling mountains. Upon arrival you meet the horses and get saddled up for the ride. Our youngest 3yo rode with mommy and our oldest 6yo rode with the guide. The horses at Caldera Ranch are very well treated and trained. For beginner riders like ourselves it was reassuring to ride horses with a calm demeanor.
Note from Melissa: Rolando's original idea was to let Jacob ride his own horse, and so he first brought out a beautiful, charming chestnut horse named Chagi. It was clear, though, that Jacob preferred to ride with an adult. Since Ronnie was totally new to horses and not as comfortable with "adventurous" activities, the best solution was for Jacob to ride with Rolando on his horse. I would be taking Shoshana with me, so we had the pleasure of Chagi as our well-trained steed. And then it was Ronnie's turn to get saddled up. Have you seen "City Slickers"? His experience might as well have been straight out of the movie! I kid you not that Ronnie ended up with a horse named Gordo, and Gordo seemed much more like a "burro" than a noble, enthusiastic horse like Chagi. He needed encouragement at every single slope and at times just stopped entirely. More than a month later, the kids are still drawing pictures of Chagi and talking about him, while poor Gordo is the but of many many jokes.
Rolando is an excellent guide and took us between trees and through the mountains going uphill and downhill and everything in between. Depending on your skill level you can go at a slow or fast pace. The views you get on the ride are stunning and provide a unique window into the scenery of Chirqui, Panama. At the end of our ride we got to pet the horses and learn more about them from the Ranch manager. Afterwards, we headed into the local town of Caldera to Casa de Melissa Restaurant for a delicious home cooked affordable meal – $11 for the four of us for a meal of delicious chicken, rice and beans (plus a Coke for us adults to share). If you are looking for a memorable nature encounter and a relaxing day, don't miss this family horseback riding trip in Boquete.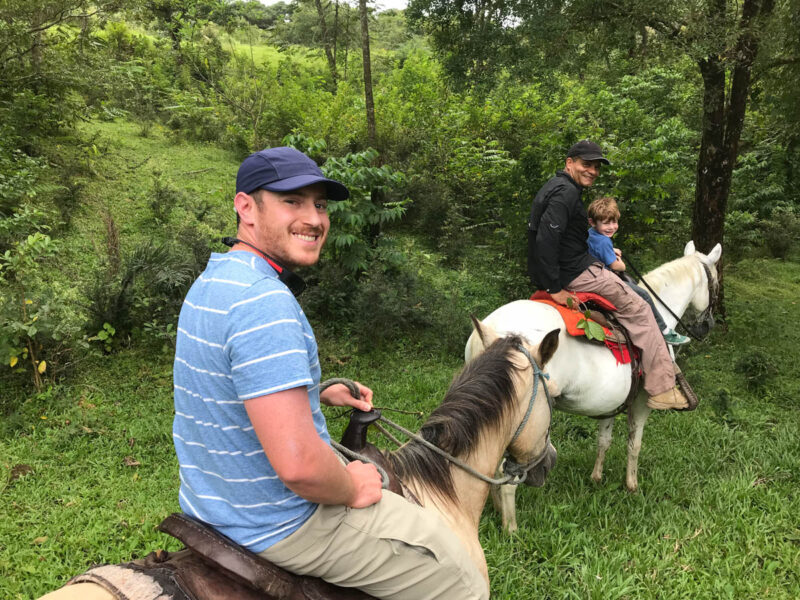 Mini golf in Boquete, Panama
Yes, mini golf! We attempted to take the kids to the popular local hot springs in Caldera, but found the road unmanageable with our regular non-4WD car. After over an hour in the car and many valiant efforts (by Ronnie) we gave up and headed back up to Boquete. Fortunately for the kids, we had some good old fashioned fun in store: mini golf! Located at Valle Escondido Country Club, the course itself is nothing to write home about and it's expensive (I believe it was roughly $35 for our family of four). But the scenery is stunning, and if you're in Boquete on an extended stay as so many families are and the kids are craving a comfort of home, the price is well worth it.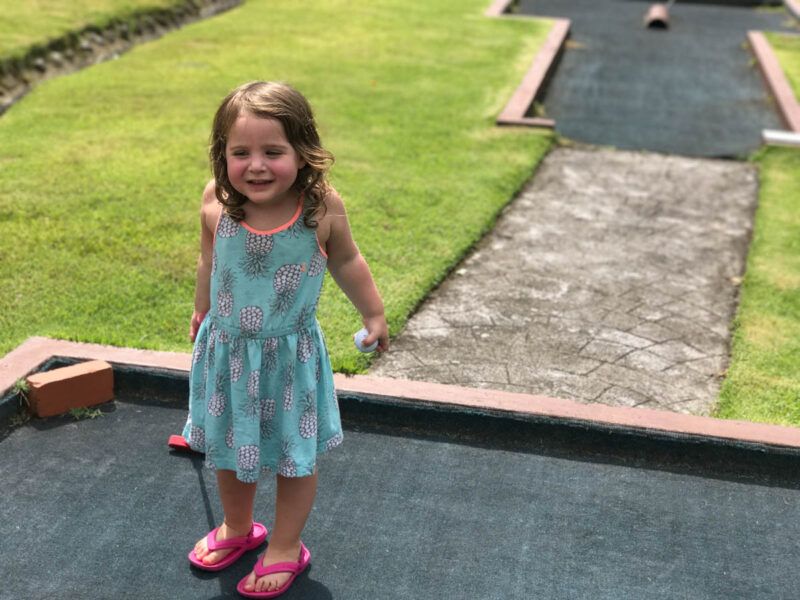 Where to eat in Boquete, Panama
The Chirqui province is one of the bread baskets of Panama. Hydroponic growing techniques and organic methods are evident by the fresh produce available at the local market and the delicious food at the restaurants in Boquete. Two restaurants in particular stood out to us during our time in Boquete. We had some of the best Italian food at RetroGusto Restaurant – it was so good that we went twice! Two brothers from northern Italy have brought authentic Italian cuisine to Panama. The pizza is exquisite along with the fresh soups and pasta dishes. We enjoyed finishing off our meal with their desert specialty 'Nutella Pizza'. Another great option in town is 'Big Daddy's Grill where you can find 'Tex-Mex' comfort food from home. We enjoyed their Nachos and chicken and beans with rice. They have a cozy outdoor patio in the back which is perfect for dining outside when the weather is nice. Check out even more great places to eat in Boquete!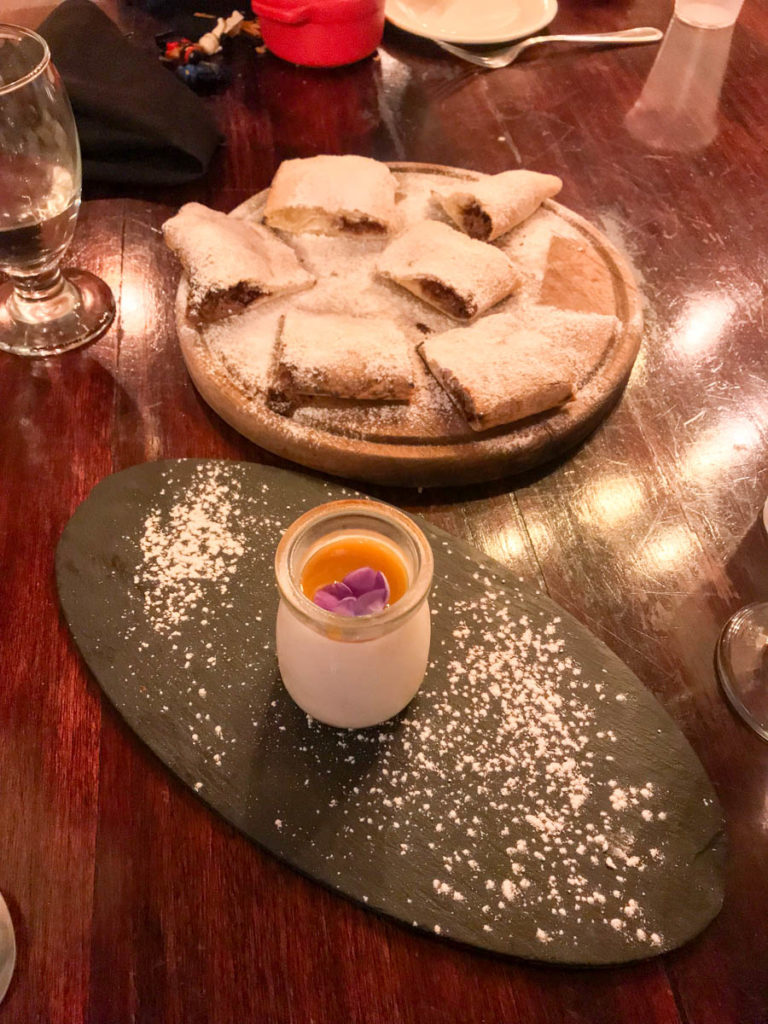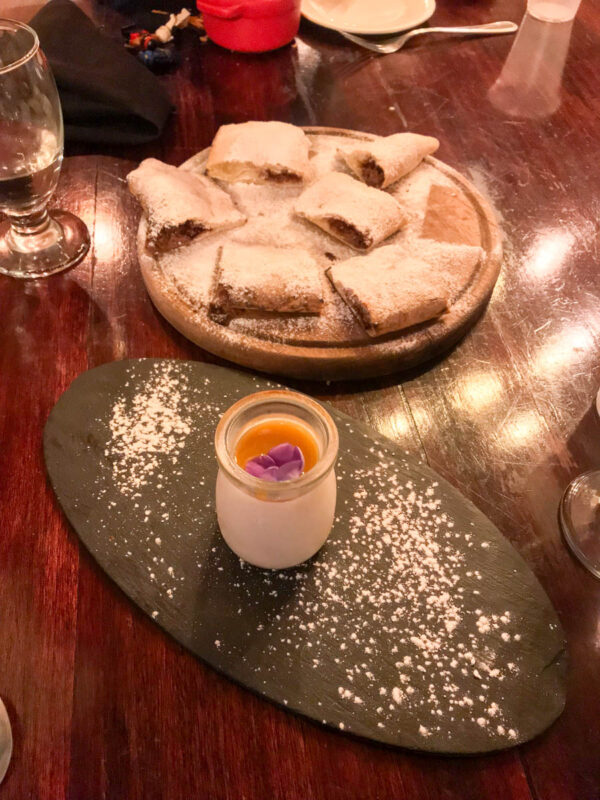 Where to stay in Boquete, Panama
When you are staying in a place as beautiful as Boquete you are going to want a room with a view. We loved The Inn at Palo Alto, a cute bed and breakfast just outside the main part of town. Our family suite had a small kitchenette with a spacious enclosed balcony, living room with sleep sofa, bedroom and upstairs loft with additional beds and a private bathroom. We spent most of our time enjoying watching the clouds bounce off of the stunning mountains painting the area. Hanging outside the windows are bird feeders that bring hummingbirds within a short distance of where you are sitting. Every morning you can walk down to the outdoor bar area and enjoy a delicious breakfast of fresh tropical fruits, juices, yogurt, cereal, coffee, tea, and made to order omelettes. The staff at The Inn at Palo Alto is friendly and happy to help you make touring arrangements and answer all your questions during your stay. The kids loved hanging out in the office every day with Max, the resident pup. Judy and her staff are so welcoming and gracious! We consider The Inn at Palo Alto to be one of the best places we have ever stayed and a must when visiting Boquete. Check room availability and prices.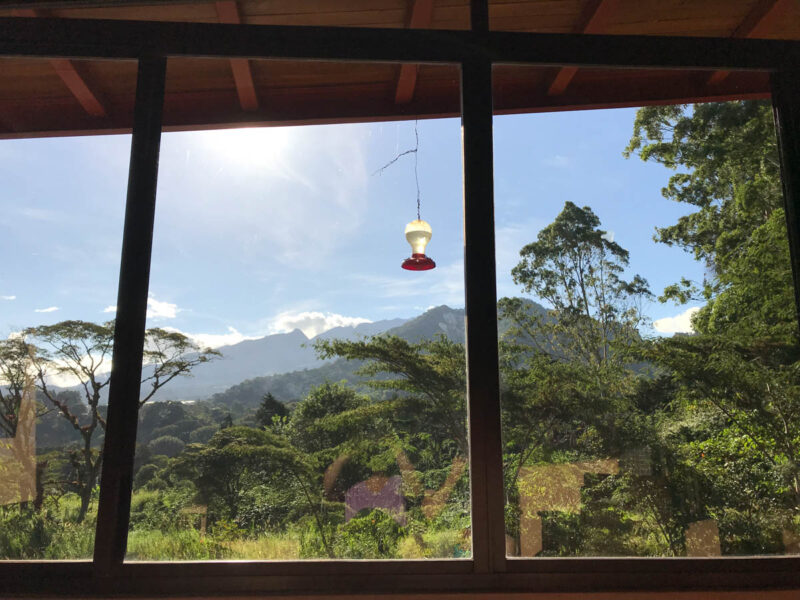 Use the interactive map to find vacation rentals and hotels in El Chalten, Patagonia
---
How to get to Boquete, Panama
Fly
If you will be visiting Boquete from Panama City, the easiest way to get there is by flying. Check the latest airfares here. Our plane tickets were around $130 each way and the flight is just over an hour. Be aware that Panama City has multiple airports for domestic flights, so you'll need to confirm your departure location. Flights arrive into David in Chiriqui province, at which point you'll rent a car and drive to Boquete. You can check rental car rates here. In a stark deviation from our usual habits, we waited until we arrived in David to book at car; we needed to drop the car off in Boquete since we weren't flying out of David, and it wasn't possible to arrange that from afar. We found that several companies at the airport were willing to accept our one-way request for a small additional charge.
Drive
If you prefer the flexibility of your own car and want to see more of the country, you can rent a car when you leave Panama City and drive to Boquete. The route takes approximately 8 hours and goes through some mountainous terrain, but a friend we met during our trip did the drive and had no issue with it.
Shuttle
Will you be going to Bocas del Toro first? There are a few shuttle van companies that will take you from Bocas Town on Isla Colon to the center of Boquete (or the reverse) for very reasonable prices. The trip takes approximately 4 hours and costs around $40 (varies by provider); we used Hello Panama and were satisfied with the experience. This overland trip takes you through some of Panama's most amazing scenery, but if you're prone to motion sickness it might be wise to take some precautions as the road can be curvy and bumpy at times. The shuttle makes one "pit stop" along the way at a service station with somewhat questionable bathrooms. Ladies, bring your own TP!