Are you visiting Panama? Your time in the country will almost certainly begin or end with a few days exploring its capital city, and there are lots of fun activities to check out. It was the first stop on our family gap year trip around the world, and we were very happy with all of the great family activities in Panama City, Panama!
Looking for more ideas for visiting Panama? Check out our complete guide!
Pro tip: Take Uber everywhere! It's cheap and easy, and the cars are generally nicer than regular taxis (especially from the airport). Many rides in the city are just a few dollars. If you're traveling with young kids, check out the best travel car seat options to use in Uber. If you're new to Uber, save $5 on your first two rides.
Things to do in Panama City with kids
Visit Miraflores locks
There is nothing for which Panama is more famous than its namesake canal, which connects the Caribbean Sea and the Pacific Ocean through a series of locks relying only on gravity and clever engineering. The Canal opened in 1913 and has changed the world in so many ways over the last century, from accelerating the globalization of commerce to impacting global ocean circulation patterns that drive weather systems. Today there are 14,000 ships that pass through the Canal every year, and if you plan your visit to the locks right, you'll be able to witness some of them. You can easily combine a visit to the Miraflores locks with a stop at the Biomuseo below.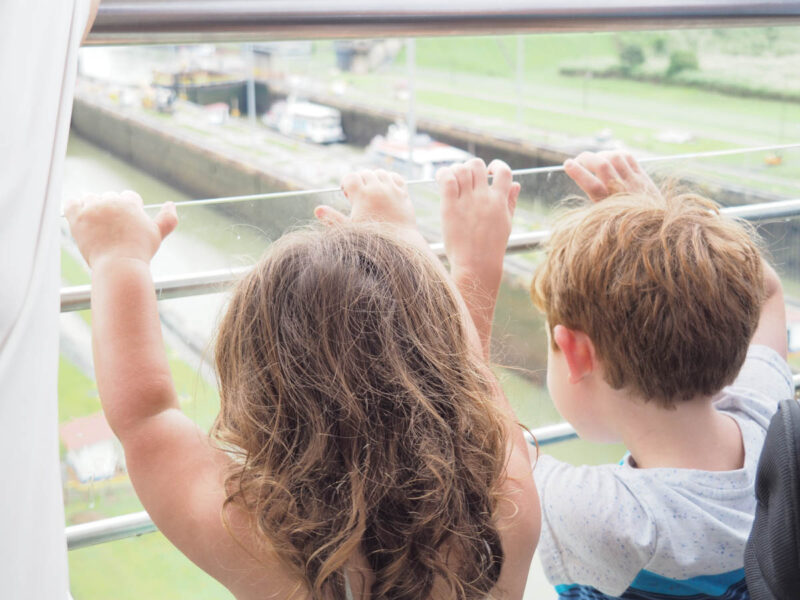 Biomuseo
Located part of the way out on the Causeway Amador, the Biomuseo is a gorgeous, colorful Frank Ghery designed space dedicated to the wealth of biodiversity of Panama. We love the way the museum's layout integrated the world-altering formation of the Panama isthmus with discussions of Panama's past and present species of flora and fauna. What's more, there's even great information on Panama's history from multiple perspectives from the pre-Colombian era to present day engineering marvels. A visit to Biomuseo is a great complement to the Miraflores locks, as it's just an affordable Uber ride separating them.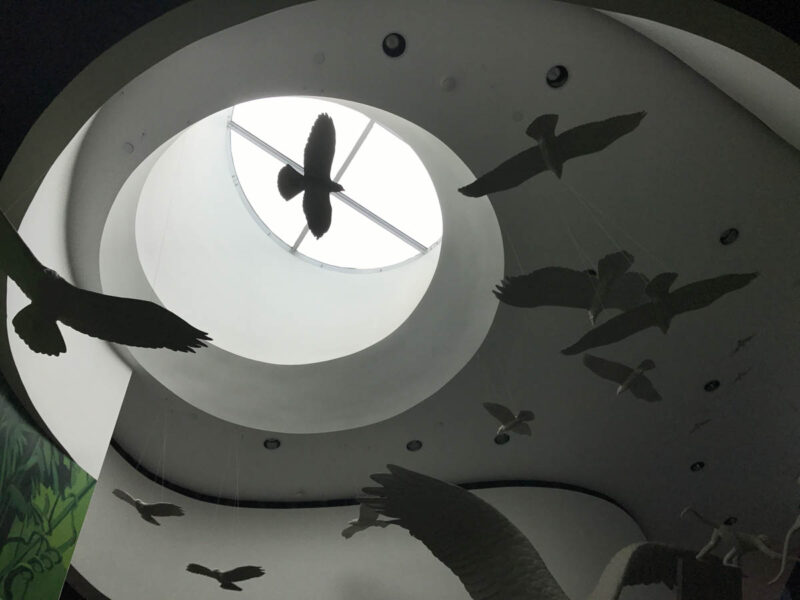 Monkey Island and Panama Canal tour with Panama Day Trips
If you only have two days in Panama City, make sure to book this small group tour with Panama Day Trips. The monkey islands in Panama are a fun and interesting place for visitors of all ages, and these wonderful tour guides provide great context to make it a rich experience. You'll also get to see both coasts of Panama, the newest project of the Panama Canal and much more. This tour was one of the highlights of our trip to Panama! Read more about it here or book your tour today.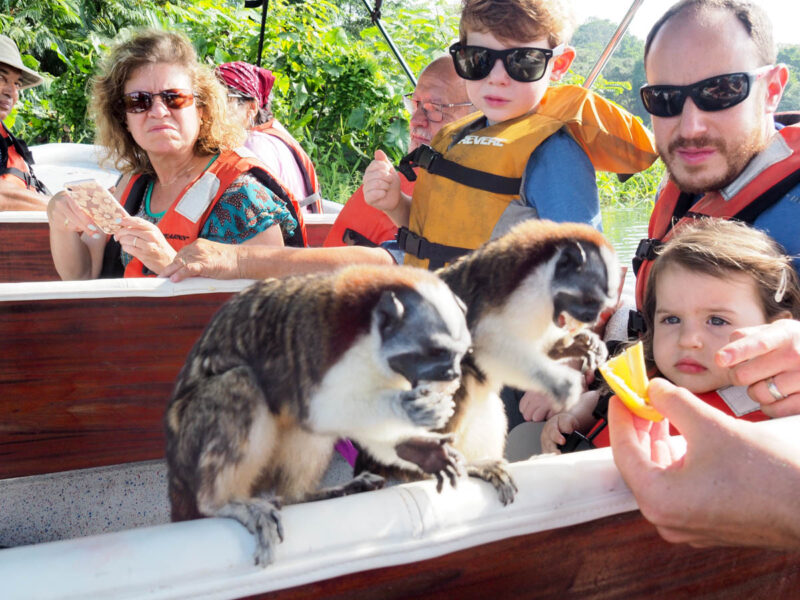 Smithsonian Tropical Research Institute
If your family enjoys visiting zoos and aquariums, don't miss the Smithsonian Tropical Research Institute's (STRI) small FREE educational center on the Causeway Amador. Our whole family "ooooh"ed and "ahhhhh"ed at the sea turtle display, while the young English-speaking guide in the reptile exhibit taught us so much and did an amazing job of engaging the kids. There's also a beautiful touch tank with sea stars and a building housing aquariums representing each of the various aquatic habitats of Panama.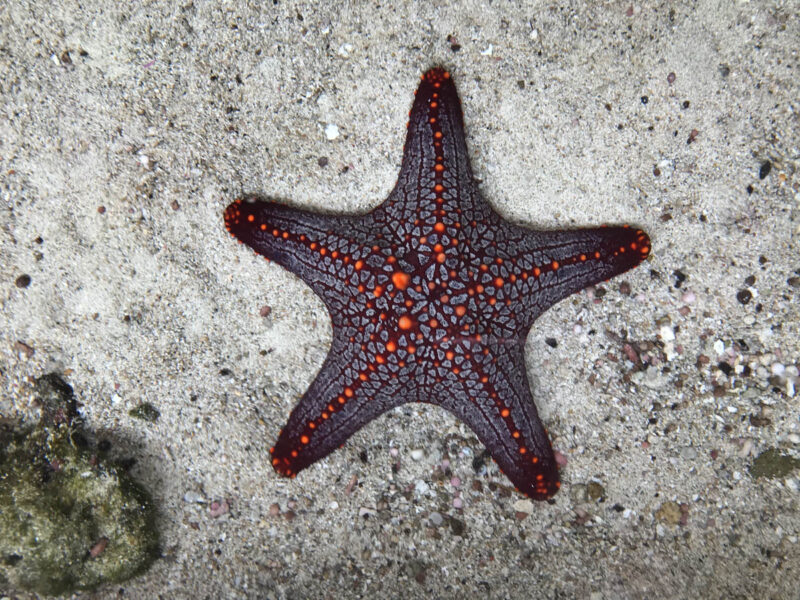 Bike the Causeway Amador
One of Panama's newer public works projects is the Causeway Amador, a 6km path for walking and biking that extends from the main portion of Panama City all the way out past STRI and Biomuseo. The bike rentals were very affordable compared to the US, and drivers other cyclists out that direction seemed generally respectful. You can either rent bikes in the city and go out to the Causeway, or as we did, rent at the end of the Causeway and go back in the direction of the city. We kept our family's ride very short, as it was Jacob's first solo ride, but he did great and made it to the Smithsonian for a visit.
We were pleased to find that Burke Bikes has a wide range of options available for our family, including a rear-mounted seat for Shoshana and a 14" kids bike for Jacob (with his choice of whether or not to use training wheels). They also offer family-sized quad bikes if you'd rather have everyone together. No matter what gear you choose, there's a nicely paved, dedicated bike path that runs adjacent to the sidewalk – no worrying about oncoming traffic! There's also a great nautical-themed playground where parents can enjoy city or sea views while the kids practice their climbing skills. And if you find the bag of Shoshana's clothing that we left behind, please sent it our way!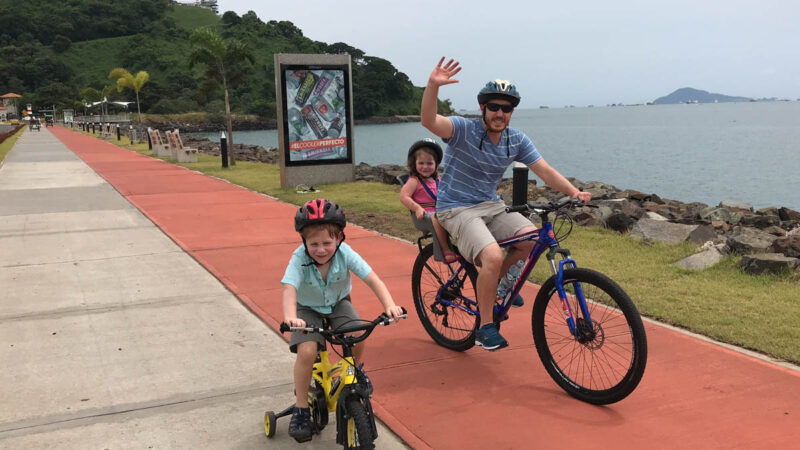 Stroll through Casco Viejo (Casco Antiguo)
I'll admit that I don't think we did justice to Casco Viejo (displayed on local signs as Casco Antiguo). This section of the city dates from the 17th century and is an amazing place for street photography, especially in the evening! It's an area that really demonstrates the juxtapositions you'll find in Panama City, with decaying buildings now housing a bustling night scene. If you have the time an interest, I'd recommend booking a free walking tour of the area – it's probably the best way to quickly get acquainted with a city.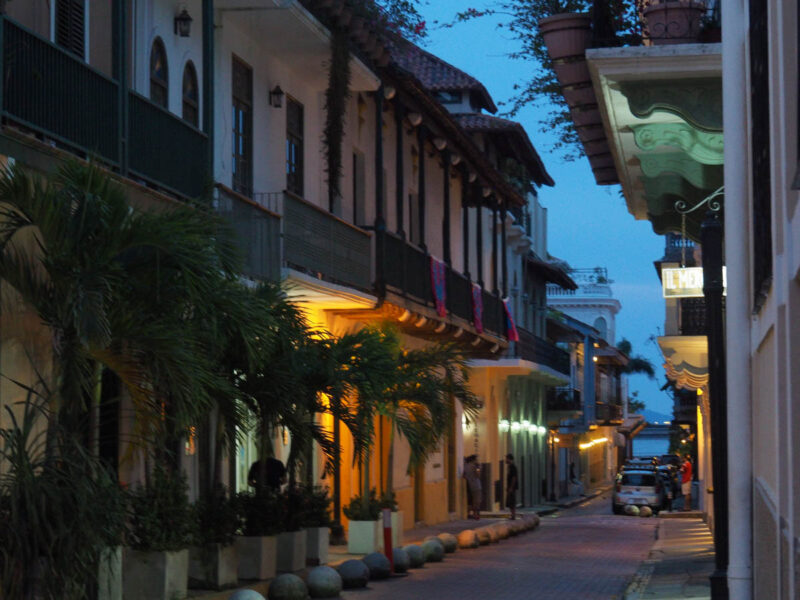 Where to eat in Panama City, Panama
By far our favorite restaurant in Panama City is the venerable El Trapiche in El Cangrejo. The bargain-prices Panamanian restaurant attracts tourists and locals alike with its delicious food at extremely reasonable prices. We liked it so much that we ate on their spacious patio twice! The portions are extremely generous, so order accordingly.
Between us, we sampled the range of Panamanian specialties: frijoles y arroz for Shoshana, ceviche for me, "amazing" steak for Jacob and "old rope" for Ronnie – all served with a healthy portion of caramelized plantains to finish things off. For the adult visitors, you'll find all of your favorite Central American cocktails on the menu (especially rum-based drinks!). If given the choice again, we'd probably eat every meal at El Trapiche in Panama City.
Where to stay in Panama City, Panama
We liked staying in the El Cangrejo neighborhood for its centrality. We had a great stay at the Hampton by Hilton Hotel and it was an awesome bargain – with their long weekend promotion and our AAA discount, we paid only $75 per night for a two-bedroom, 1.5 bathroom suite!  While we often stay in vacation rentals to give our family more space to spread out, the Hampton by Hilton was almost as spacious. The hotel also features a swanky rooftop pool with amazing views of the city at night. Ronnie loved sneaking off to the fitness center after the kids went to bed. In the morning, breakfasts featured a mix of typical American far and local specialties. Book your room today!