So many South Island New Zealand adventures focus on the southern end of the island, but for all your sun-lovers out there don't miss the Tasman region! There are so many things to do in Nelson, NZ and nearby that you could keep busy for days. We loved our relaxing time in the area, and so did our new travel friends Kristie and Ben (and their "Tagalongs", ages 9 and 6). We met at the end of our family's time in New Zealand are are totally blown away about some of the (crazy) adventures they undertake. Follow them on Instagram to see what sort of daring activities they're up to (and make sure you're following us too, while you're at it) and read on for what to do in Nelson and beyond – from our family and theirs!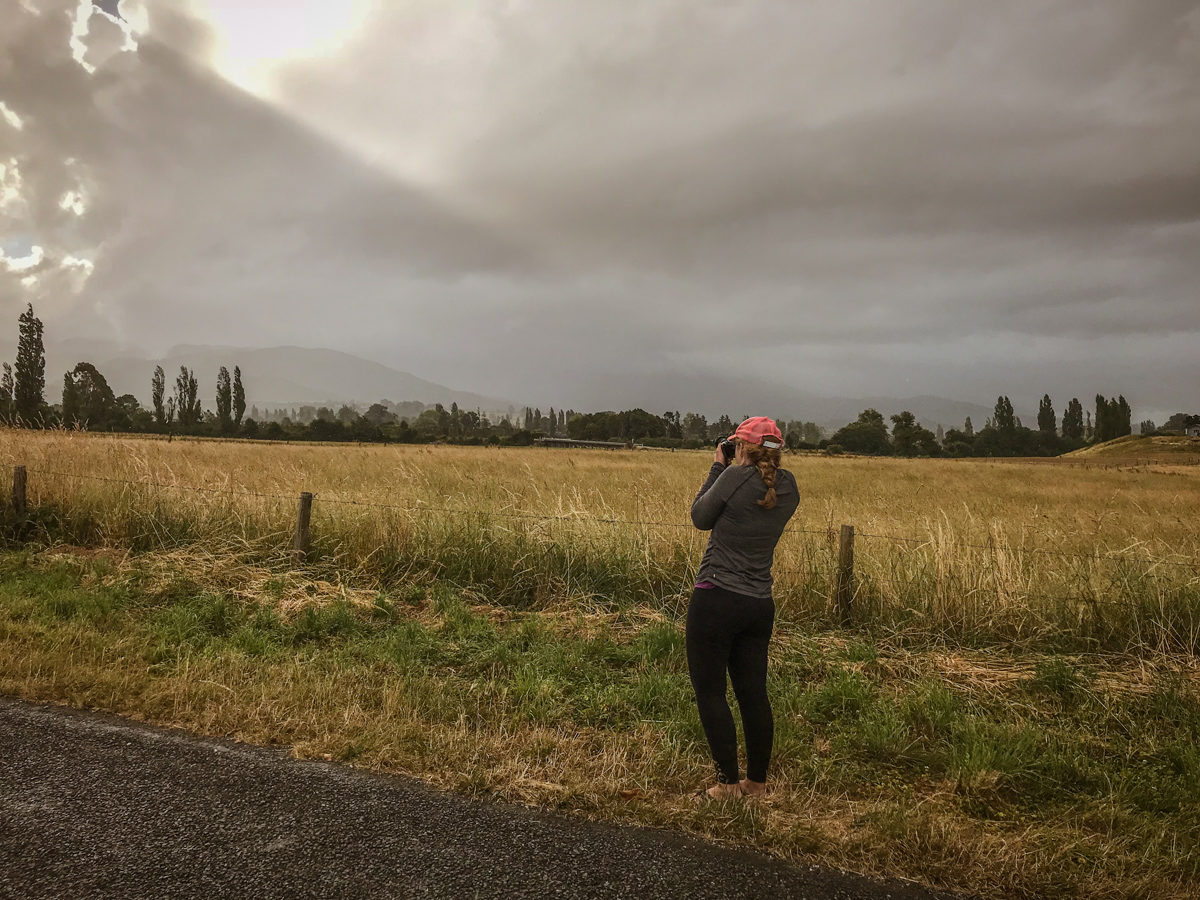 Swim it: Check out the amazing Tasman beach options
The Tasman region of New Zealand is famous for its amazing beaches, and the great thing is that they're all different! Whichever beach you pick, make sure to bring some awesome travel towels since most accommodations in New Zealand don't provide anything for the beach and of course some really good physical barrier sunscreen.
Heading to the North Island? Check out these spectacular beaches!
Use the interactive map to find vacation rentals and hotels in Tasman, New Zealand
---
Pohara beach
We used Takaka as our base for exploring the stunning Tasman area at the northern tip of the South Island, and our local beach made for a great stop. At least on the summer day when we visited, it was extremely windy so we got great layers of short waves for jumping and splashing. It was also a great opportunity to watch some kiteboarders showing off! It was definitely a great way to spend Christmas in New Zealand when everything is closed.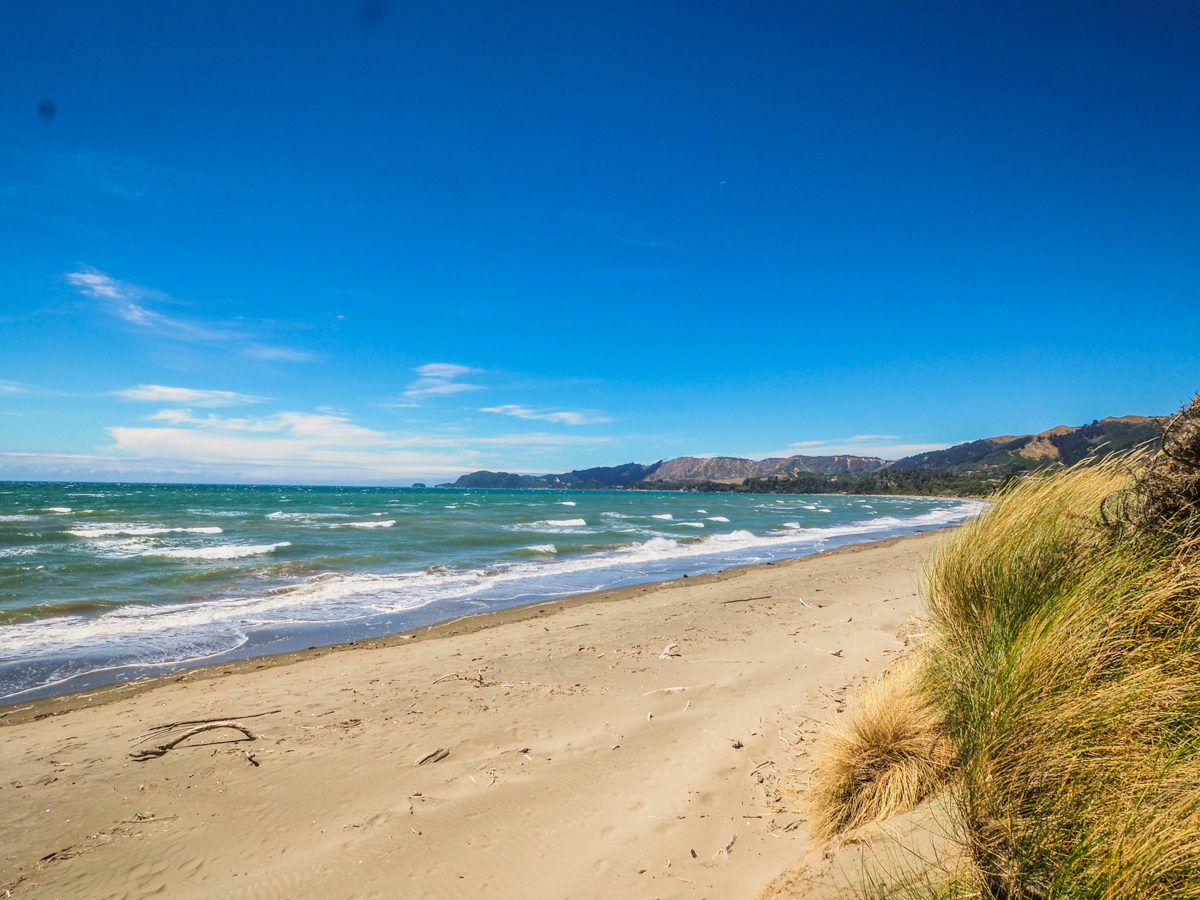 Rabbit island beach
Apparently you don't have to go to the tropics for water that feels like a nice bath! We partnered with Trail Journeys Nelson to rent bikes from their Mapua outpost (more on this below!), take their little bike ferry across the water and then ride the gravel track next to magnificent conifers with lovely aroma. Rabbit Island beach at the end of the trail was extremely popular due to being Boxing Day and unseasonably warm. In fact, we were told that the local newspaper reported sea surface temperatures 4C warmer than usual. Rabbit Island has plenty of space for camping and caravans, so feel free to linger a while (you can drive to the island via a bridge directly to the beach car park). Overall this is a fun, family-friendly beach where you'll want to stay and play.
Puponga beach
On the far north end of Golden Bay, quite near Farewell Split, there's a tiny cove at Puponga. We hadn't initially planned to go there but stopped to take a picture of the stunning view and then got clued in by some friendly campers that this was the place to be. It's a spectacular Golden Bay beach, so I'm a glad we listened! The water was shallow enough that even little Shoshana could walk almost all the way across, and we loved looking down in the water to see schools of perch surrounding us. As the tide got lower and lower, we discovered a huge colony of sea slugs living on the shore – a great opportunity for some science class and fascinating for us all.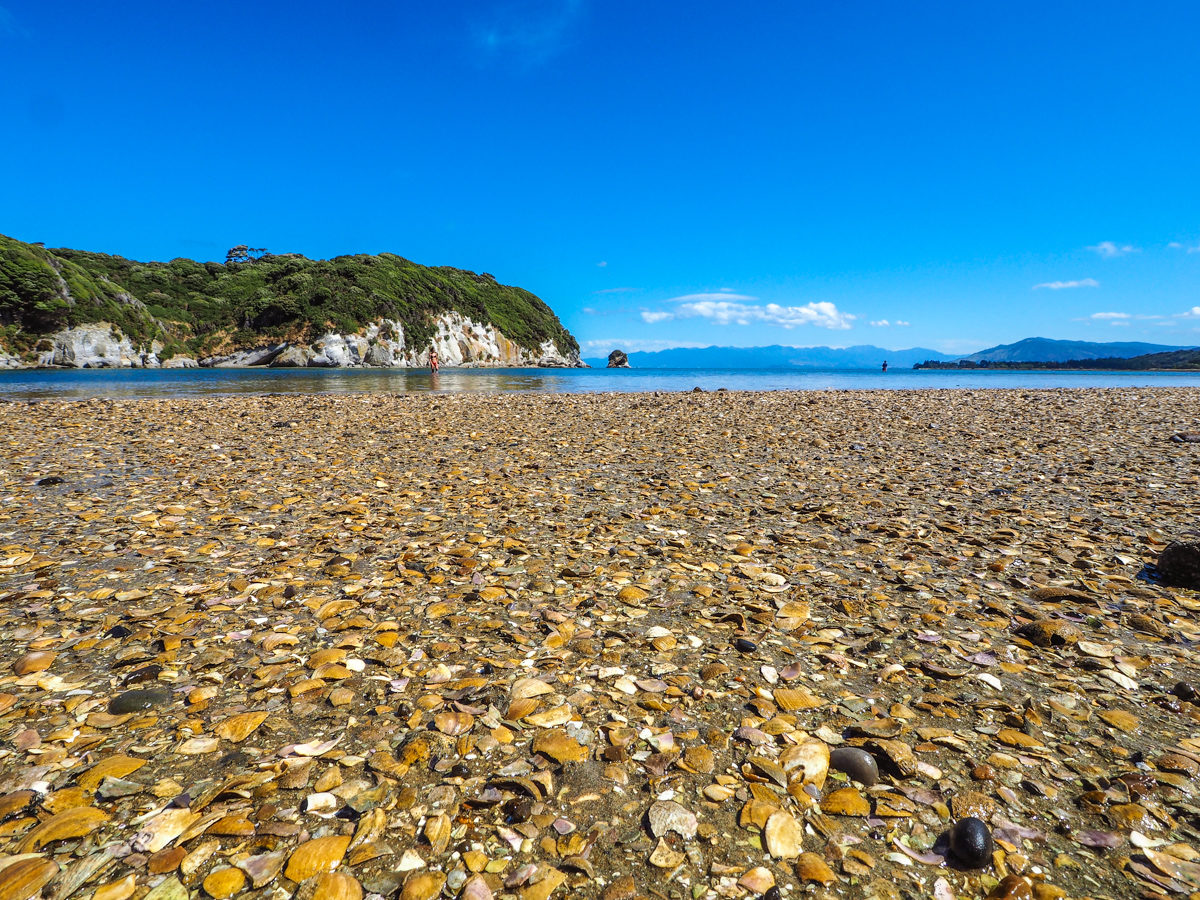 Totaranui beach
When visiting the Tasman region, the classic "must see" spot is Totaranui. Its crescent of golden sand offers the best beach in Abel Tasman National Park. Unlike much of the other fine white and tan sand we encountered in New Zealand, here the color and texture are more like coarse-ground cornmeal. The place is absolutely pristine, though the waters are chilly. There are water taxis available to shuttle beach goers and backpackers to the nature reserve on the other side of the bay, but be advised that they're a bit pricey and cease operations in mid-afternoon (which we find inexplicable, given that sunset during our summer visit was almost 10pm).
Pro tip from Kristie: If possible, get out on the water!! Kayaking in Abel Tasman is world class. See dolphins, penguins, sting rays and seals plus lots of seabirds. and you are able to access many secluded beaches and coves not accessible any other way.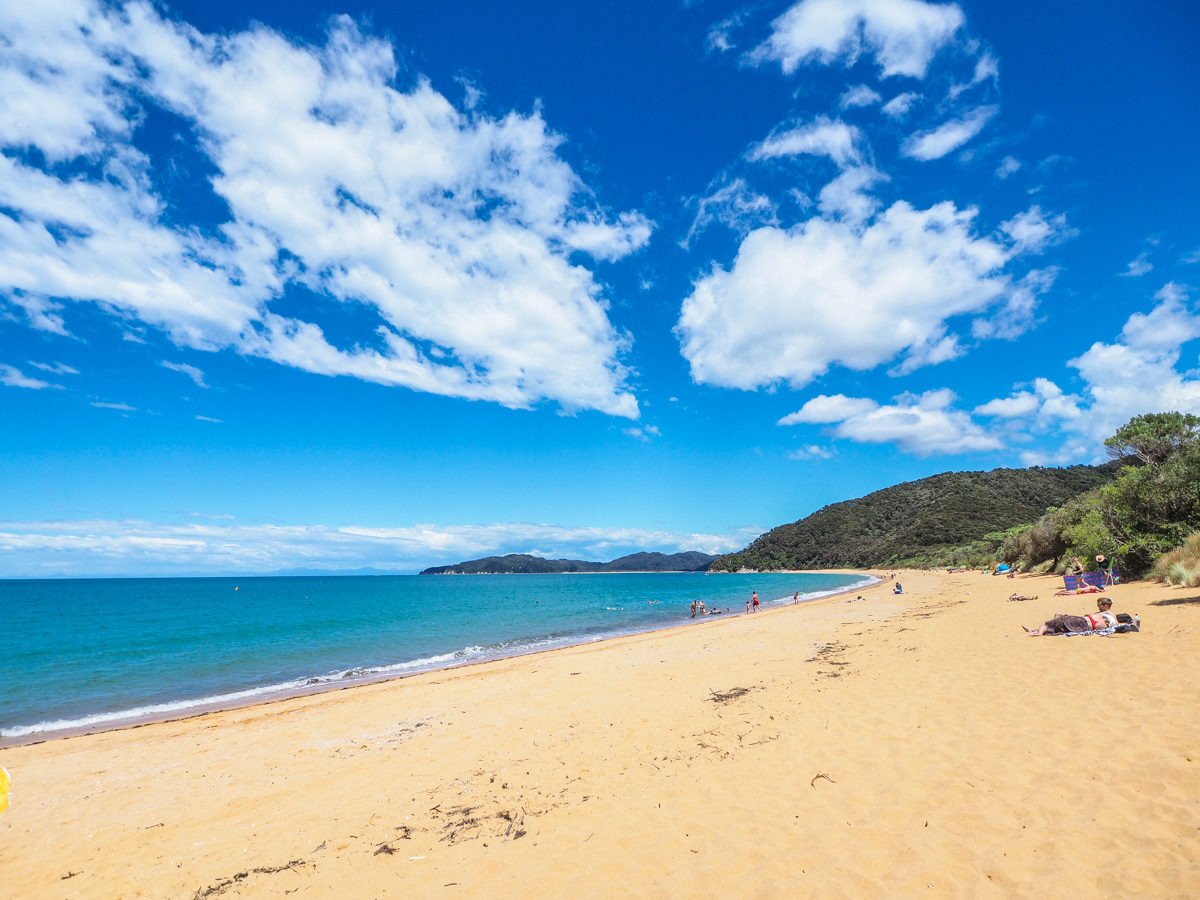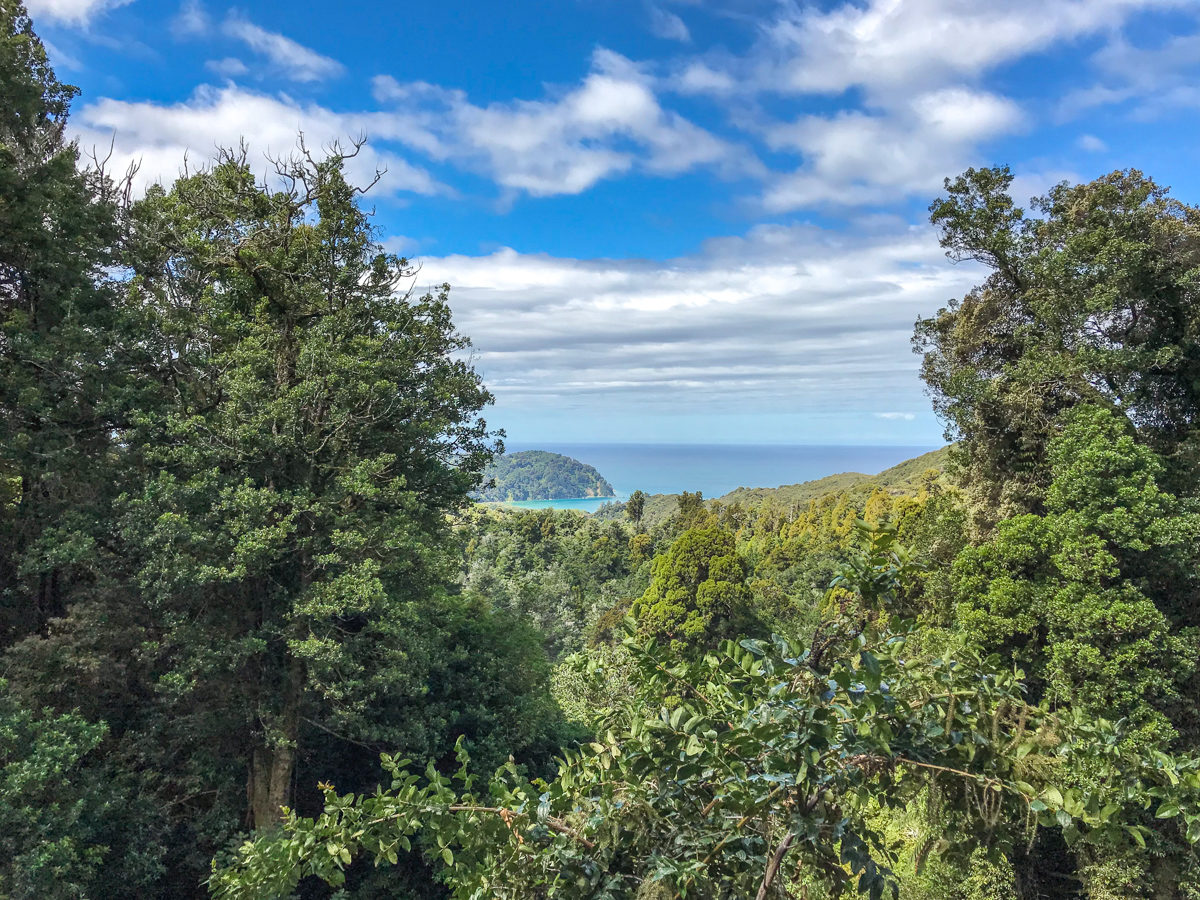 Bike it: Check out Nelson bike trails for riders of all types
Nelson and its surroundings are full of bike trails for riders of all ages and abilities. Looking for a great bike shop in Nelson? Trail Journeys Nelson has you covered no matter your plans or location – you can pick up bikes from Nelson, Mapua or Kaiteriteri, and you can either return to the same depot or a different one. Trail Journeys can arrange a variety of transfer options, including both shuttles and ferries. Check out these amazing Nelson bike trails:
Rabbit Island bike ride
Right before we left the US for our trip around the world, Jacob decided he was ready to ditch the training wheels and enter the world of grown-up cyclists. We've always loved family bike rides and were excited for him to join in as an equal participant in the adventure. Our travels haven't afforded many opportunities for cycling yet, but we were thrilled to find out that Trail Journeys could set us up on a lovely 8km ride on Rabbit Island to let Jacob get his feet wet (both literally and figuratively).
The Rabbit Island tour starts at Trail Journeys' Mapua depot, where the awesome staff got us all set up with great gear. They were some of the cleanest bikes we've ever rented and everything worked perfectly. They have an awesome range of bike equipment for families with kids of all ages: trailers, tag-a-longs, rear-mounted child seats and kids bikes as small as 18″. Jacob was in love with his swanky yellow Avanti bike and begged to take it home, while Shoshana was happy to assume her co-pilot position behind Ronnie. After getting geared up, we hopped aboard the specially-outfitted ferry to Rabbit Island. The ride was short, but it was still lovely being out on the water and we were really impressed by the design of the ferry – it could hold around two dozen people and their bikes.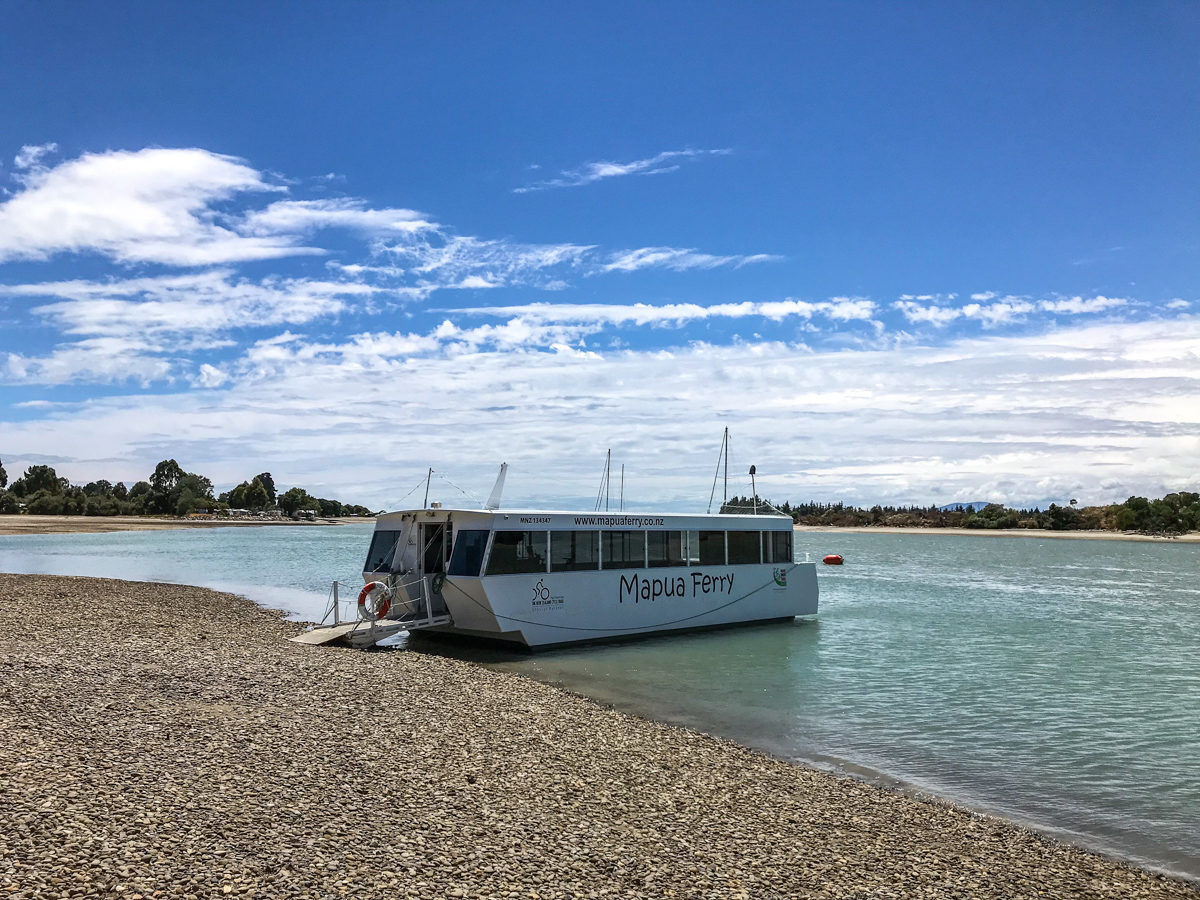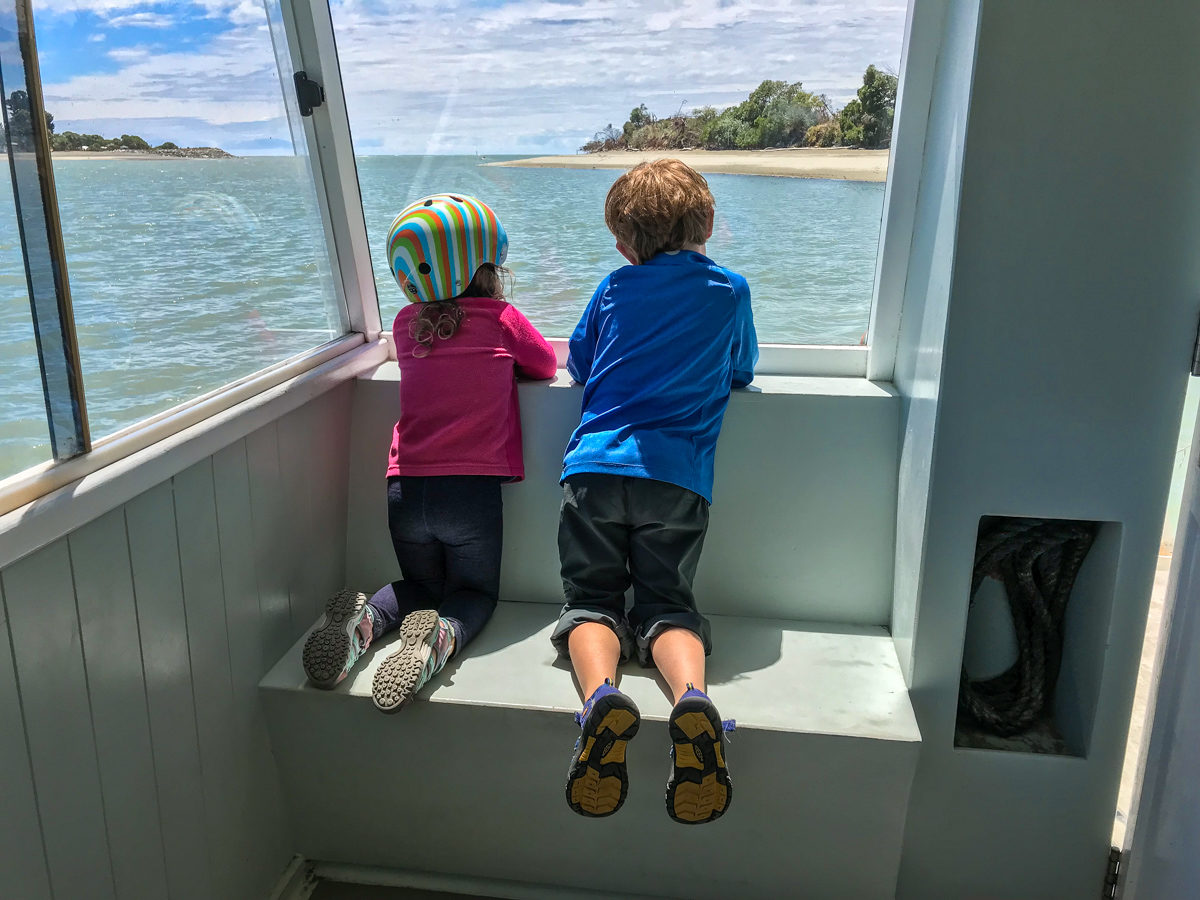 Once we disembarked on Rabbit Island and went up the initial hill, the trail was immediately in front of us and ripe for the taking. The trail itself is straightforward, just 4km each way and no hills. Fair warning to new cyclists: most of the path is gravel and some is packed dirt. Unfortunately Jacob had a tough time with the terrain since it was his first major independent ride (though he still did AMAZING in our estimation), but for kids who have had even a little experience on their bikes this would be a perfect, easy ride. Even apart from that challenge, we all had a great experience.
Make sure to schedule yourself for an early start and bring your beach gear in the provided panniers, because the beach at Rabbit Island is absolutely beautiful! We visited on Boxing Day, so it was full of families camping, picnicking and enjoying the spectacular weather. It's a lovely beach for splashing around and a little light body surfing.

We took the same route in reverse and hopped the ferry back to the Mapua wharf – be sure to keep an eye on time, as the ferry service is only hourly unless special arrangements have been made. When we returned to the shop, they were kind enough to indulge the kids and let them ride around in the quiet part of the parking lot for most of an hour, even with a tiny bike on training wheels for Shoshana. Trail Journeys is really a leader in family-friendly bike hires.
Bonus: the Mapua depot is right near some awesome wineries! Ronnie had a great visit to Neudorf for a little wine tasting, while the kids and I grabbed some delicious ice cream and shakes from Hamish's.
New Zealand mountain biking in Kaiteriteri
Check out the mountain bike adventure of our friends Kristie, Ben and their Tagalongs! Trail Journeys Nelson set them up with mountain bikes even small enough for their 6yo.
Park City, Utah, our home, is a world class mountain bike destination in the summer and we love biking as a family. Wherever we travel in the world we like to check out the mountain biking and New Zealand happens to be a mountain bike mecca of its own. While in the Nelson area we had heard of a bike park with kid friendly trails near the beautiful Kaiteriteri beach so we decided to make a day of it. We arrived at Kaiteriteri in the morning to enjoy the famous golden sand and turquoise water while the tide was low and the crowds were too. As soon as we had our fill of the beach we hopped on our mountain bikes. We were able to ride to the Kaiteriteri mountain bike park right from the beach! New Zealand has invested in a big way over the past several years building well thought-out, well maintained Nelson bike trails, and being in New Zealand you know the surroundings are always stunning. These trails were no exception. We choose a trail recommended for kids: smooth, rolling trails through the forest with peekaboo views of the ocean when you least expect it. From age 6 to forty something we all had a blast! They say this is the ultimate destination where mountains meet the sea, and I have to agree. Definitely a "must do" if New Zealand mountain biking piques your interest.
Don't forget your bug spray and your CamelBak (check prices here)!
Other Nelson cycle trail options
We didn't have an opportunity to explore the complete Nelson cycle trail options, but there are many, with lengths and challenges suitable to all riders! One of the most popular is the "Taste Trail", which takes you past wineries, breweries and plenty of restaurants. Right now the government is working hard to build out a Rail Trail, similar to the one in Central Otago. Once that is complete in the next year or two, cycling will surely be one of the most popular and best things to do in Nelson.
Heading further south? Don't miss the epic Otago Central Rail Trail, the best NZ cycle trail! Read more details here.
Are you looking for the best bike for kids to buy? Check these out!
Hike it: Explore the Abel Tasman coast track
Ready to step up your outdoor adventure? Kristie, Ben and their kids conquered the Abel Tasman coast track! They made it family-friendly by doing two days (15mi total) and two night on the trail and then taking a water taxi back, though others continue the full 37 miles. Looking for hikes elsewhere in New Zealand? Check out these great options.
Making our way to Nelson, the tip top of the North Island, we were excited to check out the Abel Tasman National Park. As with most things we have encountered in New Zealand Abel Tasman exceeded all of our expectations! One of the great things about this area is that you can customize your experience and slice it up any way that works best for you. Weather you choose to backpack the entire track, do a day hike or kayak, it's your choice. Reservations are needed for campsites, huts and water taxis.
We had brought most of our essential backpacking gear with us from home but we needed to fill in a few holes. There are many outdoor shops in Nelson and they make it very easy to rent backpacking gear. We worked with Rollos Outdoor Centre, and they set us up with a tent, sleeping pads a billy and a cooker (kiwi for pot and stove). We also picked up some high powered bug spray – we weren't willing to go organic against those nasty sand flies we had heard so much about. You can also check out these awesome mosquito repellent wipes for easy packing.
Check out this fan-favorite Osprey Kyte if you're planning on serious backpacking during your travels.
Pro tip: Plan your trip and book campsites/huts from the DOC.
Planning your trip to New Zealand
Are you getting ready for an epic trip to New Zealand? Don't miss these articles to help you plan:
Planning an epic New Zealand roadtrip? Check out these top tips.