Are you planning a trip to see Gibraltar monkeys soon? Get excited! 
I've asked our friends Kelsea and Nicholas of Out of Office Mindset, to share their helpful tips for visiting the Gibraltar Monkeys. They visited the iconic Gibraltar monkeys earlier this year and are excited to share their firsthand experience to ensure a safe and unforgettable encounter with these charming creatures. 
They will provide you with expert advice on making the most of your visit, respecting their wild nature, and creating lasting memories.
Prepare yourself for an incredible adventure as we guide you through the enchanting world of Gibraltar's monkeys while exploring the history, culture, and natural beauty this destination has to offer.
Gibraltar Monkeys: Facts and History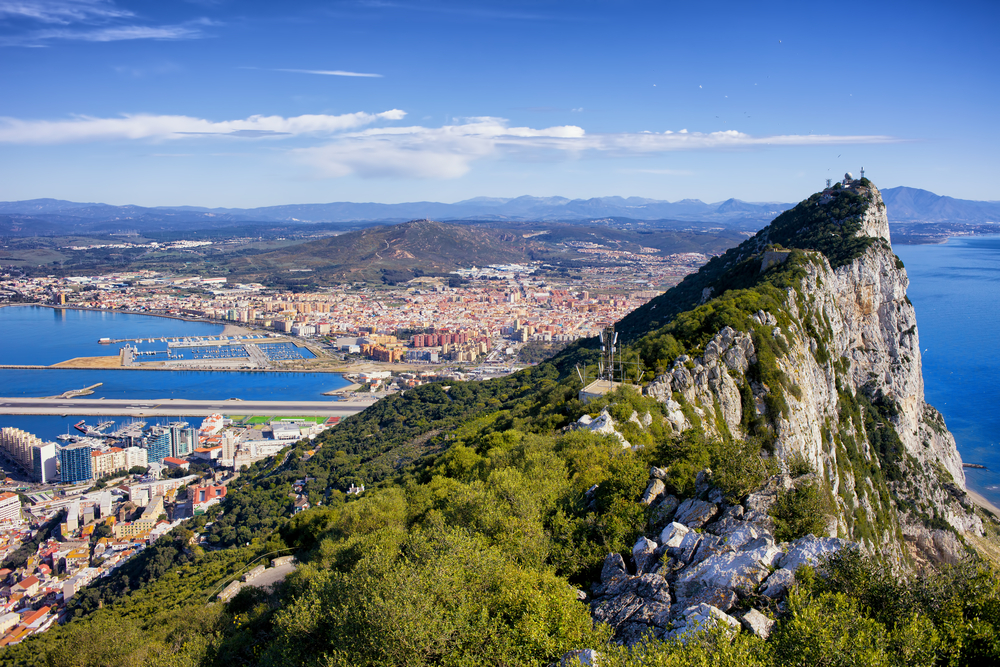 The history of these monkeys in Gibraltar is as intriguing as the creatures themselves. They are believed to have arrived from North Africa around 1,000 years ago, possibly brought over by the Moors who occupied Spain at that time.
Over the centuries, their population fluctuated due to various factors such as disease, war, and human interference. At present there are around 200-300 monkeys on Gibraltar.
During World War II, Sir Winston Churchill, concerned about the dwindling monkey population, ordered their numbers to be replenished from Morocco, citing an old legend.
The legend states that as long as the monkeys exist in Gibraltar, the territory will remain under British rule.
These monkeys have not only survived but thrived on the Rock of Gibraltar, becoming the only wild monkey population in Europe.
Today, they are protected by law, and their well-being is monitored by the Gibraltar Ornithological and Natural History Society (GONHS).
Here are some fun facts we learned during our visit to Gibraltar:
They Are Known Locally as Apes: Even though the Barbary macaques are monkeys, the locals call them Barbary apes or rock apes. They do not have tails, just like apes, but are classified as monkeys (Macaca sylvanus).
They Have a 'King' or 'Queen': Each troop of monkeys has an alpha male or female that leads the group. This leader enjoys certain privileges like eating first during meal times.
They Communicate Using Facial Expressions: Barbary macaques use a range of facial expressions and body language to communicate with each other. They bare their teeth as a sign of aggression, and young ones stick out their tongues to invite others to play. We definitely saw this while watching them!
They Live in Matrilineal Societies: In Barbary macaque society, females hold the power. They stay in their birth groups for life, while males leave when they reach adulthood.
They're Excellent Groomers: Grooming is a big part of a Barbary macaque's day. It helps them bond with each other and keeps their fur clean.
As we, Nicholas and Kelsea, discovered during our visit, there's something incredibly captivating about watching these primates go about their daily lives.
We encourage you to add this experience to your travel itinerary and immerse yourself in the fascinating world of the Gibraltar monkeys. It makes an ideal day trip from southern Spain!
11 Tips for Seeing the Gibraltar Monkeys
1 – Respect the Wildlife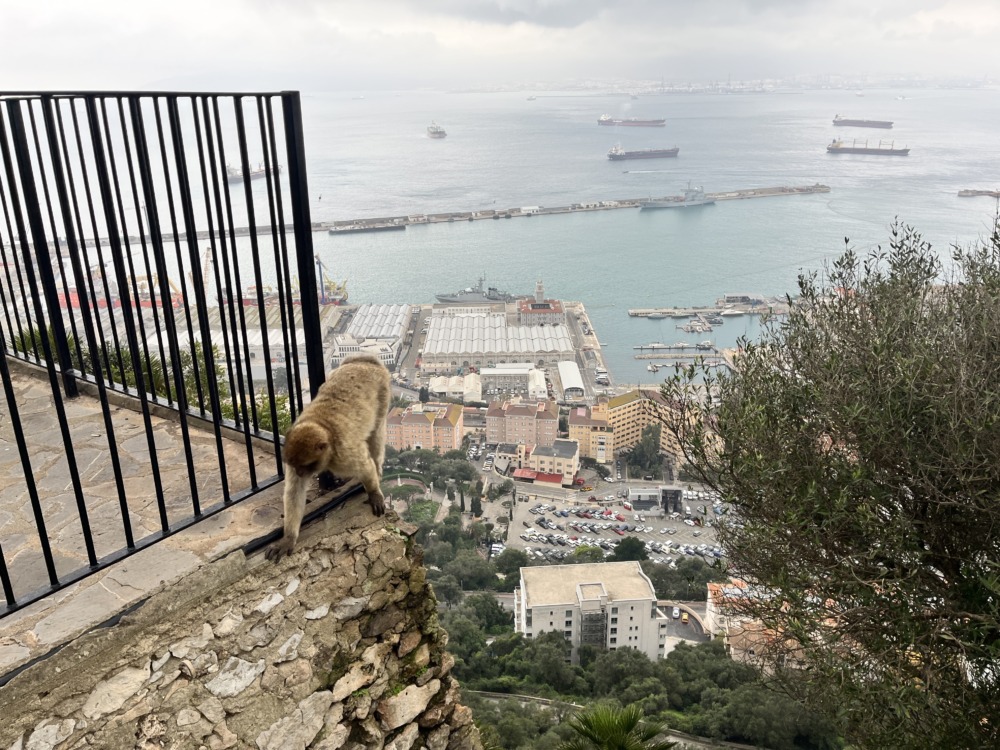 The Barbary macaques are the heart of Gibraltar's wildlife and one of the top attractions in Gibraltar. 
These creatures are not just another attraction, they are wild animals with their own behaviors and needs. As we step into their home, it's our duty to respect their space.
Remember, these are not pets or performers – they're proud, independent beings living in the wild. Let's admire their beauty, cherish their presence, and most importantly, let's respect their wild nature.
This way, we can ensure their survival and continue to enjoy their enchanting presence on our future visits.
2 – Backpacks on your Front
While exploring the natural habitat of Barbary macaques, one vital tip to remember is to wear your backpack on your front.
Why, you might ask? These intelligent creatures have learned bags mean food and will jump on your bag if you're wearing it on your back to look for food.  
Wearing your backpack on your front discourages any unwanted attention from our primate friends and keeps your belongings safe!
It's a simple action that goes a long way in ensuring a harmonious encounter with these wild animals. Remember, we're here to observe and respect their space, not to disturb or provoke them.
3 – Stay Calm and Quiet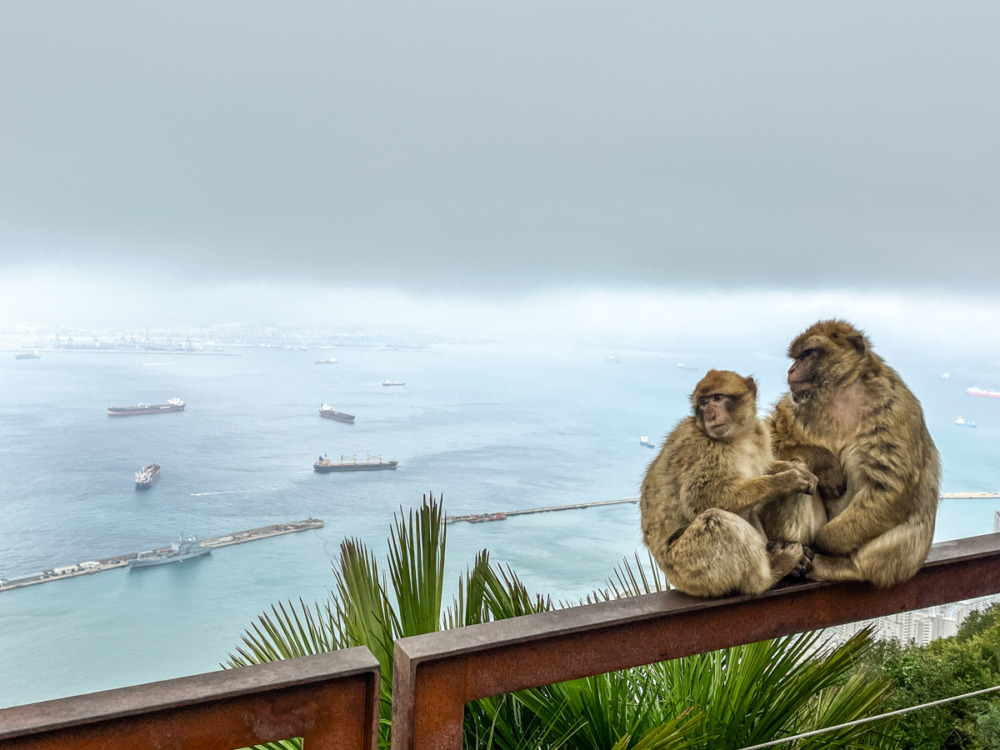 Staying calm and quiet is a golden rule while observing the Barbary macaques.
Remember, these are wild animals who are not accustomed to loud noises or sudden movements. By keeping our excitement in check, we create a peaceful environment for both us and the macaques.
This is especially important if a curious macaque does jump on you. The best thing you can do is stay still and calm! They will quickly move along, leaving you with a fun story for later,
So, when you're there, take a deep breath, soak in the scenery, and let the monkeys do their thing.
4 – Do Not Feed Them
We can't stress this enough: Do not feed the Barbary macaques!
It might seem like a harmless, fun interaction, but human foods are not suitable for them. Their bodies require specific nutrients that they get from their natural diet.
Feeding them can lead to malnutrition and other health complications. Moreover, it encourages dependency on humans, altering their natural behavior and potentially making them aggressive.
Therefore, deliberately feeding the macaques in Gibraltar is now an offense punishable by law.
Remember, our role is to observe, not interfere.
5 – Start at Apes Den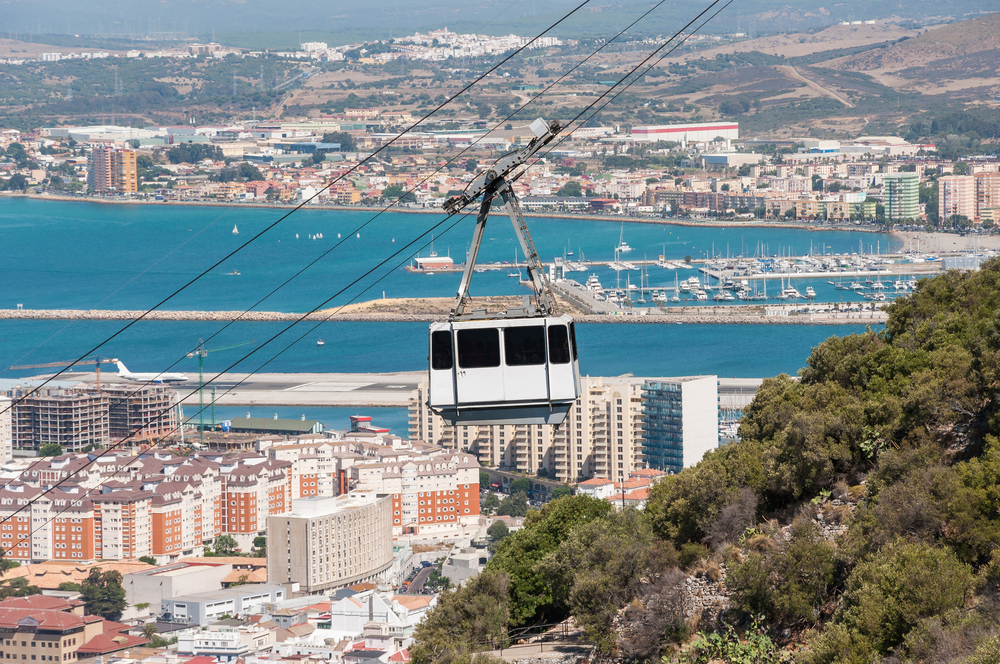 During our trip to Gibraltar, we discovered the best way to begin your macaque adventure is at Apes Den.
Conveniently located near the cable car station, it's a hub of activity where you can see the macaques up close in their natural habitat.
Afterward, follow the trail that leads you to Windsor Bridge, then to St. Michael's Cave, and finally, the Skywalk. Each stop offers a unique experience and stunning views.
By starting at Apes Den, you're setting yourself up for an engaging loop of exploration that ends back at the cable car, making your trip both exciting and convenient.
6 – Don't Open Your Backpack
Keep your backpacks closed at all times!!
The macaques are curious creatures and are known to rummage through bags. We even witnessed them trying to open bags and rummage items on a stroller.
Keeping your bag closed prevents any unwanted encounters and helps maintain a peaceful co-existence during your visit.
7 – Give Yourself Plenty of Time
Take your time. There's no rush!
Giving yourself plenty of time allows you to truly soak in the experience. We recommend 2-3 hours on top of the Rock.
Watch their interactions, observe their behaviors, and appreciate the beauty of the Gibraltar monkey's natural habitat.
It's not every day you get to be in such close proximity to these fascinating creatures.
8 – Dispose of Trash Properly
As responsible visitors, let's ensure we leave no trace behind.
Littering not only spoils the beauty of the place but can also be harmful to the macaques and other wildlife.
Let's do our part in keeping their home clean.
9 – Have Your Camera Ready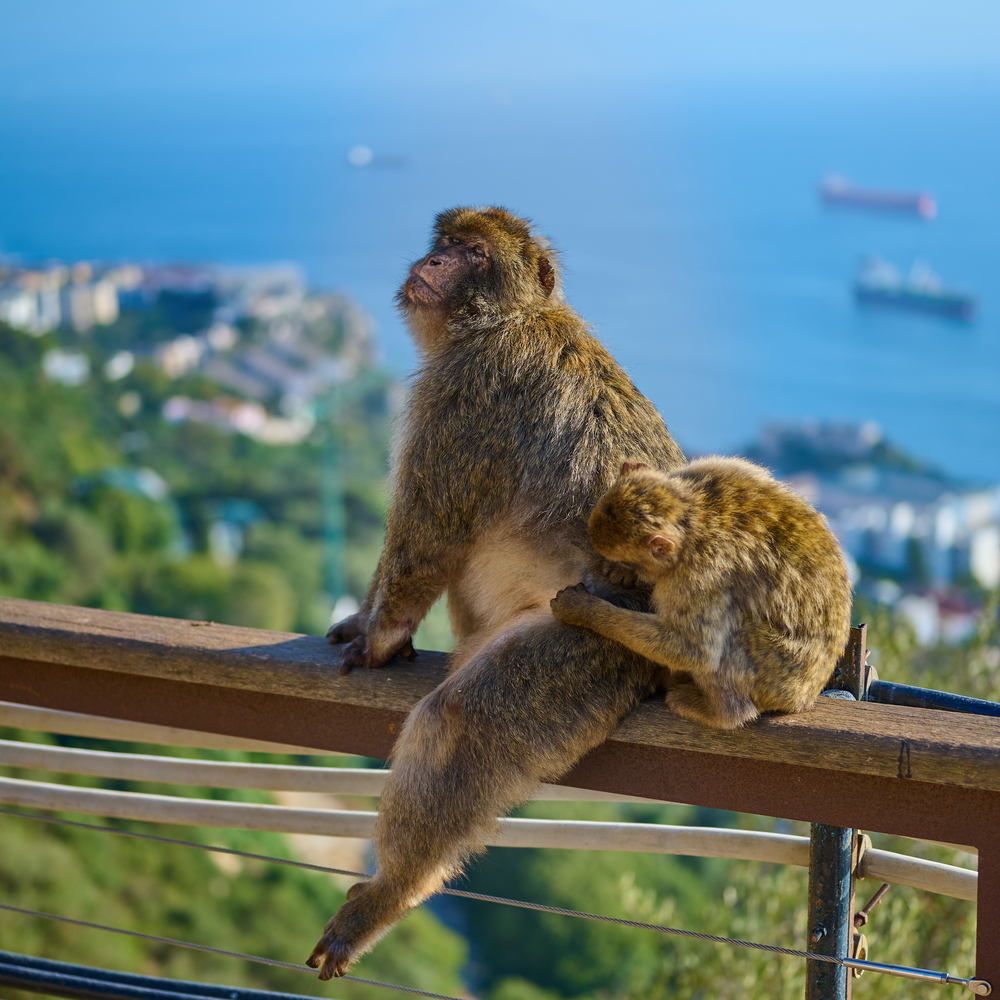 You'll want to capture these moments. So, have your camera ready at all times.
We liked shooting videos of the Gibraltar monkeys in order to capture the climbing, running, and jumping they do.
If you want high-quality still photos, you should consider bringing a digital SLR or mirrorless camera with a good zoom lens or opt for a "bridge" camera with lots of zoom built in. Because the Gibraltar apes move very fast and you need to keep your distance, you'll need a camera that focuses quickly and a lens that lets in a lot of light.
But remember, no flash photography as it can startle the macaques.
And of course, keep a safe and respectful distance while taking your shots.
10 – Upper Rock Nature Reserve Pass
To explore the Barbary macaques' habitat, you'll need an Upper Rock Nature Reserve Pass.
The Upper Rock Nature Reserve, an oasis for the Gibraltar monkeys, is a large conservation area that accounts for nearly 36% of Gibraltar's total land area.
The pass gives you access to the Nature Reserve where you can see the macaques and also enjoy other attractions and trails.
We usually purchase the pass along with our cable car ride tickets so we can explore and see the Gibraltar monkeys.
11 – Visit All the Sites Between Monkey Observations
The pinnacle of the Rock of Gibraltar isn't just home to the Barbary macaques; it's also where you'll find some of the territory's most mesmerizing sites.
One of the coolest sites is the stunning St. Michael's Cave, a natural wonder filled with stalactites and stalagmites, lit up to create a visual spectacle.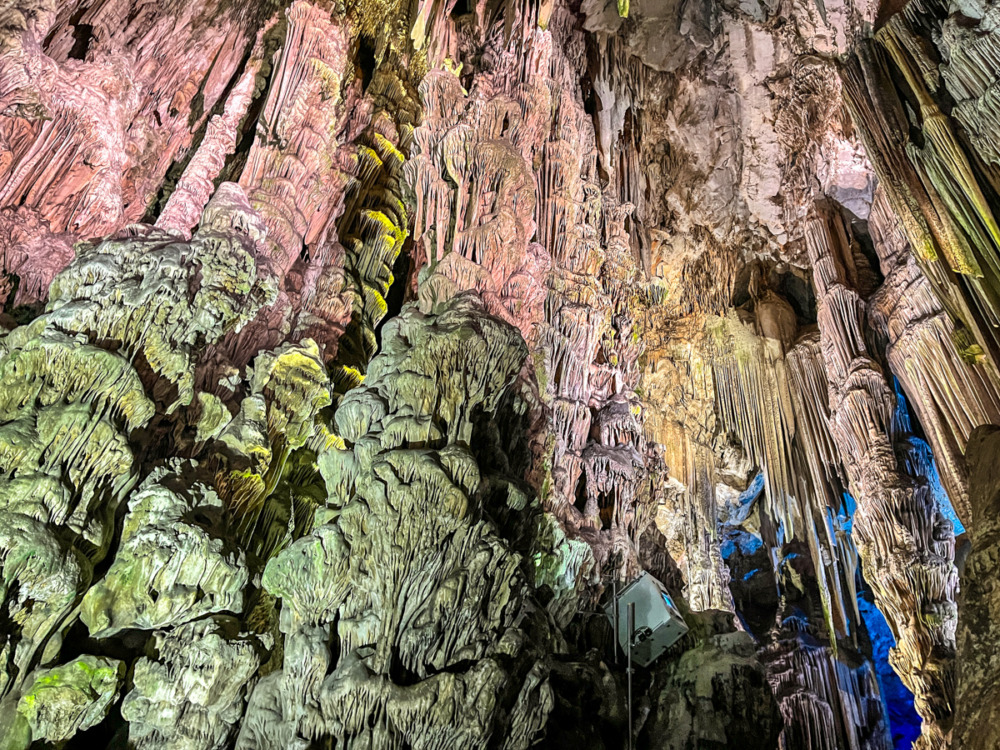 Close by is the Skywalk, an architectural marvel offering panoramic views of the Mediterranean, Spain, and sometimes Morocco.
Wandering around the rock, you will stumble upon other gems like O'Hara's Battery, the Great Siege Tunnels, the Moorish Castle, and the Windsor Suspension Bridge (pictured above).
Each site tells a part of Gibraltar's rich history and presents unique photo opportunities.
Best Tours to See the Gibraltar Monkeys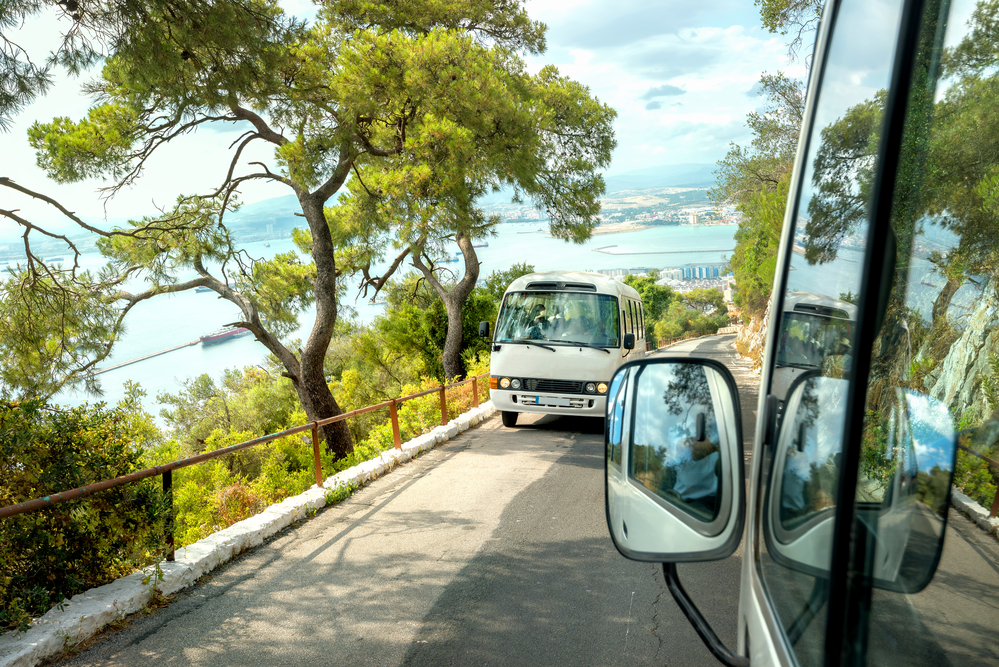 There are plenty of tours that'll take you to meet the Gibraltar monkeys.
We've done the searching to find the best ones, so you don't have to worry about a thing.
Rock of Gibraltar Tour by Van (Full Day)
On this extensive 7-hour private tour by Gibraltar Inside Out Rock Tours, you'll encounter Gibraltar's monkeys as you journey through 19 captivating sites. 
Your local guide will lead you from the historic Trafalgar Cemetery to the beautiful Gibraltar Botanic Gardens and up to the stunning Upper Rock Nature Reserve, where you'll spot the famous Barbary macaques.
These mischievous monkeys will be a highlight of your day, along with exploring other natural wonders like St. Michael's Cave, enjoying panoramic views from O'Hara's Battery and the Skywalk, and delving into the intriguing Great Siege Tunnels.
With admission tickets included and convenient pick-up/drop-off service, this full-day adventure is truly unforgettable.
Rock of Gibraltar Tour by Van (Half Day)
Rated 5/5 stars, this half-day tour led by a local guide takes you to 13 of Gibraltar's top spots, including a rendezvous with the Gibraltar monkeys. 
Travel in an air-conditioned 8-seater van and explore the natural beauty of the Upper Rock Nature Reserve, where Barbary macaques roam freely.
St. Michael's Cave will leave you in awe, and the Skywalk offers breathtaking panoramic views where you might spot more monkeys.
Learn about the historical significance of the Great Siege Tunnels and end the tour at Europa Point and picturesque Catalan Bay.
With all admission tickets included and convenient pick-up/drop-off service, it's a great way to see the highlights, including the playful monkeys, in a short time.
Rock of Gibraltar Tour by eBike
Don't miss the opportunity to see Gibraltar's monkeys on an e-bike tour by Rock of Gibraltar Tours.
This 3-hour journey on electric bikes takes you past iconic landmarks, including the Apes Den, where Gibraltar's famous monkeys reside. 
Guided by a local expert, this tour ensures you won't miss a thing.
These mischievous monkeys add a touch of wildlife magic to your eco-friendly exploration of Gibraltar's attractions.
Rock of Gibraltar Tour Walking Tour
Embarking on the Upper Rock Walking Tour in Gibraltar means you'll get up close to the Gibraltar monkeys. 
In this 3-hour experience, you'll navigate paths not accessible by car and encounter these playful inhabitants all over the Rock.
Your small group size ensures personalized attention from the local guide as you explore other attractions like the ancient Moorish Castle, the challenging Mediterranean Steps, and St. Michael's Cave.
This walking tour offers a unique and memorable way to connect with Gibraltar's rich history and its delightful monkey residents.
💡 Looking for more Gibraltar tours? Check out this full review of all the best tours in Gibraltar! 
Information for Visiting Gibraltar
Getting to Gibraltar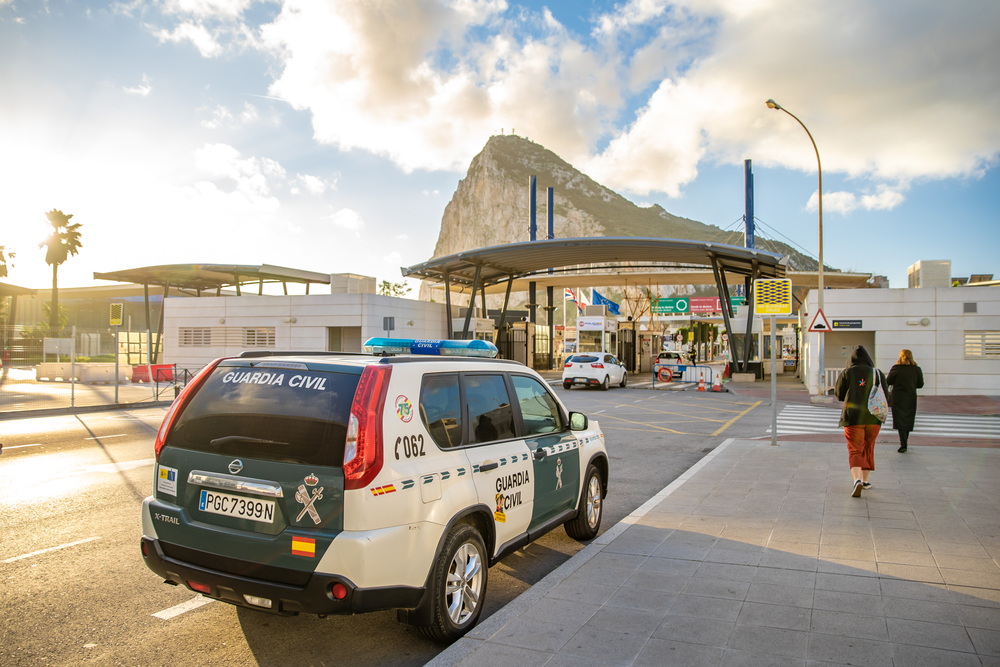 Accessing Gibraltar is convenient through multiple transportation options:
By Plane: Gibraltar International Airport (GIB) connects the via direct flights from several airports in the United Kingdom.
By Ferry: Gibraltar's well-positioned port has ferry services to and from Spain but the most common use is for cruises!
By Car: If you prefer driving, you'll need to cross the border at La Linea de la Concepcion, Spain located just south of the airport.
Upon arrival, you'll go through the Gibraltar Passport Control Station, which can take an hour or two during peak hours.
If you're traveling on foot or by bike, you will have a unique experience of crossing the airport runway, occasionally waiting for planes to pass before entering the territory.
A recent infrastructure improvement in Gibraltar is the Kingsway Tunnel, which opened after 14 years of construction. This tunnel goes under the runway, easing vehicle traffic and enhancing accessibility.
For reference, here are approximate driving times and distances to Gibraltar from nearby cities:
Driving to Gibraltar From Seville – 2.5 hours, 120 miles
Driving to Gibraltar From Malaga – 1 hour and 45 minutes, 80 miles
Driving to Gibraltar From Cadiz – 1 hour and 30 minutes, 70 miles away
How to Get Around Gibraltar
Unlike the rest of the UK, Gibraltar drives on the right side of the road. This means that if you're traveling by car, the transition from Spain to Gibraltar is smooth.
Once you're on the territory, finding parking can be a bit challenging. While there is some free parking available, it's quite limited. Keep an eye out for signs indicating that certain street spots are reserved for residents.
For more convenient parking options, paid parking decks are your best choice.
However, if you don't have a car, there's no need to worry! Gibraltar is incredibly pedestrian-friendly. In fact, we parked our car upon arrival and primarily explored on foot.
The only time we used our car was to visit Europa Point. Buses from Main Street also offer transportation to Europa Point for those who prefer not to drive.
To visit the famous Gibraltar monkeys, there are multiple ways to get to the top of the Rock.
The cable car offers a comfortable and scenic way to reach the summit, where you can enjoy breathtaking views of the surroundings and, of course, observe the iconic inhabitants of the Rock.
Alternatively, if you prefer a more active adventure, you can take a hike to the top via the Mediterranean Steps.
How Long to Visit Gibraltar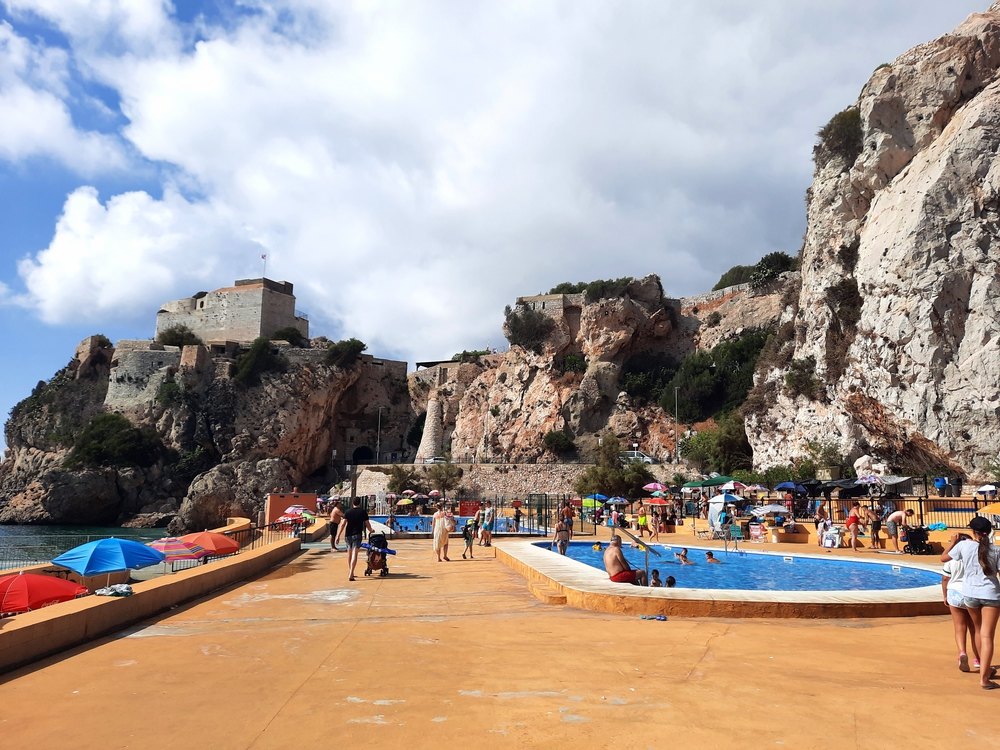 To make the most of your visit to Gibraltar and witness the famous Gibraltar monkeys, plan for a stay of 2 to 3 days.
Start with a day dedicated to the Rock, taking a cable car or a walking tour to see the monkeys and attractions like O'Hara's Battery, the Gibraltar Skywalk, and St. Michael's Cave.
On the second day, explore the city center on a walking tour, visit Europa Point, and enjoy high tea at The Rock Hotel.
Lastly, spend your third day exploring the sea, either on a dolphin safari or by relaxing on one of Gibraltar's picturesque beaches. 
This comprehensive itinerary offers a well-rounded experience of Gibraltar's culture, history, natural beauty, and its famous inhabitants, the monkeys.
Where to Stay in Gibraltar
When it comes to accommodations in Gibraltar, choices can be limited, but we've curated a selection of options that cater to different preferences, including an affordable Gibraltar hotel.
If you're looking for a budget-friendly choice, consider the Holiday Inn Express Gibraltar. While it's slightly outside the main center, it offers complimentary parking and includes breakfast.
For a mid-range option, the Eliott Hotel in the heart of Gibraltar town is an excellent choice. It features two restaurants and a rooftop pool and terrace with scenic views of the Gibraltar Strait.
If you're seeking luxury, look no further than the Sunborn Gibraltar. This 5-star hotel, situated in Ocean Village, offers a unique experience as it's built on a yacht. You can indulge in its infinity swimming pool, casino, spa, gym, and enjoy dining at the on-site restaurant.
FAQs for Monkeys in Gibraltar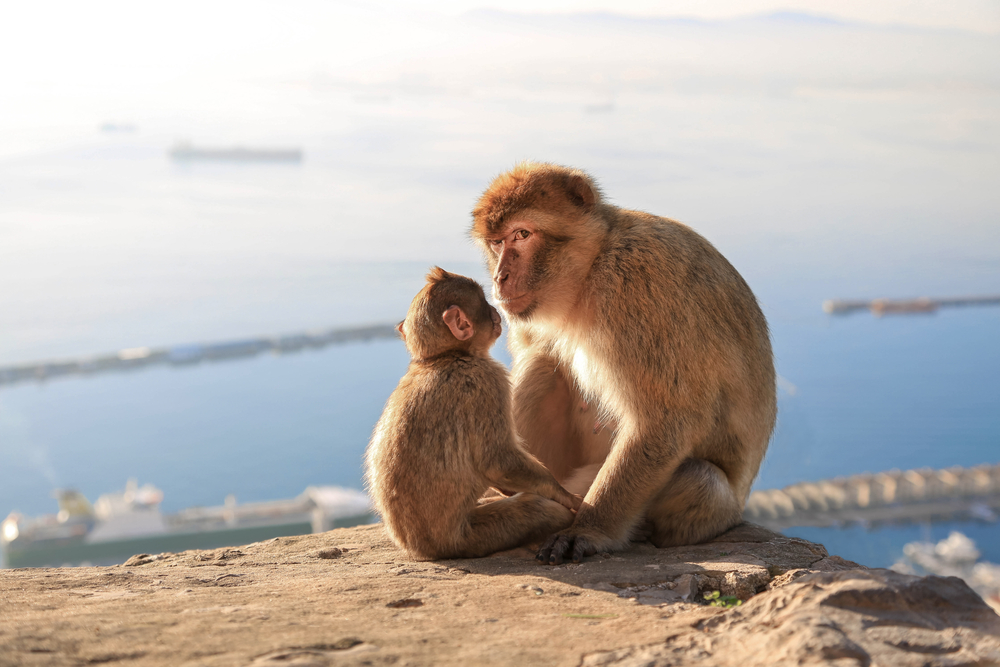 Are Gibraltar monkeys friendly?
In general, yes! The Barbary macaques are certainly curious and entertaining.
While friendly, these nimble-fingered primates are notorious for their sneaky ways. From snacks to sunglasses, they'll try to snatch anything they can get their hands on.
They do not seek to harm you, only to take your things 🙂
So keep your belongings close and enjoy the spectacle from a safe distance.
How much does it cost to see monkeys in Gibraltar?
While you may spot some of these playful primates outside the nature reserve for free, the best experience is undoubtedly within the park itself.
For around £19 per person, you can purchase a pass to the nature reserve where you'll enjoy close encounters with these fascinating creatures and immerse yourself in Gibraltar's natural beauty.
How many monkeys are in Gibraltar?
As of now, around 200-300 Barbary macaques call Gibraltar home.
How did the monkeys get to Gibraltar?
No one really knows how they arrived on the British territory. The tale is shrouded in mystery, with some believing they arrived from Algeria.
Others say the Barbary macaques arrived in Gibraltar from Morocco, by boat with the Moors or possibly via hidden subterranean passages.
Are the monkeys in Gibraltar dangerous?
No, Gibraltar's Barbary macaques are not dangerous by nature. They are, however, wild animals and they can exhibit aggressive behavior if you frighten them.
This is why it is important to stay calm while observing the Gibraltar monkeys. Yes, they will jump on visitors, open bags, and grab items, but they will not harm you unless you threaten them.
Therefore, visitors are advised to observe from a safe distance, wear their backpacks in the front, and not feed the Gibraltar monkeys.
Planning your trip to see monkeys in Gibraltar
Get ready for an unforgettable adventure in Gibraltar! The Barbary macaques, with their curious antics and playful charm, are the true stars of the Rock.
As you plan your visit, the prospect of encountering these enchanting creatures should fill you with anticipation. Gibraltar offers not only a chance to observe these fascinating monkeys up close but also a rich history, culture, and natural beauty waiting to be explored. So, pack your bags and get ready to embark on an incredible journey to meet the Gibraltar monkeys!
Gibraltar makes the perfect add-on to a trip to Spain, so be sure to read these Spain travel tips or learn about the best places to go in Spain as you begin planning.