Sometimes when you travel, all of the puzzle pieces just come together beyond your expectations. You manage to combine the right location, the right activity, and the right style of travel… perhaps without even trying. We were fortunate to have one such experience on our family trip to Paris: we learned how to make crêpes in Paris, but we also gained so much more than just a cooking lesson. What started as an idea for a fun activity ended up as a unique opportunity to travel deeper and make connections.
Read more France articles or get Europe travel inspiration
Leading up to our trip to Paris, Ronnie daydreamed of a family cooking class focused on French cuisine. Unfortunately all of the providers we found had a minimum age that wouldn't work for our family. For their part, the kids were so excited to gorge on crêpes after a month of reading new-favorite Crêpes by Suzette (no longer in print but now an app loaded with the book, videos and interactive features – get it for Amazon Fire and Android, iPhone, iPad).
And me? I don't usually have too many items on my "must do" or "must eat" list, but I love talking with the people who actually live in these place we visit. I want to hear about their lives, their backstories, their thoughts on current events of the country and, if at all possible, I want to try to speak their language. On the last point, France is my second-language home turf after years of instruction during my younger days. Though the years have passed, I can still communicate effectively in French and do so anytime the (rare) opportunity presents itself.
Read more: Visiting Paris with kids? Read our top tips for a stress-free family trip to Paris.
How to make friends in Paris
And so it was that on our first night in Paris, we wandered into framboise crêperie near Les Grand Boulevards after a long, challenging and jet-lagged dinner across the street. Though we had only been in the city for a few hours, exhausted 5yo Jacob was laser-focused on a fresh, hot, Nutella-filled crêpe – and I didn't try to stop him.
We don't usually believe in letting fixed schedules stop our family from enjoying ourselves and exploring, and that sentiment goes double for vacations. We wandered in bleary-eyed an hour before closing and we were greeted with warmth, attention, made-to-order desserts, and a healthy dose of adult beverages.
Read more: What to pack for Paris in fall and What to pack for Paris in spring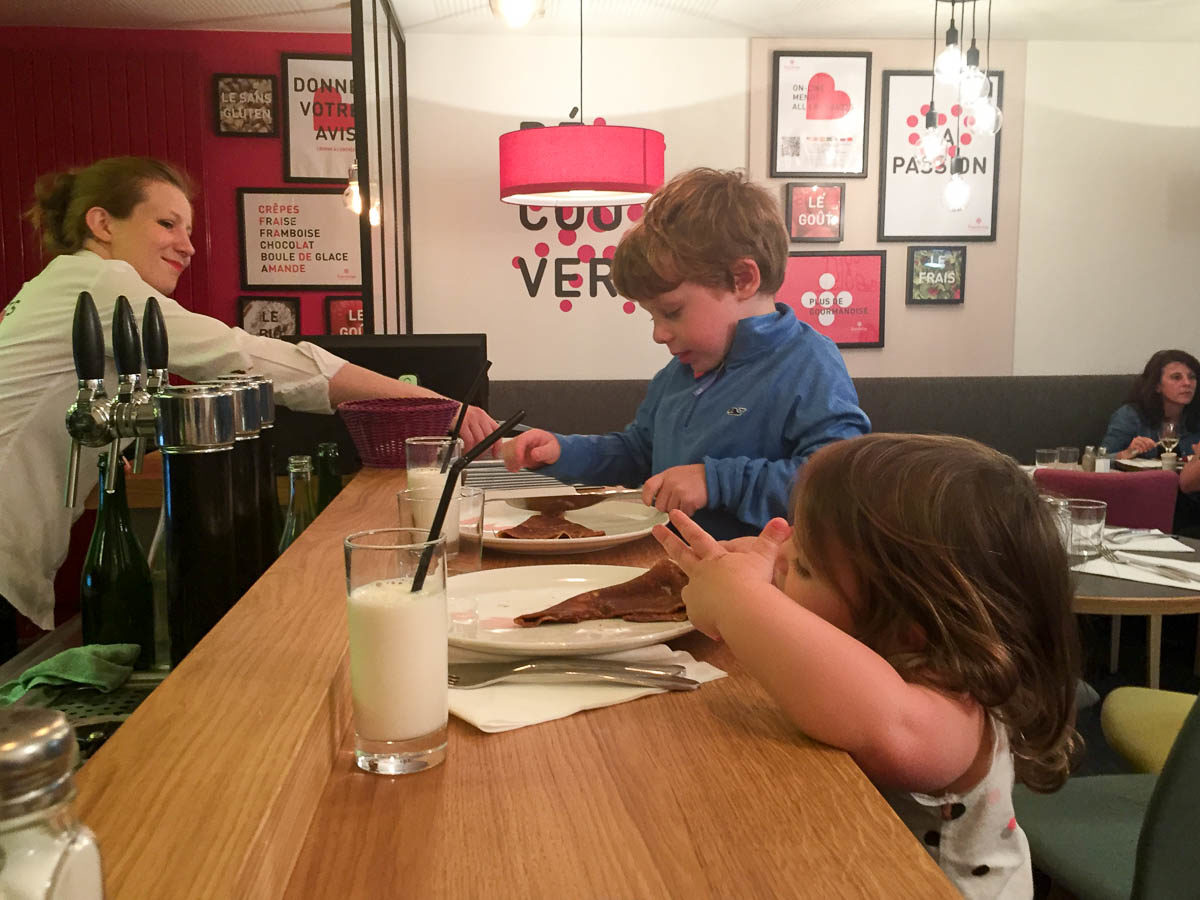 Thinking about visiting Paris in winter? Read all the best tips here!
Fortunately(?) the sugar rush and a second-wind let us close the place down; we spent an hour sitting at the bar relaxing, tasting, and connecting with the Saturday night crew. We particularly befriended Hedi, the Tunisian chef who immigrated to France several years prior in the wake of his home country's civil unrest and was now (mostly) happily settled in France with a son of his own. As we wound down our visit, I pulled Hedi aside and asked if it would be possible for the kids to watch him work his magic in the kitchen a different evening and he graciously agreed (actually, he said that he wanted to offer but could tell that the kids wouldn't make it… since they were splayed across the restaurant benches half-asleep).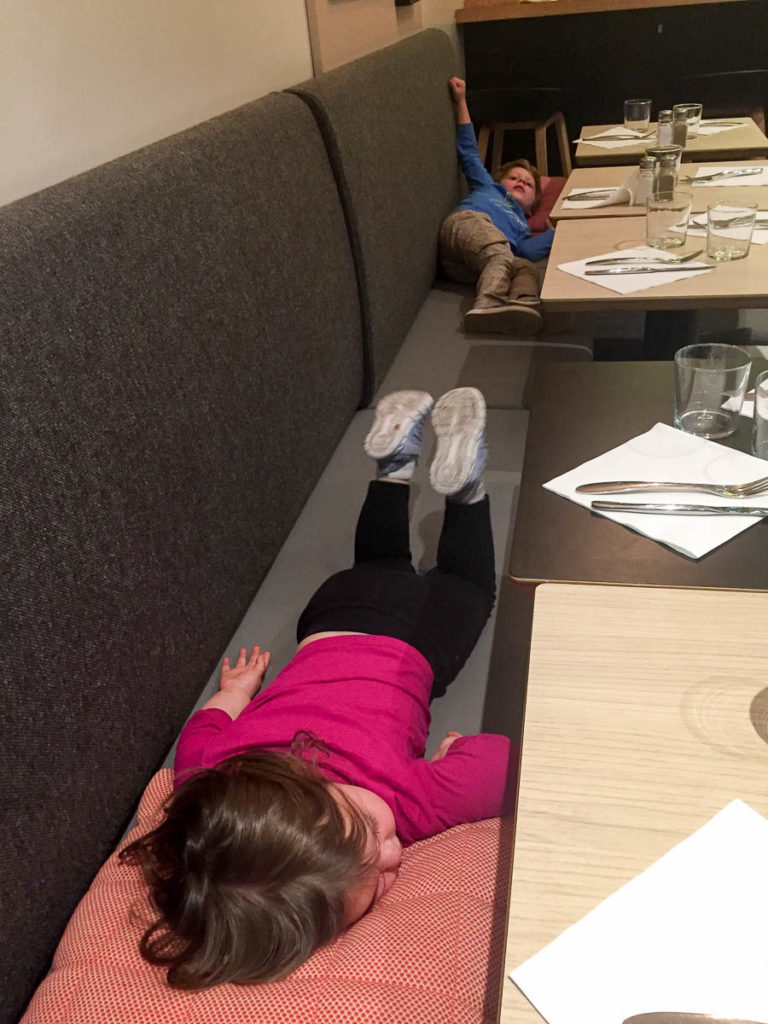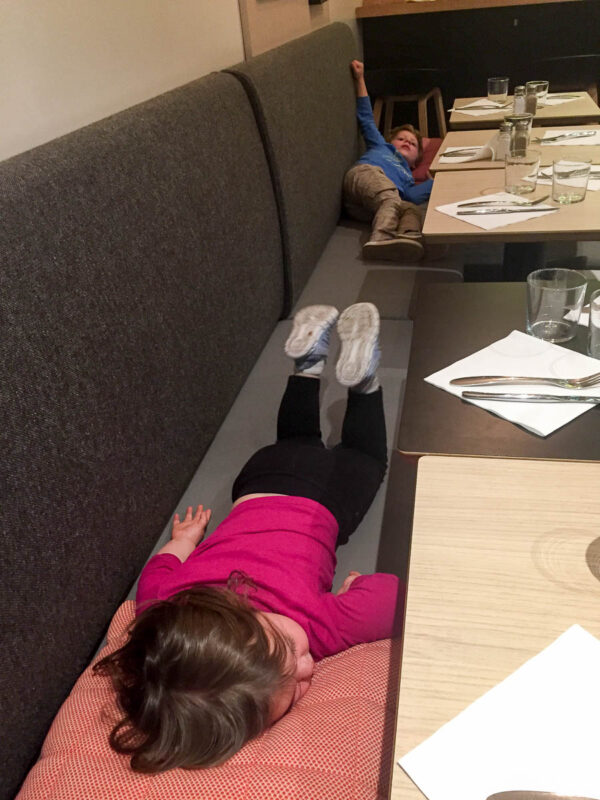 How to make crêpes in Paris
And so we returned a second night for more dessert, and this time with a surprise in store for the kids: a behind the scenes look at how crêpes are made by a real French chef! While the video is brief, we spent several hours talking and laughing with our new Parisian friends. We hope you enjoy watching a master at work as much as we do, and let this inspire you to get to know the people you meet as you go out to explore the world.
Do you like to travel off the beaten path? Don't miss these 75 hidden gems in Paris! If it's your first visit, this awesome 3-day Paris itinerary will show you the best of the best.
Looking for more Parisian foodie inspiration? Check out these 25 must-eat foods!
There's nothing sponsored about this post except some light-as-air whipped cream topped with fresh caramel and pralines, given to a tired young girl to make her smile.
Before you go…
Don't miss these helpful resources as you plan your own magical trip to France:
–Renting a Car in France: 18 Tips You Need To Know
–10 fantastic things to do in France with kids
–Exploring the D-Day sites of Normandy with kids
–Paris with kids: 5 tips for an amazing family trip to Paris
–What to wear in Paris in May
–What to wear in Paris in October