Sometimes the avid travelers among us forget to look around and see the joy of exploring closer to home. As (fairly) new Ohioans, we've been amazed at just how many interesting places surround us! We've made it a project to go on – and document for you – the best day trips from Columbus, Ohio.
This quest has truly been a delight so far, and we have even more planned for the coming months and years. I'll keep adding them as we go so that I make sure to give you the real deal on whether or not these places are worth your precious weekend days.
It's also been surprising to discuss some of these Columbus day trips with local friends and colleagues who have lived here for decades without knowing what's in their own backyards – hopefully you'll find some unexpected gems. Some of these are awesome family day trips from Columbus Ohio, while some of these day trips in Ohio are better for couples or kid-free adults. Have a read and find something interesting!
Best Day Trips From Columbus OH Within 1 Hour
Hocking Hills
Distance from Columbus to Hocking Hills: 55 miles/55 minutes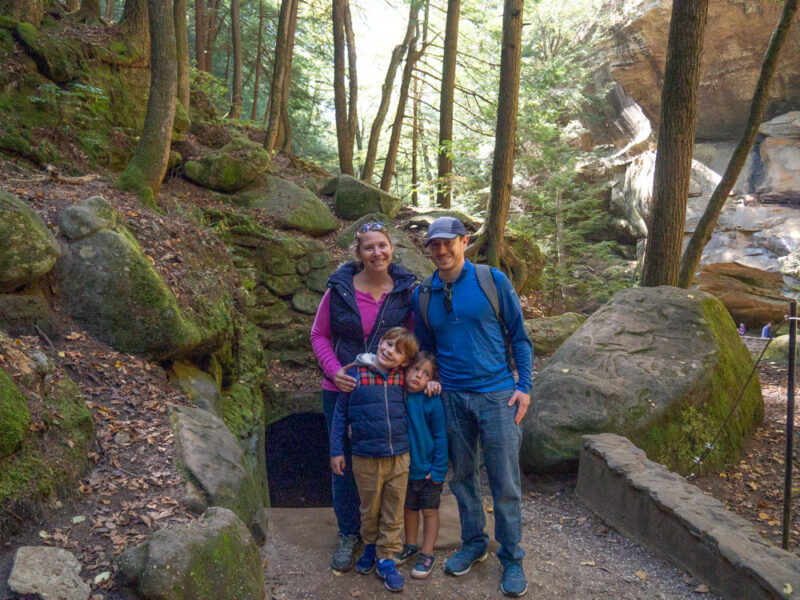 Hocking Hills State Park is surely one of the most popular day trips in Ohio. In fact, I first heard about it from my random seatmate on our relocation flight!
This is a great place for hiking in Ohio. The most popular trails are Old Man's Cave (about 1.5 miles and rated moderate) and Ash Cave (about 0.5 miles whether you make a loop around the rim or go through the middle of the gorge and back out, though the gorge trail is paved for accessibility), which are great for preschoolers through adults. If you visit during the rainy season, you'll be wowed by the waterfalls on these trails. We went in mid-October and unfortunately it's was almost totally dry and didn't yet have fall foliage.
For a more rugged hiking experience, try nearby Conkles Hollow State Nature Preserve. The rim trail there sits atop massive sandstone cliffs and offers at 2.5 mile loop trail. There are places where this trail is narrow, rocky and slippery – use caution! Many parents opt not to do this with their kids until they're older.
---
Dayton
Distance from Columbus to Dayton: 75 miles/1 hour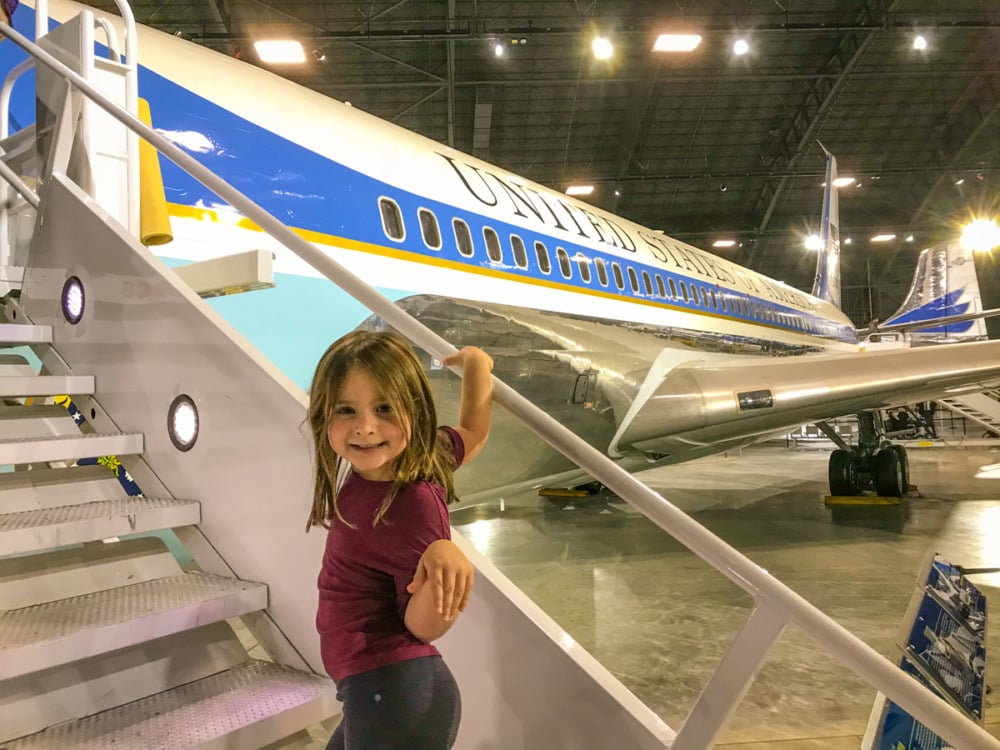 If Hocking Hills is the first day trip from Columbus you take, a day trip to Dayton should be your second. There are too many things to do in Dayton to detail in this roundup! I've actually been visiting since my own childhood, but we make several trips each year now and keep finding new, unique activities.
Of course Dayton is best known as the home of the National Museum of the US Air Force. It's truly impressive! There are great displays covering the history of aviation and space travel as well as Ohio's role in both. You can't beat the cool factor of the Museum's collection of retired Air Force One planes that you can walk through. See how leaders from Roosevelt to Clinton rode in style! In recent years they've added a lot more hands-on exhibits and simulators for kids, so visitors of all ages will be engaged. Did I mention that admission is FREE?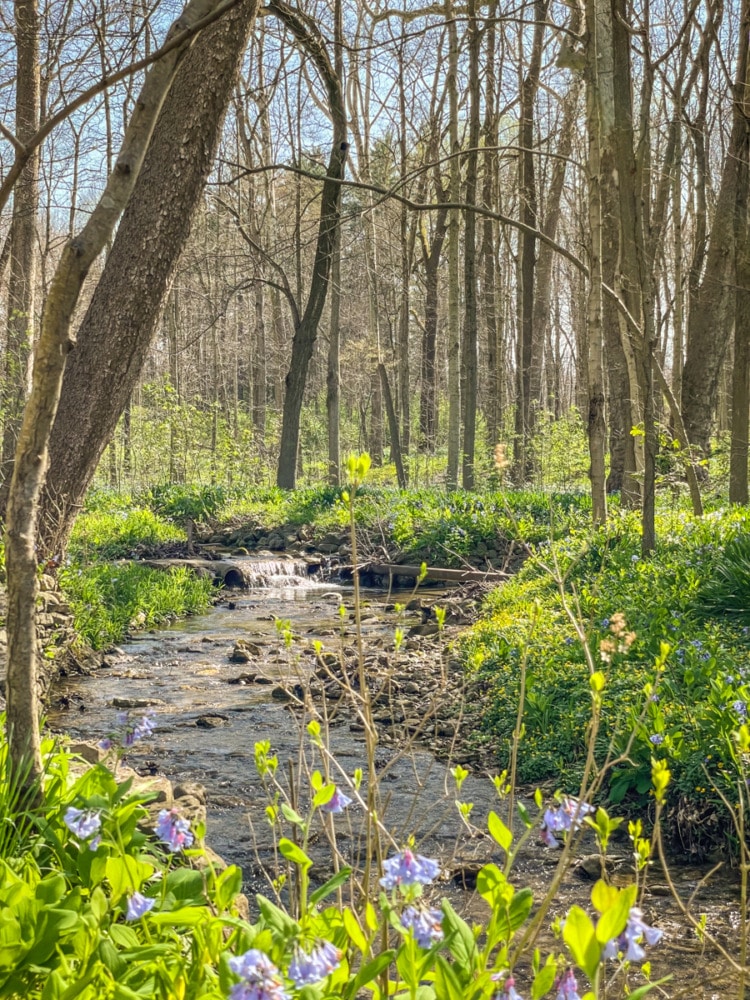 If you're visiting when the weather is nice, Dayton also has plenty of lovely gardens to visit. We especially love Aullwood Gardens Metro Park and look forward to visiting Wegerzyn Gardens and Cox Arboretum – all three of those are totally FREE as well since they're part of the fantastic Five Rivers MetroParks system.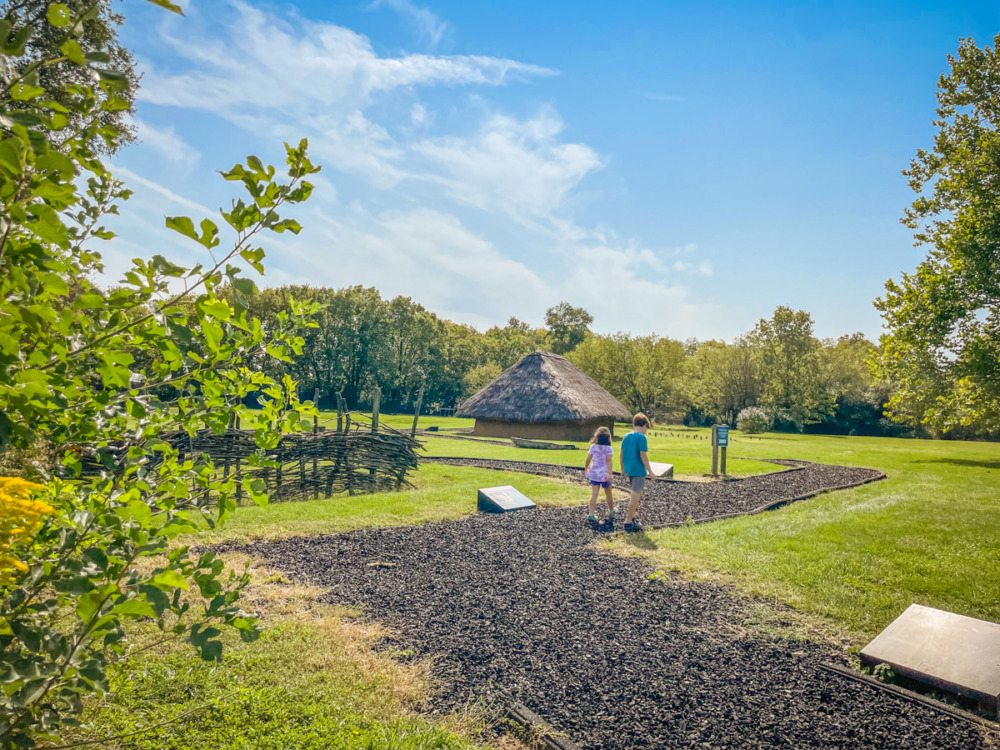 One of our favorite hidden gems in Dayton is Sunwatch Indian Village. This is an active archeological site, and there's also great recreation of the Fort Ancient village that stood on the site 800 years ago. You'll enter through the small but excellent museum that houses both artifacts as well as representations of the Fort Ancient culture. We visited on a gorgeous Saturday and were the only people there, so this is a great place to avoid crowds – but please tell your friends to visit too so that we can support this excellent site.
Read more: 7 Things to do in Dayton That Should Be On Your Radar
---
Springfield
Distance from Columbus to Springfield: 50 miles/50 minutes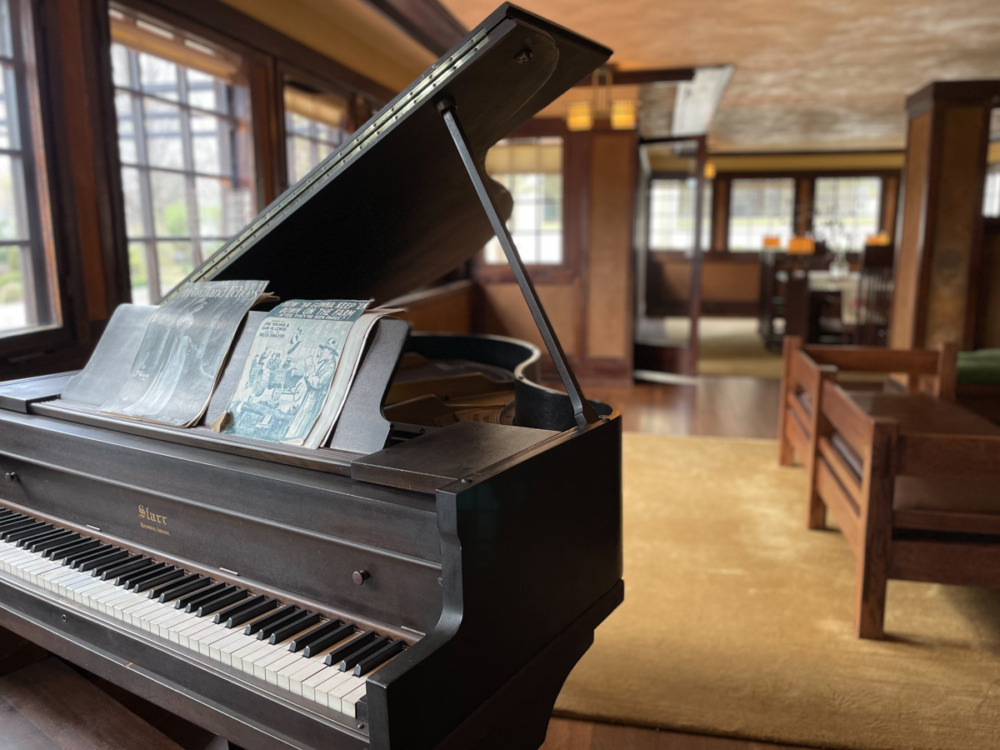 Springfield, Ohio is a new one for us but I'm so glad we visited! This is a must-do Ohio day trip for architecture fans thanks to the presence of Frank Lloyd Wright's incredible Westcott House. It's the only Prairie house he built in Ohio and sadly it fell into disrepair in the second half of the 20th century. Thankfully in recent years it was lovingly restored by the Frank Lloyd Wright Building Conservancy and it opened to the public for tours in 2005 – that's part of the reason many Ohioans don't know about it! Weekend tours can and do sell out, so get your tickets a day or two in advance if you're particular about timing.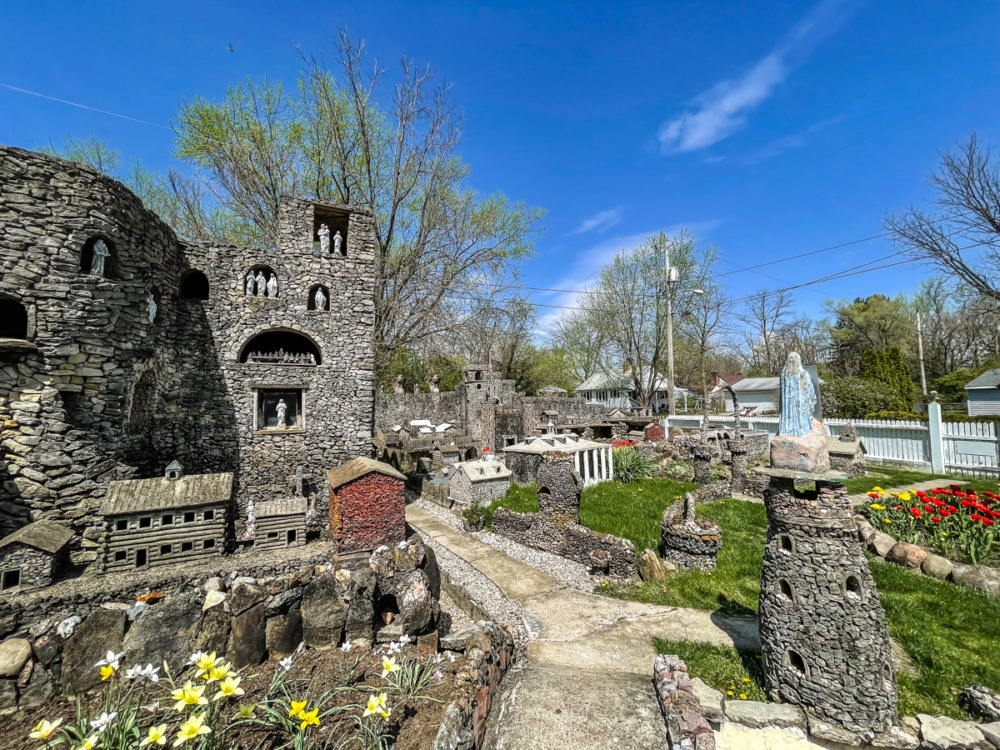 While you're there, swing by the cute Hartman Rock Garden. It's free and located in someone's backyard, but don't let either of those stop you. Ben Hartman's hand-made creations are absolutely incredible and are still going strong a century later.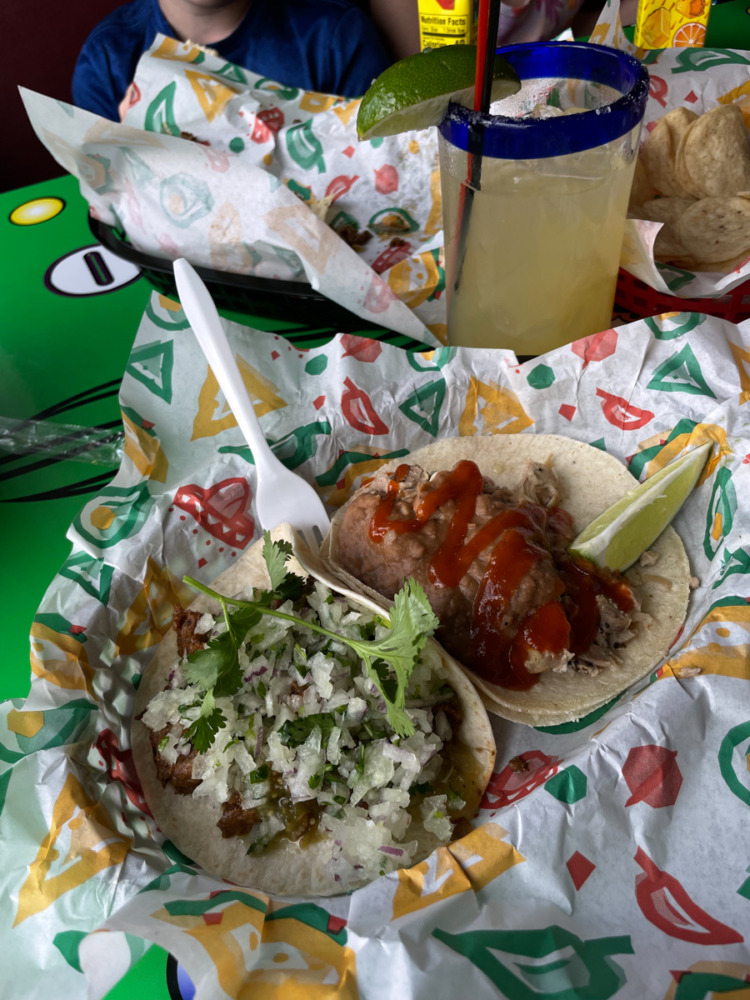 While you're in Springfield, be sure to grab lunch at Guerra's Krazy Tacos. The Texas-born founder is from a Mexican family and makes high-quality, budget-friendly staples along with creative takes, all served up surrounded by fun decor.
---
Yellow Springs
Distance from Columbus to Yellow Springs: 55 miles/50 minutes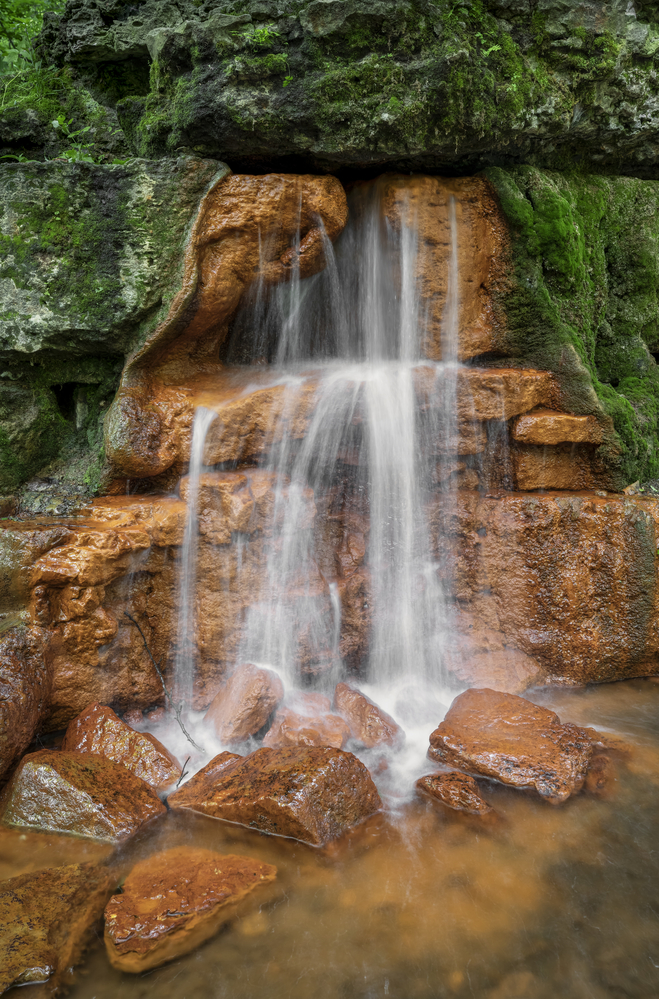 Looking for a great spring or fall day trip from Columbus? Get to adorable Yellow Springs in under an hour!
The biggest draw is Glen Helen Nature Preserve, which offers a lovely Inman Trail loop hike through the woods that takes you to the yellow spring that gave the town its name. Just up the street in town, grab a slice of pizza from Benito's – some people claim it serves up the best pizza in Ohio.
If you're on a day trip with kids, be sure to stop at Young's Jersey Dairy on your way back to Columbus. This dairy farm has been in the family for over 150 years, but it's evolved a lot in that time! Today they serve up delicious homemade ice cream and more in their shop. If you want a longer visit, spend time visiting the farm animals, testing your skills at batting cages and mini golf or going down the "fast slide".
---
Licking County
Distance from Columbus to Newark: 50 miles/1 hour
Neighboring Licking County is one of the most overlooked places to visit near Columbus, Ohio. There are plenty of options for visitors of all types, all year long! I've grouped its towns together here because they're all close enough that you can mix-and-match for a full day of fun.
We actually opted to do a little winter staycation at the excellent Cherry Valley Hotel and I can't recommend it enough! Hotel itself is lovely and it's in a nice central location. This was the prefect place to try out igloo dining when we were looking for fun things to do in Columbus in winter.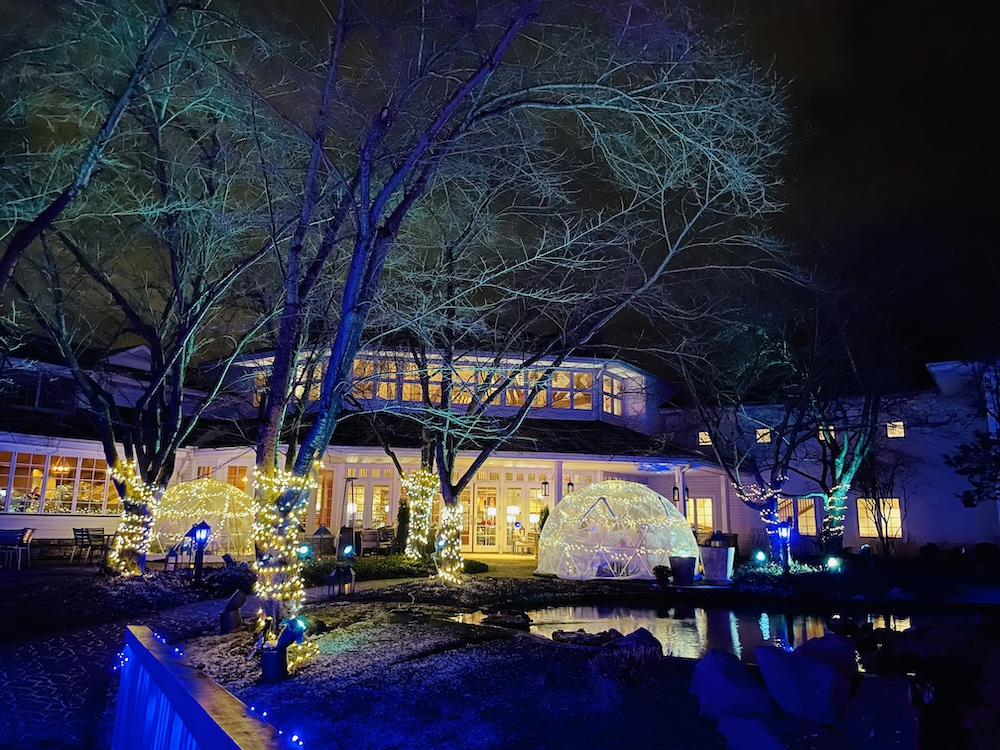 Newark
The town of Newark is lovely for a walk on a nice day – don't miss the gorgeous Licking County courthouse at its center. You'll want to snag a table at Elliot's Woodfired Pizza, but be prepared for a little wait if there's a game. Hop across the street on nice days for dessert at Drip Dreams Ice Cream.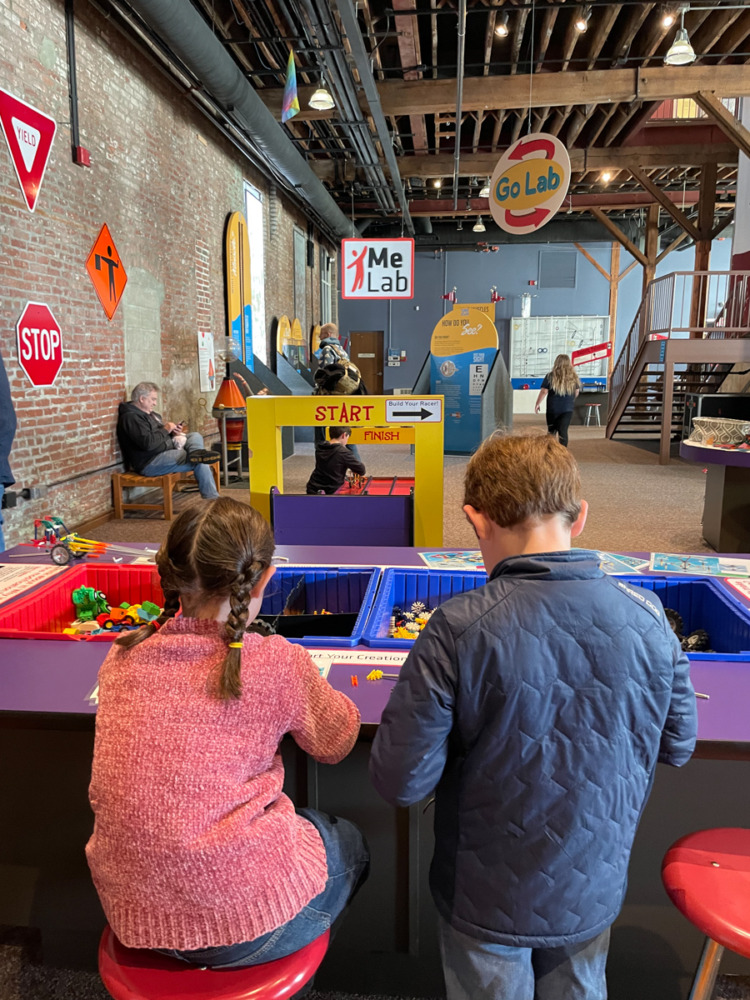 For families, flash your COSI card for free admission to The Works. This museum is small but excellent, with high-quality hands-on experiences everywhere you look. The lower level is focused on science and technology, plus a glass studio that has both gaffer demonstrations and optional workshops on Saturdays for older visitors. The upper level is focused on Ohio's history and development and includes a mock village to explore. We stayed for three hours and had to drag the kids out!
Granville
The adorable New England-esque Village of Granville was established in 1805 and its main street, Broadway, shows that age in all the right ways. It's perfect for a stroll and lunch, or you can even catch a show at the Eisner Center for the Performing Arts at Denison University. Nearby Lynd Fruit Farm (on the way from Columbus) always has something going on to extend your time in the area.
Buckeye Lake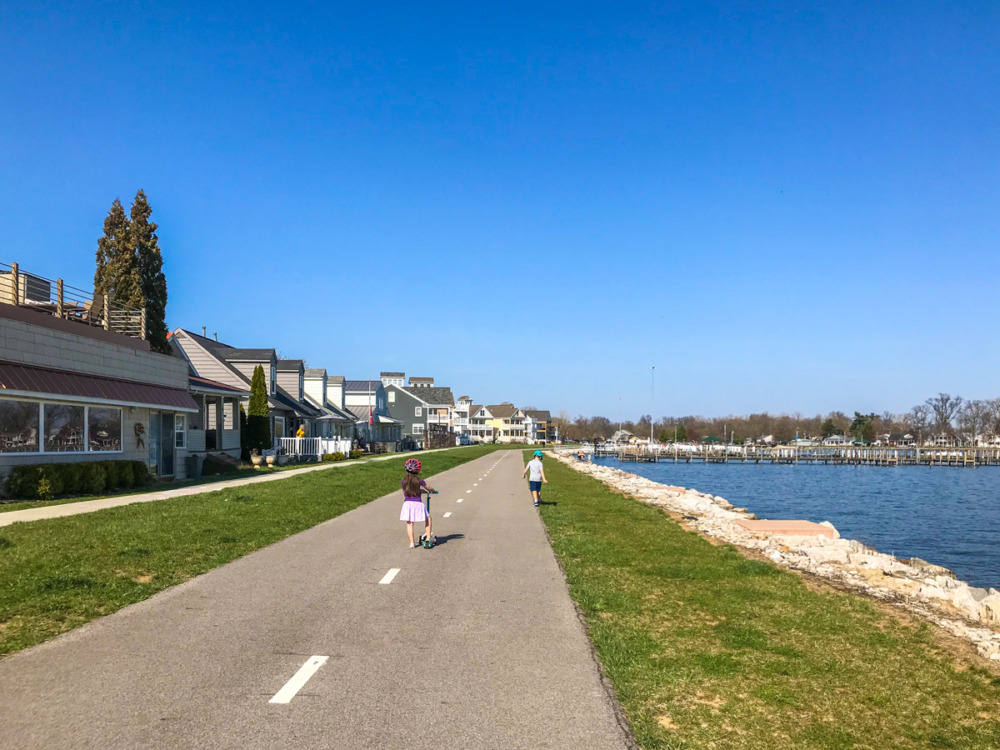 Want a taste of "lake life" close to home? Pop over to Buckeye Lake and spend an afternoon walking on the lovely path next to the shore. You can also rent a kayak or boat, or take a pontoon tour if you don't feel comfortable navigating on your own. It's a great summer day trip from Columbus OH!
The Dawes Arboretum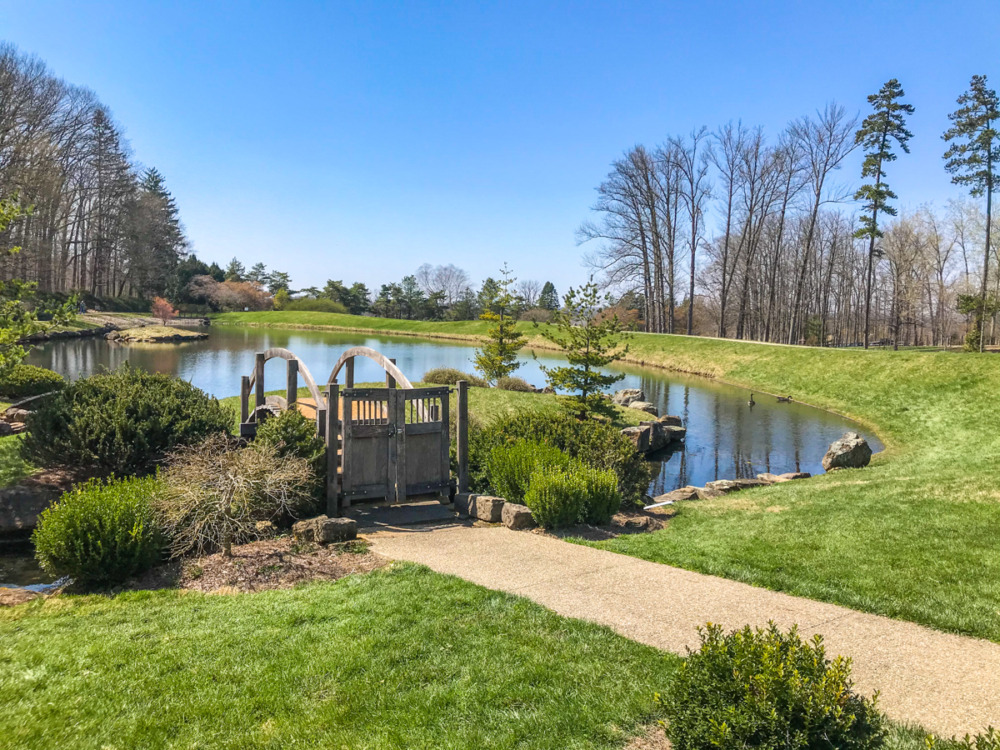 The Dawes Arboretum is just outside of Newark and spans nearly 2000 acres. It's massive! This hilly property has plenty of variety to warrant repeat visits, including a peaceful Japanese garden, ample hiking trails, periodic sculpture installations, an observation tower and more. You can even tour the property's historic home during the warmer months.
Ticket prices are very reasonable at $10 per adult and $5 per child, but Dawes also accepts reciprocal membership from other AHS gardens like Franklin Park Conservatory.
Utica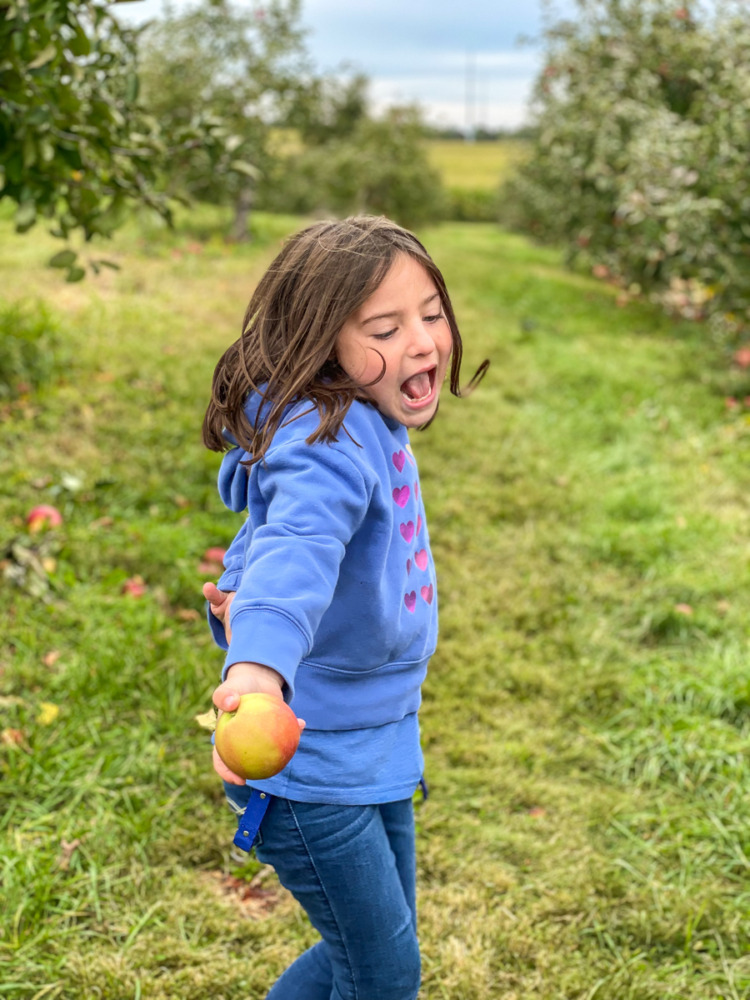 This is definitely one of the most fun day trips in Ohio for families, especially in late summer and early fall. Kick off your day with fruit picking at Branstool Orchard or Legend Hills Orchard. Both typically open in July for peaches and then continue for apples through mid-October. Branstool also has one of the nicest pumpkin patches near Columbus Ohio in fall! Legend Hills has a market on-site and is open year-round.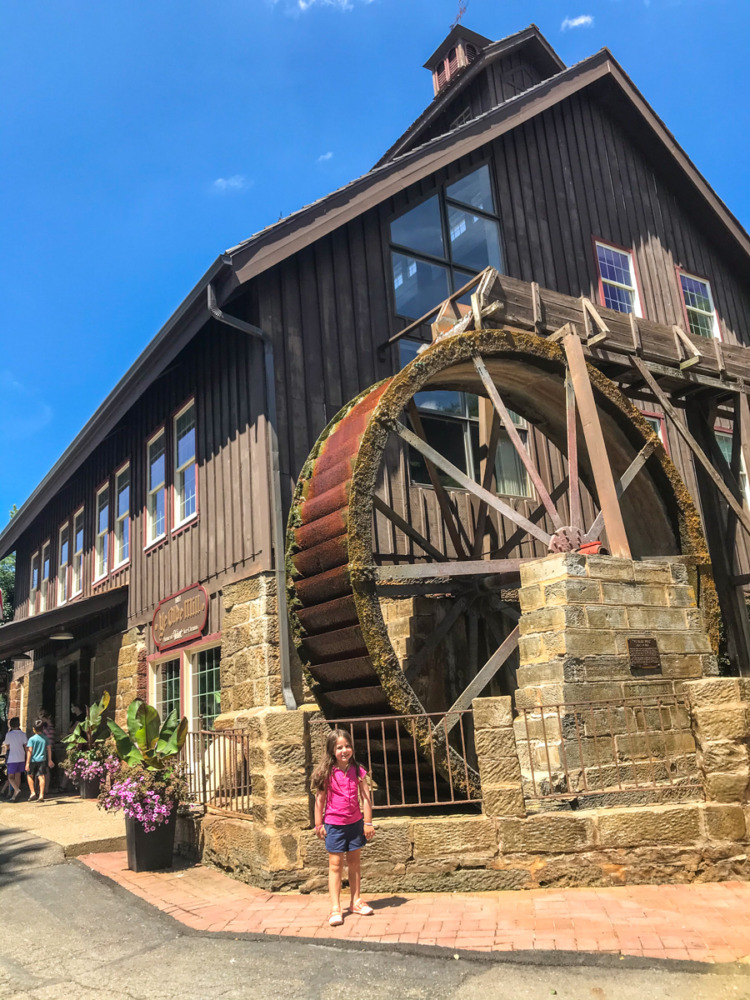 Once you've picked your fill, drive 5 minutes around the corner to Velvet Ice Cream at Ye Old Mill. This old-school scoop shop also has a fun little museum built into the seating area, but after exploring families will want to head out to the large grassy meadow in front. There are tables to sit at or you can bring picnic blanket – I keep this one in my trunk at all times. It's a lovely place to spend an afternoon tossing a frisbee, playing on the playground or watching the swans in the pond.
---
Schnormeier Gardens
Distance from Columbus to Schnormeier Gardens: 50 miles/1 hour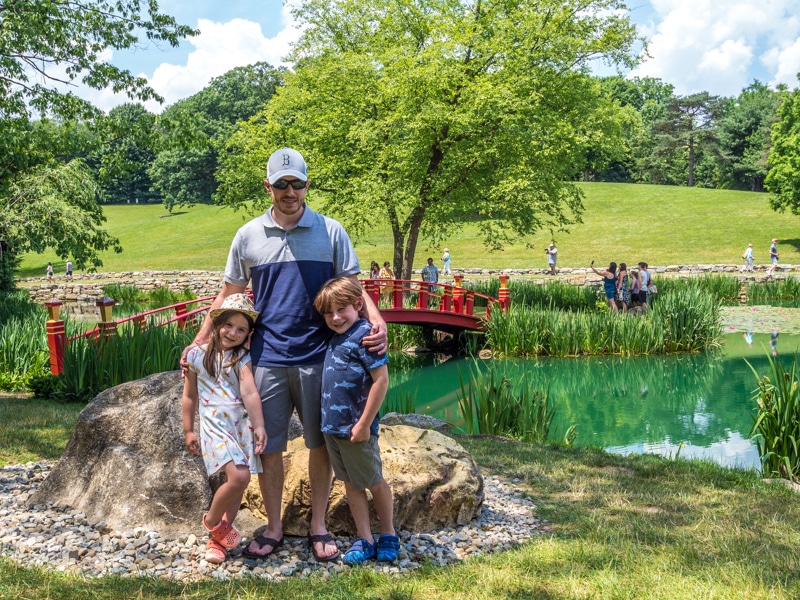 Garden lovers absolutely must visit Gambier's Schnormeier Gardens at least once in their lives. This spacious private garden is open annually on Thursdays, Fridays, Saturdays and Sundays in June. Visitors will fall in love with the in unique and diverse landscapes, from the Chinese Cup Garden to the shady Woodland Garden.
While the Gardens used to be free and drop-in, there's now a $50 per vehicle charge. Feel free to load up the van! Do make sure to book your tickets in advance as it sells out nearly every year – particularly toward the end of June.
---
Columbus Ohio Day Trips Within 1.5 Hours
Mansfield
Distance from Columbus to Mansfield: 65 miles/1 hour 15 minutes
I can't believe it took us nearly four years living in Columbus to get up to Richland County! There are so many things to do in Mansfield OH that we've recently gone up a few times – and we still have more to see. You can easily enjoy two of these sites in a single day if you get an early start, as they're all fairly close together.
The Ohio State Reformatory aka "Shawshank Tour"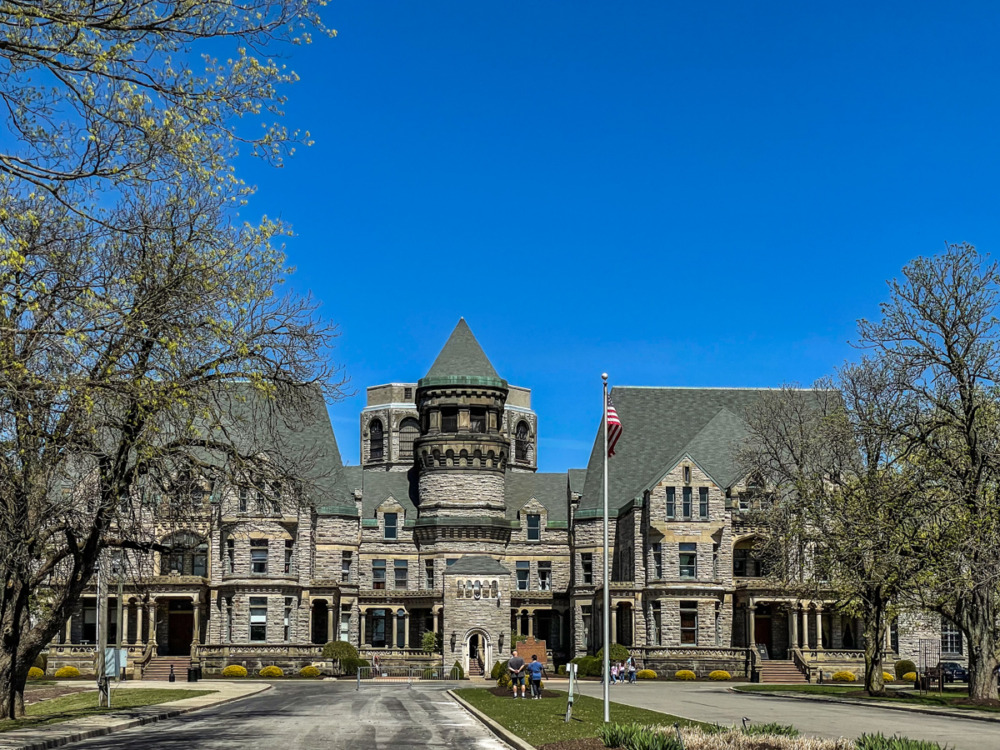 When we were recently looking for a couples day trip from Columbus, a trip up to The Ohio State Reformatory was at the top of our list. This defunct prison was the primary filming location for 1994's "The Shawshank Redemption", based on Stephen King's novella "Rita Hayworth and the Shawshank Redemption" – I read it as part of his Different Seasons collection and recommend that you do as well.
Though both the story and movie are set in Maine (like most of King's work), Mansfield and the surrounding area of Richland County are reasonable stand-ins. During our tour of The Ohio State Reformatory, our guide did an excellent job sharing the history of the Reformatory and and its eventual decline while also weaving in elements of the movie.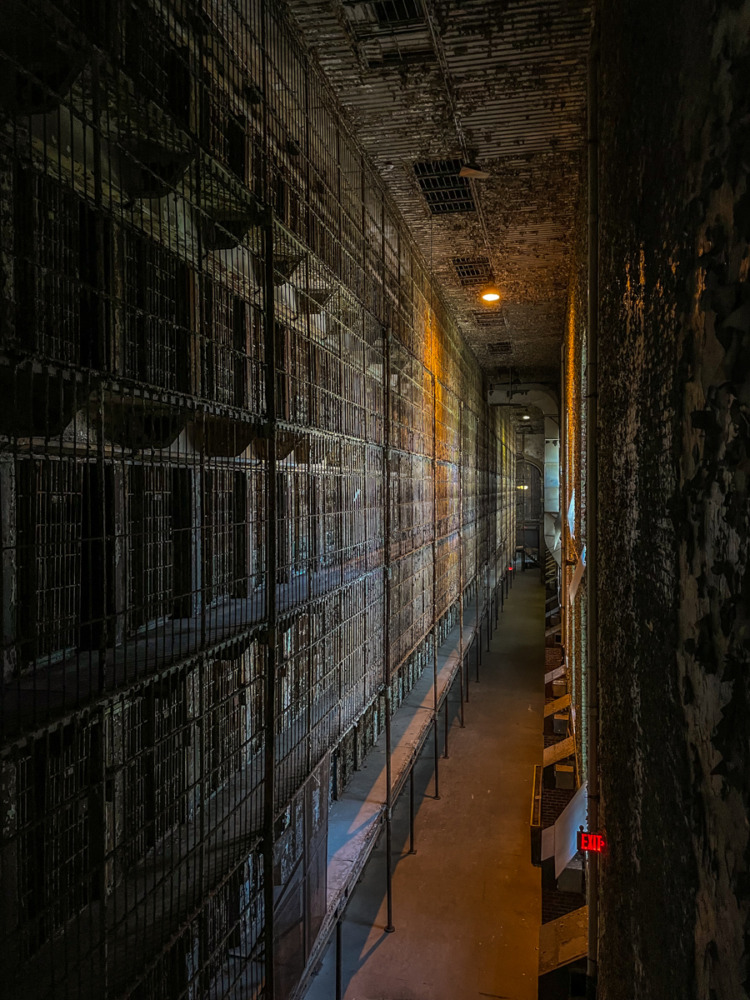 While there's an option to visit the Reformatory on a self-guided tour, I strongly recommend reserving in advance for a guided tour of "the Shawshank prison". We learned so much and our guide was very engaging!
Pro tip: Because of the understandable lack of climate control in the cell block, dress for temperature extremes if you visit in Winter or Summer.
Kingwood Center Gardens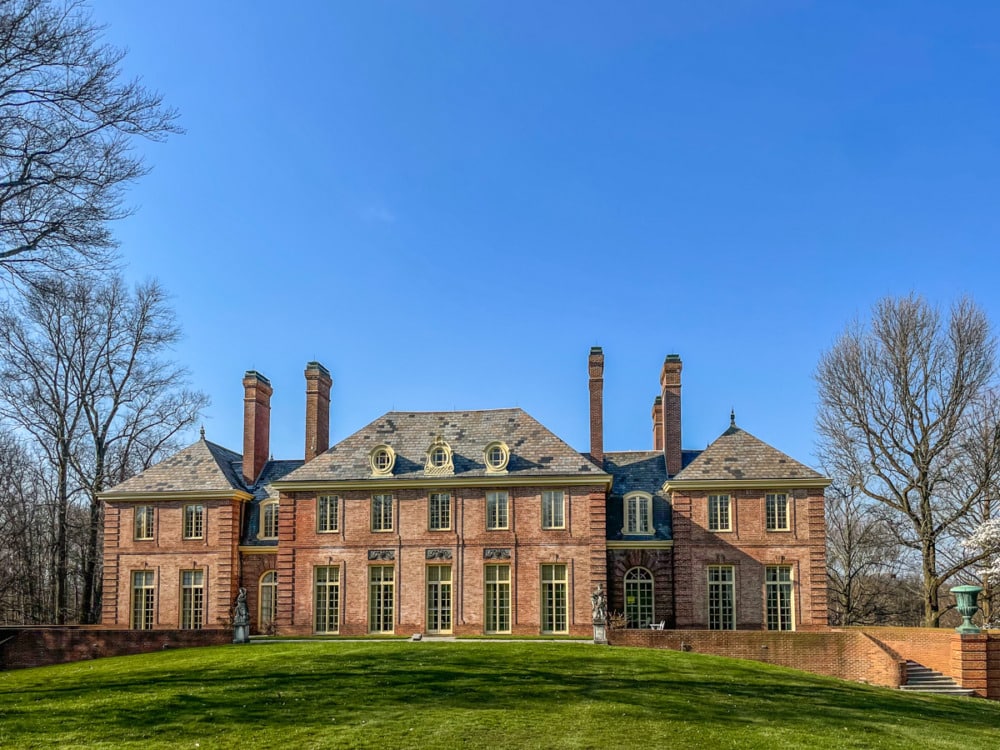 Kingwood Center Gardens is a lovely place to visit if you enjoy the more refined things in life. This 47 acre estate has beautifully manicured ground that are perfect for a Spring visit. You can also tour the stunning mansion on the property, Kingwood Hall, which still has many of the original furnishings from a century ago. Keep your eyes peeled for the peacocks who live on-site!
Note for Franklin Park Conservatory and other local AHS members: Your membership is not value for reciprocal admission to Kingwood Center Gardens. I believe this restriction also applies to members of The Dawes Arboreturm and Hywet Hall.
Ohio Bird Sanctuary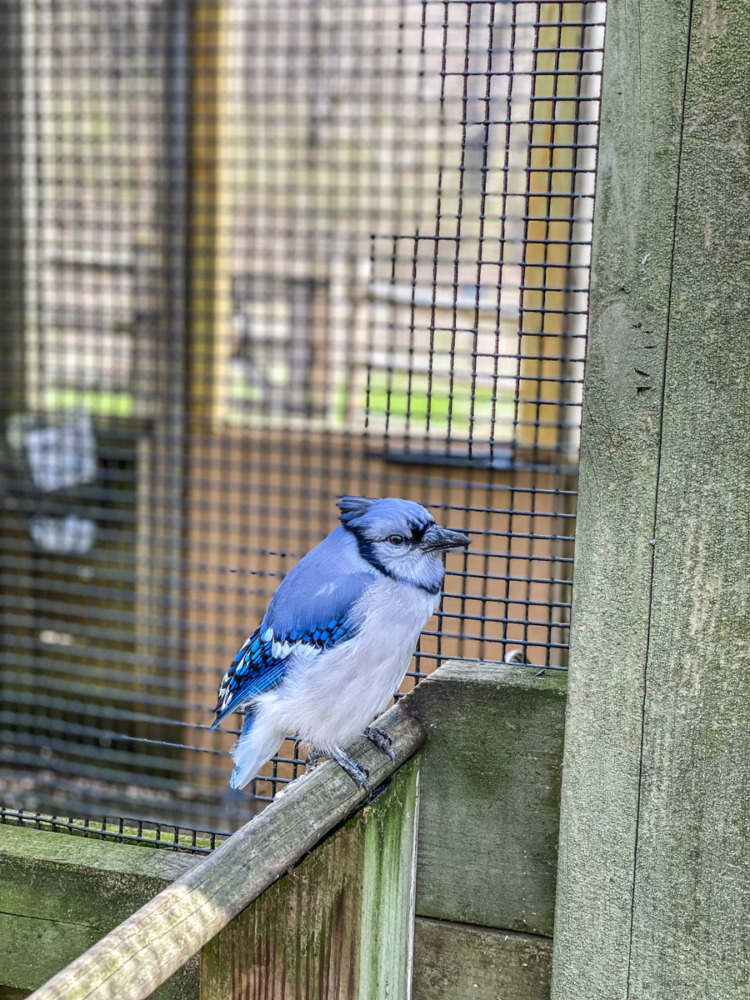 If you're looking for a great family day trip from Columbus, OH be sure to put the Ohio Bird Sanctuary on your list. This rescue and rehabilitation facility does great work both with animals and with their educational programs
In my experience it's a great place for budding naturalists thanks to the diverse species in residence. It started as a raptor rescue so you'll see plenty of hawks, falcons and even bald eagles! There are also several species of owls as well as a free fly aviary with more docile birds that have been turned over. Our kids loved hand-feeding the blue jays.
The OBS is open year-round Sunday through Tuesday so it's a nice Columbus day trip option all year long, though you'll find bigger crowds as the weather gets warm. But please learn from my mistake: stay off the Wood Duck Trail if it's been rainy!
Downtown Mansfield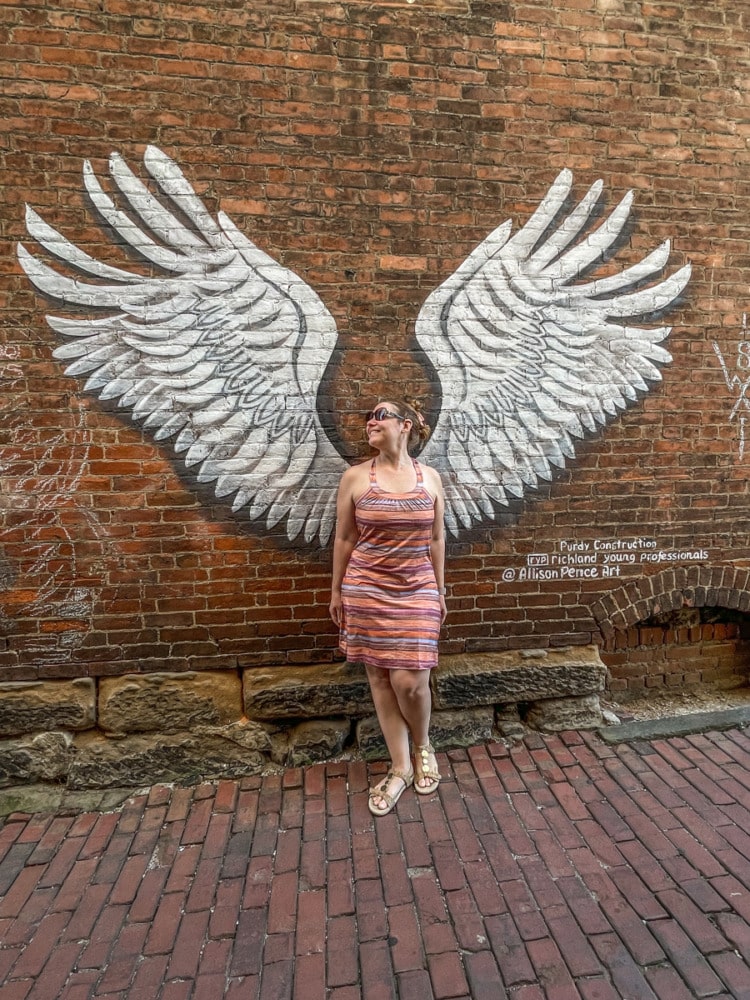 While Mansfield is a small town, it's worth a stop whether you're an adult or a kid.
For adults, there are several noteworthy on the "Shawshank trail" located in downtown. You'll find them clearly advertised with signs, but some popular ones include the Bissman Building (the Brewer Hotel in the movie) and Mansfield Antiques Gallery (which played the role of the pawn shop). They're fun photo ops for movie lovers!
Though it was closed due to damage, Richland Carrousel Park is back open to entertain young visitors. The carousel looks old but it was actually built in 1991 as the first new hand-carved carousel in the US in almost a century.
For a fun throwback, stop in Operation Fandom & Blackbird Records. It's full of Gen X through Millennial favorites like Star Wars collectibles, rare Pokémon packs, Garbage Pail Kids… and of course vinyl.
Downtown Mansfield even offers two delicious bakeries: Blackbird Bakery and Buckeye Bakery. I'll let you sample both and decide which one you like best!
Malabar Farm State Park
We haven't made it yet but one of the most popular things to do near Mansfield Ohio is visit Malabar Farm State Park. The site offers plenty to explore for lovers of both nature and history.
In summer and fall you can tour the farm by wagon, golf cart or hay ride. There are also guided tours of the Big House for adults in April through December. If you're more interested in exploring nature, there are plenty of hiking trails or you can drive up to the top of Mt. Jeez for great views of Pleasant Valley.
---
Athens
Distance from Columbus to Athens: 75 miles/1 hour 15 minutes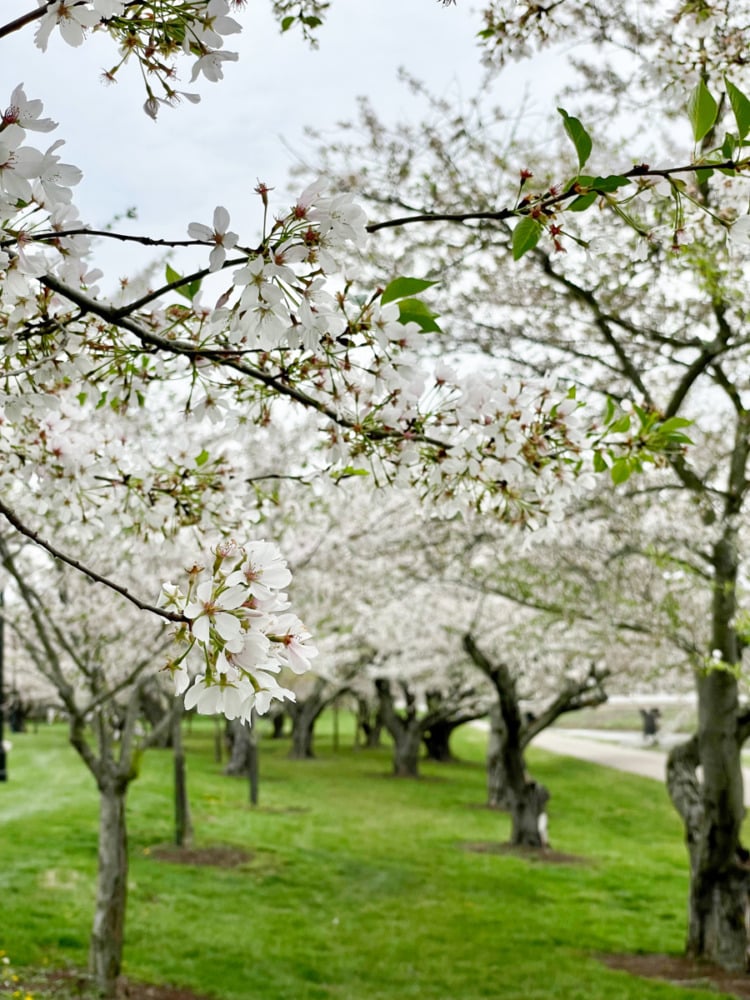 For another wonderful spring day trip from Columbus head down to Athens, home of Ohio University. Just outside of the Convocation Center you can enjoy one of the best places to see cherry blossoms in Ohio! There are more than 200 flowering cherry trees here. It's not Japan or Washington DC, but it's still absolutely lovely for a picnic.
You'll want to follow the updates to make sure you choose a great day to visit, but usually generally late March to mid-April is ideal. While you're there, be sure to take a walk around the charming historic part of campus as well as the adjacent town.
The Wilds
Distance from Columbus to The Wilds: 75 miles/1 hour 15 minutes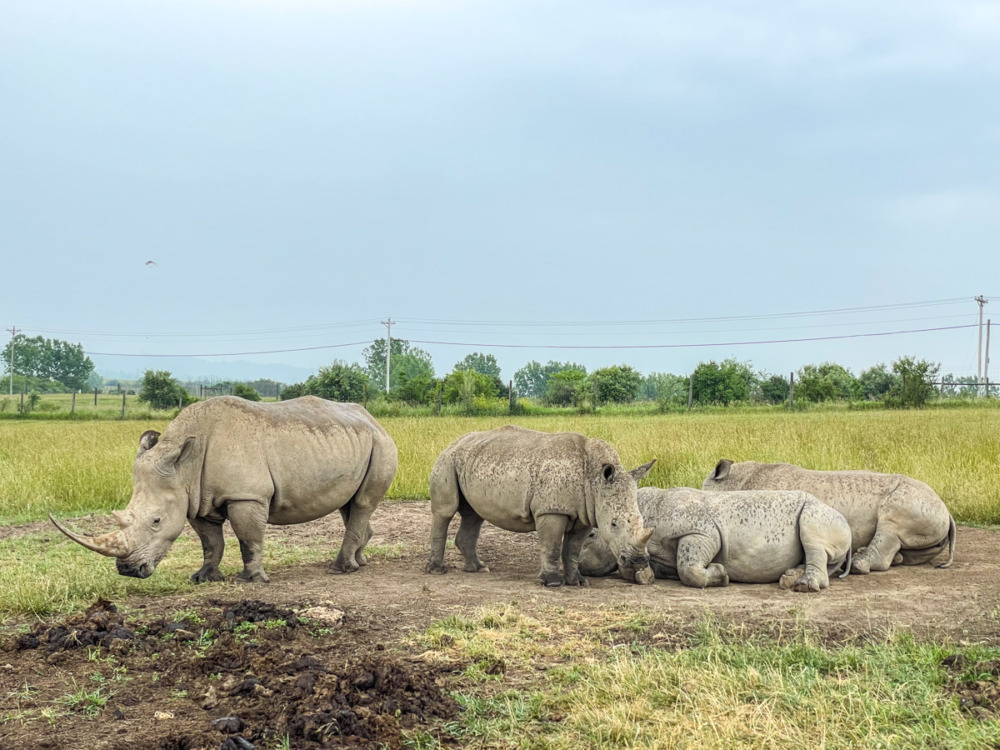 Want to travel overseas and see exotic animals? Me too, but sometimes that isn't in the cards.
Thankfully right here in Ohio you can see several dozen endangered and threatened species at The Wilds, one of the world's largest conservation parks at almost 10,000 acres. Witness everything from these southern white rhinos to cheetahs to batengs and more.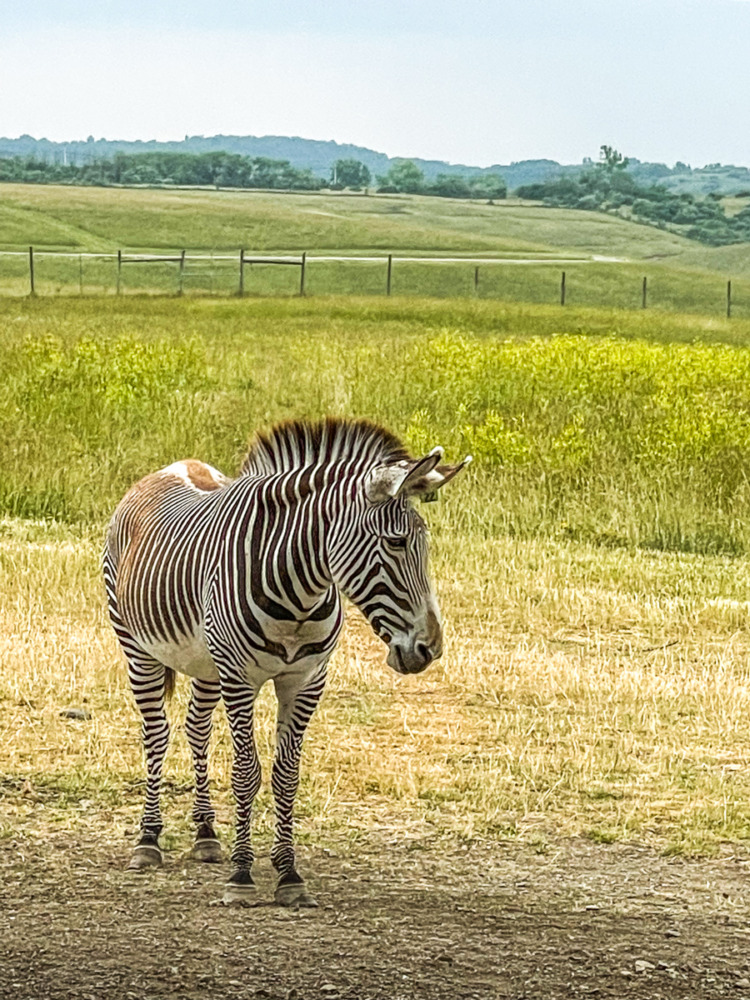 This is a wonderful Ohio day trip for the whole family, as the general tour is conducted in an open-air school bus. It feels like an adventure but requires minimal walking so it's fine for babies through seniors.
We loved our visit to The Wilds so much that we became members – the Family Plus membership covered all six of who visited and parking for less than the cost of a single visit. We look forward to visiting again for one of the specialty tours, like the horseback sunset safari.
The season for The Wilds open-air safari is somewhat limited, running from early May into October. The beginning and end are ideal to avoid the hottest times, but I don't recommend visiting on a day when rain is in the forecast. We all had fun but wound up soaked and muddy even though we were covered on the bus.
---
Day Trips from Columbus Ohio Within ~2 Hours
How far you can go on a day trip is like asking the length of a piece of string. There's no single answer.
But I can tell you that I've seen some downright silly far suggestions for day trips from Columbus, Ohio. Barring a special event, there's not much that makes it sensible to take a road trip that requires driving 3+ hours each way in a single day.
However, there are a few options that are about two hours from Columbus and special enough to warrant visiting even if you can't stay overnight. Prepare for a long day, but know that it'll be worthwhile and you'll have a great time on these fun day trips in Ohio!
Cincinnati Zoo
Distance from Columbus to Cincinnati Zoo: 110 miles/1 hour 45 minutes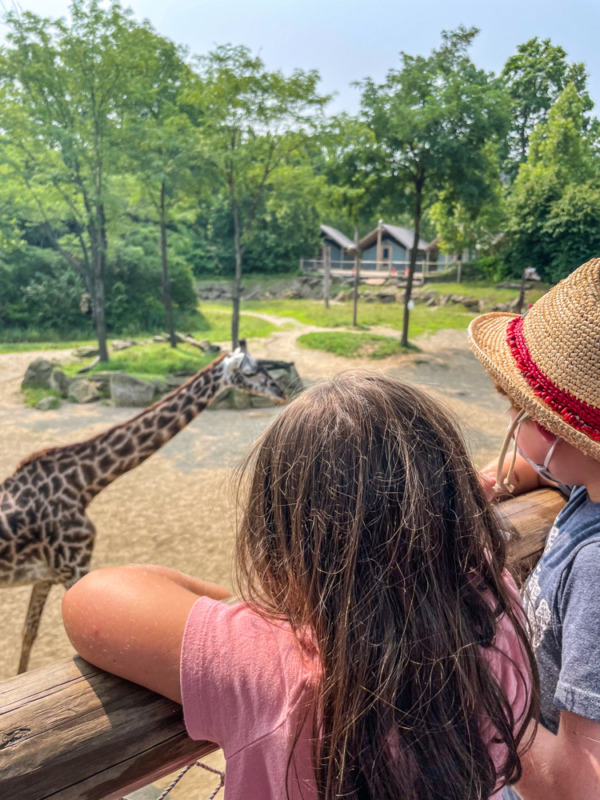 While I'd normally advocate spending a weekend in Cincinnati, if you can't make that happen it's still pretty easy to pop down for the day to see the excellent Cincinnati Zoo & Botanical Garden. The Cincy Zoo isn't as big as the Columbus Zoo, but it offers a different vibe and is home to some animal celebrities like Fiona the baby hippo. The Cincinnati Zoo also has lots of keeper chats and animal encounters included with the price of admission – be sure to check the daily schedule – don't miss Wings of Wonder on a summer visit.
After the zoo, you can stop at Findlay Market for an early dinner. This is one of the best one tank trips from Columbus for families!
Read more: The Best Things to Do in Cincinnati with Kids: Weekend Itinerary for a Perfect Getaway
---
Cuyahoga Valley National Park
Distance from Columbus to Cuyahoga Valley National Park: 130 miles/2 hours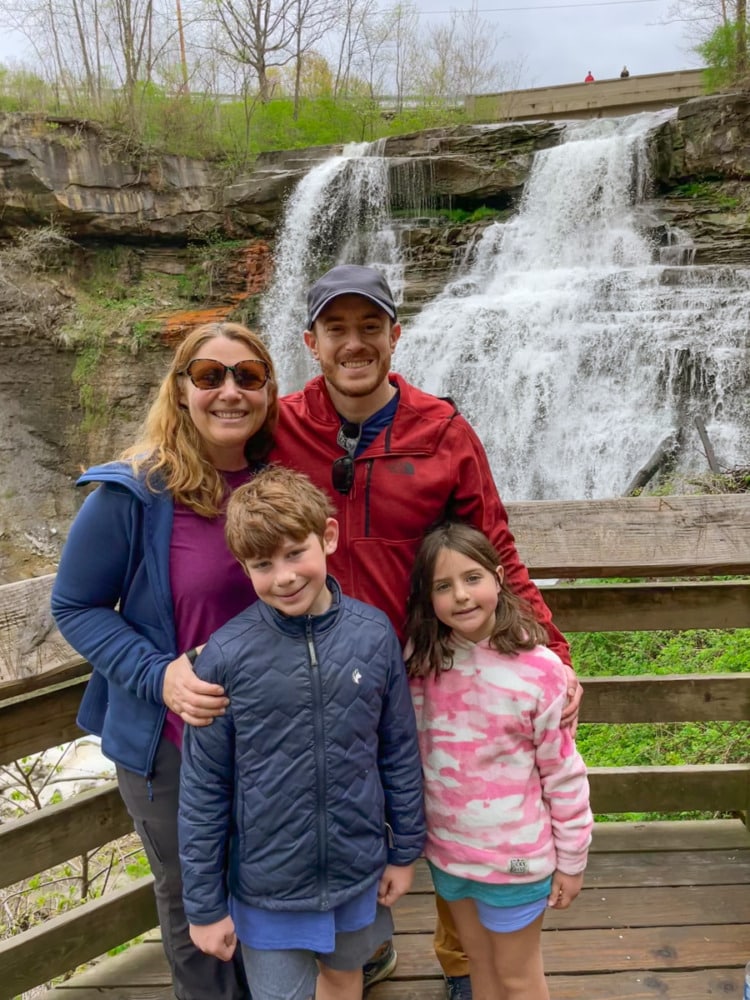 We're lucky to have one of America's 63 National Parks right here in Ohio! It's preserved to showcase both the area's natural beauty and the unique historical significance of the Ohio & Erie Canal. While there's plenty to fill an entire weekend with things to do at Cuyahoga Valley National Park, you can get a taste on a day trip as well. Even better, admission to the Park is free!
The crown jewel of the Park is Brandywine Falls. You can take the gorge trail if you want some good exercise, but the best view of the falls is down the stairs (many of them) from the parking lot in the lower viewing area; the upper viewing area isn't quite as dramatic but thankfully it offers an accessible option. Keep in mind that the parking lot at Brandywine Falls can get very crowded on beautiful days in the summer, but the falls are most impressive right after a big rain. We had no trouble parking here on an overcast day in April!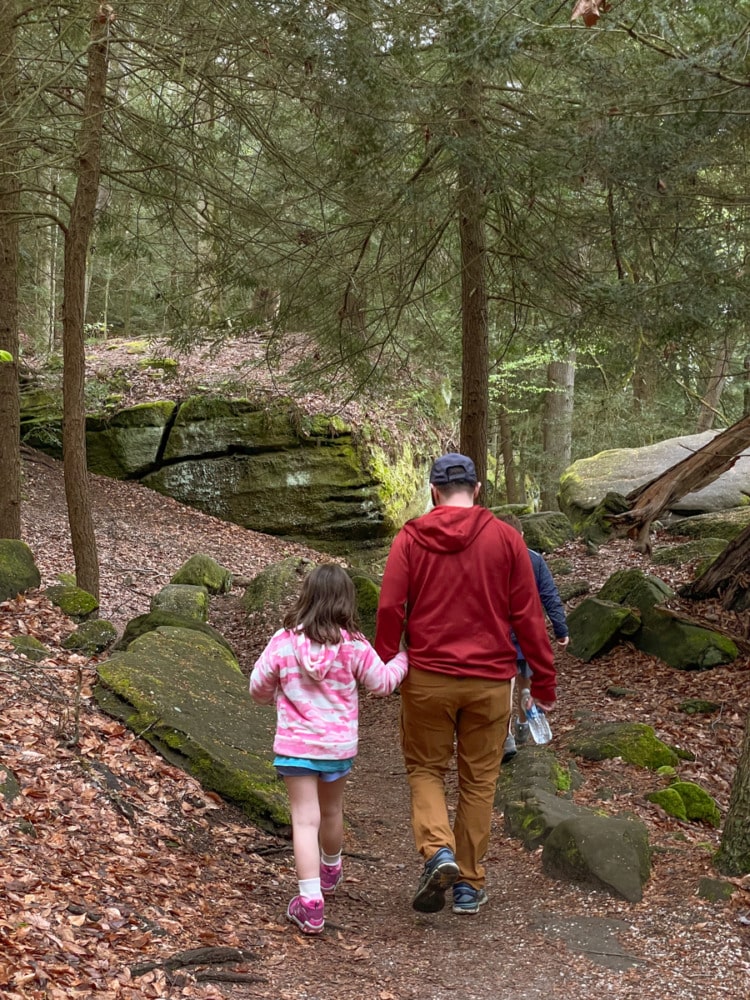 Be sure to spend some time hiking around The Ledges, which is a moderate 2 mile loop. The area's geology is on full display and kids will love running up and down some of the massive boulders. I do recommend waterproof hiking shoes or boots with good tread for the trails in CVNP, as it's a moist area so there are plenty of spots that are slick with either mud or moss – my kids both wore these boots, while I prefer these low-tops.
If you visit Cuyahoga Valley National Park in the summer, build time into your schedule to watch demonstrations of the canal's lock system by historical reenactors, enjoy a free concert and take a ride on the Cuyahoga Valley Scenic Railway.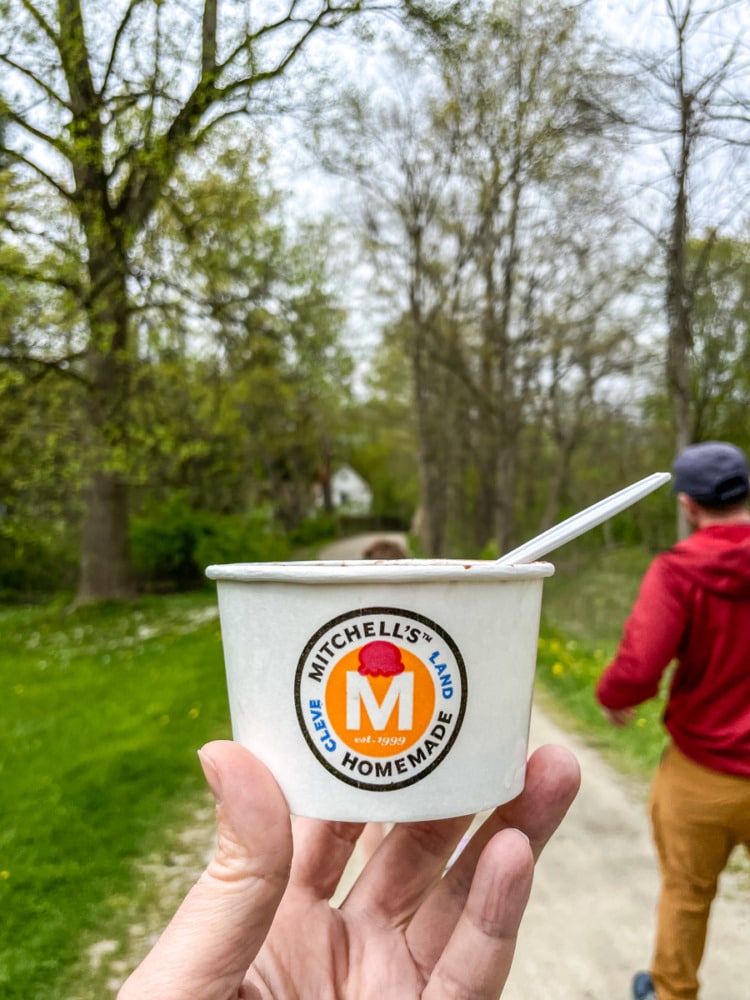 For snacks to refuel during the day, you can snag some Cleveland-made Mitchell's ice cream cups at Boston Store (adjacent to the visitors center) or stop at The Crooked Kettle Popcorn Company in Peninsula.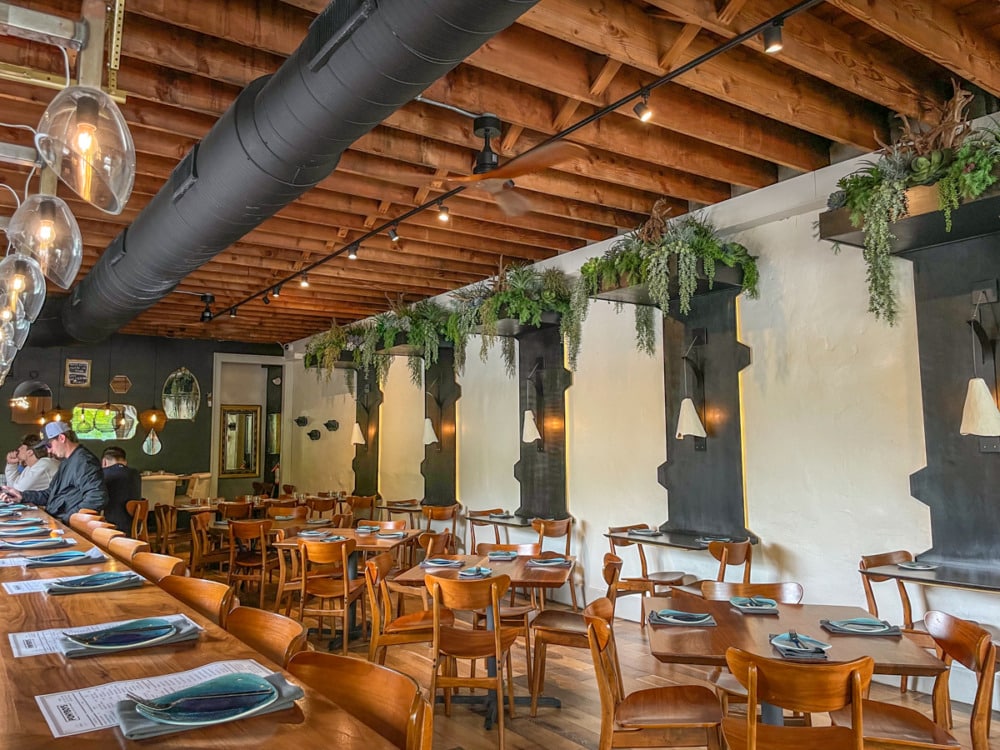 If you've ended your day at the Canal Exploration Center, it's easy to pop up to adorable Chagrin Falls for strolling and dinner. We had a great meal at Ponyboys just outside of town, or for fancy dinner with a view you can wipe the mud off and visit 17 River Grille overlooking the lovely Chagrin Falls waterfall.
---
Vermillion
Distance from Columbus to Vermillion: 120 miles/2 hour 15 minutes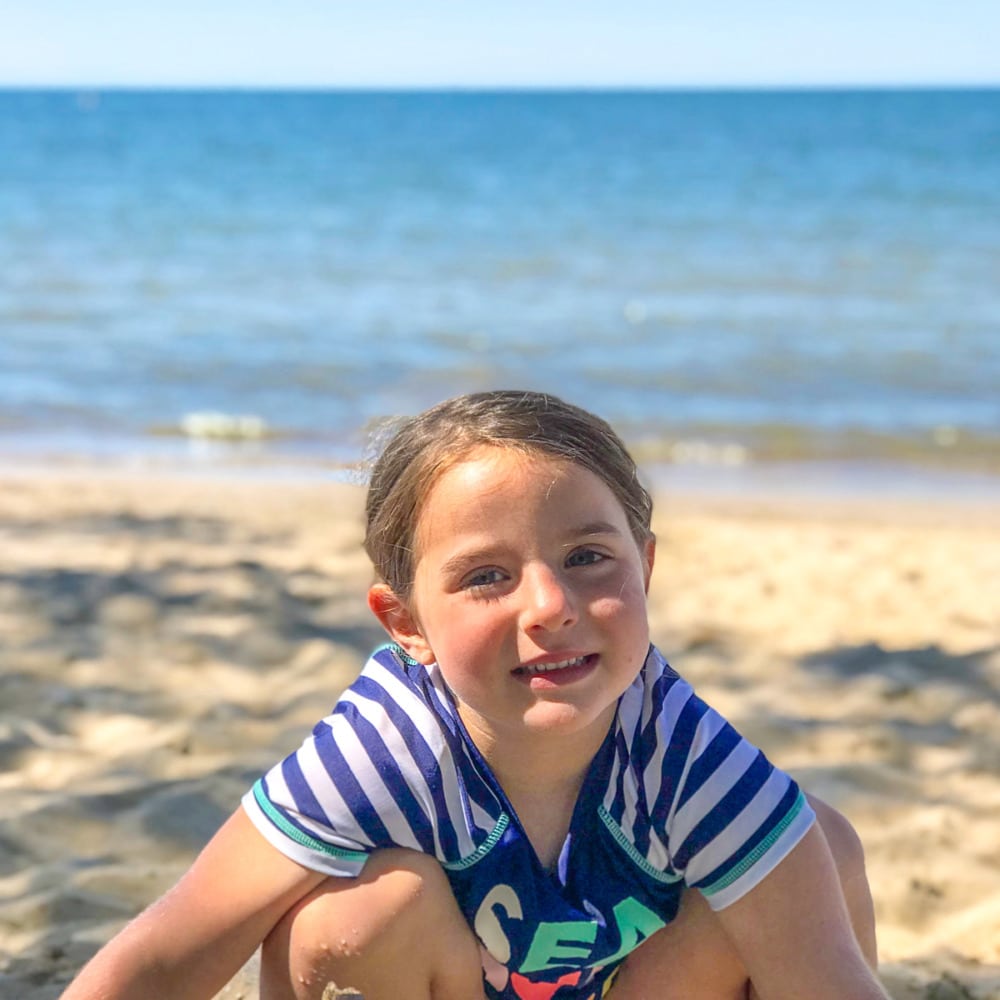 Can't make it all the way to the ocean or the Gulf of Mexico? One of the best summer day trips in Ohio is to the Lake Erie beach in Vermillion. Main Street Beach offers just the right amount of sand and water to get your fix. At just over 2 hours, it's the closest beach to Columbus Ohio.
The drive is at the edge of day tripping for most people, but totally manageable for a day at the beach. You can leave Columbus after breakfast and you'll arrive in Vermillion in time to stroll around the charming town, admire the sailboats on the river and grab a bite to eat before you go relax.
---
Wrapping Up
I hope this guide to some of central Ohio's best day trips has give you inspiration to explore more! If you're stilling looking for more ideas check out these articles as well: