When we moved to the Midwest two years ago, I pulled out a map and made a list of just about every spot within a six hour drive that I wanted to explore. I envisioned weekend after weekend of driving around to find new favorites in such an unfamiliar corner of the world.
Well… 2020 had different ideas, as did much of 2021. But fortunately as life has slowly returned to normal we've at least had the opportunity to get out of Columbus and start seeing a few places. One of our nearest neighbors is Cincinnati, the Queen City. It's so close that we've gone twice in the last few months (and I'm sure we'll be back soon).
Thanks to our extensive research, today I'm bringing you the best things to do in Cincinnati with kids from our visits. I'll share my ideal weekend itinerary for Cincinnati family trips, where to stay in Cincinnati with kids and more. Since we live so close, I look forward to adding more options for things to do with kids in Cincinnati down the line!
Where to stay in Cincinnati with kids
There are a few factors to consider when you're deciding where to stay in Cincinnati with kids: what you plan to do, how you're going to get around and what your budget is.
The most convenient area for many of the top Cincinnati attractions and for the Cincinnati Bell Connector streetcar (as well as pedestrians) is close to the riverfront and stadiums in the heart of downtown. There are plenty of great hotels to choose from, though these are among the most expensive and fill up quickly – especially if there's a major concert or sporting event over the weekend. Click here for some of the most convenient options.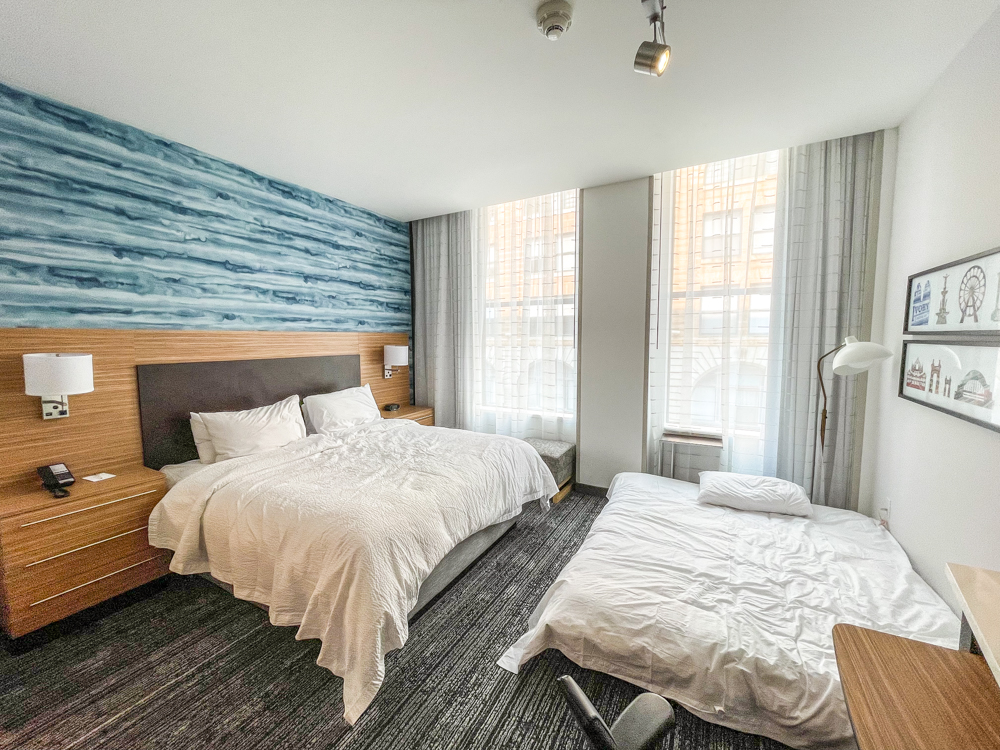 You can also stay a little further north in Downtown Cincinnati. This will save you some cash but still be somewhat walkable (or close to a streetcar route) to help you get around. During one of our family trips to Cincinnati we stayed at the new Marriott TownePlace Suites, which is quite nice. The kids were huge fans of the indoor pool and game room! The sofa bed wasn't amazing so be sure to request two queen beds. In the end this wasn't my favorite area to stay in because it was just a little too inconvenient to walk where we wanted to go and we relied on our car and Uber (which required taking car seats).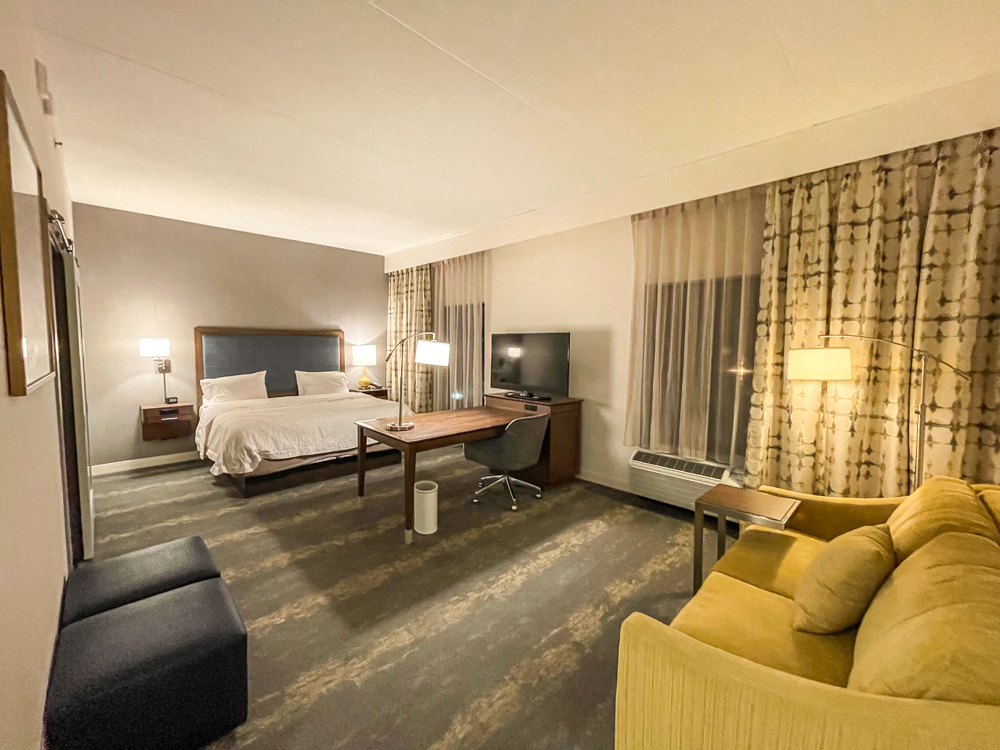 An unexpected treat for us was staying across the Ohio River in Newport, KY on our second visit. We had a fantastic stay at the Hampton Inn Newport KY, which is just at the southern end of the Taylor-Southgate Bridge. It's walking distance to many of the best things to do in Cincinnati and nearby, plus it offers free parking (which is hard to come by if you're staying in Downtown). We were huge fans of the Hampton Inn in Newport KY and we'll definitely stay there again on our next Cincinnati weekend trip.
---
Best things to do in Cincinnati with kids: Weekend itinerary
One caveat before I start making recommendations: like much of the Midwest, Cincinnati is really at its liveliest from late Spring to early Fall. If you're visiting at other times of year, you might need to look for indoor substitutions for some of these activities.
Friday evening
Start your evening off with dinner, which will depend on how and when you're getting to Cincinnati as well as your preferences.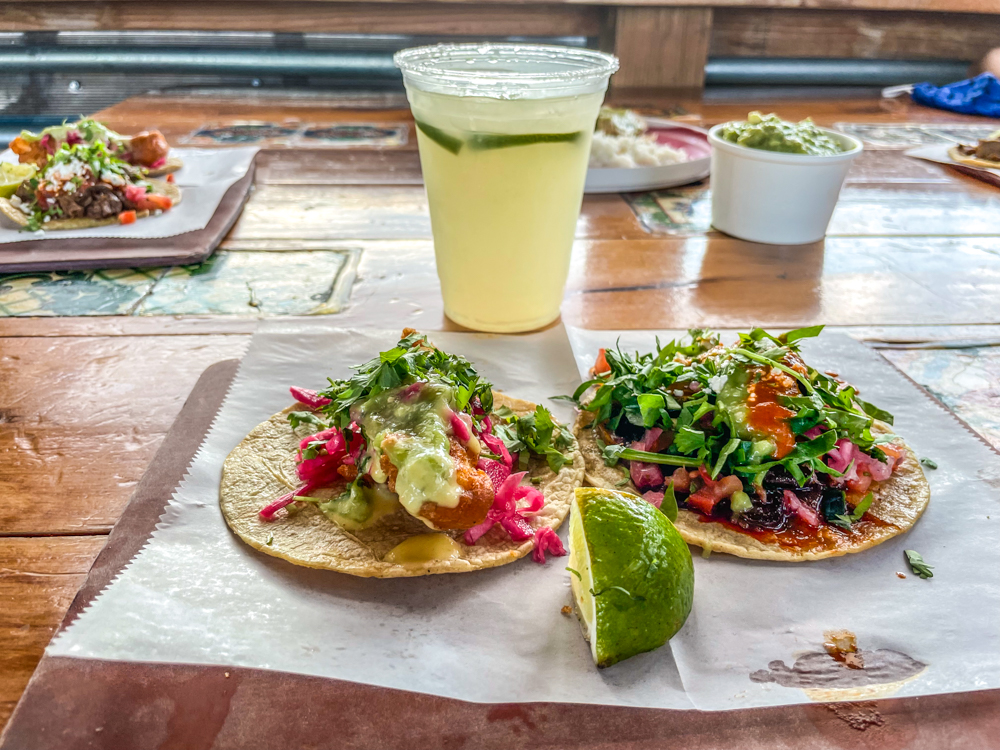 If you're driving down from Columbus or points north, I highly recommend stopping at Mazunte Taqueria in the Madisonville neighborhood on the north side of Cincinnati. The food is delicious, affordable and speedy. It's some of the best Mexican food we've had in Ohio! They also have a location in the heart of downtown, Mazunte Centro.
Your first stop in Cincinnati (or Newport) will be your hotel. Check in, freshen up and ditch your car. If you're close enough, walk over toward Great American Ballpark, home of the Cincinnati Reds. Too far to walk? Grab and Uber or hop on the streetcar.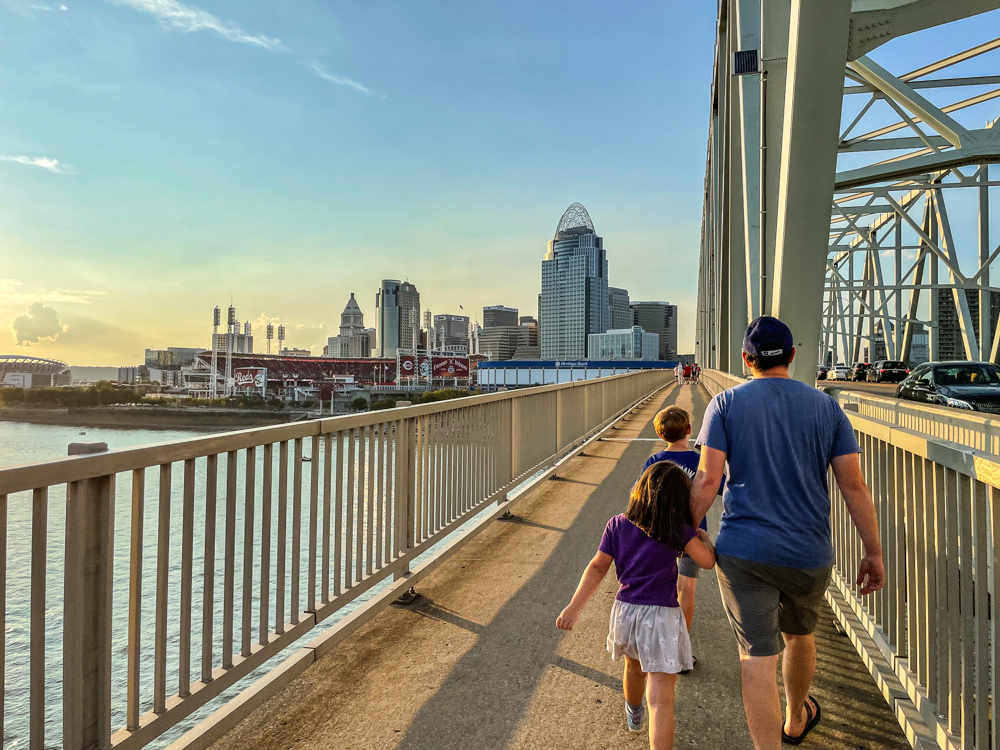 I'll make another quick plug here for staying at the Hampton Inn & Suites Newport KY. Not only is the walk to the ballpark easy but it's also lovely. You get a great view of downtown Cincinnati plus an opportunity to move your body before sitting down for the game.
If you didn't stop at Mazunte there are plenty of great dinner options at and around the ballpark. We did eat in the ballpark during one family trip to Cincinnati and didn't find the food choices to be all that appealing but that's in the eye of the beholder. For a sampling of local food, try Skyline Chili at the stadium; this unique concoction is Cincinnati's spin on chili, but served on a bed of spaghetti.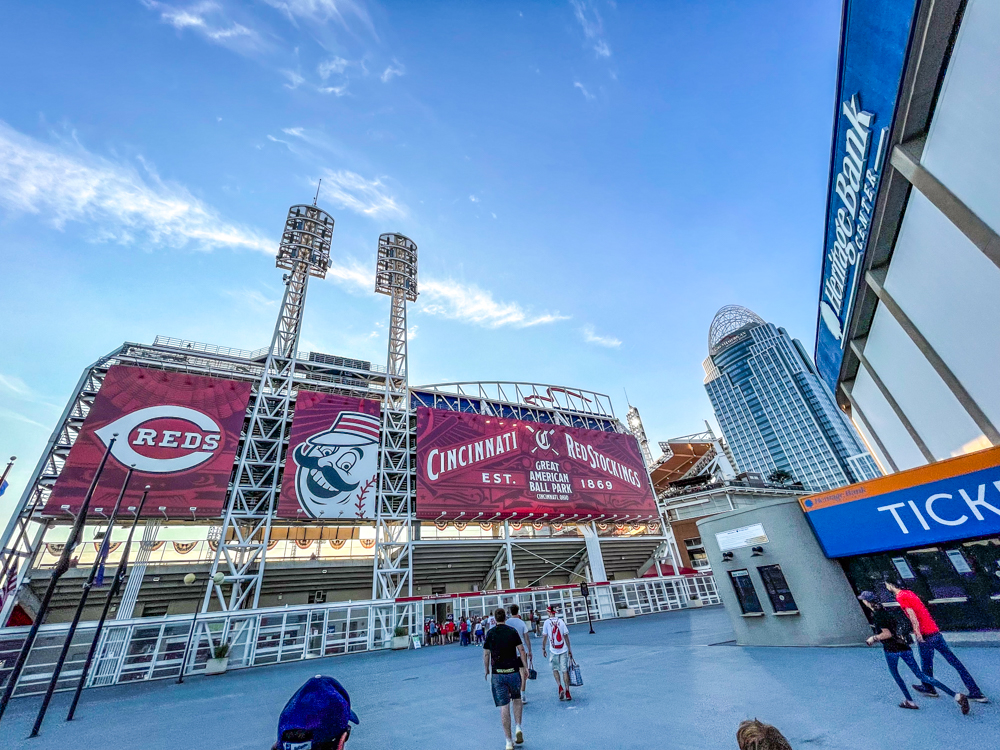 Head into the stadium for an evening of family fun with the Cincinnati Reds! We've been to many baseball stadiums over the years but this is definitely one of the most kid-friendly.
There are plenty of places to explore before, during and after the game. If you have time to spare, duck into the new Reds Hall of Fame & Museum. Near the concessions there a full-fledged playground; if you have a few adults in your group you have have one supervise the kids while the rest go get food. That worked out great for us so the kids could burn off their energy rather than standing in line complaining. Don't forget to snag a picture with Mr. Redlegs!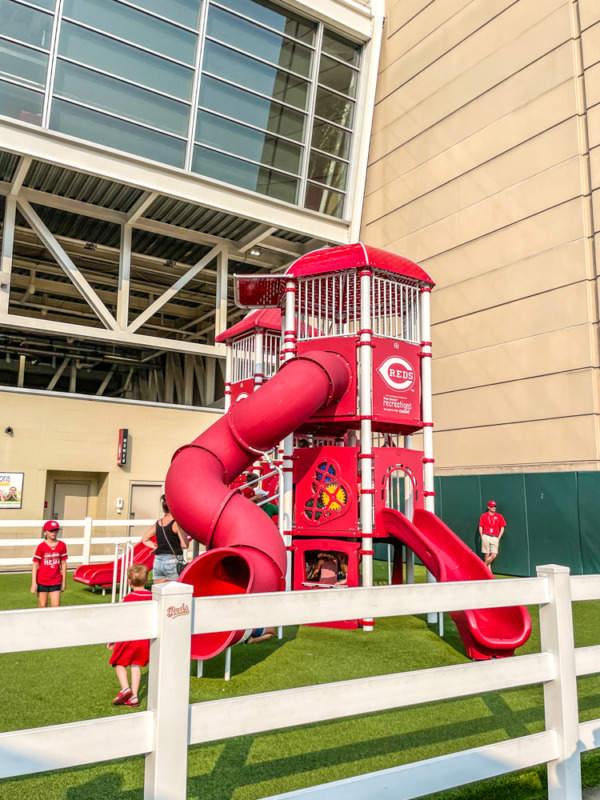 If anyone in your family needs a break from the noise and crows, head to the View Level on the right field side where the brand new TriHealth Family Zone offers everything you need, especially if you're in Cincinnati with a toddler or baby. There's a nursing lounge, a reading room, play equipment and more.
Even if some people on your family aren't big baseball fans, an evening at Great America Ballpark is still a really good time. If you're catching a summer home game on Friday evening you'll also see the awesome fireworks show shortly after the game finishes! It was definitely a highlight for our kids.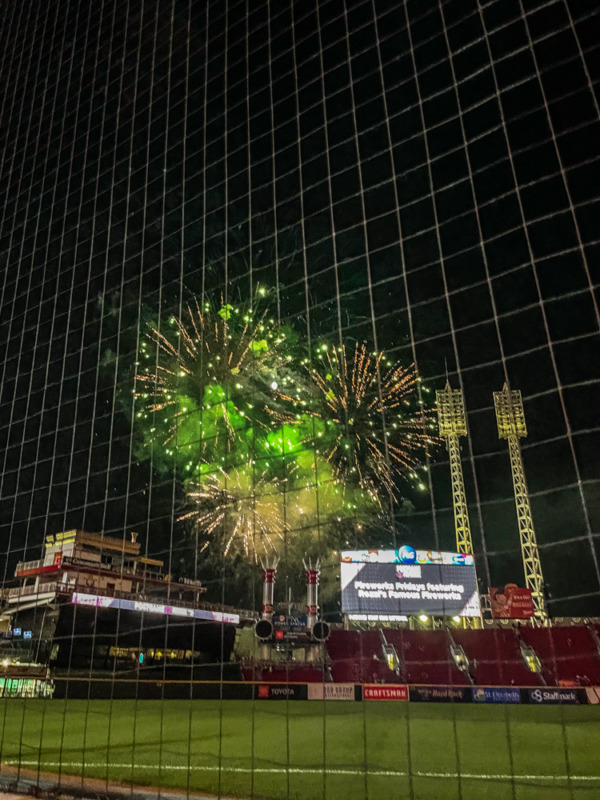 The walk back to Newport is even nicer after dark because you'll get to enjoy the city and waterfront beautifully lit up. It affords you a fantastic view of the famous Roebling Bridge, which may look familiar because it was the prototype for the Brooklyn Bridge in New York City!
Want to get more helpful travel tips like this? Sign up for our email list!
Saturday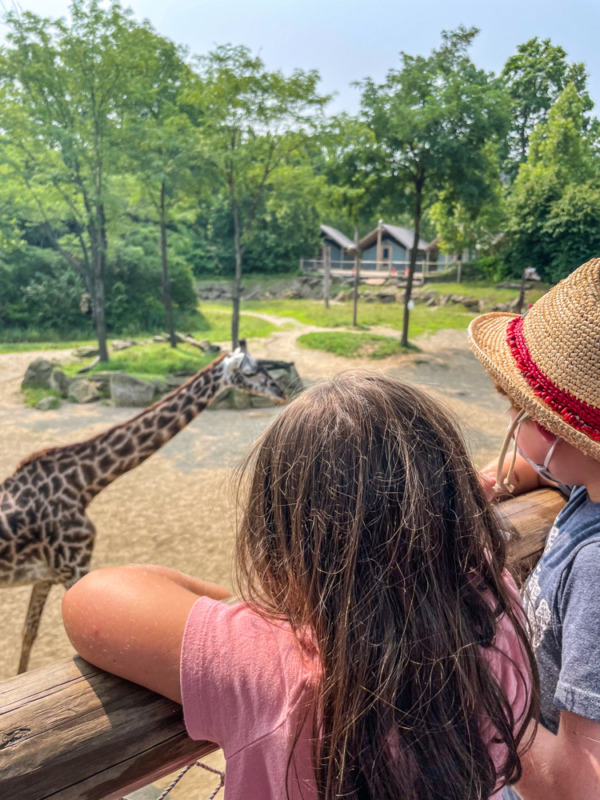 Today's mostly about one of the top Cincinnati things to do with kids: the world-famous Cincinnati Zoo!
The Cincinnati Zoo is enormous and has some really unique opportunities. First and foremost, every visitor wants to see Fiona the baby hippo! She's as cute in real life as she looks in pictures. Our kids also loved the Wings of Wonder bird show. On some days there's a cheetah running. There are different animal encounters every day so be sure to check the schedule.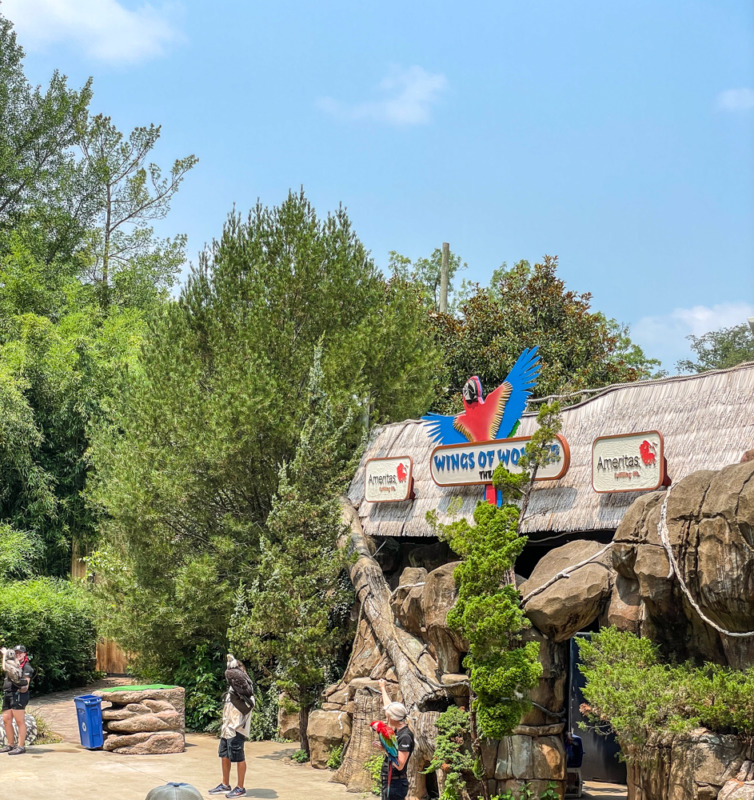 If possible, arrive at the zoo close to opening time to get decent parking. We arrived 30 minutes after opening and had no problems. Many of the spaces are even shaded, which is so nice during those hot, humid summer days. If you haven't already applied sunscreen do it now before everyone runs off in search of their favorite animals.
The Cincinnati Zoo is a member of AZA, so if you've brought your membership card from a local AZA institution you get admission at half price. The downside is that you can't buy those deeply discounted tickets in advance, nor can you go to any special line. I had the kids go sit to the side with with brother while I baked in line for 20 minutes. If you can arrive right when the zoo opens you'll probably save some time. If you don't have an AZA membership anywhere, buy your tickets in advance to walk right in.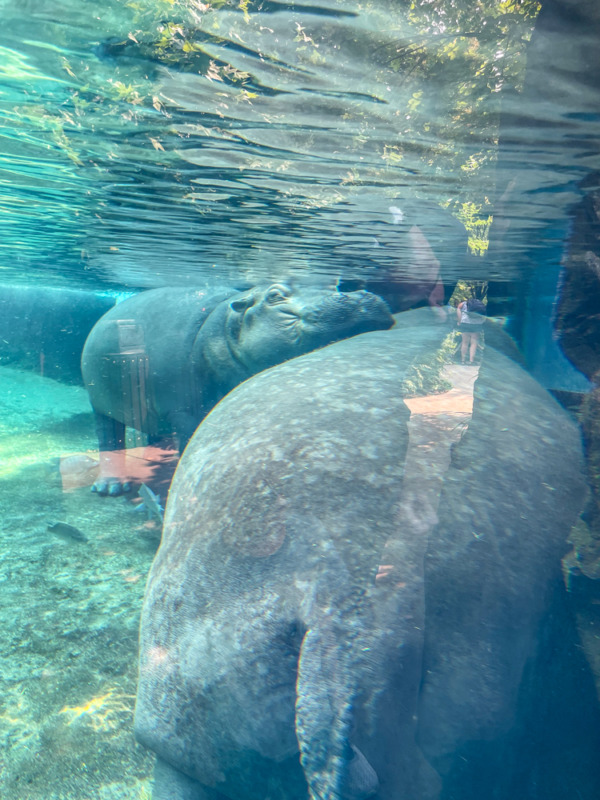 Our group spent over five hours at the Cincinnati Zoo (not including parking and ticket purchasing, but including some wonderfully air conditioned gift shop time). That's a lot of time at a zoo, but it's also not quite enough time to see everything the Cincinnati Zoo has to offer.
I suggest that before your visit or right at the map when you enter, everyone gets to choose one or two animals that are their top priorities. Add those in to whatever scheduled encounters you want to take in and you'll have a good sense of what route makes sense for you.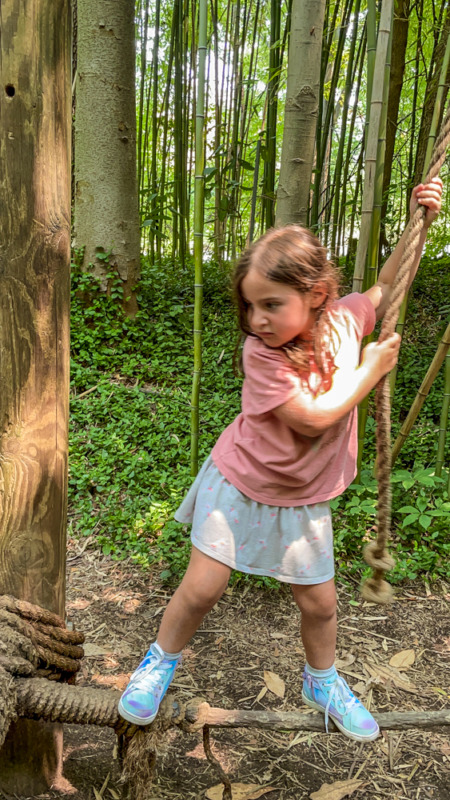 We opted to turn right at the entrance to start with elephants and then work our way around the zoo counter-clockwise. That seemed to be the most common route for most families we saw. Don't miss the Jungle Trails primate section, whose entrance is a little inconspicuous; at the end there are some fun obstacles to let your kids try out their own primate skills.
Conveniently, there's a concessions area about halfway around the loop at The Grove. If you're trying to decide where to eat at the Cincinnati Zoo, this is it! Inside the pavilion there's a Skyline Chili, grill and coffee bar while outside there are several great food trucks.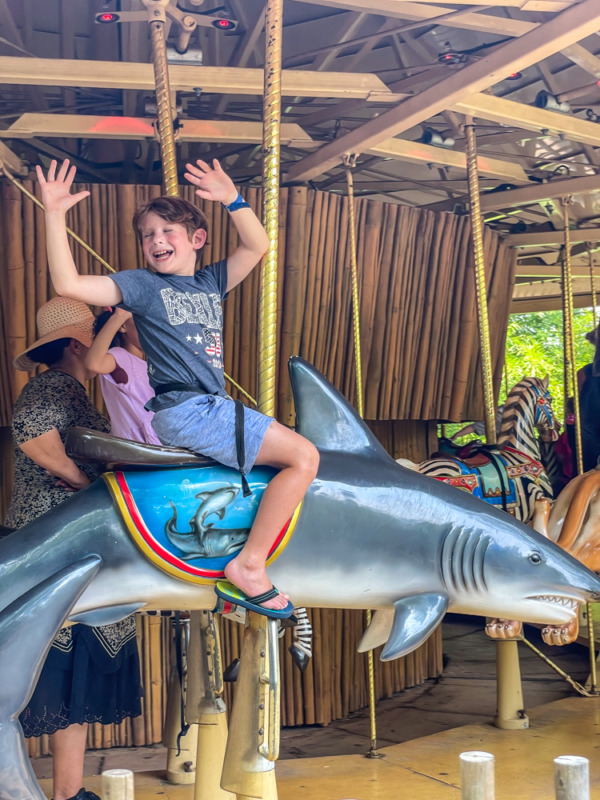 Fortunately one of the food trucks has soft serve and there are even huge fans set up to beat the summer heat! The Cincinnati Zoo carousel is also located next to the food trucks, making this an ideal area for a mid-day break.
If you're bringing small children to the Cincinnati Zoo, just know that it feels bigger than it is. Small ones will probably benefit from a stroller, lest they lose their cool by mid-afternoon.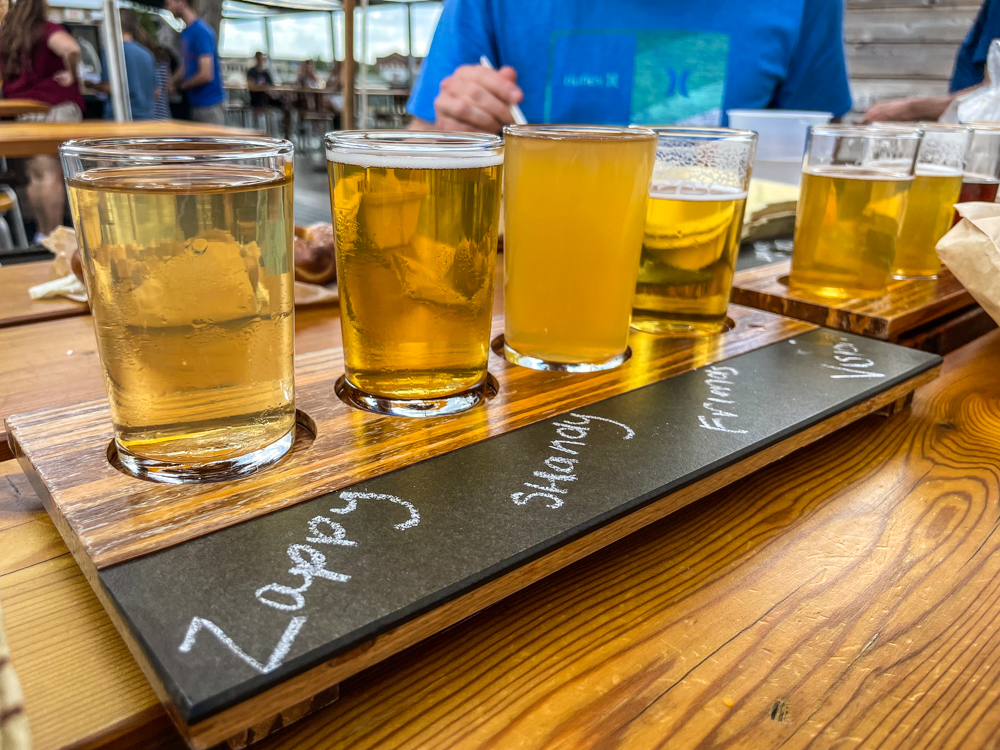 After a long day at the zoo, there's nothing better than kicking back to wind down the afternoon with a nice cold beverage. You're in luck because the Rhinegeist Brewery is less than ten minutes from the zoo! There's free parking across the street and all ages are welcome.
Rhinegeist an awesome selection of house-made beers on tap to appeal to beer lovers and the beer-hesitant (like yours truly) alike. You can build your own flight and even order snacks and food from their restaurant partner next door.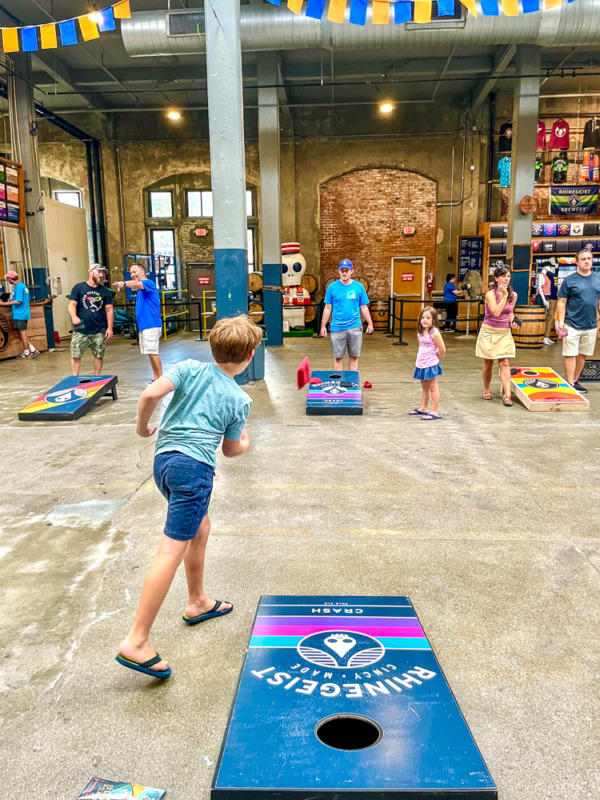 We absolutely love Rhinegeist beers, but their brewery brings the experience to another level. The rooftop beer garden offers wonderful views of the city in a chill environment. If you or your kids would rather be in the thick of the action, head to the cavernous tap room below. They've got a huge screen showing the sporting event of the day and half of the room is dedicated to corn hole! Our kids were in heaven. If your crew wants to stay longer you can even grab a table and rent a board game.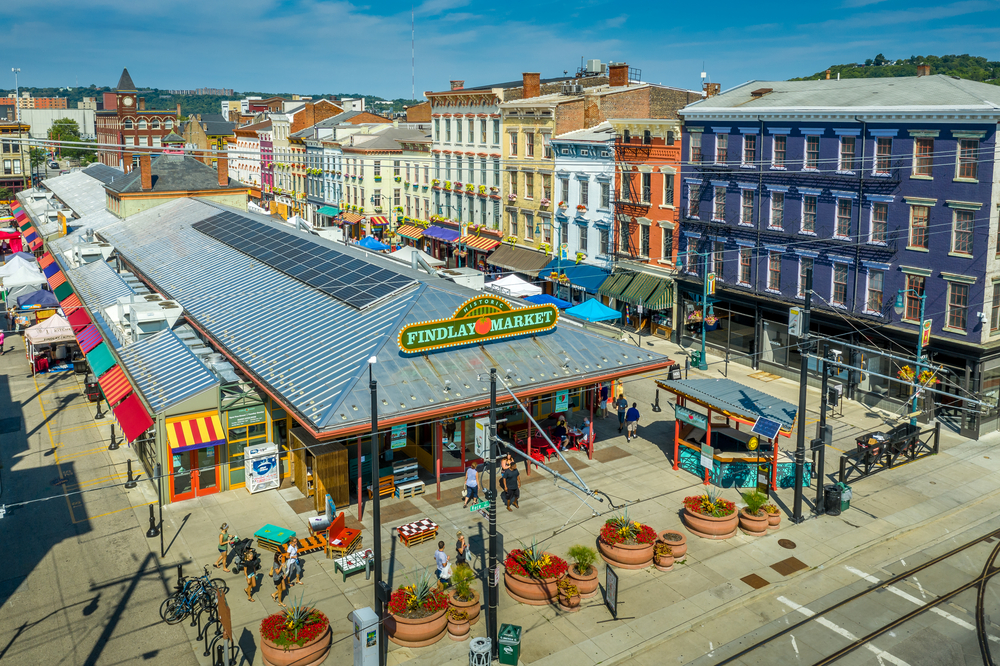 For a fun Saturday night dinner during the warmer months, head around the corner to Findlay Market. It's the oldest continuously operating public market in Ohio and a great choice for the whole family. There are tons of food options to choose from and lots of tables where you can bring your purchases from any vendor. There's also a full schedule of live music on weekends from April through October.
Sunday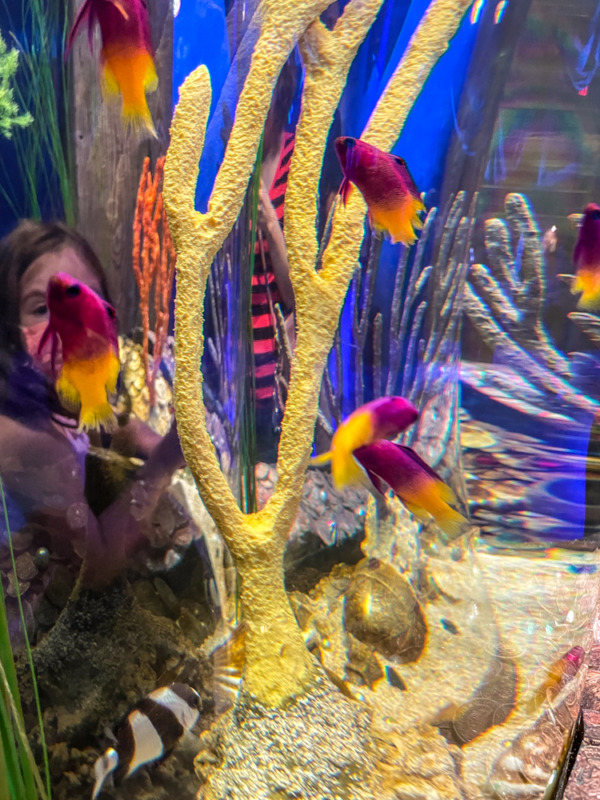 You won't have to go far for this morning's activity: after enjoying hotel breakfast, you can walk across the street from the Hampton Inn to the fantastic Newport Aquarium. We think this is one of the best things to do in Cincinnati with kids! It's right up there with the Monterey Bay Aquarium as far as we're concerned.
What makes the Newport Aquarium so awesome? While it doesn't have the same local emphasis that some other aquariums do, it showcases a unique and wide variety of sea creatures. It's one of the only places in the world where you can see shark rays, for example. There are also two albino gators (safely behind plexiglass, so no worries).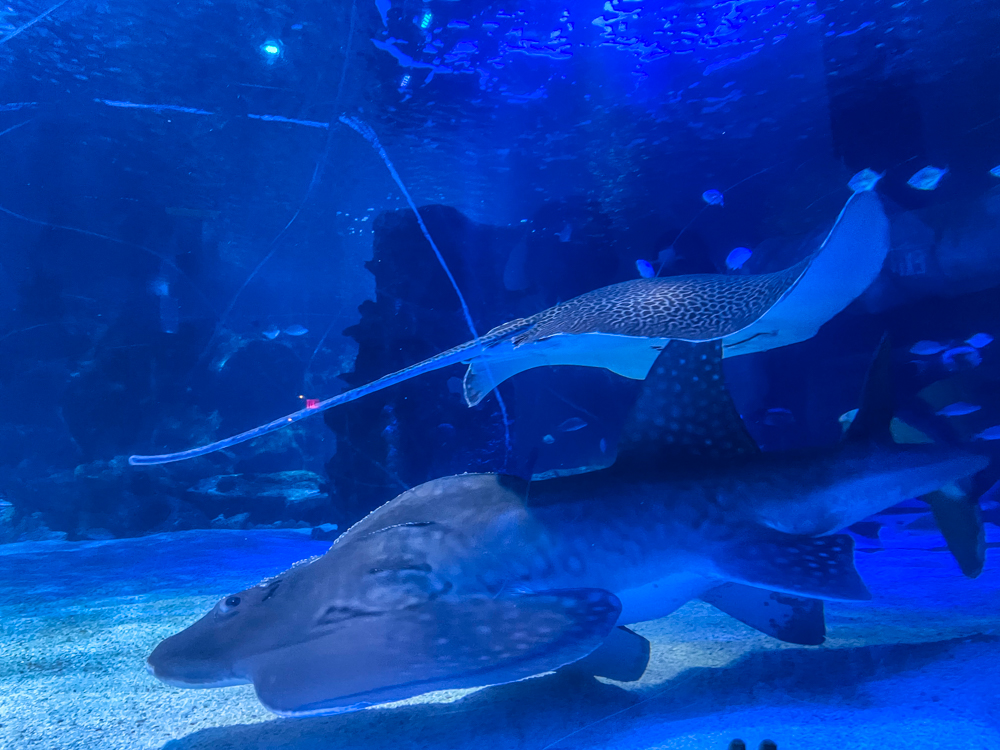 Many of the exhibits also give a truly immersive feel. There's a network of tunnels to go through where you're surrounded by sea life. You can also walk over Shark Bridge to see a variety of sharks swimming underneath you. For young visitors with lots of energy, there's a climbing structure and coloring table.
You definitely won't want to miss the Newport Aquarium! You may find that you stay at the aquarium longer than you anticipated – we were there for nearly three hours. While you can't bring your own food in, Sharky's Cafe is about two thirds of the way through the aquarium and offers reasonably priced lunch options (about $6 per entree). For many families that will be the best option to avoid rushing through, particularly because the aquarium opens at 10am on Sundays.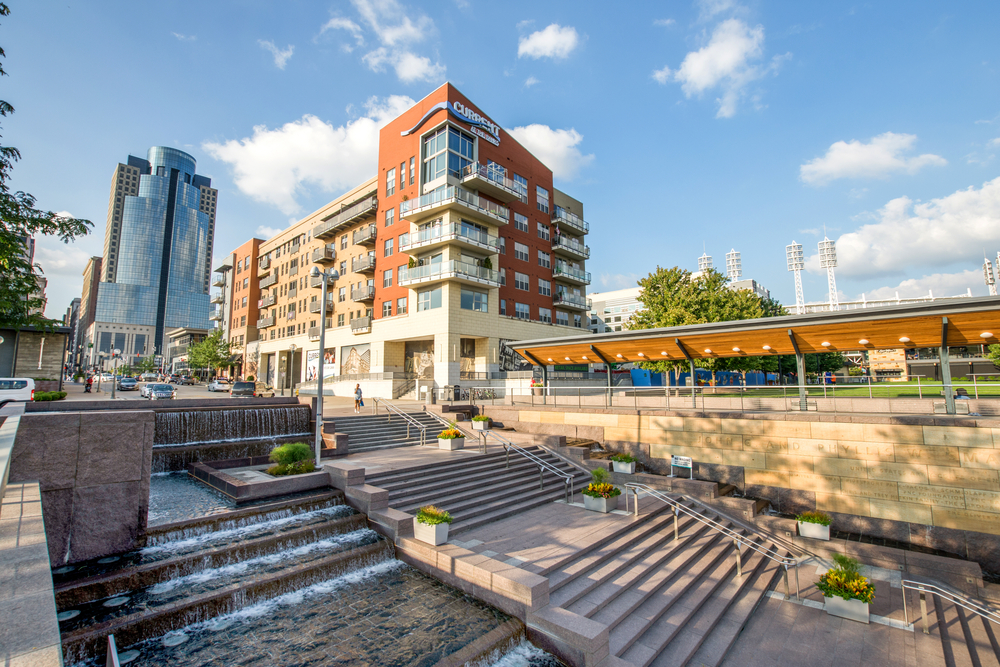 Once you've finished at the Newport Aquarium (and possibly grabbed a fresh lemonade in the plaza in front at Newport on the Levee), head back to pick up your car. You'll say goodbye to Kentucky and drive back across the bridge to Cincinnati proper. If you're able to find parking, this is a great time to stop in at Smale Waterfront Park. Unfortunately there was a sporting event when we tried to visit so we weren't able to go – the park is situated between Great American Ballpark and Paul Brown Stadium, home of the Cincinnati Bengals. If you have the chance, be sure to spend some time at the Grow Up Great Adventure Playground in the middle of the park, right next to Roebling Bridge.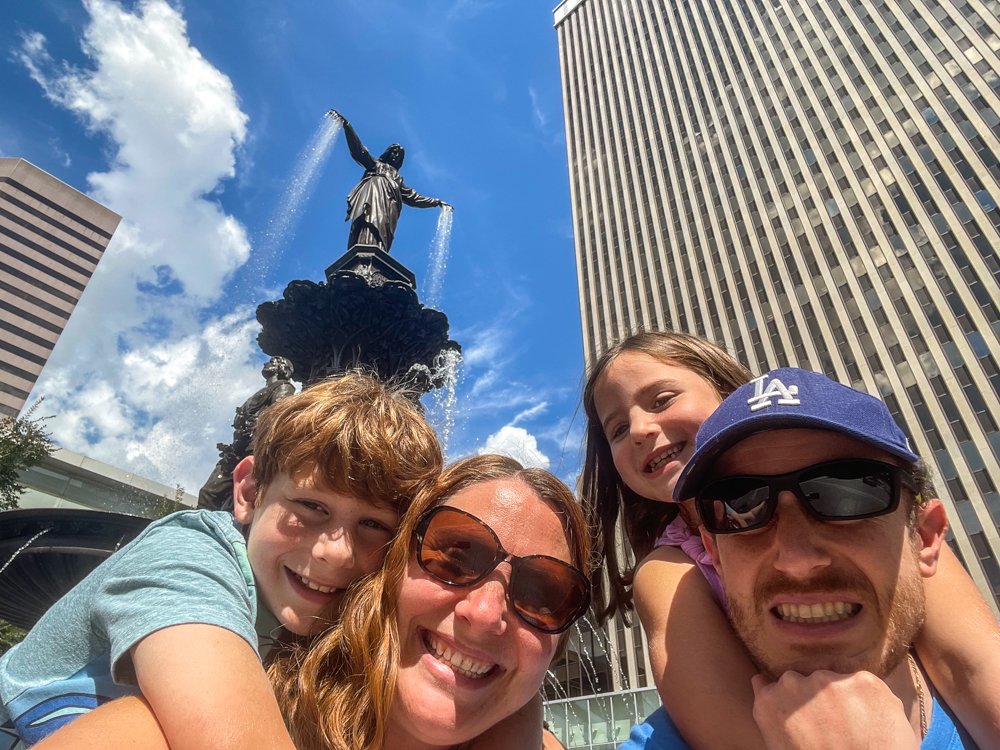 For a taste of urban Cincinnati, head to Fountain Plaza. You can grab an ice cream at local favorite Graeter's and let the kids splash some water from the spigots. If you love the urban life, stroll north on Vine to admire Cincinnati's lovely architecture and eventually make your way to the Downtown Main Library. Even if you don't go inside, you and your kids will definitely want to see the famous Cincinnati "book fountain" (currently being slightly relocated). This self-guided walking tour will give helpful context to all the city's sights.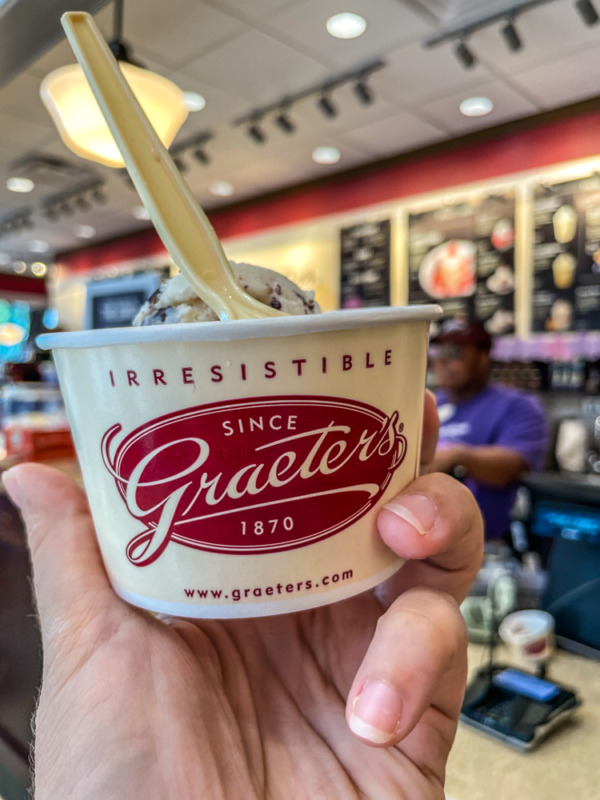 Your final stop in Cincinnati with kids is at the Krohn Conservatory, a slice of nature right next to the city. Every spring and summer for the last quarter-century, the Conservatory has hosted its incredible "Butterflies of Bali" exhibit. From early May to early September more than 16,000 butterflies fill the greenhouse and flit around you from one fruit dish to another. It's a truly magical experience! At other times of year, the Conservatory hosts rotating special exhibits.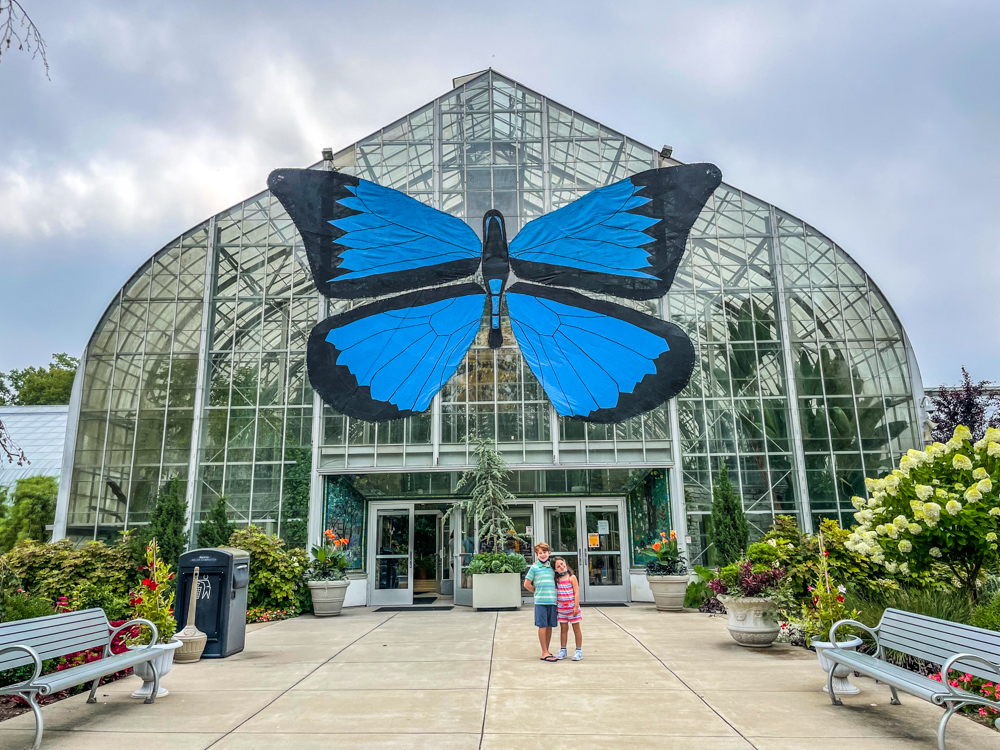 If you have a little more time in Cincinnati before your departure, walk over to Eden Park's playground and Spencer Overlook for some much-deserved playtime and one last look over the Ohio River.
Still have a few hours to spare? Hop aboard BB Riverboats to see some of the city's best views from the water! At its peak, a quarter of American steamboats were built right here in Cincinnati. The narration will be interesting to adults and school kids, but the experience of being out on the water is perfect for all ages. We haven't taken this particular cruise but it's already in the works for our next trip down!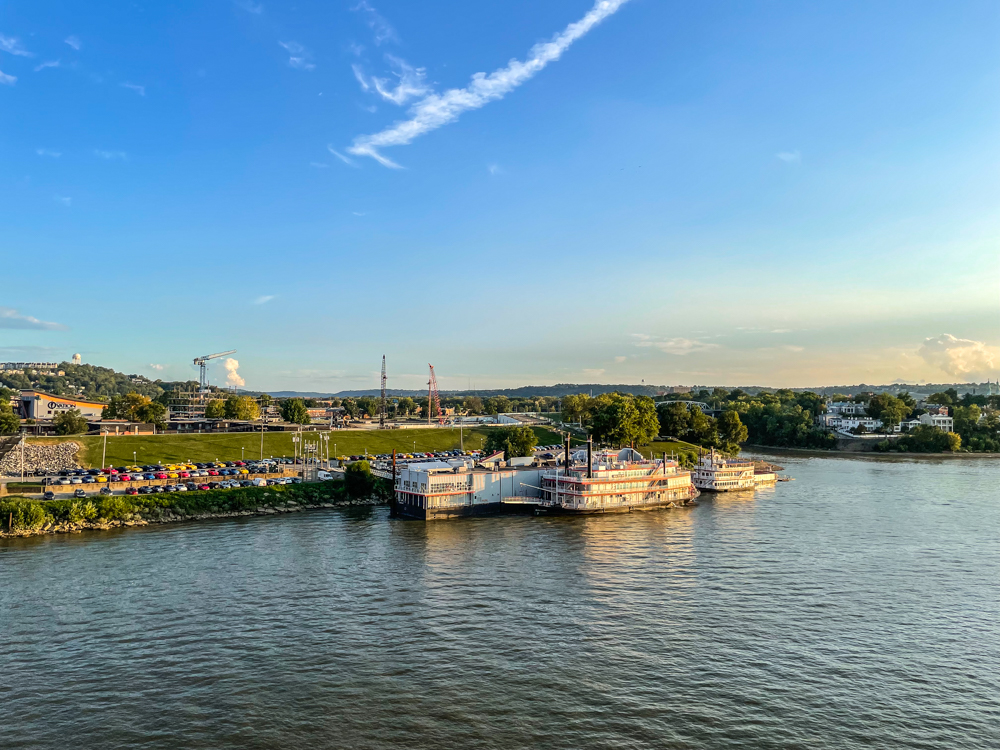 ---
I hope this guide has helped you plan the perfect family trip to Cincinnati! If you've already gone, be sure to share your favorites in the comments below so I can add them.
Where to go next