We've been busy exploring all that there is to do in our newly adopted home state, and the great news is that there are plenty of fantastic day trips from Cincinnati, Ohio – including some to neighboring states thanks to its convenient location near the border.
Some of these are awesome family day trips from Cincinnati Ohio, while some of these day trips in the region are better for couples or kid-free adults. Have a read and find something interesting to do! Be sure to check back, as I'll keep adding our new adventures to the list.
Best Day Trips From Cincinnati OH Within 1 Hour
Dayton
Distance from Cincinnati to Dayton: 55 miles/1 hour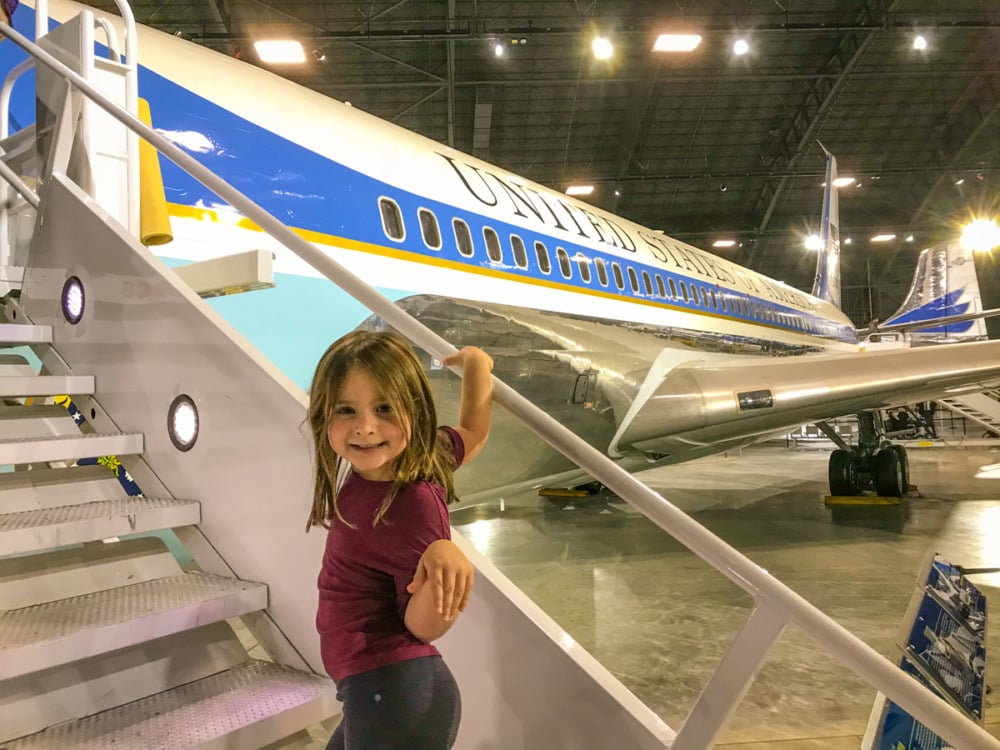 Dayton should be one of the first day trips from Cincinnati you take if you're new to the area – or even if you're a lifelong resident who hasn't yet explored all of the great offerings. There are too many things to do in Dayton to detail in this roundup! I've actually been visiting since my own childhood, but we make several trips each year now and keep finding new, unique activities.
Of course Dayton is best known as the home of the National Museum of the US Air Force. It's truly impressive! There are great displays covering the history of aviation and space travel as well as Ohio's role in both. You can't beat the cool factor of the Museum's collection of retired Air Force One planes that you can walk through. See how leaders from Roosevelt to Clinton rode in style! In recent years they've added a lot more hands-on exhibits and simulators for kids, so visitors of all ages will be engaged. Did I mention that admission is FREE?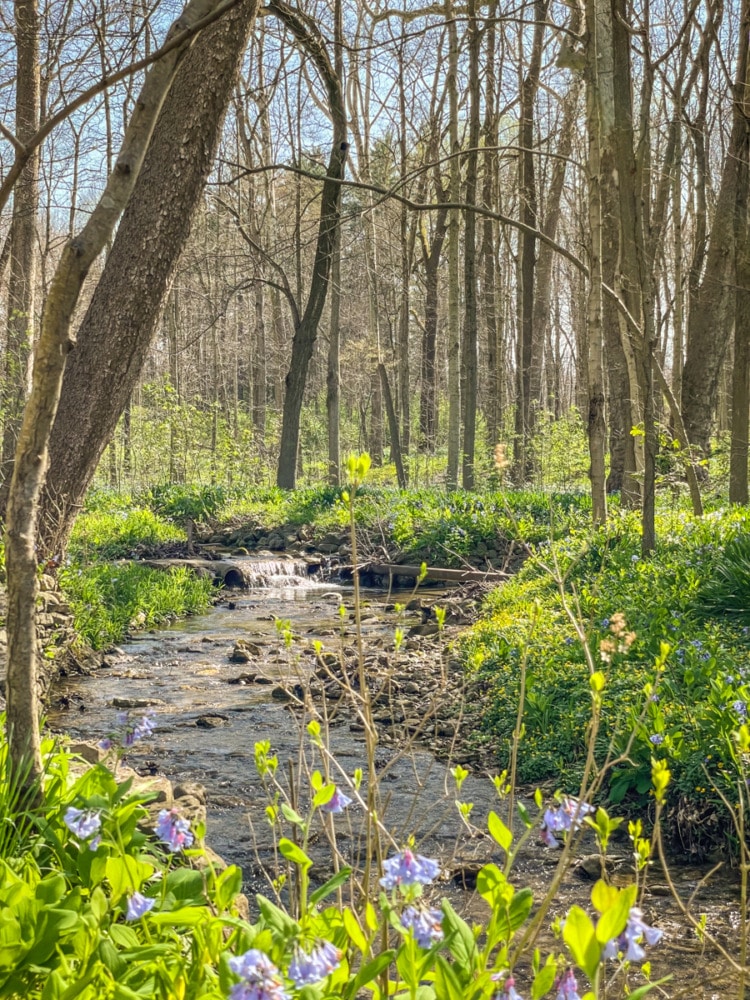 If you're visiting when the weather is nice, Dayton also has plenty of lovely gardens to visit. We especially love Aullwood Gardens Metro Park and look forward to visiting Wegerzyn Gardens and Cox Arboretum – all three of those are totally FREE as well since they're part of the fantastic Five Rivers MetroParks system.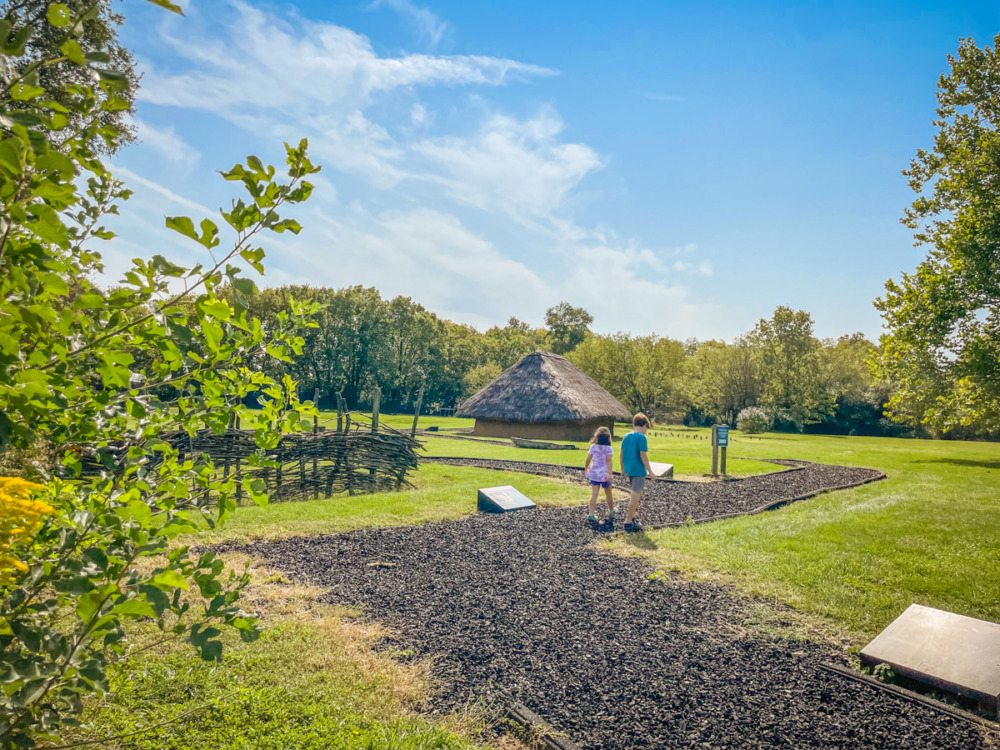 One of our favorite hidden gems in Dayton is Sunwatch Indian Village. This is an active archeological site, and there's also great recreation of the Fort Ancient village that stood on the site 800 years ago. You'll enter through the small but excellent museum that houses both artifacts as well as representations of the Fort Ancient culture. We visited on a gorgeous Saturday and were the only people there, so this is a great place to avoid crowds – but please tell your friends to visit too so that we can support this excellent site.
Read more: 7 Things to do in Dayton That Should Be On Your Radar
---
Cincinnati Ohio Day Trips Within 1.5 Hours
Yellow Springs
Distance from Cincinnati to Yellow Springs: 70 miles/1 hour 15 minutes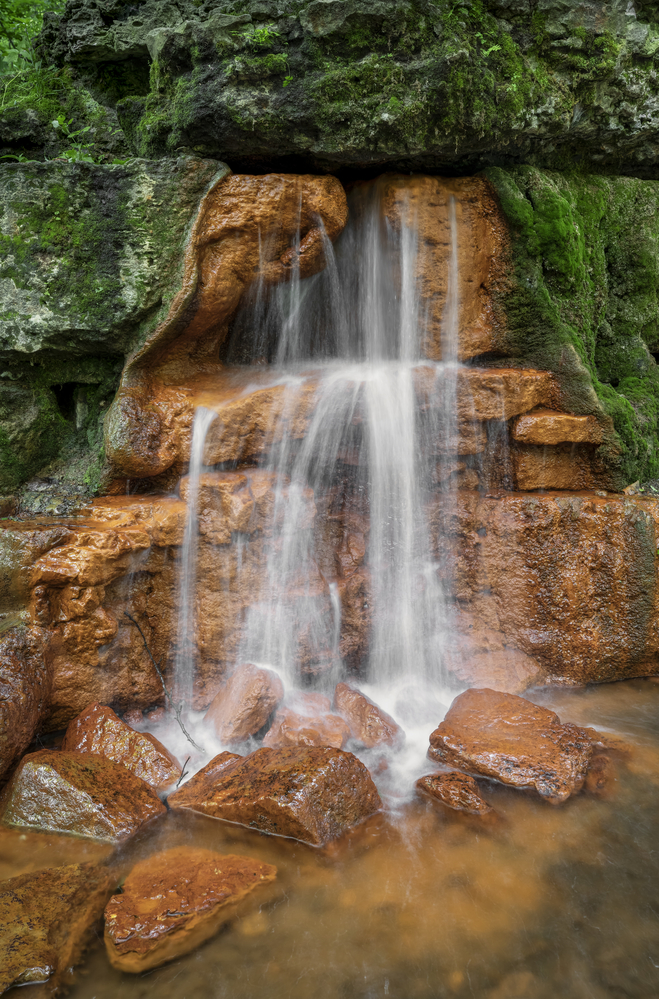 Looking for a great spring or fall day trip from Cincinnati? Get to adorable Yellow Springs in under an hour!
The biggest draw is Glen Helen Nature Preserve, which offers a lovely Inman Trail loop hike through the woods that takes you to the yellow spring that gave the town its name. Just up the street in town, grab a slice of pizza from Benito's – some people claim it serves up the best pizza in Ohio.
If you're on a day trip with kids, be sure to stop at Young's Jersey Dairy as well. This dairy farm has been in the family for over 150 years, but it's evolved a lot in that time! Today they serve up delicious homemade ice cream and more in their shop. If you want a longer visit, spend time visiting the farm animals, testing your skills at batting cages and mini golf or going down the "fast slide".
---
Springfield
Distance from Cincinnati to Springfield: 80 miles/1 hour 20 minutes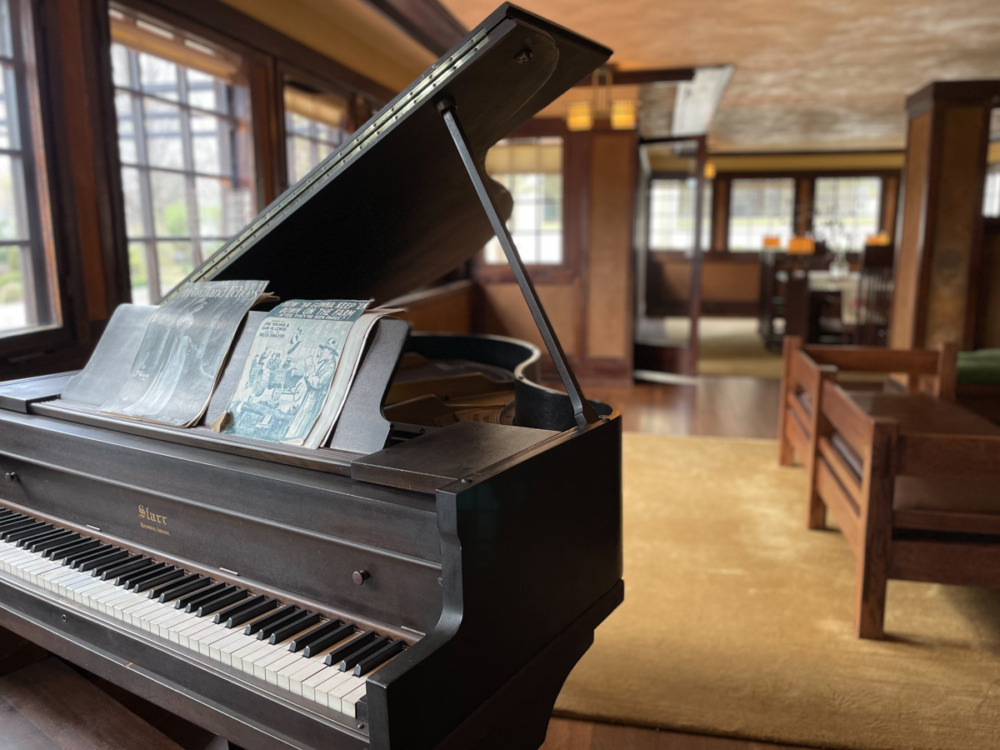 Springfield, Ohio is a new one for us but I'm so glad we visited! This is a must-do Ohio day trip for architecture fans thanks to the presence of Frank Lloyd Wright's incredible Westcott House. It's the only Prairie house he built in Ohio and sadly it fell into disrepair in the second half of the 20th century. Thankfully in recent years it was lovingly restored by the Frank Lloyd Wright Building Conservancy and it opened to the public for tours in 2005 – that's part of the reason many Ohioans don't know about it! Weekend tours can and do sell out, so get your tickets a day or two in advance if you're particular about timing.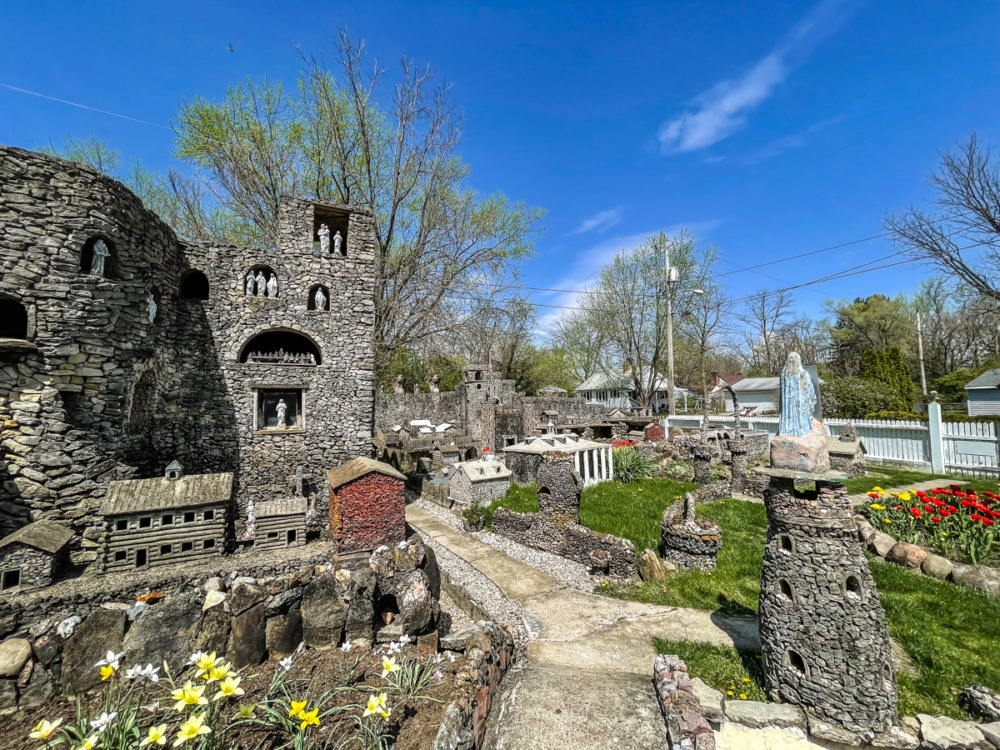 While you're there, swing by the cute Hartman Rock Garden. It's free and located in someone's backyard, but don't let either of those stop you. Ben Hartman's hand-made creations are absolutely incredible and are still going strong a century later.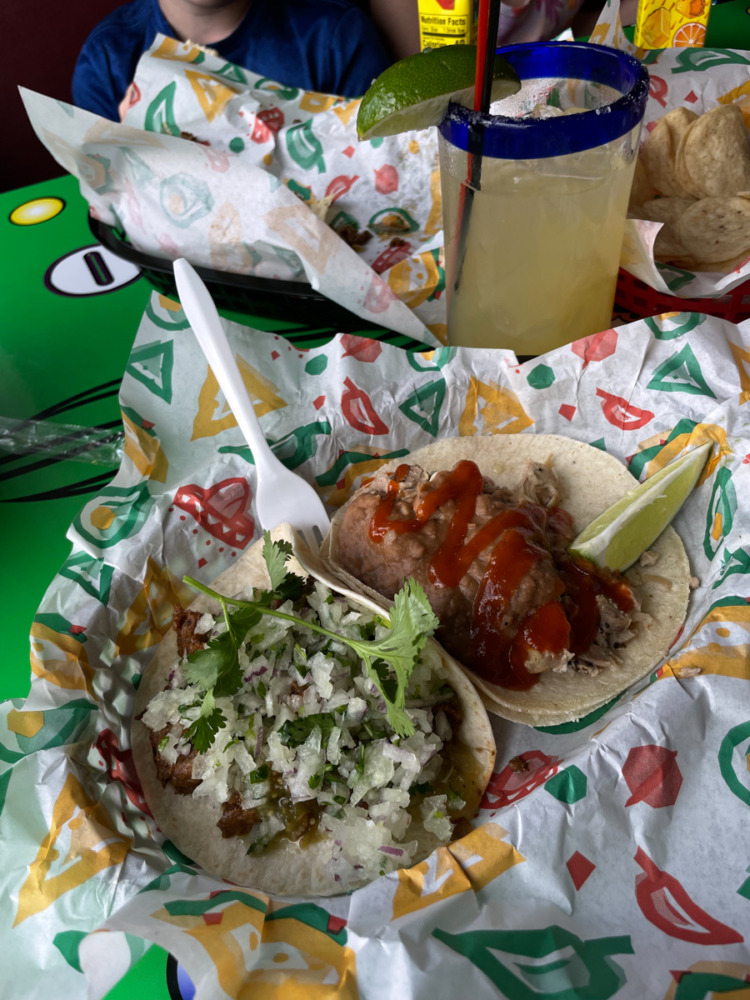 Be sure to grab lunch at Guerra's Krazy Tacos. The Texas-born founder is from a Mexican family and makes high-quality, budget-friendly staples along with creative takes, all served up surrounded by fun decor.
Want to get more helpful travel tips like this? Sign up for our email list!
---
Lexington, KY
Distance from Cincinnati to Lexington, KY: 85 miles/1 hour 25 minutes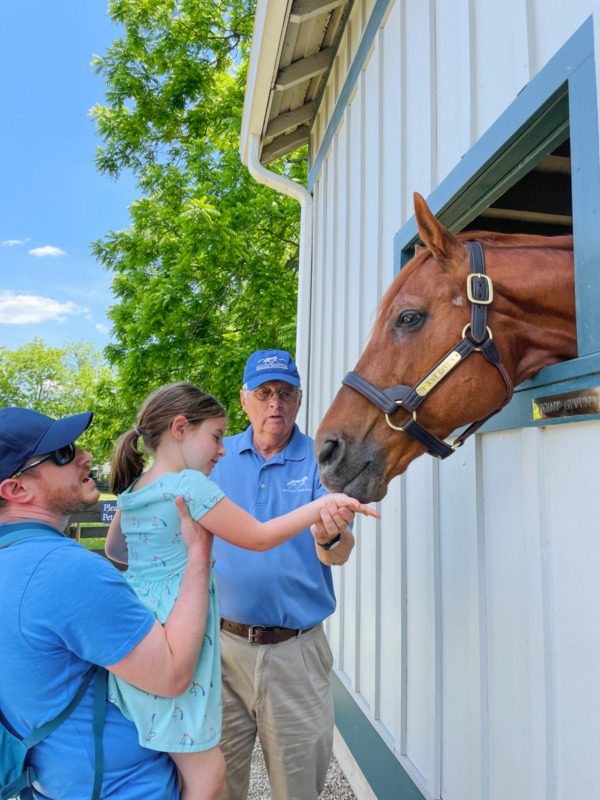 If there's a horse lover in your family, Lexington makes a perfect day trip from Cincinnati with kids! You can spend an entire day at the Kentucky Horse Park. The offer everything from a Smithsonian-affiliated museum to horseback rides to an incredible show featuring diverse horse breeds you've probably never seen.
KHP is open from early May to early November (closed Monday & Tuesday every week), and you'll want to spend at least four hours there to catch a round of each of the live shows.
If you want to extend your visit, check out our Lexington with kids weekend itinerary!
---
Louisville, KY
Distance from Cincinnati to Louisville, KY: 100 miles/1 hour 30 minutes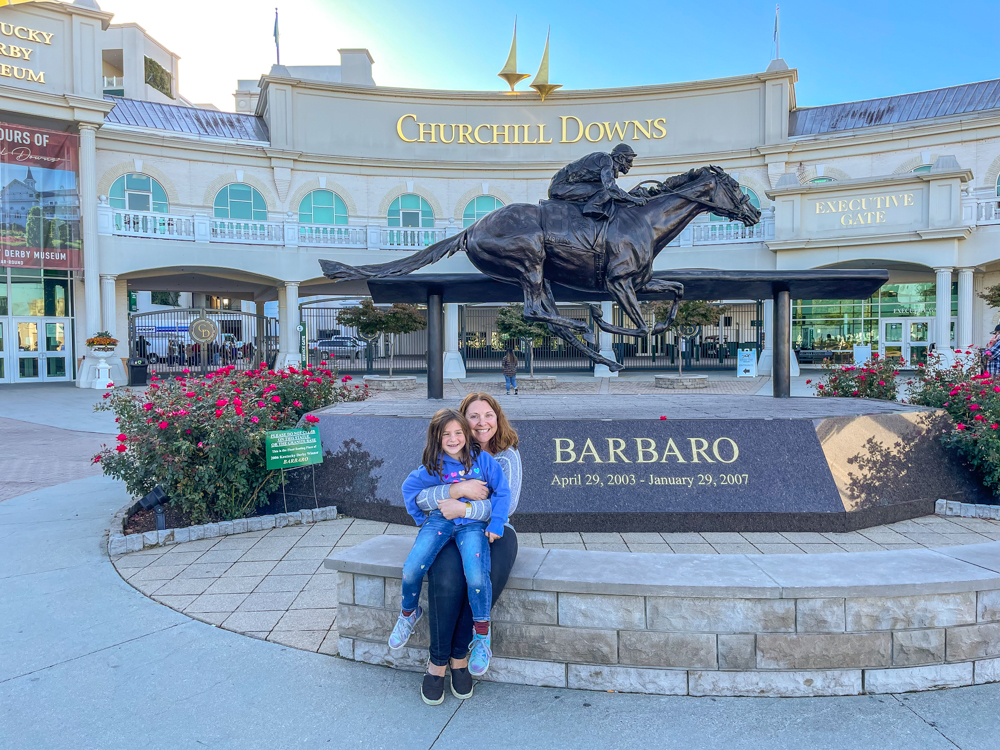 Whether you choose to hop down for a day or spend a weekend in Louisville, it's a great city to experience! Be sure to take a tour of Churchill Downs and the Kentucky Derby Museum first thing.
Plan to spend the afternoon exploring downtown Louisville. You can go to the wonderful Muhammad Ali Center, tour the Louisville Slugger Factory to see how baseball bats are made or check out the Evan Williams Bourbon Experience.
If you're on an adults-only day trip to Louisville and don't mind a late night, check out the new Prohibition, Ghosts, Cocktails and Bites Tour started by a dynamite Louisvillian travel blogger. It's extremely popular, so check the calendar below to book it in advance!
---
Columbus
Distance from Cincinnati to Columbus: 105 miles/1 hour 40 minutes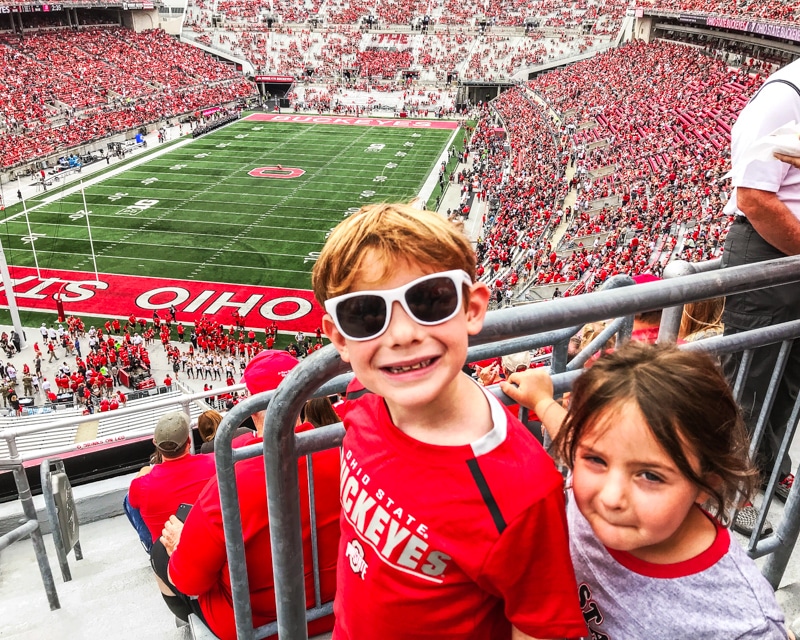 As a Columbus resident, of course I have to include it here! While I wouldn't make a day trip from Cincinnati to Columbus all the time, there are some unique experiences that you can't have anywhere else including:
Touring the Ohio Statehouse
Cheering on the Ohio State Buckeyes in "the Shoe"
Playing at the LEGOLAND Discovery Center
Enjoying the Franklin Park Conservatory
Of course there are tons more things to do in Columbus, so come on up and explore!
---
Day Trips from Cincinnati Ohio Within ~2 Hours
How far you can go on a day trip is like asking the length of a piece of string. There's no single answer.
But I can tell you that I've seen some downright silly far suggestions for day trips from Cincinnati, Ohio. Barring a special event, there's not much that makes it sensible to take a road trip that requires driving 3+ hours each way in a single day.
However, there are a few options that are about two hours from Cincinnati and special enough to warrant visiting even if you can't stay overnight. Prepare for a long day, but know that it'll be worthwhile and you'll have a great time on these fun day trips in Ohio and beyond!
Indianapolis, IN
Distance from Cincinnati to Indianapolis, IN: 115 miles/1 hour 45 minutes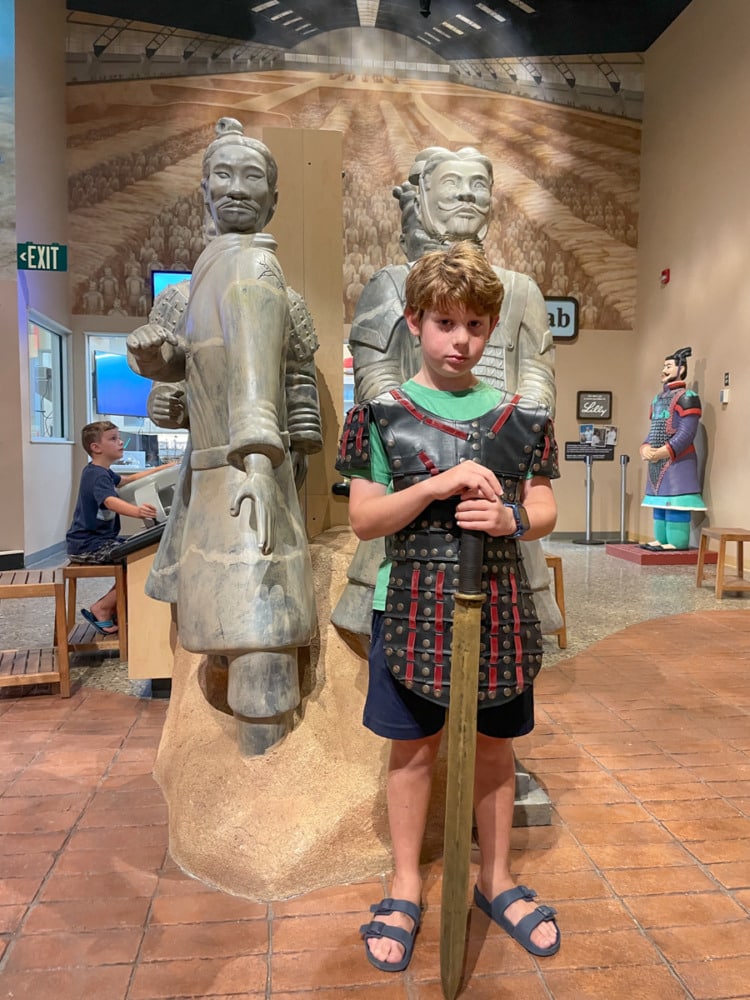 There are two great reasons to take a day trip to Indianapolis from Cincinnati: with kids you can go to the incredible Children's Museum of Indianapolis, while as adults you can visit the Indianapolis Motor Speedway Museum or even catch a race!
We haven't visited the Speedway, but I've taken my kids to the Children's Museum twice and it's really incredible. For school-age kids, there's no shortage of activities. You can…
learn about how dinosaur fossils are excavated as you speak with a real paleontologist
test your engineering skills in the STEM Lab
explore ancient mysteries from around the world in National Geographic's Treasures of the Earth
play outside in the Sports Legends Experience
Our most recent visit lasted about 6 hours and we still didn't cover everything!
---
Hocking Hills
Distance from Cincinnati to Hocking Hills: 150 miles/2 hours 15 minutes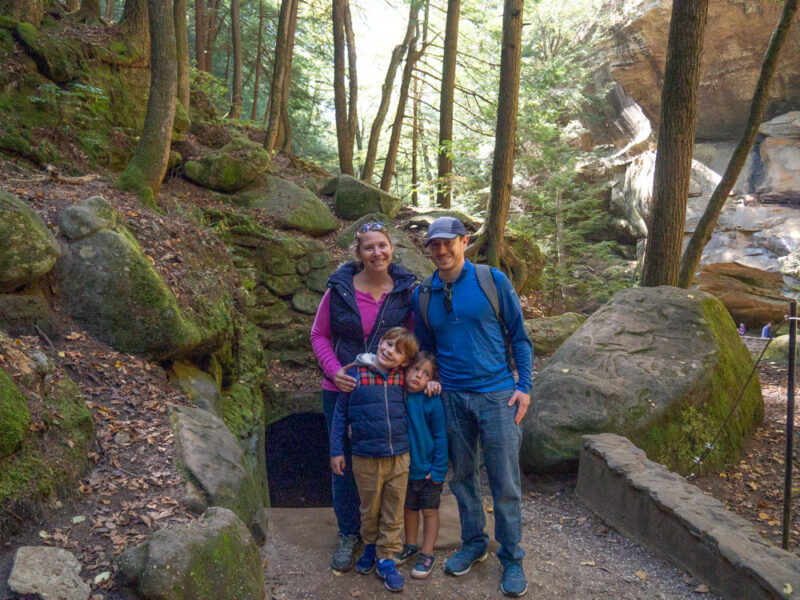 Hocking Hills State Park is surely one of the most popular day trips in Ohio. In fact, I first heard about it from my random seatmate on our relocation flight!
This is a great place for hiking in Ohio. The most popular trails are Old Man's Cave (about 1.5 miles and rated moderate) and Ash Cave (about 0.5 miles whether you make a loop around the rim or go through the middle of the gorge and back out, though the gorge trail is paved for accessibility), which are great for preschoolers through adults. If you visit during the rainy season, you'll be wowed by the waterfalls on these trails. We went once in mid-October when it was almost totally dry and didn't yet have fall foliage, while a more recent summer visit after heavy rains was very impressive.
For a more rugged hiking experience, try nearby Conkles Hollow State Nature Preserve. The rim trail there sits atop massive sandstone cliffs and offers at 2.5 mile loop trail. There are places where this trail is narrow, rocky and slippery – use caution! Many parents opt not to do this with their kids until they're older.
---
Wrapping Up
I hope this guide to some of southeast Ohio's best day trips has give you inspiration to explore more! If you're stilling looking for more ideas check out these articles as well: