Whether you're driving in to Pittsburgh for a weekend trip from Columbus or flying into the Pittsburgh International Airport, from the moment you cruise through the Fort Pitt tunnel with David Bowie's "Heroes" blasting prepare to be impressed by what Pittsburgh has to offer. From the Aztec gold Three Sisters Bridges reaching into Downtown to the city's 89 other neighborhoods, you'll find plenty to explore in this Pittsburgh itinerary. There's art, there's history, there's greenery and there's tons and tons of amazing food.

You won't be able to explore all of the amazing things to do in Pittsburgh, PA in just one weekend, but that's a great excuse to come back again.
Where to Stay in Pittsburgh
Because I'm always honest with you, I'm going to tell you that I didn't love where we stayed. It wasn't awful, but it wasn't great and the location was only sort of convenient. We stayed there because it was a last-minute trip and I was able to book it for a very reasonable number of points that I transferred from my Chase Sapphire Preferred but I won't send you there.
Where should you stay instead? Here are a few great options to consider for the best places to stay in Pittsburgh.
Kimpton Hotel Monaco Pittsburgh
Next time we go on a couples trip to Pittsburgh, I'll book a room at the Kimpton Hotel Monaco Pittsburgh. We went by it several times while exploring Downtown Pittsburgh, a testament to its extremely convenient location near Mellon Square Park.
The building itself is more than a century old but has been completely renovated and decorated in Kimpton's cheeky style. If you hold an IHG Premier Rewards credit card (as I do) you have a shot at an upgrade into one of the hotel's premium rooms. Thankfully there are plenty of rooms to choose from that accommodate 2 or 4 guests.
Thanks to the Kimpton's dining options, you may never want to leave the hotel. You can start your day with high-end breakfast at The Commoner and end it with some trendy rowdiness at the rooftop beer garden, The Biergarten.
Embassy Suites Pittsburgh Downtown
If you're looking for a unique family-friendly hotel in Pittsburgh, consider the Embassy Suites Pittsburgh Downtown. It's right on Mellon Square, just around the corner from the Kimpton. Rather than being a standalone purpose-built hotel, this Embassy Suites is uniquely situated on the upper floors of the historic Oliver building – you get the best of both worlds here!
This will probably be our pick for our next family trip to Pittsburgh, as the location and historic setting will make me happy while the kids are total suckers for a heated pool and free hotel breakfast. Like all Embassy Suites, the rooms are spacious and perfect for families who need to stretch out – you can snag a studio, 1 bedroom or 2 bedroom suite. There's even a free evening reception if the kids need a snack before you head out to dinner (helpful if you're going for more adventurous cuisine than they might prefer).
I'd opt for a "view" room, as many of the rooms (along with the hotel bar) have excellent views of the city, river, bridges and stadiums.
---
Weekend in Pittsburgh Itinerary for First Timers
What are the best things to do for your first weekend in Pittsburgh? We've got you covered! The great news is that the city is perfectly sized for a two or three day visit.
Friday night in Pittsburgh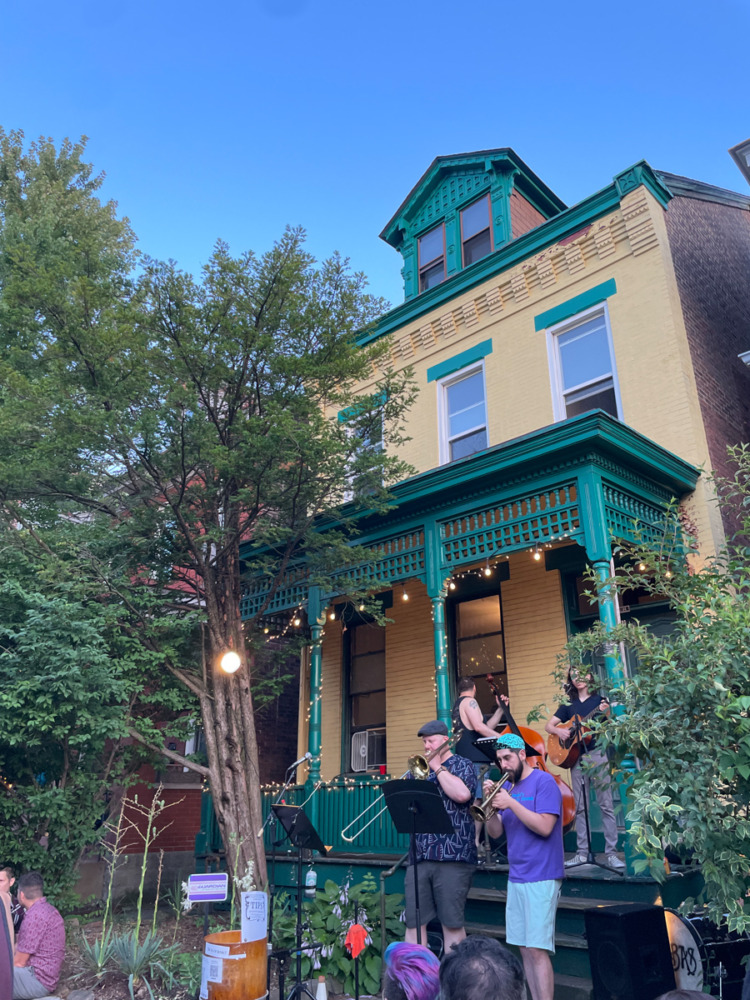 You'll spend your first evening in Pittsburgh's Bloomfield neighborhood. Put your name down at Apteka, recently hailed by the New York Times as one of the top 50 restaurants in America. Yes, in Pittsburgh!
Because it's incredible, prepare to wait a while for your table if you're a party of two (no reservations allowed) or if your bigger group couldn't snag a reservation when they open a month in advance. But that's ok, because you can stroll Penn Avenue's monthly First Friday celebration to enjoy art, music and a lively scene of all-comers.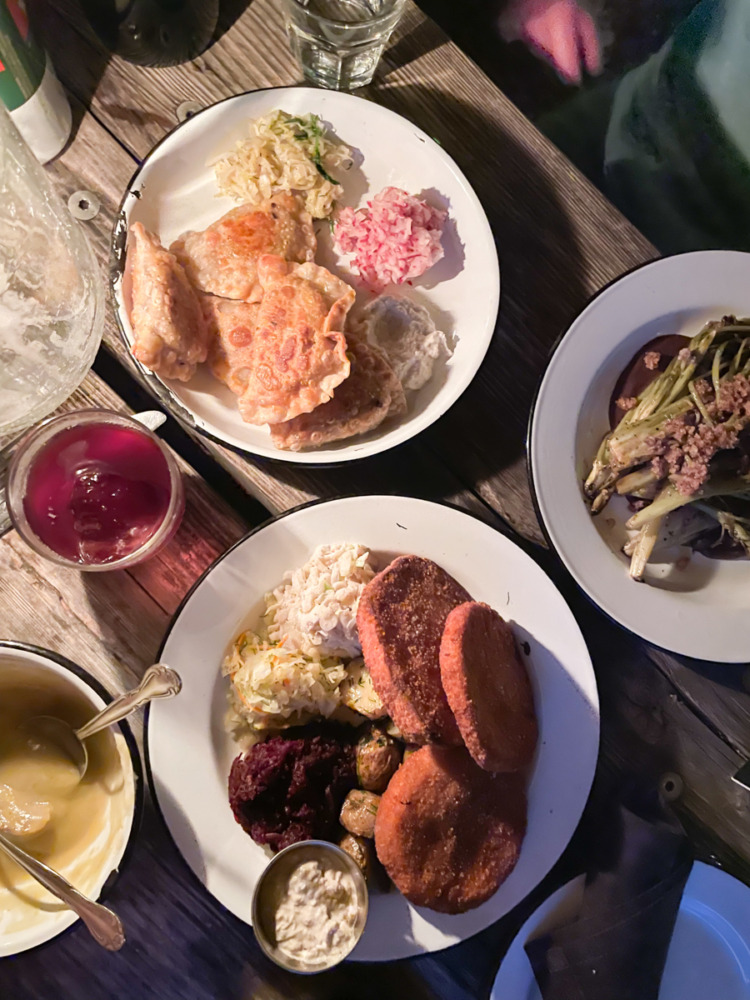 Once you get the text message that your table is ready and you rush back to Apteka, prepare to be delighted. An homage to Pittsburgh's large Polish community, they're serving up amazing, flavorful vegan Polish cuisine at Apteka. While there's no meat at this meal, I promise you won't miss it. The menu changes frequently but be sure to order the pierogi and try one of the unique beverages, either a Polish-inspired cocktail or a local beer on tap. If it doesn't add much to your projected wait, try for a table on the charming back patio if you can.
Saturday in Pittsburgh
Great breakfast this morning at The Speckled Egg PGH or The Commoner (for a fancier option). The Commoner is inside Kimpton Hotel Monaco Pittsburgh so it's a convenient pick if you've chosen to stay there!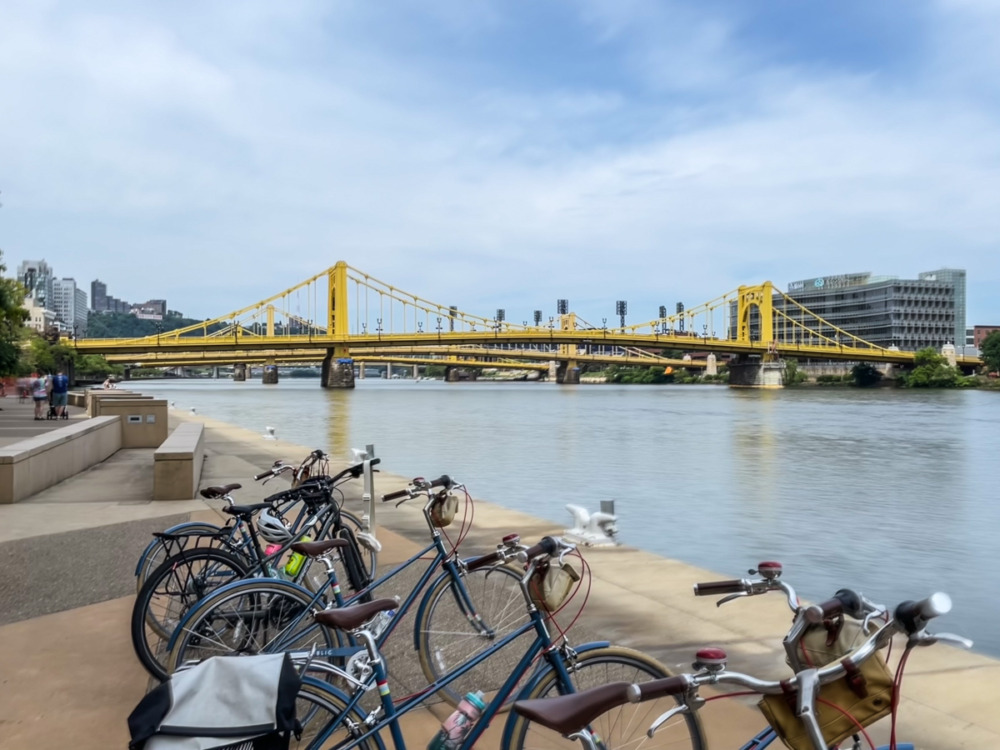 This morning's main activity is an awesome tour with Bike the Burgh, running from 10am to approximately 1pm. This leisurely guided ride takes you to see the major sites, and you'll learn a ton about Pittsburgh neighborhoods, history and culture. During our ride we explore the Arts District, Strip District, stadium area, Point State Park and more. Our guide was engaging and thorough – I can't recommend the experience enough!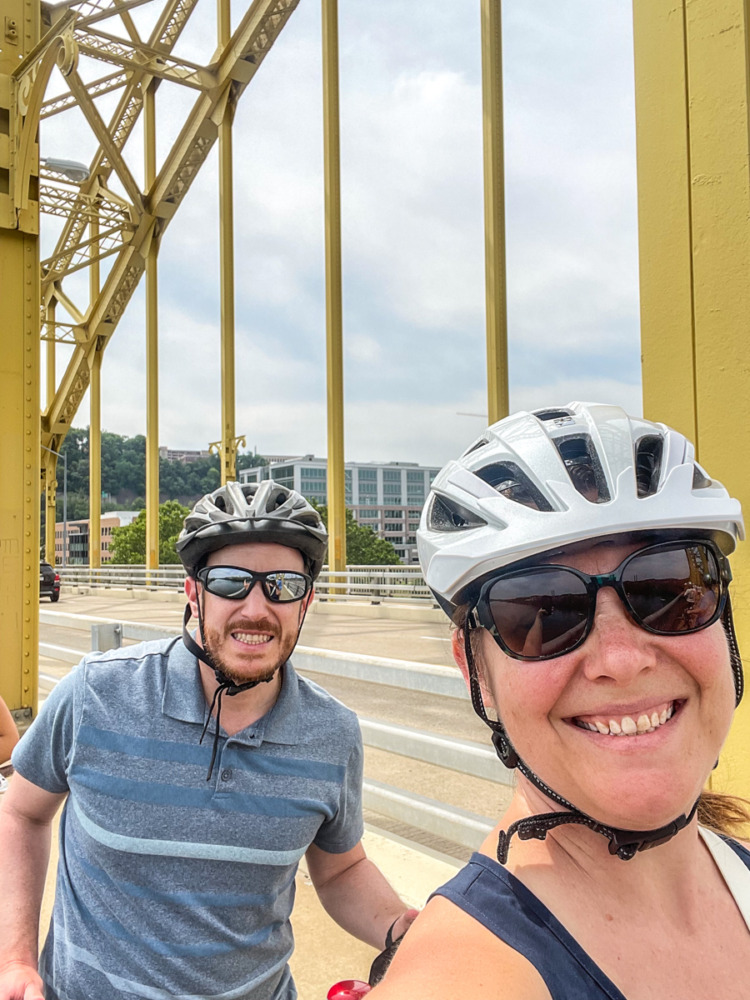 Is the Bike the Burgh tour appropriate for kids and inexperienced riders? That depends. There's some riding in the street during the ~6 mile tour, but downtown Pittsburgh has lots of dedicated bike lanes and riding in a pack makes it pretty straightforward. A kid who has been riding for a few years or an inexperienced but confident adult would be fine. Very young children can ride in a trailer as well.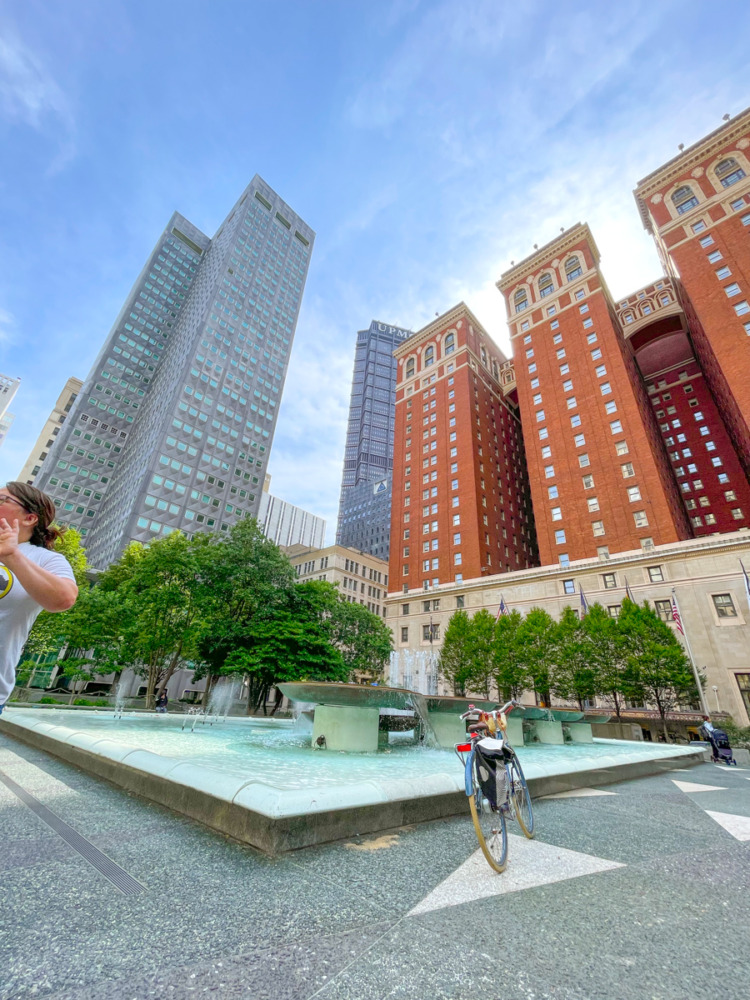 If biking doesn't work for your group, the same company offers a much-loved Walk the Burgh tour as well! It runs from 11am-1pm and naturally doesn't cover as much ground, but you'll still get a great taste of the city. For those visiting Pittsburgh with toddlers or young children or with reduced mobility, the Pittsburgh double-decker bus tour is a fun alternative and offers plenty of departures throughout the morning. You'll see many of the city's neighborhoods while getting live narration from a guide, giving you a great overview before you go back and explore some areas with more depth.
You're guaranteed to work up an appetite on the bike tour, and its 1pm end time positions you perfectly for lunch. There are some great options available nearby. During our visit we tried both Gaucho Parilla Argentina and Turkish Alihan's Mediterranean Cuisine on 6th. They're both excellent choices and accept reservations and walk-ins.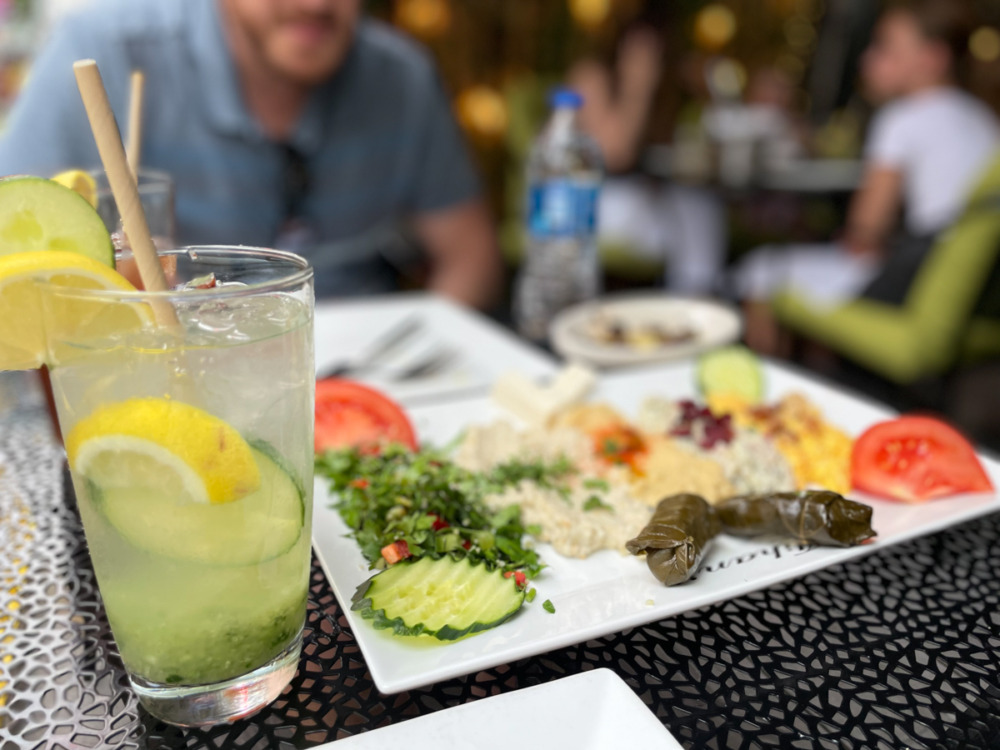 If it's a warm afternoon, stop by Sally Ann's for a draft pull of La Colombe oat milk cold brew (the coffee based in Philly but we won't hold it against them). It's the perfect creamy jolt to begin the afternoon and much better than the canned version!
For your next adventure, cross the Andy Worhol Bridge (at 7th Street). It'll be an easy walk to the North Shore. You'll pay a visit to the Andy Worhol Museum to get a better sense of Pittsburgh's own wild, wonderful pop artist. The museum is enormous and spans the decades of his life and work in visual art, film and music. Plan to be at the museum from about 3pm until closing at 5pm.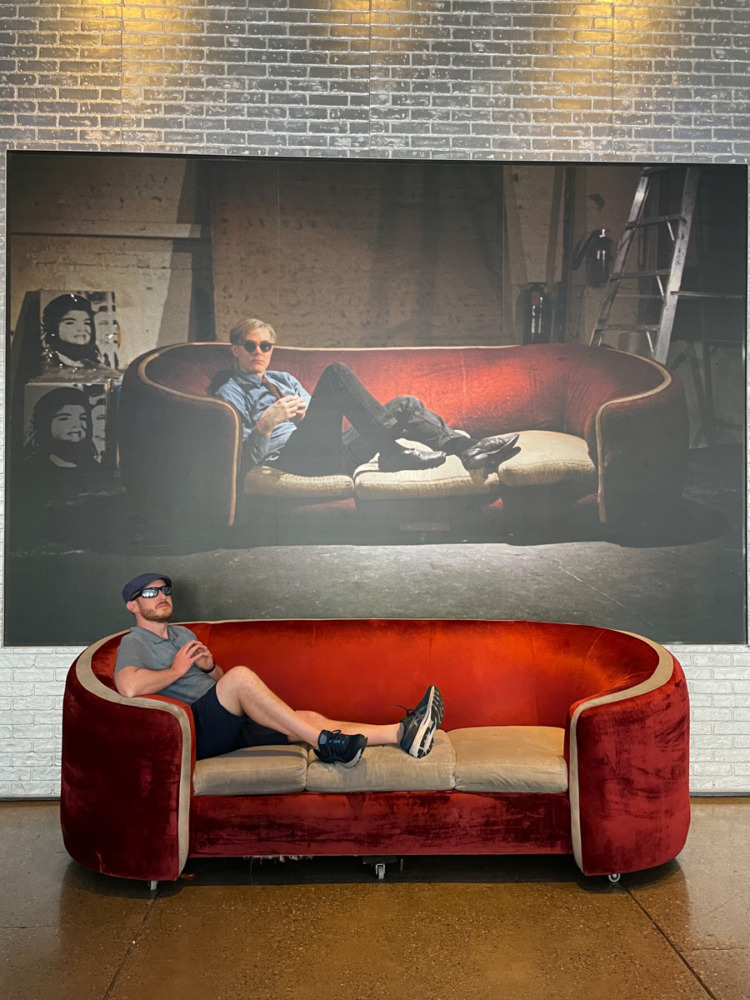 If you're visiting with kids who won't be into pop art and experimental music, instead go to the Carnegie Science Center – it's fantastic and a member of the ASTC Passport Program. You can easily spend several hours here! We visited when our kids were 4 and 6.5 and they absolutely loved it. The Science Center a little further west (past the stadiums) so you may want to consider driving from Downtown rather than walking.
Another option we'll check out next time we visit is the National Aviary, north of Downtown (though in the adjacent Allegheny West neighborhood). It the largest aviary in America and operates as a non-profit. It's accredited by AZA, so you'll receive free or discounted entry if you're a member of your local affiliated zoo or aquarium!
It's been a long day exploring the top Pittsburgh attractions, so take. a load off on the lovely back patio of Nicky's Thai Kitchen for dinner. We ate at Nicky's on our first trip to Pittsburgh and looking forward to returning because it's that delicious!
Be sure to look up Pittsburgh concerts and sporting events before your visit – Steel City is bustling with activity these days! We unexpectedly got to see Ed Sheeran play at the wonderful Acrisure Stadium (forever to be known as Heinz Field). If you're more of a nightlife type, head to the Strip District to explore the bar scene.
Headed back town after dinner? Stop by Pittsburgh's own The Milkshake Factory, which has been satisfying local sweet teeth for over a century.
Sunday in Pittsburgh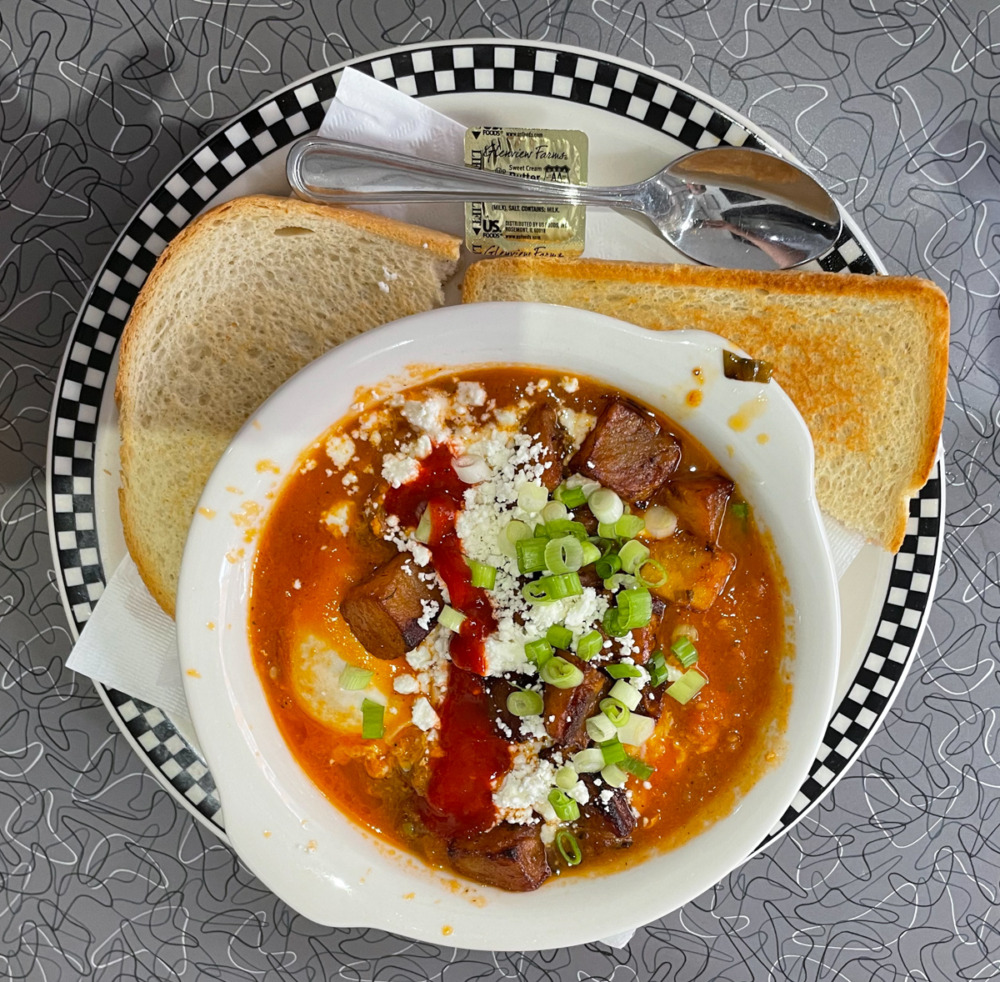 Yesterday was jam-packed but today will be a little more relaxed. Start with a filling breakfast at Upstreet Diner in Squirrel Hill, where you can choose from American-style breakfast dishes or house specialties like shakshuka.
Head to Phipps Conservatory and Botanical Gardens in Schenley Park to see the incredible greenhouse system that was gifted to the City of Pittsburgh by Henry Phipps Jr. after he earned a fortune in steel and real estate. The Conservatory is a beautiful winding building, and it's ok if you get lost! It's easy to spend hours exploring thee different themed and regional rooms.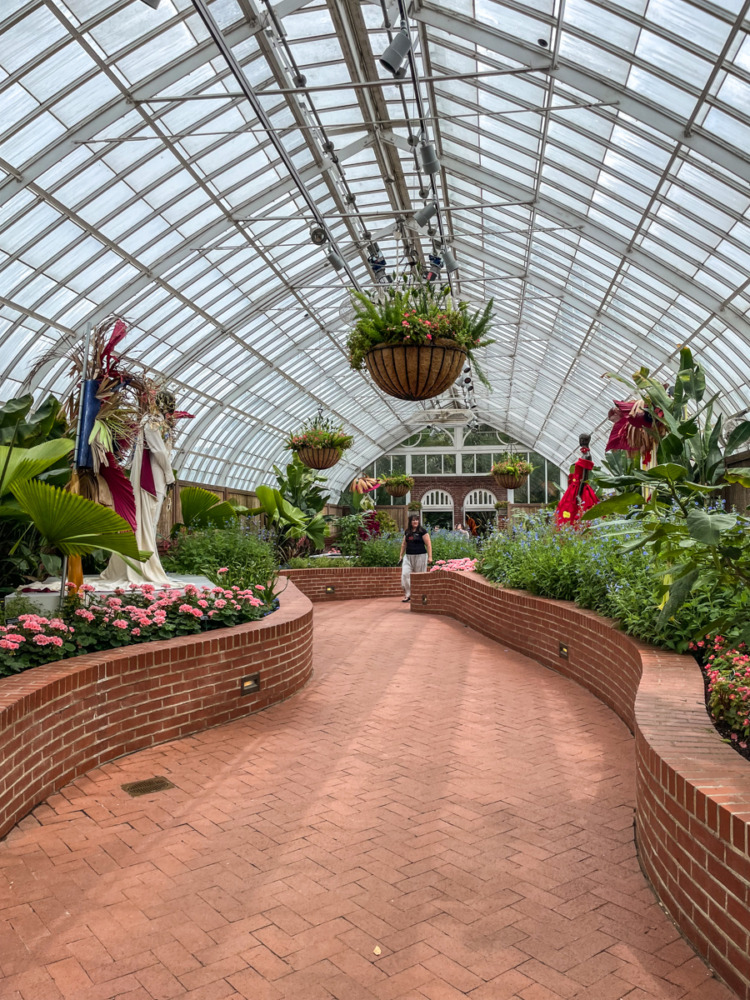 Treat yourself to a snack or light lunch at Café Phipps, rated by Food & Wine as one of the nation's best museum cafés – just keep in mind that they stop serving at 2pm.
Your next stop is Pittsburgh's iconic Cathedral of Learning, the 500+ foot tall educational skyscraper on U Pitt's campus adjacent to Schenley Park. Jump on a tour to see the famous Nationality Rooms, which are staged to represent the many different cultures that make up the fabric of Steel City.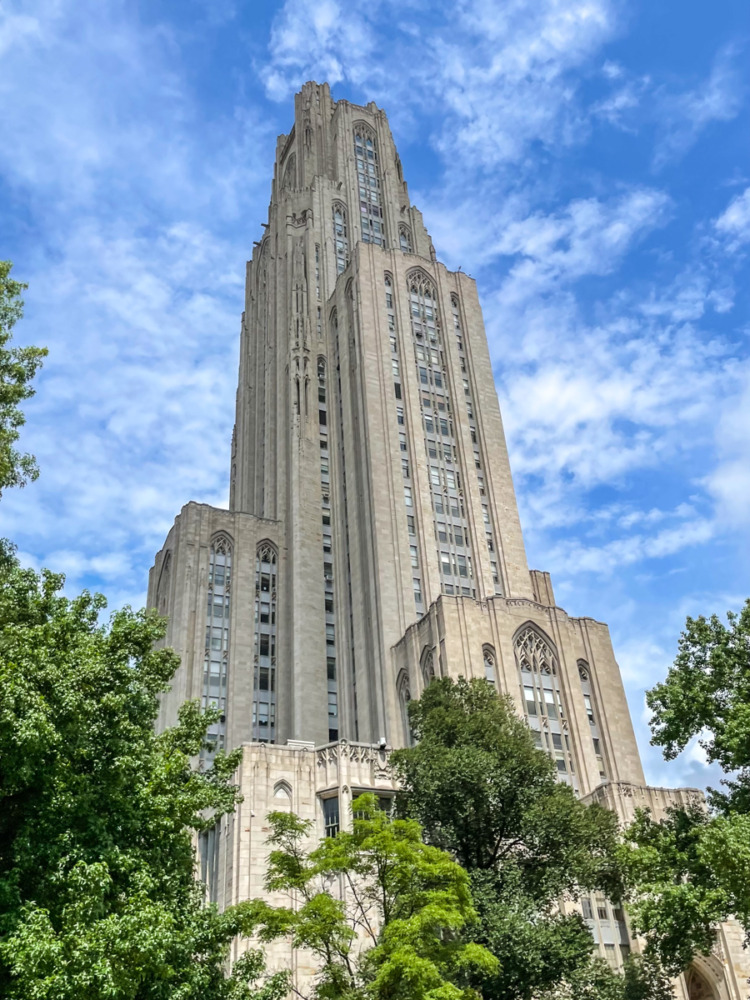 You can only see these on a guided tour. Unfortunately the tour schedule isn't posted online, so be sure to submit a request online at least three days in advance. There are often walk-up spots available, but you'd have no idea what time they are – we weren't able to join a tour because we arrived awkwardly in between time slots. Next time! (If there's a tour available in the morning, you can always do that first and then go to the Phipps.)
Drive over to the happening Strip District, east of Downtown. Depending on how much time you have, you can stroll around and pop into some stores.
But you're in for a real treat as you visit one of the best restaurants in Pittsburgh, DiAnoia's Eatery. It's some of the highest quality, best Italian food in the US in our experience, and with outstanding service to match. Don't miss the seasonal specialties – we caught tomato and zucchini season – nor the whipped ricotta hidden in the "Contorni" section of the menu.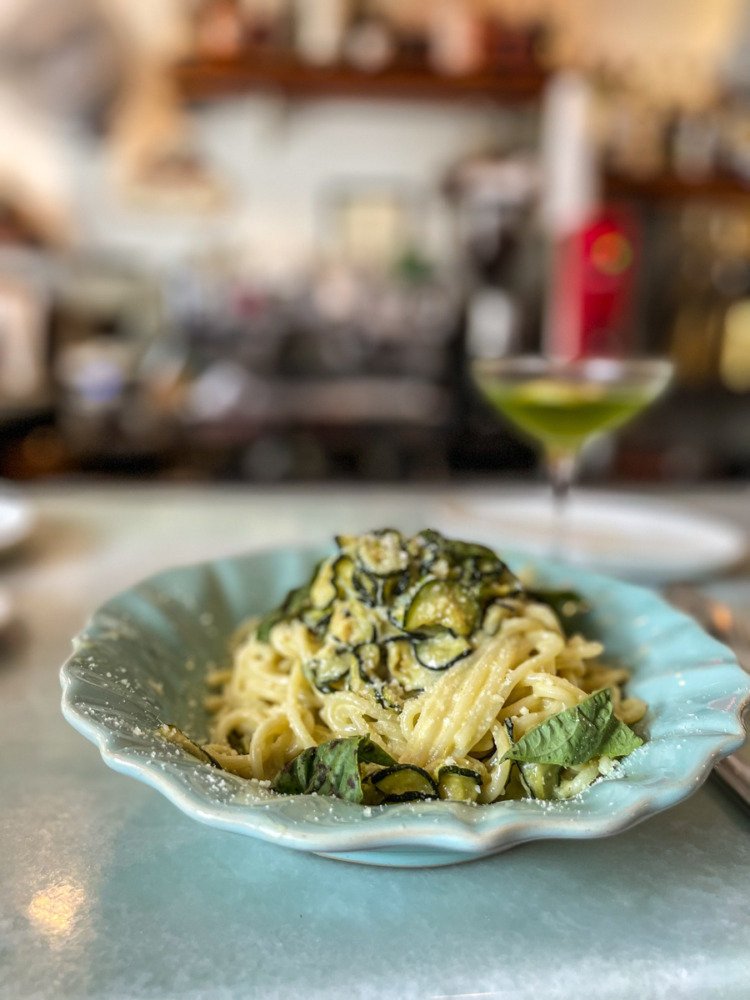 DiAnoia's does book up since it's amazing, but you can reserve up to two months in advance regardless of party size. We were lucky to score walk-in bar seating when they opened for Sunday supper at 3pm, so that's an option if you're visiting Pittsburgh kid-free and aren't able to snag a reservation.
We've saved one of the best things to do in Pittsburgh for last: riding the famous red cards of the Incline. Pittsburgh's South Shore neighborhood is basically a narrow strip sandwiched between the Monongahela River and 365 foot tall Mount Washington. Though you can hike it, the more unique option is to take the Duquesne Incline up to the top. You'll wrap your time in Pittsburgh with the city's best view!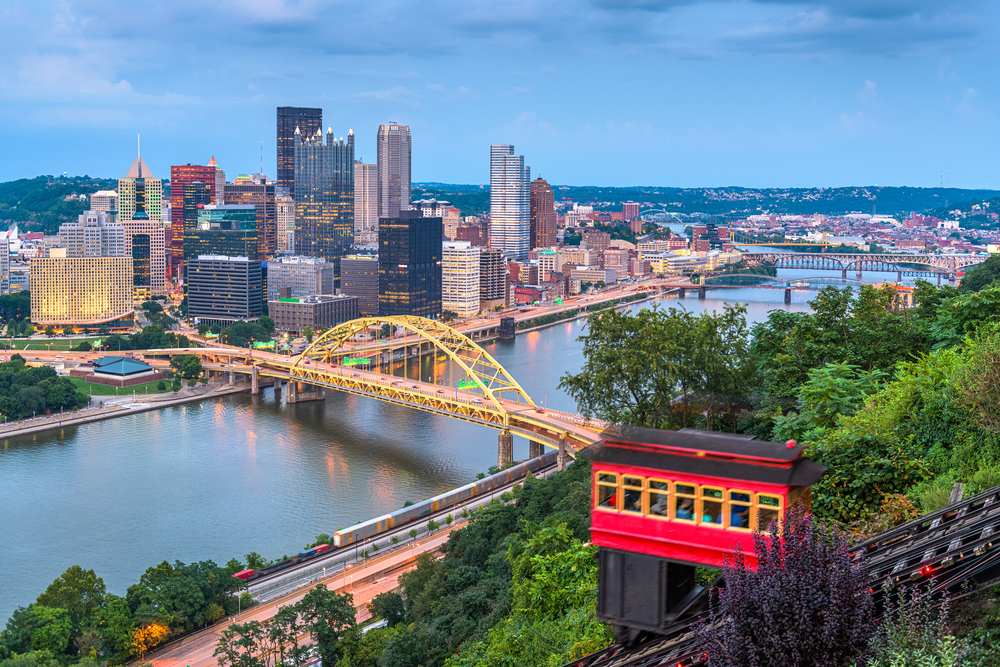 ---
Is Pittsburgh worth visiting?
Absolutely! There are so many amazing things to do in Pittsburg from outdoor activities to culture to food and more.
How long should I spend in Pittsburgh?
Spending a weekend in Pittsburgh is a great start, but it will leave you wanting to come back and experience more.
Still planning? Pin this for later!