There are a few places where it's easy to build a truly idyllic summer vacation for a family, removed from the hustle and bustle of cities and suburbs, balancing plenty of outdoor adventures with unique attractions for all ages and fantastic food and drinks for all ages. Fortunately New York's Finger Lakes region checks all the boxes.
If you're anything like me, one visit to the Finger Lakes with kids will have you scoping real estate listings and planning your next trip before you've even left. We spent three days exploring in partnership with Finger Lakes Tourism Alliance and I feel like we just scratched the surface. There are so many things to do in the Finger Lakes with kids that you'll almost certainly want a whole week!
Get a quick video glimpse here!
Finger Lakes travel tips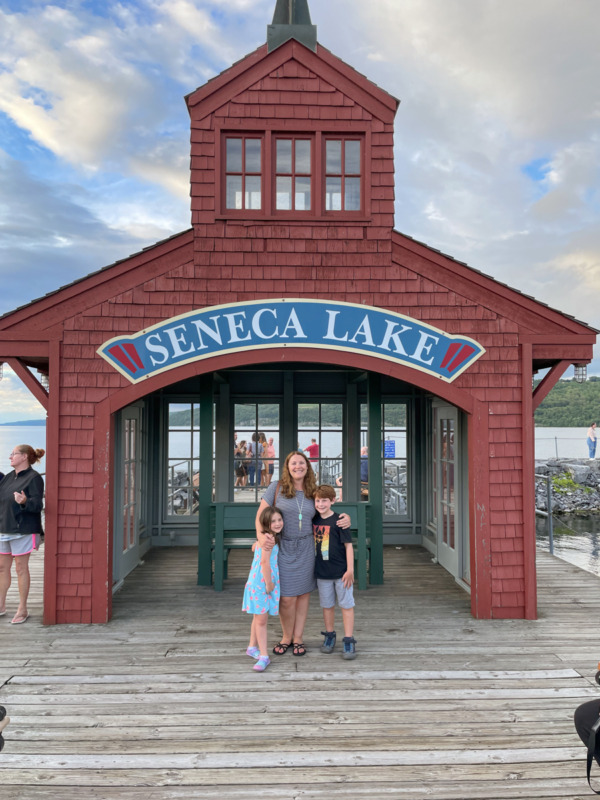 The Finger Lakes are in western New York. I admit that before I started planning our epic New York & Canada summer road trip, I wasn't entirely sure where the Finger Lakes were located. The 11 lakes and nine counties that make up the region span all the way from Rochester (90 minutes east of Niagara Falls, on the southern shore of Lake Ontario) to Syracuse another 90 minutes east and south to Corning (just north of the Pennsylvania border). At the end of this article you'll find a handy map that includes my recommended Finger Lakes attractions, accommodations and dining options!
You'll definitely need a car. This may seem obvious, but regardless of how you arrive in the Finger Lakes region you will need your own set of wheels. Travelers from other parts of the country to fly into Rochester, Syracuse, the tiny Finger Lakes Regional Airport or even Buffalo and then rent a car.
Cell phone service may be spotty. Call me a city slicker, but I was pretty shocked to drive around some parts of the Finger Lakes (particularly the far western side) and have absolutely no service with either Verizon or T-Mobile. That leads us into my next tip…
Have a paper map or download a regional map in advance. I'm generally an Apple Maps user, but unfortunately it can't download maps to use offline. Google Maps does have that capability, so if I had known in advance it would be an issue I would have switched. Alternatively, a good old paper map is worth having in the car! You can request a free travel guide from the Finger Lakes Tourism Alliance that comes with a very good map – I felt much better once I had that with me.
Drive times are longer than they appear. In general, the Finger Lakes region is much larger than you might think. From one end to the other, total drive time is about two hours. In the middle of the region you'll often have to drive around lakes since you can't go through them. Plan accordingly and allow plenty of time, especially since there are often wonderful stops along the way!
Have some rainy day plans. While July is one of the driest months in the Finger Lakes, June and August are among the wettest. It probably won't rain a lot during the day on a summer trip to the Finger Lakes, but it's always good to have a few indoor backup options in mind just in case. Fortunately there are some great things to do in Finger Lakes when it rains – keep reading below – and the day after a rain storm is an ideal time to check out some of the massive waterfalls.
---
Where to stay in Finger Lakes with kids
For convenient access to Finger Lakes activities with kids, I recommend staying along Keuka Lake, Seneca Lake or Cayuga Lake. These are the most central options in the region, so most Finger Lakes family activities are within a (very scenic) 30-60 minute drive.
Best Western Plus Vineyard Inn & Suites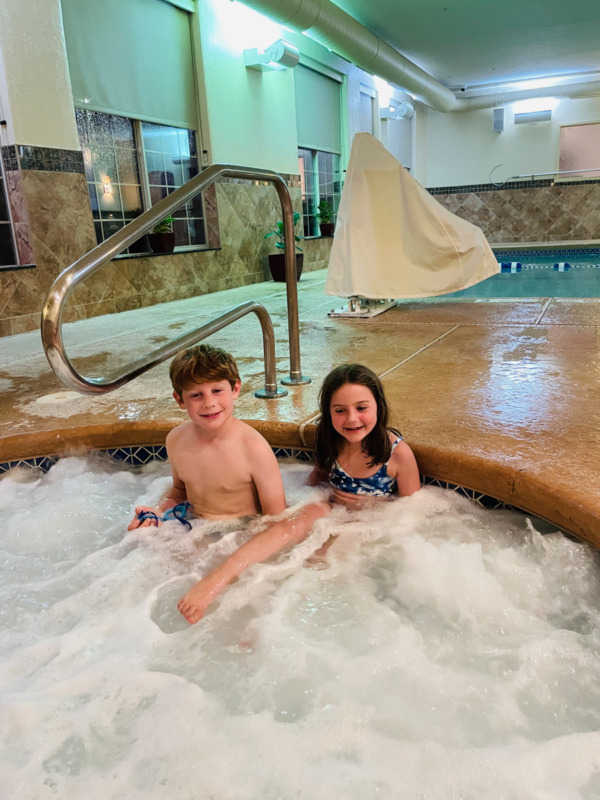 These days our kids are primarily looking for two things in our accommodations when we travel: a pool and hotel breakfast. We're big Best Western fans in general, and we had a great stay with our hosts at the Best Western Plus Vineyard Inn & Suites in Penn Yan (at the top of Keuka Lake).
In addition to the fun pool and convenient breakfast, the location is great for exploring the western and northern portions of the massive Finger Lakes region. The staff was extremely friendly and even left towel animals all over the room for our kids! Though the night weather didn't cooperate for us, there are even s'more kits available for roasting over the fire pit.
Finger Lakes vacation rentals for families
If you're staying more than a few days in the Finger Lakes, the best option is usually to rent one of the many lovely homes available. Here are a few of the best Finger Lakes vacation rentals for families from our partners at Finger Lakes Premier Properties, which is the largest property manager in the area: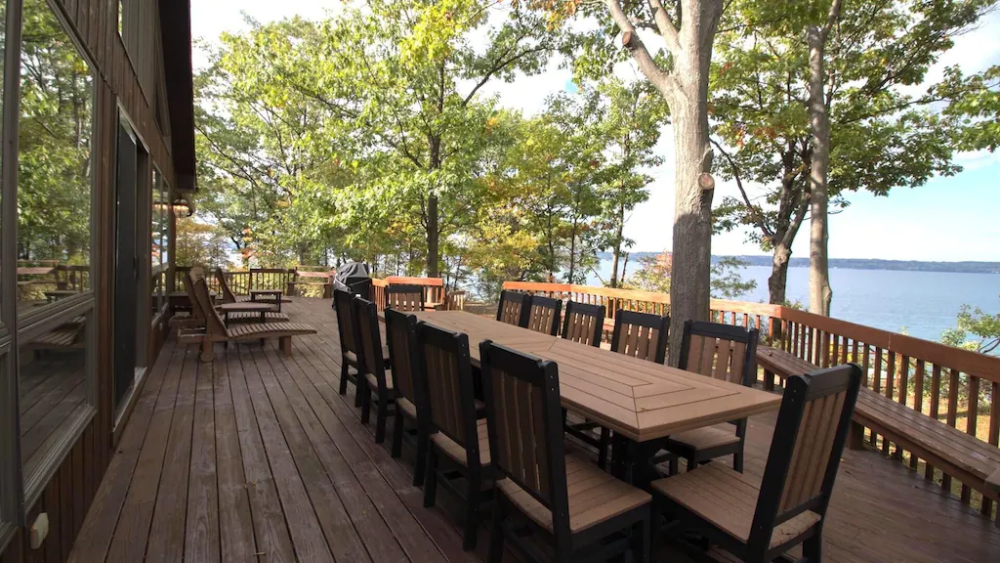 Location: Eastern shore of Seneca Lake, a 15 minute drive from Geneva
Sleeps: 10 people / 6 bedrooms / 11 beds (king + sleep sofa, king, queen, queen, queen, bunk bed + twin)
Outdoor living: Spacious lakefront deck, private dock, BBQ, 4 kayaks, fire pit, hot tub
Family-friendly amenities: Laundry, ping pong, pool table, foosball, home theater
It's hard to beat Seneca Lake Effect, especially if you're looking for a Finger Lakes rental for a multi-generational vacation. It's huge, has tons of beds and a phenomenal open floor plan that always keeps the lake in view – especially for sunset. It's especially great for visiting Finger Lakes with kids who are school age on up thanks to the enormous basement rec room with tons of activities!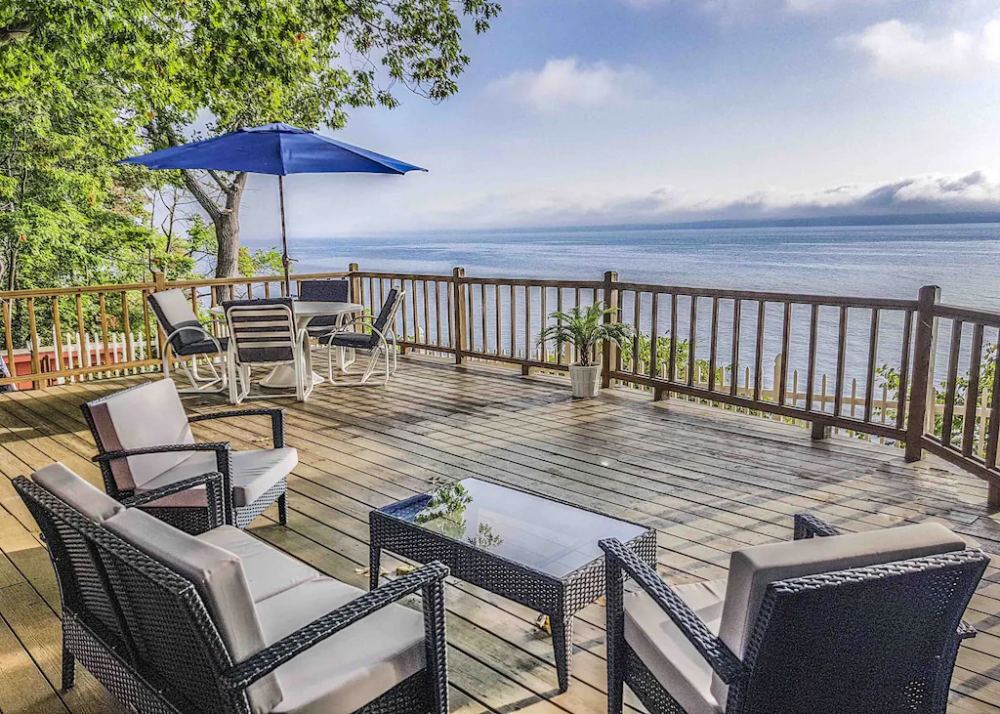 Location: Western shore of Seneca Lake, a 15 minute drive from Penn Yan
Sleeps: 6 people / 3 bedrooms / 3 beds (queen, queen, sleep sofa in living room)
Outdoor living: Spacious lakefront deck, private dock, BBQ, fire pit, beach, 2 kayaks, 2 bicycles
Family-friendly amenities: Laundry, floats for the lake
This is the perfect cozy Finger Lakes getaway when you're visiting with a kid or two, and it's even better if they'll let you pop into one of the adjacent wineries for a tasting!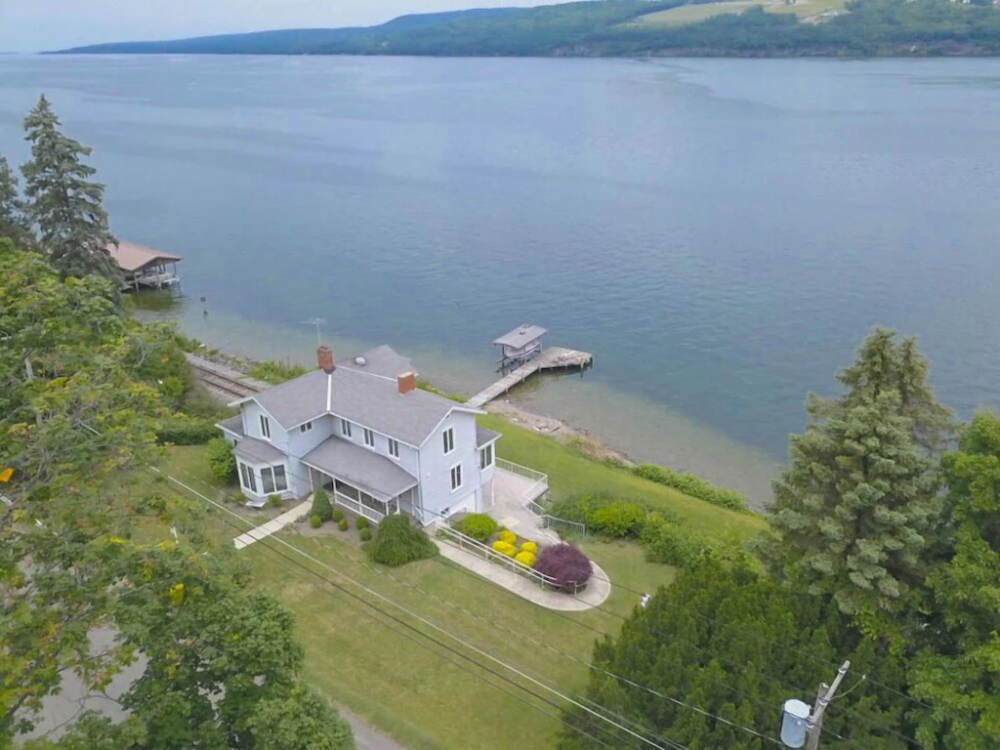 Location: Just outside of Watkins Glen
Sleeps: 10 people / 4 bedrooms / 5 beds (king, queen, double, sleep sofa, sleep sofa in living room)
Outdoor living: Spacious lakefront deck, private dock
Family-friendly amenities: Laundry
This is a more affordable options that still gives the best of "lake life" with fantastic proximity to the town of Watkins Glen!
---
Best things to do in the Finger Lakes with kids
Visit Finger Lakes water falls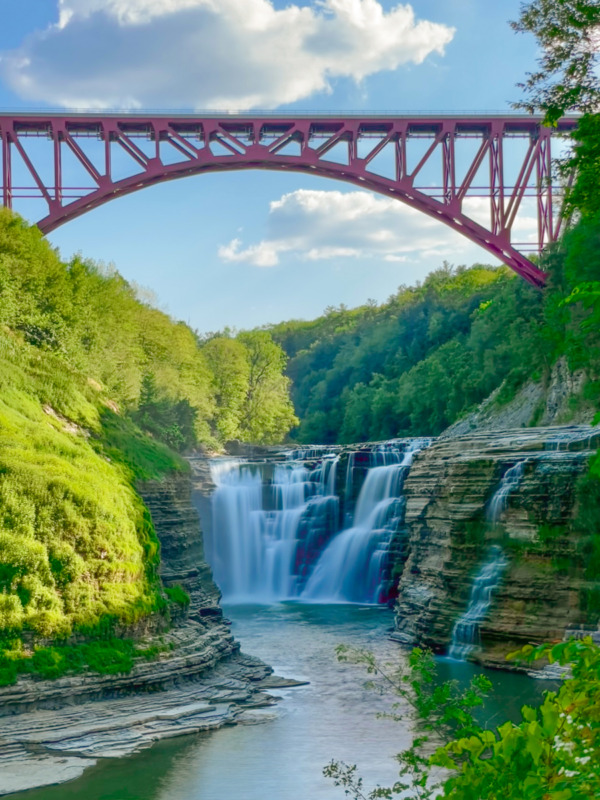 The Finger Lakes region is perhaps known for its countless waterfalls – and I truly mean "countless" as there's no way to identify every single seasonal cascade that dots the area. But you absolutely can't visit the Finger Lakes without going to see at least a few.
There are a few things you need to know about Finger Lakes waterfalls before you go. First, the flow is really variable. Two of the falls we visited in July were virtually bone dry even though most photos online show them to be ragers. We even visited one waterfall twice – before and after a rain – and difference was huge.
Second, some waterfalls are free to access while others are within State Parks and require a ~$10 per car admission fee during the day. Those admission fees really add up but there are a few legitimate ways to avoid them. First, you can arrive after the fee collection time (5-6:30pm depending on the park). Second, you can buy an $80 Empire Pass that covers admission into all New York State Parks (including scanning for parking at Watkins Glen); you'll just need to evaluate whether or not the economics make sense for your visit. Third, if you have a 4th grader traveling with you then you can simply flash their Every Kid In A Park National Parks Pass!
Third, there are easily accessible waterfalls in the Finger Lakes everywhere you look. You do not need to be a serious hiker or plan a full-day adventure to see them! In fact, some waterfalls don't even require getting out of the car.
We didn't see all of the falls I wanted to during our whirlwind Finger Lakes 3 day itinerary, but we managed two dozen – that's right, we saw two dozen waterfalls in just a few days. Here are a few options to start you off:
Letchworth State Park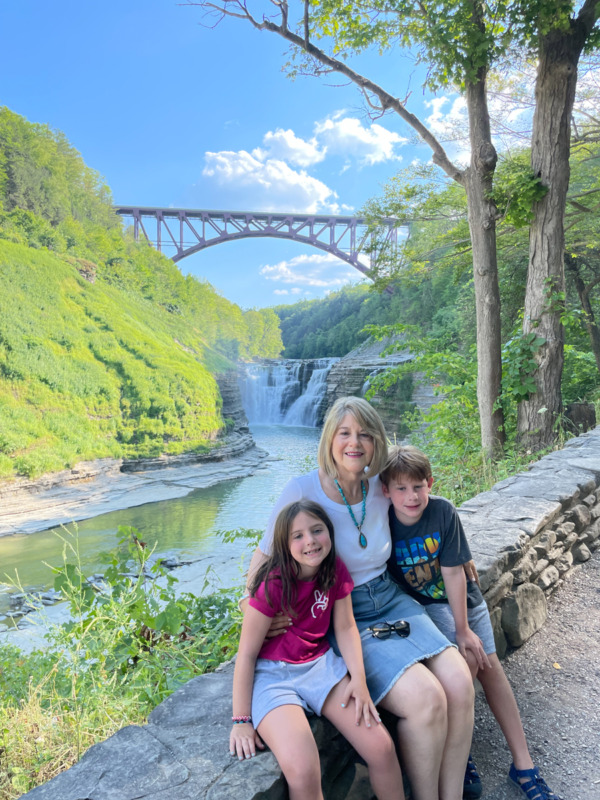 Though Letchworth is probably the least convenient waterfall in the Finger Lakes, it's one of the most stunning. You'll find it on the far western end of the region – around an hour from the main lakes and towns. But if you're road tripping to the Finger Lakes as we were, it's an easy choice to go a few minutes out of the way for a visit.
Letchworth has two main waterfall complexes, and it's easy to walk or drive between them. You'll want to enter through Portageville and skip the first parking lot right near the bridge. While you can park there and walk down to the falls, there's a convenient parking lot at the bottom of that steep hill that puts you very close to the best view of Upper Falls and is easy for visitors of all ages to walk.
You can make the easy, flat walk from the Upper Falls to Middle Falls in about 10 minutes, and it's lovely! For a truly memorable experience you can book a flight with Balloons Over Letchworth to see the falls from the air. If you're at the end of a long travel day, consider dinner at the Glen Iris Inn right there in the park (which we didn't do but probably should have).
Watkins Glen State Park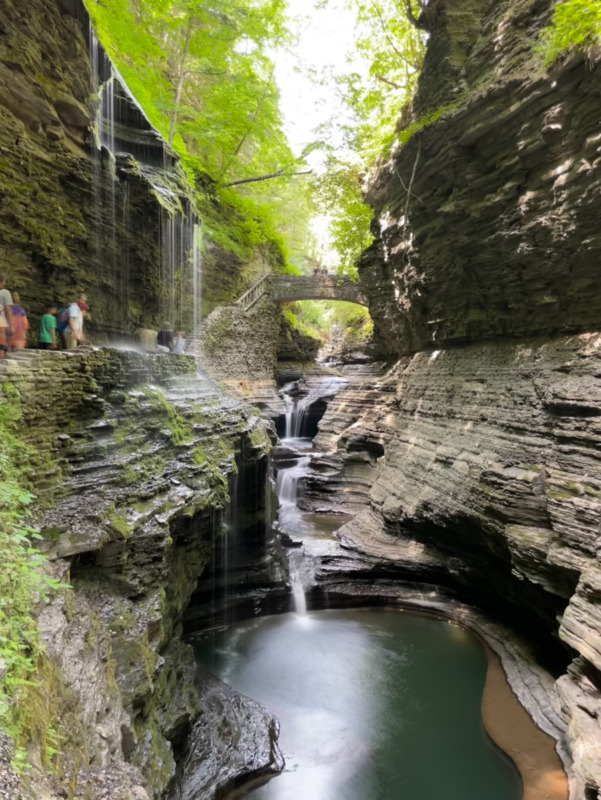 Watkins Glen is one of the most popular things to do in the Finger Lakes NY and it offers tons of waterfalls and some unique hiking through an Ice Age gorge. You'll see as many as 19 waterfalls and cross numerous bridges as you (maybe) ascend the 832 steps on the gorge trail.
Watkins Glen isn't for everyone, and without at least some hiking you can only see one small waterfall. That said, for our family of mid-skill hikers it was a real highlight. Be sure to read these Watkins Glen tips to make it a fun, fulfilling experience for everyone with as little complaining as possible.
Shequaga Falls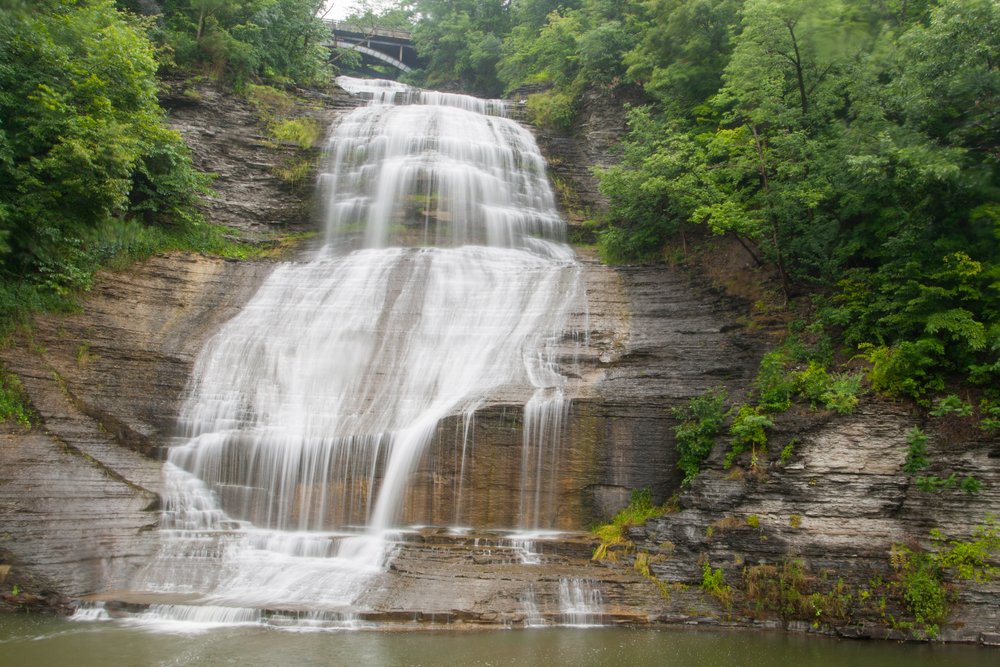 On the opposite end of the difficulty spectrum but just minutes away from Watkins Glen is village of Montour Falls, home of Shequaga Falls (also spelled Chequaga Falls). This might just be the most accessible waterfall in America: you don't even have to get out of the car to see it!
I'll share two important tips for visiting Shequaga Falls. First, entering that name in your GPS/map app may bring you to the wrong place; ours took us above the falls but out of view. You can instead try looking up Chequaga Falls Park. Alternatively, just head to S Genesee St and look between Main St and South St. You can't miss it!
Second, during a dry spell there may be nothing to look at. The first time we stoped by the rocks were wet and there were barely trickles of water. While you could see from the wet outline just how extensive the waterfall usually is, it wasn't anything to write home about.
However, Shequaga Falls is so convenient and easy to access that we stopped by the following day when it was raining and there had been a big downpour the previous night. It still wasn't as magnificent of many photos I've seen, but there were some definite cascades to enjoy. The beautiful photo above isn't mine, since we didn't see nearly that much water. But in a wet period you'll definitely want to build a quick visit into your Finger Lakes itinerary!
Taughannock Falls State Park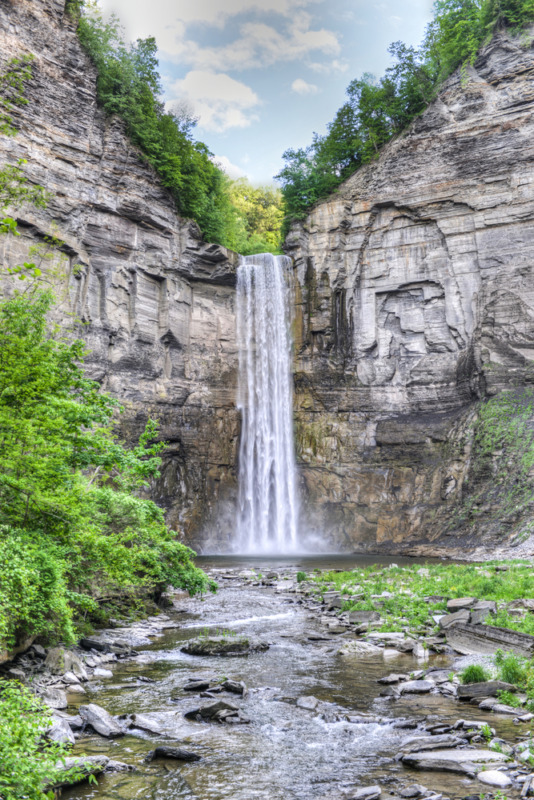 Taughannock Falls near Ithaca is extremely tall – taller even than Niagara Falls! Like Shequaga Falls above, it was basically dry when we visited in July unfortunately. But this is another Finger Lakes waterfall that's extremely easy to access. Just park your car and walk about 50 feet. If you're in the mood for an easy hike in the Finger Lakes, you can take the Gorge Trail; it's less than a mile each way and fairly flat.
Of course there are (at least) hundreds of other waterfalls to see in the Finger Lakes so don't feel restricted by these! Some other popular Finger Lakes waterfalls for families include Enfield Falls at Robert Treman State Park, Ithaca Falls near Stewart Park and Seneca Mills Falls and Cascade Mills Falls along the Keuka Lake Outlet Trail (a nice option for family biking in the Finger Lakes).
Want to get more helpful travel tips like this? Sign up for our email list!
Get a taste of "lake life"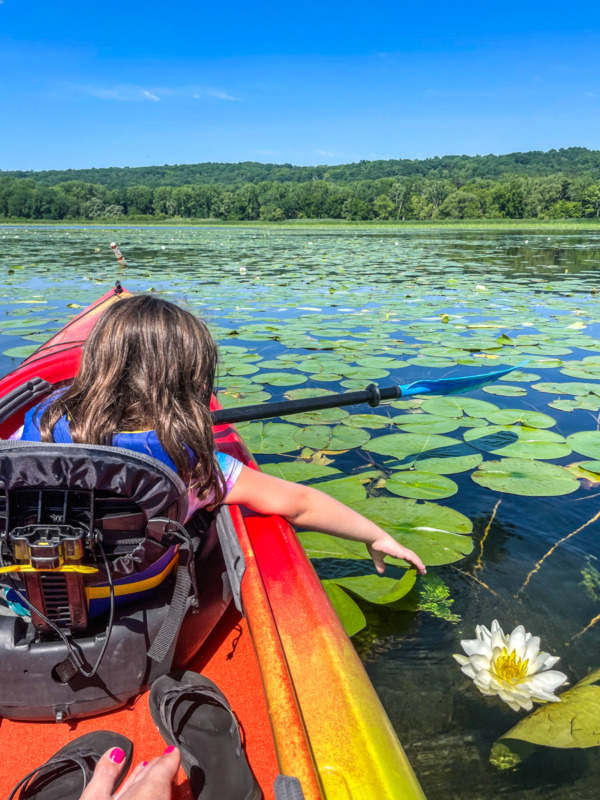 You can't visit the Finger Lakes without experiencing the lakes themselves. How many lakes are there in the Finger Lakes? You'll have your choice of 11, each with different appeal and experiences!
We opted to get our on Keuka Lake with our partners at Shoreline Rentals. They sent us along the very gentle Keuka Outlet in tandem kayaks, which was a perfect option for young or novice paddlers. We also got to try out SUP for the first time and they have canoes for those who prefer one big vessel. It's the perfect way to spend a peaceful morning in Penn Yan, and it's walking distance from the Best Western where we stayed.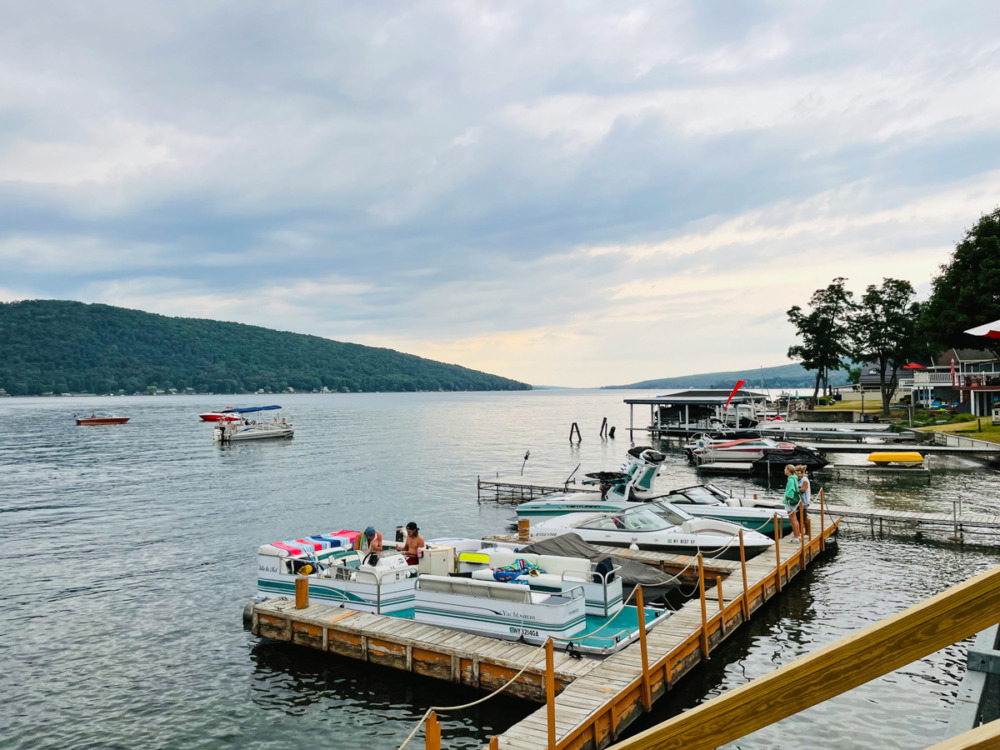 If you don't want to be quite that close to the water, there are plenty of great sightseeing trips that'll get you out on the water. They range from sailing charters to dinner cruises to research vessels. While we didn't have an opportunity to travel on one of these larger boats, it's on the agenda for our next visit!
One of the best things about the Finger Lakes compared with many other lakes in the region is that they're relatively warm and clean, making them great for swimmers. Keuka Lake is the warmest of the Finger Lakes and can be accessed at Keuka Lake State Park. Seneca Lake State Park has a nice beach and playground and it's also right near the Finger Lakes Welcome Center – a lovely place to pull up an Adirondack chair and grab a drink in the evening.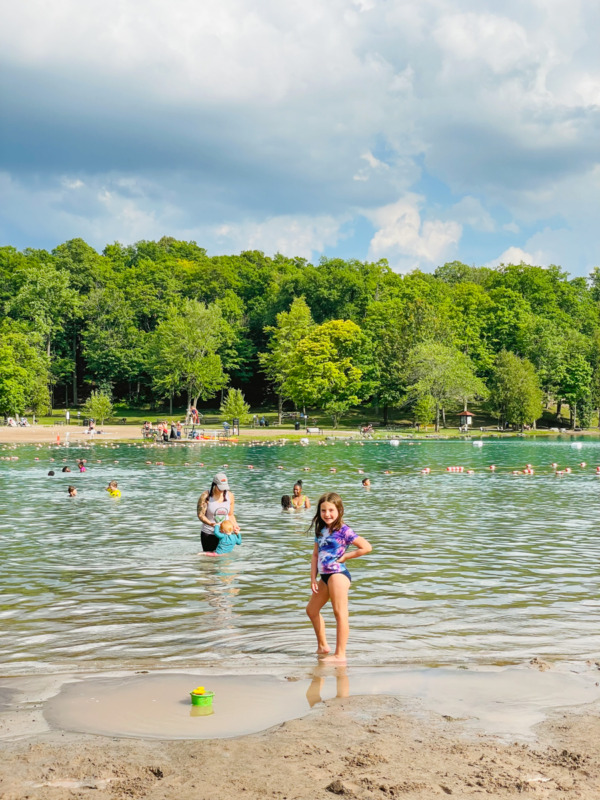 If your visit to the Finger Lakes is part of a longer New York family vacation, check out Green Lake State Park on the far far far eastern edge of the region just past Syracuse – it's a gorgeous spot with deep blue water and a monitored swimming beach! It was the perfect stop after our visit to Harriet Tubman's home in Auburn (more on that below).
Enjoy small town strolling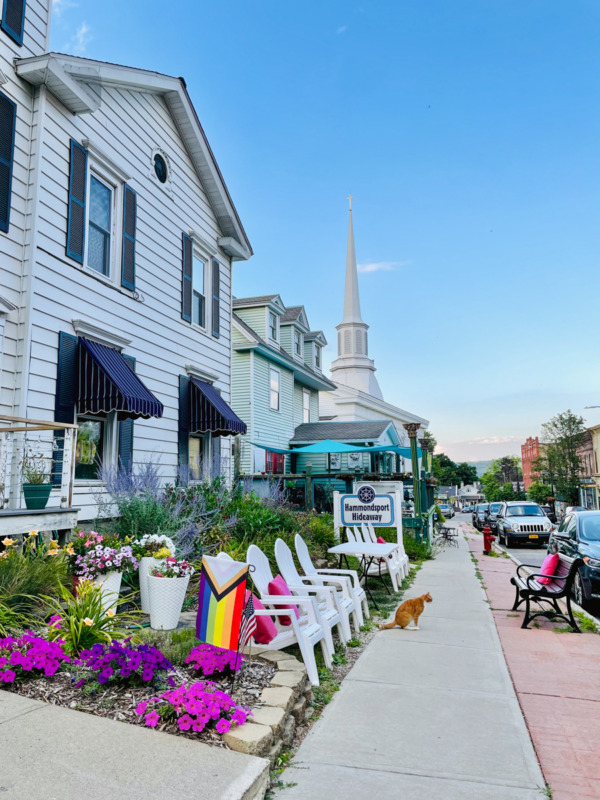 There's no shortage of charming small towns to explore in the Finger Lakes! You'll find food boutiques, handmade craft shops, inviting village squares and more.
Corning is one of the larger towns in the Finger Lakes but its Market Street retains much of its 19th century charm thanks to well-preserved architecture. The Gaffer District is full of shops displaying impressive glass creations, has a very impressive clock tower and is also home to the Rockwell Museum focused on American art.
The village of Hammondsport (above) has been voted the "coolest small town in America" and is a great place to stroll in the evening before settling in for a delicious dinner at Timber Stone Grill.
Meld art + science at the Corning Museum of Glass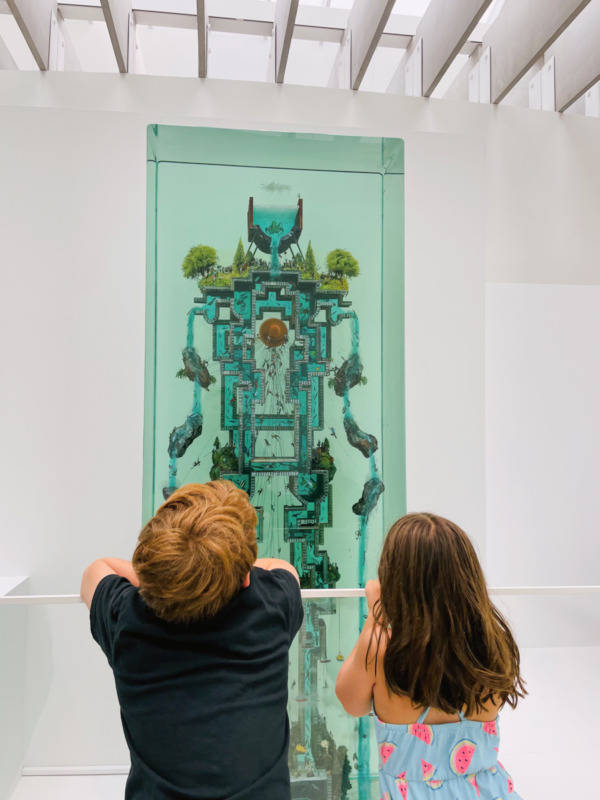 The Corning Museum of Glass is such a unique institution that it deserves its own section! It's the world's largest glass museum and it resides in a city where glass has been produced for over 150 years. The museum features a stunning assortment ranging from 3000 year old ancient pieces to contemporary room-filling sculptures.
Provided you're visiting the Corning Museum of Glass with kids who are at least school age, you'll want to plan for at least three hours. During that time you'll tour the Museum's fascinating and diverse galleries, see an expert glassblowing demonstration and then finish out your visit with a trip to the Studio to make your own pieces. We adults probably could have spent closer to four or five hours on site since there's so much to explore!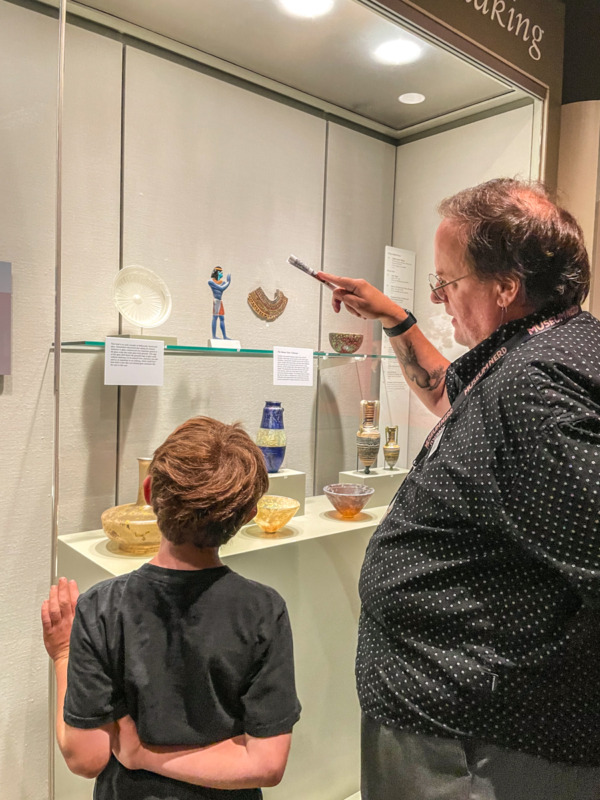 As of this writing, guided tours aren't offered to the public (a pandemic casualty) but if one is available when you are planning your Finger Lakes family trip I strongly recommend that you sign up for one. Our guide was excellent and very engaging for the kids!
You'll need to choose your studio project in advance, though we were able to add on some additional projects once we were there since a few spots remained. If your family is committed to a specific experience, book early!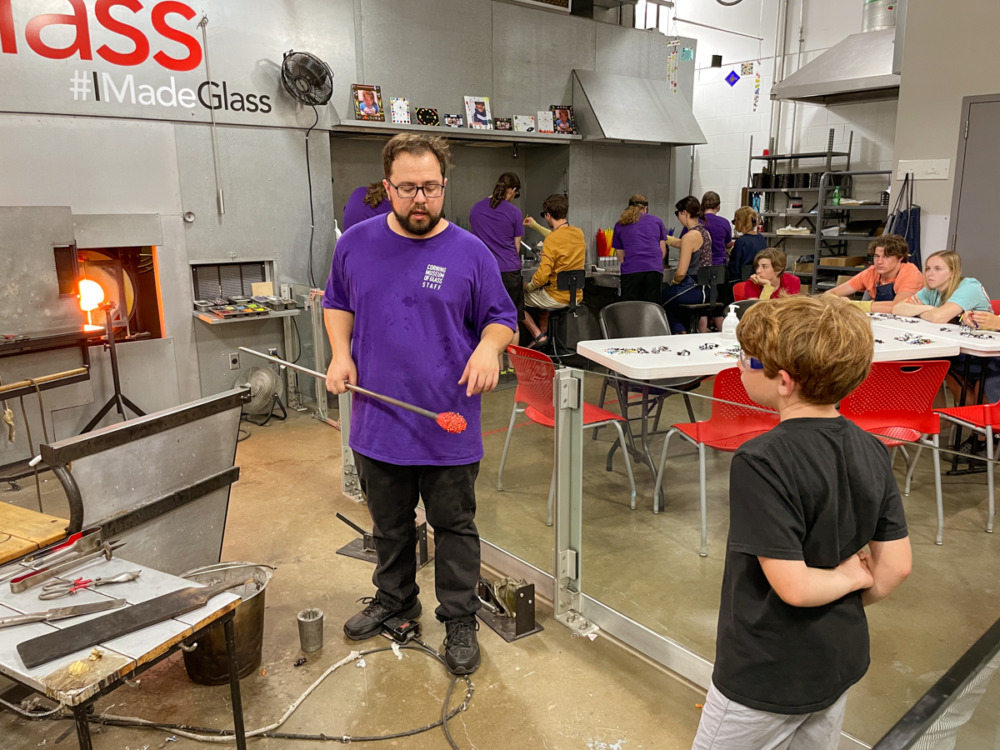 The most unique project for us as adults was making blown glass sculptures. Just like the professional gaffers who do the live demonstrations, the studio set up uses a foot pedal to inflate the glass rather than mouth blowing. This allows more manual control by the gaffer and keeps the project safe for everyone in today's world. Participants choose their sculpture style and colors and then spend 15 minutes collaborating with a gaffer to make it.
Our kids loved the glass fusing projects. It's 100% kid-directed and hands on. One made an abstractly designed nightlight while the other painstakingly assembled a Minecraft-themed tic tac toe set. The experience is really what kids make of it! They're provided with the base for whichever project they want to make (in addition to the ones we did, they can choose a picture frame, a mezuzah, a suncatcher or a clock) and then thin rods and glass pieces in every color along with the tools to cut and glue them. The glass is fused in the kiln overnight.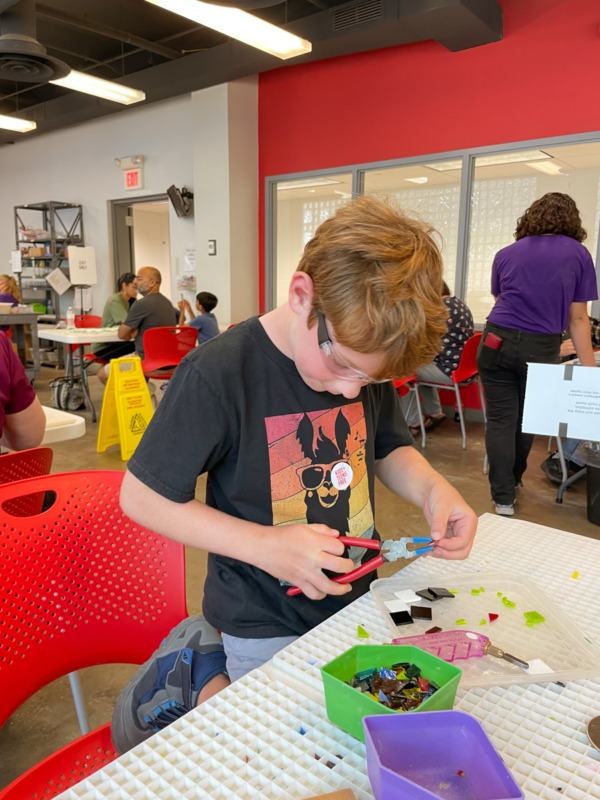 Older kids and adults can also try out flameworking to make a bead or pendant, while young kids can do sandblasting by applying a "negative" design with stickers. Of note, if you're staying outside of Corning and want to do any of the projects involving hot glass you'll want to ship the glass back to your house.
Overall I'd rate a visit to the Corning Museum of Glass as one of the best things to do in the Finger Lakes New York – with kids or without! Even when I go back for a couples trip, it'll be on our Finger Lakes itinerary again because there's just so much to see and do.
Go on an ice cream tour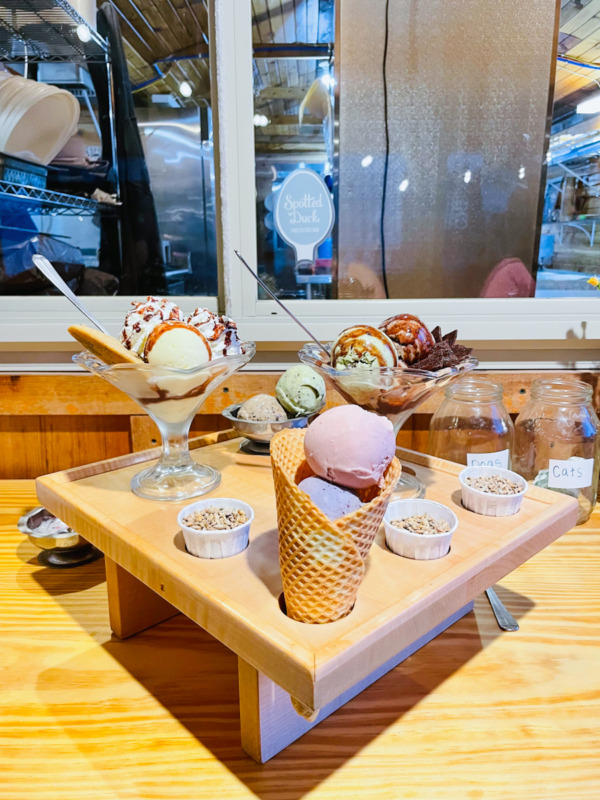 As you begin driving through the Finger Lakes, it quickly becomes clear that you're deep in farm country. The agricultural landscape blends seamlessly with the small towns, inviting mountains and picturesque lakes.
Of course a summer visit to farming areas with kids usually means one thing: ice cream. What are the best ice cream shops in the Finger Lakes? Here are a few of our recommendations, but be sure to get out there and sample a different one each night for yourselves!
Our favorite was local favorite Seneca Farms in Penn Yan. It has an unassuming location but absolutely delicious, creamy homemade flavors. They also serve ice cream until 10pm during the summer, so it's perfect for night owls.
Spotted Duck Creamery is another delicious option just outside of Penn Yan on the shores of Seneca Lake. Their excellent flavors are made with duck eggs, and you can even hang out with the ducks while you wait for your ice cream! They offer small cups of duck feed too, so young visitors will get a kick out of a combined ice cream and farm visit.
Next time we'll also hit up Cayuga Lake Creamery (just up the road from Taughannock Falls State Park) and Purity Ice Cream Co. (in the heart of Ithaca).
Indulge the best local products at the Ithaca Farmers Market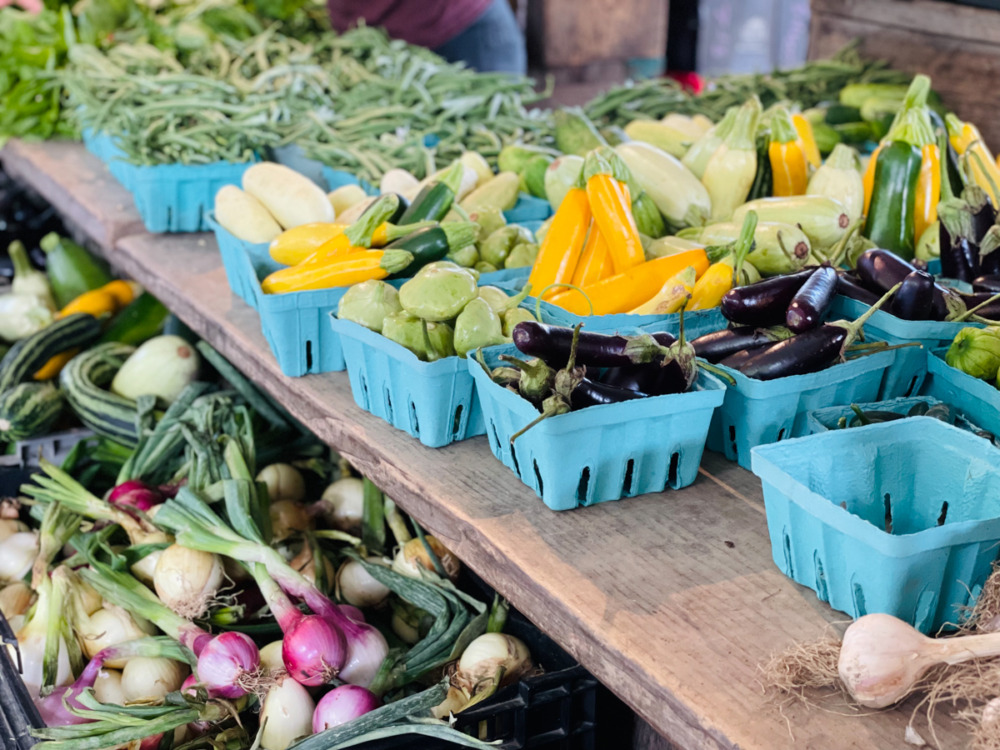 Speaking of Ithaca, you'll want to be sure to swing by the Ithaca Farmer's Market to fill your belly, your cup and your souvenir shopping needs. While some "farmer's markets" around the country actually include items sourced from huge wholesalers, this is the real deal: everything is produced within a 30 mile radius so you know you're getting a true Finger Lakes experience.
The variety at the Ithaca Farmer's Market is certainly impressive. We spotted everything from produce to wool to glass to cider. There are plenty of made-to-order food options, so you can grab a snack (or lunch) and sit at the picnic tables out back while you listen to live music and gaze at Cayuga Lake. You can even hop on a boat tour when you're done eating and shopping!
Just keep in mind that the Ithaca Farmer's Market is a weekend-only affair at its main site, so plan accordingly.
Spend a rainy day in Finger Lakes at a museum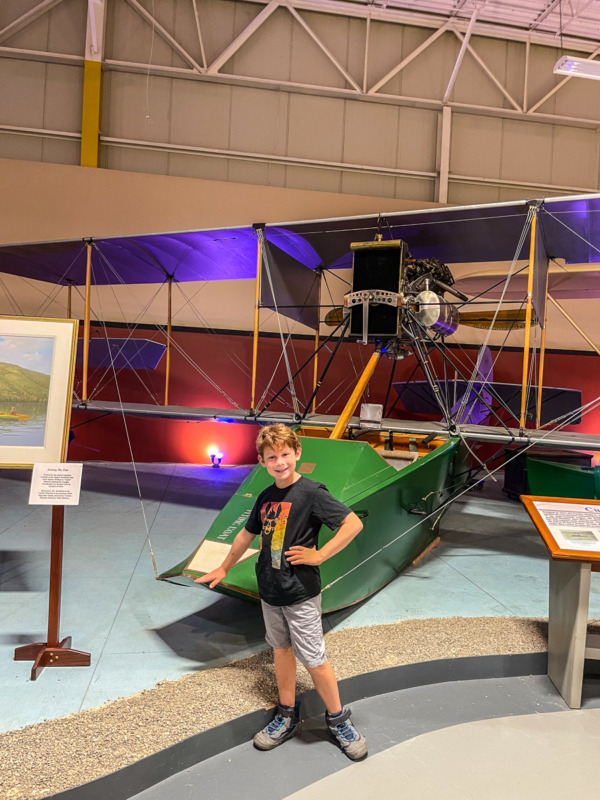 While the weather can put a damper on any vacation, we found a few great options for a rainy day in the Finger Lakes.
When a big storm derailed our morning kayaking plans, we headed to the Glenn H. Curtiss Museum in Hammondsport. This is a great stop if you have kids who love things that move – bikes, motorcycles, planes and more! I'll be honest that we didn't know much about Glenn Curtiss before our visit, but now I feel sheepish admitting that. Curtiss played a critical role in the development of military aircraft in particular, was "the fastest man in the world" for four years, sparred with the Wright Brothers over patents and more. Be sure to swing by the Curtiss Museum to find out more!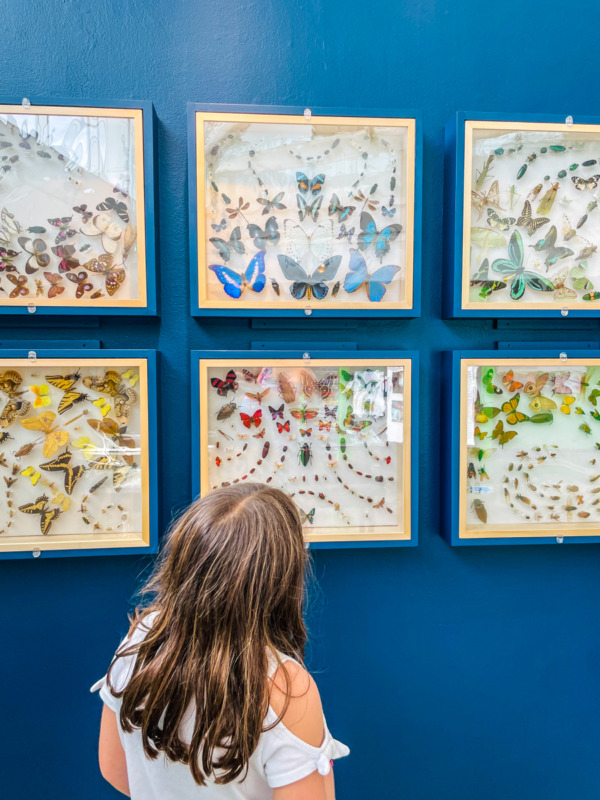 Over in Ithaca, the Museum of the Earth is a fun, compact natural history museum. It periodically partners with nearby Cornell University to mount unique temporary exhibits. During our visit we saw an amazing assortment from the Cornell University insect collection. Kids also learn about the "how" of paleontology – specifically tied to western New York – and get to sift through and clean up rocks in search of fossils. We brought home two brachiopods! There's a fascinating section on the how the Finger Lakes were formed during the last glacial period and much much more. As a bonus, families can get in free with their local ASTC science museum membership!
Pay tribute giants of history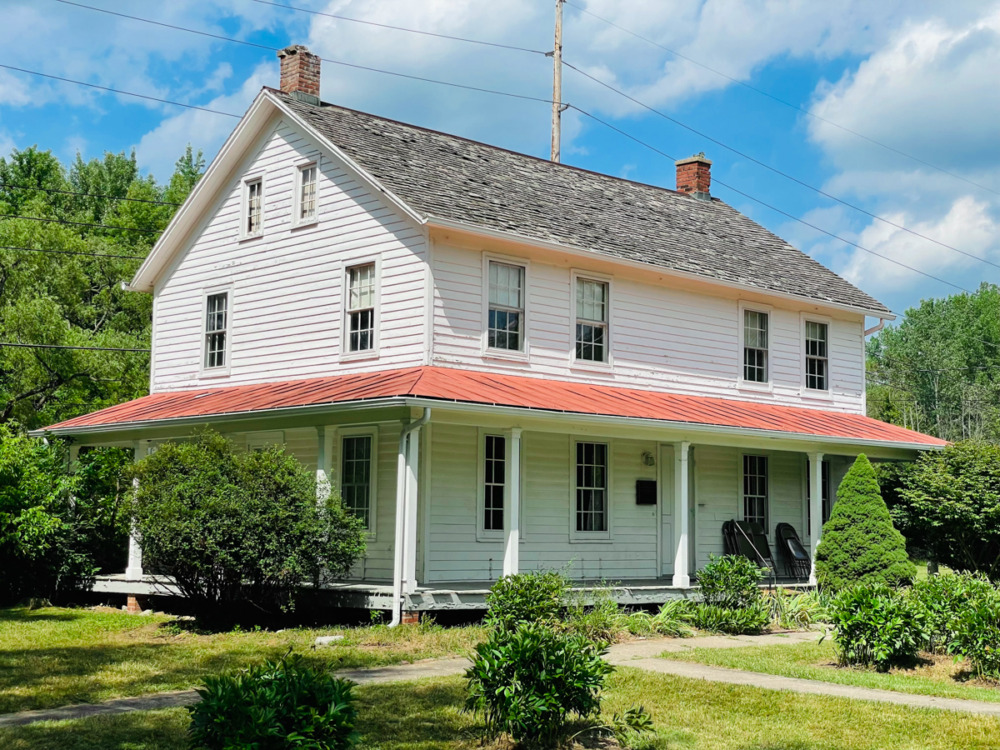 There's plenty of history to explore in the Finger Lakes, and how much of it to see will depend on your family's interests and the ages of your kiddos.
We caught the excellent tour of Harriet Tubman's later-in-life home in Auburn. This site is part of the Harriet Tubman National Historical Park but is run by an independent non-profit. Our phenomenal guide brought Harriet Tubman's personality and determination to life through his story telling and kept the entire group engaged throughout the visit. It's an important opportunity to understand not only her work helping other enslaved people achieve their freedom, but her many other contributions in the decades that followed.
On our next visit, we plan to explore the Women's Rights National Historical Park in Seneca Falls. You can visit the site of the First Women's Rights Convention, tour the extensive museum, and attend one of several Ranger programs to add more context to your experience. This is a top Finger Lakes attraction for older kids and teens.
---
Where to eat in Finger Lakes with kids
There are tons of restaurants to choose from in the Finger Lakes. My top recommendation is to make a reservation for dinner a few days in advance if you're visiting in the summer – some places have a wait of over an hour without a res!
Amity Coffee Co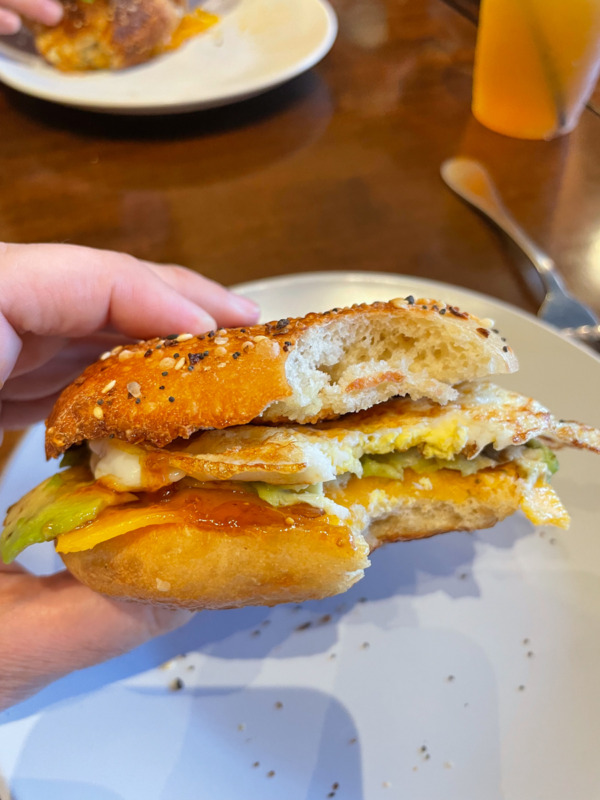 Amity Coffee Co. in Penn Yan might just be the best breakfast spot in the Finger Lakes. Their croissants are amaaaaaaazing and can be turned into a delicious breakfast sandwich until 2pm. The coffee is deeply satisfying, so be sure to walk on over one morning. We earned ours after a beautiful paddle just a block over with Shoreline Rentals.
Timber Stone Grill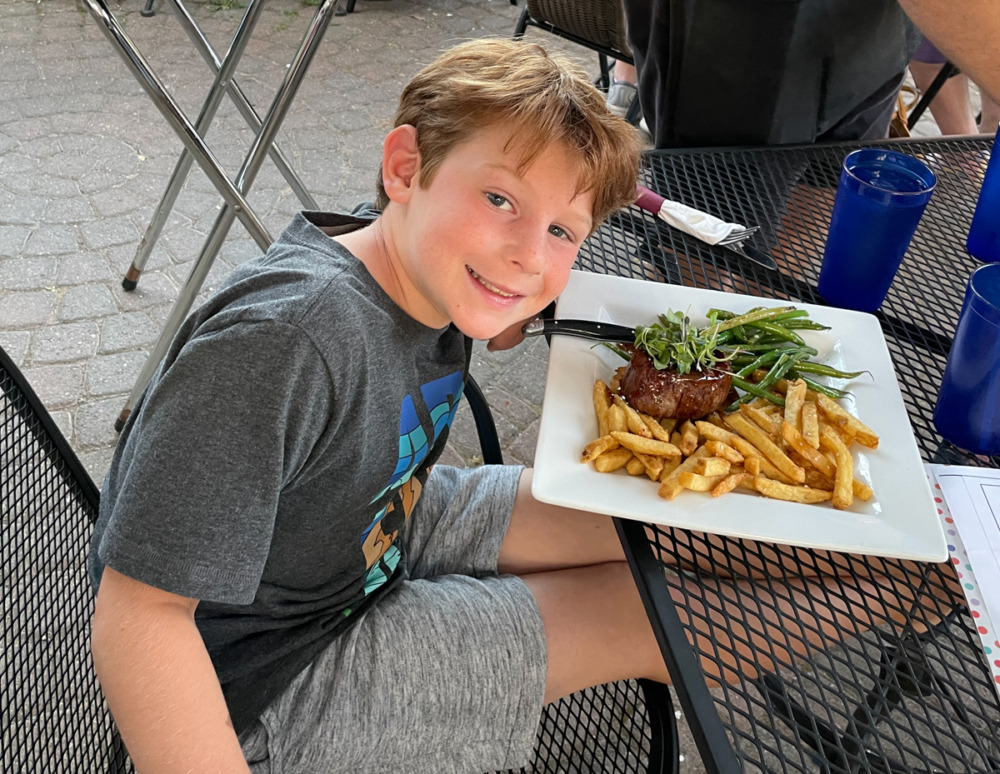 Whether you're a steak lover like my kids or a (mostly) pescatarian like me, Timber Stone Grill in Hammondsport has plenty of delicious food for everyone. Be sure to grab some fries on the side and save room for the excellent desserts! It's one of the best dinner restaurants in Finger Lakes and has an inviting patio, though my daughter didn't appreciate the tiny lake-induced flies and was happier to move inside.
Ithaca Bakery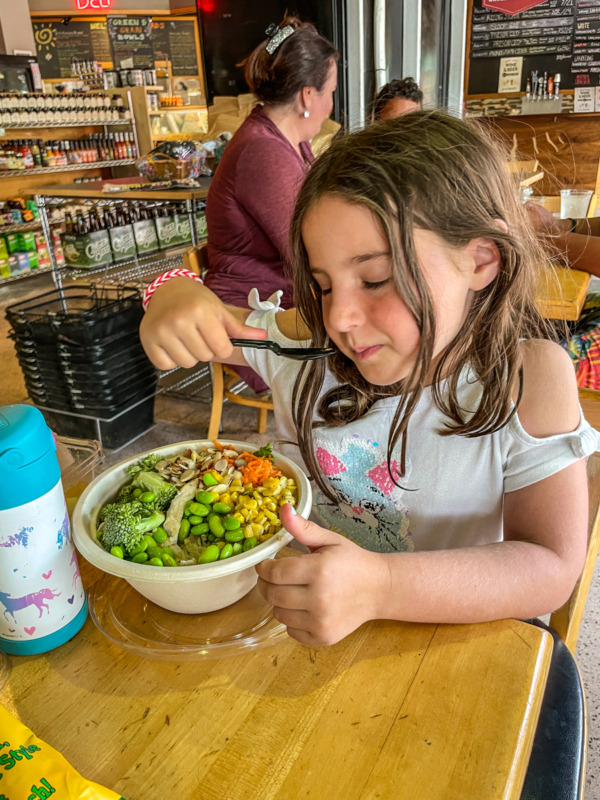 Ithaca Bakery is a popular lunch spot and it's easy to understand why: because it's delicious. There's a wide range of sandwiches, bowls and bagels plus lots of sides to choose from. This is a great place to refuel after hiking Watkins Glen on your way to explore all that Ithaca has to offer.
The Switz
The Switzerland Inn, sometimes referred to as The Switz is right on Keuka Lake and has an atmosphere to match. It offers fun live music, a great fish fry and has an affordable kids menu. Grab a drink and your dancing shoes and be sure to request a table on the downstairs deck!
Thai Elephant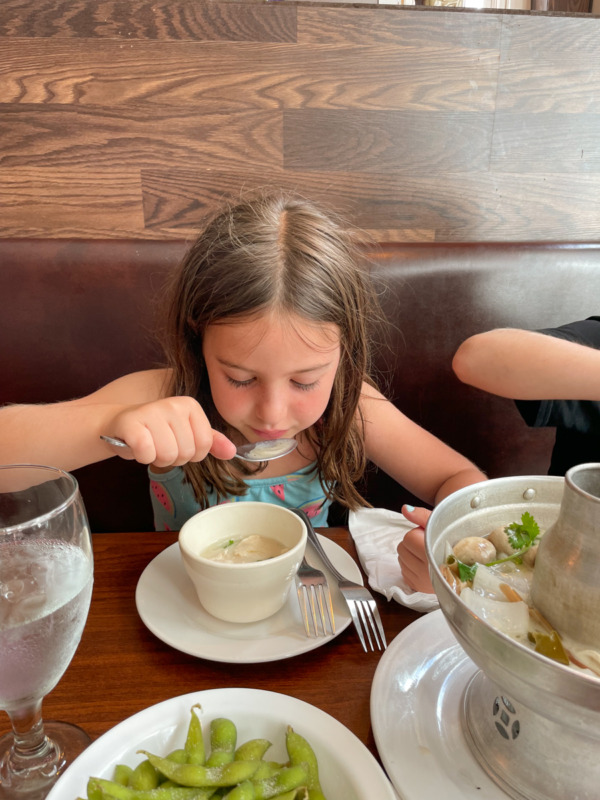 For a little variety, swing by Thai Elephants in Watkins Glen. The food was excellent and served unbelievably fast. After dinner be sure to stroll over to the harbor and enjoy the scenic pier!
---
Mapping your Finger Lakes family vacation
Use this handy map to plan the perfect Finger Lakes family vacation – it'll help you put the puzzle pieces together since the region is so spread out. You can even download the map to your Google Maps app to take with you on the road!
Where to go next
It's easy to extend your trip to Niagara Falls with these great options nearby!
Thank you to our partners at Finger Lakes Tourism Alliance and Best Western Plus Vineyard Inn & Suites. All opinions are my own.
Still planning? Pin this for later!