Montreal is an incredible city that seamlessly blends old and new, French and English (along with a smattering of other cultures), and the conservative and the cutting edge. There are plenty of phenomenal activities for all types of travelers, including tons of things to do in Montreal with kids. Between us, we've taken a childhood trip to Montreal, a couples trip to Montreal for our honeymoon, a bachelor party trip to Montreal and now a family trip to Montreal with our own kids.
Despite so many trips to Montreal through so many different lenses, we keep coming back and finding more to love. Of course the best things to do in Montreal, Canada will depend on your interests, but you'll be sure to find inspiration ideas after reading this article.
Where to stay in Montreal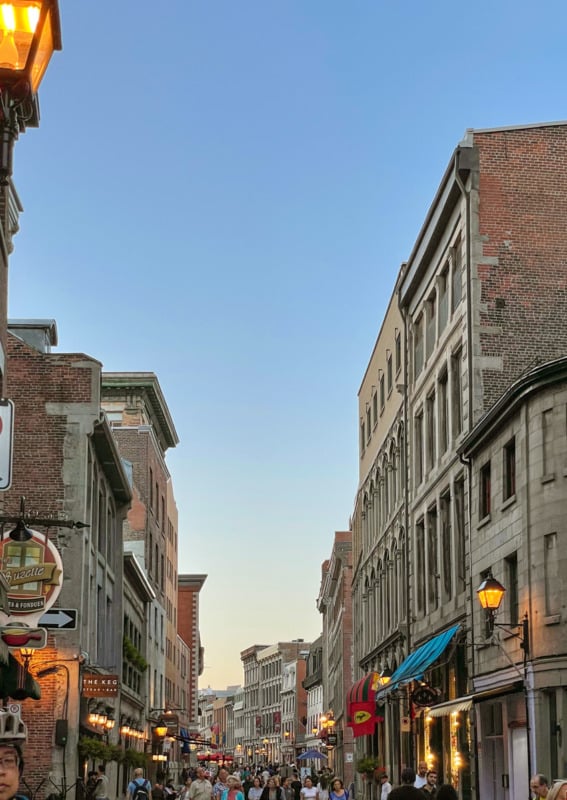 Montreal is a big city with a million places to stay, ranging from budget-friendly vacation rentals to luxury hotels.
On our most recent visit we had a fantastic "apart-hotel" vacation rental in the heart of Old Montreal, located on Boulevard St-Laurent right near Rue St-Paul (pictured above). It was the most basic one bedroom offered, with a comfortable sleep sofa in the living room and a full kitchen in case you want to prepare your own meals (which you probably shouldn't, because you're in an amazing foodie city). Importantly for us, the apartment is equipped with a washer and dryer in the bathroom and comes with a parking permit for the Port (just a three minute walk across the street).
The same building has many larger options if you need more space to spread out. There are bigger one bedroom apartments and even three bedroom apartments clocking in at 2600 square feet with sleeping space for 8-9 guests!
There are plenty of excellent hotels near the Old Port of Montreal:
Get all the details on where to stay in Montreal with kids.
If you'd rather stay outside of Old Montreal, you can use the map below to identify some of the activities that interest you most and find the best places to stay in Montreal within relatively easy walking distance.
---
10 Best things to do in Montreal, Canada with kids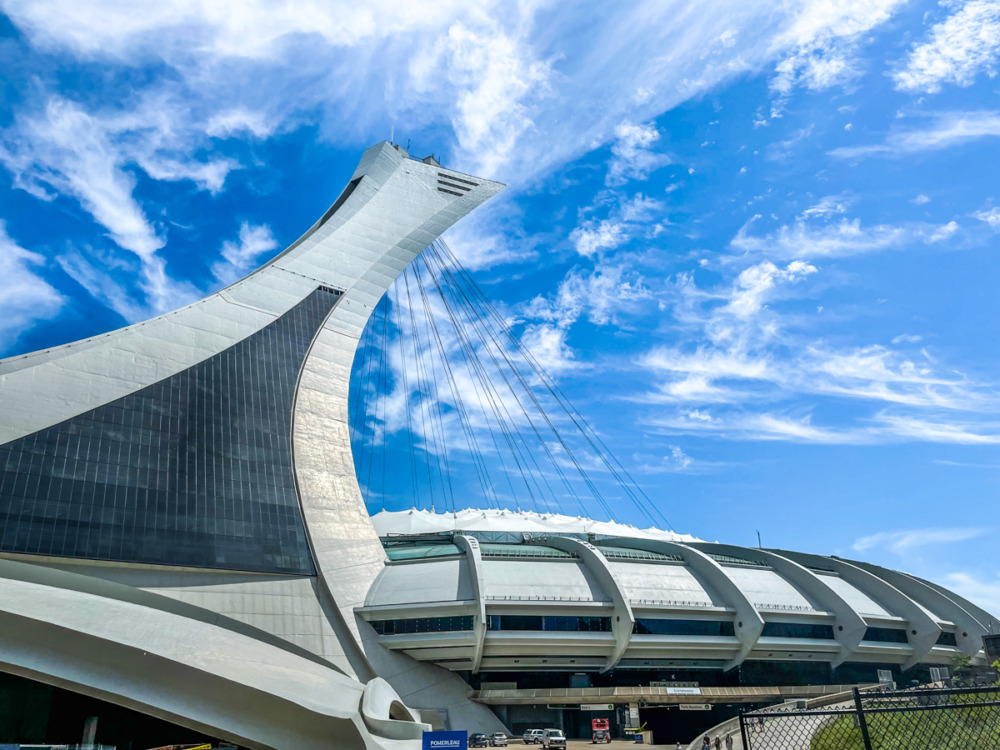 One thing's for sure: you'll never run out of things to see in Montreal. This list of the top attractions in Montreal for families is a great sampling to get you started, but be sure to stumble and explore to find your own favorites too!
Explore Espace Pour La Vie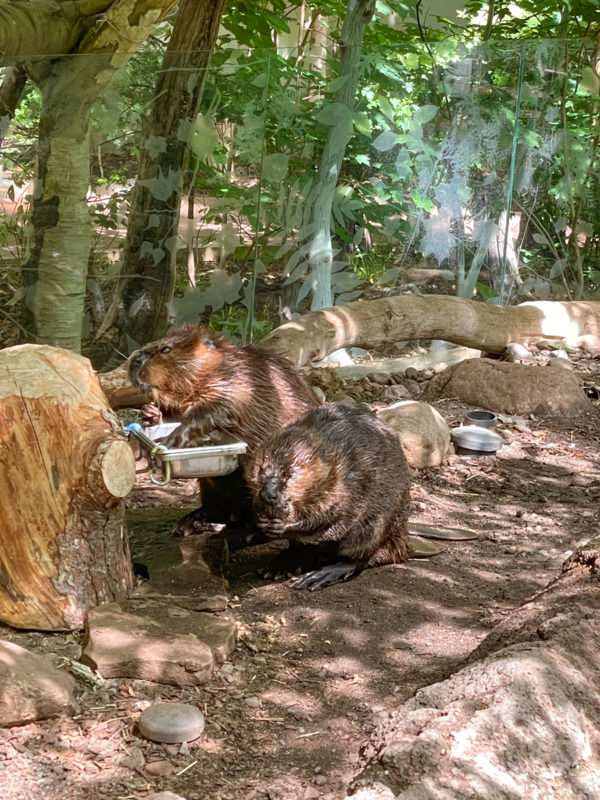 One of the most unique things to do in Montreal is spend a few hours at Espace Pour La Vie, the life-focused set of attractions that sprang up from the ashes of the old 1974 Montreal Olympic site. Rather than letting it crumble and decay, planners repurposed the velodrome into a remarkable showcase of five different biomes of the Americas at the Montreal Biodôme.
In just over an hour you can explore everything from a frigid penguin habitat to Canada's woodlands to South American rain forests. It's truly a place of wonder – we loved feeling the ice as we walked through the Arctic tunnel, watching the beavers hard at work (above) and even glimpsed a sloth swinging along the ceiling!
Up the hill is a place unlike any other we've visited, the Montreal Insectarium. While there's a large butterfly pavilion, there are also incredible interactive spaces to help you understand what it feels like to live as a bug! The displays of Earth's diversity of insects are absolutely amazing and there are some truly unique live insects that you can watch to understand their behaviors. This is a truly enjoyable activity – especially if you're visiting Montreal with kids, but even without them. The Insectarium does have limited capacity, so be sure to reserve your spot as soon as you know your travel dates.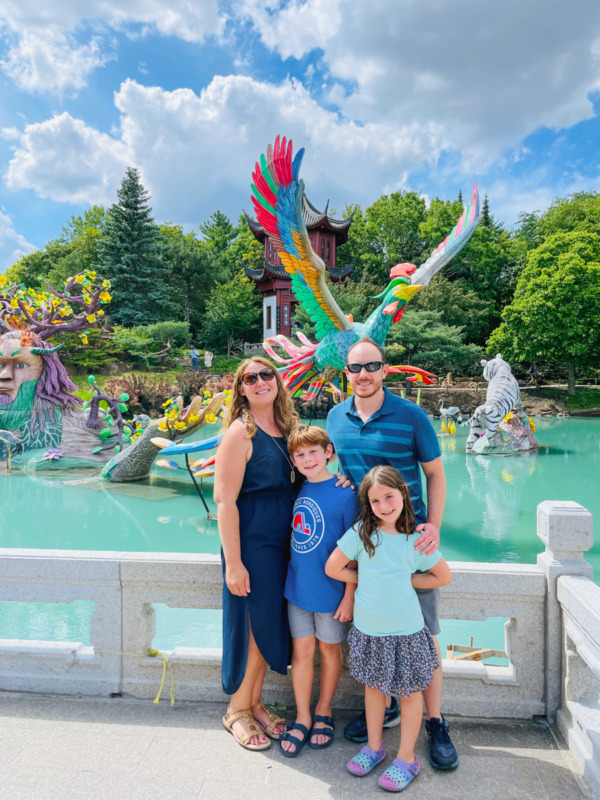 Next to the Insectarium is one of our favorite places, and arguably one of the top attractions in Montreal: the Botanical Gardens. It's absolutely beautiful! When we spent part of our honeymoon in Montreal, going to the annual Magic of Lanterns festival was a highlight. Even if it's not the season for the festival or another celebration, visiting during the day gives you the opportunity to witness the elaborate Zodiac-themed sculptures that fill the pond of the Chinese garden. You'll also want to be sure to explore the diverse collection of lilies near the main entrance. The Gardens are home to some of the best Instagram spots in Montreal!
If your interests are more extra-terrestrial, check out the Rio Tinto-Alcan Planetarium. This is the one site at Espace Pour La Vie that we didn't get to visit due to time constraints, but it's high on our list for our next trip to Montreal. There are excellent planetarium shows, space-focused art exhibits and more.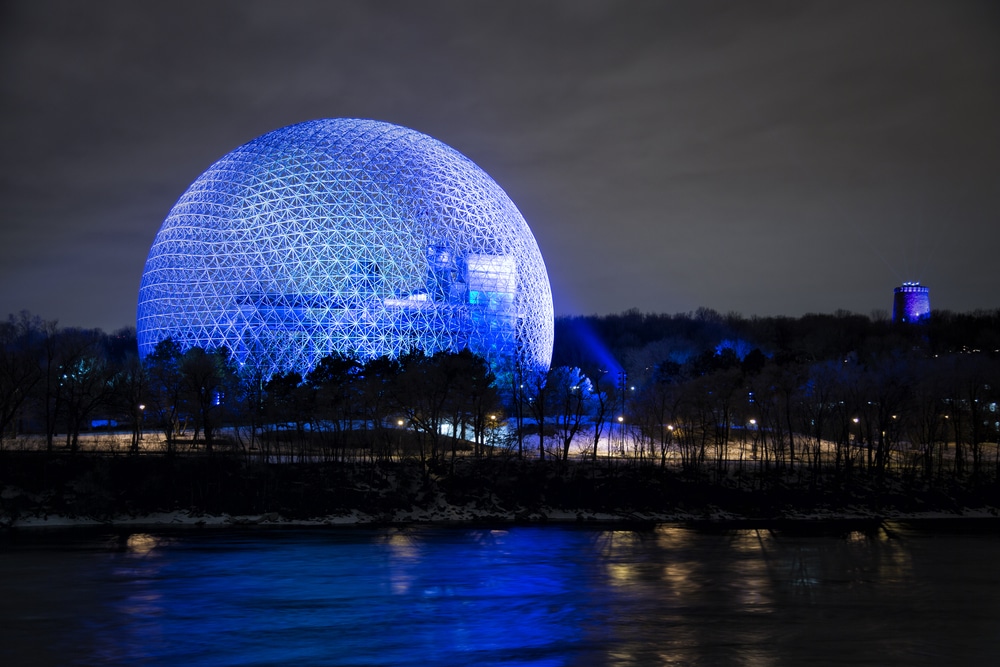 One note on costs… each museum ticket is $22 per adult and $16 per child ($60 for a family). It's entirely possible to visit all four of these best Montreal attractions in one day so paying separately for each museum would get incredibly expensive. A better option if you plan to visit several of the sites is to purchase the Espace Pour La Vie Passport at $80 per adult or $140 per family. It's valid for a year, which gives you the option to return. You can also visit the iconic Biosphère on a different day as it's not located with the rest of the museums.
Want to get more helpful travel tips like this? Sign up for our email list!
Stroll Old Montreal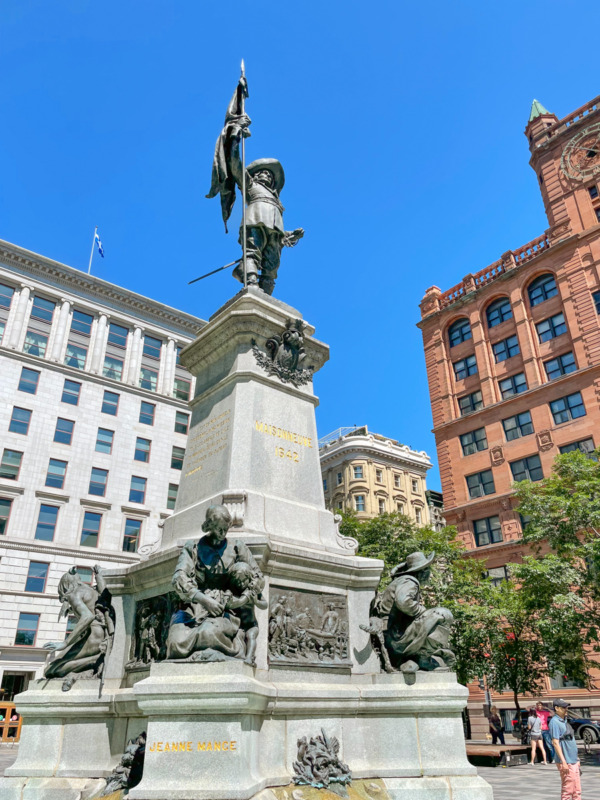 Montreal was established in 1642 as a fur trading outpost and gradually, through fits and starts fire, grew to be an important city in the colony of New France.
Bits of the original village remain today, interspersed with some slightly newer structures (many from the 1800s) and right next to the redeveloped port. While not as extensive as old Quebec City, it's still charming and full of beautifully maintained historic buildings. This is one of the best places to stay in Montreal, as you can easily enjoy the city's charms away from some of the more modern busyness of a city this size.
There are still many historic buildings in Old Montreal, ranging from those built by early French settlers to gorgeous Gilded Age towers. To see it all and understand it, consider taking an Old Montreal walking tour. That tour offers shorter options highlighting either the east or west side of old Montreal as well as a combined tour that covers them both, so you can decide just how much history you want in one day.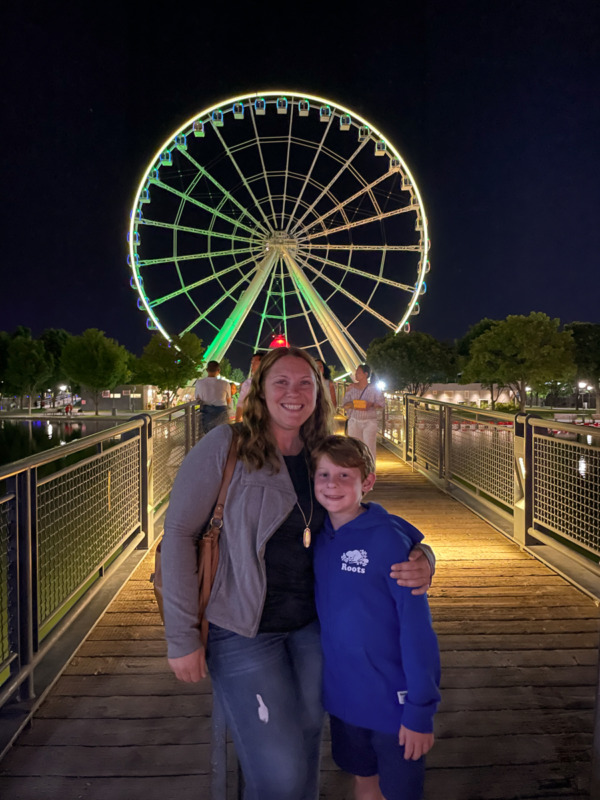 Once it's dark, stroll through the modernized port right near Old Montreal. There are lovely parks with fountains, food trucks and craft vendors and a big observation wheel to keep you entertained after the sun goes down. It may not have the same charm as the ancient city, but it's a fun way to wrap up the day!
Roam the Underground City
How do Montrealers survive the frigid winters? They head underground!
The Underground City, RÉSO, has more than 20 miles of subterranean passageways connecting buildings, malls, restaurants and museums in the city's core. It's remarkable!
We've only explored a small fraction of RÉSO, but for an in-depth experience you can visit with a knowledgeable guide on this tour – you'll see the highlights and also understand the important history of Montreal's Underground City.
Relax at Mount Royal Park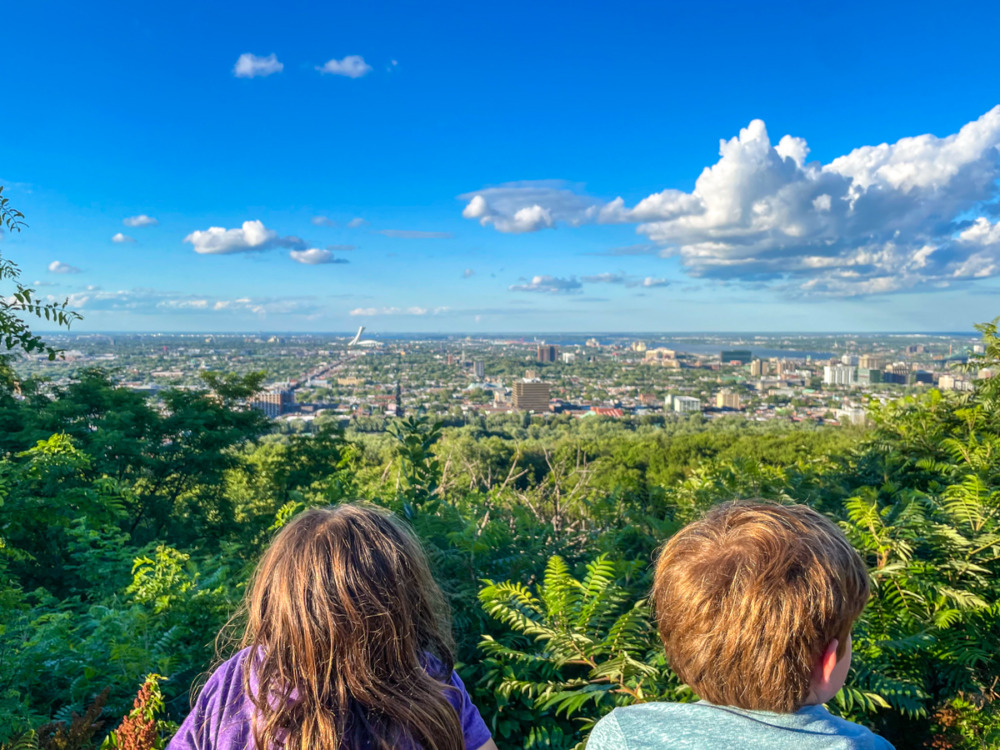 Montreal gets its name from the large hill/small mountain on the edge of the city, Mount Royal. Mt Royal Park in Montreal is a large, beautiful green space where locals go for their own recreation. Fortunately there are so many wonderful ways to enjoy it, and an afternoon at Mount Royal is also one of the best free things to do in Montreal.
If you're looking for active things to do in Montreal, there's no better place. You can hike up to the top of Mount Royal via the extensive trail system, or if you're really brave you can bike up the mountain and then down the other side.
For those who want a more relaxing way to enjoy Montreal outdoors, head to the lovely Beaver Lake area. We spread out a picnic on the large grassy hill and then rented a boat to paddle around the lake (check hours and rates here). There are also some lovely manmade waterfalls near the lake that are perfect for some kid-friendly scrambling or keepsake photos.
Thanks to its elevation, Mount Royal also provides one of the best vantage points to see the city. You'll probably want to end the day at one of the scenic overlooks off the road so that you can enjoy golden hour light as you take in the sweeping views. Bonus? If you leave the park as the sun is setting you can stop in lovely Outremont to enjoy dinner at one of the many excellent (and less touristy) restaurants along a pedestrian (in summer) thoroughfare like Ave Bernard.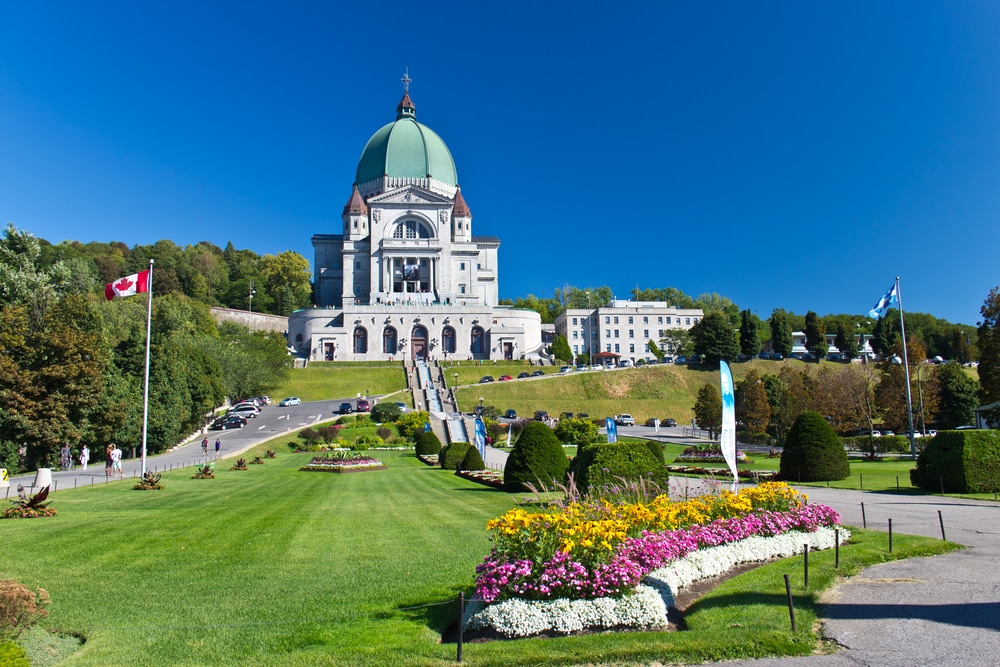 Saint Joseph's Oratory of Mount Royal provides both a fantastic backdrop for Montreal Instagrammers as well as a great view out to the city from its terrace. It's immediately adjacent to the base of Mount Royal Park, so many people combine them into a single visit.
Eat your way through Marché Jean Talon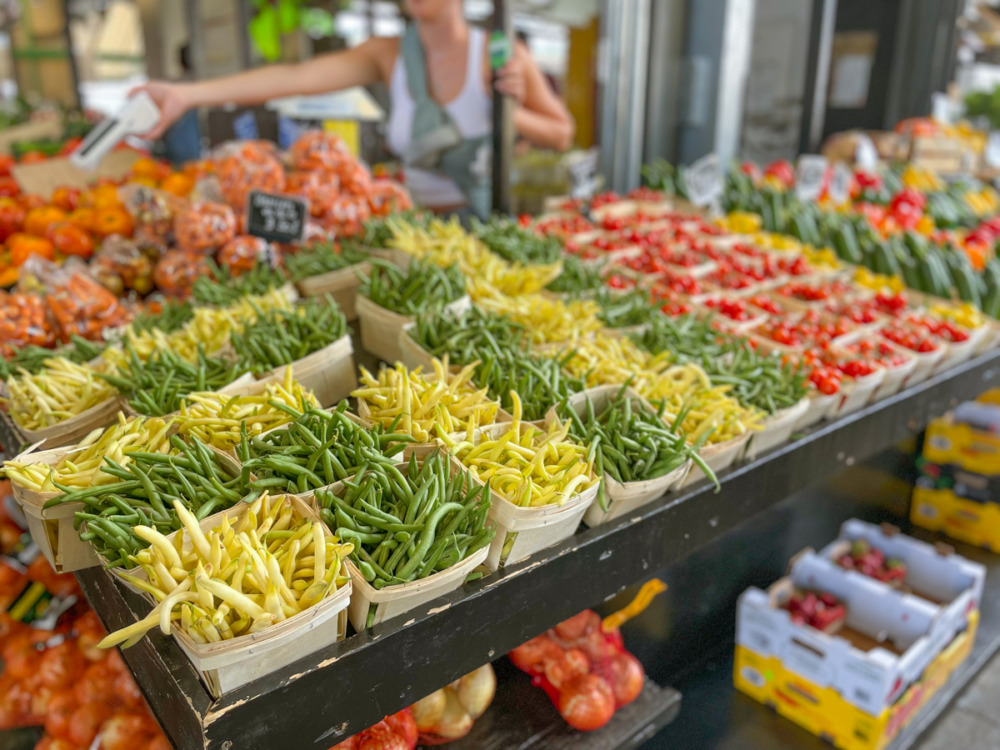 I mentioned previously that we enjoyed a picnic on Mount Royal, but it was no ordinary picnic. No, ours was a farm-fresh picnic including everything from just-picked produce to local cheeses, freshly made baguettes and even house smoked salmon.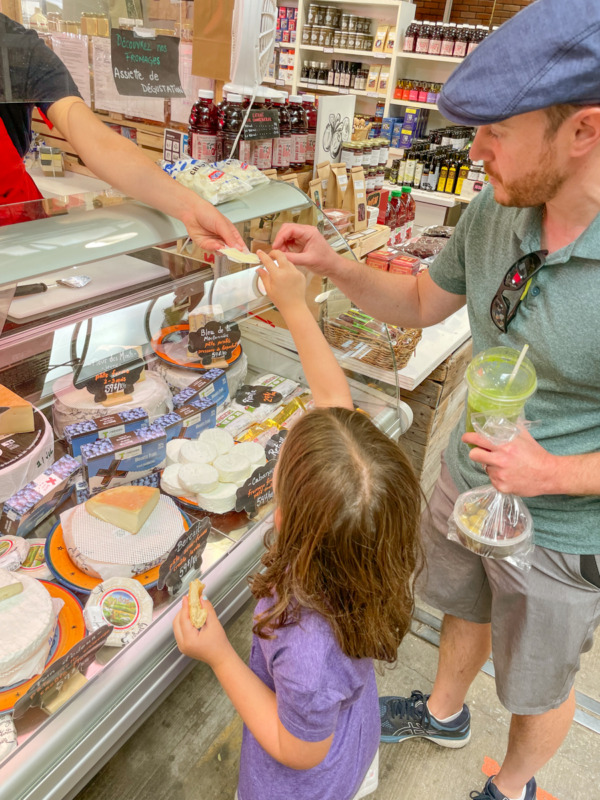 A visit to Marche Jean Talon is an experience unto itself. In addition to the delicious food offerings, there are also soaps, flowers and more. You can easily spend an hour wandering, exploring, sampling and buying! Since it's impossible to walk away empty-handed, be sure to bring a packable grocery bag or two for your visit.
To really dive in, consider this guided tour of the market and nearby Little Italy!
Shop along St. Catherine Street
You can't visit Montreal without encountering St. Catherine Street. It's 7 miles long and runs nearly the length of the entire city! There are shops, entertainment venues, universities, restaurants and more.
But it's also, in many ways, the beating heart of this large city. You could walk along parts St. Catherine Street and easily mistake it for New York or Chicago. In other places it's distinctively Montreal. In summer it's the perfect place to enjoy the city's brightly colored benches, pop-up photo booths, patio dining, festivals and more.
You'll find a mix of international chains and Canadian and local specialties along St. Catherine Street. If your shopping list includes the coziest sweats you'll ever own, don't skip the massive Roots outpost near Peel Street – if you're lucky, you might even catch an item from the sale section in the back. For a time-honored tradition, continue past the Quartier des Spectacles to Henri Henri, which has been adorning the heads of Montreal's men (and my husband) for the last century.
Investigate at the Montreal Science Center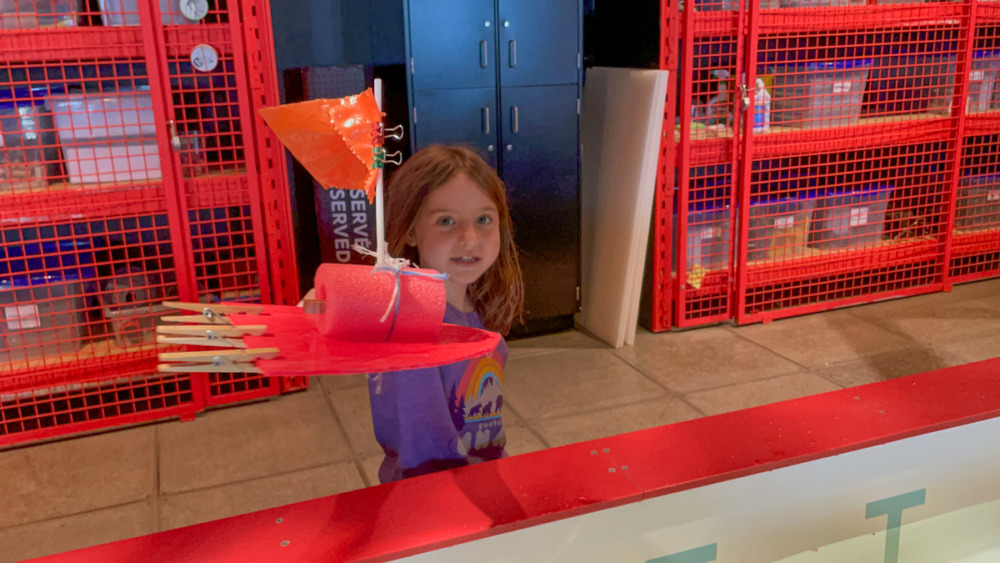 Planning a family trip to Montreal? You won't want to miss the Montreal Science Center! We spent several hours there, but the kids would have been thrilled to stay all day. If you're a member of your local ASTC science center, you'll even get free admission.
The Montreal Science Center has a wide variety of exhibits covering everything from human development to mechanics. It's extremely interactive throughout. Our kids loved the physical challenges of the Guinness Book of World Records exhibit and the in-depth experimentation in the maker space/workshop/lab.
There's an IMAX with some very interesting shows, though the English schedule isn't as extensive as the French schedule so be sure to check in advance if you know you'll want to see one. If you're visiting in the summer, you may want to consider arriving after lunch to avoid the throngs of summer camp groups.
It's located at the port, so if you're staying at one of our Old Montreal recommendations it's just a quick walk to get to!
Want to get more helpful travel tips like this? Sign up for our email list!
Eat all the classic Montreal food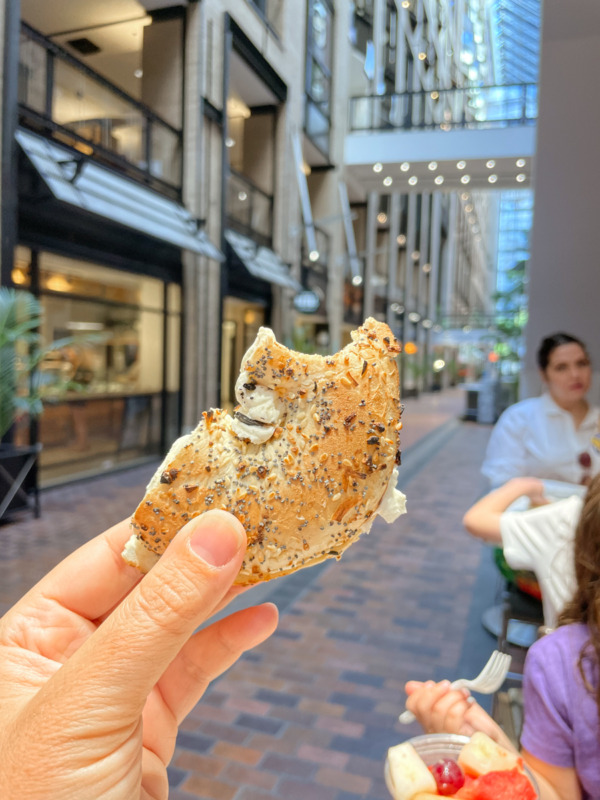 Without question, Montreal has a great food scene. While you're there you should try out the signature Montreal bagels and smoked meat (not necessarily together).
Why bagels and smoked meat in what used to be called New France? Canada opened its doors to European Jewish refugees in the late 19th and early 20th centuries. In fact, relatives on both sides of my family found a safe, new start in Montreal.
The Jews of Eastern Europe brought their own culinary traditions and had an outsized impact on Montreal food specialties. They brought smoking techniques that were different than the ones early French colonists had learned from the First Nations and bagel recipes that differed slightly from those brought to New York.
You can get a delicious sampling of Montreal's Jewish food, history and culture on this excellent tour, or opt for a Montreal food tour that spans a broader range of the city's diverse food scene.
Admire the Basilica of Notre Dame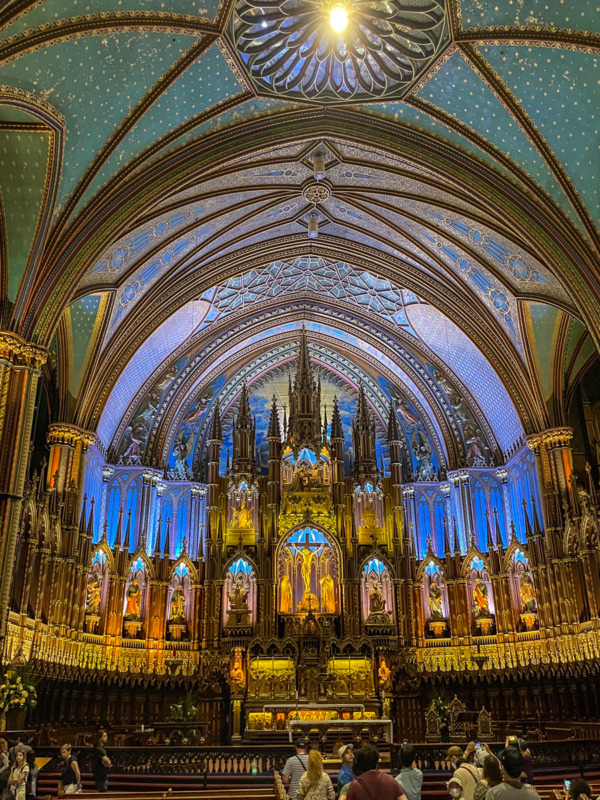 If you're an admirer of church architecture and design, be sure the Basilica of Notre Dame is on your Montreal itinerary! It's full of intricate stonework, but paired with a ceiling in the style of the lower level of Sainte Chapelle in Paris and vibrantly painted altar pieces.
Visitors first thing in the morning should be able to enter quickly, but even an hour after opening the line was long. Buying tickets online in advance will save you plenty of time! We actually bought ours while we stood in the line and were able to advance straight to the entry.
If you're interested in historic buildings in Montreal, head 1/2 block to the right before you enter the Basilica. You'll be able to admire Saint-Sulpice Seminary, built in 1687. It's the second-oldest building in Montreal and one of the few 17th century remnants that's in today's city center.
Take one of these great day trips from Montreal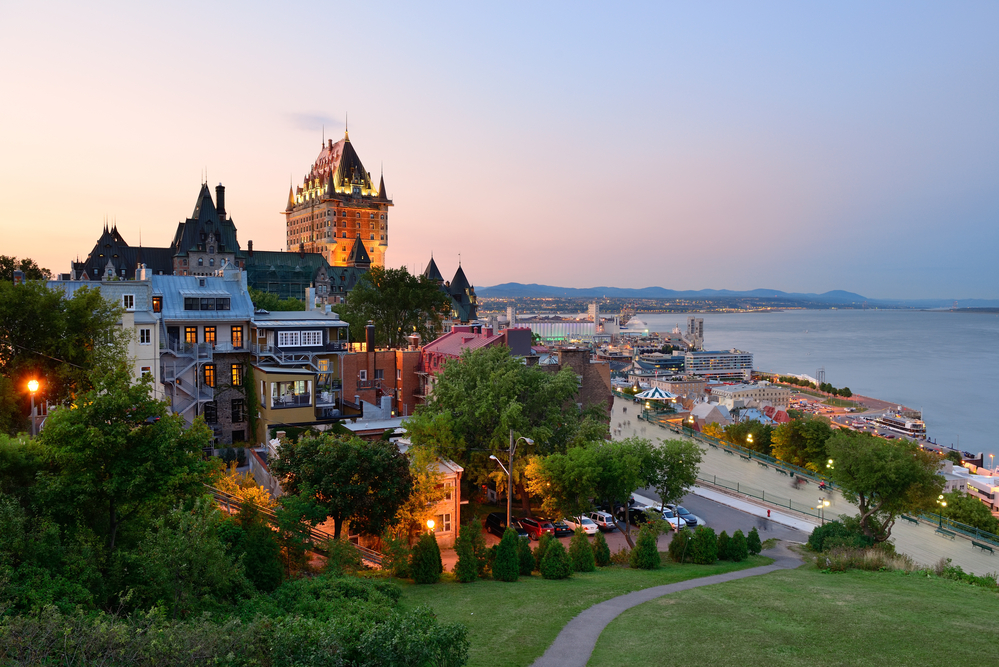 All of these ideas should be enough to fill two or three days in Montreal. If you have more time or want to pass on some of them, there are some wonderful day trips from Montreal that you can consider!
First and foremost, Quebec City is about a 3 hour drive away. While that makes for a long Montreal day trip, with an early start and a late return you could get a nice taste of one of North America's most magical cities. One thing's for certain: it'll leaving you wanting more! Get the scoop on what to do in Quebec City. If you're doing a car-free trip, your best bet for a day trip from Montreal to Quebec is to hop on an organized tour. Check availability below:
Canada's capital city, Ottawa is much closer at 2 hours by car or public transportation. We haven't visited yet but look forward to hitting Ottawa on our next visit to Canada. During a day trip from Montreal to Ottawa you can check out Parliament Hill, enjoy the Ottawa River and in May explore the stunning Canadian Tulip Festival.
We didn't have time to visit on this trip, but nearby Mont Tremblant is a nature-lovers paradise all year long. It's only a 90 minute drive, but unfortunately can't be easily accessed by public transportation. There are wonderful hikes, a scenic gondola and excellent skiing in the winter. We'll be sure to visit on our next family trip to Montreal!
---
Planning your trip to Montreal
Use this map to help you plan out your Montreal itinerary:
Want to extend your trip further? Check out these wonderful Canadian destinations within driving or train distance:
Still planning? Pin it for later!